This post contains affiliate links for which I may make a small commission to help keep the site running. You will not be charged extra for these items had you not clicked the links. Thank you for your help to keep the site running!
When you think of Mexico's culinary output, you think of Mexican food.
Then there's French food which speaks for itself – as does Spanish tapas.
When you think about England, it may be harder to identify its classic foods.
What are the quintessential English foods, and more specifically what food defines the city of London?
You'll find out on these London food tours and food experiences in London!
Think fish and chips, bacon baps, and scotch eggs – all washed down with a nice cup of tea.
London is a multicultural city – meaning there are lots of culinary delights including tasty curries.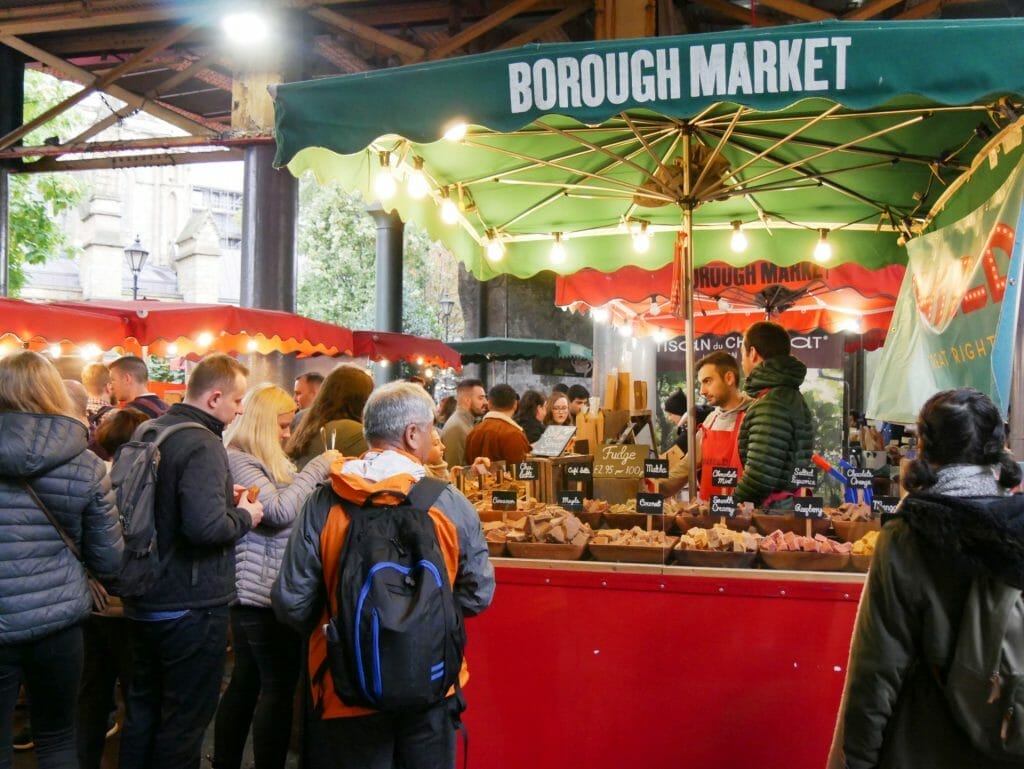 The city has some of the best artisan bakeries around, plus one of the best ranges of plant-based foods anywhere in the world.
Whatever your taste, we guarantee that London caters to it.
In this article, we'll explore our favorite London food tours – each offering a chance to see the landmarks while dining on delicious English grub.
What are you waiting for, let's get eating on these food walking tours in London.
Easy Guide: Best Food Tours in London
⭐️ RATING: 5 out of 5 Stars, 830+ reviews | ⏳ TOUR LENGTH: 3 hours 30 minutes | ✔️ BOOK NOW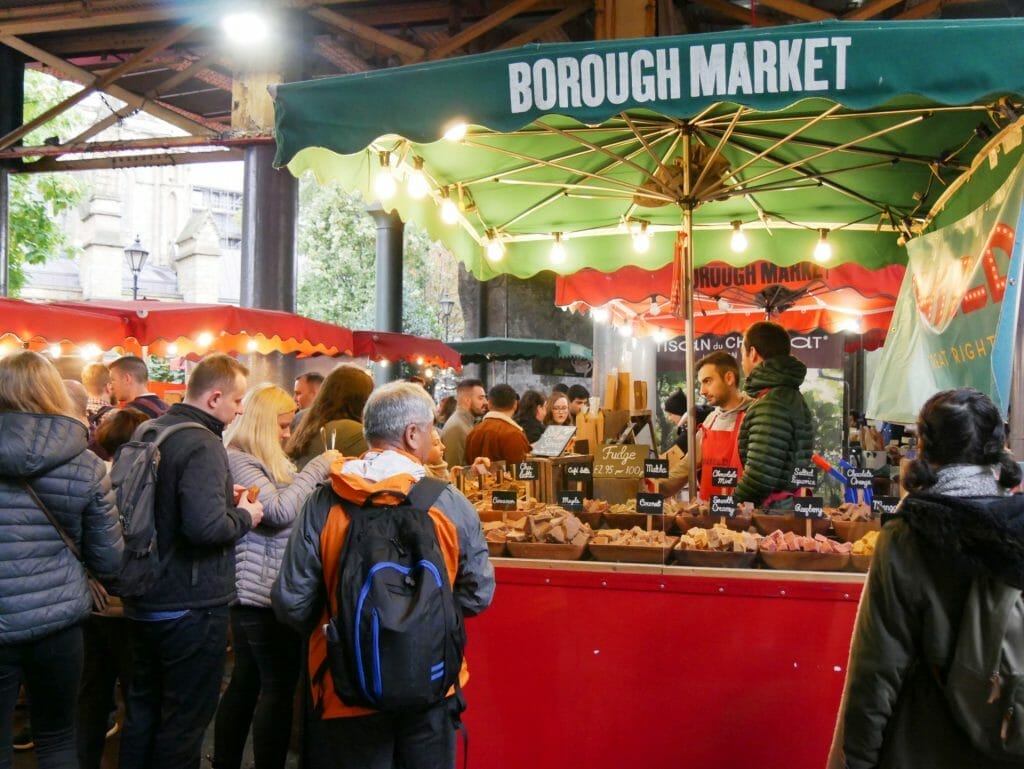 WHAT'S INCLUDED IN THIS TOUR
Small-group tour
Food including bacon and egg bap and fish and chips
Local professional guide
Drinks including fresh tea and honey mead
The London Bridge Walking Tasting Tour is perfect for those looking to explore the city's market food culture.
You'll visit Borough Market, famous for its diverse range of delicious food.
Journey between pubs, artisan bakeries, and market stalls and spot iconic landmarks including Tower Bridge and HMS Belfast.
You'll try award-winning Lincolnshire sausages, cheese and chutney, fish and chips, and sticky toffee pudding.
What could be more British?
"We had a great time on the tour. Our guide, Joseph, was friendly, funny and informative! I didn't really know what to expect but we learned a lot about the area while enjoying some delicious traditional food."
There will also be a secret dish that'll be revealed on the day.
Your guide on this tour is a foodie who is passionate about finding spectacular food that'll excite you and locations that'll entertain you.
If you've never tried a pint of London ale before, this is your chance.
And of course, there will be tea to sample too.
⭐️ RATING: 4 out of 5 Stars, 520+ reviews | ⏳ TOUR LENGTH: 2 hours 45 minutes | ✔️ BOOK NOW
WHAT'S INCLUDED IN THIS TOUR
Boat trip along the River Thames
Live entertainment
Views of London
Food (it's a London eating tour!)
You've never experienced London's scenic cityscapes and food landscape until you've taken a trip along the river.
The London Thames River Dinner Cruise is a unique dining opportunity not to be missed.
You'll be taken to your table by professional waiters who are passionate about delivering high-quality service and food.
Begin your meal with a goat's cheese and baby spinach tartlet, followed by a roast chicken main, and closed with a scrumptious raspberry and strawberry Eton mess. If you've not had an Eton mess before, you're in for a treat.
"Very nice experience. The staff was fantastic. Loved the live entertainment! I will absolutely recommend this to friends. Thanks again!."
Sip on delicious wine as you take in the sights.
From your window, you'll see Tower Bridge, Big Ben, and the London Eye.
If glistening water, remarkable landmarks, delicious food, and fine wine weren't enough – you'll also be treated to live entertainment onboard.
This is the perfect food tour for fans of the finer things.
⭐️ RATING: 4 out of 5 Stars, 10+ reviews | ⏳ TOUR LENGTH: 3 hours | ✔️ BOOK NOW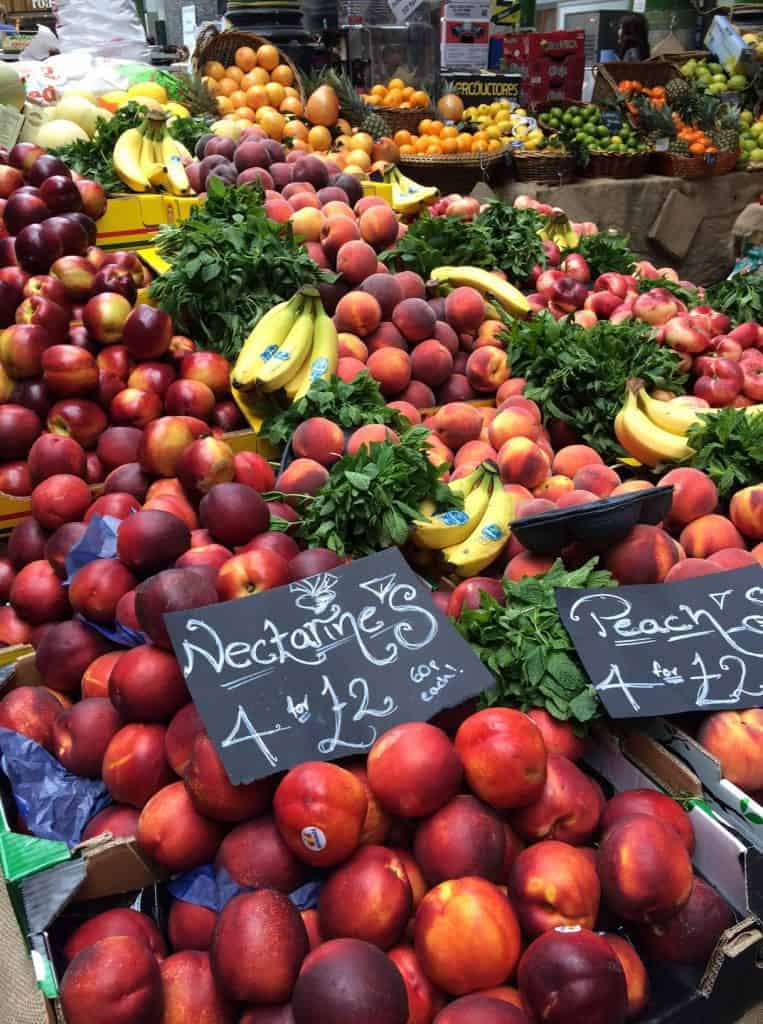 WHAT'S INCLUDED IN THIS TOUR
Delicious food
Alcoholic and non-alcoholic drink options
Small-group tour
Visit several restaurants on this best London food tour
Climate-conscious consumers rejoice!
The Vegan Food Tour Experience in London offers a special walking tour for both devout vegans and those testing the plant-based waters.
Unlike big tour groups, this one is for a small party only.
Because of this, there are lots of opportunities to ask questions about the city's vegan food scene and get chatting with others in the group.
You'll meet people passionate about great vegan food and those trying plant-based food for the first time.
"We had an excellent time touring Shoreditch with our knowledgeable guide Li-En. She expertly guided us through the colorful streets pointing out various street art on our way to four outstanding eateries. We were absolutely stuffed at the end of our tour. I highly recommend this to anyone who is looking for an adventurous food journey through an exciting part of London.."
The tour takes place in Shoreditch – a lesser-known spot from a tourist's perspective but a popular area for London natives with lots of exciting things to see, do, and – most importantly – taste.
It's one of the city's hippest areas, with lots of restaurants where you'll try delicious samples.
If you're not a plant-based eater, you'll be amazed by how delicious and nutritious the vegan food on offer here is.
It's a chance to try something different and discover the wonders of plant-based dishes.
⭐️ RATING: 5 out of 5 Stars, 40+ reviews | ⏳ TOUR LENGTH: 3 hours 30 minutes | ✔️ BOOK NOW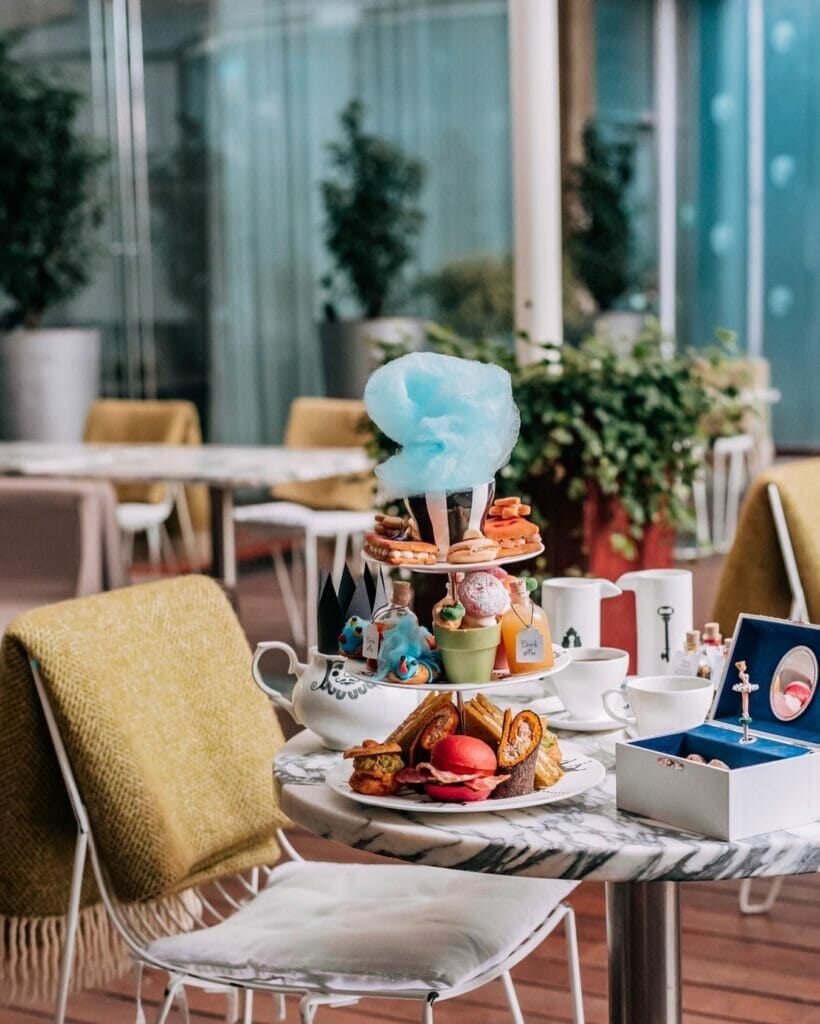 WHAT'S INCLUDED IN THIS TOUR
A professional guide from the local area
10 food-tasting experiences
Drinks
Learn about the history of London
Looking for a great-value-for-money food tour in England's capital city?
Look no further than the Traditional English Food Tasting Walking Tour in London.
Attendees will visit at least a dozen different eateries and taste ten varieties of food including scotch eggs and cheese.
This is a seriously amazing London food tour.
The English disagree about how to pronounce the word scone.
"Sam was an excellent guide. He was a wealth of information and the food was very good. Do not eat before taking this tour.."
How you just read that word then establishes whether you say it like the Scots – scone like gone – or Londoners – scone like cone.
Fortunately, you won't be worrying about how to say it because you'll be enjoying eating them too much on this tour.
If you want a more intimate tour experience, this is a great option for you.
There's a maximum of ten people allowed on the tour, giving you plenty of chances to ask questions to the experienced guide.
⭐️ RATING: 5 out of 5 Stars, 230+ reviews | ⏳ TOUR LENGTH: 2 hours | ✔️ BOOK NOW
WHAT'S INCLUDED IN THIS TOUR
Snacks
Alcoholic beverages
Cheese-related quiz
Walking tour experience
What's better than cheese?
Cheese with a glass of bubbly.
On The Cheese Crawl – With Glass of Fizz, you'll sample some of the finest cheeses London has to offer.
You'll step into the iconic Fortnum & Mason, where they shift tons of cheese every year to their loyal customers.
The cheese here is second to none, and if you don't believe us just ask King Charles because this is where the royal household gets its cheese.
Expect to snack on great-tasting cheese, all while passing through interesting London areas including Mayfair, Piccadilly Circus, Soho, and Covent Garden.
"Amazing time with a great host Louie!!!! So much fun, think a great day out or date I went with my mum and we both loved it."
If you don't drink alcohol, or just don't fancy a glass – reviewers note that they'll swap this out for a juice on request which is a neat little touch.
Cheese knowledge to the ready.
This interactive tour includes a cheese-related quiz. Do you know your Camembert from your Cheshire?
⭐️ RATING: 5 out of 5 Stars, 20+ reviews | ⏳ TOUR LENGTH: 2 hours | ✔️ BOOK NOW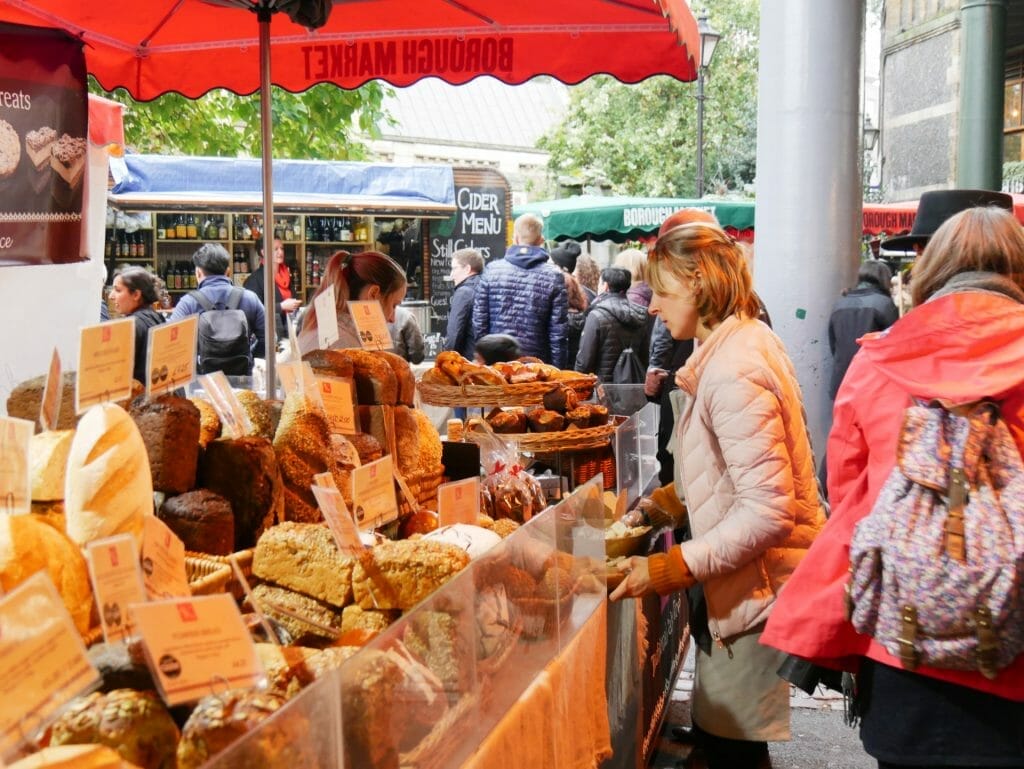 WHAT'S INCLUDED IN THIS TOUR
Bottled water
Views of Tower Bridge
Tasty sweet treats
Walking tour
The London Downtown and Borough Market Doughnut Tour is a food experience with a twist.
While most focus on savory treats like sausage rolls, this one is focused entirely on sweet treats.
As you stroll along the River Thames, your tour guide will take you to some of the most mouthwatering doughnut shops in the city.
You'll taste incredible artisan doughnuts filled with flavor from high-quality London bakers including St. John Bakery, Doughnut Time, Bread Ahead Bakery, and Crosstown London Bridge.
"Super fun—borough market was amazing. Saw some hidden gems we would have missed if on our own. How can you beat donuts and London? Our guide Oscar was awesome!."
What's better than seeing Tower Bridge?
That's easy – looking at Tower Bridge with a doughnut in your hand.
On this tour, you're guaranteed unique experiences and photo opportunities.
There's also the opportunity to purchase cookies and coffee.
⭐️ RATING: 5 out of 5 Stars, 30+ reviews | ⏳ TOUR LENGTH: 3 hours | ✔️ BOOK NOW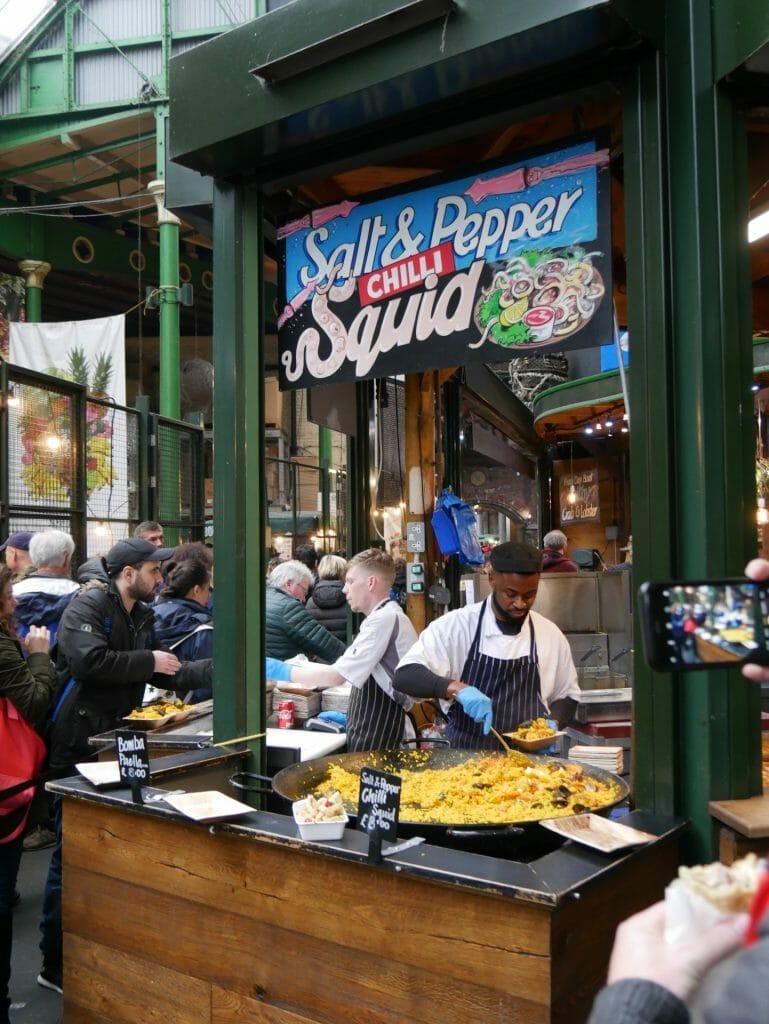 WHAT'S INCLUDED IN THIS TOUR
Brunch
Alcoholic beverages
A chance to see lesser-known London highlights
Six different venues
The Food & Drink Walking Tour in South East London: Bermondsey to Borough Market is a great experience for food-lovers.
If you don't like delicious food, interesting venues, or knowledgeable tour guides, this isn't the tour for you.
Fortunately, who couldn't love those things?
You've likely never heard of Bermondsey before, but this enticing place makes up the first part of your journey – and we know you'll love it.
This tour offers so much more than just food.
"his is a hidden gems tour so we skipped most of the "tourist " spots. Our guide was very knowledgeable and personable. We had Ethiopian food, a G&T at a local gin distillery, freshly made pasta, locally made chocolates, fresh local cheese and finally oysters. All very good. Perfect amount of food.."
It's also a chance to see some interesting landmarks – some you'll know and some you won't.
Regarding those you'll know, you can expect to visit Tower Bridge – walking right underneath it to truly appreciate its majesty.
At Shad Thames, you'll see the buildings that inspired Charles Dickens' Oliver Twist.
You'll also visit Borough Market as part of this walking tour, which is London's oldest fruit and vegetable market – and now boasts a great range of street food vendors.
⭐️ RATING: 5 out of 5 Stars, 650+ reviews | ⏳ TOUR LENGTH: 3 hours 30 hours | ✔️ BOOK NOW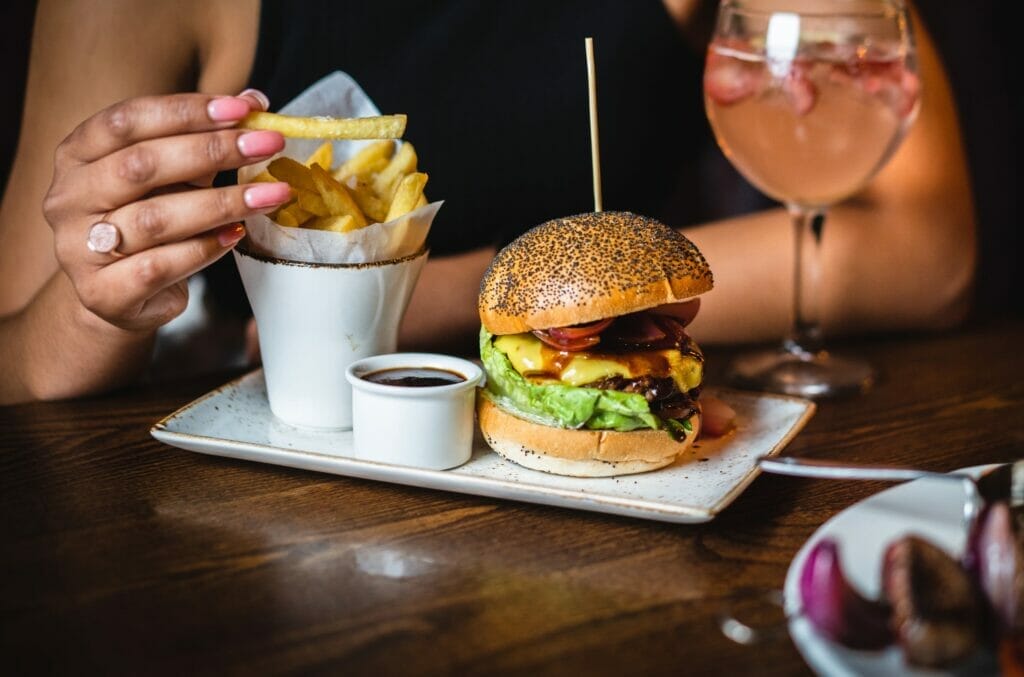 WHAT'S INCLUDED IN THIS TOUR
Up to eight food or drink options
Six different locations
Local tour guide
Learn about the East End's multicultural cuisine
If you've ever seen the British soap opera Eastenders you may have a little knowledge about how Londoners live, but how much do you know about the East End's food and drink scene?
The London East End Food Tour is on hand to show you the best that this neighborhood has to offer.
You'll sample a bacon sandwich at St John Bread and Wine and a salt beef bagel at Beigel Bake.
"Madeline was a fabulous guide! So entertaining and an absolute joy to spend an afternoon with. She showed us details in London we would've never noticed. And the background to the food choices made a world of a difference."
Also expect scrumptious cheese, flavorful curries, and fish and chips.
If you have lots of questions to get off your chest, this is a great tour for you.
Your guide is very knowledgeable about the East End food scene and knows a lot about the history of the area.
⭐️ RATING: 5 out of 5 Stars, 240+ reviews | ⏳ TOUR LENGTH: 3 hours | ✔️ BOOK NOW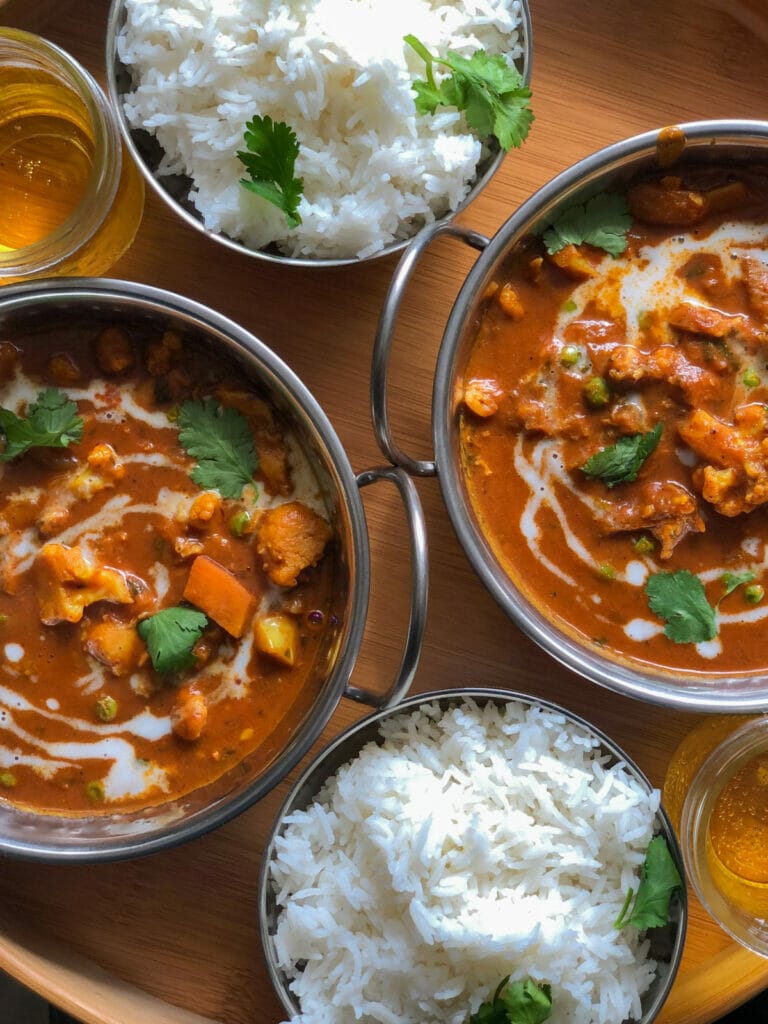 WHAT'S INCLUDED IN THIS TOUR
Food tasting including a selection of curries
A delicious secret dish to be revealed on the day
Local tour guide
Beverages
The London Indian Food Tasting Tour showcases the very heart of this modern city – a multicultural place where different people and their cultures and customs are celebrated.
It's the perfect experience for those wanting a taste of 21st-century London.
Expect to dine on curries, savories, and sweets from India, Pakistan, and Bangladesh.
"This tour was absolutely fantastic! Nanthini, or tour guide was so perfect, enthusiastic about the subject, informative, and a delightful person to be around. The food was amazing. We were beyond stuffed.."
Limited to just a dozen foodies, this tour is intimate – allowing you to make friends and ask your host any questions that you may have about the foods you're trying.
You'll spend the tour on Brick Lane, which includes what locals affectionately call the 'Curry Mile' – a set of restaurants stretching as far as the eye can see.
There's no danger of leaving this tour feeling hungry because you'll try ten different dishes including sizzling lamb, creamy ras ghulla, and fluffy naan bread.
You'll also get two drinks.
⭐️ RATING: 4.5 out of 5 Stars, 10+ reviews | ⏳ TOUR LENGTH: 6 hours | ✔️ BOOK NOW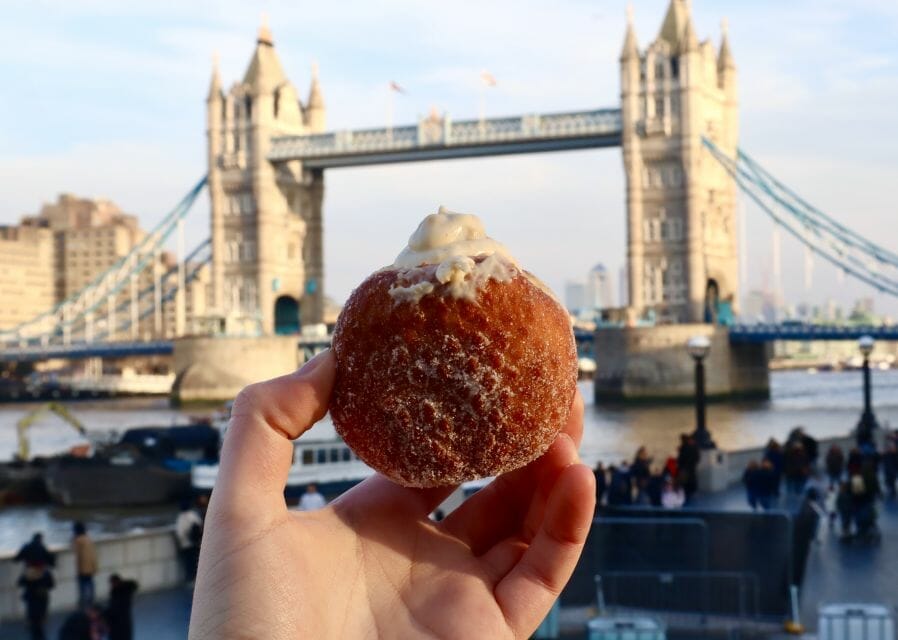 WHAT'S INCLUDED IN THIS TOUR
30+ London landmarks
British foods including scotch egg and fish and chips.
Alcoholic beverages
Learn about the history of British food and culture
The Eat 8 English Foods & See 30+ London Sights Walking Tour is ideal for those wanting to combine an eating experience with sightseeing.
It's perfect if you're only in the city for a short time – as you can experience lots of amazing things all in the space of a single afternoon.
"This tour with Connor was exceptional! We learned history, culture, architecture and even a bit of gossip. Our engaging and witty guide made this packed day terrific. Ending it with a delicious meal was a great way to wrap it up."
As you hop from place to place sampling delicious foods, you'll spot well-known London landmarks including Buckingham Palace, Westminster Abbey, the Houses of Parliament, the Tate Modern, and St. Paul's Cathedral.
Remember as you pass, if there's only a Union Flag flying above Buckingham Palace then the King isn't there. If more flags are flying, he's in residence.
One of the plates you'll try on this tour is pie and mash.
It's so good, it'll have you visiting London much more often.
⭐️ RATING: 4.5 out of 5 Stars, 18+ reviews | ⏳ TOUR LENGTH: 3 hours | ✔️ BOOK NOW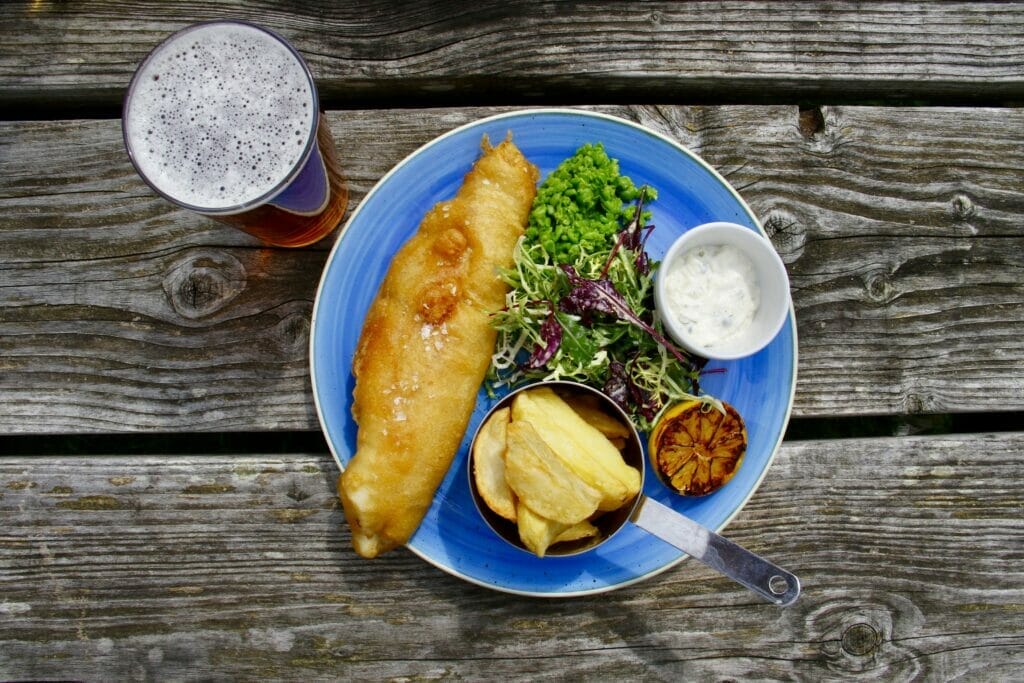 WHAT'S INCLUDED IN THIS TOUR
Vegetarian options
C02 neutral tour
Private tour
Customizable to your food wishes
Looking for a private food tasting experience in London?
Look no further than Private Food Tour: The 10 Tastings of London with Locals.
The tour is organized by a B-Corp-certified company, meaning you can expect high-level social and environmental performance.
They offset all of their carbon emissions, making them a unique choice among a crowded field of food tours in the city.
You'll start the day just like the Brits, with a nice hot cuppa (cup of tea).
"Take a walk back through time with this fun afternoon tour, great mix of delicious food and history in the Borough Market and surrounding area. Leonardo was very pleasant, knowledgeable, kind, and had great suggestions for food tastings and anything else you might need.."
Your guide is very clued up about food history and will educate you about the history of tea and why it's so popular in the UK.
Food-wise, expect to sample bhajis, fudge, and artisanal cheese.
Great news for vegetarians, there are non-meat options available on the tour – meaning you don't have to miss out on the excitement.
In total, there are seven dishes and three drinks to enjoy. It's great value for money and worth your consideration.
⭐️ RATING: 5 out of 5 Stars, 140+ reviews | ⏳ TOUR LENGTH: 3 hours 30 minutes | ✔️ BOOK NOW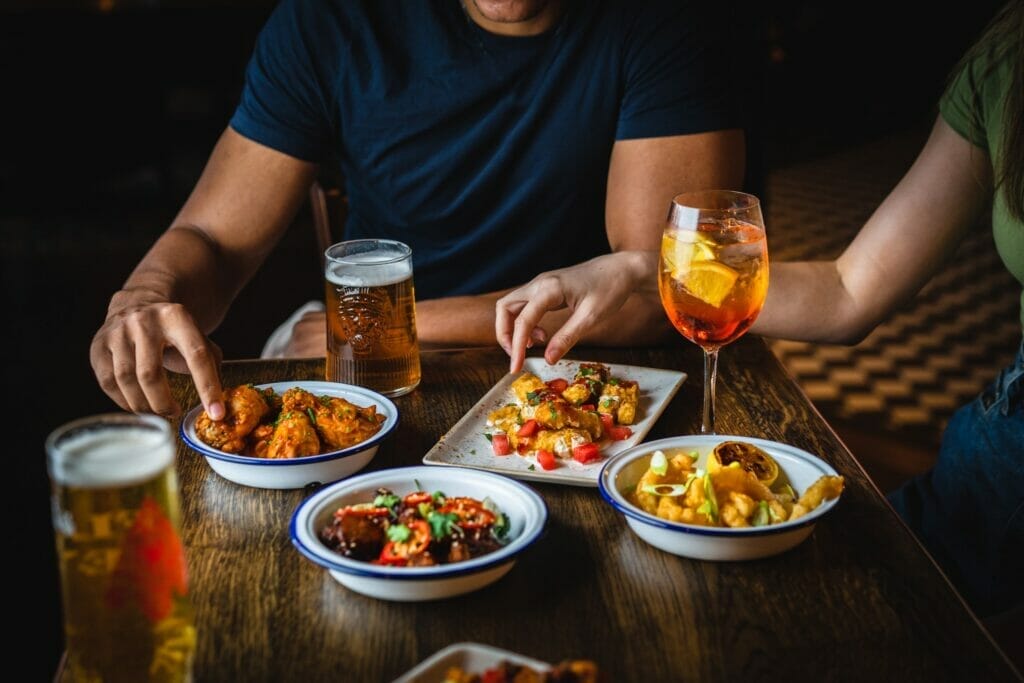 WHAT'S INCLUDED IN THIS TOUR
Nine food samples
Six different locations
Local tour guide
Two drinks
Soho in London's West End is a major entertainment district, and has gained international prominence because of it being mentioned in the novels Strange Case of Dr Jekyll and Mr Hyde, A Tale of Two Cities, and Nicholas Nickleby.
It's also referenced in the song Pinball Wizard by The Who and is the setting for the 2021 movie Last Night in Soho.
"An awesome trip in Soho. Josh was our host an incredibly friendly and knowledgeable. Our favorite part was the music/ entertainment places he took us around to- Mozart, David Bowie, Epidemiologists. Expected just food and got a whole lot more.."
The Twilight Soho Food Tour welcomes food lovers into this fashionable neighborhood, where you'll see locations from the movie and sample tasty foods from Chinese dumplings to Spanish jamón.
This is a fantastic option for one of the best food tours in London.
Your guide is a Soho expert, meaning you'll learn all about the best places to eat and drink here.
While the tour is only three hours and 30 minutes, we recommend spending time after your tour exploring additional places on your own.
⭐️ RATING: 5 out of 5 Stars, 40+ reviews | ⏳ TOUR LENGTH: 3 hours | ✔️ BOOK NOW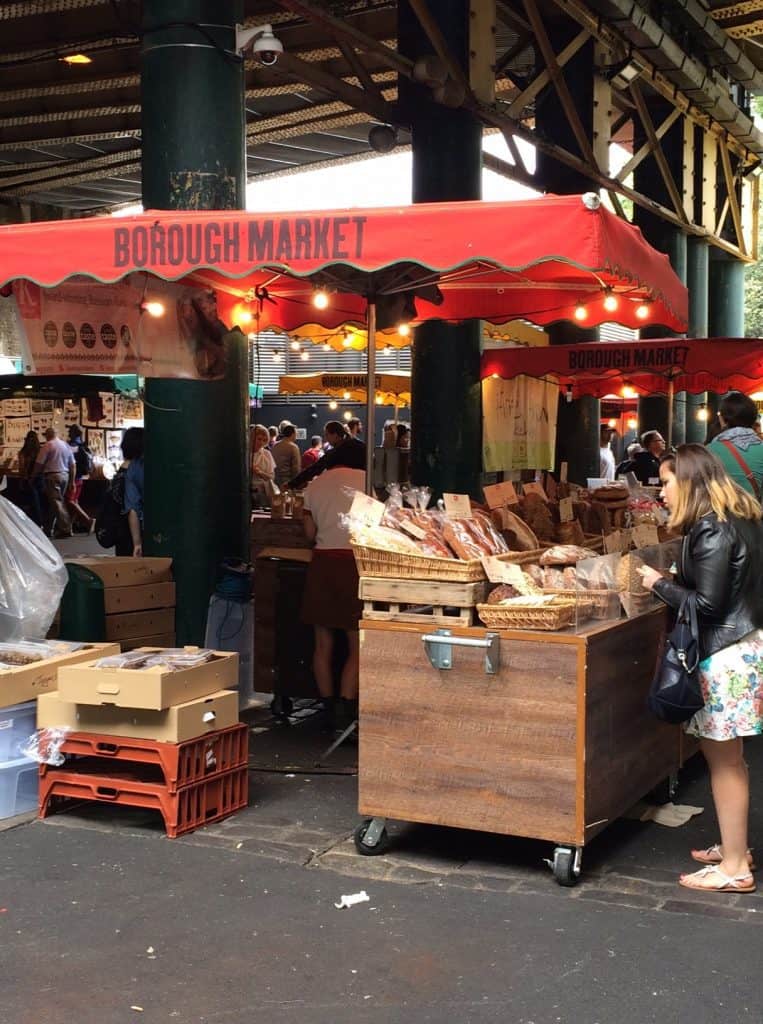 WHAT'S INCLUDED IN THIS TOUR
Visit a hidden wine bar
Pass by Southwark Cathedral, Golden Hinde and Clink Prison Museum
Fish & chips
Learn more about the food vendors at Borough Market
Picture the scene.
You're exploring Borough Market, but don't have any knowledge about what to prioritize.
You only have three hours, and make the mistake of starting at the very beginning and moving through one stall at a time.
With hundreds of stalls here, you inevitably miss the best stalls and later reflect on the day with disappointment.
"This was a great food tour. Every item we tried I'd go back and have again. Lauren was our guide and she was knowledgeable and fun. Our tour included sausage roll, apple crumble, cider, fish and chips, cheese and sticky toffee pudding.."
This doesn't have to be your story on this eating London food tour.
By booking onto the Walking Food Tour in Borough Market, you'll be escorted through this bustling market by a passionate guide who knows the very stalls to visit.
The food on this tour is included in the price, but don't make the mistake of leaving your wallet at home.
With so many interesting stalls here selling vintage clothing, old-fashioned ornaments, and locally-made crafts – we're confident you'll find something you want to buy.
⭐️ RATING: 5 out of 5 Stars, 20+ reviews | ⏳ TOUR LENGTH: 3 hours | ✔️ BOOK NOW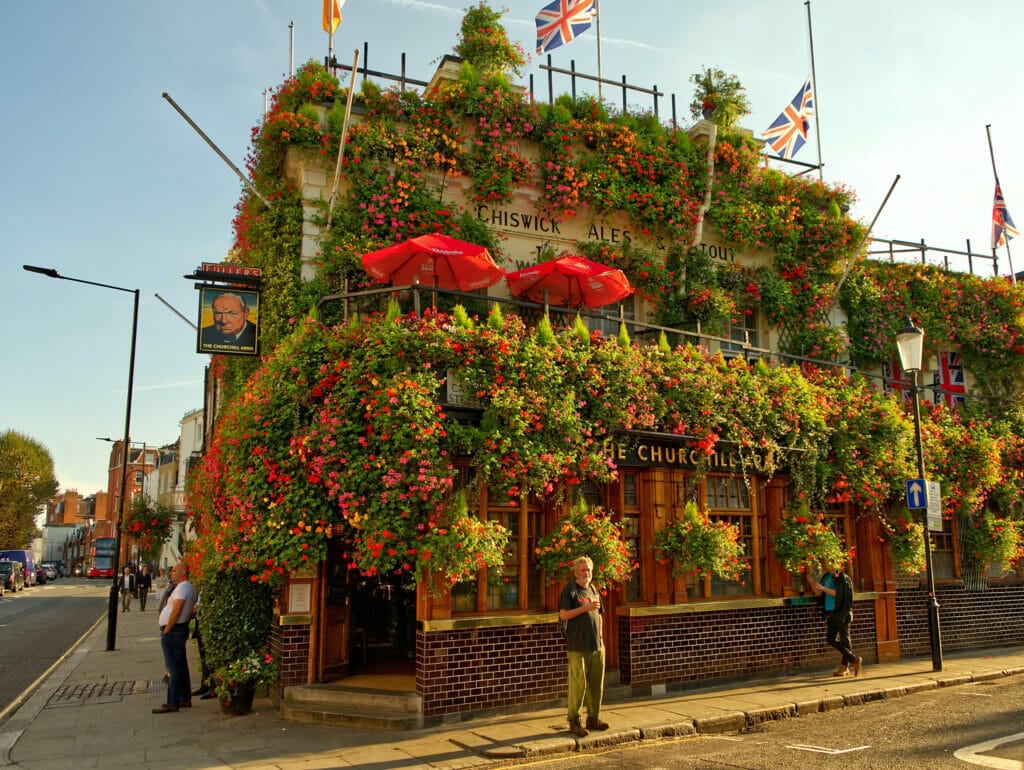 WHAT'S INCLUDED IN THIS TOUR
Visit Portobello Road Market
See the bookshop from the Notting Hill movie
Discover the Banksy Tunnel
Food and alcoholic beverages
If you haven't seen the movie Notting Hill before, put your life on pause and watch it right now.
Then return to this article…
Welcome back.
Now you know how beautiful Notting Hill is, we're excited to let you know about the best food tour in this area of London.
The Food and Drink Walking Tours in West London's Notting Hill Area is a fun day out with lots of scrummy food and interesting locations.
"I thoroughly recommend this tour. Our guide Eddie is fabulous and knows everything there is to know about this area-Portobello market and Notting Hill. The food stops offer delicious food and the G&T was great. It makes for a wonderful and memorable 3hours."
You'll visit the Notting Hill bookshop from the movie and see where Hugh Grant and Julia Roberts filmed the movie's most famous scene.
If you're not a fan of the movie, don't worry as there's plenty more to this tour.
The Banksy Tunnel presents some of the graffiti artist's pieces, while Portobello Road Market offers delicious global foods.
⭐️ RATING: 5 out of 5 Stars, 10+ reviews | ⏳ TOUR LENGTH: 3 hours | ✔️ BOOK NOW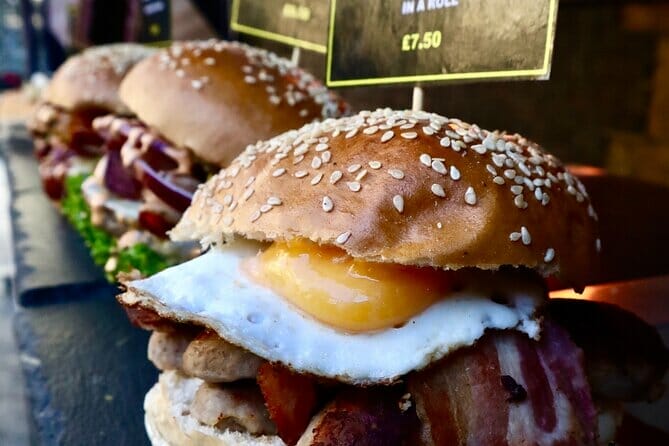 WHAT'S INCLUDED IN THIS TOUR
Breakfast and lunch
Award-winning food
Tea tasting
Alcoholic beverages
The Authentic British Food and History Tour is true to its name – it's as authentic as they come.
You'll sample quintessential British food and gain an insight into the history and culture that defines the cosmopolitan city of London.
This is one of the only food tours in London to include Shakespeare's Globe Theatre on the route.
"Laurent was a wonderful guide. He navigated us through the market and showed us some of the best places to try foods and drinks. We got to skip the very long lines! We all had plenty to eat throughout the tour and learned some history along the way. He was interesting, courteous, and professional.."
You'll marvel at this classic venue where the Bard put on his plays and entertained Londoners hundreds of years ago.
This tour is ideal for those wanting to take some pictures of London landmarks because you'll pass Millennium Bridge, St. Paul's Cathedral, and Golden Hinde.
You're advised to attend this event hungry, because all the samples amount to a full meal.
You'll leave the tour with food in your belly, new knowledge in your brain, and beautiful pictures in your Camera Roll.
⭐️ RATING: 5 out of 5 Stars, 8+ reviews | ⏳ TOUR LENGTH: 3 hours 30 minutes | ✔️ BOOK NOW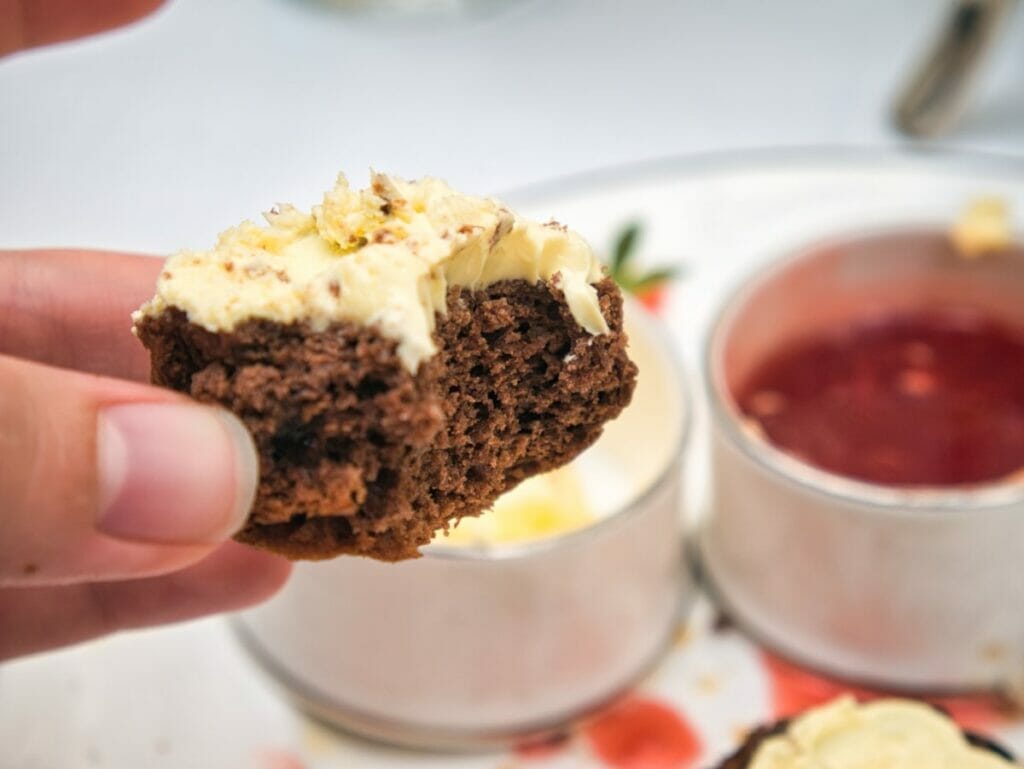 WHAT'S INCLUDED IN THIS TOUR
Sample delicious sweet treats
Water included
A knowledgeable tour guide
The opportunity to learn more about one of London's most expensive areas
The Chelsea Sweet Treats Adventure puts you at the very heart of one of London's most stylish and poshest areas.
Belgravia and Chelsea are two of the most expensive neighborhoods in the city, so it's no surprise they excel at offering high-quality sweet treats.
Indulge in the finer things on this tasty tour.
Fans of rich chocolate and sweet doughs – this is the perfect tour for you.
Expect to sample hot chocolate, gelato, cookies, doughnuts, and much more.
"Monica was a great tour guide. We asked lots of questions and had a wonderful conversation! We are so glad we did the tour. We tasted things we never would have tasted and were definitely full by the end.."
Personalized attention from your tour guide is guaranteed, with this tour having a cap of eight guests.
You'll walk during this tour, making it a great opportunity to enjoy the city's culture and people-watch.
There's no better way to spend an afternoon than eating scrumptious baked goods as you wander around this elegant district.
⭐️ RATING: 5 out of 5 Stars, 2+ reviews | ⏳ TOUR LENGTH: 4 hours | ✔️ BOOK NOW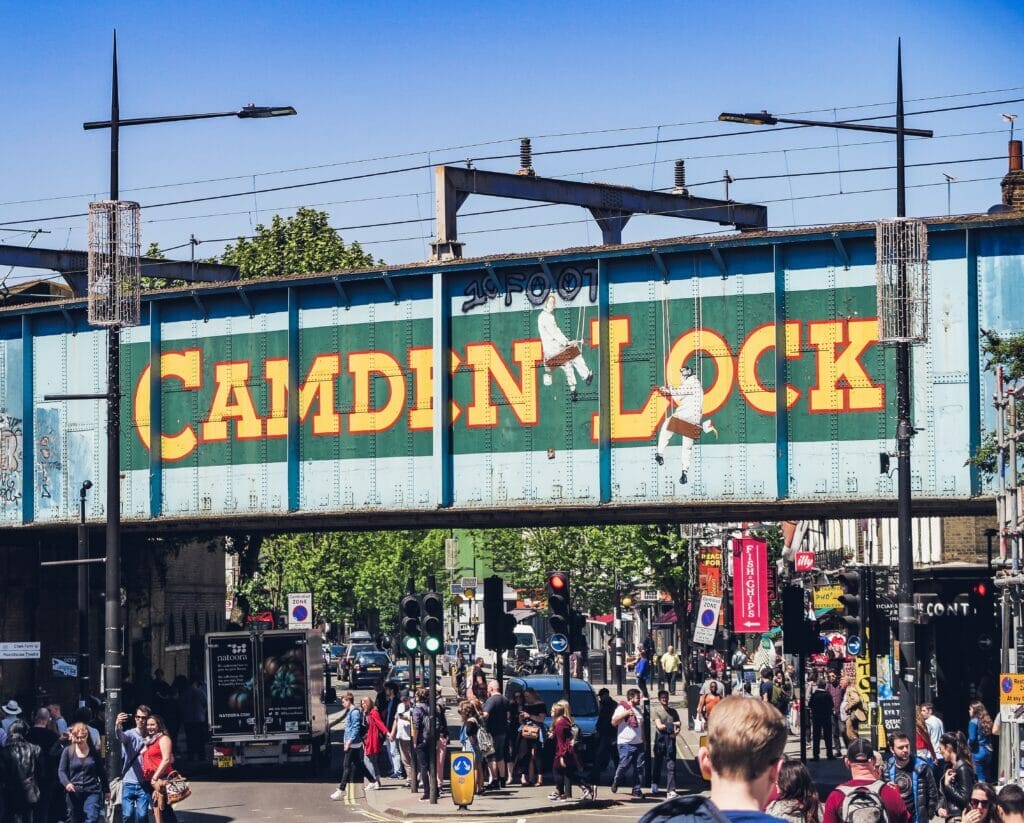 WHAT'S INCLUDED IN THIS TOUR
Food including halloumi fries, ice cream, and more
Bike tour of London
An opportunity to meet other foodies
Food markets
The Bike & Food Tour from Southbank to Camden is a unique opportunity to see the city of London.
Unlike all the other tours on this list, you'll travel around on a pushbike costing you just £4 to rent for the whole activity.
"The bike ride was incredibly memorable and beautiful. Going to food markets instead of restaurants made you feel as if you were getting to know the heart of the city."
As part of a group, you'll meet other passionate cyclists and foodies.
Plus, being a four-hour cycling activity means you'll definitely work up an appetite.
If you're worried about rain, fear not – this experience simply changes to a walking tour and you'll board a bus for longer journeys between locations.
This is a memorable experience like no other, and you can expect to dine on halloumi fries, burgers, truffle mac and cheese, and ice cream.
Hey! Want to use our trusty guides to the best tours in other places across the UK? Check these out!
UK Travel Planning Guide: the FAQs
🏥 Should I buy UK travel insurance?
Absolutely yes. Basic coverage is not expensive, and as a visitor you are NOT covered under the NHS. Compare policies and prices with Travel Insurance Master here, a big name in the travel insurance business, and cross that off your list.
🔌 Do I need travel adapters for the UK?
Yes, you do, otherwise you won't be able to plug in your electronics/phone/lifelines. I recommend this one, which is all-in-one so you can use it in other countries.
🚗 What do I need to drive in the UK?
The first thing you need to check out if you're planning on renting a car in the UK is this guide to driving in the UK for visitors – the roads, signs, and driving experience will likely not be what you're used to and it's essential to prepare yourself to stay safe and aware.
🛌 What's the best way to book hotels in the UK?
For UK hotels, Booking is the best site as it offers free cancellation on many properties. If you want an apartment, I always recommend VRBO over AirBnb.
📳 Will my phone work in the UK?
Yes – if you set it up right. Check out my guide on making your foreign phone work in the UK to ensure that you get the type of service you need.
🚿 Can I drink the water in the UK?
Yes, UK water is great and perfectly safe. But drink out of taps in any kitchen or use water fountains. Double check before drinking out of the taps in hotel bathrooms, though, as they may be on a different system.