This post contains affiliate links for which I may make a small commission to help keep the site running. You will not be charged extra for these items had you not clicked the links. Thank you for your help to keep the site running!
In 1953, British novelist Ian Fleming introduced one of the most iconic secret agents to the world.
Since then, the suave and heroic character of James Bond has appeared in dozens of novels and 27 blockbusting films.
The fictional spy's tie to London has created plenty of tourist appeal, with over a dozen iconic filming locations throughout the city.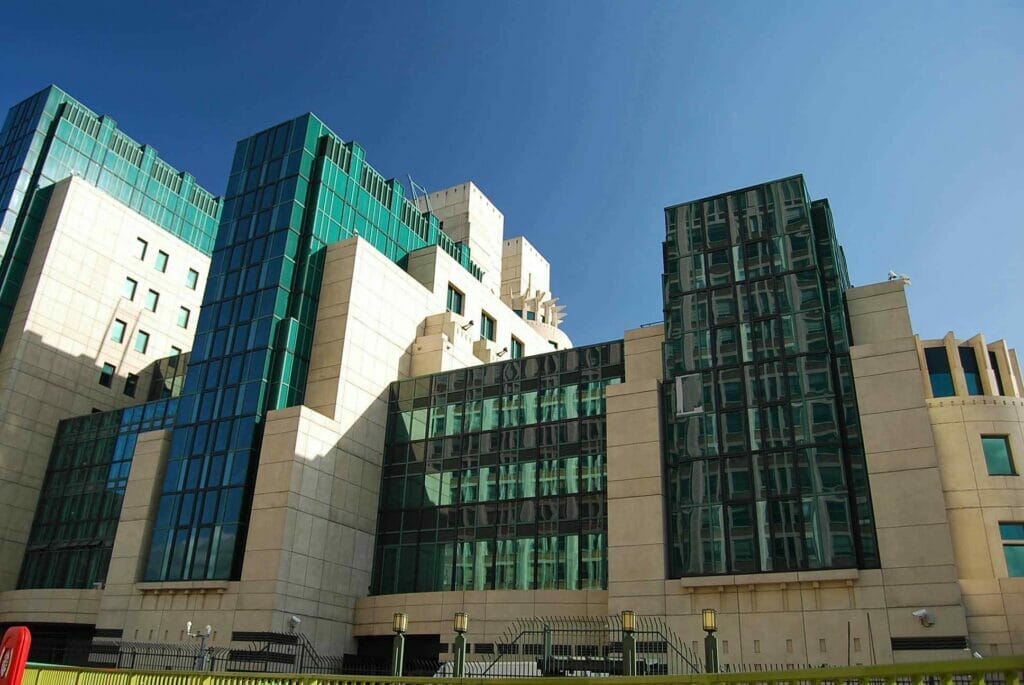 If you're looking for a London-based tour that dives into the world of ever-evolving fiction rather than age-old history, take one of these exciting James Bond London tours, including 007 tours in London, James Bond walking tours in London and James Bond bus tours in London.
Whether you're up for a good bit of walking, or prefer to relax in a classic London cab or minibus, or even want to speed down the River Thames in a speedboat, you'll have a blast immersing yourself in the world of agent 007 on these 7 best James Bond Tours in London!
Easy Guide: Best James Bond Tours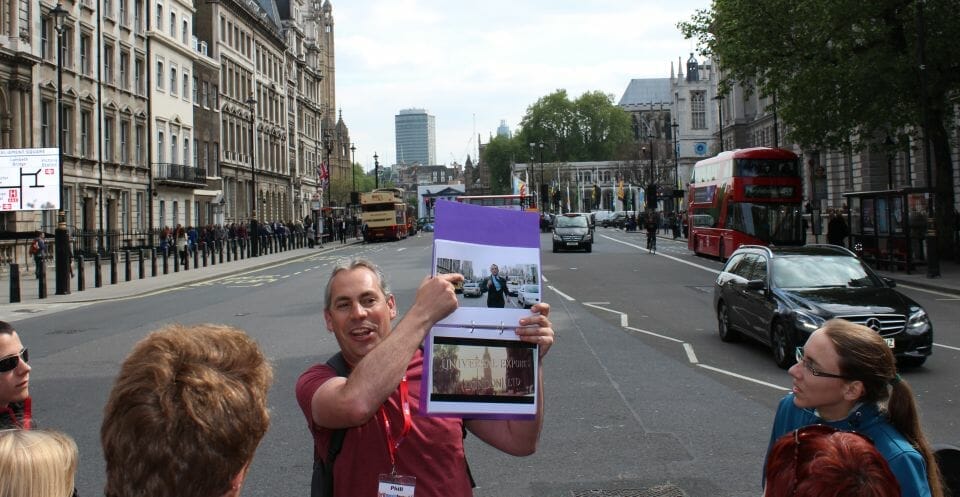 ⭐️ RATING: 4.6 out of 5 Stars, 170+ reviews | ⏳ TOUR LENGTH: 2.5 hours | ✔️ BOOK NOW
WHAT'S INCLUDED IN THIS TOUR
Professional guide
Visit over 10 locations from Bond films
Learn about James Bond and real spy stories
Convenient meeting place near public transportation
During the James Bond 2-Hour Walking Tour of London, you'll not only learn about the fictional world of 007 himself, but also dive into the world of real espionage!
Your tour begins in front of the Charing Cross railway station, and takes you to some of the most iconic locations from various Bond films.
You'll be using public transit to get around to the various locations throughout the tour, so be sure to have your Oyster card loaded and ready to go!
"For Real Bond Enthusiasts! You´ll learn a lot about Ian Fleming, the real Mi6, the history of James Bond Novells and of course you will visit a lot of the places in London which have been displayed in the movies. The Tour Guide Michael is well informed and has pictures from the movies with him to show you the exact scene. For me it was a nice walking experience and I learned a lot new things about 007."
Discover what happens in the government buildings of Westminster, as your expert guide fills you in on both Bond trivia as well as fascinating facts about the British Secret Service!
The tour concludes in front of another recognizable Bond location: the MI6 Building at Vauxhall Cross.
This iconic building is just a 2 minute walk from the railway station, right along the River Thames.
Hungry? There are plenty of places in the area to grab lunch after the tour!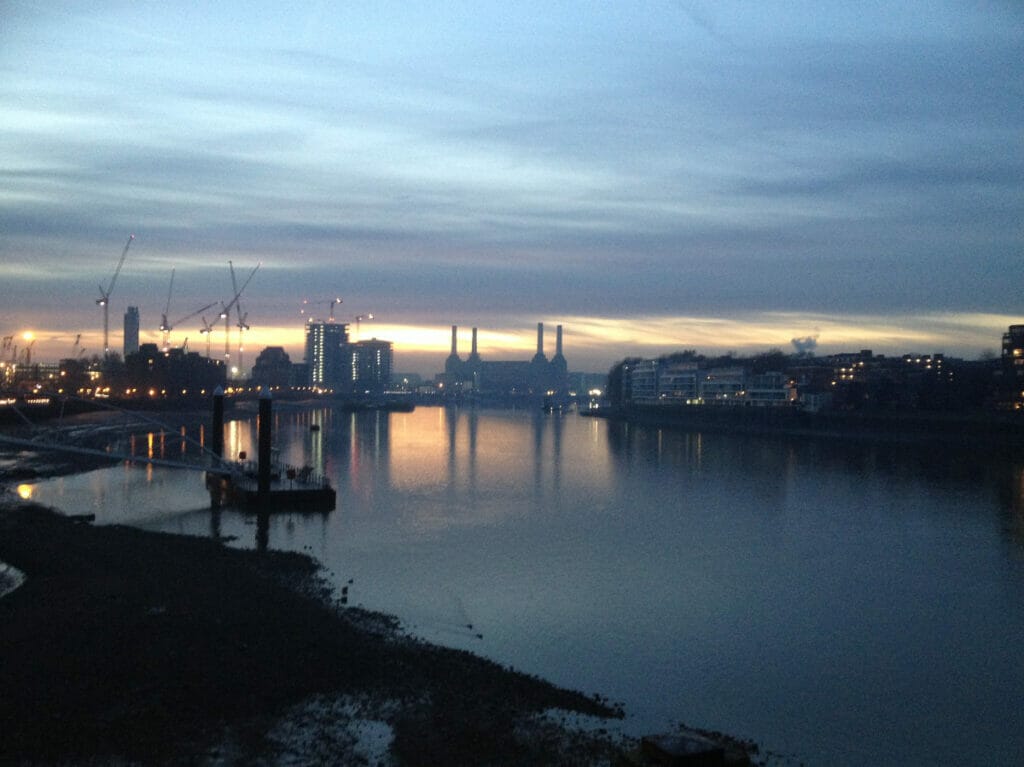 ⭐️ RATING: 4 out of 5 Stars, 40+ reviews | ⏳ TOUR LENGTH: 4 hours | ✔️ BOOK NOW
WHAT'S INCLUDED IN THIS TOUR
Minibus transportation
Knowledgeable guide
Near public transportation
Stroller accessible
Skip the walking and climb aboard the James Bond Bus Tour of London!
This exciting and informative bus tour boards outside of the Blackfriars station on Queen Victoria Street, and ends next to the London Eye.
The minibus will transport you between many recognizable filming locations seen throughout the franchise.
"Jeremiah, our guide, was warm, friendly, energetic, and knowledgeable. The tour includes travel via coach between several filming scenes from across the James Bond series, and short walks to see each location in detail on foot. I particularly enjoyed that the tour didn't feel gimmicky or twee – a great balance between enthusiasm for the character/franchise and the reality of the film industry."
Don't worry about missing out on photo ops!
You'll stop and get out to see the locations up close, having plenty of time to snap some memorable vacation photos before boarding the bus again.
During the 4-hour tour, you'll hear stories about the actors who've played James Bond as you visit locations from GoldenEye, Die Another Day, Skyfall, Spectre, and more!
You'll also pass by the college featured in the sixth Bond movie, On Her Majesty's Secret Service – the only film that saw actor George Lazenby in the 007 role!
Travelling with kids?
This minibus tour is stroller accessible!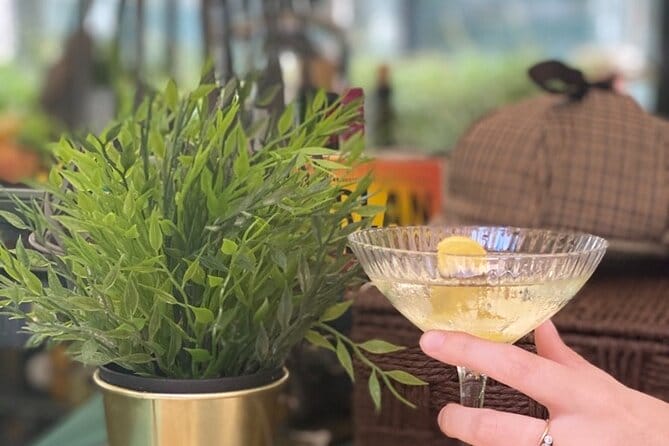 ⭐️ RATING: 4.5 out of 5 Stars, 20+ reviews | ⏳ TOUR LENGTH: 6 hours | ✔️ BOOK NOW
WHAT'S INCLUDED IN THIS TOUR
Breakfast & Lunch
Alcoholic beverages
300 rounds at a shooting range
Near public transportation
Live like 007 for a day on this all-inclusive private tour!
Immerse yourself in the world of James Bond for six whole hours and get a taste of the agent's daily life – literally!
Your tour includes a delectable full breakfast, and will end with Bond's drink of choice: a vodka martini – shaken, not stirred.
You'll start at a secret location in Whitehall, London (located near public transportation), where you'll receive a "mission briefing" before embarking on your action-packed day!
"Our group of six had a fantastic day with Peter! He was very knowledgeable about both James Bond and Ian Fleming. Peter brought history to life for us. From the start with breakfast, through the various stops, and the closing vesper martini, we all had a super time. What a fabulous way to spend a Saturday in London!!"
Try your hand at firing a gun like an expert agent, with 300 rounds at a shooting range featuring many different firearms to choose from.
As if dining and fighting like an agent aren't enough, you'll also get to smell like one!
Receive a sample of Bond's (and author Ian Fleming's) favoured fragrance, Floris No.89.
Like the perfume enough to take a full bottle home? Take advantage of the 10% discount included with your tour!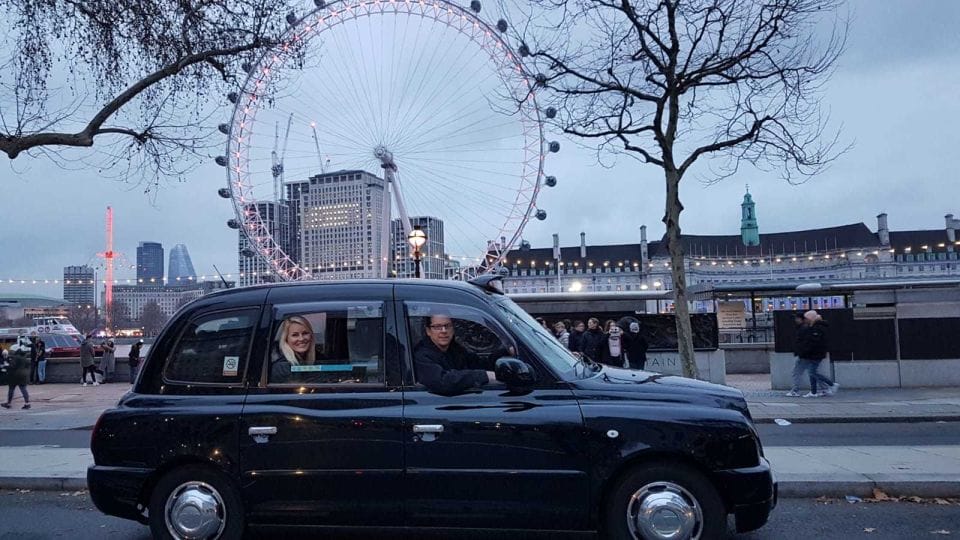 ⭐️ RATING: 4.6 out of 5 Stars, 19+ reviews | ⏳ TOUR LENGTH: 3 hours | ✔️ BOOK NOW
WHAT'S INCLUDED IN THIS TOUR
Expert driver/guide
Stop for photos at iconic locations
Complimentary water
Hotel pickup & dropoff
What's more London than an iconic black cab and everyone's favourite special agent, 007?
You're in for a doubly memorable experience when you take this James Bond London Locations Tour by Black Taxi!
Your expert guide is also a professional London black cab driver, and will pick you up from your Central London hotel.
"Our extremely likeable tour guide Richard was very friendly and communicative – despite my average knowledge of English, it was a very interesting and instructive morning in rainy London – the small detours to Harry Potter and Sherlock Holmes offered a welcome change. The tour ended in a pub that was not only cheap but also offered very good food in a pleasant environment."
From there, you'll travel in comfort as your guide takes you to the most famous James Bond filming locations in London!
Not only that, but you'll also come across several fascinating real-life locations of London espionage – including secret bunkers!
On this 3-hour tour, you'll see the house where Bond author Ian Fleming lived, real MI5 and MI6 locations, and, of course, plenty of recognizable locations from various Bond films, as well as the places from which 007 would get his clothing and cigarettes.
And don't worry, you'll have plenty of opportunities to get out and take some envy-inducing vacation photos along the way!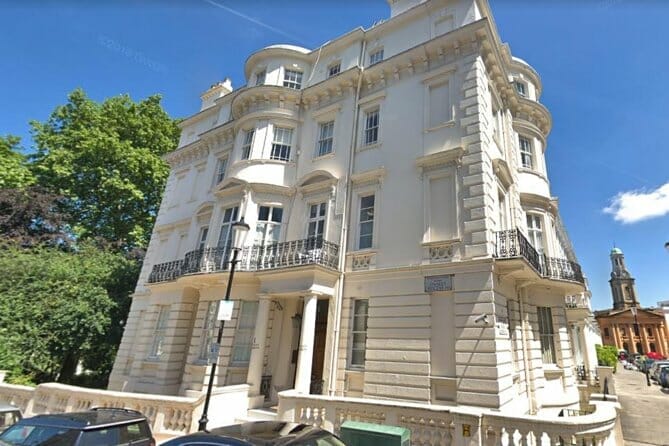 ⭐️ RATING: 5 out of 5 Stars, 5+ reviews | ⏳ TOUR LENGTH: 3 hours | ✔️ BOOK NOW
WHAT'S INCLUDED IN THIS TOUR
Professional local guide
Private walking tour
Wheelchair accessible
Hotel pickup & dropoff
Introverted James Bond fans will prefer this devoted private tour, where you'll have a professional local guide all to yourself for three whole hours!
Your guide will meet you outside the Vauxhall Underground Station, or if you prefer you can arrange to be picked up from your Central London hotel.
From there, you'll embark on a 3-hour walking journey to see the most iconic filming locations throughout the James Bond franchise!
"Michael was outstanding and the experience was A-Z. Michael met us at our hotel and customized the tour based on our location. He then took us back to that same location which made it very easy for us. Highlights were his in-depth knowledge of Ian Fleming, shooting locations and fun facts of espionage."
Get an up-close look at the locations of some of the most memorable scenes from Quantum of Solace, and other Bond films!
But it isn't just fiction you'll encounter on this fascinating tour!
Visit Whitehall and learn about the lives of real spies, including an infamous Cold War murder that sounds like something out of a Bond movie in itself!
You'll have your guide's full attention on this private tour, so don't be shy about asking any questions that may come up!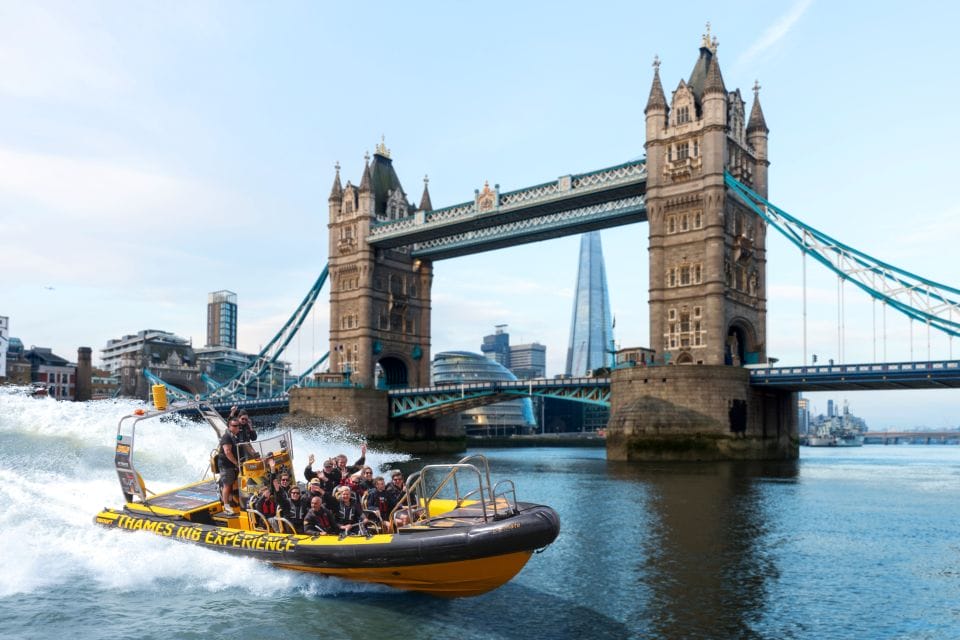 ⭐️ RATING: 4.8 out of 5 Stars, 300+ reviews | ⏳ TOUR LENGTH: 45 minutes | ✔️ BOOK NOW
WHAT'S INCLUDED IN THIS TOUR
Thrilling speedboat ride
Complimentary plastic ponchos
Life jackets to wear during ride
Near public transportation
While the tour isn't dedicated to 007 himself, you'll be feeling like James Bond as you dash across the Thames on this Canary Wharf Speedboat Tour!
The speedboat will blast the Bond theme as you take off on a high-speed ride along London's famous river – keep an eye out for the MI5 and MI6 buildings!
"My 12 yr old son could not stop smiling after we came off this trip, you get to do some nice sightseeing on the river but what we loved the most was speeding down the River Thames thinking we were James Bond."
You'll be fascinated by your guide's friendly and fun commentary as you pass by several iconic London locations, like the Tower of London and St Paul's Cathedral.
Climb aboard at Embankment Pier (conveniently located right across from the Embankment station) and feel like an action hero as you zoom down the river to Canary Wharf and back!
The tour lasts about 45 minutes, with 25 minutes of easy-paced commentary and 20 minutes of high-speed action!
Worried about getting soaked to the bone? Don't be! Your tour includes a complimentary plastic poncho, and mandatory life jackets will ensure your safety.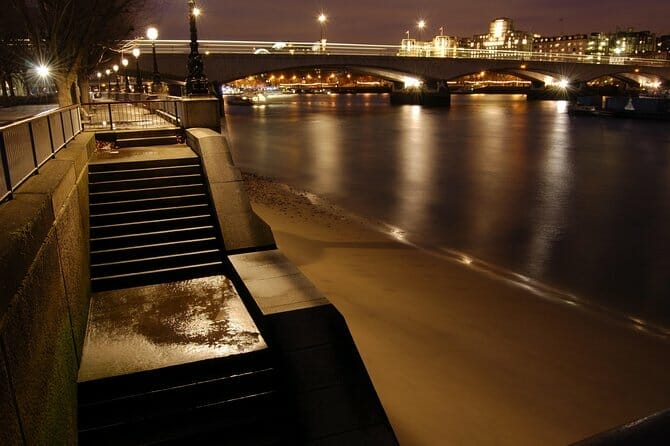 ⭐️ RATING: 4 out of 5 Stars, 5+ reviews | ⏳ TOUR LENGTH: 3 hours | ✔️ BOOK NOW
WHAT'S INCLUDED IN THIS TOUR
Expert, professional guide
Audio headset during tour
Luxury vehicle with onboard Wi-Fi
Near public transportation
Discover what happens in the lives of real spies on this exciting Small-Group Spy & Espionage Tour of London!
This tour isn't Bond-specific, but you'll get a load of fascinating information about the realities of his line of work – and with a maximum of 25 travellers, you won't have to shout for your questions to be heard!
Your tour begins and ends at St. Ermin's Hotel – a former MI6 headquarter! – and lasts for three hours.
But don't worry, you won't be walking the entire time!
"My husband took this tour and enjoyed every minute of it. I'm very disappointed that I had to miss it. The tour guide, Andy Jackson, takes you through London and the history of spying-from the beginnings of MI5 and MI6 to the Cold War to recent assassination attempts by Russia to silence ex-spys and double agents."
Your expert guide will lead you around some of the most important spy-related locations in London via luxury mini coach, and you'll get out and do a bit of walking for up-close views.
There will of course be several James Bond locations that pop up throughout the tour, like the MI6 headquarters along the River Thames.
Audio headsets (provided) will ensure that you don't miss a moment of fascinating commentary – the details of which you'll want to share with everyone you know!
UK Travel Planning Guide: the FAQs
🏥 Should I buy UK travel insurance?
Absolutely yes. Basic coverage is not expensive, and as a visitor you are NOT covered under the NHS. Compare policies and prices with Travel Insurance Master here, a big name in the travel insurance business, and cross that off your list.
🔌 Do I need travel adapters for the UK?
Yes, you do, otherwise you won't be able to plug in your electronics/phone/lifelines. I recommend this one, which is all-in-one so you can use it in other countries.
🚗 What do I need to drive in the UK?
The first thing you need to check out if you're planning on renting a car in the UK is this guide to driving in the UK for visitors – the roads, signs, and driving experience will likely not be what you're used to and it's essential to prepare yourself to stay safe and aware.
🛌 What's the best way to book hotels in the UK?
For UK hotels, Booking is the best site as it offers free cancellation on many properties. If you want an apartment, I always recommend VRBO over AirBnb.
📳 Will my phone work in the UK?
Yes – if you set it up right. Check out my guide on making your foreign phone work in the UK to ensure that you get the type of service you need.
🚿 Can I drink the water in the UK?
Yes, UK water is great and perfectly safe. But drink out of taps in any kitchen or use water fountains. Double check before drinking out of the taps in hotel bathrooms, though, as they may be on a different system.
Hey! Want to use our trusty guides to the best tours in other places across the UK? Check these out!