This post contains affiliate links for which I may make a small commission to help keep the site running. You will not be charged extra for these items had you not clicked the links. Thank you for your help to keep the site running!
The Harry Potter stories have captivated imaginations for over 20 years, and it's easy to see why.
They're magical tales of bravery, friendship, and Quidditch.
The world-famous books and movies welcome us into another world filled with epic battles, likable characters, and magic spells.
London is the beating heart of the Potterverse – and it shows.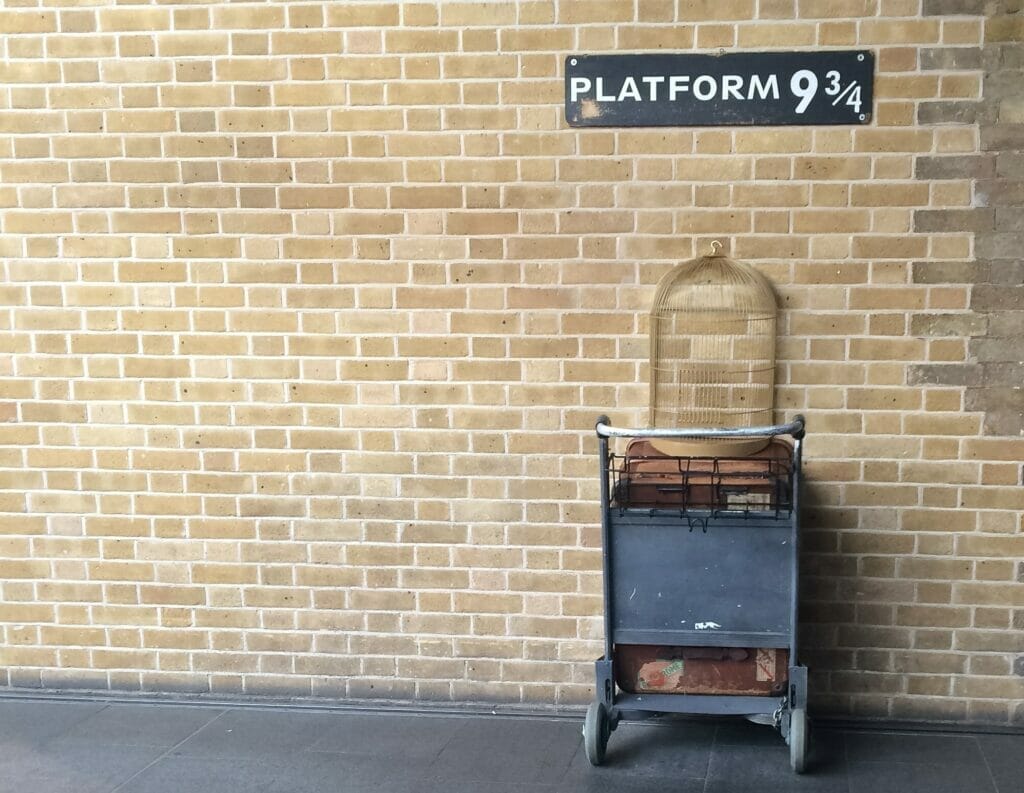 There are so many different tours to choose from, each offering tourists a slice of the Wizarding World.
Expect to see filming locations and hear stories about how the books and movies were made.
If you or someone you love is the world's biggest Harry Potter fan, they'll love joining one of the following tours of London, including London Harry Potter walking tours, London Harry Potter locations tours, and more.
Wands at the ready! Let's dive in.
Easy Guide: Best Harry Potter Tours in London
⭐️ RATING: 5 out of 5 Stars, 880+ reviews | ⏳ TOUR LENGTH: 2 hours | ✔️ BOOK NOW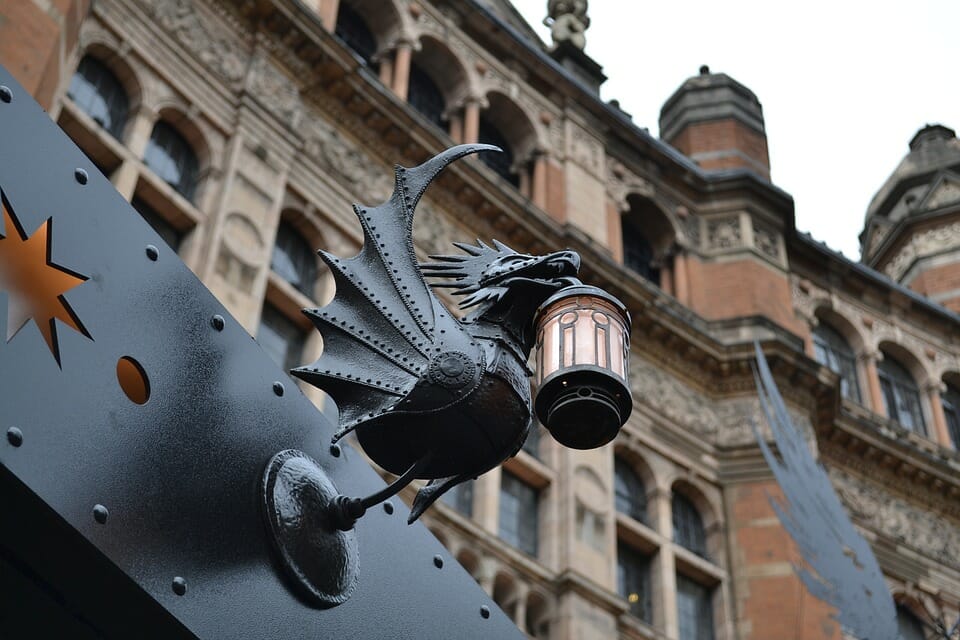 WHAT'S INCLUDED IN THIS TOUR
Professional guide who loves Harry Potter
Reenactments of the best scenes from the movies
Take part in a quiz on this London Harry Potter tour
Listen to movie trivia on the route
Muggles, witches, and wizards are all welcome on the Original Harry Potter Locations Tour – London.
You'll explore the remarkable London locations that appeared in the movie franchise, as well as see other iconic landmarks such as London Bridge and St. Paul's Cathedral.
"The tour was a great experience for both children and adults. It was actually two tours in one – we got a great introduction to some of the major landmarks in London alongside a tour of some of the Harry Potter filming locations. The questions and trivia made it even more fun. Jack is the ultimate Harry Potter nerd! :)."
Visit The Leaky Cauldron in London's Borough Market and walk along Millennium Bridge which was destroyed by the Deatheaters in the movie.
At Covent Garden, you'll learn about J.K. Rowling – the author of the Harry Potter book series.
Your professional guide is a hardcore Harry Potter nerd – and it shows.
They're on hand throughout the 2-hour activity to provide movie trivia and answer any questions you may have.
Find your inner Hermione and swat up before you join the tour because there will be a fun quiz to test your movie knowledge.
⏳ TOUR LENGTH: 8 hours | ✔️ BOOK NOW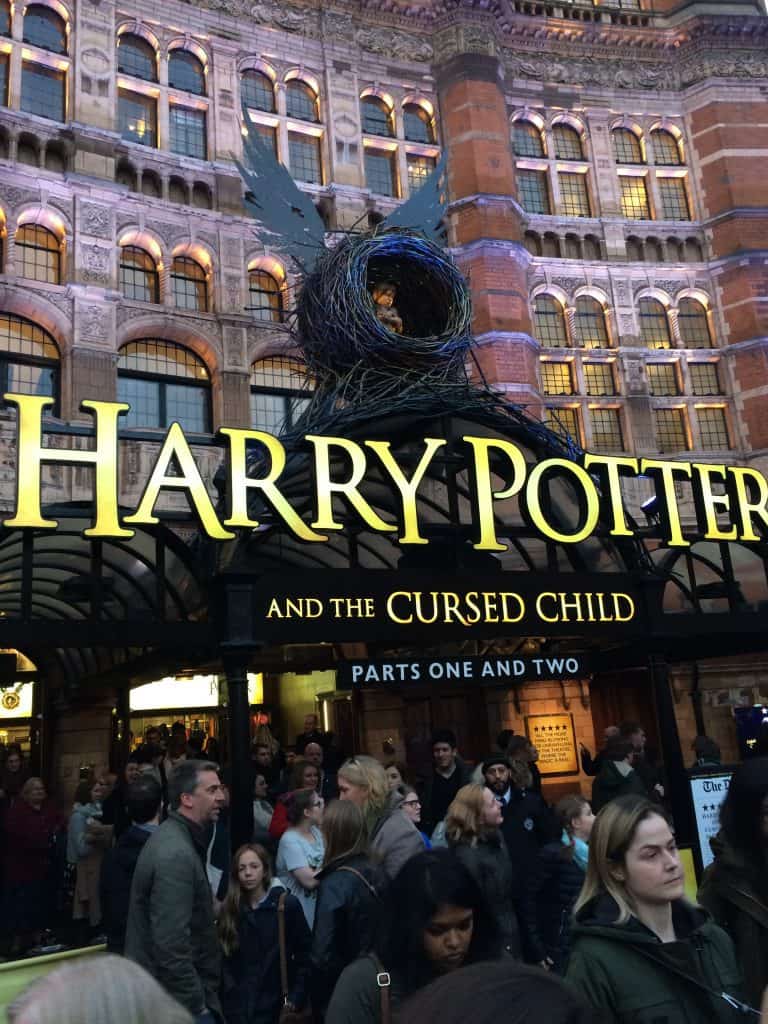 WHAT'S INCLUDED IN THIS TOUR
Guided tour
See famous London spots including Big Ben
Local guide
Tickets to see Harry Potter & The Cursed Child
Die-hard fans of Harry Potter will love this once-in-a-lifetime tour. It's a guaranteed eight hours of pure Harry Potter fangirling.
You'll stroll the streets once walked by Daniel Radcliffe, Rupert Grint, and Emma Watson during filming before heading to watch the latest addition to the Harry Potter universe – Harry Potter and the Cursed Child.
During the locations part of the day, you'll be shown around the city by a passionate and funny tour guide.
You'll walk through Leicester Square and across London Bridge before arriving at Palace Theatre for part two of this amazing day.
At Harry Potter and the Cursed Child, you'll be able to sit back and relax as you watch the smash-hit West End show that's energized a whole new generation of Potter fans.
The story takes place 19 years after the events of the Deathly Hallows and features Harry's son, Albus Severus Potter.
⭐️ RATING: 5 out of 5 Stars, 20+ reviews | ⏳ TOUR LENGTH: 4 hours | ✔️ BOOK NOW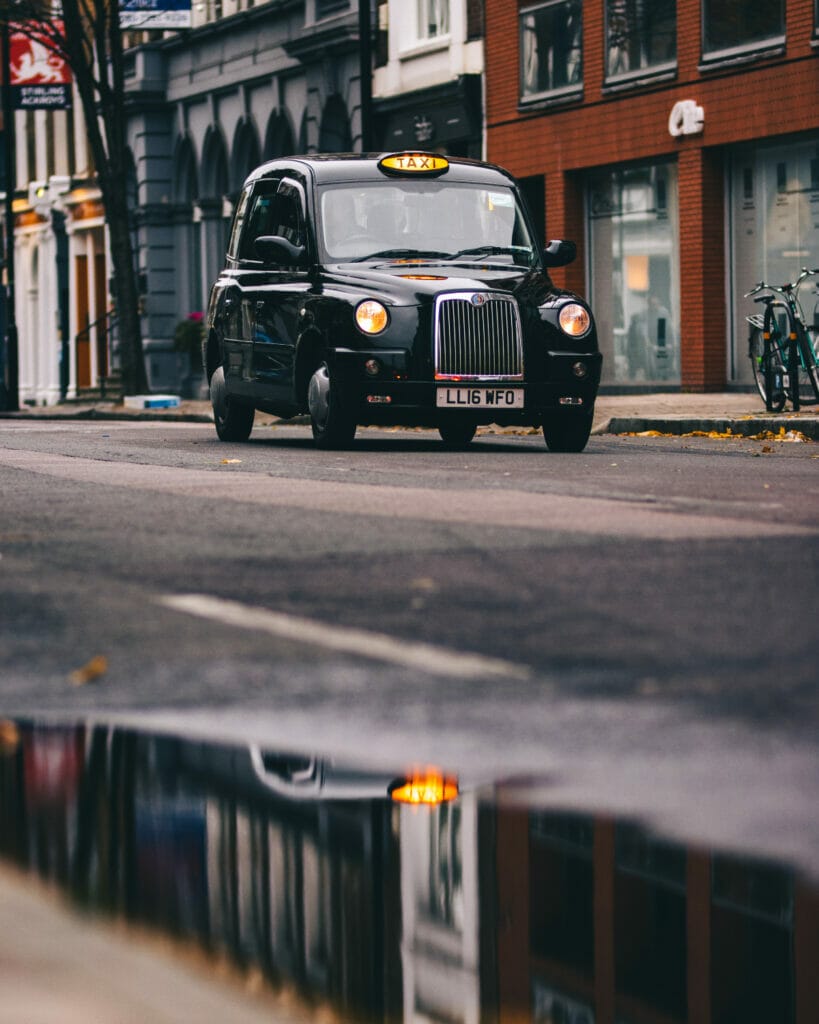 WHAT'S INCLUDED IN THIS TOUR
Taxi tour of Harry Potter locations
Finish your tour at a location of your choice
Ride in a classic London cab
The opportunity to dress up as your favorite Harry Potter character
What's the problem with walking tours you ask?
The walking.
Walking quickly isn't possible for everyone and maybe you simply can't be bothered.
While broomsticks are a great way for witches and wizards to travel, we muggles travel by cab.
On Harry Potter – Private London Taxi Tour, you'll be driven around locations from the movies.
You'll spot the Ministry of Magic, Diagon Alley, The Leaky Cauldron and so many more iconic locations every Harry Potter fan will instantly recognize.
You can pull up at certain spots for photo opportunities and you're strongly encouraged to wear your Hogwarts robes.
"We had a fabulous 3hr tour with Yannis. Our 10yr old and 7yr old thoroughly enjoyed seeing the sights from the movie around the city of London. Yannis was so knowledgeable not only in Harry Potter but also provided us with so many insightful thoughts about London. Would highly recommend."
The best thing about this tour is that you'll get to visit more locations than on foot.
Plus, at the end of the event, you can get dropped off at a London location of your choosing.
Your taxi tour is intimate with up to five seats for you and your family or friends.
⭐️ RATING: 4 out of 5 Stars, 15+ reviews | ⏳ TOUR LENGTH: 3 hours | ✔️ BOOK NOW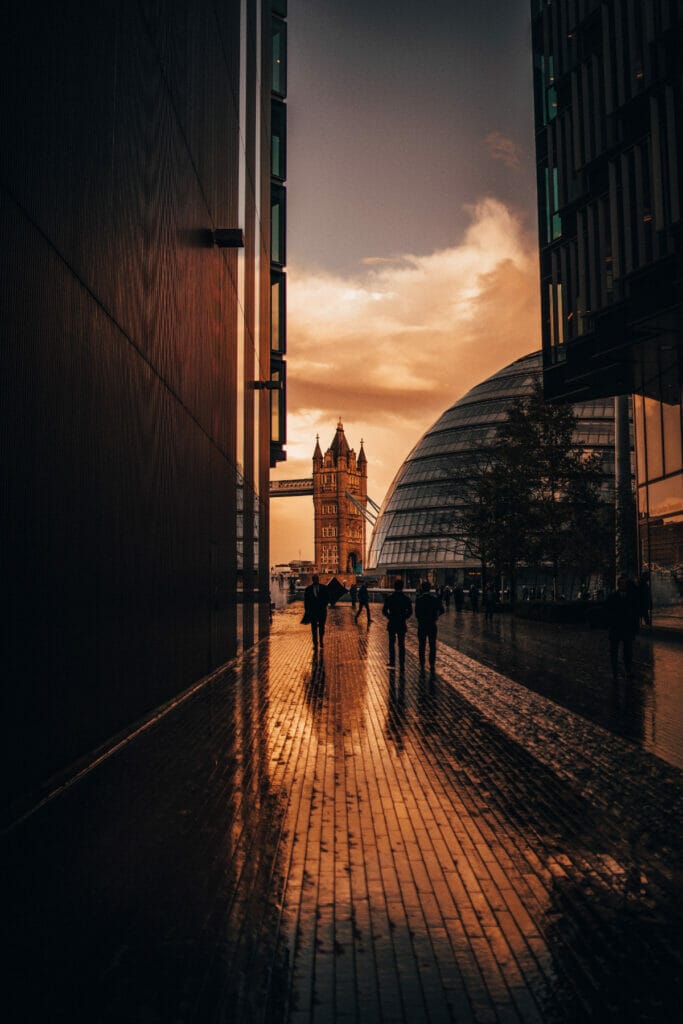 WHAT'S INCLUDED IN THIS TOUR
Flexible tour
Available 24/7
No internet connection required
Available in English and French
Are you a Harry Potter fan who'd prefer to look around famous Potterverse landmarks without the pressure of a large group?
Then London Outdoor Escape Game: Harry Potter Movie Locations is the ideal choice for you if you want a Harry Potter guided walking tour.
A chance to get your steps in and indulge your love of all things Harry Potter, this tour is self-guided and so you can enjoy sightseeing at your own pace.
There's no tour guide to rush you along, meaning you'll have plenty of chances to take photos and pause for food and drink.
"It was a great opportunity to see parts of London that we would not normally see. Took my sister in law and nieces and we had a great time. Thank you."
You'll be provided with an app that includes locations, behind-the-scenes stories, and facts about the much-loved movies and books.
No internet connection?
No worries, with offline gameplay available.
What are you waiting for? Use the spell accio to summon your mobile, download the app, and start exploring.
⭐️ RATING: 5 out of 5 Stars, 20+ reviews | ⏳ TOUR LENGTH: 3 hours | ✔️ BOOK NOW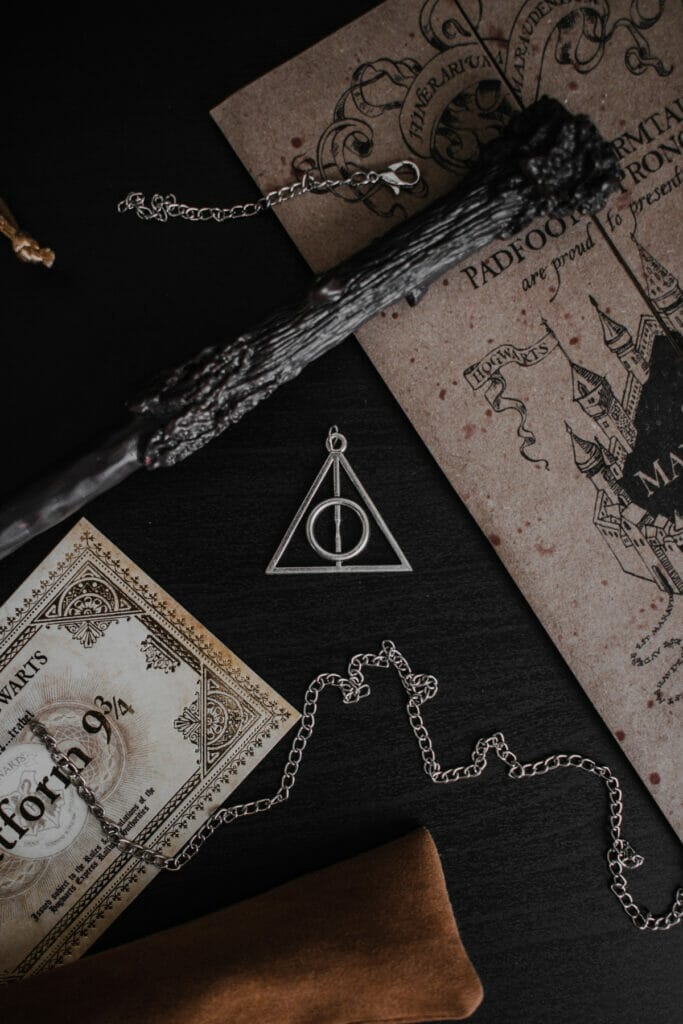 WHAT'S INCLUDED IN THIS TOUR
Private walking tour
Kids go free of charge
A guide who knows lots about the Potterverse
More than 10 London locations
Harry Potter in London – Private Tour is a great choice for muggles who want to explore locations from the Wizarding World at their own pace.
Everybody's relationship with the Harry Potter universe is unique and intimate, and on this tour you'll journey between locations with your own guide dedicated to looking after you.
"We had a great time with Sam. He was able to share a lot of interesting information about the filming sites for the Harry Potter movies. My daughter is a fan of the series and had a lot of knowledge about the parts of the movie he referenced. I think that made the tour much more enjoyable for her and for our guide.."
You can expect to visit more than ten locations from the movies and stop for photos at Platform 9 ¾.
Your local guide has insider knowledge about how the films were made and why specific locations were selected.
At three hours, you'll definitely get your money's worth on this tour. And we haven't even mentioned the best part yet.
The advantage of picking this tour is that kids join for free, making this a great event for families.
⭐️ RATING: 5 out of 5 Stars, 7+ reviews | ⏳ TOUR LENGTH: 1 hour 15 minutes | ✔️ BOOK NOW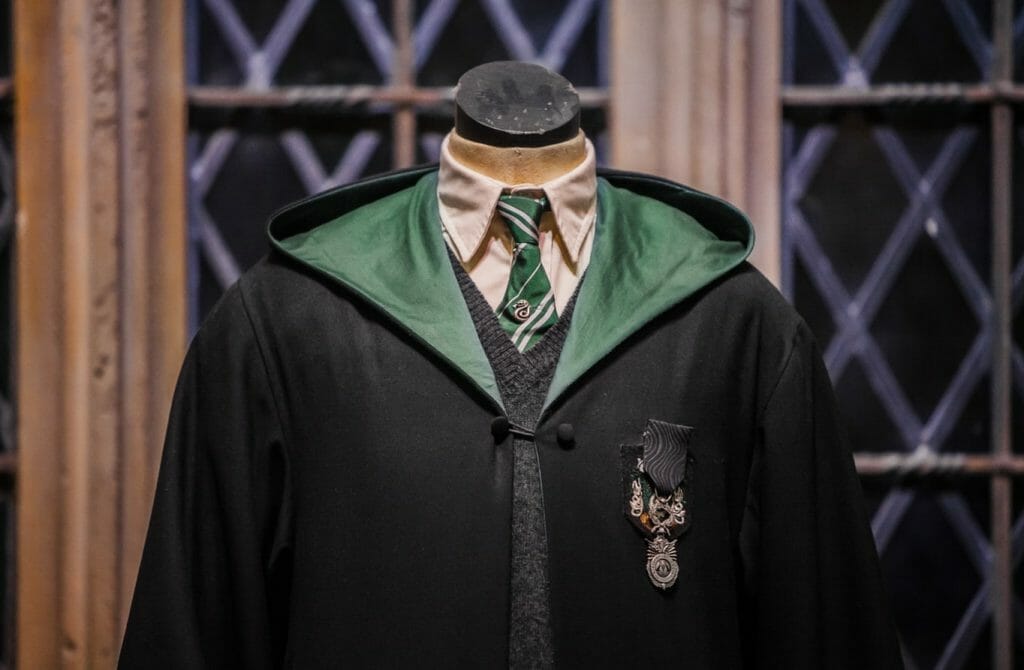 WHAT'S INCLUDED IN THIS TOUR
Zoom meeting invite
Virtual tour of London landmarks from the movies
Wizarding World quiz
Ask burning questions about the movie and book series
If you can't make it to London in person, you should consider the Harry Potter Magical London Virtual Tour.
It's the most unique Harry Potter London tour available.
Perfect for those on the other side of the world, or those with family and friends stationed around the globe, you'll tour Harry Potter filming locations from the comfort of your home.
"A magical, fun, competitive and informative experience for all the family. Thank you Chris for the time and effort you have put into making this fun for all.."
Don't be fooled into thinking that because this is online it won't be any good.
It's been organized by professional filmographers – and it shows.
As you take a virtual stroll around England's capital city, you'll hear behind-the-scenes stories from the film set.
If you're celebrating a child's birthday, this tour would be an extra special gift for them.
The whole family can join in from all over the world and discover the Wizarding World in glorious quality and depth.
Pour yourself a pint of Butter Beer, fill a bowl of Bertie Bott's Every Flavor Beans, dust off your robes, and settle back on your sofa for a magical online experience.
⏳ TOUR LENGTH: 4 hours | ✔️ BOOK NOW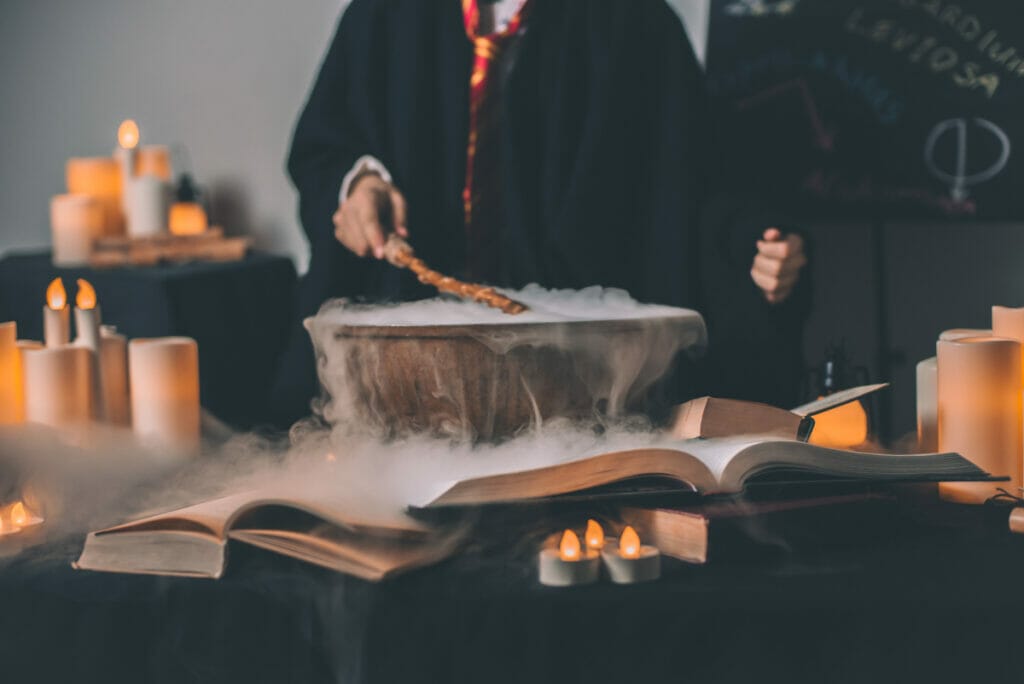 WHAT'S INCLUDED IN THIS TOUR
A magic wand-making class
3-hour walking tour of filming locations
Local guide
Suitable for families
Looking for The Best Harry Potter Tour & Wand Making Experience in London? We've found it for you. Being 4-hours in total, you'll spend an entire afternoon fulfilling your Harry Potter dreams.
This magical tour caters to everyone, whether you're traveling on your own, as a couple, or with a larger party.
You'll start the event at King's Cross Station where you'll discover Platform 9 ¾ and have your photo taken.
Then, you'll hop over to Leicester Square to do some sightseeing.
There are two shops on this tour to explore – one selling Harry Potter merchandise and the other a secret until the day of your tour.
If you've done a Potter tour before and are looking for one with a unique edge, the wand-making class at this event is perfect.
You'll make a wand that you can keep.
⭐️ RATING: 4.5 out of 5 Stars, 230+ reviews | ⏳ TOUR LENGTH: 2 hours | ✔️ BOOK NOW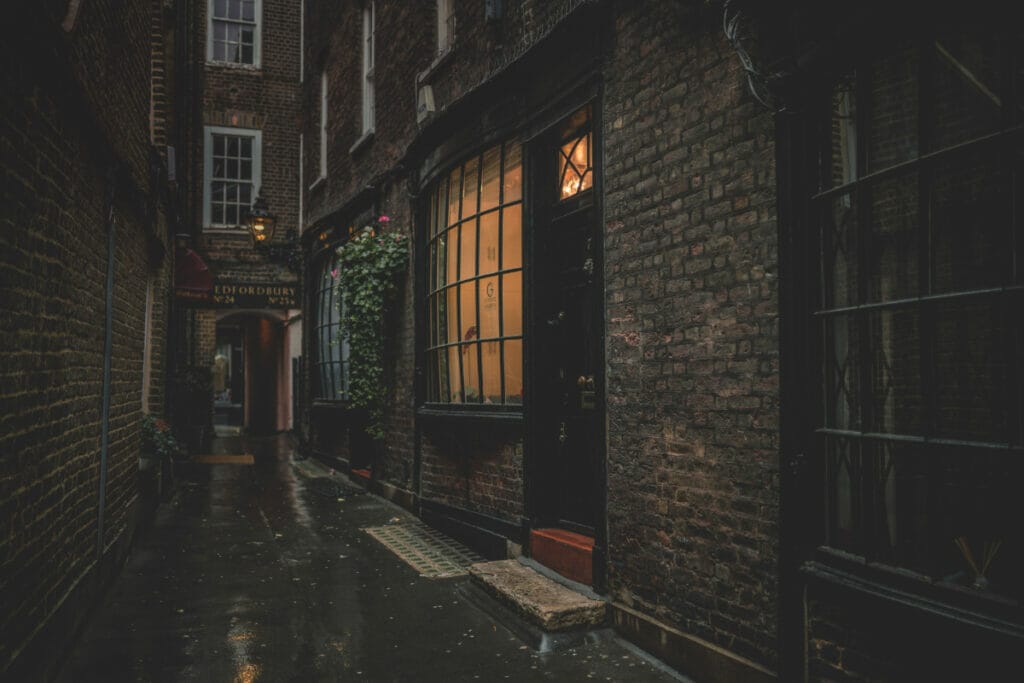 WHAT'S INCLUDED IN THIS TOUR
Knowledgeable tour guide
Pass London landmarks
Learn insider facts and trivia
Walking tour
Remember witches and wizards – when you're in London you have to behave as muggles do.
This means leaving your Nimbus 2000 behind and traveling at a slower pace on foot.
The Harry Potter London Walking Tour promises 120 minutes of trivia and facts from the Potterverse.
You'll pass by famous landmarks from the movies, including but not limited to the Ministry of Magic and Leaky Cauldron.
"Great for kids and adults! This tour not only covers Harry Potter movie locations, but also, along the way, you find out a lot about architecture and history of London."
Your passionate tour guide has cards with them that display the movie scenes.
This is a great touch because it allows real-time comparisons and lets you feel the Holywood magic of where you're standing.
The Harry Potter Walking Tour is the perfect choice for solo travelers due to the large nature of the walking groups.
You're sure to meet fellow fans here. Let's just hope you don't meet any Slytherins!
⏳ TOUR LENGTH: 8 hours | ✔️ BOOK NOW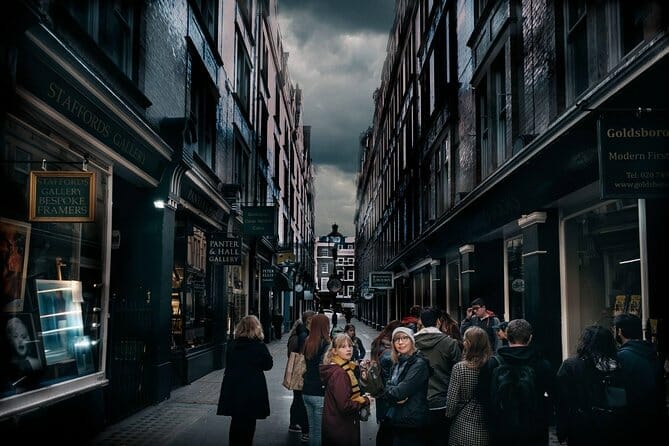 WHAT'S INCLUDED IN THIS TOUR
Bottled water
Air-conditioned transport vehicle
Visit the building that was used as the interior of Gringott's Bank
Visit to London Zoo
Clocking in at a remarkable eight hours, the Harry Potter London Independent Full Day Tour is simply charming.
You'll be provided with bottled water as you set off on a full-day adventure like no other.
Traveling onboard an air-conditioned vehicle, you'll journey from location to location – seeing more than you ever could on foot.
Given the length of this tour, you'll visit lots of famous places.
You'll visit the real-life florist that marks the entrance to the Leaky Cauldron and the market that inspired Diagon Alley.
Also expect to drive over the bridge the Knight Bus uses and the route that Harry flies in The Order of the Phoenix movie.
This superb tour ends at London Zoo, which is a lesser-visited location by Potter-heads.
It's in this zoo's reptile house that Harry finds out he can speak to snakes.
⏳ TOUR LENGTH: 2 hours | ✔️ BOOK NOW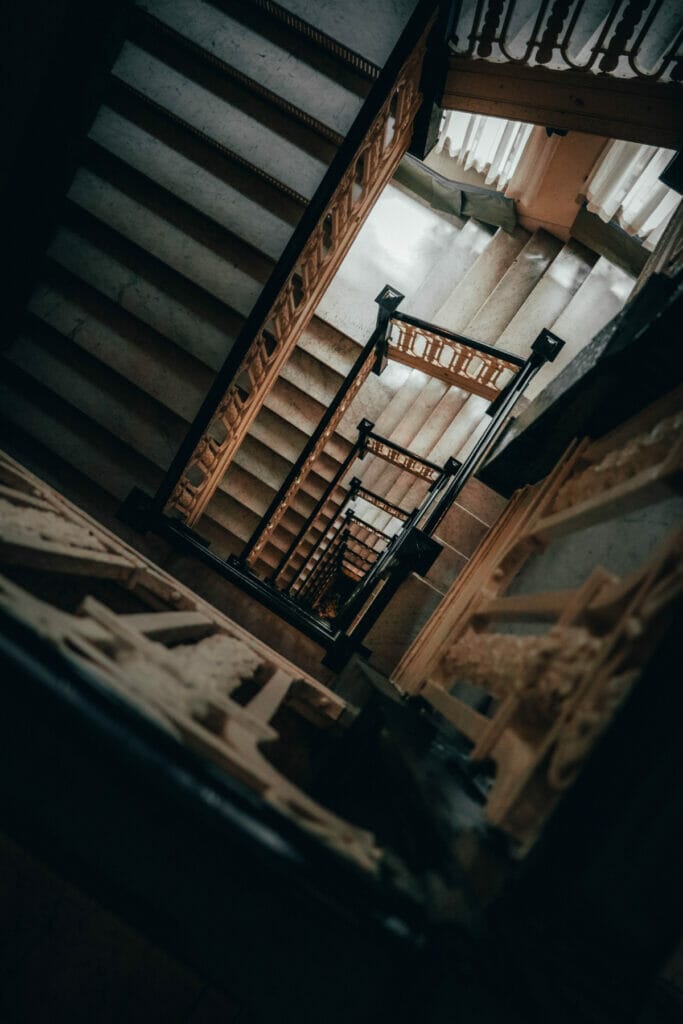 WHAT'S INCLUDED IN THIS TOUR
Professional guide
Pose for a photo at Platform 9 ¾
See filming locations from the movie franchise
Listen to Harry Potter trivia
Fall under the spell of the London Harry Potter Walking Tour.
As you explore London – the home to over 9 million muggles – you'll spot some of the incredible buildings and streets that were the setting for the movie franchise.
You'll relive happy memories by strolling along the street where Harry buys his books but also visit more daunting spaces, including the sites of Lord Voldemort's attacks.
"The tour guide Ana was thorough and personable. I will definitely recommend this tour to my friends and family in the States"
The tour includes a boat ride along the River Thames, which allows you to identify other famous landmarks along the river's edge.
You'll also travel by London Underground for part of your trip and experience how Londeners get around the city.
Non-Potter fans (if any such people exist) will enjoy seeing the London cityscape and traveling along the water. Tate Modern, London Bridge, Piccadilly Circus, and Leadenhall Market are all part of this enjoyable event.
⭐️ RATING: 4.5 out of 5 Stars, 170+ reviews | ⏳ TOUR LENGTH: 2 hours 15 minutes | ✔️ BOOK NOW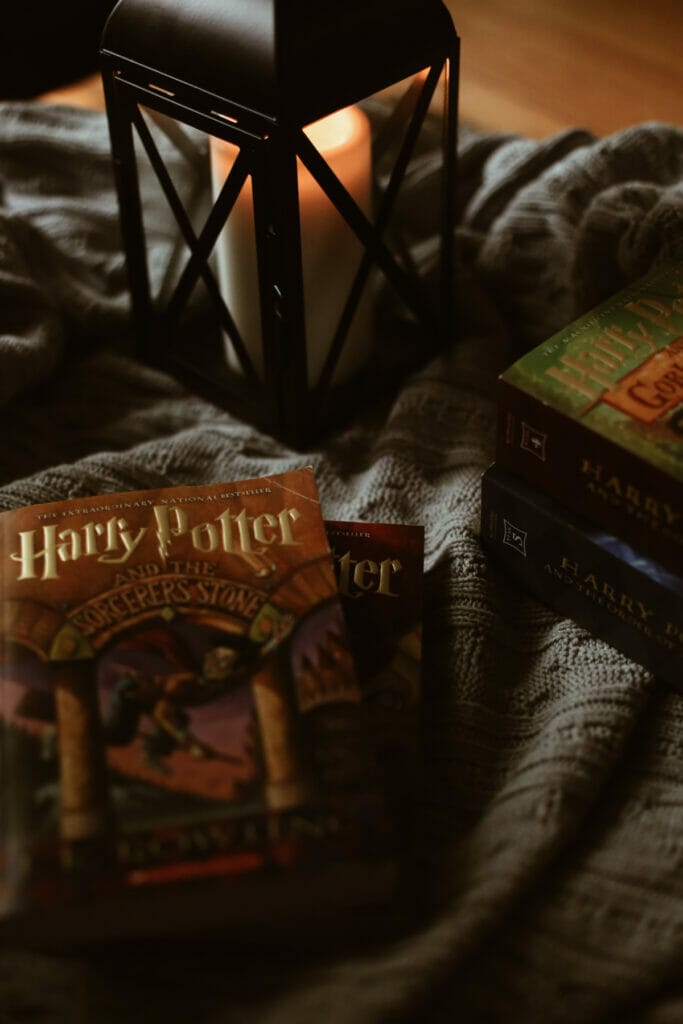 WHAT'S INCLUDED IN THIS TOUR
Get sorted into Hogwarts houses
Test your Harry Potter trivia
Visit the sites that inspired the movies
Also visit locations from the Bond and Marvel movies
Unlike the other tours on this list, the Night Time Harry Potter Tour offers fans of the Wizarding World the chance to see filming locations at night.
The city of London really comes alive during the hours of darkness and that buzz will be felt by all in your walking group.
As you fly on your broomstick from Soho to Covent Garden and from Millennium Bridge to Borough Market, you can expect to feel like a real Hogwarts student.
"Our guide Lula made this a really fun tour. He was very knowledgeable about London and film. I took the tour with my 10 year old son who loved every minute of it. Looking forward to trying out other tours."
Outside of the Harry Potter trivia and spots on this tour, you'll also identify locations from the James Bond and Marvel movies, as well as the sets from world-famous romantic comedy movies.
If you're looking to meet other Harry Potter obsessives, this is the tour for you. You'll be put into teams and tested on your movie knowledge.
It's a great chance to make friends with your very own Rons and Hermiones.
⏳ TOUR LENGTH: 6 hours | ✔️ BOOK NOW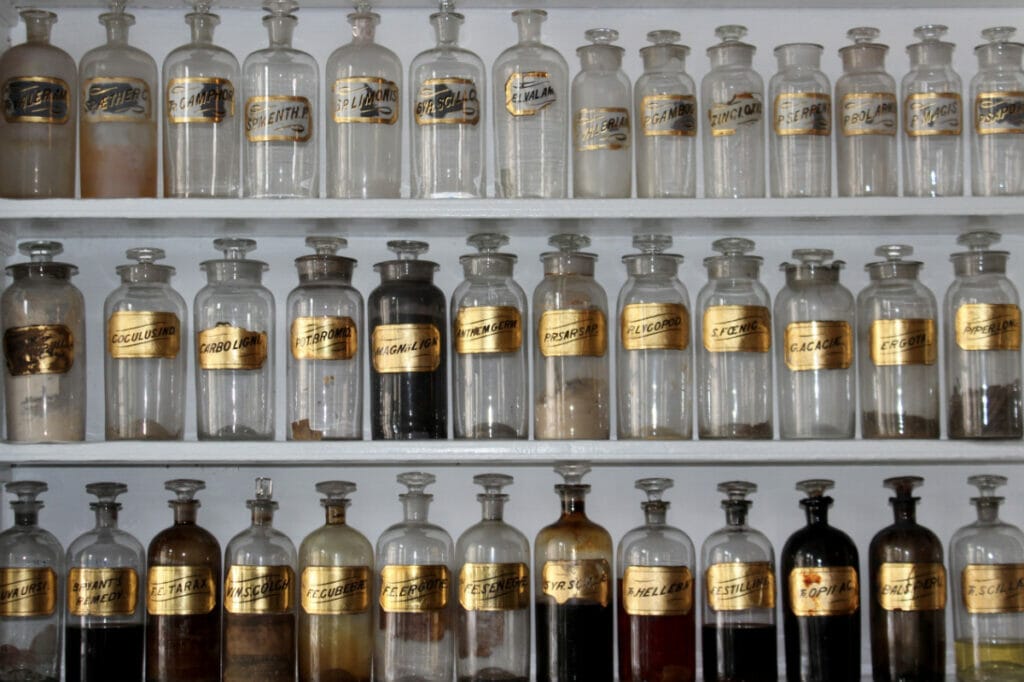 WHAT'S INCLUDED IN THIS TOUR
Admission to the Clink Prison Museum
Small-group tour
See the spots that inspired the books
Shop in Harry Potter-themed stores
Fans of the 2004 blockbuster hit Harry Potter and the Prisoner of Azkaban, rejoice!
The Harry Potter Azkaban Tour (Film Locations & Prison) is the perfect day out for you and your loved ones.
This experience is dedicated to the fan-favorite third movie in the series and will see you explore iconic movie locations.
"Met Chris at kings cross next to the platform 9 3/4 shop. Really informative , interesting all things Harry Potter & extra. I highly recommend this tour . Show you places that you would never find otherwise. Very good 10 out of 10."
Step into the shoes of the directors, writers, and producers as you see how Hollywood's brightest minds transformed London into part of the Harry Potter universe.
Your local tour guide is brimming with Harry Potter facts that they're excited to share with their touring group.
What differentiates this from other Potter tours is that you'll visit the Clink Prison Museum, where you'll imagine what life was like for prisoners like Sirius Black who spent years trapped inside the cells of Azkaban.
⭐️ RATING: 5 out of 5 Stars, 170+ reviews | ⏳ TOUR LENGTH: 3 hours | ✔️ BOOK NOW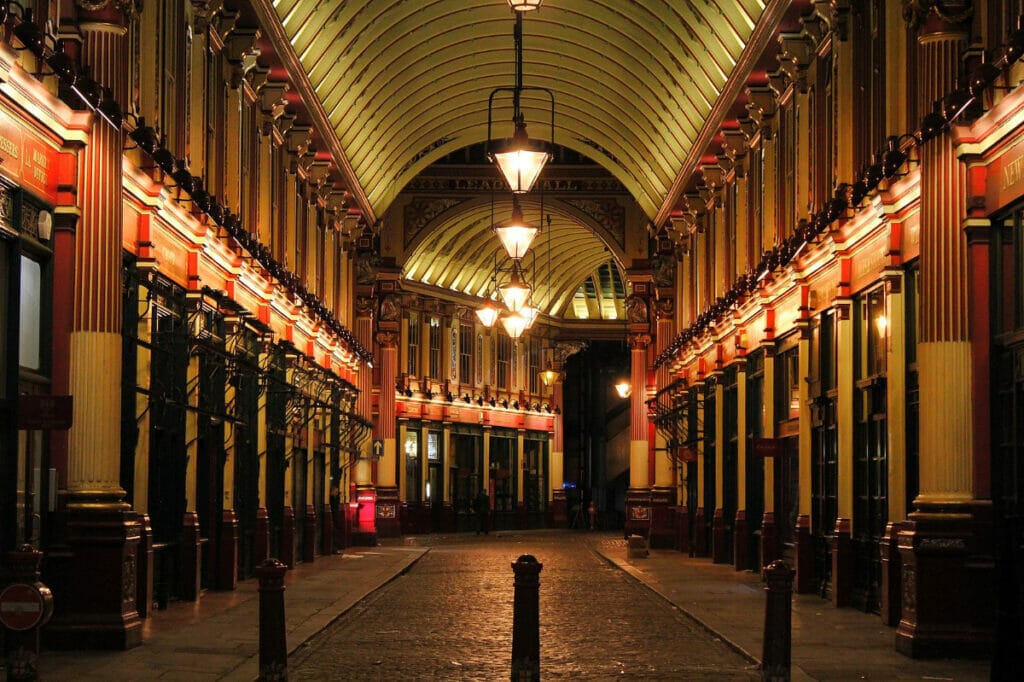 WHAT'S INCLUDED IN THIS TOUR
Walking tour of Harry Potter filming locations on one of the best Harry Potter tours in London
Fun and knowledgeable local guide
Visit Harry Potter shops to buy merchandise
Kids go free on this tour
We can see where The Best London Harry Potter Tour gets its name.
It guarantees 3-hours of pure delight for everyone, regardless of whether you're in Gryffindor, Hufflepuff, Ravenclaw, or Slytherin. Despite the Harry Potter theme, it's a great tour for anyone visiting London as you'll see lots of amazing buildings and streets.
"Our tour guide (I think his name was Sam, has red hair like Ron) was incredible. He gave such great info and even took us to a less expensive shop to get some awesome souvenirs."
This tour is catered toward Potter-loving families and even lets children join free of charge.
You'll learn all about filming locations and learn behind-the-scenes secrets from the movie sets.
Explore London through Harry Potter's glasses today by booking onto this tour.
Attendees can expect to visit King's Cross Station, Leicester Square, Westminster, and London Bridge, as well as the theatre where they show Harry Potter and the Cursed Child.
⏳ TOUR LENGTH: 3 hours | ✔️ BOOK NOW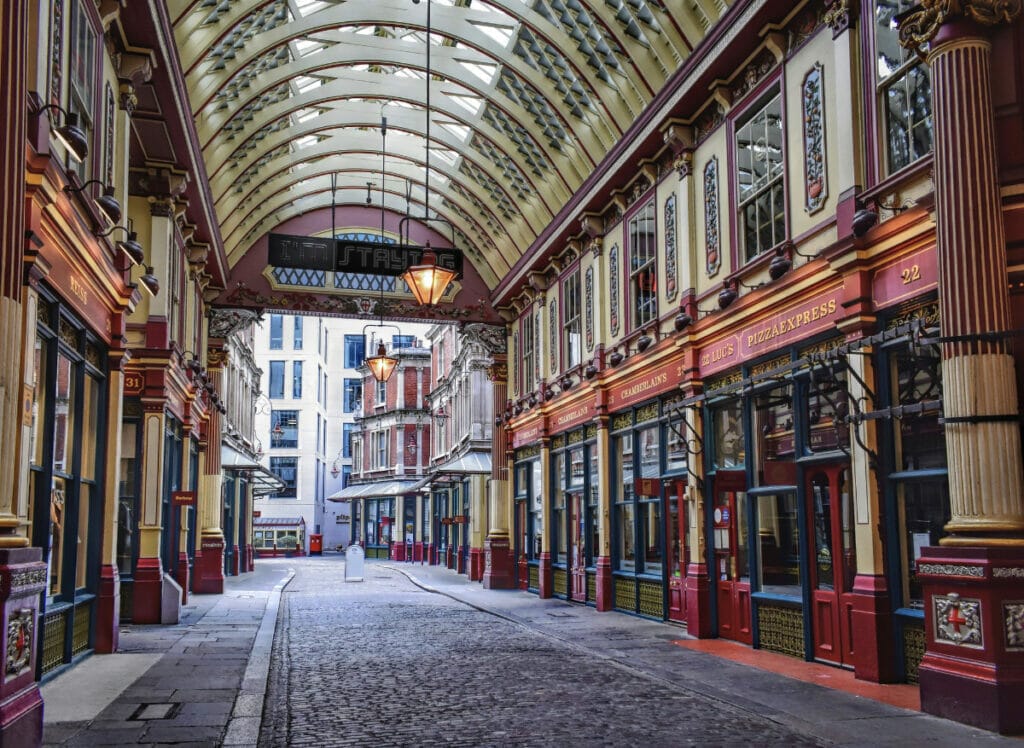 WHAT'S INCLUDED IN THIS TOUR
Self-guided tour
Questions to test your Potter knowledge
Unlock fascinating facts about the books and movies
Start your walk at Kings Cross Station
Looking for a Harry Potter tour without the crowds?
Then look no further than London – A Magic Harry Potter City Game.
This self-guided tour lets you visit the London filming locations at your own pace.
It's great for individuals or small groups of close friends. It makes for a great day out, whether you're a local Londoner or a tourist.
As you wander the famous streets of England's most populated city, you'll be asked questions by your digital tour to test your Wizarding World knowledge.
Every time you answer a question correctly, you'll unlock a fascinating fact about the books or movies.
During your exploration of the muggle capital, you'll see some amazing eateries and bars.
The joy of a self-guided tour is that you can stop off wherever you want and resume your walk whenever you're ready.
⏳ TOUR LENGTH: 2 hours | ✔️ BOOK NOW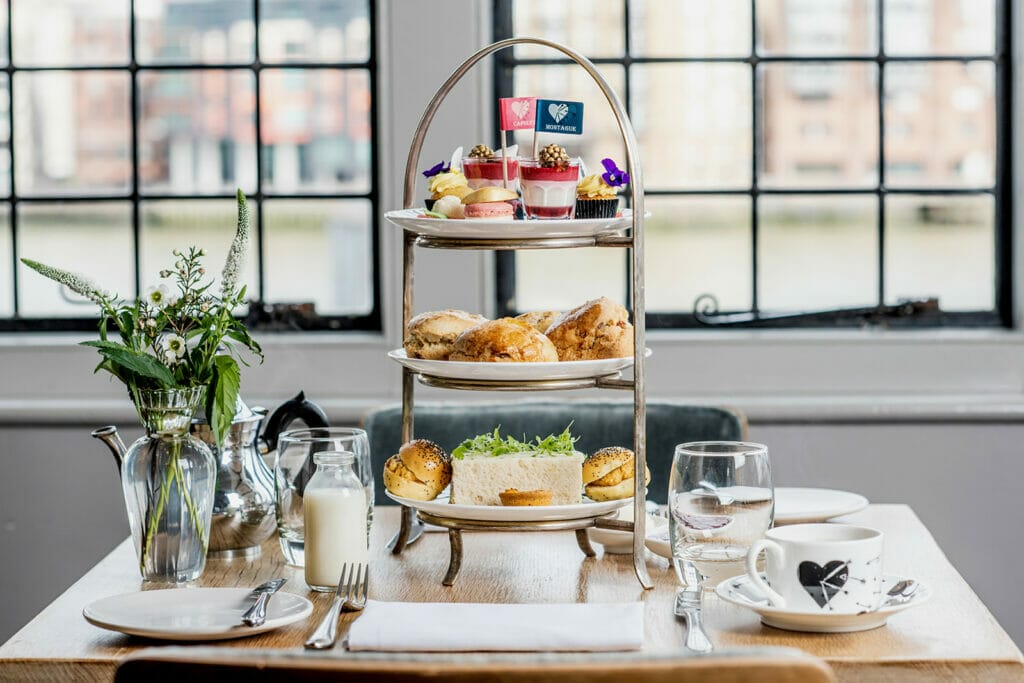 WHAT'S INCLUDED IN THIS TOUR
Professional guide
Afternoon tea
See where the Knight Bus stopped
Take pictures of iconic filming locations
If you're looking for a tour all about the famous wizard Merlin, this isn't the tour for you.
Likewise, if you're keen for a magic tour centered around magicians Penn and Teller, this isn't it.
If, however, you want to learn more about the world's most famous magic man then A Magical Harry Potter Adventure + Afternoon Tea (Private) is the tour you need.
"Valerie was an excellent tour guide. She was very knowledgeable. We would highly recommend this tour."
Delight in the places frequented by Harry Potter in the movies, including Platform 9 ¾ where he and his friends caught the Hogwarts Express.
You'll also visit the real-life Diagon Alley where Harry bought everything he needed for his first school year at Hogwarts.
This tour also includes an afternoon tea experience, where you can take a moment to live like British royalty – eating scones and sipping the famous British drink.
⏳ TOUR LENGTH: 1 hour 30 minutes | ✔️ BOOK NOW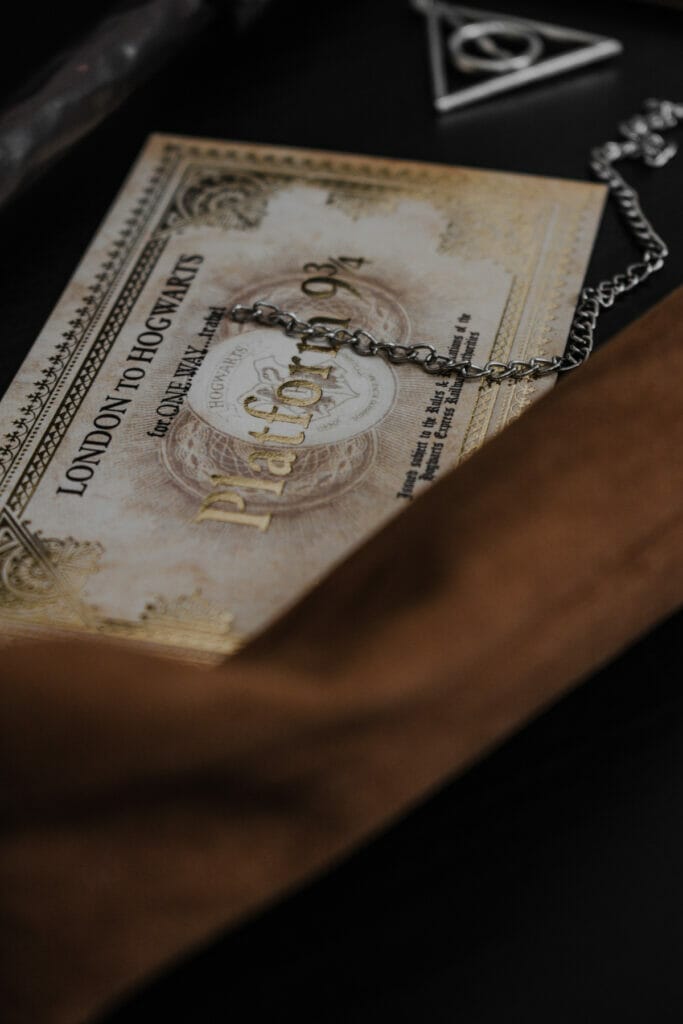 WHAT'S INCLUDED IN THIS TOUR
Pose in front of Harry Potter locations
Your own private photoshoot
Edited photo collection provided after the tour
Learn behind-the-scenes stories
The Harry Potter Styled Photoshoot in London is a tour like no other.
It's your own private photoshoot that's guaranteed to awaken the model inside you so you can do it in addition to a walking tour in London about Harry Potter.
You'll have your photo taken at iconic Harry Potter locations and we recommend bringing your cape and wand.
It's a completely private tour so you can take the time you need to strike a pose.
"Thank you so much for the pictures! My parents and I had a great time that day and have enjoyed looking at the photos."
Facts you learned in herbology class aren't needed here, just a great costume, lots of poses, and a love of all things Harry Potter.
Your guide isn't only a Wizarding World fanatic, but they're also a professional photographer who will advise you on how to get the very best from this experience.
After the event, you'll be sent up to 40 high-quality photos so you'll always remember these memorable moments.
⭐️ RATING: 5 out of 5 Stars, 16+ reviews | ⏳ TOUR LENGTH: 1 hour 15 minutes | ✔️ BOOK NOW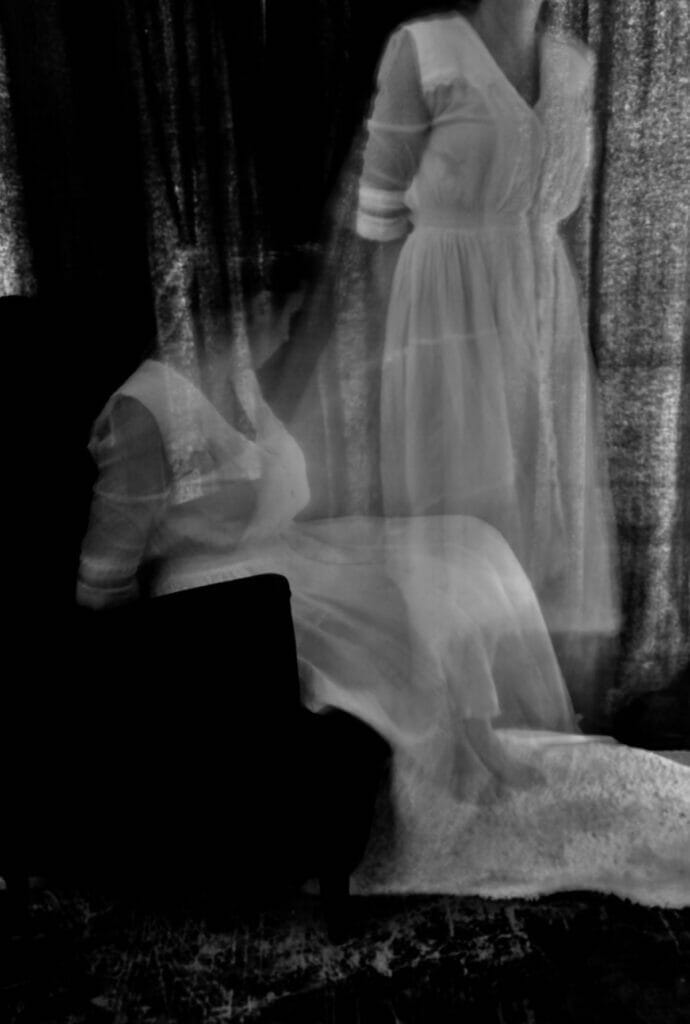 WHAT'S INCLUDED IN THIS TOUR
Costumed tour guide
A free gift
Harry Potter locations
A history of London's most famous witches
You may know everything there is to know about the Harry Potter movies and books, but how much do you know about the real-life history of witches in Britain?
On the London Witches and History Walking Tour you'll discover hidden gems often missed by tourists and learn stories about the witches from years gone by.
"Our host was "Emelda" and she couldn't have made us feel any more welcome on the tour and made it brilliant despite the freezing weather, imparting a good amount of history knowledge with a great deal of humour. Emelda made it feel like a premium private tour for a very reasonable standard rate for two adults. Would definitely do it again."
Your tour guide will weave a colorful tale of different witches and the great injustices that befell them.
You'll learn about London's most famous witches such as Joan Peterson and Jinny Bingham.
Expect to visit Southwark Cathedral, Borough Market, Winchester Palace, Globe Theatre, and St. Paul's Cathedral.
Harry Potter fans will be pleased to know that this tour also includes some filming locations including Millennium Bridge.
Hey! Want to use our trusty guides to the best tours in other places across the UK? Check these out!
UK Travel Planning Guide: the FAQs
🏥 Should I buy UK travel insurance?
Absolutely yes. Basic coverage is not expensive, and as a visitor you are NOT covered under the NHS. Compare policies and prices with Travel Insurance Master here, a big name in the travel insurance business, and cross that off your list.
🔌 Do I need travel adapters for the UK?
Yes, you do, otherwise you won't be able to plug in your electronics/phone/lifelines. I recommend this one, which is all-in-one so you can use it in other countries.
🚗 What do I need to drive in the UK?
The first thing you need to check out if you're planning on renting a car in the UK is this guide to driving in the UK for visitors – the roads, signs, and driving experience will likely not be what you're used to and it's essential to prepare yourself to stay safe and aware.
🛌 What's the best way to book hotels in the UK?
For UK hotels, Booking is the best site as it offers free cancellation on many properties. If you want an apartment, I always recommend VRBO over AirBnb.
📳 Will my phone work in the UK?
Yes – if you set it up right. Check out my guide on making your foreign phone work in the UK to ensure that you get the type of service you need.
🚿 Can I drink the water in the UK?
Yes, UK water is great and perfectly safe. But drink out of taps in any kitchen or use water fountains. Double check before drinking out of the taps in hotel bathrooms, though, as they may be on a different system.