This post contains affiliate links for which I may make a small commission to help keep the site running. You will not be charged extra for these items had you not clicked the links. Thank you for your help to keep the site running!
Ready to tour the historic pubs and bars of London?
You've come to the right place, as we're going to explore the best 15 London pub crawl tours – all led by expert guides who want to share this interesting part of England and help you skip the tourist traps.
If you're like, just cut to the chase already, then don't worry.
The best pub crawl tour from London is this Small Group Tour: Historical Pub Walking Tour of London.
It has about 2,600 amazing reviews, so there's no going wrong.
London has a thriving pub scene, with pubs dotted around the city.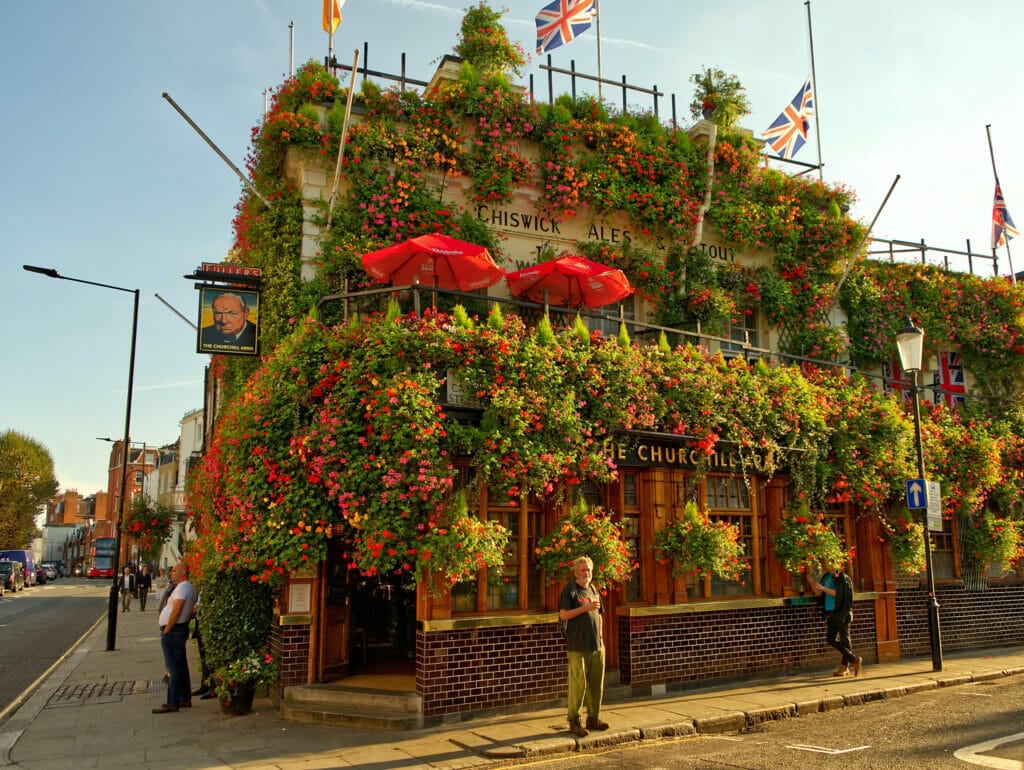 And what better way to experience the different kinds of pubs than with a pub crawl tour, where you get to see multiple places in one go?
If you want to see what your other options are, here are 14 more tours that are definitely worth your time, including London pub walks, London pub crawl tours, historic pub tours London and pub tours in London.
So let's get into the list of the best pub tours in London so you can book it already!
PS – booking in advance is highly, highly recommended so you don't miss out.
Easy Guide: Best Pub Crawl Tours in London
⭐️ RATING: 5 out of 5 Stars, 2,500+ reviews | ⏳ TOUR LENGTH: 3 hours 30 minutes | ✔️ BOOK NOW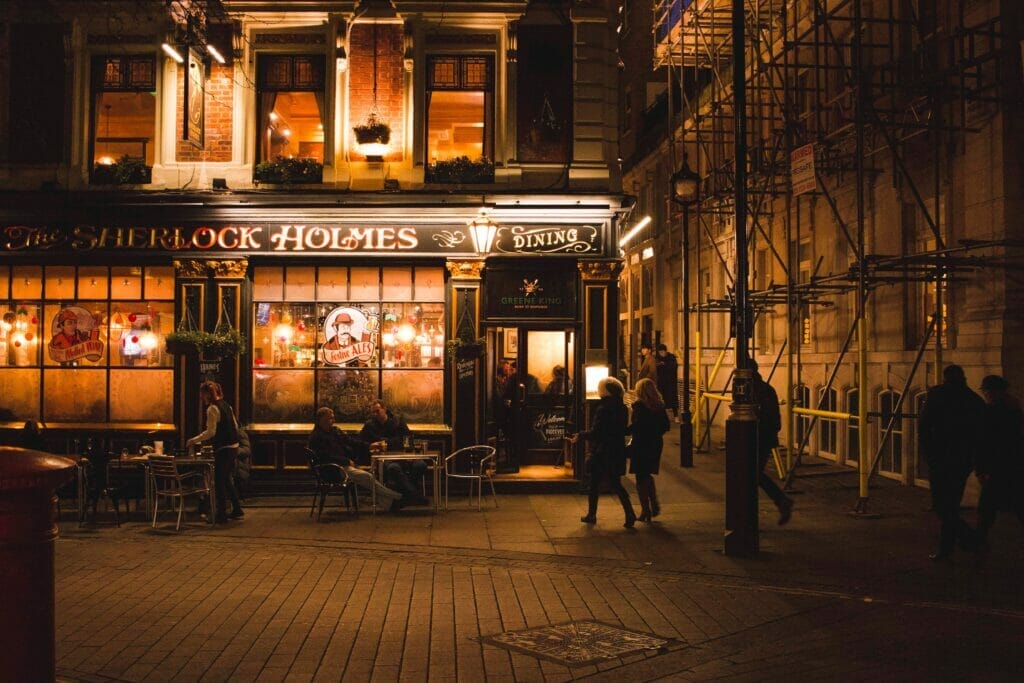 WHAT'S INCLUDED IN THIS TOUR
Local guide
4 historic pubs
Personalized experience
London's oldest neighbourhood & numerous city attractions
This afternoon pub crawl is one of the best ways to experience the traditional drinking scene of the city.
On this educational and fun tour, you're going to accompany your guide to four historic pubs (in Holborn, Fleet Street, City of London, and London Bridge), where you can try out different brews at your own expense.
Your tour will start from St. Paul's, where you'll get to see attractions like St. Paul's Cathedral and walk through the lively Fleet Street, full of gin palaces and pubs.
"Fantastic and engaging tour of historical pubs in central London/The City (learned the difference from our tour guide, Dave). Humorous, friendly, well-paced small group experience packed with history and stories we won't forget"
From here, you'll pass by a Shakespearean playhouse and stop by an alehouse on Blackfriars for a drink.
Next, you'll head over to a London boozer, where you'll get a chance to see authentic medieval décor and talk to regulars.
You'll also go to a 17th-century pub that was frequented by both Sir Arthur Conan Doyle and Charles Dickens, and learn how the local culture of drinking has changed through the years, before ending your tour at Covent Garden.
⭐️ RATING: 5 out of 5 Stars, 460+ reviews | ⏳ TOUR LENGTH: 2 hours 30 minutes | ✔️ BOOK NOW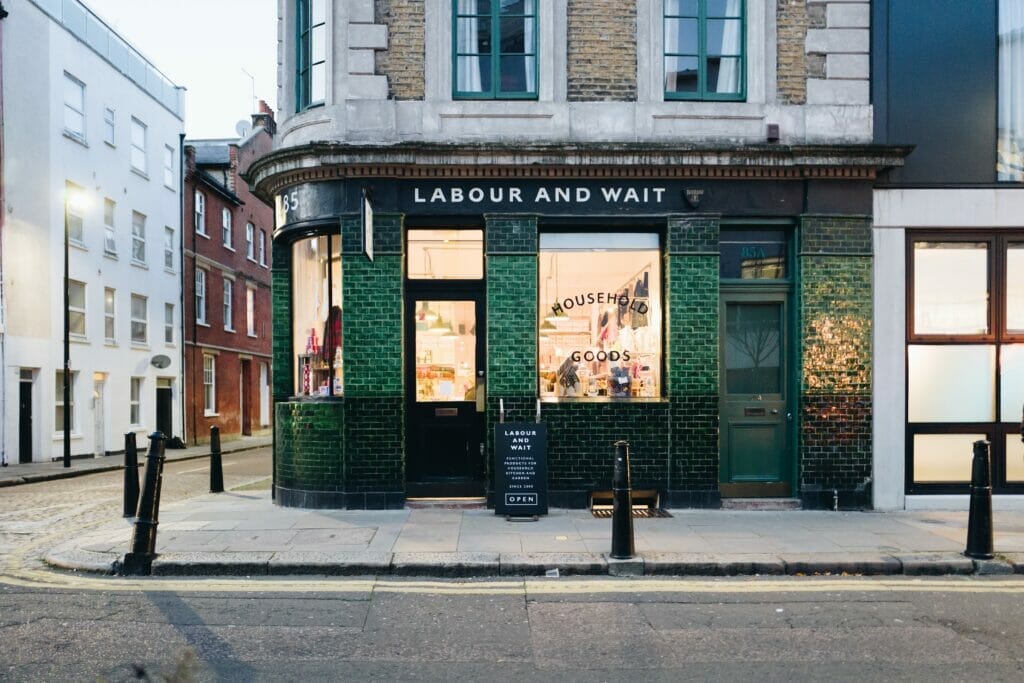 WHAT'S INCLUDED IN THIS TOUR
Local English-speaking guide
Four pubs
Tales about famous musicians, including The Rolling Stones
Small group experience
Soho is an interesting mixture of Hollywood, Vegas, Amsterdam, and Broadway, and it's only fitting that the music, art, and drinking scene is rampant here.
On this tour, you'll get to visit some of the most interesting pubs in the district and learn about the famous actors, playwrights, artists, and musicians that visited them.
"Anyone can visit pubs in London and walk away recognizing the experience as being unique. This tour does a brilliant job of explaining how and why they're special. You'll learn there are different types of pub settings designed to encourage community and how they go about doing this."
What I particularly like about this tour is that it helps save research time and promises interesting stories that you most likely won't come across if you explore alone.
This tour takes you through 4 pubs while keeping you entertained with stories about Marilyn Monroe, Mozart, The Rolling Stones, and The Beatles.
You'll also get to see the place where The Beatles' iconic song 'Hey Jude' was recorded and hear stories about Ella Fitzgerald and Jimi Hendrix.
And since this is a small group tour, you'll enjoy a nice, personalized experience.
⭐️ RATING: 4.5 out of 5 Stars, 410+ reviews | ⏳ TOUR LENGTH: 4 hours 30 minutes | ✔️ BOOK NOW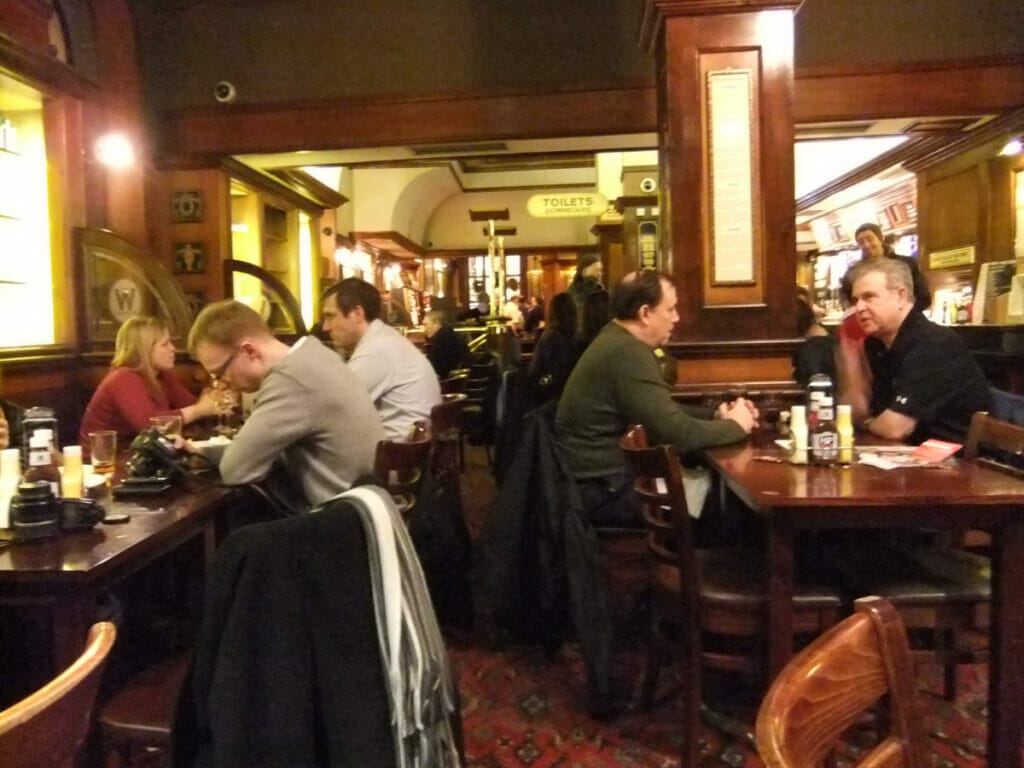 WHAT'S INCLUDED IN THIS TOUR
Amazing hosts & people ready to party
5 free shots
Exclusive drink discounts
Free entry everywhere
If you're down to party, I recommend checking out this pub crawl tour of Central London.
When you choose this tour, you're guaranteed a chance to party in the early hours and experience the nightlife in Central London, even if you're on a short budget.
As part of the package, you get a skip-the-line entry into five nightclubs and bars, five shots, and exclusive discounts throughout the night.
All of these perks make it a great option for solo travelers or couples looking to meet up with like-minded party-goers.
"This pub crawl was so much fun and such a great bargain. Really a great way to explore the city by night. Anna was awesome!"
But that's not all!
You'll also be accompanied by a professional photographer who'll capture the most memorable moments of the night so that you have something to look back to.
All in all, I think this tour provides great value, and you're bound to have a great night!
⭐️ RATING: 5 out of 5 Stars, 300+ reviews | ⏳ TOUR LENGTH: 3 hours 30 minutes | ✔️ BOOK NOW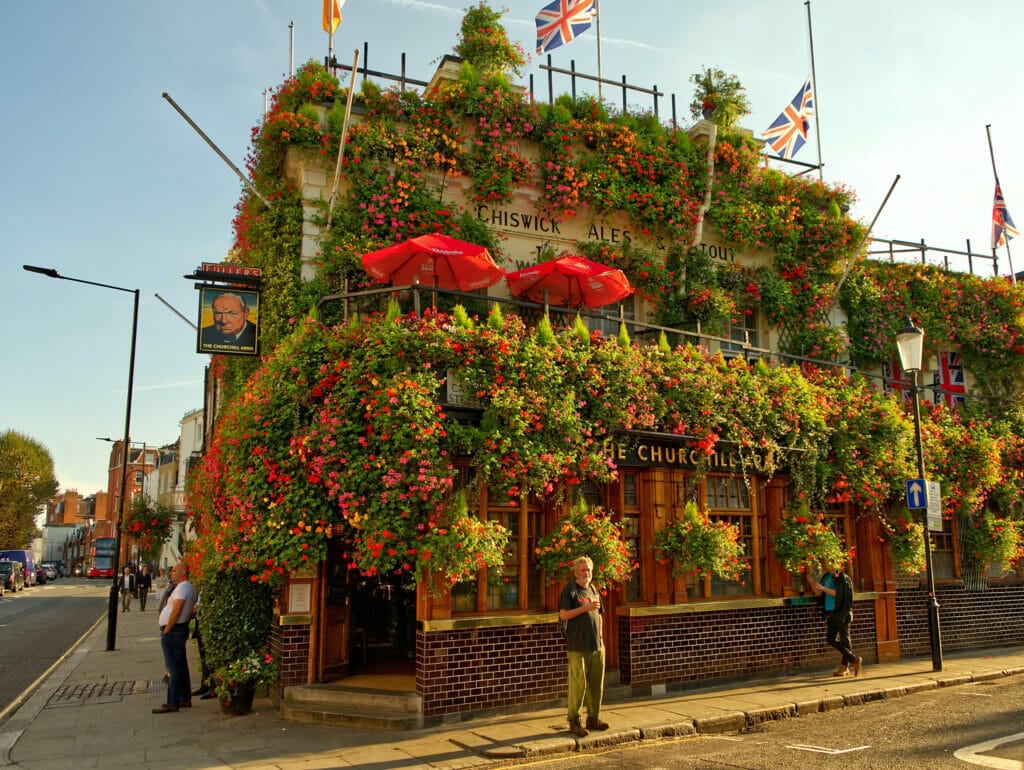 WHAT'S INCLUDED IN THIS TOUR
Hand-built British bicycle
10% off drinks at the local pub
Local guide
Spray paint at the graffiti zone
If just a tour of the pubs around the city sounds boring to you, here's something different for you: a bike ride through some of the most famous landmarks of the city + a graffiti session + a chance to visit the historic pubs in the city.
On this 3.5-hour bike tour, you'll hop on an English Pashley bicycle and follow your guide as he takes you down quiet backstreets, along the Thames River, and through famous landmarks.
Throughout your bike ride, you'll see iconic attractions like the Covent Garden, Southbank, the London Eye, Buckingham Palace, Westminster, Houses of Parliament, and Big Ben.
"Did this tour with three teenagers who were less than thrilled with going on a historic tour with their parents. Less than a quarter of the way through the tour, I began to see smiles and signs of enjoyment. Stewart did an incredible job engaging with the adults and teens, and by the time the tour came to an end, everyone in our group commented about how quickly the 3.5 hours has passed. Definitely worth the time and glad we did it"
Then, you'll go off the beaten track and discover street art by Banksy and try graffiti tag.
I believe this is a great tour for those visiting the city for the very first time.
It includes all the necessary equipment, and you get to choose between morning and afternoon departure.
⭐️ RATING: 5 out of 5 Stars, 240+ reviews | ⏳ TOUR LENGTH: 2 to 4 hours | ✔️ BOOK NOW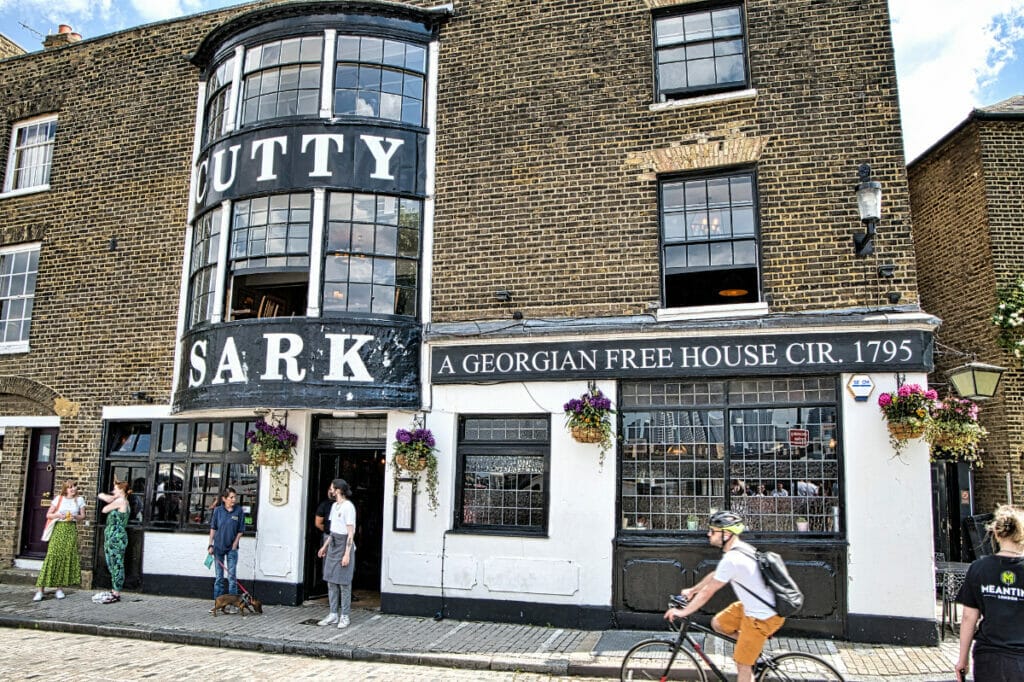 WHAT'S INCLUDED IN THIS TOUR
Professional tour guide on this London pub walking tour
5 pubs
Street of shame
Drink recommendations
This private walking tour will take you through the notorious street of shame, where you'll get to discover some of the most historical pubs in the city.
Since this is a private tour, your guide will tailor all the stops according to your group and choose from 30 gin distilleries and pubs dotted along the route.
You'll stop by 4-5 famous pubs where your guide will give you drink recommendations so that you get to enjoy a delicious brew.
You'll also pass by a number of famous locations like St. Paul's Cathedral, which survived WW2, St. Bride's Church, famous for its "wedding cake" legend, and Dr. Johnson's House, who's known to be a characterful wordsmith.
"Great experience! Not only perfect pubs that you may not find on your own, but great information/history shared by Dave"
Other stops include the Temple Bar Memorial, Royals Courts of Justice, and St. Clement Danes Church.
Once the half-day tour is over, you'll end up near Covent Garden, where you can go for a meal in a centuries-old haunted pub.
⭐️ RATING: 5 out of 5 Stars, 35+ reviews | ⏳ TOUR LENGTH: 3 hours | ✔️ BOOK NOW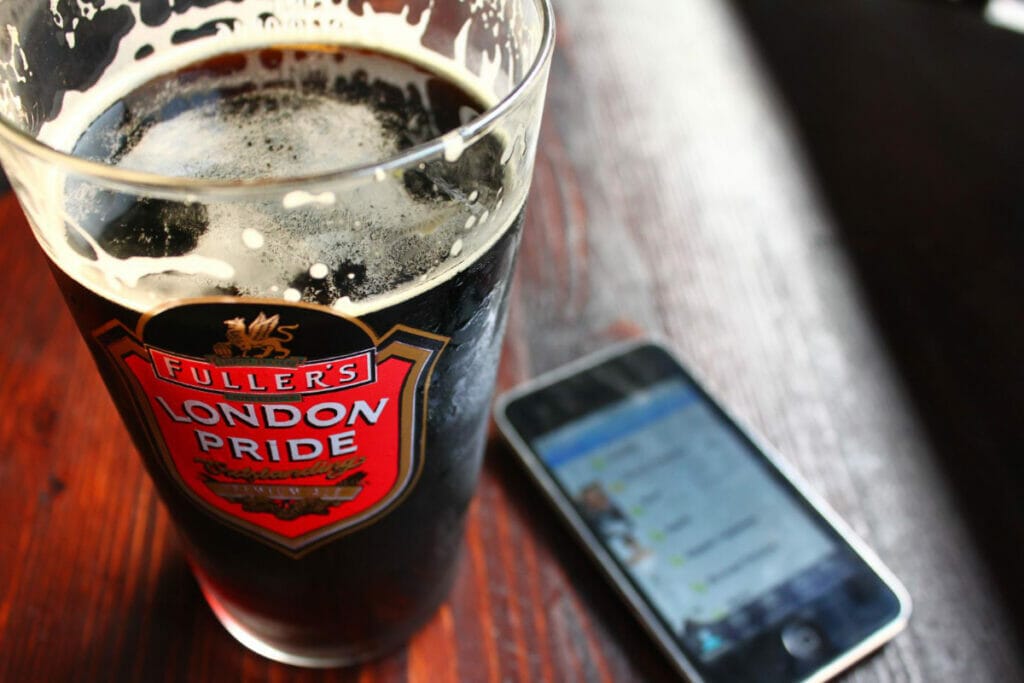 WHAT'S INCLUDED IN THIS TOUR
Half a pint of beer in each pub
Beer recommendations and expert advice
A beer expert as the tour guide
Insight into the country's beer heritage
Here's another interesting tour that'll enhance your experience of the city's famous pub culture by taking you to some of the best historical public houses.
Along with your private guide, a regular British television contributor, you're going to explore the city's vibrant district and stop at four ambient pubs famous for their lively ambience and locally brewed ales.
Let's talk more about the stops.
One of them is a Victorian gin palace, a public house that closely resembles a medieval house, while another one is a Restoration ale hall.
"Wonderful tour. Jane was so knowledgeable and friendly. She took her time with us and was able to answer all of our questions. She knew the history of each pub and shared the history of the parts of London we walked through to each pub. Book this tour. You will not be disappointed.""
At each stop, you'll also sip half a pint and hear fascinating anecdotes about history and beer.
You'll also get an interesting insight into the intriguing beer heritage of the country while learning how to recognize the subtle flavors of different beer samples.
Along the way, you'll also wander the ancient streets of the city, pass through Blackfriars, Fleet Street, and Holborn and learn about the mysteries and legends of ancient monuments.
⭐️ RATING: 5 out of 5 Stars, 30+ reviews | ⏳ TOUR LENGTH: 2-3 hours | ✔️ BOOK NOW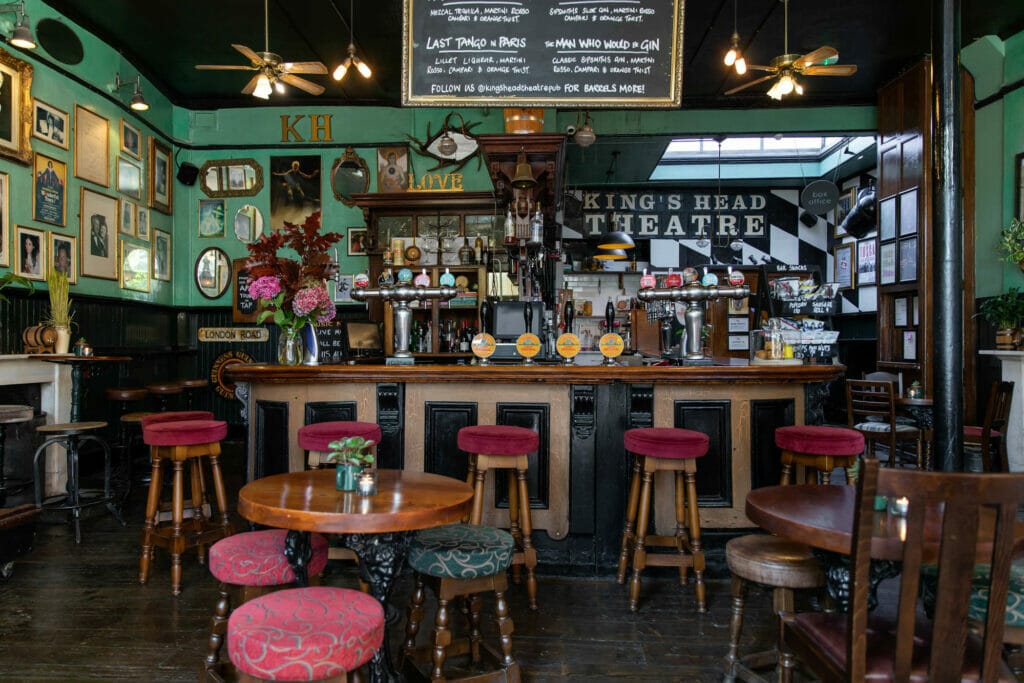 WHAT'S INCLUDED IN THIS TOUR
Veteran local guide
4 historic pubs
Salacious stories of royals
Stories of Britain's legendary characters
If you're a history buff, you'll have a grand time on this Royal Historic Pub Guided Walking Tour, especially since there are a lot of interesting things in store.
For starters, you're going to check out 4 hidden historic pubs with a royal heritage that date back centuries.
You'll not only celebrate the life and achievements of Queen Elizabeth II, but also hear scandalous and salacious stories about the past and present royals while sipping on a cool glass of beer.
"This tour was a fabulous experience! My twenty year old son and I were guided by Al, who is a superb storyteller, a bit of a celebrity himself, leading us to some of the best pints in London! Extremely well organized and filled with delightful historical details and immediate camaraderie. We will do this again when we return to London! Highly recommend"
You'll also walk through ancient alleyways on top of secret tunnels that link the palaces to the pubs and listen to stories about some of the most legendary characters of Britain, including James Bond and Winston Churchill.
You'll also get to go to the palace where Ed Sheeran almost lost his ear while partying with a princess!
And of course, no tour is complete without checking out some of the most iconic attractions in the city, including Buckingham Palace.
⭐️ RATING: 5 out of 5 Stars, 20+ reviews | ⏳ TOUR LENGTH: 4 hours | ✔️ BOOK NOW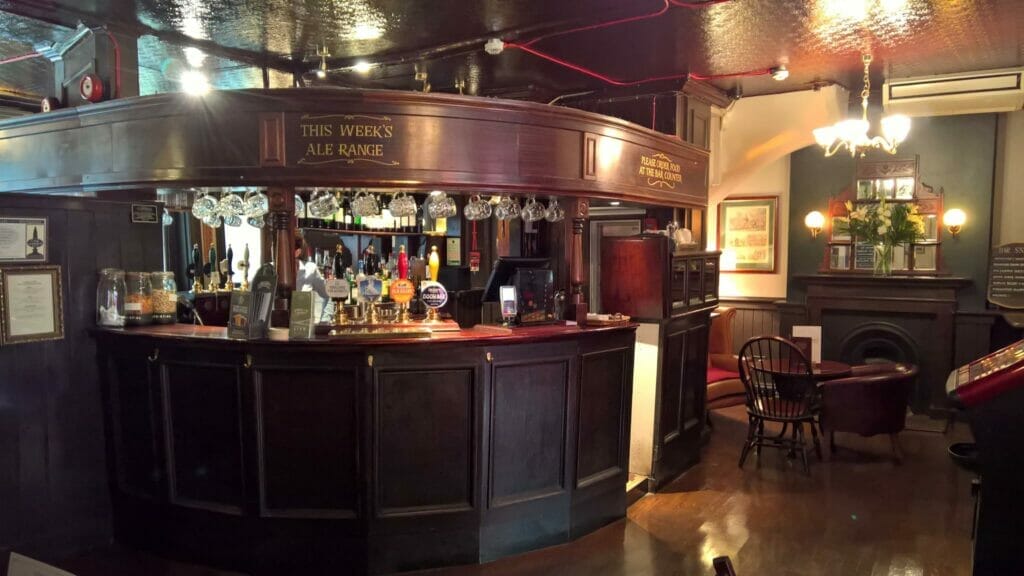 WHAT'S INCLUDED IN THIS TOUR
Private tour
Local professional guide
6 historic pubs
Small group experience
If you love both beer and history, you should take this half-day tour of historic pubs that will introduce you to the country's quintessential pub culture.
With a maximum of 15 people, you'll check out 6 historic pubs, all of them dating back to the tragic Great Fire of London of 1666 in areas like the East End, Clerkenwell, and Farringdon.
At each stop, you'll learn more about the history of the place and enjoy a small glass of locally brewed ale or beer (or a soft drink if you don't drink alcohol).
The stops on this tour are quite interesting.
"We thoroughly enjoyed our walking tour with Kevin. He met us at our hotel to bring us on the tube to our destination. Area. He shared his knowledge of history and interesting points of comment along the way which was very insightful and added a tremendous amount to this tour."
There's the Viaduct Tavern, an old Gin Palace with holding cells in the cellars for those prisoners awaiting execution at the prison next door.
You'll also pass through Farringdon and see The Castle pub that has connections to the Royal Family, and even see part of the ancient estate of the Knights of St. John.
Other stops also include the Crown Tavern, an old pub from films and television famously known as the spot where Stalin and Lenin first met, Ye Olde Mitre, and the Seven Stars.
⭐️ RATING: 5 out of 5 Stars, 7+ reviews | ⏳ TOUR LENGTH: 3 hours 30 minutes | ✔️ BOOK NOW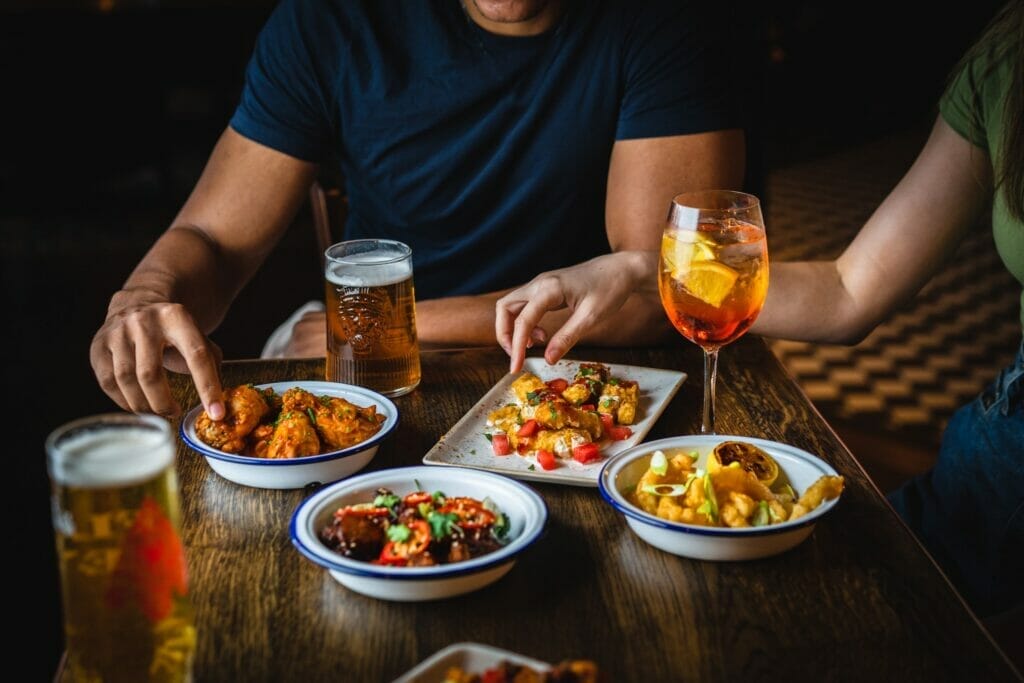 WHAT'S INCLUDED IN THIS TOUR
Small group experience with a maximum of 12 people
Professional guide
Waterfront highlights and lively neighbourhoods
Stories of historical criminals
If you've already seen all the famous landmarks the city has to offer, it's time to go off the tourist trail and explore parts of the city that most people tend to overlook.
And this walking tour is perfect for doing so. With this tour, you'll get to know all about the crooks and pirates of London, as well as other historical criminals and their misdoings.
"Highly recommend. Fascinating, enlightening, and humorous at times – with a knowledgeable and friendly guide (Andrew). This was our second walking tour and look forward to booking again."
Your tour will start in the morning near Tower Bridge, where you'll meet your guide before heading off on a 5-mile walk to explore the docklands.
On your route, you're going to visit lively neighborhoods, history-rich pubs, and waterfront highlights.
The stops on this tour include St. Katharine Docks, where you'll get to see what they looked like in the 19th century and the transformation they've gone through since then, the Execution Dock where many pirates were executed and the West India Docks now houses numerous lively bars, restaurants, and cafés.
The tour also aims to give you a personalized experience, which is why a group can only contain a maximum of 12 people.
⭐️ RATING: 4.0 out of 5 Stars, 5+ reviews | ⏳ TOUR LENGTH: 4 hours | ✔️ BOOK NOW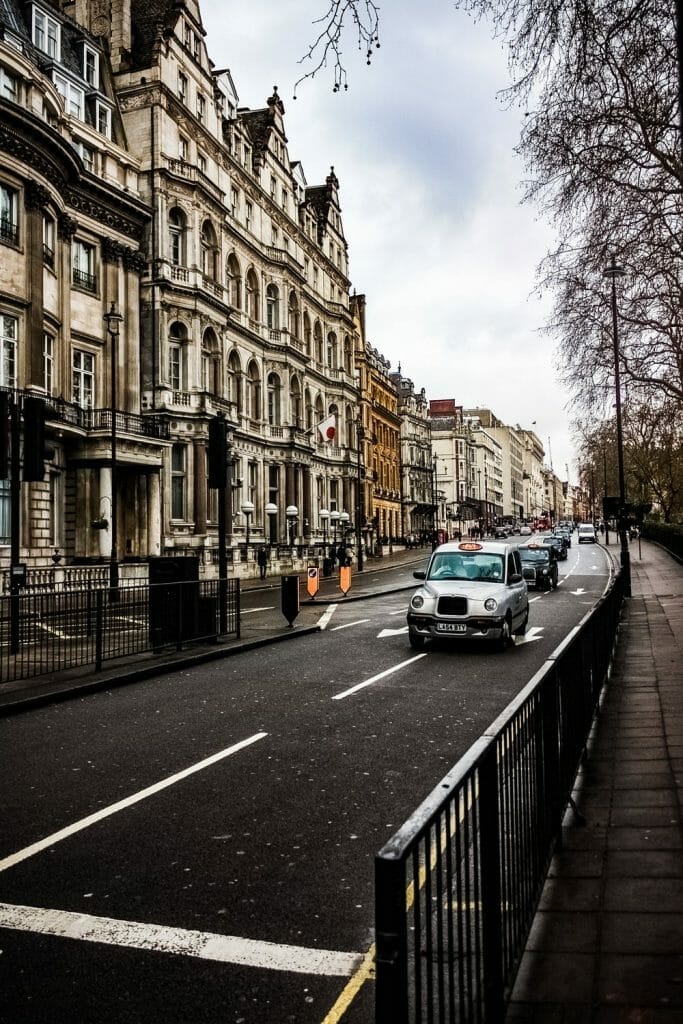 WHAT'S INCLUDED IN THIS TOUR
Private transportation
Bottles water
Private guide
Air-conditioned vehicle
If you're new to London and don't know your way around the city yet but still want to have a nice time drinking, I recommend opting for this tour.
It's never easy to make the most out of drinking establishments when you're in an unfamiliar place, but with this tour, you don't need to risk missing the best places or getting lost.
"This was the best tour my fiance & I had ever experienced. Peter is the true Gem of London. He is so informative & has a beautiful genuine soul. He made our overall vacation in London incredible"
On this private tour, you're going to visit three of the most interesting breweries and historic pubs across the city, where you'll learn more about the history and culture of all these places.
And since this is a private tour, you're going to get personalized attention, so you have nothing to worry about.
Typically, the tour takes you to a number of interesting places, including the Mayflower Pub, the Town of Ramsgate, The Blind Beggar, the Holborn Viaduct, The Old Bank of England Pub, and the Admiralty.
⭐️ RATING: 4.0 out of 5 Stars, 4+ reviews | ⏳ TOUR LENGTH: 2 hours | ✔️ BOOK NOW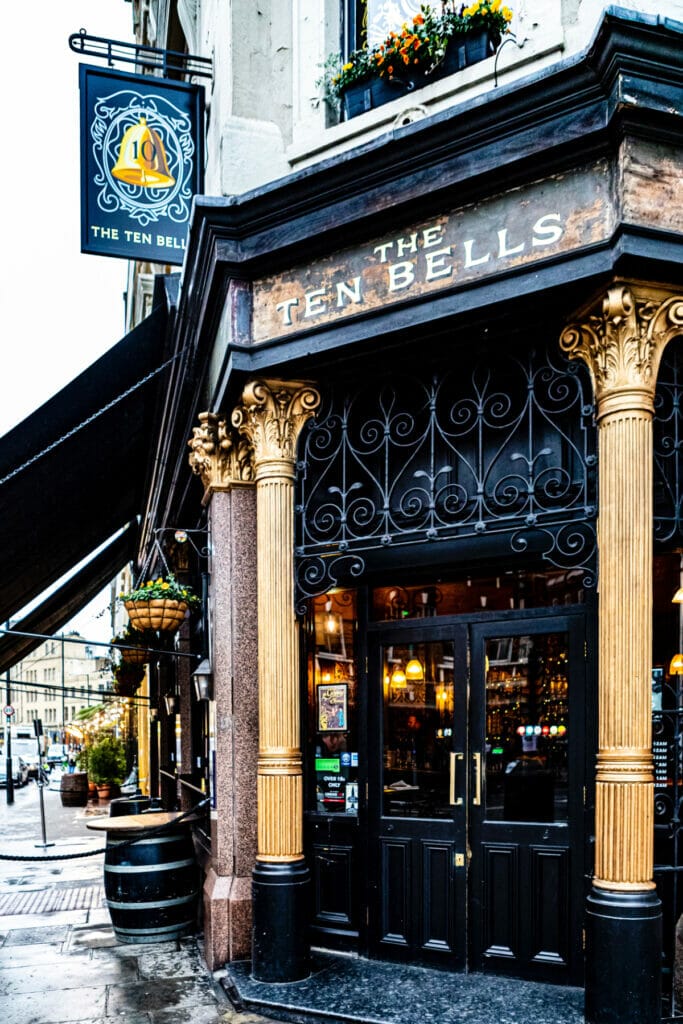 WHAT'S INCLUDED IN THIS TOUR
12 top pubs and bars
Entry fees
Unique nightlife scene
Craft beer venues and cocktail bars
Shoreditch is famous for its vibrant nightlight and hipster cool, and this evening pub crawl tour is the best way to experience all that.
The best part is that with this tour, you're going to head off the tourist track and feel like a local as you meet Londoners, party, and let loose.
Your tour guide is going to take you to 12 of the top pubs, craft beer venues, and cocktail bars that East London has to offer.
All the bars and pubs that you'll go to on this tour have something interesting to offer.
"Amazing evening! Ollie was great, she knows the area really well and we went to some really cool pubs! It was an awesome experience!"
For instance, the Angel is a red-brick-free house boozer where you'll find a pool table and big-screen sports, while The Three Crowns is characterized by wood paneling and whitewashed walls and serves craft beer with seasonal British fare.
Similarly, the Old Fountain is a free house that has a roof terrace, classic pub food, and a rotating menu of cask ales.
Other stops include the Golden Bee, Old Street Records, and the Callooh Callay Bar.
⏳ TOUR LENGTH: 3 hours | ✔️ BOOK NOW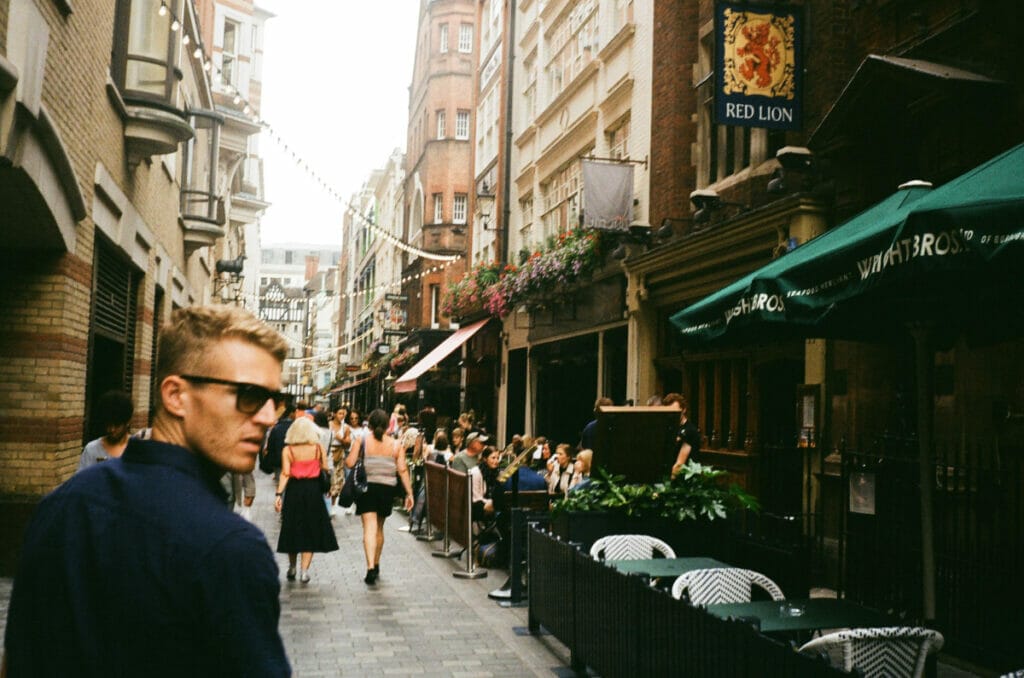 WHAT'S INCLUDED IN THIS TOUR
2 local markets
Alcoholic beverages
Coffee break in a secret bar
Private tour (London pub walking tour)
There's no better way to enjoy the scrumptious food and drink that London has to offer than like a local on this private tour, which takes you through the East End.
This is truly a culinary adventure, ideal for those who want to taste authentic British cuisine while avoiding tourist-trap restaurants.
Your tour guide will take you to Spitalfields, where you'll enjoy a coffee and an English sweet treat in one of the most impressive churches in the city.
Of course, your culinary tour will be incomplete without fish & chips washed down with beer, which is why your next step is a tavern that serves just that.
Next, you'll go to Brick Lane to visit a historic tavern famous for its Scottish egg (hard-boiled egg covered by sausage meat and fried or baked) and draught beers.
Your final stop is Middlesex Street, where you'll eat a traditional British pie made with puff pastry filled with slow-cooked vegetables or meat.
⏳ TOUR LENGTH: 2 hours | ✔️ BOOK NOW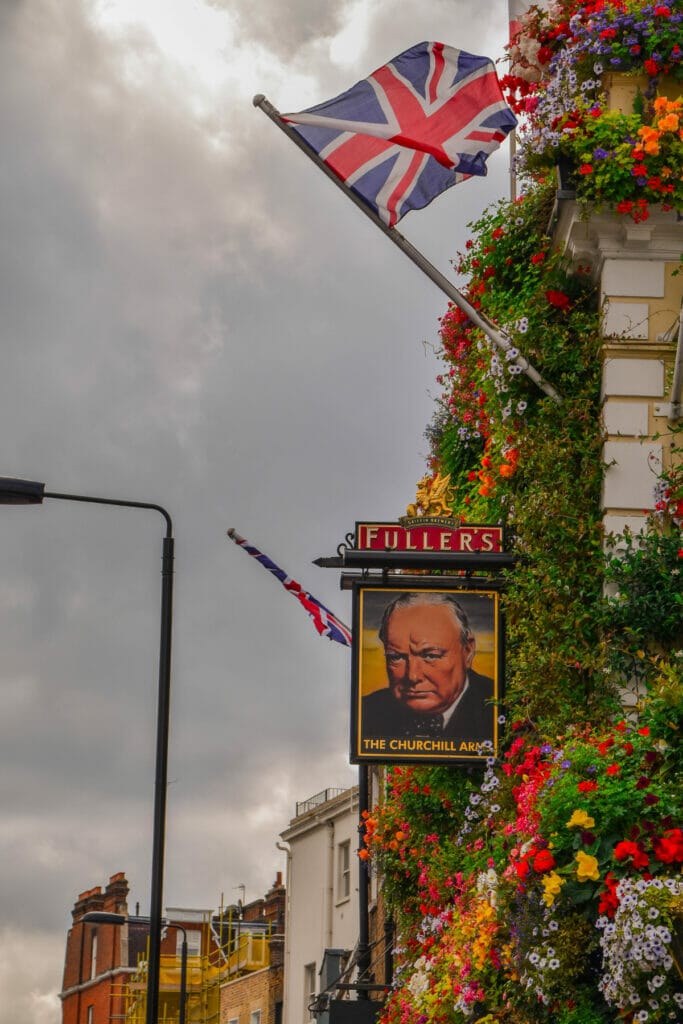 WHAT'S INCLUDED IN THIS TOUR
Professional tour guide
Tales of the most important figures of the city
Lively commentary from your guide
Some of the most historic pubs in the city
History and pubs go hand in hand in London, and there's no better way to learn about the past than with this walking tour of the most historic pubs present in the city.
On this tour, you'll learn more about the important figures of London and where they spent all their free time.
For instance, you'll see the last Victorian gin palace in the city and check out the pubs where Charles Dickens used to drink mead (a pub with a Victorian-style interior called the Lamb) and Queen Elizabeth I used to come to dance (Ye Olde Mitre, one of the most difficult pubs to find that also has no TV and where Samuel Jackson has also spent a good chunk of time).
"She knew so much about the London pubs, the lagers, the bitters and she knew pretty much everyone. Dani is someone that loves her job, and it shows. It was a perfect way to start my London trip!"
The other three stops include the Crown Tavern which was frequented by Lenin before he went to Russia (it's even rumored that he might have met Stalin here!), the Blackfriars Bridge which has an extravagant religious-themed interior, and the Seven Stars, one of the few places that survived the Great Fire of London.
At each stop, you can purchase drinks to taste their wares while they indulge you in a lively commentary.
⏳ TOUR LENGTH: 4 hours | ✔️ BOOK NOW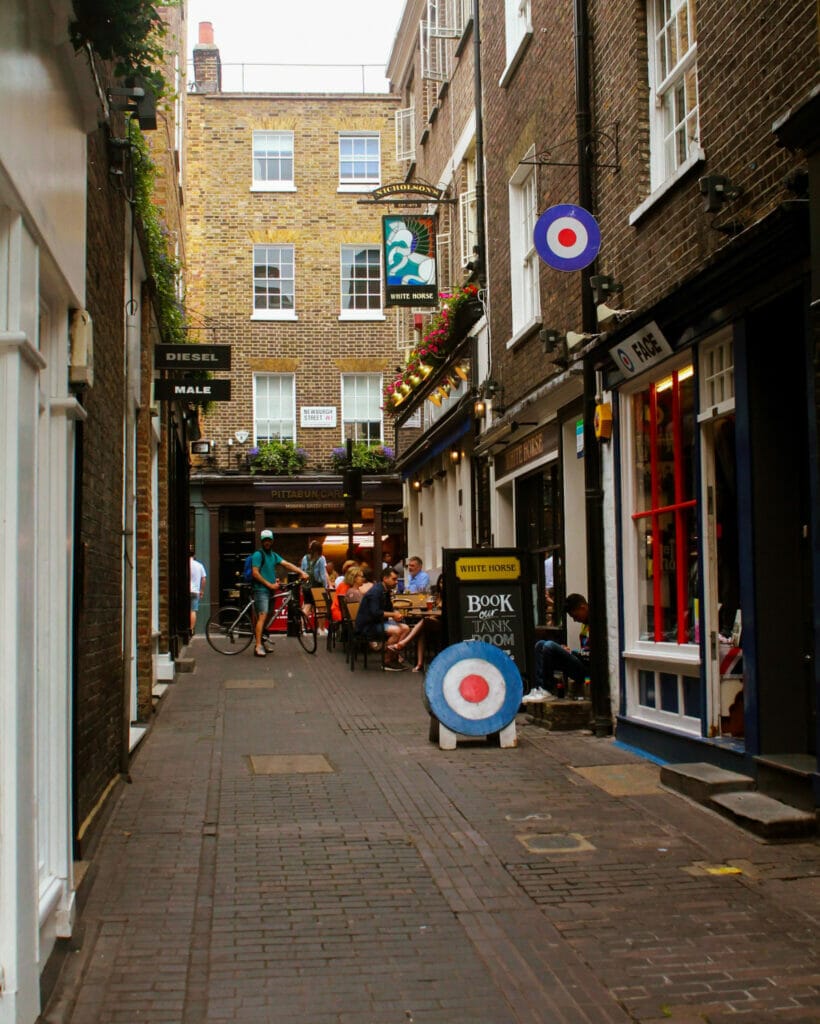 WHAT'S INCLUDED IN THIS TOUR
Professional, friendly, and informative tour guide
Free drink at every pub
Hotel pickup
Personalized experience with a private guide
The last pub crawl tour on this list that you should definitely check out is this tour of the notorious pubs of White Chapel and the East End that feature stories of murders, writers, and royalty.
On this tour, you'll follow your guide to traditional pubs where you'll enjoy a soft drink or beer.
As you step back in time, explore the historic side of the city and the hustle and bustle of the West End, and soak up the atmosphere, you'll hear stories of Chaucer's Canterbury Tales, torture, and treason.
The stops on this tour include the Blind Beggar Public House (home of a legendary gangland killing of the 20th century), the White Hart (a pub where the notorious Jack the Ripper used to pick potential victims), and Dirty Dicks (a fine London pub with a tragic history).
Since this is a private tour, you're guaranteed to have a personalized experience. Hotel pickup is also available for your ease.
⏳ TOUR LENGTH: 3-4 hours | ✔️ BOOK NOW
WHAT'S INCLUDED IN THIS TOUR
One complimentary drink at each stop
Private tour
Hotel pick-up and drop-off
Professional local guide
As you might have noticed by now, no tour to London is complete without visiting at least one traditional pub, and this tour is going to take you to five of them.
As you explore the historic pubs, you'll get undivided attention from your private guide and a glass of soft drink, wine, or beer at each stop.
"This is a truly phenomenal tour for anyone who loves history and pubs. I cannot recommend it more highly! My father and I had a great time, learned more than we could have imagined, drank some great beer, and were able to take our own pace on the tour. I will do this again!"
Since this is a private tour, you can customize it to your preferences.
This way, you can spend longer at the places you like most.
You can also ask your guides for tips and explore London as the locals do.
The tour also includes hotel pickup and drop-off, and you can choose between morning and afternoon departures.
Overall, this is a nice and relaxed, enjoyable, and informative tour that's tailored to your pace. Some of the most interesting stops on this tour include the Mayflower Pub, George, the only surviving galleried pub from the Tudor times, Ye Olde Cheshire Cheese, and Ye Olde Mitre.
Hey! Want to use our trusty guides to the best tours in other places across the UK? Check these out!
UK Travel Planning Guide: the FAQs
🏥 Should I buy UK travel insurance?
Absolutely yes. Basic coverage is not expensive, and as a visitor you are NOT covered under the NHS. Compare policies and prices with Travel Insurance Master here, a big name in the travel insurance business, and cross that off your list.
🔌 Do I need travel adapters for the UK?
Yes, you do, otherwise you won't be able to plug in your electronics/phone/lifelines. I recommend this one, which is all-in-one so you can use it in other countries.
🚗 What do I need to drive in the UK?
The first thing you need to check out if you're planning on renting a car in the UK is this guide to driving in the UK for visitors – the roads, signs, and driving experience will likely not be what you're used to and it's essential to prepare yourself to stay safe and aware.
🛌 What's the best way to book hotels in the UK?
For UK hotels, Booking is the best site as it offers free cancellation on many properties. If you want an apartment, I always recommend VRBO over AirBnb.
📳 Will my phone work in the UK?
Yes – if you set it up right. Check out my guide on making your foreign phone work in the UK to ensure that you get the type of service you need.
🚿 Can I drink the water in the UK?
Yes, UK water is great and perfectly safe. But drink out of taps in any kitchen or use water fountains. Double check before drinking out of the taps in hotel bathrooms, though, as they may be on a different system.