This post contains affiliate links for which I may make a small commission to help keep the site running. You will not be charged extra for these items had you not clicked the links. Thank you for your help to keep the site running!
Located in the county of Somerset in England, the city of Bath promises a haunted trip you'll never forget.
In this guide, we'll direct you to the very best ghost tours in Bath.
You'll learn about the paranormal activity that has defined Bath's history. Expect terrific tales about witches, ghosts, and vampires.
👻 If you don't have time to read the whole article, don't worry: the best Bath ghost tour is the Fully Guided Bath Ghost Tour that you can book here.
Whether you opt for a knowledgeable tour guide or wander the streets yourself, you'll discover lots of fascinating sites and streets in this World Heritage Site.
The history of Bath goes even further back than the Roman invasion, though you can expect the Roman baths here to be part of some of the walking tours.
Read on to discover the five best ghost tours Bath has to offer, including haunted tours in Bath.
Don't forget to book in advance, especially if you're wanting to do the private guided tour.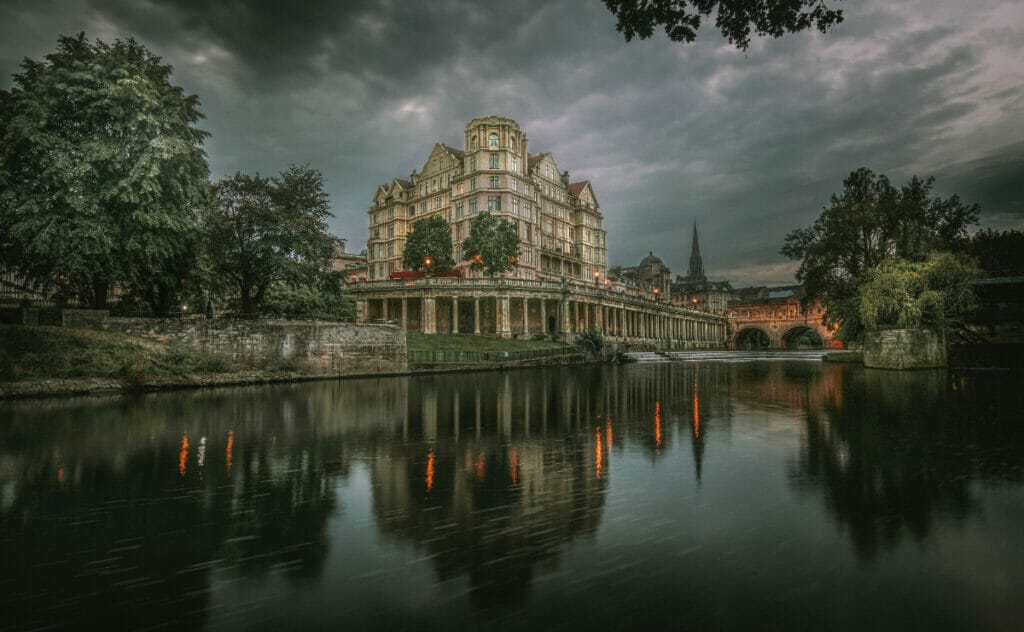 Easy Guide: Best Bath Ghost Tours
⭐️ RATING: 4.5 out of 5 Stars, 60+ reviews | ⏳ TOUR LENGTH: 1 hour 45 minutes | ✔️ BOOK NOW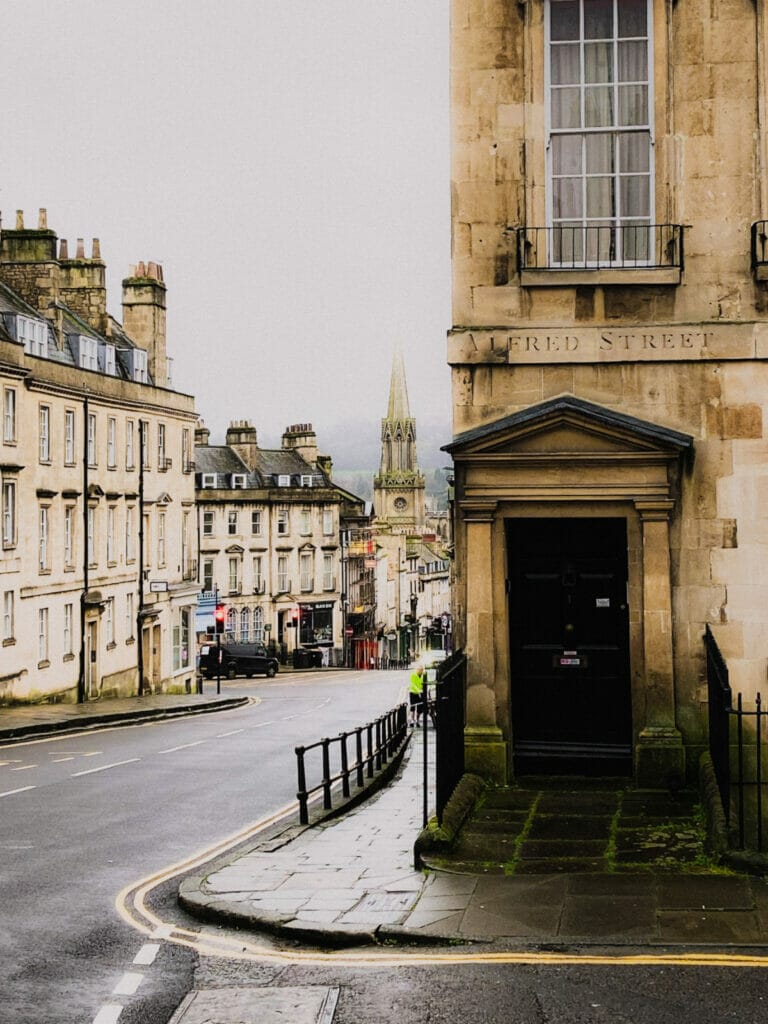 WHAT'S INCLUDED IN THIS TOUR
Guided ghost tour
Explore the streets of Bath after dark
Attractions including the Roman Baths and Royal Crescent
Walk along Gin Alley and see the haunted pubs
The Fully Guided Bath Ghost Tours are a unique opportunity to see the streets of Bath like never before while also exploring ghost tours in Bath.
You'll meet at Abbey Churchyard – an aptly spooky place – before being guided through the streets by an entertaining guide.
At Abbey Green, guests will be invited to be executed (a pretend execution, of course) while hearing the twisted tales of Bath's grim history.
"We enjoyed the whole experience but the most memorable parts were the stories around the hanging tree and visiting the plague pit. Our guide was amazing, she brought the stories to life with her animated retelling of them"
Once you reach Royal Victoria Park, one unlucky soul will be called upon to communicate with the dead.
This paranormal experiment may just leave you shaking for weeks.
Being just 1 hour and 45 minutes, this leaves plenty of time after the tour to sample the many delicious beverages on Gin Alley (more formally known as Queen Street).
This tour isn't for the faint-hearted.
It takes place at night, promising a scarier ambiance and more opportunities to spot ghosts.
Fans of horror movies and scary TV series will find this tour incredibly enjoyable.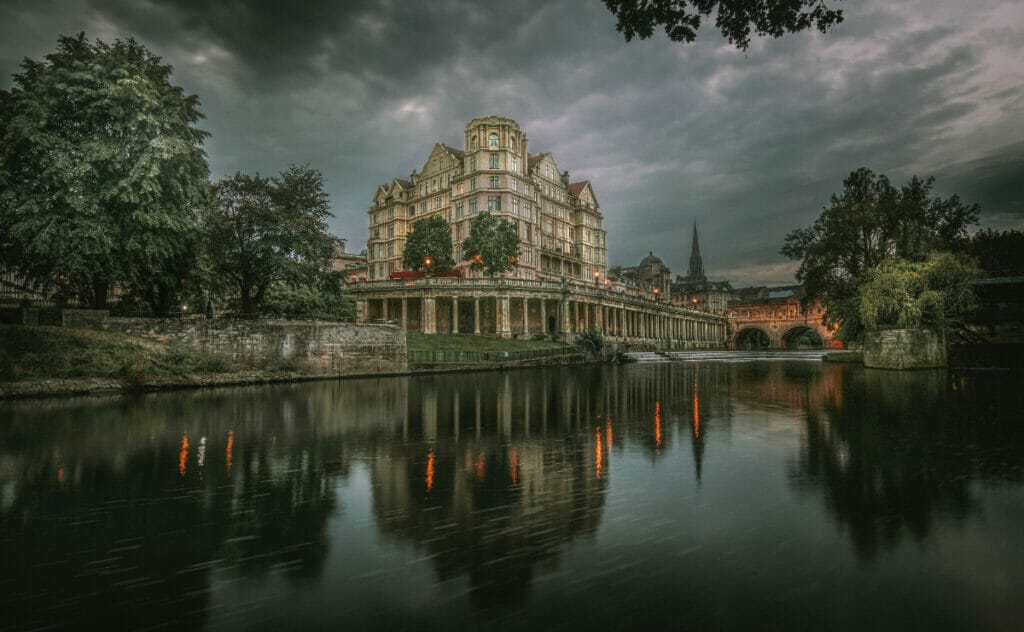 ⭐️ RATING: 5 out of 5 Stars, 30+ reviews | ⏳ TOUR LENGTH: 1 hour | ✔️ BOOK NOW
WHAT'S INCLUDED IN THIS TOUR
High-quality overhead headphones
Listen to eerie music on a Bath haunted tour
Follow in the footsteps of a ghost hunter
Dance for your life
This tour guarantees a fantastic evening of fun and frights.
Unlock your inner ghost hunter as you walk through the streets of Bath and discover grizzly tales from the city's past.
Smaller tour groups are desirable, making the spine-chilling streets even more isolating and terrifying.
"What a fun tour with a great guide. Dancing around the Christmas markets and landmarks of Bath on a December night was a perfect start to Christmas celebrations. Throw in a ghost or two and thus made a memorable evening!."
Expect to hear about phantom monks, ghostly nurses, and dead brides – each character expertly brought back to life by a talented narrator.
The scariest of all is the Grey Lady.
With a hat full of feathers, you can't miss her – but you'll wish you could.
You've never seen Bath like this, and probably won't ever see it in the same way again.
The tour may only take an hour, but the nightmares will last for weeks.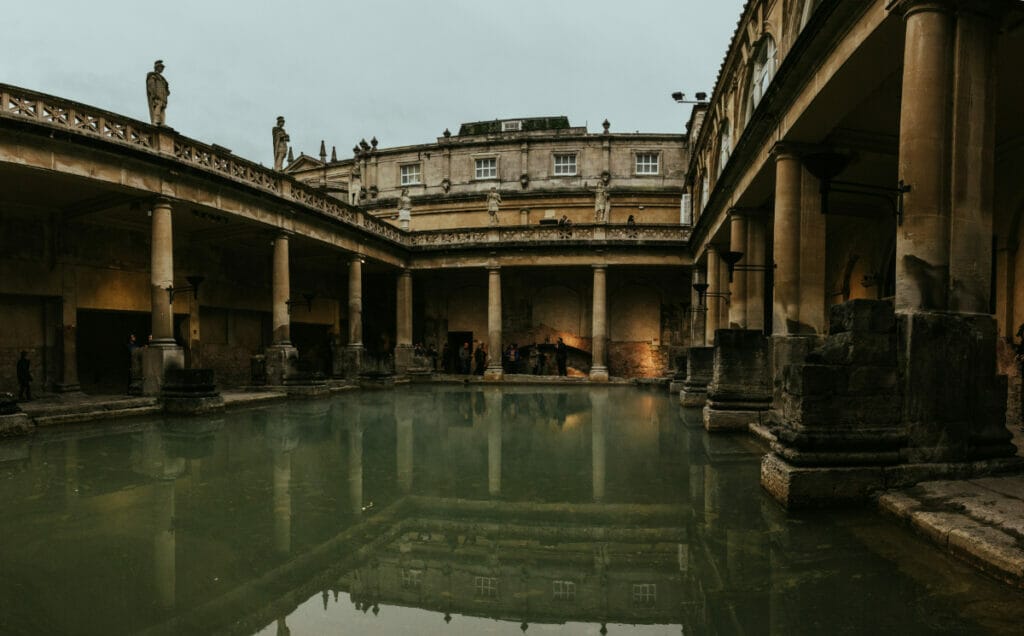 ⭐️ RATING: 5 out of 5 Stars, 6+ reviews | ⏳ TOUR LENGTH: 1 hour 45 minutes | ✔️ BOOK NOW
WHAT'S INCLUDED IN THIS TOUR
A guided ghost tour of Bath
Fully-private tour
A knowledgeable tour guide dressed in costume
Opportunities to volunteer for creepy tasks
Looking to take part in a ghost tour without the crowds?
The Private Guided Ghost Tour of Bath was created with you in mind.
This is a fully-private guided tour for your party and welcomes groups of between two and 40 people.
The perk of a private guided ghost tour is that there will be fewer people taking part, which adds to the spooky vibe.
It's the perfect tour for couples, birthday parties, and hen dos.
"Just finished our guided ghost tour with Miss Cruncher who knows how to tell a good ghoulish story! We found her very informative and knowledgeable and managed to squeeze in some fun between story's of burning witches and other torrid tales.."
You'll spend the journey traveling between Royal Mineral Water Hospital and Queen Square.
On the way, you'll learn about plague pits, public execution spots, ghost hangouts, and 18th-century celebrities.
Who knew Bath was so haunted?
Ms. Cruncher (your tour guide) does and she's got lots of wicked tales of witches, murder, and paranormal activity.
Promising no tricks and no special lighting, this tour promises genuine evidence of paranormal activity.
⭐️ RATING: 4.7 out of 5 Stars, 10+ reviews | ⏳ TOUR LENGTH: 1 hour 30 minutes | ✔️ BOOK NOW
WHAT'S INCLUDED IN THIS TOUR
A private guide
Nighttime stroll through the haunted streets of Bath
Visit the ancient dueling ground
Opportunities to ask questions
This tour, one of the best ghost tours in Bath, invites fans of dark stories and twisted tales to explore the winding city streets after dark.
Paying for this private tour allows you to take control of the experience, and hear as many ghost stories as you'd like.
You won't only discover the city's secrets, but you can also ask questions.
Expect to be chilled to the bone as you discover the secret history of the many streets and squares that intertwine to create the haunted city of Bath.
"SUPERB!! Thank you, Jamie, for treating our merry group of ghost inquisitors to a wonderfully entertaining and informative tour of the ghoulish history of Bath. You struck the perfect balance between fascination and hilarity."
After hearing all the chilling stories of people who met a grisly end, you'll want to step back into reality after the tour with a chilled beer at a pub (though be warned, the pubs here are haunted too!)
Who you gonna call?
The 90-Minute Private Ghost Walking Tour.
5. Self-Guided Bath Ghost Tour
Bath's rich history is available online, meaning that you can create your own self-guided haunted ghost tour in Bath.
Learn about the haunted locations of the city and then use Google Maps to create a route.
Creating your own tour means that you can customize it according to your party, picking spots that you think will be most interesting and peppering in some pub trips every so often.
You can also dictate the length of the tour, either opting for a few hours or a whole day.
To take your self-guided tour to the next level, why not dress up in a spooky costume and practice using a chilling voice that'll entertain (and scare) your friends?
A self-guided tour you've designed yourself is a perfect gift for your loved ones.
Whether you do it for someone's birthday, a quirky date, or a stag party – the choice is yours.
Hey! Want to use our trusty guides to the best tours in other places across the UK? Check these out!
UK Travel Planning Guide: the FAQs
🏥 Should I buy UK travel insurance?
Absolutely yes. Basic coverage is not expensive, and as a visitor you are NOT covered under the NHS. Compare policies and prices with Travel Insurance Master here, a big name in the travel insurance business, and cross that off your list.
🔌 Do I need travel adapters for the UK?
Yes, you do, otherwise you won't be able to plug in your electronics/phone/lifelines. I recommend this one, which is all-in-one so you can use it in other countries.
🚗 What do I need to drive in the UK?
The first thing you need to check out if you're planning on renting a car in the UK is this guide to driving in the UK for visitors – the roads, signs, and driving experience will likely not be what you're used to and it's essential to prepare yourself to stay safe and aware.
🛌 What's the best way to book hotels in the UK?
For UK hotels, Booking is the best site as it offers free cancellation on many properties. If you want an apartment, I always recommend VRBO over AirBnb.
📳 Will my phone work in the UK?
Yes – if you set it up right. Check out my guide on making your foreign phone work in the UK to ensure that you get the type of service you need.
🚿 Can I drink the water in the UK?
Yes, UK water is great and perfectly safe. But drink out of taps in any kitchen or use water fountains. Double check before drinking out of the taps in hotel bathrooms, though, as they may be on a different system.