This post contains affiliate links for which I may make a small commission to help keep the site running. You will not be charged extra for these items had you not clicked the links. Thank you for your help to keep the site running!
There are so many tours in London to choose from, you'll have no problem finding sightseeing, historical, and other fun tours around the city.
But what if you don't want to be surrounded by strangers?
Being in a crowded city can be stressful enough, but when you're just trying to ask a question during your tour and you keep being interrupted by someone you don't even know, it can be a real stressor!
You might not be able to escape the general hustle and bustle of the city, but you can at least make sure your tour is just between you (or your travel party) and your guide!
The best way to ensure that you have your guide's full attention is by booking a private tour, like one of these private guided tours London and luxury private tours London.
From the usual sightseeing, to historical tours, to even a pub crawl or a refreshing bike ride, you're in for a memorable experience with these private London tours!
Hey! Want more honest UK tips and planning advice? Click here to join my London and UK Travel Tips Facebook group, where I can answer more of your questions!
Easy Guide: Best Private Tours in London
⭐️ RATING: 5 out of 5 Stars, 470+ reviews | ⏳ TOUR LENGTH: 2 hours | ✔️ BOOK NOW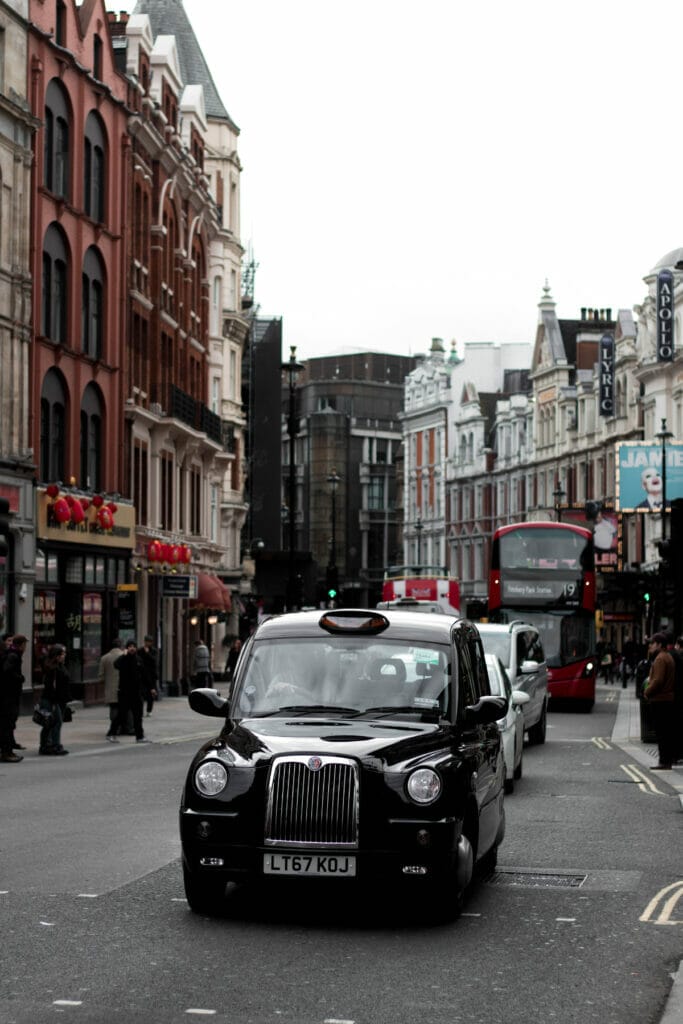 WHAT'S INCLUDED IN THIS TOUR
Option for customized itinerary on on of these private London tours
Knowledgeable guide with safe driving skills
Hotel pick-up and drop-off
Ride in a classic London Black Taxi
London Black Taxis are an iconic part of the city, so it's only natural that one of the best private tours in London takes place in one of them!
Hop in a sleek black cab for a 2-hour private tour around the city, starting right outside of your central London hotel!
That's right, your guide will pick you up and drop you off at your hotel, so there's no need to navigate the busy streets of London by foot!
See the most famous parts of London from the comfort of your cab, while your guide tells you about the fascinating history of the city.
On a standard route, you'll see Buckingham Palace, St Paul's Cathedral, Trafalgar Square, Big Ben, Westminster Abbey, the Tower of London, and more!
"Gerry was a phenomenal tour guide. His knowledge and humor made for a great time. It was one of the best history lessons I've ever had since I was a child. I wholeheartedly recommend this tour and hope you get Gerry or someone like him with his knowledge and passion"
Have something else in mind?
Customize your route with the help of your tour guide!
This tour is accessible for both wheelchairs and strollers.
⭐️ RATING: 4.5 out of 5 Stars, 3,400+ reviews | ⏳ TOUR LENGTH: 2-4 hours | ✔️ BOOK NOW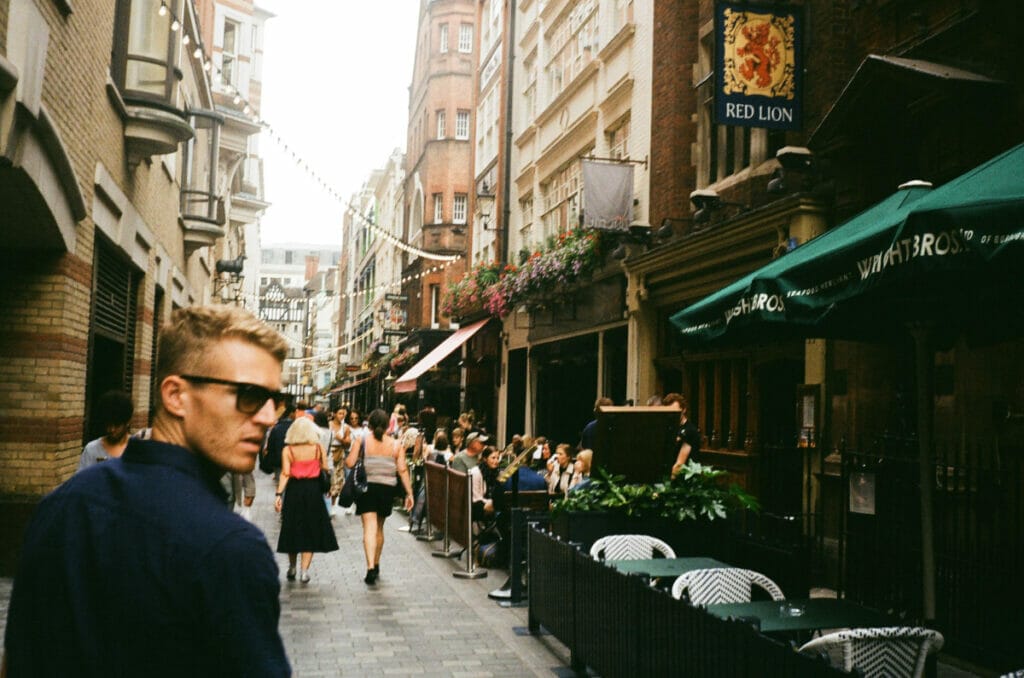 WHAT'S INCLUDED IN THIS TOUR
Private group tour
Professional guide
Visit 4 or 5 iconic pubs
Learn history, too!
Looking for a private London tour that even locals love?
Rally your friends, then go on a customized London pub crawl with a professional guide – one of the best private tours of London.
There are dozens of iconic and unique pubs all around central London, but most people don't have the time to visit all of them.
Well, your guide will take care of that for you!
This private tour will be tailored to your group, so you can find the best pub experiences for you!
"Kevin was terrific! A lot of fun facts and four incredibly interesting pubs we never would have found (or known the history) on our own! Loved it! Highly recommend."
Your local guide's expertise is unmatched.
They'll tell you about the history of the pubs, and even recommend the best drinks*.
Thirsty for more of London?
In addition to visiting a handful of famous pubs, you'll also pass by iconic attractions like St Paul's Cathedral and St Bride's Church.
*Please note that beverage purchases from these pubs are not included in the tour and come at an additional cost.
⭐️ RATING: 5 out of 5 Stars, 80+ reviews | ⏳ TOUR LENGTH: 3 hours | ✔️ BOOK NOW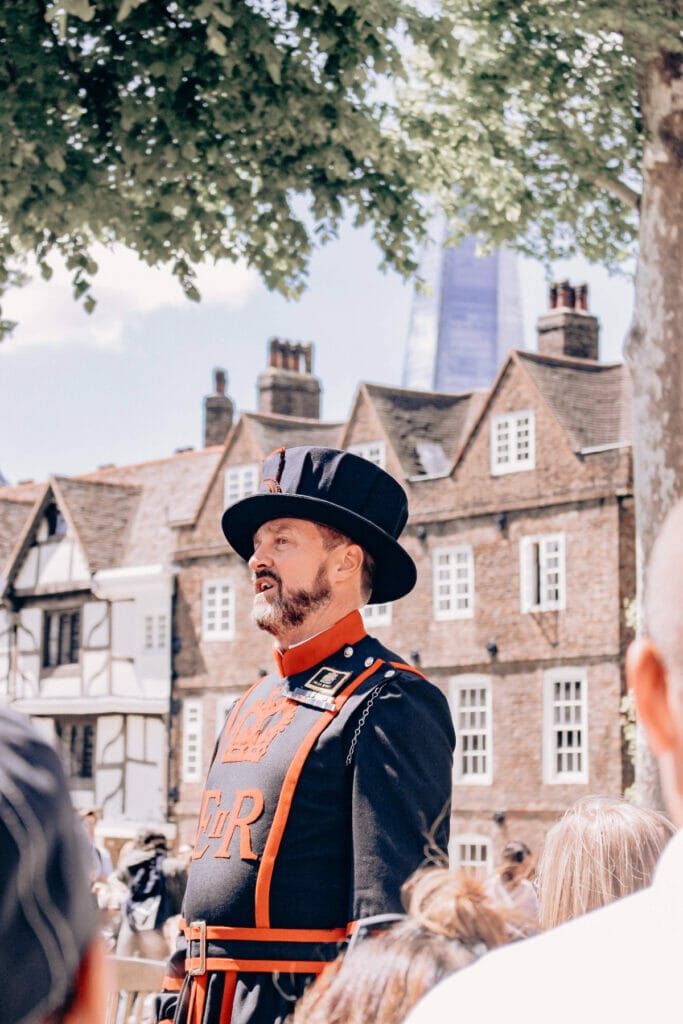 WHAT'S INCLUDED IN THIS TOUR
Entry to the Tower of London on this London private tour
Skip to the front of the queue
Professional, knowledgeable guide
Conveniently located near public transit
Visiting the Tower of London?
You'll want to get the most out of it by booking this private tour!
Meet your guide at the Tower Welcome Centre, then skip straight to the front of the security queue and head into this iconic London attraction.
Your entry ticket to the Tower is included with the tour, so there'll be no worries about extra fees!
"I have had two other tours of the Tower and this one was so much better than any I have done. Just our family and our guide, Denisa, who was incredible. Extremely engaging with our family and really got the kids into it. Highlight of the week."
Once inside, you'll meet ravens (yes, real birds!), learn the history of the Tower and who was imprisoned there, and see gruesome artifacts in the medieval torture chamber!
You'll be mesmerized by the Crown Jewels, and the White Tower will give you a fascinating glimpse of the arms and armors that once belonged to famous kings such as Henry VIII, Charles I, and James II.
Your tour will conclude with a beautiful view of the Tower Bridge, the perfect time to snap some envy-inducing vacation photos!
⭐️ RATING: 4.6 out of 5 Stars, 100+ reviews | ⏳ TOUR LENGTH: 2-6 hours | ✔️ BOOK NOW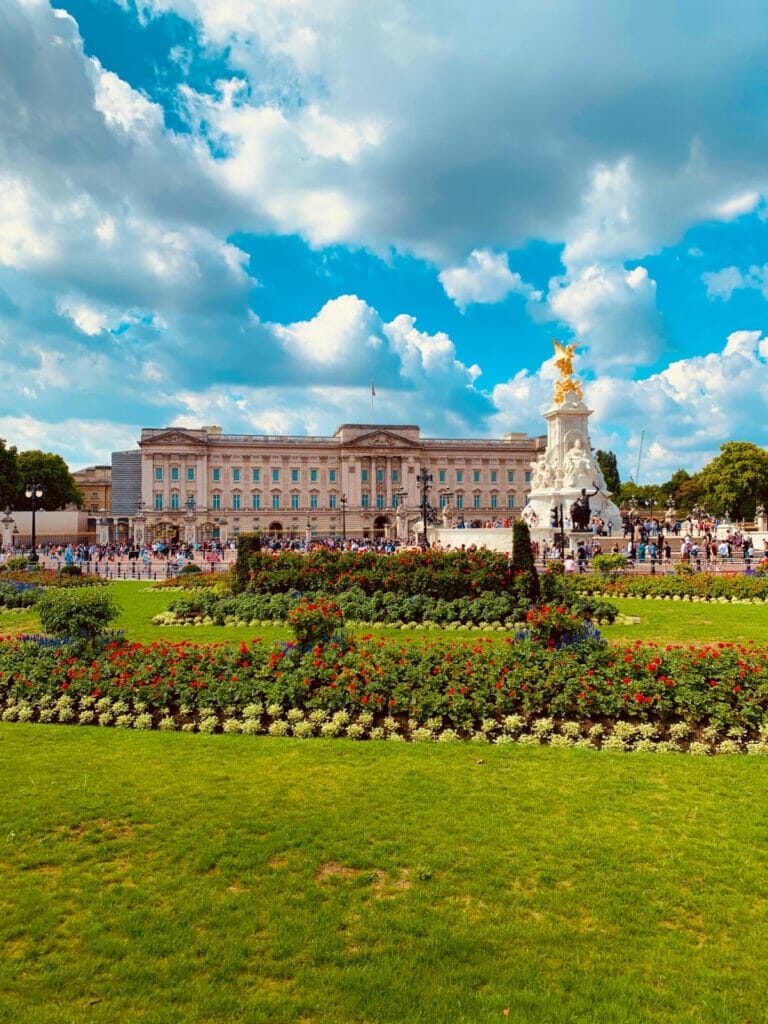 WHAT'S INCLUDED IN THIS TOUR
Pick up from your hotel
Customized guided tour
Local, knowledgeable guide
Discounts for children 12 and under
Get to know the city by foot with your personal, local tour guide!
This private tour will take you on a walking journey around central London, and it can last anywhere from 2 to 6 hours!
It's easy to spend a full day walking around London and getting lost, so instead of wandering around aimlessly, why not follow in the confident footsteps of a local guide?
Your guide will meet you at your hotel (or a central landmark, if you prefer), then help you get to know the local neighborhood before venturing out to the rest of the city.
"My guide Ana Maria was so sweet to me it was like I was walking around the city with my own mother except she knows London like the back of her hand. She accommodated me in every way and made sure I know some historical background of England. Awesome tour guide for people arriving here for the first time!"
If you tire of walking, just ask your guide about using a cab or public transportation to get around for part of the journey!
Traveling with kids?
Guests under 12 are eligible for a 50% discount, and those aged 3 and under can go for free!
⭐️ RATING: 4.3 out of 5 Stars, 100+ reviews | ⏳ TOUR LENGTH: 3-8 hours | ✔️ BOOK NOW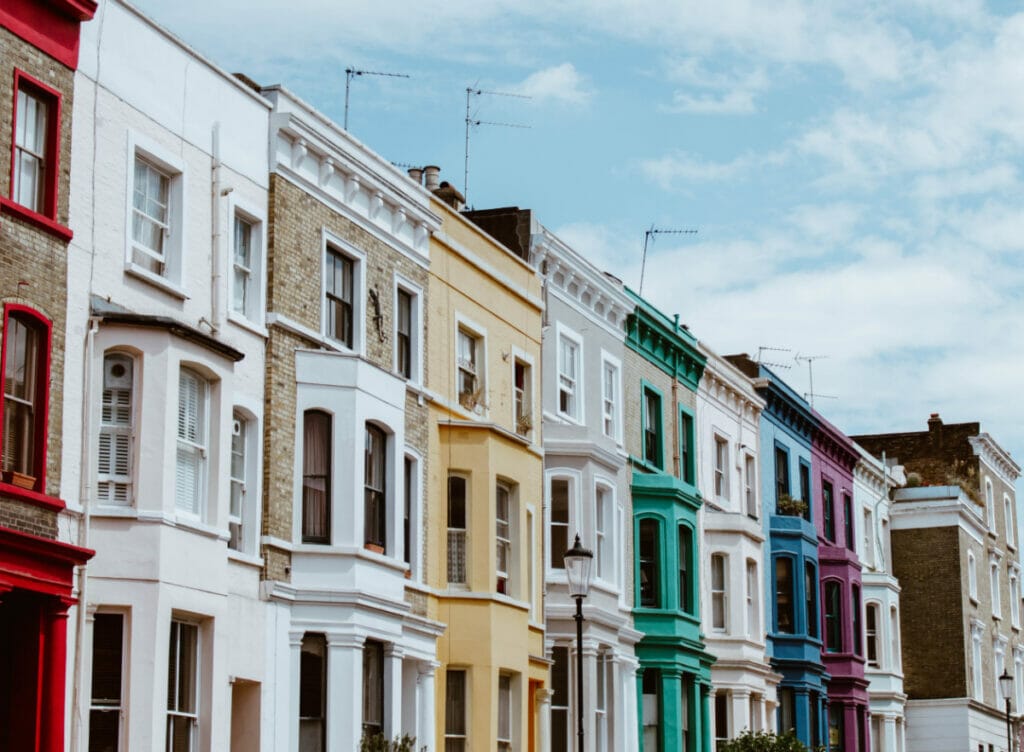 WHAT'S INCLUDED IN THIS TOUR
Pickup from hotel lobby on this private London day tour
Flexible itinerary
Over a dozen language options
See the most iconic parts of London
Take on London by foot (or wheelchair) with this private sightseeing tour!
Your guide will meet you in the lobby of your hotel in the morning, and from there you'll embark on a journey full of the wonders of London!
Stand outside of Buckingham Palace during the iconic Changing of the Guard ceremony, then head on to Westminster Abbey to discover where some of the most famous poets, artists, actors, and other notable people are buried alongside British monarchs.
You'll pass by Big Ben and the Houses of Parliament, then continue on to see what's happening in Trafalgar Square.
"We were on the road with Marica for about 6 hours and visited all the relevant sights. The tour was entertaining, the route planned sensibly, so that we were able to take a break in between in a café with a great view of the Thames and the City of London"
Something else you really want to see?
Bring it up with your guide to see if you can work it into the itinerary!
Looking for tours in your first language?
This tour will allow you to select a guide who can speak English, Arabic, Bulgarian, Chinese, Czech, Dutch, French, German, Greek, Hindi, Italian, Japanese, Moldavian, Polish, Romanian, Russian, Spanish, or Ukrainian!
⭐️ RATING: 4.9 out of 5 Stars, 1,000+ reviews | ⏳ TOUR LENGTH: 3.5 hours | ✔️ BOOK NOW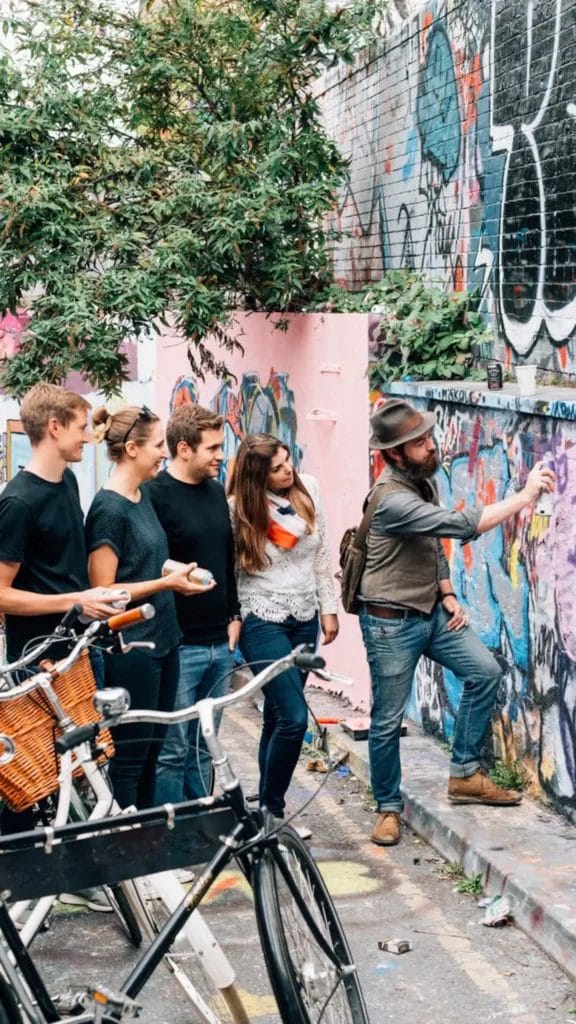 WHAT'S INCLUDED IN

THIS TOUR
Hand-built British bicycle to ride during tour
Tweed cap or helmet to wear during tour
Easy & safe route led by a fun guide
Spray paint a tunnel (free and legal!)
Forget walking; see more of London without killing your feet when you take this biking tour!
Explore 7 miles of the city by bike (provided by your guide), and get around London like many locals do!
You'll be safe and secure as you follow your guide at an easy pace down dedicated bike lanes and side streets.
"Brilliant experience loved it. Our guide was charming and informative. I've lived & cycled round London but the tour took me to places I have never been. Felt safe and really enjoyed our morning. Would highly recommend"
Pass by some of the most iconic sites around London, like Big Ben and Buckingham Palace.
Don't worry about moving too quickly to take it all in; there'll be regular stops, and you'll even have the chance to snap some photos along the way!
Near the end of your tour, you'll visit an historic pub and get to know your guide better.
Then, they'll lead you to Banksy's graffiti tunnel, pull out a can of spray paint, and let you have a go at making your own mark on the city!
To ensure a private tour, remember to select "Book for a private group" when booking!
⭐️ RATING: 4.9 out of 5 Stars, 860+ reviews | ⏳ TOUR LENGTH: 3 hours | ✔️ BOOK NOW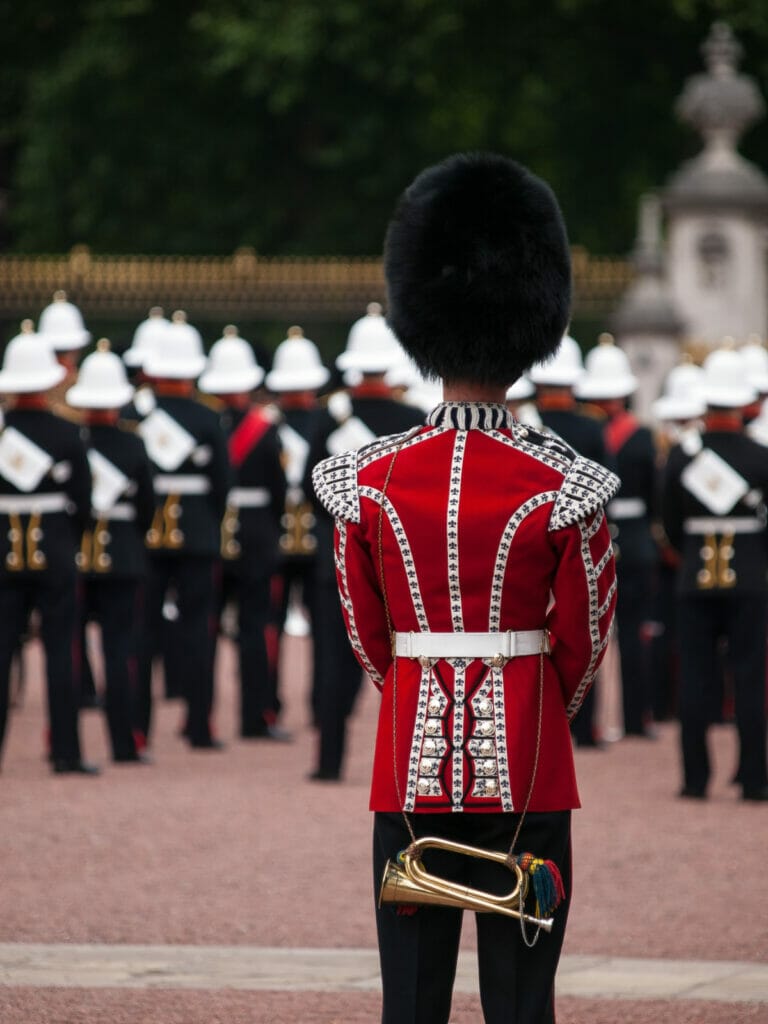 WHAT'S INCLUDED IN THIS TOUR
Former Royal Guard tour guide
Unique insight into the history and culture of the Royal Family
Time to relax in St James's Park
Free admission for people assisting guests with disabilities
See London through the eyes of a Royal Guard!
On this one-of-a-kind walking tour, you'll follow David, a retired Police Inspector who has served in the Royalty Protection Squad at Buckingham Palace.
He's also got a degree in history and is a lifelong Londoner – so you can be sure he really knows his stuff!
David will meet you in Trafalgar Square, giving you insight to the area's history.
"David is a great and knowledgeable guide. I'm a local Londoner who took David's tour with visiting family members and I learned so many things as well. We all left wanting to take another tour with David!"
Then, you'll watch the Changing of the Guard before continuing along The Mall to St James's Palace and Clarence House, where you'll hear details about the night before Prince William's wedding!
See Buckingham Palace and be sure to take plenty of photos while your guide tells you more about the Royals from his unique perspective!
After that, you'll enjoy a bit of rest in St James's Park, and the chance to purchase refreshments before continuing along and eventually ending back in Trafalgar Square.
To ensure a private tour, remember to select "Book for a private group" when booking!
⭐️ RATING: 4.9 out of 5 Stars, 320+ reviews | ⏳ TOUR LENGTH: 2 hours | ✔️ BOOK NOW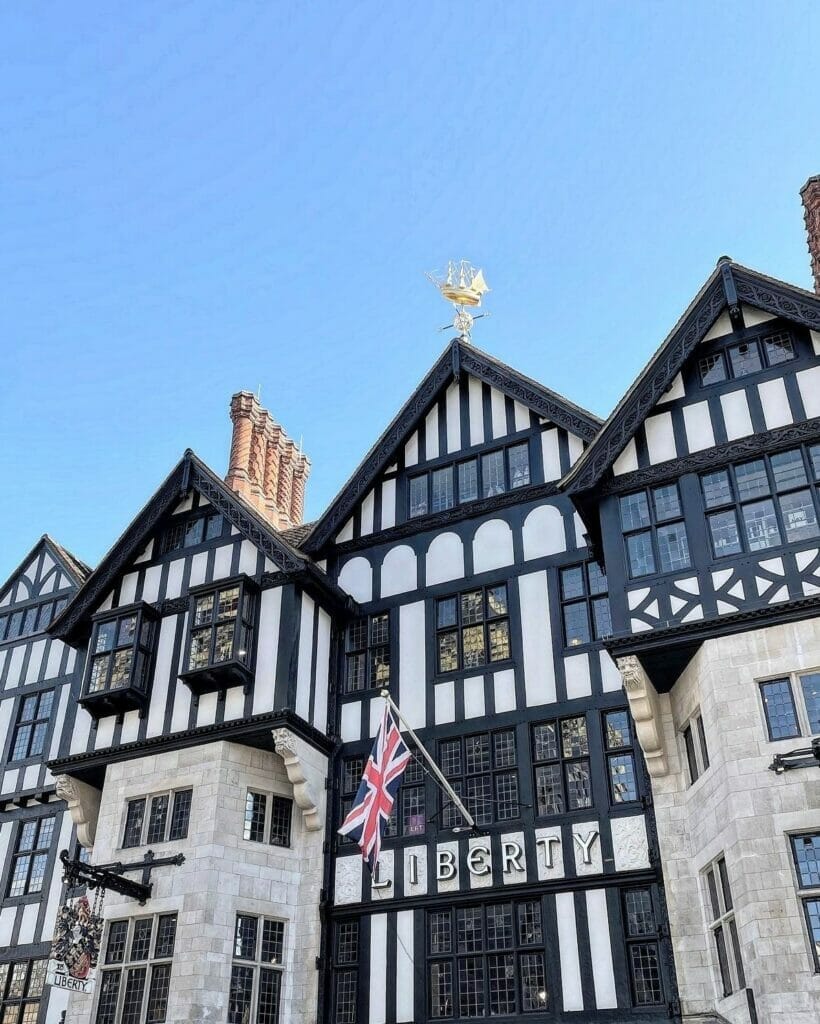 WHAT'S INCLUDED IN THIS TOUR
Professional historian tour guide
Little-known historical facts
Walking distance from public transportation
Option to tailor tour to your interests
Learn the hidden history of London with a passionate historian tour guide!
Terry, your guide, will show you the historic sites that are often missed by tourists, and tell you all about their fascinating history.
Your tour will start in the Victoria Tower Gardens, near the beautiful Buxton Memorial Fountain.
During the tour, you'll learn about often-forgotten historical figures like Jonathan Tyers and suffragist Millicent Fawcett, and enjoy a moment of philosophical insight from your passionate guide.
"Terry is a master of history AND historiography which makes his storytelling and thought provoking questions so memorable! Highly recommend this tour to any London newcomer or local as there were so many hidden gems uncovered even an age-old local may not be aware of. Last note, I was running a few minutes late and Terry was so understanding about it – just a great experience through and through."
Hear the infamous story of Henry VIII's fifth wife, the 19-year-old Katherine Howard, who was convicted of adultery and subsequently executed.
If the history lessons aren't fascinating enough, you'll be swept away by the utterly breathtaking atmosphere of the gardens themselves, from Victoria Tower Gardens to Vauxhall Park, where the tour ends.
Past attendees have noted Terry's exceptional story-telling skills, making this tour stand out above the rest!
To ensure a private tour, remember to select "Book for a private group" when booking!
⭐️ RATING: 4.9 out of 5 Stars, 230+ reviews | ⏳ TOUR LENGTH: 1.5 hours | ✔️ BOOK NOW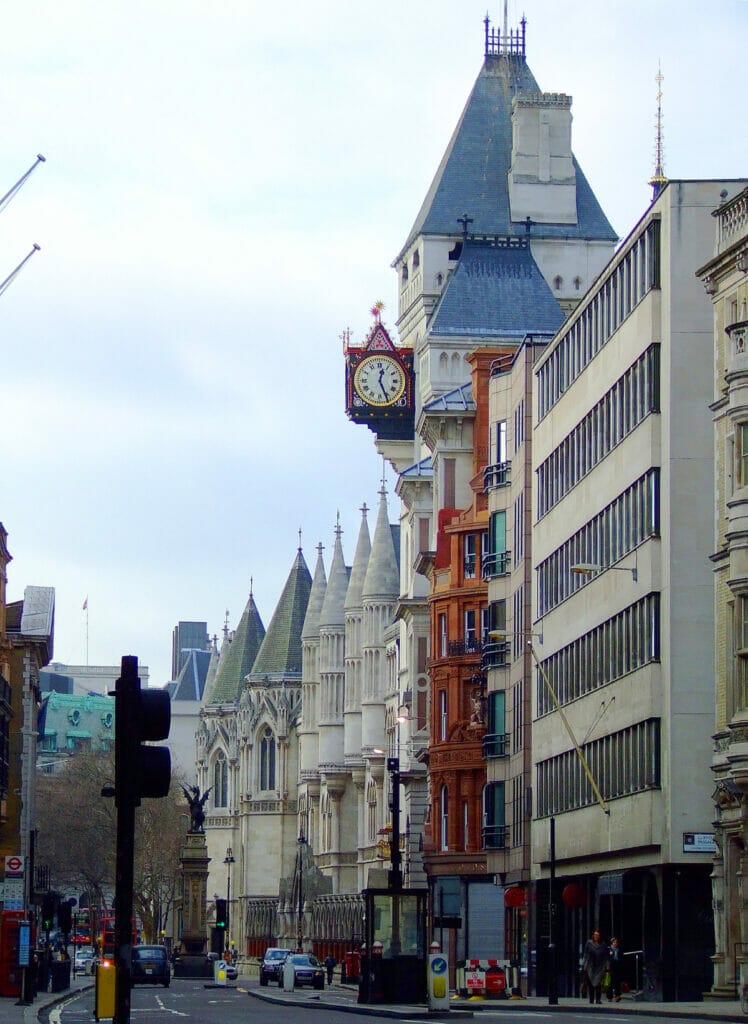 WHAT'S INCLUDED IN THIS TOUR
Professional Economist tour guide
Learn about financial markets and the economy
Free admission for people assisting guests with disabilities
Convenient start and end near Underground stations
Curious about London's position in the economy?
This utterly unique tour is for you!
Your guide is a professional economist who works in the city, providing unparalleled insight into London's most prominent financial institutions and their role in the economy.
You'll start near St Paul's Cathedral and stop by five different institutions, including the London Stock Exchange and The Central Bank.
"This tour is excellent for those without deep financial knowledge. Roberta is very knowledgeable about the financial industry, and has a wealth of information and helpful infographics. Her tour was well-organised, and despite living in London for four years, she showed me a few spots I've never seen before. Thanks for such a lovely tour, Roberta!"
All in all, the journey is just over a mile, and will take about an hour and a half, ending near Bank station.
Those in your group who aren't as interested in economics will still appreciate the chance to admire the architecture and learn the general history of the area.
Even children are sure to have a good time marveling at the tall buildings while the adults soak up the fascinating information!
To ensure a private tour, remember to select "Book for a private group" when booking!
⭐️ RATING: 4.9 out of 5 Stars, 130+ reviews | ⏳ TOUR LENGTH: 2.5 hours | ✔️ BOOK NOW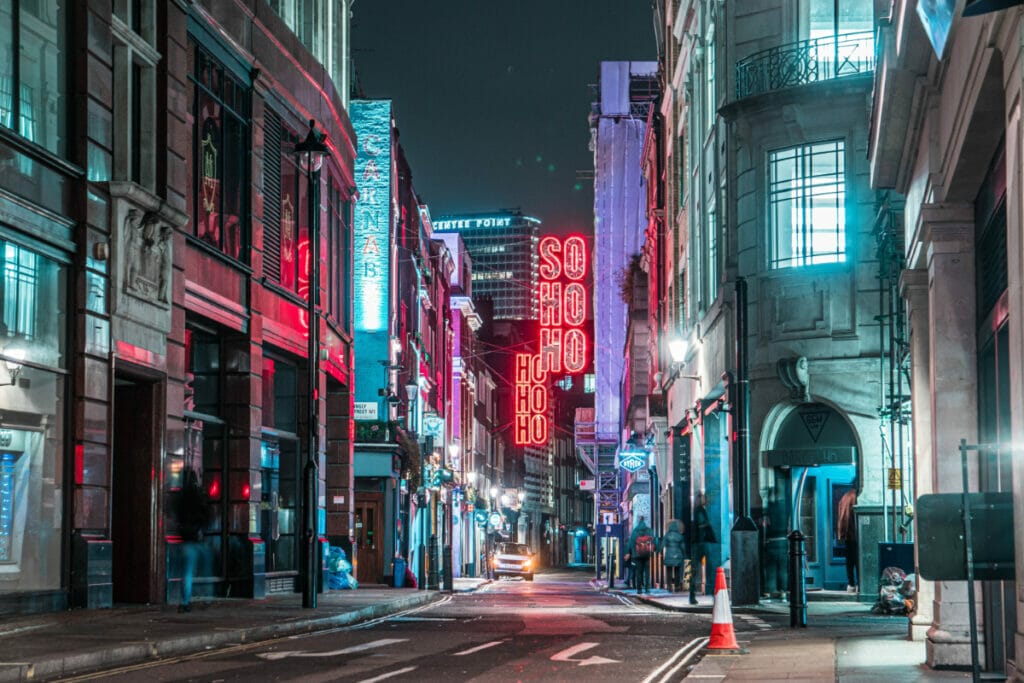 WHAT'S INCLUDED IN THIS TOUR
Convenient meeting spot near Underground station
Special insight into the musical history of Soho
Passionate, knowledgeable tour guide
Great photo ops for music enthusiasts
It's no secret that London is rich with history.
But did you know there was a wealth of music history to be found in the city?
Take this unique musical walking tour of Soho, hosted by a passionate guide who's been involved in the music industry for 30 years!
Whether you're new to the city or you're a local, you're sure to learn something new about the musical history of Soho on this tour.
Discover the stories of famous musicians like The Rolling Stones, Prince, Jimi Hendrix, Elton John, David Bowie, and, of course, The Beatles (and many more)!
"It was such a great tour! You can tell Evren knows his stuff and is passionate about everything he tells you! He was such a fun time and showed us so many things I hadn't seen even after living in London for 2 years! We highly recommend!"
Fan of classical music?
You'll be thrilled to see the place where famous composer Mozart once lived!
Finish the tour in an English pub, which has been visited by many famous people in the past!
To ensure a private tour, remember to select "Book for a private group" when booking!
⭐️ RATING: 4.9 out of 5 Stars, 110+ reviews | ⏳ TOUR LENGTH: 1.5 hours | ✔️ BOOK NOW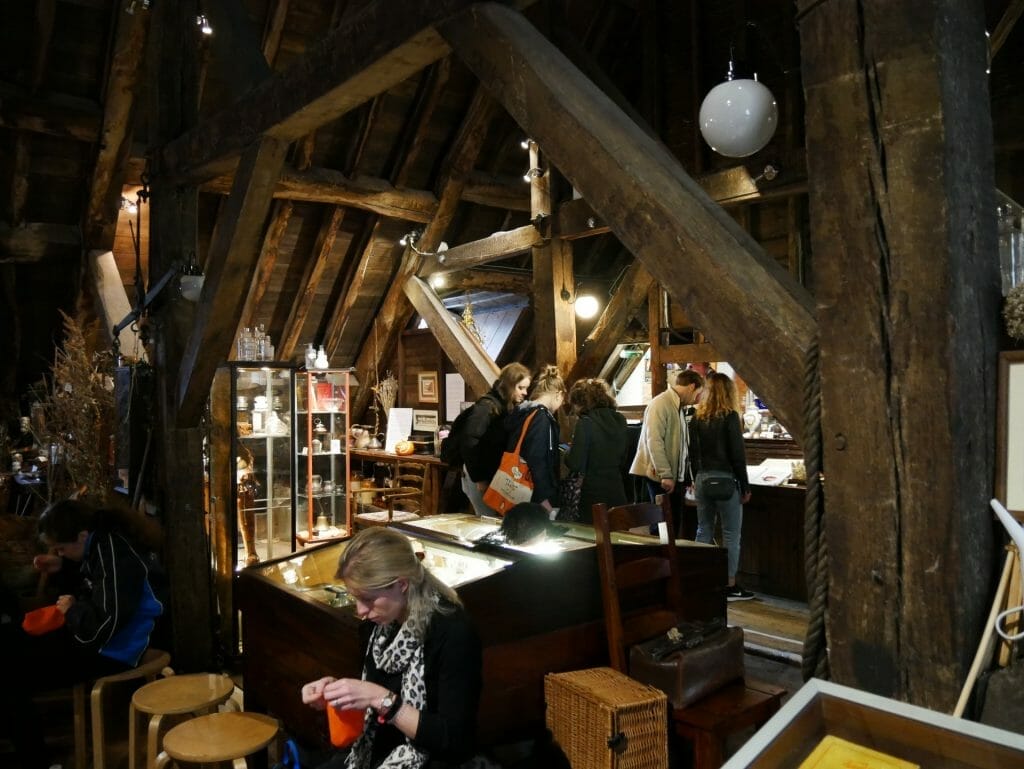 WHAT'S INCLUDED IN THIS TOUR
Qualified, professional guide
Fascinating historical information
Details often missed by tourists
Meet near public transportation
Curious about the more mysterious side of London's history?
Take the Secret Old London tour!
On this fascinating historical tour, you'll learn about things like the Black Death, World War II, and ghastly executions that will chill you right to the bone!
Did you know there's a Roman Amphitheatre buried beneath the city?
Your guide, who is an officially qualified City of London and City of Westminster guide, will teach you all about the marvelous historical sites mentioned above, and more!
"I went on this experience as a Londoner hoping to learn more about my local patch. Matt did not disappoint! Great tour, and off the beaten track of the usual tourist trail."
This 90-minute tour will fill you with so much knowledge, you'll be sad when it's over.
Hopefully you'll remember to take plenty of photos so you can relive the experience again and again!
To ensure a private tour, remember to select "Book for a private group" when booking!
Hey! Want to use our trusty guides to the best tours in other places across the UK? Check these out!
UK Travel Planning Guide: the FAQs
🏥 Should I buy UK travel insurance?
Absolutely yes. Basic coverage is not expensive, and as a visitor you are NOT covered under the NHS. Compare policies and prices with Travel Insurance Master here, a big name in the travel insurance business, and cross that off your list.
🔌 Do I need travel adapters for the UK?
Yes, you do, otherwise you won't be able to plug in your electronics/phone/lifelines. I recommend this one, which is all-in-one so you can use it in other countries.
🚗 What do I need to drive in the UK?
The first thing you need to check out if you're planning on renting a car in the UK is this guide to driving in the UK for visitors – the roads, signs, and driving experience will likely not be what you're used to and it's essential to prepare yourself to stay safe and aware.
🛌 What's the best way to book hotels in the UK?
For UK hotels, Booking is the best site as it offers free cancellation on many properties. If you want an apartment, I always recommend VRBO over AirBnb.
📳 Will my phone work in the UK?
Yes – if you set it up right. Check out my guide on making your foreign phone work in the UK to ensure that you get the type of service you need.
🚿 Can I drink the water in the UK?
Yes, UK water is great and perfectly safe. But drink out of taps in any kitchen or use water fountains. Double check before drinking out of the taps in hotel bathrooms, though, as they may be on a different system.