This post contains affiliate links for which I may make a small commission to help keep the site running. You will not be charged extra for these items had you not clicked the links. Thank you for your help to keep the site running!
Ready to tour the gorgeous mediaeval walled city of York on a York tour?
You've come to the right place, as we're going to explore the best 5 York tours – all led by expert guides who want to share the beauty of this part of England and help you skip the tourist traps.
If you're like, just cut to the chase already, then don't worry.
The best York tour is The Bloody Tour of York.
It has about 1,281 amazing reviews, so there's no going wrong.
York is not a city for the faint-hearted.
It's frequented by people who aren't afraid to see the ghosts that haunt its Georgian inns and town houses and roam its alleyways.
Are you brave enough to explore York and come face to face with its dark history?
If you want to see what your other options are, here are 4 more guided tours of York that are definitely worth your time.
So let's get into the list of the best tours of York, so you can book it already!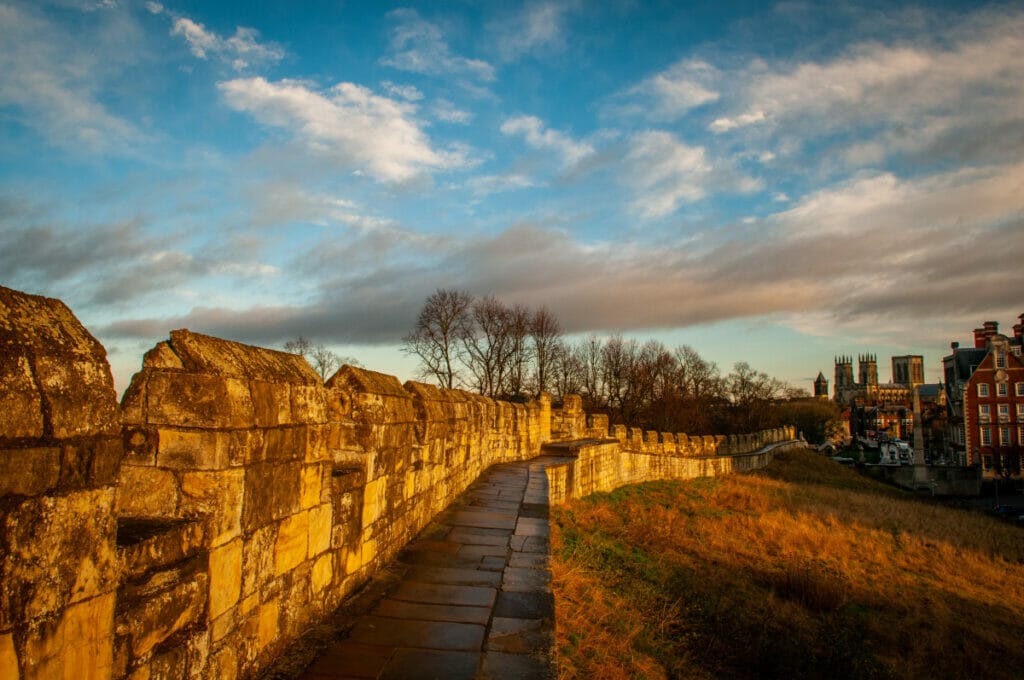 Hey! Want more honest UK tips and planning advice? Click here to join my London and UK Travel Tips Facebook group, where I can answer more of your questions!
Easy Guide: Best Tours of York
⭐️ RATING: 5 out of 5 Stars, 1200+ reviews | ⏳ TOUR LENGTH: 1.5 hours | ✔️ BOOK NOW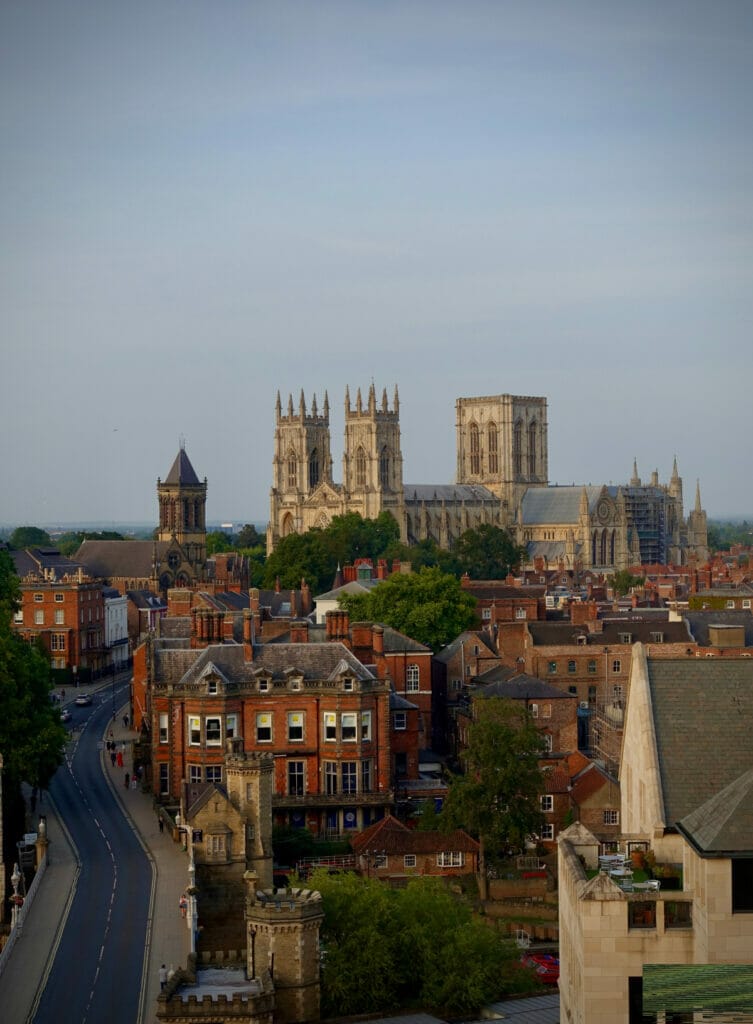 WHAT'S INCLUDED IN THIS TOUR
Guided walking tour
Pass by top tourist attractions like the Jorvik Viking Centre and the Shambles
Pass by Clifford's Tower, which was once a majestic castle built by Willian the Conqueror
Tour starts from outside St. Williams College and ends back at the meeting point
Forget about the standard group tours and enjoy the mesmerizing sights of York by becoming a part of The Bloody Tour of York.
This award-winning, highly entertaining guided tour is the best way to enjoy an alternative history of York.
Pass by the vibrant street of Stonegate with a chance to visit the Snickleways and enjoy the grandeur of one of Britain's iconic Gothic Cathedrals as you pass by the York Minster.
"Mad Alice (aka Alicia Stadler) handled a group of about 70 clients in a truly professional way, making us all feel important and making sure we could hear her, see the surroundings, and keep up with her riveting banter."
Travel back in time as you walk down the Shambles, a meandering Mediaeval street which was once home to Margaret Clitherow, a well-known York saint.
Conducted by an experienced and entertaining guide, you'll also get to enjoy tales of queens, witches, and murderers that you won't hear on most tours.
Learn about the gruesome history behind York's top landmarks and experience a different side of York on this entertaining and educational tour which caters to participants of all ages.
⭐️ RATING: 5 out of 5 Stars, 1,150+ reviews | ⏳ TOUR LENGTH: 1.5 hours | ✔️ BOOK NOW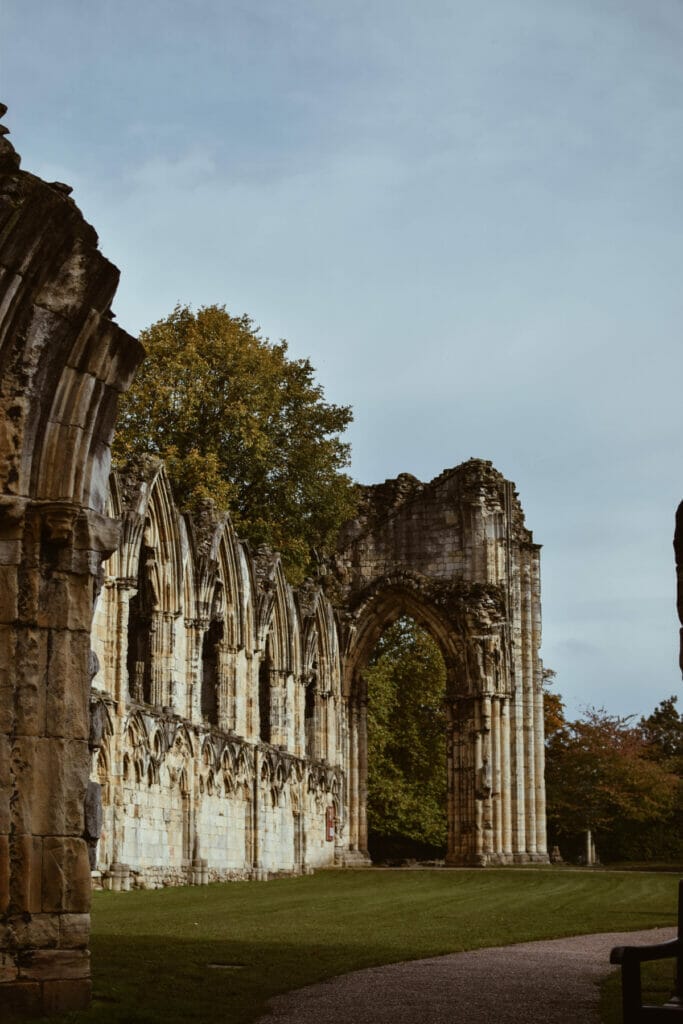 WHAT'S INCLUDED IN THIS TOUR
An experienced and engaging guide
Terrible tales about the dark, backstreets of Bedern as you pass by the Bedern Hall
The magnificent building of York Minster, located in the centre of York
Tour starts from 1331 Bar and Grill on Grape Lane and ends at Clifford's Tower
From Vikings to murder to butchery and plague, discover the sinister side of York on this tour, one of the best tours of York, while being entertained by a guide with a wicked sense of humor.
"Absolutely loved this tour! Dr. Dorian Deathly is superb, the man clearly loves this city's dark past. If you plan to visit York, definitely give this tour a go, I guarantee you won't be disappointed."
On this classic ghost tour take a stroll down the Shambles which is a wonderful old street and visit the magnificent building of York Minster that stands tall and majestic in the center of York.
Learn about the dark history of Bedern Hall as you pass by and see Whip-Ma-Whop-Ma Gate, a street in York known for its unusual name and a short length.
Get a fresh perspective on popular tourist spots as you walk past them while hearing grim tales of bygone days, creatures that go bump in the night, and vile crimes.
Enjoy a classic family-friendly ghost tour experience and get an amazing insight into York's fascinating and long history.
⭐️ RATING: 5 out of 5 Stars, 70+ reviews | ⏳ TOUR LENGTH: 2 hours | ✔️ BOOK NOW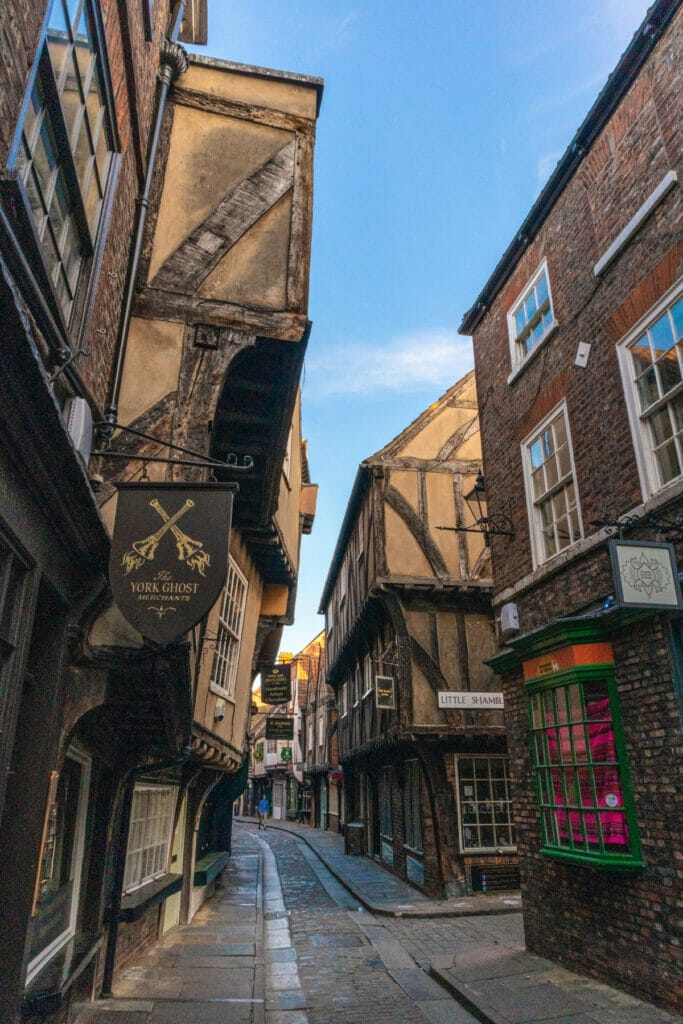 WHAT'S INCLUDED IN THIS TOUR
Tour escort/host
Pickup request from your York accommodation or arrange to meet your guide at a haunted location you want to see first
Private tour
Locations of reputed ghost sightings like the Shambles, York Minster, and the Castle and Battlement
Ideal for tourists who are interested in the supernatural, this tour offers the perfect opportunity to customize the itinerary according to their liking.
On this private ghost tour, you can choose to visit sites popular for ghost sightings like the Shambles and York Minster.
Hear the frightening tales about York's 2,000-year-old history featuring torture, treason, murder, and treachery that are sure to pique your interest.
"The whole experience was brilliant from start to end. Our tour guide was John. John's knowledge of the history behind each story was amazing. It wasn't scripted in any way. The tour was about genuine historical facts that led to explain about ghost sightings."
Visit spine-chilling locations like the York Dungeon, or pass by the Treasurer's House while your guide tells you about the bloodthirsty and rich history of York.
With more than 200 ghost stories to tell, the guides help to provide a totally unique, entertaining, and bespoke history of the most haunted city in Europe.
The tour guides also strive to make this atmospheric trip around the city a truly memorable one by visiting captivating hidden locations that most tourists miss.
You can also ask your guide to arrange restaurant reservations and refreshments during or after the tour to enjoy a truly personalized experience.
⭐️ RATING: 5 out of 5 Stars, 40+ reviews | ⏳ TOUR LENGTH: 8 hours | ✔️ BOOK NOW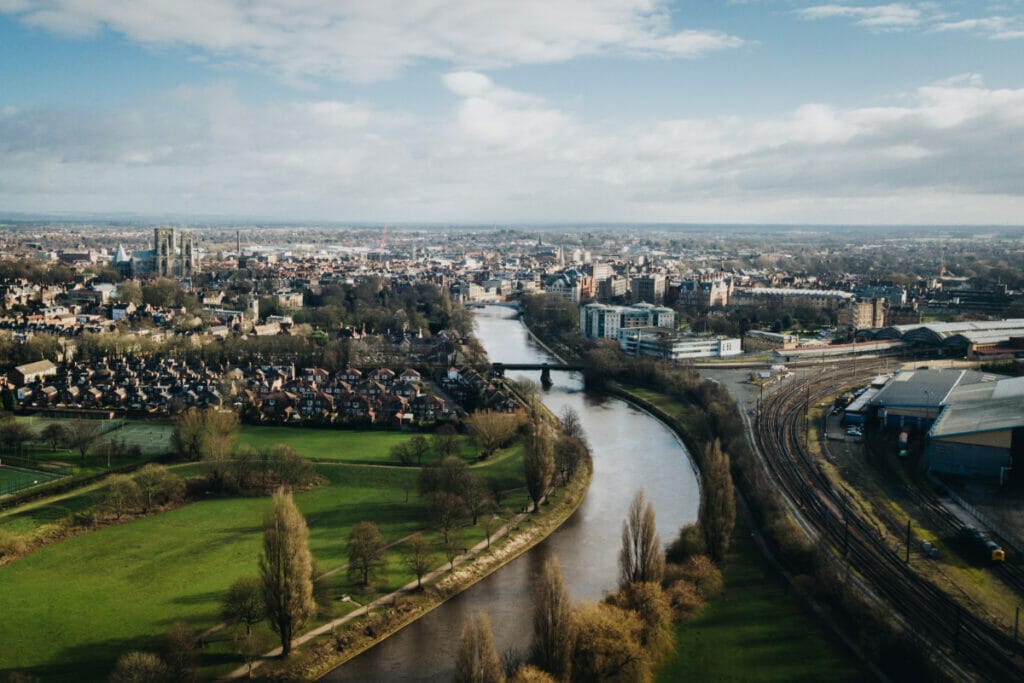 WHAT'S INCLUDED IN THIS TOUR
Comfortable 16-seat mini-coaches with Wi-Fi and air conditioner
Regular refreshment/photo/toilet stops
Live commentary provided by the driver/guide
Pick up and drop off near York Minster
Take a break from the bustling life in York and take a scenic full-day tour of Haworth and the Yorkshire Dales.
Enjoy a comfortable ride in an air-conditioned vehicle as you travel across this mountainous region.
Visit the region's popular attractions such as the Bronte family home, Penistone hill, and Bolton Abbey.
Gain valuable insight as your highly knowledgeable guide takes you exploring the vast Yorkshire Dales.
This tour includes round-trip transfers from central York, ensuring a hassle-free experience.
"Excellent trip and customer service. Ideal for solo travellers as well. Had a great time, enjoying the beautiful scenery. I loved visiting Abby and my only regret is that we couldn't stay there a bit longer"
The first stop on this tour is the traditional market town of Masham where you can see the remains of an Anglo-Saxon cross shaft believed to be almost 1300 years old at the Church of St. Mary the Virgin.
You can also enjoy a leisurely Yorkshire drink and some scrumptious cake in one of the cafés on the square or explore the quaint shops to find some great souvenirs – the choice is yours!
Other stops include the picturesque town of Grassington, the beautiful Linton Falls, and Bolton Abbey where you can explore the Priory Church in its charming riverside setting.
The fantastic scenery and views on this tour make for some great photo stops, so be sure to keep your cameras ready!
⭐️ RATING: 5 out of 5 Stars, 28+ reviews | ⏳ TOUR LENGTH: 2 hours | ✔️ BOOK NOW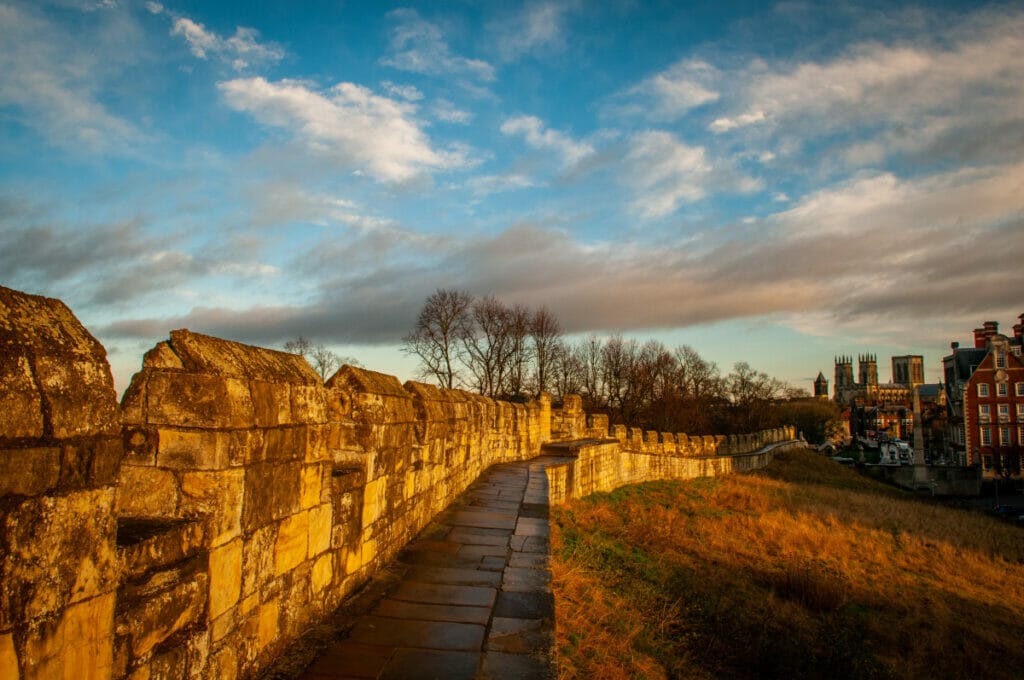 WHAT'S INCLUDED IN THIS TOUR
Tour escort/host
Private 2-hour walking tour
Local legends and stories about York's Viking history
Departure time that suits your schedule
This tour allows you complete flexibility as you can choose the time and location according to your preference.
On this tour, you'll not only learn about the city's Anglo-Scandinavian and Norman history, but also find out about the Viking influence on York as you pass various historical sites and landmarks.
"Tour guide was excellent. So much knowledge. Picked us up from our hotel. Would recommend it to anyone. Well worth the money."
Listen to your guide's narration as you walk past various historical sites and landmarks and be amazed by the deeds of famous Vikings like Ivan the Boneless, Harald Hardara, and Eirik Bloodaxe.
On this personalized tour, you'll learn about the fascinating true story behind the Vikings, their legendary tales mentioned in the sagas, and their impact on today's world.
You'll also visit the Jorvik Viking Centre where you can see the only Viking houses found anywhere in the world and pass by the York minster where the world's most famous Viking is buried.
As this is a private tour, there are no big groups to join or set times to meet, giving you the freedom to enjoy this tour at your own pace.
Hey! Want to use our trusty guides to the best tours in other places across the UK? Check these out!
UK Travel Planning Guide: the FAQs
🏥 Should I buy UK travel insurance?
Absolutely yes. Basic coverage is not expensive, and as a visitor you are NOT covered under the NHS. Compare policies and prices with Travel Insurance Master here, a big name in the travel insurance business, and cross that off your list.
🔌 Do I need travel adapters for the UK?
Yes, you do, otherwise you won't be able to plug in your electronics/phone/lifelines. I recommend this one, which is all-in-one so you can use it in other countries.
🚗 What do I need to drive in the UK?
The first thing you need to check out if you're planning on renting a car in the UK is this guide to driving in the UK for visitors – the roads, signs, and driving experience will likely not be what you're used to and it's essential to prepare yourself to stay safe and aware.
🛌 What's the best way to book hotels in the UK?
For UK hotels, Booking is the best site as it offers free cancellation on many properties. If you want an apartment, I always recommend VRBO over AirBnb.
📳 Will my phone work in the UK?
Yes – if you set it up right. Check out my guide on making your foreign phone work in the UK to ensure that you get the type of service you need.
🚿 Can I drink the water in the UK?
Yes, UK water is great and perfectly safe. But drink out of taps in any kitchen or use water fountains. Double check before drinking out of the taps in hotel bathrooms, though, as they may be on a different system.