This post contains affiliate links for which I may make a small commission to help keep the site running. You will not be charged extra for these items had you not clicked the links. Thank you for your help to keep the site running!
Taking an Oxford day trip from London is one of the most popular things to do for visitors from abroad and from within the UK.
Not only is Oxford gorgeous, but it's within easy reach of the capitol and has the perfect amount for a day trip.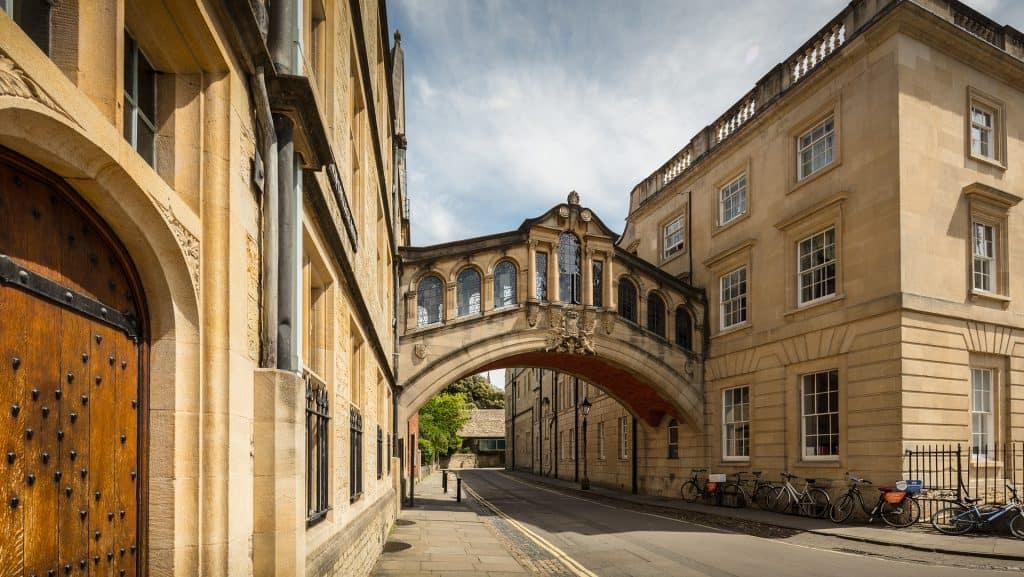 The best day trip to Oxford includes some top notch sightseeing, including things to do in Oxford for free if you're on a budget, as well as some wonderful dining options and cultural experiences like afternoon tea.
In this guide, let's assume that you've got one day in Oxford for an Oxford day trip from London (or surrounding areas), and you want to make the most of it.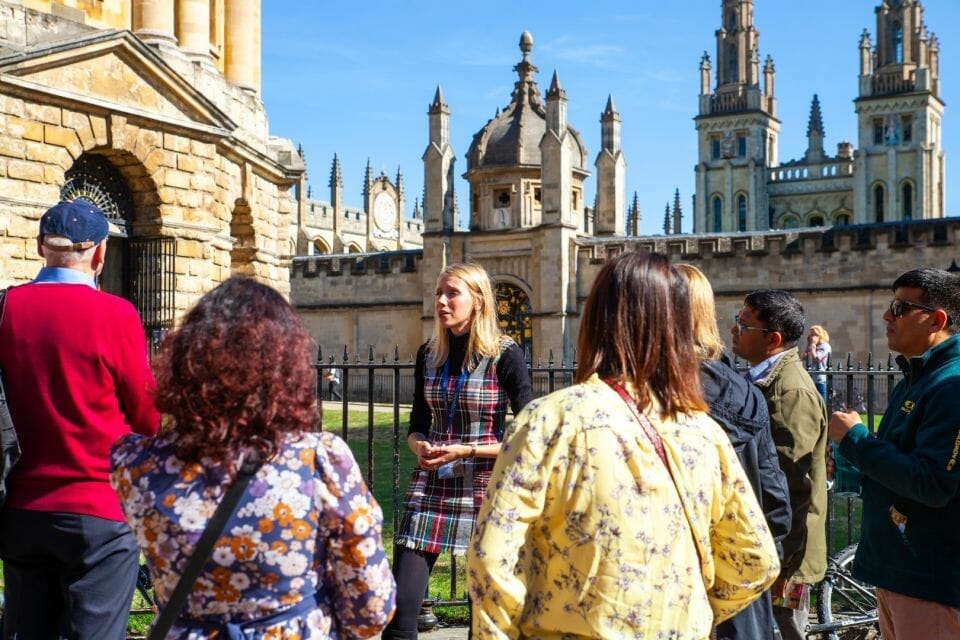 To help you narrow down what to see in Oxford in a day, follow this list to build your itinerary.
Firstly, if you specifically want things to do in Oxford with kids, make sure to check out that resource before moving on.
Essentials for 24 Hours in Oxford
Day Trip to Oxford: The Basics
Oxford is in the southeast of England, just about an hour from London.
While we spend a lot of time in places like the Lake District and Stratford-upon Avon, Oxford is one of my favorites.
The architecture is classically gorgeous, the food is quintessentially English, and the city is compact enough to walk most places.
What's not to love?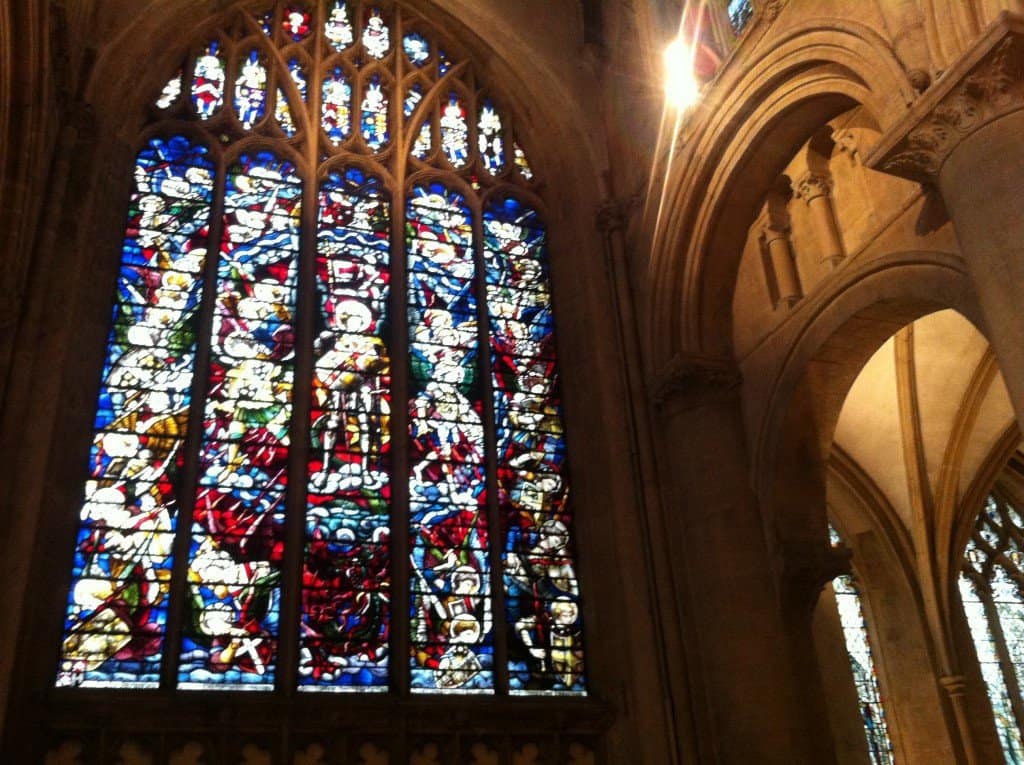 The history of Oxford starts in the Saxon period, when it was a settlement on the River Cherwell.
It was in the late 12th century that the University of Oxford was founded and started encompassing the town.
Industrially, the city boomed in the 19th century with printing and car manufacturing.
These declined in the 1970s and 80s, but what remained was a city with a strong educational background and a lot more going on than just the university.
GET A

FREE

UK GUIDE and ACCESS TO MY PLANNING FB GROUP
With 50+ pages of helpful travel tips and the "best of" UK lists, this is your ad-free key to your UK trip.
How to Get to Oxford from London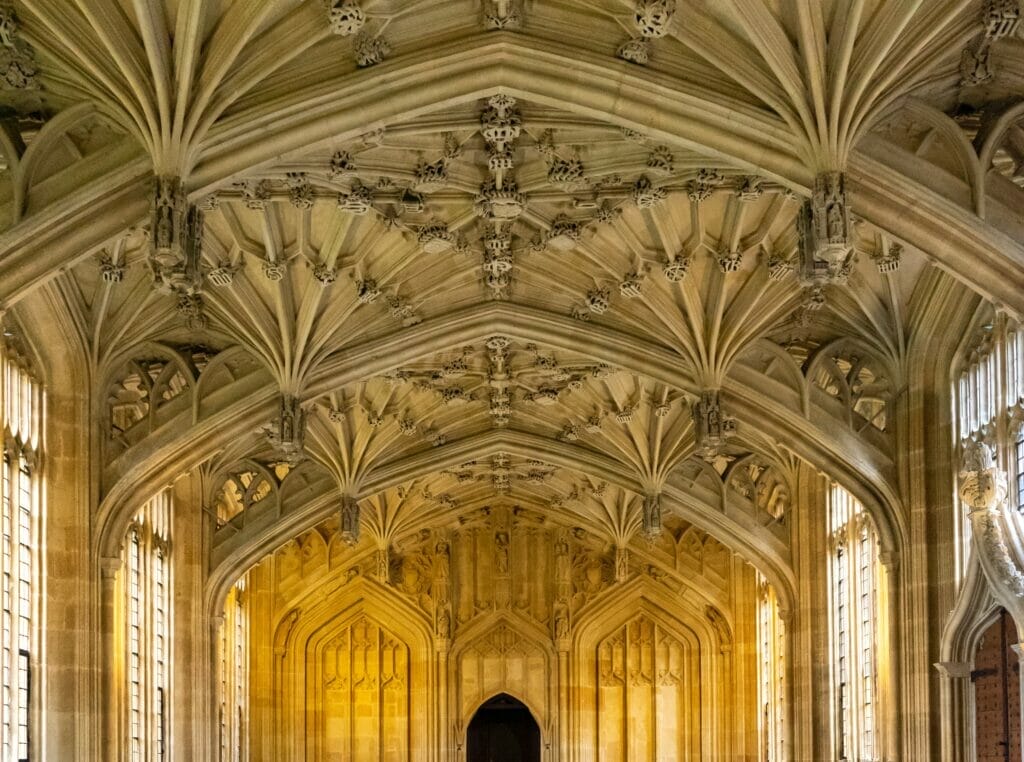 If you're traveling on your Oxford day trip from London, I've got a full guide on how to get to Oxford from London.
The basic options for one day in Oxford are taking the train or taking a bus, but I've compared both options for you in the guide on getting to Oxford so you have all of the information you need to make the right decision for you.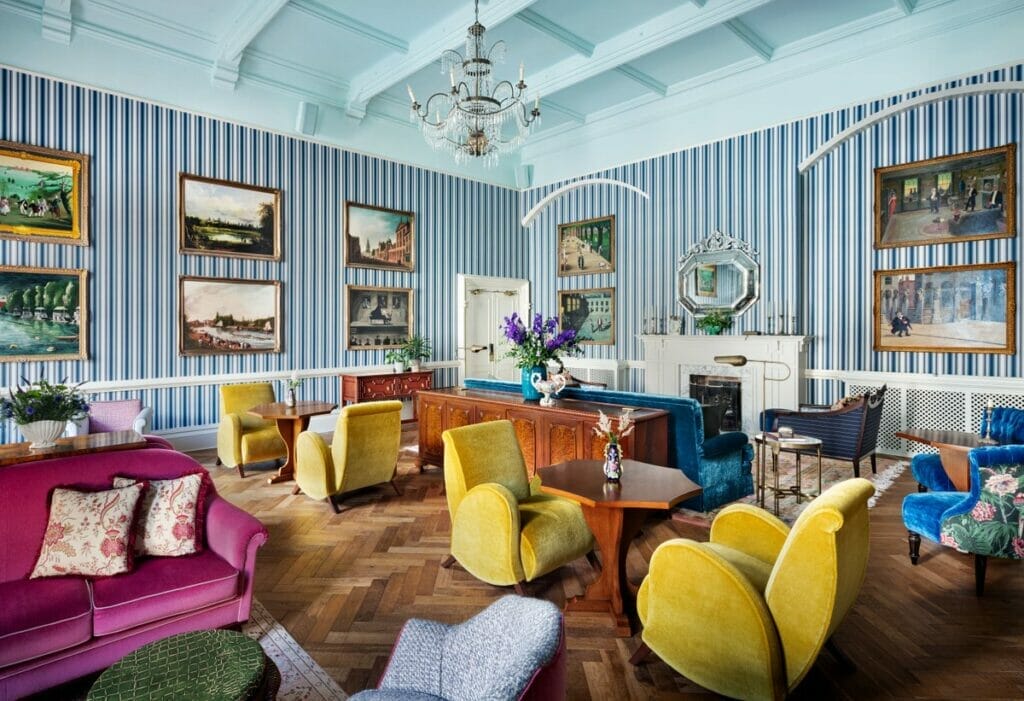 What to Do on an Oxford Day Trip with 24 hours
Morning on a day in Oxford: Punting on the River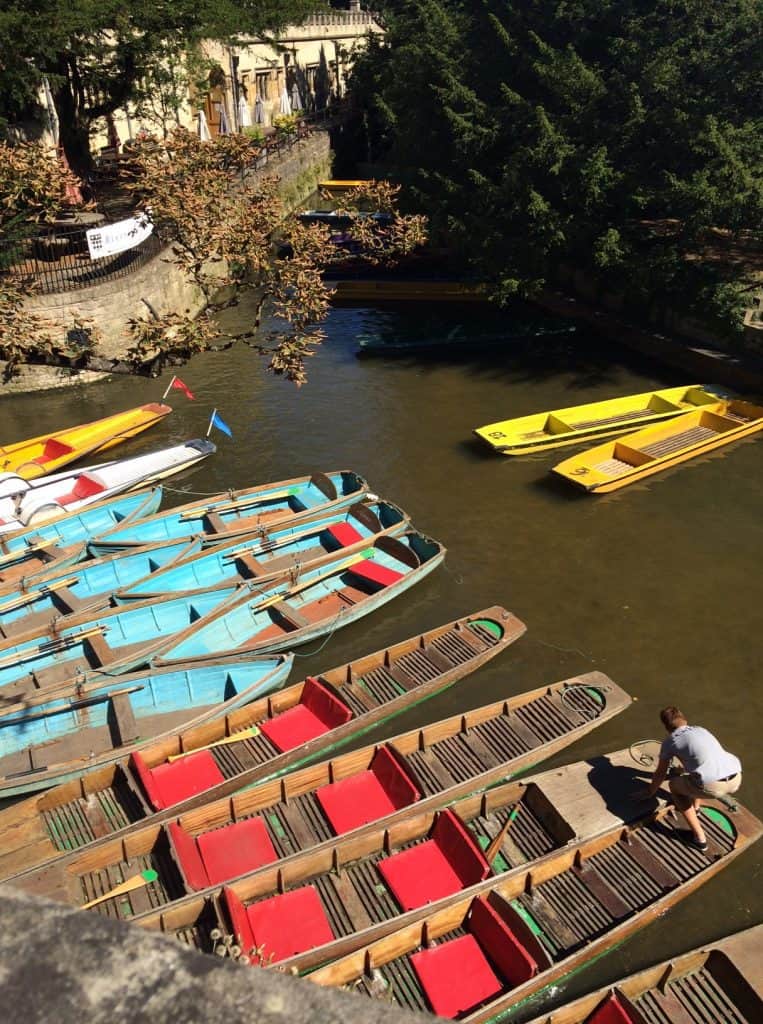 If you're looking for the most quintessential thing to do on an Oxford day trip, this first suggestion is for you.
No day out in Oxford is completely without some punting on the river.
Punting is basically rowing a canoe-looking contraption, except you're standing up at the back desperately trying not to fall over and have people relying on you to not tip them head first into the water.
It sounds terrifying, which it is, but it's also a perfect experience for a warm day.
You'd look a bit silly doing it on your own, so bring some friends and befriend some strangers who might like you to take them on a water tour of the sights!
I always use the Oxford Boathouse for punting.
The staff are super nice, very knowledgeable about punting, and there's a little shop where you can buy snacks or gifts while waiting for your turn.
They're located right off of Magdalen Bridge.
IMPORTANT: are you coming to the UK from abroad?
In case you're reading this from outside the UK and will be a foreign visitor here, you need to know these 2 things to stay safe and save money.
Travel insurance – you need it when going overseas! I use

this site

to get the best quotes and purchase my packages from. Do not skip this – having medical coverage abroad as well as other coverage in case of missed flights, lost luggage, etc is essential. As I said, I have never gone wrong using

this site

.
Late morning: taking a Harry Potter Tour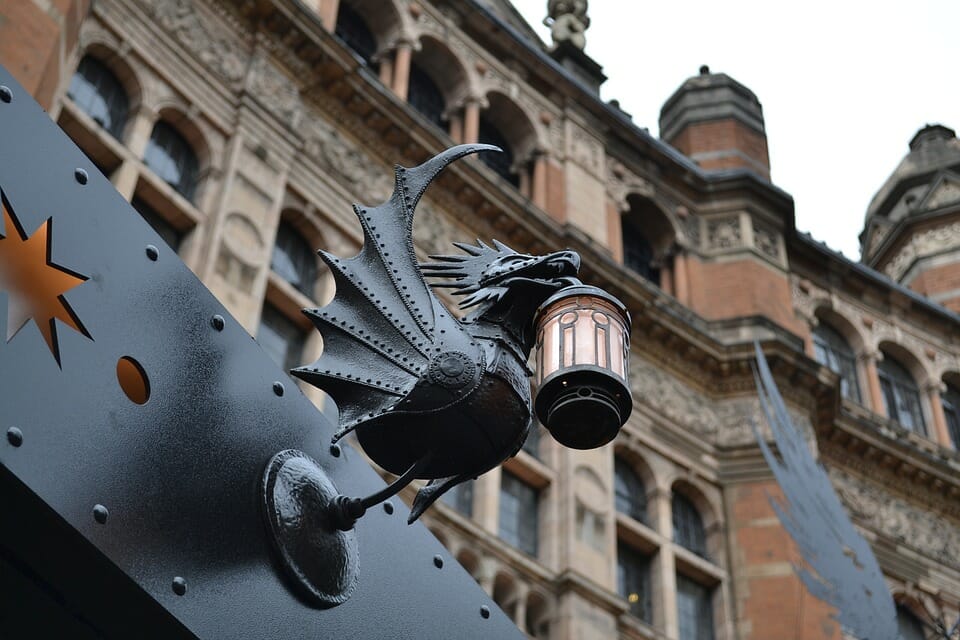 Want to know what to do in Oxford for a day?
Did you know that much of Harry Potter was either filmed in Oxford or used Oxford as an inspiration for the look of the movies?
There are some fantastic Harry Potter tours in Oxford that you could easily fit into an Oxford day trip, and I would highly recommend it.
My husband was actually an extra in the Harry Potter films, and he has fond memories of traveling to Oxford for filming days.
I really love this Harry Potter tour of Oxford, as it also includes the Bodleian Library which is another must-see that you can wrap all in one into the 2-hour tour.
Early afternoon: Have a Wander Down Side Streets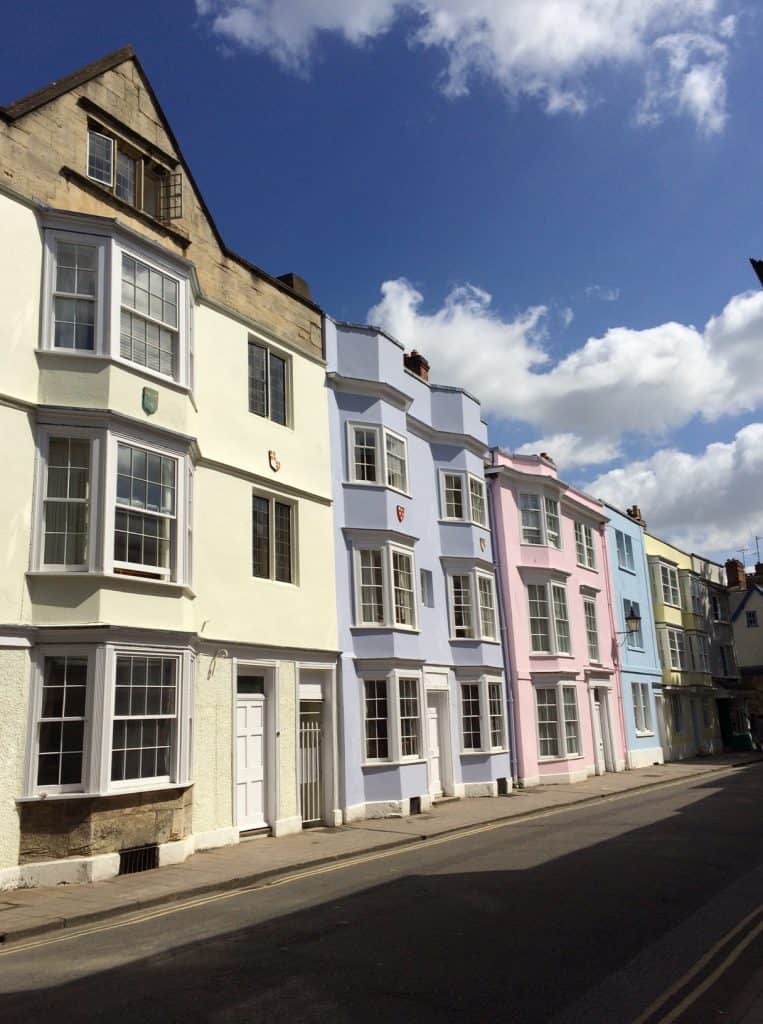 Oxford is just plain beautiful, so basically on your Oxford day trip itinerary you can walk almost anywhere in the city and be standing in front of amazing architecture or historical statues or these super cute colorful buildings.
Even if you've just got one day in Oxford, prepare to set off in a general direction, take a few turns to get yourself purposefully lost, and I guarantee you'll find something to love.
New visitors may be surprised how many countryside-feeling walks there are not that far away, as Oxford has plenty of green space.
If you would prefer to take another form of transportation, Oxford has a big cycling culture so you can rent a bike and carry on your way.
The buses are also popular, as parking limitations and traffic make it less likely that people want to drive into the city.
Afternoon snack: Grab Food in the Covered Market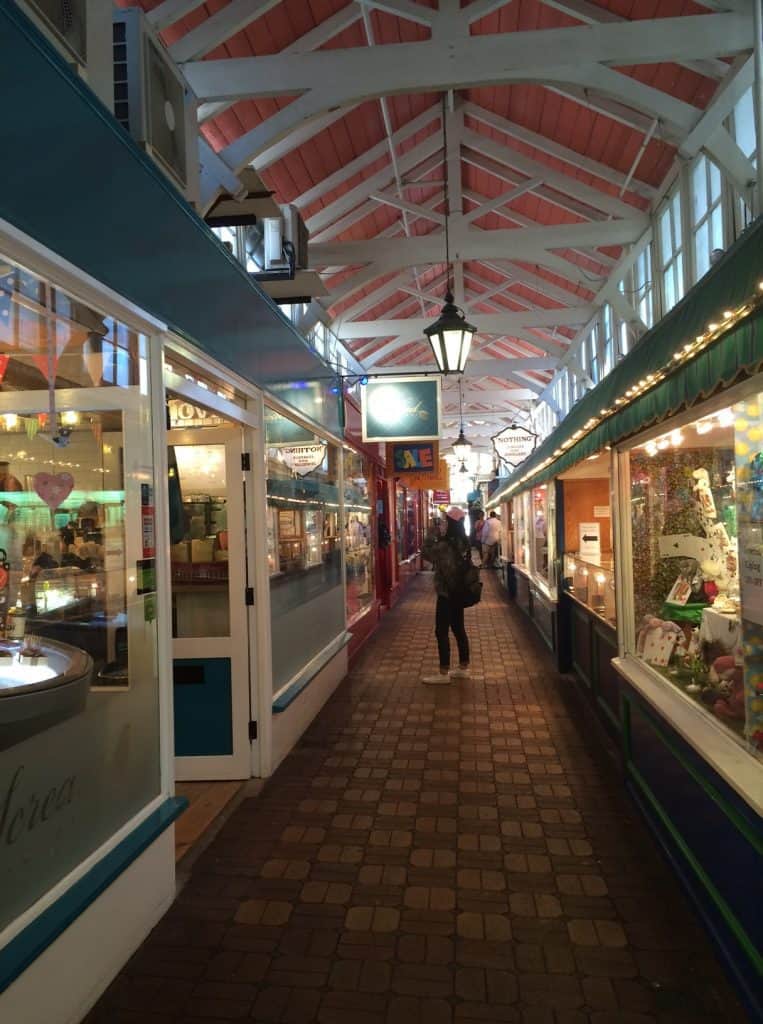 Before we go any further, I would just like to say that I am not in any way being paid to say this, but the best milkshake I've ever had in the world I had at "Moo's" in Oxford's covered markets, so if you value all that is good in the world, go there.
Also the covered markets have a lot of other fresh produce and cafes to take in, but I am always too invested in my milkshake to care, so please tell me how it is.
Afternoon: Walk on the Cobblestones in Radcliffe Square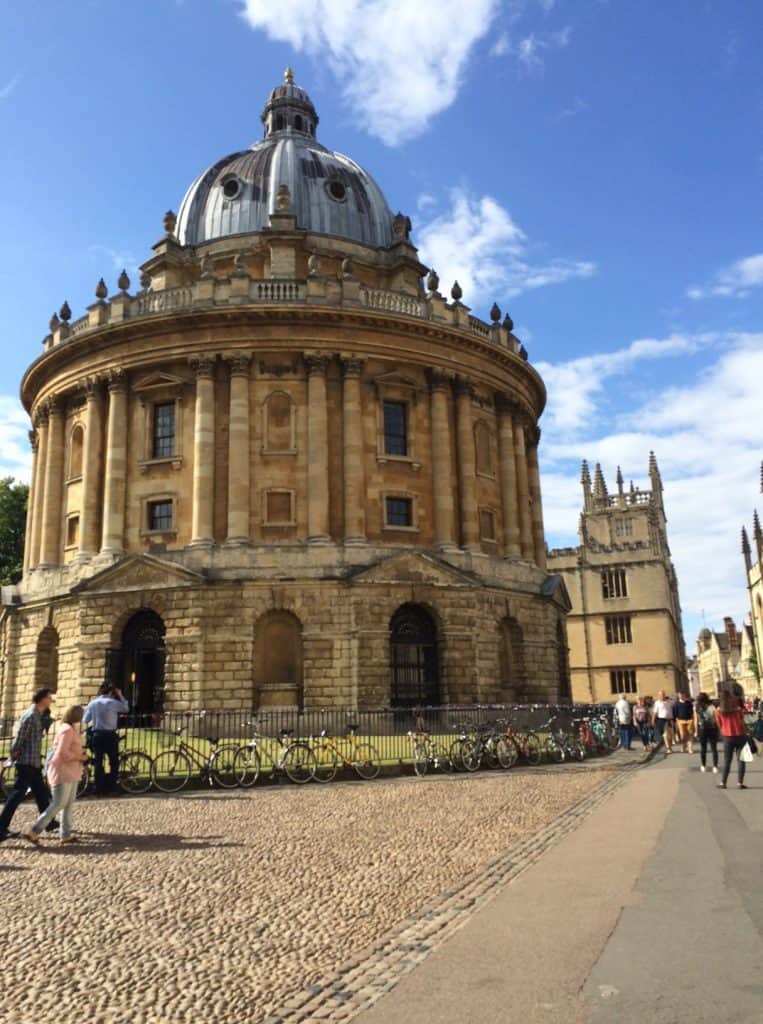 To discover a quintessentially English square on your Oxford day trip and have some free things to do in Oxford, head to Radcliffe Square.
In the center is Radcliffe Camera (spoiler alert: it's a building, not a camera), and surrounding is Brasenose College of the University of Oxford, as well as the University Church of Saint Mary the Virgin and All Souls College.
There aren't places to sit down within the square, but Radcliffe Camera makes for great photos against a blue sky, and it is fully pedestrianized so you don't have to worry about traffic or looking the wrong way.
If a University of Oxford graduation has just taken place, you may spot recent graduates donning their caps and gowns attempting to take photos in front of Radcliffe Camera.
I've seen this multiple times, but sadly a security guard usually comes along and asks them to leave if they have a tripod set up.
Late afternoon of 1 day in Oxford: Ashmolean Museum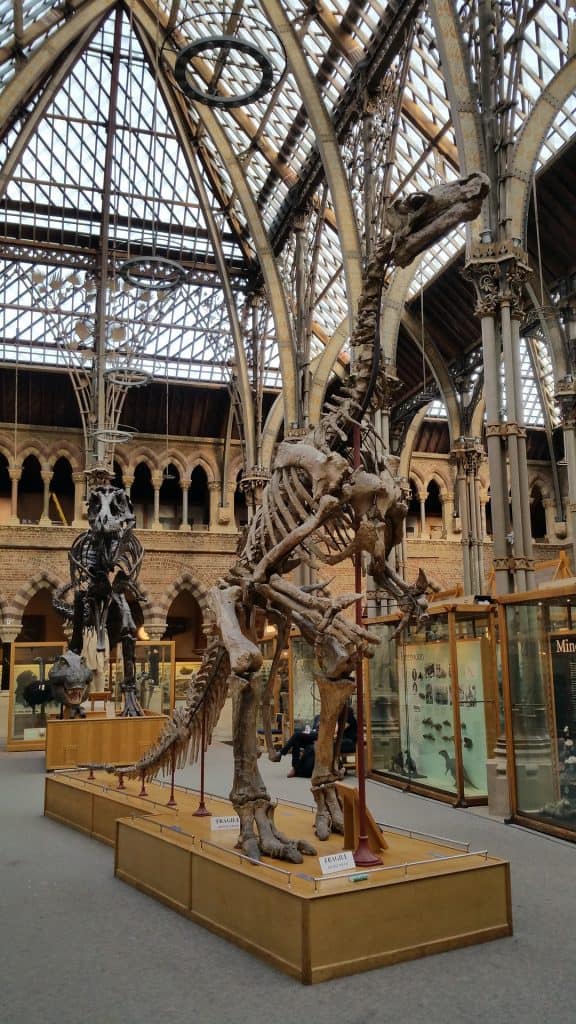 One of the most famous museums in Oxford, the Ashmolean Museum was the first university museum and was opened in 1678 as a museum holding a "cabinet of curiosities."
It grew and developed over the years, and most recently it was reopened in 2009 after a period of renovation to bring it up to modern day.
Ashmolean really stands out in its collections of archeological artifacts and art.
It's got paintings, pottery, old coins, swords, books, letters and more.
In particular, it has drawings done by Leonardo da Vinci and a death mask of Oliver Cromwell, as well as Greek antiquities that give us insight into Greek society.
In the past, they've hosted exhibitions on Andy Warhol, Islamic Art, treasure from shipwrecks and more.
This is truly one of the best things to do in Oxford on a day trip if you want value for money (or no money, as it were – it's totally free).
Other Oxford day trip options: Pitt Rivers Museum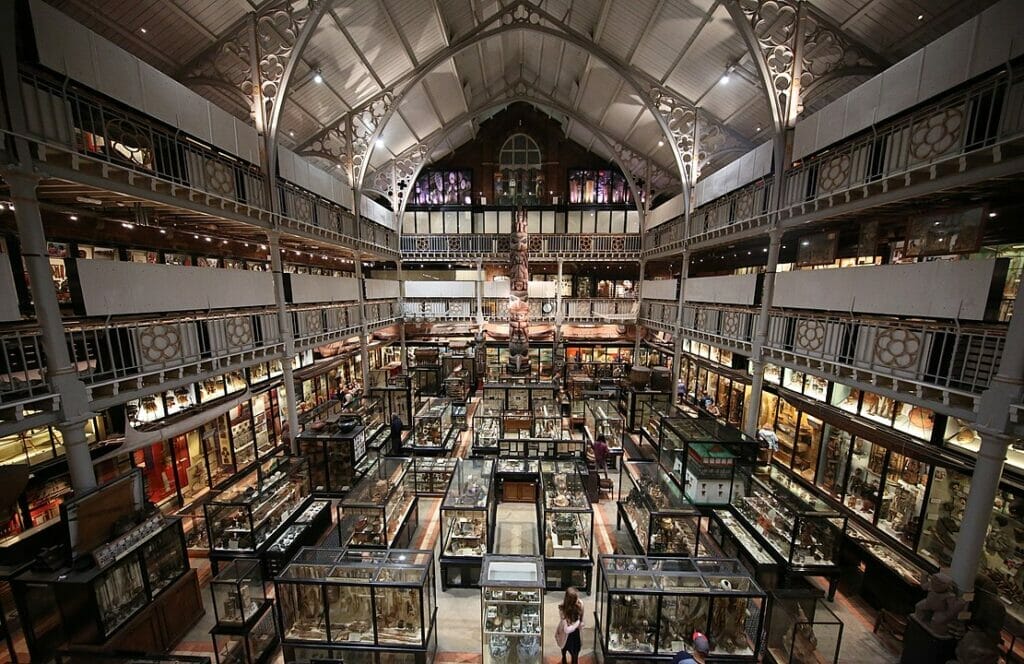 Step into Pitt Rivers and you'll soon see that this free museum in Oxford isn't like the others – instead of its artifacts and collections being displayed by year or location, they're displayed in collections of their "use," in other words, objects of the same type are placed together no matter where in the world they came from.
This is due to the founder, Augustus Pitt Rivers, wanting to show both a cross-cultural understanding of the world as well as make it easier for visitors to more easily understand the progression in human development, tools, and society.
One of my favorite thing about the Pitt Rivers Museum is just how interesting its specimens are – you won't walk in and feel like you've seen it all before.
From totem poles to shrunken heads, there's just a bit of wonderful weirdness waiting around every corner.
The Pitt Rivers is free to visitors of all ages, and there are special guidebooks for the kids to help them explore the artifacts and understand them in a fun way.
Oxford Day Out: Take a City Sightseeing Tour
Much like London and other big cities around the world, Oxford has sightseeing bus tours that are a great way to make sure you've seen all the major landmarks on an Oxford day trip without having to navigate.
This is particular good if you have people on your Oxford day trip who have mobility issues and would prefer to sit rather than walk the whole town, as well as parents with kids.
I recommend this sightseeing Oxford bus tour for the best experience.
Evening in Oxford in one day: Seeing an Open-Air Theatre Show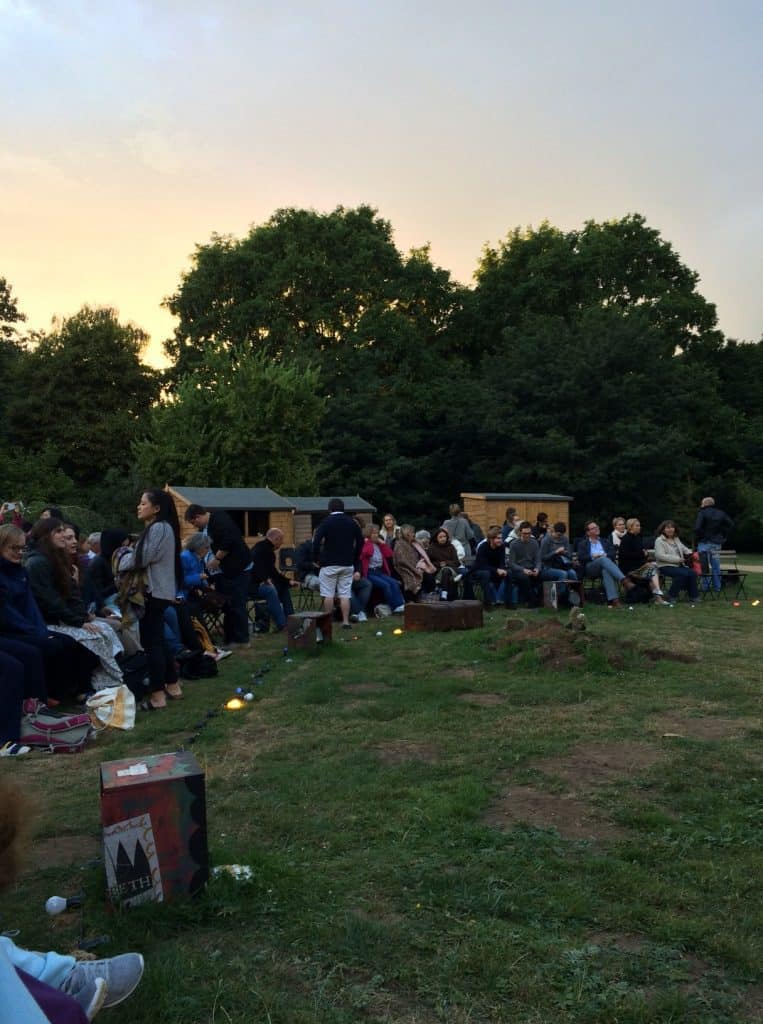 If you thought London had the monopoly on great theatre, think again.
Oxford has some great indoor theatre venues.
But in the summer months, open-air theatre productions are popular and you can fit it in in the evening of your day trip to Oxford.
One summer, Creation Theatre did Hamlet in the park, and OH MY GOODNESS YES!
I've seen Hamlet with Jude Law, and I love me some Jude Law, but this version knocked it out of the park. (GET IT!?! Park!? Open-air theatre?! Sorry, couldn't help myself).
The Creation Theatre often stages plays in venues such as Westgate Shopping Center and University Parks.
These plays typically involve a degree of audience participation as well, so if you're an extrovert and the theatre is on your list of things to do in Oxford, make it a point to check out what the Creation Theatre is up to on your day trip to Oxford.
Where to Eat on an Oxford Day Trip
If you've only got one day in the Oxfordshire area, you're not going to have time to try every pub or café that comes your way.
So I've listed my favorites to help you take your own culinary tour of the city without spending hours messing around on Trip Advisor as you're standing in front of some historic landmarks (been there, done that).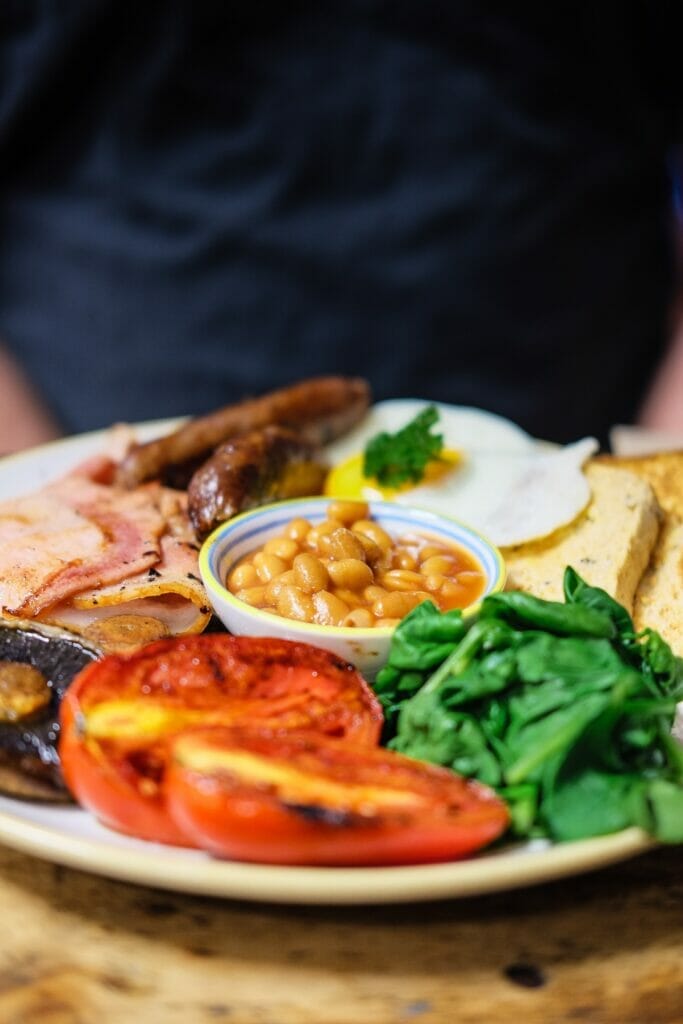 Start your day with an organic breakfast in a building dating back to 1320 for the true Oxford experience.
Vaults and Garden is located in the Old Congregation House and has both indoor and outdoor seating.
It's been voted as the most sustainable restaurant in Oxfordshire, and they operate a seasonal menu so you're always eating fresh.
In addition to breakfast staples like eggs and toast, they have vegan and vegetarian full breakfast plates, as well as salmon and breakfast soups.
Dating back to 1242, The Bear Inn is a fantastic choice for a pub dinner with classics such as fish and chips, as well as hamburgers, sausages and mash, and baked potatoes.
Walk around and you'll see collections of ties, old university shirts and sports team paraphernalia.
If you're visiting Oxford on a Sunday, be sure to stop by for a traditional Sunday roast.
You'll be inundated with your choice of meat, usually roast vegetables like swede (if you don't know what swede is, check out my post on British food versus American food), yorkshire pudding (not actually pudding) and potatoes!
Afternoon Tea in Oxford on a Day Trip
A day trip wouldn't be complete without some kind of afternoon tea in Oxford!
I recommend booking at the Macdonald Randolph Hotel.
This hotel is right in the heart of Oxford and is a 5-star luxury hotel that serves a great afternoon tea filled with wonderful sandwiches, delicious scones, and all the tea you desire.
The prices are cheaper than London afternoon tea prices, as well, at about £40 a person rather than the £60+ you would pay in London for some of London's best afternoon teas.
Is Oxford Worth a Day Trip?
There are some places that are technically a "day trip" from London that aren't worth going to at all, but Oxford is one of the must-do day trips from London.
No matter what you're into, Oxford is absolutely worth it as a day trip.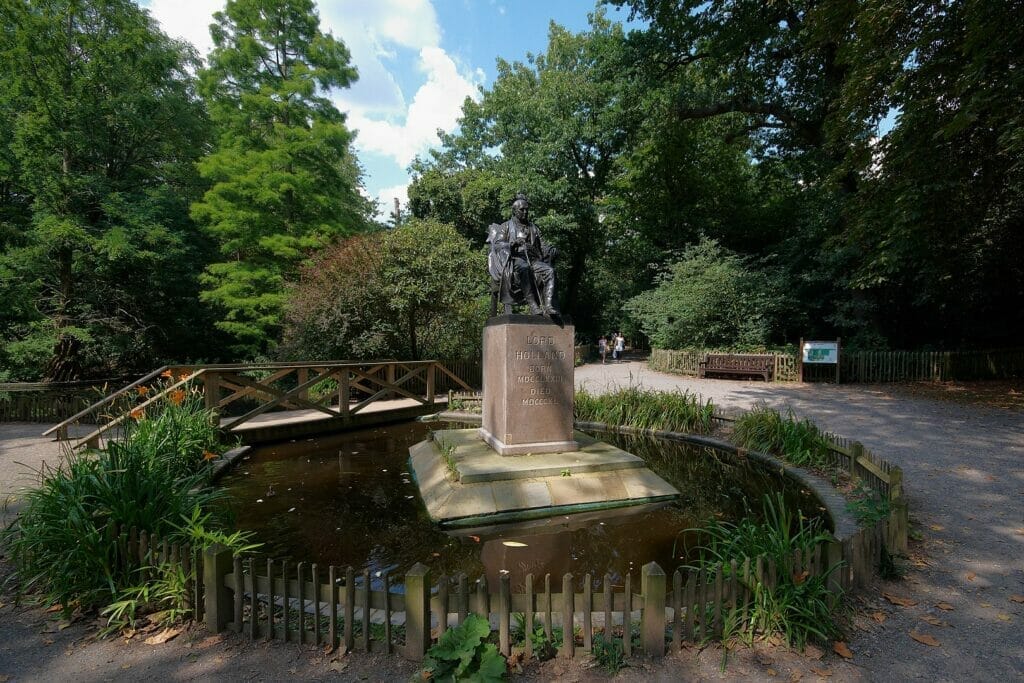 You've got history, museums, beautiful architecture, great food, and some awesome Harry Potter sites.
In fact, I think it's much more beautiful than London and more representative of what classic English cities look like, so you would be remiss to pass it up!
Is a Day Trip Long Enough in Oxford?
I would recommend either a day trip or a weekend trip to Oxford, though most people can feel like they've seen the city enough in a day trip.
You obviously won't be able to spend hours at each museum or attraction, but you will be able to see enough to make it worth your trip out there.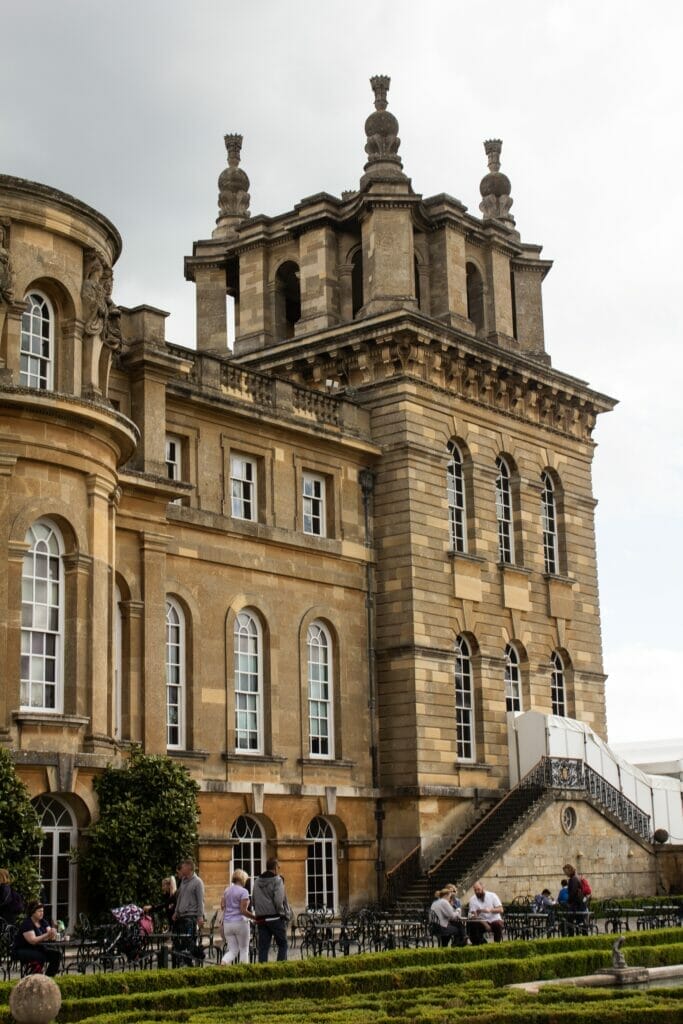 What to Pack for a Day Trip to Oxford
Packing for an Oxford day trip doesn't require too much, since you won't be spending the night, but here are some key day trip essentials I highly recommend when in the UK.
Day bag or backpack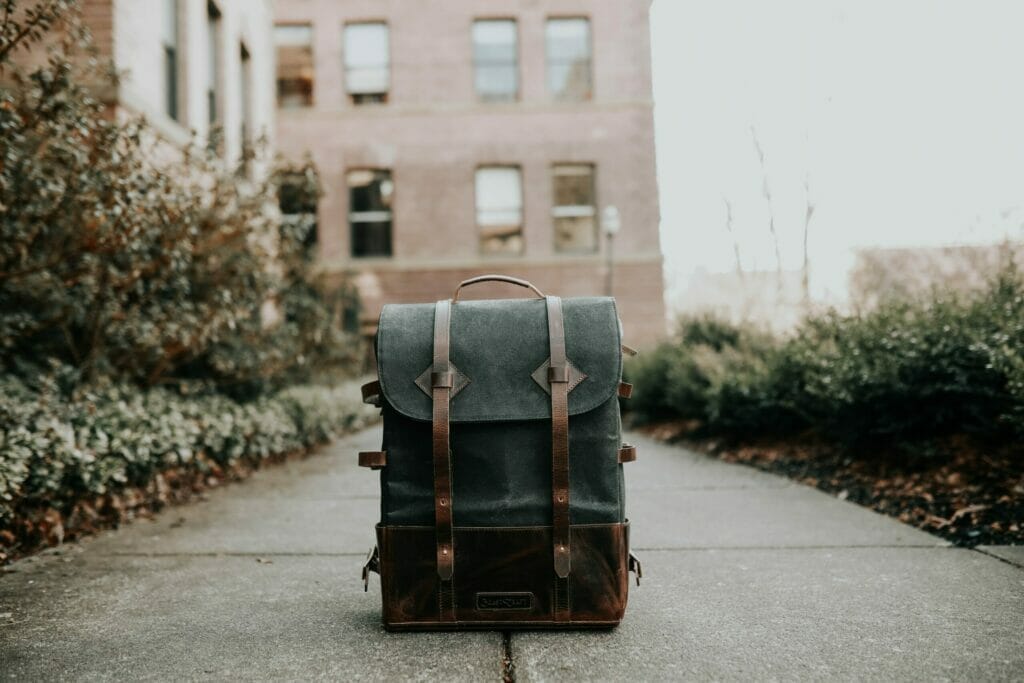 You'll want to have some sort of day bag or backpack to carry things in, as usually I find a purse isn't sufficient.
I like ones like these that are cute and comfortable, but you can also get more basic ones like these that can be passed around the family to take turns wearing it.
You don't need a money belt when in Oxford or in the UK, so you can just make sure your wallet is in a safe place in your bag and that you keep an eye on it at all times.
Portable Phone Charger
I always carry a portable phone charger like this one out with me when I'm on a day trip, as if your phone loses battery, you may find that you've lost confirmation for activities, train tickets, or, perhaps more importantly, the ability to use a mapping app to find directions places.
If you're super paranoid, you can also bring your actual charger with you that plugs into a wall in case of an emergency, but I find that my portable charger always works well.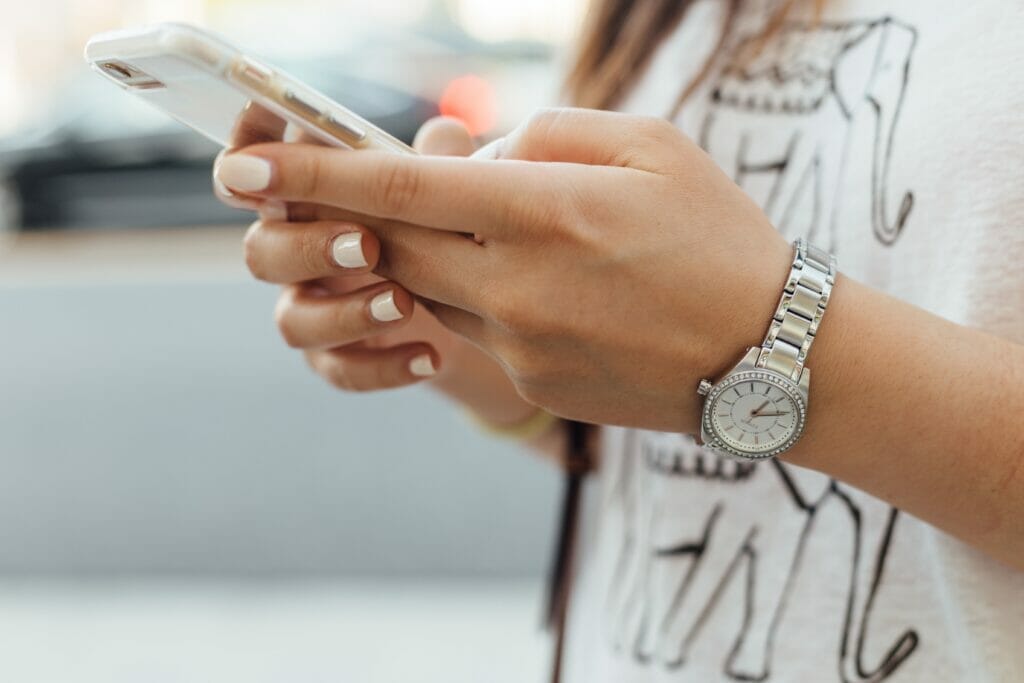 Refillable Water Bottle
To avoid having to purchase water bottles all day, I like to bring a refillable water bottle like this one.
Not only is it way more eco-friendly, but it saves you money and allows you to make sure you always have a full bottle of water with you even if you end up in a park or field where there are no water bottles on sale around.
Lots of places in Oxford and across the UK now will have refillable water bottle stations near bathrooms or other public facilities, you just have to keep an eye out.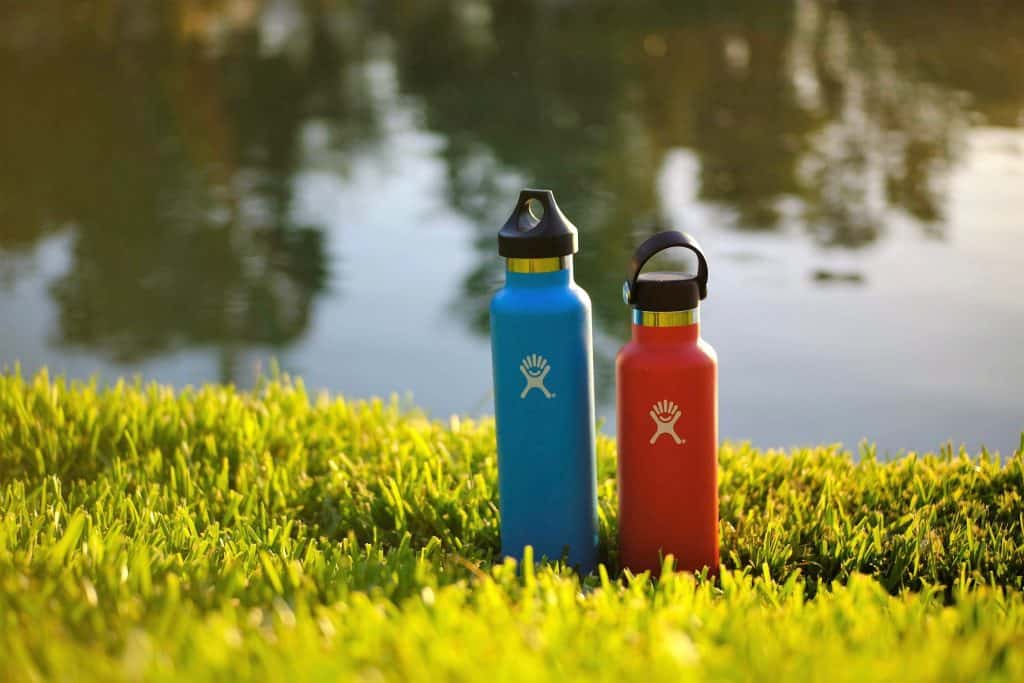 Headphones
There's nothing better than sitting on a train to Oxford, watching the world go by and listening to music.
Public transportation is such an integral part of life in the UK that I always carry headphones with me so I can listen to music while being whisked from place to place.
Snacks
Okay, it's not like you're going somewhere without food on your day trip to Oxford, but having some fruit and other snacks packed is always super handy.
Maybe you need a snack while you're on the bus and stuck in traffic.
Maybe someone is hungry earlier than you plan to eat the meal and is desperate for something to eat.
Maybe someone has a food allergy and you want to make sure there is something that they can have in a pinch.
Whatever the reason, coming prepared for your day trip to Oxford with some snacks has never been a bad idea!
You can purchase them at any supermarket, with plenty of options ranging from fruit to crisps (potato chips) to candy bars to healthier options like nuts and raisins.
UK Travel Planning Guide: the FAQs
🏥 Should I buy UK travel insurance?
Absolutely yes. Basic coverage is not expensive, and as a visitor you are NOT covered under the NHS. Compare policies and prices with Travel Insurance Master here, a big name in the travel insurance business, and cross that off your list.
🔌 Do I need travel adapters for the UK?
Yes, you do, otherwise you won't be able to plug in your electronics/phone/lifelines. I recommend this one, which is all-in-one so you can use it in other countries.
🚗 What do I need to drive in the UK?
The first thing you need to check out if you're planning on renting a car in the UK is this guide to driving in the UK for visitors – the roads, signs, and driving experience will likely not be what you're used to and it's essential to prepare yourself to stay safe and aware.
🛌 What's the best way to book hotels in the UK?
For UK hotels, Booking is the best site as it offers free cancellation on many properties. If you want an apartment, I always recommend VRBO over AirBnb.
📳 Will my phone work in the UK?
Yes – if you set it up right. Check out my guide on making your foreign phone work in the UK to ensure that you get the type of service you need.
🚿 Can I drink the water in the UK?
Yes, UK water is great and perfectly safe. But drink out of taps in any kitchen or use water fountains. Double check before drinking out of the taps in hotel bathrooms, though, as they may be on a different system.