This post contains affiliate links for which I may make a small commission to help keep the site running. You will not be charged extra for these items had you not clicked the links. Thank you for your help to keep the site running!
Venice is always on the tips of the tongues of those seeking a romantic getaway.
Whether it's your honeymoon or your 30th anniversary or you're a study abroad student in Europe, Venice is surely the city to help you hold loved ones just a bit tighter and if you've got just 3 days in Venice, we've got the help for you!
The city has so much more to offer with a rich history, amazing galleries and festivals and great sight seeing.
With that in mind, here's a 3 day Venice itinerary to help every kind of traveler get the most of their next visit to The Floating City.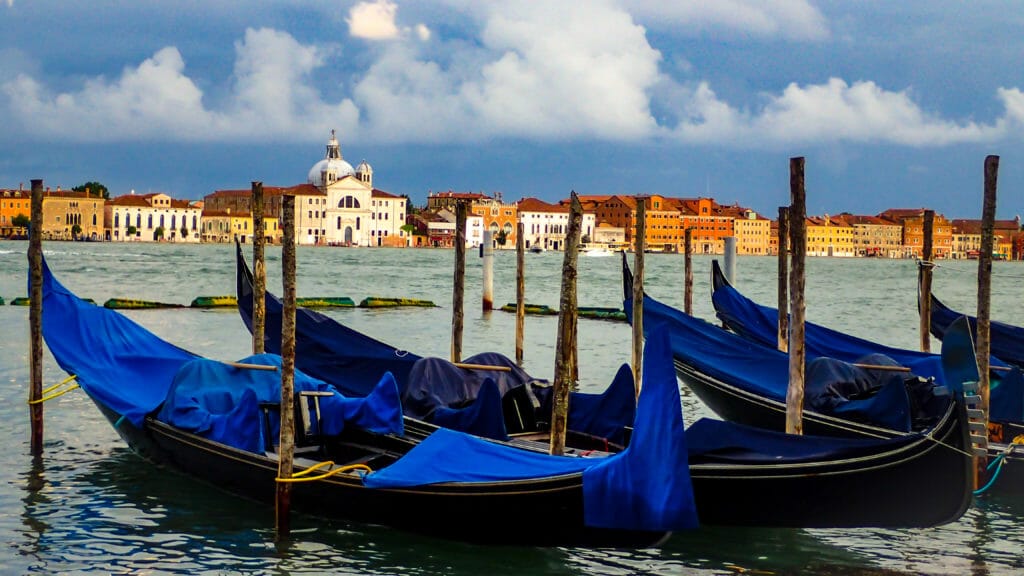 Before Your Visit to Venice in 3 Days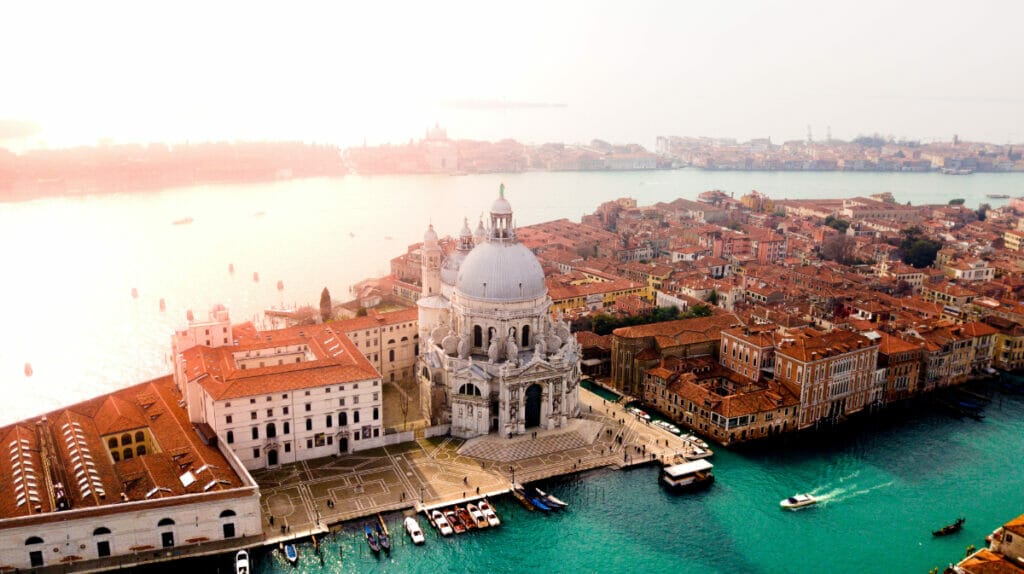 Before you even leave there are a few tips to keep in mind.
Pack light and wear good walking shoes – however you arrive, you likely will be walking a fair distance to your lodging through narrow, cobblestone streets and up and over bridges.
Leave plenty of time in your itinerary for wandering through the small side streets and alleyways, sitting at outdoor café tables, and sampling the food and wine.
Try to plan your itinerary to be as flexible as possible – be nimble and flexible to accommodate the occasional rising flood waters, the surprise waterbus strike, or your desire to spend more time enjoying the inevitable unexpected delights, like locals coming out in the evening to tango in the square.
Like most places, Venice is at its best when it's not overrun by tourists. Spring and fall are the best times to visit if you can make that work with your travel schedule as summertime can be especially hot and crowded.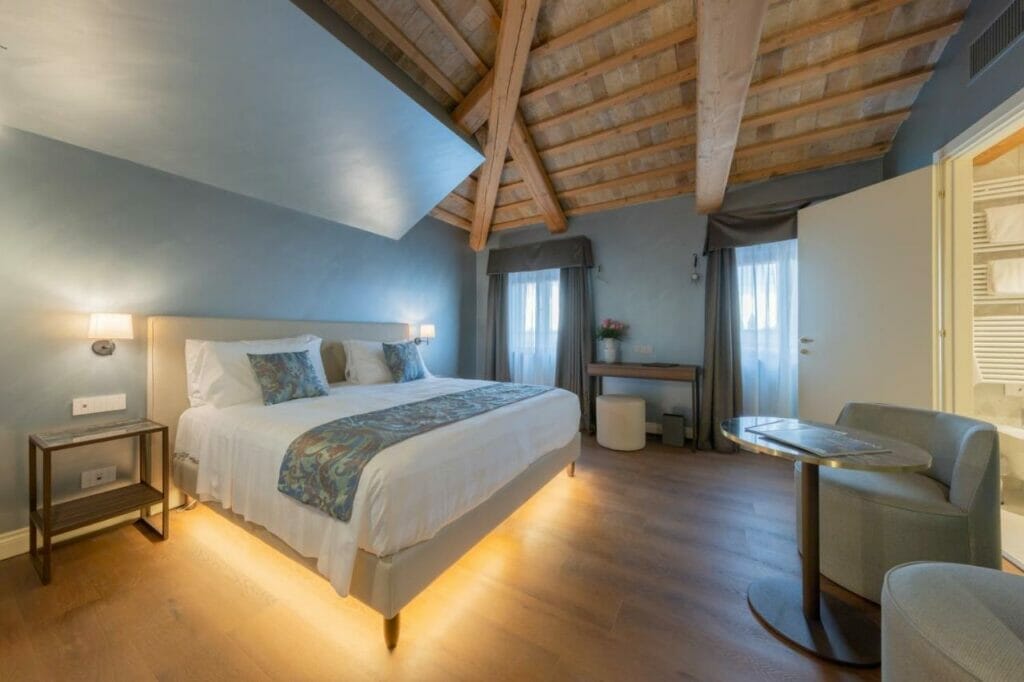 Getting to Venice for a 3 Day Itinerary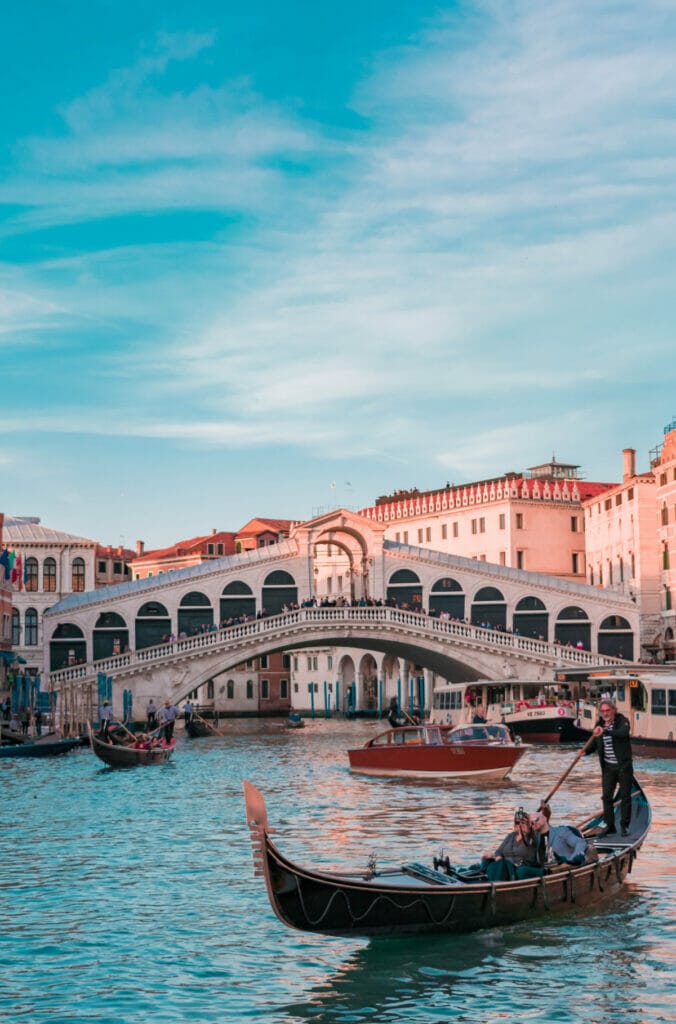 There are a ton of options to make it the city depending on where you are coming from and your budget.
With direct flights from hubs all over the world, there are plenty of options.
For a few extra tips and tricks for finding the cheapest flight you could check this article on How to Find Cheap Flights.
If you're flying into Venice you'll need to find transport from the nearby Marco Polo Airport to the main island.
One option is to take the Venice Airport Bus, roughly a 20 min bus ride, for around 8 euros one way or 15 euros round trip.
If you're ready to jump straight into the canal system you can opt for a 45-minute private water taxi (32 euros and up) or the less expensive waterbus, known as a vaporetto (around 15 euros).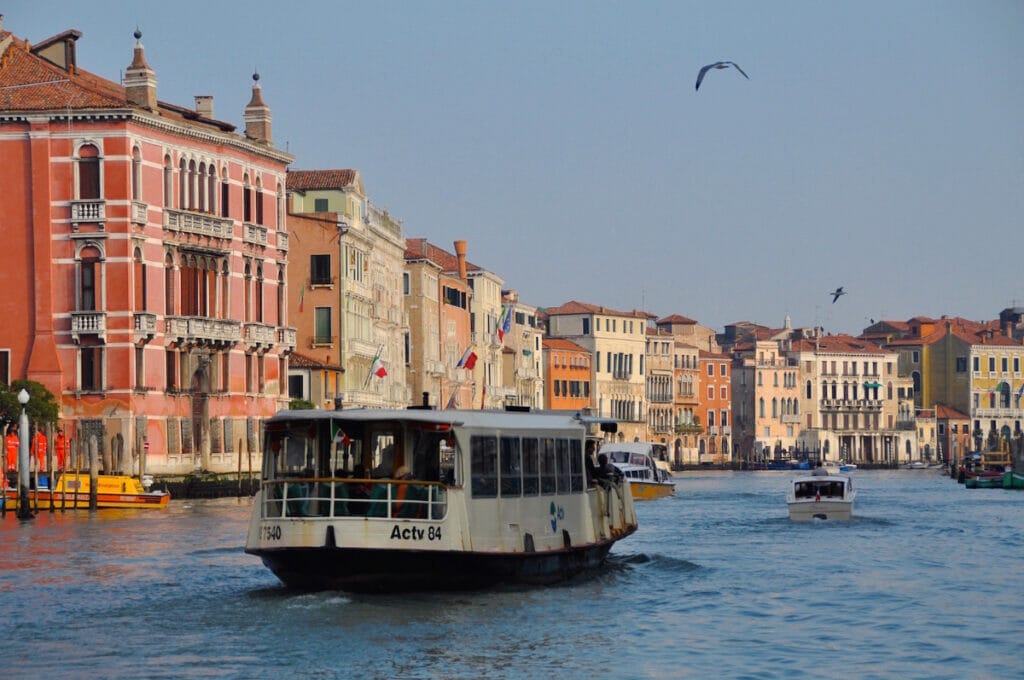 We suggest getting there on the water as this is a great way to get a feel for the city and its system of canals and bridges.
If arriving by train, get yourself to the Venezia Mestre train station located on the Venetian mainland and transfer to the shuttle train to Santa Lucia station in Venice.
If arriving by car, you can park at Mestre and take the shuttle, or check out other options.
Venice Tour Options for What to See in Venice in 3 Days
Want some of the best Venice tours to take during your 3 days? If you prefer an expert guide to join you or some skip-the-line tickets, here are our favorites:
Things to Do in Venice in 72 Hours
Day 1 in Venice
Jump start your exploration with a free walking tour to acquaint yourself with the maze that is Venice.
Learn about the city through the eyes of a local and get off the beaten path to see places the average tourist never gets to see.
The guides are great resources for places to eat, drink and visit – so don't be shy about asking them for the local scoop.
You can find free walking tours of varying lengths, and sometimes differing themes.
If you can't find a tour group online that fits your needs, try asking the hotel or hostel staff.
Typically, you'll need to make a reservation ahead of time and meet at a designated spot, but the cost is free – you tip the guide whatever you think the tour was worth at the end.
I have not taken one of these in Venice, but I wish I had.
I have had great experiences on free walking tours in other cities.
Free tours are easy to find online and here are a few specifically for Venice:
If guided tours in a group aren't really your thing, you can download a self-guided walking tour and go exploring on your own.
Again, there are many options, but we've enjoyed the app "GPSmyCity."
You can download an offline walking tour, or turn your GPS and data on and get an interactive map with additional information and turn by turn directions.
If you want a more interactive way to learn about the city, try a scavenger hunt tour – these are not free, and often are geared towards families, but still sound like a fun option (I have not tried one of these yet).
After you've spent most of the day exploring the city by foot, a sunset Gondola Ride is a must do if you have the cash to spend (when in Rome…or Venice, as the case may be).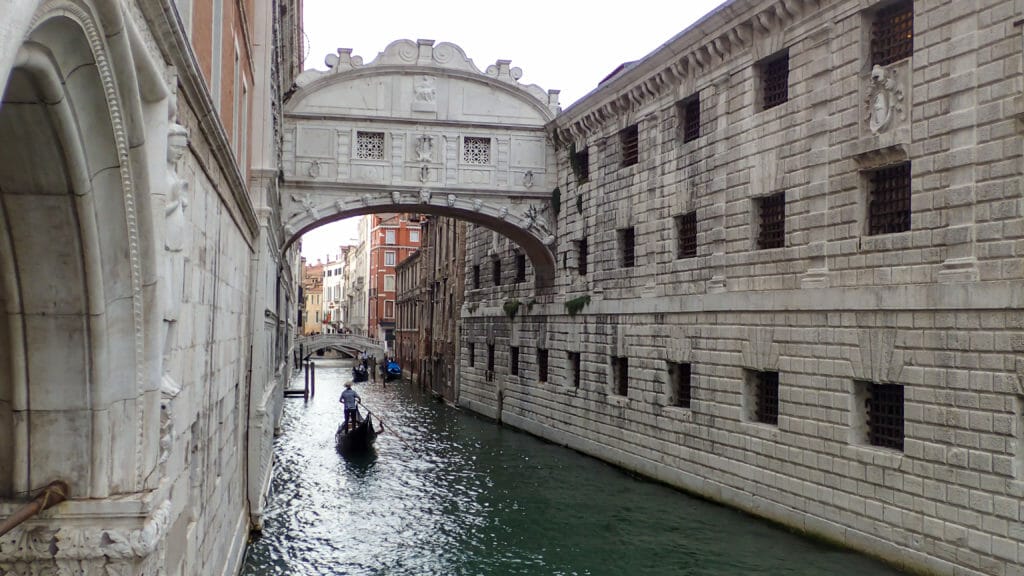 Do not hire a gondola in any of the high-traffic tourist areas – go off the beaten path, onto any number of small side canals and look for a gondolier who is having fun, singing and joking with his customers.
Some gondoliers look downright bored, just going through the motions – hire one who is enjoying his job.
Early evening/dusk is a lovely (and romantic) time for this leisurely activity – and a great time of day to get off your feet.
Gondola fares are fixed in the city and are 80 euros during the daytime and 120 euros at night for a 25-30 minute private tour.
After your gondola tour it will be time for an amazing culinary experience.
There are tons of options so don't settle for one of the restaurants that looks like it caters solely to tourists.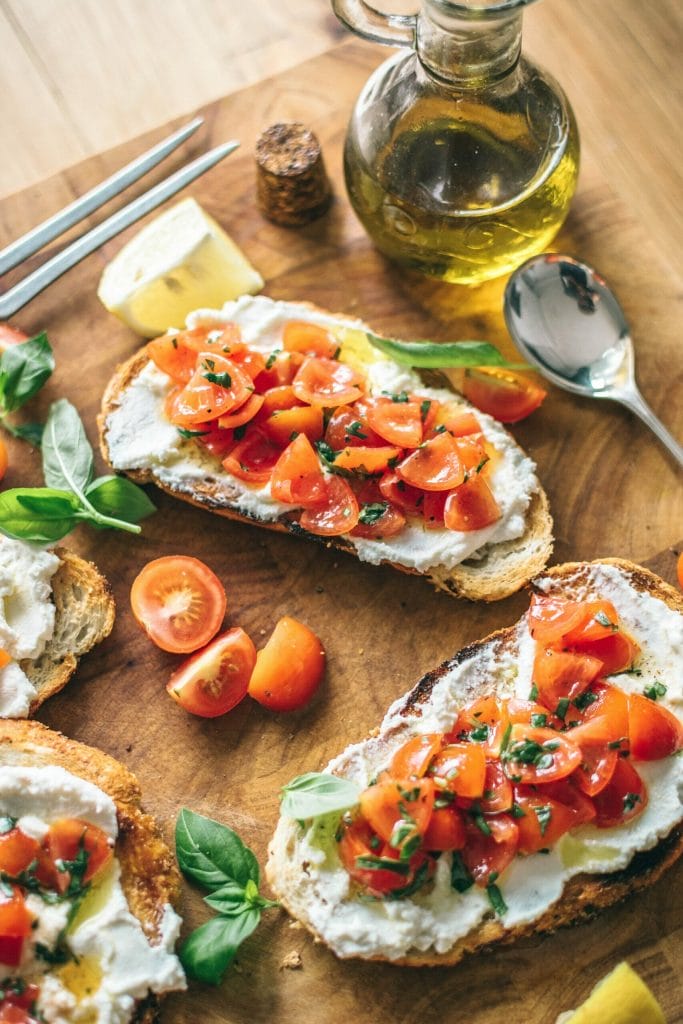 Try to avoid these spots by asking your guides, gondoliers or the folks that work where you are staying if they can point you to where the locals eat.
No one is in a hurry in these restaurants and you shouldn't be either.
In Venice, your meal is meant to be an experience.
So be prepared to luxuriate over your meal while watching the lively interaction of the regulars.
When we were in one such restaurant, there was a large family celebrating a birthday; when the event broke up, several family members walked out, waving to the staff and carrying out their partially full glasses of wine.
The waiter was unconcerned, letting us know the group would bring the glasses back the next time they came in.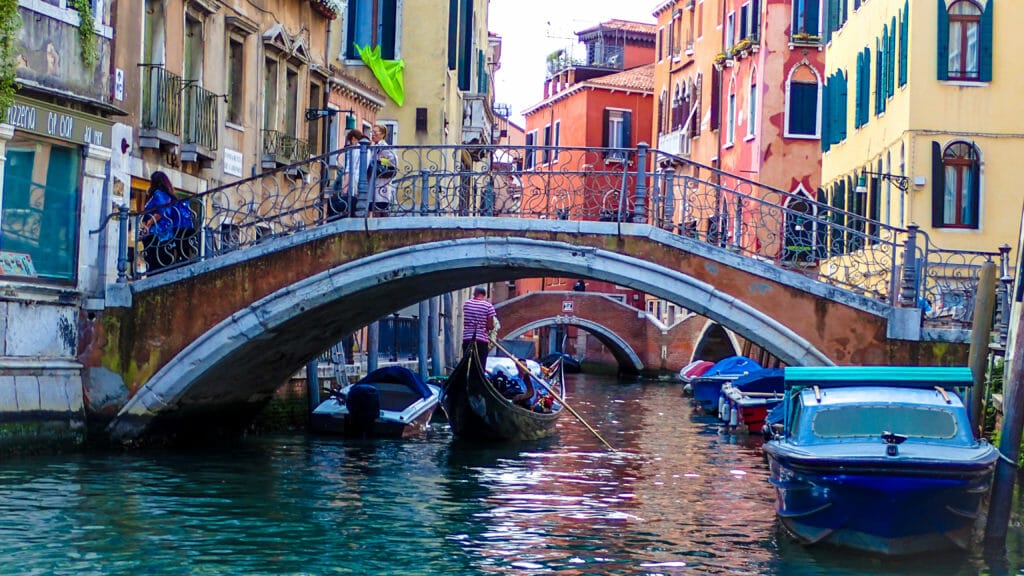 Day 2 in Venice
If you haven't had too much wine the night before, make an effort to get up early and enjoy the city before the rest of the tourists crawl out of bed.
Head over to the Rialto Market (northwest of the Rialto Bridge on the canal).
Venice has a lively market economy and you can find tons of fresh produce and baked goods from 7:30am-1:00pm Mon-Sat.
Right next door, you can see the famous fish market from 7:30am-1:00pm Tues-Sat.
Grab a snack to tide you over and take in the sites, sounds and smells while you enjoy the tune from the musicians who are often playing in the market.
Today is the day to visit the "must-sees."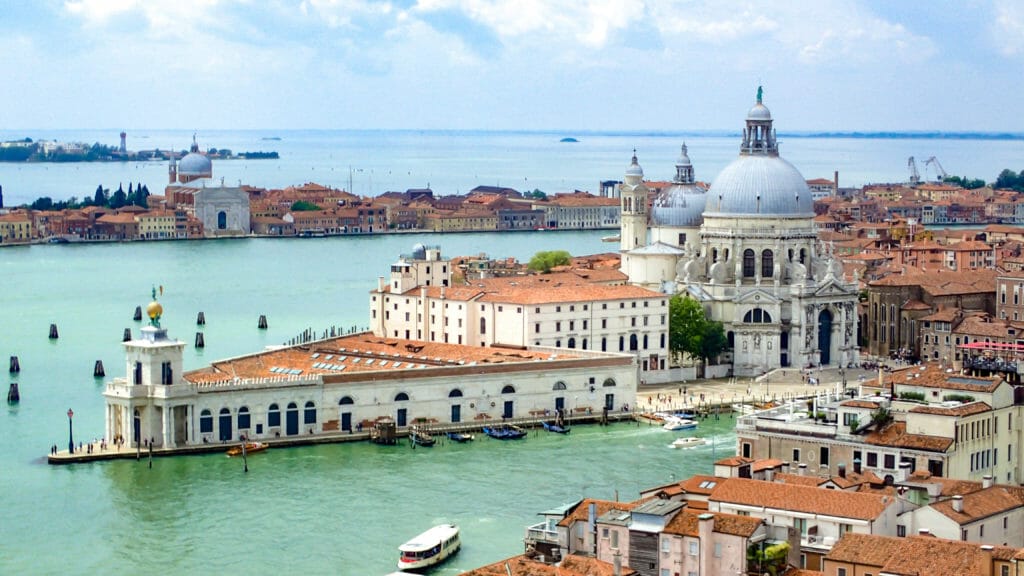 You have your sea legs (or bridge legs) under you and today is the day to hit all of the sites.
Depending on your interests, and your budget, you may not want to go into all the sites that have admission fees; but instead, enjoy some from the outside, marveling at their magnificent exterior architecture and beautiful settings.
Check before you go to see if any sites require advance ticketing or if there are any days/times when the sites are free.
Here is our short list of major sites to see in Venice.
You don't need to try and hit them all on your first visit.
We would suggest picking the ones that interest you the most and spend your time truly immersing yourself in them.
Piazza San Marco (St. Mark's Square)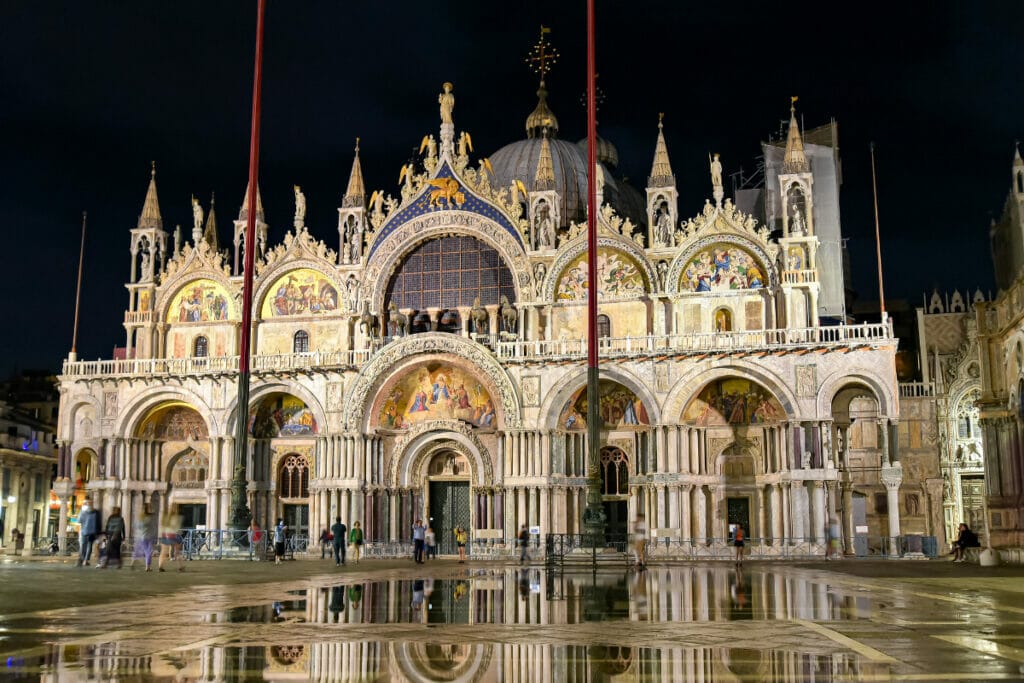 The penultimate venetian street experience occurs in St. Mark's Square.
The ornate façade of St Mark's Basilica caps this beautiful open square that is always full of music, food, drinks and laughs.
The square is gorgeous to take in during the day with its beautiful architecture and looming sites, but is truly breathtaking at night when the music and lights fill the square with life and love.
For a unique experience bring your rain boots and try to be in St. Mark's square during high tide for a true showing the character and resilience of Venice.
Basilica di San Marco (St. Mark's Basilica)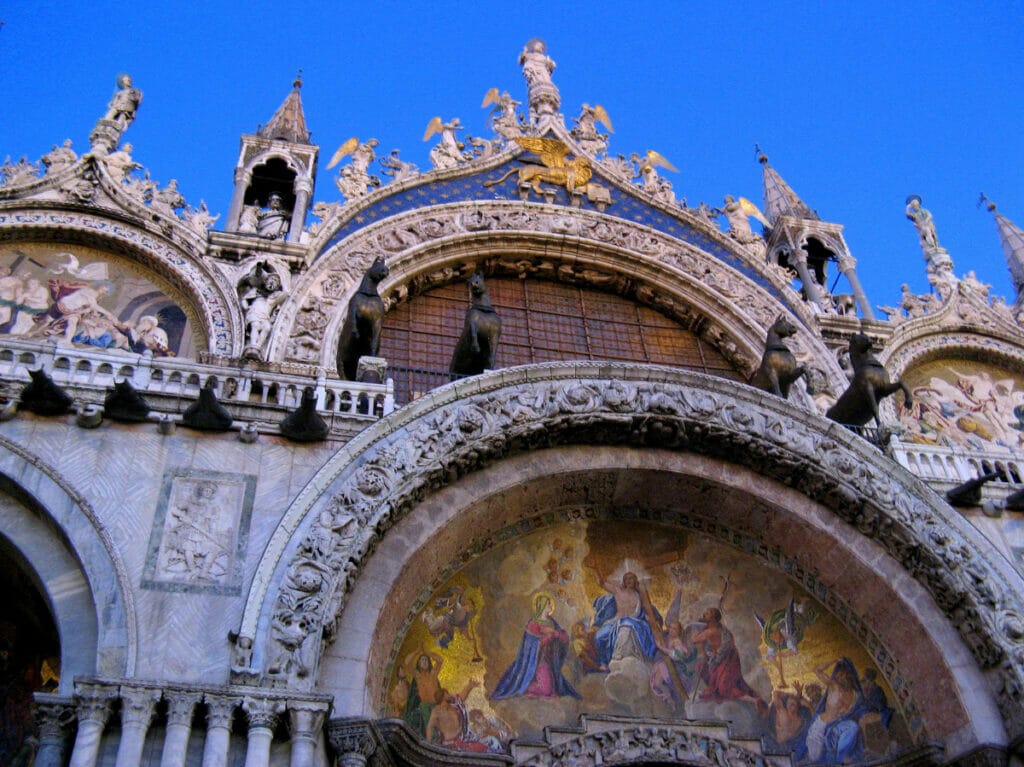 You don't need to make it into St. Mark's Basilica to appreciate the amazing façade, but there is so much more behind the pretty face.
The soaring vaulted ceilings are a sight to see.
A museum and view into the square from the roof complete the interior tour.
If you plan to make your way inside use Rick Steves' advice to avoid lines: Go to a nearby church (look for bag check signs or ask) to check a large bag or backpack, then walk right to the front of the Basilica's line, show your bag-claim tag and head right in.
Torre Dell'Orologio (Clock Tower)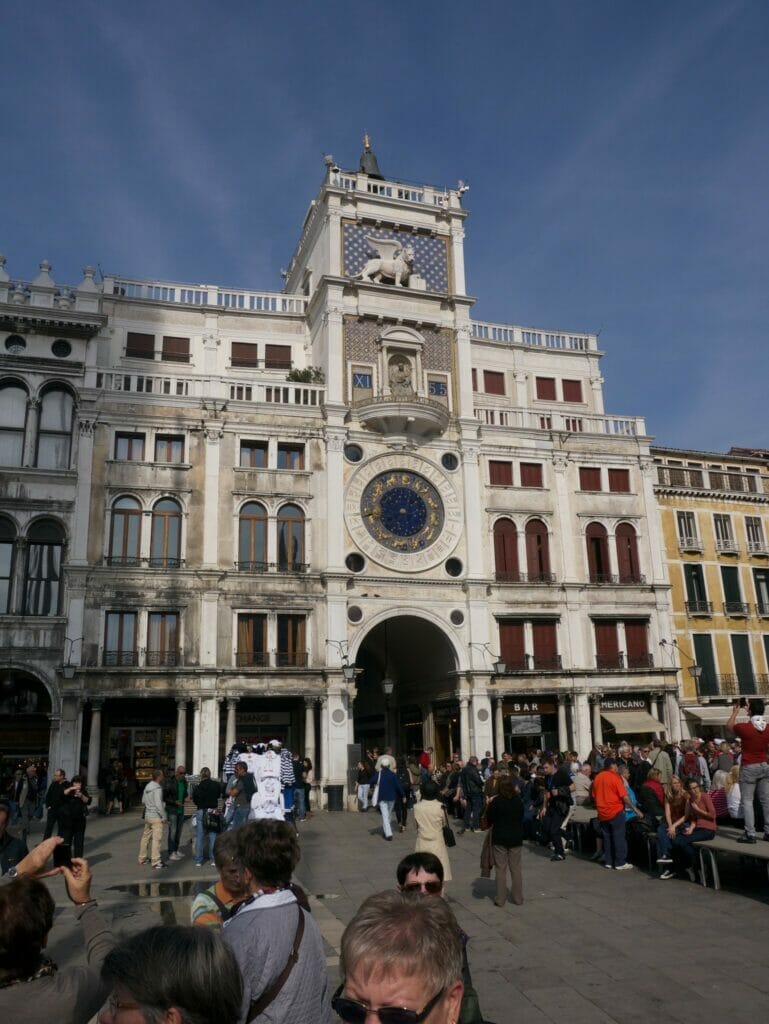 Also packed into St. Mark's Square, the Venice Clock Tower arches over the entry into the square.
Campanile Di San Marco (Bell Tower)
The St. Mark's Bell Tower (also in St. Mark's square) stands above the rest of the city reaching straight up out of the square.
If you're willing to wait in the line, you can climb the 300+ feet up to the top for some amazing views of the city and surrounding islands.
Palazzo Ducale (Doge's Palace)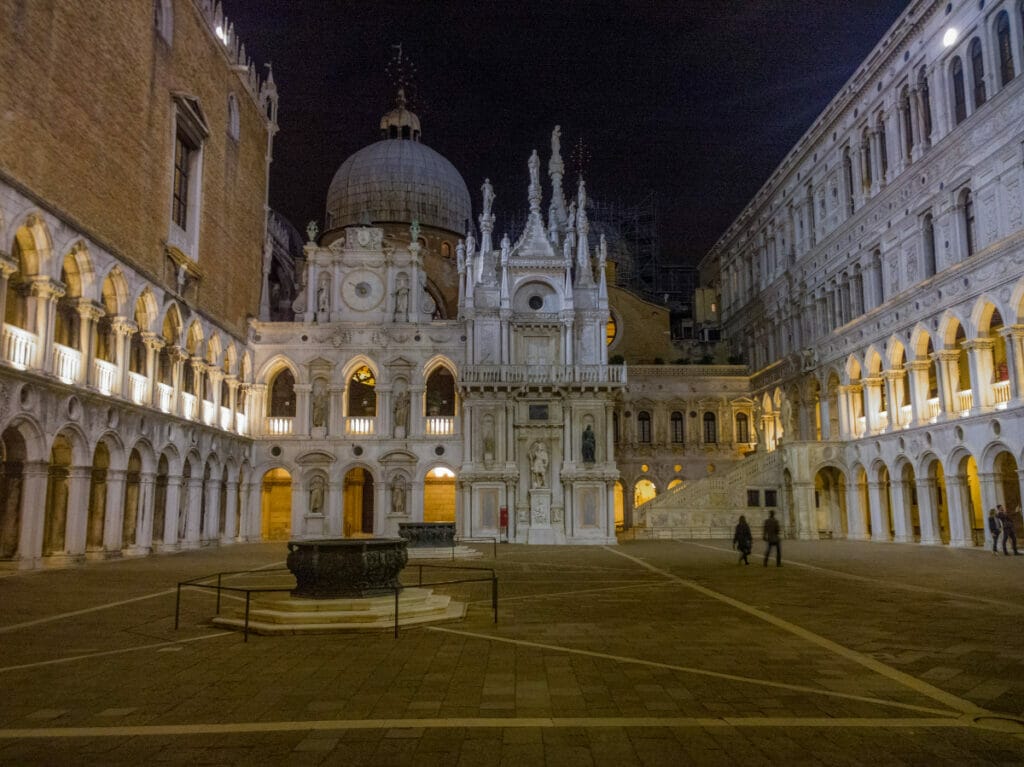 Adjacent to St. Mark's square, the Doge's Palace tour is full of history, art and culture.
The Doge palace tour gives a real insight into the glory and height of Venice.
Ponte Dei Sospiri (Bridge of Sighs)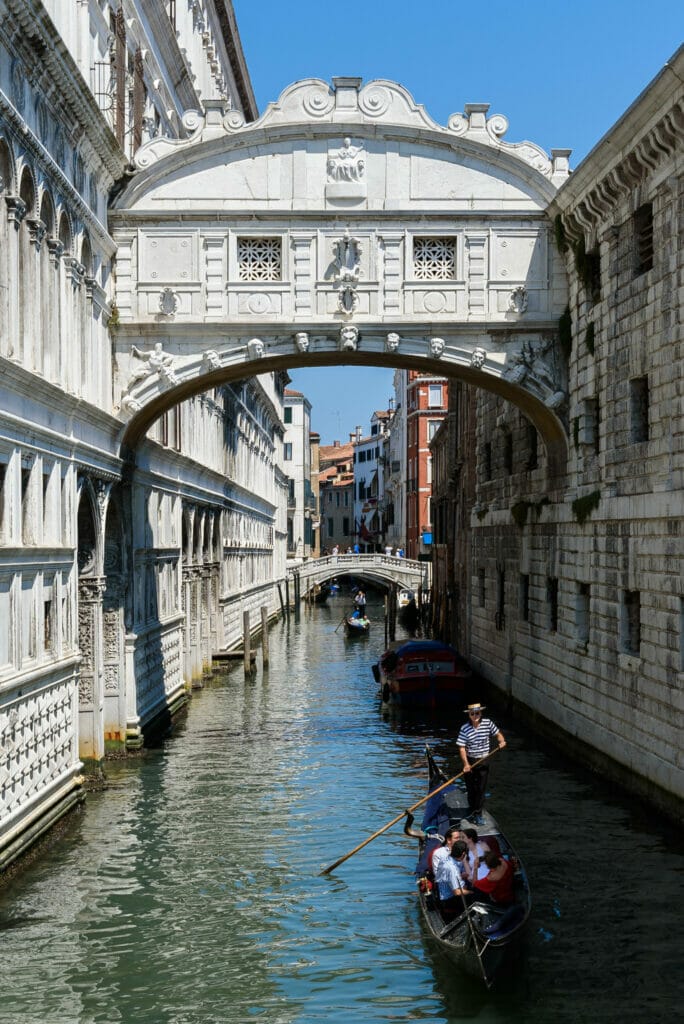 Connecting the interrogation rooms of the Doge Palace to the New Prison, the Bridge of Sighs stretches over the Rio di Palazzo and offers a unique insight into the dark side of Venitian history.
The bridge is visible from several view-points.
Ponte Di Rialto (Rialto Bridge)
If you came into the city from the Grand Canal you likely went straight under the famous Rialto Bridge.
A lively and bustling area, the Rialto has excellent shopping, food and most importantly people watching.
San Salvador Church & San Zaccaria Church
Like many historic European cities Venice has it fair share of breathtaking cathedrals even beyond the enormous Basilicas. San Salvador and San Zaccaria both have their own unique history, architecture and attraction.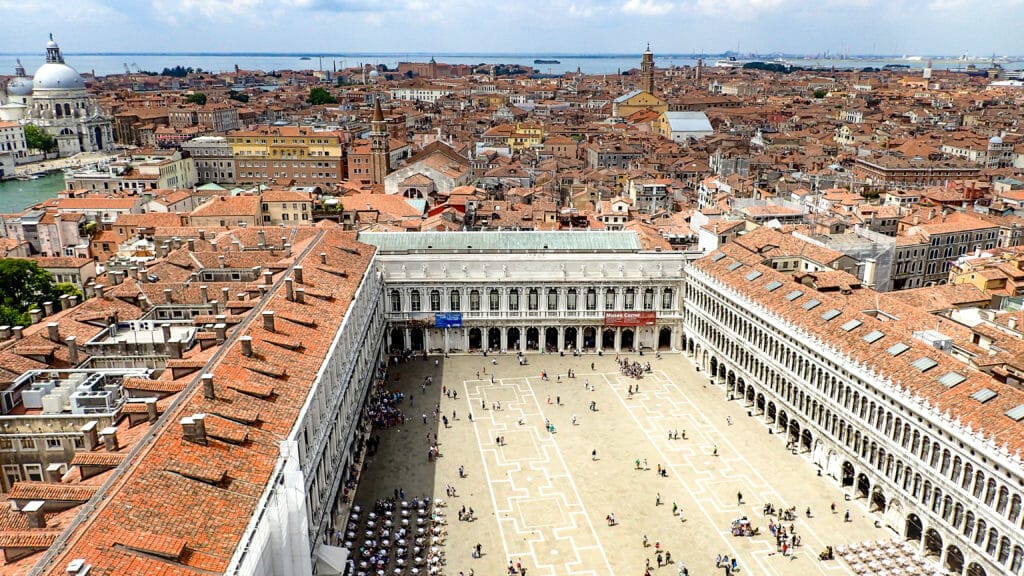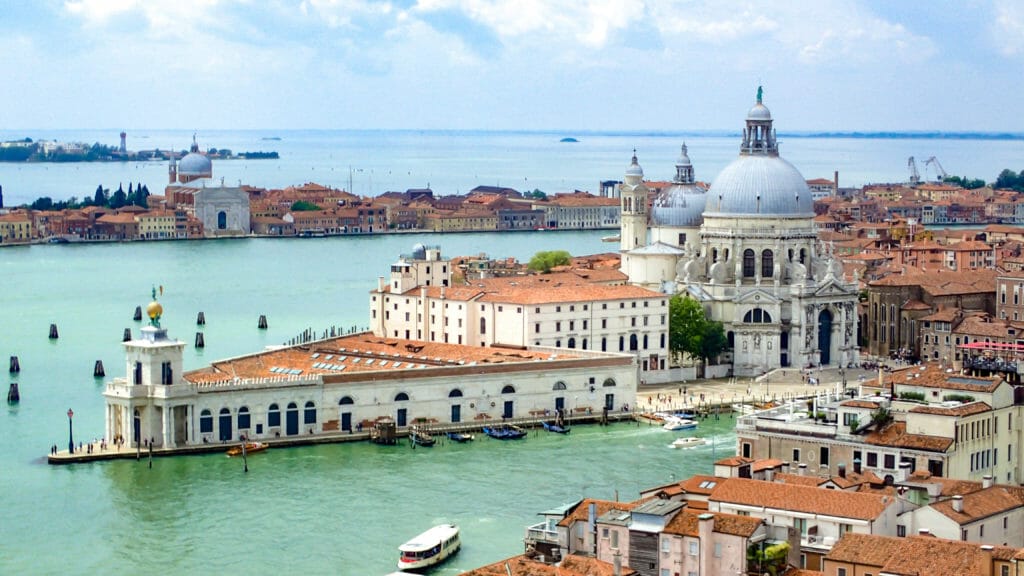 Day 3 in Venice
If you committed Day Two to sightseeing you probably caught most if not all of the major checklist items on the main island.
At this point, it's time to visit one of the nearby islands.
We had hoped to go to Murano during our trip, famous for its glass making; however, a surprise waterbus strike limited our options.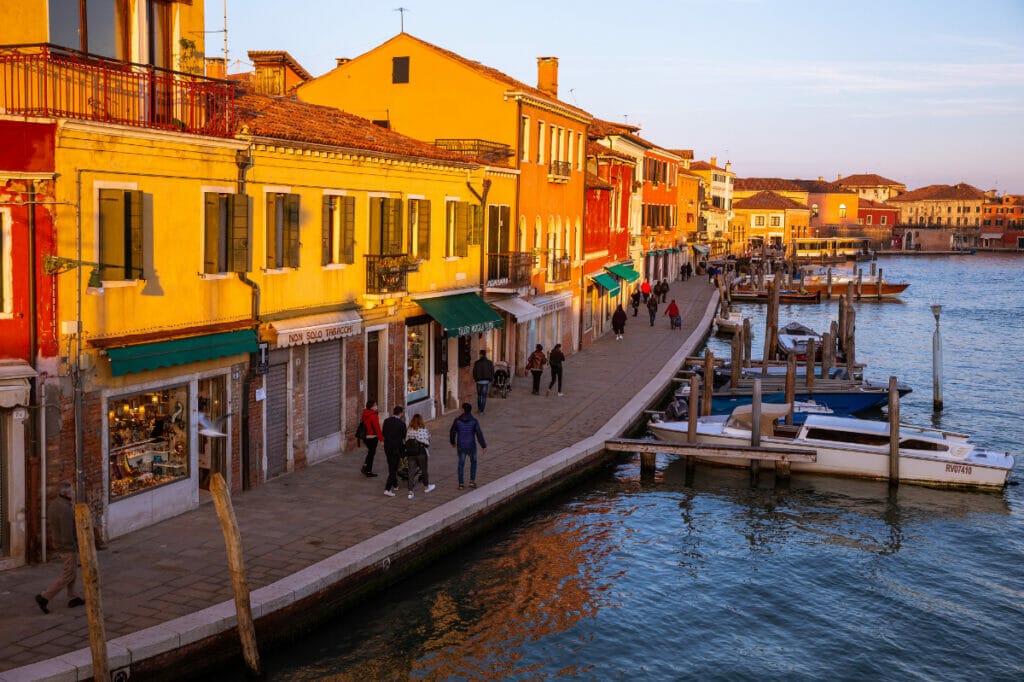 We adjusted on the fly and visited Guidecca, the long, peaceful island a three-minute vaporetto ride across the Venetian Lagoon.
It's a great place to escape the crowds and spend some time in less touristy, more residential areas.
And we came upon a wonderful (and free) exhibit of Venetian glass objects, so all was right in the world.
Here's a quick list of neighboring islands to consider for your Day 3 experience:
Murano – The heart of Venetian blown glass. There are many glass factories open for visits and for a couple euros you can pick up souvenirs or see live glass making.
Burano – A tight knit residential community, Burano is known for its colorful homes and beautiful streets.
Isola di San Michele – With little green space and a bit of a flooding problem, Venice is faced with the interesting dilemma of where to bury their dead. The Isle of the dead offers a quiet reprieve from the crowds and an interesting insight into the history of Venice.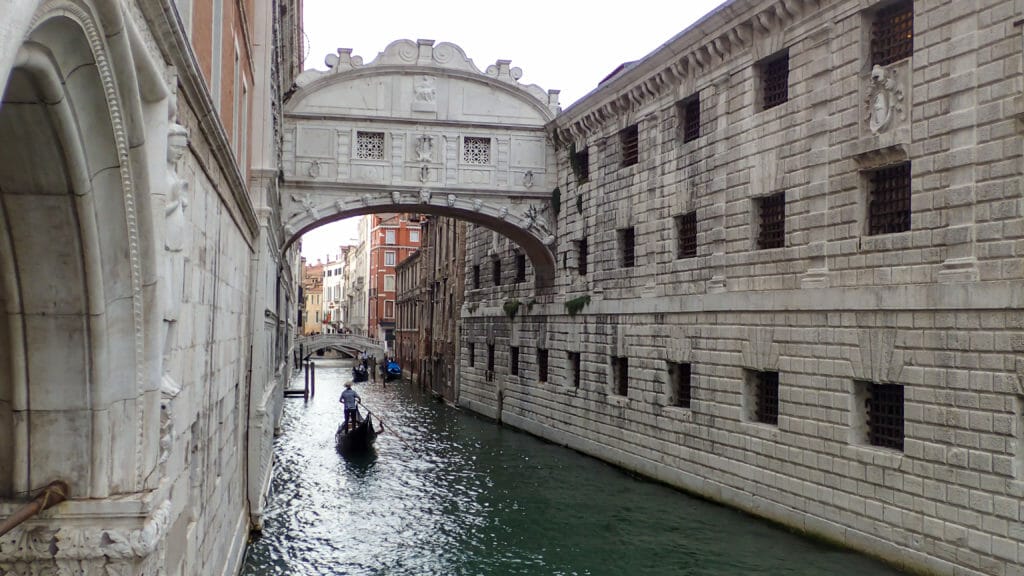 Exploring Venice in 3 Days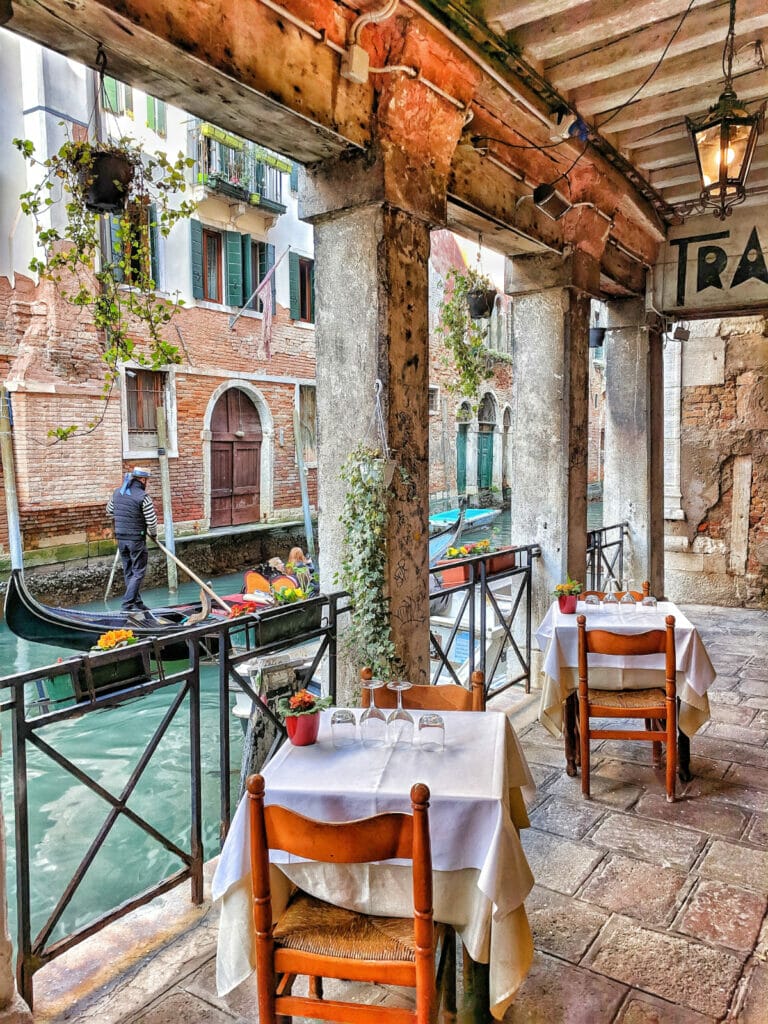 Venice is a city where tourists shouldn't be afraid of getting lost or deviating from the plan.
The city is charming and interesting at every turn and every trip will feel unique and whimsical in its own way.
Use this itinerary as a starting point, but don't be afraid to deviate or throw the plan out all together.
Whatever you travel style, Venice pulls at the heart strings and always welcomes you back for more.
Of course, if you're too enchanted to leave you could always go the digital nomad route and live your life from wherever you'd like!
What's your favorite part of Venice? What other resources would you like to see? Let us know in the comments!
Author Bio
Stephen Gary is the co-founder of Flashpacker Co, a lifestyle brand aimed at helping the growing number of global flashpackers get the most out of their adventures.
He's been a digital nomad for the past 5 years traveling all across the global while running several successful businesses.
You can read more of his writing over on the Flashpacker Chronicles or on Instagram @FlashpackerCo.