This post contains affiliate links for which I may make a small commission to help keep the site running. You will not be charged extra for these items had you not clicked the links. Thank you for your help to keep the site running!
Marylebone may appear as a bit of a mystery.
Not overtly glamorous like its neighbor, Mayfair or as quirky as its pal Paddington, Marylebone sits somewhere, quite literally, in the middle.
It's charming, mysterious, a little village-like and yet so central.
Even if you're only here for a brief visit, there's so much to see, eat and enjoy, you may soon find that this enigmatic corner of London is one of the best there is.
Here are the best things to do in Marylebone.
GET A

FREE

LONDON INTRO GUIDE and ACCESS TO MY FB GROUP
Start your planning with this "Intro to London" guide and access to my London planning Facebook group!
Best Things to do in Marylebone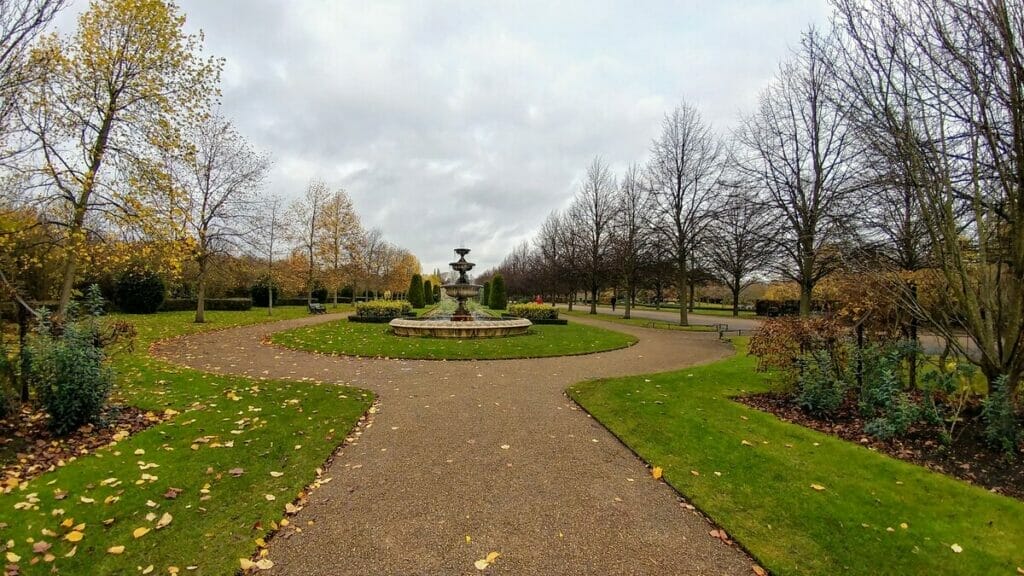 It won't come as a surprise that one of the best and most popular things to do in a Marylebone area guide is to take a wander around the expansive local landmark that is the Regent's Park.
Did you know that the Park was originally used by the actual Prince Regent as a pleasure garden after being converted from a hunting and farming ground.
Nowadays, the Park is home to London Zoo, the Open Air Theatre, Queen Mary's Rose Garden and a number of official residences for royal families and foreign ambassadors.
Despite the famous residents and many attractions, the Regents Park remains one of the most peaceful green havens in central London.
There's also a great onsite cafe and plenty of areas to set up your own picnic if the weather permits.
Marylebone High Street is a classic London high street made up of high end fashion and homeware stores, independent boutiques, wine bars and some of the best charity shops on this side of the city.
Some of the highlights of the high street and surrounds, include Matches Fashion for luxury designer wear, the Conran Shop for quirky and contemporary homewares, Daylesford Organic for gourmet delicacies and gifts and Paul Rothe & Son, serving up fresh sandwiches, soups, sauces and snacks since the 1900s.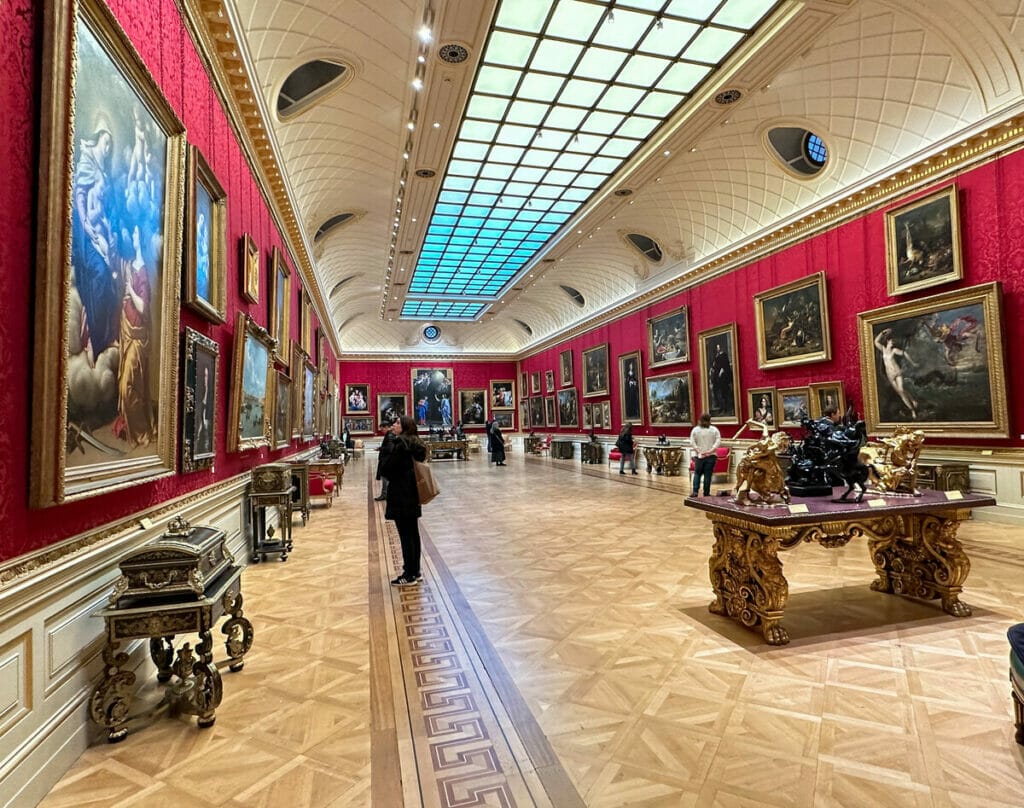 The Wallace Collection may not be as well known as the V&A or Natural History Museum, but this once private residence turned free museum is a real hidden gem amongst London's museum scene.
Not only is the Wallace Collection home to an impressive collection of artworks, it also has one of the prettiest hidden cafe courtyards in London.
The museum showcases art spanning a range of subjects, from landscapes to portraits, and includes work by a range of artists, from Rembrandt, Rubens and Hals to name a few.
Between floors, it is highly recommended to take a break in the light and airy courtyard cafe for a shared afternoon tea or light meal.
The scones are excellent and the surroundings are sublime.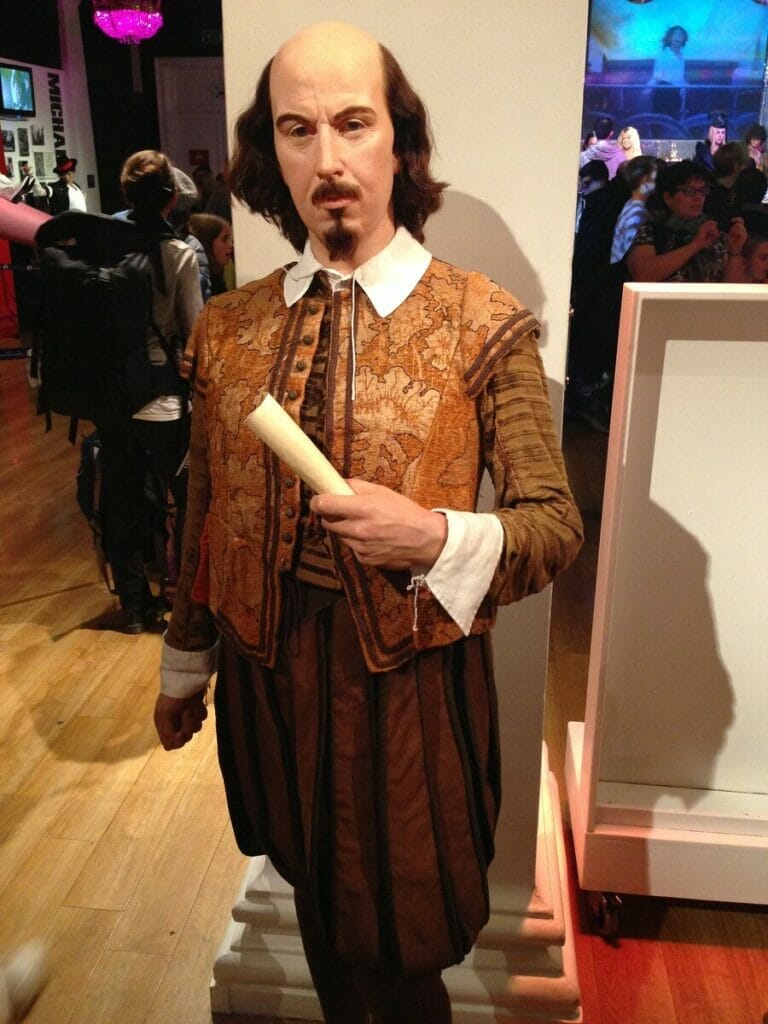 It might be a bit cheesy, but posing with your favorite celebrities is a quintessential London activity, and one of the top things to do in Marylebone.
Being one of the most popular tourist activities means that the queues to enter can be up to two hours during peak season, but insiders know to pre-book a ticket for faster entry.
As for who you can spot inside, keep an eye out for the British royal family, Shakespeare, Beyonce and the Rock, along with fan-favorite characters from Star Wars and the Marvel films.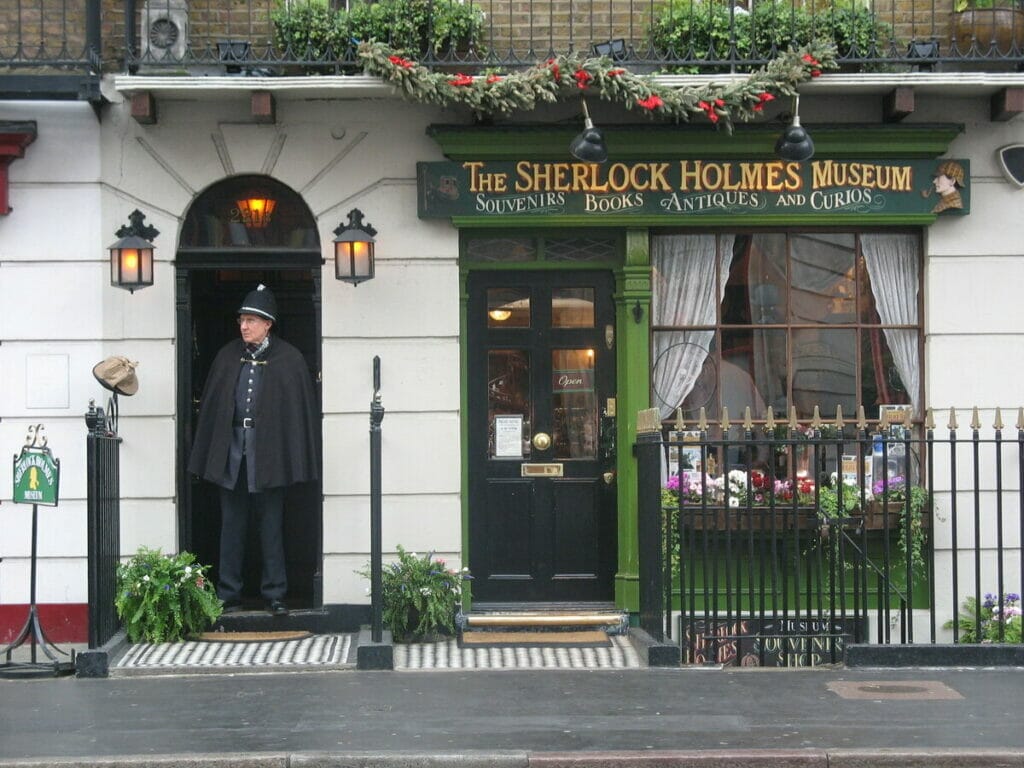 If you're wondering what to do in Marylebone with kids, the Sherlock Holmes Museum remains one of the most popular activities.
Dedicated to the famous fictional sleuth, the Sherlock Holmes Museum is a compact but impressive museum with traditional furniture and inspired artifacts giving visitors an insight into the fictional detective's legendary work.
You'll be greeted at the door with a cheerful guard, and shown around by costumed guides, making the entire experience a wholesome and interactive way to learn more about life in London during the Victorian era.
If you're looking for a more intimate Sherlock experience, check out the Private Sherlock Holmes Walking Tour in London!
During the tour you'll visit the detective's home, museum, and souvenir shop.
You'll also get a backstage of tour of several of the filming sites for the popular BBC TV series starring Benedict Cumberbatch and Martin Freeman.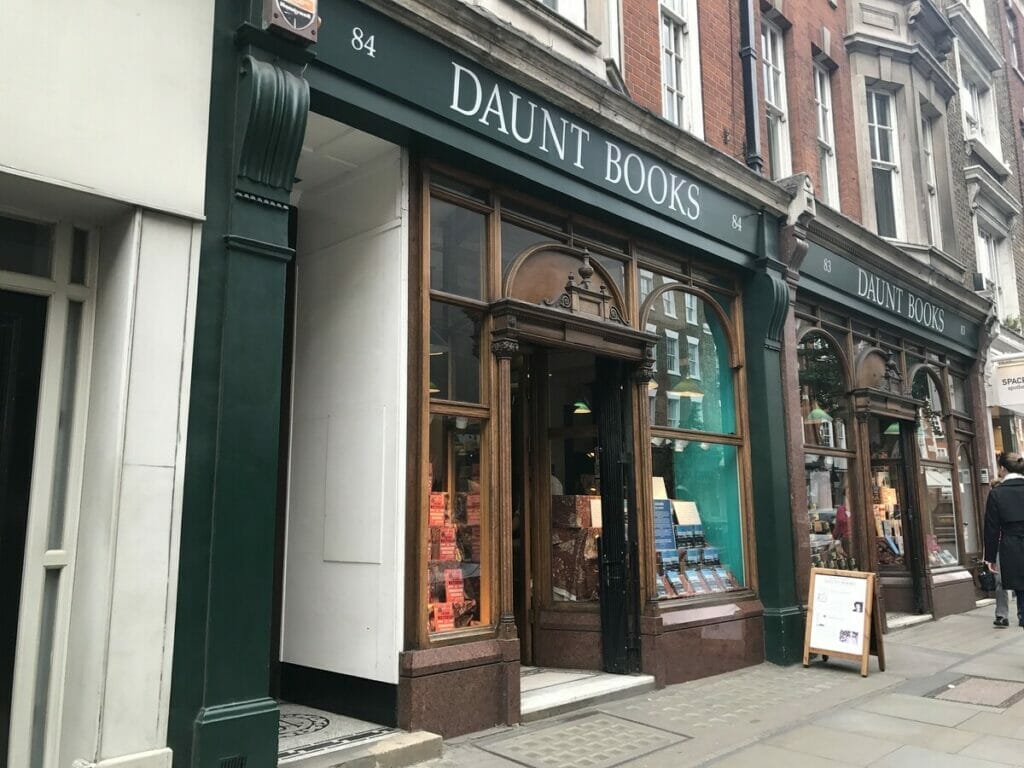 If you simply walked past Daunt Books, you'd never guess the size and grandness of the interiors of this much loved bookstore.
Whilst there are a few branches of Daunt Books around London, the Marylebone location is one of the most impressive.
With its high arched glass ceiling, stained windows and traditional wood panelling, you should definitely stop in briefly, even if it's just to admire the architecture of the store.
7. Browse the vintage shops
If you love looking for a vintage treasure, the preloved shops in Marylebone offer some of the best vintage finds in London.
With less savvy shoppers to compete with than the traditional stomping grounds of Notting Hill and Brixton, the stores in Marylebone offer a more minimalist and refined shopping experience.
Our favorites are Cancer Research UK and the Oxfam store, located on Marylebone High St, along with CSD, a luxury consignment store tucked away on Marylebone Lane with a treasure trove of luxury handbags, shoes and vintage ready to wear.
8. Chiltern Street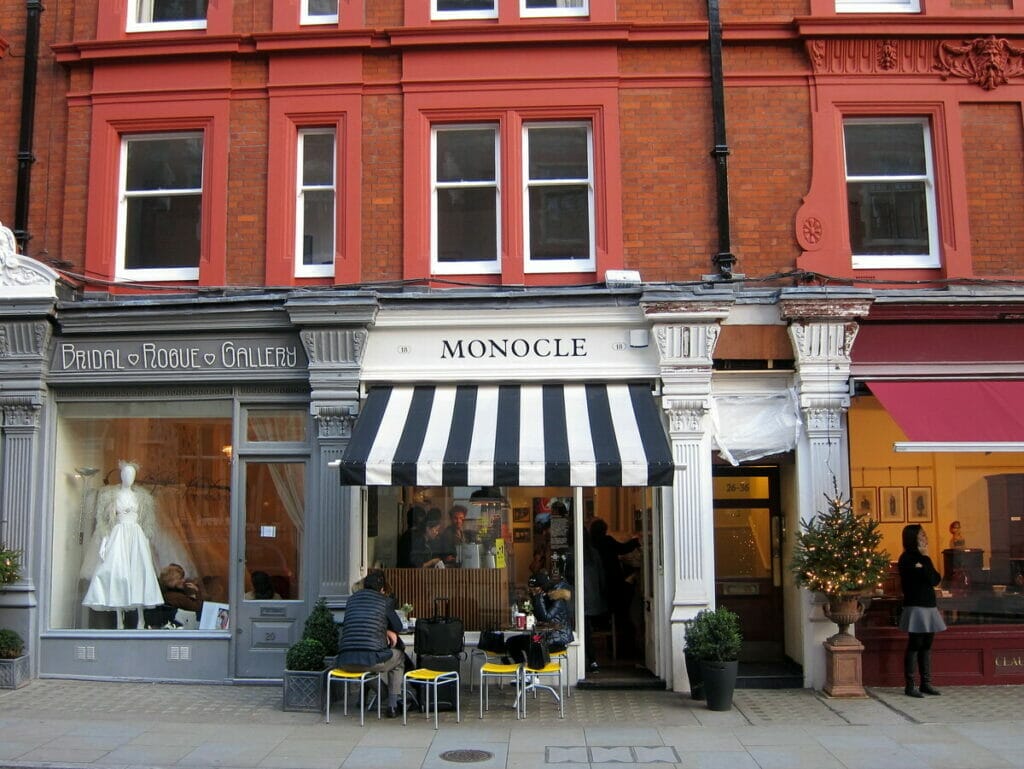 Chiltern Street is a Marylebone-insider's favorite thoroughfare thanks to its curated range of premium boutiques and dining establishments.
Some of the best stops along this tucked away part of Marylebone include Monocle Cafe (go early to snag one of their famous cardamom buns), Trunk Clothiers for refined menswear, and the celebrity favorite dining destination, Chiltern Firehouse.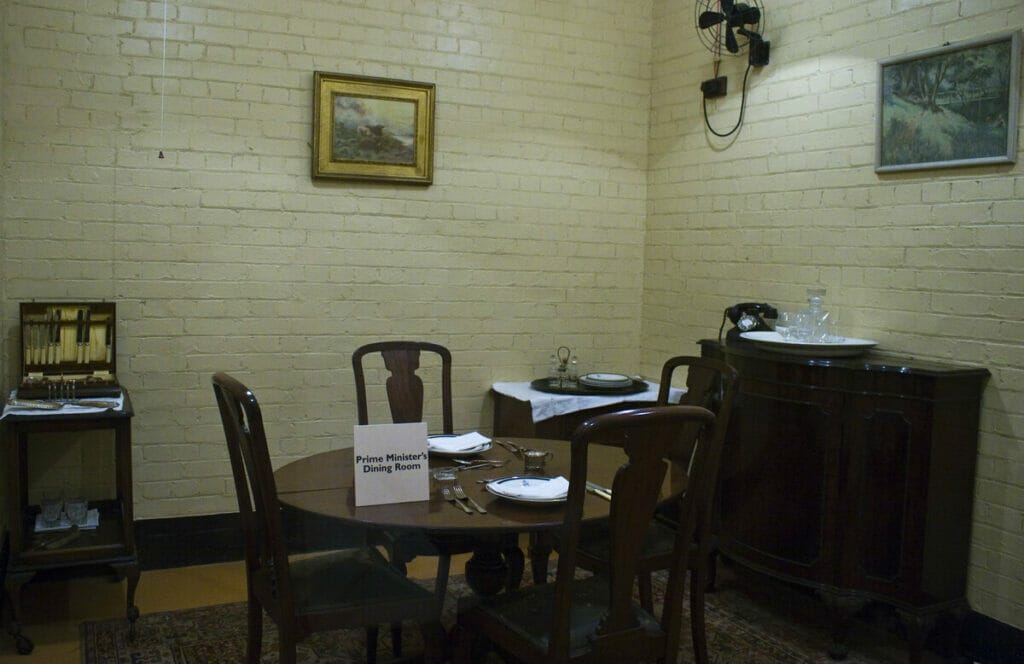 If you're wondering what to see in Marylebone as a history buff, the Churchill War Rooms is one of the highest rated activities in London, particularly if you're particularly interested in World War II history.
As one of the five Imperial War Museums, the Churchill War Rooms were the strategic facility where British political and military leaders made many of the key military decisions made by the Allied forces during the war.
The museum also documents the life and career of Winston Churchill, providing fascinating commentary on the often lonely life of this mysterious world leader.
If you're looking for a more in depth look at the War Rooms, consider booking the Historical Westminster Walking Tour with Churchill War Rooms.
This tour is an absolute bargain for the tour + entry to the Churchill War Rooms (basically two must-dos for the price of one).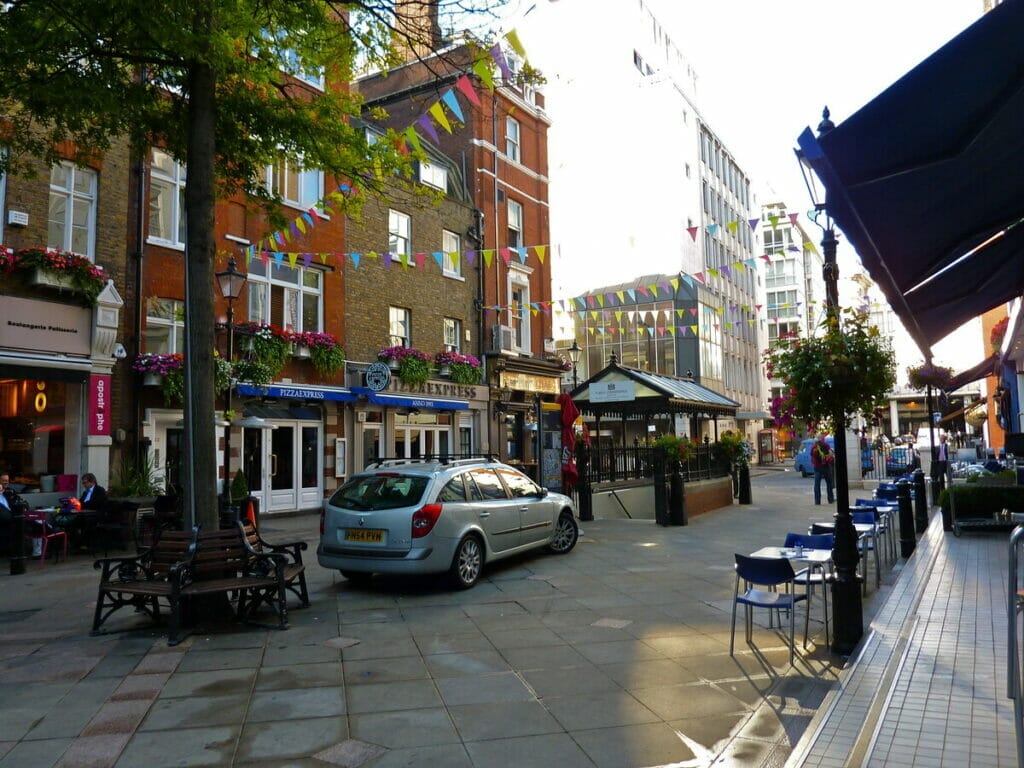 When you visit Marylebone, one of the top things to do is to explore the independent boutiques and dining options in St Christopher's Place.
This is a small labyrinth of jewellery and clothing stores, pop up galleries and skincare boutiques that are a treat to wander through and explore at your leisure.
Although it's tucked away just behind Oxford Street, St Christopher's Place feels decidedly more like a village and is a great place to pick up some trinkets or even just a coffee as you indulge in some relaxed window shopping and people watching.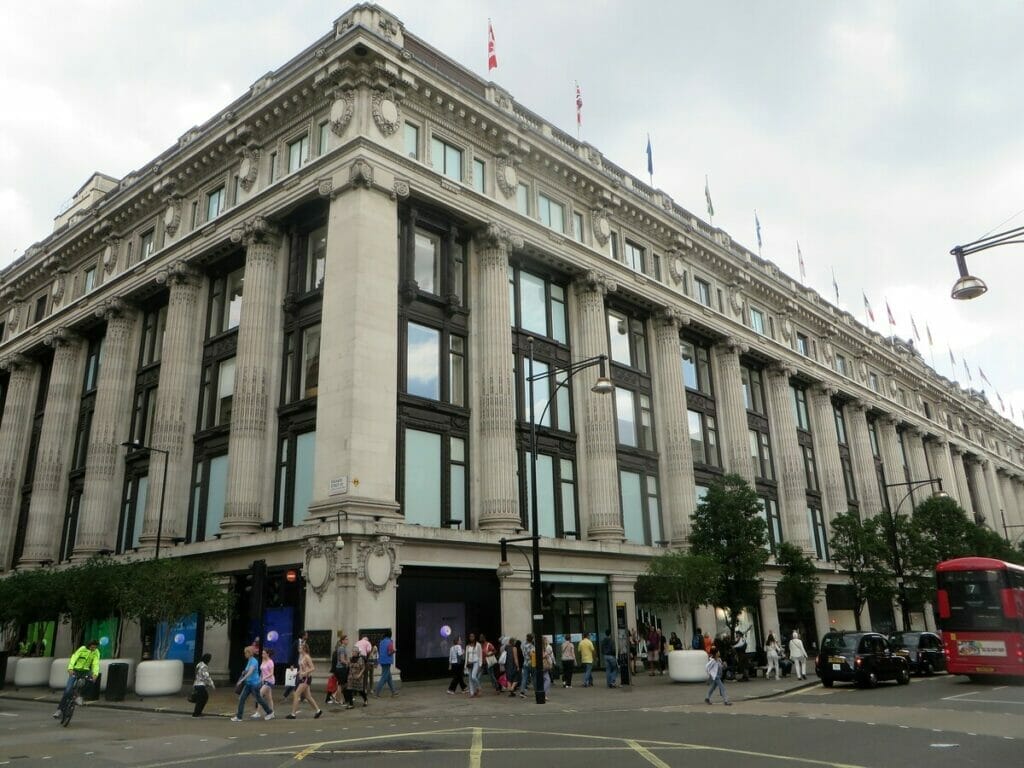 As one of the world's most iconic department stores, you'll likely have seen the impressive facade of Selfridges when visiting the Marylebone' end of Oxford Street.
Even if you aren't looking to shop, it's definitely worth spending an hour or so browsing the incredible displays, luxury concessions and cafes that make up this world class department store.
If you have a few hours to while away, there's also a luxury cinema and games arcade open for visitors to enjoy.
Once you've perused the upper floors, make your way back down to the Selfridges Foodhall on the ground floor to pick up some gourmet treats, including self-serve mochi or delicious giant chocolate chip cookies.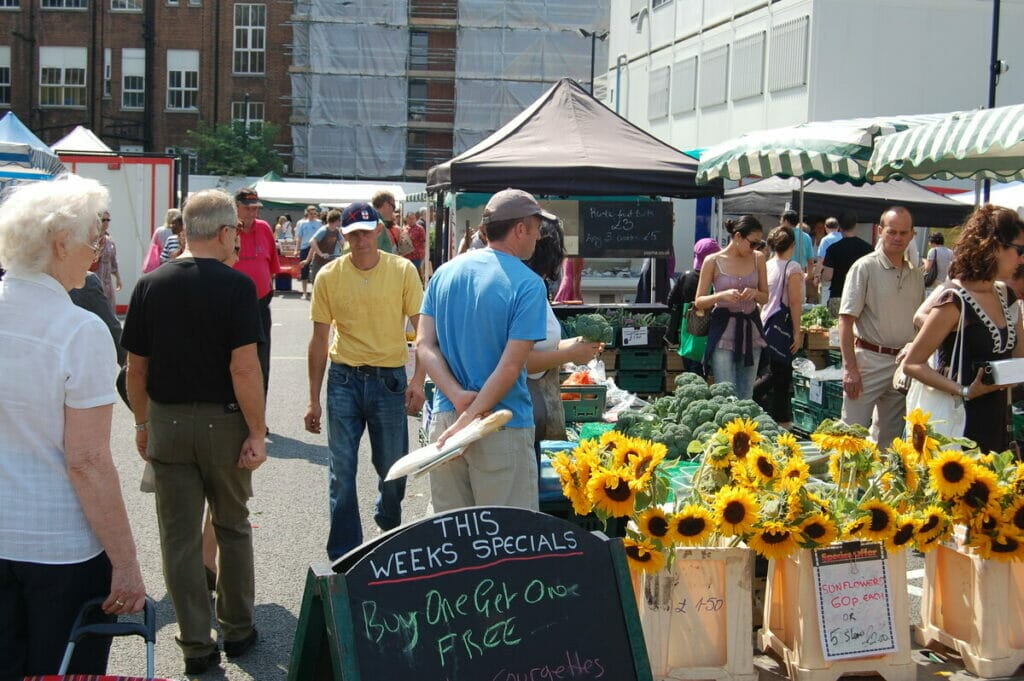 If you happen to be visiting Marylebone on a Sunday morning, you should make your way over to Moxton Street, tucked just behind the High St to sample delicious and fresh goodies at the Marylebone Farmers' Market.
Stalls at this local market include farmers showcasing their seasonal produce and artisanal producers offering various homemade goodies, such as honey, soaps and sauces.
The market runs from 10am to 2pm and is a great chance to sample locally sourced British goods and pick up some treats or souvenirs.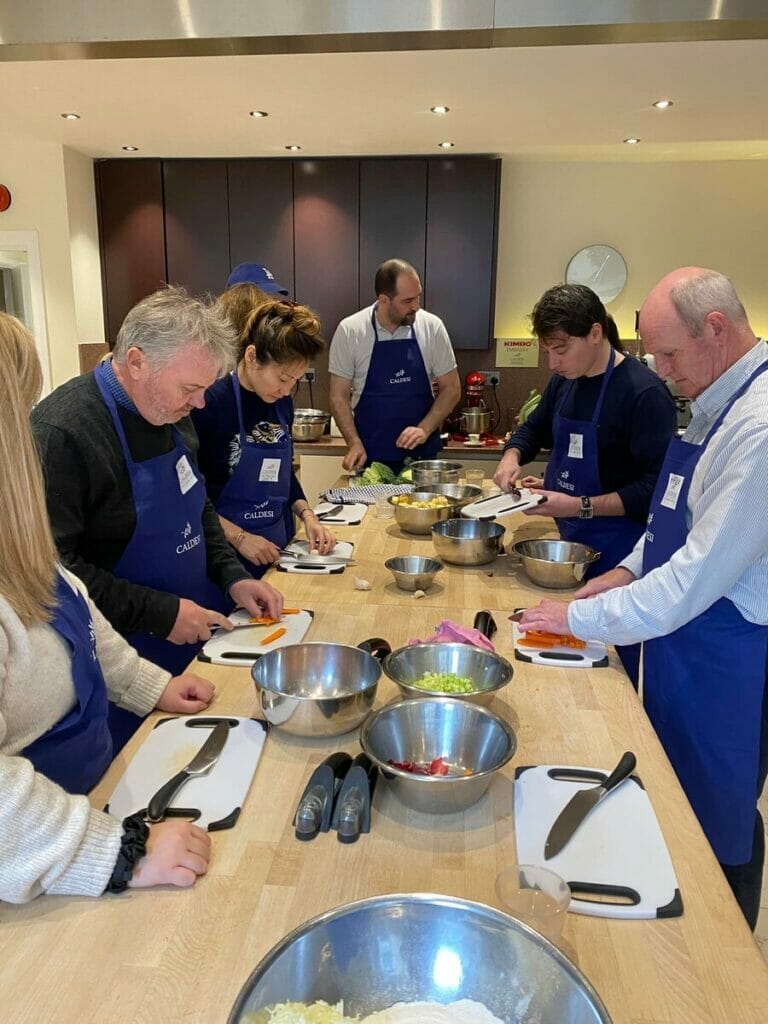 Marylebone is known for its excellent food scene and La Cucina Caldesi is a highly rated local institution allowing guests to try their hand at cooking authentic and delicious Italian food in a cosy and relaxed setting.
The cooking school offers a number of different courses, targeted at various levels of expertise, but one of the most popular is their one day pasta workshop, where you'll learn to make a selection of pastas and eat your creation over generous servings of wine.
For fans of good food and cooking, a visit to La Culcina Caldesi is one of the best things to do during your visit to Marylebone.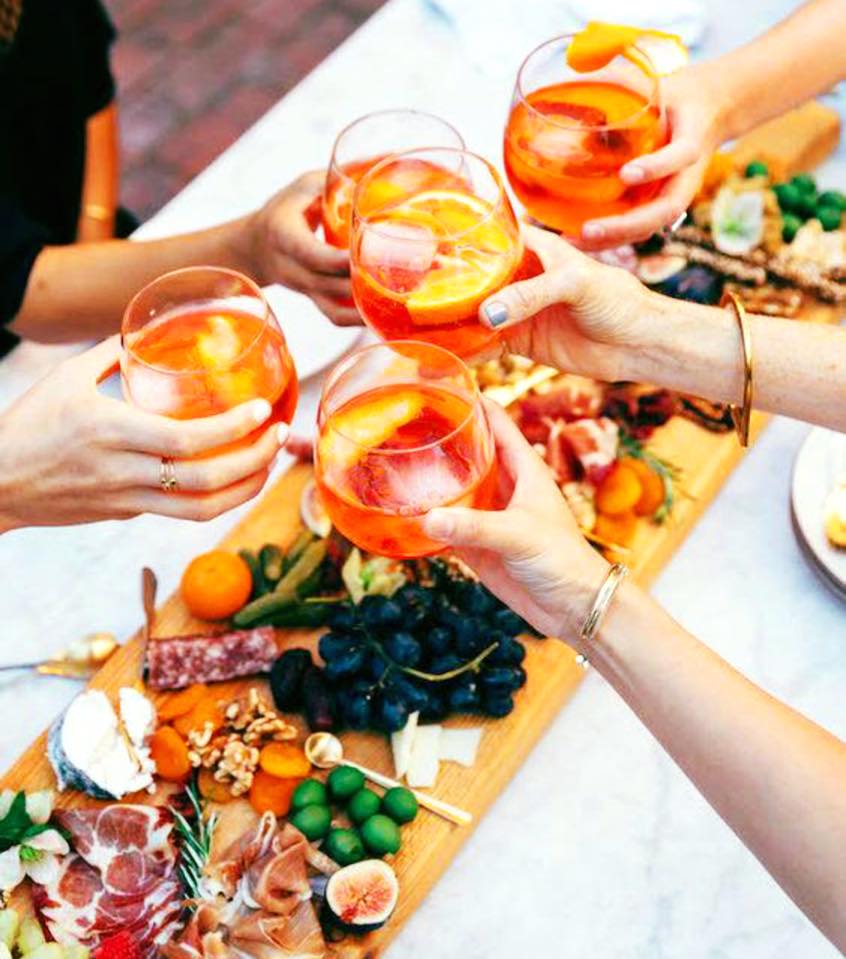 The Italians is a local favorite wine bar and one that is often missed by tourists due to its location, just quietly tucked off the High Street, making it refined and relaxed, yet welcoming and cosy.
Walking in on a chilly London evening, you'll be greeted by a charming front of house team and gestured towards the plush bar stools or one of the few candle-lit tables that make up this cosy bar.
The wines are sourced from vineyards around Italy and can be accompanied by a selection of delicious small plates and mixed boards.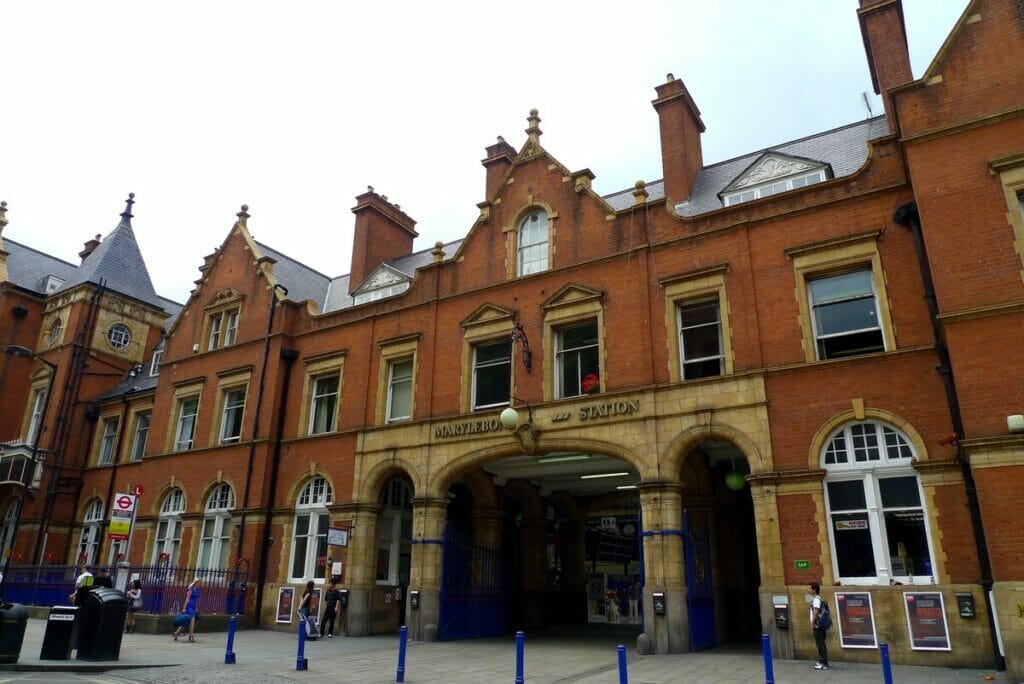 A typical guide to Marylebone may not include a visit to Marylebone Station, but if you're interested in architecture and historical sights, you should definitely make a quick stop at this impressively designed local landmark.
Hidden away in the back streets of Marylebone, this beautiful station has a number of cafes and offers connections to other places of interest, including Oxford, Birmingham and Bicester Village.
You won't need much time here, but it's definitely a worthwhile photo stop to include in your visit to Marylebone.
Where to Eat in Marylebone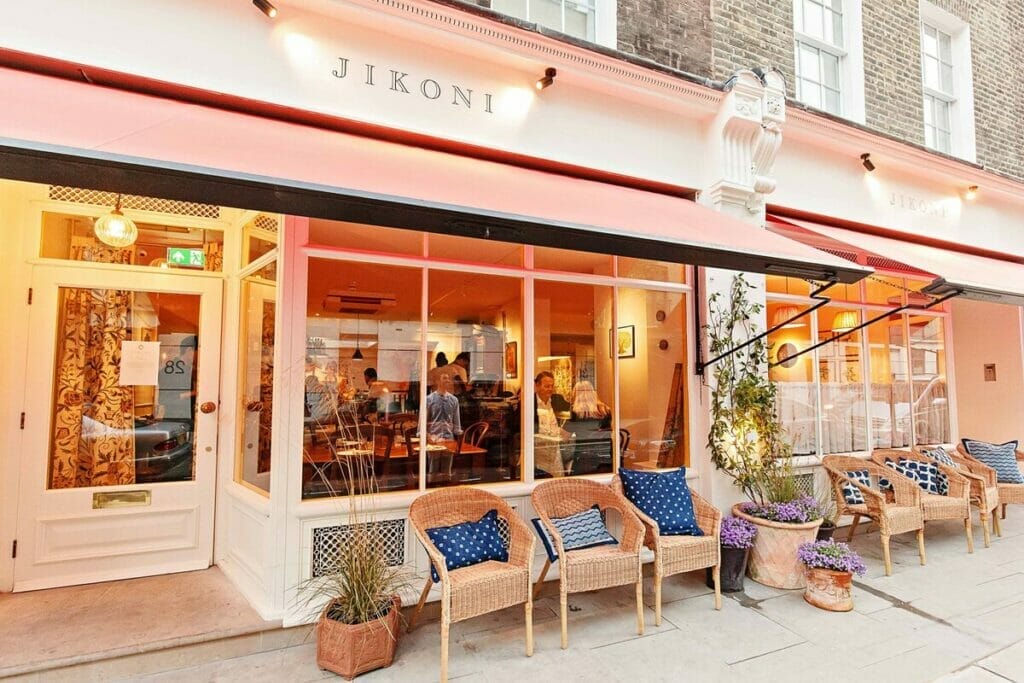 Jikoni describes itself as a 'no borders kitchen', a reference to its globally inspired menu, and the eclectic and comforting decor that makes you feel as if you've stepped into an intimate and warm dining room.
During dinner at Jikoni, you'll be treated to unexpected flavor combinations, encompassing African, Asian, Middle Eastern and British flavors, generous servings of world class wine and service that feels refreshingly laid back yet refined.
It's won a Michelin star, but from the laid back service and unpretentious atmosphere, you'll have a relaxed atmosphere that you'll treasure long after your visit.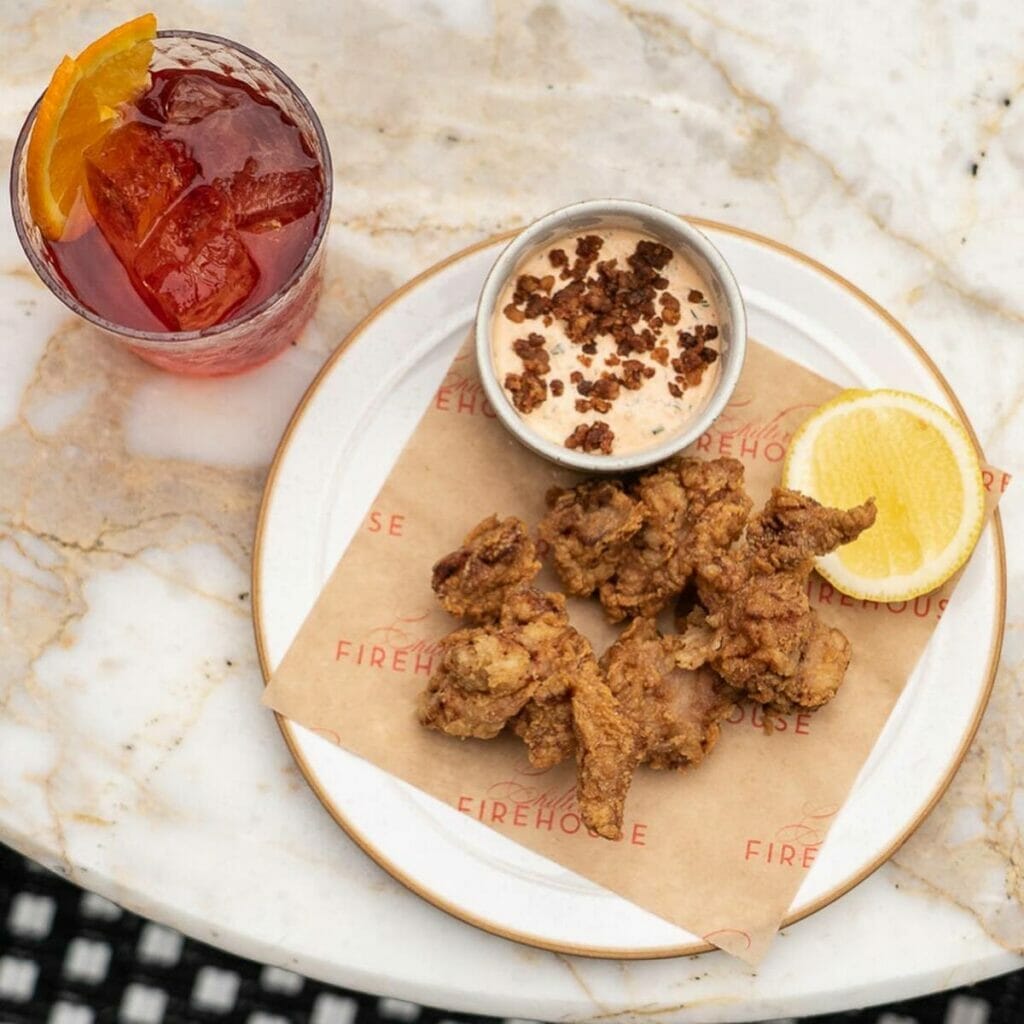 If you've had the foresight to book your table for Chiltern Firehouse several months in advance of your visit, you ought to be proud of yourself.
Not only is Chiltern Firehouse one of the most sought after dining destinations in Marylebone for locals and tourists, it's also been the scene for many celebrities to drop in for a brunch, bite or drink.
The service is of an extremely high standard, and although the menu isn't particularly extensive, the focus is clearly placed on high quality seasonal ingredients, attentive wait staff and creating a memorable fine dining experience.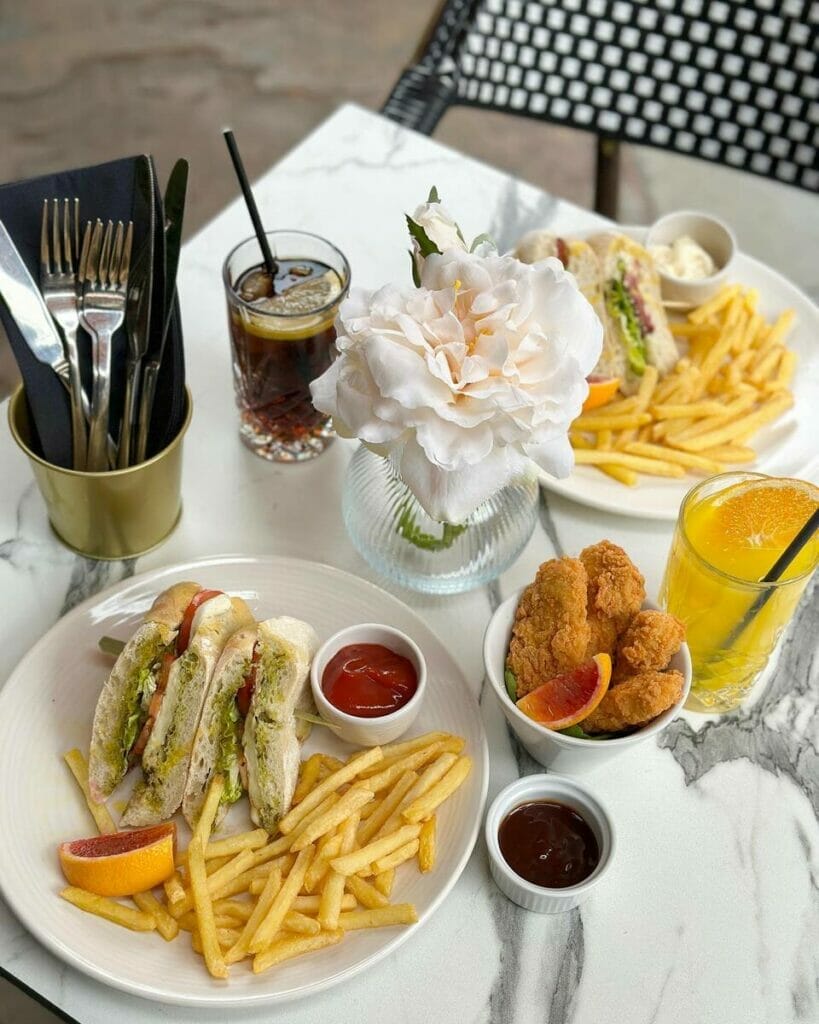 Right next door to Chiltern Firehouse, you'll find the more informal and yet stylish, classic British pub, the Flowerhouse.
The pub has several areas, from the outdoor brasserie style seating, cozy inside lounge areas and a private dining room, perfect for larger groups of guests.
The Flowerhouse is known for exceptional cocktails and a gourmet bar menu, and the cheeseboard is a particular favourite.
For a classic British pub with a subtle, modern flair, the Flowerhouse is an excellent choice for a drink and light meal.
Where to Stay in Marylebone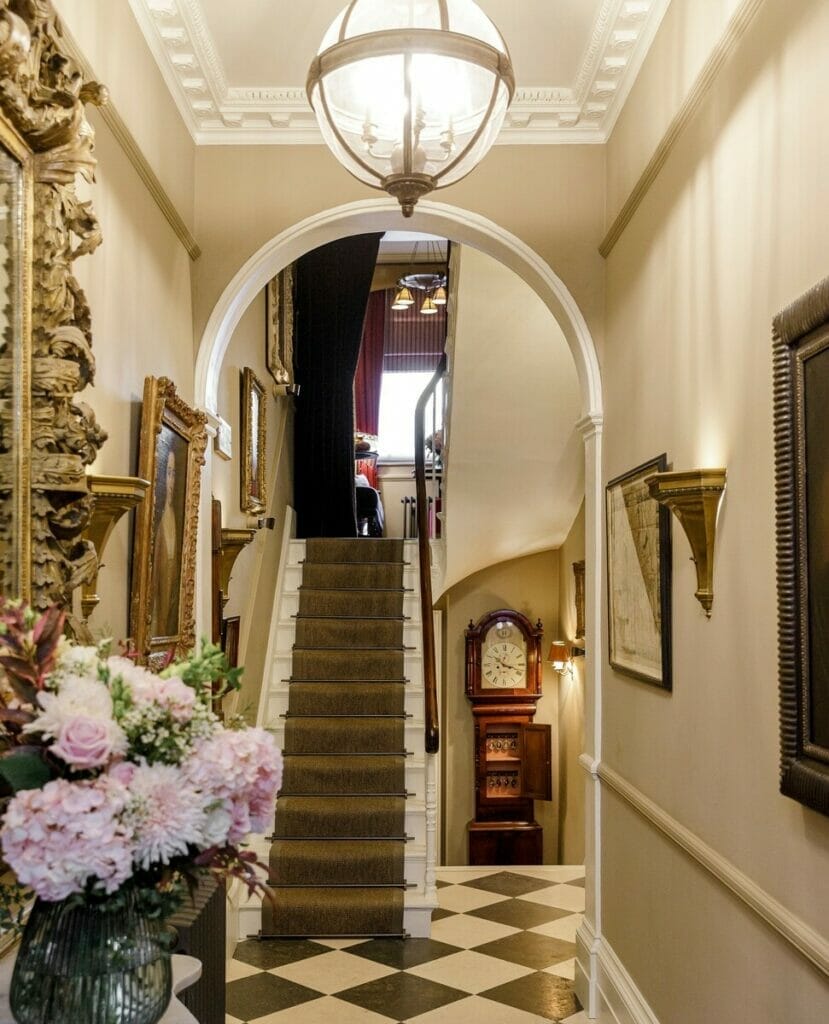 If you have always wanted to experience life as it was during the Regency era, book yourself in for a luxurious stay at Henry's Townhouse.
Named after Henry Austen, brother of acclaimed author Jane Austen, a stay at this elegant boutique hotel will have you feeling like you've stepped back in time, thanks to the four poster beds, plush velvet-decorated lounge areas and gilt-framed artworks.
Despite the traditional decor, you'll also have the comforts and amenities of modern luxury accommodation, such as Dyson hair dryers and a complimentary mini bar.
If you're visiting as a large group, you can even book out all the six rooms to treat yourselves to your own fully-private luxury townhouse experience.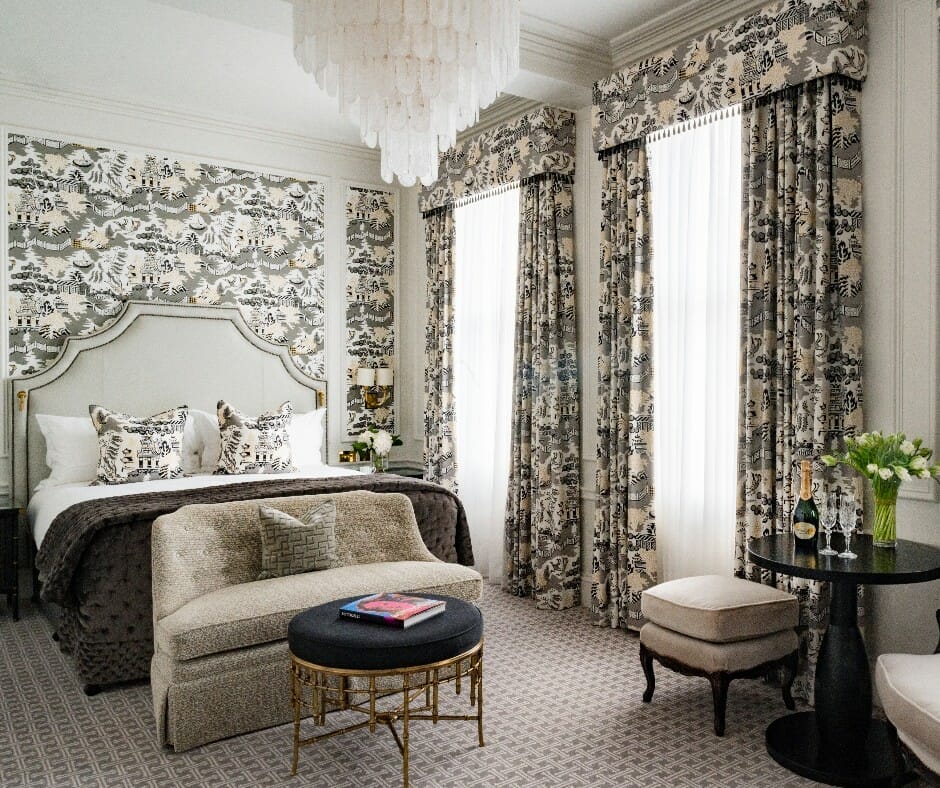 For a more modern option, The Marylebone Hotel offers a premium stay in striking design-centric rooms.
This luxury hotel has an on-site cocktail bar, a rooftop terrace overlooking London's skyline and a state of the art gym.
The light drenched rooms are designed for maximum comfort, including luxury bedding, fluffy bathrobes and heated underfloor tiles.
If your budget allows for a swanky stay, this is the place to check into.
UK Travel Planning Guide: the FAQs
🏥 Should I buy UK travel insurance?
Absolutely yes. Basic coverage is not expensive, and as a visitor you are NOT covered under the NHS. Compare policies and prices with Travel Insurance Master here, a big name in the travel insurance business, and cross that off your list.
🔌 Do I need travel adapters for the UK?
Yes, you do, otherwise you won't be able to plug in your electronics/phone/lifelines. I recommend this one, which is all-in-one so you can use it in other countries.
🚗 What do I need to drive in the UK?
The first thing you need to check out if you're planning on renting a car in the UK is this guide to driving in the UK for visitors – the roads, signs, and driving experience will likely not be what you're used to and it's essential to prepare yourself to stay safe and aware.
🛌 What's the best way to book hotels in the UK?
For UK hotels, Booking is the best site as it offers free cancellation on many properties. If you want an apartment, I always recommend VRBO over AirBnb.
📳 Will my phone work in the UK?
Yes – if you set it up right. Check out my guide on making your foreign phone work in the UK to ensure that you get the type of service you need.
🚿 Can I drink the water in the UK?
Yes, UK water is great and perfectly safe. But drink out of taps in any kitchen or use water fountains. Double check before drinking out of the taps in hotel bathrooms, though, as they may be on a different system.