This post contains affiliate links for which I may make a small commission to help keep the site running. You will not be charged extra for these items had you not clicked the links. Thank you for your help to keep the site running!
Ready to book the best Winston Churchill tours in London?
You've come to the right place because I'm covering the top 5 Churchill tours here!
How do I know?
I've lived in London since 2012 and have explored far and wide, so I know that one of the best things to do in London for World War II and Churchill lovers is to book a tour and explore.
Only quality tours are included in this list so you know that every tour you book is worth your money and time.
Want me to cut to the chase?
The best Churchill tour of London is this historical London walking tour with Churchill War Rooms entry.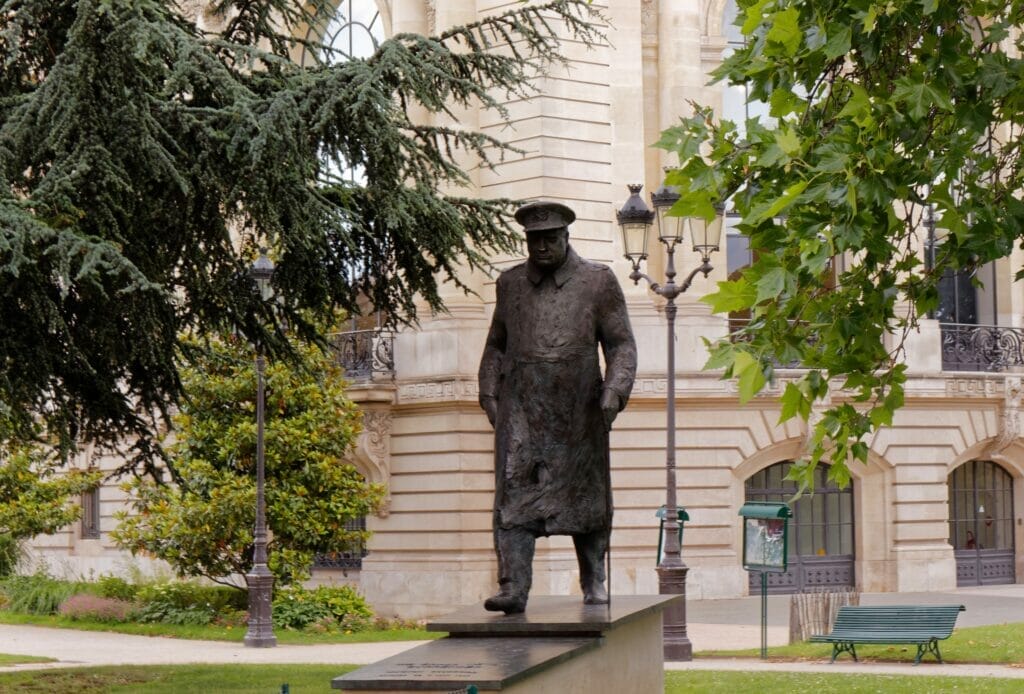 There are plenty of London Winston Churchill tours to choose from, most including entry to the Churchill War Rooms, so let's get right down to it.
In this list, you'll find 5 of the top-rated Churchill tours so you know you're making the right choice.
Easy Guide: Best Winston Churchill Tours in London
⭐️ RATING: 4.5 out of 5 Stars, 499+ reviews | ⏳ TOUR LENGTH: 2 hours 30 minutes | ✔️ BOOK NOW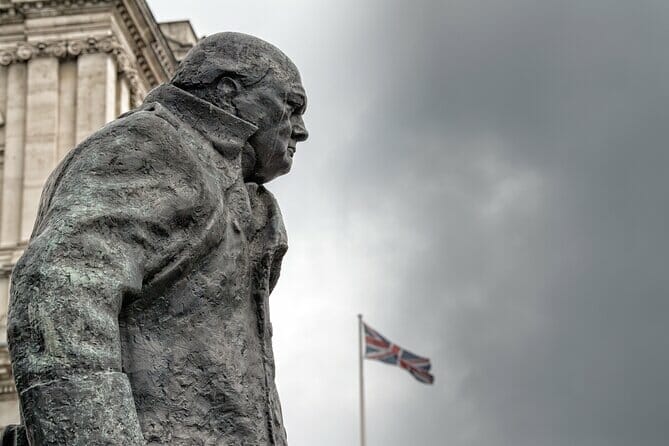 WHAT'S INCLUDED IN THIS TOUR
Entrance Ticket and reservation fee for the Churchill War Rooms
Audio guide and map of the Churchill War Rooms
Guided walking tour of Westminster Area
Small groups of 15 people or fewer
Looking for one of the best Winston Churchill tours?
Take a journey through the history of World War II on a guided tour of London Westminster.
Your knowledgeable guide will take you through the underground Churchill War Rooms, which were crucial offices during the war.
During the tour, you'll see famous London landmarks like the Houses of Parliament and Big Ben, while also learning about Winston Churchill, the former British prime minister.
"Really informative tour with invaluable skip the line access to the Churchill War Rooms. Michael was an excellent guide."
This isn't just a sightseeing tour; it's a chance to feel the emotions and stories of the city during WWII, including the tough days of the 'Blitz.'
Inside the Churchill War Rooms, you can explore the fascinating Churchill Museum at your own pace, gaining insights into the life and work of this remarkable leader.
The audio tour of the underground war rooms includes powerful recordings of Churchill's speeches that will move even the toughest of people.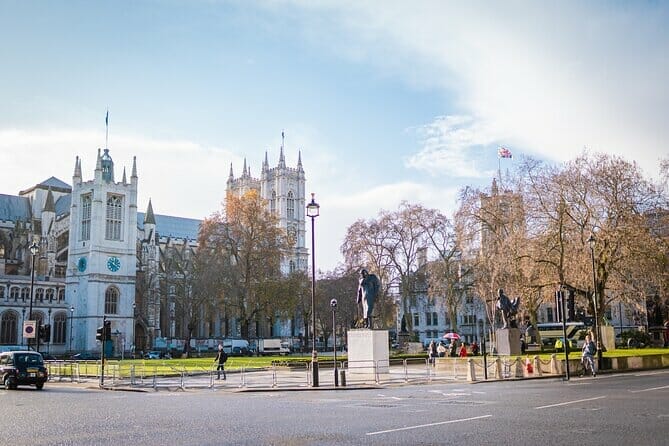 ⭐️ RATING: 5 out of 5 Stars, 77+ reviews | ⏳ TOUR LENGTH: 1 hour 30 minutes – 3 hours | ✔️ BOOK NOW
WHAT'S INCLUDED IN THIS TOUR
Guided tour of the City of Westminster
English Speaking local expert guide
Small group of max 15
Step back in time with this captivating World War II-themed walking tour of London, specially crafted for history enthusiasts.
As you stroll through the heart of London, you'll discover the stories behind some of the most significant landmarks of the war effort.
Westminster Bridge, once painted green for the Houses of Commons, still bears the scars of World War II bombings, and you'll hear the haunting tales of those fateful moments.
At the Houses of Parliament, witness how the bell of Big Ben fell silent, and the nation stood strong in the face of the Third Reich's looming threat.
"I learned so many new things about top sites like Big Ben, Westminster Abbey and 10 Downing St., in addition to all of the history about the city in general. Guide was very informative and really passionate about the topic which made for a really wonderful tour! I also love that the Churchill war room tickets are an add on to this tour."
Marvel at the resilience of Westminster Abbey, the last Anglo-Saxon king's dream and a bastion of the Church of England, as it survived the Blitz with the help of local heroes.
The grand finale of your tour is the iconic Churchill War Rooms, an underground labyrinth that served as the epicenter of the government's war effort.
Please note that this is a small-group tour, ensuring an intimate experience without struggling to hear your guide.
Best suited for mobile travelers, your walking tour lets you witness numerous London highlights while diving deep into their historical significance.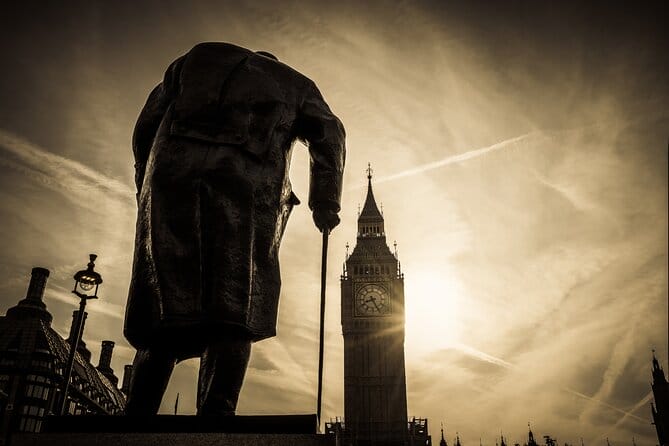 ⭐️ RATING: 4.5 out of 5 Stars, 14+ reviews | ⏳ TOUR LENGTH: 1 hour 30 minutes | ✔️ BOOK NOW
Explore the haunting remnants of London's past as you delve into the scars left by German bombing during the Second World War.
Book this captivating walking tour, where you'll be taken to the very spots where locals sought refuge in underground bomb shelters and witness the traces of buildings that once stood but were later cleared away.
"Excellent tour! Not only did I learn about WWII but also how the British are still learning today about the involvement of woman's roles during the war. Our tour guide was fun and answered many questions happily."
You'll also learn about the life of Winston Churchill and his role in the British government during the war.
You'll truly be walking in the footsteps of great leaders and heroes, as well as getting to explore the War Rooms themselves.
With a flexible schedule, this tour is ideal for travelers of all ages and interests, making it a perfect choice for families looking to delve into the rich tapestry of 20th-century history.
⭐️ RATING: 5 out of 5 Stars, 57+ reviews | ⏳ TOUR LENGTH: 4 hours | ✔️ BOOK NOW
WHAT'S INCLUDED IN THIS TOUR
Professional guide
Hotel pickup
Private tour
Entry Tickets to the Churchill War Rooms
Take a trip into the past on this exclusive private walking tour – a tribute to Winston Churchill.
Your adventure begins with a pickup from your hotel or a convenient meeting point of your choice.
Together with your guide, you'll delve into the captivating areas of Mayfair, Westminster, and Piccadilly, all of which hold a deep connection to Churchill's life.
"I have been on tours in many places, and by far Kevin gave us our best tour ever. The off the beaten path special history sites, and the personal places that Churchill went to were just amazing. Kevin had lots of facts of course, but also told great stories woven with great humor. I would recommend this tour most highly."
Your first stop takes us to Churchill's childhood home, where you'll gain unique insights into the early years that shaped the legend.
You'll then move on to the illustrious 10 Downing Street, the residence where Churchill made significant decisions that would leave a lasting impact on the world.
The tour continues to the cigar shop frequented by Churchill as well as the Churchill War rooms, a historic sanctuary that held pivotal moments that shaped history.
This tour company understands that each traveler is unique, so your private tour can be tailored to your preferences and requirements.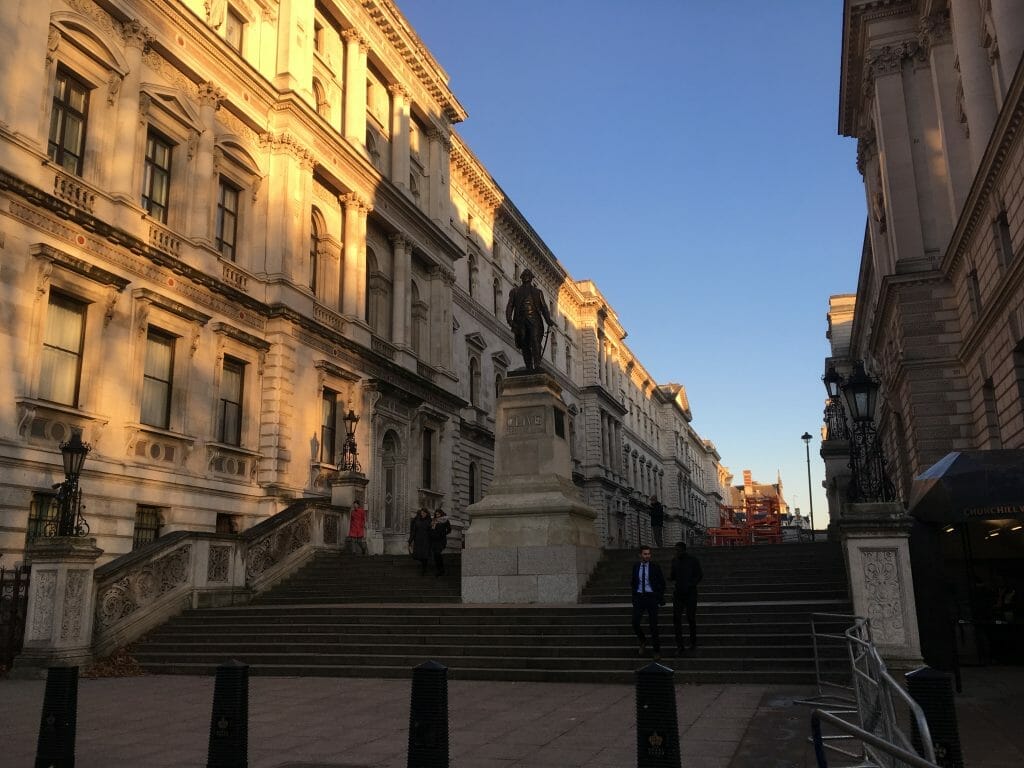 ⭐️ RATING: 5 out of 5 Stars, 33+ reviews | ⏳ TOUR LENGTH: 3 hours | ✔️ BOOK NOW
WHAT'S INCLUDED IN THIS TOUR
Guided walking tour of the city of Westminster
English-speaking local expert guide
Small groups of 15 people or fewer
Entrance to Churchill's War Rooms
Ready to head back to the 1940s?
With air raid sirens going off around you and Big Ben standing silent, it's a whole different world under the cover of darkness.
This incredible walking tour takes you through the past as you discover unwavering British resolve while enjoying local landmarks like the Houses of Parliament, Westminster Abbey, the Cenotaph, the Ministry of War and so much more.
"Richard was great. His knowledge of the area made the tour very enjoyable. His demeanor was very easy to listen to and enjoy."
This Churchill themed tour concludes at the War Rooms themselves, a network of strategic bunkers that once housed Churchill and his cabinet during crucial moments in the war.
Hey! Want more tours of London? Check these out!