This post contains affiliate links for which I may make a small commission to help keep the site running. You will not be charged extra for these items had you not clicked the links. Thank you for your help to keep the site running!
Before I talk about "how to dress in London," I want to make it very clear that whatever you want to wear, from your shoes to your shirt to your bag to your hair, is very likely not going to make you "stand out."
You may have read in other books about Londoners preferring darker colors, no one wearing shorts, and other generalizations, and while there is a slight truth to this, please be very aware that "Londoners" do not make up as much of London as you would think, particularly in the busier months.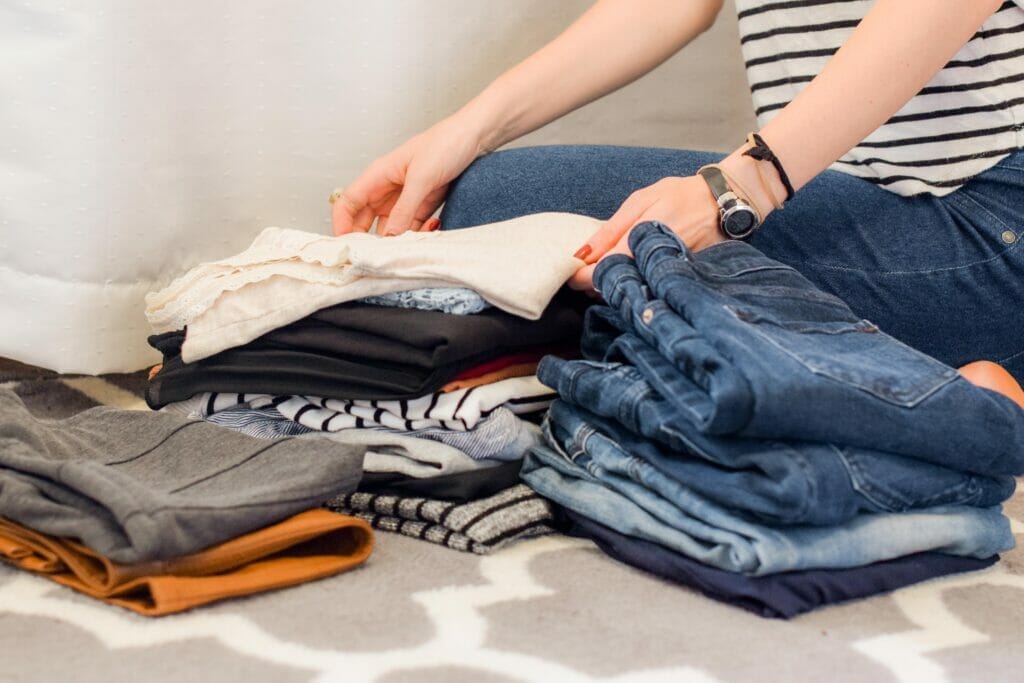 This is a thriving, giant, cosmopolitan city filled with people from all over the world, and you should first and foremost wear what makes you comfortable and feel confident.
It's almost impossible to stand out here, in a good way, as everyone is so eclectic that it just all blends together.
I also get the reason often that you "don't want to look like an XYZ" (often American as it's said mainly by Americans.)
And I get that.
I'm not advising you to wear your bald eagle 4th of July T-shirt and your tie-dye shorts (though, as I said, you can if you want to and most people won't think twice), but know that if you do decide to try and conform to general British/European fashion, you should do it because it makes you feel more confident and gives you an excuse to buy new clothes, not because you're worried about standing out or what people will think.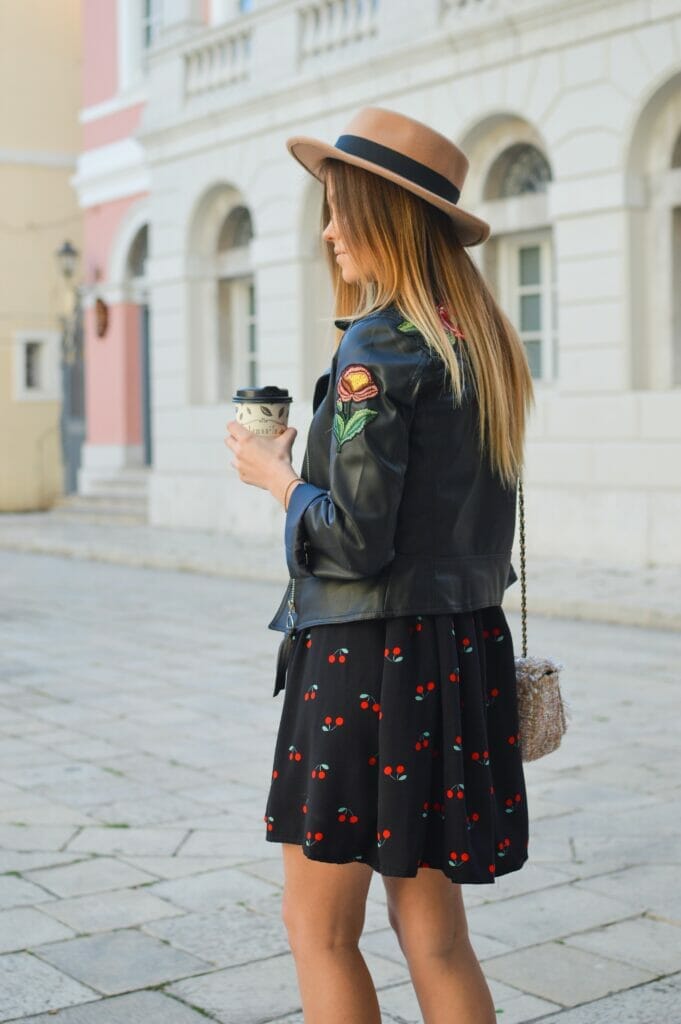 Whether or not you have on your bald eagle shirt, Brits will usually have a way of knowing you're foreign anyway – as soon as you open your mouth, for instance!
IMPORTANT: are you coming to the UK from abroad?
In case you're reading this from outside the UK and will be a foreign visitor here, you need to know these 2 things to stay safe and save money.
Travel insurance – you need it when going overseas! I use

this site

to get the best quotes and purchase my packages from. Do not skip this – having medical coverage abroad as well as other coverage in case of missed flights, lost luggage, etc is essential. As I said, I have never gone wrong using

this site

.
Of course, you will find that if you explore places outside of big cities, you may find that people do dress more similarly to what is considered British fashion because there is a larger concentration of Brits in one place and not as many tourists, but I've lived in the UK (not just London) for 8 years and still wear shorts in the summer, flip-flops, and a bright pink rain jacket.
Not once has anyone cared, not once have I felt like I stood out, and not once have I wished I tried harder to "blend in" because it's 2022 and the world is blending so much anyway, better to be who you are!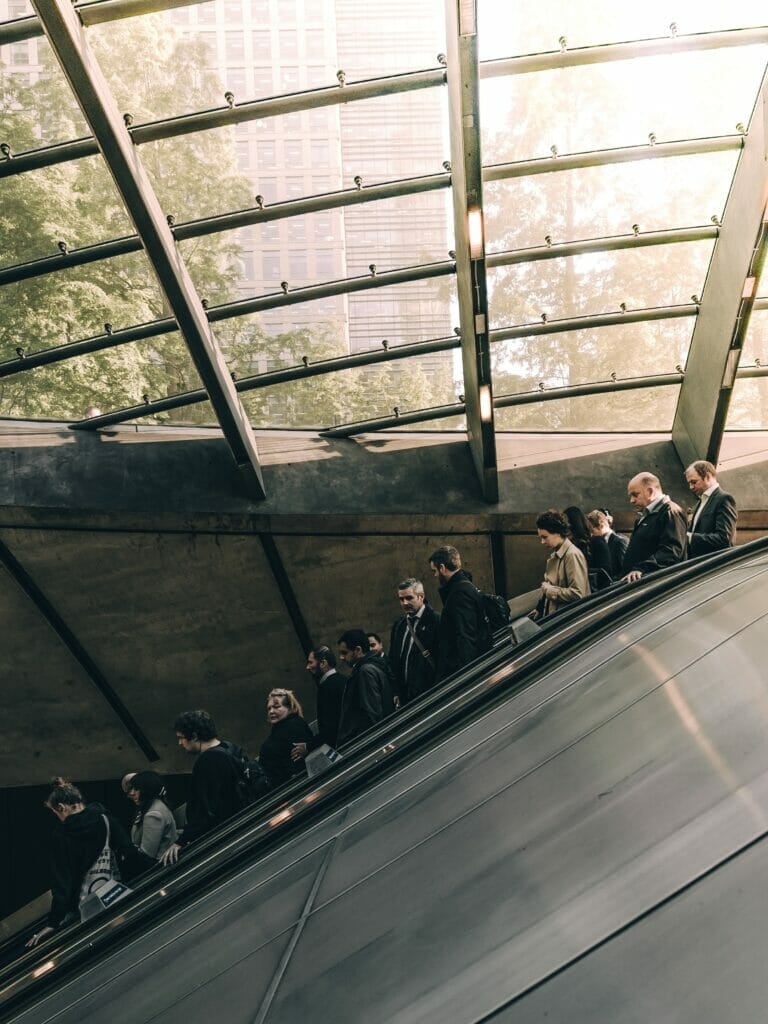 That all being said, here are some fashion tips if you do want to know what to wear in London (all massive generalizations of course, but a good starting point!)
Firstly, Londoners dress up more than, say, Americans, but not so much that they're always about the rock the runway.
Think of it as "put-together casual" instead of "business casual" and you're pretty much there.
If you're here as a visitor, you don't need to look like you're ready for a business meeting at all times with high heels and a pencil skirt, but a nice top with a dark pair of jeans and some non-Sketchers shoes would do nicely!
GET A

FREE

LONDON INTRO GUIDE and ACCESS TO MY FB GROUP
Start your planning with this "Intro to London" guide and access to my London planning Facebook group!
The Absolute Must-Knows (from a Londoner)
What to Wear in London: Colors and Patterns in London
It's a pretty true stereotype that more natural colors are favored by many Brits.
But again, in London, you're not just surrounded by Londoner Brits, you're surrounded by people from all over the world.
Darker colors are definitely more of a London vibe, however, particularly if you're visiting London in the autumn and winter, as well as muted patterns.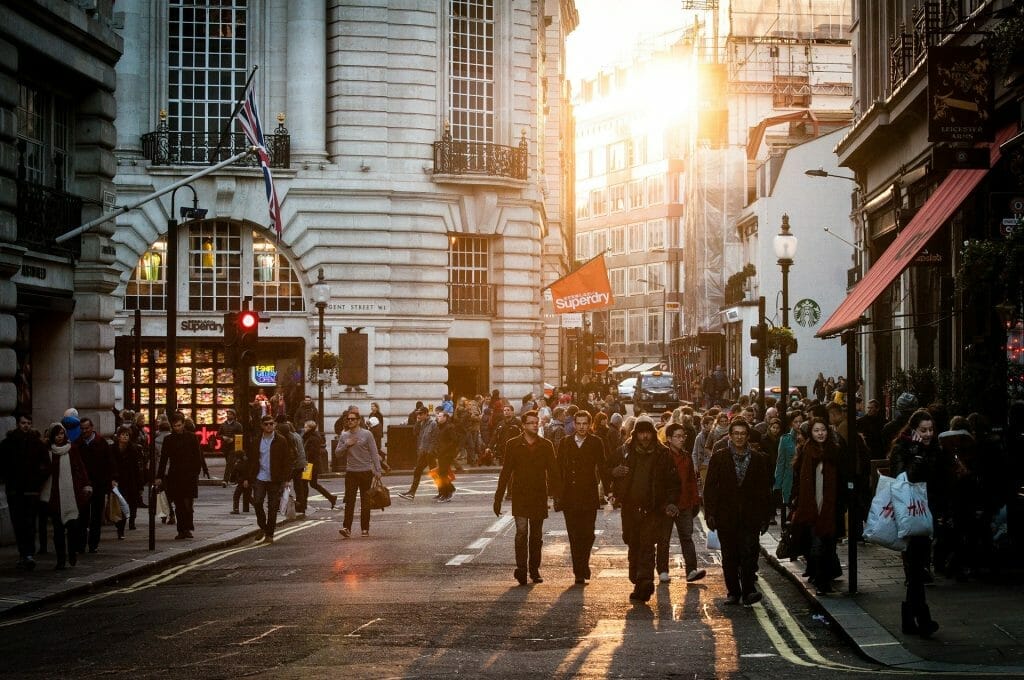 Stripes are very common!
Not so much sweaters with giant cat prints or something like that.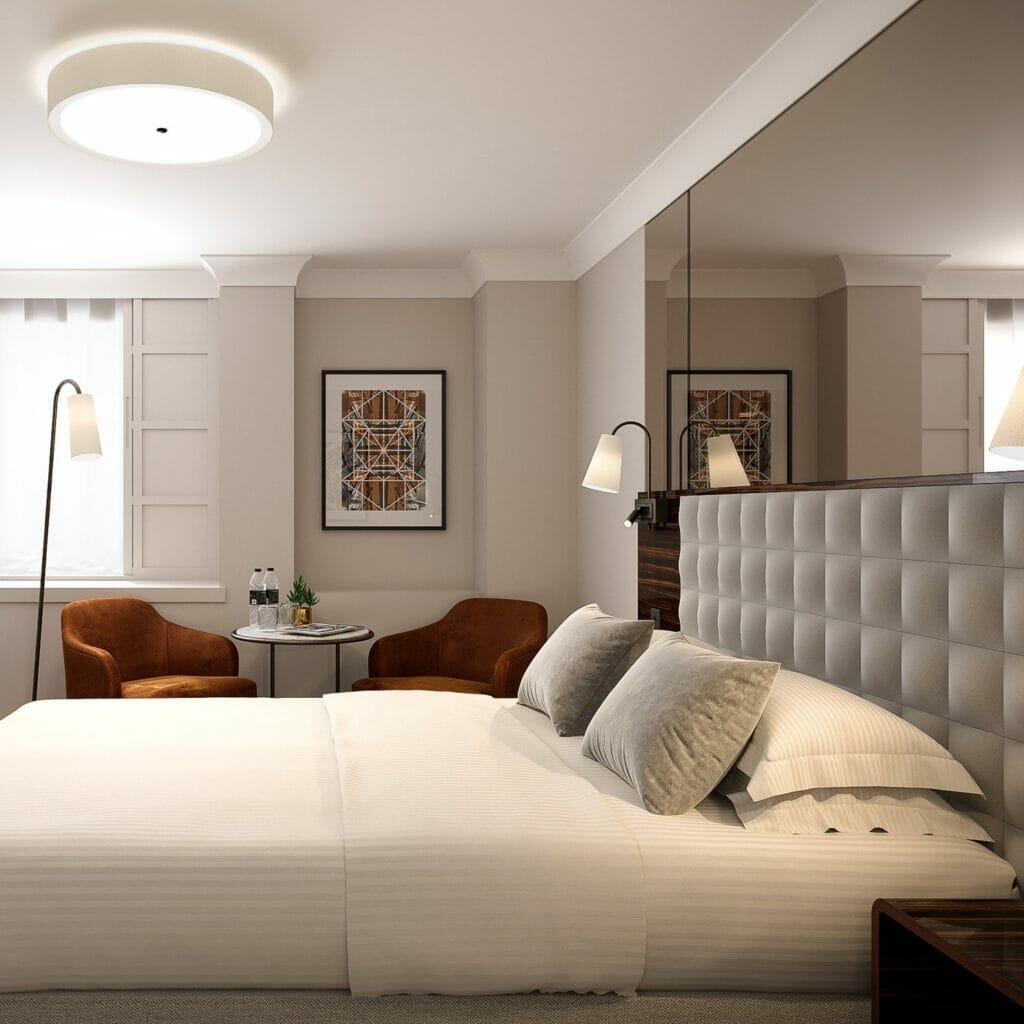 What to Wear for Men in London
For men, dark pants (called trousers) or dark jeans are popular, not so much light-washed jeans.
Basic shirt colors and plain color sweaters would complete the look and are great for the London packing list.
As for shoes, either a "nice" pair of tennis shoes or some other basic men's shoe would be popular – not so much white sneakers, running shoes, or hiking boots!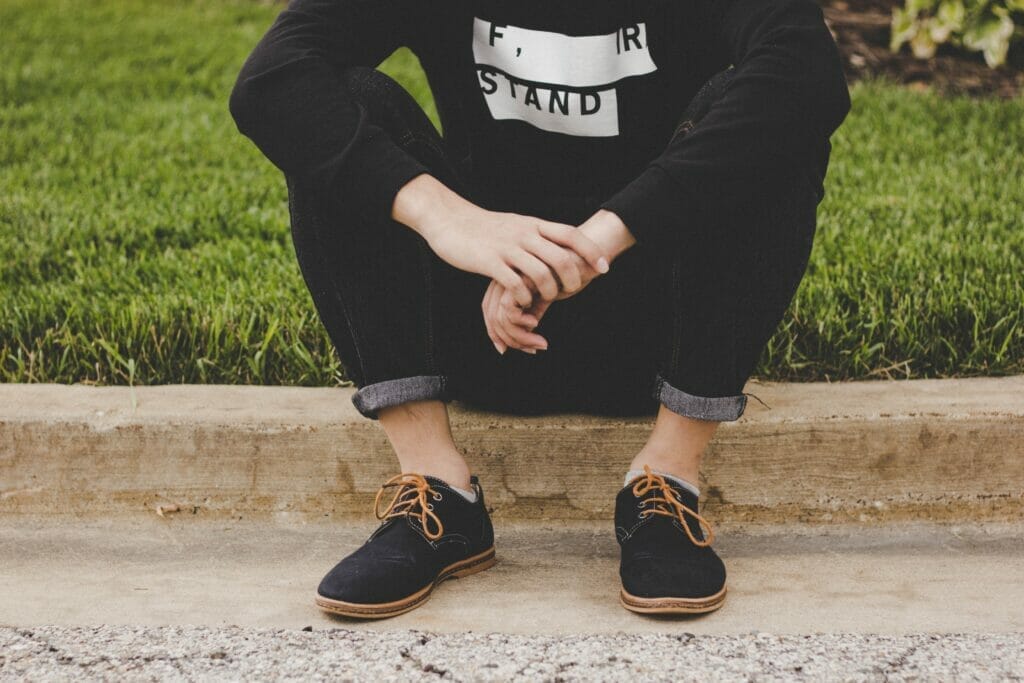 Jackets, as in, dressy jackets, not hiking jackets, are also popular for men to layer over their look.
What do women wear in London?
The stereotypical dress sense for women in London could be anywhere from dark jeans and a nice blouse to a cozy, oversized sweaters, leggings and knee high boots to a cardigan and a dress with tights and flats.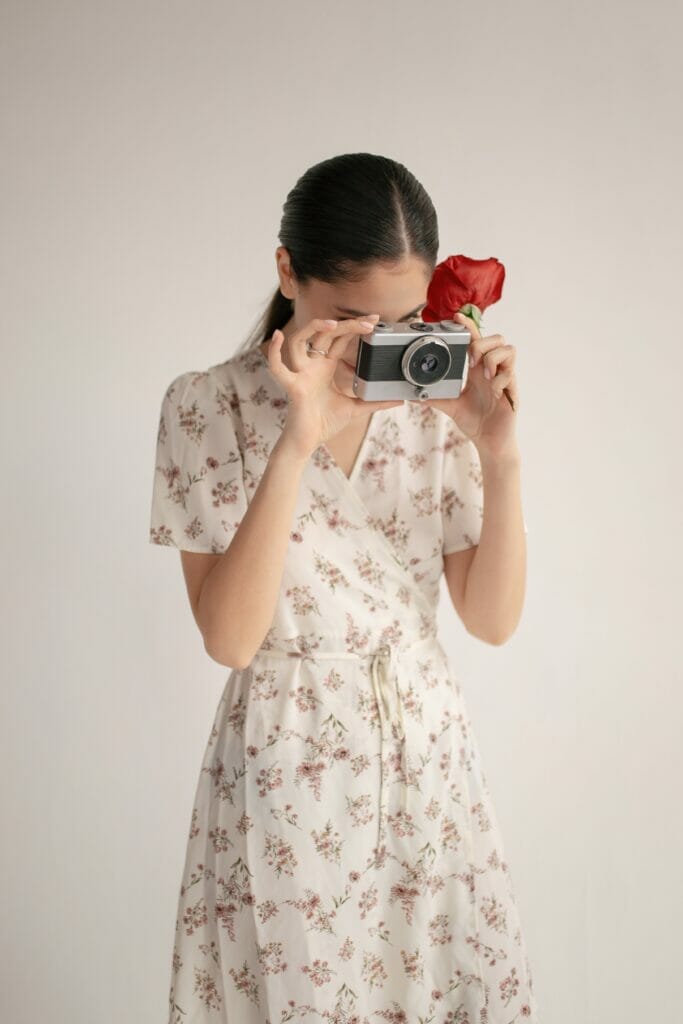 Boots are definitely popular, but not hiking boots or UGGS boots – fashion boots or ankle high boots.
If you want to know how to dress in London, you should know that sneakers are worn, but they're usually the "fashionable sneakers" rather than ones you would actually use to run a marathon.
Flats are popular as well, and of course heels for a dressier occasion like a fancy afternoon tea in London.
Accessories
Accessories are a great way to jazz up your look to feel a bit more put together in your London packing wardrobe.
You won't find so much "chunky" jewelery as a trend in London, but nice necklaces, bracelets, earrings and rings can take your outfit to the next level.
Also, hats!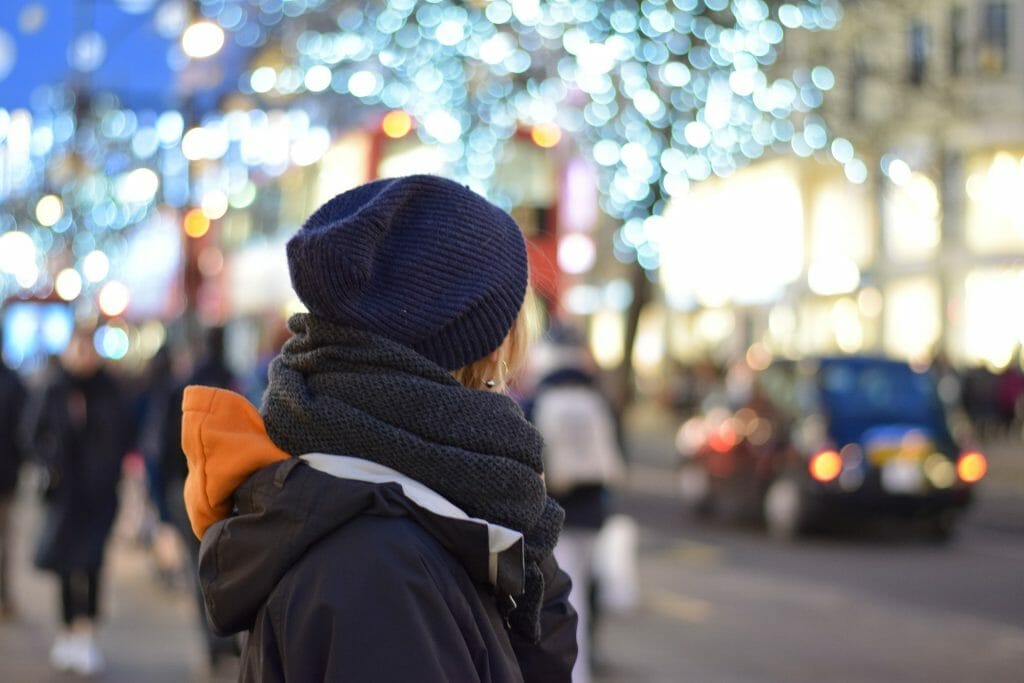 Baseball caps and visors are definitely not a London thing, but other types of hats like beanies in the winter in London are worn.
Bags and Purses
Believe it or not, backpacks are one of the most popular things to carry in London, particularly for commuters who are out all day.
Otherwise, just any type of handbag would fit in, besides a fanny pack!
This isn't Disney World!
Want more London travel guides? Check these out!
UK Travel Planning Guide: the FAQs
🏥 Should I buy UK travel insurance?
Absolutely yes. Basic coverage is not expensive, and as a visitor you are NOT covered under the NHS. Compare policies and prices with Travel Insurance Master here, a big name in the travel insurance business, and cross that off your list.
🔌 Do I need travel adapters for the UK?
Yes, you do, otherwise you won't be able to plug in your electronics/phone/lifelines. I recommend this one, which is all-in-one so you can use it in other countries.
🚗 What do I need to drive in the UK?
The first thing you need to check out if you're planning on renting a car in the UK is this guide to driving in the UK for visitors – the roads, signs, and driving experience will likely not be what you're used to and it's essential to prepare yourself to stay safe and aware.
🛌 What's the best way to book hotels in the UK?
For UK hotels, Booking is the best site as it offers free cancellation on many properties. If you want an apartment, I always recommend VRBO over AirBnb.
📳 Will my phone work in the UK?
Yes – if you set it up right. Check out my guide on making your foreign phone work in the UK to ensure that you get the type of service you need.
🚿 Can I drink the water in the UK?
Yes, UK water is great and perfectly safe. But drink out of taps in any kitchen or use water fountains. Double check before drinking out of the taps in hotel bathrooms, though, as they may be on a different system.