This post contains affiliate links for which I may make a small commission to help keep the site running. You will not be charged extra for these items had you not clicked the links. Thank you for your help to keep the site running!
Dover, England is one of the most beautiful places on the English coastline and a popular day trip for visitors to London.
You may have found this article because you're wondering how to get from London to Dover, and in this guide, I'll show you everything from how to get from London to Dover by train, the cheapest way to get from London to Dover, and the London to Dover bus options.
But why Dover?
Well, there are plenty of things to do in Dover, including Dover Castle and wonderful walks along the famous cliffs, along with a Dover Sea Safari.
There are some great pubs, a family-friendly atmosphere, and many cruises depart from here, including Disney ones!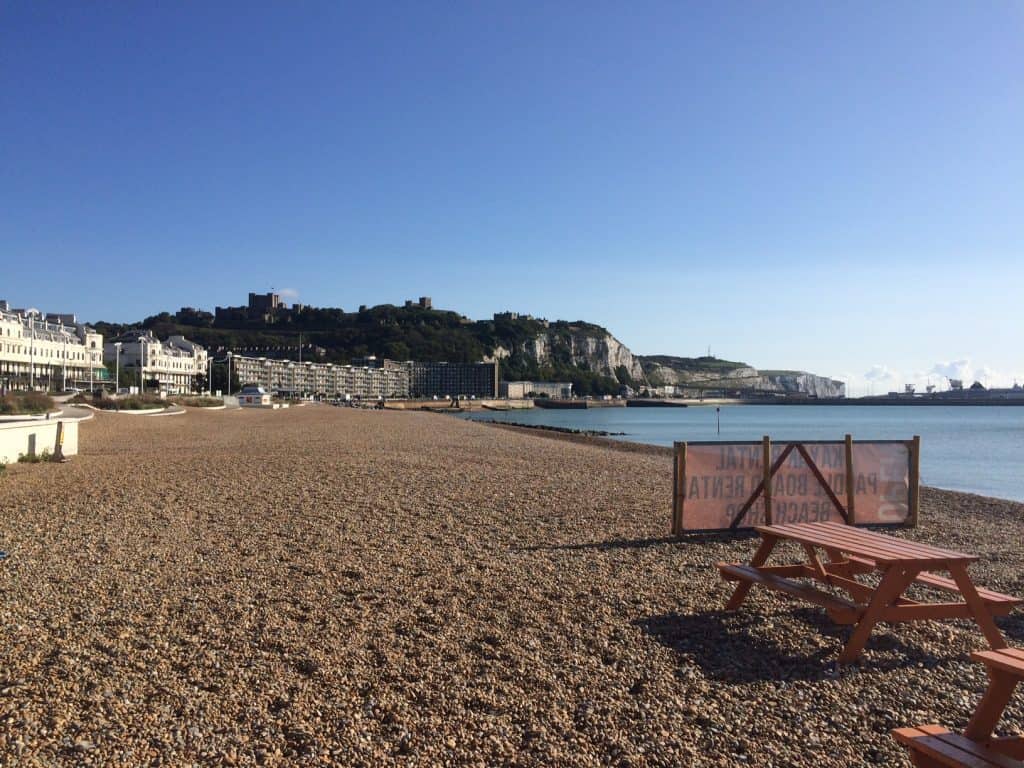 So whether Dover is just a day trip from London for you or you're needing to head down for longer, here are all of the ways of getting to Dover from London.
GET A

FREE

LONDON INTRO GUIDE and ACCESS TO MY FB GROUP
Start your planning with this "Intro to London" guide and access to my London planning Facebook group!
Expert tip for all types of public transportation in the UK: the best way to figure out your best options is to click here to use Omio (free), where it'll show you the prices, options (including buses, trains, taxis, ferries, and even flights) and help you compare the cheapest and fastest routes.
Distance to Dover from London
At its closest drive, Dover is about 76 miles from central London on the southeast side of the city, at the "bottom" of England.
You can actually see France from Dover on a clear day!
IMPORTANT: are you coming to the UK from abroad?
In case you're reading this from outside the UK and will be a foreign visitor here, you need to know these 2 things to stay safe and save money.
Travel insurance – you need it when going overseas! I use

this site

to get the best quotes and purchase my packages from. Do not skip this – having medical coverage abroad as well as other coverage in case of missed flights, lost luggage, etc is essential. As I said, I have never gone wrong using

this site

.
How to Get to Dover from London by Public Transportation
If you're coming to London, one of the main London mistakes you can make is not using public transportation.
London and the rest of the UK often run on public transportation rather than driving.
Not only is it better for the environment, but it's often cheaper and much less hassle.
If you're interested in taking the train from London to Dover or looking into your bus options, I've put all of the information in one place so you can plan your trip more easily.
Don't forget to get to your train station or bus stop early in case they change the departure point, and to leave time for delays.
The one downside of public transportation is that you don't have as much control as when you drive.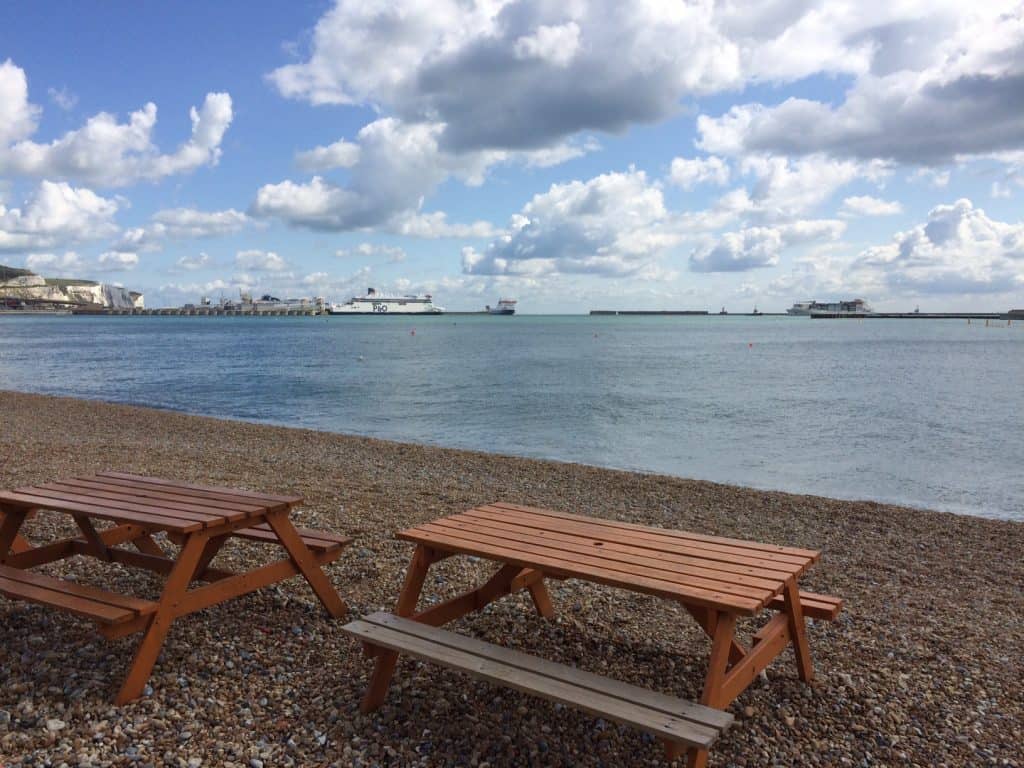 Getting to Dover from London by Train
The train is the absolute easiest way to get from London to Dover, as you can get trains that don't require you to change lines.
I buy the cheapest train tickets from London to Dover via Omio, where you can compare prices and times.
The prices start at about £11 for a one way ticket (called a "single" in the UK), and is a great way to see a new city for not much money.
It would cost way more than £11 to rent a car and drive down to Dover, that's for sure!
The trains from London to Dover usually depart from London Charing Cross Station, London Victoria Station or London Bridge Station, but you can choose "London (Any)" in Omio and it will show you all of the options.
The name of the Dover stop that you're looking for is "Dover Priory."
It takes about 2 hours to get from London to Dover by train, which is much preferable to the bus or driving journey which I'll talk about in a minute.
There are some train options that include changing trains, but most are "direct" and will simply stop along the way to pick up new passengers and keep going.
The earlier you purchase your tickets, the better.
There are also "peak" and "off peak" tickets, depending on the time of day you travel, so use Trainline to compare prices and consider traveling outside commuting hours if possible.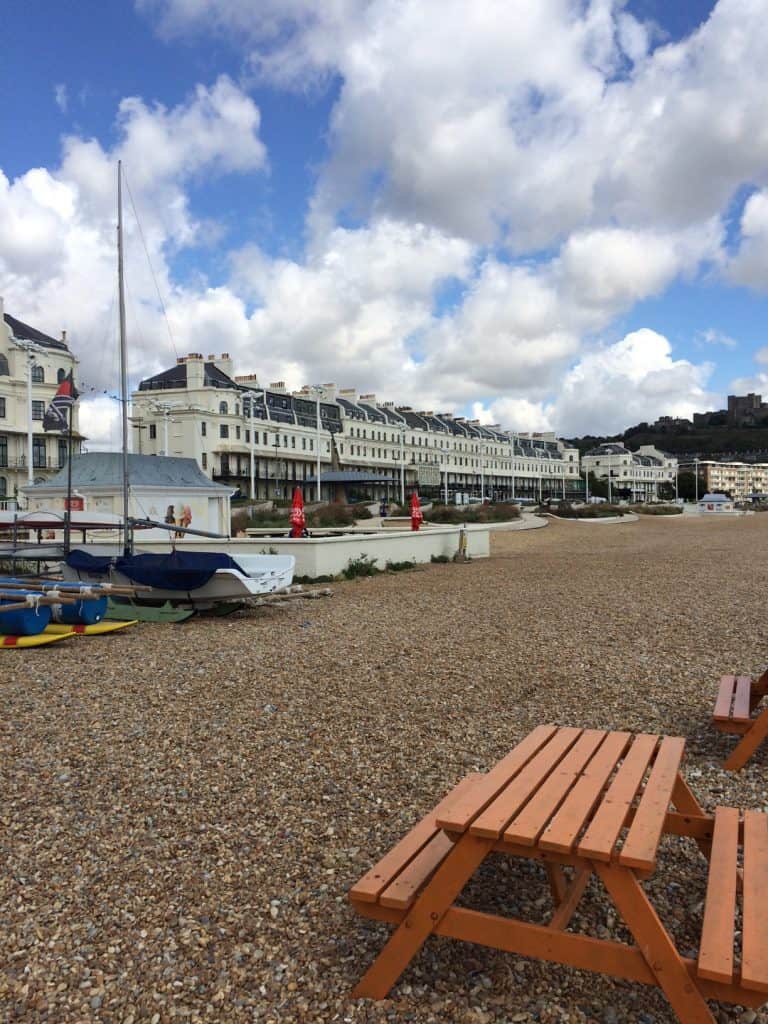 Taking the Bus from London to Dover
If trains aren't your thing, the next option for public transportation from London to Dover is via bus.
You can book bus tickets on the Omio website, and they start from about £8.
Buses from London to Dover leave from London Victoria Coach Station, and they take anywhere to 2 and a half to 3 and a half hours as listed on the website, which can quickly balloon in bad traffic.
I would only recommend taking the bus from London to Dover if you have issues with trains, the trains are cancelled, or you are on a strict budget and the train prices to Dover have gone up substantially.
The time you will lose sitting on the bus doesn't make up for the slight savings in most cases.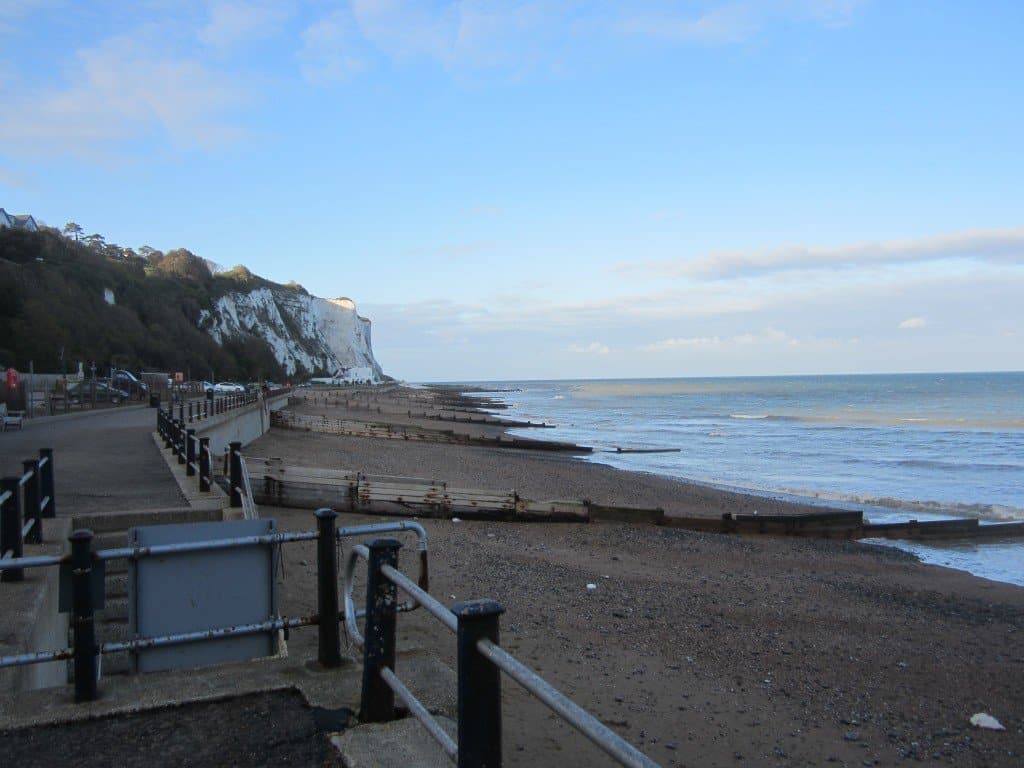 Driving from London to Dover
If you're a visitor to London, I don't recommend you drive to Dover.
Firstly, you'd need to rent a car and drive through London in order to get out of London and on your way to Dover, which is a terrible idea.
If you don't have a car in the UK, you'll want to rent one using Discover Cars for the best comparison prices.
London driving is scary even for most Brits, and if you don't already drive on the left side of the road, it can be fraught with danger.
Driving can also take upwards of 3 and a half hours, if not more, compared to the 2 hours spent on the train.
On the train, you get to sit back, look out the window, and not worry about how much traffic there is at that time of day as you know the train lines aren't affected by traffic!
The cost of driving from London to Dover, too, is extortionate for a visitor as you'd need to rent a car and also take care of parking costs and gas costs.
Don't drive from London to Dover if you're just a visitor without car access.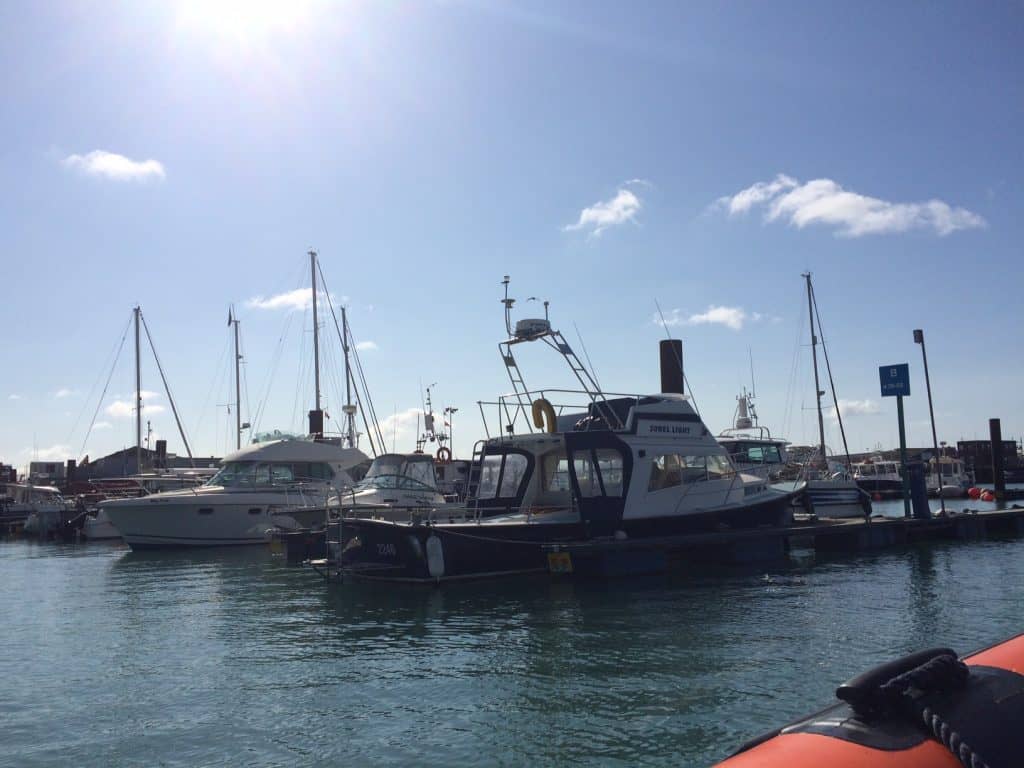 Taking a Guided Tour to Get from London to Dover
If you want more structure in your trip from London to Dover, you can do it by way of a guided tour.
Not only does this mean you see more, but you also don't have to worry about your transportation as you'll be given a meeting place and then you just have to get yourself there.
Most guided day trips from London to Dover are going to include multiple stops.
This one takes you to Dover and Canterbury, which are close to each other and both worth seeing.
This one helps you take in even more, including Dover, Canterbury, and Leeds Castle.
The thing to remember about a guided tour is that you're sacrificing your freedom in exchange for the knowledge that someone else is in charge of helping you get places.
For some people, knowing that they can just follow along and not have to navigate themselves is pricless.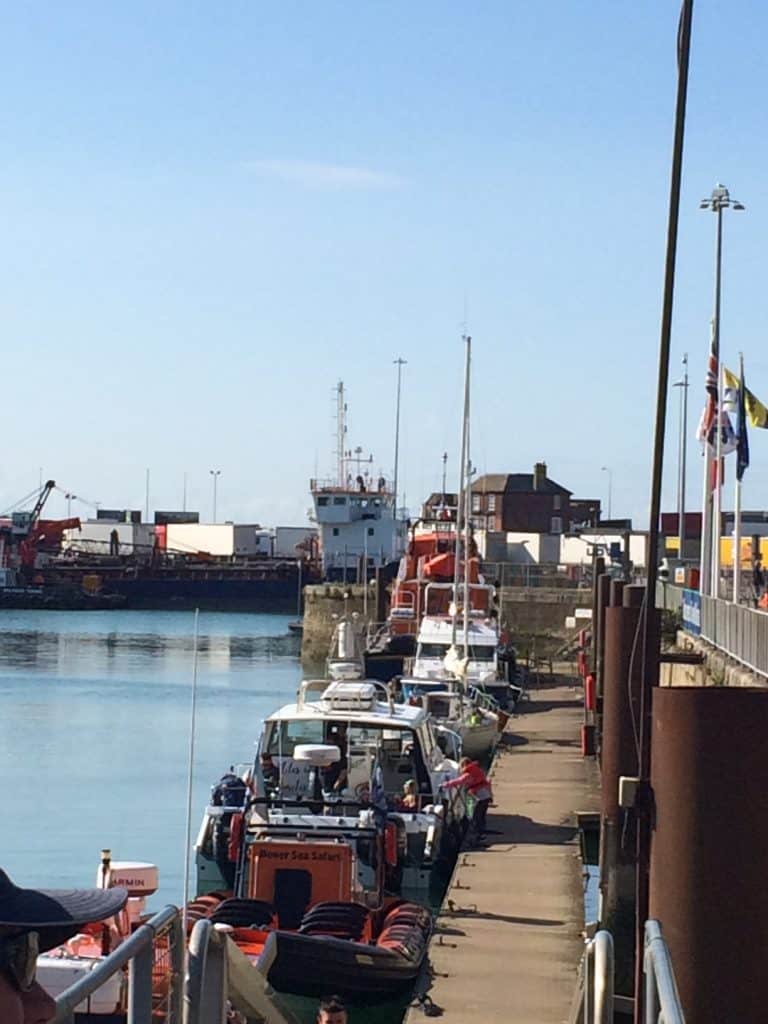 For others, it's frustrating.
Knowing what kind of traveler you are is going to help you decide on the best way to get from London to Dover and back again!
Want more UK travel help? Check out these guides!