This post contains affiliate links for which I may make a small commission to help keep the site running. You will not be charged extra for these items had you not clicked the links. Thank you for your help to keep the site running!
From the Canterbury Tales to the famous walls that surrounded this city, Canterbury is a popular day trip for London visitors and one of the most beautiful places in England.
Figuring out how to get to Canterbury from London is the most important part in pulling this day trip together, though.
In this guide, I'll explain the major options you have when traveling to Canterbury from London, including the train, bus, and guided tours.
Don't miss the Canterbury Cathedral and the rest of the magical things to do in Canterbury including a quaint boat ride down the river or a historic escape room!
GET A

FREE

LONDON INTRO GUIDE and ACCESS TO MY FB GROUP
Start your planning with this "Intro to London" guide and access to my London planning Facebook group!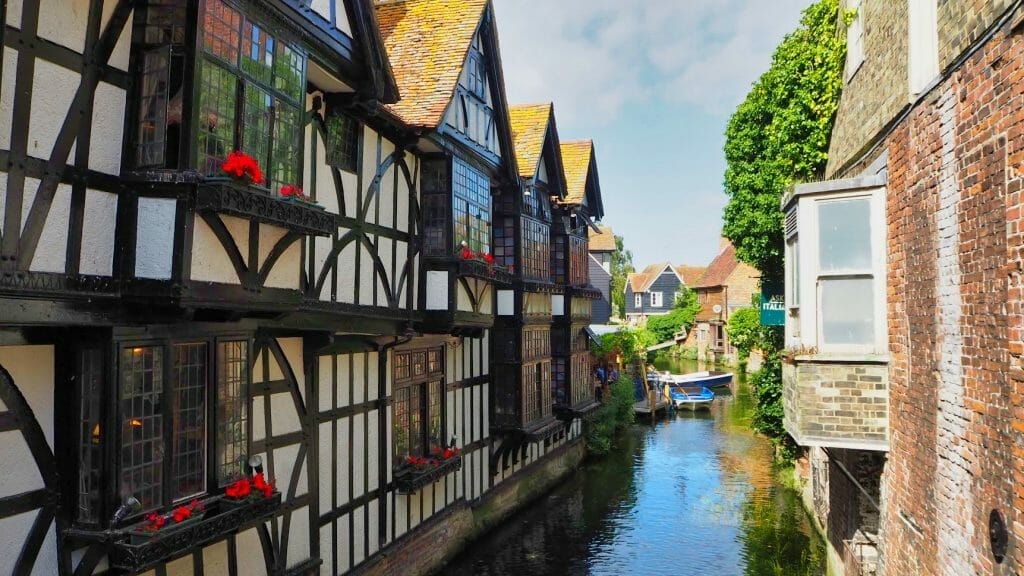 Expert tip for all types of public transportation in the UK: the best way to figure out your best options is to click here to use Omio (free), where it'll show you the prices, options (including buses, trains, taxis, ferries, and even flights) and help you compare the cheapest and fastest routes.
Driving from Canterbury to London
The first option that I want to get out of the way is driving from London to Canterbury (or going the opposite way).
If you don't have a car in the UK, you'll want to rent one using Discover Cars for the best comparison prices.
Driving in the UK isn't necessary for visitors to London who just want to go on day trips, and I wouldn't recommend it.
The drive from London to Canterbury can be 2 hours during good traffic times, and longer if you get stuck behind an accident or some other road blockage.
This is longer than it will take you by train, and also you'd have to deal with renting a car, paying for gas, and figuring out parking.
Not worth it!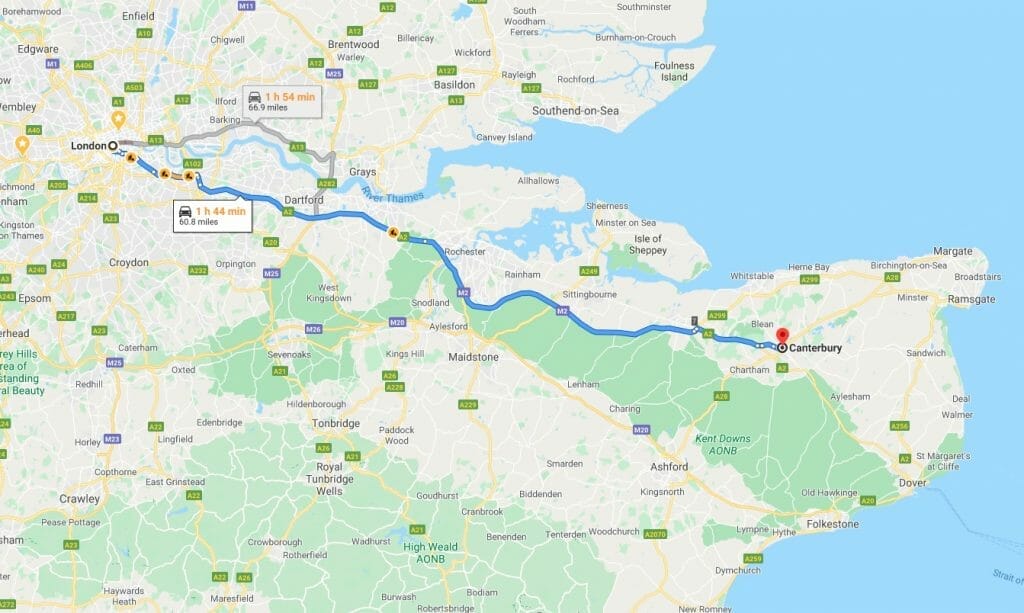 How to Get from London to Canterbury on Public Transportation
The best way to travel to Canterbury from London is to use public transportation.
Public transportation is really popular in the UK as everything is so well connected, and you'll find everyone from soccer moms to businesspeople on the trains and public buses.
This is in contrast to some parts of the world, like much of the US, that is car-heavy and doesn't have much in the way of public transportation to speak of.
When in London, do as Londoners do and hop on some public transportation to enjoy beautiful views of the countryside as you travel and the knowledge that you can just sit back with your headphones and watch the world go by rather than panicking that you don't understand how to use a roundabout.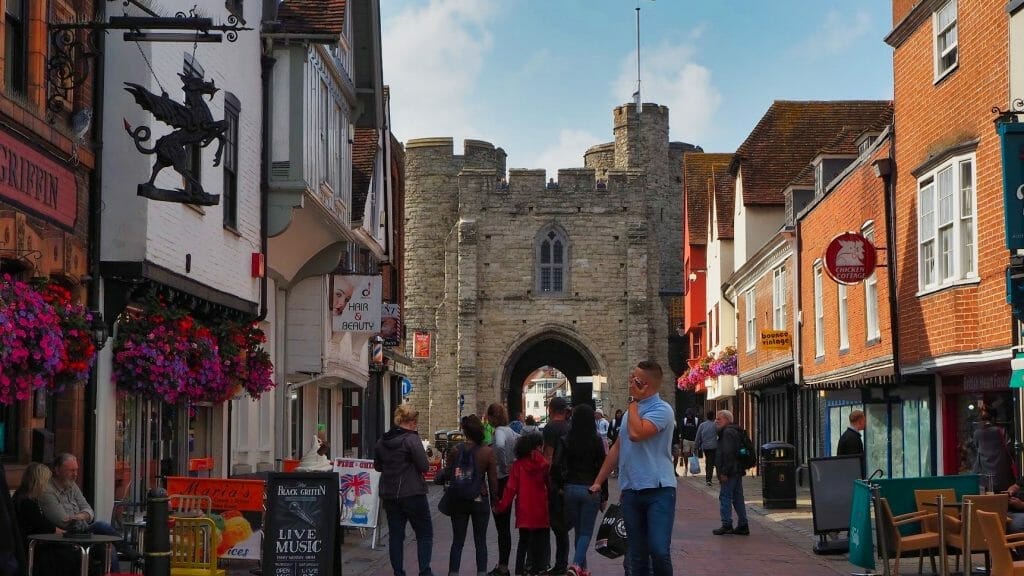 Taking the Train from London to Canterbury
The best way to get to Canterbury from London is to take the train.
I purchase my tickets using Omio, which shows you all of the options for the time and date you plug in, including options both before and after your ideal time so you can compare prices.
The two main routes to Canterbury run from a few different train stations so pay close attention to which one you book from.
Options include London Victoria, London Charing Cross, London St. Pancras and London Bridge.
Tickets for a one way ticket from London to Canterbury can be as low as £11, but you need to purchase them in advance for the best deals – though, not usually more than 12 weeks in advance as the best deals often start then.
You can choose to have your tickets e-mailed to you or you can choose to pick them up at the train station so you don't lose them.
Remember when buying tickets that there is a "single" ticket which is a one way ticket, a "return" ticket which is a round trip ticket, a "peak" ticket which is during the most expensive commuting hours and an "off peak" ticket which is outside of those hours.
It will say on your ticket if you have an assigned seat, but mostly it's a free-for-all to sit where there is a free option.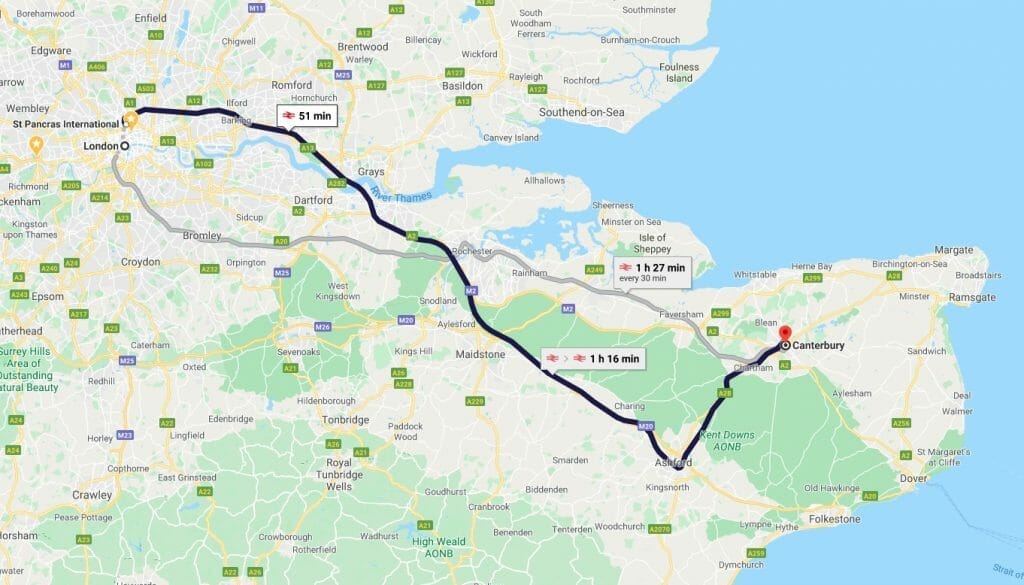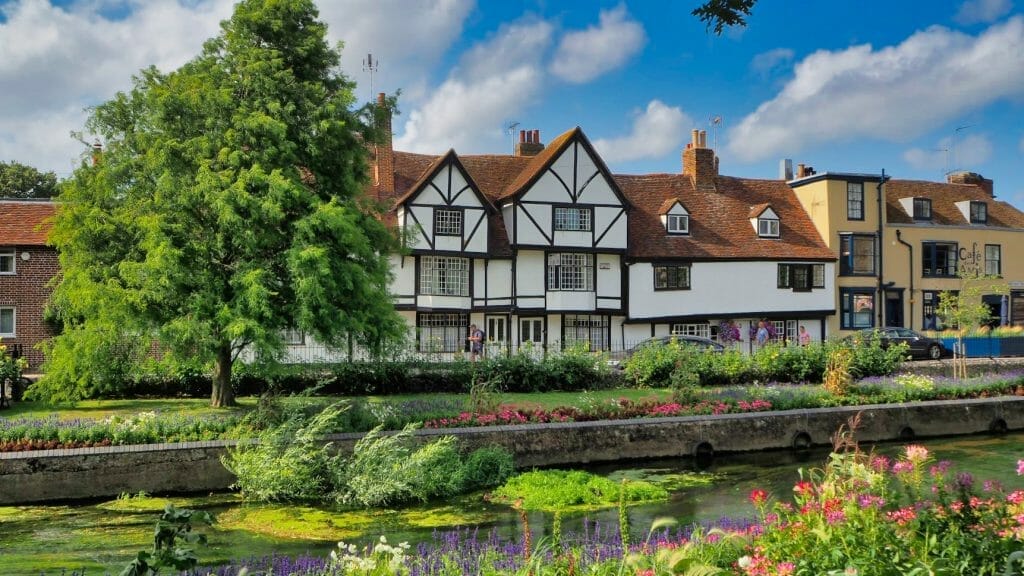 Getting the Bus from London to Canterbury
If you're on a strict budget, the bus from London to Canterbury is cheaper than the train and you can get a one way ticket for about £5 through the Omio website.
The trip takes 2 hours, or a bit more if you're stuck in traffic, and they leave from London Victoria Bus Station to Canterbury Bus Station.
I would still recommend the train to get to Canterbury faster, but this is a good budget option that doesn't require you to drive.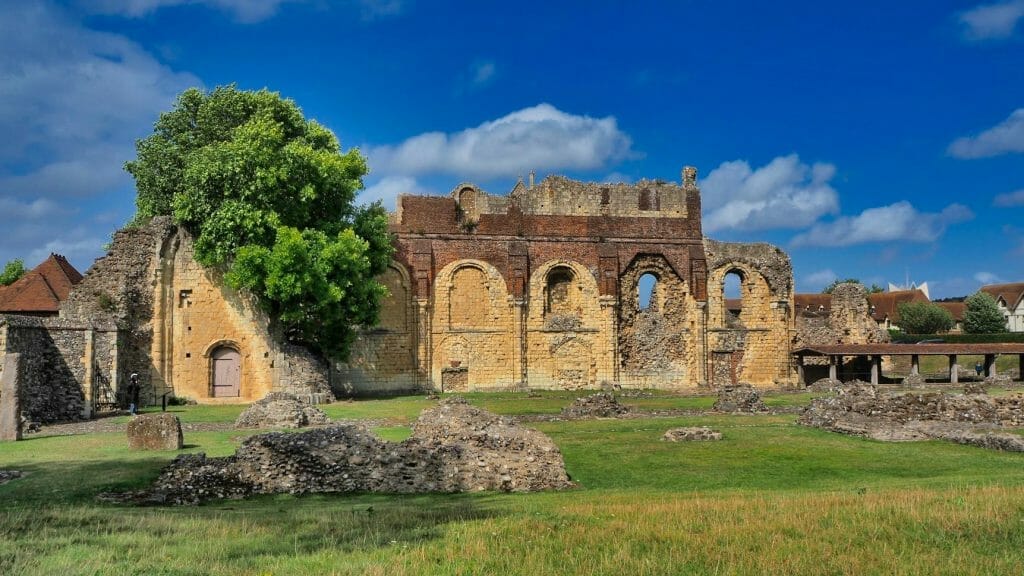 Taking a Guided Tour from London to Canterbury
If you want to take a guided tour to Canterbury, there are quite a few good options that stop at Canterbury while also showing you other areas in the south of England.
I particularly recommend this tour of Canterbury, Dover, and Leeds Castle, which takes you to all three places and you can see Canterbury Cathedral, the cliffs of Dover, and the stunning beauty of Leeds castle.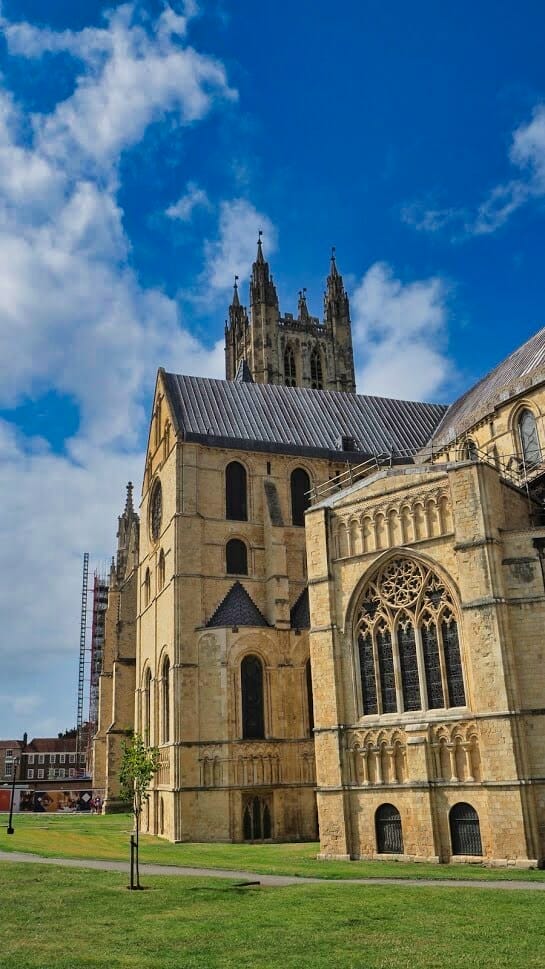 Want more UK travel help? Check out these guides!