This post contains affiliate links for which I may make a small commission to help keep the site running. You will not be charged extra for these items had you not clicked the links. Thank you for your help to keep the site running!
Whether you know of Dover (England, though there are many) from its famous mention in the song, "White Cliffs of Dover" or the towering Dover Castle or maybe you just know it as a cruise port, there are plenty of reasons to visit this coastal town in the south of England, one of the most beautiful places in England.
Finding things to do in Dover, England is also not difficult, as the location on the water provides plenty of activity options and the wartime history of the area and its castle are not to be missed.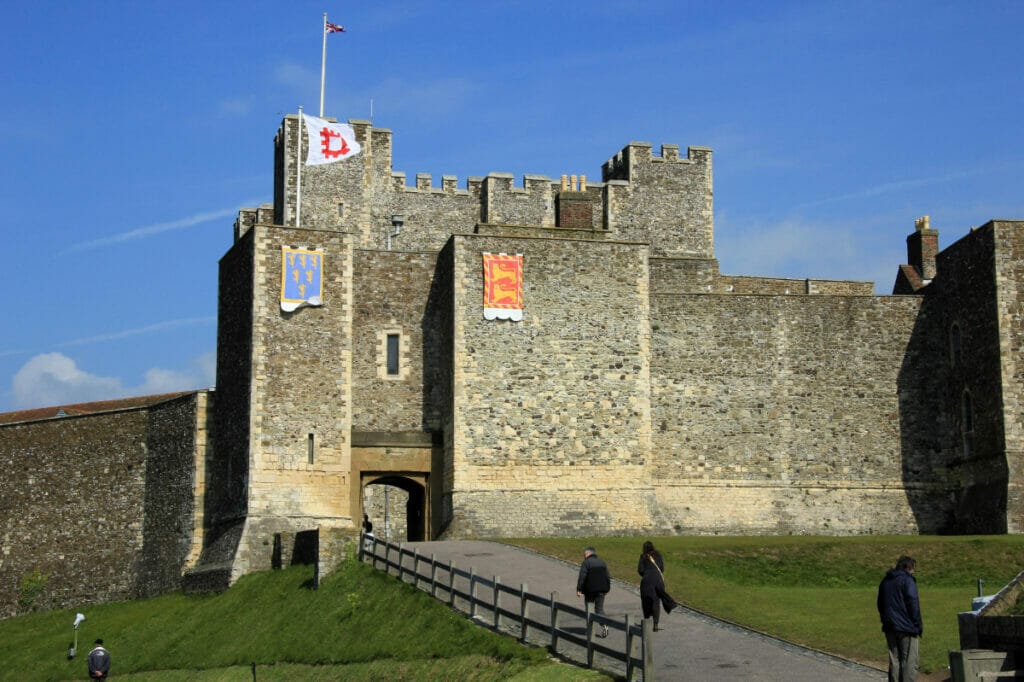 And of course if you're a nature lover, the area is filled with walking opportunities that take you above the white cliffs of Dover and beyond.
No matter if you're staying in Dover for a couple of days or a couple of weeks, here are the top things to do in Dover.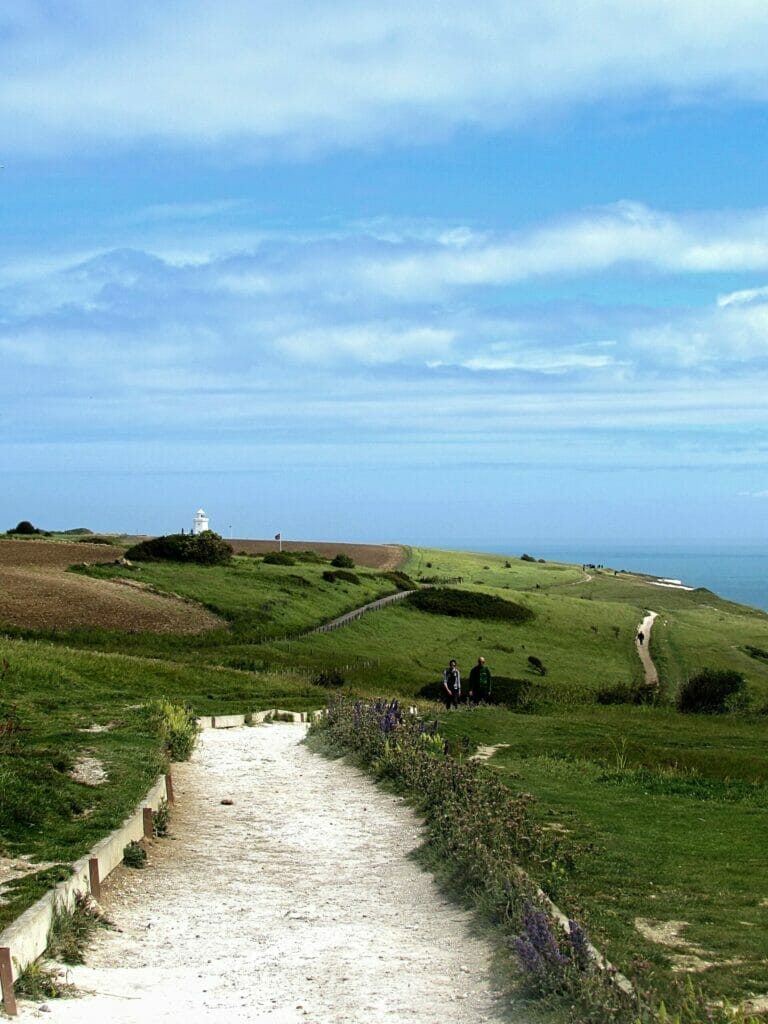 Hey! Want more honest UK tips and planning advice? Click here to join my London and UK Travel Tips Facebook group, where I can answer more of your questions!
Historic Things to Do in Dover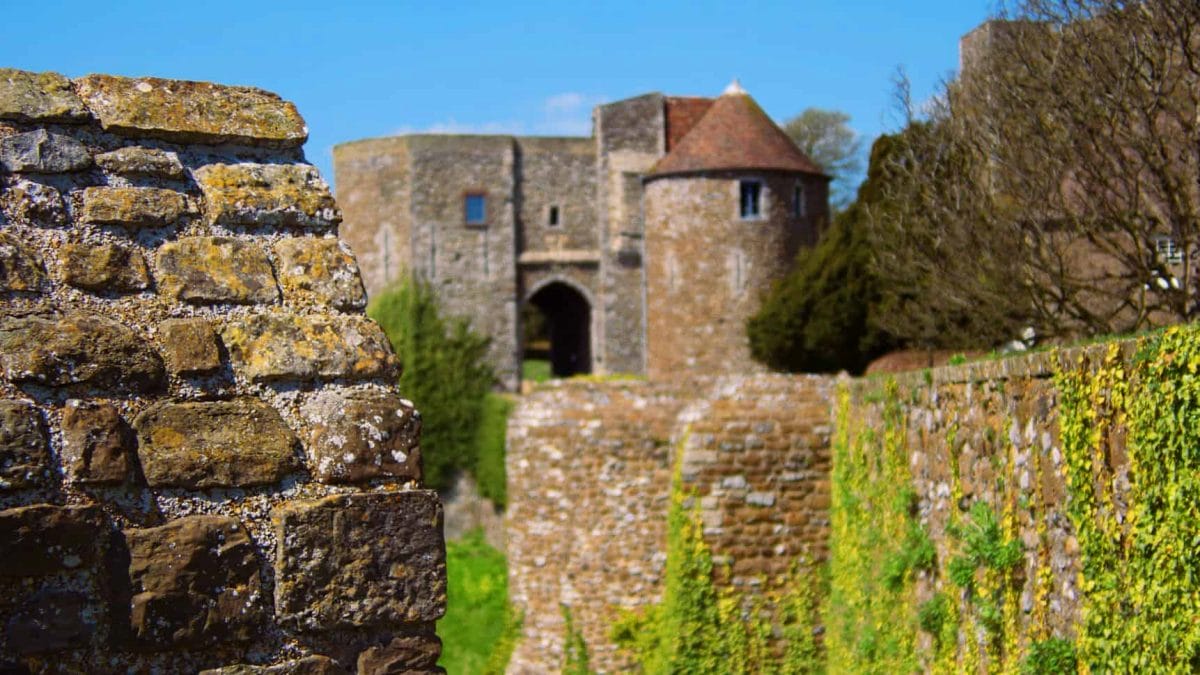 IMPORTANT: are you coming to the UK from abroad?
In case you're reading this from outside the UK and will be a foreign visitor here, you need to know these 2 things to stay safe and save money.
Travel insurance – you need it when going overseas! I use

this site

to get the best quotes and purchase my packages from. Do not skip this – having medical coverage abroad as well as other coverage in case of missed flights, lost luggage, etc is essential. As I said, I have never gone wrong using

this site

.
1. Dover Castle
Dover Castle is one of the best things to do in Dover for anyone, but especially for history lovers who won't be able to get enough of its wartime and medieval exhibits.
The castle was built in the 11th century and has hundreds of years worth of secrets hidden within.
If you're interested in the castle's use when it was first built, you can head to the keep where the rooms have been arranged to suggest what they may have looked like back then, with handy guides ready to help answer your question about medieval life in England.
There are also a series of medieval tunnels that are great for getting lost in or spending a few minutes out of the sun on a warm day.
For more recent history, take the time to explore an exhibit right outside the castle facing the water where you can see where soldiers would have looked out to the English Channel to look for signs of invading Germans during wartime.
GET A

FREE

UK GUIDE and ACCESS TO MY PLANNING FB GROUP
With 50+ pages of helpful travel tips and the "best of" UK lists, this is your ad-free key to your UK trip.
2. Secret Wartime Tunnels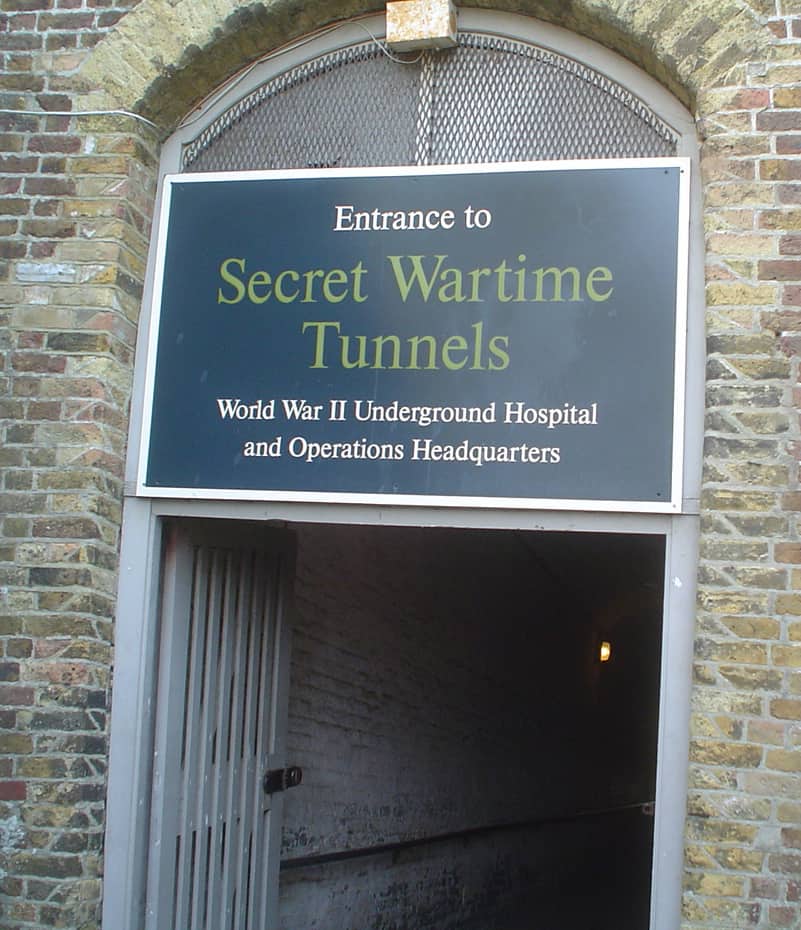 The Secret Wartime Tunnels require entrance to Dover Castle to access, but they deserve a section all their own.
These tunnels, dug during medieval times, were used in World War II to house British armed forces who were in a battle against the Germans.
Dover was heavily bombed during the war, which is no surprise due to how close it is to the European mainland.
However, in order to protect the country, the British forces had to be stationed there on the frontlines.
This is where the tunnels come in, as these tunnels were well protected due to being so far underground and beneath the castle.
They provided shelter, offices, and makeshift hospital rooms for the wounded.
There are two wartime tunnels tours you can take, one called Operation Dynamo and the other an Underground Hospital Tour.
The Underground Hospital Tour takes you through the tunnels that would have been used for the injured and wounded, and they are set up like they would have been in wartime.
There are also special effects including one section in the surgeon area that helps you understand how difficult it would have been for doctors to provide care to patients in this type of environment.
Operation Dynamo is a longer tour that tells the story of Dunkirk.
Through a guided tour, a series of projections on tunnel walls, and authentic audio from the war, you'll take a chronological look at what happened in these tunnels in World War II.
Both of the tours are fascinating no matter how much you know about Dover's history, and they do a good job of providing a basic understanding for those from abroad who may be less knowledgeable about it, as well as giving an in-depth look for people who already know the basics.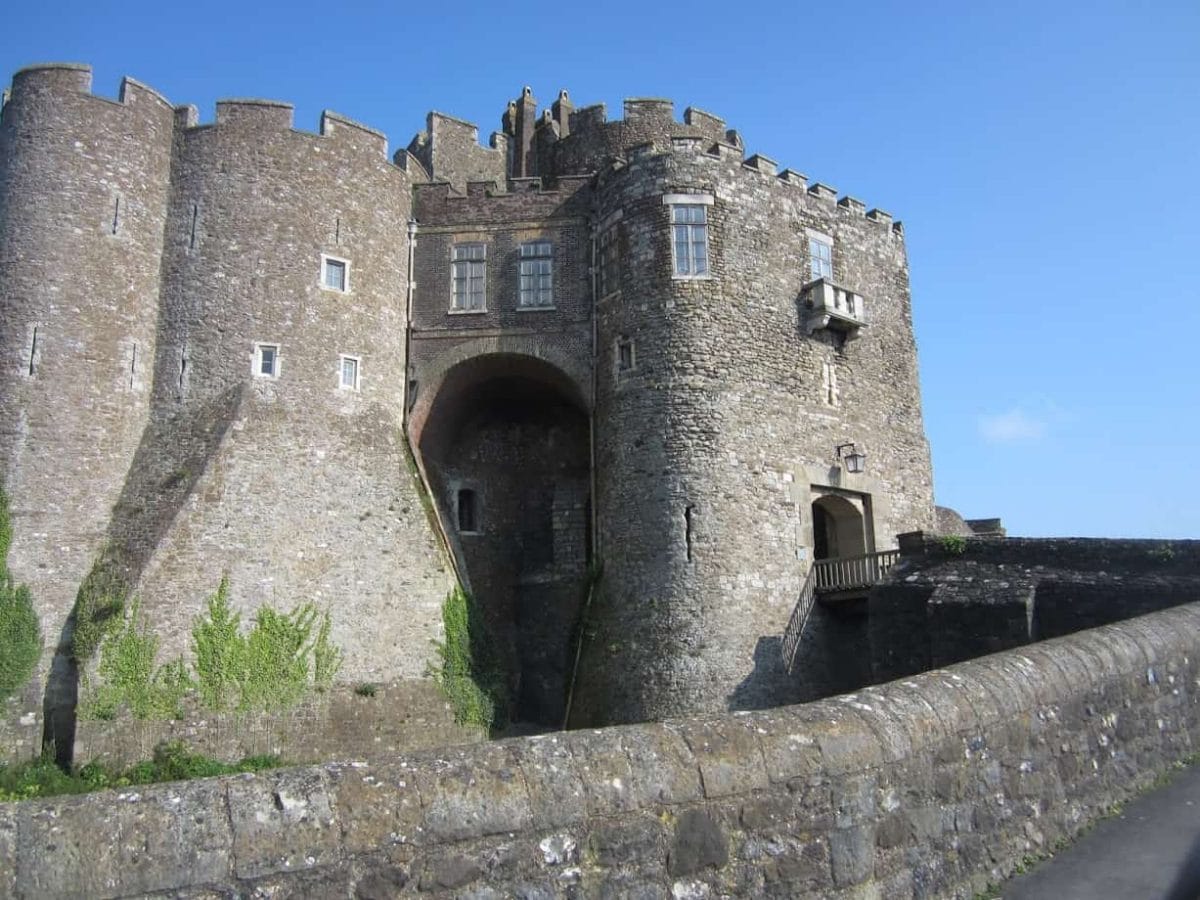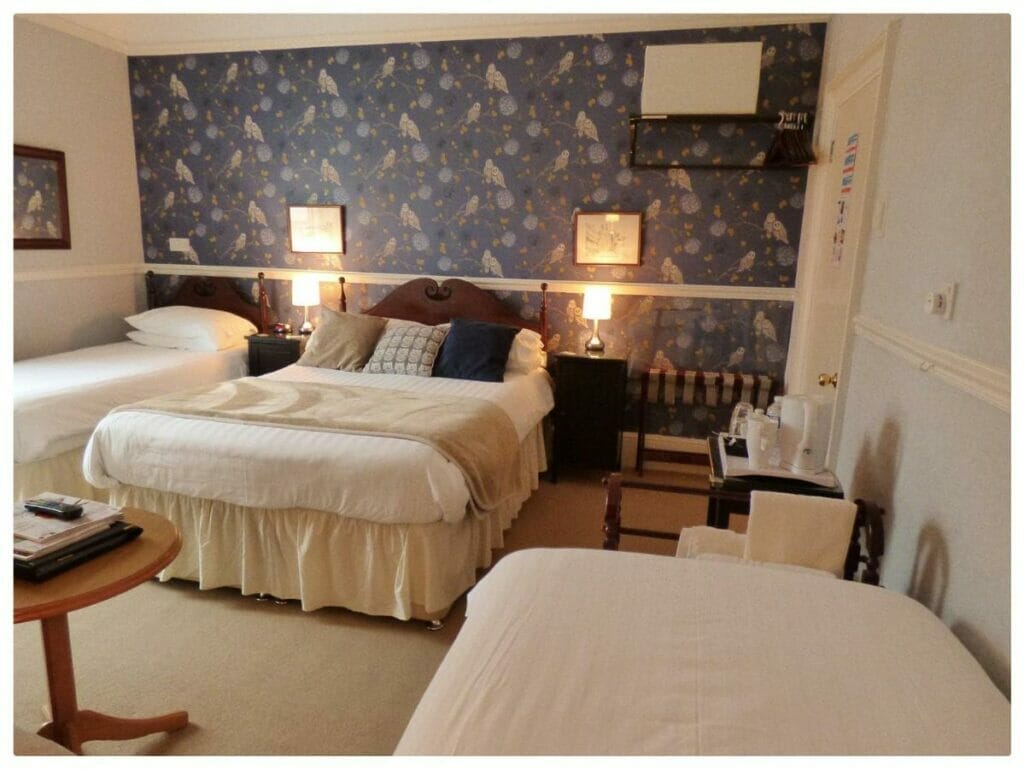 3. Roman Painted House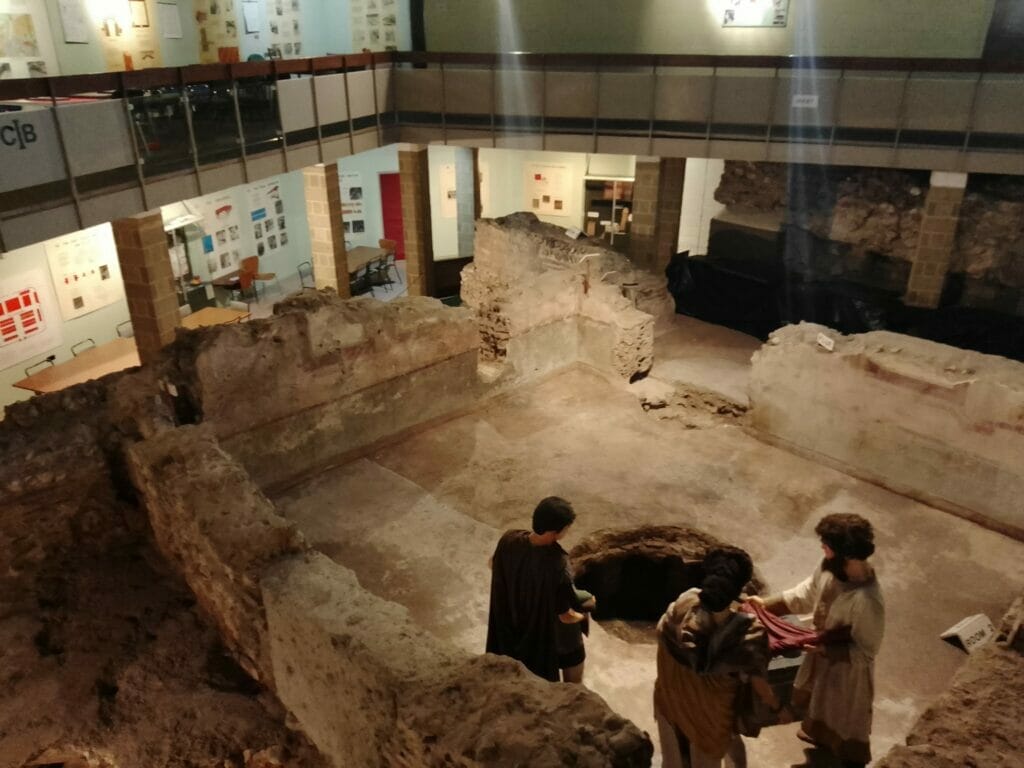 Staffed entirely by volunteers, the Roman Painted House is a section of Roman ruins built in around 200 AD that helps give a glimpse into the history of Dover when it was the leading naval base for Roman Britain.
The ruins are those of an old hotel for travelers who had crossed the English channel, and luckily some painted murals on the walls survived as well.
In addition to the ruins and the exhibits surrounding them, there is a garden space that can be used for picnics.
I've been to Dover quite a few times, but it isn't until recently I discovered Crabble Corn Mill.
Not only is this a great space to hang out as it puts on multiple festivals throughout the year, but it's also a working museum.
The mill was built in 1812 and today stands as one of the most complete examples of a Georgian watermill in all of Europe.
It was under threat of being torn down, but in 1990 it was saved and opened to the public.
Wander through the six floors of exhibits to learn about mill engineering and see how wheat is turned into flour.
5. Dover Museum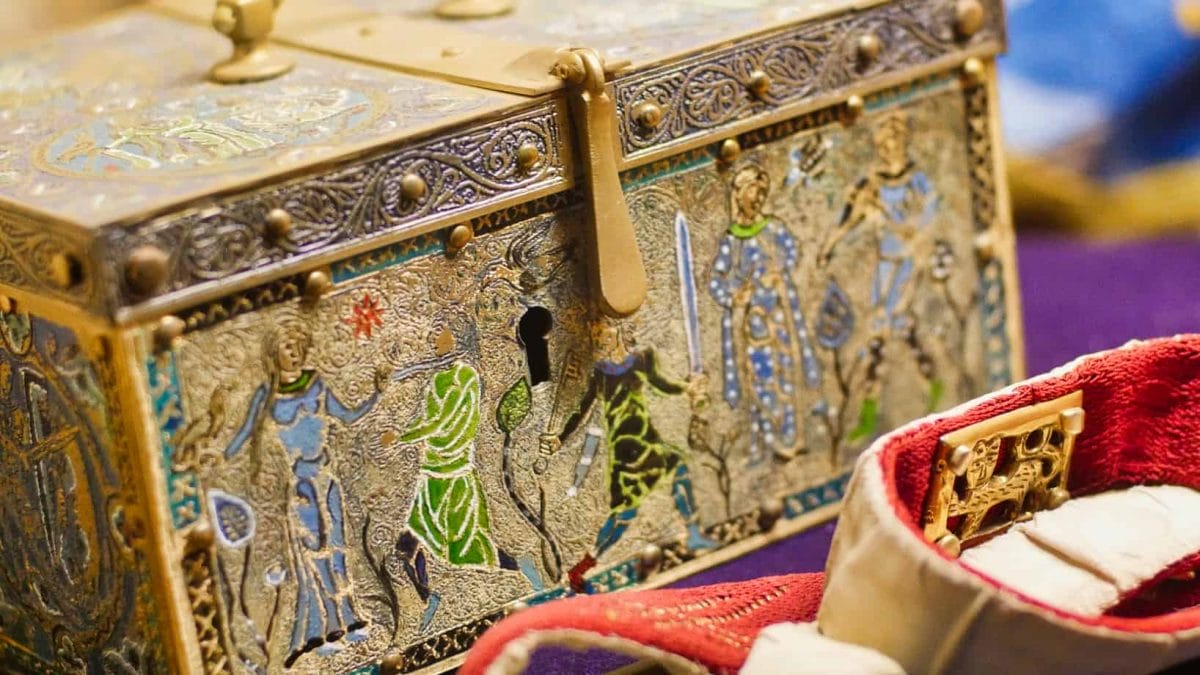 The Dover Museum, opened in 1836, acts as an important collection of local archeological artifacts, as well as one of the great things to do in Dover if you're hoping to get a better idea of the history behind the town itself.
Unfortunately the museum lost many of its collections during World War II, but today there is plenty to see.
On the ground floor you'll find the archeological exhibits stretching back to prehistoric times, and on the second floor you'll find the history of Dover as shown through artifacts and artwork by local artists.
Water Activities to Do in Dover
6. Dover Sea Safari
If you want to spend time on the water instead of in it, you can hop on a Dover Sea Safari tour that whips you out to sea on a speed boat or catamaran and gives you a memorable journey past the cliffs, the seaside houses, piers, and more.
You can choose from a variety of options, including a seal watching tour, a tour out to the Goodwin Sands sandbank, a wartime history tour, and more.
This is a fantastic thing to do in Dover for families, as everyone can take part.
7. Swimming in Dover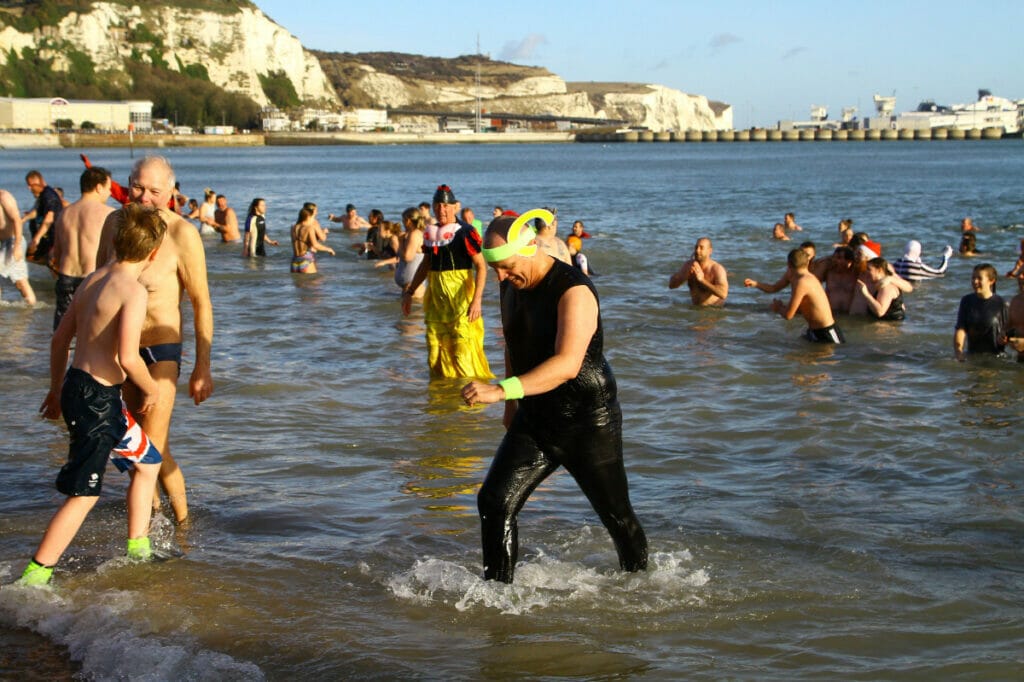 You don't have to be training for a swim across the English Channel to swim in Dover's port.
There is an area for swimmers where you can swim for free in the sea.
Just pay attention to the safety zone signs and stay within them to have an enjoyable day paddling your way through Dover's waters.
8. Kayaking in Dover
Ready for an adventure?
One of the best things to do in Dover for adventurous spirits is to learn how to kayak, sail, or paddleboard by renting equipment or taking lessons from the Dover Sea Sports Centre.
Dover Harbor is much calmer water with less current than out in the open sea due to it being sheltered from winds.
This makes it an ideal place to learn more about water sports.
If you get hooked, take the adventure one step further by taking a guided kayaking expedition along the Dover coastline.
Things to Do in Dover for Nature Lovers
9. Samphire Hoe Country Park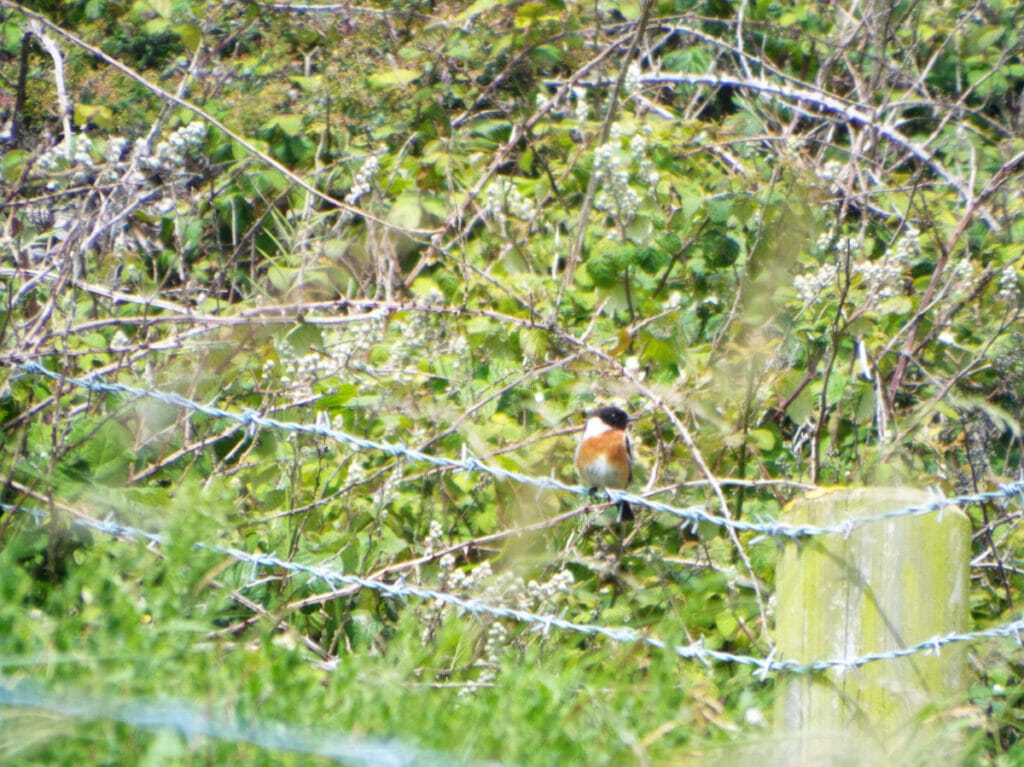 Just two miles west of Dover is Samphire Hoe Country Park, which was created using chalk that was excavated during the building of the Channel Tunnel.
It's a wonderful place to do some walking, cycling, or bird watching, and there is a marked walking path that's just over a mile long.
Pack a picnic and head here for a leisurely day out, and be sure to bring a pair of binoculars to spot peregrine falcons and meadow pipets.
10. Dover White Cliffs Walks
There are plenty of opportunities to walk on top of the famous Dover white cliffs.
One highly recommend walk takes you from the Gateway Visitor Center all the way to South Foreland Lighthouse.
Enjoy beautiful views out to sea from this iconic spot, and make sure to keep all dogs, children, and wandering adults to the well-worn trails that are safe for walking.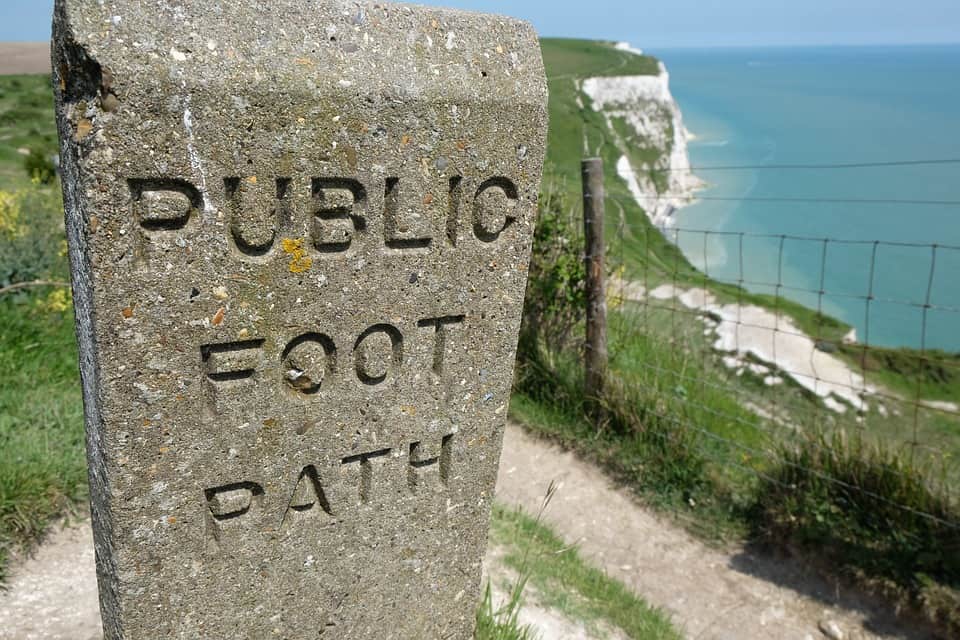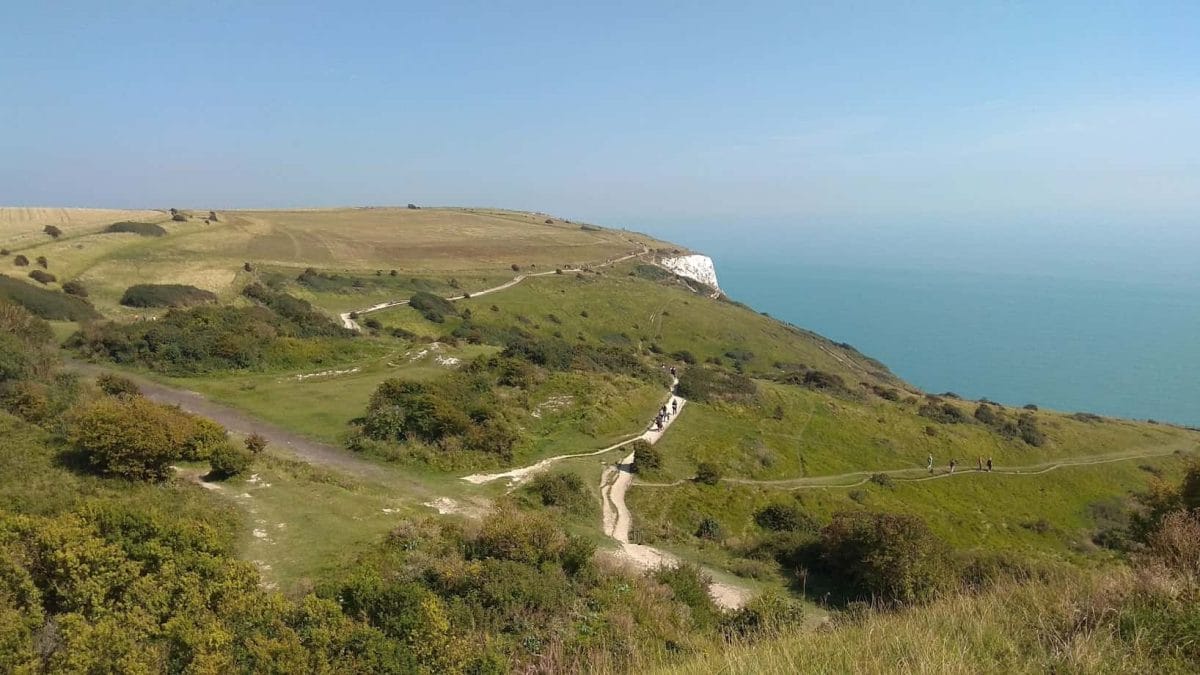 11. Kearnsey Abbey and Russell Gardens
Just 2 and a half miles away from Dover's town center is Kearnsey Abbey and Russell Gardens, some of the most historic parks in the area and, in my opinion, the most tranquil.
This is truly where you go to get away from it all.
Sit down on the grass and soak in the sun, go for a stroll around the lake, or go wildlife watching in open parkland.
You'll find a couple different types of trees, including Lime and Yew, as well as various types of birds just enjoying the atmosphere.
Head to Russell Gardens for a look at more formal gardens, complete with a boathouse pavilion and pergola bridges.
These gardens are Grade II Listed and also include a 170 meter long canal pond.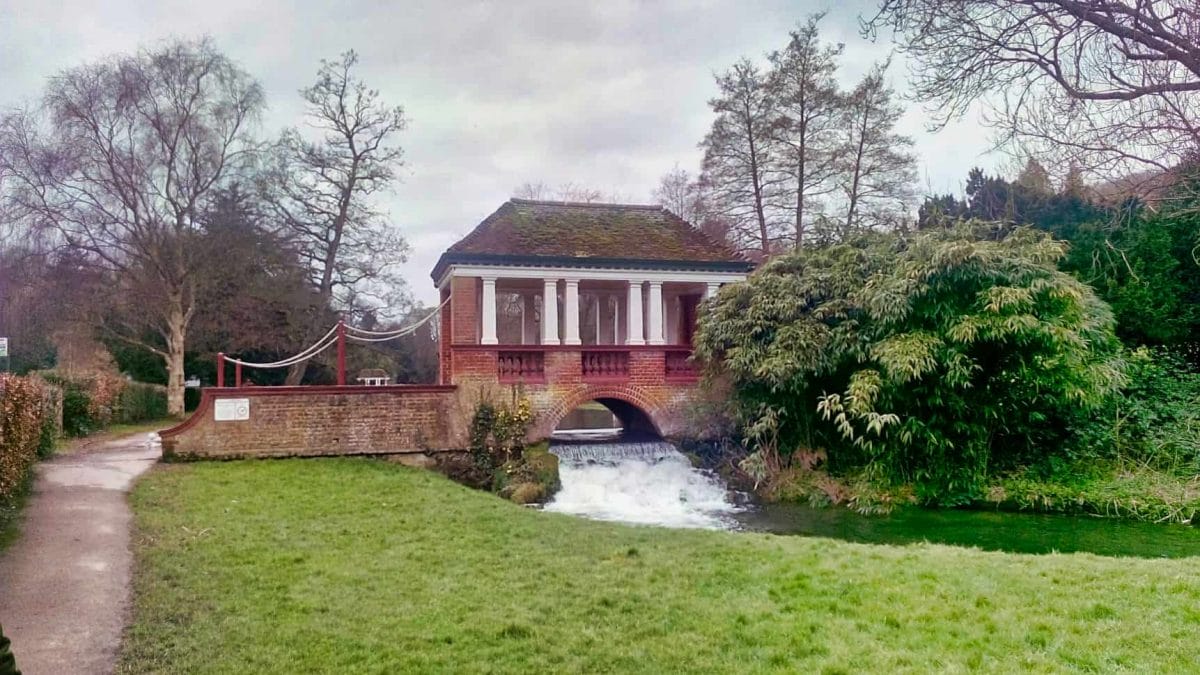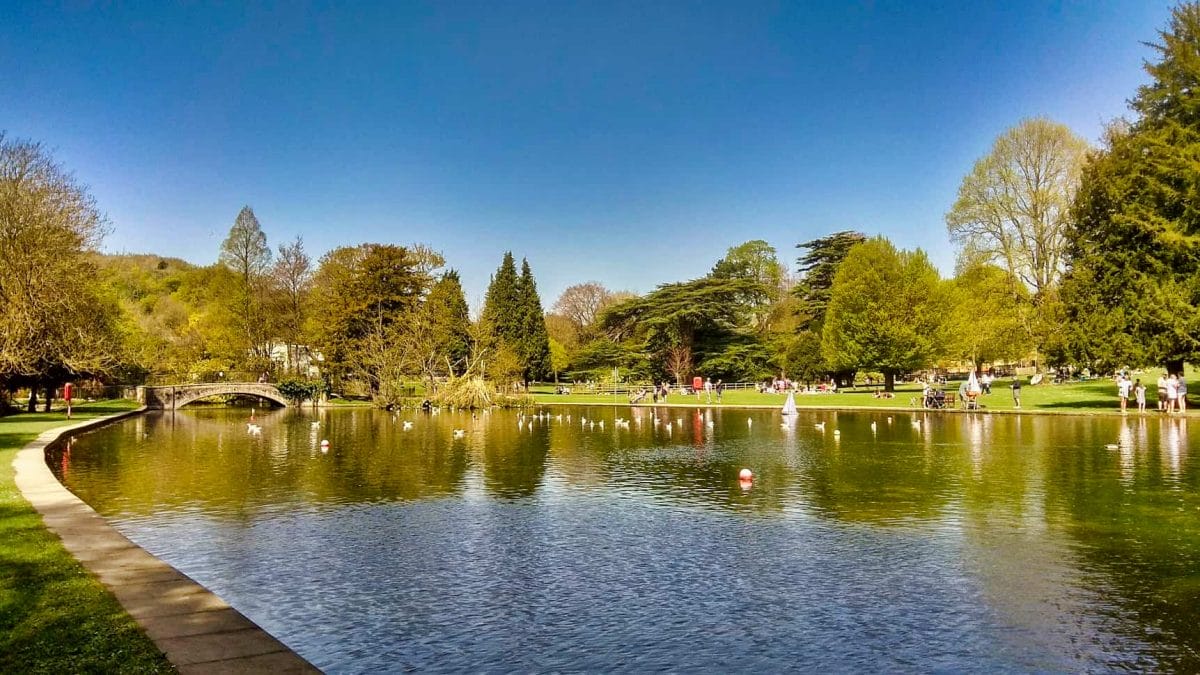 Things to Do in Dover for Kids
12. Dover Transport Museum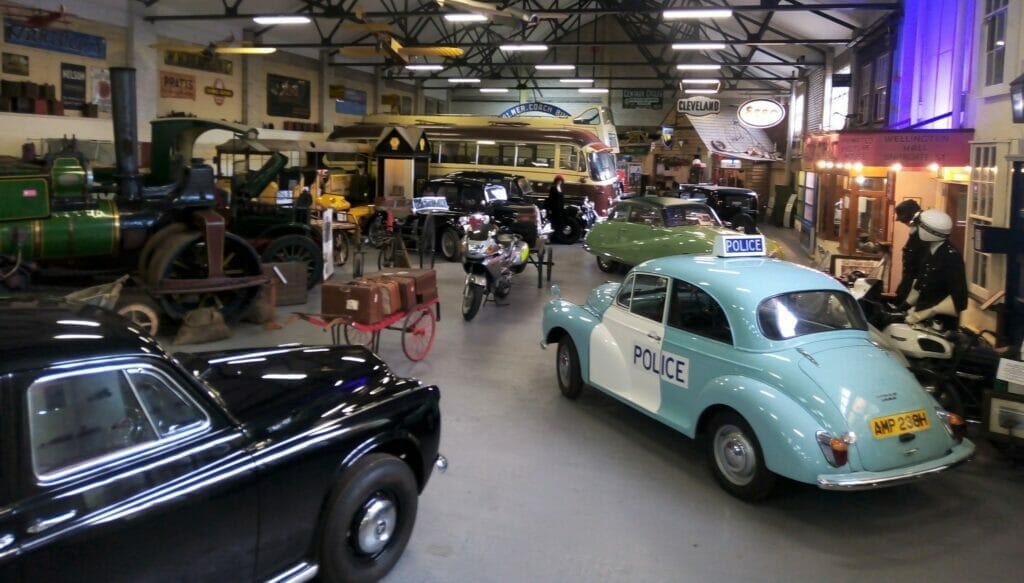 Kids and families will love exploring the Dover Transport Museum, a unique thing to do in Dover, England.
It's the only museum like it in Kent, and it's well worth a visit.
The museum takes you through the history of transportation with its vintage cars, train cars, buses and other ways of getting around.
From bikes to railways, the vivid colors and cool designs of the transportation of yesteryear make it a day in Dover to remember.
There's also a model railway, which basically seals the deal for me.
13. Ceramic Art Dover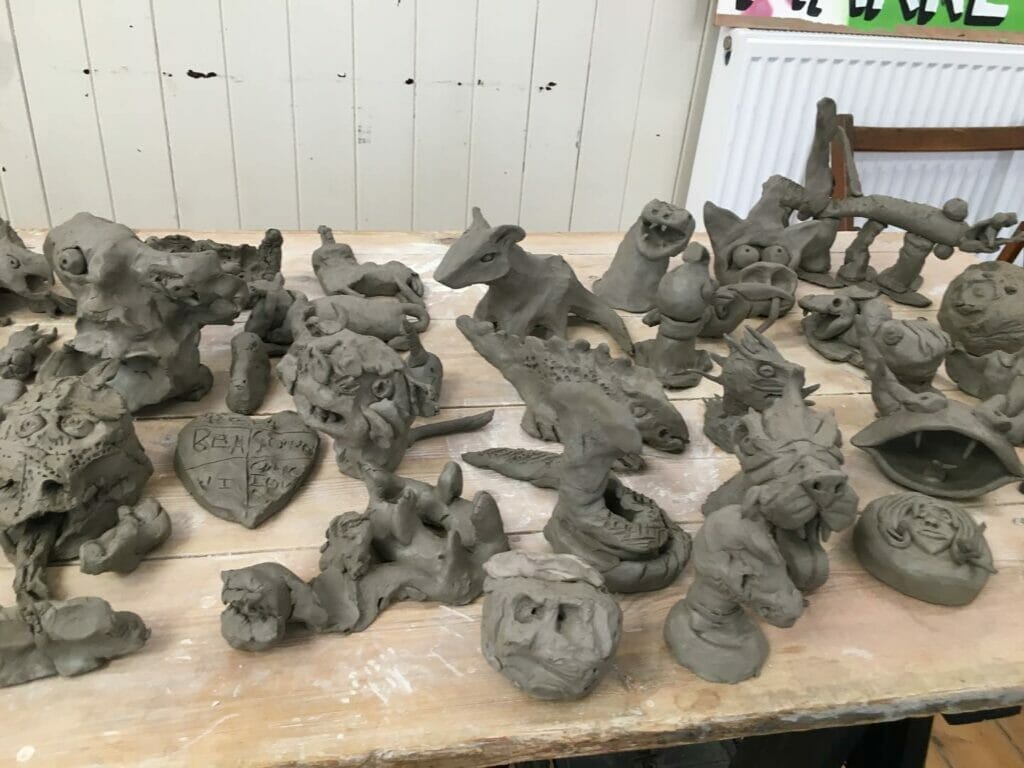 I absolutely adored making pottery as a kid, and Ceramic Art Dover is trying to instill that love into the kids and adults of Dover with their annual events and pop-up stalls.
From the Winter Light Up to summer festivals to their own "Clay Date" exhibition, keep an eye out for them to take part in lessons on making your own ceramics as well as being able to admire their beautiful works of art.
This is a locally-grown, for-the-love-of-the-craft group and you should definitely check their Facebook page to see if they are coming to any events while you're in Dover.
14. Dover Leisure Centre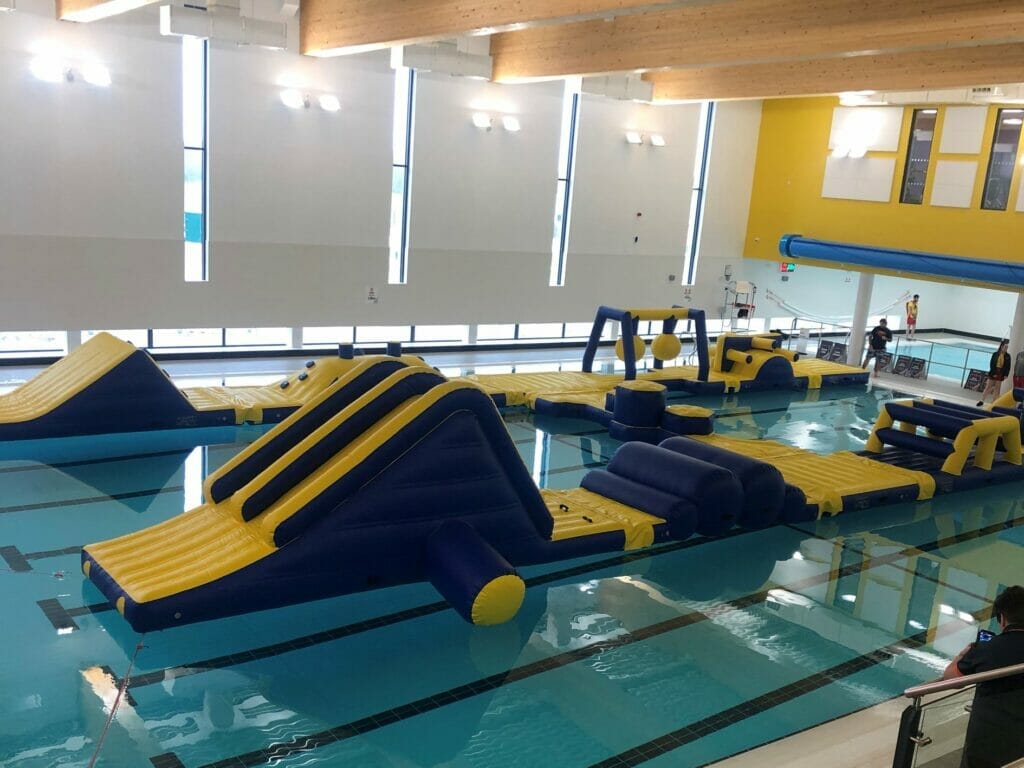 Take the kids to the Dover Leisure Centre for a kids swimming slot so they can splash around with their friends or take a lesson to hone their skills.
There's also a gym and a sauna for the adults.
Squash courts are available to book if you want to have a friendly family match, or if you want to go head to head with your partner to show the kids how it's done (and hopefully not make too much of a fool of your over-confident self in the process!)
You can sign up for a regular membership, which is the best idea if you live locally, or you can also get a pay-as-you-go-membership if you can only make it occasionally.
This wonderful recreation ground has plenty of space to run and explore the nearby woods, as well as a small playground and the occasional event being held here.
Pack a picnic and take the kids to this perfect thing to do in Dover when everyone needs to burn off some energy on a beautiful day.
16. Get Breakfast at the Happy Chef
This fantastic restaurant right near the Dover marina is the perfect place to take kids for an English breakfast before you start your day in Dover.
It's incredibly reasonably priced with friendly staff and you can order everything from scrambled eggs to perfectly done bacon, and they also serve lunch if you're hoping to feed the kids something around mid-day like burgers and chips.
17. Cineworld Cinema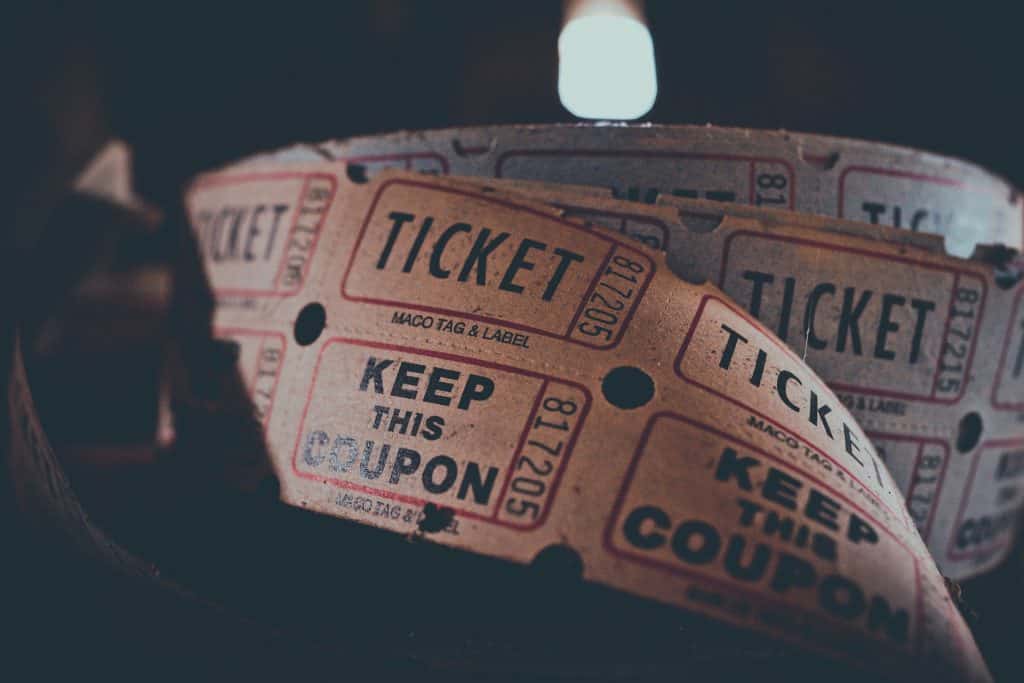 On a rainy day in Dover, or perhaps just when you all need some air conditioning and a break from the hustle and bustle of touring around, book to see a movie at the Cineworld Cinema.
This is a great option for the family, showing the latest releases as well as regularly scheduled throwback movies and events.
Pick a child-friendly movie, grab some popcorn, and enjoy a relaxing afternoon in Dover.
How to Get to Dover from London
Getting from London to Dover by train is incredibly simple, and takes about an hour and a half to two hours depending on which service you get.
You could also rent a car and drive, or there are guided day trips departing from London that will get you there without you having to navigate.
UK Travel Planning Guide: the FAQs
🏥 Should I buy UK travel insurance?
Absolutely yes. Basic coverage is not expensive, and as a visitor you are NOT covered under the NHS. Compare policies and prices with Travel Insurance Master here, a big name in the travel insurance business, and cross that off your list.
🔌 Do I need travel adapters for the UK?
Yes, you do, otherwise you won't be able to plug in your electronics/phone/lifelines. I recommend this one, which is all-in-one so you can use it in other countries.
🚗 What do I need to drive in the UK?
The first thing you need to check out if you're planning on renting a car in the UK is this guide to driving in the UK for visitors – the roads, signs, and driving experience will likely not be what you're used to and it's essential to prepare yourself to stay safe and aware.
🛌 What's the best way to book hotels in the UK?
For UK hotels, Booking is the best site as it offers free cancellation on many properties. If you want an apartment, I always recommend VRBO over AirBnb.
📳 Will my phone work in the UK?
Yes – if you set it up right. Check out my guide on making your foreign phone work in the UK to ensure that you get the type of service you need.
🚿 Can I drink the water in the UK?
Yes, UK water is great and perfectly safe. But drink out of taps in any kitchen or use water fountains. Double check before drinking out of the taps in hotel bathrooms, though, as they may be on a different system.