Whether you're Bridgerton's biggest fan or just want a luxurious afternoon tea in London, boy have I got the one for you.
There are so many different afternoon tea options in London, all with their merit.
You can go for something quirky like the Chesterfield Mayfair's afternoon tea, more traditional like the Ritz, or even an afternoon tea right near Westminster like St. Ermin's.
But those seeking an upscale experience that is well-themed, isn't stuffy, and has delicious food should definitely check out the Bridgerton afternoon tea at the Lanesborough.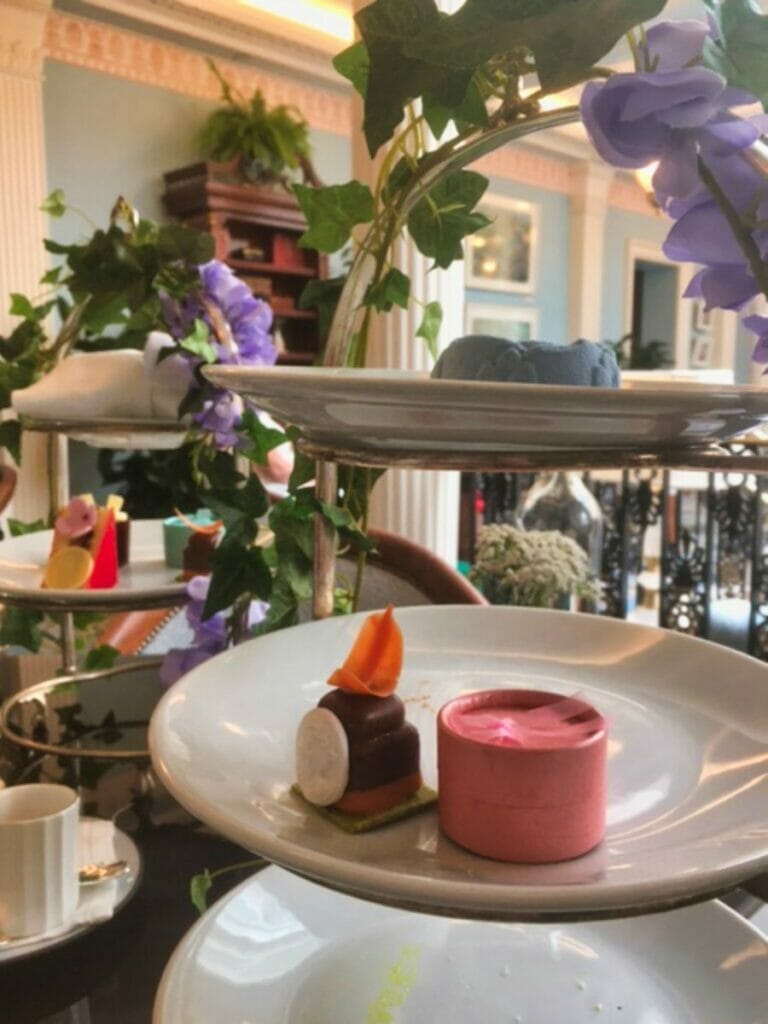 GET A

FREE

LONDON INTRO GUIDE and ACCESS TO MY FB GROUP
Start your planning with this "Intro to London" guide and access to my London planning Facebook group!
Where is the Bridgerton Afternoon Tea?
Located near Hyde Park Corner, The Lanesborough is one of London's premier 5 star hotels, and it shows.
As soon as you walk in, you'll notice the absolutely beautiful ambiance, fixtures, and all-around incredible atmosphere that makes you feel like you're true royalty.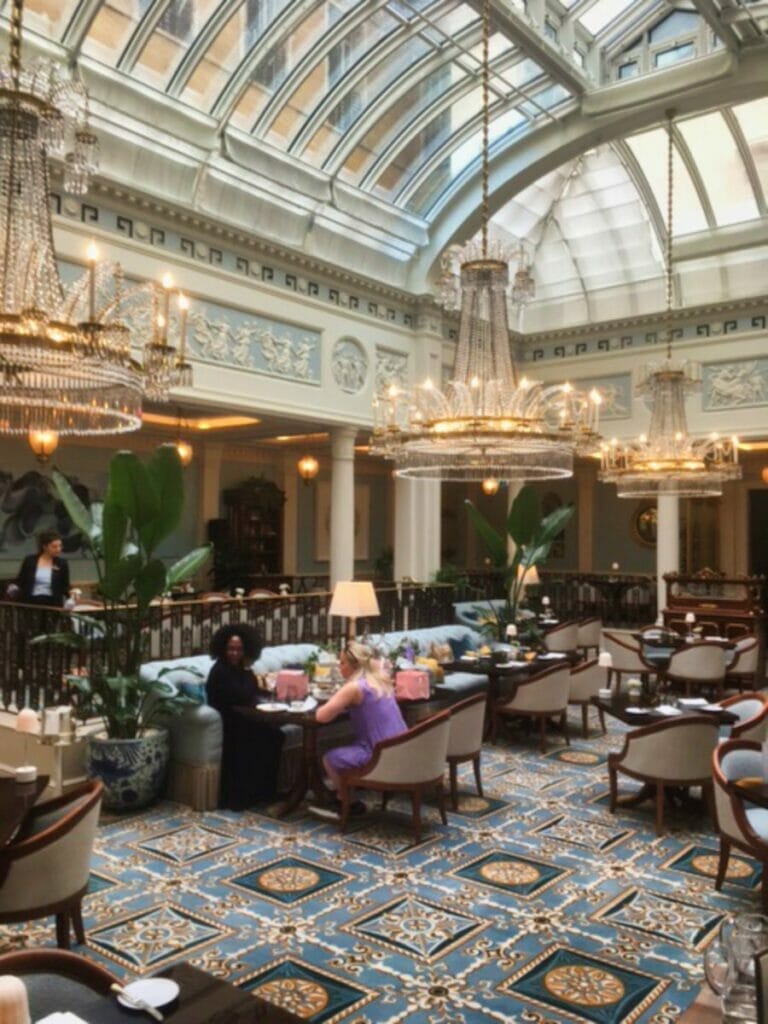 The Bridgerton afternoon tea (and all of the Lanesborough afternoon teas) take place in their "Grill," a dining room with gorgeous ceilings, paintings, and decor.
Service at the Bridgerton Afternoon Tea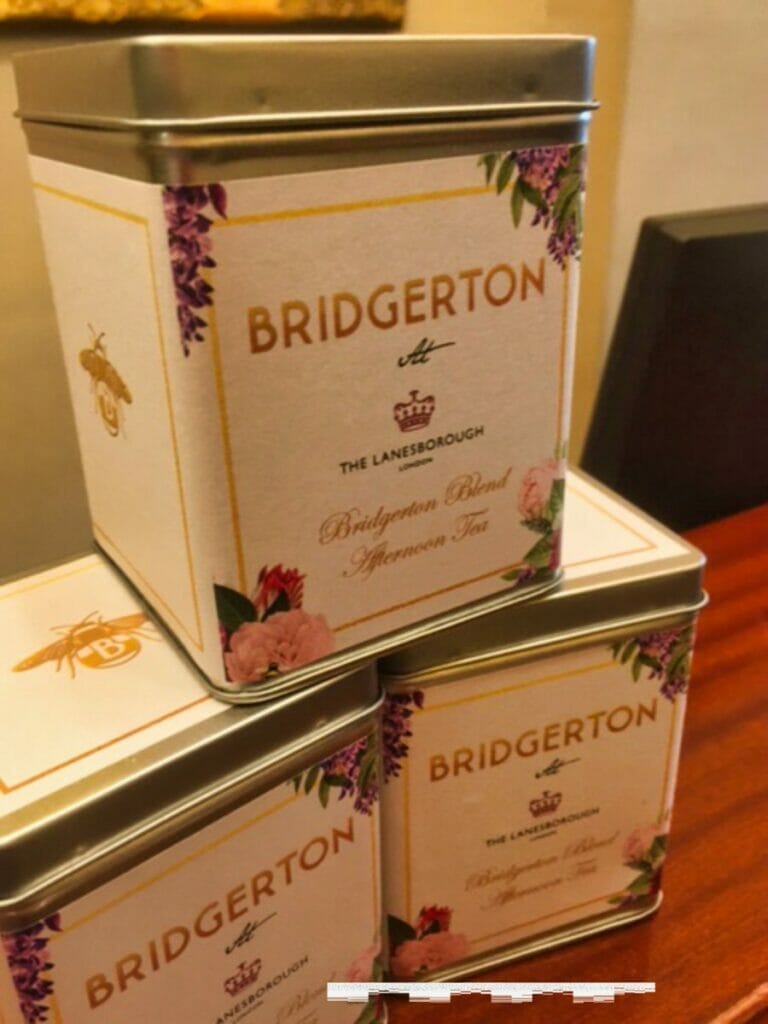 Service at this afternoon tea was friendly, fast, and personalized.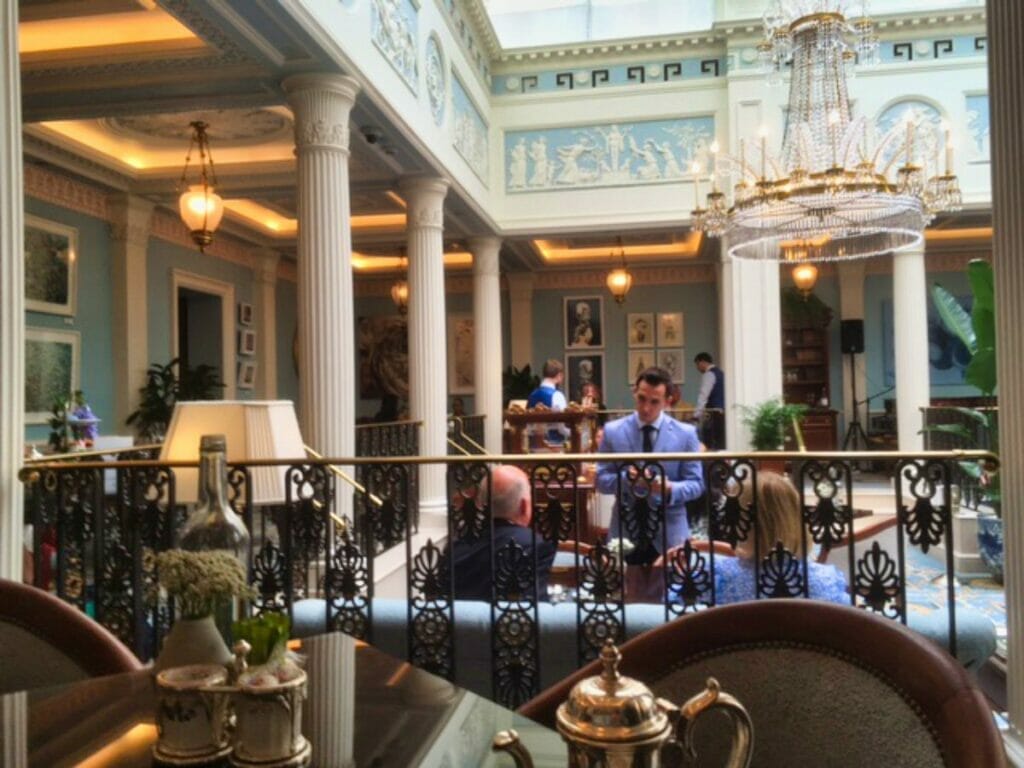 From the moment we checked in to the moment we left (with some helpful tips on Bridgerton related things scattered around the hotel), we were treated with smiles and a genuine willingness to make sure we were happy with our experience.
This extended even further beyond our afternoon tea, as I had left a mobile phone charger bank there on accident.
Not only did they call me, but they are keeping it at the hotel until I can pick it up and answered my call at 10pm at night to help track it down and assure me that it was safe and sound.
Food and Dining Options
Let's talk about the actual tea itself, because while there is such a thrill to being in a Bridgerton-inspired world (more on that in a bit), you're paying £65.00 per person and with that, the food should be delicious.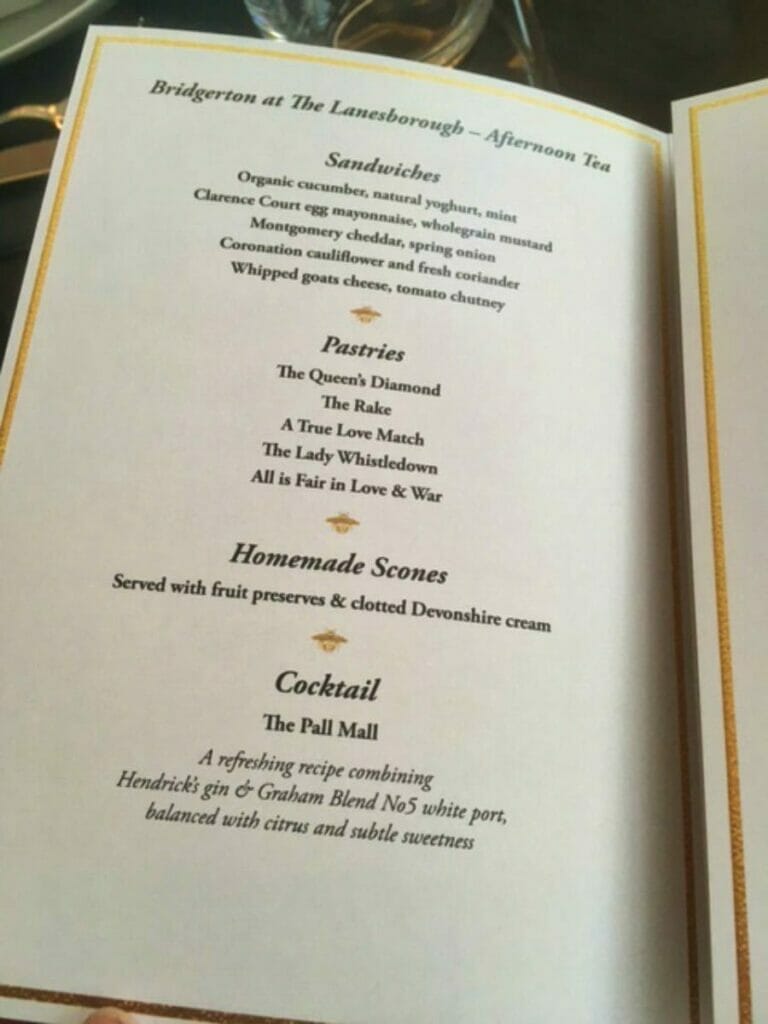 And indeed it was.
You can choose from different menu options – my friend had the normal option, while I had the vegetarian menu.
For the sandwiches, meat eaters can indulge in coronation chicken, smoked salmon sandwiches, roast beef sliders (incredible) and more.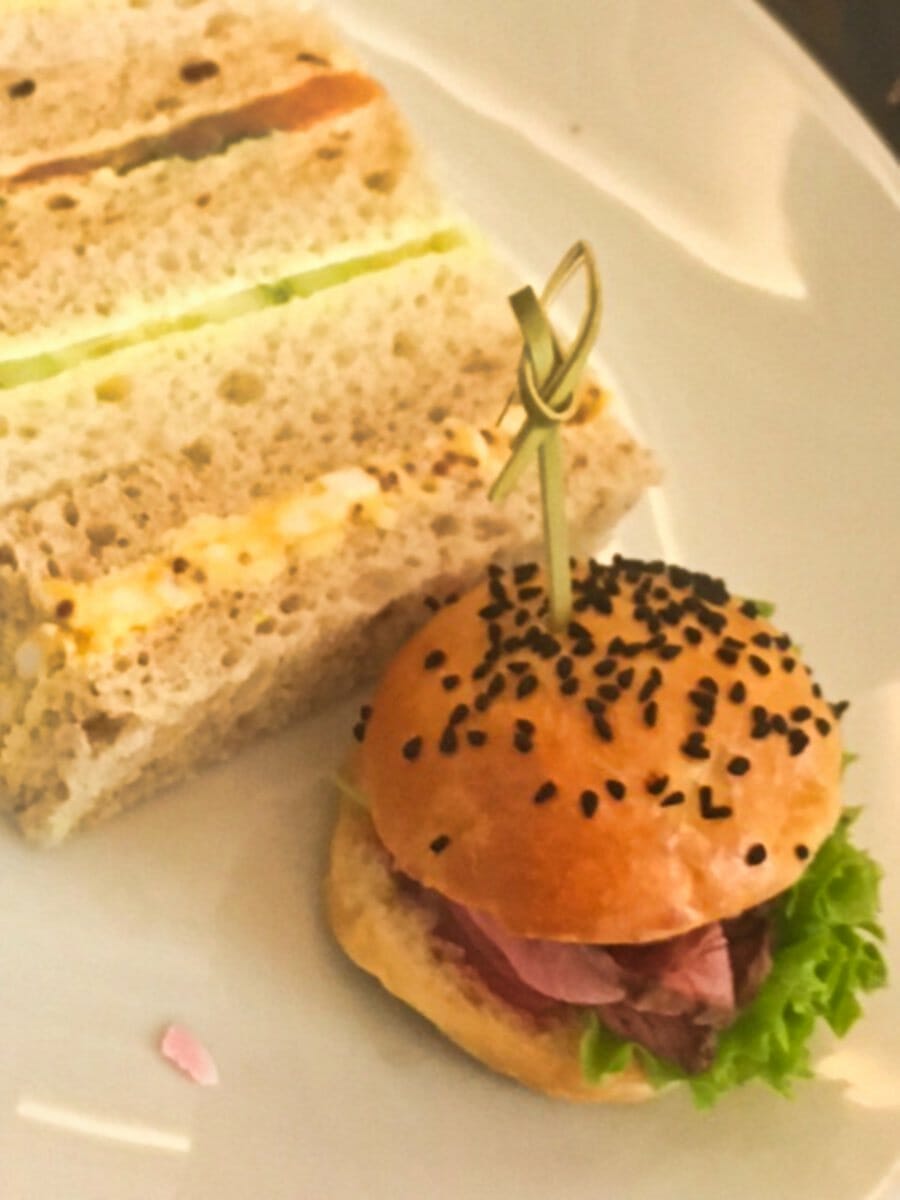 The vegetarians have everything from creamy egg sandwiches to roast pepper sandwiches to pesto options.
The bread was fresh (stale sandwiches can be a problem at afternoon teas), and we were offered more of any kind of sandwiches we would like.
Moving on to the desserts, each perfectly themed around one of the Bridgerton families, we indulged in wonderfully packaged chocolates, flower-shaped fruity treats and cakes with just the right amount of intricately done frosting swirls.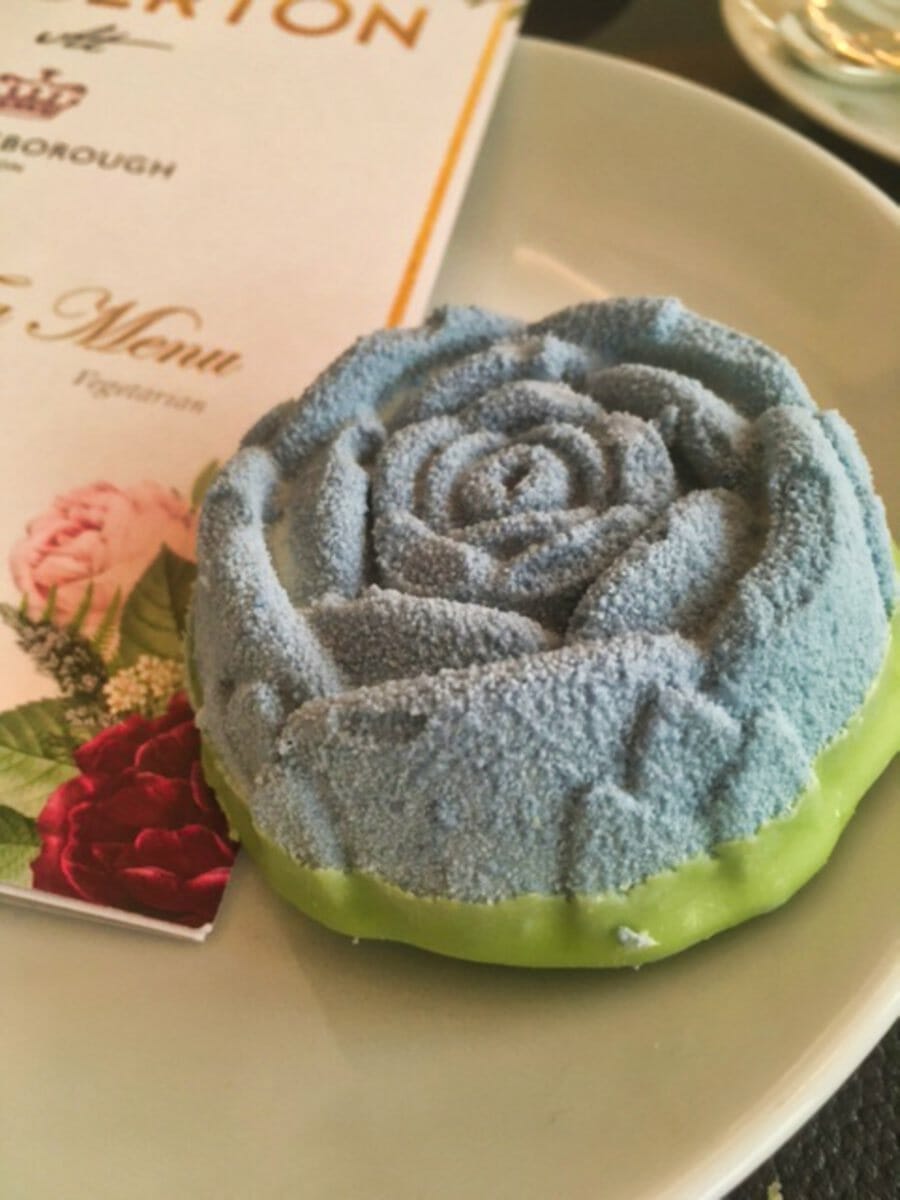 Then, of course, there are the scones – the best I've ever had at a London afternoon tea.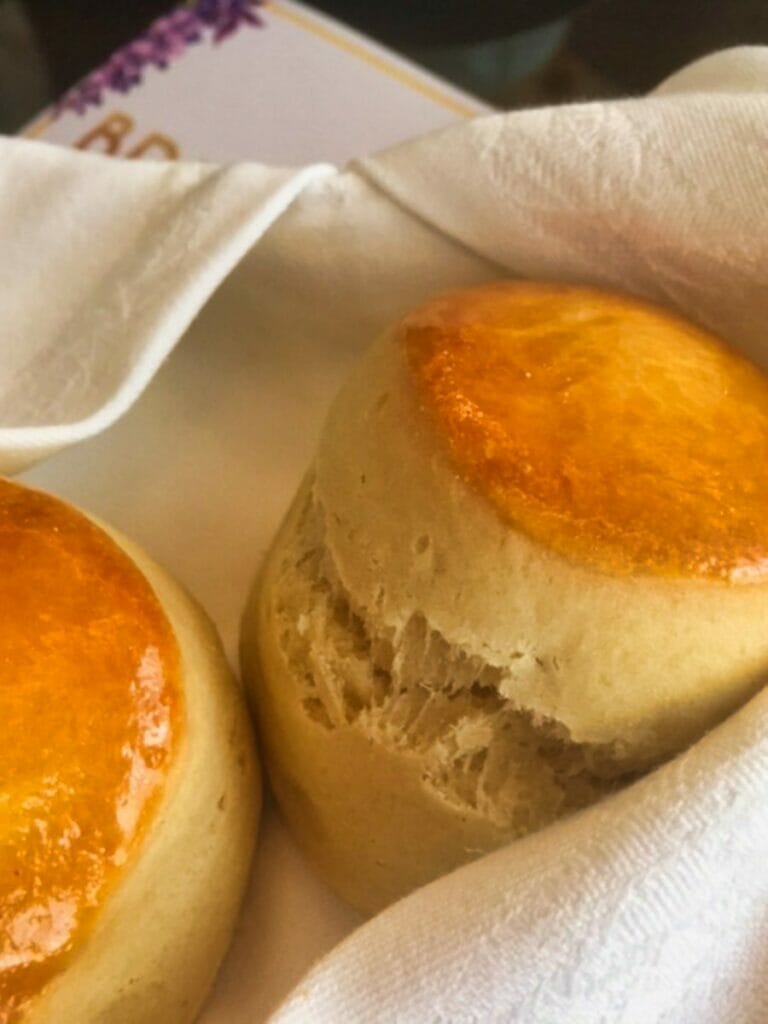 Perfectly cooked and served with clotted cream and jam, this is what you really came for, and you can eat scones to your heart's content.
That golden shine on top tasted even better than it looks.
For drinks, you can stick to non-alcoholic drinks and enjoy unlimited tea (I had hot chocolate), or you can opt for the cocktail option as well.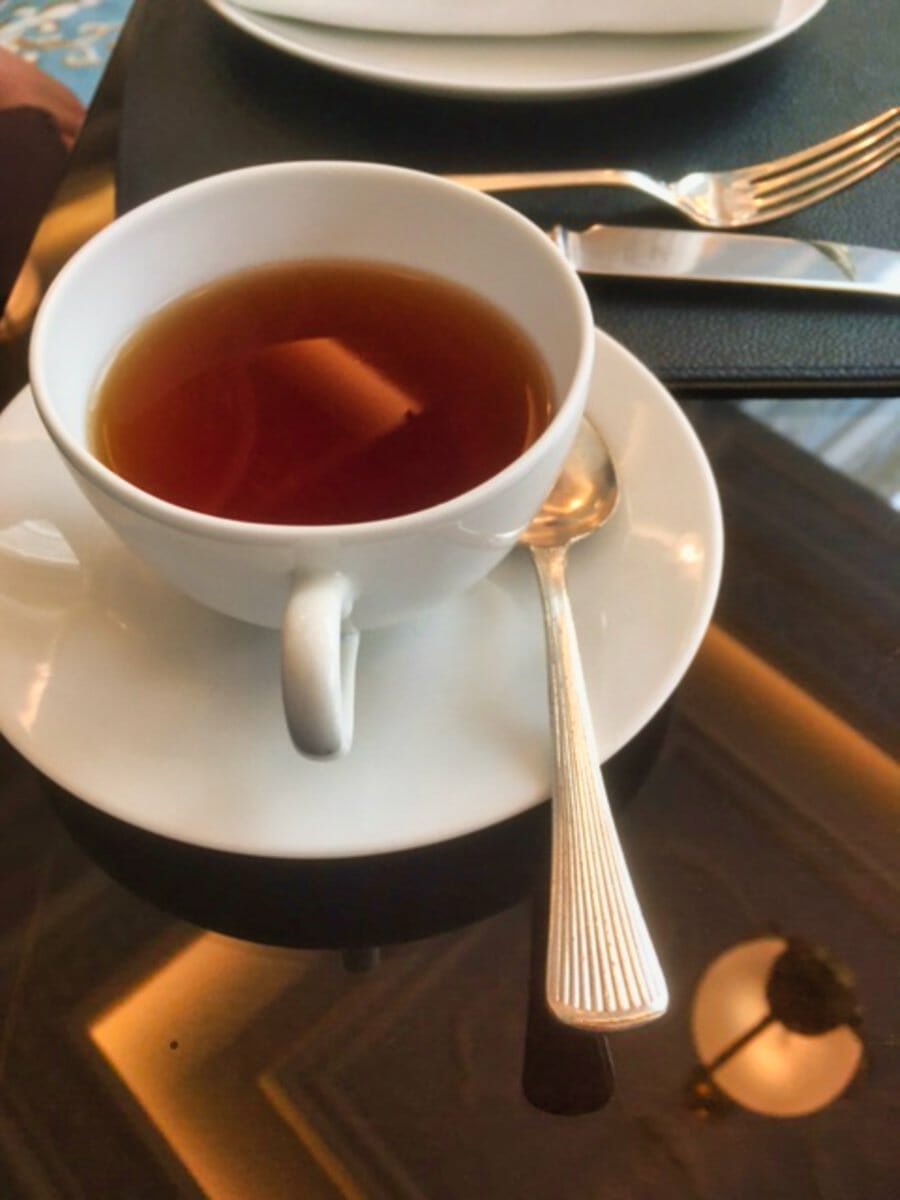 Bridgerton Afternoon Tea Experience
While the food and the service were great, what's really important with this tea is that it felt like you were stepping into the Bridgerton world.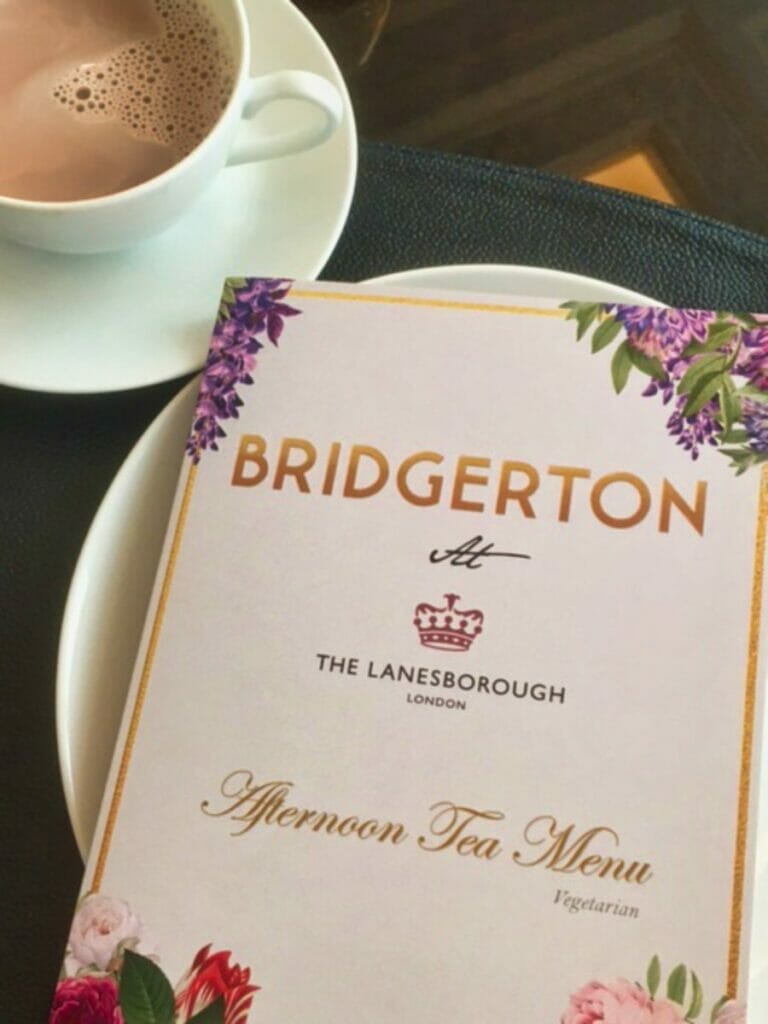 After all, this isn't any afternoon tea, this is the Bridgerton afternoon tea, and it was definitely Bridgerton-inspired from beginning to end.
Firstly, this hotel was used in some of the Bridgerton filming, which allowed the hotel to make a deal with Netflix that they be allowed to host this tea.
This is the Bridgerton afternoon tea, not a knock-off!
When you first step into the dining room, you're instantly transported to the 1800s with the chandeliers, ornate decorations, and pastel colors fit for any of the Bridgerton royalty.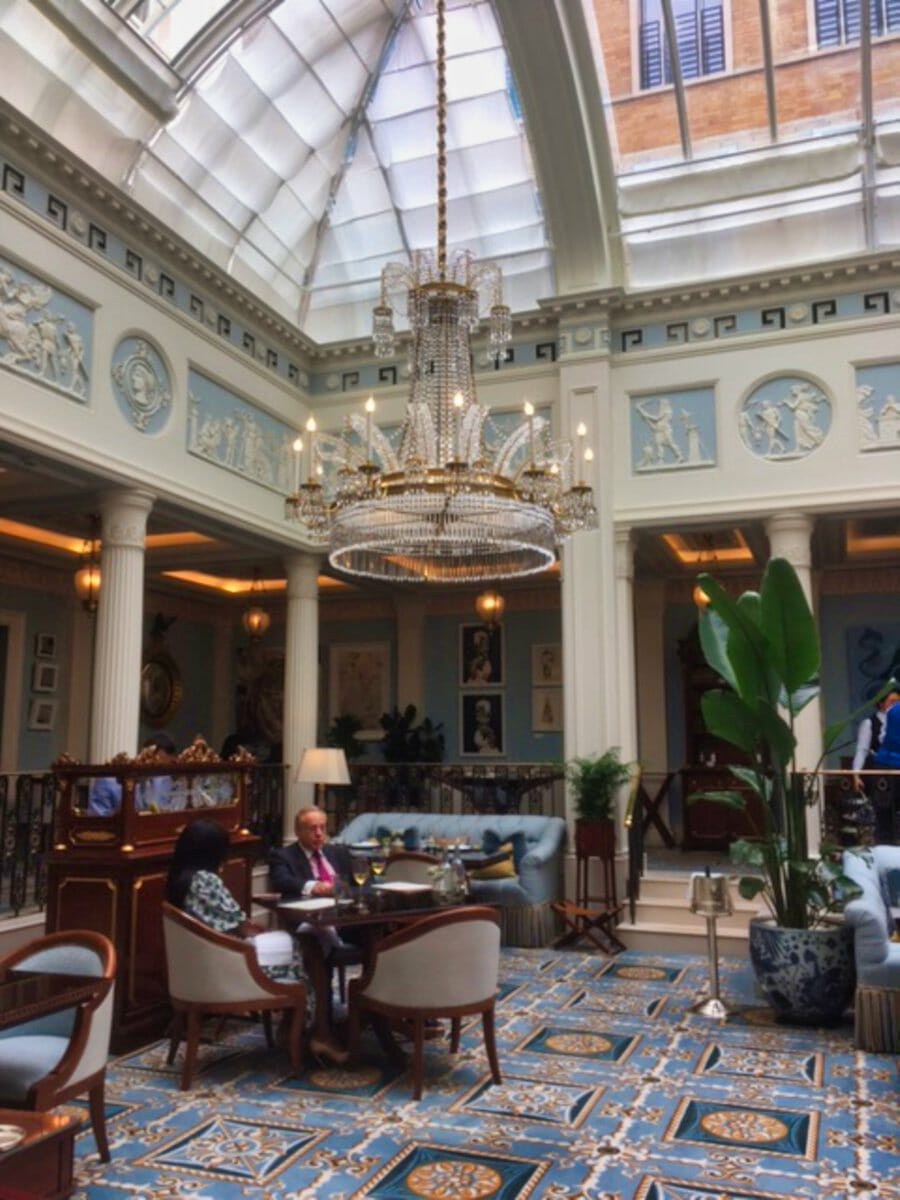 The menu itself includes a welcome from Lady Whistledown, inviting you into her world and inviting you to gossip and be seen at the Bridgerton afternoon tea.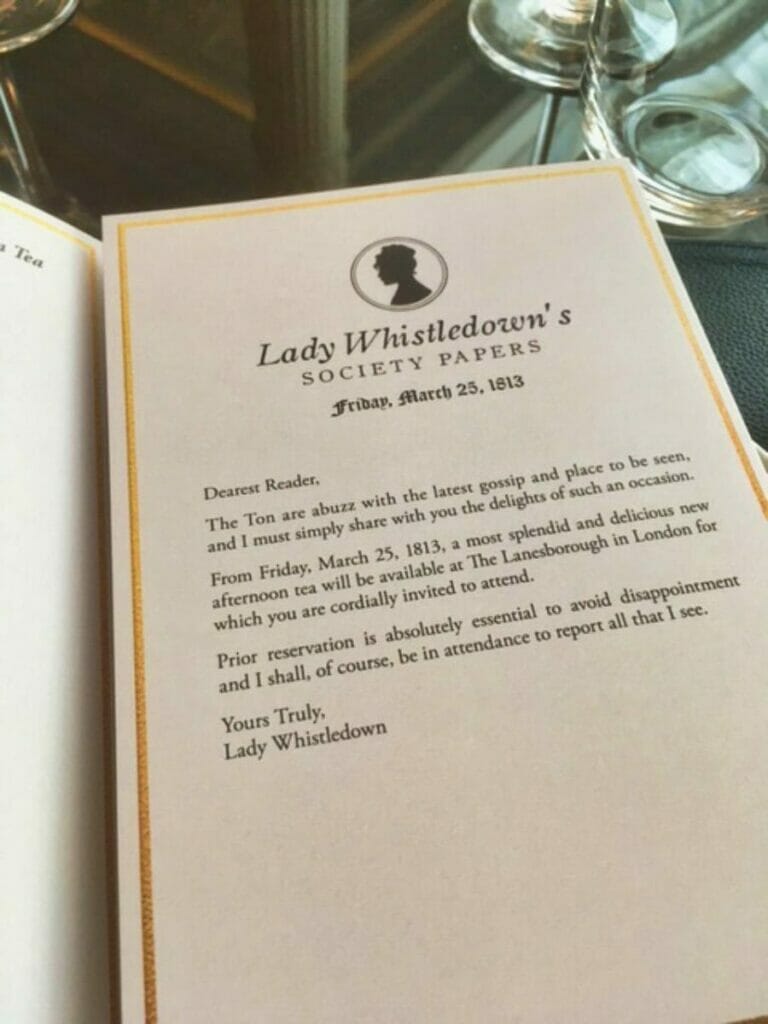 Each of the menu items are also specially named and created to bring in the characters from Bridgerton, from The Queen's Diamond to The Lady Whistledown to All is Fair in Love & War.
And, at the end, you can go see some of the shoes used in the Bridgerton series, displayed in glass cases.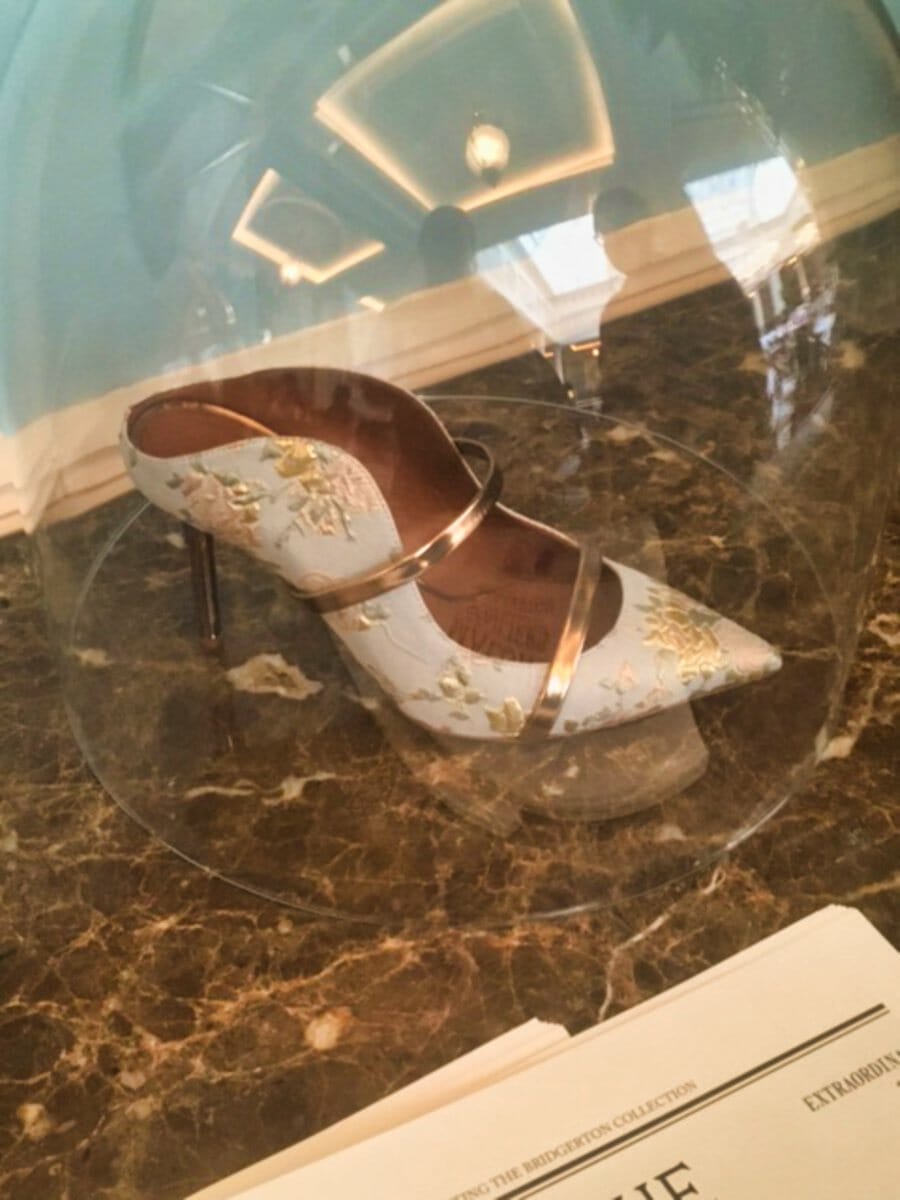 Can you pick out who wore them?
How to Book Bridgerton Afternoon Tea
You can book afternoon tea at the Lanesborough by simply heading to their website and booking here.