This post contains affiliate links for which I may make a small commission to help keep the site running. You will not be charged extra for these items had you not clicked the links. Thank you for your help to keep the site running!
Tucked away on Charles Street in one of the most beautiful areas of London, the Chesterfield Mayfair is a plush hotel that offers incredible service, comfortable amenities, and one of the best afternoon teas in London.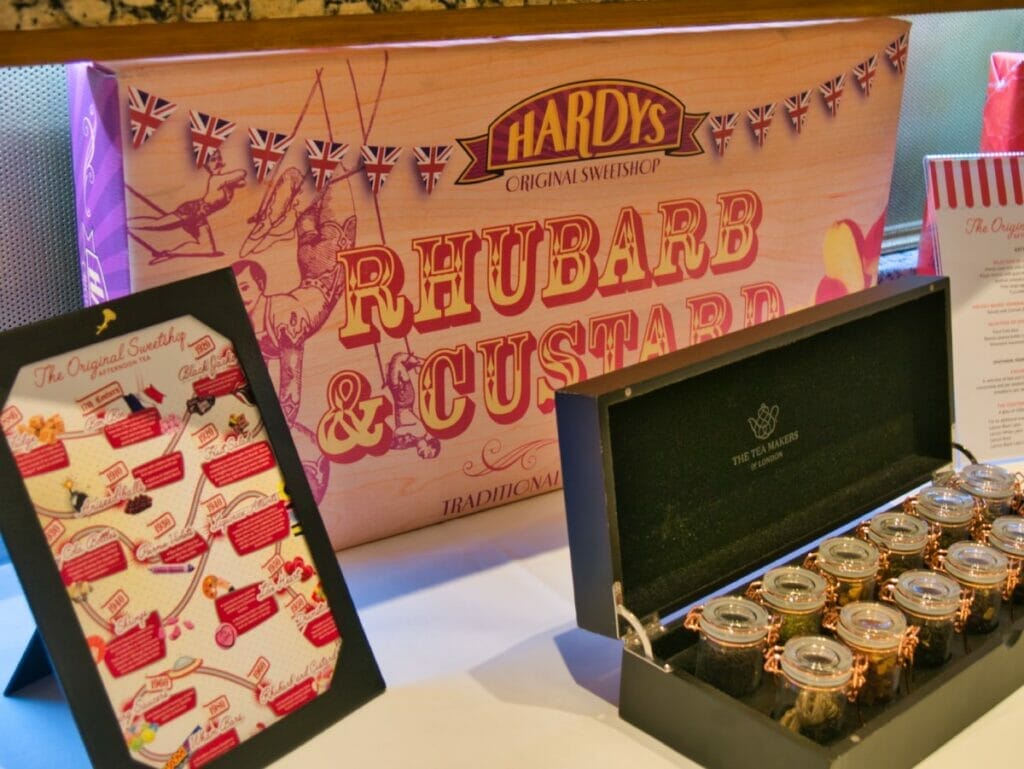 You don't have to be staying here to experience their whimsical and wonderful "sweet shop" (candy store, for those Americans out there) themed afternoon tea, which has now made the short list of my most recommended afternoon teas.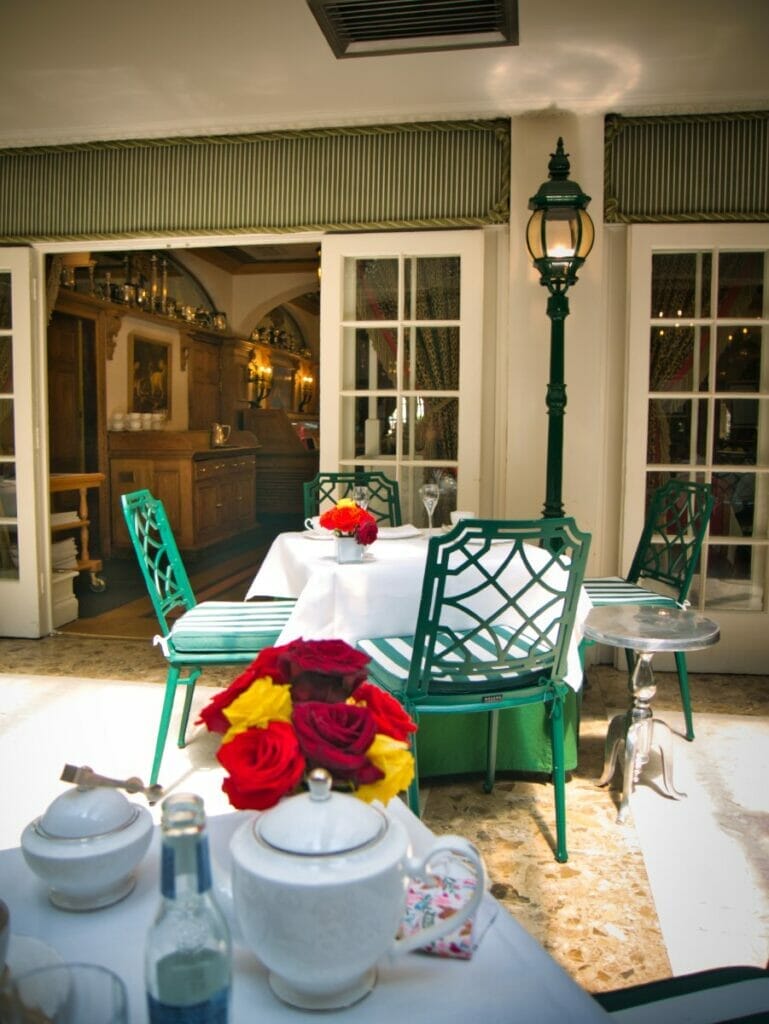 Unlike some other afternoon teas in London that are almost too traditional to the point of being stuffy and informal, the Chesterfield Mayfair afternoon tea is the perfect blend (get it?) of fancy and fun.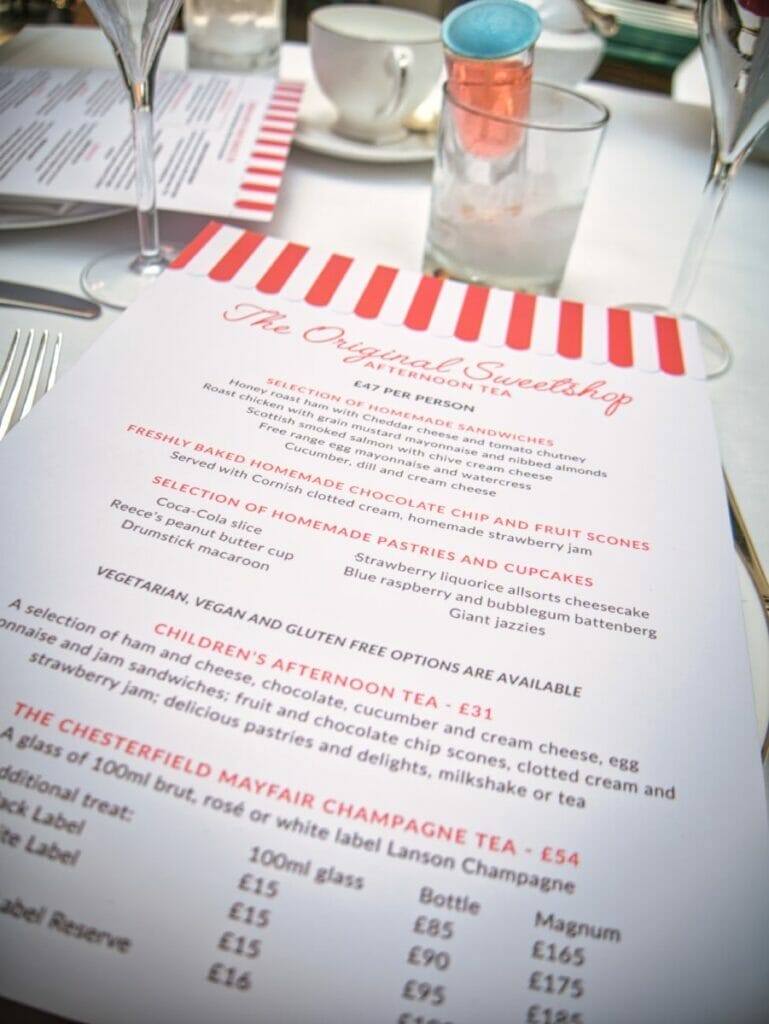 Hey! Sidenote! Planning on visiting the UK or moving to the UK?

For more advice, photos and friendly help, click here to join my UK Travel Facebook group to carry on the conversation with fellow travelers and UK experts.
Wait, stop!
Before you keep reading, I just wanted to make sure you know about my expert 7-day London itinerary that includes all of the iconic attractions plus off-the-beaten path activities and restaurants, as well as step-by-step walking and public transportation directions!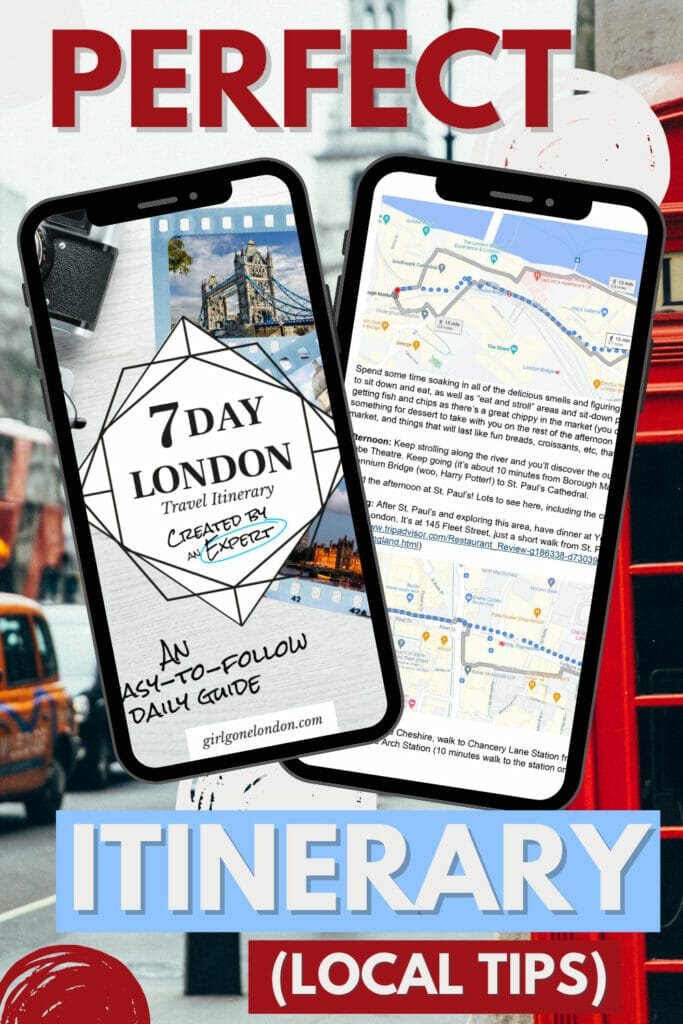 It can be stressful spending so much money on a London trip and not knowing if you're fitting everything in or making the most of your time.
To help you out, I've taken my 10 years of London experience (starting as a visitor and then as a resident) to make sure that you have the ultimate step-by-step itinerary that will make sure you see the real London.
And, hey, if you're not coming for exactly 7 days or already have some plans, don't worry, as it's editable so you can mix around the days, incorporate your own ideas, or pick and choose which days to follow.
Check out some of my other favorite afternoon teas in London!
Where is the Chesterfield Mayfair Afternoon Tea?
You'll find the afternoon tea at 35 Charles Street in Mayfair.
The nearest tube station is Green Park, and the walk to the tea takes just a few minutes.
There are also other tube stations, like Hyde Park Corner, nearby, as well as good bus services.
Service at the Chesterfield Mayfair Afternoon Tea
One of the main pluses or minuses to an afternoon tea is the service.
The Chesterfield Mayfair prides itself on fantastic and attentive staff, and that is exactly what we experienced.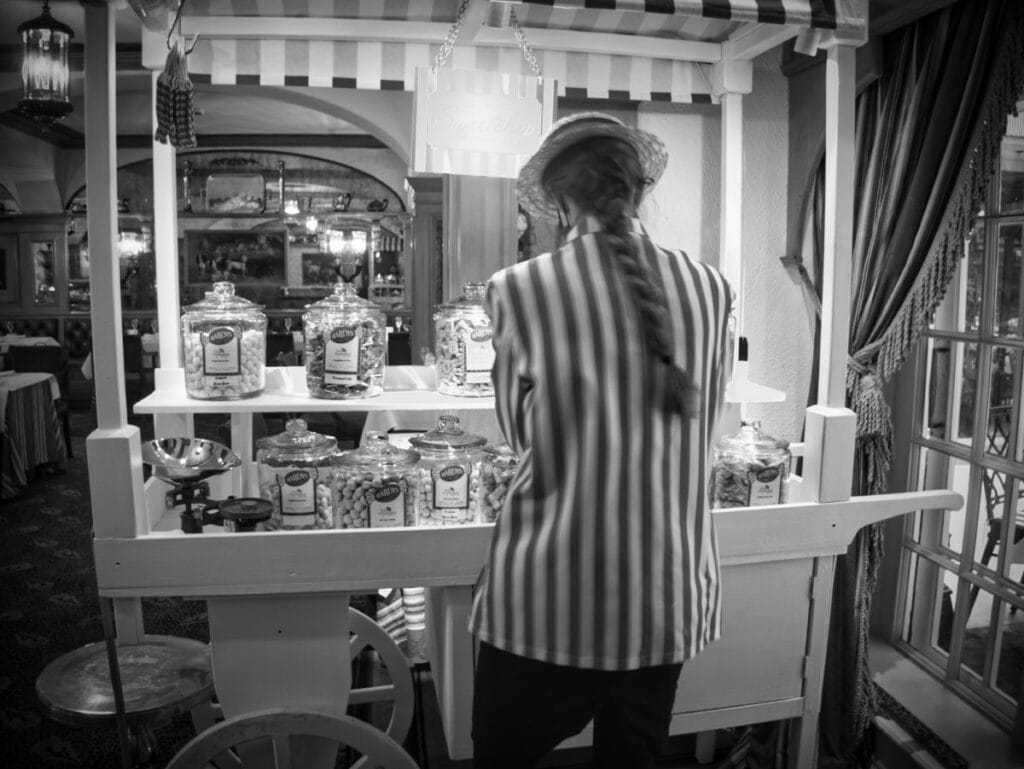 From friendly hello's as you first come through the door of the hotel to the incredibly detailed and welcoming service during the afternoon tea, we felt like nothing was too much to ask.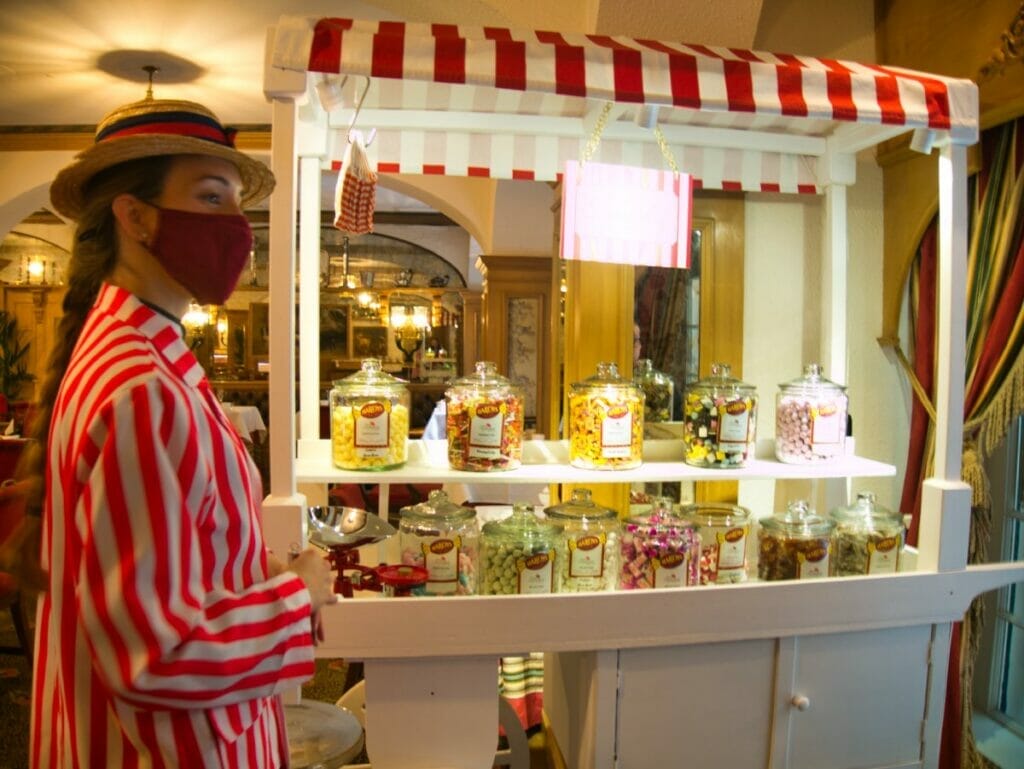 Sometimes, afternoon teas can feel a bit cold or cookie cutter, but the service at the Chesterfield Mayfair was intimate, personal, and never rushed.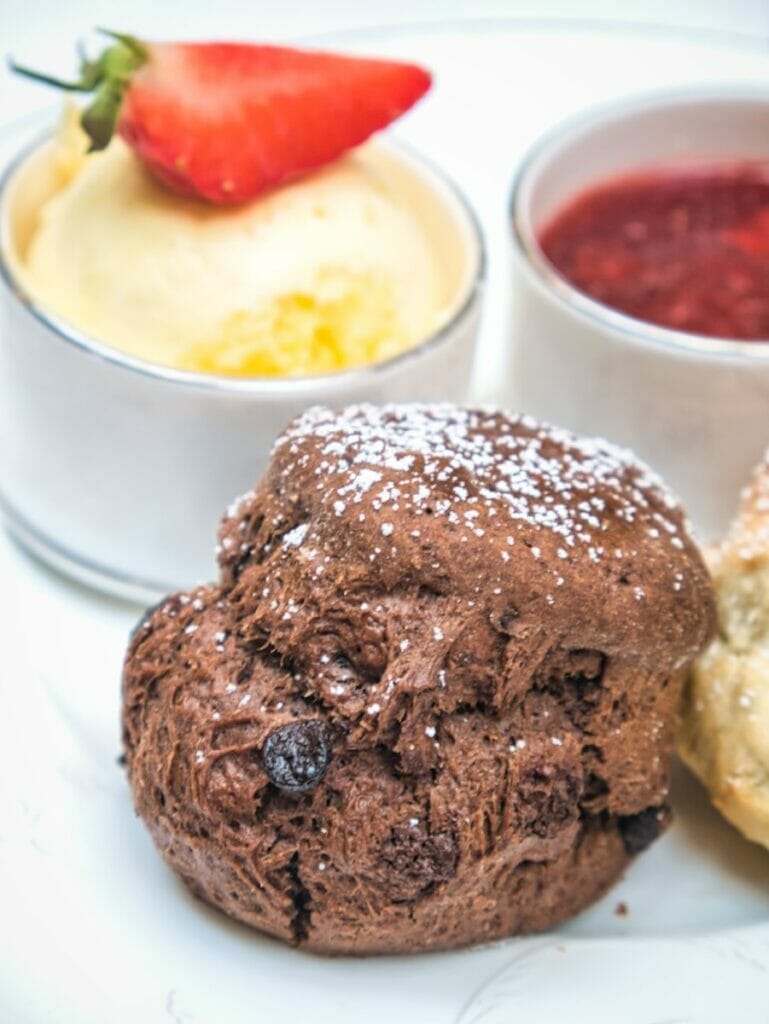 Food and Dining Options
Let's talk about arguably the most important aspect of an afternoon tea: the food!
The full menu is below, and also available here.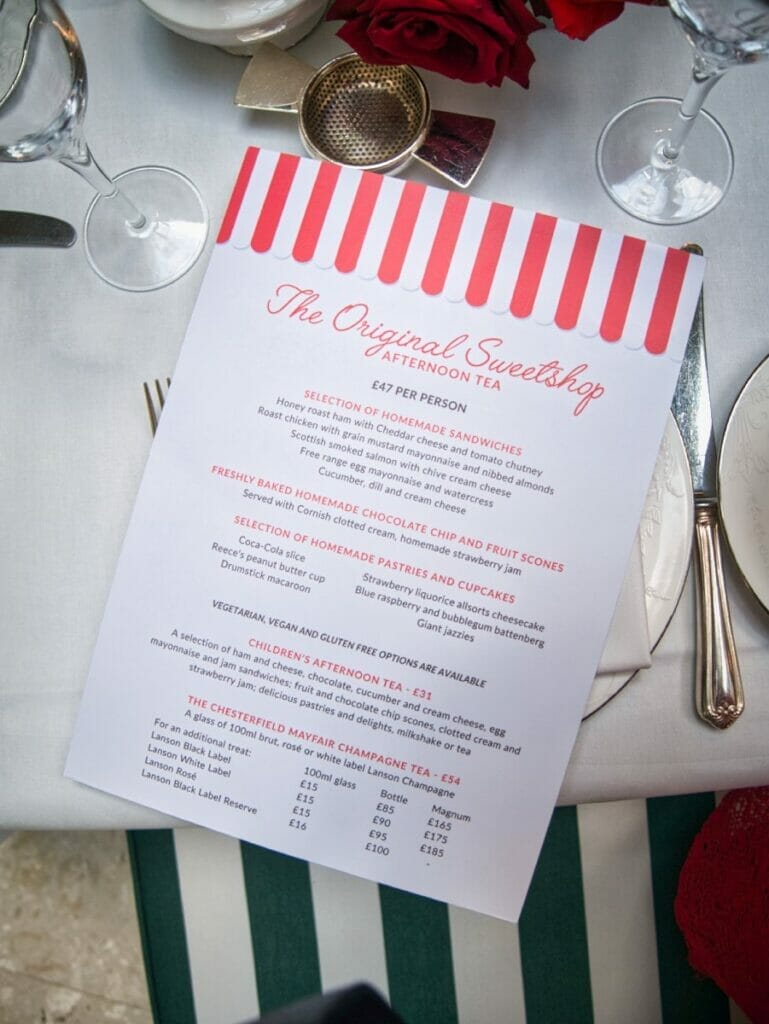 We started off with a welcome drink, a pink lemonade topped off with a colorful sweet that really set the tone for the rest of the menu as the dry ice in the glass underneath created a smoky effect.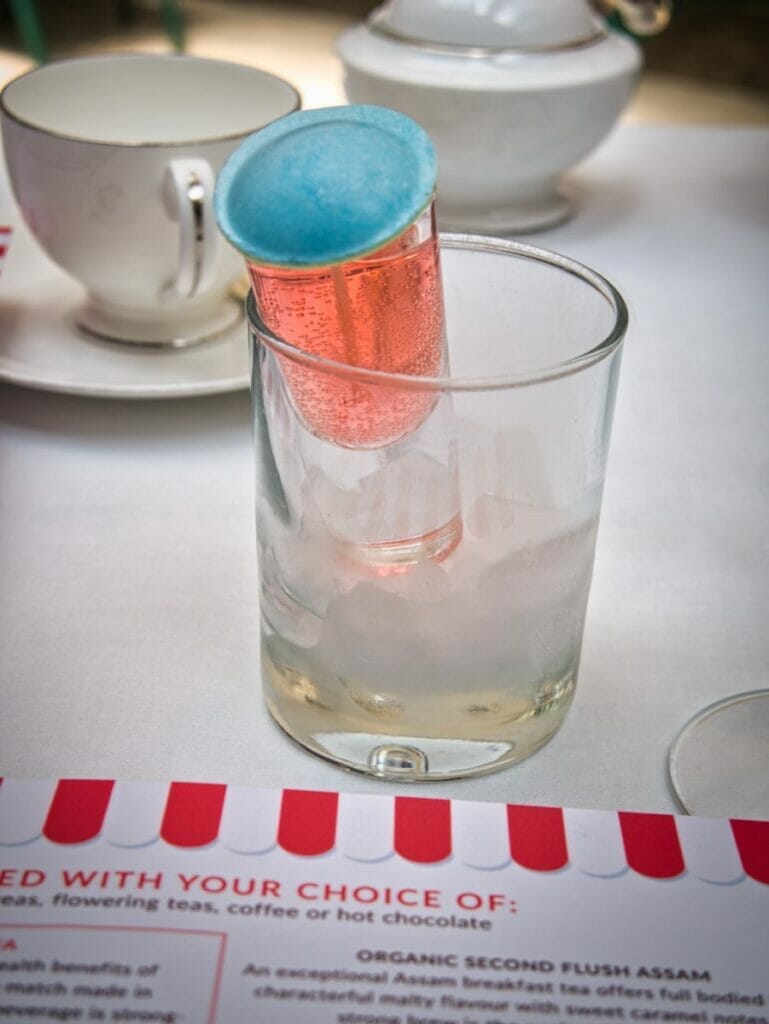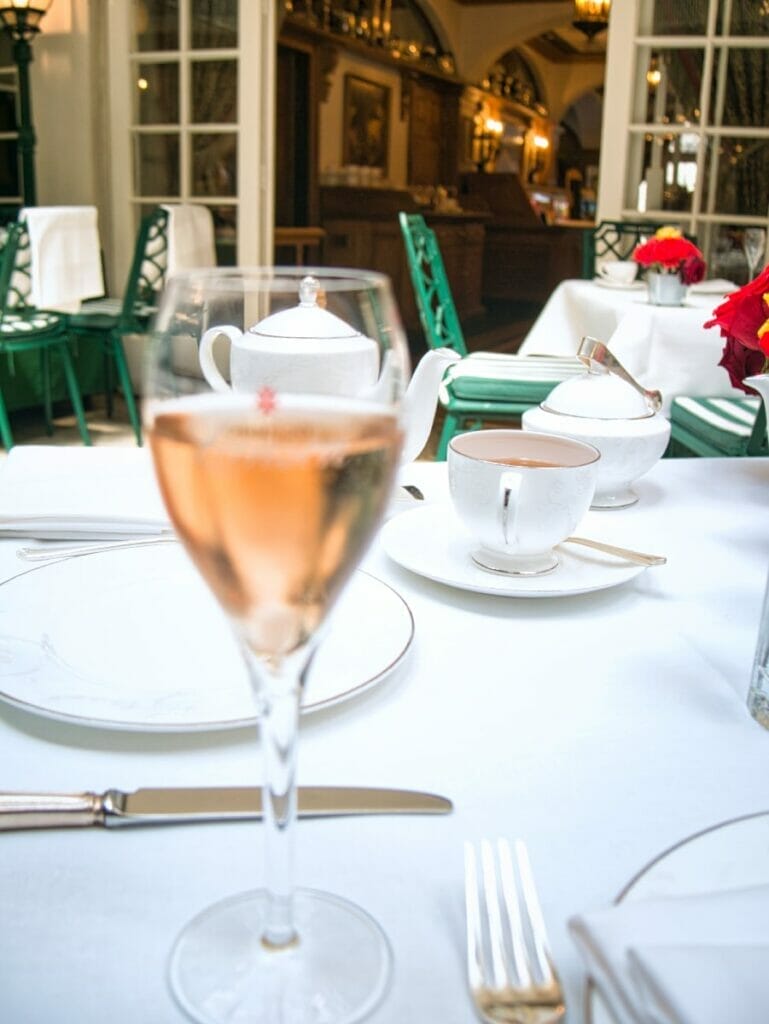 Next, it was time to check out the tea menu (you can also have coffee or hot chocolate if you're really not a tea person).
The tea options range from the classic Earl Grey to the more unique options, like the fruit candy tea and chocolate tea that we tried.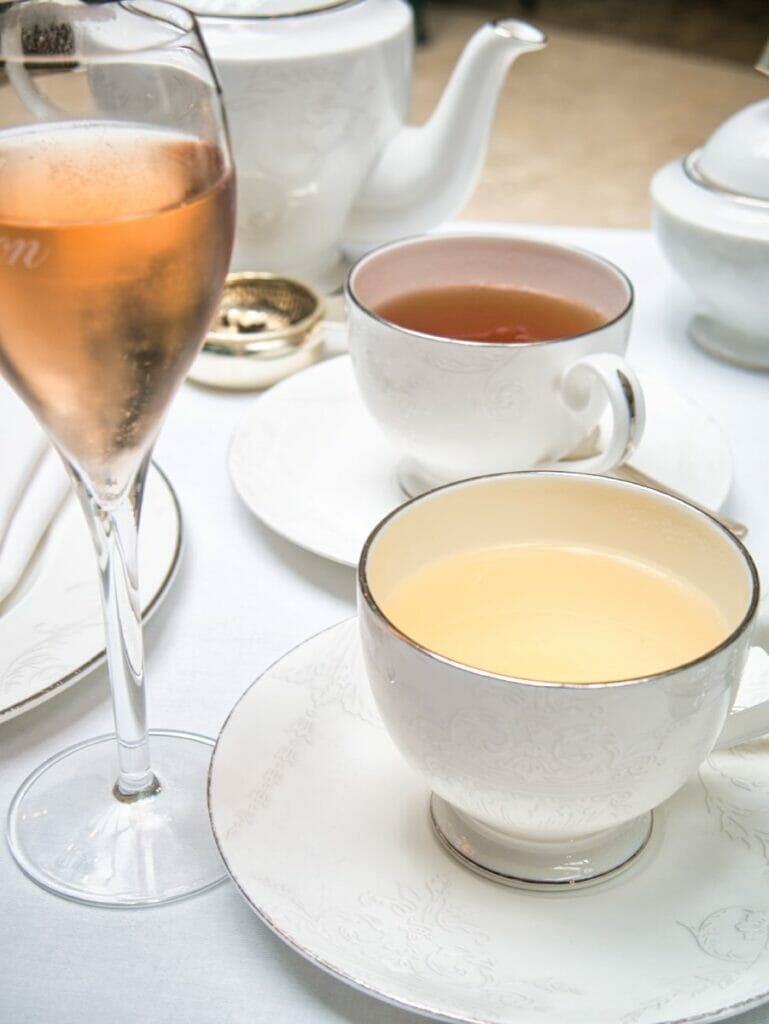 The fruit candy tea is as sweet as can be, perfect for someone who wants to embrace that "sweets shop" theme.
The chocolate tea is rich and decadent, providing a perfect complement to the sweets on the menu that was yet to come, and offering something a little different.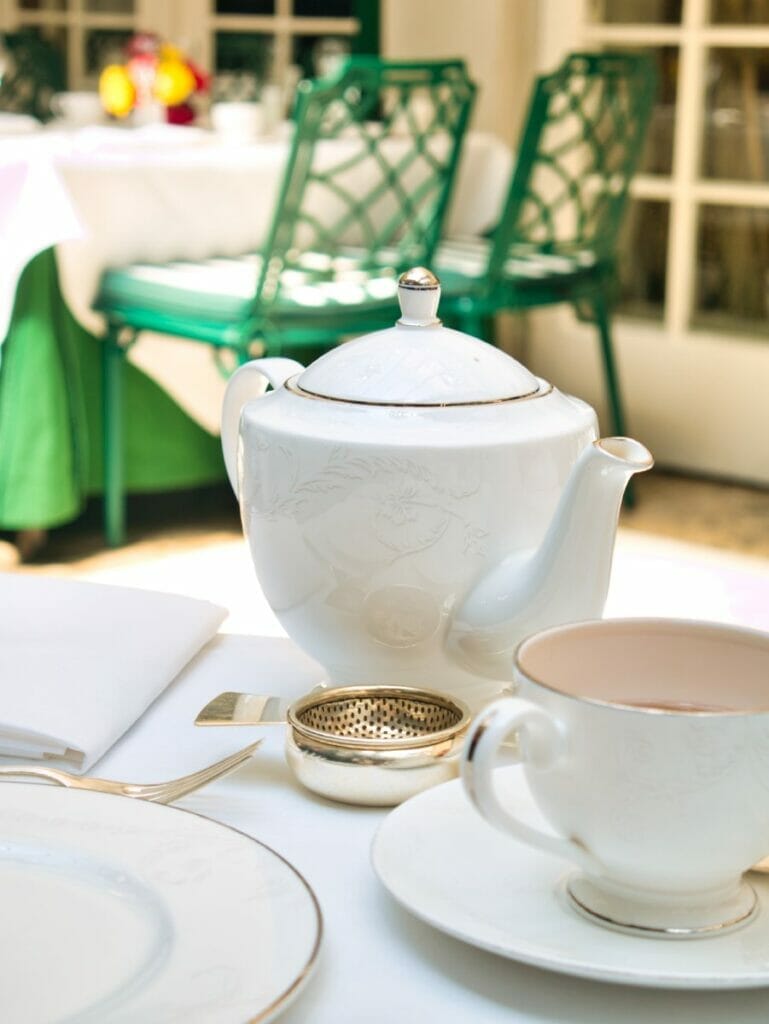 If you're not a tea connoisseur and don't know what to try, just ask!
The afternoon tea staff are more than happy to guide you through the options and listen to your tastes/interest and suggest something you might like.
And if you want to try a few different options, you can do that as well!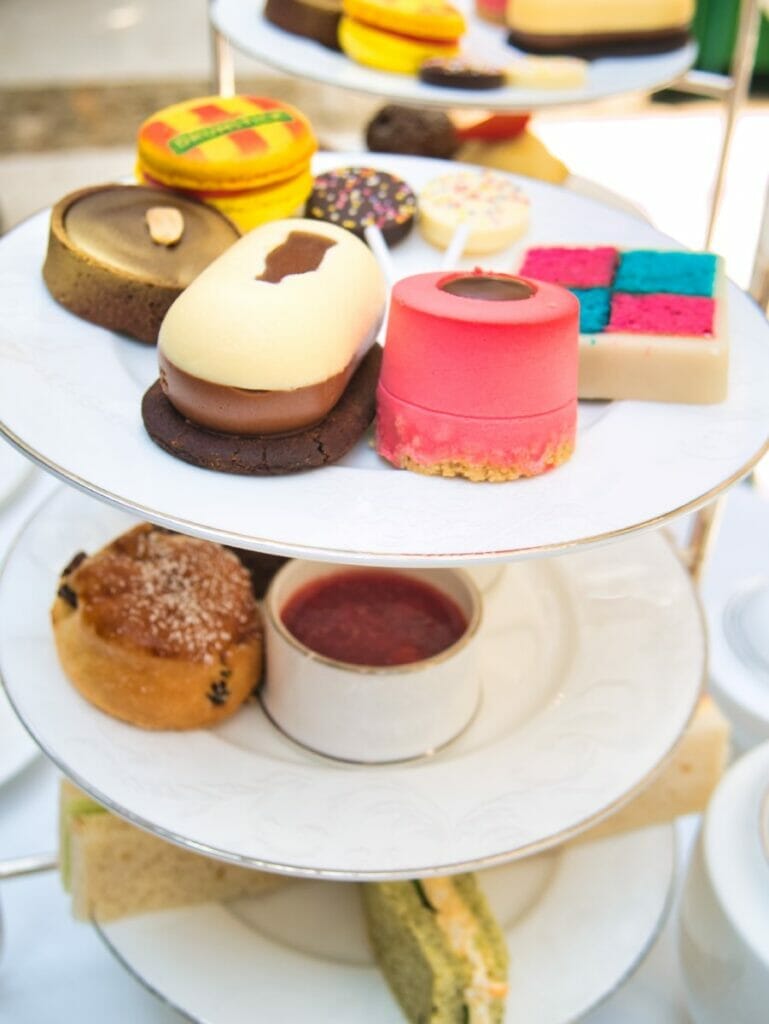 The sandwiches, scones, and sweets come out together, and because we're not heathens, we ate everything in "correct" order, starting with the sandwiches.
Dietary Requirements
The Chesterfield Mayfair afternoon tea caters to those with dietary requirements, including vegan, halal, vegetarian, and gluten free. We tried both the regular and vegetarian option!
The sandwiches, ranging from honey roast ham to egg mayonnaise to smoked salmon hit the spot, with particular stand-outs being the roast pepper sandwich and the pesto sandwich.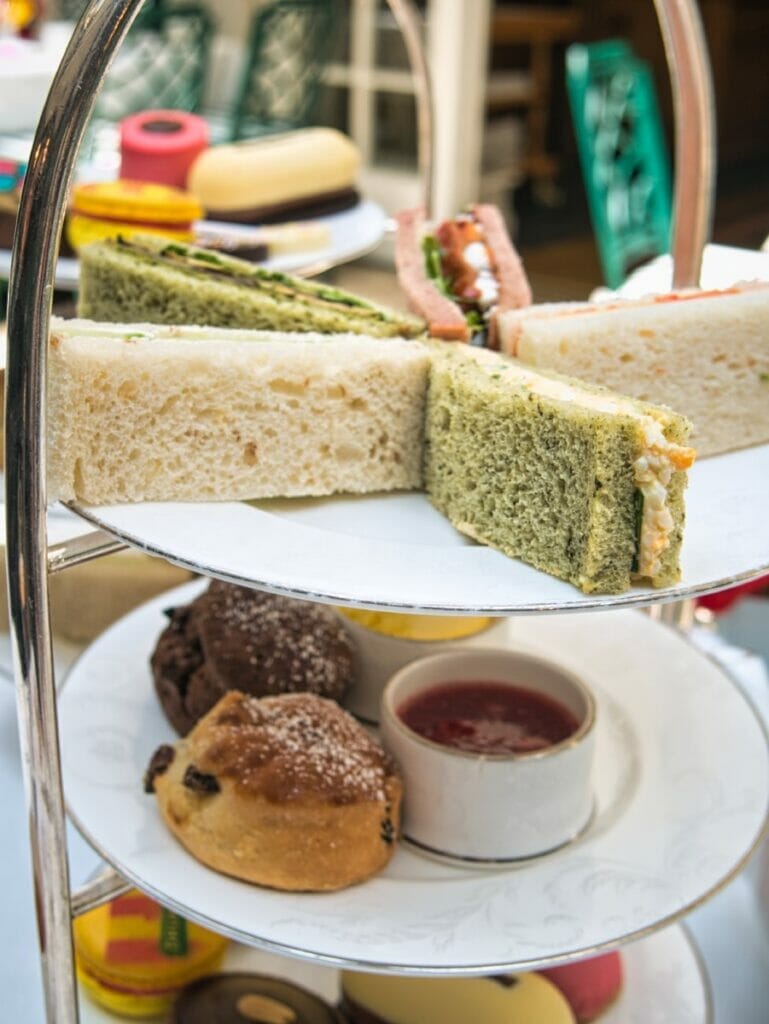 The egg sandwich was also an elevated experience from your normal egg sandwich, with just the right texture and flavor to make you feel like you were enjoying a spruced up version of a classic sandwich.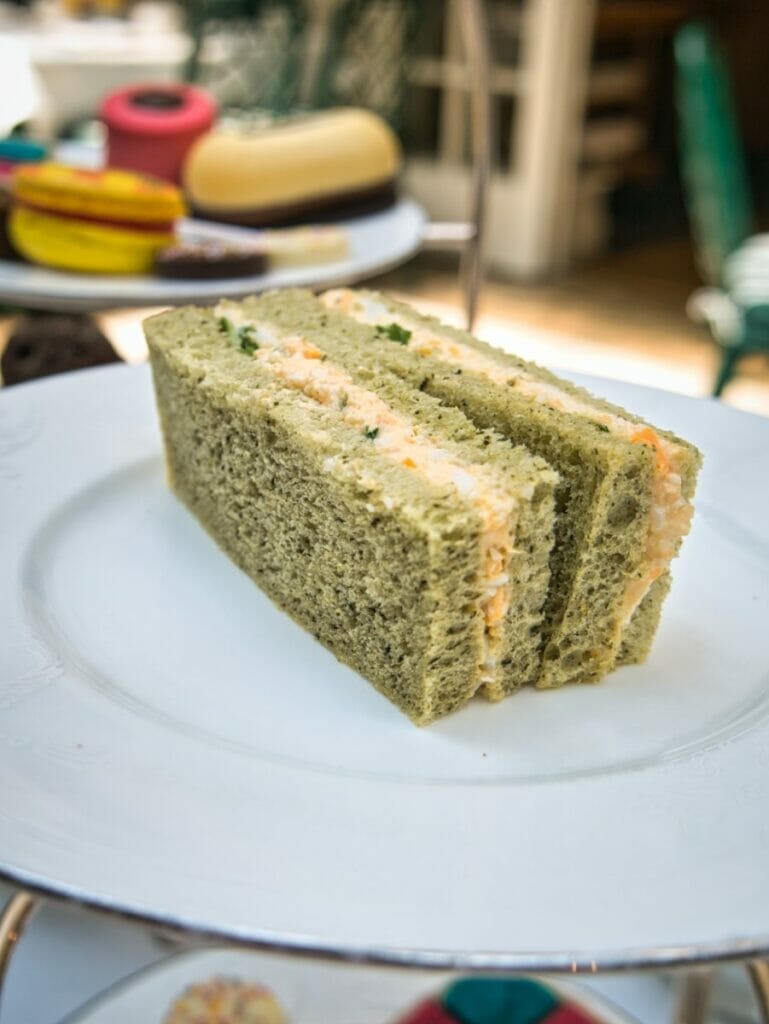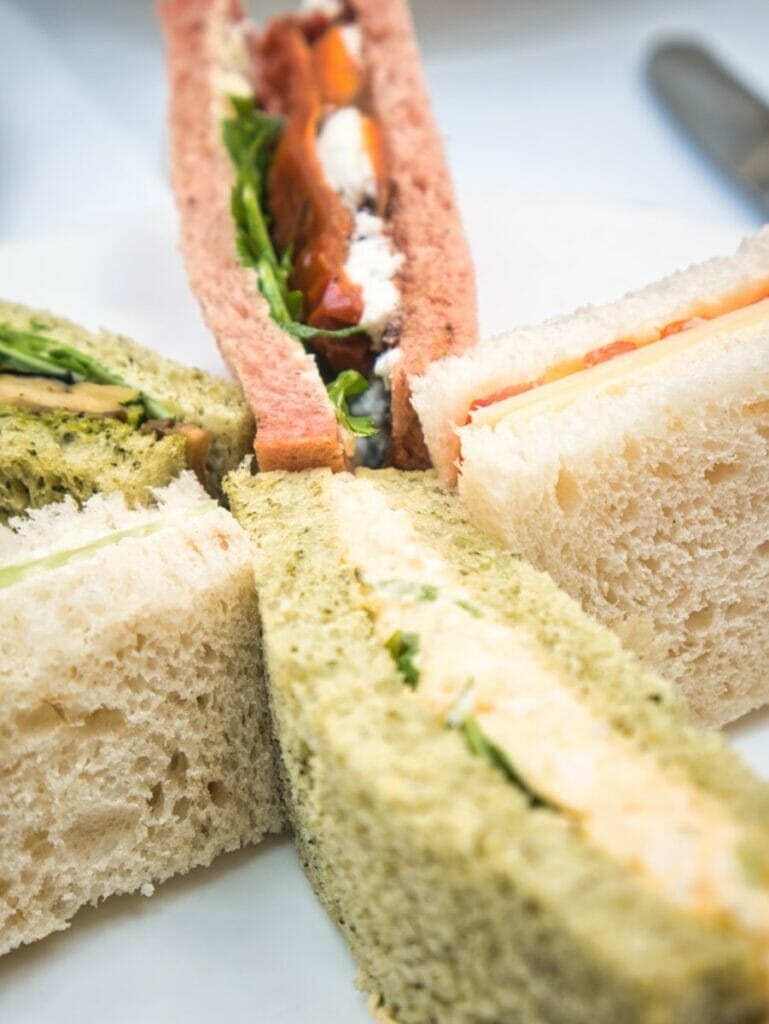 Everyone knows you don't go to afternoon tea for the sandwiches, though, so we quickly moved on to the scones which had been catching our eye since they arrived at our table.
In addition to a more traditional fruit scone, the Chesterfield Mayfair afternoon tea offers up something you don't see on many menus: chocolate chip scones!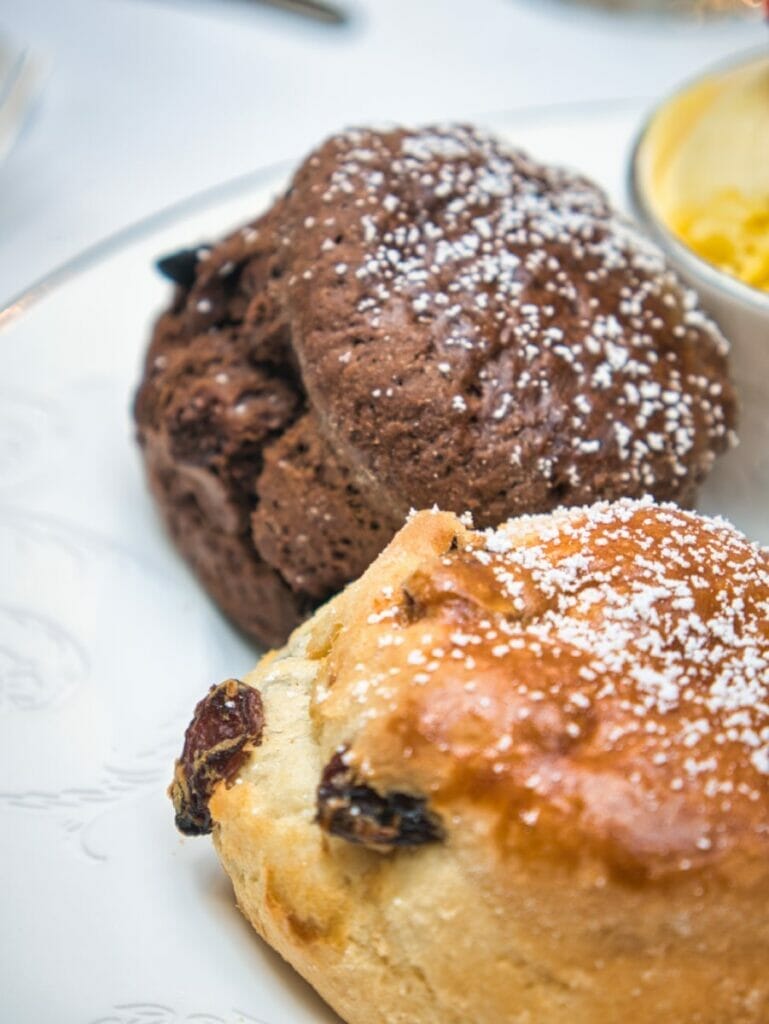 I've never tried a chocolate scone, let alone a chocolate chip scone before, and I am now a full convert and believe scones should be no other way (I know, traditionalists will not be happy with my statement, but they're sooooooooo good).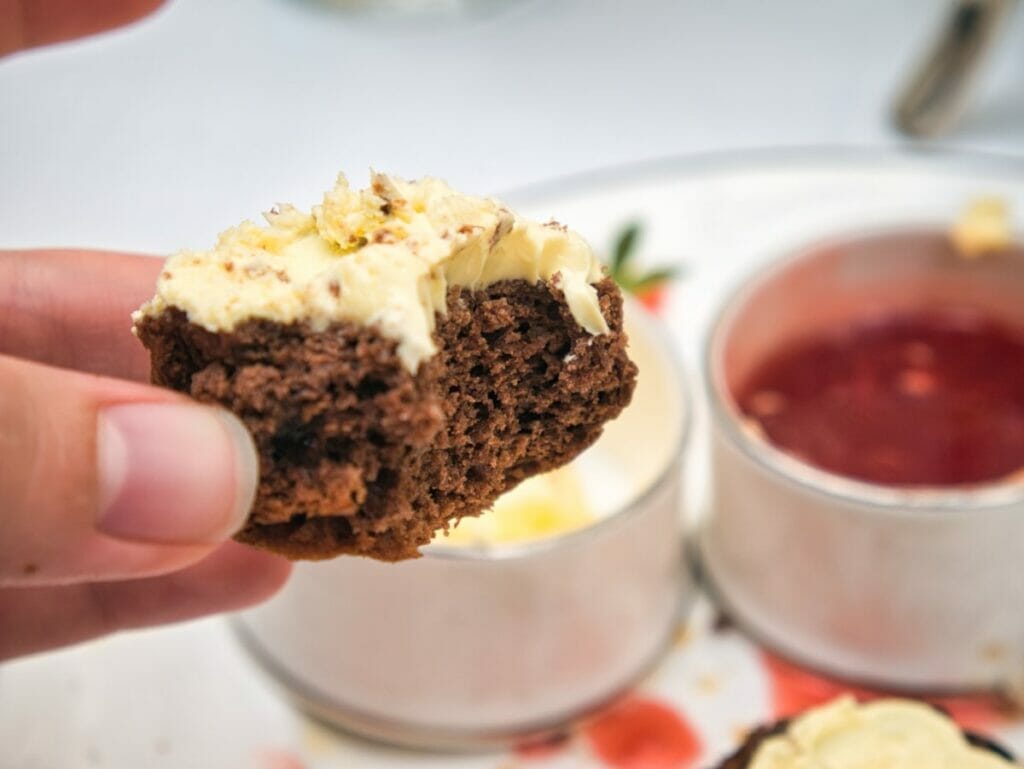 Both scones come with strawberry jam and clotted cream, but this is a great example of that traditional, yet fun, afternoon tea experience here.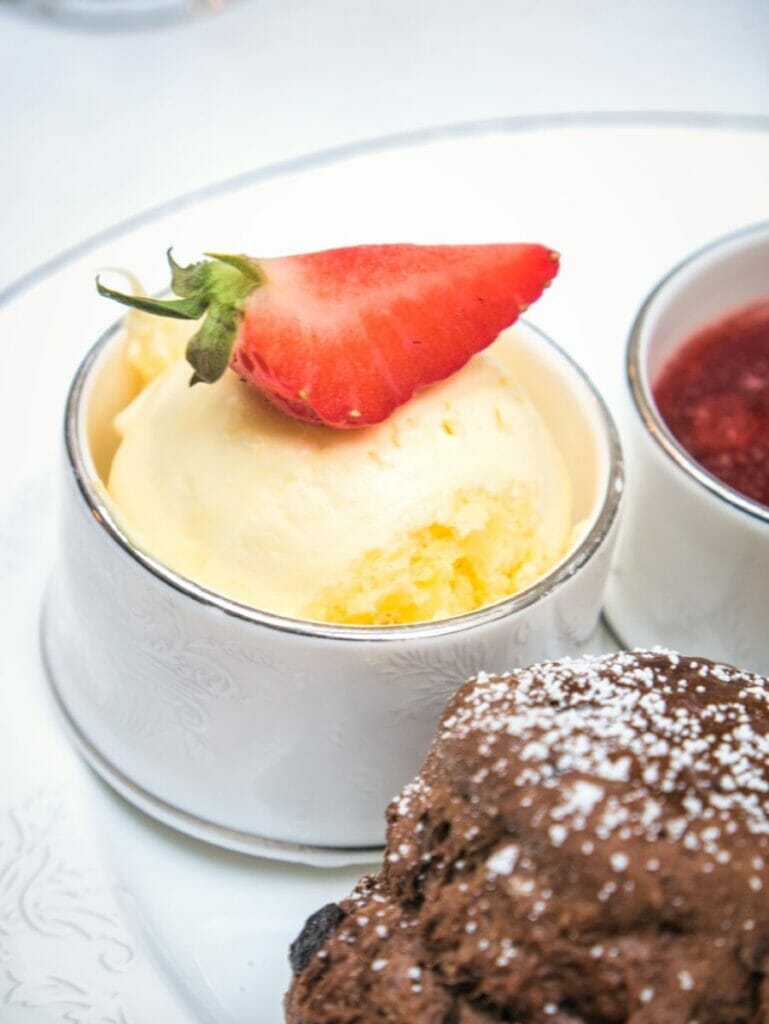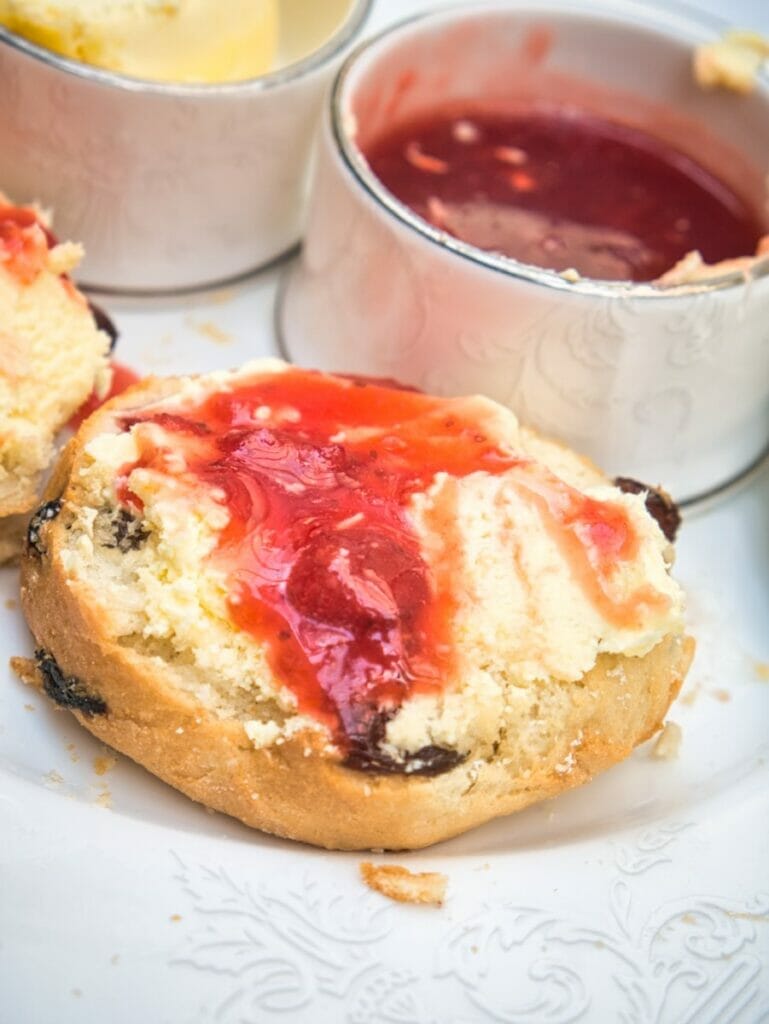 You don't miss out on the classic afternoon tea experience with the range of tea options, the sandwiches, and the fruit scones, but you get that little bit of extra pizazz and innovation that differentiates the menu from other afternoon teas out there.
The final tier, the sweets themselves, are the most colorful and vibrant cakes and sweets tier of an afternoon tea I've ever experienced.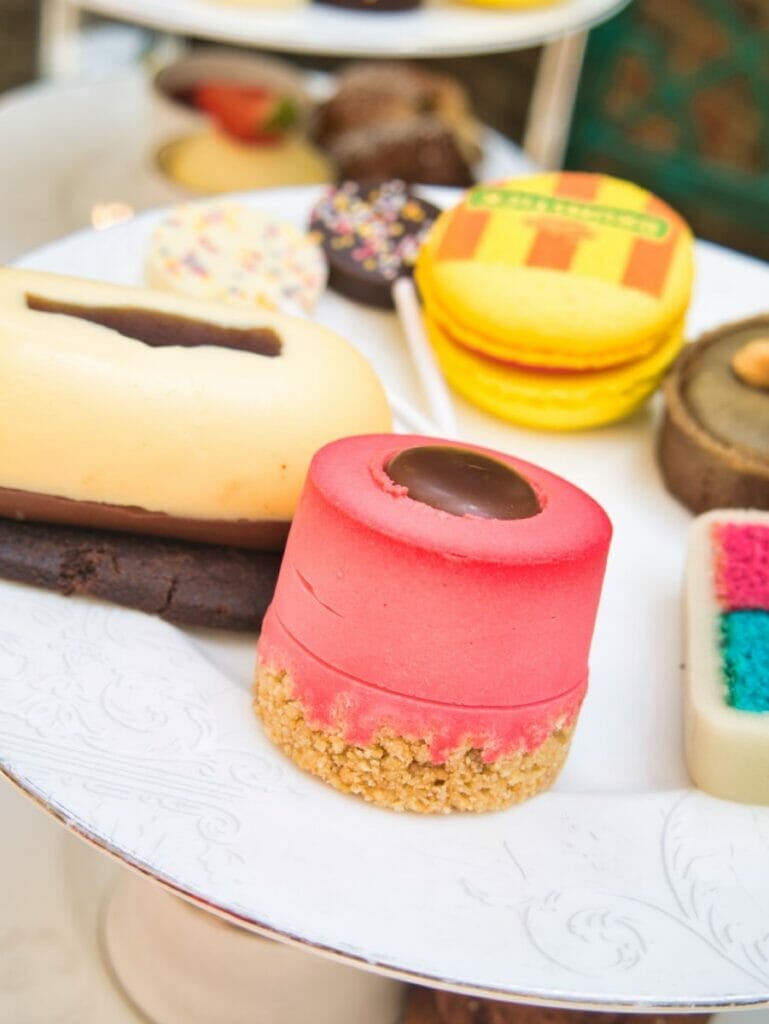 From a chocolate peanut butter cup to delicious strawberry cheesecake to blue raspberry and bubblegum battenberg, each dessert is its own brand of decadence, ranging from fluffy to rich and back again.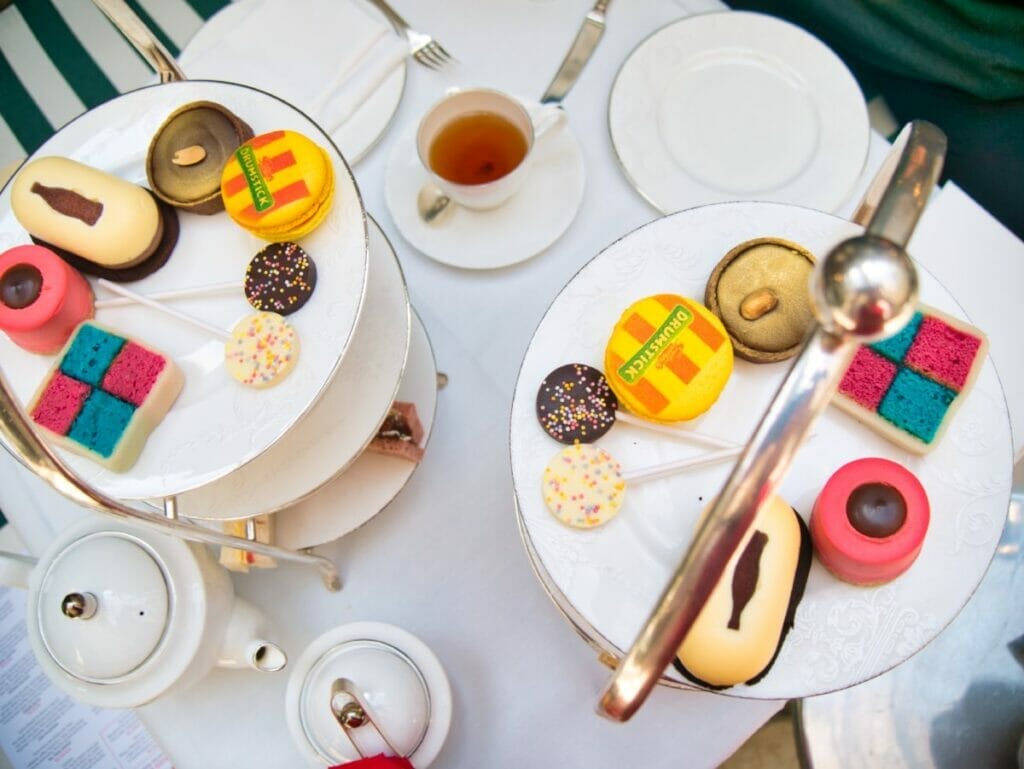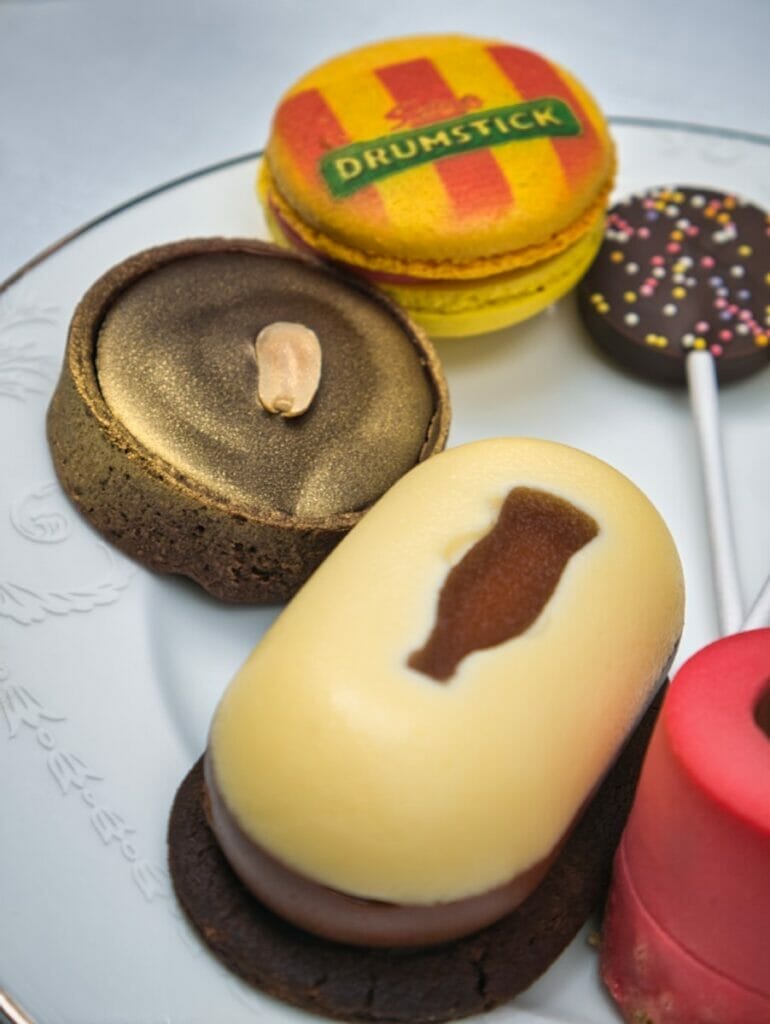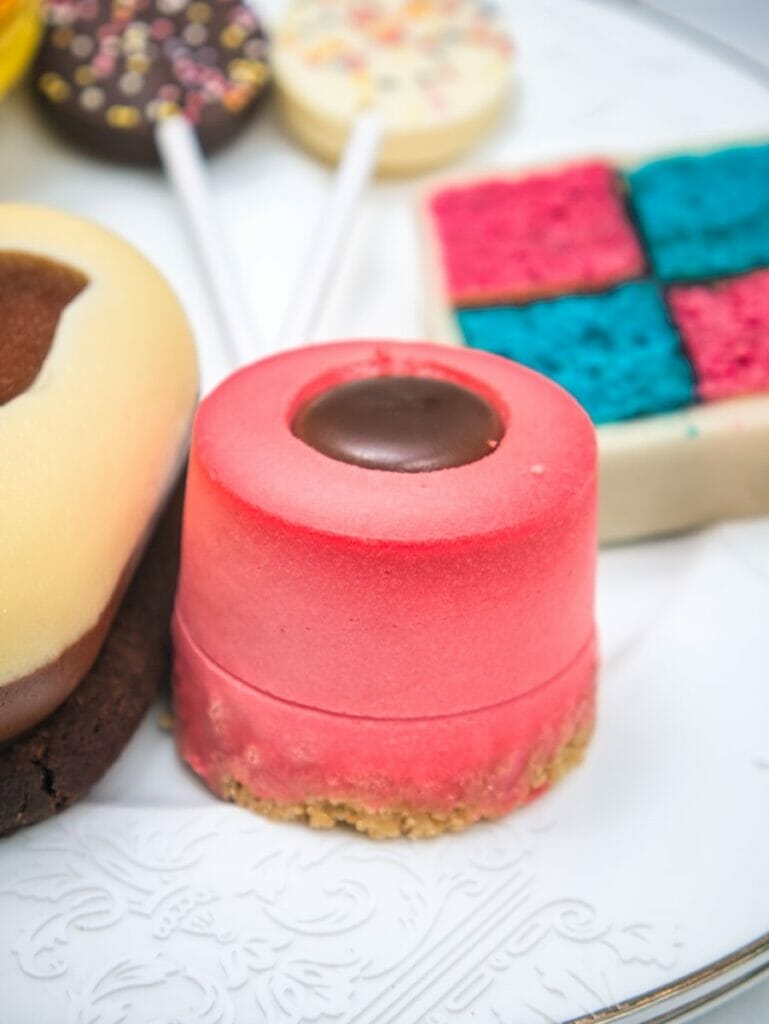 The "giant jazzies," which were essentially the most delicious chocolate on a stick were a firm favorite to start off with.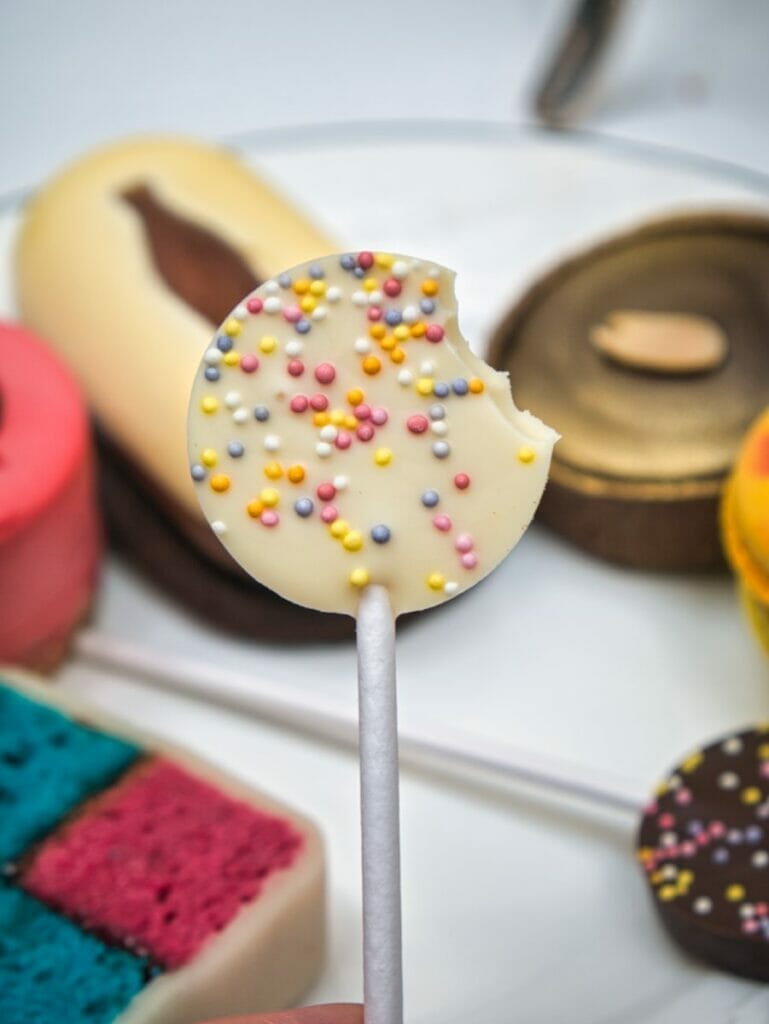 And the Drumstick macaroon is a fun take on a traditional macaroon (Drumsticks are a classic British candy, for those not in the know).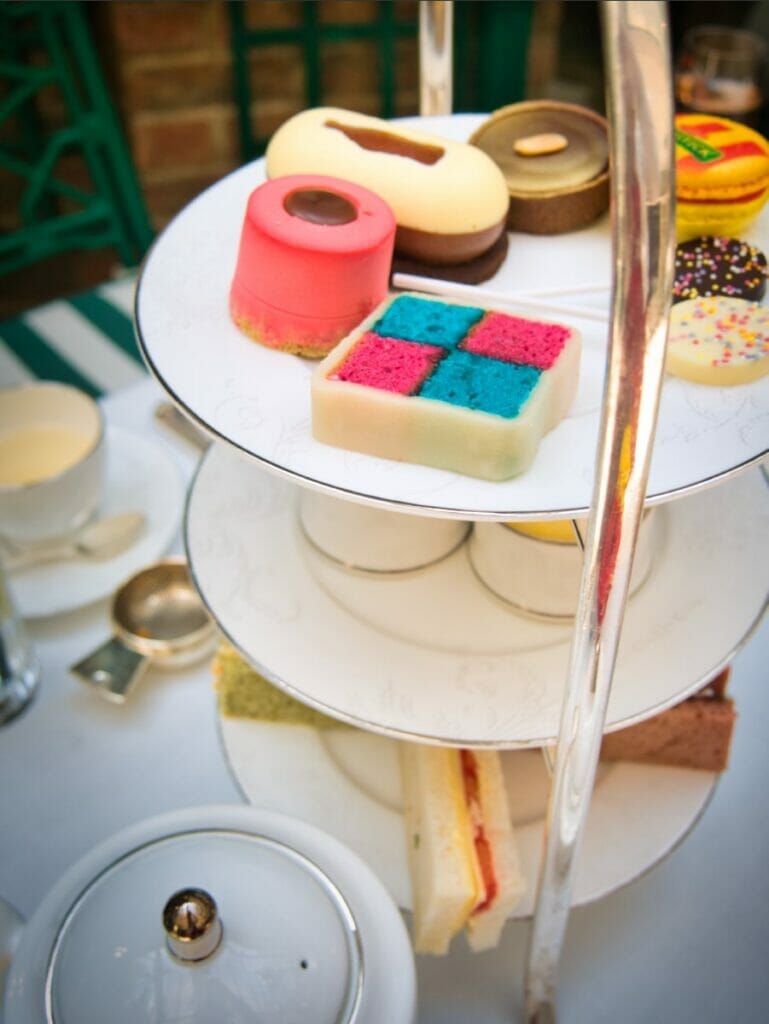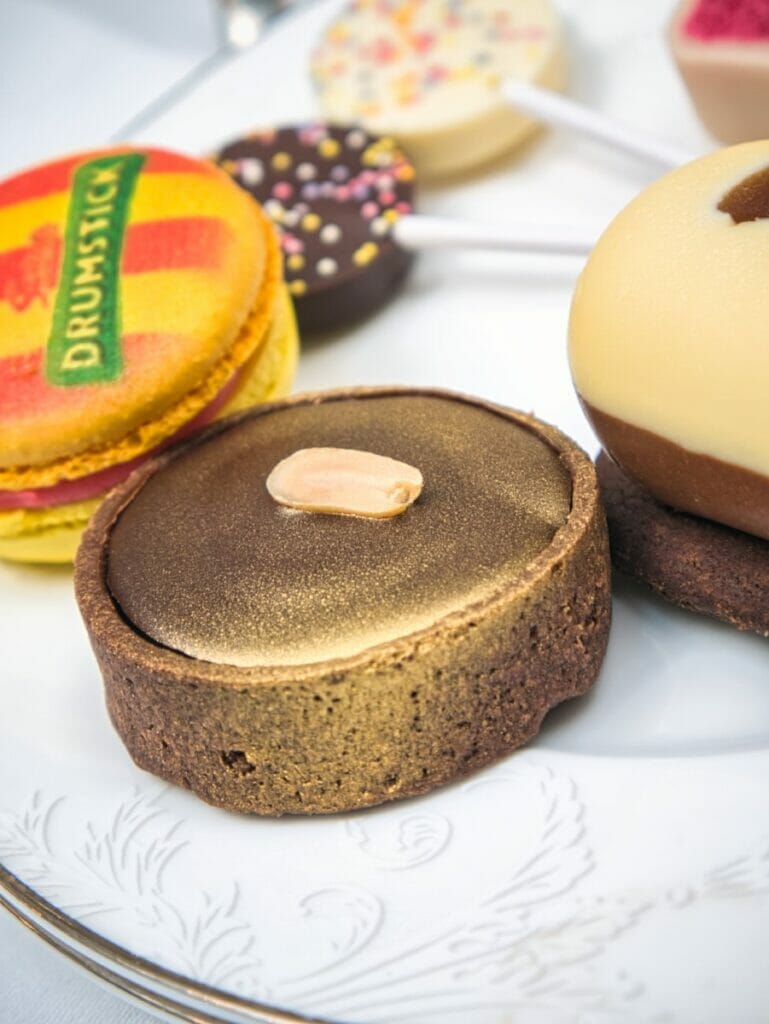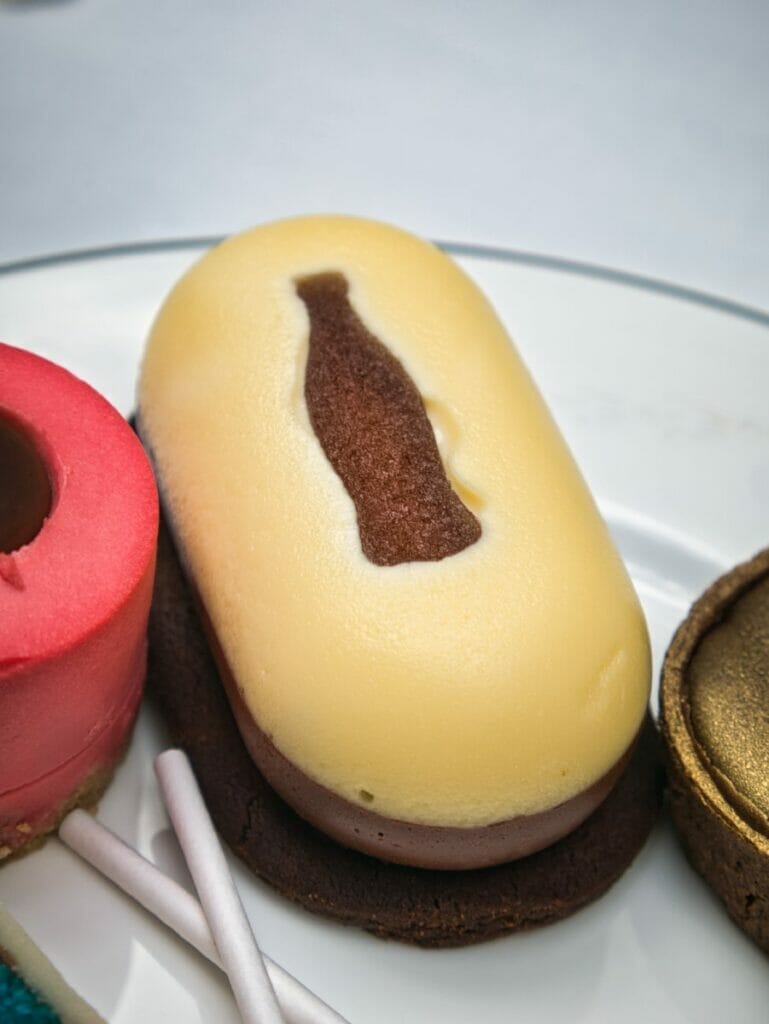 Chesterfield Mayfair Afternoon Tea Experience
The setting and overall experience at the Chesterfield Mayfair afternoon tea are just as important as the food itself.
It's no use being served a delicious 3-tier afternoon tea if you're stuck eating in an uninspiring environment with no atmosphere.
In this category, this afternoon tea totally delivered.
We ate in a bright and airy room with a glass ceiling that offered plenty of light and an upscale atmosphere with striped green chair cushions.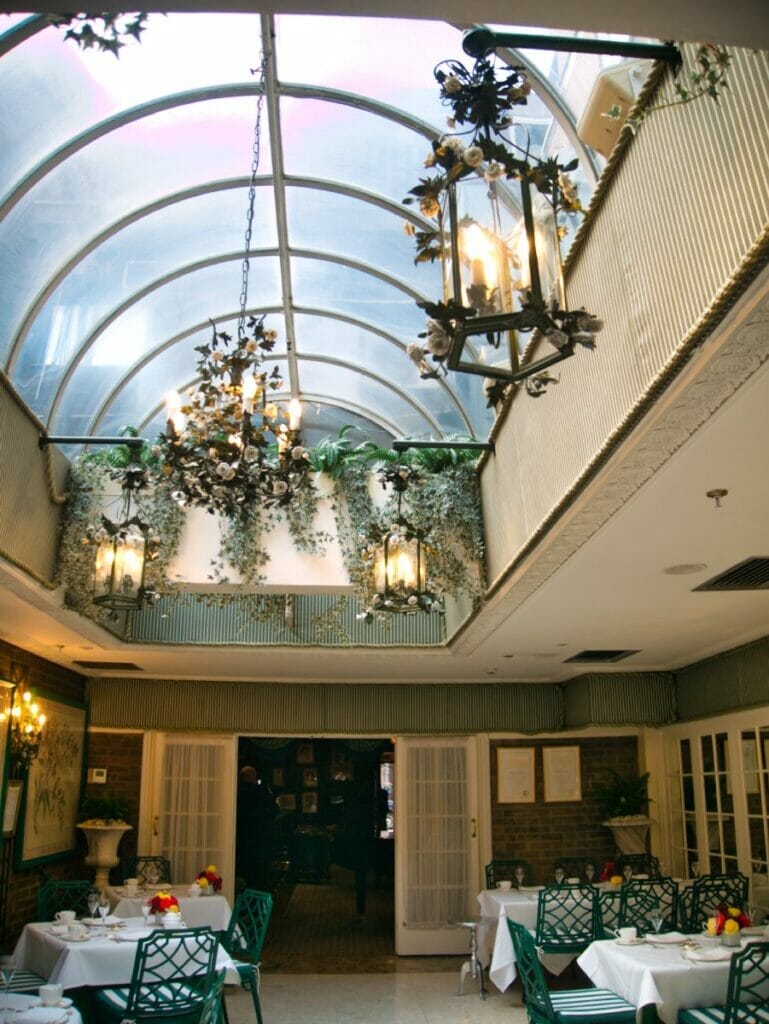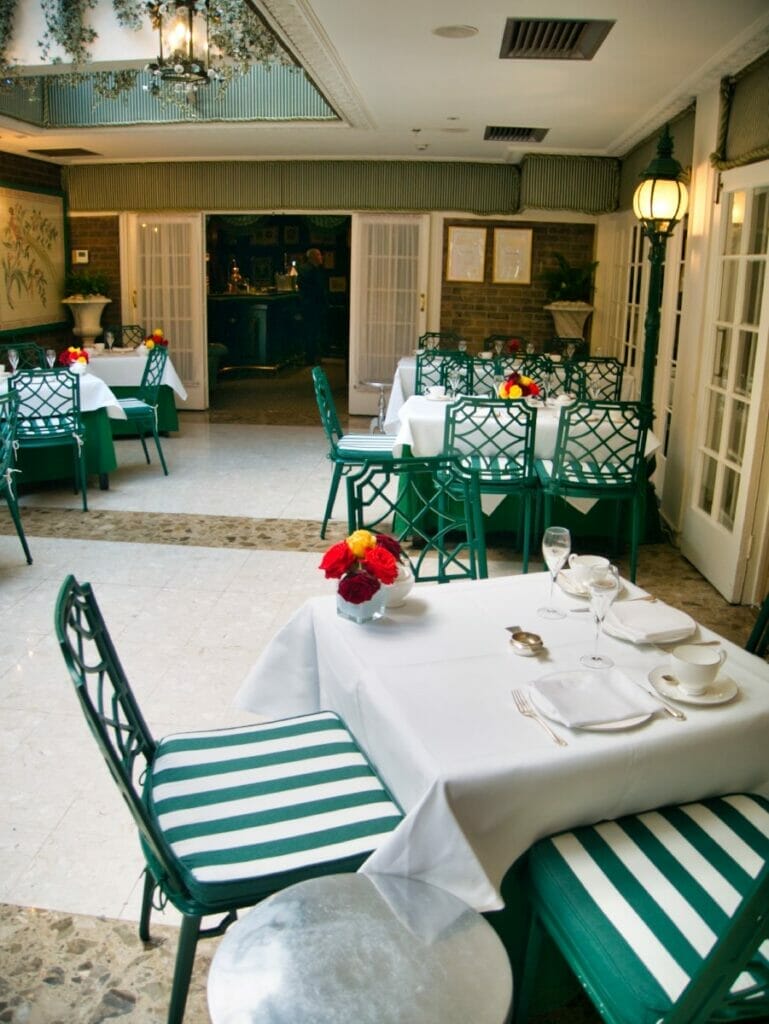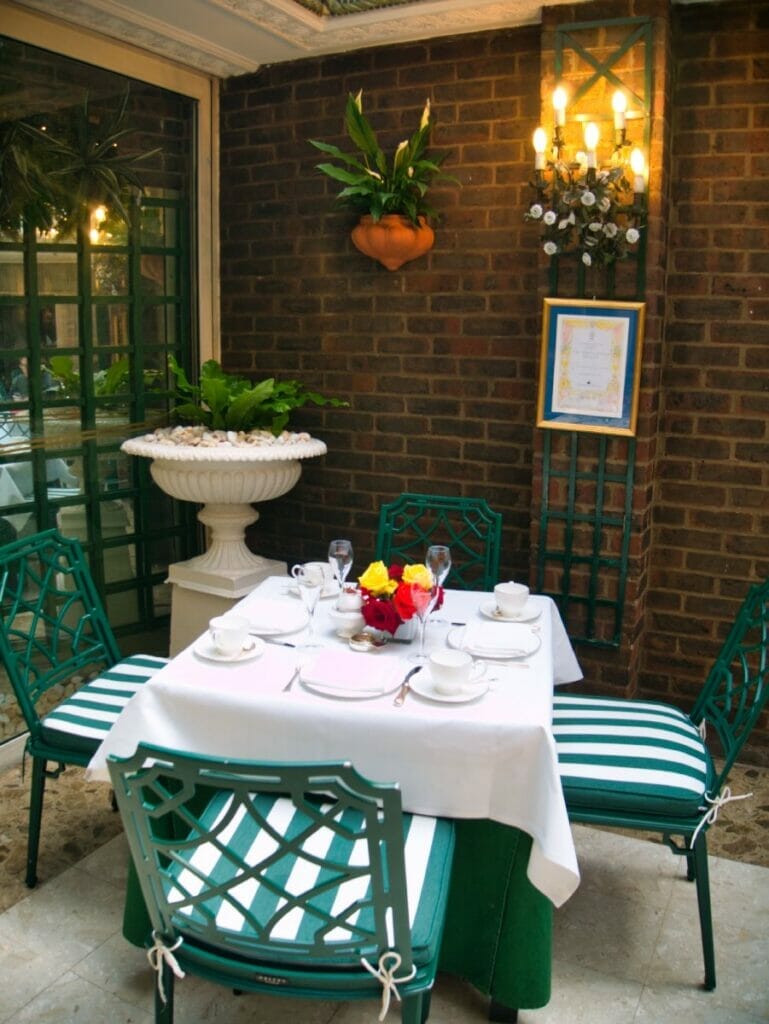 Afternoon tea is sometimes also served in the interior room, where the plush reds and golden hues make you feel as if you've stepped into a candy palace.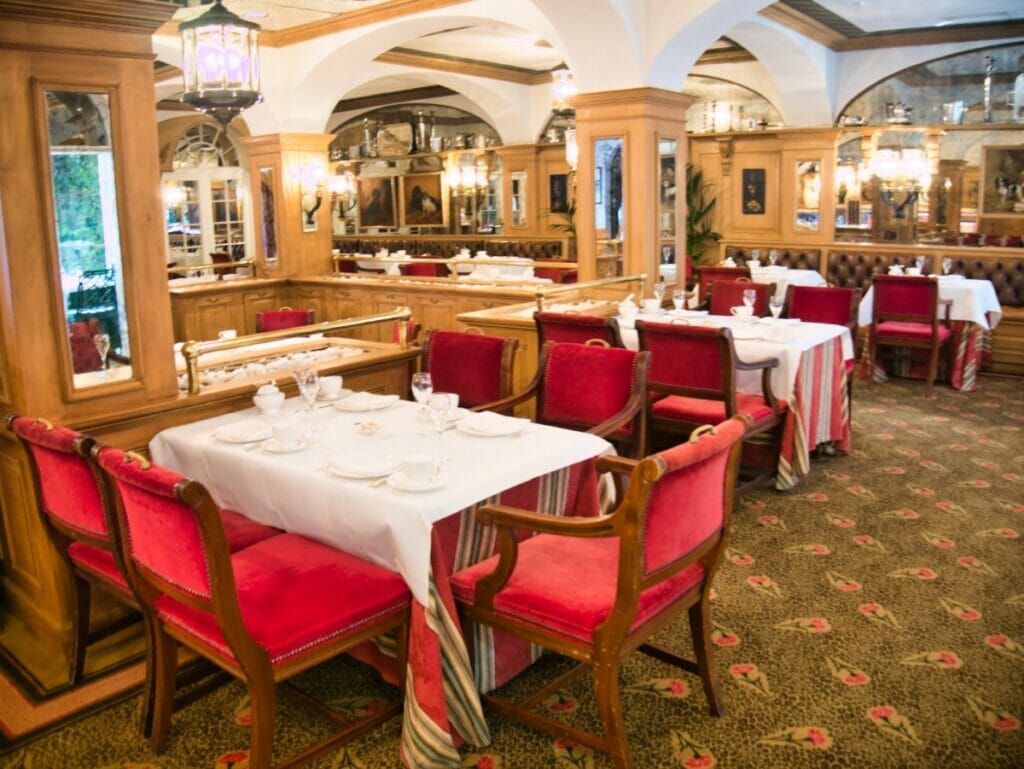 A sweet cart with glass jars and fun signs also sets the scene, and the afternoon tea staff are often dressed in their delightful sweet shop style coats and hats.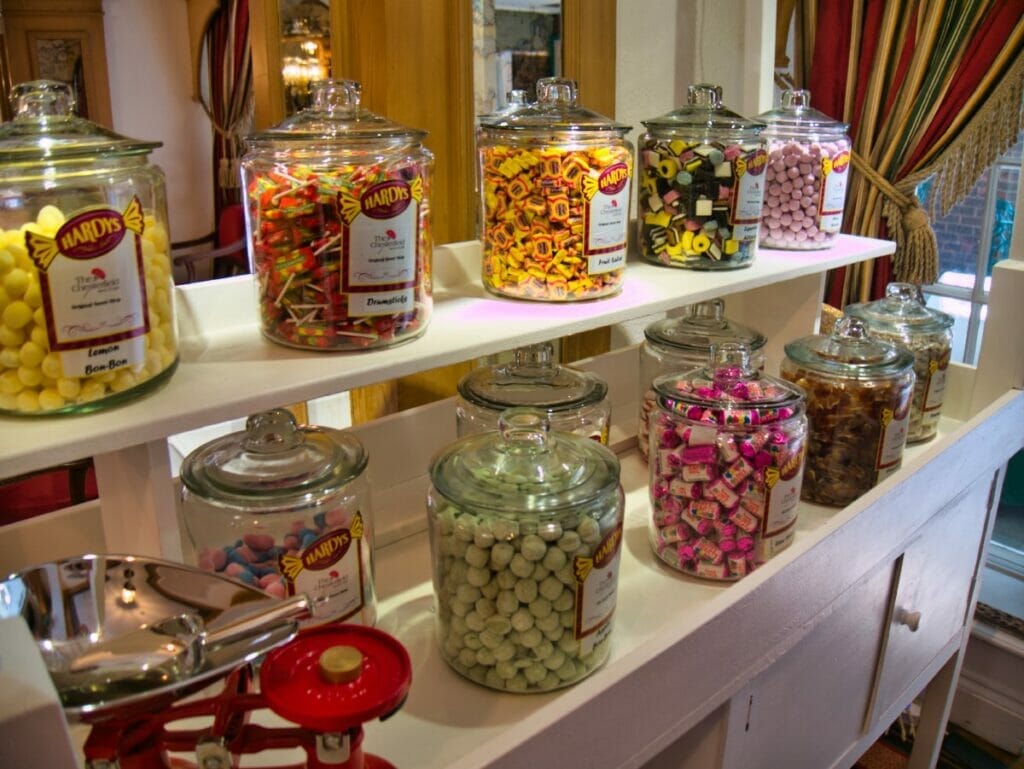 Even after you finish, ready to leave, there is one more surprise: an bag of pick-your-own sweets where you can choose from some of the candy in the glass jar to take home with you.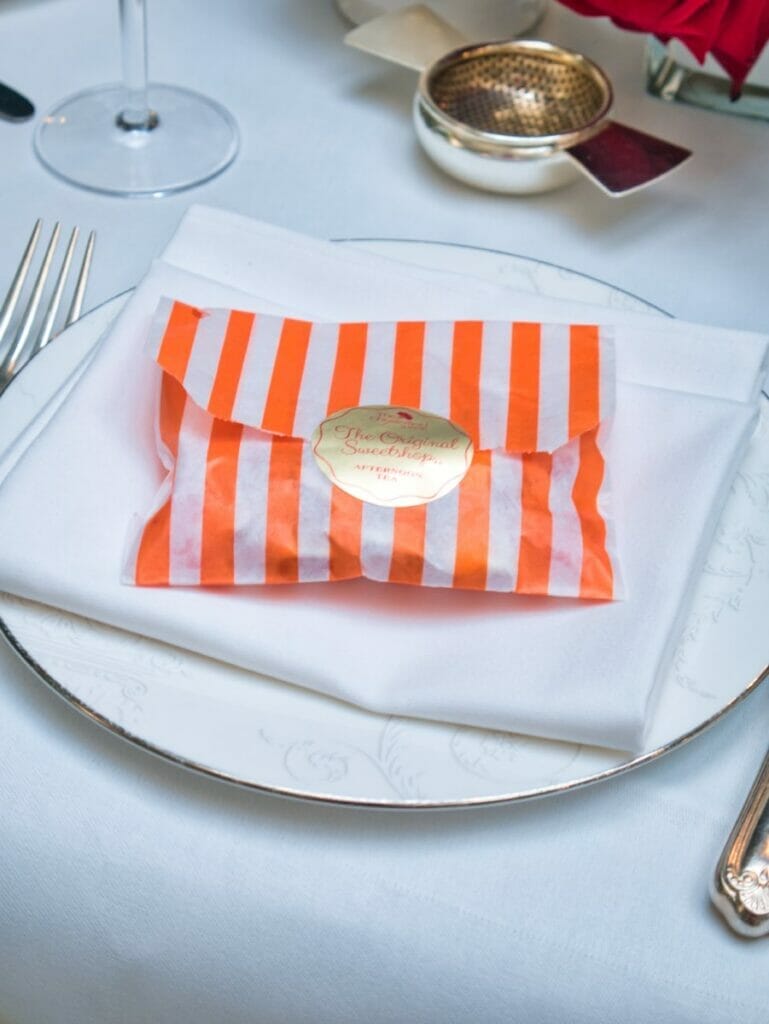 And if you don't finish your afternoon tea treats, they also have easy-to-carry boxes that let you continue your experience at home when your stomach has enough room.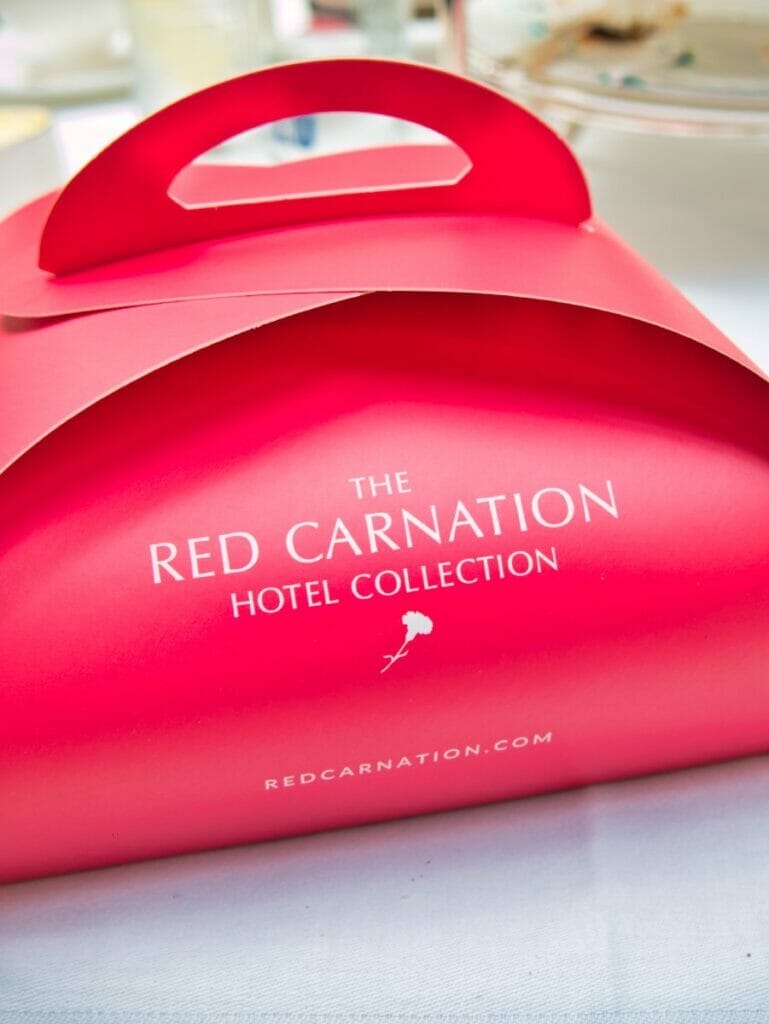 This is both a child and adult friendly afternoon tea – perfect for both families and groups of adults who want a bit more whimsy in their afternoon tea experience.
There is also a children's afternoon tea menu for the kids with a few more kid-friendly options if you're dining with the little ones.
How to Book Afternoon Tea at the Chesterfield Mayfair
Booking your afternoon tea is really easy, as it can all be done online.
Just head to this website, type in the number of guests you want to bring and the date, and you'll see your options.
The afternoon tea is open from 12:30pm to 5:30pm every day!