From the cobblestone streets in Oxford to the gorgeous sweeping views of the English coast in Cornwall to the fascinating things to do in Lincoln, the most beautiful places in England are well worth adding to your bucketlist.
After all, this is a country of undulating countryside, rugged mountains and peaks, rocky beaches, sandy beaches, and sheer cliff edges.
England's most beautiful destinations are World Heritage landmarks, inner city cobblestone streets and peaceful lakes that let you reflect on your journey so far.
When I first moved to England from America, I was instantly taken in by this beauty.
It's a beauty you don't find in the strip malls suburbs of America, and I remember being so in awe that people actually got to live around, work in, and travel through this stunning beauty every day of their lives.
Whether you're a short-term visitor to England or moving here long term, here are some of the prettiest places in England that you should explore.
And don't forget to check out the best destinations in the UK for families too!
GET A

FREE

UK GUIDE and ACCESS TO MY PLANNING FB GROUP
With 50+ pages of helpful travel tips and the "best of" UK lists, this is your ad-free key to your UK trip.
Hey! Want more honest UK tips and planning advice? Click here to join my London and UK Travel Tips Facebook group, where I can answer more of your questions!
1. The Jurassic Coast near Weymouth – The Chesil Beach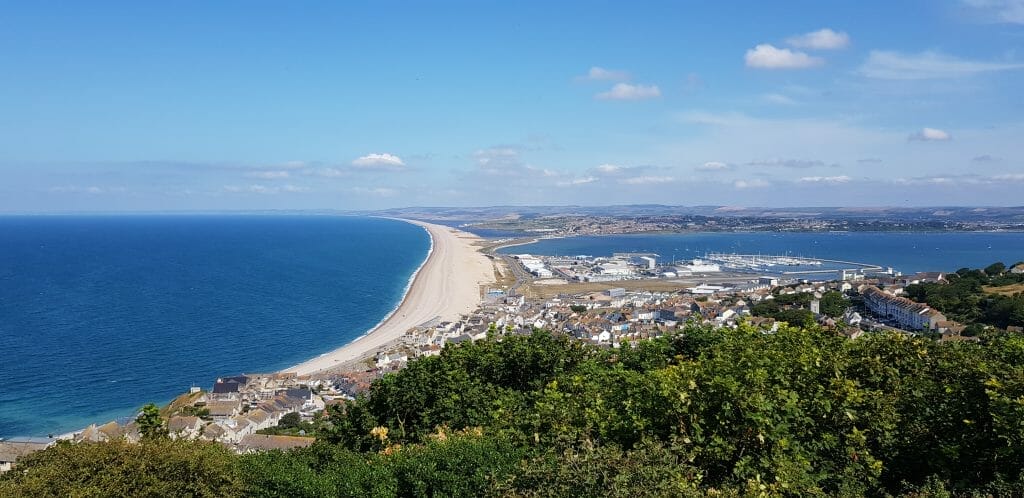 The Jurassic Coast stretches for almost 100 miles along the southern coast of England.
It is a designated World Heritage Site due to its unique geological formations.
It is also the site where lots of fossils are found – hence the name.
The part of the coast near Weymouth must be one of the most beautiful sections of the Jurassic Coast.
Blessed with an array of incredible formations such as the Durdle Door and amazing cliffs, it is a must-visit for everyone.
Probably one of the most spectacular, but also very often overlooked, places in the area is the Chesil Beach.
It is made up of millions of pebbles that have been washed out here by the sea for thousands of years.
This unique place gives you a very mixed feeling – a fascinating combination moon landscape, rough seaside and hills.
As you approach the beach from the road you can't really see the sea.
First you need to climb the pebble hills.
Some of them may reach up to 30 meters in height.
Once at the top you can walk down to the rough sea.
If you are travelling with children, this place is like one massive pebble filled playground.
They can spend hours just throwing stones into the rough, splashing sea.
And don't worry, there is enough supply to keep them busy till they are 18 years old.
The best view of the beach will get from the nearby Portland Island.
Funny enough, from the top the Chesil Beach does look like a stretch of pristine sand.
So if you are in Weymouth area and looking for things to do in Weymouth, make sure you go and visit this unique place. You will not regret it.
Provided by Jarek at Mini Tribe Travels
2. York: one of the most beautiful places in England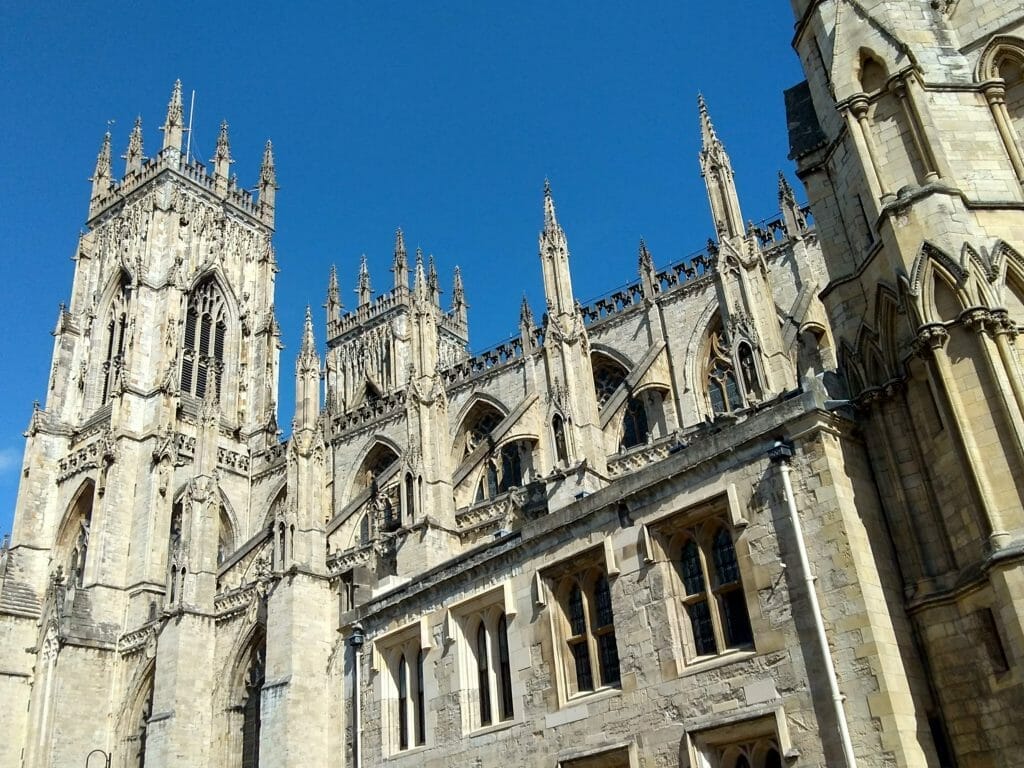 If you are looking for a city full of beautiful historical architecture, York is a wonderful place to visit.
Its rich and fascinating history means you can see architecture from different time periods and find plenty to do.
One of the most stunning buildings is York Minster which was built between the 13th and 15th Centuries.
Its gothic architecture is awe-inspiring both from outside and inside.
It's a huge building.
The size and scale are impressive and its intricate spires are beautiful.
The roof was restored after a serious fire in 1984 and features new decorative bosses that were designed by children.
Below the building, you can see Roman ruins which predate the cathedral and find out about the history of the site in the Undercroft Museum.
Another fascinating place to explore in York is The Shambles, a narrow street where the jumble of Tudor and Stewart buildings appear to almost lean in on each other.
It's an atmospheric place, but it's best to go there early in the morning before it becomes packed with tourists!
The historic city has a lot of other beautiful features.
A great way to take in the city is to take a boat cruise along the River Orme.
You can also walk along the old city walls.
Visit Clifford's Tower, which is part of the remains of York Castle and stands proudly on a small hill.
It's near to the York Castle Museum – which is a great attraction for families – while the York Art Museum has a beautiful art collection in an extremely beautiful building.
Provided by Angela from Reading Inspiration
3. Off-grid living at Hengistbury Head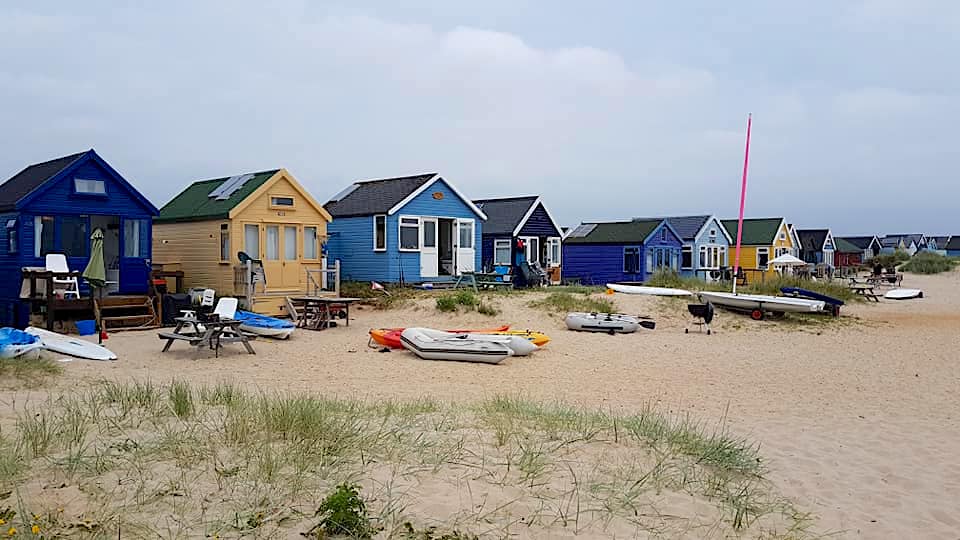 Hengistbury Head lies on the Dorset coast, close to the large resort town of Bournemouth, England.
This unique spot is not only one of Britain's most beautiful places – it also offers visitors to opportunity to experience a completely different way of life.
Mudeford Sandbank, as it is otherwise known, is very popular with day trippers – but it takes a little effort to get to.
In summer, cars are not permitted to travel along the sandy track, so guests must arrive either on foot, two wheels or via the delightful little "noddy train" that departs from the car park and café.
There is another approach.
Ferries depart from nearby Mudeford Quay at regular intervals throughout the day in high season, and in clement weather, are always packed full of freckle-faced day-trippers, laden with picnics, drinks, bikes, folding chairs, and of course the ubiquitous buckets and spades.
What can you do there?
There's one café.
There are also broad stretches of golden sand, fringed by calm, shallow waters.
Perhaps surprisingly, children are far from bored; it's easy to forget they're even there, in fact, absorbed as they become by clambering on rocks, looking for crabs and dashing in and out of the sea.
If you're lucky, you may even get to stay overnight.
The beach huts here can accommodate families – and are among some of the most expensive real estate in England (especially when calculated by cost per square foot).
There may be no mains power nor power showers, but that's where the true beauty of this piece of land lies.
Just kick back, relax and enjoy the day.
Life doesn't get much simpler than on Hengistbury Head – and some would say it doesn't get any better, either.
Provided by Tracy at Blogger by the Sea
4. Manchester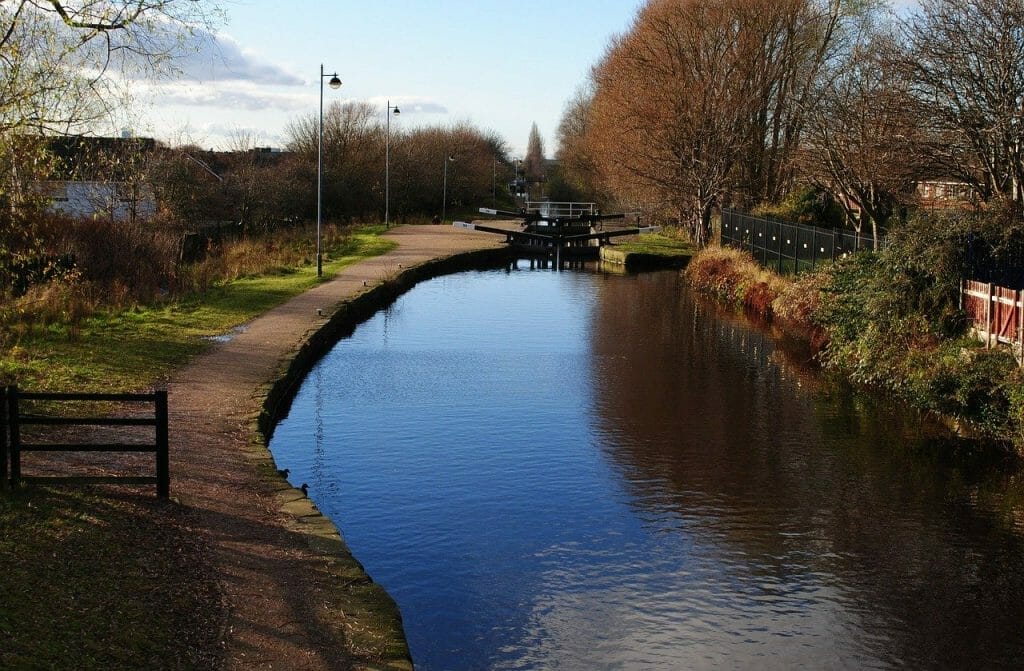 I fell in love with Manchester whilst down here for work as it reminds me so much of my home town Glasgow.
The city smashes its industrial, georgic and modern tech driven heritage into a vibrant archaeological mesh of colour and excitement.
You have the busy city centre with skyscrapers, trams, bars and resturaunts in the city centre.
But hop across a few of the canals to venture a bit out of the city centre into Media City and you would be forgiven for thinking you had taking the train to a different city with journalists and media personalities filling the bars, restaurants and offices trying to make it big in the media business.
Whilst in Manchester my favourite thing to do would be to grab a bite to eat at Mackie Mayor and see a local gig.
Mackie Mayor is a large indoor food hall with vendors offering a variety of food.
Music is big in Manchester.
The city has cultivated legend after legend.
The Smiths, The Stone Roses, Oasis, The Chemical Brothers and Simply Red all hail from Manchester.
Stopping in at any one of the city's small live music venues is sure to give you hours of Spotify ammunition.
Apart from that, my advice to travelers visiting Manchester is simple; walk around, chill out and take it all in.
There is a buzz and atmosphere in this city that is only matched (in my humble opinion) by my home town of Glasgow. It has to be seen to be experienced.
Provided by Graham Grieve of My Voyage Scotland
5. North Norfolk Coastline: prettiest places in England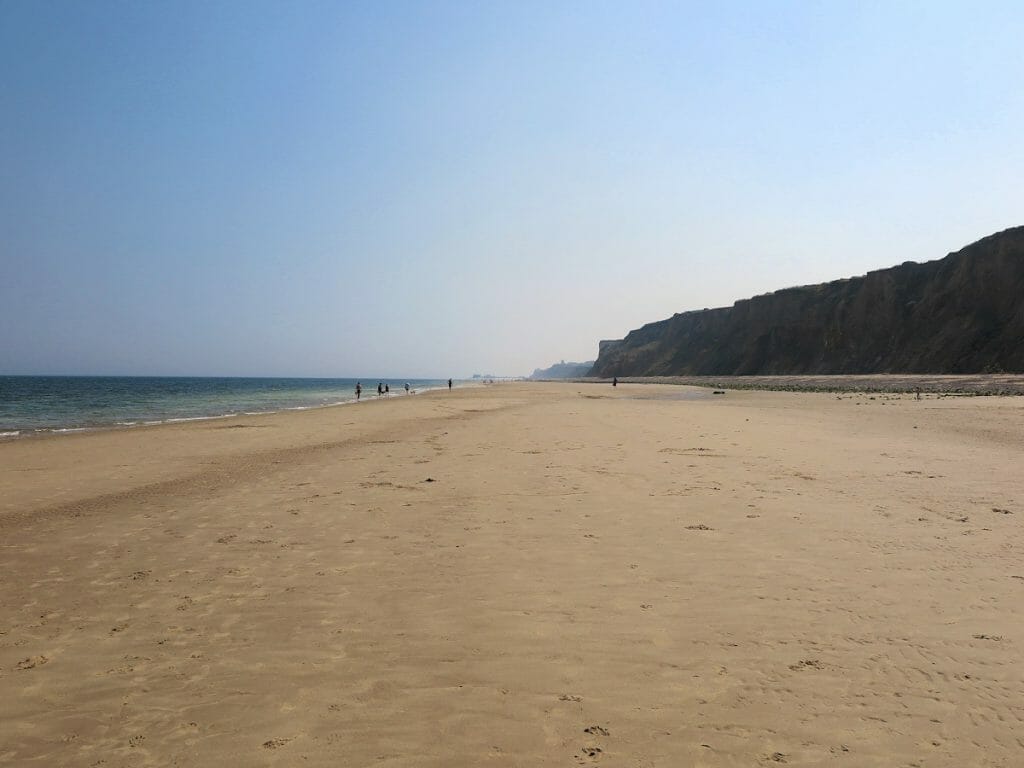 The North Norfolk coastline is a rural, scenic section of the English coastline.
Small, picture perfect villages and fishing ports dot the coastline, notable for the pretty houses with their distinct flint walls.
The North Norfolk coastline boasts expansive nature reserves such as Blakeney Point which has a four mile long sand and shingle spit.
Bird lovers will enjoy the nature reserve at Titchwell Marsh.
Located around these natural sites of interest are large leafy parks at Sheringham and imposing historic houses such as Holkham Hall and Felbrigg.
But for me, the main attraction of this coastline is the incredible beaches such as Hunstanton or the tree lined beach at Wells by the Sea which is overlooked by charming and colorful beach huts.
Leave the crowds gathered by the car parks entrances and within minutes you will have an expansive, clean and sandy beach all to yourself.
Our favorite spot is West Runton beach which is perfect for beachcombing, playing cricket or enjoying a stroll into the nearby town of Cromer, famous for its pier.
The sea in North Norfolk is cold but clear with under the sea rocks providing a beautiful turquoise hue to the water.
Provided by Sinead of Map Made Memories
6. Peak District
Green rolling hills, dry stone walls, quaint country cottages and old pubs serving real ale in front of a roaring fire.
This is the England that I love, a place I have been visiting since I was a young child, and since last year, it's the place we call home.
The open countryside is breathtaking and the people here always have the time for a chat and are wonderfully friendly.
With the kids dressed in puddle suits and hiking boots, we love nothing better than a long walk in the Peak District with kids.

Our favorites are the Nine Ladies Circle through Stanton Moor Peak or the walk starting next to The Robin Hood pub in Baslow, with spectacular views from Birchen Edge.
Alternatively, hire some bikes and ride the Monsal Trail or Tissington Trail.
Reward your physical activity in one of the many cozy local pubs with a pint of Black Sheep and a hearty roast dinner or chip butty.
Alternatively, head underground to explore one of the many limestone caves in the area (such as Blue Johns Cavern) or visit one of the grand estates, such as Chatsworth House.
If you're visiting in spring, you won't want to miss the lambing.
Head to Blaze Farm to see lambs being born in their lambing shed.
You can even hold them just after they've been born.
Provided by Jenny of TraveLynn Family
7. Yorkshire Dales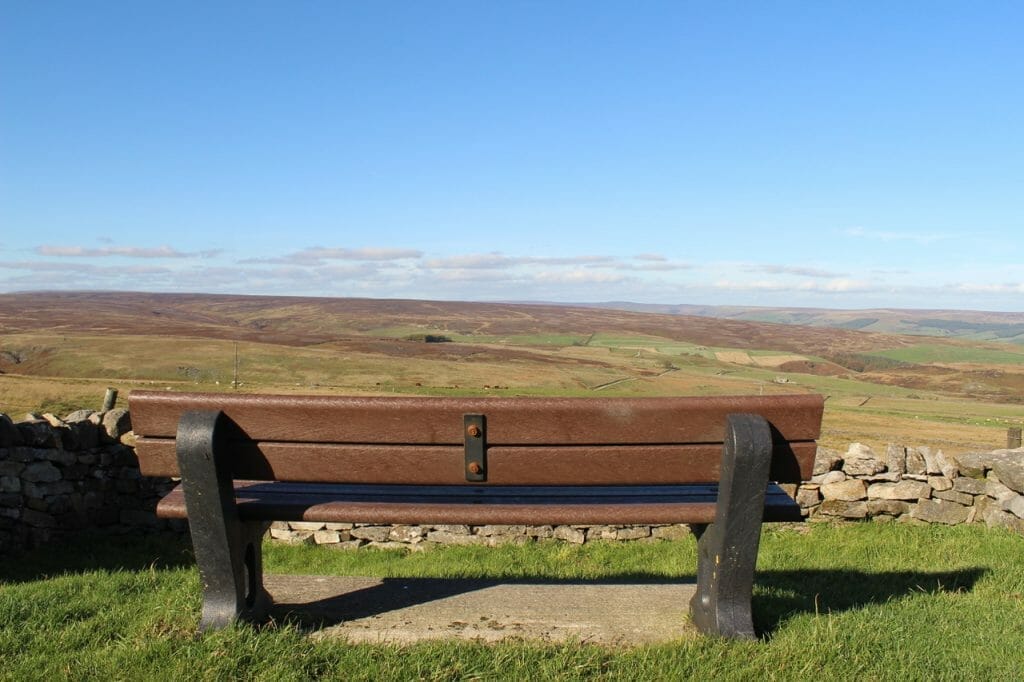 The Yorkshire Dales is an area well known for outdoor activities such as walking, hiking and rock climbing as well as many more.
As Yorkshire is such a large county it is split into the North, South, West and East.
My childhood was filled with weekends camping next to scenic rivers, hiking up steep hills and sitting having picnics in woodland areas.
The Yorkshire Dales isn't just a place to find amazing outdoor activities and friendly people, it is a place you will find some of the most stunning views in England.
There is a little of something for everyone, from handmade boutique shops in quaint villages to steep cliff edges to climb up.
There are activities such a rock climbing at Brimham rocks, walks around the woodland areas or you can visit the café for a cup of tea.
Not far away is Malham where you can find walking and hiking routes that lead you to mystical waterfalls and onto the limestone cliff tops.
Once used in a scene from Harry Potter and The Deathly Hallows.
On top of the amazing cliffs, you can see for miles over the Yorkshire Dales.
Places such as Kettlewell, Grassington and Pateley Bridge are just a few to mention that has much to offer visitors.
From fresh baked bread and scones to butchers carving up local meat and small shops selling homemade and handmade products.
Within smaller villages such as Kettlewell, you can see scenes from the famous film Calendar Girls.
The village is small but quaint with friendly pub owners serving proper British food and will welcome you in from the cold.
No matter where you are driving to and from you will see stunning views and idyllic country scenes.
Provided by Cora from Inside Our Suitcase
8. The New Forest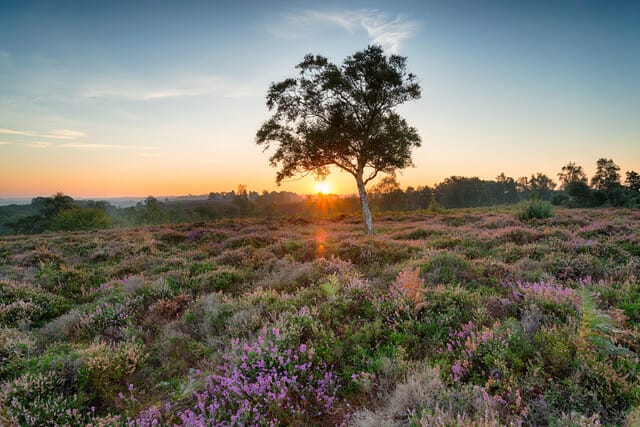 The New Forest is one of our favorite places in England.
It is glorious riot of pastures, forest, heathland and wild flowers spread over 219 square miles in the south of England.
Head for the New Forest and be captivated by the ponies, deer, rare breed cattle, pigs and donkeys all roaming in the wild and putting on a show for visitors!
People flock to the New Forest in the summer months, but the very best times are spring and autumn.
Go in spring to see the bluebells pushing up through the bright green mossy forest floor and the new-born foals taking their first tentative steps.
In autumn you will find the mist sitting low in the valleys and the gorse blooming yellow on the ancient heathlands.
Head for Brockenhurst and hire bikes to complete a loop through the forest to spot some local wildlife.
The well-maintained and signed cycle tracks will take you through some of the most spectacular scenery the forest has to offer, getting you off the main roads and into the tranquility of the deep forest.
If you prefer something a little less energetic, head for the stylish coastal town of Lymington, wander the boutiques and pretty independent shops, finishing with delicious and fresh fish and chips in the harbor.
For lots more ideas of things to do in the New Forest and some secret insider tips, head to this post.
Provided by Izzy & Phil of The Gap Decaders
9. Harrogate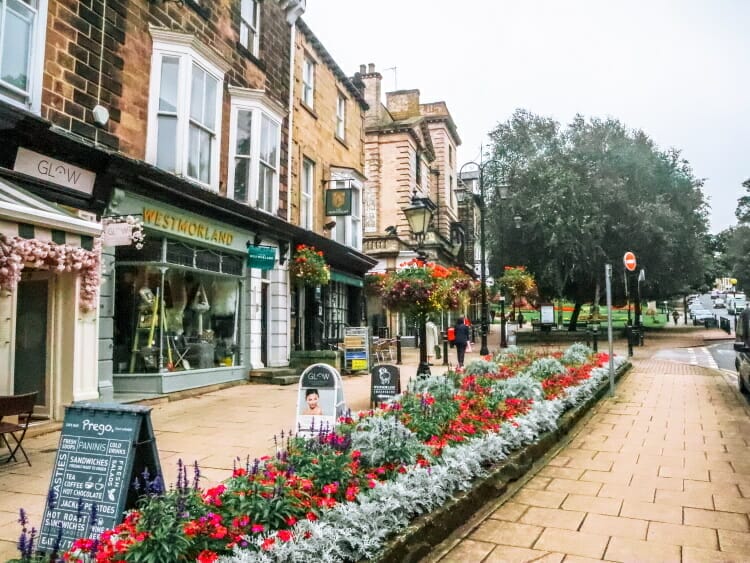 Charles Dickens described Harrogate as the queerest place with the strangest people leading the oddest lives!
Today, this elegant spa town in North Yorkshire is an exciting place for a weekend escape, or a longer stay.
Surrounded by rolling countryside, Harrogate is blessed with handsome historic buildings, acres of green space and stylish boutique shops in the Montpellier Quarter.
Harrogate expanded rapidly in Georgian and Victorian times, as well-heeled visitors travelled in their thousands to the town to 'take the spring waters'.
Today, visitors can still taste the (vile!) sulphuric spring waters when visiting the Royal Pump Room.
One of the most interesting things to do in Harrogate is to take the very inexpensive tour of the exquisite Turkish Baths favored by British and Russian royalty.
Running weekdays at 9 am, the 45-minute tour offers real insight into the lives of the super-wealthy in Victorian times.
The baths themselves are also breathtakingly beautiful, offering perfect photo opportunities.
Nature lovers will enjoy the beautiful Valley Gardens and the extensive RHS Garden at Harlow Carr.
Further afield, a short car journey takes you to Harewood House, one of England's finest country houses, where the recent Downton Abbey movie was filmed.
If you visit, don't forget to go 'below stairs' to see the incredible kitchens.
Harrogate also boasts some of the best places to eat in the whole of Yorkshire, with all palates and budgets catered for.
No visit to Harrogate would be complete without a trip to Betty's Tea Rooms.
A Yorkshire institution for 100 years, Betty's is simply THE place to stop for an indulgent, elegant afternoon tea.
Don't forget to stock up with a few 'fat rascals' too!
Provided by Coralie from Grey Globetrotters
10. The Lake District
Tucked into the north-west corner of England is possibly the most famous and well visited area outside London but that doesn't mean that you can't still enjoy its overwhelming natural beauty.
From the historic but busy city of Carlisle to England's best ridge hike of Helvellyn, there is something for everybody and every age group in this national park in Cumbria (including things to do in the Lake District in the rain)
For the adventure junkies among us there's rock climbing brimming with crags of all shapes and sizes, the high altitude Honister Via Ferrata (don't forget to order your completion slate sign at the end), caving, canyoning, high-speed mountain biking and England's best mountain range (in my opinion) offers Skiddaw, Helvellyn with Striding Edge, Catbells & Scafell pike.
The baby mountain of Wansfell Pike gives spectacular views over Windermere & the sea of Morecambe Bay, whereas the Castlerigg stone circle will enthrall history buffs and you mustn't miss Lowther Castle which used to be entirely derelict and with no roof but is now a glorious gardens with a huge outdoor playpark for kids.
Tarn Hows – the mountain lake – often freezes in winter and Wray Castle on the banks of Windermere is a Victorian neo-gothic castle ready to be explored.
For the more sedate days you can hop aboard either the Keswick Launch or the Ullswater steamer after staying at the Hobbit Holes and enjoy the impressive mountain scenery from the ice-like waters.
Ullswater is aptly nicknamed 'the world's most beautiful lake'.
Don't forget to check out Ashness Bridge , Surprise view, the only new pier in 50 years (Aira Pier) and the magnificent waterfalls of Aira Force as well as glamping sites in the Lake District.
The market towns of Penrith, Keswick and Kendall have their own hidden charms with warrens of cobbled streets and boutique shops.
The Puzzling Launch in Keswick will have you doubting your sanity but Kendal Mint Cake Liquor will polish it off!
Perhaps the most famous of all is Beatrix Potter's house and don't forget to look for Mrs TiggyWinkle whilst you're there.
Provided by Emma Pamley-Liddell from Journey of a Nomadic Family
11. Devon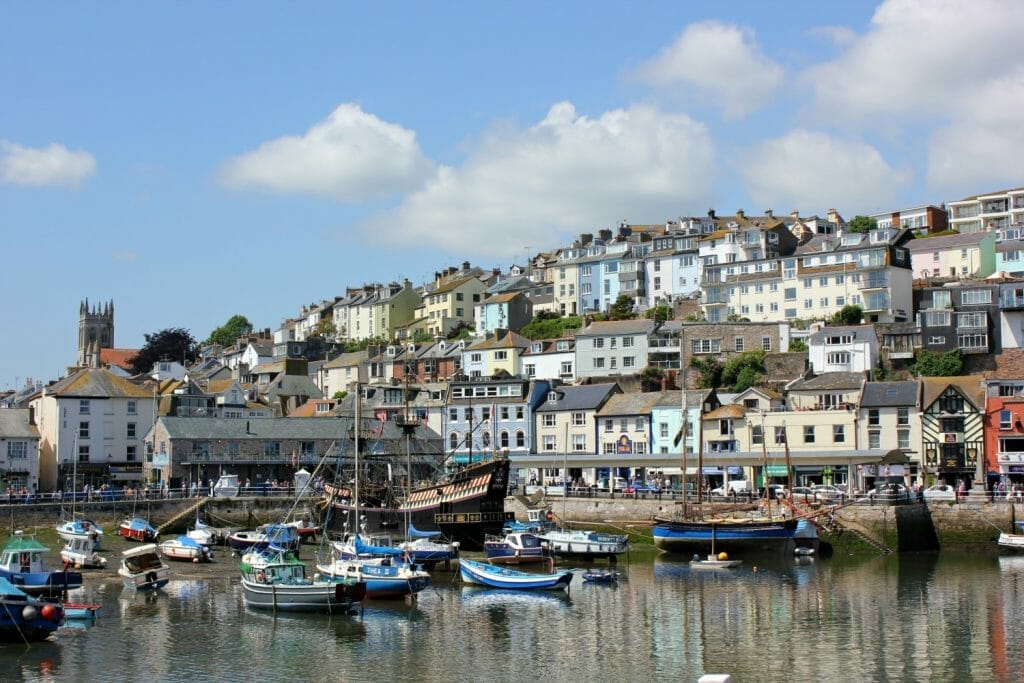 With two beautiful coasts, historic cities, endless beaches, wild unspoiled moors and some ridiculously pretty towns and harbors, there's a lot more to Devon than the cream teas.
Although the cream teas are also very good!
Almost twice as big as neighboring Cornwall, it's somewhere I never get tired of visiting: even after dozens of trips, there's always something new to discover in Devon for families.
You can start with the cities – historic Exeter with its centuries-old cathedral and medieval tunnels hidden beneath the streets or Plymouth with its long seafaring history and huge aquarium.
But for more visitors, it's the smaller towns and the scenery that's even more tempting.
The cobbled streets of car-free Clovelly seem to have come straight from a postcard, but the soft golden light hitting the boats in the quiet old port of Topsham or the higgledy pastel houses in Brixham mean both can also compete for the title of prettiest harbour.
If you want beaches, Woolacombe Beach in the north is regularly voted one of Europe's best plus there are Blue Flag beaches like Dawlish Warren and Blackpool Sands, and rockpools galore.
Some of my favorites are the quirky coves where you enter through smuggler's tunnels, like Ness Cove at Shaldon.
Or inland there's not one but two national parks, lovely Exmoor and Dartmoor, as well as a designated Area of Natural Beauty in east Devon, part of the Jurassic coast.
The south west coast path winds around the north and south past nature reserves, or the spectacular Lydford Gorge inland proves not all of Devon's countryside is gentle too.
Throw in historic houses and castles, the chance to sail from coastal town to town on ancient ferry routes and the palm-fringed English Riviera and there's nowhere in England quite like it.
Provided by Cathy of Mummy Travels
12. South Downs, East Sussex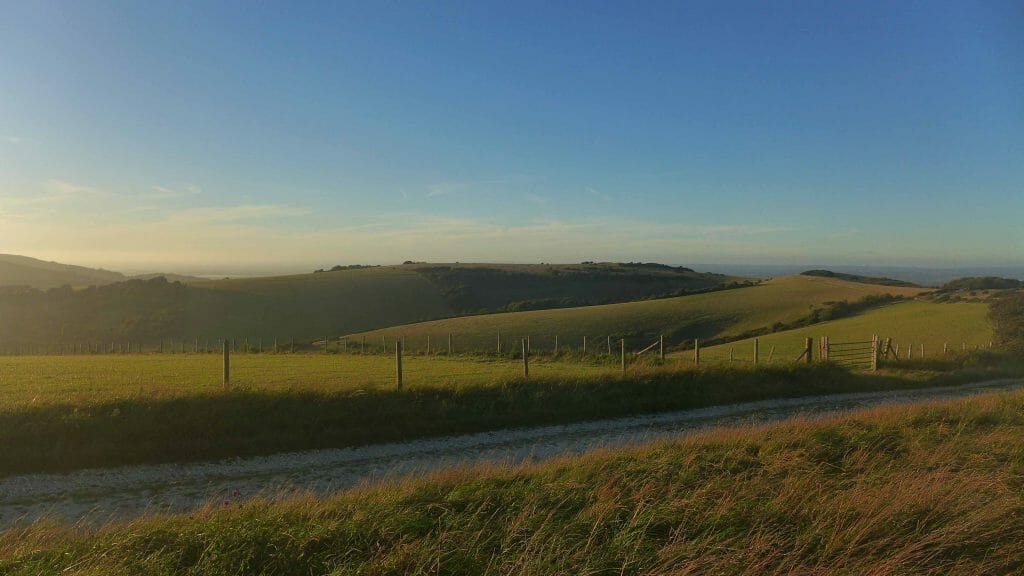 The South Downs is an area of natural beauty in South East England.
It spans from Hampshire in the West, all of the way to Eastbourne in East Sussex.
The South Downs National park features a large escarpment that can be walked along, providing beautiful views of the seaside and villages below.
It's particularly beautiful during sunset, where the golden light makes the hills below glow.
If you're exploring by car, a great place to start is the Butts Brow car park in Willingdon, East Sussex.
Within a short walk from the carpark you can enjoy panoramic views of Eastbourne, Lewes and the rolling hills of farms below.
It is simply breathtaking.
If you'd like to get a little closer to the coast, Beachy Head and the surrounding Seven Sisters cliffs also form part of the South Downs.
These chalk cliffs are the tallest in England.
The Belle Tout lighthouse is a significant point of interest and is best viewed from Beachy Head.
Birling Gap beach features sand as well as pebbles, a rarity for this part of England.
The South Downs is a popular place with hikers and as such there are many established trails throughout.
One of our favorite walks spans from Willingdon to Jevington.
It takes around 1 hour on foot and upon your arrival in picturesque Jevington, you'll be greeted with the welcome sight of the 8 Bells pub that serves delicious home cooked meals and cool refreshing pints!
The South Downs makes the perfect escape from the hustle and bustle of London, or even the perfect weekend getaway.
Provided by Laura at Passport Collective
13. Suffolk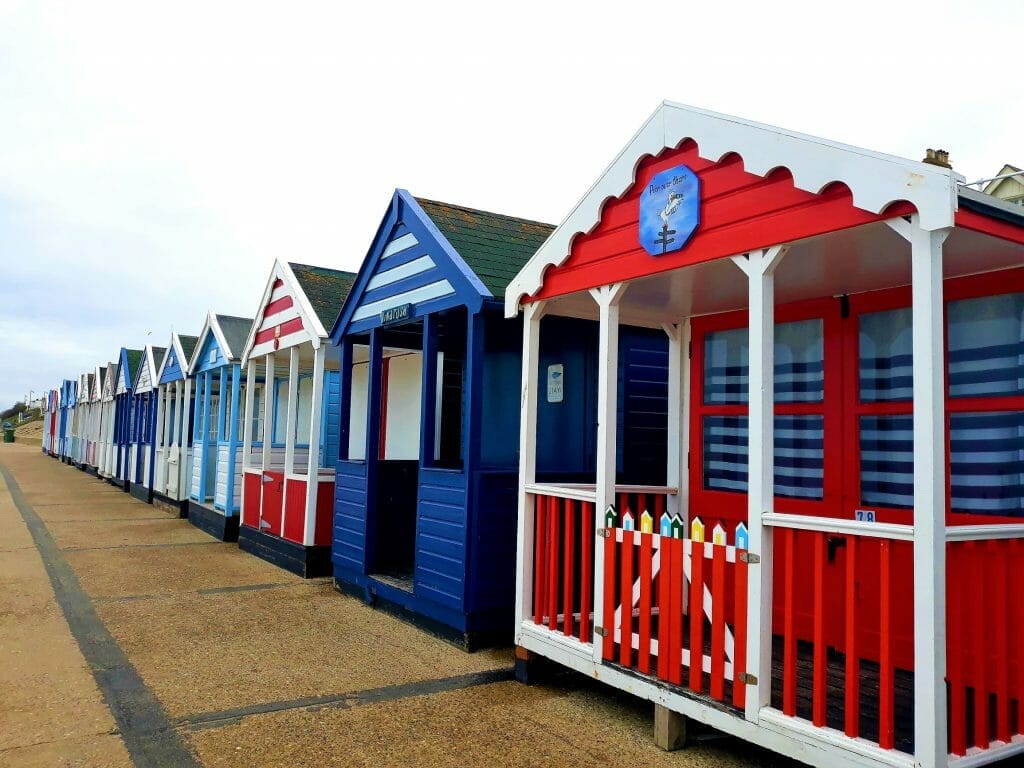 Coming from Suffolk I could be accused of being biased when I say that Suffolk is the most beautiful place in England.
Suffolk has been recognized for its beauty by others though with 2 out of a total of 34 Areas of Outstanding Natural Beauty in the whole of England, the Suffolk Heath and Coast and Dedham Vale.
So, Suffolk isn't doing bad on the natural beauty front, but the true beauty of Suffolk is that it remains relatively undiscovered.
Sure, there are tourists, but they tend to be return visitors who come year after year to appreciate the slow pace of life.
It doesn't get nearly the number of crowds that the Cotswolds or the Lake District get.
There are so many fun things to do in Suffolk.
People come for the traditional British seaside towns like Aldeburgh where they can eat the best fish and chips in the country.
There's also Southwold where they can stroll along the promenade eating an ice cream and view the colourful beach huts and visit the quirky pier.
They can admire the beautiful Constable countryside of Dedham Vale, or they can wander around medieval market towns like Framlingham and quaint villages with colorful cottages like Lavenham.
It's like being transported back to the England of yesteryear.
Writing this, I almost want to keep the secret of Suffolk to myself so that it retains this hidden gem status.
Provided by Jacquie of Flashpacking Family
14. Greenwich, London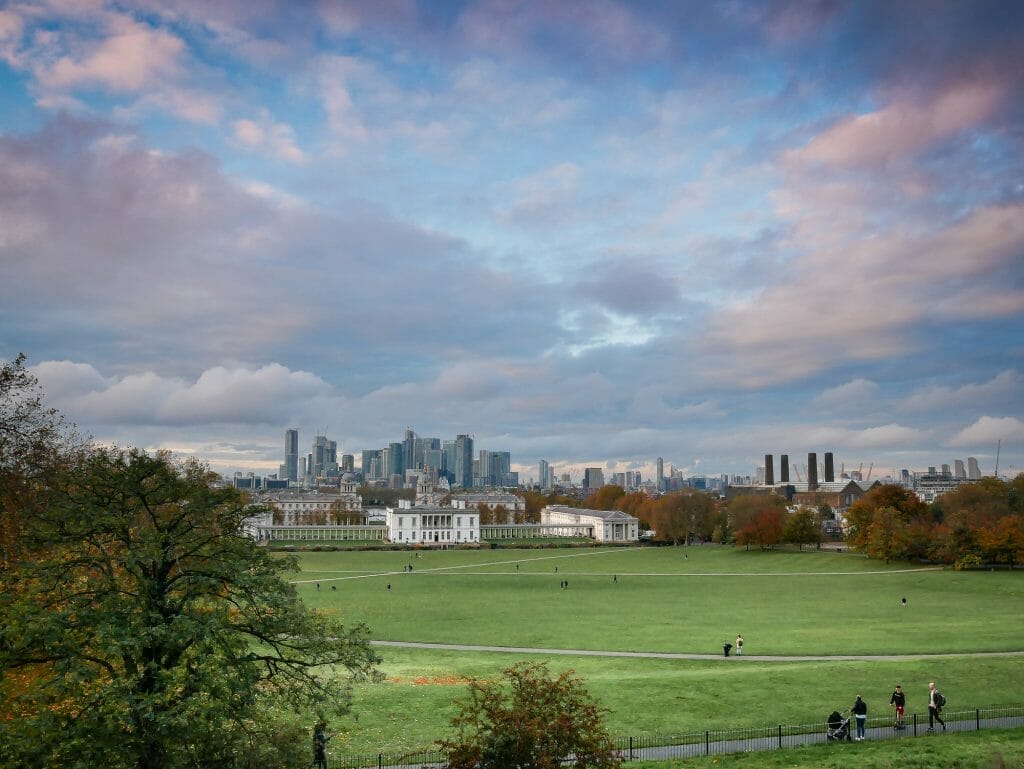 Greenwich in London is like a breath of fresh air after the busy streets in the centre of the capital.
For me there is a lot that makes this a really beautiful place and one of my favorite things to do with kids in London to do is to walk up through Greenwich Park.
Not only is this a beautiful open space, full of dogs getting exercise and kids playing, it also leads you up to get stunning views of the skyline of Canary Wharf – a business district of London nearby.
While taking in the amazing view you'll also notice the beautiful buildings nearer to you too.
These are the Queen's House, the Royal Naval College and also the National Maritime Museum which are mostly free to look around too.
Look behind you and you'll notice the other reason hordes of people go to Greenwich – the Royal Observatory.
Greenwich is known as the place where time is measured from and Greenwich Mean Time is measured from this spot – you can learn all about the science and history of time and distance measuring here.
Greenwich has a lot going for it with plenty of history and museums as mentioned but also a really nice market that is filled with street food and local artisans.
You can get to Greenwich really easily by using the Docklands Light Railway (DLR) which connects to the London Underground and you can also get a Thames River cruise boat for a more scenic voyage.
Provided by Kirsty of Lost in Landmarks
15. Arundel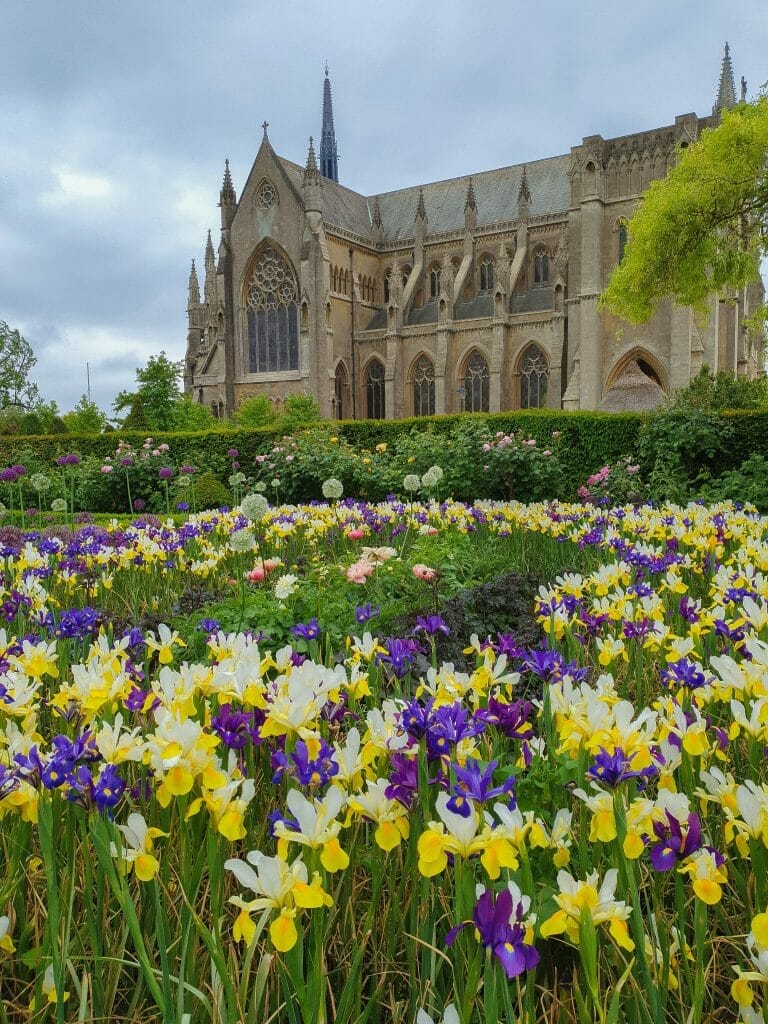 Arundel is a wonderful town to visit if you are looking for the perfect day trip from London.
Once you step off the train you will realize what makes Arundel so special: its medieval look and the grandiose castle dominating the entire scenery.
Arundel is a small town but there are plenty of things to do here, from visiting the castle to shopping for antiques at the local market and specialized shops.
Arundel Castle is the main attraction from this medieval town, dating all the way from 11th century.
Parts of the castle are private because it is still the residence of the Duke of Norfolk, so don't be surprised if during your visit you will stumble upon a reception.
Visiting the castle can take more than half a day because of its size and the numerous rooms inside.
There is even a private chapel inside which you can peak from above, from a balcony.
In summer, Arundel is a wonderful place to enjoy the British countryside.
Located near a wildfowl reserve, you can walk along the river on one of the numerous paths, or, rent a boat and sail to the nearest pub, for a pint in their summer garden.
In Arundel there are plenty of local independent cafes where you can sip from a cup of coffee whilst watching the people pass by.
Provided by Joanna from The World in my Pocket
16. Whitstable, Kent: beautiful places in England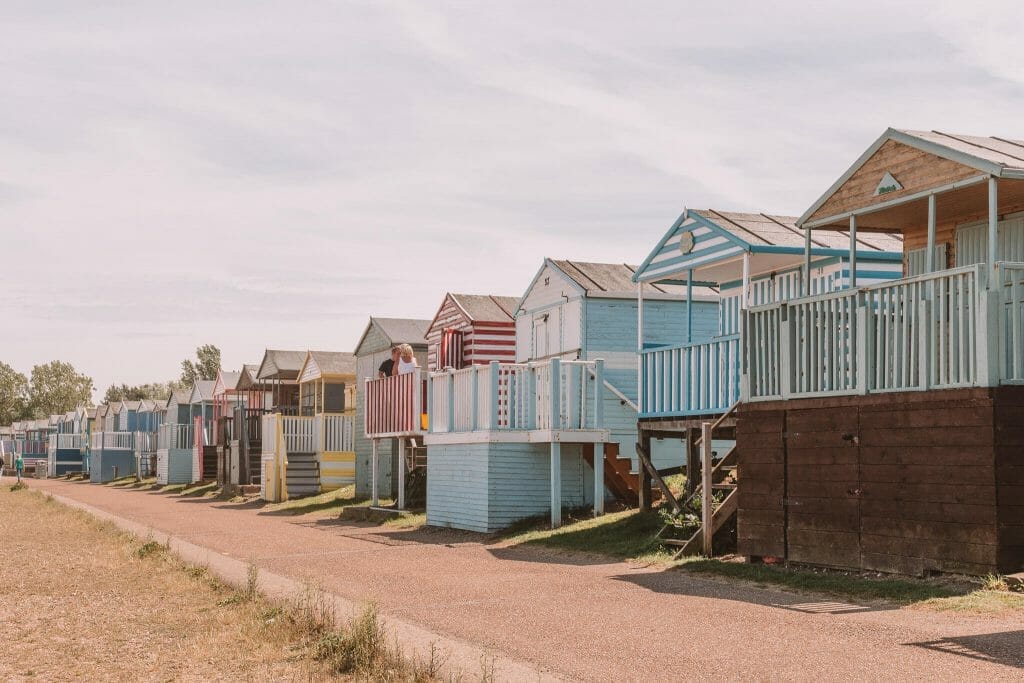 Whitstable is a quaint beach-front town just an hour away from the centre of bustling London.
Here you'll find rows of picture perfect British shops, which lead the way down to a long stretch of pebble beach.
The beach is lined with colorful beach huts, which are adorable and very instagrammable.
These are actually holiday homes and a day trip to Whitstable will surely have you googling how you can get one of these small huts for yourself!
Of course, no trip to the British seaside is complete without fish and chips and you can pick this up from Ossie's Fish Bar and then find a spot on the beach to enjoy this.
If you're feeling fancy, you can also opt for oysters.
Whitstable is known for its oyster trade so if you're going to try them anywhere in England, it should be here!
They're caught fresh and you can choose to try a dozen or just a single one if you're a bit nervous about these slimy delicacies.
Trying oysters is one of the top things to do in Whitstable and I'd recommend either Wheeler's Oyster Bar or The Forge.
It's a small enough town to do as a day trip and you can fill your day with charity shops, independent bookshops, homemade eateries (homemade sundaes, anyone?) as well as a market next to the beach.
If you'd prefer to admire the sea from afar (and escape the wind!) you can head up to Whitstable castle, where you can enjoy afternoon tea outside in the gardens, with a sea view.
You can then end the day at The Old Neptune, a pub on the beach that features both indoor and outdoor seating.
Provided by Laura of What's Hot Blog.
17. Kew Gardens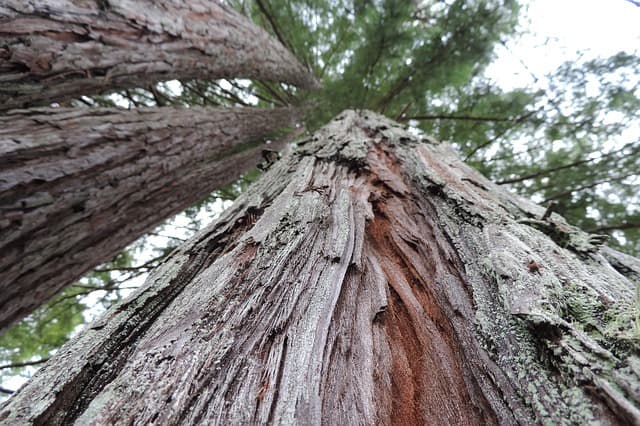 Kew Gardens is located 30 minutes south west of London.
This amazing botanic gardens has over 50,000 living plants.
It is also the largest and most diverse collection of plants in the world.
The Royal Botanic Gardens at Kew were founded in 1840.
A lot of work and preservation has gone into the development of the gardens.
Kew Gardens is not something you can see in one day as it encompasses over 300 acres.
Here are some of my favorite things to see in the Gardens:
The Grand Boardwalk from the Kew Palace to the Palm House
Check out the water lily pond
View the fantastic honeycomb structure that mimics the movement of bees
Visit the 10 Story Great Pagoda and the Japanese Gardens
Visit the Giant Redwood Grove.
Kew Gardens is an amazing place to visit outside of London.
You won't believe there is such an enormous park that close to the city center.
Provided by Nicole from American SW Obsessed
18. Broadstairs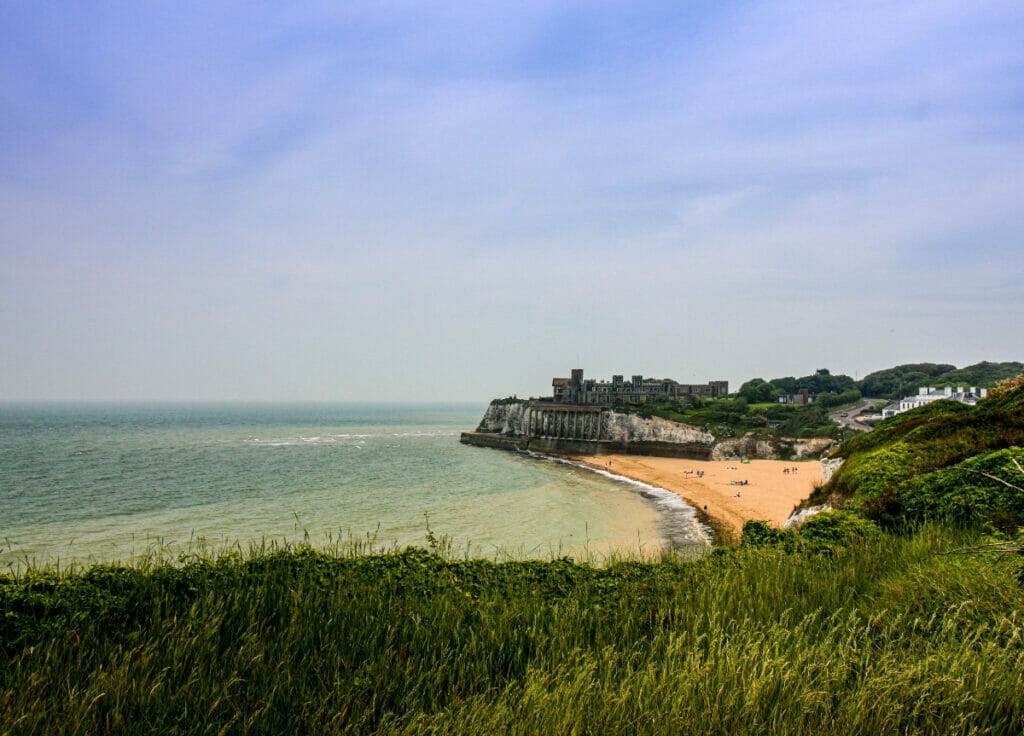 Broadstairs is my favorite British seaside town.
Located in Kent, it has a seven beautiful beaches, each with its own appeal.
Viking Bay, the main beach, is lined with colorful beach huts, with a pier at one end and funfair at the other.
White cliffs form a contrasting backdrop to the huts and golden sand.
Whether admiring from above or below, it's a beautiful sight.
In the narrow lanes and streets you'll find antique shops and amusement arcades, as well as quaint stores selling buckets and spades.
Make sure you visit Morelli's for a delicious gelato – I can recommend the knickerbocker glory!
Enjoy a traditional fish and chips while sitting on the parade overlooking Viking Bay, or cockles from the stall on the pier.
Each August, the town comes alive during Broadstairs Folk Week, a celebration of music featuring local and visiting musicians – the perfect time to visit Broadstairs!
Provided by Hayley from a Lovely Planet.
19. Wells, Somerset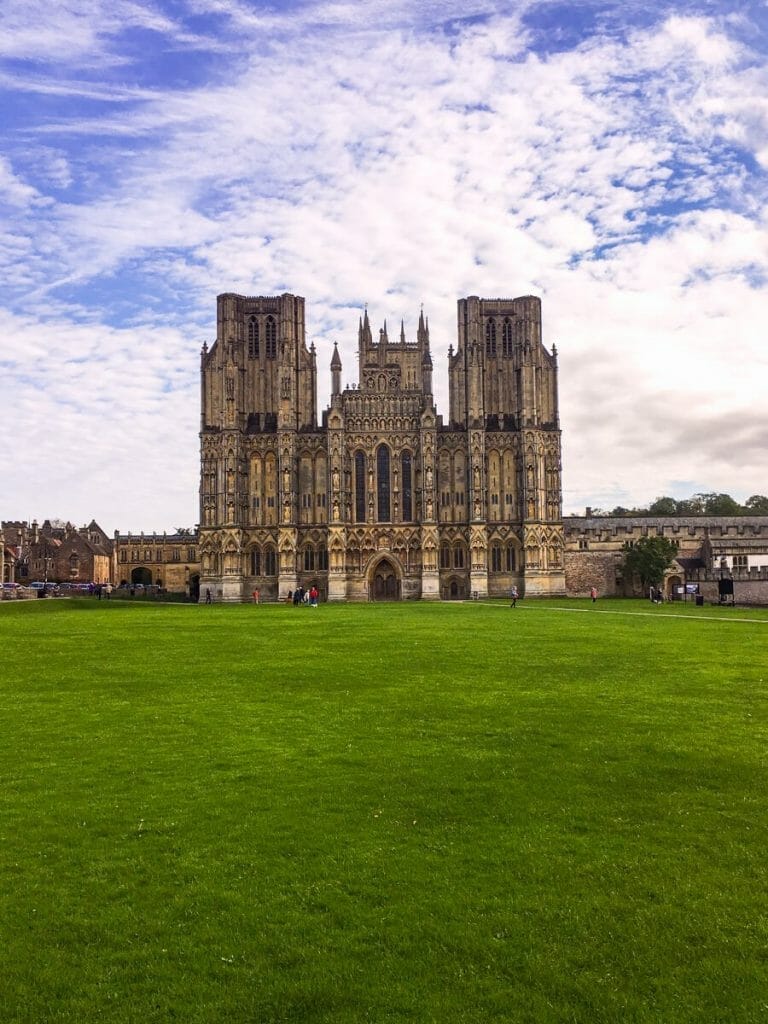 Nestled at the foot of the Mendip Hills in Somerset is Wells, which on first appearances is a quintessential rural English town, complete with cobbled streets, market square and medieval architecture.
However, take the time to explore and you will quickly find there is a rather large and very stunning cathedral in the middle of it all that gives Wells the status of the smallest city in England.
Completed in the 13th century, it was the first entirely Gothic cathedral to be built in England.
Approaching it from the Cathedral green you will see the famed "West Front" covered in around 300 intricately carved medieval statues.
Next to the cathedral is Vicar's Close, built over 650 years ago and believed to be one of the oldest surviving residential streets in Europe.
You will also struggle to find somewhere more picturesque, it is just beautiful!
Not only does Wells have a cathedral, it also is home to the Bishop's Palace, complete with moat and drawbridge.
Inside are the natural wells that give the city it's name and the reason people first settled here, hidden among 14 acres of botanical gardens.
Bishops still live here and you can visit the chapel and see the remains of the Great Hall.
Wells is also home to lots of independent shops along it's high street and a twice weekly market that is great for browsing through.
If when wandering round you get the feeling you've seen it before, you probably have, the beauty of Wells has not gone unnoticed and it has been the set of numerous films and TV series, including the film Hot Fuzz featuring Simon Pegg!

Provided by Rachael Gunn from luxury travel blog Champagne on Arrival
20. St. Paul's Cathedral, London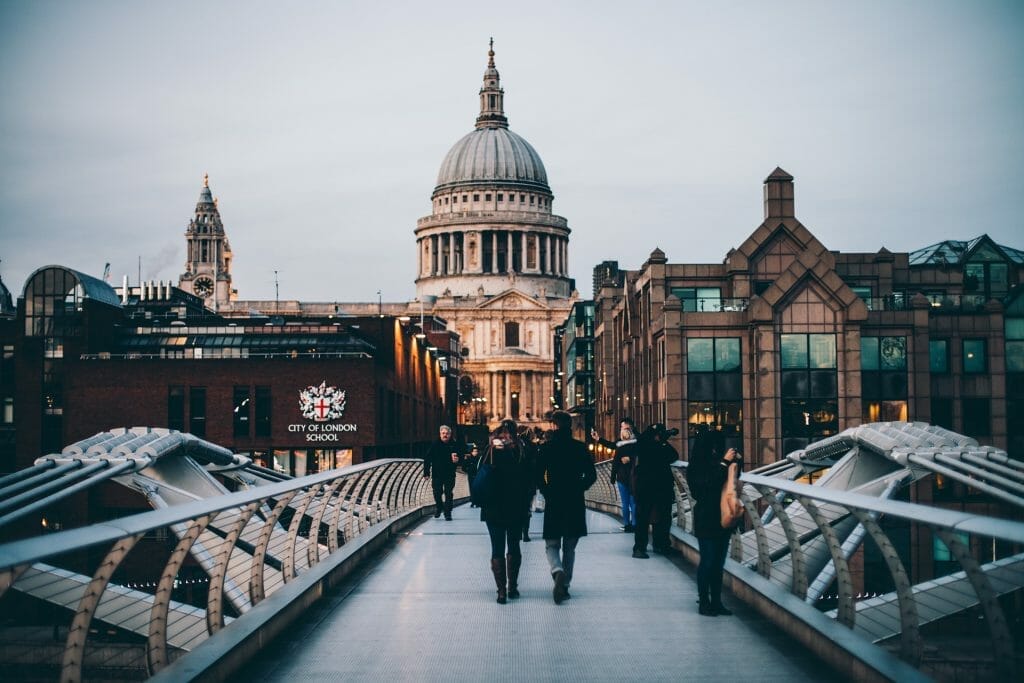 London is a sprawling metropolis and each borough carries its own distinctive charm and beauty.
However, there are certain landmarks that standout as iconic London landmarks and the St Paul's Cathedral in Central London is definitely one of them.
For one, it is located in the legal heart of the City.
The ancient Inns are tucked away in the back alleys of cobblestone walkways and historic English pubs, while St Paul's Cathedral looms tall and proud.
The largest cathedral in English, St Paul's Cathedral is considered to be Christopher Wren's masterpiece and possesses a stunning dome that is a homage to St Peter's Basilica in Rome.
It is stunning from every angle, and visitors can pay a nominal entrance fee to explore the interior of the cathedral.
This includes its stunning Cathedral floor, crypt and the Stone and Golden Galleries above the Whispering Gallery in the dome.
The views of London from the top of the cathedral is unbeatable.
The admission includes multimedia guides and guided tours.
The cathedral has a range of tours on offer and also set out their respective timings.
There is also a Triforium Tour that includes a visit to the library, Geometric Staircase, Great Model and view down the nave from above the Great West doors.
A top tip for all visitors is to visit St Paul's Cathedral during one of services!
Evensong, a one-hour service that which begins at 5pm, is a good option.
Not only will you get to partake in an ancient and atmospheric service (complete with an acoustic boy choir), but you will also get to do it for free!
Written by Iuliya of Doing Life with Iuliya
21. Northumberland Coast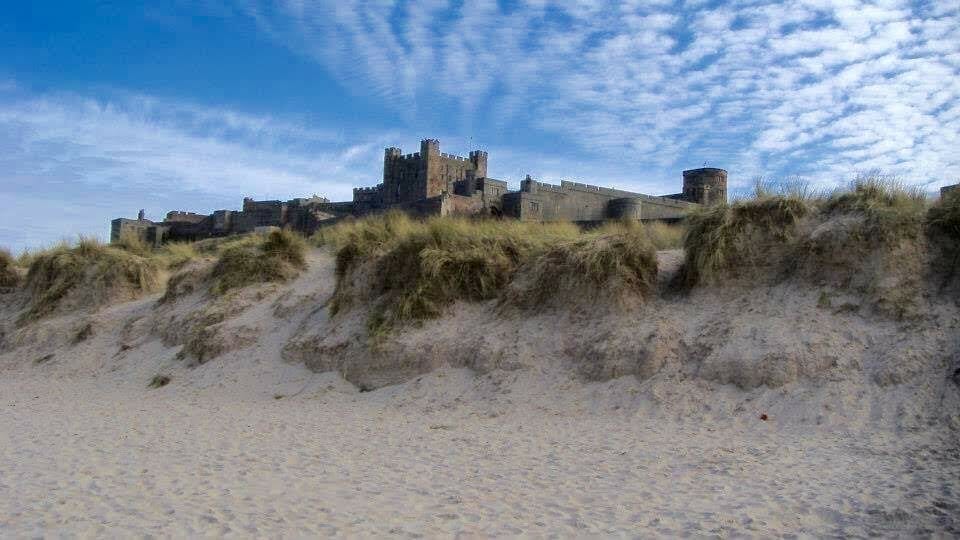 It should come as no surprise to visitors that the Northumberland coast has been designated an Area of Outstanding Natural Beauty. Castles dot the rugged coastline and towering sand dunes lead down to long sandy beaches.
The AONB stretches north for 40 miles from Amble to Berwick-upon-Tweed and makes for a stunning scenic drive.
If you're up for a challenge though, then how about walking the Northumberland Coast Path?
Also ending at Berwick it starts further south at Cresswell and, if tackling the entire 62 miles seems a bit daunting, it's been broken down into six stages of between six and thirteen miles so you can pick and choose which to walk.
There's so much to see here and I'm lucky that my partner is originally from Northumberland so we visit as often as we can.
Here are some of my highlights.
Craster is a small fishing village and home of the famous Craster kippers.
From here, you can walk to the ruins of Dunstanburgh castle.
From Seahouses there are regular boat trips around the Farne islands and I can't recommend one of these trips enough.
There's plenty of wildlife to spot including puffins and seals.
At certain times of year you can land on Inner Farne too which is a great way to see the birdlife at close quarters.
Bamburgh is another quaint village and home to probably the most well-known of the coast's castles which sits proudly above the sand dunes.
A drive across the causeway to the Holy Island of Lindisfarne is a must but make sure to check the tide times – the tides move quickly and more than one motorist has come a cropper over the years!
Whether you walk, drive or make use of public transport take your time – and make sure to stop for fish and chips by the sea!
Provided by Alison of Alison in Andalucia
22. The Cotswolds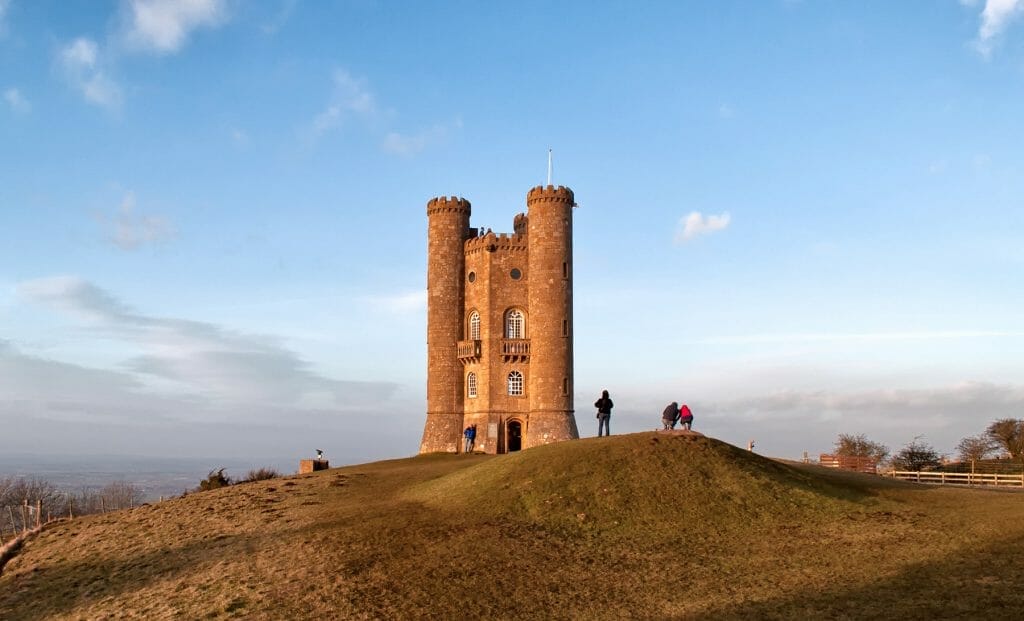 Located in the south-west of the country, the Cotswolds are pure storybook Olde England, with miles of rolling hills dotted with honey-coloured stone villages, country houses, elaborate gardens and traditional country pubs.
It's one of the most beautiful places in England, but don't just take my word for it – the region has been designated an Area of Outstanding Natural Beauty and is the second largest protected landscape in England.
You can't drive for more than a few miles in the Cotswolds without coming across a picturesque village.
Each of them has it's own character but they share the same distinctive Cotswold stone style.
Among the most scenic stopoffs are Bourton-on-the-Water, Castle Combe, Bibury and Upper and Lower Slaughter.
Or head back in time at perfectly preserved Lacock – though you might know it better as Downton as it passes as the village from the TV series and film.
Being out in the countryside doesn't mean there's a lack of great places to eat, drink and stay.
The Cotswolds is a hub for the smart London set, and is home to a string of celebrity favorite haunts including Soho Farmhouse, Daylesford Organic and Cowley Manor Spa.
It's also packed with cozy country pubs perfect for whiling away a winter afternoon by the fire.
Explore gorgeous greenery at Hidcote Manor's Arts and Crafts garden, visit the burial place of a queen at Sudeley Castle and check out the autumn colours at Batsford Arboretum.
Or if you're feeling energetic the Cotswold Way walking route runs through 102 miles of beautiful rolling hills – along the route you'll find fantastic views from Crickley Hill Country Park, the neolithic monument at Belas Knap and the hilltop Georgian folly of Broadway Tower.
To tour the Cotswolds, enjoy our list of the best Cotswolds day tours from London here.
Provided by Lucy of On the Luce
23. Bristol: most picturesque places in England
Bristol is indeed one of the most vibrant cities in England.
Along with offering a lively atmosphere, Bristol is full of natural beauty making it my favourite city in the country.
One of the most spectacular places in Bristol to visit is the Clifton Suspension bridge which offers beautiful views of the city.
The best time to experience this beauty from the Clifton Bridge is during sunsets.
Another place in the city which offers spectacular views around is the Cabot Tower located in Brandon Hill, the oldest green park in the city.
Cabot tower is 105ft tower which rewards the visitors with incredible views of Bristol city.
A little hike from the Brandon Hill takes one to the tower.
Bristol harbor side is a beautiful, vibrant area with lot of activities going on.
It is a perfect place to enjoy a sunny afternoon in the city.
The most famous thing in Bristol is the graffiti which the city offers.
Bristol has amazing graffiti all around the city walls and people from other cities visit Bristol to enjoy the graffiti.
Being in the south-west region of the country, Bristol has much better weather than the rest of the UK and can be explored during winter months also.
It doesn't snow here and rainfall is lesser as compared to other cities.
Provided by Nabiha of Verses by a Voyager
24. Durdle Door Beach
If you are looking for sheer beauty, relax and a fabulous beach in Dorset, then Durdle Door is exactly the place you need to visit.
Declared UNESCO Heritage site in 2001, this place is simply magical!
Located on the south coast UK, just looking at the beach from the top of the hill is pure joy for the eyes.
To get there you need to use the steps carved on the rocks on the left of the beach, either choosing to start from Lulworth Cove or from the Car Park, your choice!
Durdle door is without a doubt one of the most iconic, scenic and breathtakingly beautiful landmarks not only in the south part of the Dorset area but of the entire South England Coast.
A paradise not only for beach lovers but also for photographers (and within reason).
Durdle Door for Photographers
Set aside for the majestic beauty of the place and the possibility to take great pictures from up above the hill, making the images look like a "drone shot", Durdle Door is most sought after by photographers for another reason: The sunrise!
Yes, the beach can get quite crowded with photographers at dawn.
Why is that?
From a very specific spot on the beach, looking at the arch and particularly over the "hole", you can perfectly frame the sun rising over the horizon, creating an awesome "star effect".
To understand what I mean, just Google "Durdle door at sunrise" and you'll see!
Useful info to visit Durdle Door Beach: If you don't live in the south coast of England but want to visit Durdle Door and the Jurassic coast from London, you have 2 choices:
By Car: The fastest route is a road trip of 3 hours. The pro is obviously the possibility of being independent and discover more areas either planning or randomly.

If you use the car, make sure to arrive very early in the morning during peak season because the Parking Lot runs out of space pretty quickly.


By Train: A direct train (Southwestern Train lines) departs from Waterloo Station and it takes around 4 hours to get to Weymouth Station.

From there a short walk to the Prince Regent Hotel to grab the bus and in 30 min you'll be there!
It's quite a long journey so I recommend spending a few days in the area to also discover the other beautiful sights the Jurassic coast has to offer!
Provided by Clelia of Keep Calm and Travel
25. Stonehenge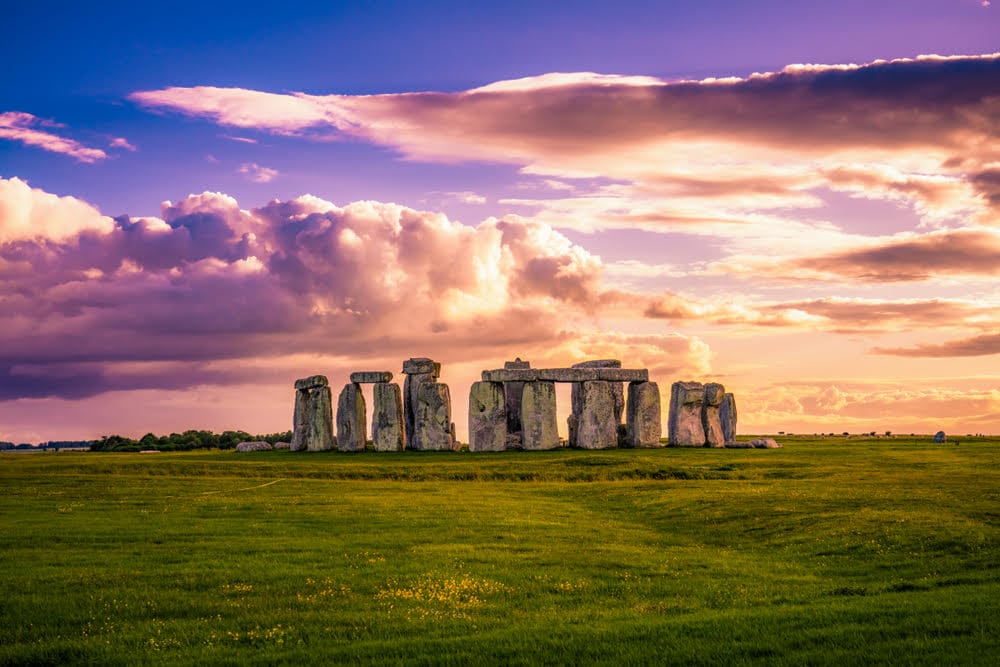 I've always been fascinated by the beauty of Stonehenge.
Between the mystic rituals performed there millennia ago, its romantic (and somber) appearance in the novel the Tess of the D'Urbervilles, and its appearance as a Windows screen saver option back in the nineties, it's been stuck in my brain as one of the most beautiful places on Earth for over two decades.
While in pictures it looks remote, it is actually located near a motorway. Find out more about how to get to Stonehenge from London in my travel guide.
There's also a car park available since its a UNESCO World Heritage Site.
However, neither of these proved to be too intrusive so as to ruin my experience.
It's one of the few places that was truly as beautiful in person as it had been in my dreams.
Beyond just the gorgeous green rolling fields set against the beauty of the white stones, there are some charmingly rural views to enjoy here.
I particularly fell in love with the farm sheep living nearby who lined up to moon us.
Make sure to set aside time to visit the gift shop.
Besides the normal collection of historic knickknacks and kitsch, you'll find locally produced wine and spirits – a great way to relive your experience when you're back home!
Provided by Stephanie of History Fangirl
26. Cheddar Gorge
Did you know about the Cheddar Gorge? Well, the Cheddar Gorge is one of the best secret and underrated spot in England!
Located at 40min drive from Bristol and 2 hours from the famous Jurassic Coast, the Cheddar Gorge is a spectacular natural landmark made of stalactite.
This gorge is actually well-known for its very huge cliffs but also for the archeological findings from prehistoric past as Britain's oldest complete human skeleton was discovered in its caves in 1903.
So whether you are interested in nature or history, the Cheddar Gorge is definitely a must-see!
Wondering how to visit the gorge? Depending on the time you have, here are different ways to experience the gorge:
If you don't have much time, you can just go through it by car and stop to enjoy the cliffs from the bottom. I guarantee you it is well worth a detour!
If you have more time, you can go on a 2-hour hike to enjoy stunning views from the top of the cliffs.
Visiting the gorge was an amazing experience as it is a completely unexpected landscape in the middle of big open fields.
Find more photos and tips to discover the Cheddar Gorge!
Provided by Nesrine from KevMRC
27. Cambridge: pretty places in England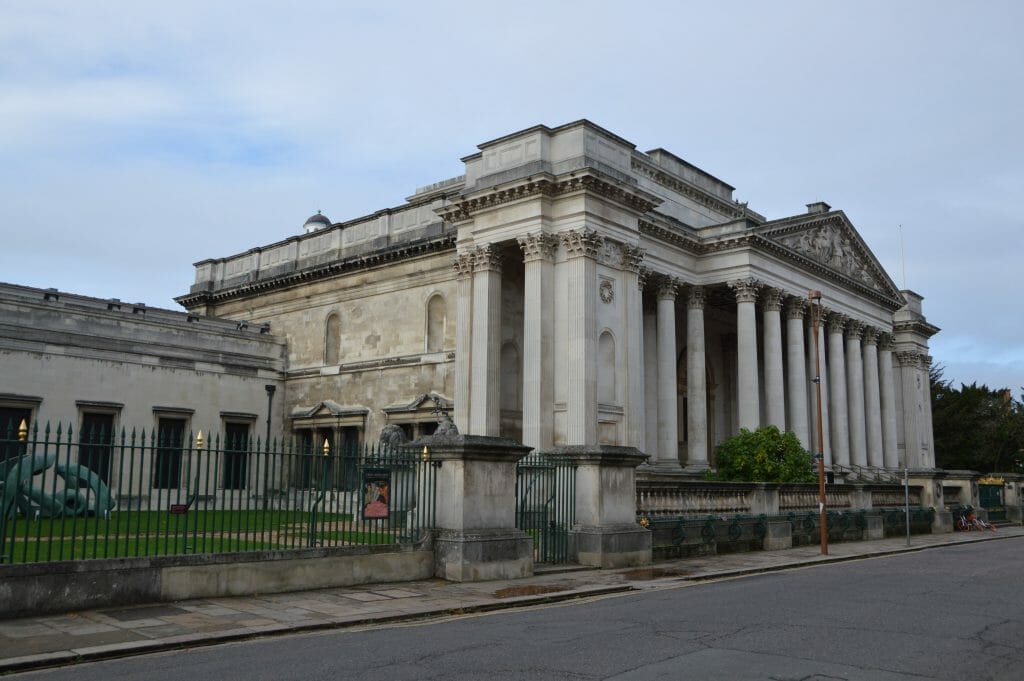 Cambridge is a town on located on the River Cam, about 1.5 hours north of London.
It is also home to some of the world's oldest universities including University of Cambridge.
Check out our guide to the best Cambridge tours from London for a guided experience.
The city itself is beautiful, with stunning architecture, particularly across many of the university buildings, as well as the riverside and many of the open areas, parks and fields.
The natural beauty of Cambridge complements the historic architecture in the city.
Kings College Chapel is a must when visiting Cambridge, as it has some of the most amazing architecture.
It is one of the main tourist attractions in Cambridge and is host to events such as concerts and other college events throughout the year.
Another one of the oldest and most renowned colleges, St. John's is not to be missed.
It has a magnificent exterior and plenty of space surrounding the campus where you can admire the architecture.
Another well-known attraction is the ability to go punting.
Punting is a great way to see a lot of the beauty of Cambridge and even get a chance to visit the Mathematical Bridge, one of the most famous bridges in southern England.
Going down the river, you get a different perspective on the city and appreciate the beauty of it from one of its most famed activities.
Cambridge is a beautiful city to visit with plenty to see and do, whether you are going with family, with friends, or solo, it is a gem in Southern England.
Provided by Diana of The Elusive Family
28. Chester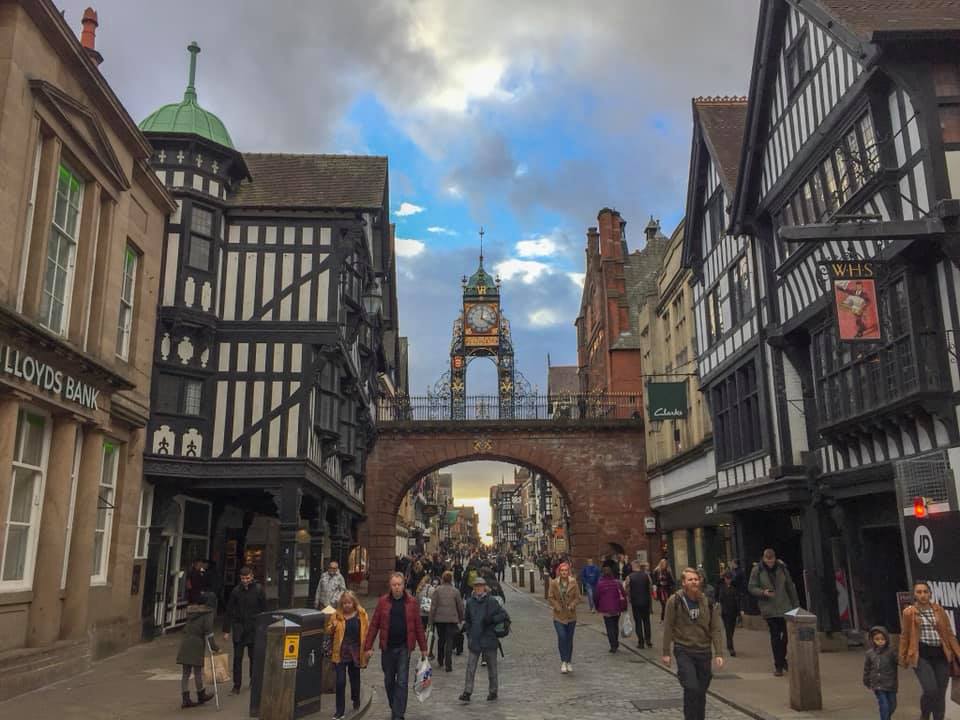 Chester is one of the most beautiful places in England and a lesser-known one at that.
The old capital of Roman England, when it was known as Deva, is close to Liverpool and Manchester which steal the limelight in the North West of England.
It's only a small city, but there are plenty of things to do.
You can visit the biggest Roman Amphitheatre in the UK, which is right in the heart of the city.
The Eastgate Clock, which is the second most photographed clock in the UK after Big Ben, is also a prominent and striking landmark in the city.
Chester has a mix of Roman architecture, with walls spanning the entire city centre, and Mock Tudor buildings which make for a beautiful contrast.
It can feel like you have gone back in time as you walk around the city!
It's a very Instagram friendly city and one you will not want to leave!
Provided by Tom of The Travelling Tom