This post contains affiliate links for which I may make a small commission to help keep the site running. You will not be charged extra for these items had you not clicked the links. Thank you for your help to keep the site running!
After 7 years of living in the UK, I was pretty sure I had seen it all – from rolling countryside in Buckinghamshire to the dramatic Lake District to rocky beaches down at Brighton and Dover, I've been to a lot of places.
It wasn't until I visited Kynance Cove in Cornwall, however, my breath was truly taken away.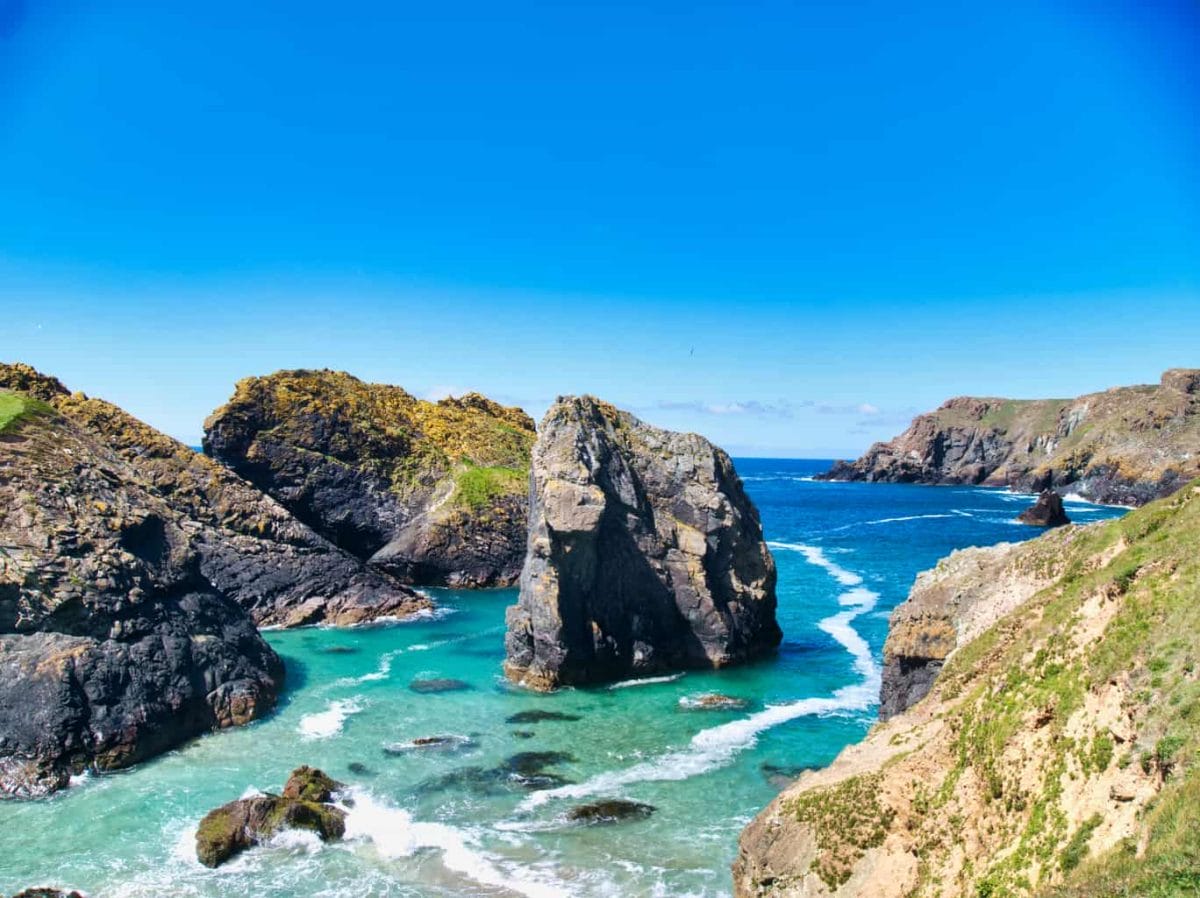 The moment we began our walk from the parking lot to the cove, I could sense something was different about this part of the world, but I couldn't appreciate the absolute stunning beauty of Kynance Cove until I was right up next to it, picking my jaw up off the ground as I saw the crystal clear water and rocky landscape.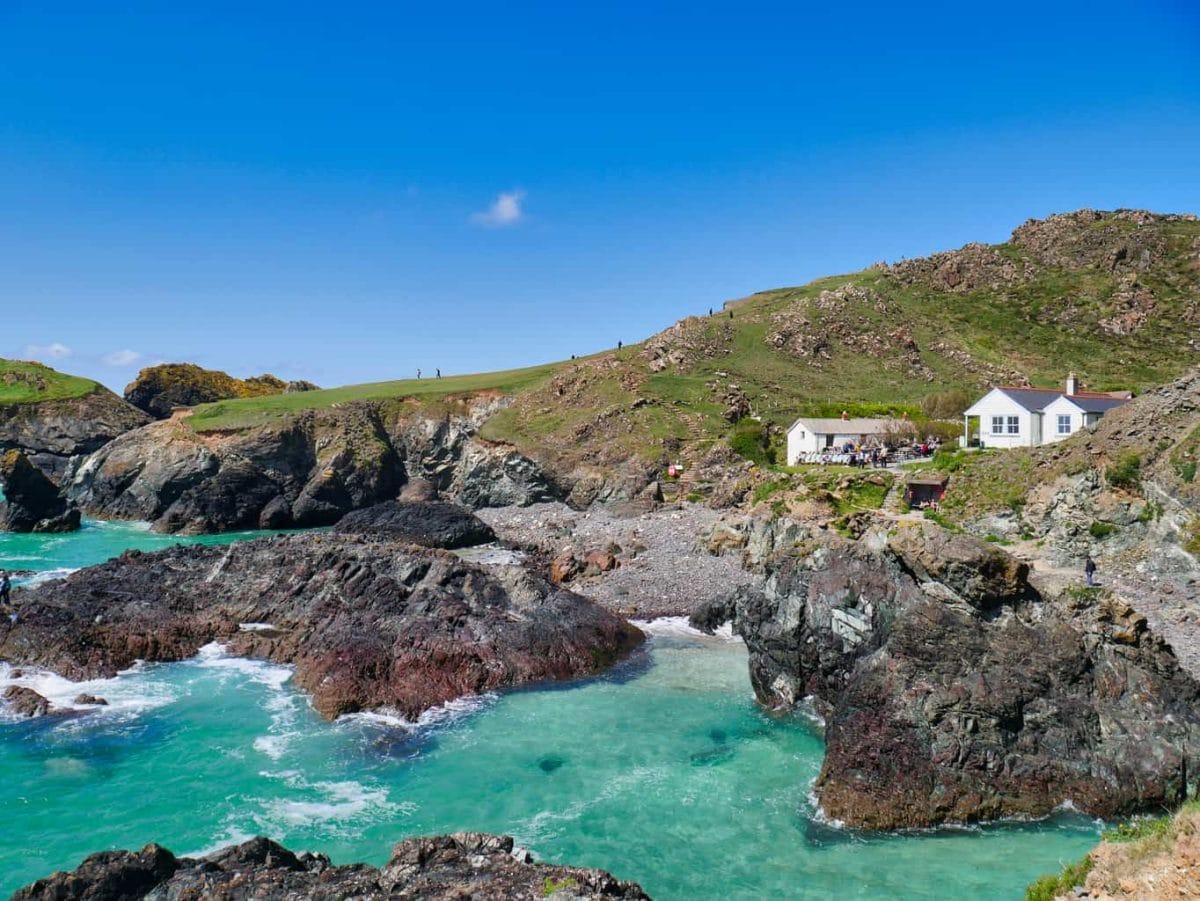 I saw a side to the UK that I had never seen before, a side of Cornwall that three generations could enjoy together, and I've put together this list of tips and advice on visiting Kynance Cove in Cornwall to help you discover the same unbelievable scenery I did (oh, and also did I mention I saw some seals in the wild because hello, what is the magical land).
GET A

FREE

UK GUIDE and ACCESS TO MY PLANNING FB GROUP
With 50+ pages of helpful travel tips and the "best of" UK lists, this is your ad-free key to your UK trip.
Best Time to Visit Kynance Cove
While you can appreciate this gorgeous area any time of year and it doesn't "close" because it's just a part of nature, you should know that the most beautiful time is late Spring to early Autumn when you can see the water sparkle in the sunlight.
Swimming is best here in August, and the sunsets are spectacular in September!
How to Get to Kynance Cove
Kynance Cove is on the south side of Cornwall on an area called the Lizard Peninsula.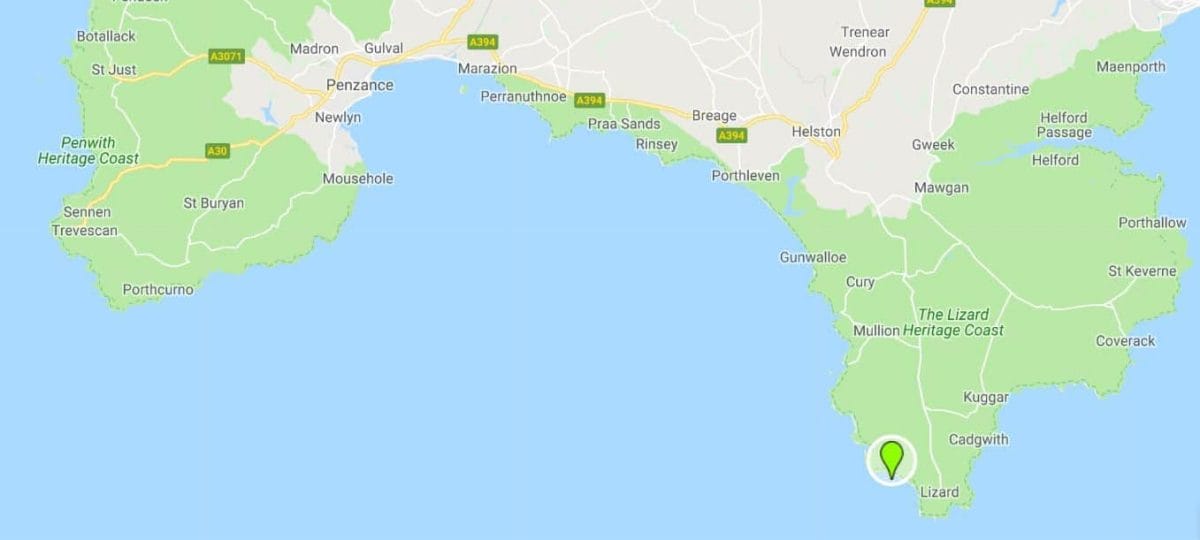 The closest town with a train station is one called Redruth, about 30 minutes away, so if you are trying to come via public transportation from London, you could get a train from London to Redruth via London Paddington, and then get a taxi the rest of the way.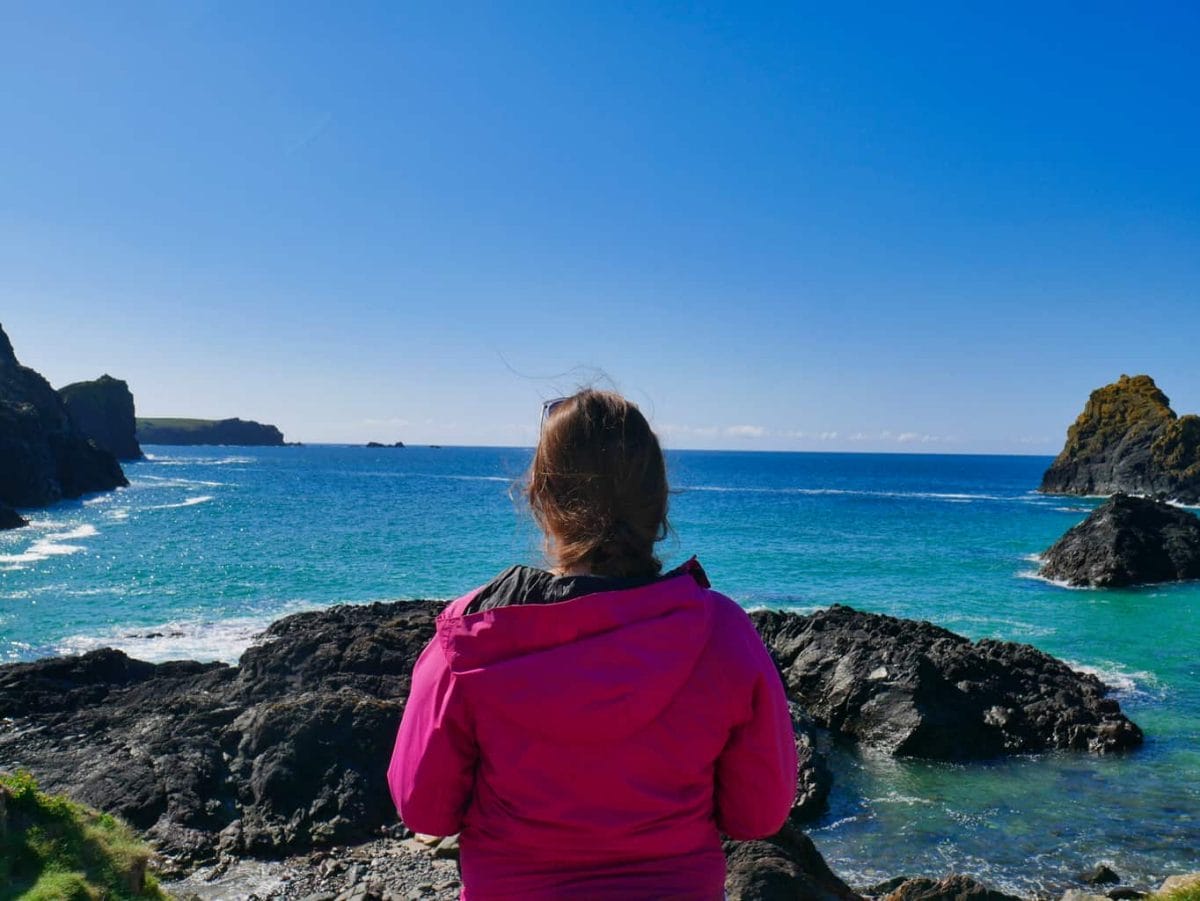 This is an expensive option, due to the length of the taxi journey, but it is possible!
The easier way to get to Kynance Cove is by car.
This is how we traveled, as we found that it was almost impossible to really get to see what we wanted to in Cornwall if we didn't have our own set of wheels!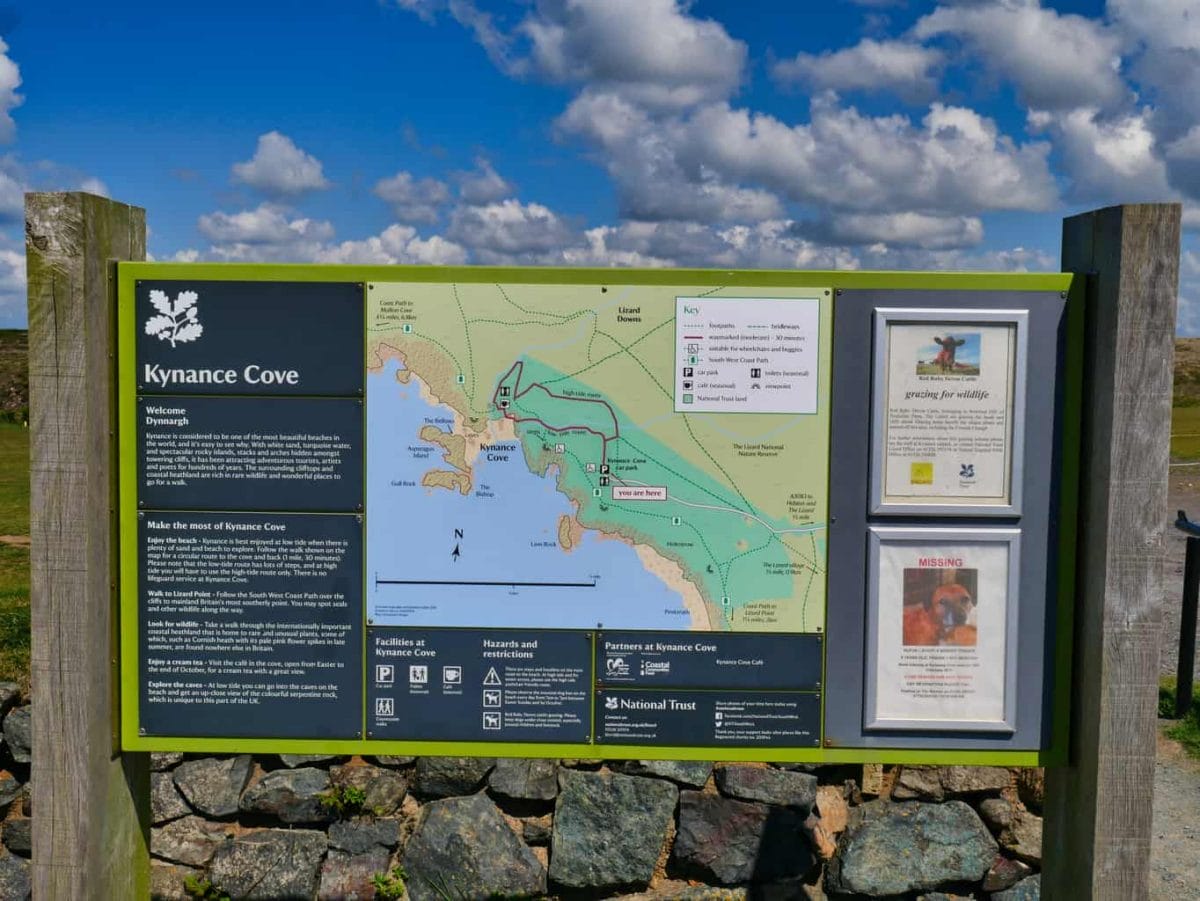 Luckily we own a car already, but if you don't and are up for an adventure, consider renting a car from near where you're staying and experience the freedom of driving around this gorgeous part of the world.
If you don't have a car, but still want to see Cornwall, consider one of these two guided tours.
We went on a sunny Saturday morning in mid-May and got there right at listed opening time of 8am.
By the time we left around noon, the parking lot was going into overflow.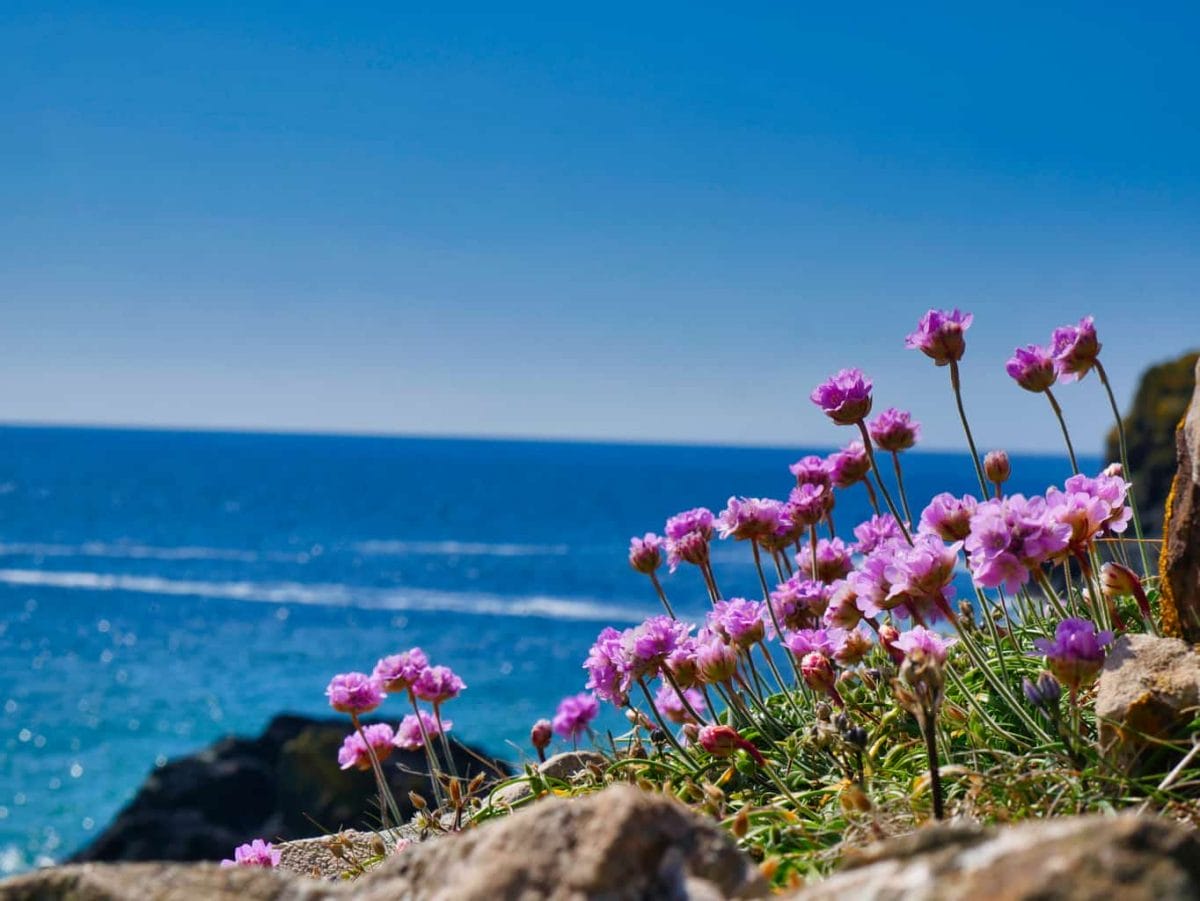 The official advice is to get there before 11am on a summer day if you want to guarantee parking, as there are not really other parking options around and it can get filled up quickly.
Once you actually arrive at the Kynance Cove parking lot, whether by taxi or by car, you will pay the small parking fee (free for members of National Trust) and then it's either a 10 minute steep walk down to the cove during low tide, or a 15-20 minute higher walk on a flatter walk to the cove during high tide or if you have mobility issues and would prefer a more gentle walk.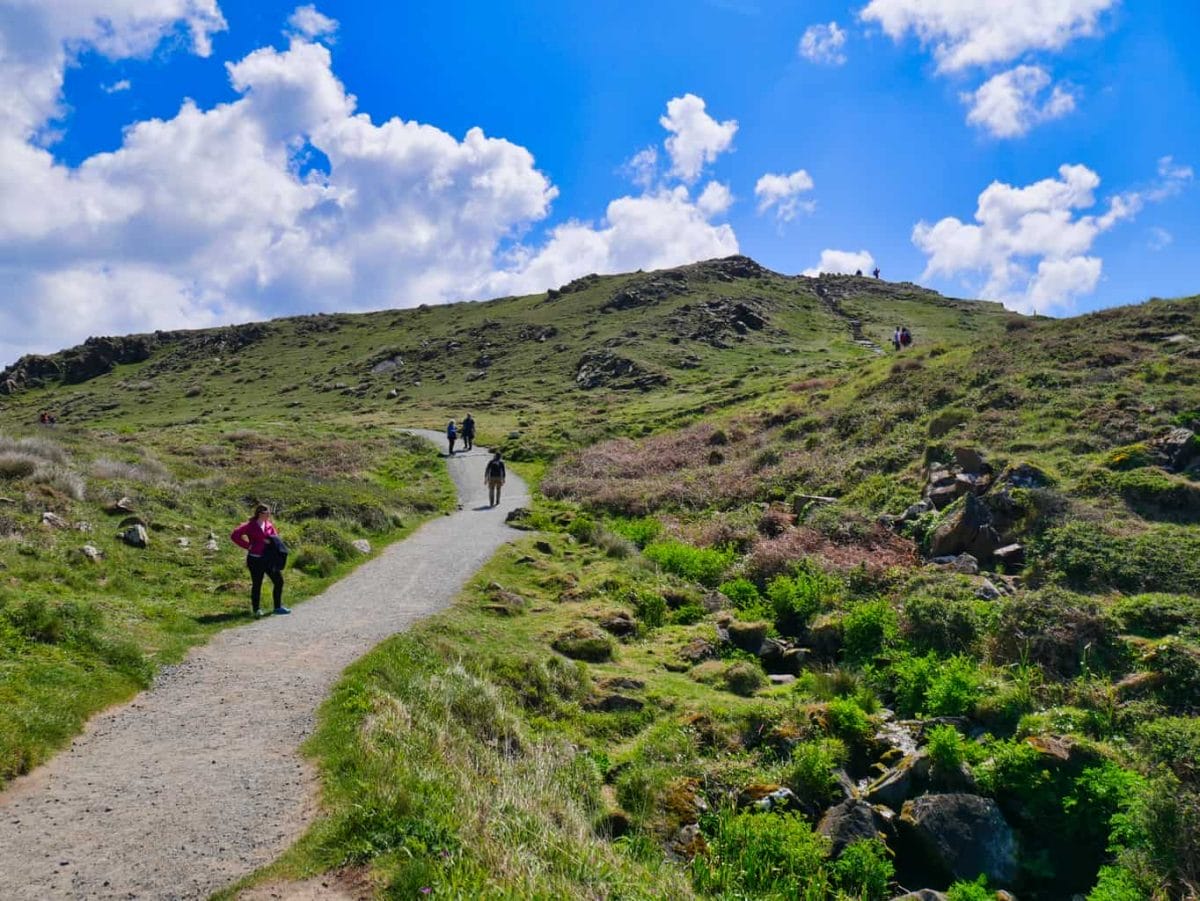 We took the high tide route coming down from the parking lot because the tide was coming in, but by the time we left we were able to take the low tide route back.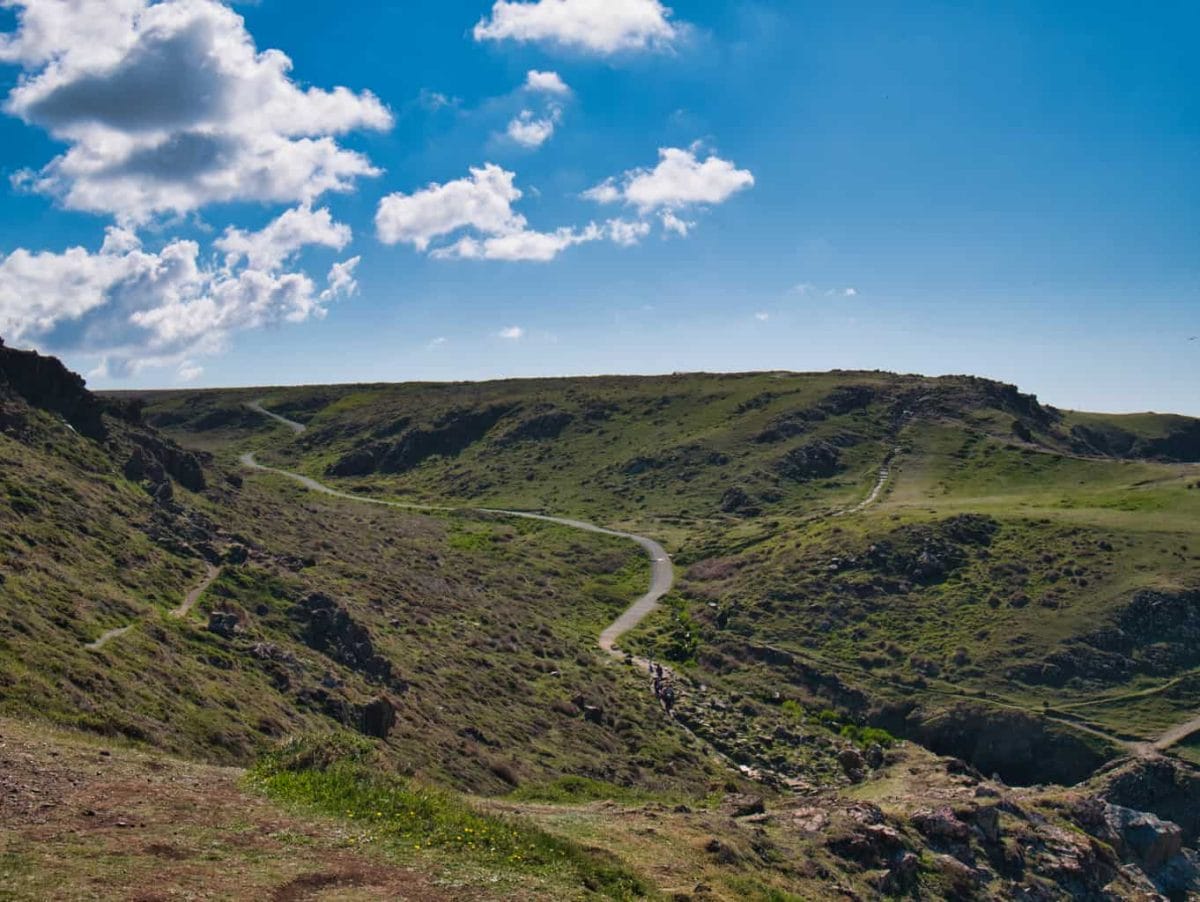 I would only advise taking the low tide route if you have on appropriate shoes (read: not sandals or heels) and each member of your group is confident enough to take care of themselves during the walk.
Part of the walk goes over some very awkwardly sized rocks on the beach, not small enough to just crunch over and not large enough to give you a lot of surface area on each one to jump between.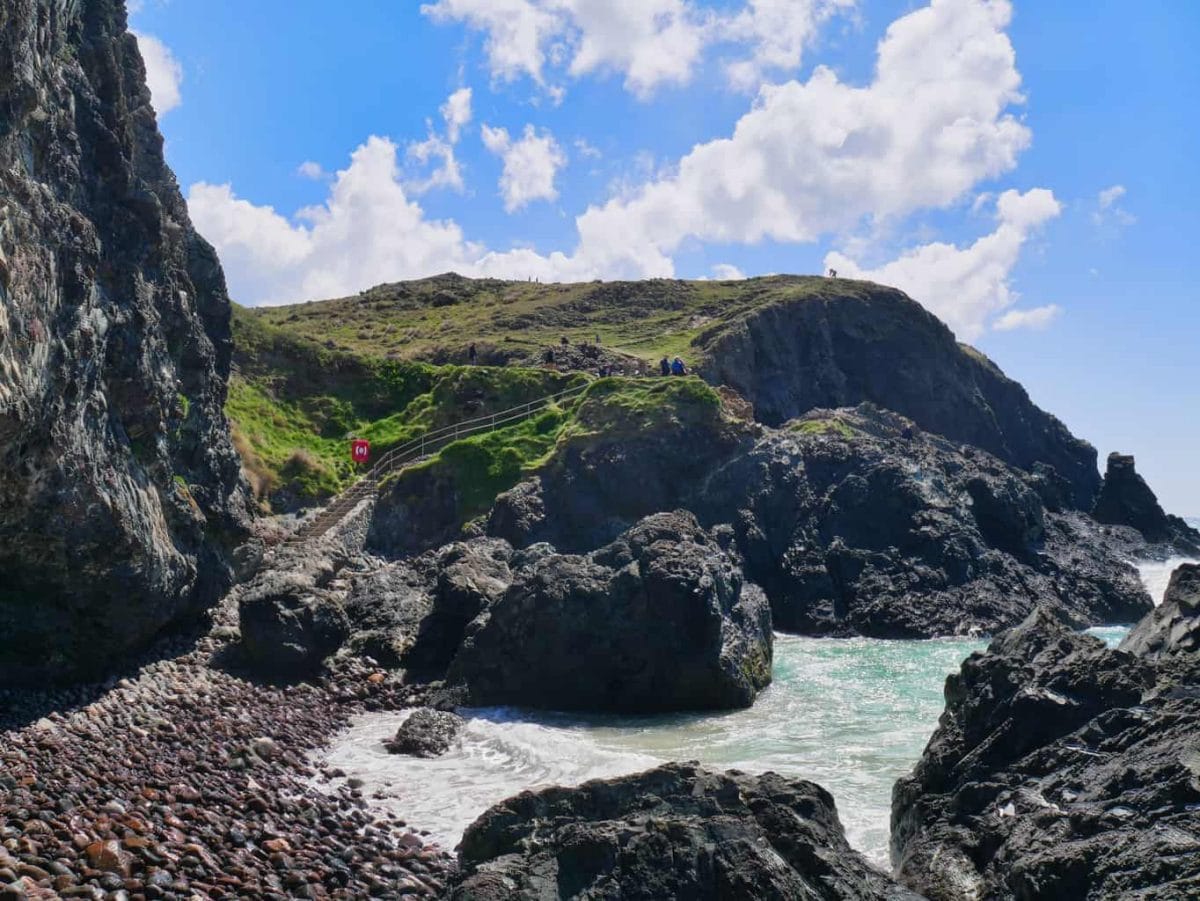 Instead, it's a bit of a precarious dance across them as you try not to slip and smash your face into the earth, so people who aren't confident on their feet should stick to the higher route!
What to Bring to Kynance Cove
Kynance Cove Beach is not spacious enough for you to bring your entire "living your best beach life" set.
It's one of the most beautiful places in England, so it gets busy, and the emphasis here is on the swimming and the beautiful views rather than necessarily pulling out your biggest sand pail and getting to work.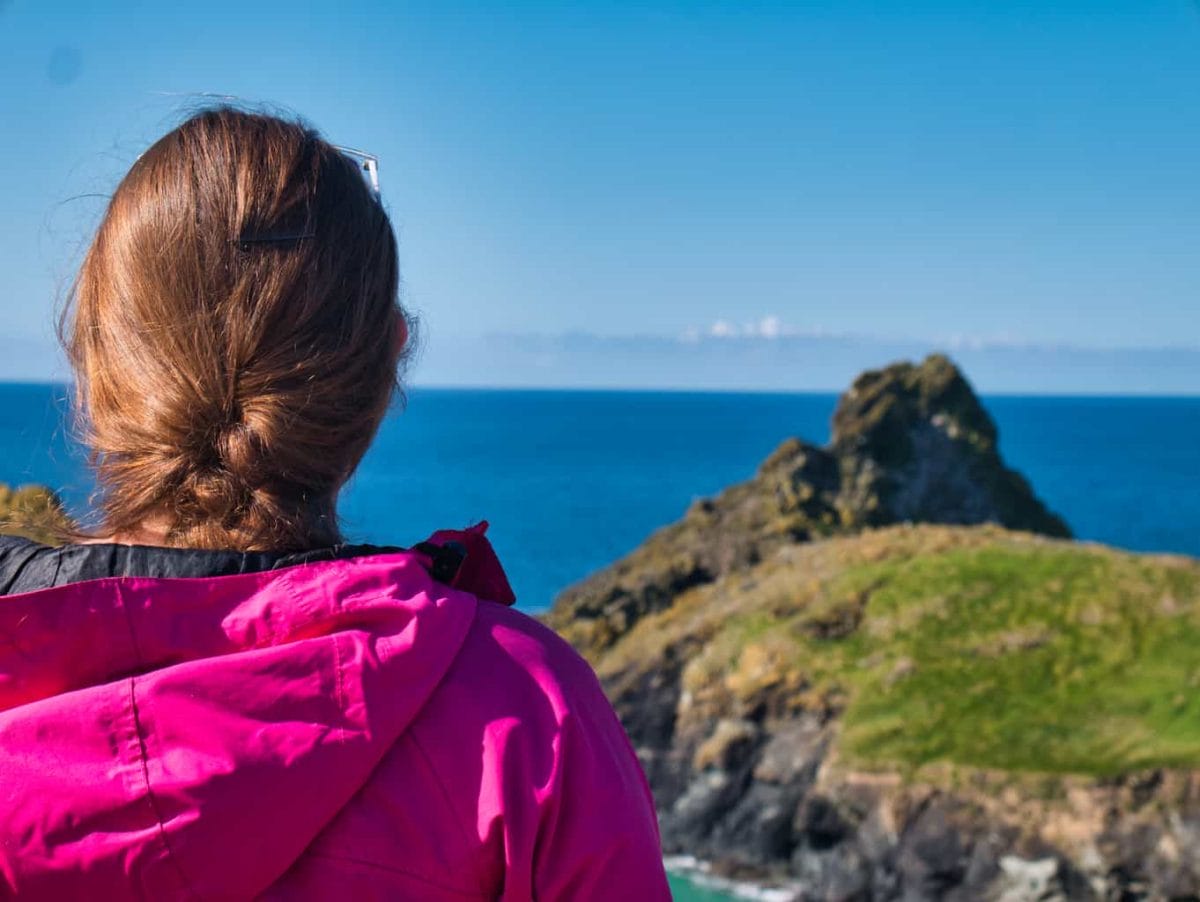 With that in mind, here's what you should think about bringing with you to Kynance Cove.
Shoes suitable for walking
Even if it's summer and you plan on being in barefeet the entire time in the cove, do not forget to bring some shoes suitable for walking down rocky paths.
You cannot just park at Kynance Cove and access it directly, you have to park and walk to it.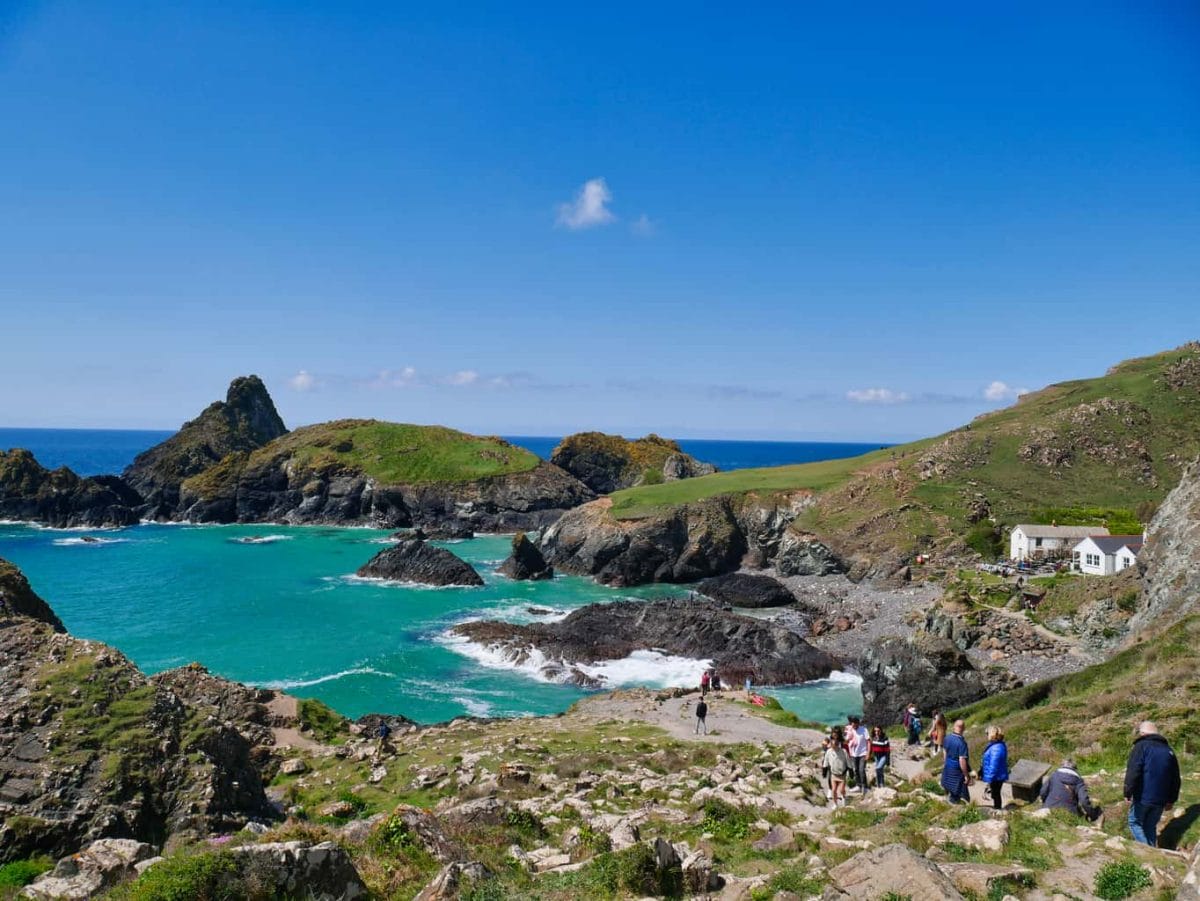 We saw lots of people slipping on the rocks, so something with traction like this shoe is a very good idea for your general safety and not needing to be airlifted off of a rocky Cornwall coast to the hospital.
Flip flops or Water Shoes
Once you actually get down to the beach, you're going to want to throw on some super cute flip flops like these ones or put heavy duty water shoes like this awesome pair on the kids so they don't have to worry about cutting their feet on anything.
If it's not warm enough to enjoy a bit of sun on your skin when you go, then just stick with your walking shoes and make it a "looking" visit rather than a "swimming" one.
Swimsuit
What is a Cornwall beach without a swimsuit?
I love one pieces that are both fashionable and functional, as well as nautical bikinis like this one.
Guy loves swim shorts like these ones, and I would recommend putting the kids in wetsuits for most of the year to stay warm in the Cornwall water – it's never going to be quite the Caribbean despite looking like it!
You can also get adults wetsuits here if you're wanting to swim off-season – I saw plenty of people in them in May when the water wasn't warm enough yet.
Snorkeling gear
Bring a snorkel like this one and a colorful mask like this one to add a little extra fun to your day.
The water is clear enough in Kynance Cove that it would be worth your while to see if you can spot any small fish or other sea life around you.
Beach Towel
We love heavy duty beach towels like this one or character ones like this one to make the most of a day out.
There's not a ton of room for you to spread out everywhere, but bringing a beach towel to sit on while watching the kids or enjoying the view is a must.
Picnic bag
There is a café that serves amazing food (more on that in a minute), but that is the only option for food at Kynance Cove.
That means that you would be smart to bring a soft sided picnic bag like this one with your lunch or snacks in it to enjoy.
Camera
This is seriously one of the most beautiful places I've ever been, and my iPhone pictures don't do it justice.
These photos were taken on this camera, but if you don't have the budget for that, still consider a more dedicated travel camera like this one.
Honestly, worth it!
GORGEOUS.
What to Do at Kynance Cove
Kynance Cove is a natural wonder, and so my tips for visiting Kynance Cove mostly involve actually appreciating it!
Put away your Whatsapp messages, tell Netflix that you're busy right now, and just enjoy the awesome views and stunning Cornish landscape.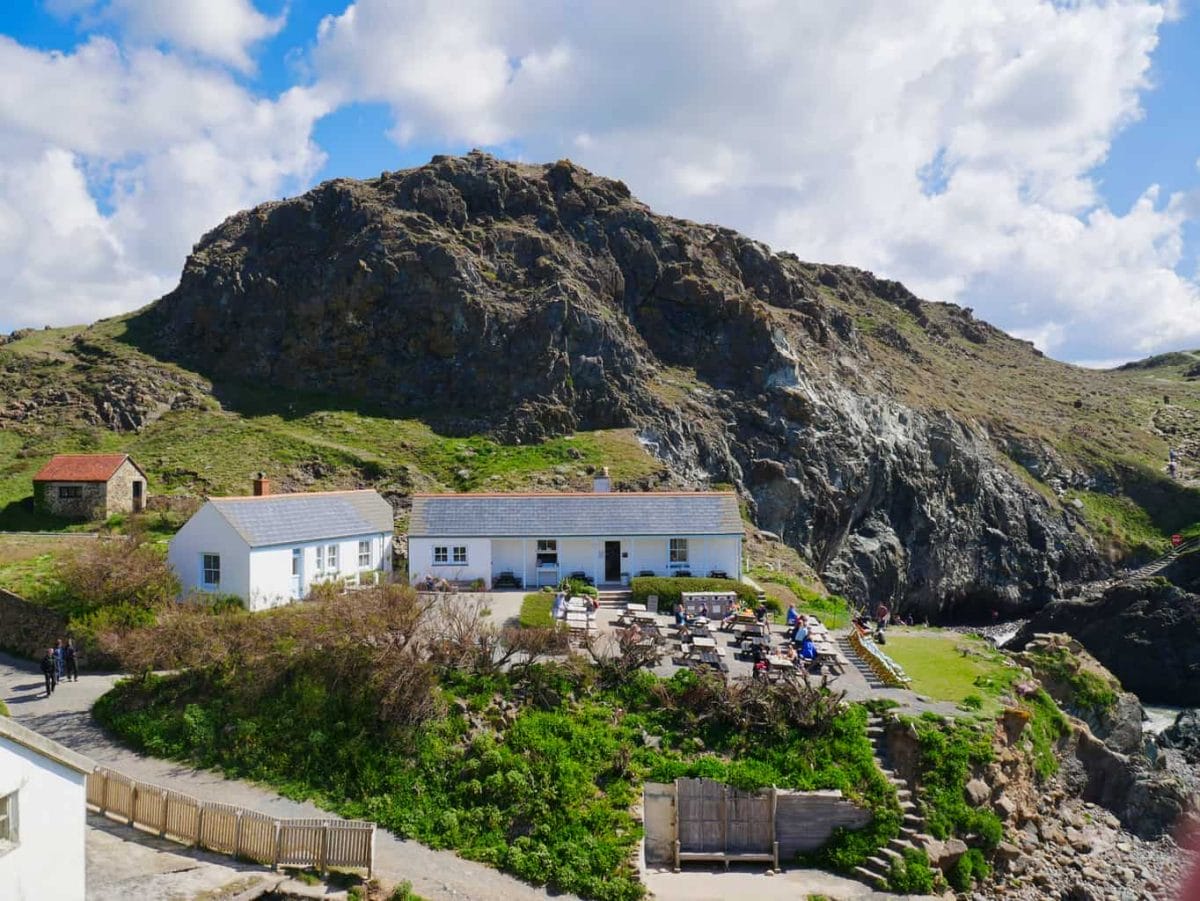 Besides just putting a towel down and appreciating the view, either from the walk above the cliffs or from the actual cove, you can…
1. Discover Enchanted Coves
Kynance Cove is, in and of itself, one big cove, but it also has smaller, carved out rock formations once you get down towards the beach that are a dream to explore.
You feel as if you've stepped foot on a deserted island or are smack dab in the middle of a postcard.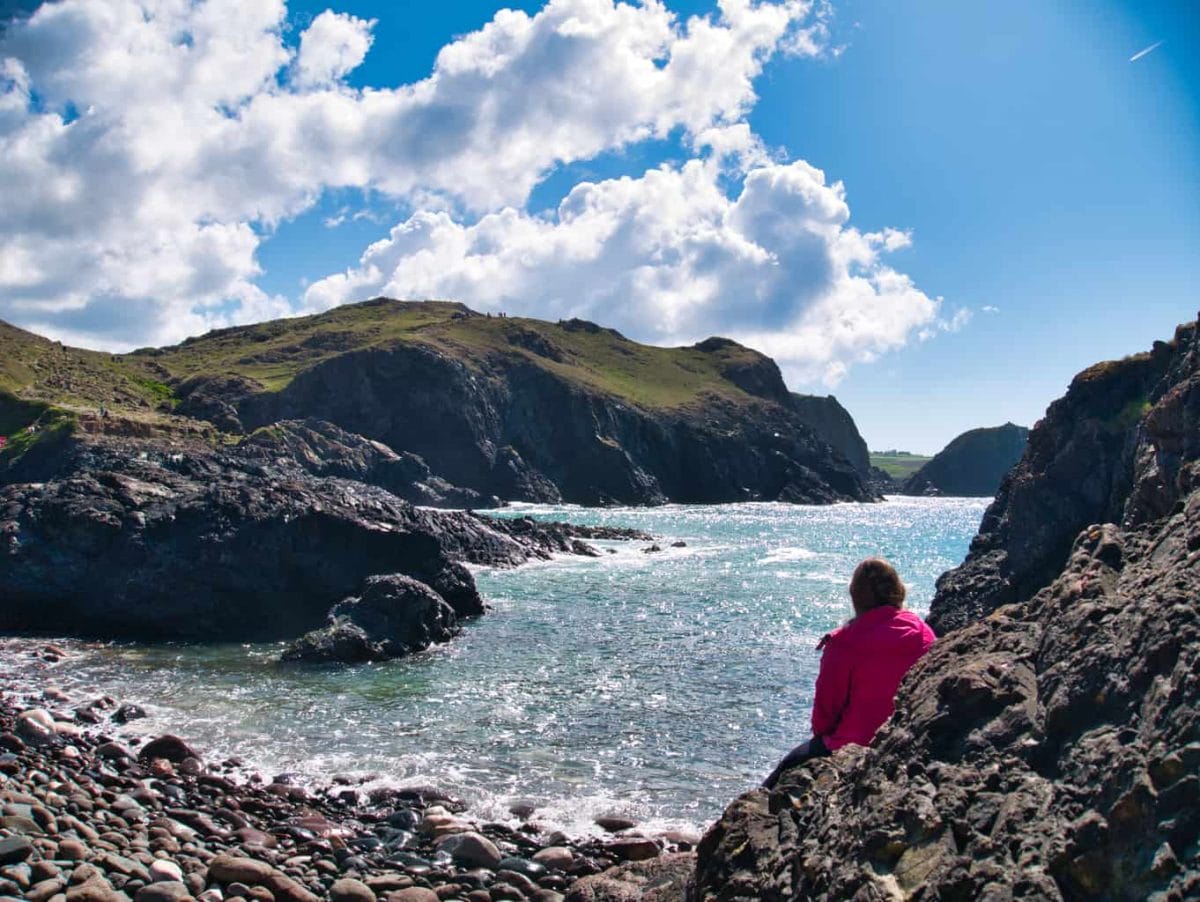 When the tide is low, these coves will be much easier to access, but when the tide is rising or high, you can still reach a few of them and it will be even less crowded.
Just make sure you're keeping an eye on the water level so you don't find yourself stranded.
2. Go Swimming in Kynance Cove: Can You Go Swimming in Kynance Cove?
As I mentioned, swimming is allowed and encouraged in Kynance Cove when the weather is right and the water conditions aren't rough.
You'll find plenty of locals swimming here, and it's such a gorgeous spot that you'll want to get here early in the day to swim with as few people as possible.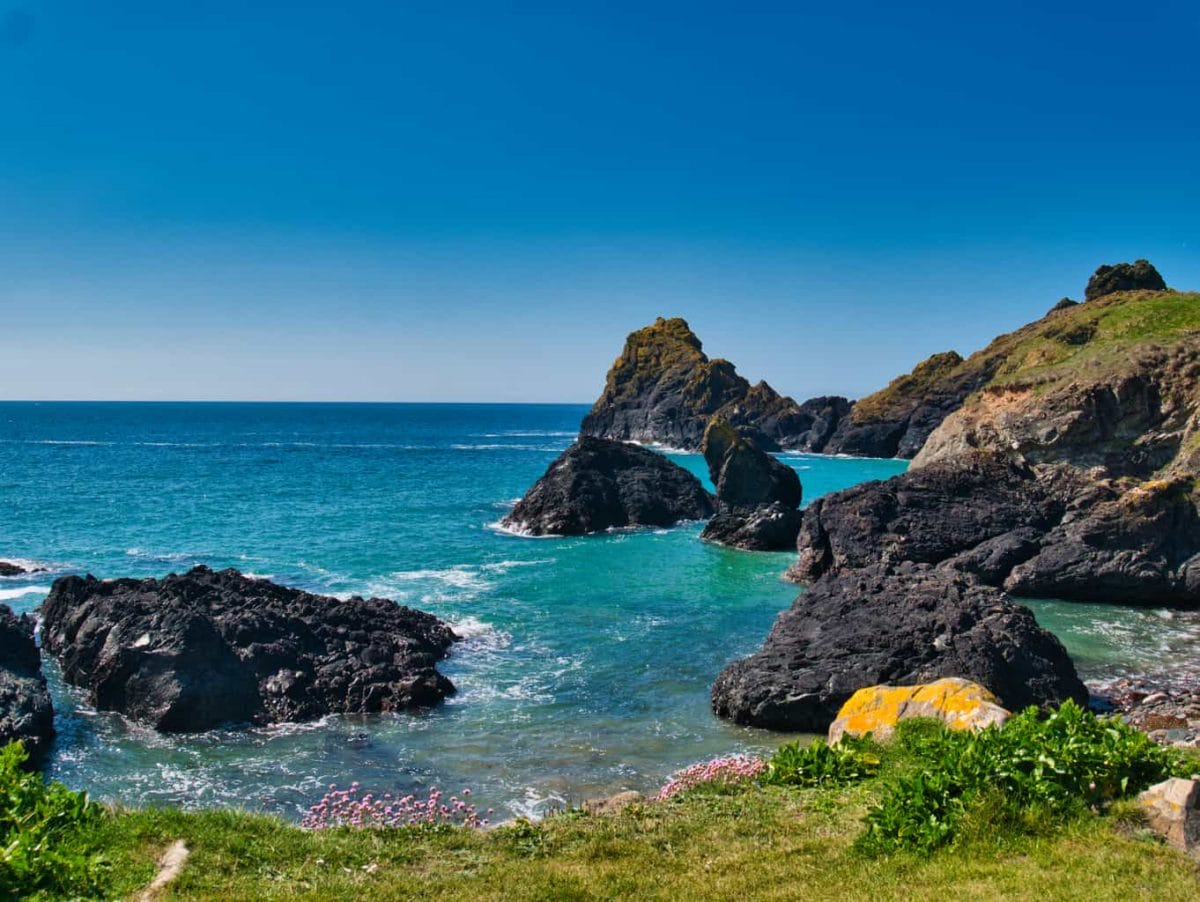 This is, of course, a natural beach, not a pool, and there are not lifeguards watching over swimmers.
If you are not a strong swimmer or have kids, enjoy the sheltered waters of the cove and don't go too far out.
3. Play Water Games
Whether you want to bring a paddle and ball like this one or make up your own water games with a snorkel and mask, the clear waters of Kynance Cove in Cornwall are perfect for playing games with family and friends.
4. Go Seal-Spotting
Perhaps the most wonderful part of our trip to Kynance Cove was the seal we spotted bobbing up and down in the water!
I had never seen a seal in the wild, which probably makes me seem very sheltered, but it was such a cool sight to see him just enjoying life and coming to the surface of the water every minute or so.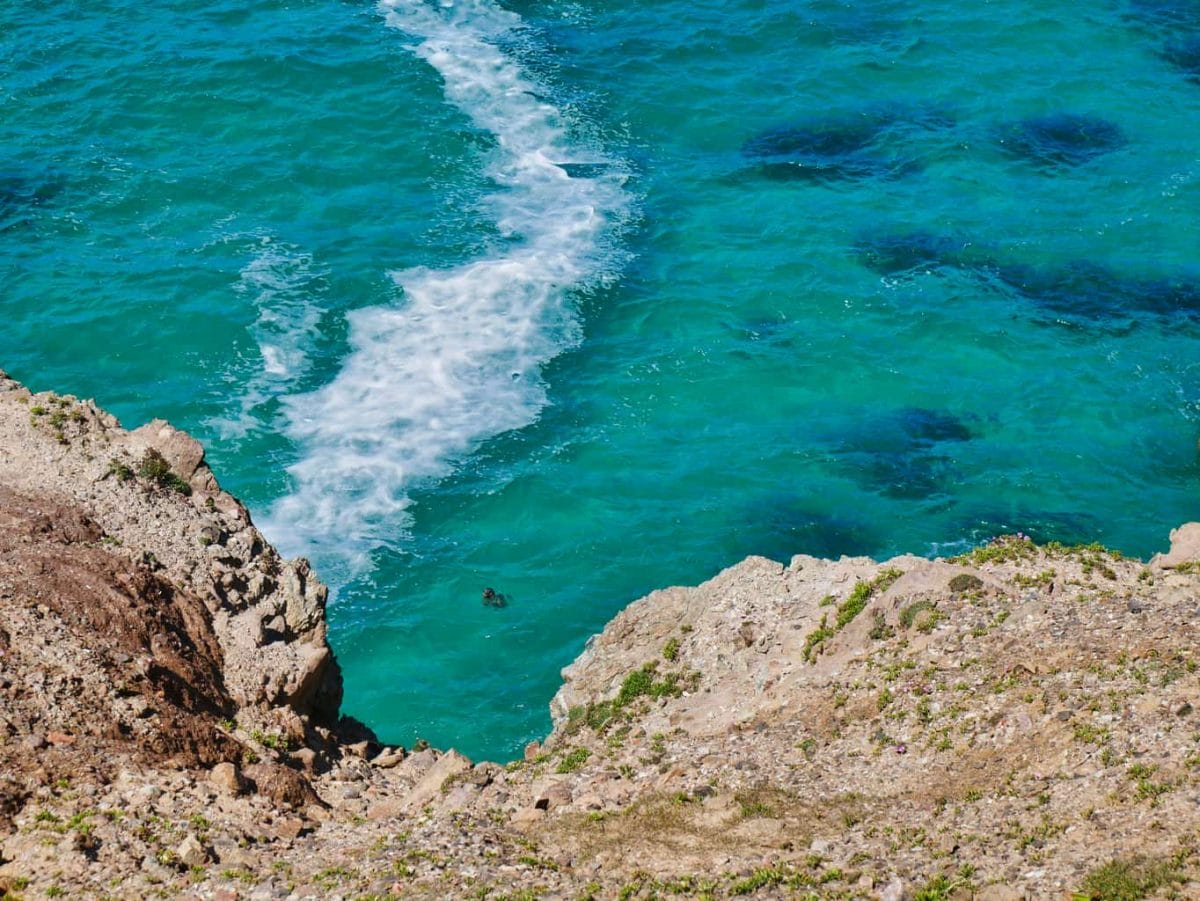 We saw the seal at high tide, so it was clearly enjoying the shallower waters that were available closer to the shore at this time.
Seals are a popular spotting in Cornwall, so keep your eyes open and spend some time to watch them if you do see one!
5. Enjoy Coastal Walks
From Kynance Cove, you can enjoy other walks around the Lizard peninsula.
This means you can make it a day trip just to the Cove, or you can make it a stop on your journey if you just want to look at the views and don't plan on getting in the water.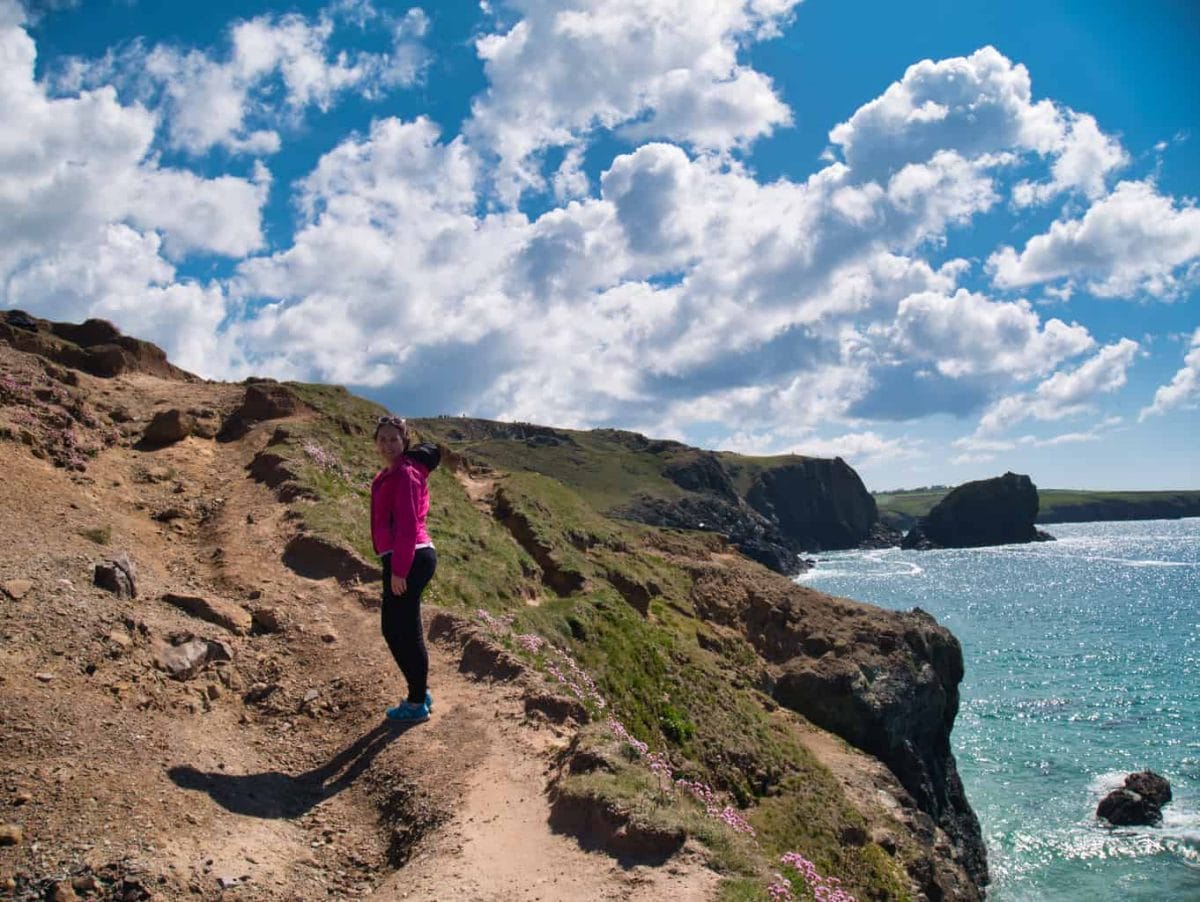 Where to Eat at Kynance Cove
There is one café at Kynance Cove, not run by the National Trust but by a separate family.
We got there early, so enjoyed a cream tea and piece of chocolate cake (it was probably like 9am, but you know what, there's never a bad time for chocolate cake).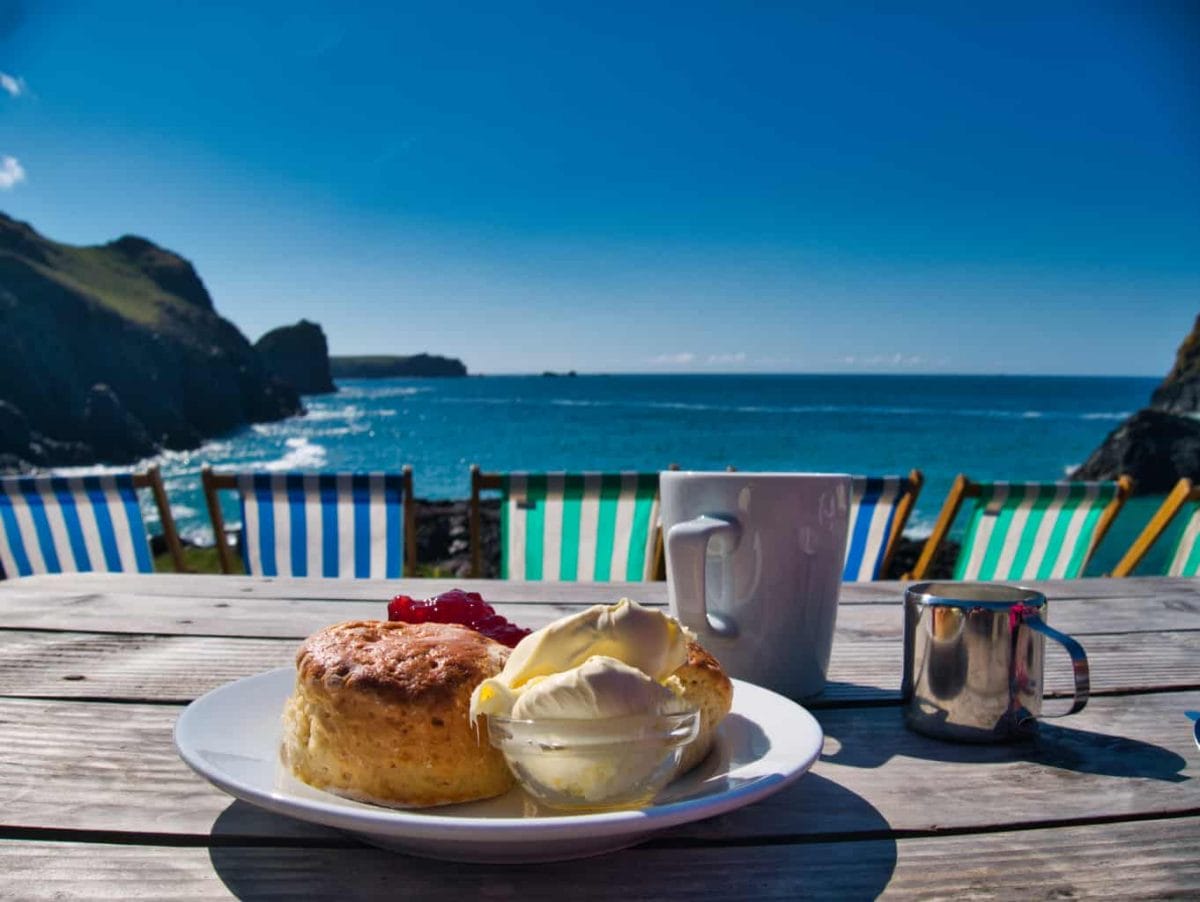 They have picnic tables to sit outside, as well as chairs you can just sit in and watch the ocean lap at the cliffs below.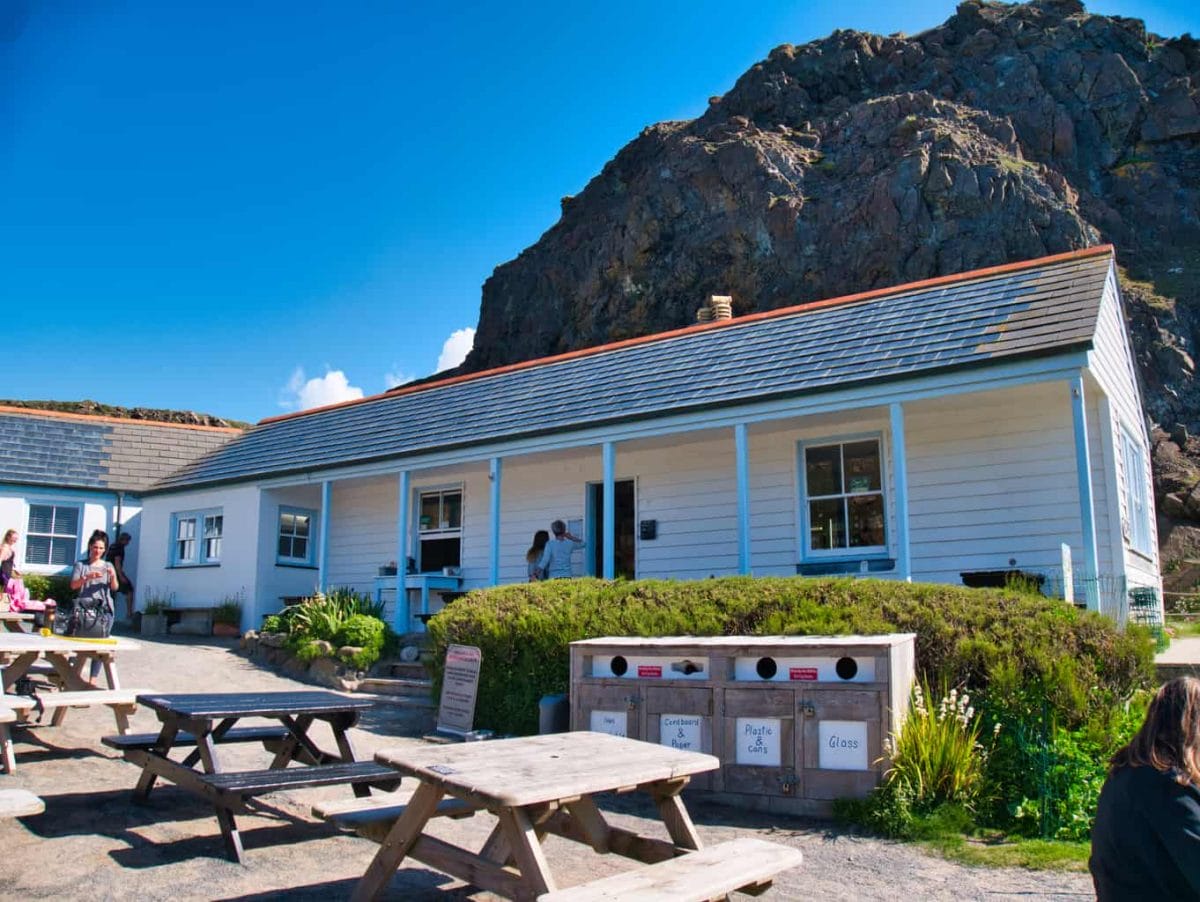 They also have tables inside if the weather turns or you want to eat in the shelter away from the birds trying to grab your food, and they do lunch options so you can just grab something from there if you find yourself at Kynance Cove in the afternoon.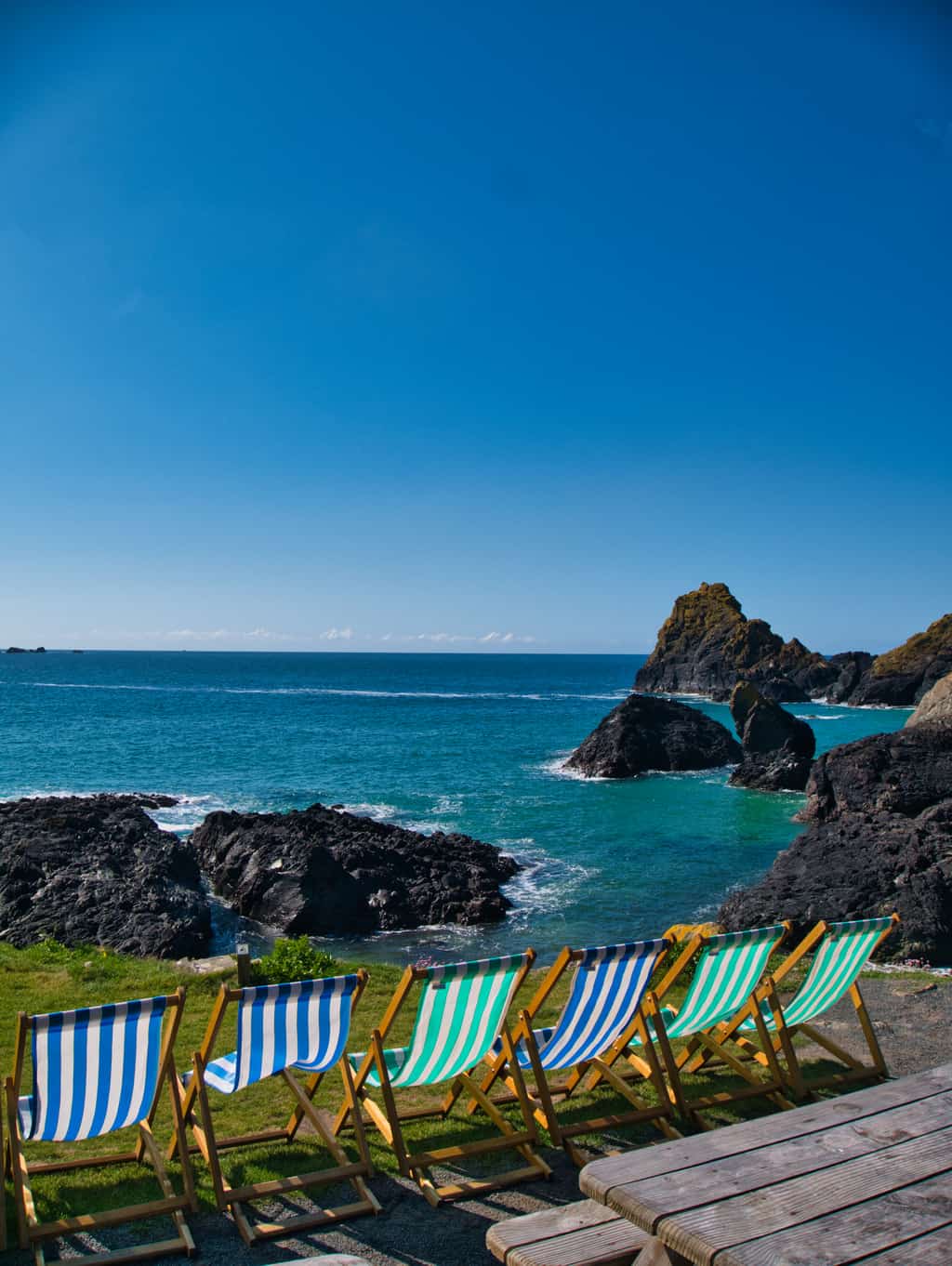 Besides this café, there are no other cafes in or near Kynance Cove without driving to them, so plan ahead!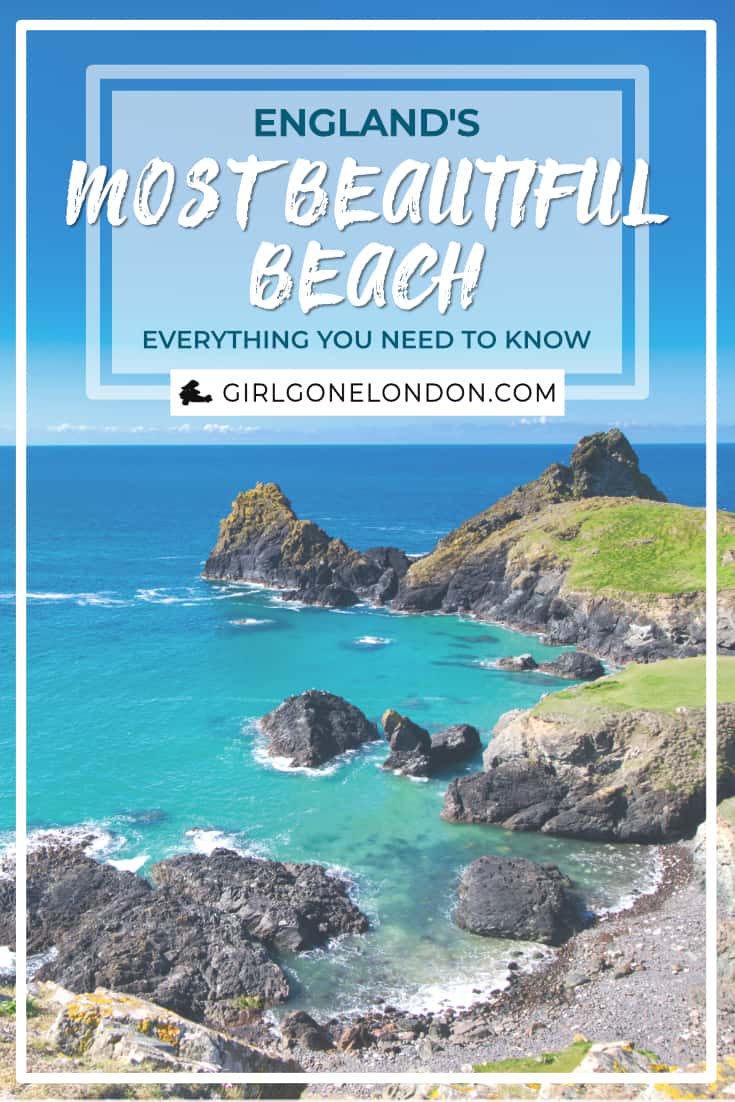 UK Travel Planning Guide: the FAQs
🏥 Should I buy UK travel insurance?
Absolutely yes. Basic coverage is not expensive, and as a visitor you are NOT covered under the NHS. Compare policies and prices with Travel Insurance Master here, a big name in the travel insurance business, and cross that off your list.
🔌 Do I need travel adapters for the UK?
Yes, you do, otherwise you won't be able to plug in your electronics/phone/lifelines. I recommend this one, which is all-in-one so you can use it in other countries.
🚗 What do I need to drive in the UK?
The first thing you need to check out if you're planning on renting a car in the UK is this guide to driving in the UK for visitors – the roads, signs, and driving experience will likely not be what you're used to and it's essential to prepare yourself to stay safe and aware.
🛌 What's the best way to book hotels in the UK?
For UK hotels, Booking is the best site as it offers free cancellation on many properties. If you want an apartment, I always recommend VRBO over AirBnb.
📳 Will my phone work in the UK?
Yes – if you set it up right. Check out my guide on making your foreign phone work in the UK to ensure that you get the type of service you need.
🚿 Can I drink the water in the UK?
Yes, UK water is great and perfectly safe. But drink out of taps in any kitchen or use water fountains. Double check before drinking out of the taps in hotel bathrooms, though, as they may be on a different system.