This post contains affiliate links for which I may make a small commission to help keep the site running. You will not be charged extra for these items had you not clicked the links. Thank you for your help to keep the site running!
Bergen, Norway in the winter is truly one of the most enchanting places on Earth.
We had no idea what to expect from a Norwegian winter, and while we got some of what we had hoped (hello, adorable trolls!), most of the trip was far beyond our imagination.
Finding things to do in Bergen in the winter wasn't too difficult, despite the number of museums and attractions that were closed for the season.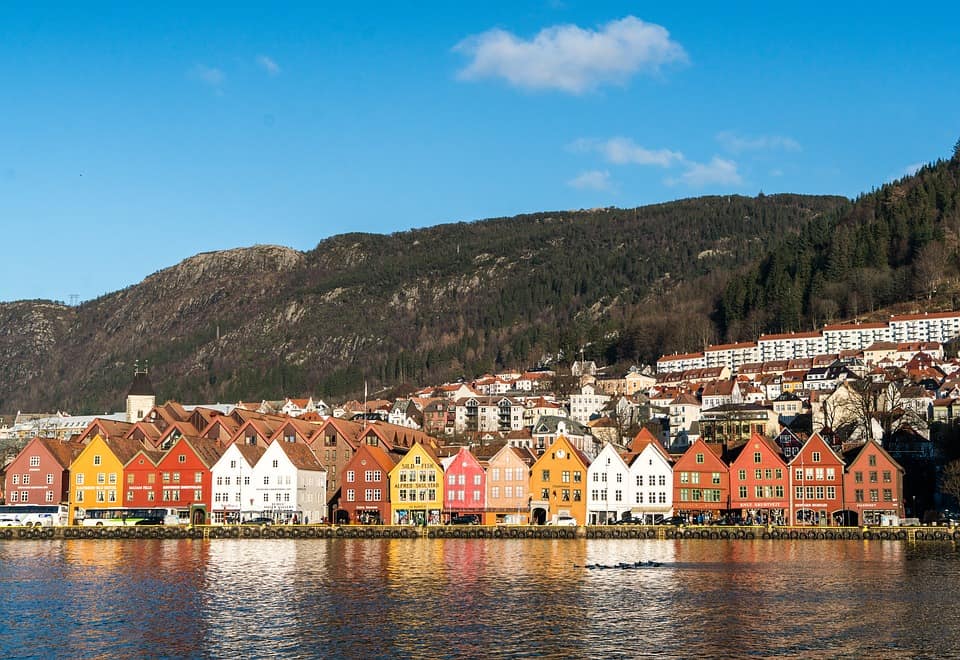 See, in winter, Bergen becomes a whole new world full of Norwegian Christmas carols and snow covered mountains.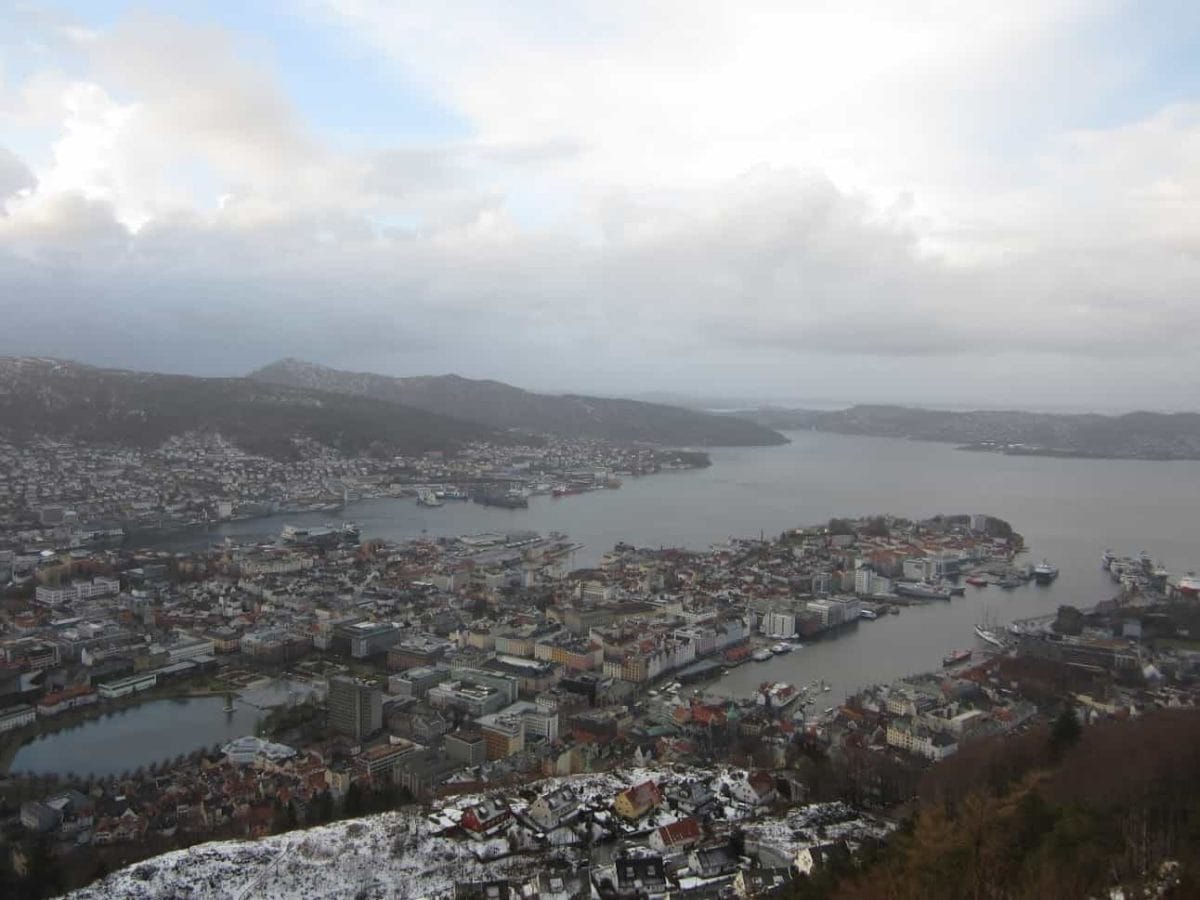 The light fades around 3pm and doesn't start appearing until around 10am in the true depths of winter, which is a very unusual thing for my Floridian self to behold, but it adds to the overall charm of visiting Bergen in December, January, and February.
Whether you're just dreaming of a 2 day trip to Bergen, Norway in the winter months or have already got yourself a flight and a winter trip to Bergen, keep reading for my ultimate guide to this gorgeous land of winter wonderland.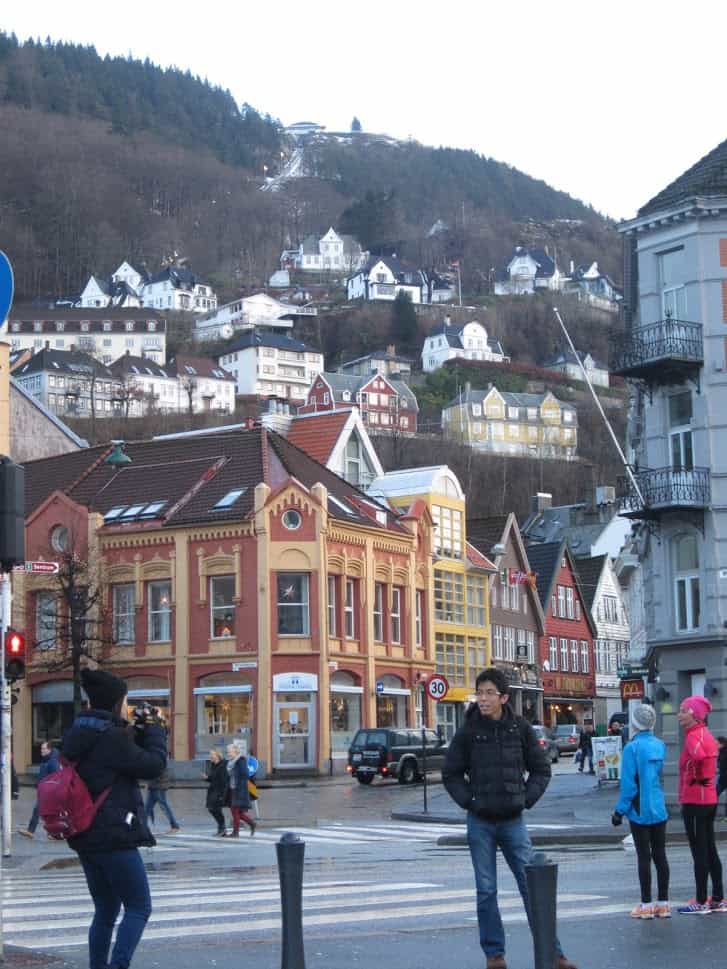 Bergen in Winter At-a-Glance
How to Pack for Bergen in the Winter
Packing for Bergen in the winter is a test in how many layers you can add to your body while still being able to move.
Especially if you're used to warmer climates, woolly socks and comfortable coats are going to be your best friends.
Here's my essential winter packing list to Bergen to get you thinking and realizing you should leave the shorts behind.
The most important thing to have when you're standing on a mountain and it's snowing and Norwegians are singing Christmas carols (more on that later) is warm and dry socks.
I prefer to wear ski socks underneath my boots as they're so so soft and really block out the cold so you hardly notice it's freezing cold if you were to only ask your shins and feet what they're feeling.
Other options include these fuzzy socks, or you can go for a more rustic look with these socks.
There's no point in investing in great socks and then having horrible boots that fall apart and don't keep your feet warm.
That's why warm boots are next on our list.
We really needed some good hiking boots when we went due to the fact that we basically hiked down a mountain.
Guy always prefers to wear his hiking boots even if he's not going hiking, though.
He has chosen this pair due to how sturdy and waterproof they are, but here is a more feminine option in case you prefer that.
I opted for more fashionable boots, like these ones, which went with almost any outfit I could find and allowed me to explore Bergen while staying warm.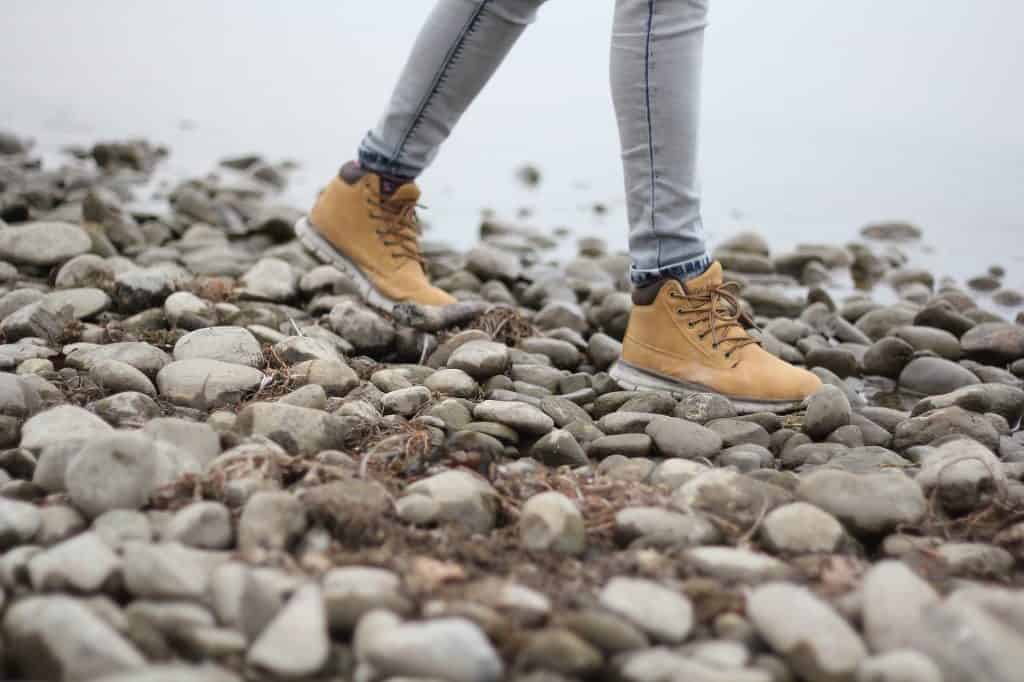 Okay, I know jeggings are so totally not in style, but I'm just going to say it.
Fleece lined leggings or jeggings are my heroes.
Seriously, there's just something about having that fleece against your legs that makes you feel super snug and ready to embrace whatever snow your way.
Also, jeggings and leggings are stretchy, which means that you can stuff with face with amazing Norwegian Christmas cookies and it's all good.
The fleece lining is then going to save your skin from the cold and wind that made it through the first barrier.
I'm going to get everything fleece lined from now on.
Leave your short sleeve shirts at home unless you're using them as a very original base layer.
Bergen in the winter is cold and can be bitterly windy and your arms are going to want protection as much as the rest of your body.
Choose warm long sleeve shirts like these ones or these ones to use when layering your outfit in the morning.
They don't need to be particularly flashy or colorful (unless you want them to be in which case, you do you) as they're going under your other clothes.
Cozy sweater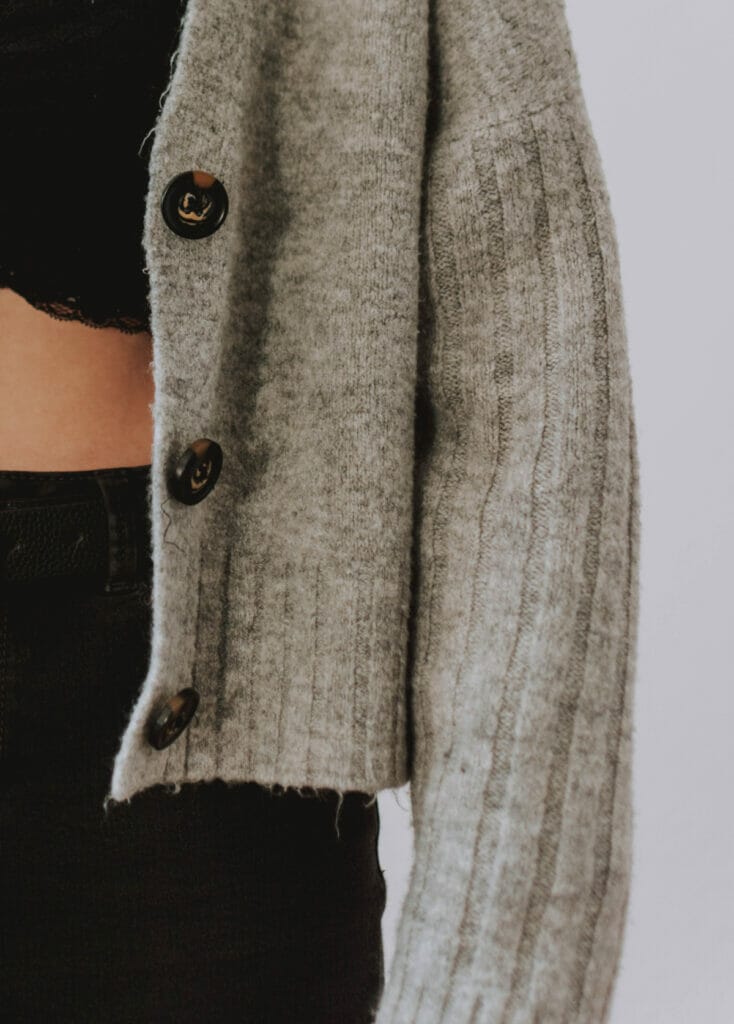 Cozy sweaters are the key to every winter outfit and will make you feel like you totally fit in in Bergen.
Seriously, don't go without this winter wardrobe staple.
Go crazy shopping for sweaters to bring to Bergen that keep you warm while showing off your personality.
Get one with a cat print like this one or opt for a block color like this one.
Guy prefers to stick with navy and grey sweaters like this one, which I steal when he's not looking.
Ear muffs
Now I'm not necessarily one for ear muffs, but I thought I'd mention it as you might be the perfect person for a cute pair like these.
Your ears can get cold really fast in the winter months in Bergen, especially when you're by the water or on top of Mount Floyen.
If you don't want a classic pair that looks like something the heroine in an early 2000s romcom would wear, they have plenty of more modern options including those really cute headbands that double as ear warmers.
Warm hat
Regardless of your thoughts on ear warmers, a warm hat is an essential when it comes to visiting Bergen in the winter.
Literally, this is what gets me through cold days and allows me to go outside for more than like two seconds.
I prefer knit hats like this and this one.
You lose a lot of heat through your head, so make sure you're wrapped up warm.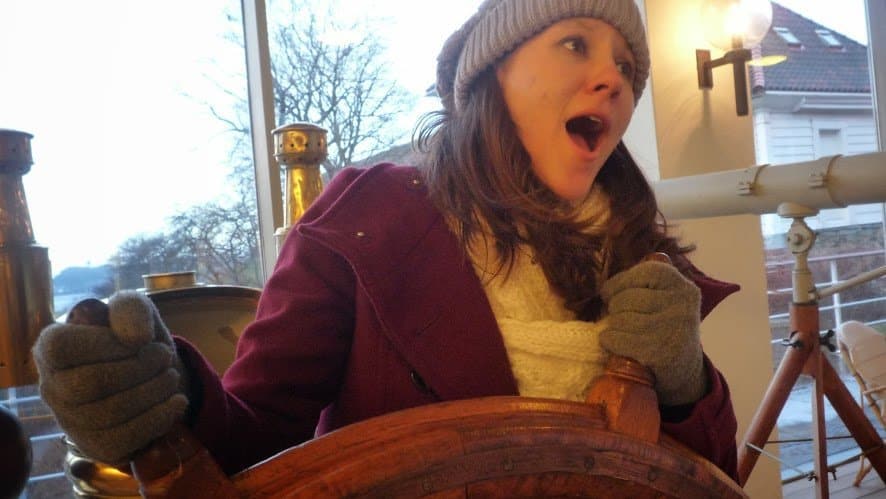 Gloves
Gloves can be an interesting wardrobe piece for a travel blogger as you really need to be able to have access to your phone and camera while you're wandering around.
To combat the issue, try fingerless gloves like these or mittens that give you the ability to take the finger bits off.
You can also try to get some touchpad friendly gloves like this for easy access to your Instagram abilities.
I love gloves like these adorable ones, and Guy prefers ones like these that are a bit more subdued.
Guide books
There's nothing worse than being stuck to your phone 24/7 while traveling around Bergen looking at maps and googling articles like this.
Instead, go back to regular old paper and purchase a guide book like this that's up to date for your year.
I also always prefer to carry around some sort of paper map as I live in fear of my phone battery dying and being stuck in the middle of nowhere and then dying by starvation because I'm stuck on a side street of Bergen unable to find my way home.
Or something like that.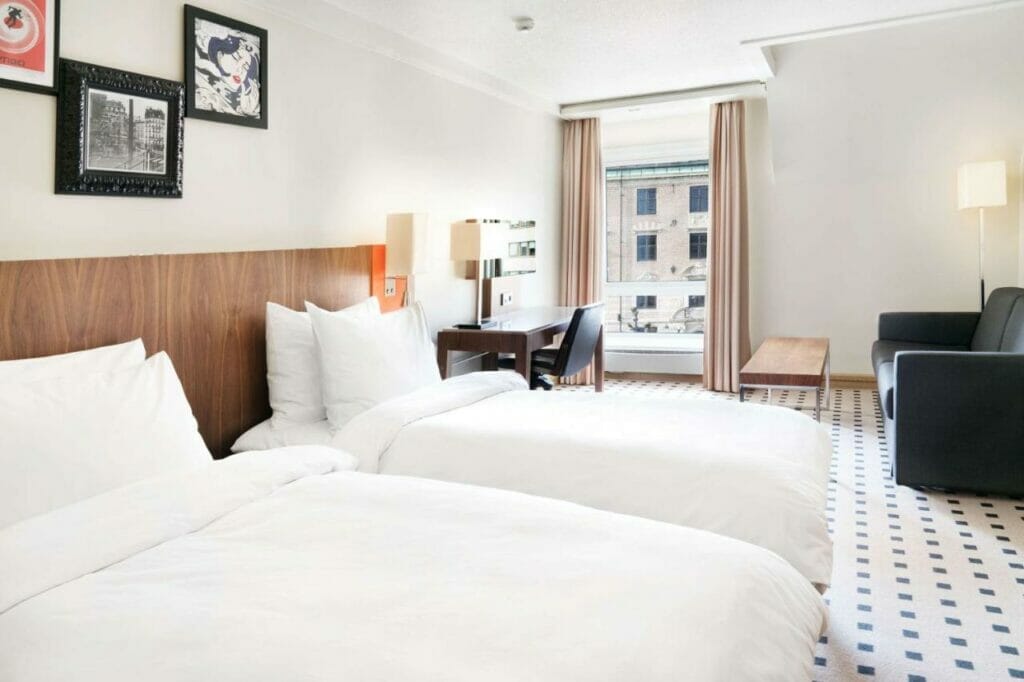 How to Get to Bergen
Getting yourself to Bergen is super easy from London and many other European cities due to the Bergen airport that serves.
There are often seasonal flights from places like Edinburgh, Barcelona and Athens, as well as regular routes London Gatwick, Malaga, Oslo, Trondheim, and plenty more. I've got guides on how to fly budget airlines for more information.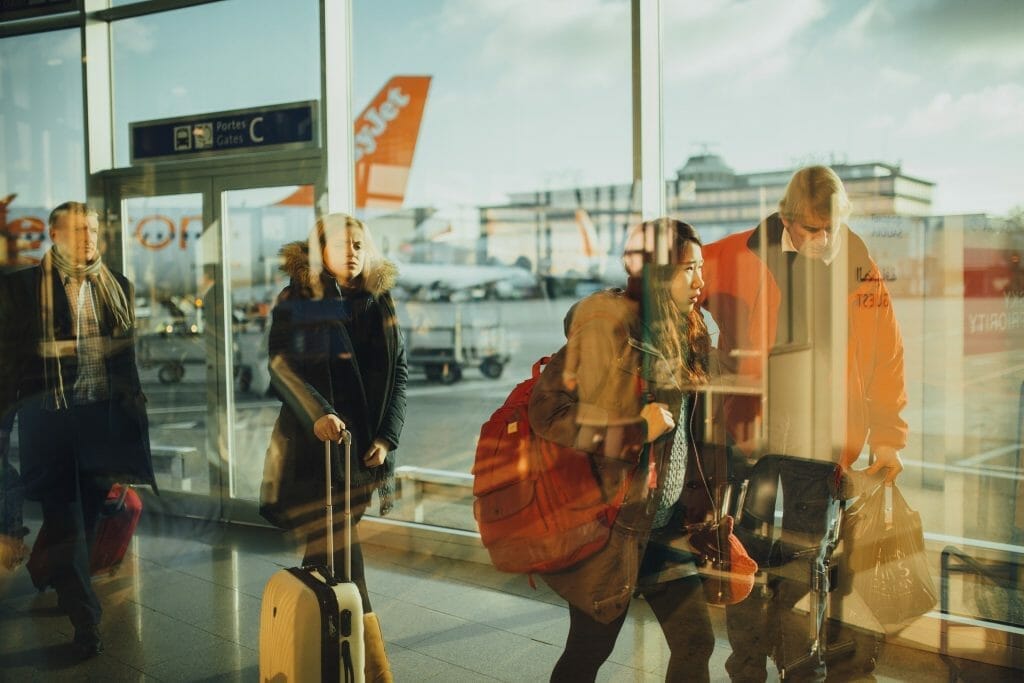 From the airport, it's an easy bus ride into the city center.
We found Norway very easy to navigate once we caught on that most people also speak English and we didn't necessarily need to brush up on all of our Norwegian sayings to get by.
I would recommend trying your best with Norwegian as it's always nice to make the effort when in someone else's country, but if you're worried about figuring out the airport – fear not!
Getting Around Bergen in the Winter
Bergen was small enough that we completely got around on foot, except for when we took the funicular up Mount Floyen.
If you're not quite ready to traipse around in the cold, you can also take the bus.
There is no need for any sort of giant public transportation network that you might find somewhere like London, but that was part of the charm of Bergen for us.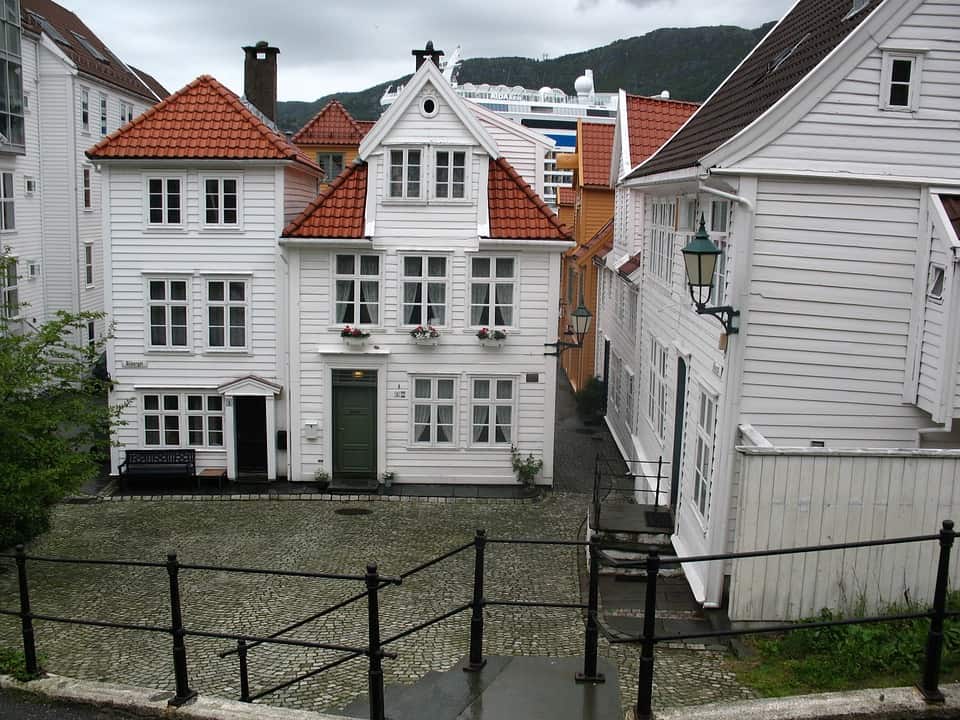 Things to Do in Bergen in the Winter
Bergen was just made for the winter.
Seriously, the first settlers must have been like, "THIS place will do for generations of Christmas cheer, cozy walks down cobblestone streets and beautiful winter sunsets from the mountain."
First of all, Norway is just inherently "winterish" (you know what I mean).
We often dream of traveling to Norway for the snow and skiing and fjords, and while it is also beautiful in the summer, there's something about a winter in Bergen that's so enchanting it's hard to resist.
1. Take the Mount Fløyen Funicular
I have to admit that one of the main reasons I was interested in visiting Bergen in December was because of the chance to go up Mount Floyen.
I don't know what about Mount Floyen drew me in (actually I do, it's the name and the incredible views), but I knew this would become an important part of my winter itinerary in Bergen.
To get up on top of Mount Floyen, you can walk OR, if you're like us and want to get up there in decent time, you can take the Fløibanen funicular.
Now, let it be known that I am genuinely terrified of funiculars because I really don't see how this capsule is bringing me up and down the side of a freaking mountain safely, but I was prepared to endure it for the sake of Floyen.
And in the end? What an awesome ride it was.
It only takes about six minutes from beginning to end, and you're swept away from the center of Bergen to a wooded area filled with trolls (seriously) and lots of places to walk.
Even better, you can get free travel with a Bergen card in the winter, or 50% off the rest of the year.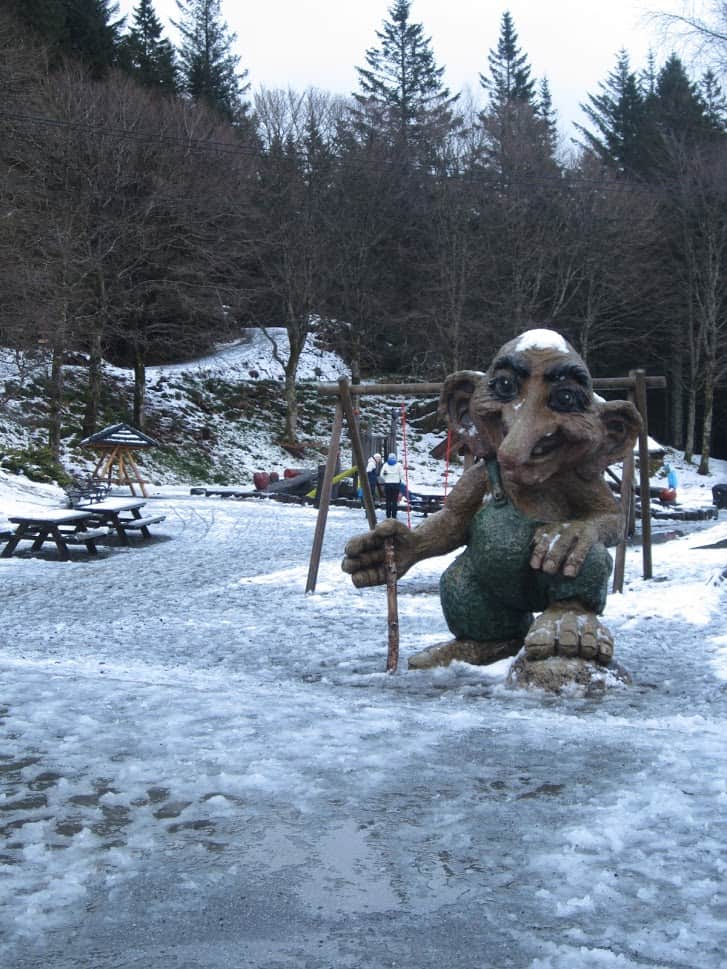 2. Sing Christmas Carols on Mount Floyen
Picture this.
You're standing on top of a mountain with the sun setting in front of you.
There are four glowing candles and a woman dressed up in a festive Christmas outfit while singing the most beautiful Christmas carols.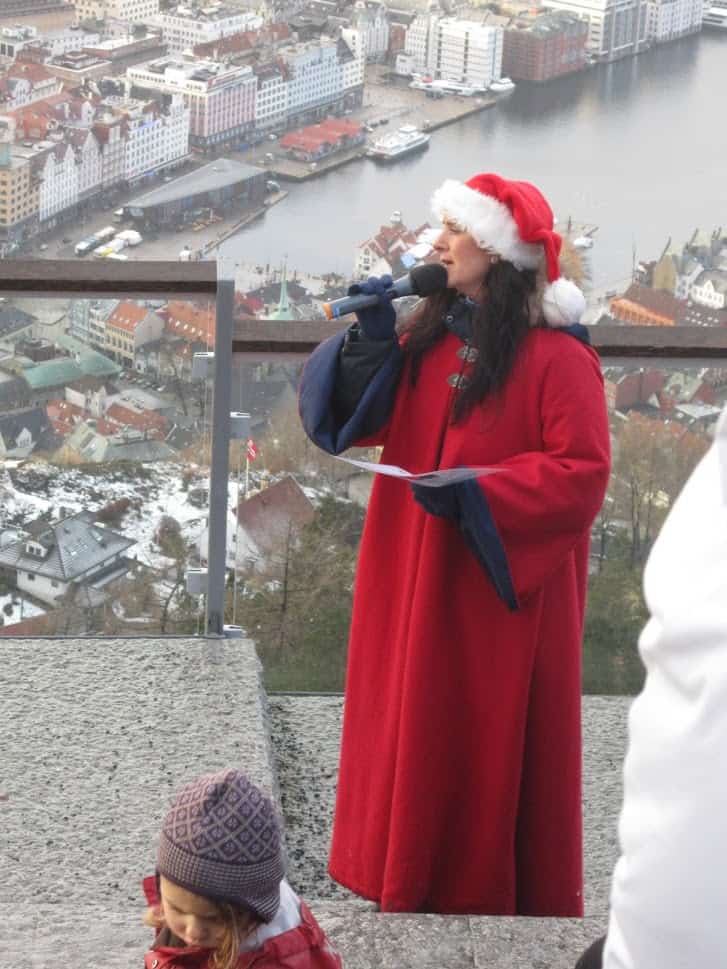 As the sun sinks lower, the crowd of people join in and you are all singing together, in harmony, with the snow falling around you.
This could be your reality, people!
Christmas in Bergen is such a magical time for many reasons, but the lighting of the candles is one of them.
For the four Sundays before Christmas, another candle will be lit and traditional songs sung.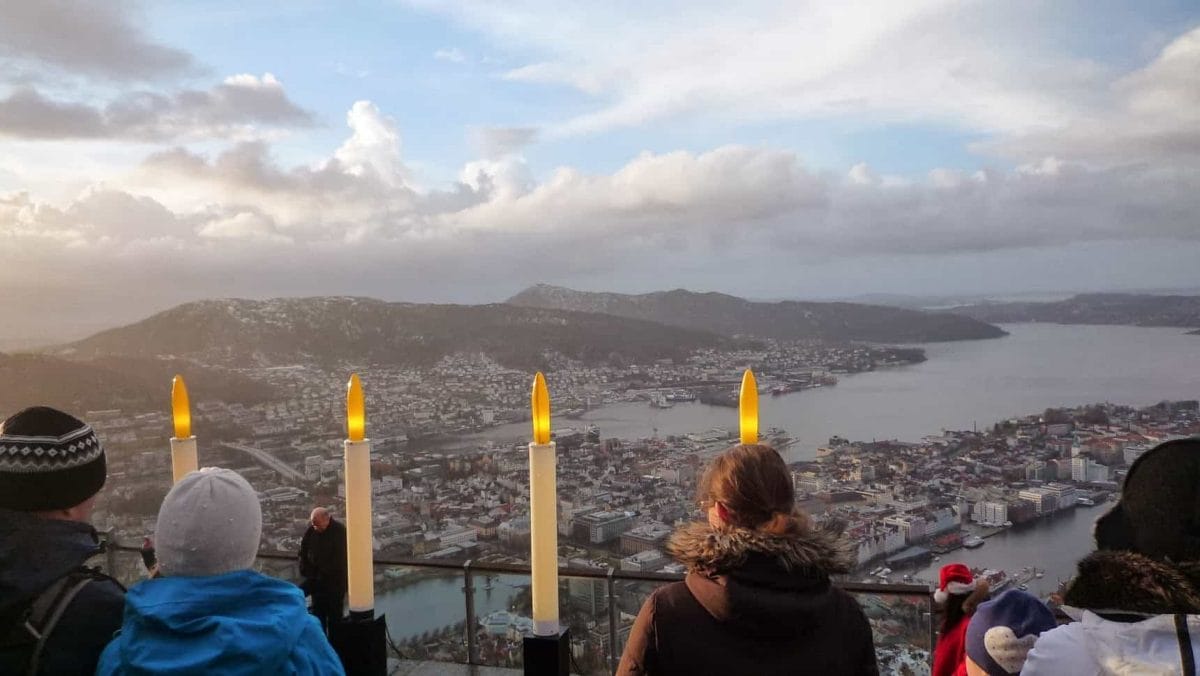 It's really a beautiful experience if you can plan your trip around being there.
3. Take a Fjord Cruise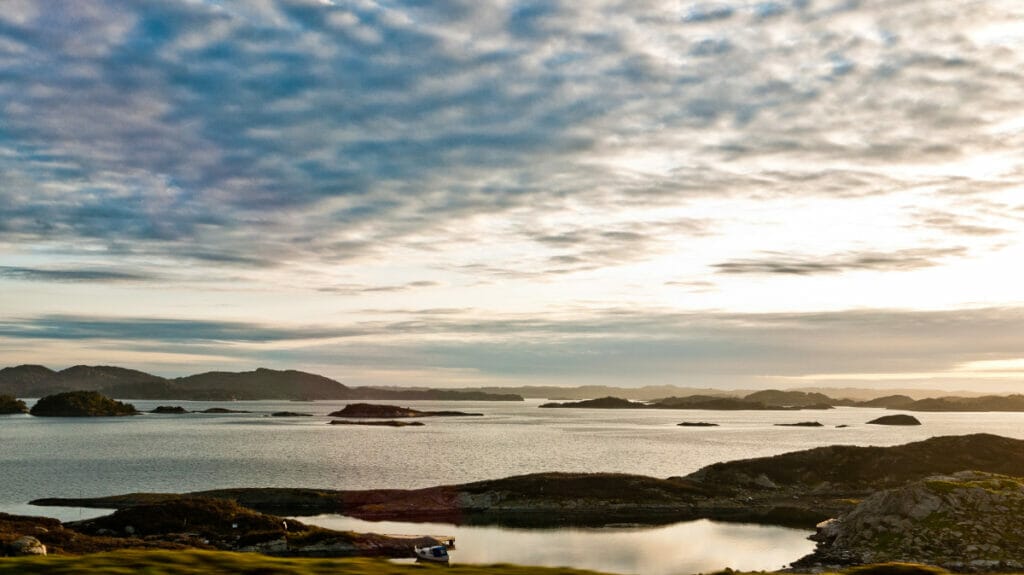 Taking a cruise through some of Norway's prettiest fjords is a wonderful way to spend the winter in Bergen.
See the snow-capped mountains all around you while navigating the beautiful natural landscapes with the help of an experienced captain.
Options include tours like "Norway in a Nutshell" and "Bergen from the fjord."
I personally recommend a fjord cruise in Bergen over winter just due to the absolutely incredible views you can take in.
It's truly an other worldly kind of place to experience and shows off the beauty of Norway in ways you couldn't see from land.
Make sure to wrap up really warm in your balaclava and winter hat so the weather doesn't get to you!
4. Wander through Bryggen
Walking around Bryggen is like walking around a Norwegian fairy tale filled with over the top pops of colors, perhaps a few troll sightings, and gorgeous views.
This is the Norway that your Instagram remembers, and for good reason.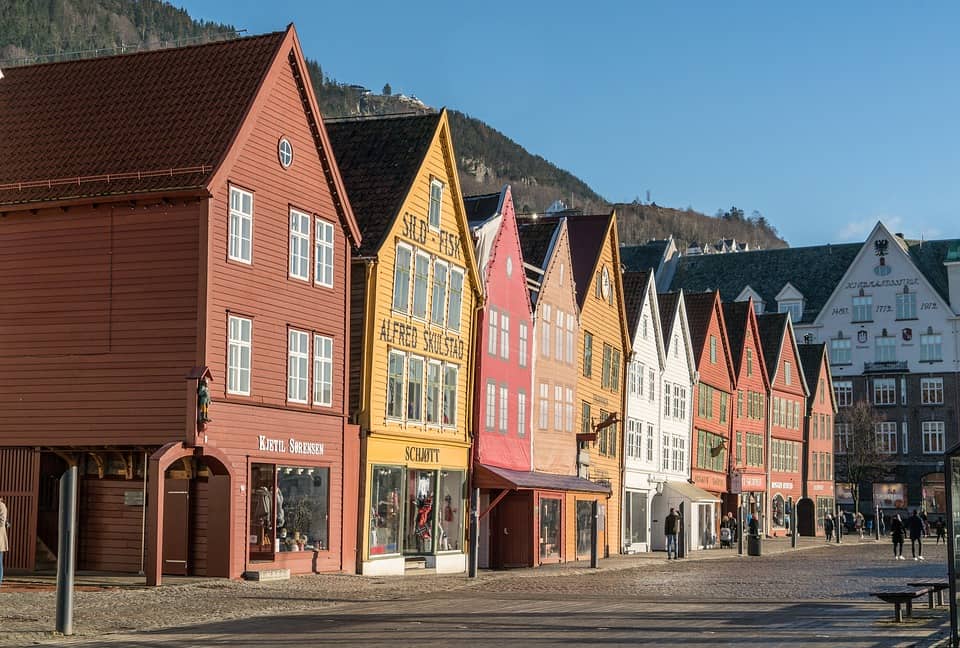 As a UNESCO world heritage site, Bryggen is an important part of what makes Bergen in the winter so special.
There's nothing more cozy than the wafting smell of wood that follows you through these passageways.
5. Visit the Biggest Collection of Gingerbread Houses
I ticked off an item from my bucketlist that I didn't even know was on my bucketlist when we spent winter in Bergen – walking through a giant gingerbread town.
Held every Christmas season, Pepperkakebyen is the world's largest gingerbread town and it is a real sight to behold (you are not supposed to actually eat the gingerbread, despite there being a couple of rooms where people had clearly taken a bite).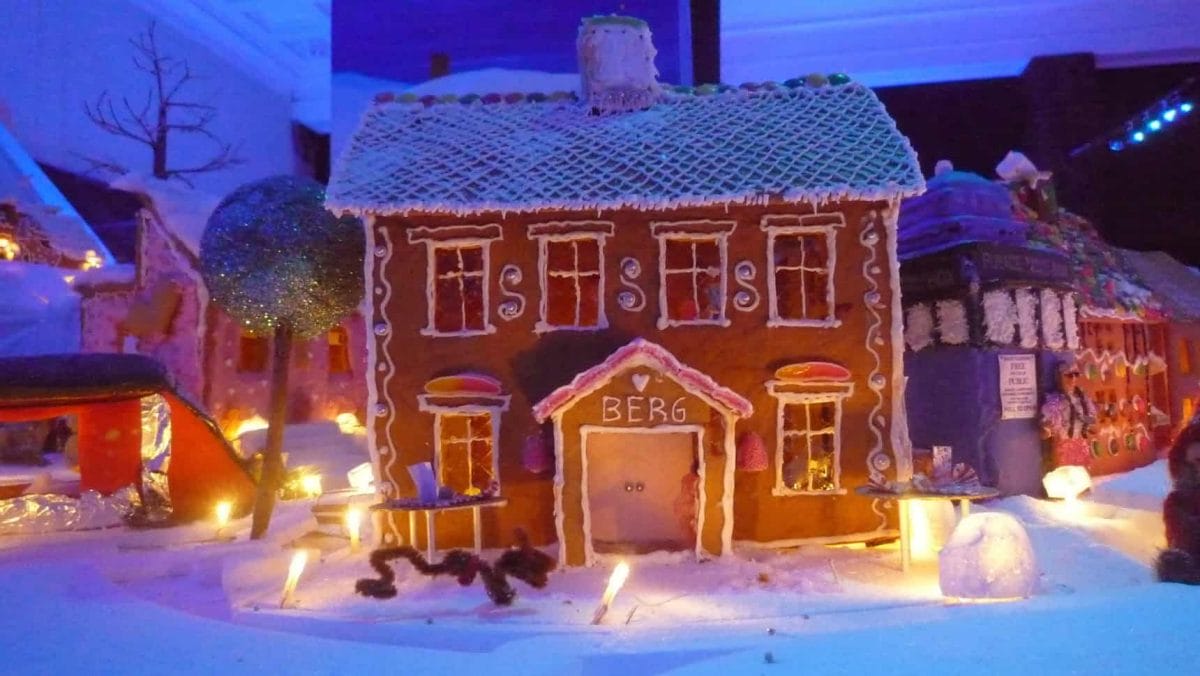 It's not just houses that are made out of gingerbread here – you'll find schools, playgrounds, offices, and even an oil rig!
6. Walk by the Harbor
When you want to do something in Bergen that doesn't require booking and can simply be done when you're free, try a walk around Bryggen Harbor.
This is the real heart and soul of Bergen to me, as not only does it have the workshops of Bryggen nearby, but it also is just a casual place to be among the locals, snap some shots of the water and dip into nearby cafes to warm up.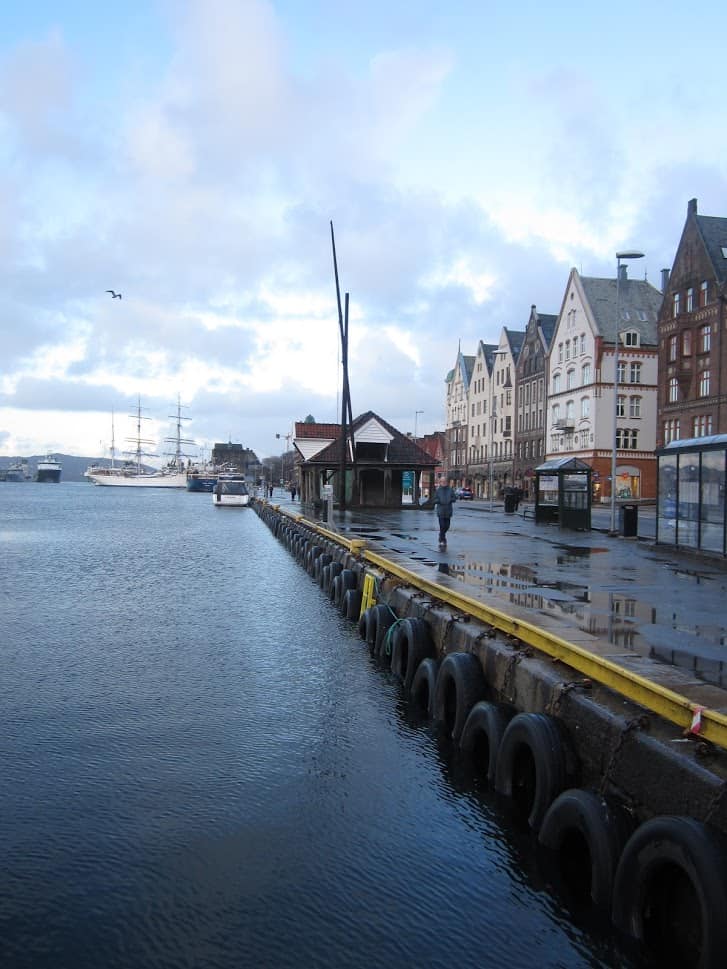 This is also where cruises dock when coming into Bergen, and opposite the harbor are plenty of shopping opportunities.
7. Check out the Hanseatic Museum
When we were looking for activities to do in Bergen in winter, we quickly realized that many of the museums were closed or had really limited operating hours.
But we did manage to find one of our favorite museums that holds winter opening hours.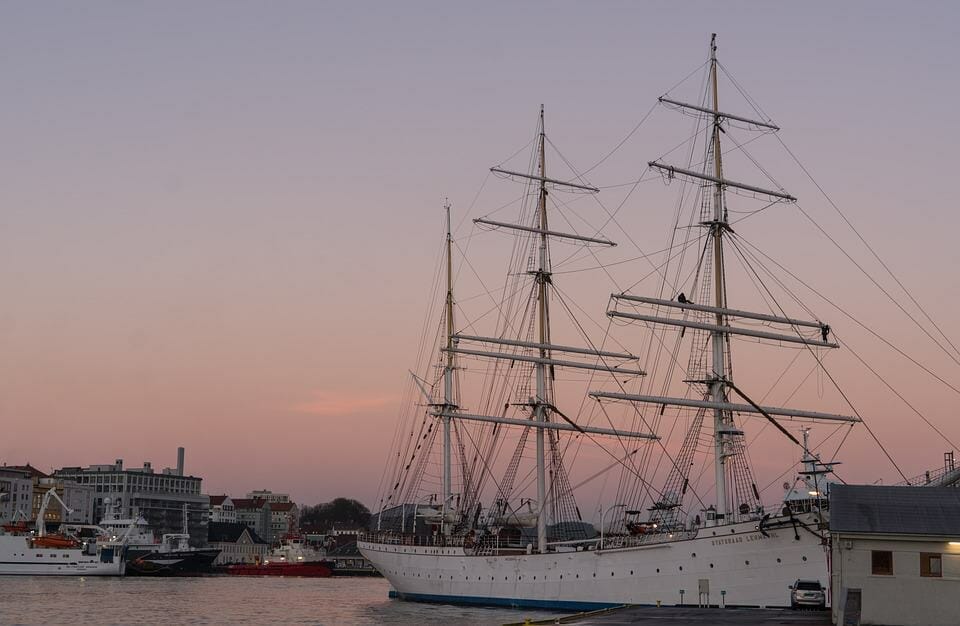 The Hanseatic Museum tells the story of seafarers, both the current ones and groups from time gone by like the Vikings.
You'll be completely immersed in the shipbuilding, map charting and ocean exploring world as you look around the exhibit at this substantial museum.
8. Go to the Aquarium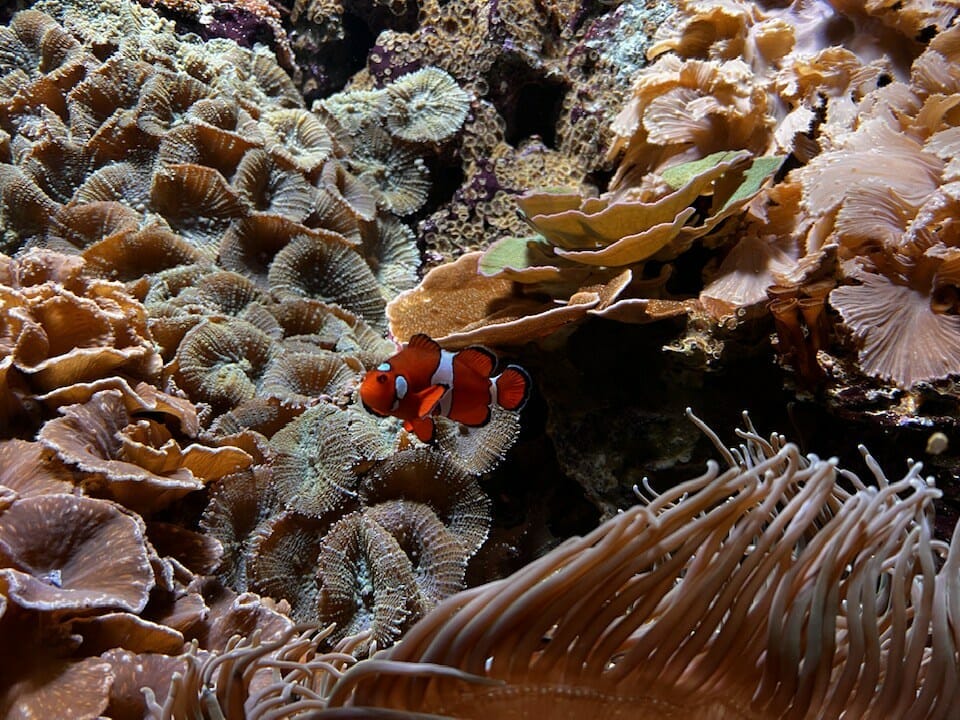 What better place to get up close and personal to some of the ocean's creatures than a coastal city in Norway.
Head to the Bergen Aquarium during the winter to learn all about the fascinating underwater world.
In addition to going to presentations on penguins, sea lions, otters and crocodiles, you can also attend a "touch" event where you can actually gently feel some of the animals in the aquarium to help you and the family learn more about the creatures there.
Bergen Aquarium is also really dedicated to conservation, which is why they have a great exhibit on plastic in the ocean and how to help keep the waters free from pollution.
If the weather is really acting up outside and you don't feel like embracing the cold, stay for a cinema showing of a nature film.
9. Get Soup to Warm Up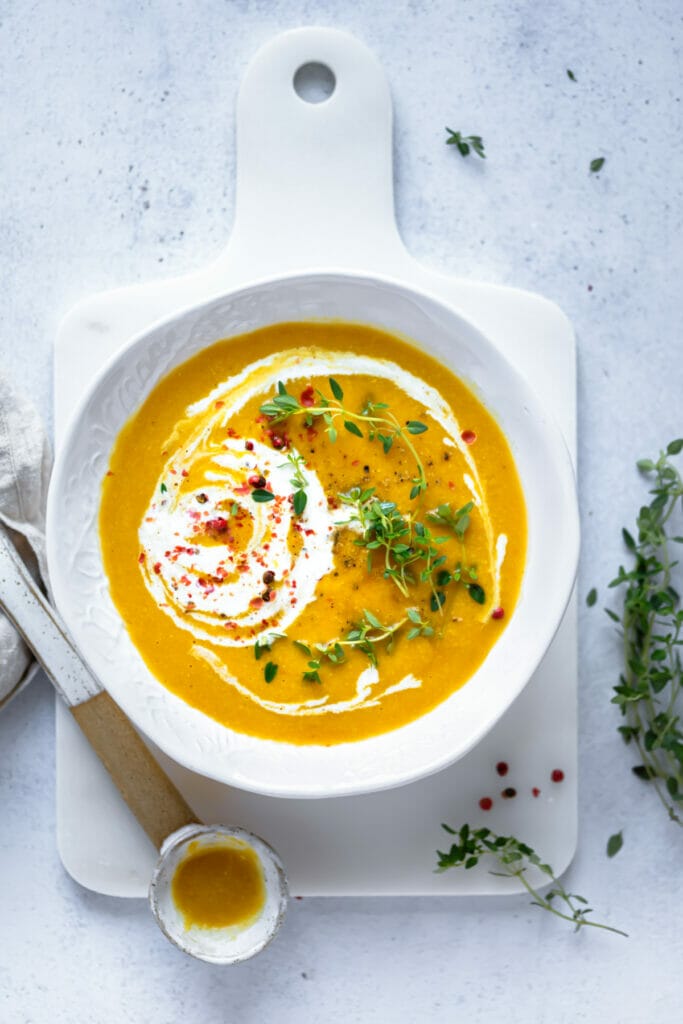 When we first got to Bergen, we needed to warm up and soothe our souls over the darkness – and fast.
We ended up stumbling upon a soup restaurant, which just sold giant bowls of soup and bread for a very pretty penny (this is Norway, after all).
While that exact soup cafe is no longer there, I highly recommend you seek out a place for soup during your trip to Bergen as I think it's a great introduction to the city and helps get some warmth coursing through your veins.
10. Kode Museum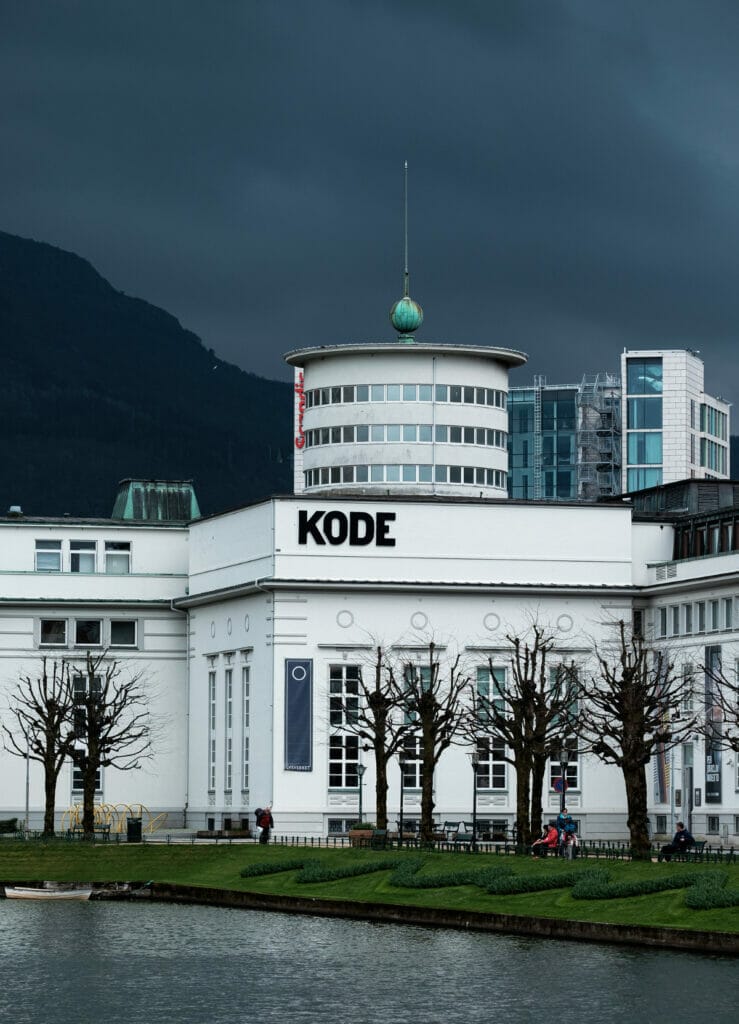 Fans of art and design will fall in love with all of the galleries on offer at the Kode Museum.
This is one of the largest museums for craft and design in all of Norway, making it a real treat to visit on your trip to Bergen.
There's almost every type of art you can think of here, from paintings to furniture to videos to musical instruments.
The great part about the KODE is that its spread out among 7 buildings in Bergen – so that's 50,000 + objects split up in different places, making it a real quest to experience the museum.
You can stop in one building for a brief look, or you could spend the whole day making your way around to the open exhibits.
Some of the most interesting buildings in the museum are those of the composers – Ole Bull, Harald Sverud and Edvard Greig.
There's nothing like experiencing art and culture in the places where some of the most influential ideas were born.
11. Sledding
There's just something about flinging yourself down a mountain on a sled that really makes winter, don't you think?
I would say I love sledding, but I'm also slightly terrified of it due to some particularly crazy encounters with trees back in the day.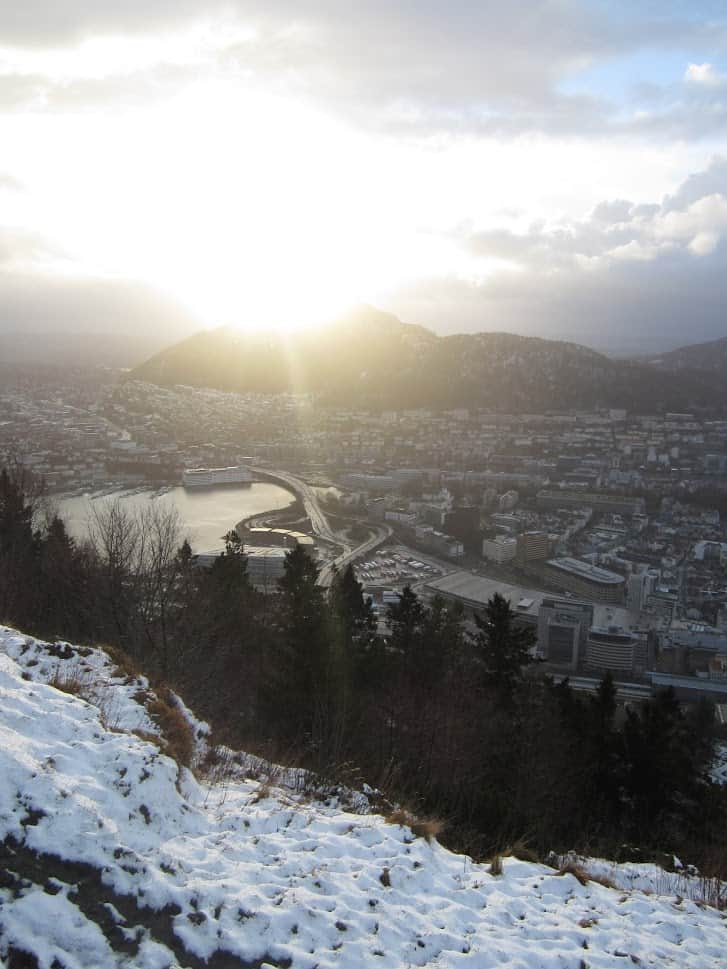 When in Bergen, you and the kids (or just the adults, no judgement here) can get your sled on at various places across the city.
The most popular?
Of course it's Mount Floyen!
Such a versatile mountain, and great for your sledding pleasure.
Stop in a local shop to pick up a sled for your adventures, or pack one in your luggage if you're staying in Bergen over winter for a long period of time.
It doesn't need to be fancy, it just needs to get you down in one piece!
12. Get hot chocolate in a café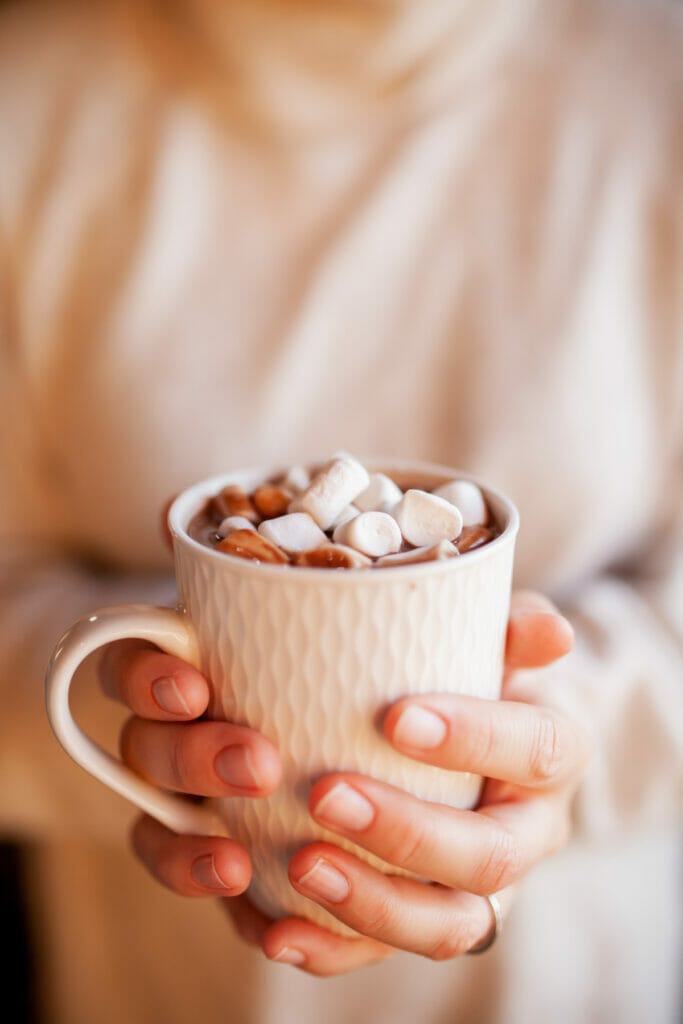 I absolutely love dipping into cafes in side streets and enjoying a cup of hot chocolate, maybe a cake, and some nice conversation.
We found so many lovely cafes while wandering around Bergen that it's hard to recommend just one, but definitely make sure to make a stop – maybe mid-afternoon when everything is quieting down and the sun is setting.
13. Watch the Sunset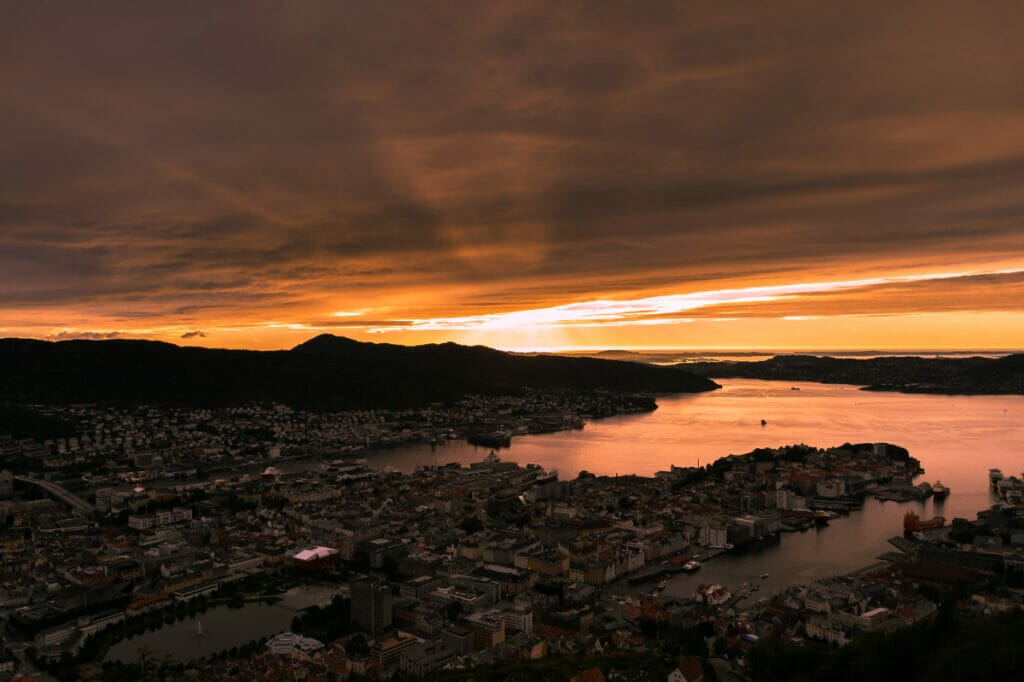 Speaking of the setting sun, the sun sets really early in Bergen in the winter and sunset will come much earlier in the day than what many visitors are used to.
This means that you can catch a sunset as an afternoon activity and still have plenty of time left in the day to do some nighttime activities in Bergen!
I would highly recommend watching the sunset from Mount Floyen.
It is just breathtaking seeing the sun dip below the other mountain ranges in the distance, and you have such a beautiful vantage point of Bergen laid out before you – it's a must do.
14. Walk in Byparken
Ready for a stroll through one of the most peaceful places in Bergen in the winter?
Check out Byparken, a gorgeous green space in central Bergen that has a lot of space to just wander around and people watch.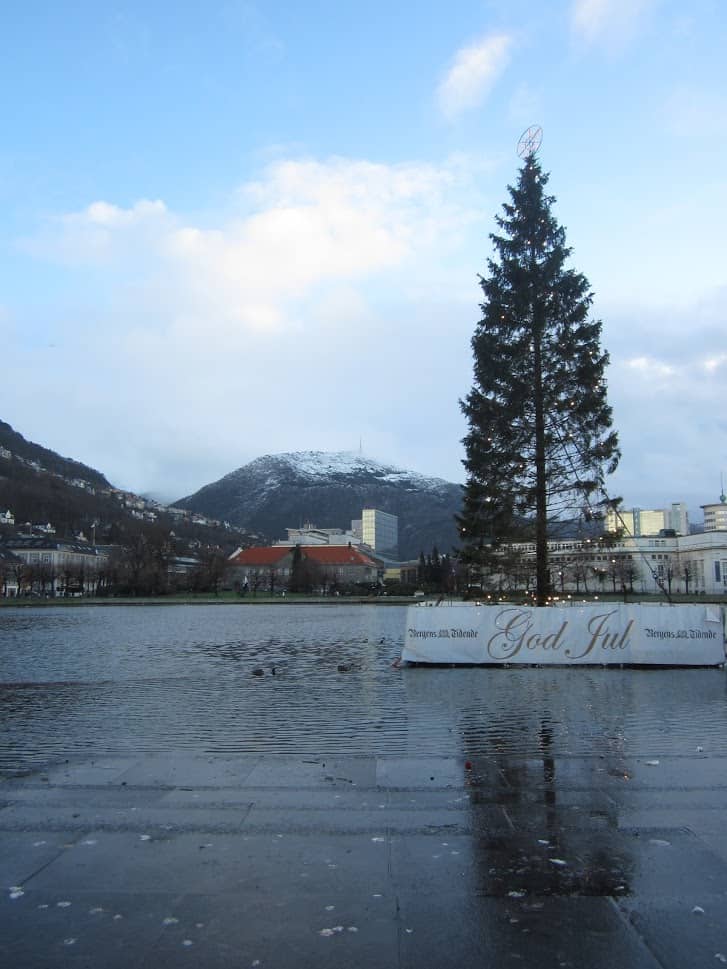 There's a lake for you to sit around – it may be frozen depending on when you come in the winter!
See if you can spot the birds who make the lake their home.
You can also check out the statues all around Byparken – just make sure to visit during daylight hours to really get the full impact.
Byparken is close to the Fish Market and the Tourist Information Centre, so it's hard to miss (and you shouldn't).
15. Go to the Fish Market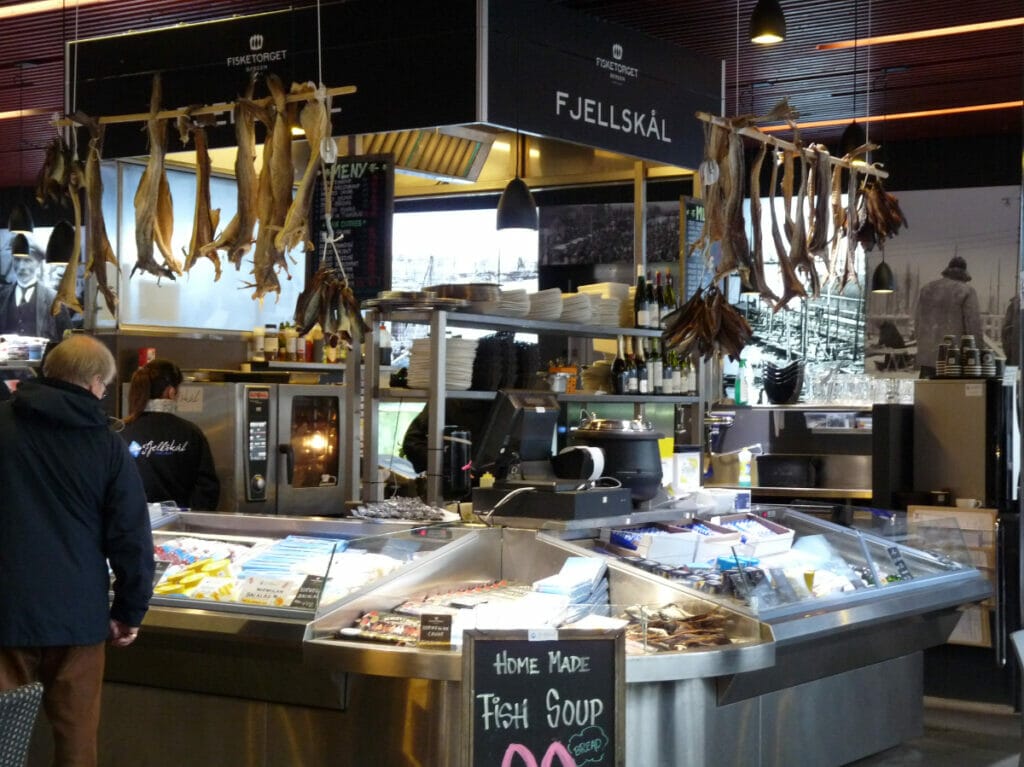 I'm going to be honest here – I don't really like fish.
That being said, the Bergen Fish Market is one of the most visited outdoor markets in all of Norway, so I felt obligated to visit and I'm glad we did.
In addition to the TONS of fish to be found here (fresh from the water you can see from the market), they also sell other things like fruits, vegetables and flowers and plants.
If you're a history buff, you'll love knowing that the Fish Market has been open since the 1200s and has always been an important area for trade and a stopover for local fisherman and merchants.
You should also know that in the winter months, chances are it will be just the indoor part of the Fish Market that's open, as Bergen winters aren't great time for holding markets outdoors.
It just means you'll have to come back in the summer months as well!
16. Ulriken Cable Car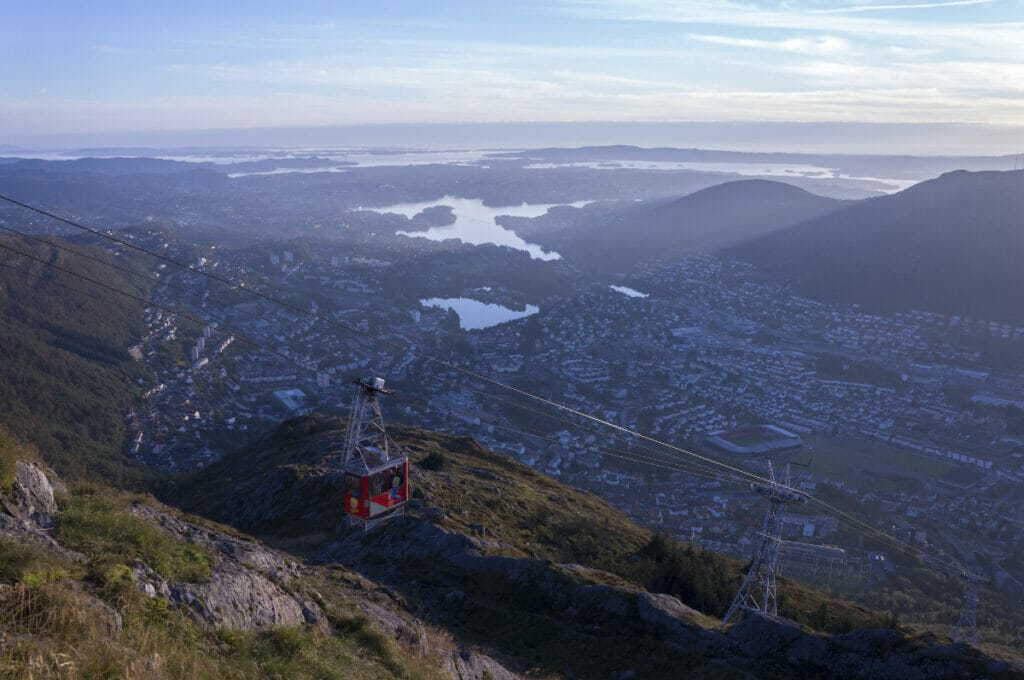 Ready to go to the highest point in all of Bergen?
Right to the top of the highest of its seven mountains?
My palms are sweating just thinking about it, but if heights are your thing or you're willing to deal with them for memorable views, the Ulriken Cable Car is your jam!
Glide up to the top of Ulriken with this cable car that runs all winter long.
Once you get to the top, there's some places with refreshments, as well as plenty of options for activities including a zipline and paths for mountain walks.
There's something magical to me about having journeyed to the absolute highest point in a city, and while I love Mount Floyen, I truly think it's worth conquering Ulriken in the winter to say that you've done it and to get as close to a bird's eye view of the city as possible.
If you have a Bergen card, you'll get a 20% discount.
17. Bergen Christmas Market
Right in the heart of the city center, Bergen's Christmas market comes to live during the winter season with lots of stalls selling everything from handcrafted goods to traditional Norwegian treats.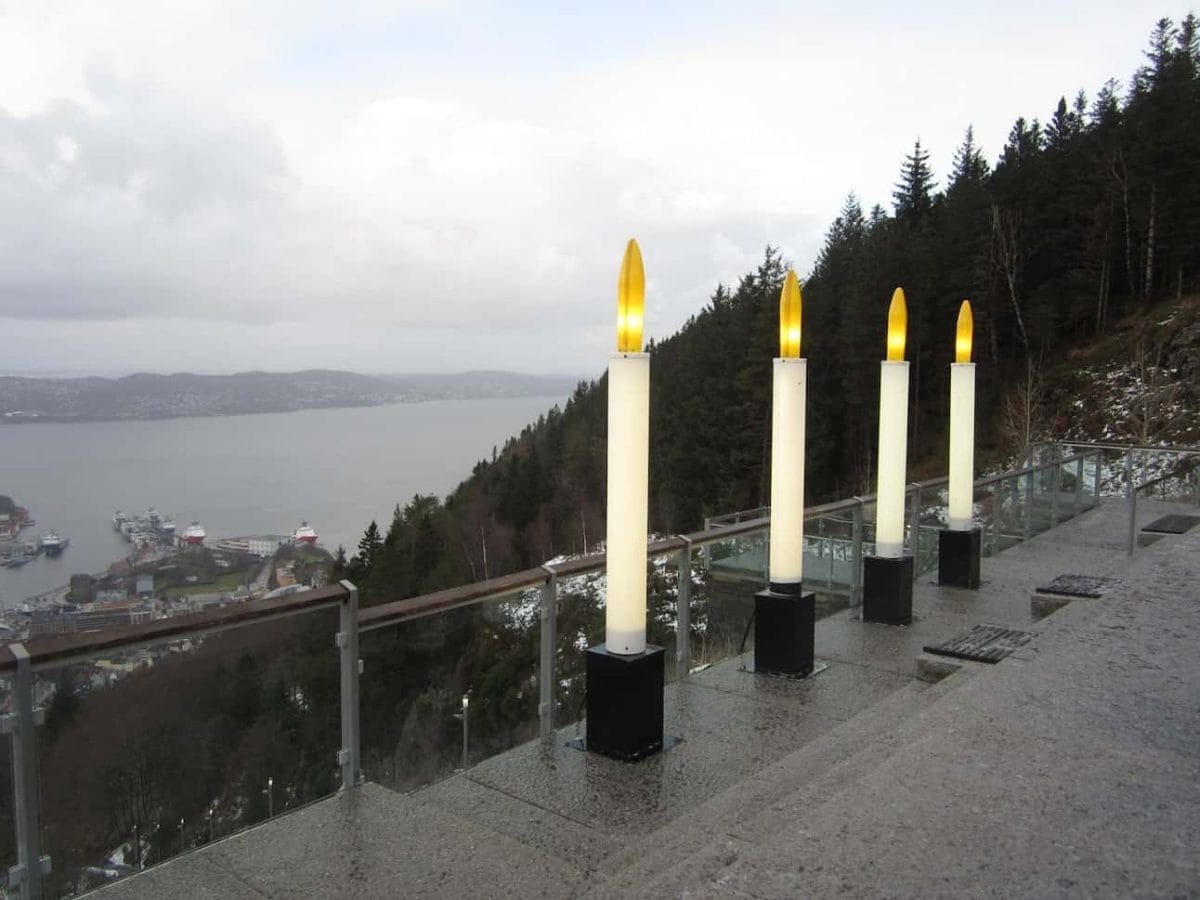 There are also lots of adorable attractions like the "smallest gingerbread town in the world," as well as a Ferris Wheel for some classic entertainment.
Try Christmas foods from around the world and buy gifts for your friends back home jealous that you're experiencing Bergen in the winter.
Built in the 1560s, Rosenkratz Tower is a great thing to do in Bergen in the winter because it's actually open, unlike many of the other museums and attractions.
Oh, and also it's awesome.
The tower demonstrated power and Norway's Renaissance, and it used to be the house of King Erik Magnusson who was the King until 1299.
You can climb up to the top of the tower for some great views over Bergen.
Tours of the tower in the winter are self-guided, and it only has limited operating hours, so plan your visit carefully.
19. Norway Christmas Carols in Church
One of my absolute favorite things to do when I'm in a foreign country is to attend a church service, as a cultural activity.
We've been to catholic masses in Barcelona where we didn't understand a single thing, church services in France in the mountains, and now a Christmas carol service in Norway.
We were intimidated because of the interactive nature of the service, but by the end we were locking hands with the locals and twirling around singing songs in Norwegian.
20. Concerts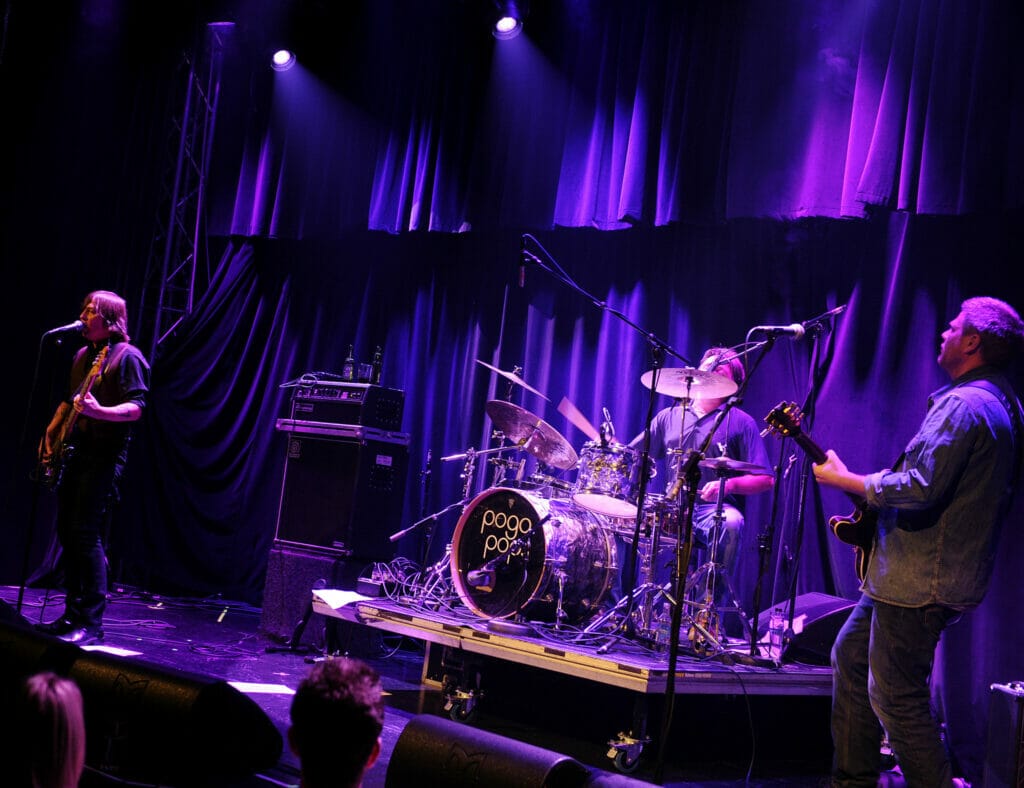 Norway is a country of music and of stories passed down through generations through the gift of song and dance.
It makes sense, then, that concerts are a big way of life in Norway.
They could be anything ranging from some Christmas carols on the side of the mountain to a more organized classical concert, but watching one is a great way to get out of the cold in the winter months and experience Norwegian culture in a way you haven't before.
Bergen has been an important production center for gold and silver for over 150 years, and you can experience some of the products to come out of this lovely city at Arven Gold and Silverware.
In addition to being able to watch the craftsmen do their thing, you can also see fantastic pieces of jewellry, silverware and home decoration produced here.
Stop by the gift shop to support Bergen and purchase a piece made on site.
22. Snowshoeing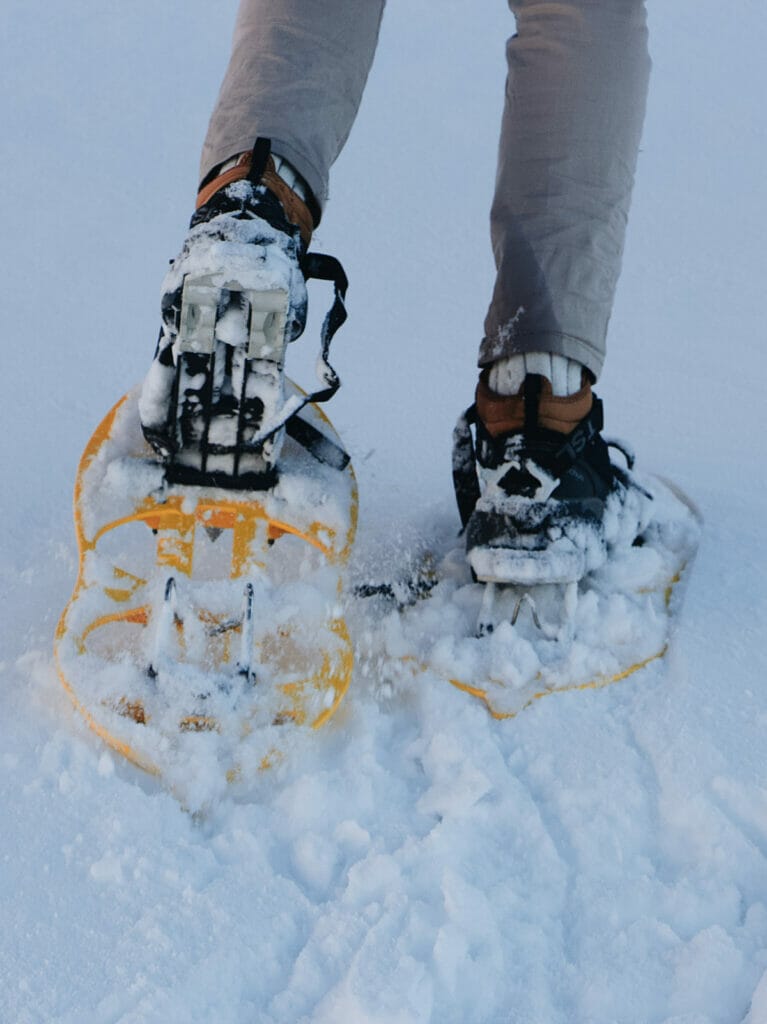 When visiting Bergen in the winter, if you're able to, I would so recommend taking a snowshoeing tour of the local mountains!
You'll be guided by an experienced snowshoer who has your best interests and mind and is able to take you down winding paths to help you experience the beauty of nature in Norway.
This is going to be easier to do when the weather is good, ie not during a blizzard, so you will have to be flexible and see what the weather conditions are doing, but if you can – go for it!
23. Bergen Science Center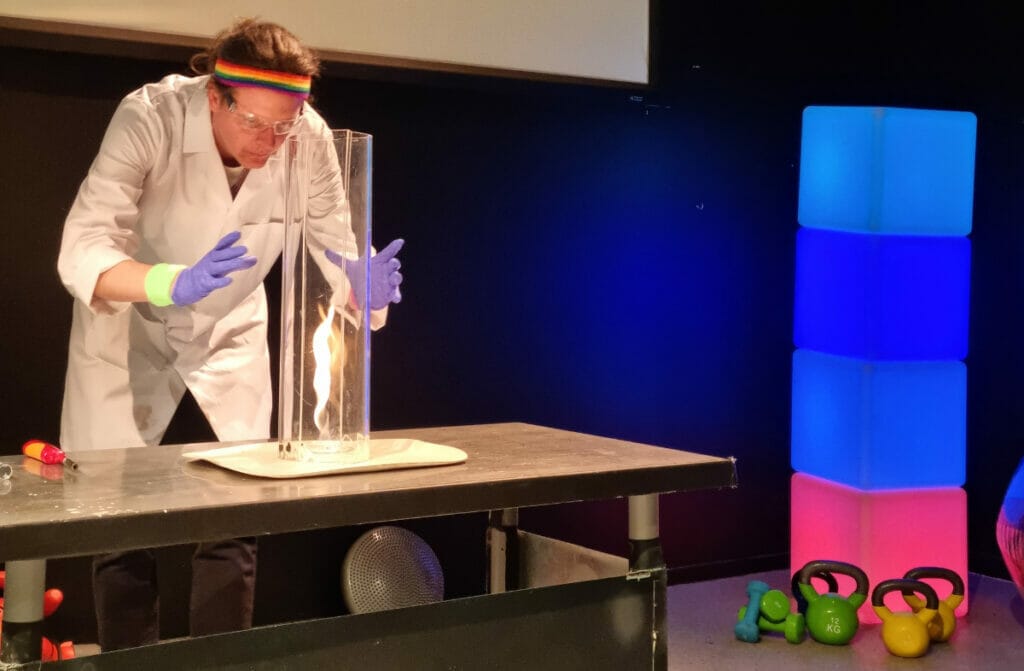 Grab the whole family and introduce them to the awe and wonder of the surrounding world at the Bergen Science Center.
As its indoors, you'll be kept out of the weather outside and you can experience over 70 permanent exhibitions.
For instance, try your hand at navigating a ship (a must do in Bergen – the city of seafarers!), or pretend to be a weather forecaster on television.
The science center mainly focuses on weather, the ocean, and energy, which is very appropriate for a town like Bergen.
This makes my list for things to do in Bergen in the winter because it's going to appeal to the whole family – children of all ages will find age-appropriate activities to do here, and adults will still be educated and entertained by the intricate demonstrations.
In the winter, entrance is free with a Bergen card.
In addition to hosting an indoor waterpark (yes please), this family-friendly venue features everything from shops to an ice rink to a gym and a bowling area.
This is truly the pinnacle of indoor entertainment in the winter.
And one of my favorite parts, by the way, is that you can take a curling lesson – yes, curling.
The Olympic sport that fascinates Olympic viewers every Winter Olympics with its seemingly easy rules.
You would be surprised how difficult it is to actually do successfully!
And if that's not enough, Vannkanten has a climbing wall that leads to a water slide, which is super cool and now on my bucketlist.
Just across from the Fish Market is an important place in Bergen's textile industry – Oleana.
While Oleana is one of the newest textile factories in Norway, the textile industry itself is one of the oldest Norwegian industries.
The Oleana shop sells textiles – made of wool, silk, and Alpaca in their brand store in the center of Bergen.
They pride themselves on the high quality of their creations, along with the innovative technology they use to make their designs come to life.
You can actually see the textiles being made at their factory and shop at the factory outlet if you're willing to travel about a half hour outside of Bergen's center.
This square is the main square in Bergen and a popular meeting and people-watching space.
You can walk through it at any time of year, but in the winter I recommend it to as a well to get some beautiful photos of the city lit up at night.
Along the square is the Fish Market, as well as some shops and the famous Sailor's Monument.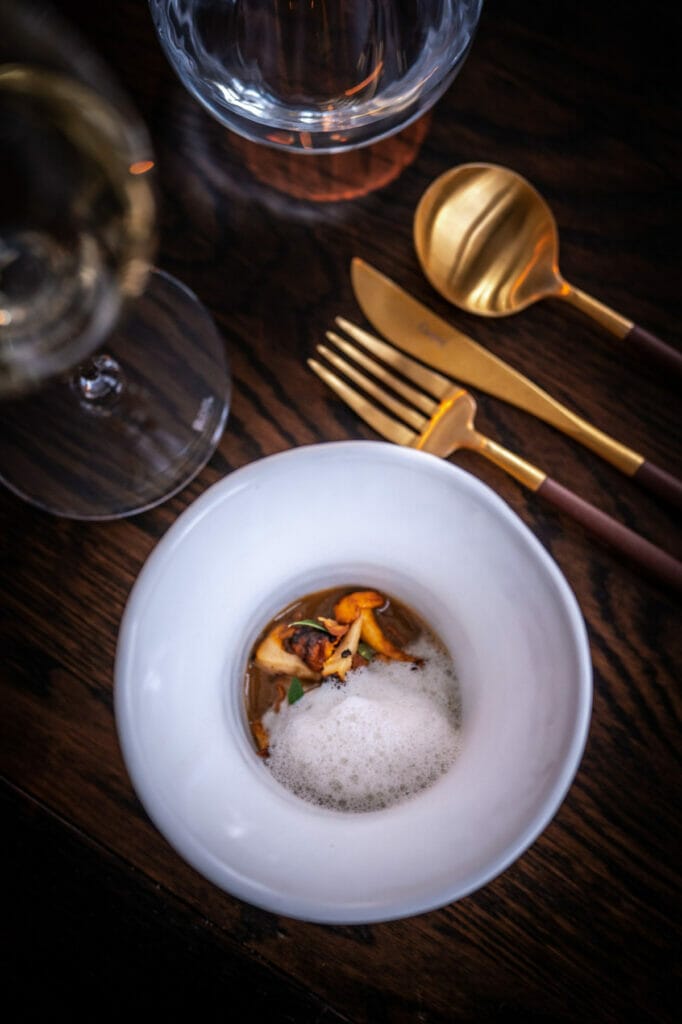 When the weather outside is frightful…pile into Bare Restaurant and enjoy a Norwegian tasting course that will introduce you to classic Norwegian dishes.
Fill your stomach with the fresh ingredients and tapas-style serving at this popular restaurant.
They serve both lunch and dinner, and the restaurant is #11 out of all of the places to go in Bergen, which means it can get very busy!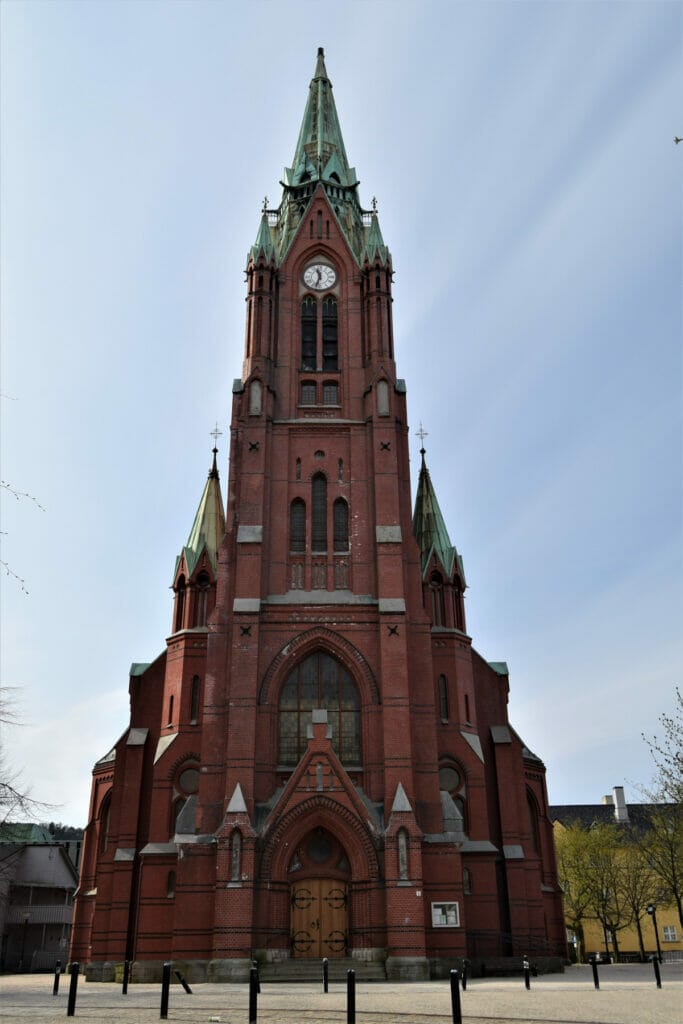 It's hard to miss the largest church in Bergen as you're bound to see it at some point while walking through the city.
It sits on a hill very majestic looking and is a great place to go to experience a worship service or just take a peak inside.
St. John's Cathedral was built in 1891 in Gothic Revival style architecture and it looks absolutely enchanting at night.
28. Visit the Tourist Information Center
We started our visit to Bergen at the Tourist Information Center, and I know that's not super cool if you're into "traveling like a local" and all that jazz, but we really appreciated their help in telling us what was open, what wasn't, and where we should concentrate our time seeing as how we only had 2 days in Bergen.
Winter Events and Festivals in Bergen
If you find yourself in Bergen during the winter season, you should definitely take advantage of the wonderful events and festivals held throughout the winter months.
Check out some of my favorites below.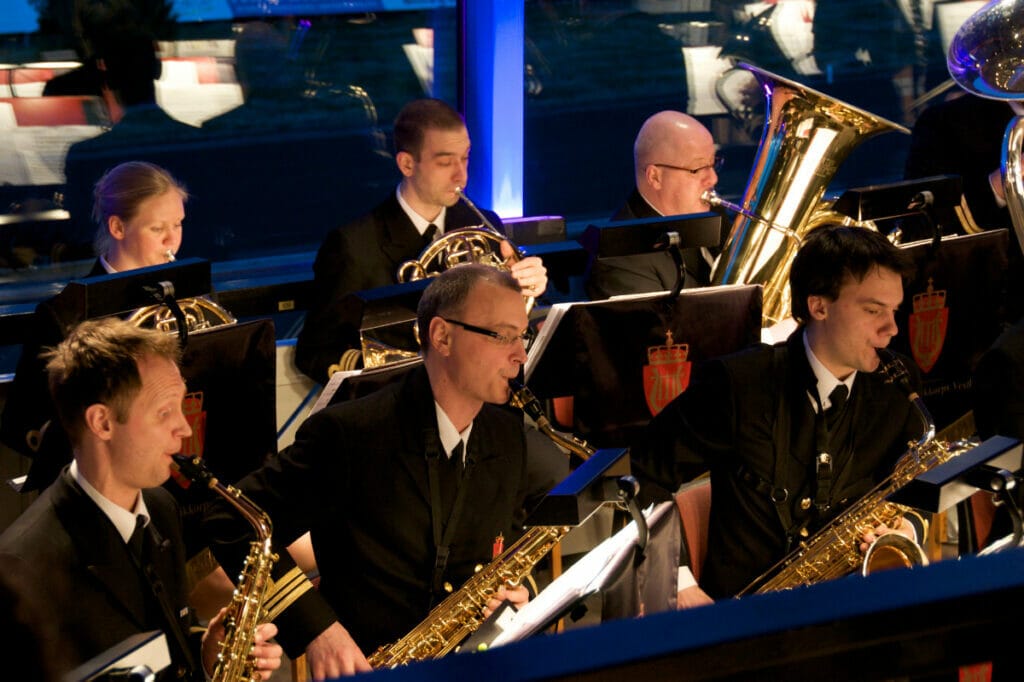 Held in March, this festival celebrates experimental music and adventurous music listening.
You can find music events held across the city, in all different kinds of spaces.
The point of the event is to question what we know about music, both listening to it and creating it.
As mentioned above, Bergen holds a really beautiful Light of Candles on Mount Floyen on the four Sundays before Christmas.
Come up to the top of the mountain via the funicular, or take the long way via the walking path, and sing Norwegian Christmas Carols as another candle is lit.
Stay up there and enjoy a bite to eat, or go sledding down the hills back to Bergen town center.
Day Trips from Bergen in the Winter
Unlike my advice for other cities around the world, such as my day trips from Copenhagen, the best day trips from Bergen aren't by land – they're by sea!
Fjord cruises are a fantastic way to explore the surrounding area while having an experienced guide and taking some breathtaking photos that will make all of your friends feel super jealous of your Norwegian adventures (and hopefully inspire them to come themselves.
Check out some of the best options for Norwegian fjord cruises in the winter.
One of the most popular fjord cruises in Norway is the Norway in a Nutshell tour, which lasts about 9 hours and takes you on all kinds of transportation (trains, bus, and cruises) to see the best of what Norway has to offer.
You'll sail through one of the narrowest fjords in Europe and stop in charming villages along the way.
Mountains and waterfalls surround you on your journey to Mostraumen.
This fjord cruise is only about 3 hours, which means you can have a shorter day trip and still leave yourself enough time to do other things in Bergen that day.
You'll start near the Fish Market in Bergen and then proceed to discover Bryggen from a new perspective, as well as the rest of Bergen Harbor before you depart into deeper waters.
The captain will navigate through the strong current of the Mostraumen strait, and get you up close and personal to a thundering waterfall.
The views of the Norwegian landscape are absolutely stunning, and you won't regret this winter excursion from Bergen.
Weather in Bergen in the Winter
One of the first things people imagine in Norway in the winter is 10 foot walls of snow, blizzards all around the fjords, and temperatures so low that you can't even step outside.
At least, that's what I used to imagine.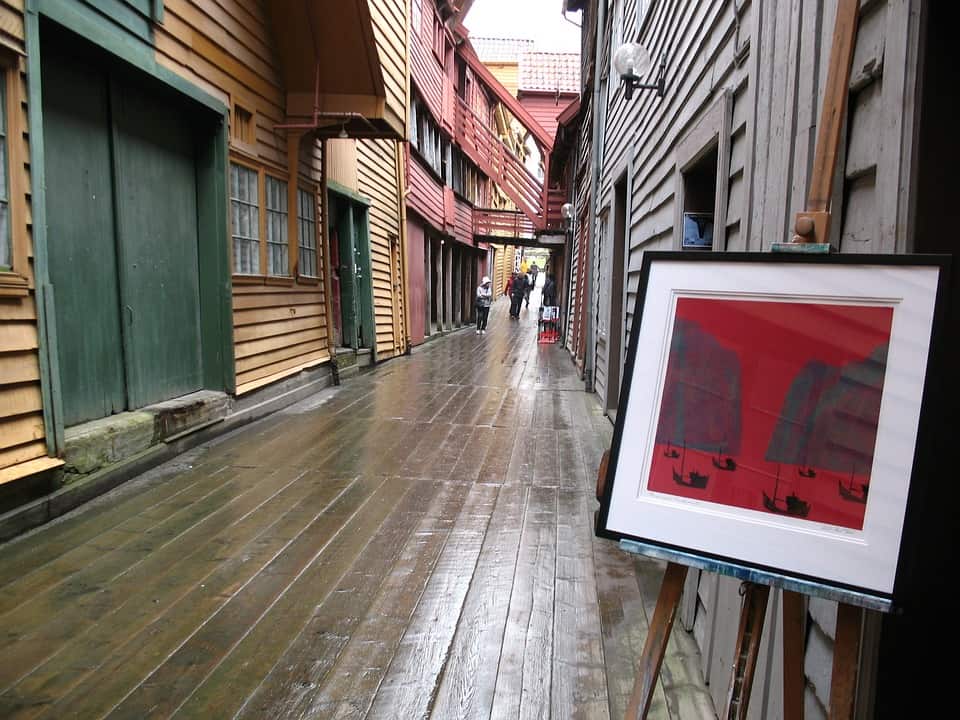 In reality, the weather in Bergen in the winter isn't quite that extreme.
It has more mild winters thanks to being on the coast and further to the south of the country.
This isn't to say it doesn't get cold or that you shouldn't bring your winter gear.
It's just to say that this is not the Norway you see in memes about people battling highways with snowdrifts bigger than their cars.
Weather in Bergen in December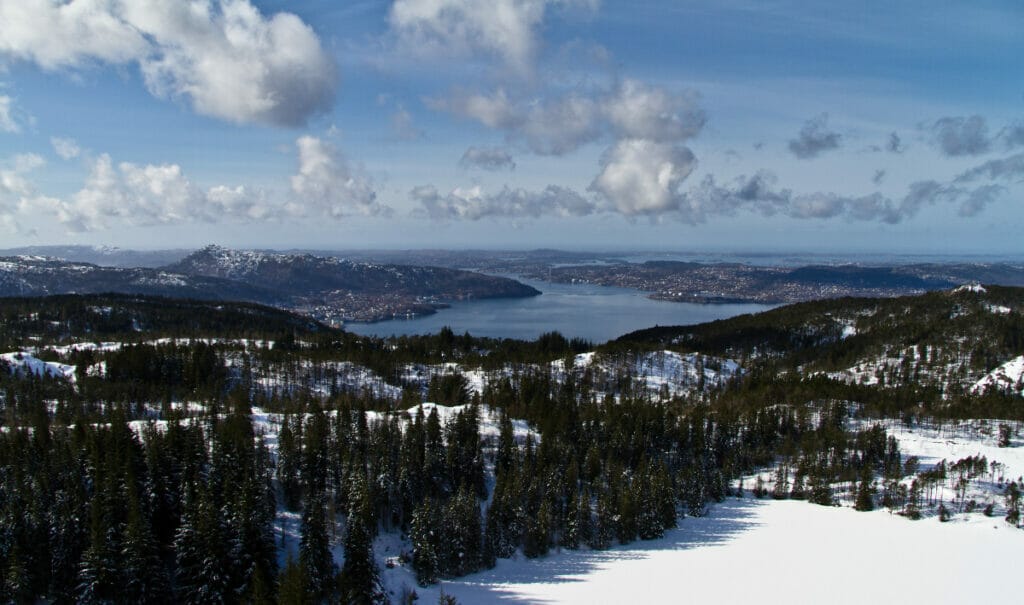 December in Bergen isn't the coldest weather of the winter – that will come later.
However, you are looking at highs of 41 F and lows of 34 F, so this is by no means tropical.
December is also a time when you should definitely make sure to pack your emergency poncho as it is the rainiest month of the whole year in Bergen.
If you're lucky, this will turn into snow and you'll have a Bergen winter wonderland.
We went to Bergen in late December – right before Christmas, and it was definitely cold, but there was no snow in the city itself.
The snow was found more on the top of the surrounding mountains.
I think it's also important to mention, for the sake of your winter in Bergen itinerary, that December is the darkest month of the whole year!
The average hours of sunlight per day is only 6 (and that doesn't mean clear skies, it just means that the sun is somewhere above you even if it's covered by clouds).
I am 100% sure if I lived in Bergen permanently I would struggle with Seasonal Affective Disorder in the winter, but luckily I just go there to visit so I can cope with the lack of light for a short period of time.
Bergen January Weather
The temperatures drop even more in Bergen in January, when the highs are around 39 F and the lows are around 32 F.
Prepare yourself for some bitterly cold days as you walk around, especially near the water.
The sunlight situation, for those of you who aren't used to darkness in the winter like me, is only slightly better than December with an average of 6.5 hours of sunlight per day.
Just embrace the cozy atmosphere this creates and enjoy sleeping in without being woken up early by the sun!
In terms of rain, you're looking about about 18 days per January that include some sort of precipitation, whether that actually ends up in the form of rain or snow.
Weather in Bergen in February
February is an interesting month in Bergen, as you basically have the coldest month of the year, but the number of rainy days decreases and the sunlight increases.
In terms of temperatures, we're talking highs of 38 F and lows of 31 F.
Not MUCH colder than January, but as long as the temperatures are decreasing instead of increasing, you're definitely still in the depths of winter in Bergen.
However, the sunlight situation goes up to an average of 9 hours per day, which is a welcome change for Bergen residents and for visitors wanting to get the most out of their day.
The precipitation situation (now my new favorite phrase) gets a little better, too, with only 16 days on average of rain or snow instead of the 18 and 19 days we saw in December and January.
Overall, February is a good month to visit Bergen to still make sure you're getting the most of Bergen in the winter while having a bit more sun and colder temperatures – so the possibility of more snow rather than rain!
Bergen March Weather
The first part of March is still winter in Bergen, but it is the last bit of it before Spring begins to…spring.
By this point, the temperatures have risen to an average high of 43 F and low of 33F.
These are the highest temperatures of all winter months (or months that include winter).
You're also looking at the average hours of sun increasing to 11.5, which is finally almost half the day!
What a treat!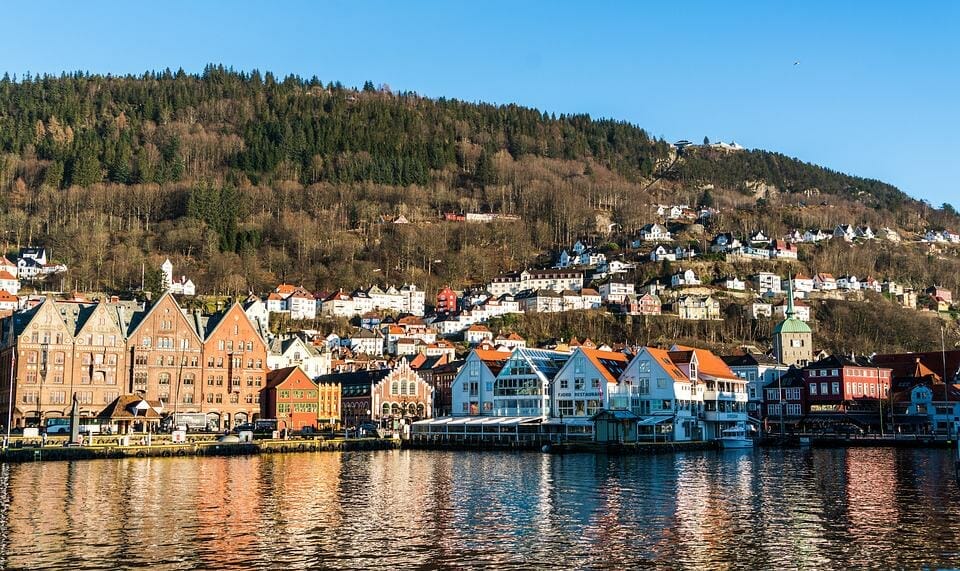 You won't need your absolute warmest winter jacket made for an icy tundra in Bergen in March, but you'll still want to bring lots of layers so you can wrap up warm or shed the coat as needed.
Frequently Asked Questions about Bergen
If you've never been to Bergen before, you might be wondering things like…
Is Bergen expensive?
And I've got to be honest – as travelers who were used to even the high prices of living in London, Bergen was indeed very expensive.
Norway in general is an expensive country to visit and we found Bergen very pricey.
To help you get an idea for how pricey, we stopped in a McDonald's because we felt that's the only place we could afford, and a Big Mac meal was about the equivalent of £12.
We then quickly realized we could not actually afford to eat out in Bergen too often, so we went to the nearest supermarket and bought our own food to cook in our Air Bnb.
There's nothing quite like homecooked fajitas on the side of a mountain, am I right?
What currency does Bergen use?
Bergen uses the Norwegian Kroner, which is a delightfully designed currency you'll fall in love with.
Nowadays, we don't bother with bringing cash and exchanging it after trying to find a currency exchange place – we just make sure our bank knows we're going out of the country if necessary and then get out Norwegian Kroner from the ATMs once we're in-country.