Much like each state in America has its own traditional food, and even more specifically, each city has the culinary creations its "famous" for, Britain is no different.
These are the most famous British foods to try in London!
You should know that the traditional breakfast in England is slightly different than the one in Scotland, and the types of food enjoyed by locals differs on the region.
Luckily, London has a lot of different options for you to try.
Hey! Want more London foodie guides? Check these out!
1. Squash
Less a traditional food and more something you'll find in almost every British person's home is squash.
And I don't mean the yellow gourd that Americans associate with Thanksgiving and cartoons of pilgrims bringing it to the table.
I mean the fruit-flavored concentrated syrup that you add to your water to give it a different taste.
Squash comes in a plastic bottle and includes flavors like orange, blackcurrant, lemon and many more.
It's not meant to be enjoyed by itself – the syrup is so concentrated that you just need a couple of splashes in a drink.
I mention this because the first time someone offered me "squash," I pictured being saddled with a giant yellow gourd to eat all by myself rather than having one glass of flavored water.
I emphatically told them "No, thank you" while they looked confused as to why I seemed to have such an aversion to squash.
Now that you now, you can go through your British life not making the same mistakes I did and perhaps even find a new drink you enjoy!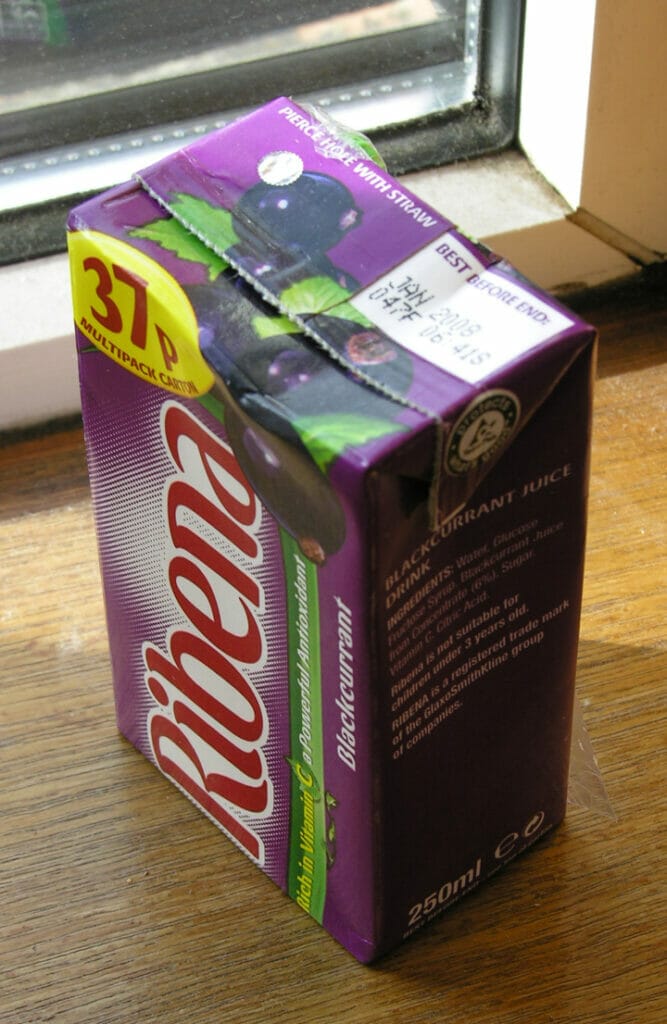 GET A

FREE

LONDON INTRO GUIDE and ACCESS TO MY FB GROUP
Start your planning with this "Intro to London" guide and access to my London planning Facebook group!
2. Sunday Roast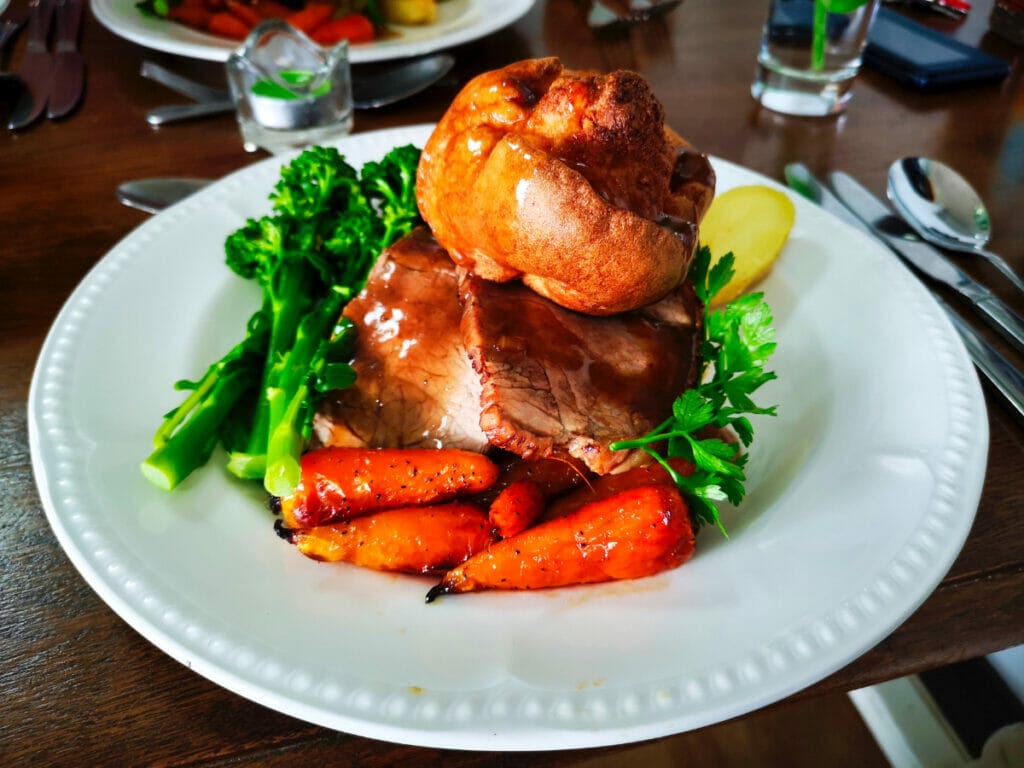 A "Sunday roast" is a traditional meal, the most popular British food, and most often enjoyed on, surprise surprise, a Sunday!
Brits like to equate it to an "American Thanksgiving meal every Sunday," but I don't buy that comparison.
What it is is basically a form of meat, either chicken, beef, pork or lamb usually, combined with vegetables like carrots and roasted potatoes, sometimes stuffing, gravy, and sometimes a Yorkshire pudding.
These types of meals are often enjoyed in the winter months, but can be an all-year round occasion and are one of the best British foods to try in London.
It's a real "event" that you can invite other people to as well –ie, "Hey, do you and your husband want to come over for Sunday lunch?"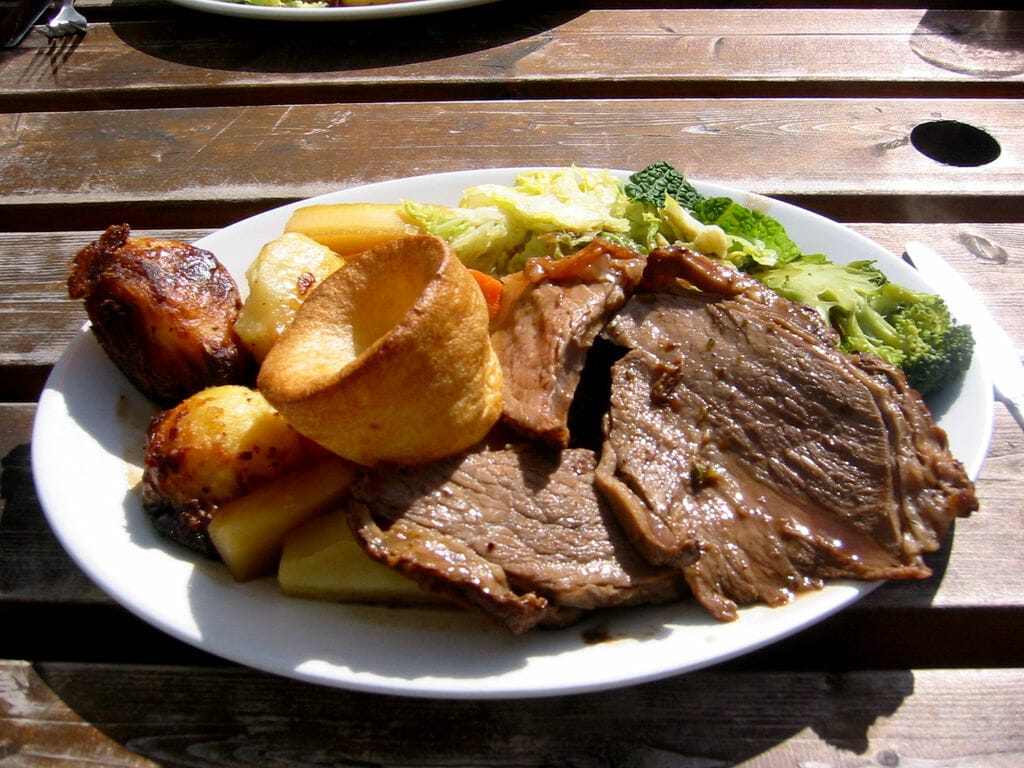 3. Fish and Chips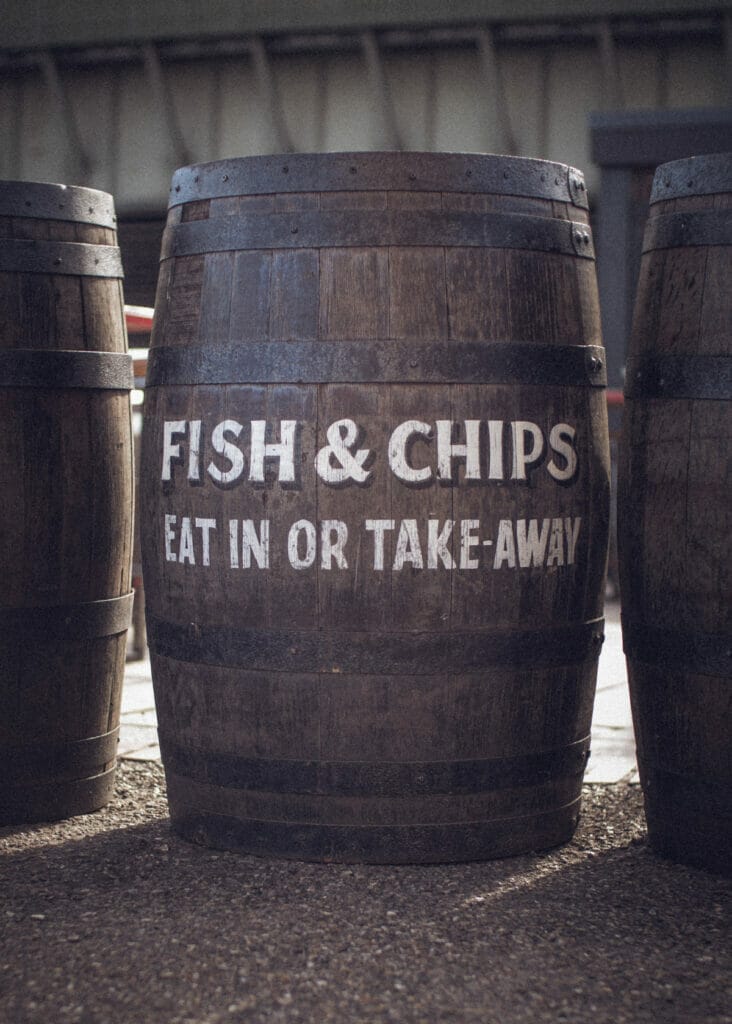 If you don't know that fish and chips are associated with Britain, then you've been living under a rock and I need you to come out now.
Possibly the most British meal of all and London famous food, fish and chips is enjoyed all over the country no matter how far from the coast you are.
The main fish used is cod, but you can also get haddock or plaice in some…places.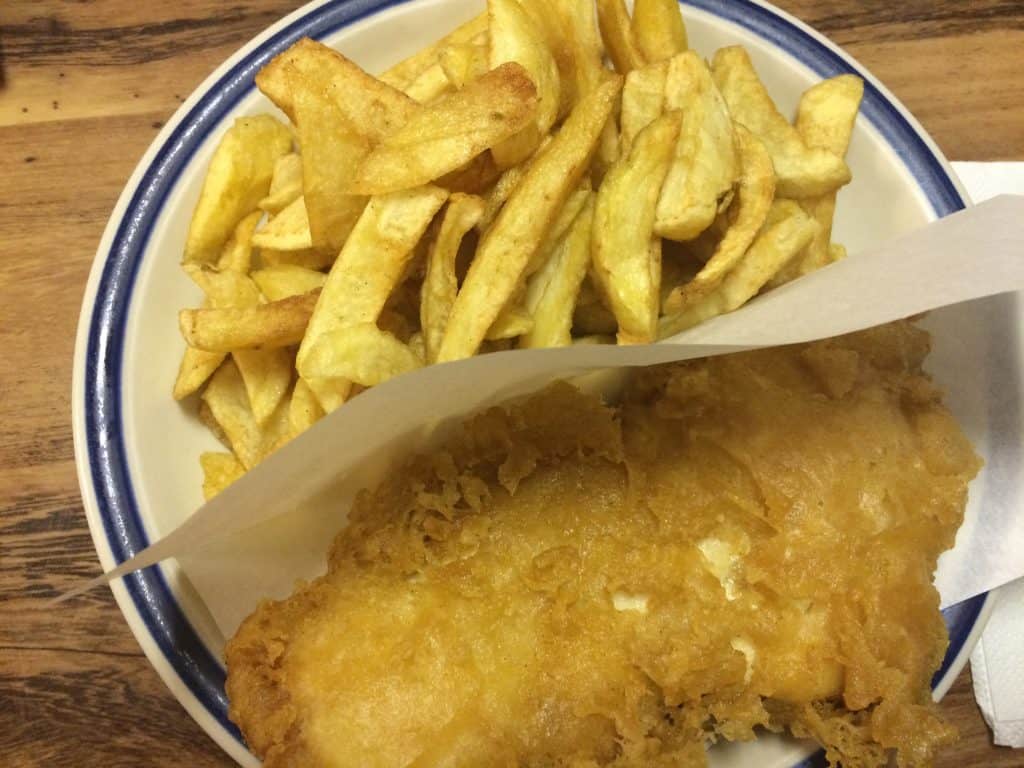 And chips, of course, are chunky fries (and I mean, chunky!)
They're not usually very crispy, but slightly mushy.
Oh, and speaking of mushy – the trifecta is completed with some mushy peas!
The fish and chips takeout place (called takeaway in the UK) is known as a "chippie," and you'll almost always get better fish and chips there than in a restaurant that serves other things.
4. Traditional English Breakfast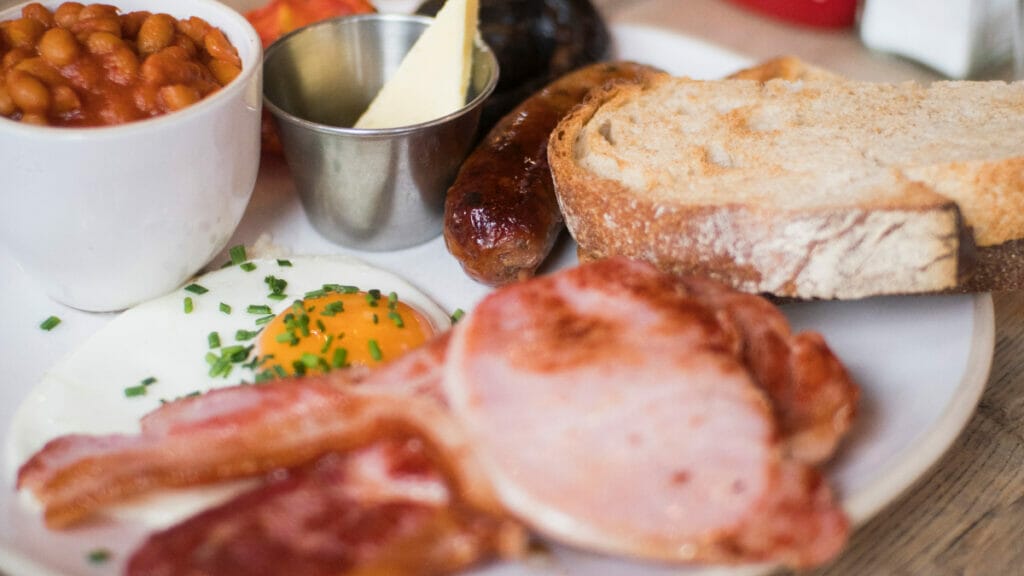 In England, you often hear of a "traditional English breakfast" and the same goes for each of the other UK nations – there are small variations on exactly what type of food is included in a traditional Welsh/Scottish/Irish/English breakfast, but overall you can expect some type of toast, eggs usually fried, mushrooms, beans, and tomatoes.
Sausage or bacon are also staples, and then each country will have their individual additions like the potato scone in Scotland, seaweed puree in Wales, and potato bread in Northern Ireland.
People don't usually start their every day with traditional breakfasts if they work a non-construction or non-physical type of job, but it is a treat for people at weekends and when they want to really indulge themselves.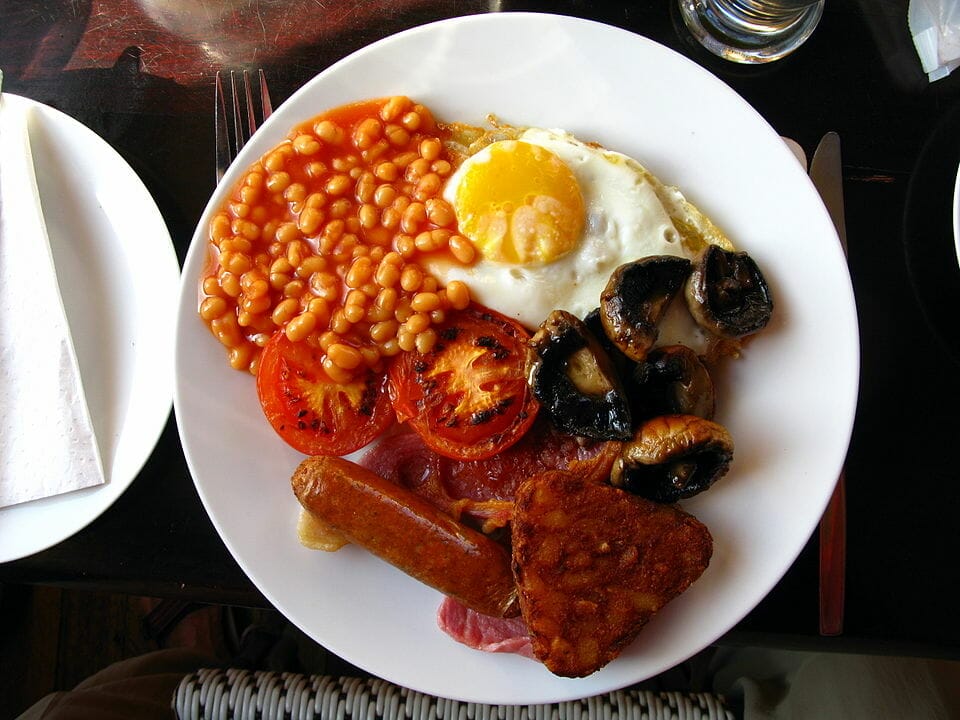 5. Black pudding
One of the least understood but most often talked about UK foods and some of the most famous food in London among visitors is black pudding.
To keep it simple, black pudding is a combination of pork, dried pig's blood, and fat.
I will leave it up to you and try!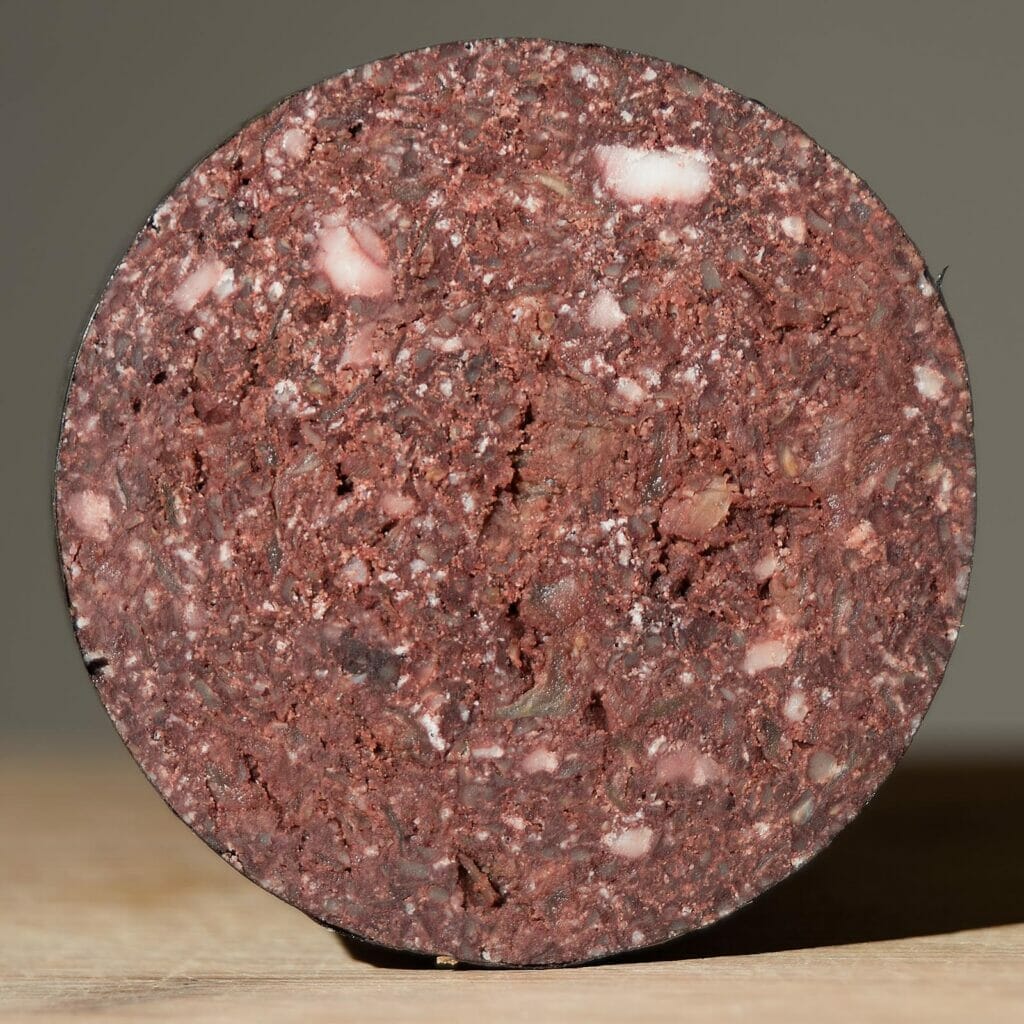 6. Scotch egg
As evidenced by the names, Scotch eggs are a delicacy in Scotland but also in the rest of the UK.
The basics are that it's a hard-boiled egg covered in sausage and meat and breadcrumbs and fried or baked.
You can find them at pubs occasionally or just buy them in supermarkets.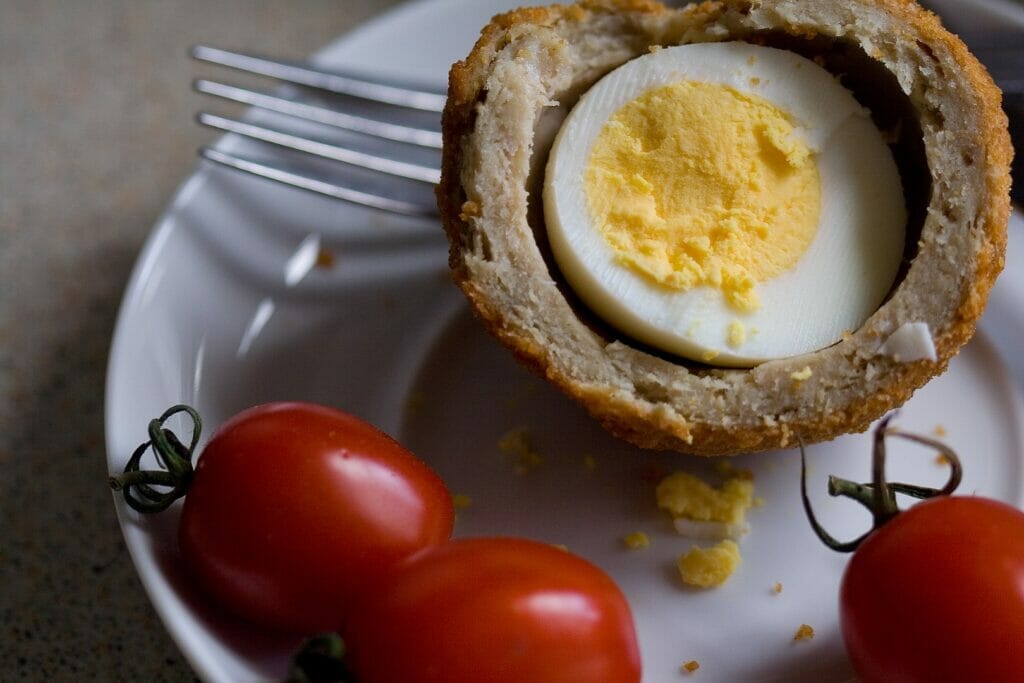 7. Pie
When a British person asks you if you'd like some "pie" for lunch or dinner, they're not offering you a sweet pie like apple pie or pumpkin pie.
Instead, they're talking about a "meat pie."
Popular types of pie and food to try in London are chicken and leek pie and steak and ale pie, but there can be many meat and vegetable combinations.
It makes sense, as the UK can be a cold place and meat pies are good pub food to help warm you up!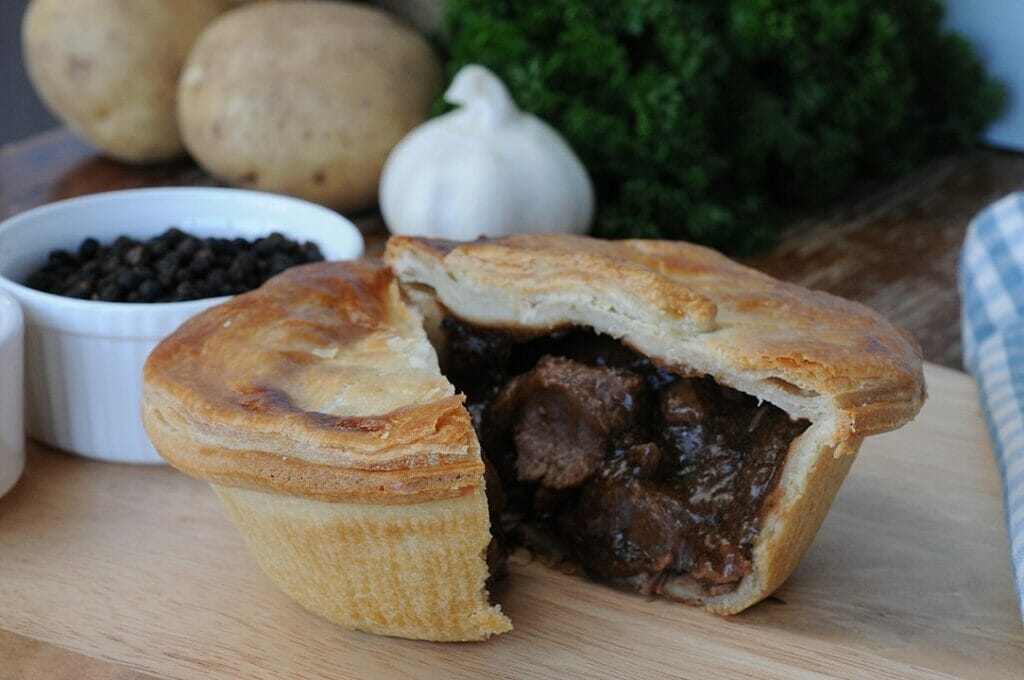 8. Chip butty
For the first couple of months I lived in the UK, I would hear Brits make fun of American food and how bad it is for you – they were amused at my Pop-tarts for breakfast, affinity for sugary cereal and the "deep fried everything" they had seen on documentaries about the Midwest.
I went along with this for a while, until learning that UK food can be equally as deliciously unhealthy, and who in the world were they to talk when they had invented the "chip butty."
This is, for all intents and purposes, a French fry sandwich, traditional British food in London!
Literally two pieces of bread or a roll, buttered, plus fries in the middle and condiments.
A sandwich.of.french.fries.
After learning of this culinary delicacy, I was in UK food heaven and feel grateful for their contributions to my carb intake.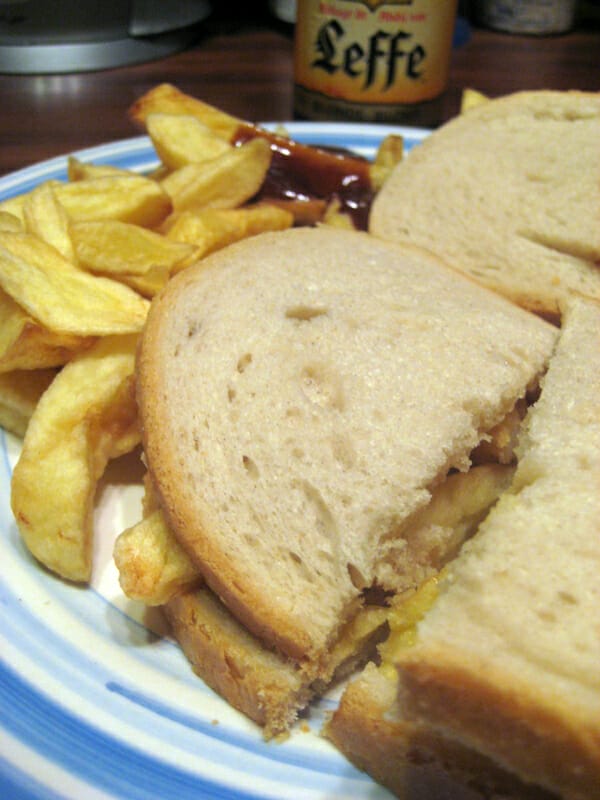 9. Egg and soldiers
I've included egg and soldiers because I had no idea what it was when my husband first introduced it to me, but I also think it's a great way to give a mini-lesson on the cooking of eggs in the UK because there are different methods and words than we usually use in America.
So, to start off, "egg and soldiers" or "dippy eggs" is when you have toast cut up into slices (the soldiers), and dip these into the runny yolk of a boiled egg.
It's a popular kid's dish in the UK, but I like it too, so sue me.
Brits in general will also have their eggs fried, often, with the yolk still runny, known as "over easy" in America.
If you want the egg fried but the yolk also cooked through, you would need to explicitly state that as there isn't really a term for that here.
Other egg terms, like scrambled, boiled, and poached are all applicable in the UK.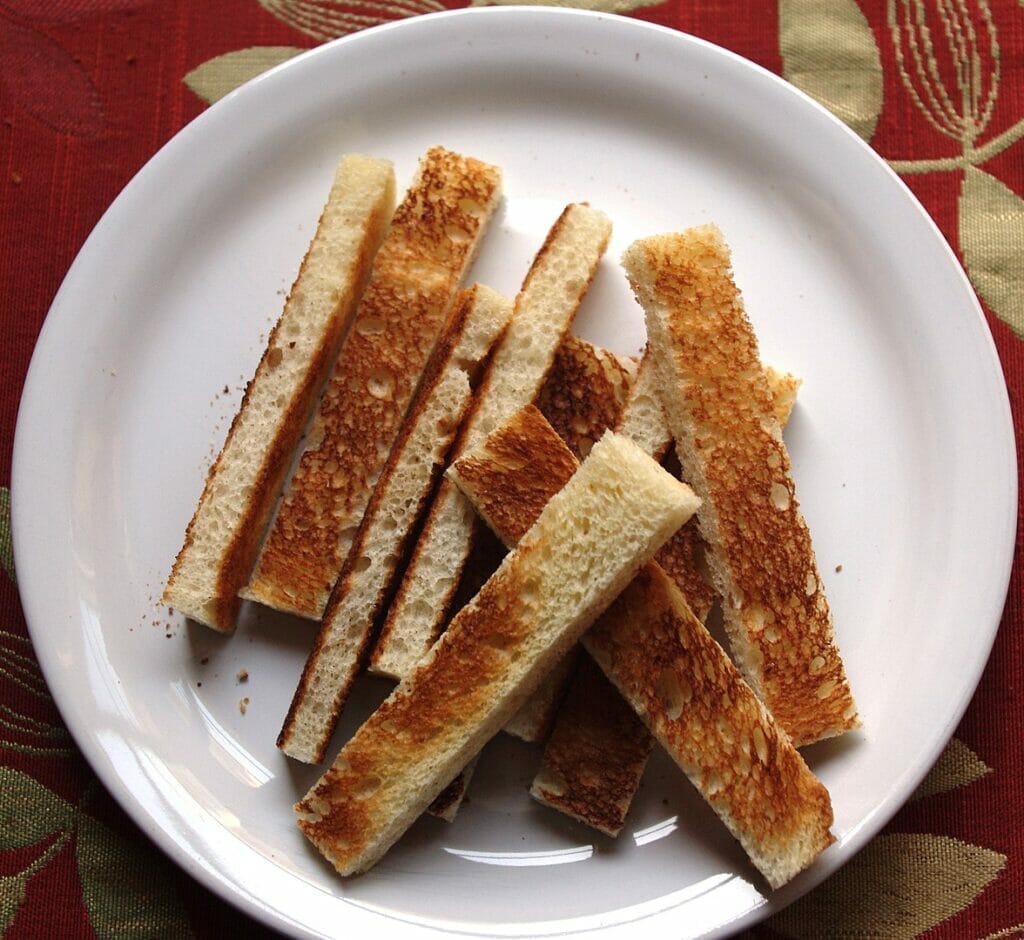 10. Beef Wellington
Meat eaters should try a beef wellington, which is essentially filet steak wrapped in pastry and cooked.
It's my husband's favorite meal, and particularly popular to order for a special occasion as they're not exactly cheap.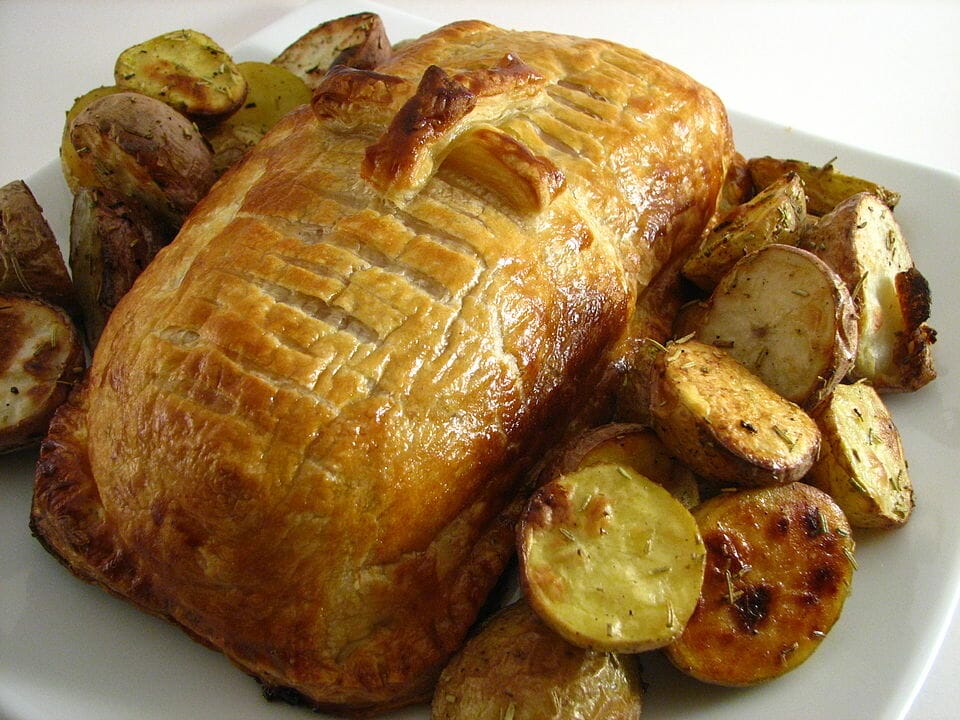 11. Sticky Toffee Pudding
An option you might see on the dessert menu is sticky toffee pudding, which is in fact not pudding (remember, pudding means dessert in the UK!) but a moist cake filled with raisins and then topped with toffee sauce and custard or ice cream.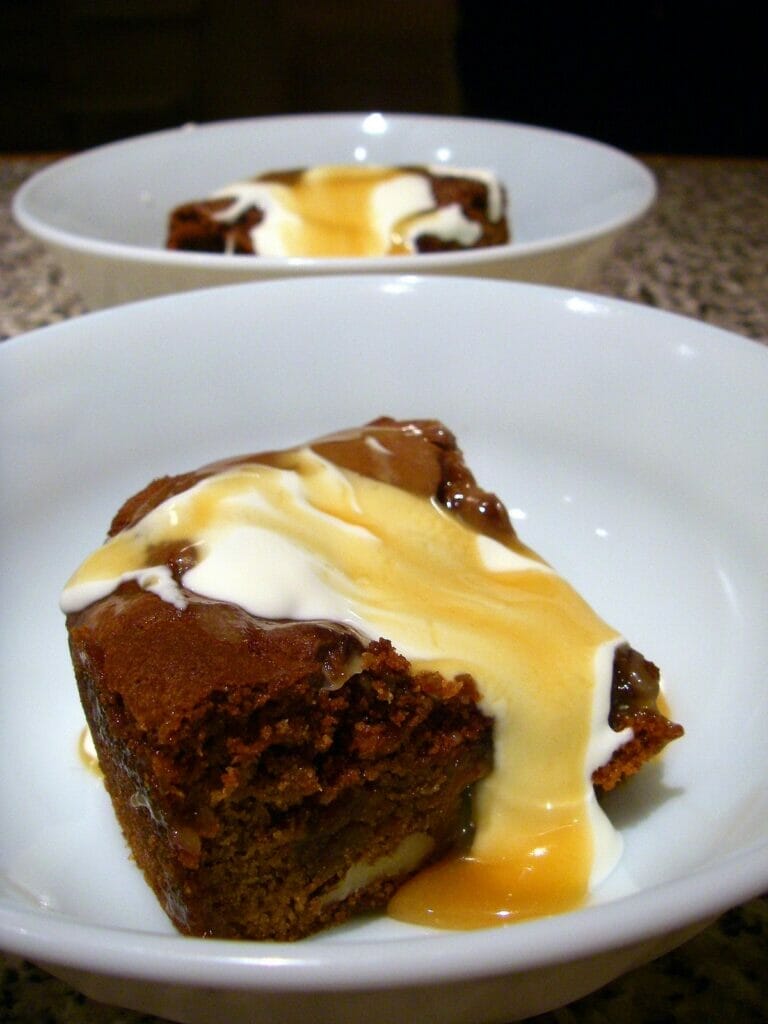 12. Custard
Custard is another popular dessert and popular British food add-on, and it's made from milk and cream but is a consistency between cream and ice cream.
It's often poured on top of desserts and cakes.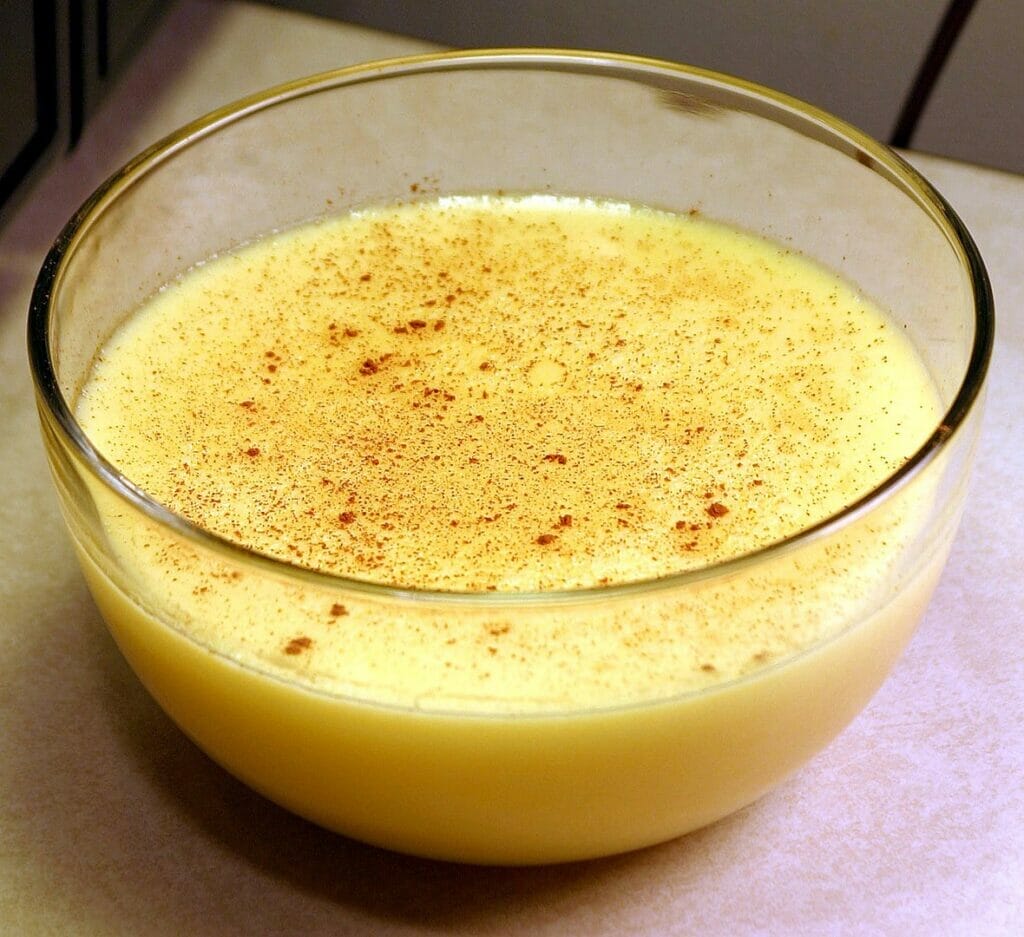 13. Profiteroles
If you like chocolate, cream, and pastry, you'll love profiteroles, another dessert menu option.
These balls of pastry are filled with cream and drizzled with chocolate and they are 10/10 delicious.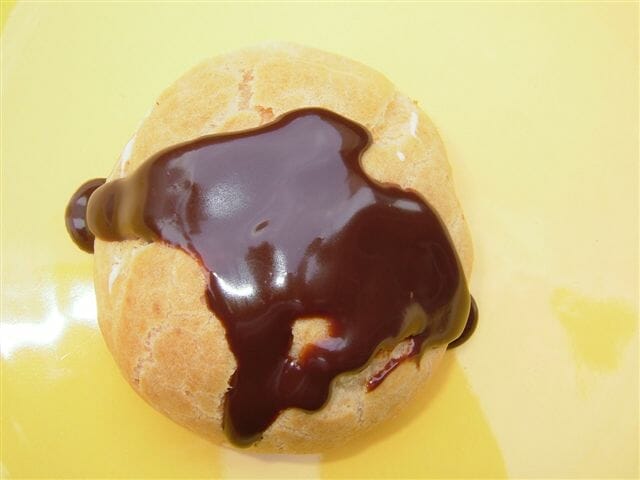 14. Afternoon Tea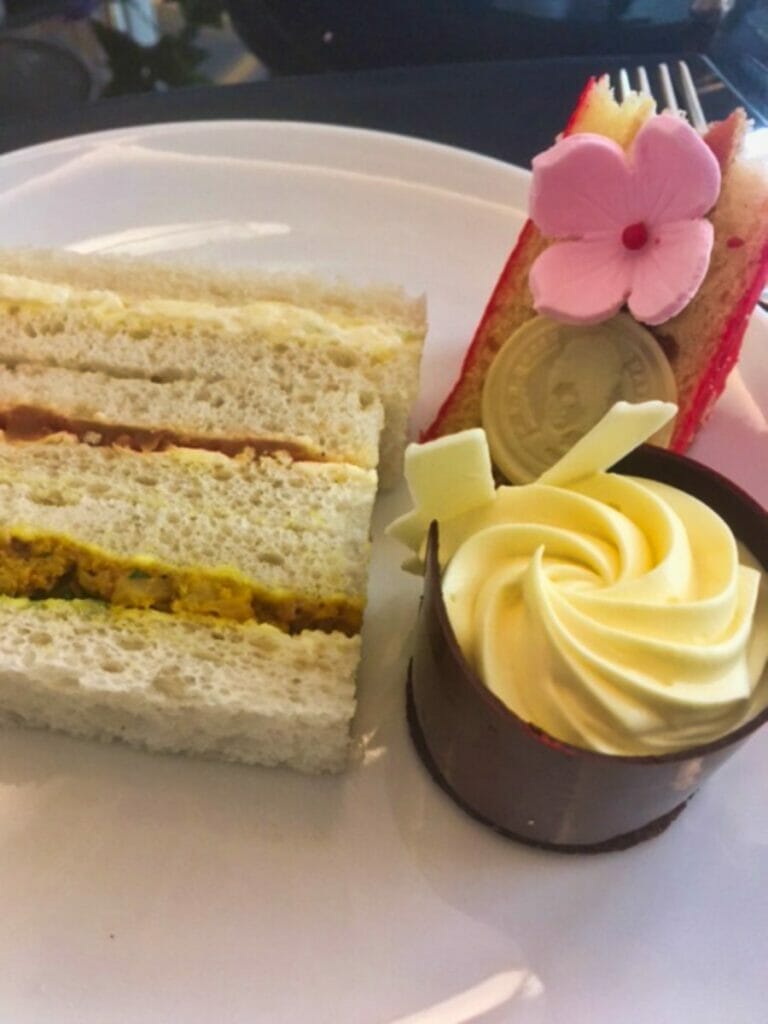 From the clotted cream that you slather all over the delicious scones to the finger sandwiches filled with everything from cucumbers to coronation chicken, an afternoon tea in London is one of the best way to try out some classic British food and desserts.
Afternoon tea is usually served as an "experience," where you'll first be offered unlimited tea (or a hot drink like coffee or hot chocolate) and then you'll get the sandwiches first.
After making your way through these, you may be offered another round and then you can work your way through the sweet portion.
Scones are always included, and if you haven't had a British scone before, you should know that they are different from an American scone and are typically round, a bit dense, and sweet.
15. Bangers & Mash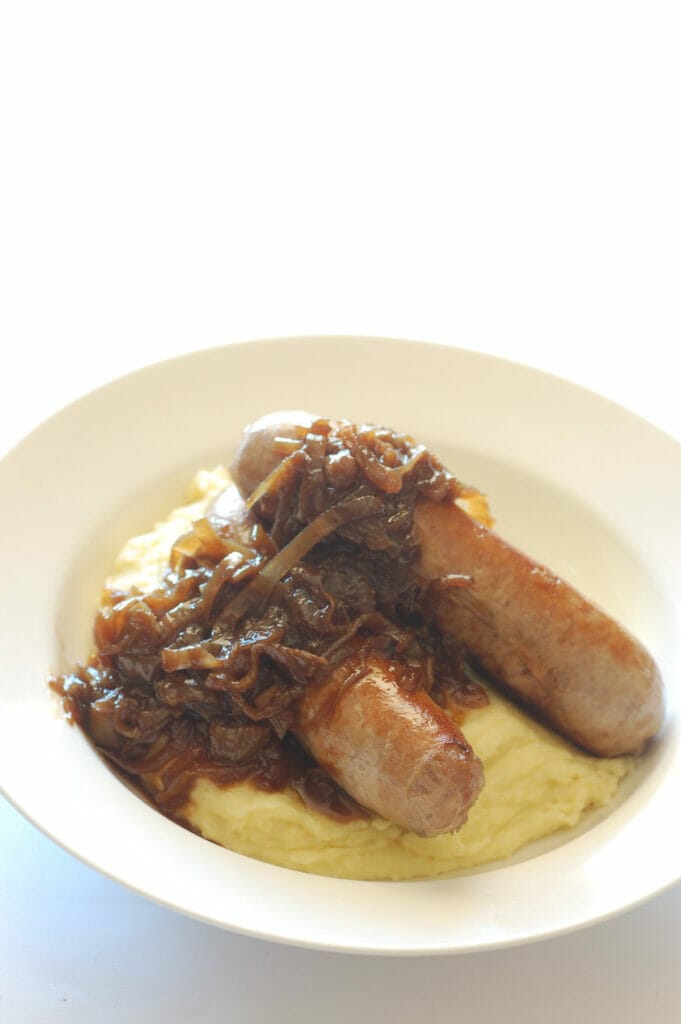 "Bangers and mash" is another name for sausages and mashed potatoes!
This is a classic dish to eat in the UK, and you'll feel very British for ordering it.
The sausages are usually either pork or beef, and often served with something like onion gravy.
If you're familiar with sausage patties, you should know that bangers and mash comes with sausage links, not patties.
You might also find fried onions and peas on your plate as an addition.
Typically, the sausages will be served on top of the mashed potatoes.
16. Bubble & Squeak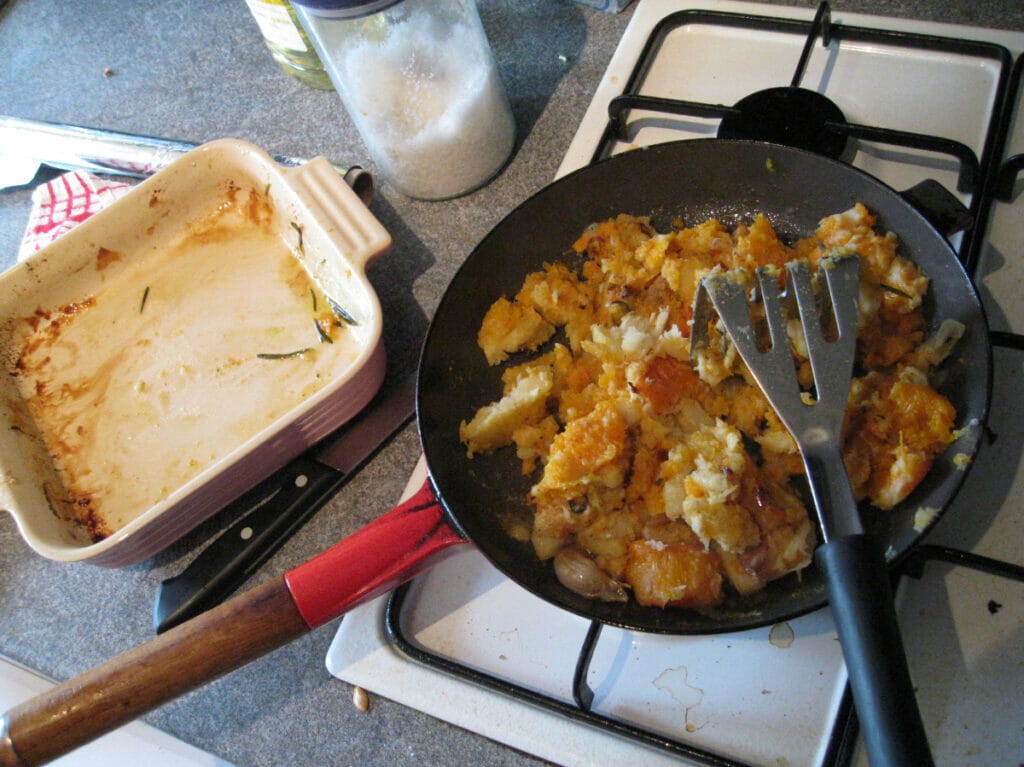 It can be confusing to figure out exactly what bubble and squeak is, as nothing in the name gives away what it really is, unlike something like the "mash" in bangers & mash!
Bubble & Squeak is basically a plate of fried up leftover vegetables, typically potatoes and cabbage, but also often includes Brussel sprouts.
The idea was that it was using up the leftover from Sunday Lunch and was a "poor person's" dish to not let anything go to waste.
But regardless of how it came about, it's a delicious meal and served in restaurants across London and the UK, mostly as a side dish.
17. Eton Mess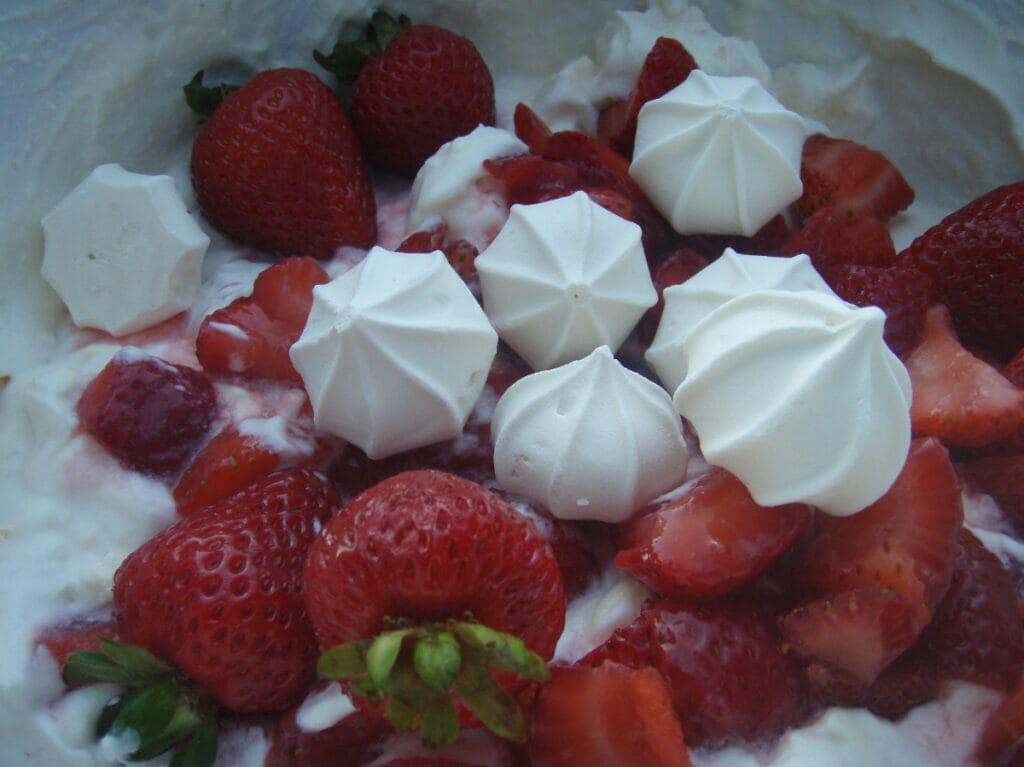 One of the most traditional British desserts, Eton Mess does look a bit like a mess, as it's essentially a bunch of berries on top of meringue and also sometimes topped with whipped cream.
It's a really popular summer dessert in London as it's light and airy and not too filling, and the freshly harvested berries go really well with the meringue.
It's sort of a deconstructed strawberry trifle, and it's though that it's called "Eton" mess because it originated in Eton College.
18. Pasty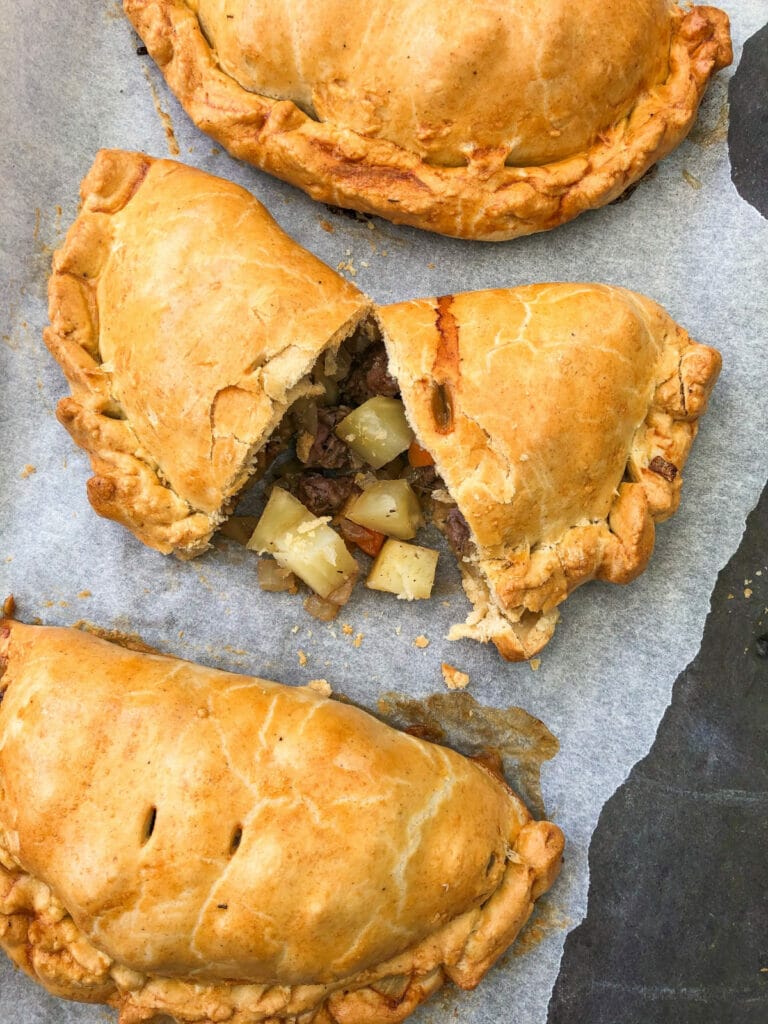 A pasty is also sometimes called a "Cornish pasty" as they originated there, but they are now common across the UK.
Pasties are basically a pastry filled with fillings like beef and onion.
The pastry is completely closed over the fillings, so it sort of looks like a little package of pastry and you then discover the filling inside when you bite into it.
There are plenty of filling options, but the most popular vegetarian filling is cheese and onion.
19. Toad in the Hole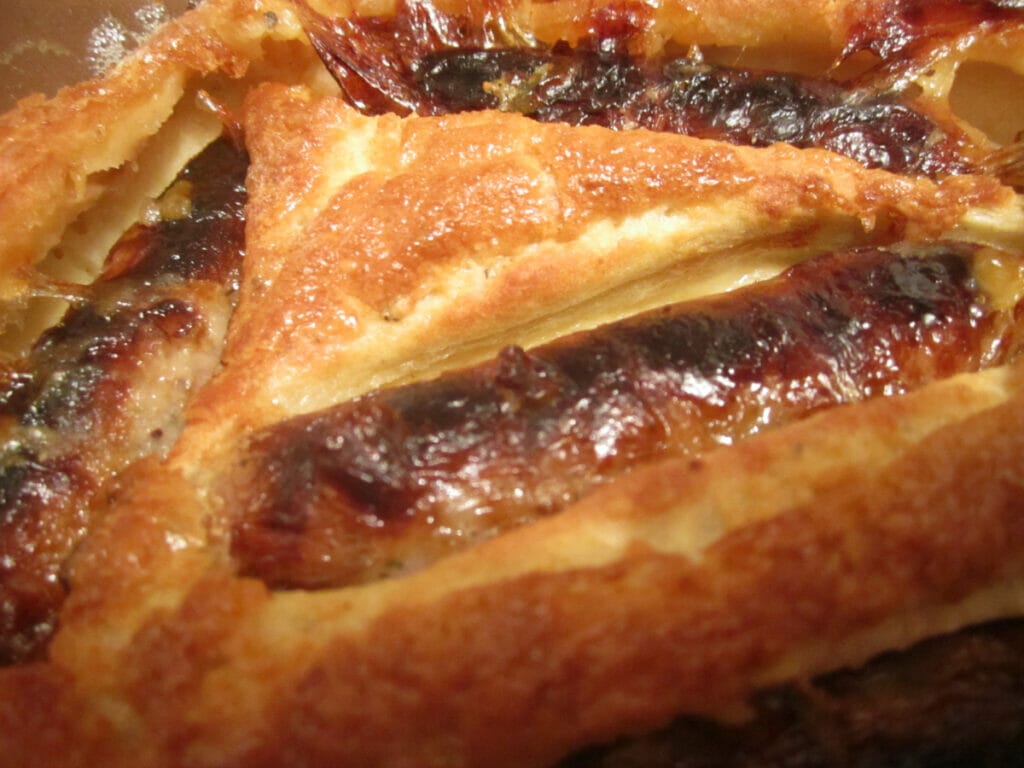 "Toad in the hole" is another popular British food that is hearty and filling for those cold winter months!
Imagine sausage baked into batter in a large casserole dish, so it's less like a corndog with individual batter and more a giant dish of batter with sausages baked into it.
It's often served with gravy and vegetables, and while it'll be a total calorie bomb and there's not much healthy about it, it's a fan favorite in the UK for an easy meal to make and a consistently delicious option to eat!