This post contains affiliate links for which I may make a small commission to help keep the site running. You will not be charged extra for these items had you not clicked the links. Thank you for your help to keep the site running!
Despite living in the UK for seven years, there was still one country I hadn't made it to.
I've seen the beauty of England, explored the landscapes in Scotland, and discovered the history of Northern Ireland.
But Wales?
Still on my to-do list.
Oh, and something else I hadn't done?
Taking a guided Rabbies Wales tour.
We've explored the UK all self-guided, so having someone drive us around and tell us all the insider secrets was a foreign concept.
Luckily, thanks to Rabbie's Tours, I was able to check both exploring Wales and having a stress free tour off my bucketlist.
In this Rabbie's Tours review, I'm going to dig deep into our thoughts on Wales tours with Rabbie's and our specific experiences on the 3 Day Snowdonia, North Wales, and Chester tour that departs from Manchester.
Did we enjoy ourselves?
Did we see lots of sheep?
Do I have some tips on making the most of your Rabbie's tour?
Are we absolutely exhausted, but in the best way possible?
Yes to all of the above.
GET A

FREE

UK GUIDE and ACCESS TO MY PLANNING FB GROUP
With 50+ pages of helpful travel tips and the "best of" UK lists, this is your ad-free key to your UK trip.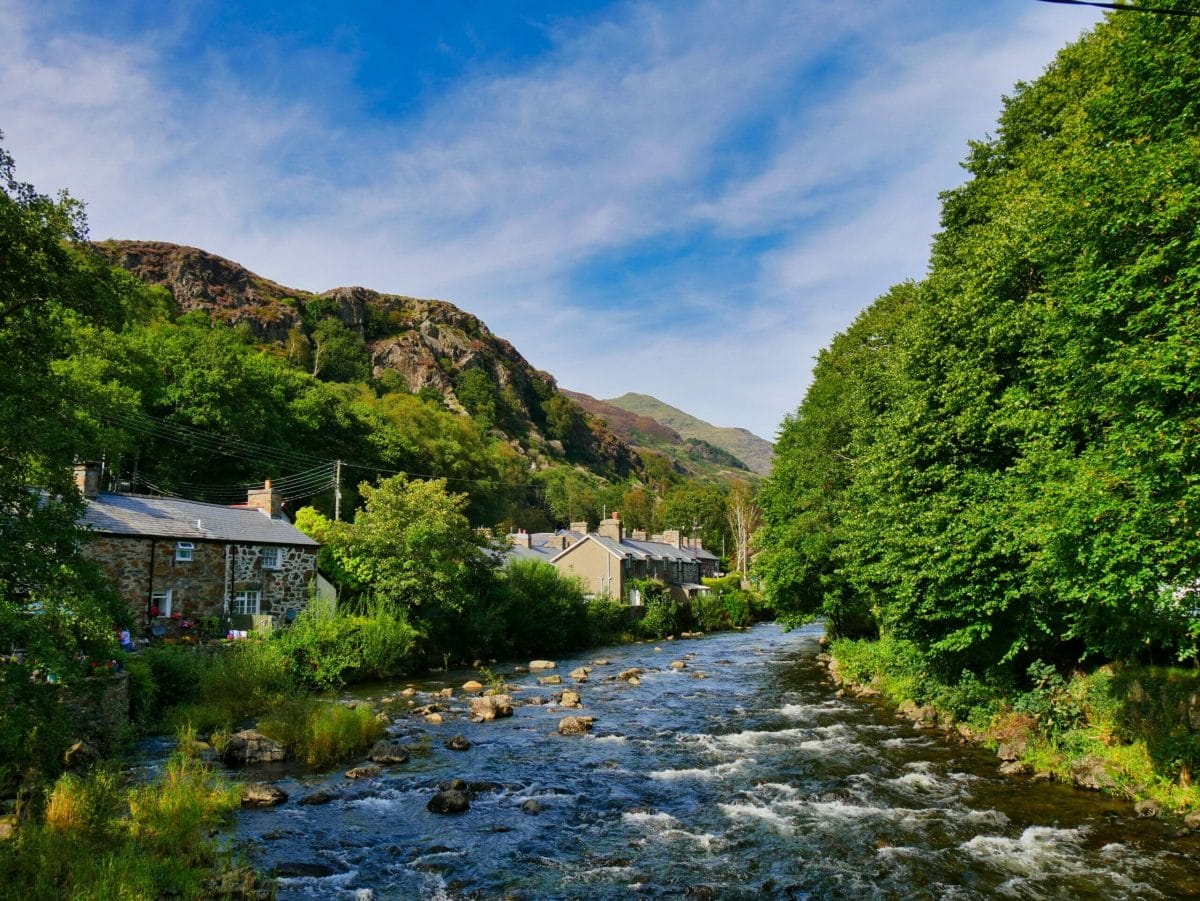 Want more Welsh content? Check out these guides!
Who are Rabbie's Tours?
Rabbie's Tours were started in 1993 by Robin Worsnop and are a small group guided tours company that operated in the UK and Europe.
Their ethos is based on small groups (no more than 16), supporting local communities, and ensuring that you see the "off the beaten path" or the scenic routes rather than just the touristy attractions and highways.
Oh, and the name is a nod to a nickname for Scottish poet Robert Burns, and rhymes with "abbeys" – a point they are quick to point out on their website lest you get confused with the other pronunciation you might be thinking of…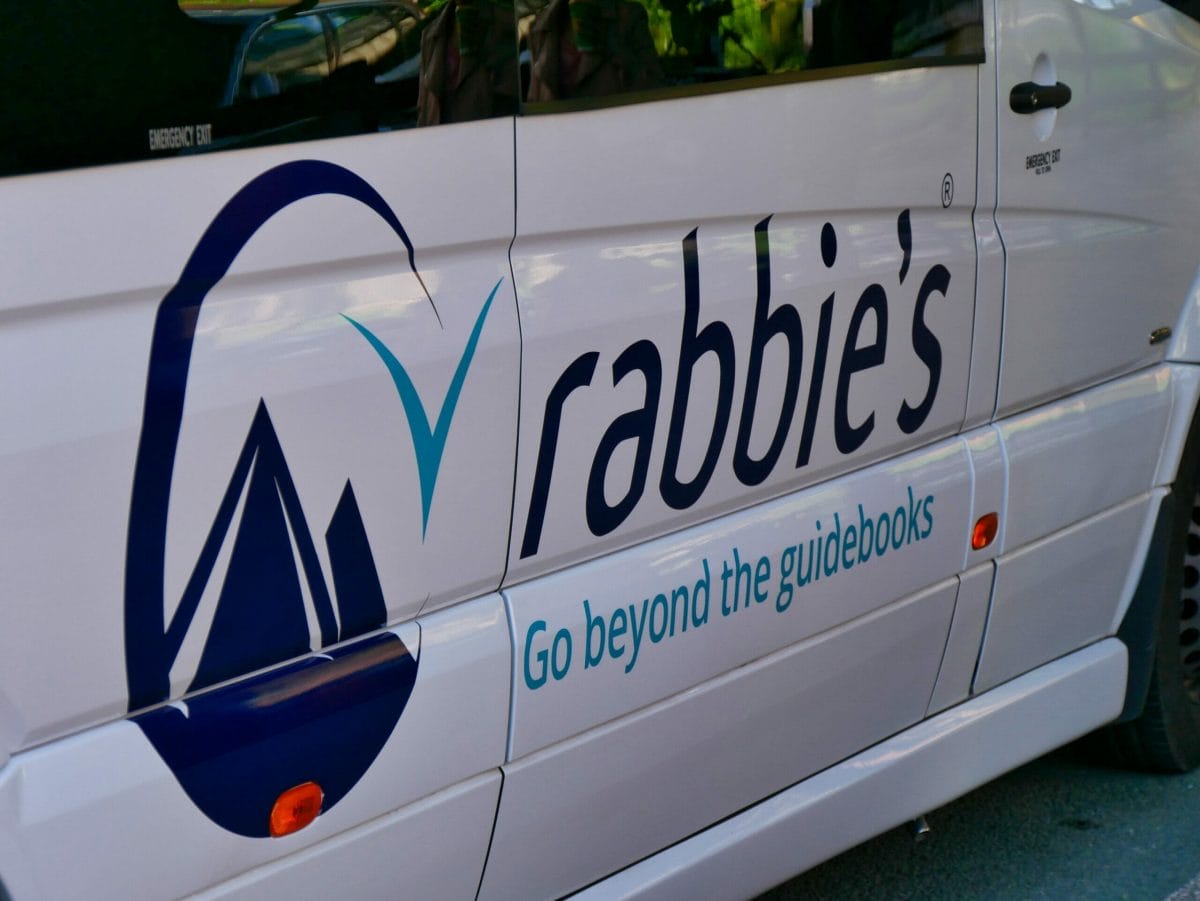 Where do Rabbie's Tours operate?
One of the reasons I really wanted to share Rabbie's Tours with you is where they operate – not only do they have fantastic UK tours departing from London, Edinburgh, and Manchester, but they also operate in Ireland and have some amazing European tour options.
What's Included?
When you pay for a Rabbie's tour, you are paying for the expertise of your fantastic storytelling guide (and trust us, they've got alllll the stories), as well as transportation throughout the duration of your tour through all of your stops.
The basic fee doesn't include accommodation, as Rabbie's wants to give you the option to book your own and do the tour on more of a budget (or more of a splurge) if you want to.
However, you can have them book your accommodation for you after telling them what fanciness level of accommodation you would like, and that costs nothing extra besides the money you pay to the hotel, hostel, or B and B.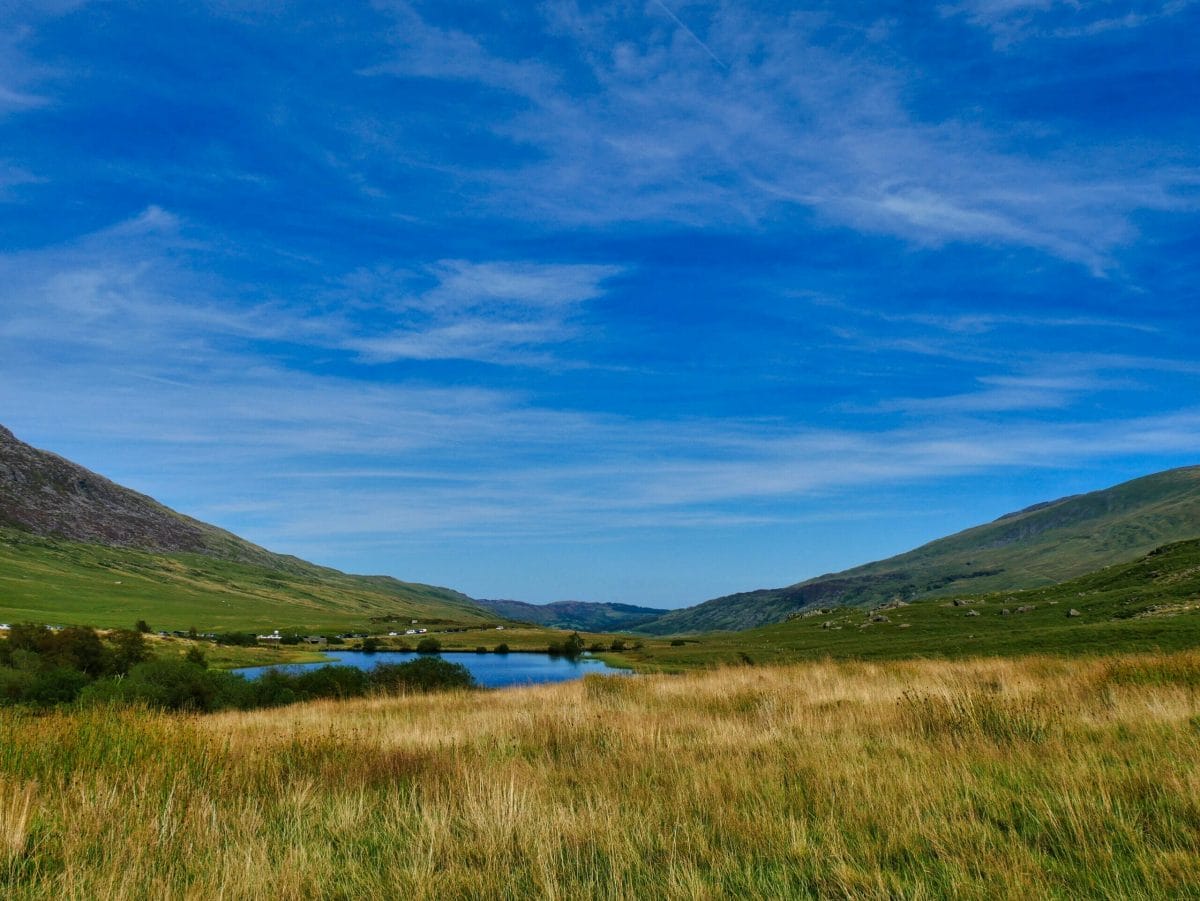 The attraction fees also aren't included to give you the ultimate flexibility.
At first, this sounds a bit stingy, but it's not.
Firstly, depending on the tour, many of the places you go to will have a variety of attractions or, as is the case with North Wales, many places we enjoyed just walking around and there weren't things we needed to pay to enter.
If Rabbies included in the tour price entrances for various things that they essentially made mandatory for you to do, you would have way less freedom and likely be spending more than you would if you just decided on your own what you wanted to do.
Food costs also aren't included, and you will have plenty of stops to get something to eat, as they factor in lunch stops and making sure you're not driving straight through the day with nothing to eat.
Who can take a Rabbie's tour?
Anyone over the age of 5 can take a Rabbie's tour, though those under the age of 18 do need to be accompanied by an adult.
Who Should Take a Guided Tour?
One of the questions we asked ourselves throughout the tour was what kind of traveler would appreciate a guided tour with Rabbie's.
Not everyone has the same needs, and it would be dishonest to suggest that a Rabbie's tour is suitable for everyone in the whole world.
After all, if you wanted to spend as much time as you wanted in each stop and have full control of your schedule, of course a guided tour by its very nature wouldn't be for you.
However, we've come up with a list of who we think would enjoy a Rabbie's tour and get the most out of it.
You're probably a good fit for a Rabbie tour if…
You like the idea of not having to worry about transportation while traveling and spend your time enjoying the sites
You want to decide what you do in each town/city, but appreciate traveling with others
You want to pack in as much as possible of the area you choose
You aren't from the area and prefer local guides and recommendations
You like the idea of taking the scenic route and not just sticking to the main tourist towns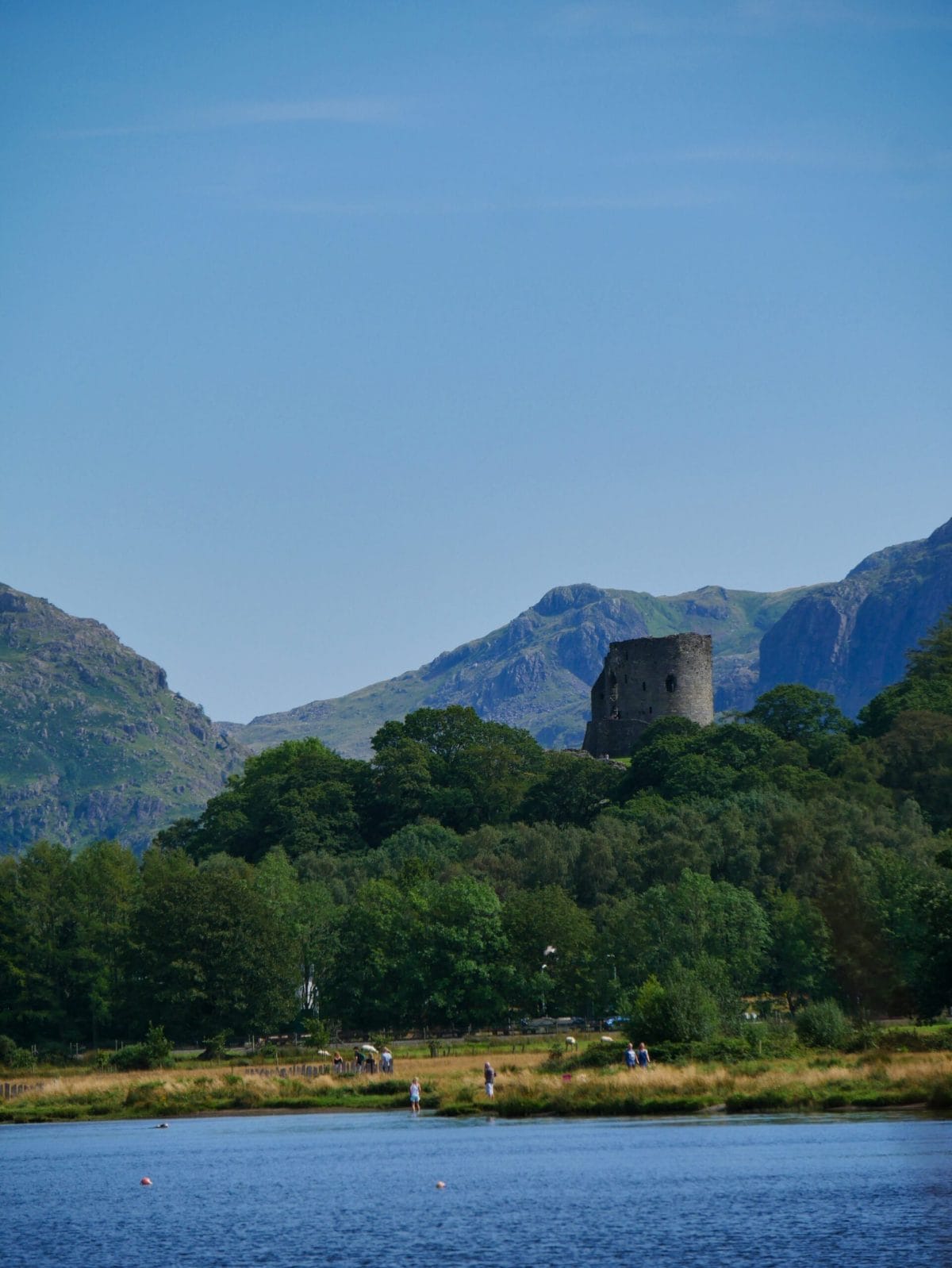 Rabbie's 3-Day Snowdonia, North Wales and Chester Tour Review
Rabbie's operate 1, 3, and even longer day tours from various cities across the UK, Ireland, and Europe, but for those interested in the 3-Day Snowdonia, North Wales and Chester tour, I want to really dig into our experience and our top tips for enjoying this tour.
The pacing and types of things we saw will also give you an insight into how many of the other tours work logistically.
Day 1
The departure area for this tour is outside Manchester Piccadilly Station.
We actually ended up taking the train from London up to Manchester that morning, which takes about 2 hours.
If you book it ahead, the cost of that particular train is manageable so don't let it stop you from taking this tour even if you're London-based.
We showed up to the meeting point about 15 minutes before departure and met our tour guide, Charlie, who was super friendly and chatty.
This was a relief to me, as we were going to be spending lots of hours in the Rabbie's van together and the fact that he seemed excited and ready to be there and show us Wales helped set the tone in a positive way.
We had 9 on our tour, and Rabbie's takes a maximum of 16.
The Rabbie's bus was incredibly comfortable, with air conditioning and USB charging sockets behind every seat (for which we were all really grateful – you are on the road all day with nowhere else to charge it!).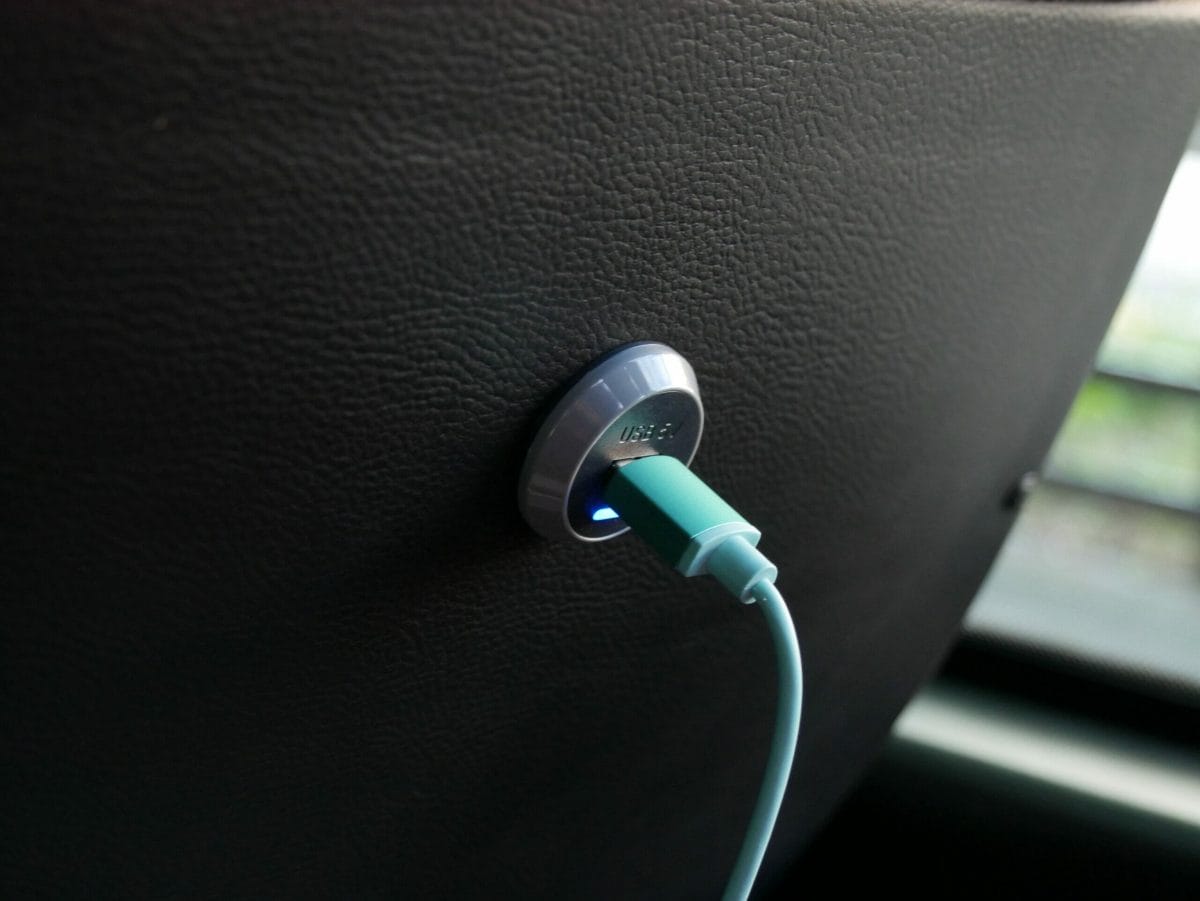 The first stop for us was a seaside town in Wales called Conwy, which we got to after fighting the bank holiday traffic.
We did have a harder time on the first and final days with more traffic than would usually be on a tour due to the holiday weekend, but Charlie handled it with good nature and of course Rabbie's can't control the traffic or accidents or other things that might go wrong on the roads, but will make every effort to keep the tour on track.
Charlie even stayed out later with us on the final day after checking we were all happy with it so that we could fully appreciate the towns we were going to.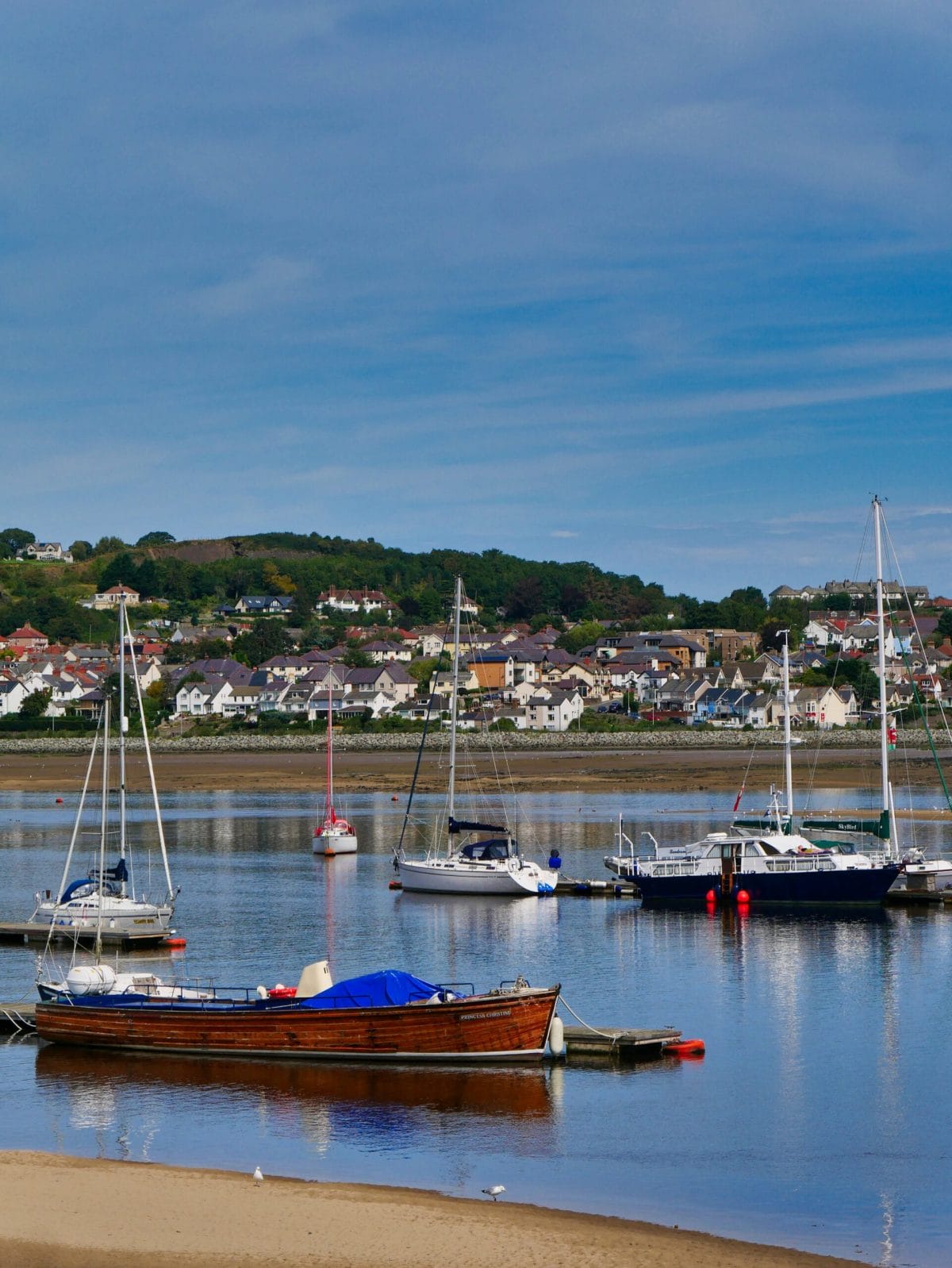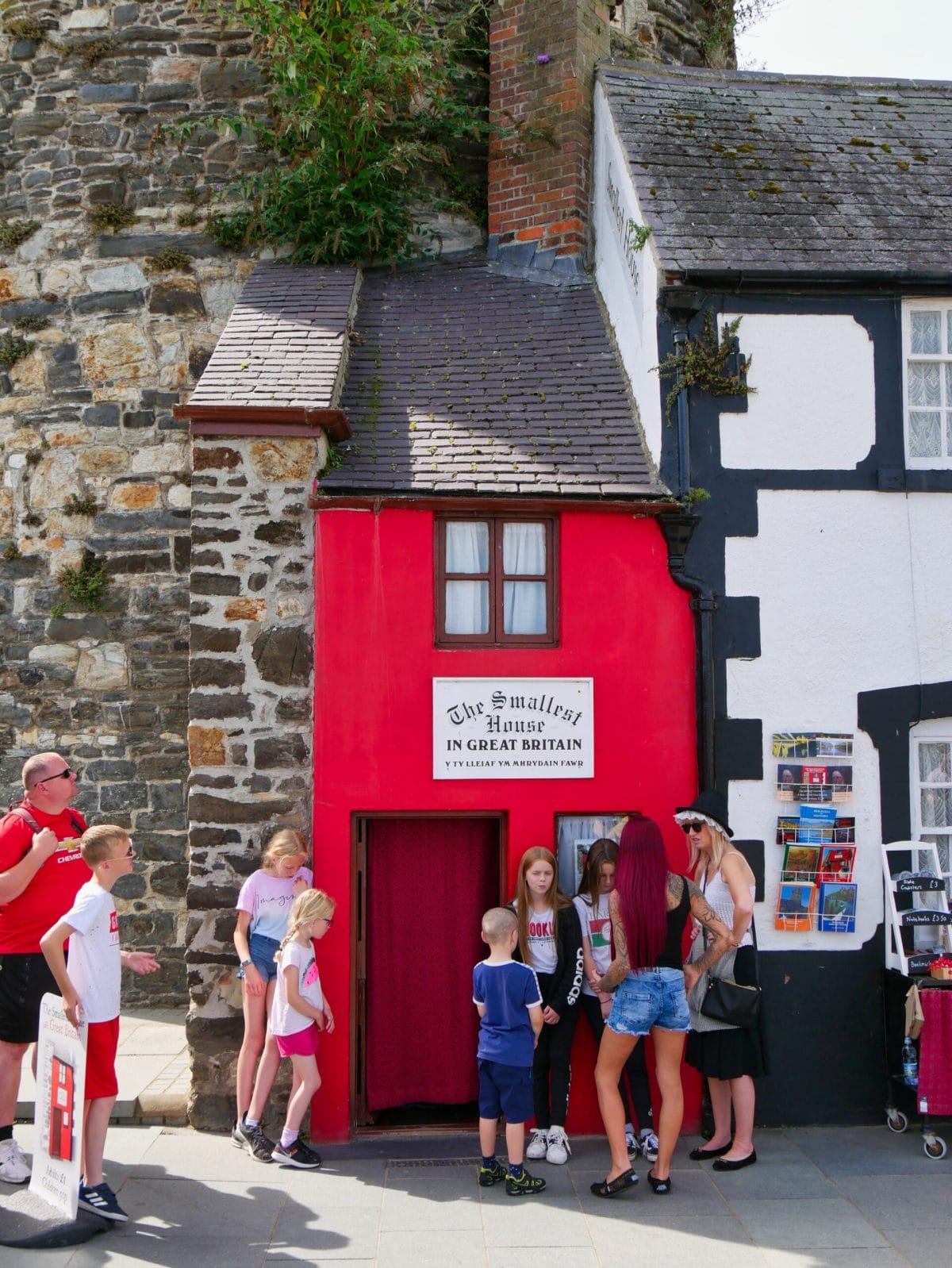 When we got to Conwy, we were impressed with a medieval walled town on the Welsh coast that was the perfect spot to grab lunch (we got fish and chips from The Archway, would recommend!) and go for a bit of a wander around town.
Read more about my thoughts on the best things to do in Conwy here.
You can see Conwy castle, but we chose to walk the walls for some amazing views, stroll along the coastline, and then sit on a bench enjoying our lunch near the town center.
As with many of the places we explored on this tour, Conwy was very walkable and able to be explored on foot.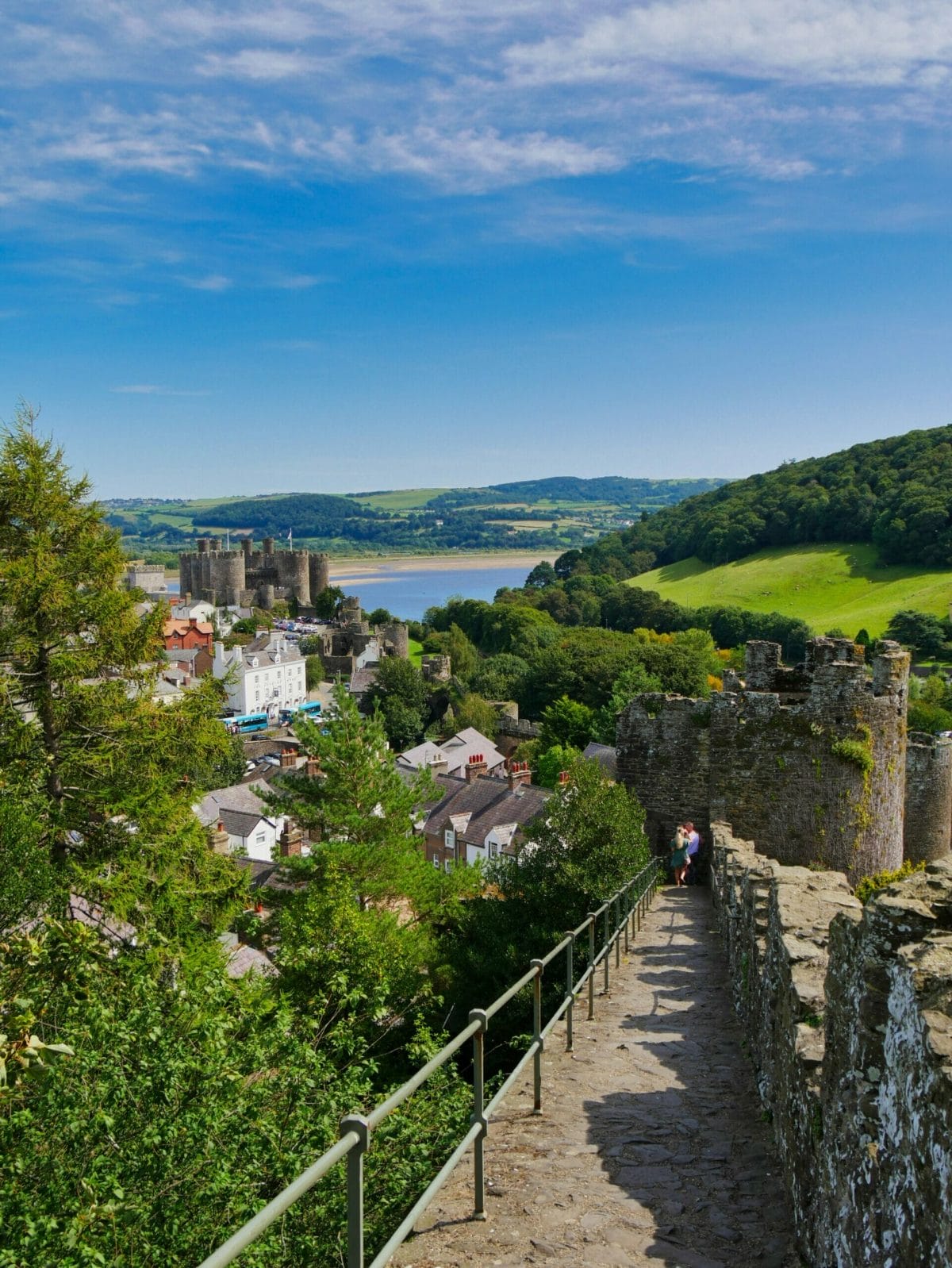 It also has some seriously stunning views, and the sun was out for us which just makes everything in the UK look ten times better.
When we had had time to grab lunch and explore a bit, it was back to the bus and onto our next stop.
Every time Charlie would drop us off somewhere, he would tell us exactly where he would be and at what time to pick us back up – he went above and beyond to make sure that he got as close as possible to dropping us off near the sights.
As we journeyed further into Wales, Charlie would tell us about the history of Wales and the stories behind some of its most famous legends.
He would also play music, where appropriate, that reflected the locals and were either by Welsh singers or had some important part in Welsh history (sometimes that history was very medieval, and sometimes it had to do with rugby!)
We were able to get out and stretch our legs for a minute at this beautiful lake, though it wasn't an official stop on the tour and just an example of how each tour and tour guide is different and unique.
Then, it was on to Llanberis to see the Llanberis Slate Museum, which is completely free.
You don't have to go in the Slate Museum – there is also a nice area to walk around outside, but we chose to go in the museum to learn more about Welsh history.
Slate mining was a huge industry for Wales for years, and the Llanberis Slate Museum is on the site of the mine that has been preserved.
As you wander around the rooms, you are taken back to a time when many families in the area would have had fathers, brothers, cousins, grandfathers, etc who worked at the slate mine.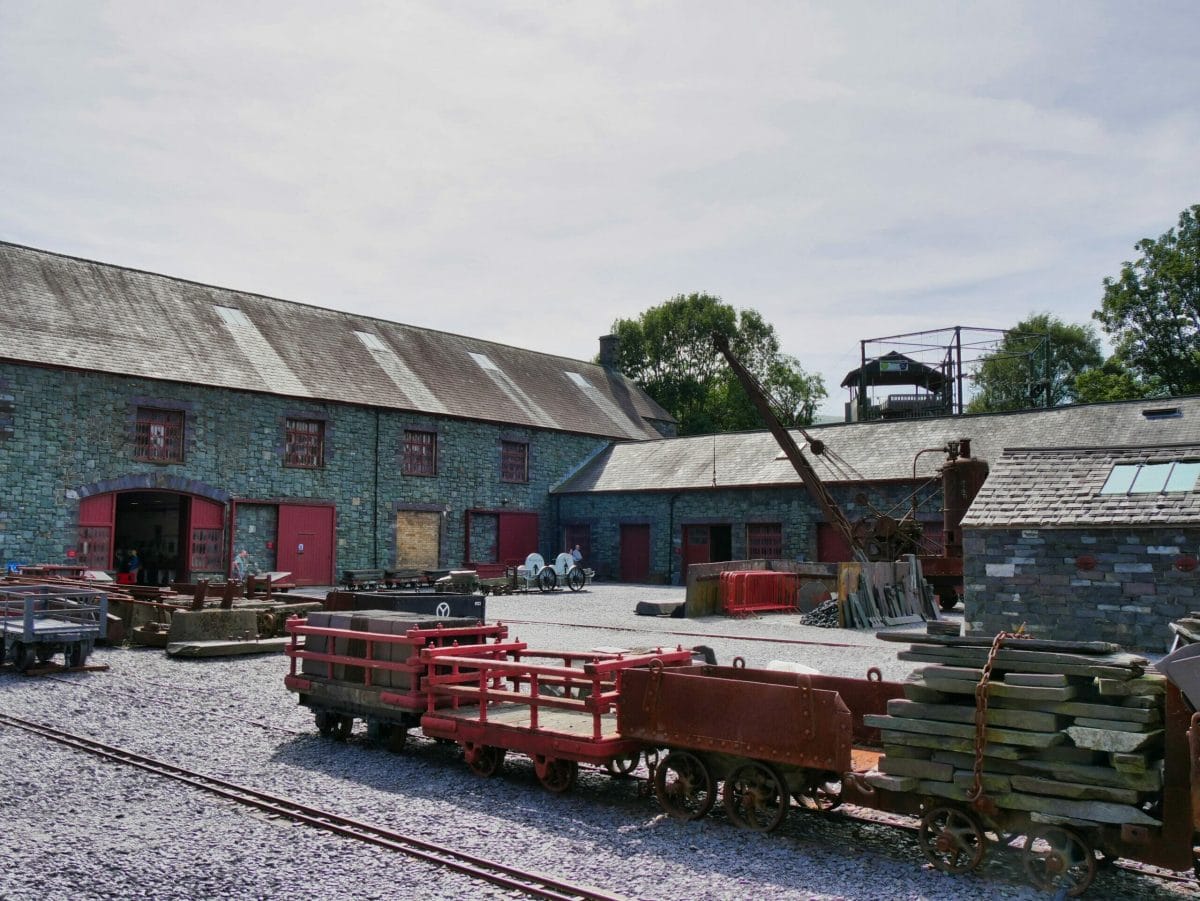 There is also a room dedicated to remembering the day the slate mine closed for good – hundreds of people suddenly without work and needing to figure out what to do, and the local area shocked by a closure of what had become such a part of the fabric of their community.
Top Tip for Rabbie's Tours: When you're exploring museums like the Slate Museum, keep track of the time you have.

Due to the jam packed schedules, you're never going to have enough time to read every plaque in every room or explore every single inch of a town, but you can get an overview and dig deeper into a few chosen areas.

We were still getting used to being on a guided tour during this bit and I know my husband could have spent more hours in the Slate Museum – we should have paced ourselves a bit better so we could see more of it.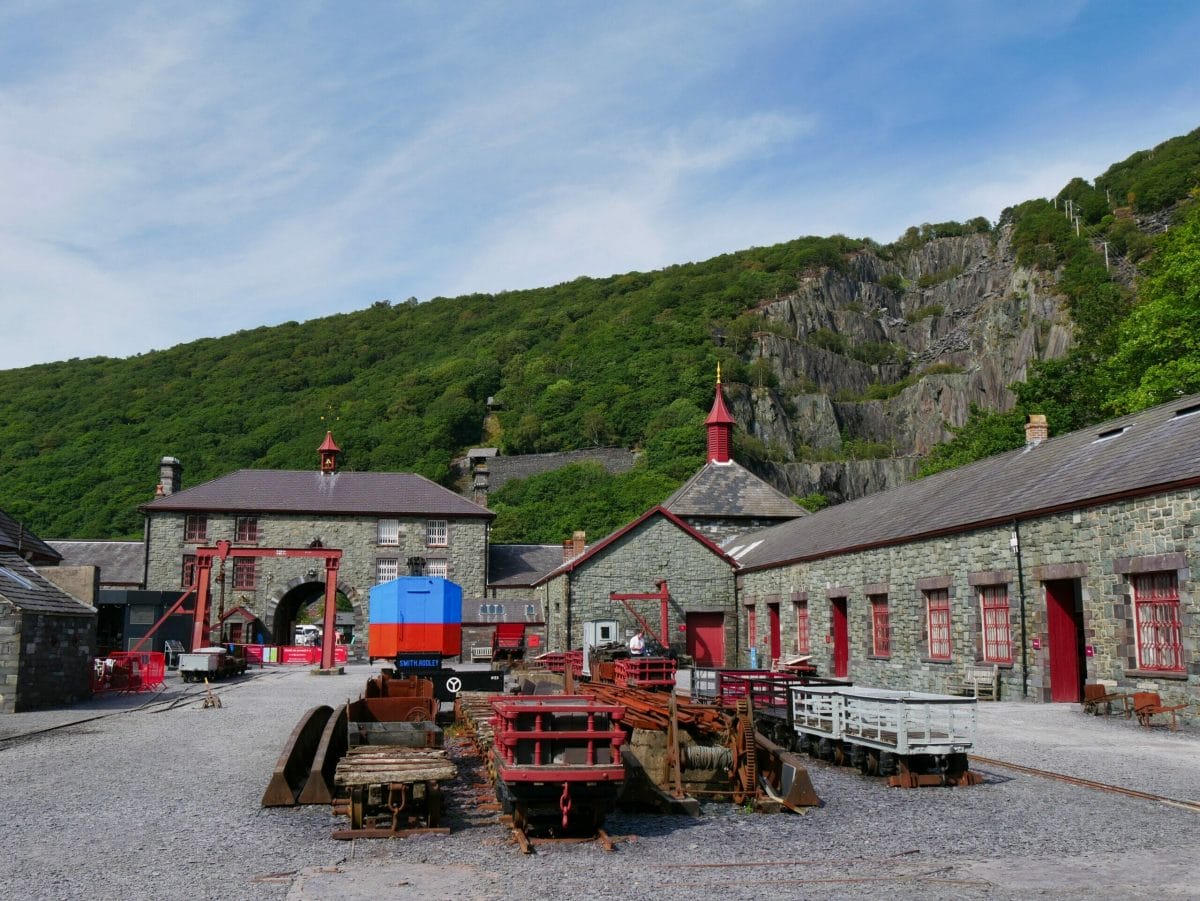 From Llanberis it was back on the bus to the third stop of the day, Beddgelert.
This part of Snowdonia is quite frankly just one of the most beautiful, and we got ice creams while walking along the river and enjoying the beautiful views from the bridge.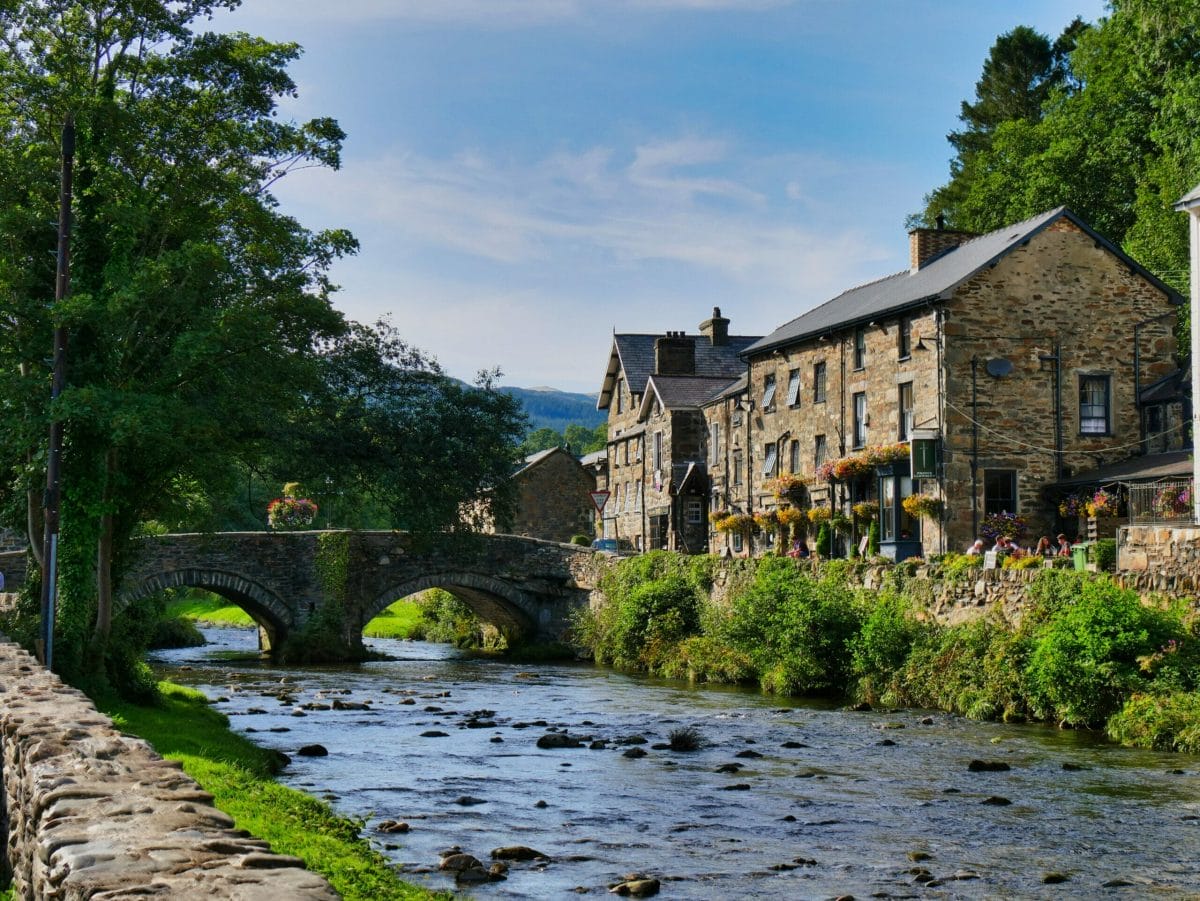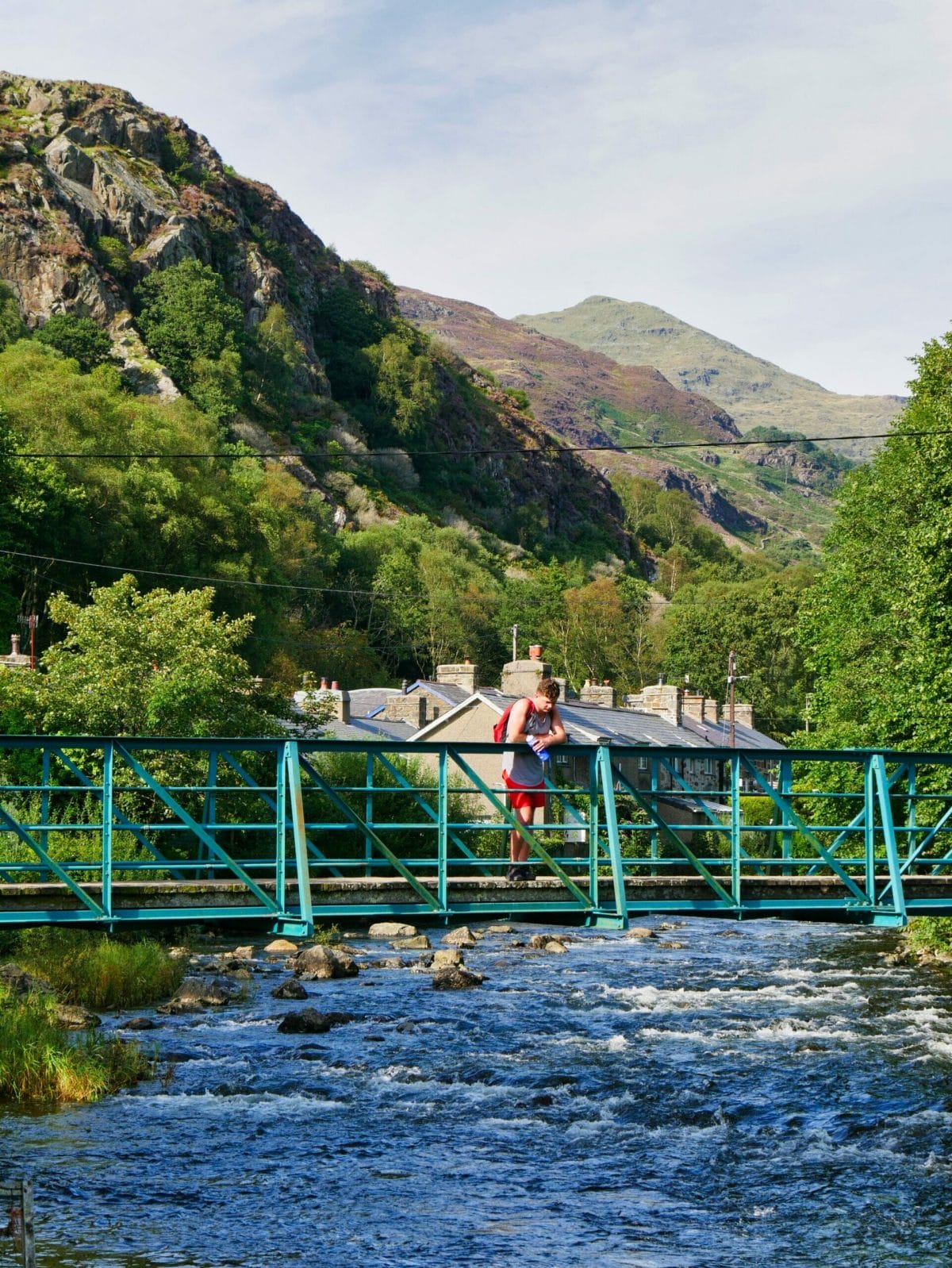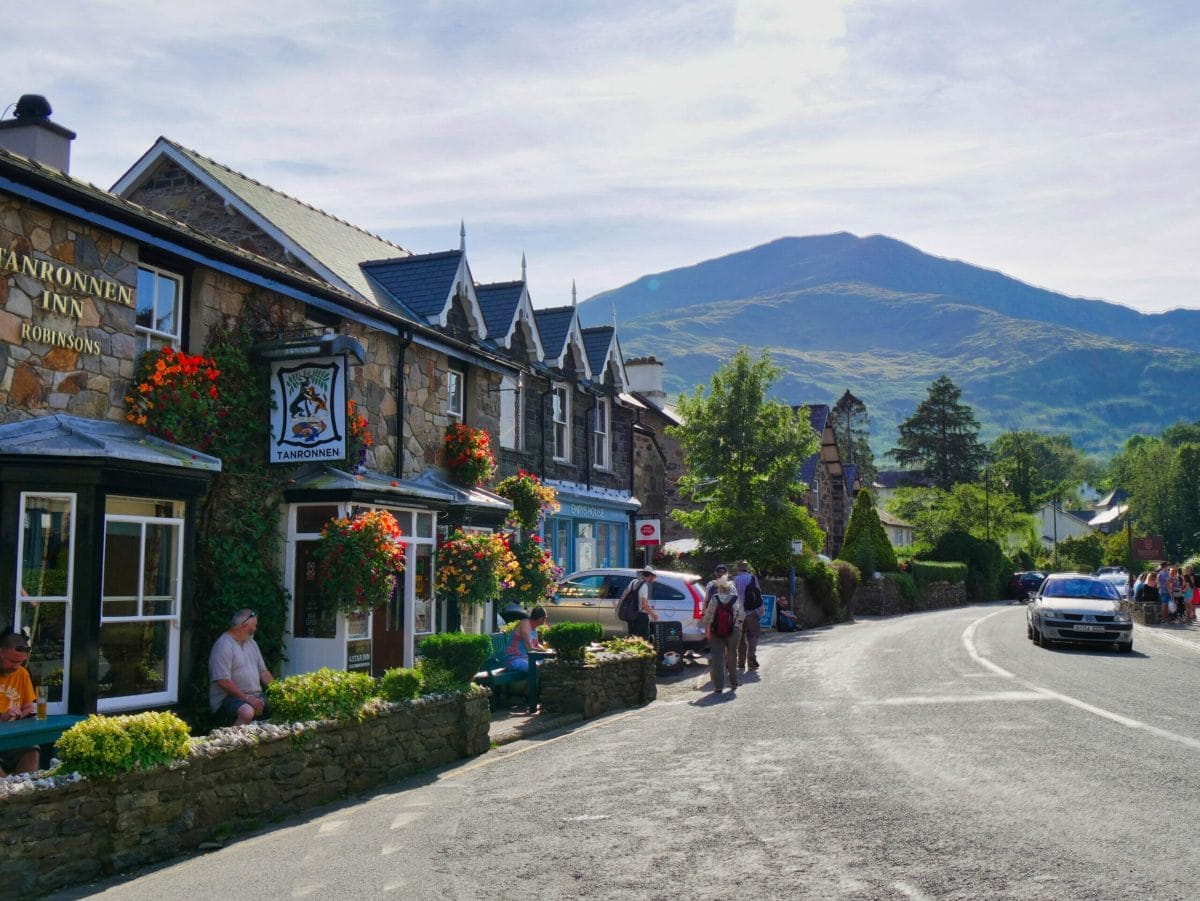 In the late afternoon, we continued our drive through Snowdonia and enjoyed gorgeous views from the bus windows.
That's another fantastic thing about the Rabbie's buses – you aren't stuck looking out of tiny windows – they are massive, so you can really appreciate what you're driving by and the entire bus was spotlessly clean and the windows were too, so you didn't have any grit or grime in between you and the awesome views.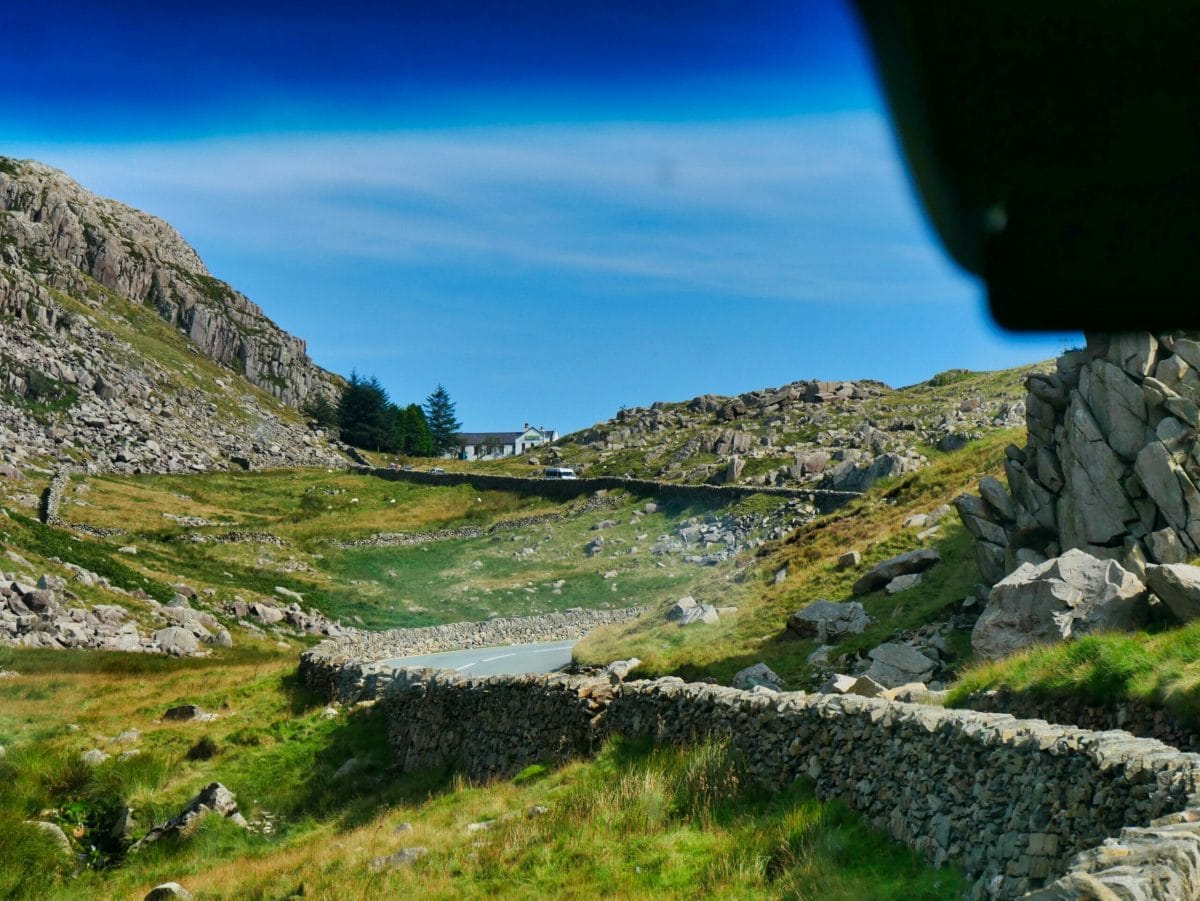 Our day ended in Aberystwyth, a seaside town that we instantly became enchanted with.
We had the B&B option and we stayed at a lovely B & B just a minute or two's walk away from the sea.
As we had a long day of exploring, we decided to grab some dinner at a local pub and enjoyed a beautiful sunset.
Then, it was back to fall asleep instantly from a busy day of sightseeing and in preparation for a full Day 2!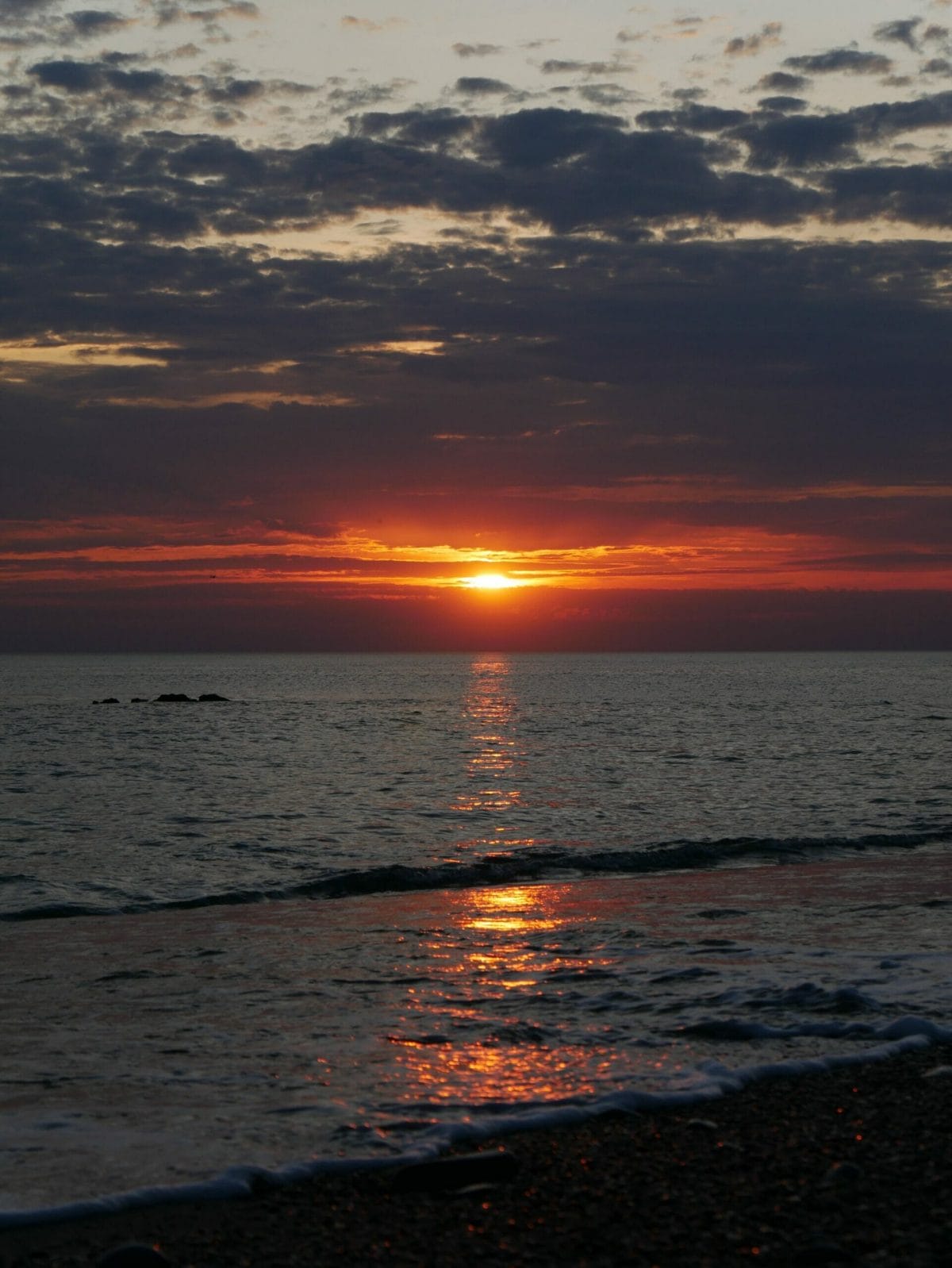 Day 2
If Rabbie's books your accommodation, your driver will drop you off and pick you up everyday, and they will if you book your own as long as it's somewhat central.
If it's not, they may give you a meeting spot that they are going to use to pick you up.
Charlie started the day by picking us up around 9am after we had enjoyed breakfast at the B & B, and then we continued our tour further south into a quaint town called New Quay.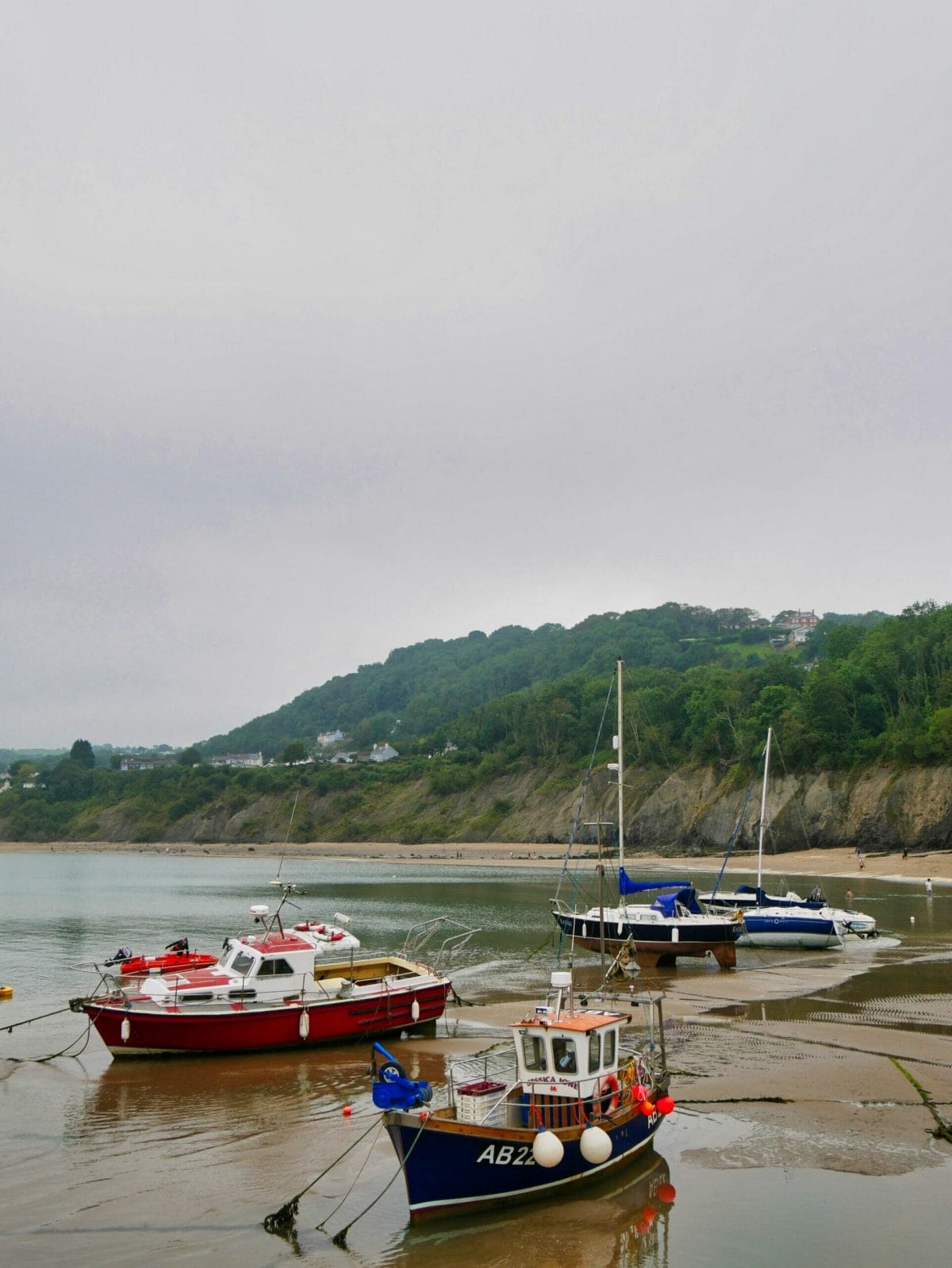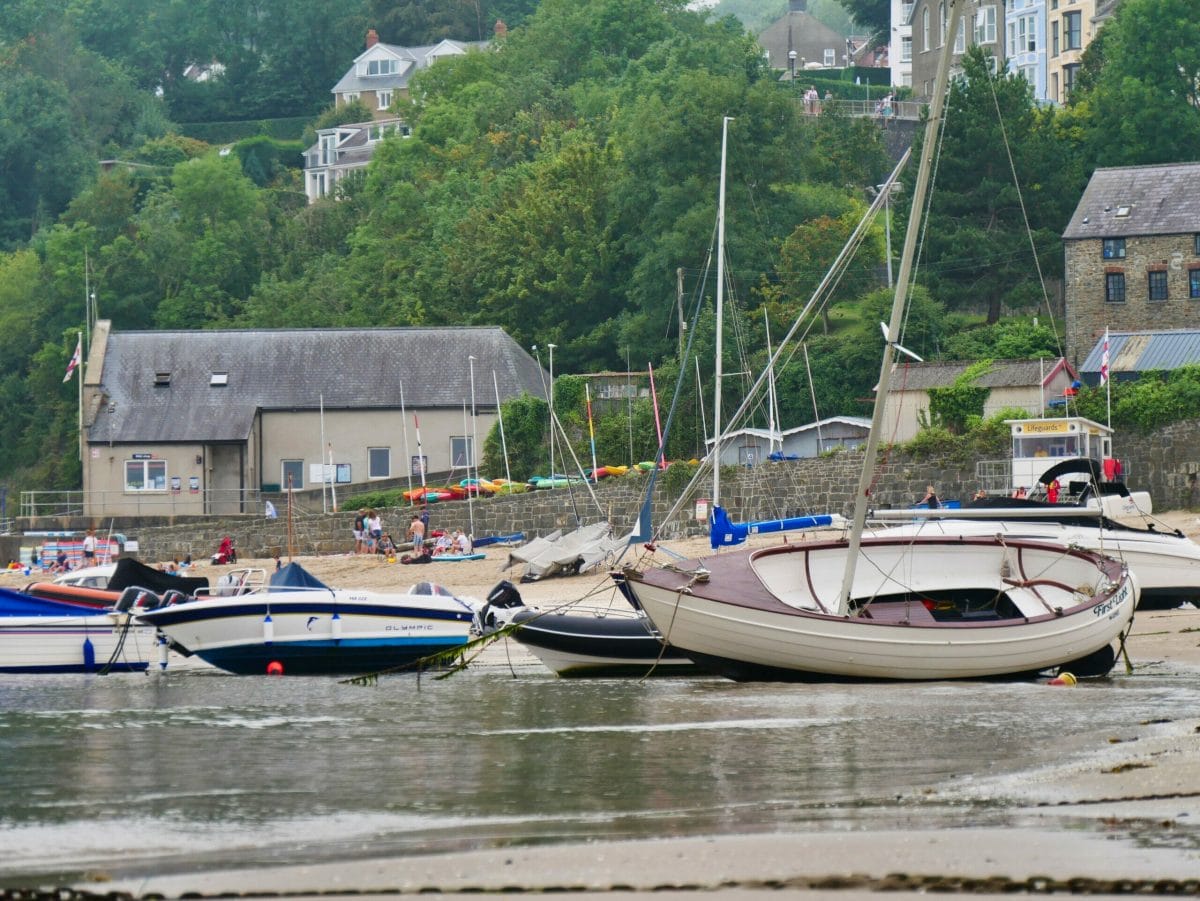 The weather was overcast here, but one of the most magical moments happened for us in New Quay – we saw dolphins off in the distance!
As we had already eaten breakfast and it wasn't quite lunch time, we used our time in New Quay to sit down by the water and people watch.
There were also some shops on the high street to explore, but overall it was very manageable and we only needed about an hour here which is what we got.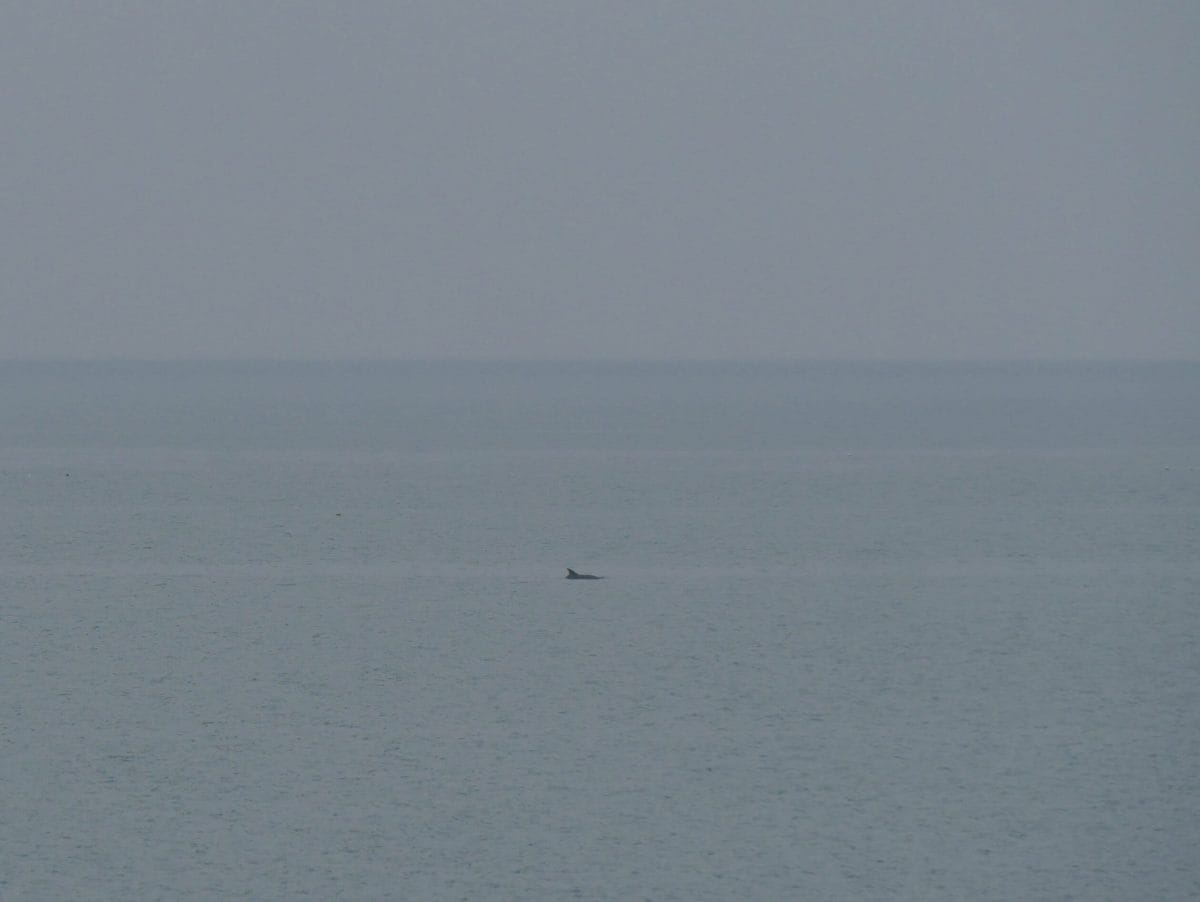 From New Quay, we drove to my favorite stop on the tour, Laugharne.
This beautiful town on an estuary has lots of links to poet Dylan Thomas, but you don't have to be familiar with the poet to appreciate how gorgeous it is.
We chose to go up in the castle, where you got stunning views of the estuary, but you can also appreciate the views from a walking path in front of the castle.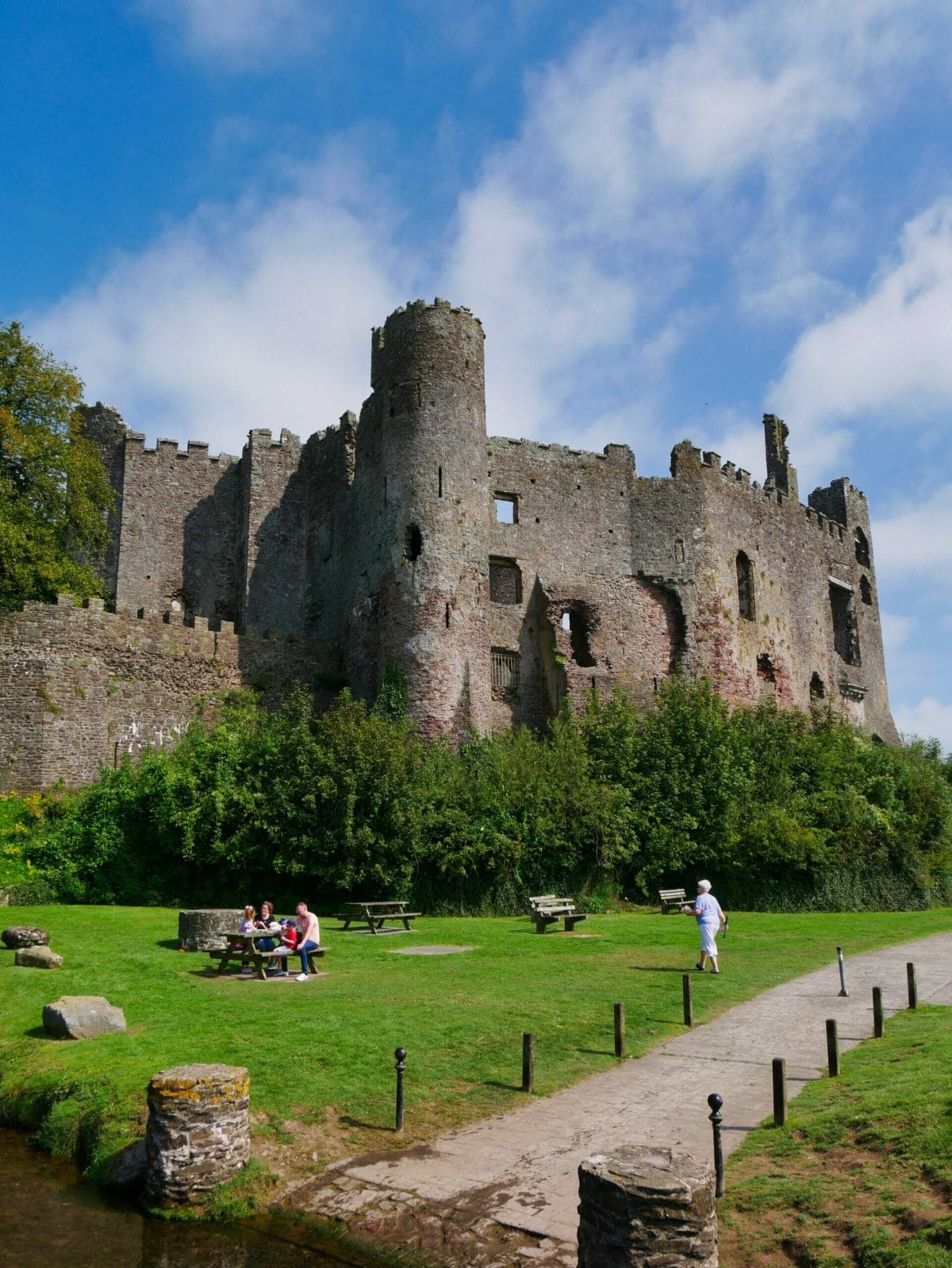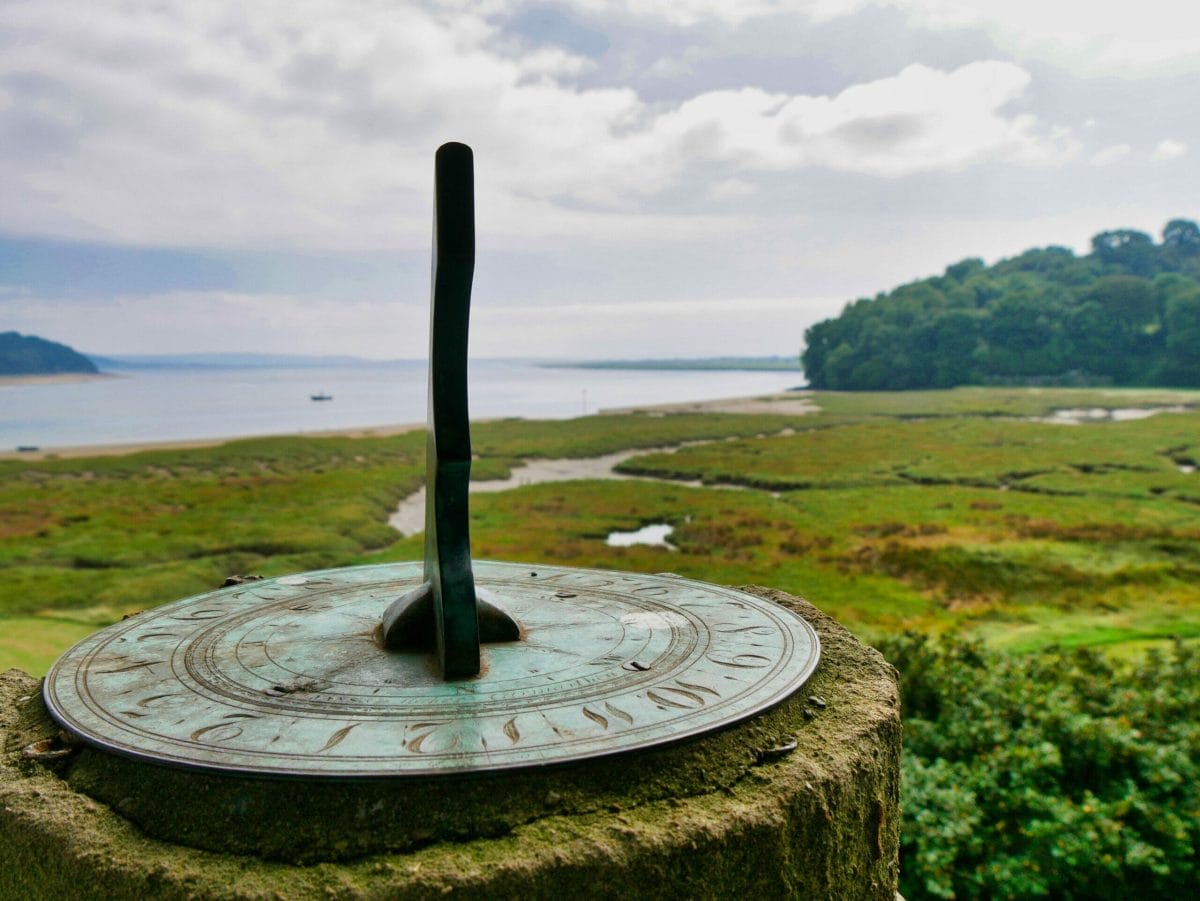 After exploring the castle, it was time to grab a quick bite to eat from a local cafe right across from the parking lot, and then back on the bus!
The third stop of the day was Newton House, a National Trust property in Wales that has a rich history for its use in World War II and also its private ownership days.
You could walk around the outside grounds for free so you didn't need to pay entrance if you didn't want to, but most people on our tour did as much of the attraction here was the house itself.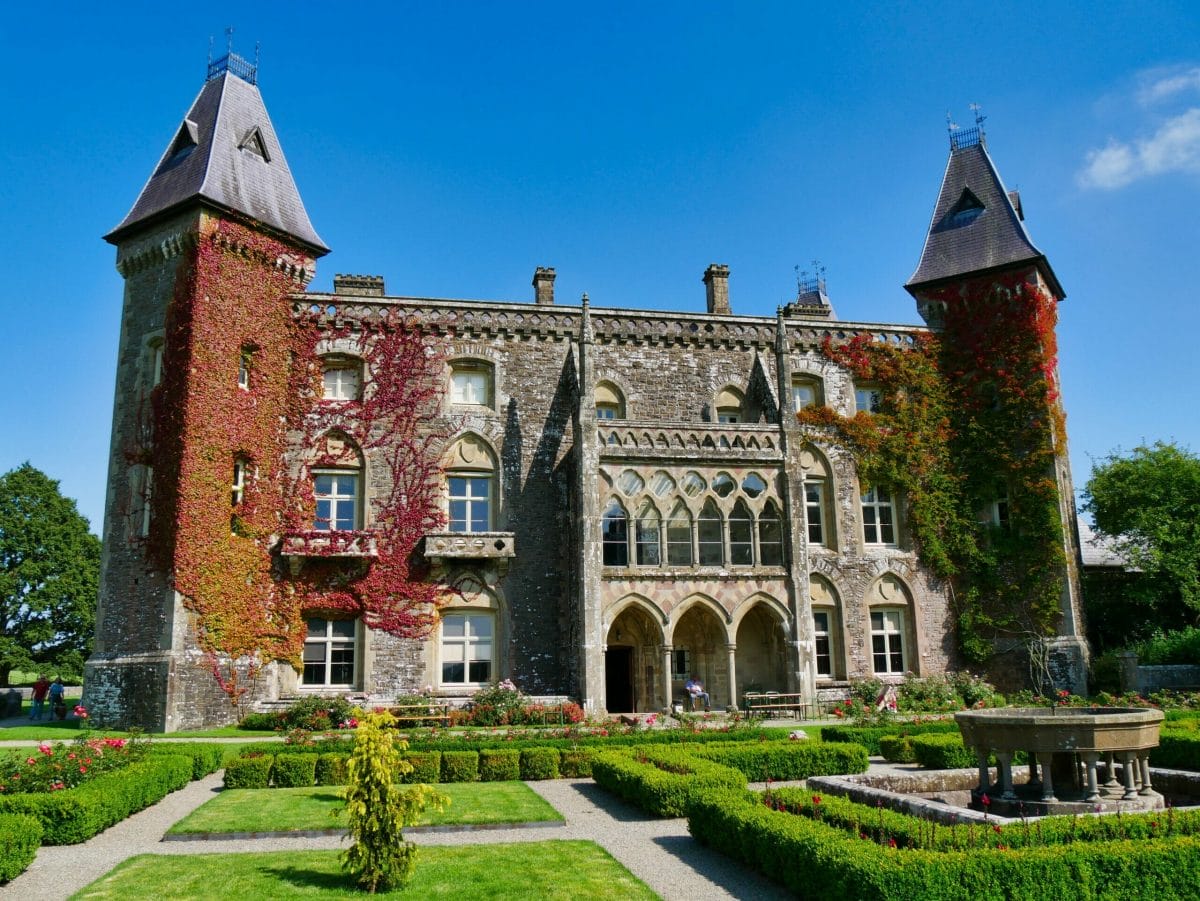 We didn't know this before we went, but Charlie was sure to tell us after that Newton House has been voted as one of the most haunted in Wales!
That night, we watched the "Most Haunted" television program that had featured it!
After exploring the house and the beautiful gardens and deer park, we made the walk up to the castle nearby that had far reaching views of the national park.
We timed this just right as we had to book it there and then book it back in order to make it back to the bus on time, but it was worth it.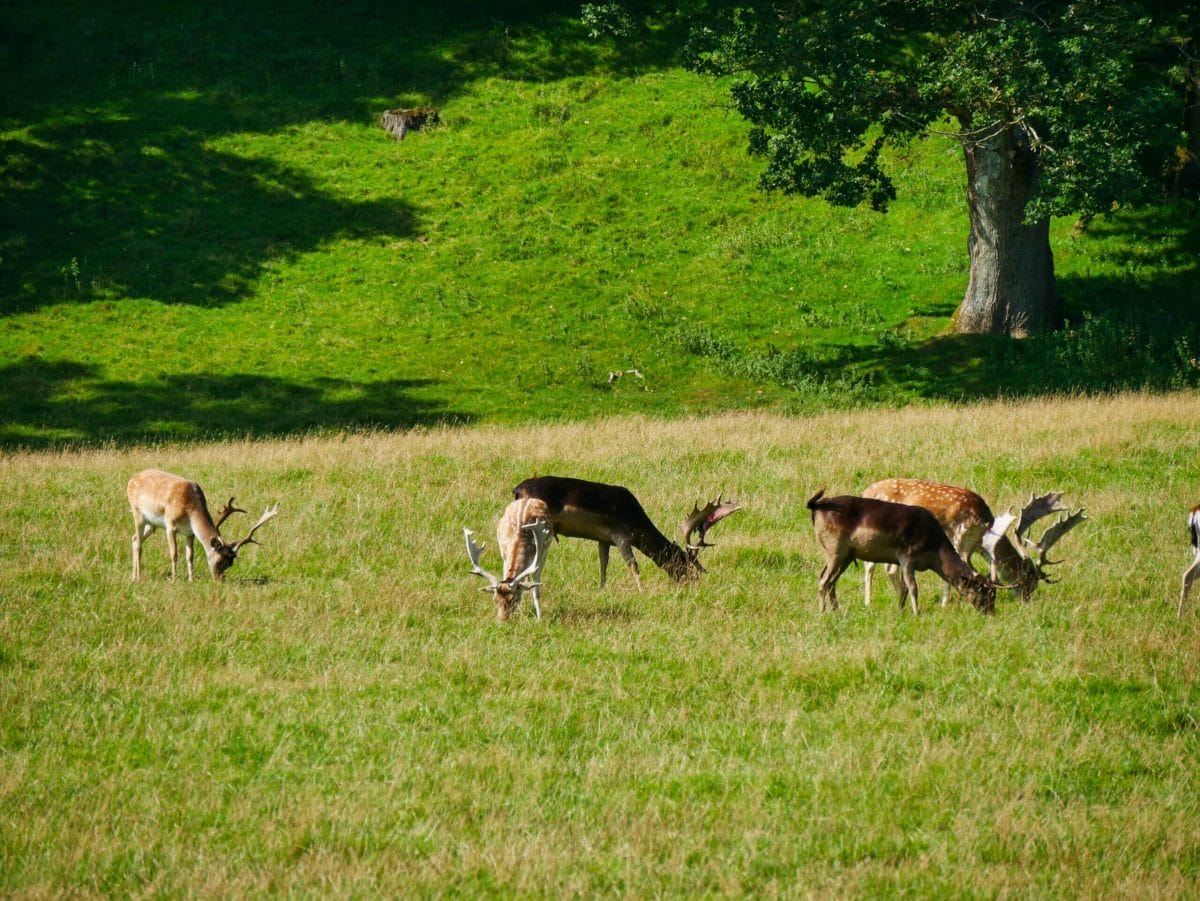 Top Tip for Rabbie's Tours: Don't spend too long deciding what to do when you get to a new stop – get out and start exploring and decide as you go. If you spend too long discussing with your traveling companions what, exactly, to do, you'll miss out on time.

We would make sure to go out and make our way to something interesting ASAP and then, as we did that first activity, talked about what we might do next.
Once we had finished with Newton House, it was on the bus again back to Aberwystwyth for the night.
We had a bit more energy today, so we finished up with another stroll along the seaside, an exploration through a park made from castle ruins, and finished off with some pizza and milkshakes at a restaurant near the boardwalk.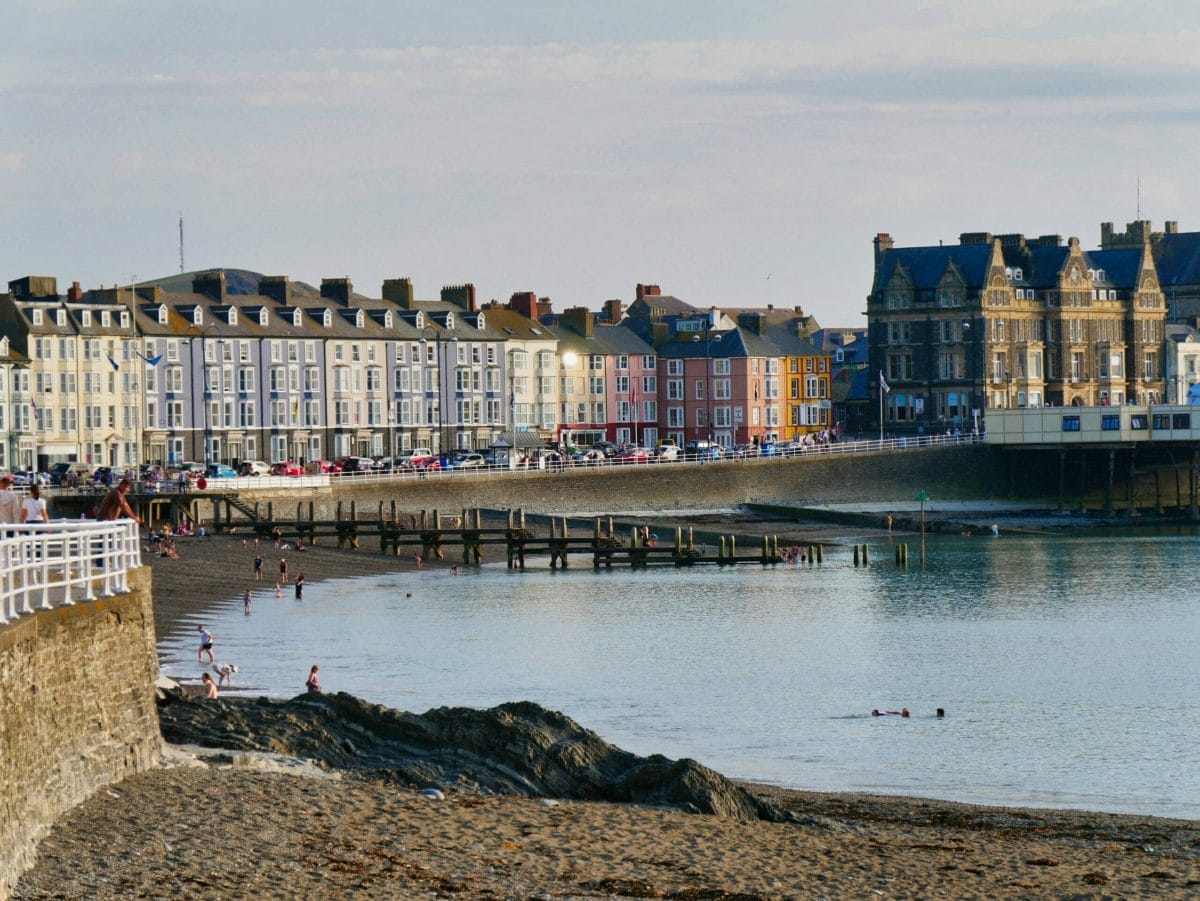 Day 3
Day 3 was the highlight for Guy, who loves any and all castles, as we started off after breakfast and a drive at Harlech Castle, one of the most famous castles in Wales.
Again, you didn't have to pay for entrance and could have walked around the high street, but we wanted to see the castle and the views Charlie told us about.
And we weren't disappointed.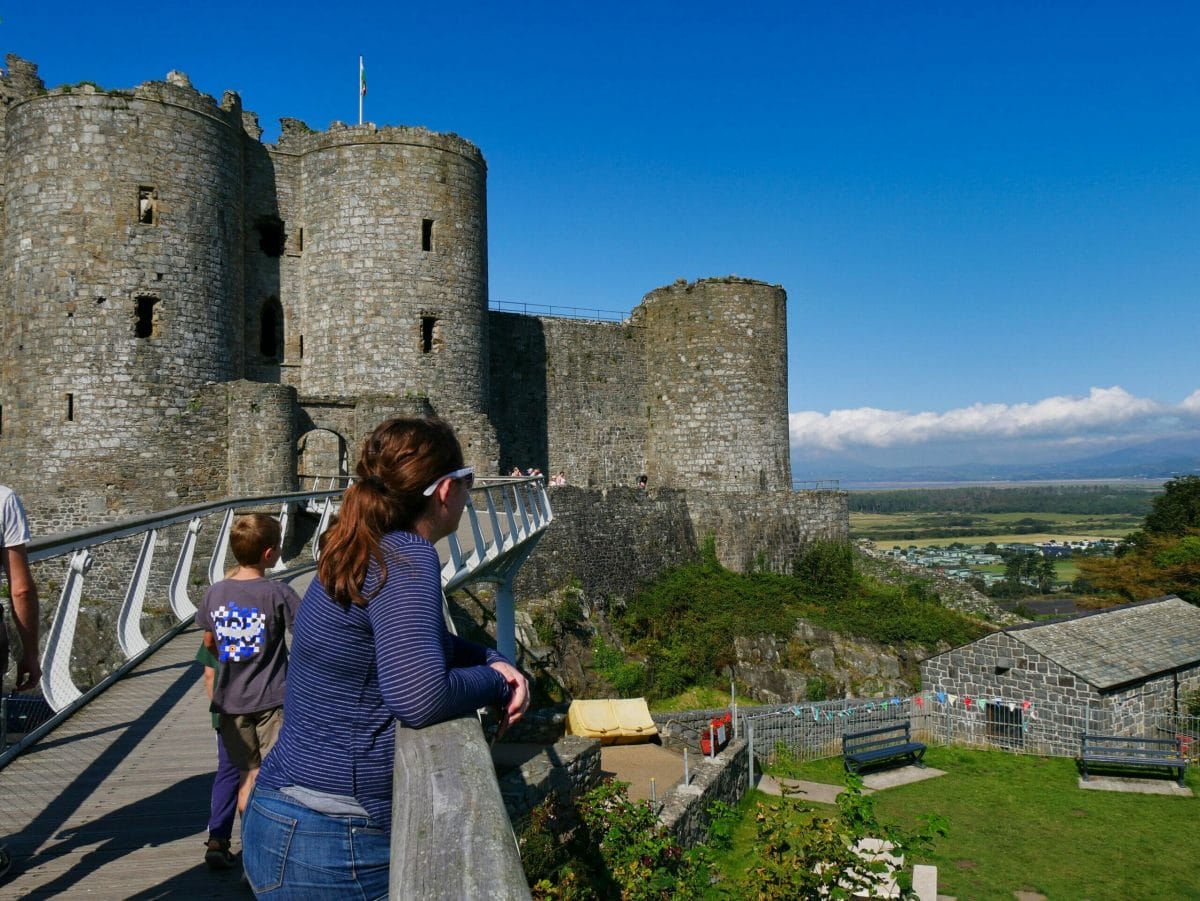 Harlech was picturesque – gorgeous views from the castle out to the sea and the mountains in the distance.
It was everything you would have wanted out of an authentic Welsh castle, and we took some time to explore the ruins and read more information about its history.
The great thing about Harlech Castle was actually that it was a manageable size and there wasn't too much to read.
Enough so that you got a feel for the place, but not so much that you left feeling like you didn't get to see it.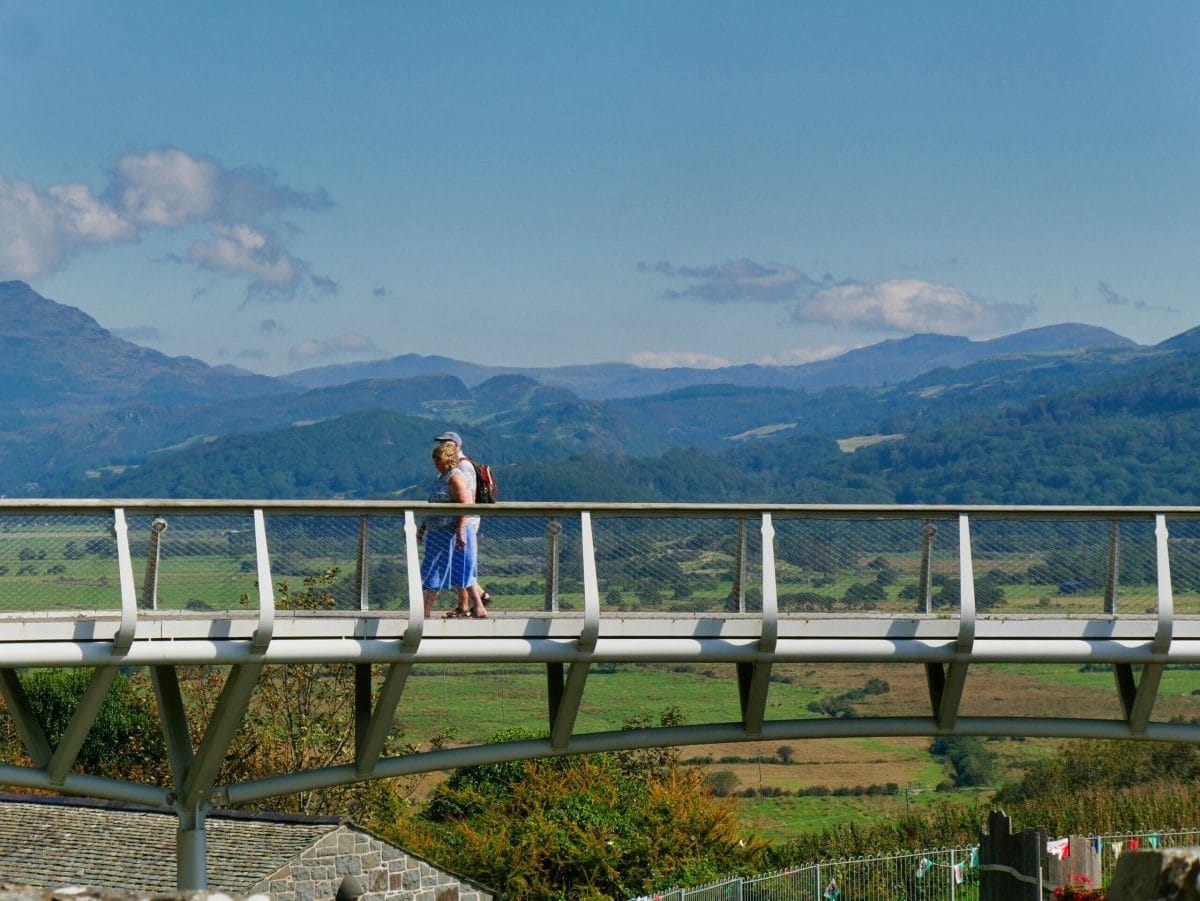 From Harlech, we had a journey ahead of us as we needed to get to Chester for our final stop of the tour, but we needed somewhere to eat along the way, and it was also a very busy day of traffic due to everyone returning back from their holiday weekend.
Charlie made sure to choose somewhere that was going to have places open to eat on the Bank Holiday Monday and would help us get in the best position for making it back to Manchester on time, so we ended up in a town called Bala which is famous for Bala Lake.
We had about an hour to eat lunch here, and didn't venture out to see the lake, but instead enjoyed some sandwiches and cake at one of the cafes.
We appreciated Charlie doing research on the route to account for changes and things that might be closed.
There were plenty of places open, but not too many people that we couldn't get in somewhere quickly.
Then, it was back on the bus to make our way from Wales to England!
Top Tip for Taking a Rabbie's Tour: Your largest suitcase will go in the back of the van, but you can keep a backpack or purse in the van with you. Make sure to pack anything you'll need to access during the day, like water bottles, charges, cameras and any medication in the front with you.

If you do need access to something in the back, make sure to leave extra time when you get back to a stop to speak to your guide, as otherwise you'll hold the tour up with them rooting around in the back for your stuff.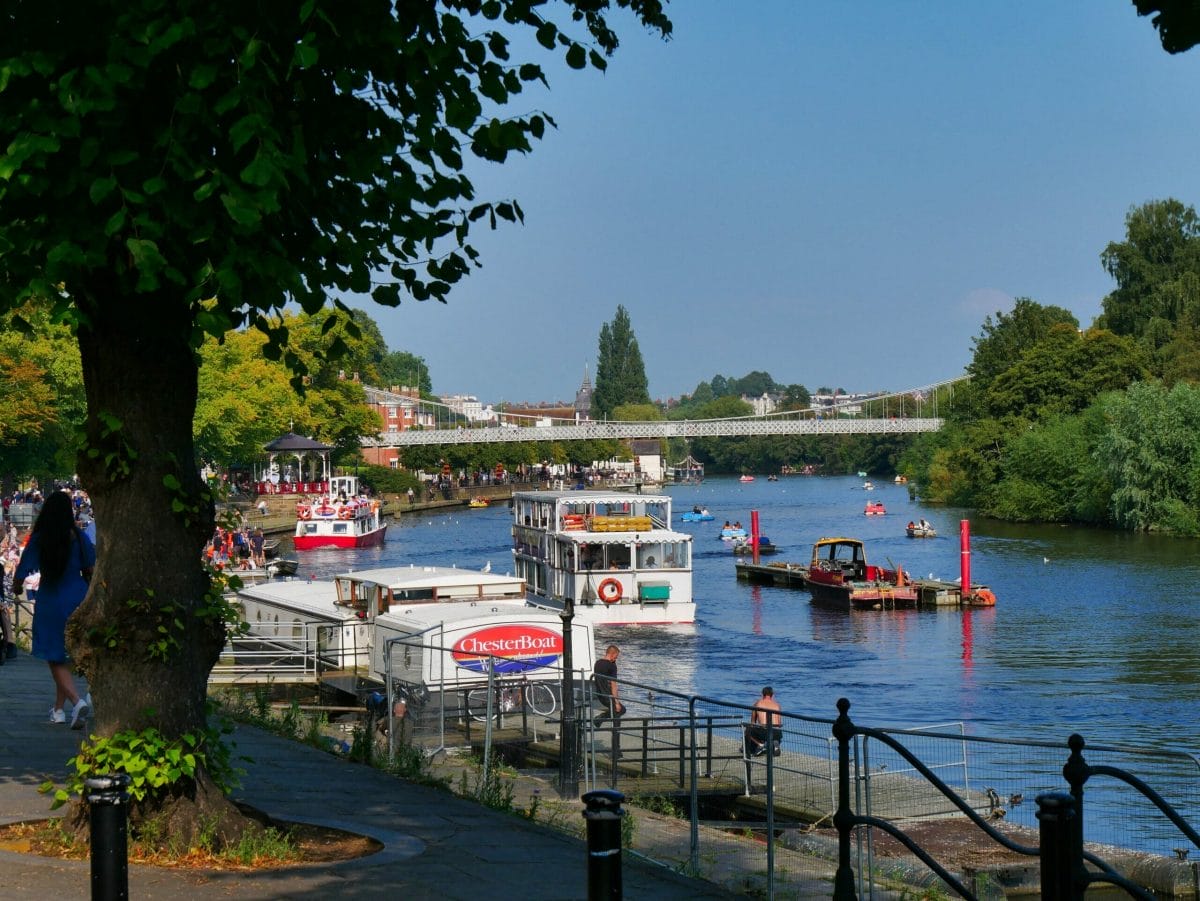 The final, final stop of the 3-Day tour was in Chester.
This picturesque city in England is much bigger than any of the other places we stopped, and of course, as it the nature of Rabbie's tours, we weren't meant to explore every nook and cranny but to see the highlights and get a feel for it.
For us, this meant having a walk around the city walls and through the high street.
You can also head to Chester Cathedral, grab a bite to eat along the river, or do some shopping.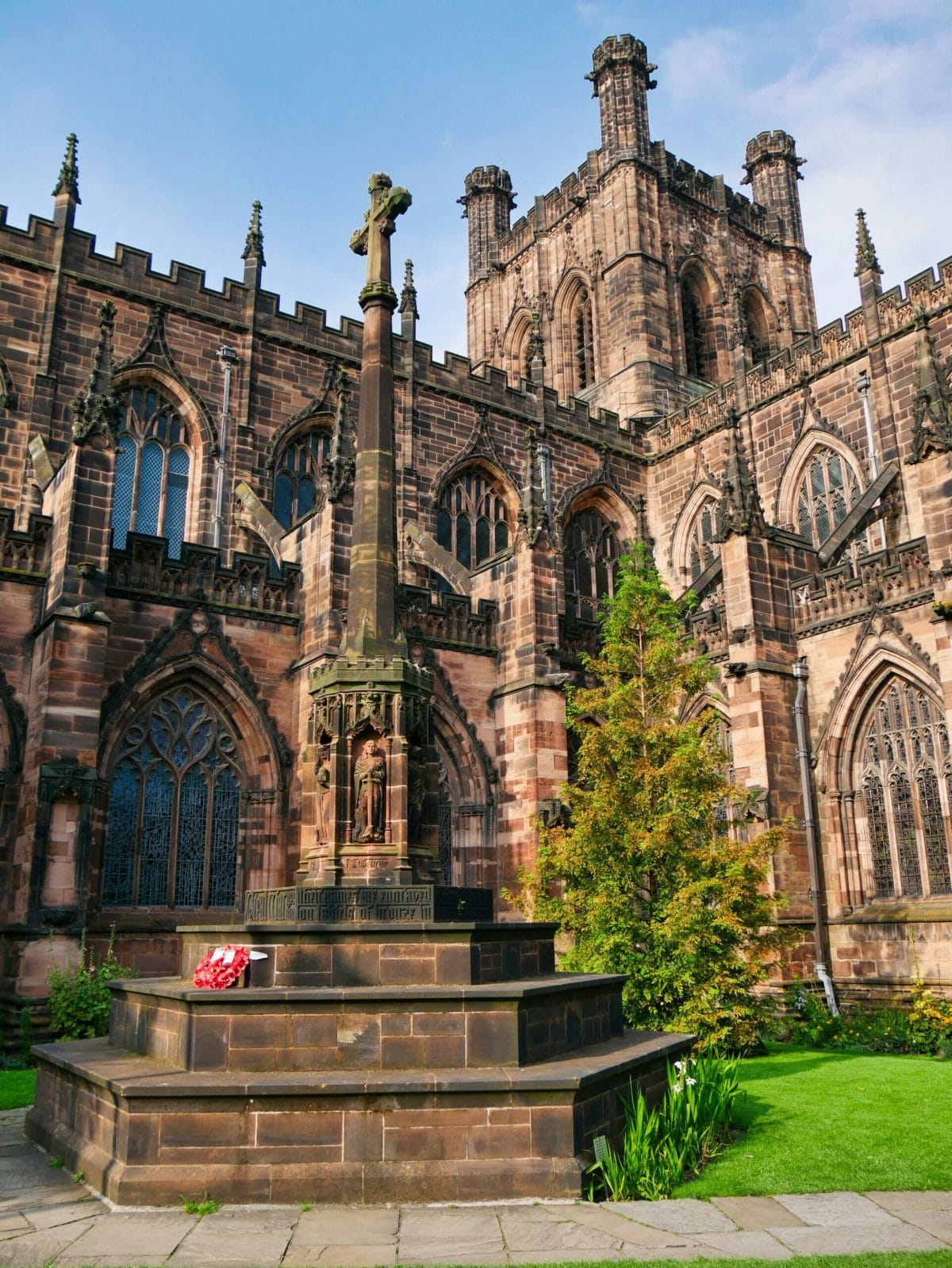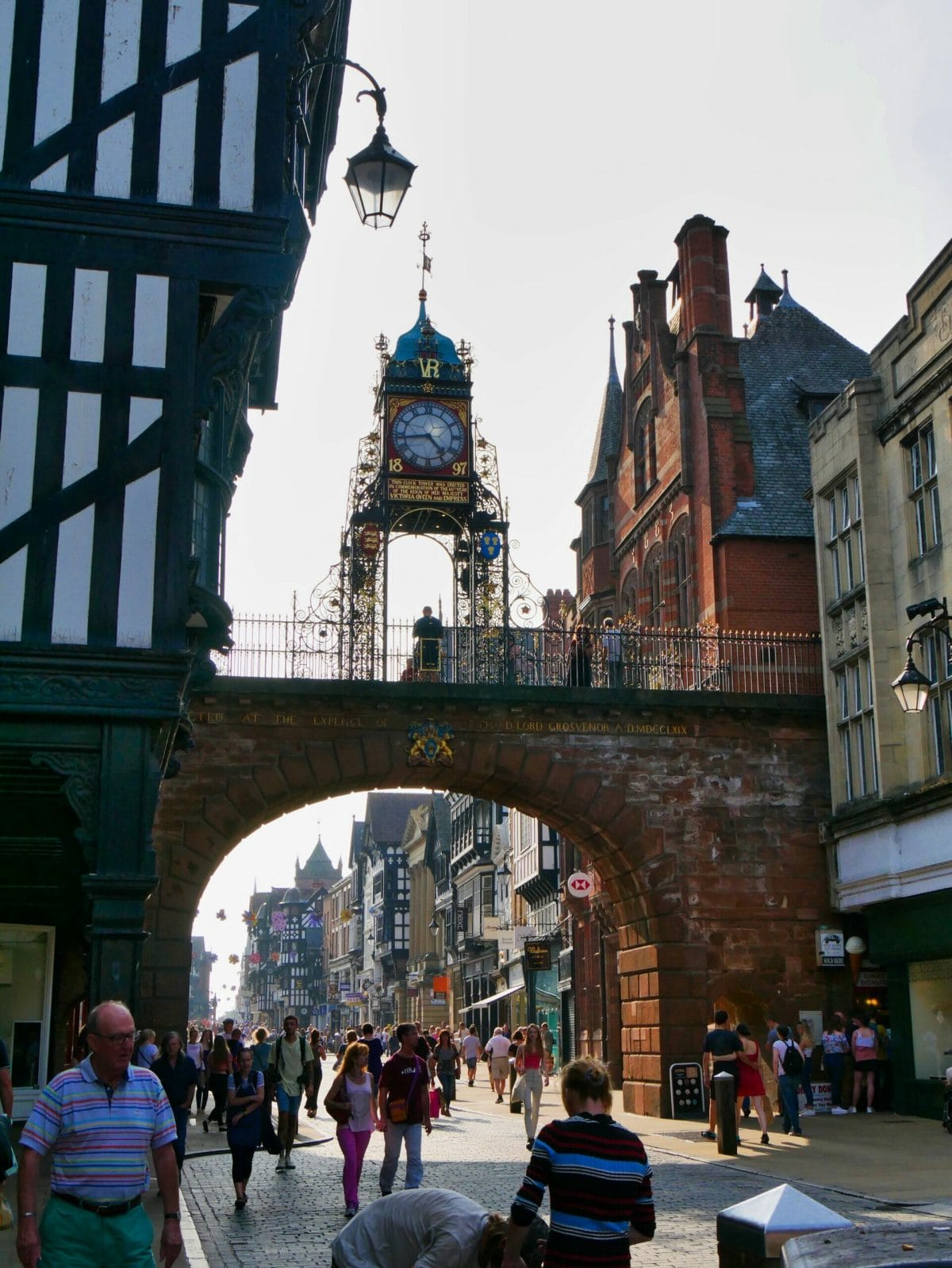 After the beautiful Welsh views, coming back to England was surprisingly disappointing.
Chester was nice, but nowhere near as nice as sitting in New Quay watching the dolphins play!
Chester is a great "in between" stop to give you a break, however, in between leaving Wales and getting back to Manchester.
After some time wandering around Chester, we ended the tour by having our final drive back to Manchester, where Charlie dropped us off in the same place that we got on.
The 3 days flew by fast, and we saw so much that at the end of it our heads were spinning and we were trying to recount all of the places we had been.
We had some quick goodbyes to our tour mates and then headed into the station to catch our train, which I had booked about two hours after the scheduled ending time of the tour to give us time in case we hit traffic (which we did) and to give us time to catch our breath and not run to the train.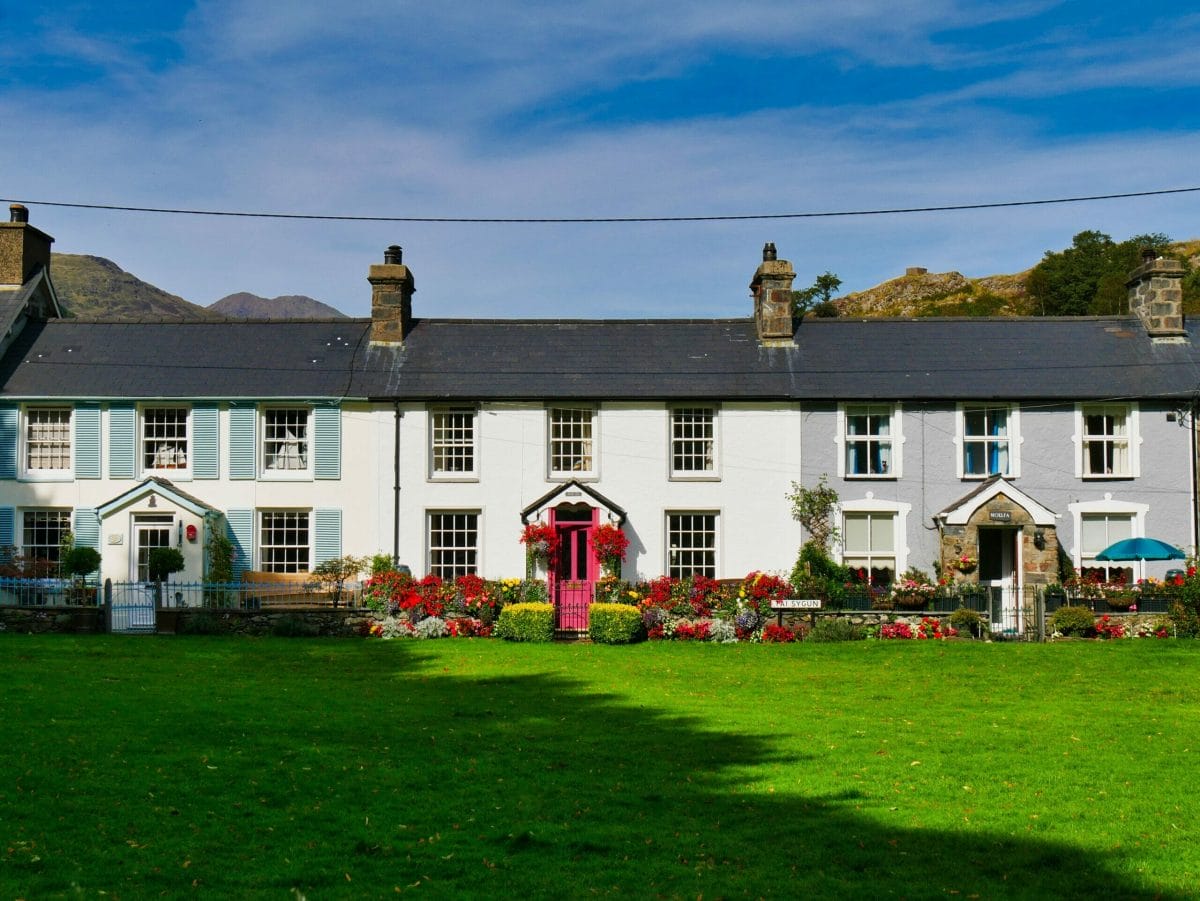 Overall Rabbie's Tour Review: 3 Day North Wales, Snowdonia and Chester Tour
Would I recommend a tour with Rabbie's?
Now that I've traveled with them, absolutely.
Their guides are top notch, their vans are incredibly clean and comfy, and if you want to see as much as possible of a wide area in a short period of time, taking a guided tour with them is your best bet.
If, say, you were only interested in going to Chester and exploring it in depth or you wanted to spend the weekend in Aberwystwyth, a Rabbie's tour isn't for you as you are hopping from place to place so much that the purpose isn't to settle yourself in one particular town and find out everything about it.
Specifically, if you want to see North and coastal Wales, I think this is an absolutely fantastic way to do it.
If you are a visitor and don't have your own car in the UK (or live far away in the UK and don't want to take it), it's a great way to not have to worry about public transportation (which, while existent in North Wales, is certainly not going to give you the freedom of using public transportation somewhere like London).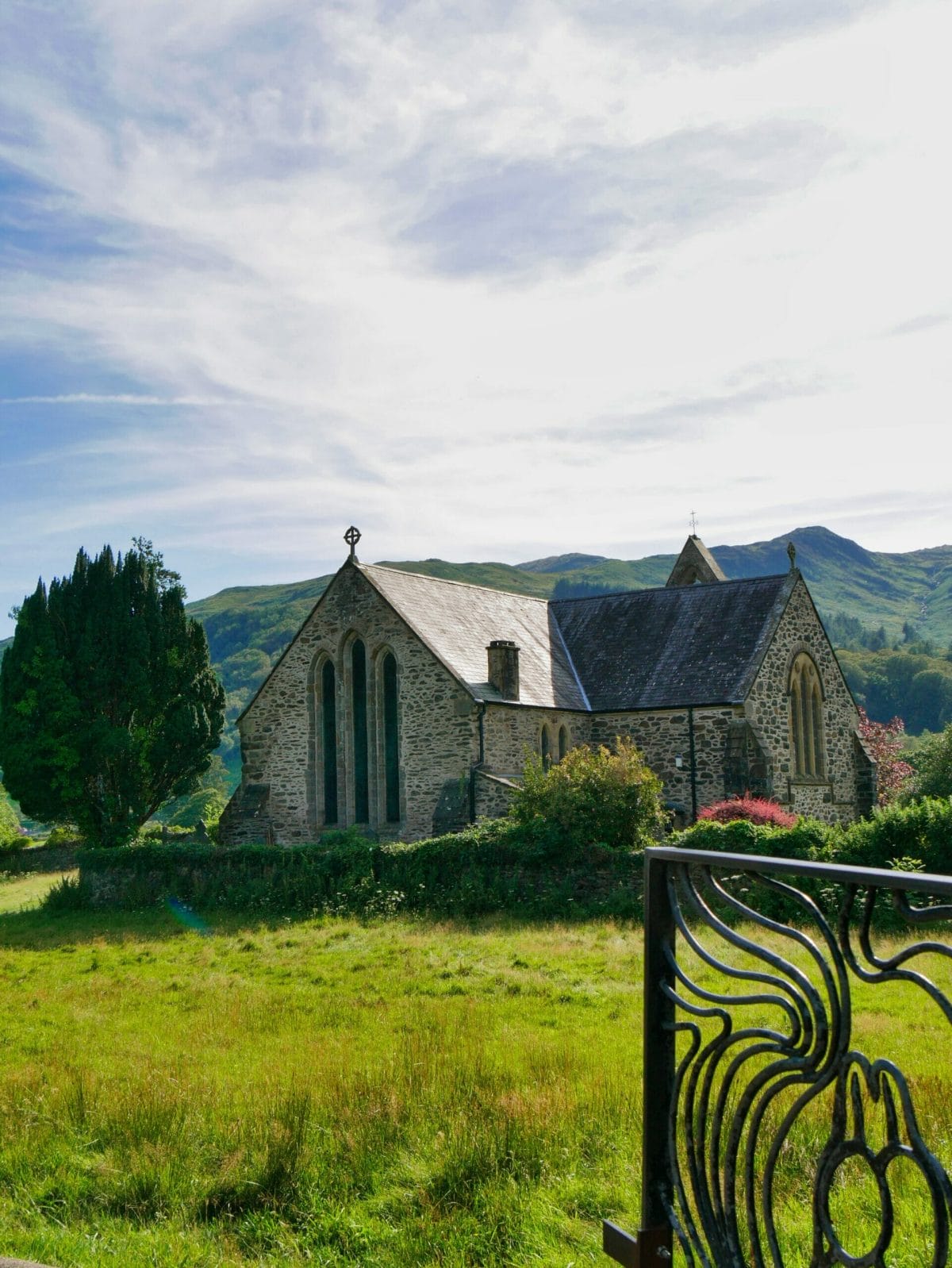 Furthermore, many of the towns we saw didn't need a whole day in them – we could see the main sights and get a feel for the place and then feel confident we had seen enough to move on.
Rabbie's dedication to supporting local communities and taking you off the beaten path was truly a great way to feel like you were getting an authentic tour with real insight, and due to their connections with the accommodation, restaurants and attractions in local areas, we were always greeted with a warm welcome.