This post contains affiliate links for which I may make a small commission to help keep the site running. You will not be charged extra for these items had you not clicked the links. Thank you for your help to keep the site running!
Nestled on the coast of North Wales is a remarkable town called Conwy.

Here, as you wander the cobblestone streets and walk the medieval walls, life seems more peaceful, more settled.

If you're hoping to find things to do in Conwy, relaxing or otherwise, this guide to Conwy will give you plenty of food for thought on what to do in Conwy, Wales, the best places to stay in Conwy, and where to eat in Conwy.

I'll also talk more about the history of this gorgeous part of the world and how to get here.

Also, scroll down to the bottom to see why I recommend staying at the Conwy Castle Hotel during your stay (click here to check it out).
Hey! Sidenote! Planning on visiting the UK or moving to the UK?

For more advice, photos and friendly help, click here to join my UK Travel Facebook group to carry on the conversation with fellow travelers and UK experts.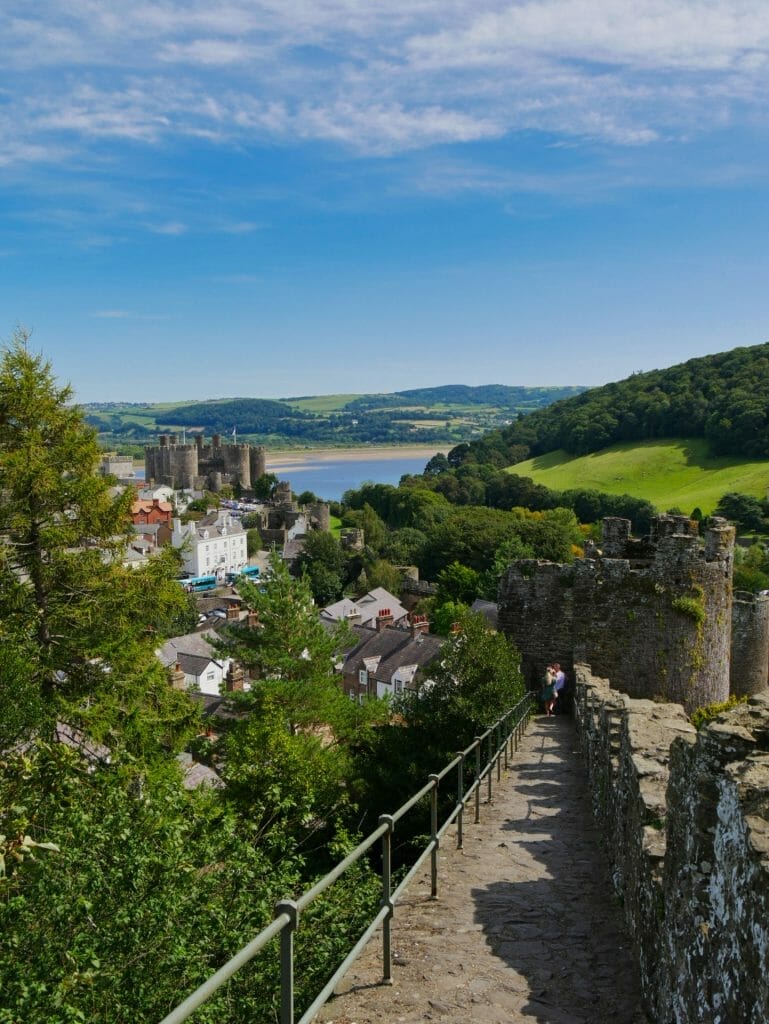 Fantastic Things to Do in Conwy
Like much of Wales, part of the beauty of finding things to do in Conwy is that you could simply visit with no plans and have a stroll around town, admiring the views, and feel as though you've had a successful day out.

In Conwy, you don't need to necessarily have an itinerary planned to make the most of this area, as even a stroll around will put you right in the heart of its charming atmosphere.

We visited on a 3 day Wales trip with Rabbie's, so didn't come in with our own schedule.

But, as many trip planners request, here's a list of the best things to do in Conwy if you want to start mapping out your trip.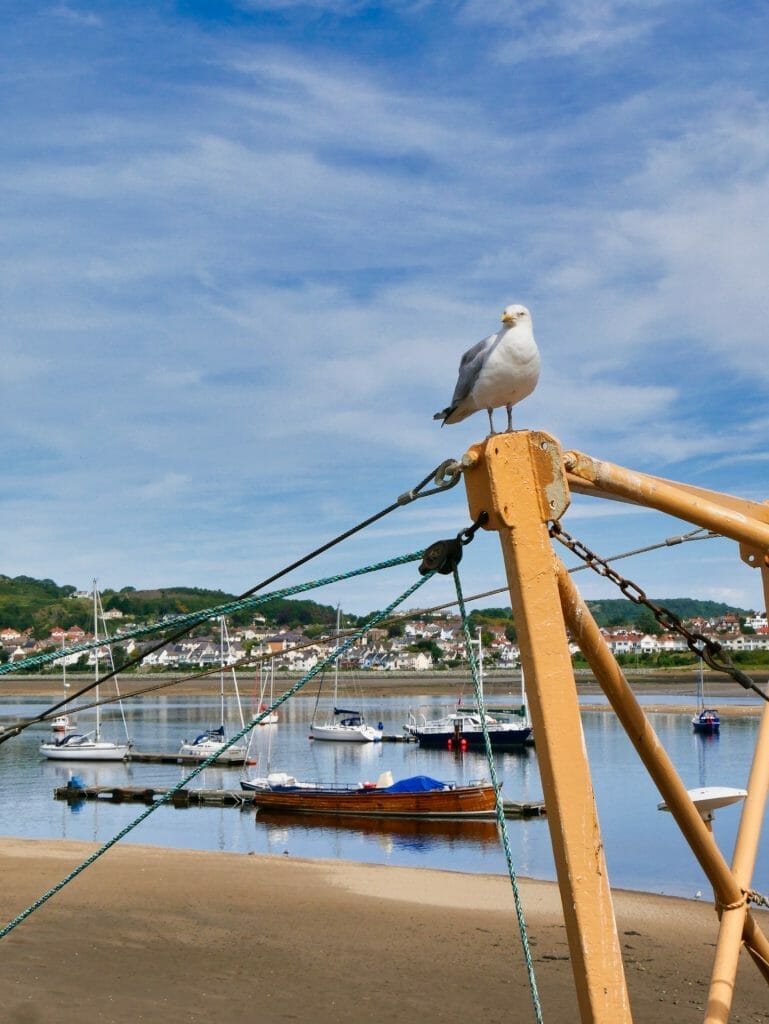 1. Conwy Castle
One look at Conwy and you'll have seen the most important attraction of all – Conwy Castle, a towering fortress that provides views of the water and the Snowdonia range all at once.

Built in the 1200s, Conwy Castle was built by Edward I and played a part in multiple wars.

It was destroyed for future residents in the 1600s, but since then it has remained as a a symbol of medieval architecture and has been visited by artists and visitors ever since.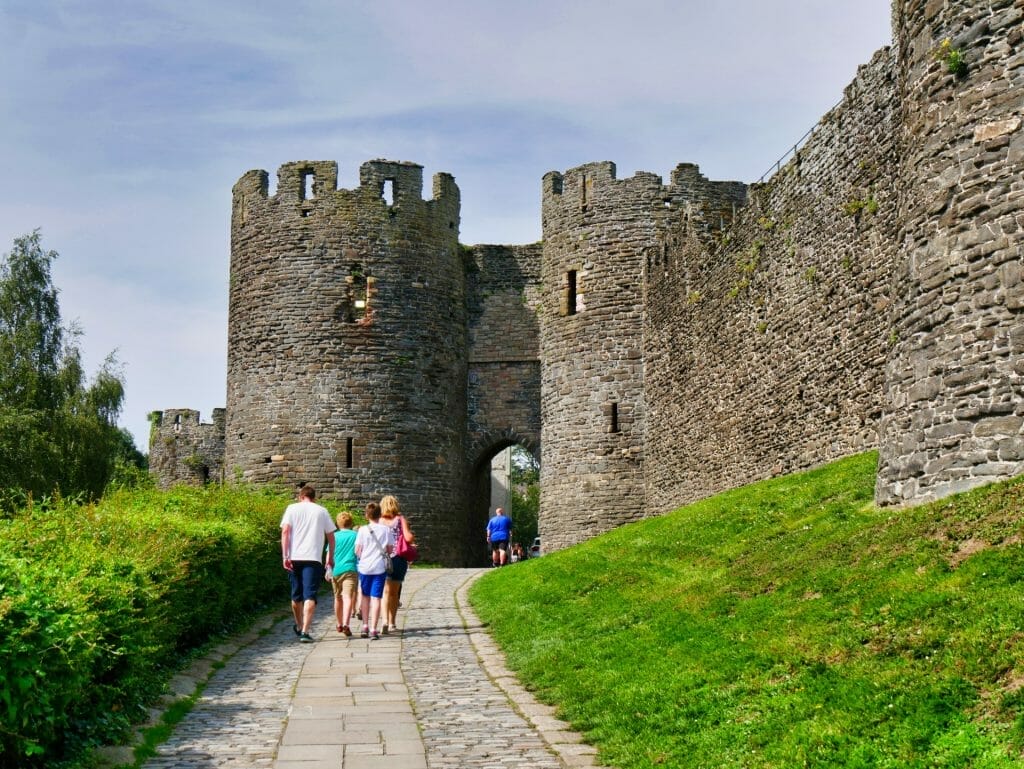 You can purchase tickets to go into Conwy Castle, which I would highly recommend for the history buffs in your group, or you can walk around the outside grounds and appreciate it from below.

Oh, and not only is this a World Heritage Site, but it's got one of the most well-preserved set of medieval royal apartments in Wales.
Time for you to see if you'll fit into medieval royal life!

You can learn more about Conwy Castle here.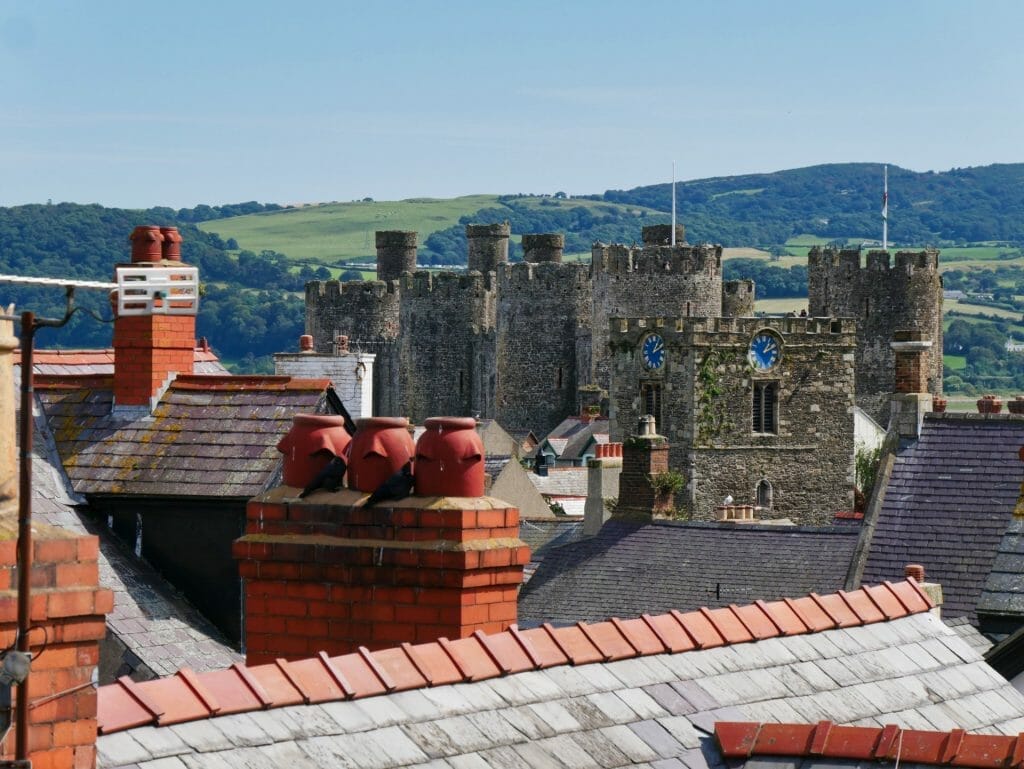 2. Smallest House in Great Britain
Confirmed by the Guinness Book of World Records to be the smallest house in Great Britain, this red house down by Conwy Quay only has enough room for a couple of visitors at a time to peek in – imagine living there!

The house was inhabited until about 1990 when it was declared unsafe for human living, but it is still owned by the descendants of the last person to live there, fisherman Robert Jones.

The entire house is about 5 by 10 feet, which would make for an incredibly cramped life, to say the least.

The house tends to be open for visitors in the spring and summer seasons, and when it is open, there is a woman in traditional Welsh dress standing outside to tell you about the history of the place.

Worth a tick off your bucketlist!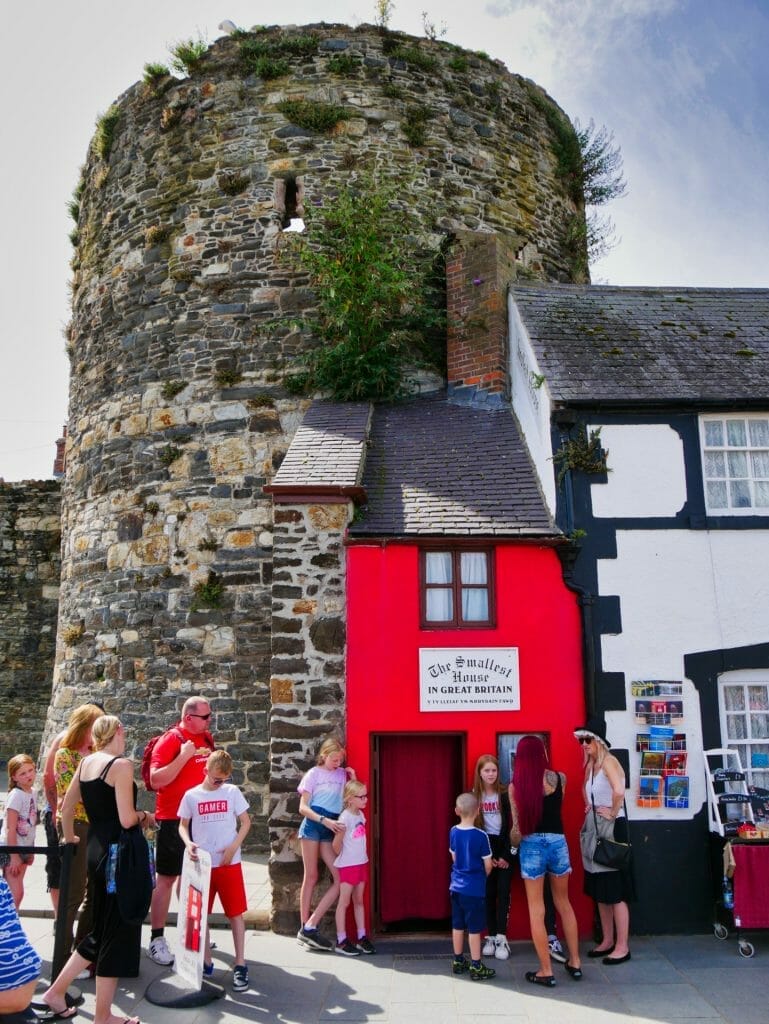 3. Plas Mwar
Ready for Elizabethan opulence at its finest?
This well-restored Elizabethan townhouse has been lovingly restored by Cadw, the Welsh heritage organization.

You might not even recognize how stunningly beautiful this property, the "Great Hall," is, until you get inside.
The front is lovely, but keeps it discreet.

It's when you walk in that you'll be greeted by the charming luxury of this era.

Look for the initials "RW" as you wander inside the house, as this stands for Robert Wynn, the man who bought the property and turned it into the lavish home for entertaining that has been restored today.

There's an audio guide to help you navigate your way around the 15+ rooms, as well as regular talks by volunteers to give you insight into how the residents would have lived.
4. Walk Along Conwy Quay
One of my favorite things to do in Conwy was take a walk around Conwy Quay, home to lovely ice cream stands and fish and chips shops in the summer, and beautiful views across the estuary all year round.

There are plenty of benches to take breaks, and the area isn't too large, so you can take your time and soak in the atmosphere with your travel companions.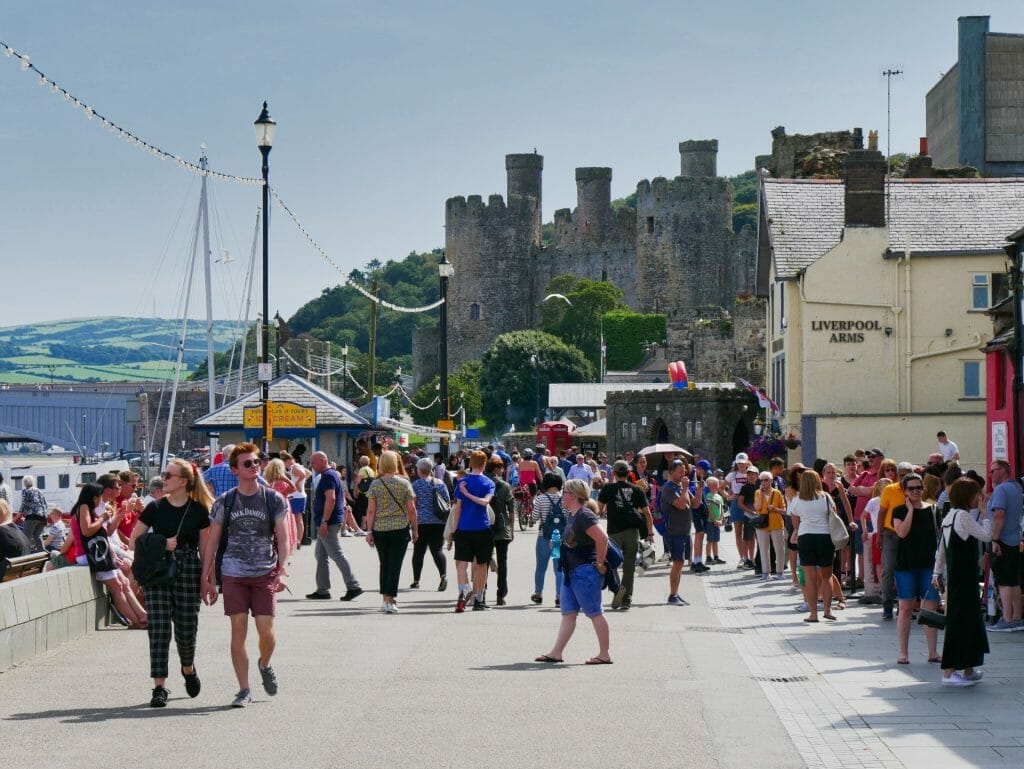 When you look behind you, you see the towering town walls, and when you look out into the water, you see boats bobbing up and down, seagulls dipping into the water, and if you're lucky, some bottlenose dolphins enjoying a leisurely swim through the bay!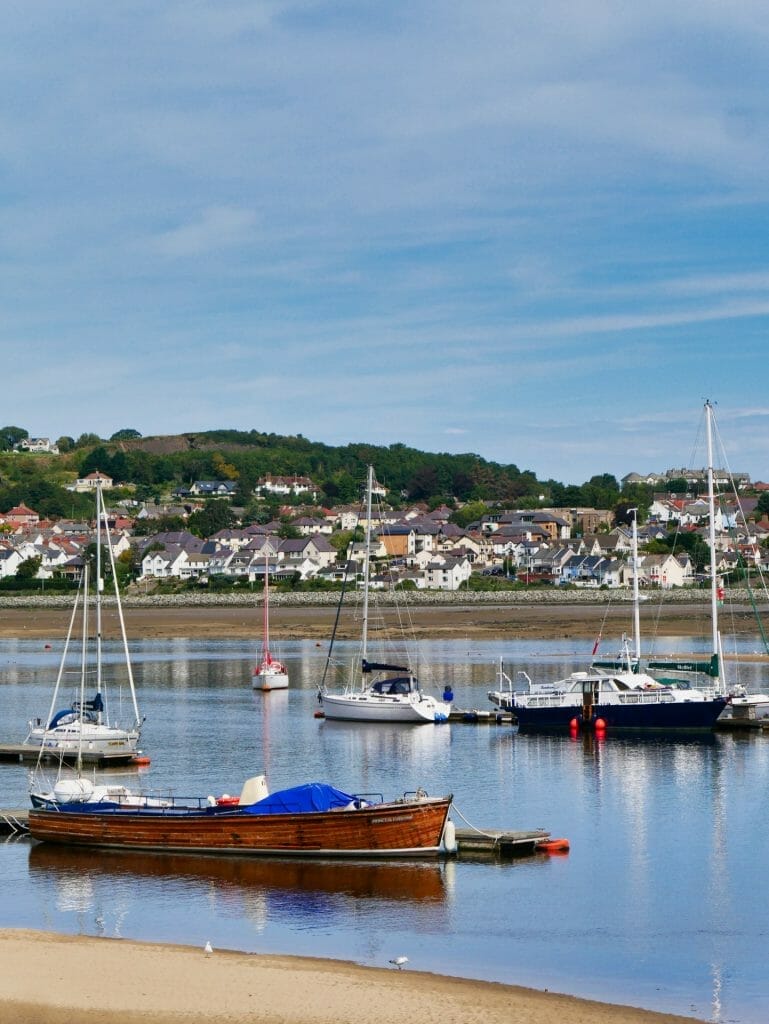 5. Visit Aberconwy House
This tiny medieval merchant's house is about four rooms spread over two floors, with each room depicting a different era in which the house was used.

It only takes about half an hour at most to explore, but the National Trust have worked hard to keep the house in tact and able to be visited, so it's worth stopping by to look inside.

The rooms are furnished and there is an audio-visual presentation which helps to explain what life in the house would have been like.
6. St. Mary's Church Conwy
I always recommend to check out the church in any town, and that includes Conwy. St. Mary's Church was built in 1108, which makes it older than Conwy Castle and one of the truly original structures in this area.

Not only does it have a rich history, but it also has a beautiful interior with lovely stained glass and a church community that still holds services here every weekend.
7. Walk the Conwy Walls
If you have the mobility for it, you can't come to Conwy without walking the medieval town walls. These are in tact and stretch all the way around this walled down.

From up here, you can see Snowdonia as well as the estuary down below from a whole new angle.

It is peaceful and calming, watching the water lap at the land or turning around and seeing fog over the mountaintops.

It's a truly unique experience to be able to walk on town walls these days – many in other parts of the world are crumbling or taken down, but Conwy prides itself on its heritage and on the beauty of these walls and what they've meant for the town throughout history.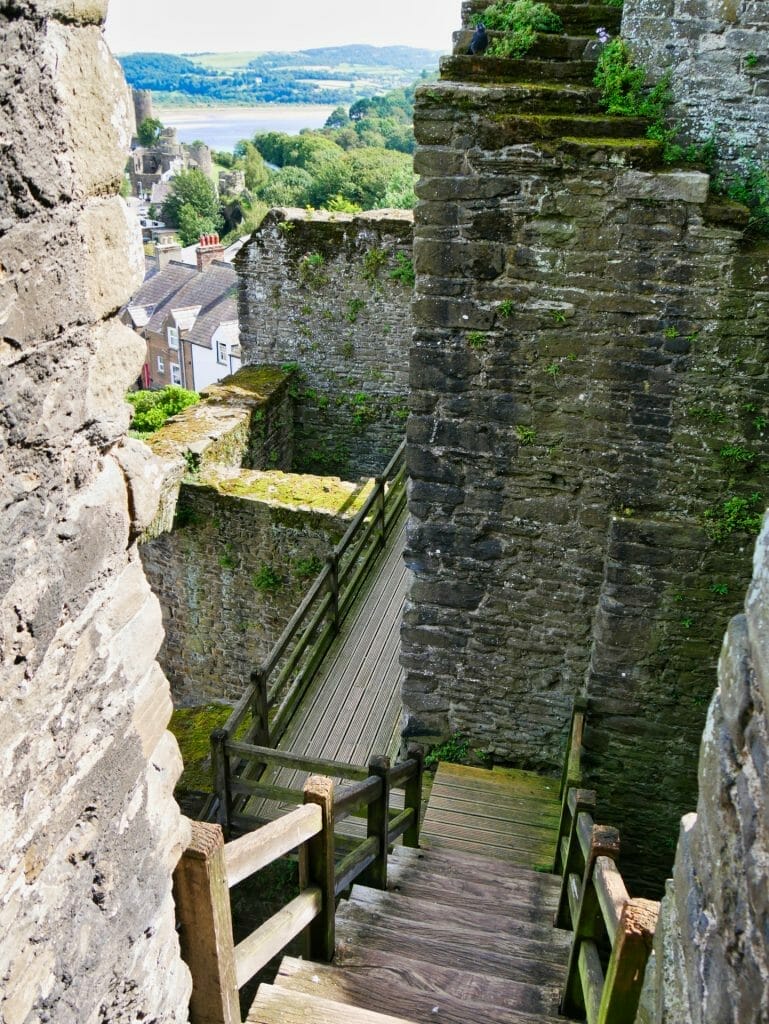 It's free to walk on the walls, just be careful where you're walking and be respectful of how you pass others if you do encounter other people (particularly on a sunny day, you will!)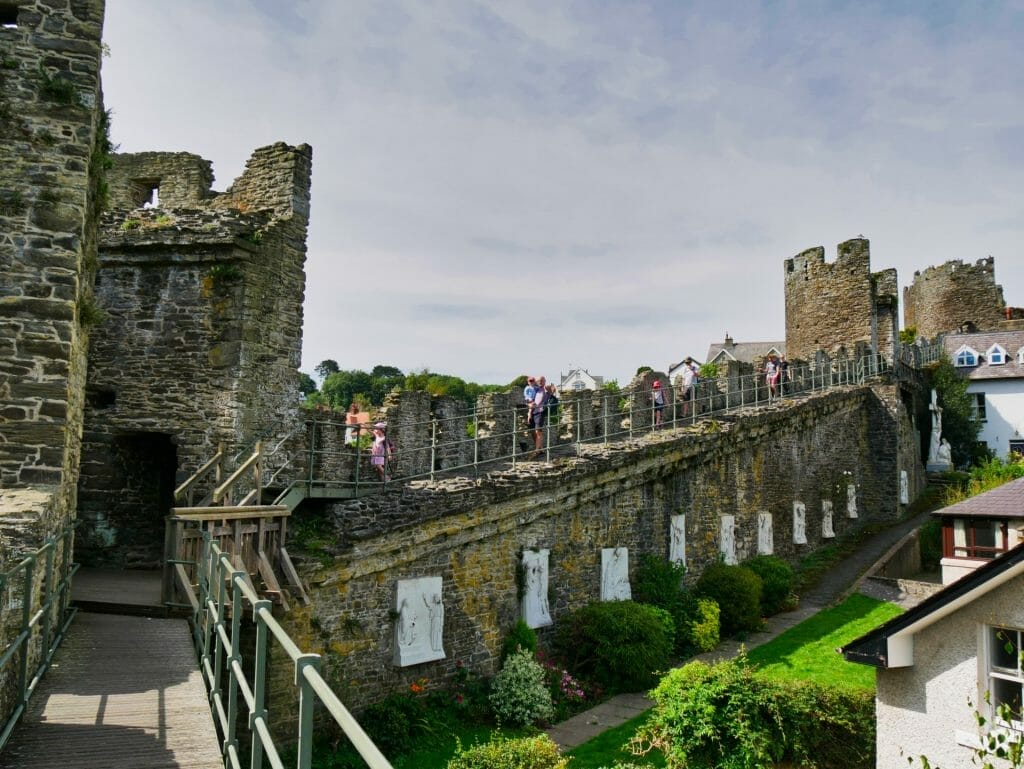 8. Conwy Information Centre
Sometimes, the best thing to do in Conwy is chat to locals who understand how to get around the town and can point you in the direction of upcoming events, hidden treasures, and more.

Visit the Conwy Information Centre on Rosehill Street, which is open 7 days a week from April to October and Tuesday to Saturday from November to March.

It's a great place to figure out the best deals for buying tickets to attractions and getting the full scoop on what's going on in Conwy.
9. Walk on Conwy Suspension Bridge
Built by Thomas Telford, the name also behind the city of Telford in England, the Conwy Suspension Bridge is one of the first suspension bridges in the world and helped make Conwy into what it is today by opening up trade and visitor routes.

Today, only pedestrians can walk along the bridge, which is perfect for a leisurely stroll to check out the architecture (which mirrors that of the castle) and get some other perspectives of the views of Conwy.
Where to Stay in Conwy, Wales
Stay at Conwy Holiday Park
Budget doesn't have to mean ugly at the Conwy Holiday Park, which has gorgeous views of surrounding Conwy and plenty of space to pitch your caravan or motorhome.

You can choose which type of pitch you'll need, including grass and hardstanding options, and the site has water points, disposal facilities, and shower blocks to keep you comfortable and focusing your time on enjoying Conwy.

There's also a bar and clubhouse for families to gather in with live events, particularly in the summer during peak season.

Click here to check out Conwy Holiday Park.
The Castle Hotel
The rooms are the Castle Hotel are simply breathtaking.
Beautifully decorated with period features, this is the height of luxury in Conwy and at really great prices.

The Castle Hotel is located right near Conwy Castle and has free on-site parking for those driving to Conwy.

There is a restaurant on-site that serves breakfast for an additional charge each morning, and the en-suite bathrooms are modern and, let's face it, really swish, without being soulless.

Click here to learn more about the Castle Hotel and check prices for your dates.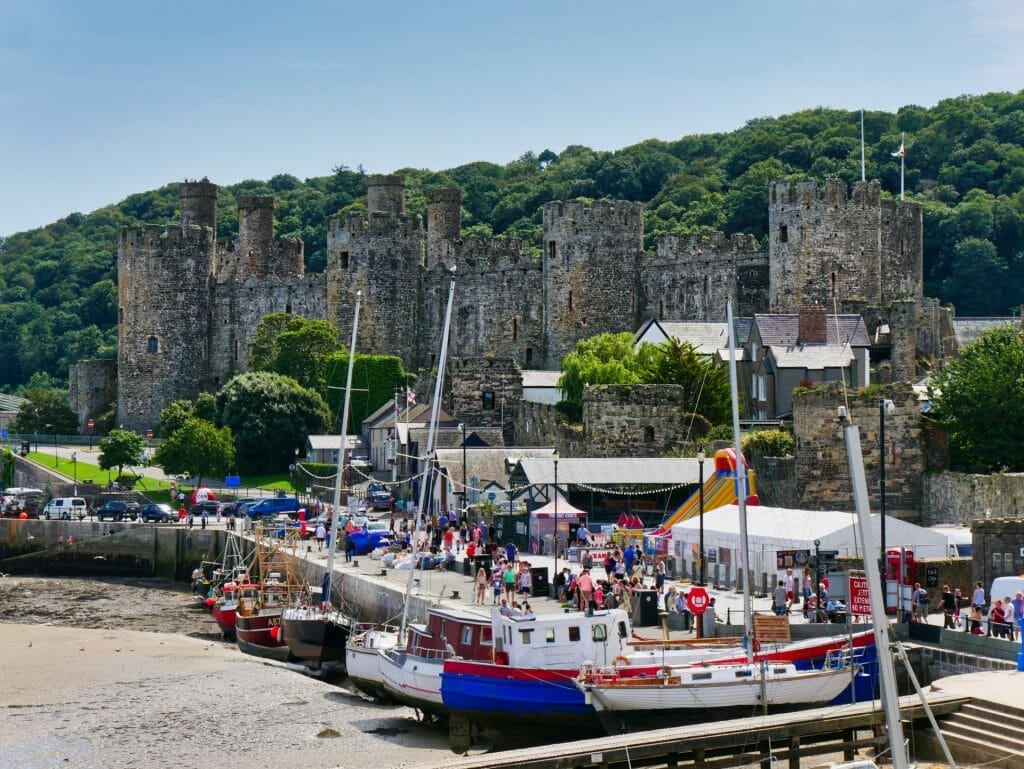 Erskine Arms
Also situated in Conwy's town center just a short walk from the harbor and castle, the Erskine Arms is a restaurant and accommodation that has 10 comfortable rooms.

The decor is homey and friendly, designed to make any mid-budget traveler very happy with their stay.

Breakfast is included and served in the restaurant with a variety of hot options, and you'll find open fireplaces downstairs to make for a cozy winter getaway.

I would recommend the Erskine Arms if you want an intimate, family-feel and like the idea of roaring fireplaces and gorgeous views from your windows (and who doesn't?)

Click here to learn more about the Erskine Arms and check prices.
Stay in the Castle Apartment
This two bedroom holiday home is absolutely breathtaking and warm and cozy and everything you expect a self-catering apartment to be when you're away.

It's just 200 yards from Conwy Castle and right in the heart of everything, and has two bedrooms, a full kitchen (so you don't have to keep eating out and can instead make yourself some awesome meals in if you're in Conwy for a while), and a lovely sitting room.

There are also fantastic views out to the estuary, and the property is managed by Sykes Holiday Cottages who specialize in providing you with the comfort of home while you're away.

I love a self-catering apartment when it feels homey and upscale – I don't want to feel like I'm hanging out in some random person's apartment or "downgrading" from a hotel, and the Castle Apartment fits my criteria for modern luxury and coziness tenfold.

Click here to see if the Castle Apartment is available during your stay.
Delicious Places to Eat in Conwy, Wales
Eat at the Blue Bell Conwy
Finding a cozy, family-friendly pub is the name of the game when you head to Conwy, and the Blue Bell nails it.

Not only do they have a beer garden to enjoy with plenty of sun in the summer months, but their menu is focused on ethically sourced foods and their veggie and vegan options?
Amazing.

They've got plenty of events throughout the year including quizzes and live music nights, and they're a well-loved pub in the local area.
Get Fish and Chips at the Archway
We looked at a few different fish and chips shopws in Conwy and settled on the Archway.

Nestled within one of Conwy's narrow roads and right near the city center with its benches and large sitting area, Archway Fish and Chips were really delicious and perfectly cooked.

You can eat-in if you want, in the restaurant next door, but we chose to take ours away so that we could wander the streets.

They wrapped them up for us and put the chips in boxes for easier access as we ate with our hands.

It's essential to get fish and chips when you're in Conwy, because it would be a crime to be in a seaside town and not indulge in the time honored tradition of freshly battered cod and chips.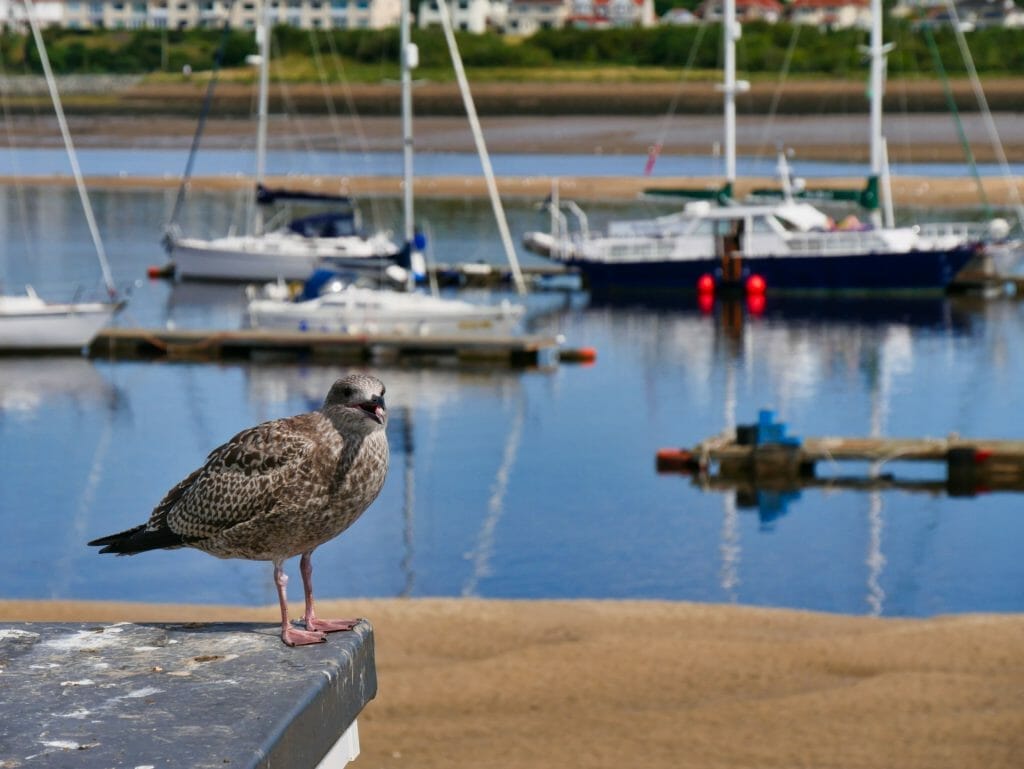 How to Get to Conwy
How to get to Conwy, Wales depends on where you're coming from, but you should know that it's an easy drive from both Liverpool and Manchester airport if you're coming by car, and if you want to hop on a train, it's very well-connected!

It only takes about 3 hours and a bit from London to Conwy, which makes this the perfect weekend getaway for Londoners.
I spend about 2 hours just commuting into the city, so tack on one more hour and I'm seaside walking a medieval town wall while enjoying an ice cream cone?

Yes, please.

Click here to investigate train prices from your local town to Conwy.