This post contains affiliate links for which I may make a small commission to help keep the site running. You will not be charged extra for these items had you not clicked the links. Thank you for your help to keep the site running!
Finding things to do for free in Edinburgh is easy with the sheer number of options, but figuring out where to actually spend your time when in this beautiful Scottish city can be harder.
Edinburgh holds a special place in my heart for its scenery, friendly people and its great location acting as a gateway to the Scottish countryside.
When we first started going, we were very much visiting Edinburgh on a budget, as I was still a student at the time and nobody is broke quite like a student is, am I right people?!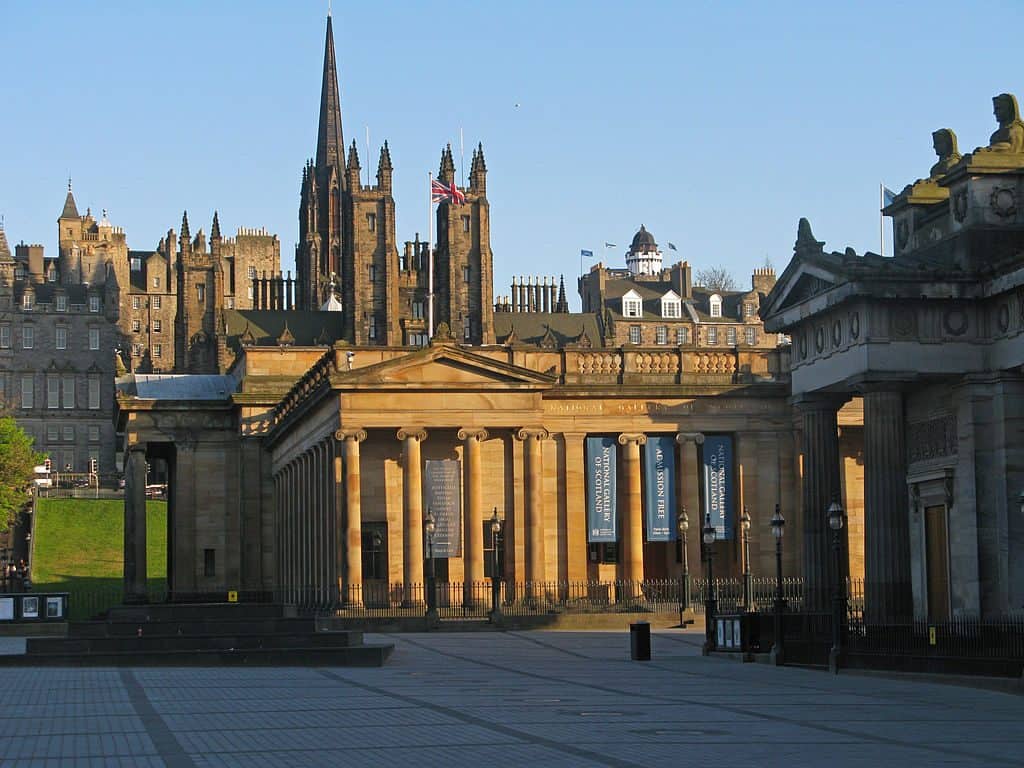 Over the years, we still prefer to travel in a way that emphasizes experiences rather than paying for the most expensive things in each city, so you could say I'm a "cheap things to do in Edinburgh" guru.
It's a very specific niche, of course, but someone's got to do it!
GET A

FREE

UK GUIDE and ACCESS TO MY PLANNING FB GROUP
With 50+ pages of helpful travel tips and the "best of" UK lists, this is your ad-free key to your UK trip.
So whether you're moving to Edinburgh, visiting Edinburgh with kids, taking a trip from London to Edinburgh, or just insanely curious about all the free things to do in Edinburgh, read on as we dig deeper into how to enjoy this city without spending literally all of your money.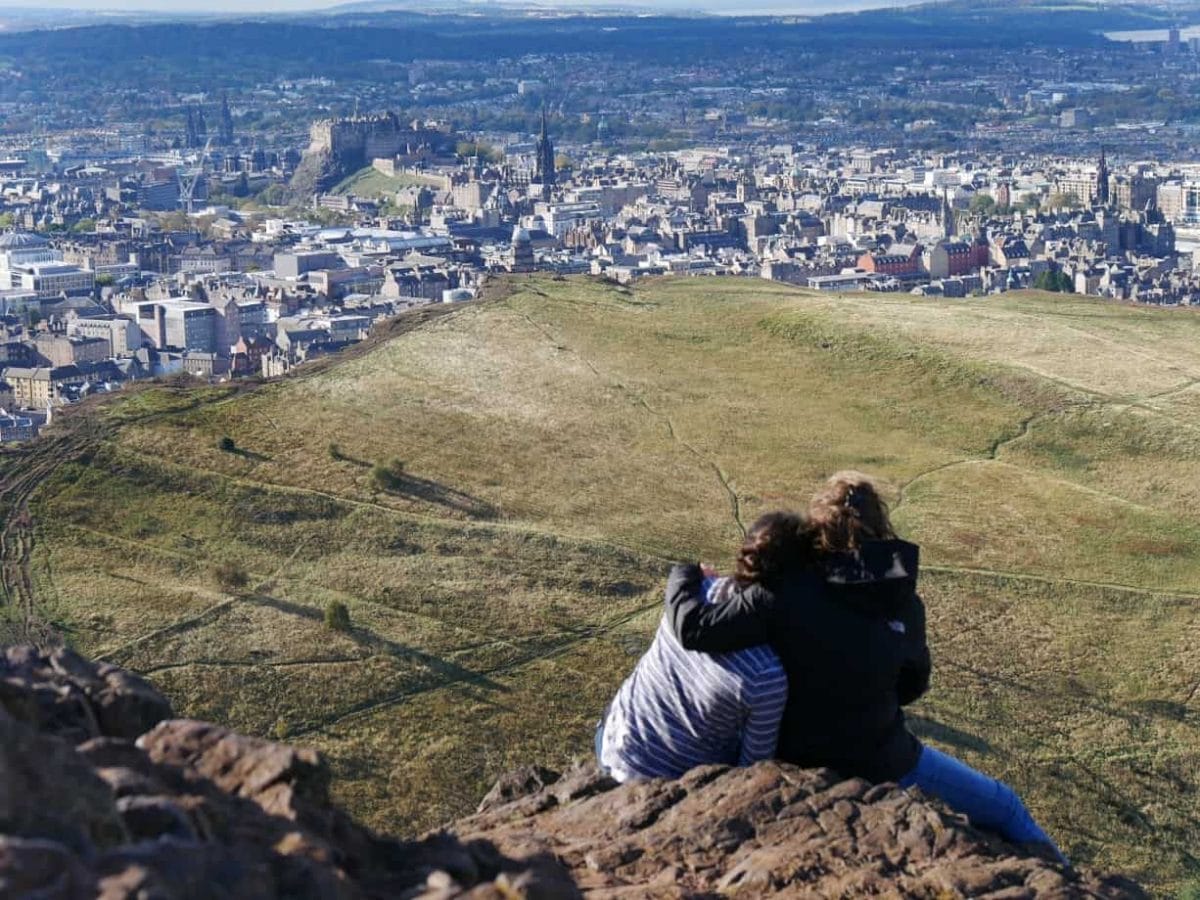 Free Things to Do in Edinburgh with Kids
While Guy and I don't have kids, we are very much kids at heart and have lots of kids in our lives.
We're not necessarily the most sophisticated people, and let's just say that my dream destination is somewhere where they have lots of ice cream sundaes and theme park rides as opposed to somewhere that makes you dress up and pretend to be someone you're not.
So anyway, finding free things to do in Edinburgh for kids was basically just a search for free things in Edinburgh that Guy and I would also like if we were embracing our inner child, so here are some of our favorites.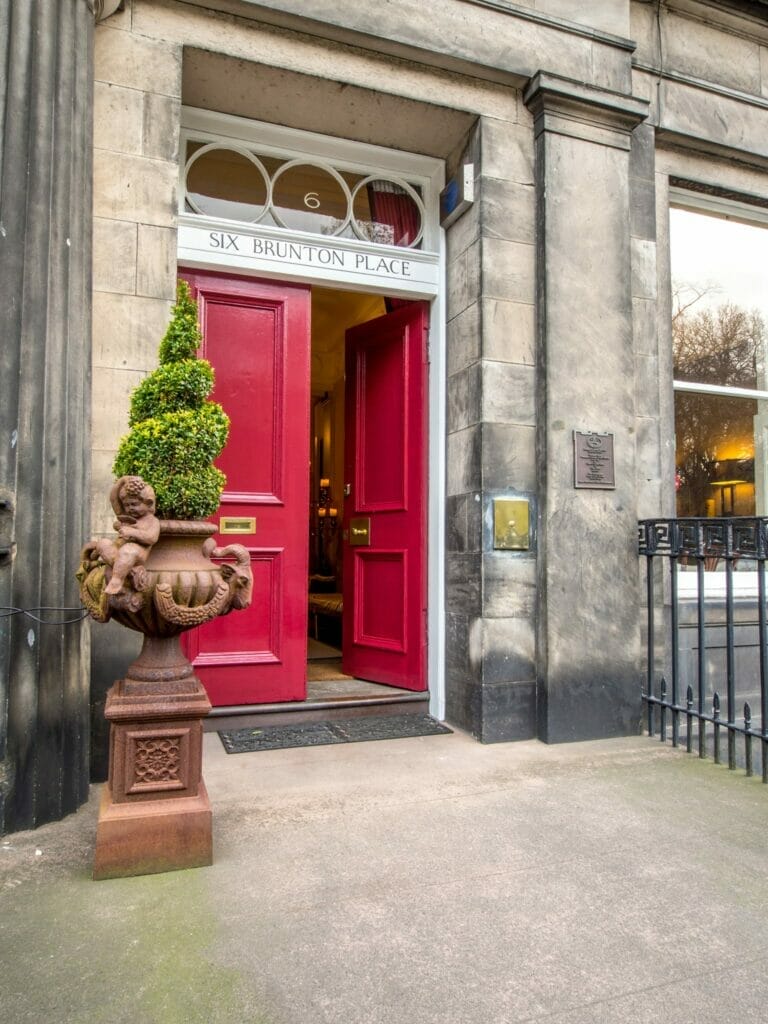 1. National Museum of Scotland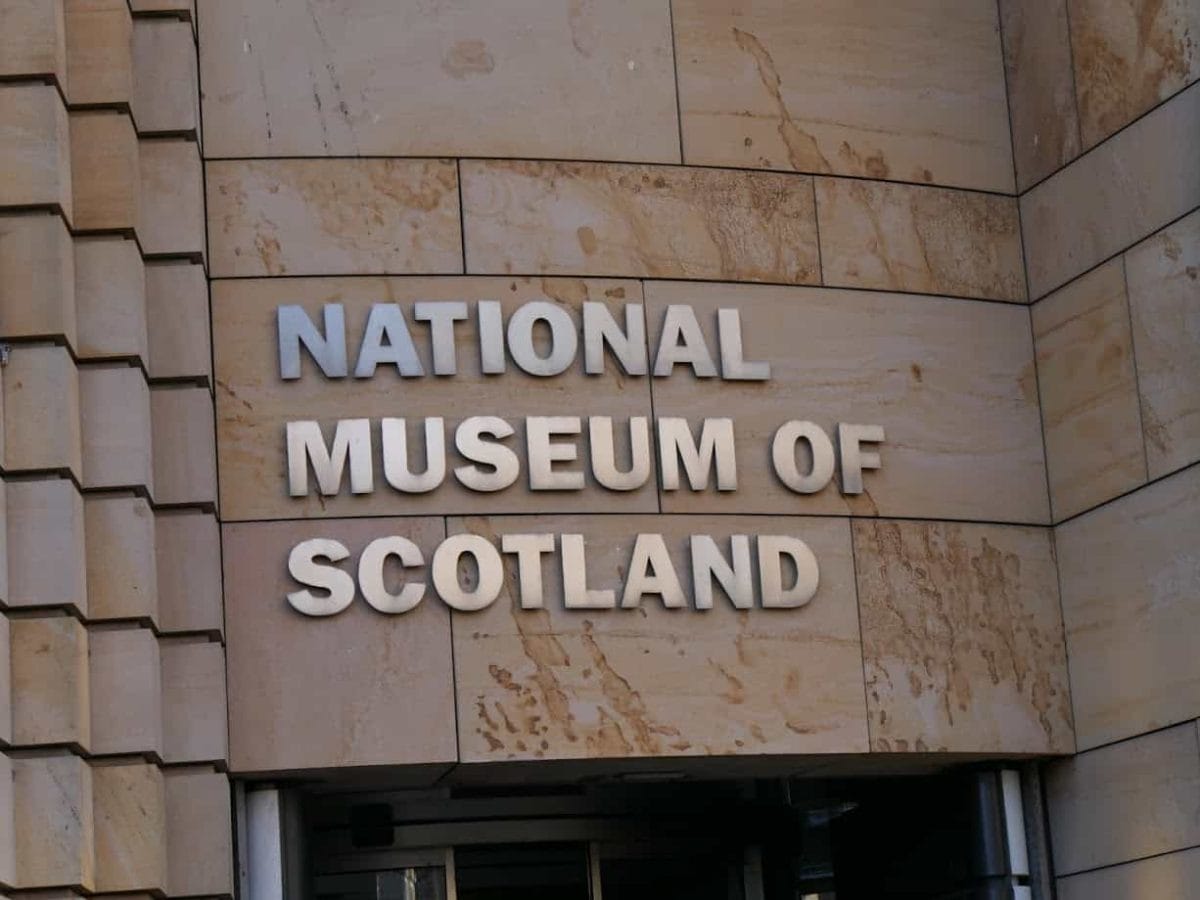 If you only have a short amount of time in Scotland, the National Museum of Scotland is my top choice for somewhere: educational, inspirational, free, and somewhere the whole family can enjoy.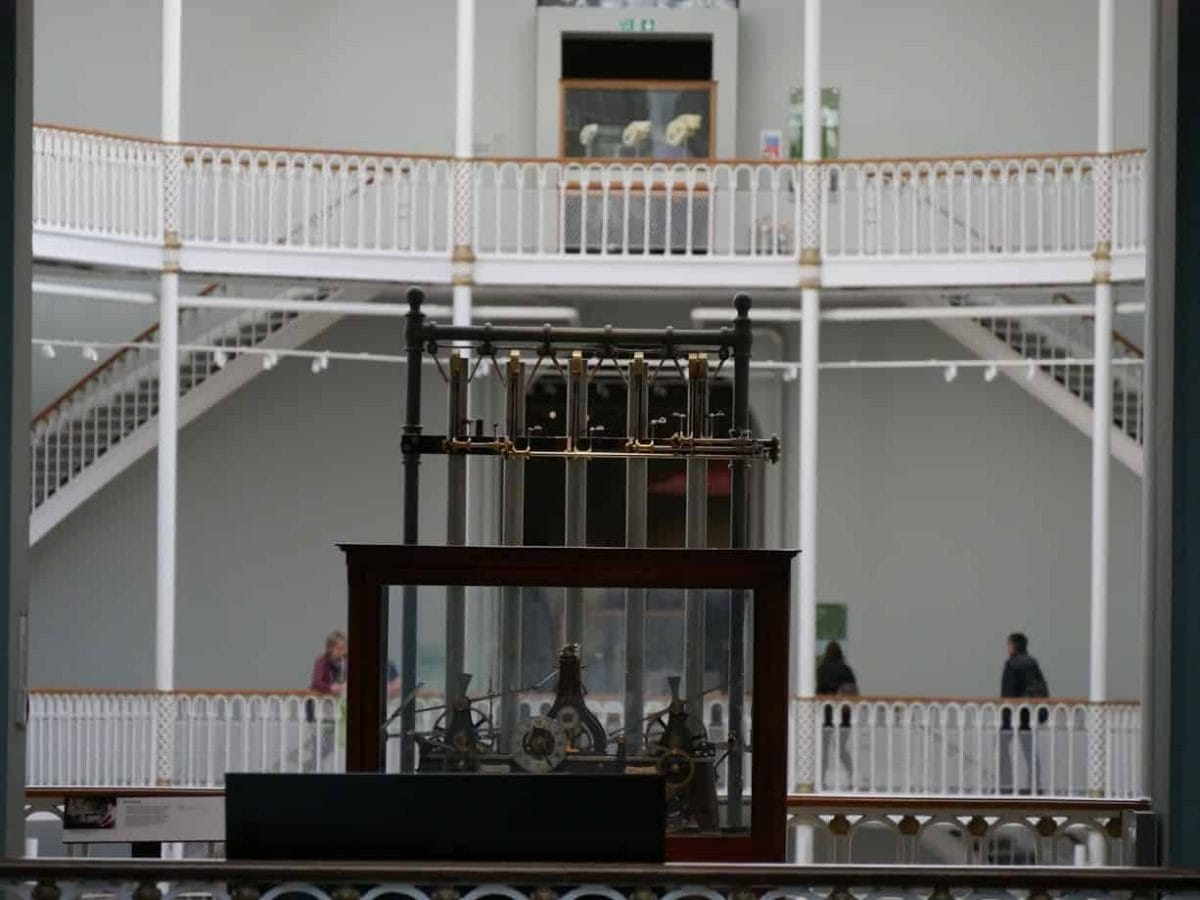 Seriously, there are exhibits geared more towards interactive games for the kids, as well as ancient relics that Grandma will love.
Also there's a great cafe, so my stomach is always happy.
The National Museum of Scotland was formed in 2006 as merger between the Museum of Scotland and the Royal Museum, with the Museum of Scotland having housed antiques related to Scotland's history and the Royal Museum housing exhibits having to do with science, technology, natural history, and more.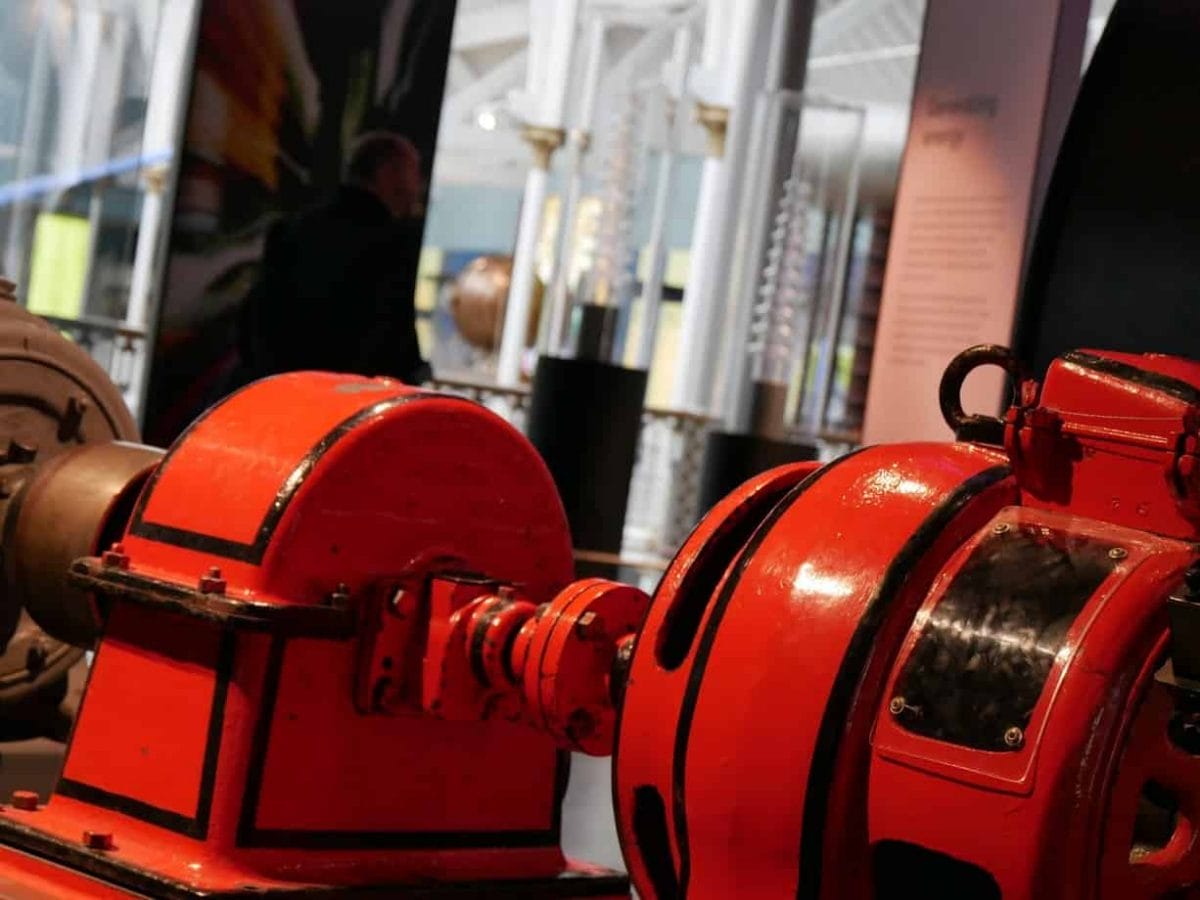 There are special areas for kids at the National Museum of Scotland to dress up in historic clothes, try their hand at pushing an energy wheel, try out physics using Formula 1 cars, and regularly scheduled events that will keep the little ones happy.
Oh, and HAVE I MENTIONED THIS IS ALL COMPLETELY FREE?
Because, yes – please.
Address: Chambers St, Edinburgh EH1 1JF
IMPORTANT: are you coming to the UK from abroad?
In case you're reading this from outside the UK and will be a foreign visitor here, you need to know these 2 things to stay safe and save money.
Travel insurance – you need it when going overseas! I use

this site

to get the best quotes and purchase my packages from. Do not skip this – having medical coverage abroad as well as other coverage in case of missed flights, lost luggage, etc is essential. As I said, I have never gone wrong using

this site

.
2. Museum of Childhood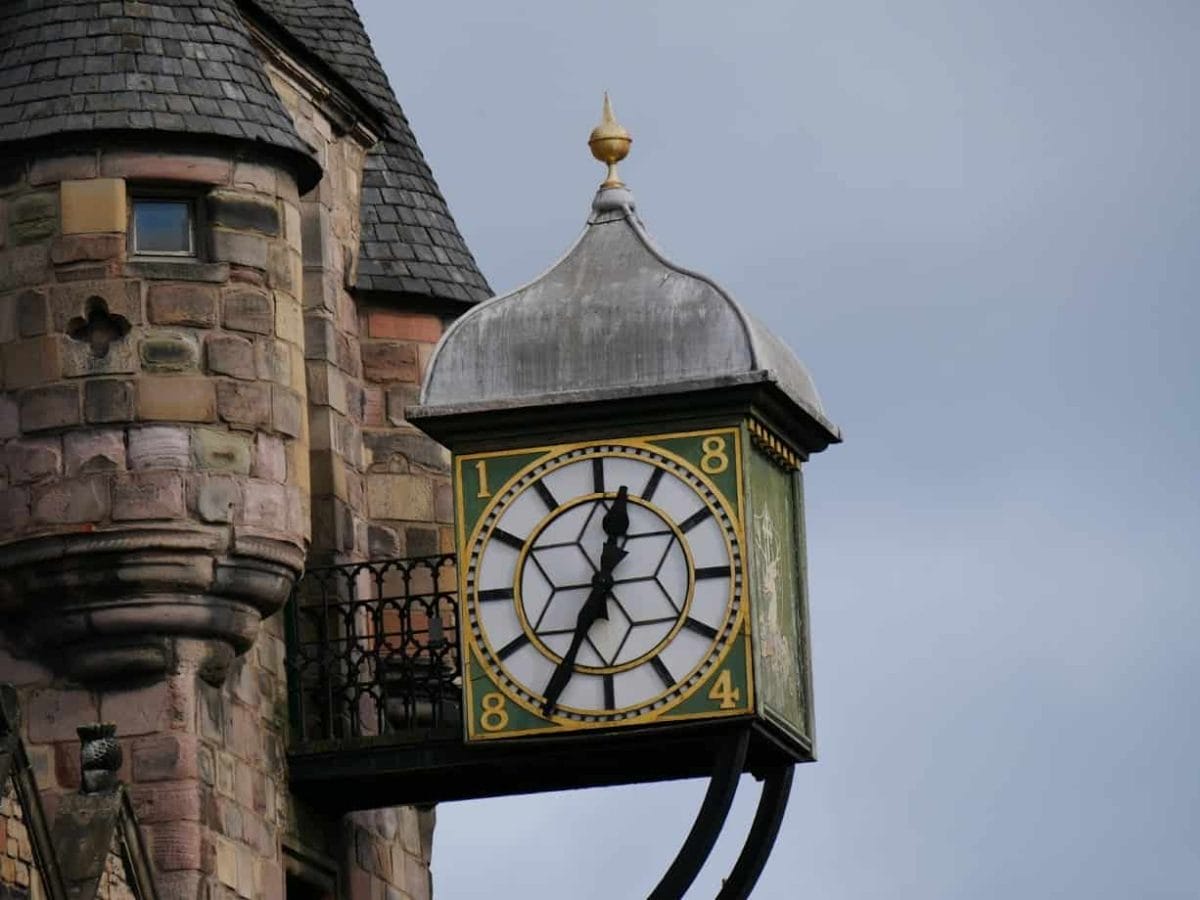 The Museum of Childhood in Edinburgh is one of the best things to do in Edinburgh for kids and adults.
It's not a children's museum, but rather a museum dedicated to the history and culture of childhood.
This includes fascinating exhibits featuring some of their prized collections like a Queen Anne Doll dating back to 1740 and a Peter Rabbit toy that dates back to one of the earliest just-for-children toy merchandising.
The best part of the museum is that the displays are designed in an interactive way to keep the children of today interested and engaged, while the actual history and stories behind the toys are presented in a comprehensive and adult-friendly way.
The museum is situated on the Royal Mile, and was one of the first museums in the world to be solely dedicated to childhood, so it's worth checking out both due to its proximity to other cool things to do and its own place in the world's history.
Address: 42 High St, Edinburgh EH1 1TG
3. Royal Botanic Garden Edinburgh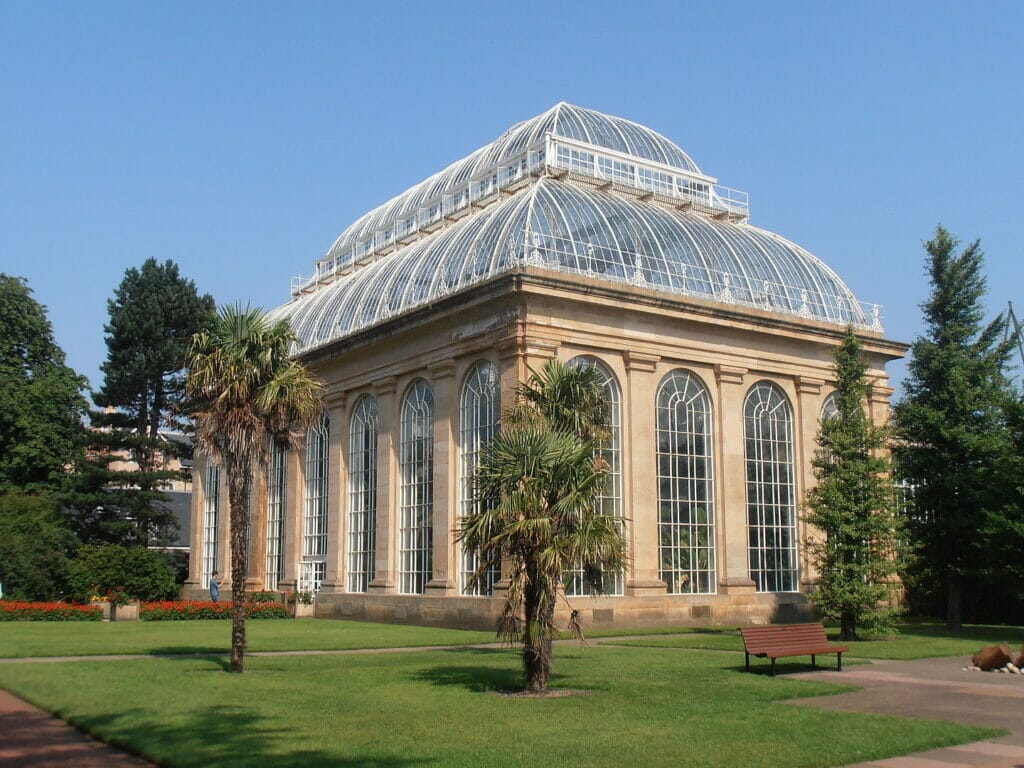 While the greenhouses in the Royal Botanic Garden Edinburgh do cost a bit of money (less than £10, but still), the gardens of the Royal Botanic Garden are completely free and a great place to take the kids for an outdoor-inspired day in Edinburgh.
In fact, the Botanic Garden has over 70 acres to explore and about 100,000 plants.
This is one of the best things to do in Edinburgh for couples.
There's something new around every corner to distract the kids with before you give in and give them your phone to play with – JUST KIDDING, YOU ARE AN A+ PARENT AND DON'T DO THAT (but if you do, I will be the last to judge you).
Seriously, though, if the weather is nice, you can't beat spending a couple of hours wandering through the gardens and enjoying some family time under a tree or in a bush or wherever else you find yourself in this outdoor oasis.
Address: Arboretum Pl, Edinburgh EH3 5NZ
4. Prince's Street Gardens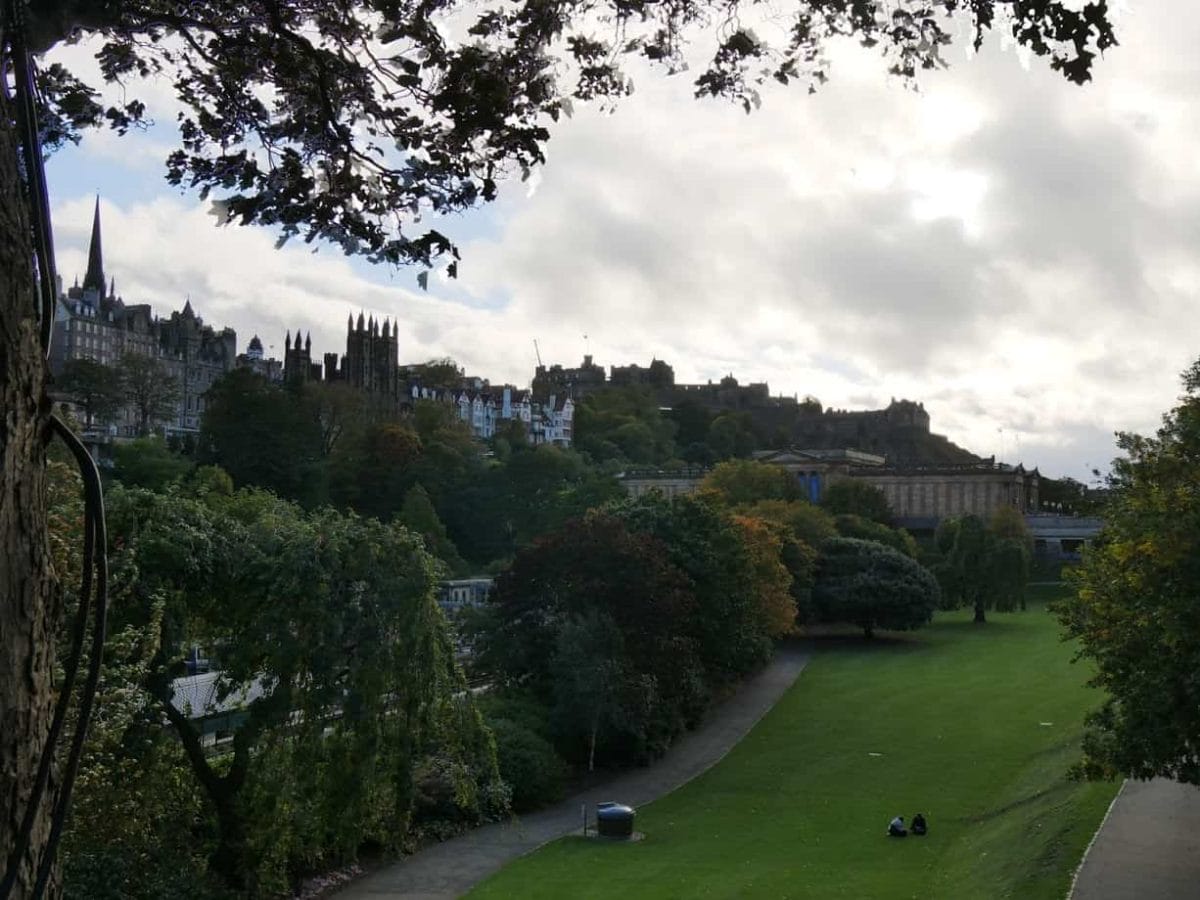 The Prince's Street Gardens claim to be the most well-known parks in Edinburgh, and I completely agree with them as you can't help but notice them lying beautifully underneath Edinburgh Castle.
Prince's Street Gardens are both calm and alive with the sounds of life in Edinburgh.
The gardens are actually two adjacent parks, open to the public to sit in, wander through and appreciate.
The wide open spaces make it a great place for kids to run off some extra energy while you snap some Instagram pics of the stunning monuments around you.
Bring a picnic on a nice day and laze away in the grass.
If you're visiting Edinburgh in the winter, you should stop by the winter festival that takes place in the gardens.
In addition to fantastic Christmas market stalls, there are also amusement park rides and an ice rink so you can show off your inner Michelle Kwan (do people even know who Michelle Kwan is anymore or have we moved on in figure skating references?)
5. Portobello Beach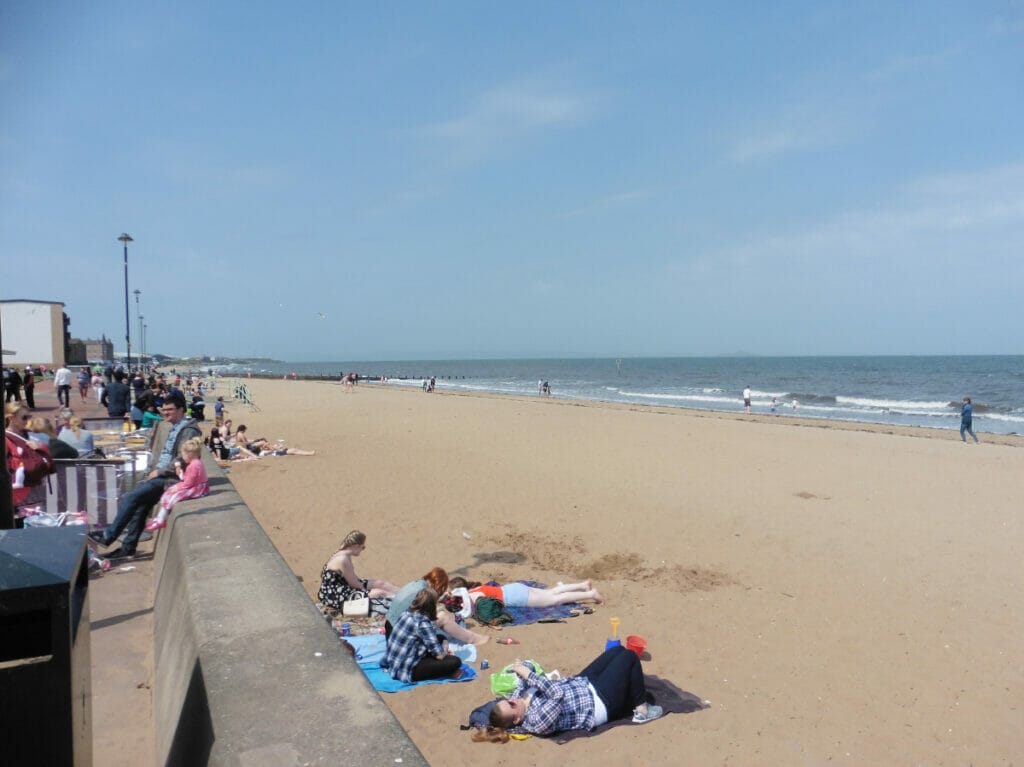 Now, I'm probably going to blow your mind with this information because mine was certainly blown when I found out, but there is a beach in Edinburgh.
Seriously.
Well, basically in Edinburgh – just a few miles away.
And there is sand!
Portobello Beach has two miles of sand and when you're on a budget trip to Edinburgh in the summer, there's no better way to pass the time.
Grab the pails and shovels for the kids, slip on everybody's newest bathing suits, and enjoy basking in the Scottish sun (seems like an oxymoron, but I promise it happens sometimes).
If you want to keep wandering, there's a high street nearby with cozy cafes and seaside shops, or you could plan to attend one of the annual events here like a volleyball competition or concert.
It's completely free to visit Portobello Beach, so you can spend more money on ice creams and less on entrance.
6. St. Giles Cathedral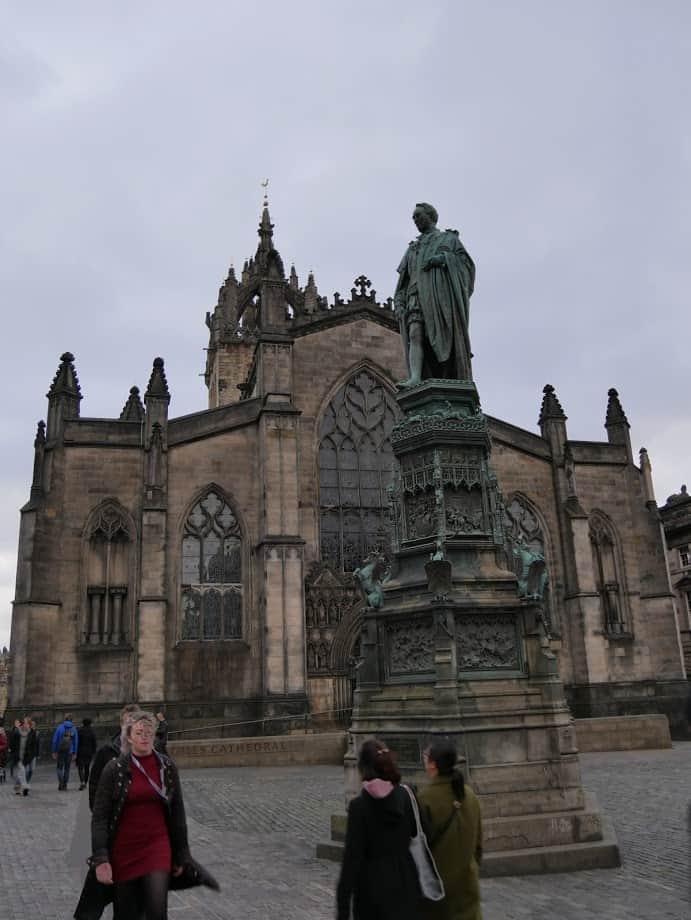 St. Giles Cathedral is one of the more "grown-up" things to see on my list of free things to do with kids in Edinburgh, and while it might not entice the very small ones, if you have an elementary school child or older, this famous Edinburgh landmark is a must-see.
St. Giles Cathedral has been on the same site since 1124, right in the heart of the old city.
The Scottish Reformation took hold here, and every year the church welcomes people from around the world who want to get a glimpse inside the beauty and history that lays inside.
There is no entrance fee, but there are parts of the day for worship where you cannot enter unless you are participating in a worship ceremony, so check the schedule before you pop in.
If you're in Edinburgh while it's running, this is one of the best indoor things to do in Edinburgh.
Address: High St, Edinburgh EH1 1RE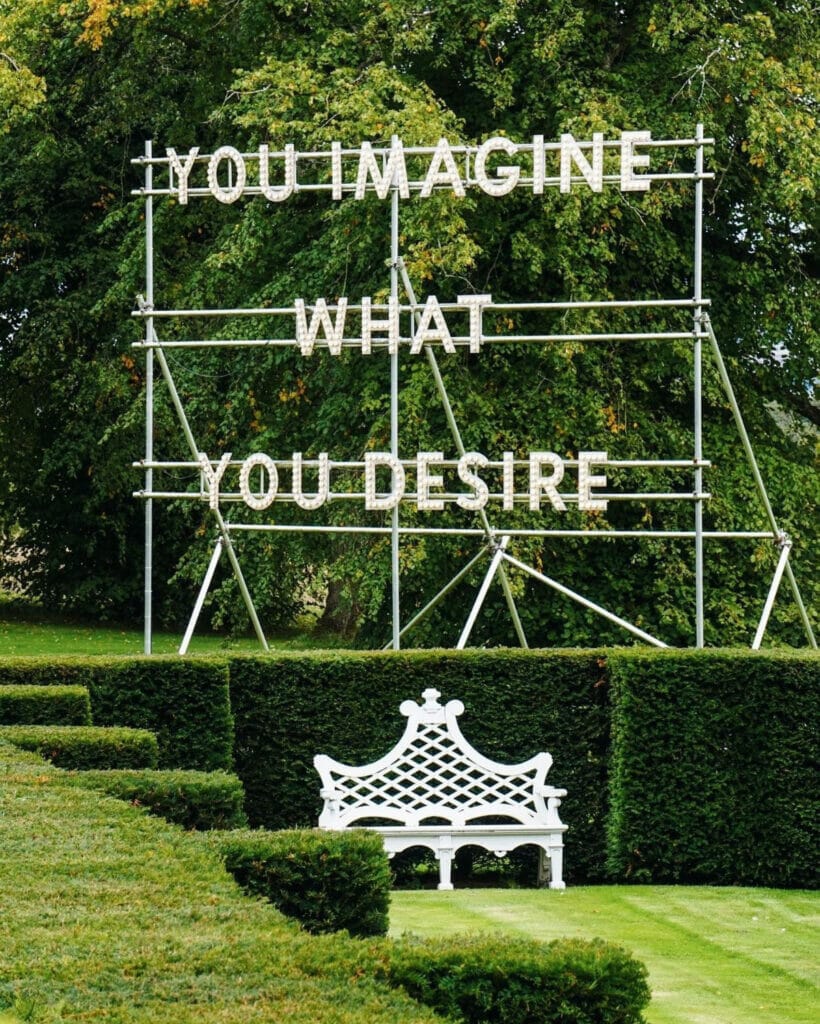 The final option on my list of what to do in Edinburgh for free with children is the stunning Jupiter Artland sculpture park.
It's only open between May and September (which is fine as who really wants to be traipsing around in the mud in the winter), but it's a fantastic place to see how art and nature intertwine.
The park is set on the grounds of Bonnington House, just west of Edinburgh, and kids and adults alike will be intrigued by the interesting way that contemporary artists use the landscapes and other natural elements to create a sculpture park worth visiting.
This is a particularly good stop if you have more than a couple of days in Edinburgh – it's a perfect day trip for a week-long Edinburgh itinerary due to its location outside of the city.
Address: Bonnington House Steadings, Wilkieston, Edinburgh EH27 8BY
Cheap Things to Do in Edinburgh at Night
When the day turns to dusk in Edinburgh, the most popular things to do include finding a local restaurant for dinner or pub to drink the night away.
And of course, you can do that, but that doesn't always coincide with seeing Edinburgh on a budget.
If you're looking for something else to occupy your evenings in Edinburgh, here are some free things to do in Edinburgh in the evening.
8. Walk the Royal Mile
The Royal Mile is one of Edinburgh's most popular thoroughfares, as this road of about a mile (hence the name), leads you from Edinburgh Castle to Holyrood Palace with lots of shops, restaurants and things to see in between.
The mile is actually made of a few different streets, namely: Castlehill, Lawnmarket, the Canongate, High Street, and Abbey Strand.
Throughout the day, this area is awash with buskers and tourists, buzzing back and forth between attractions and stopping to take plenty of pictures.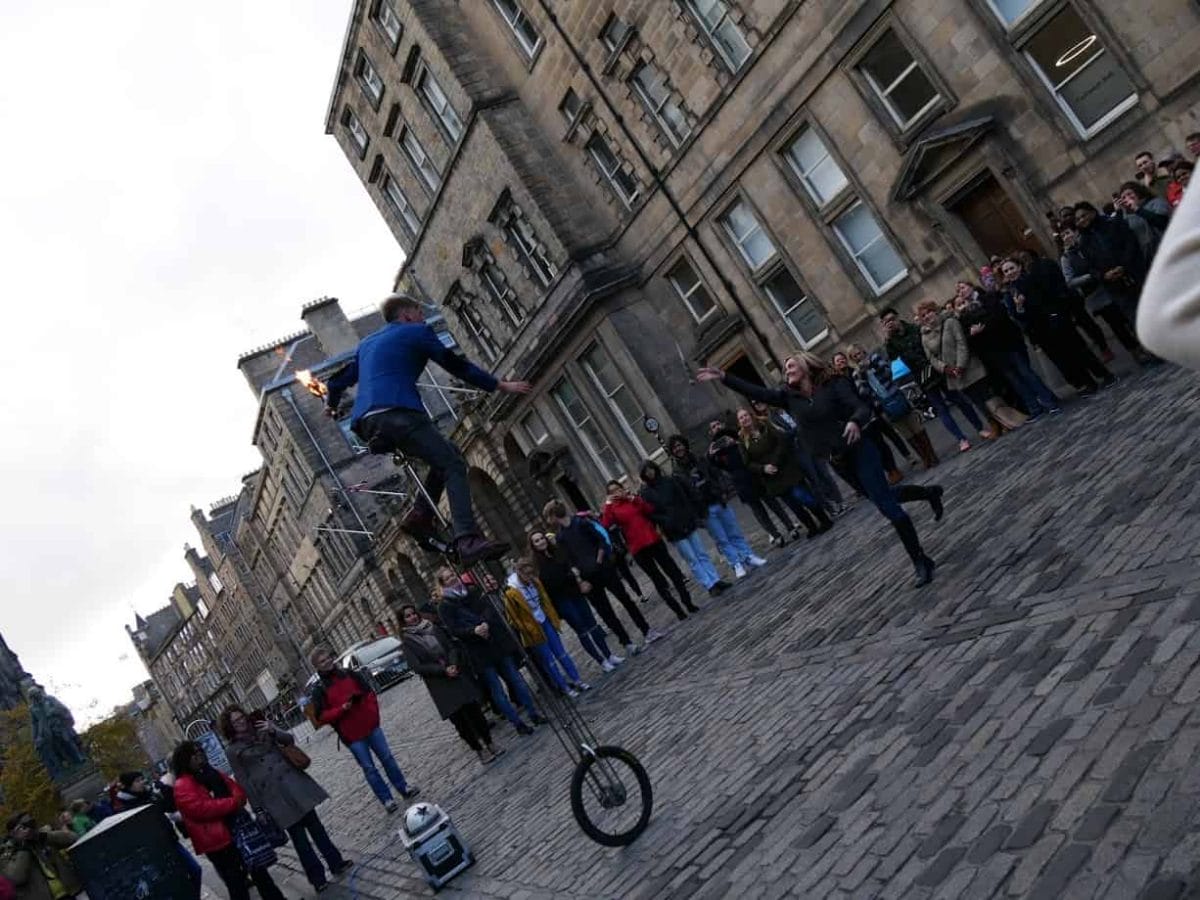 However, going at night lets you see it in a whole new light (literally).
It's still a safe and charming set of streets in Edinburgh at night, but, as long as there's not a major tourist event going on like the Edinburgh Fringe Festival, the streets are quieter and you can really take your time to meander.
There's also something about looking up at Edinburgh Castle at night that is awe-inspiring, taking you back to a more medieval style of living that thrives on hidden alleyways, secrets, and darkened street corners.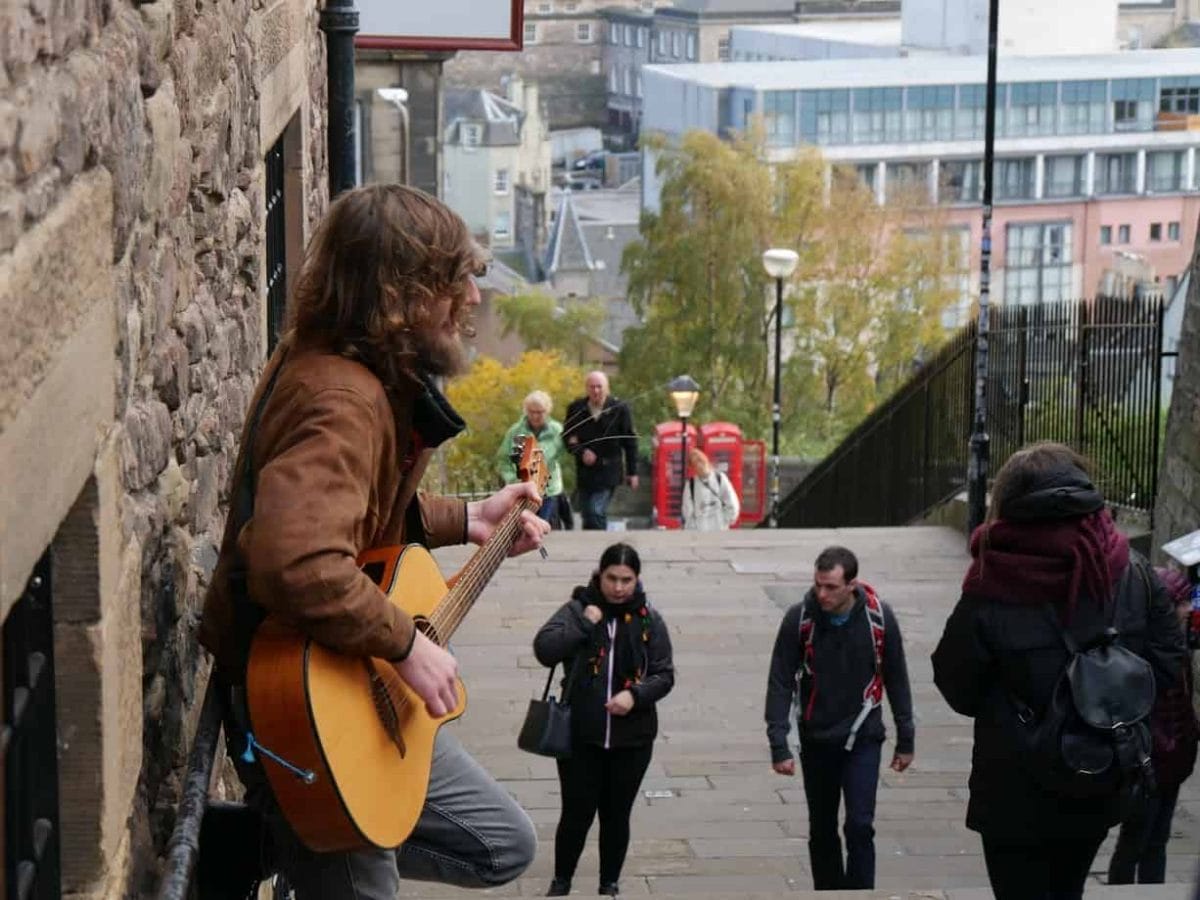 9. Go Window Shopping in Cashmere Shops
You're going to have to hide your wallet to make this a free activity in Edinburgh, but especially if you just want to browse around and aren't in the mood to immediately buy cashmere, dipping in and out of the cashmere shops in Edinburgh is a true Edinburgh experience!
Scotland is known around the world for having some of the world's best cashmere, and plenty of shops are up and down the Royal Mile and surrounding streets filled with all kinds of scarves, blankets, shirts and more.
The shops don't all close immediately after sunset, so if you're looking for something to do in Edinburgh after dark that won't break the bank, go on your own little sightseeing tour of the cashmere.
10. Take a Ghost Tour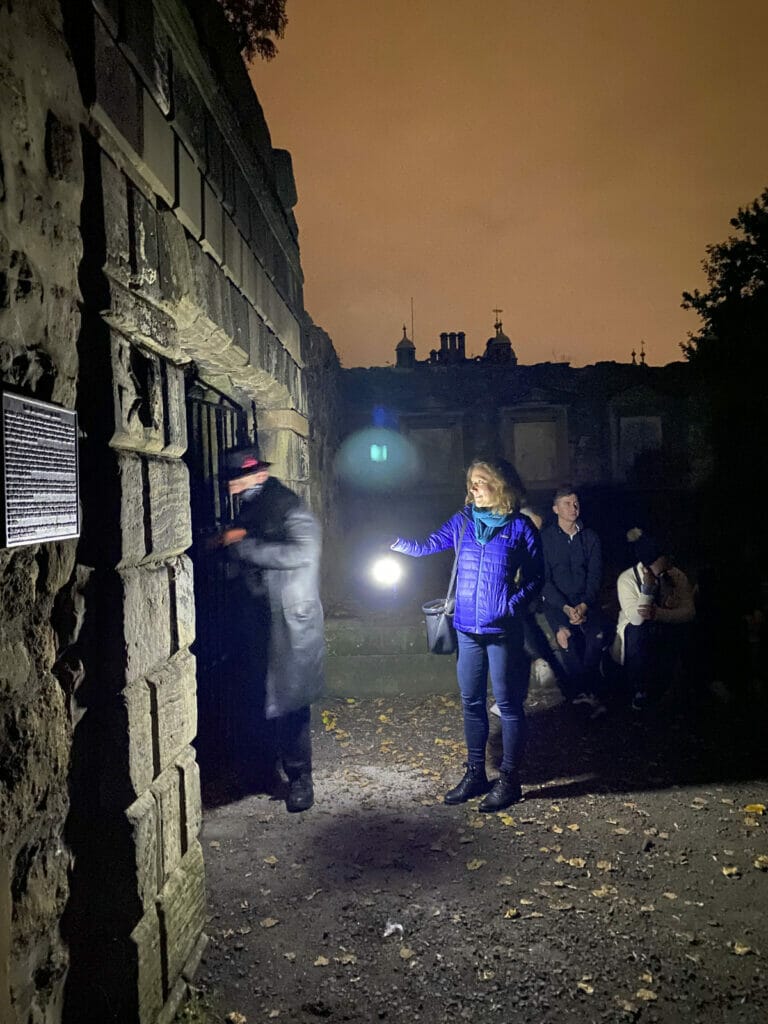 The free Ghost Tour in Edinburgh works on a tips-only basis, so while it doesn't cost anything to participate, good etiquette and the expected practice is that you tip at the end.
However, it does market itself as a free ghost tour here, so it's up to you how much you tip.
Taking a ghost tour is a great way to get to know parts of Edinburgh that you wouldn't have checked out on your own, and Edinburgh is the perfect location for such a tour given that it basically looks haunted already (and I mean that in the best way possible).
The free ghost tour takes you through alleyways, down side streets and up the Royal Mile with experienced guides telling you everything you need to know about the dark happenings of the area.
Will you see a ghost?
Possibly.
Will you have a good time?
Most definitely.
11. Explore Dean Village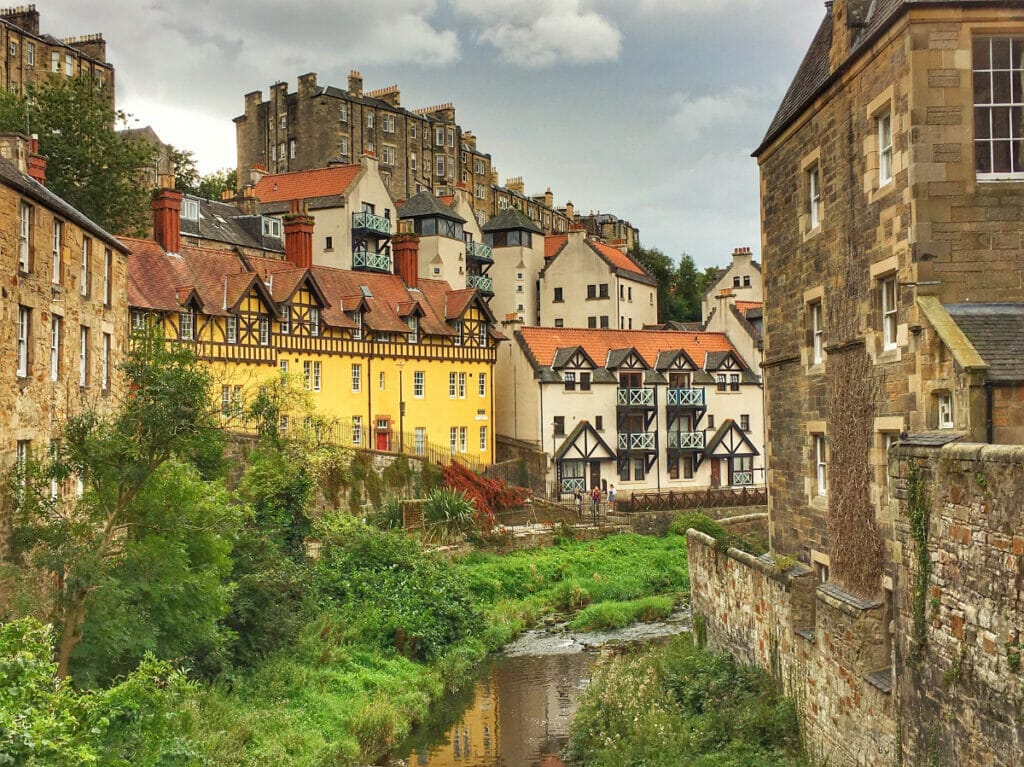 You know the golden hour when the sun starts to set and yet it's not pitch black and everything seems beautiful and right with the world?
That's the perfect time to get yourself to Dean Village, an adorably quaint village just about a 10 minute cab ride from the National Museum of Scotland.
Wander the cobblestone pathways over the river, appreciate the pops of colors as they fade into the darkness, and generally appreciate the beauty of this village.
While at one time this was a hub for trade, it's now a residential area known for its tranquil setting and the gorgeous views.
12. See the Forth Bridge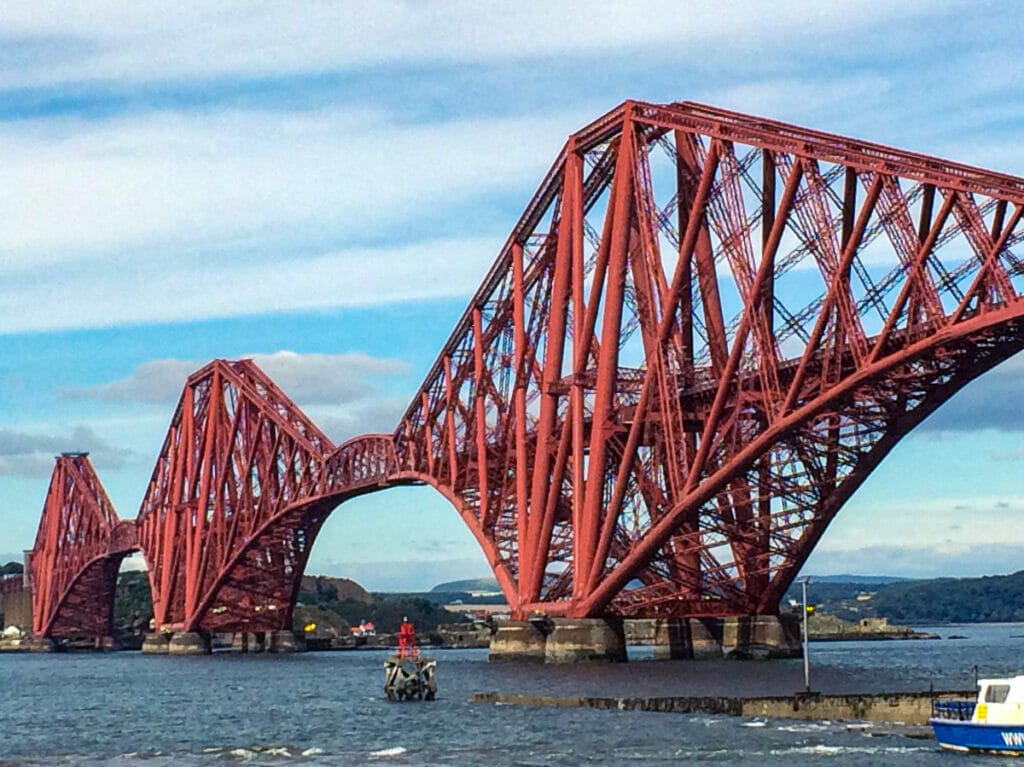 Before explaining what I mean about the "Forth Bridge," I just want to check here and see if anyone else is as scared of bridges as Guy?
Literally, we were driving over the bridges in Edinburgh and his hands start trembling (he's the one driving, of course, so this is great) and he starts sweating.
"What's wrong?" I ask him.
"I'm picturing myself driving off the bridge!" he says. "I don't want to drive off the bridge!"
"Then don't drive off the bridge!" I say, forcefully.
He's terrible with heights, but there's just something about being on a bridge that makes him both terrified of falling off of it while simultaneously picturing himself doing that same thing.
We made it across the bridge unharmed, no thanks to his panic attack.
There are three bridges that surround Edinburgh: Forth Bridge, Forth Road Bridge, and the Queensferry Crossing.
Forth Bridge is one of Scotland's most famous landmarks and a UNESCO World Heritage Site (so, you know, important).
It was opened in 1890 and considered a feat of engineering at the time.
Almost 100 years later, Forth Road Bridge was opened in 1964 for public transportation – cars aren't allowed over this bridge, but walkers and cyclists certainly are.
The third bridge, Queensferry Crossing, was opened in 2017 and is a new marvel of engineering as the longest three-tower, cable-stayed bridge in the world.
If you're a bridge enthusiast, this is probably very impressive to you.
I don't know much about bridges, but I'm sold on it.
You can see these bridges during the daytime when driving (or panicking, as in Guy's case), but I think they deserve a special glimpse at nighttime when you can really appreciate the gorgeous structure lit up against the water.
Free Museums in Edinburgh
Free Museums are a staple of Edinburgh's cultural fabric.
Like London, many of their most impressive museums are completely free to the public, which truly means you can fill a solid few days with free museums in Edinburgh and pay nothing.
Unlike the National Museum of Scotland which focuses on, well, all of Scotland, the Museum of Edinburgh is hyperfocused and mostly concerns itself with the goings-on of the local area.
It's situated on the Royal Mile and not a giant museum – in fact, it's pretty cozy and easy to navigate which makes it the perfect location for a leisurely afternoon walk through.
Both the Old Town and Edinburgh's New Town are included in the artifacts and history lessons to be found here.
You'll be guided through stories about the civil war, Edinburgh's role in World War I efforts, and fascinating tales of the people who lived in Edinburgh in medieval time before it was the tourist destination it is today.
I always think it's important to go to the local museum whenever you're in a city – learning the history of the place you're in is just as important as admiring what it is now.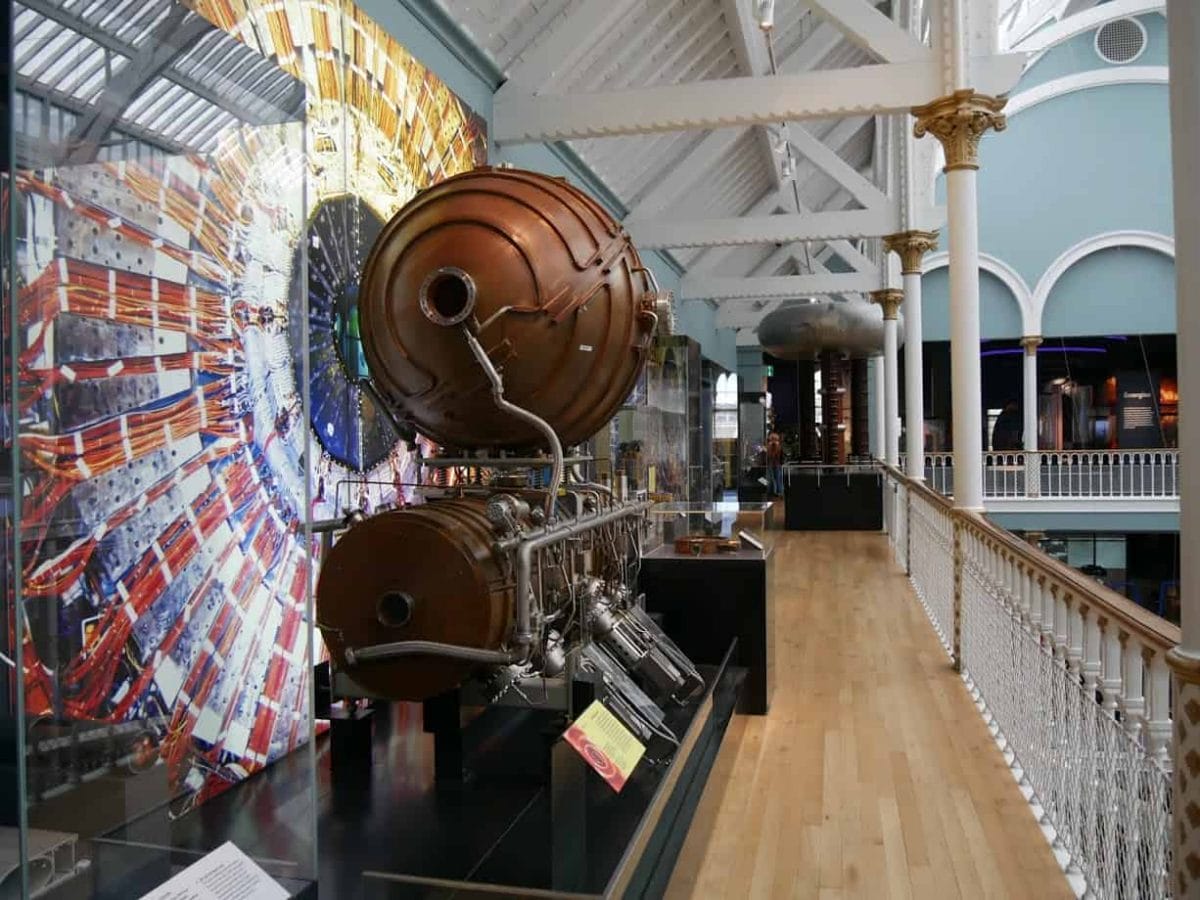 Have you ever heard of a Harpsichord?
I definitely hadn't because I have no music ability besides being able to play Tarzan's greatest hits on the recorder (not joking, that's a thing).
But you know who does know about harpsichords and lots of other music-based things for talented people?
The music museum at St. Cecilia's Hall!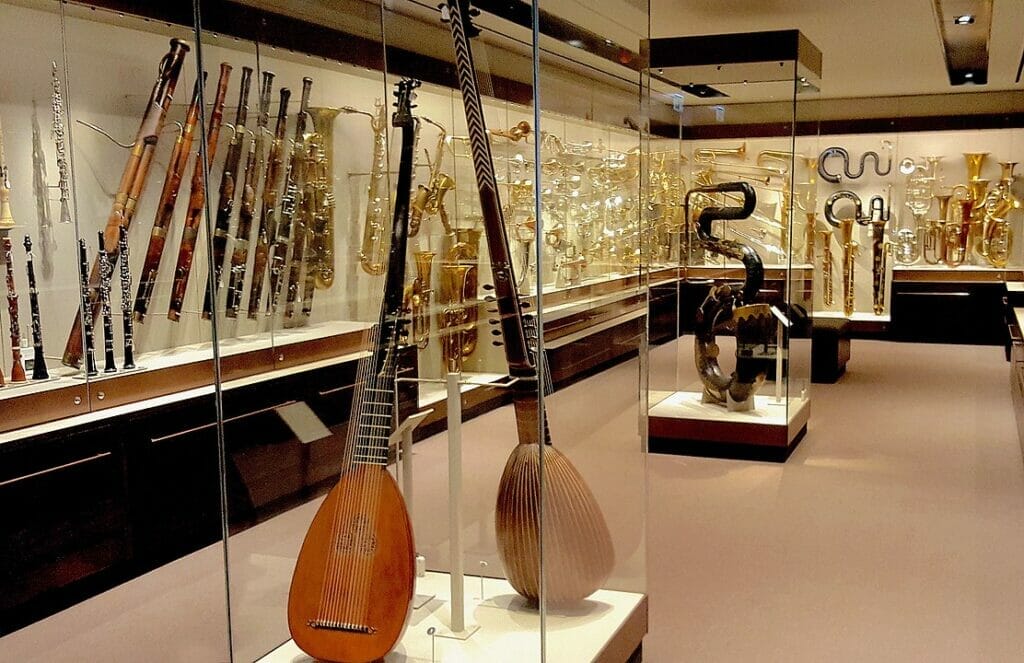 This concert venue has a museum inside filled with collections of some of Scotland's most important instruments.
Instrument conservation is happening here regularly in their efforts to preserve the authentic sounds of musical instruments from year's past.
The museum is open most days of the week and is free to the public.
15. Scottish National Gallery
Ready to see some fine art and feel super fancy as you walk around and marvel at original Monets, Van Goughs and Rembrandts?
The Scottish National Gallery is here for your inner art critic.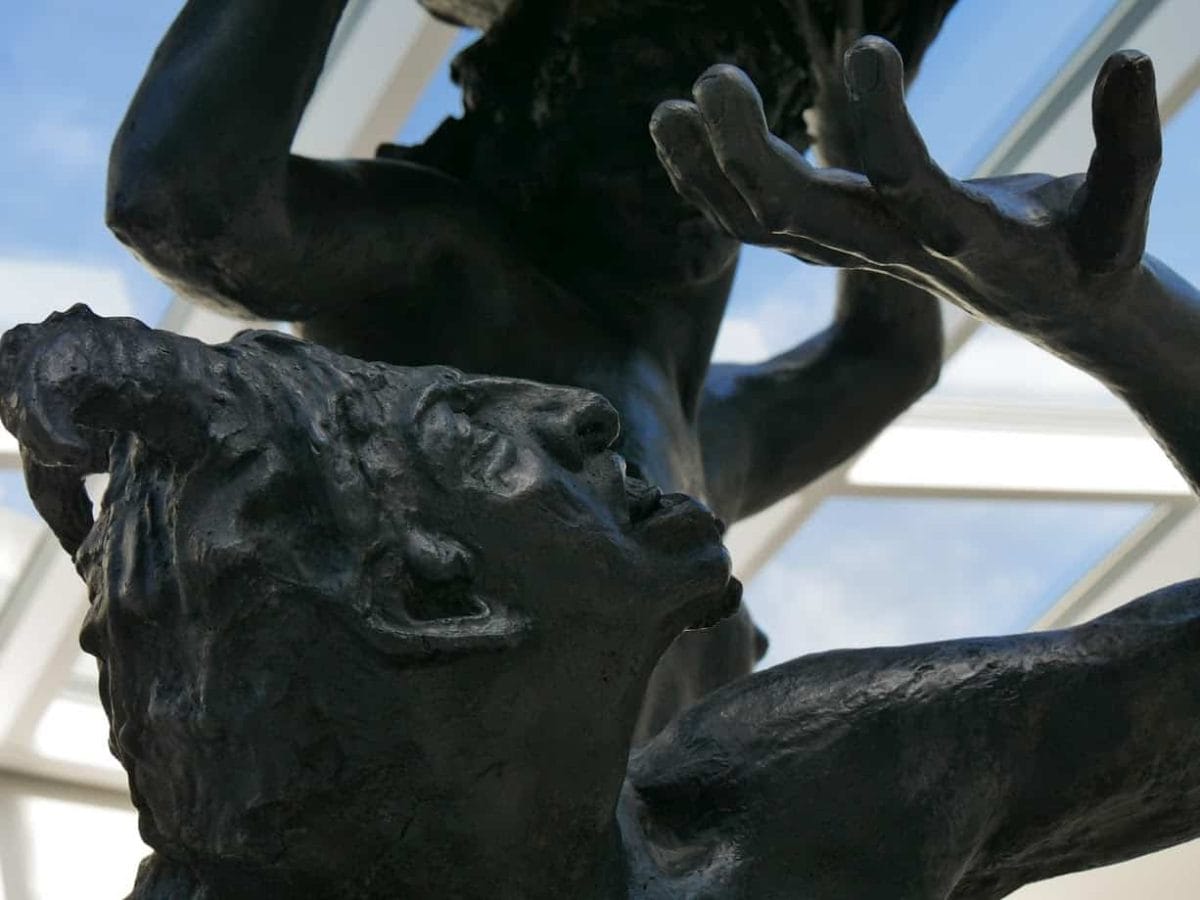 Situated within a quick walk of Edinburgh Castle (and quite frankly enjoying some pretty great views of it from below), this art museum is at the top of its game and houses an impressive collection from around the world and from local Scottish areas.
In the international section you'll find names like Botticelli and Raphael, whereas the Scottish sections focus on the history of Scottish art and pays tribute to some of the Scottish greats like Wilkie and Ramsay.
There's also a café and restaurant perfect for sipping a latte while you reflect on your trip, and a gift shop for buying all of the art merchandise you could ever dream of.
Money makes the world go round, but luckily for your wallet, this Edinburgh museum dedicated to money and its power costs you nothing!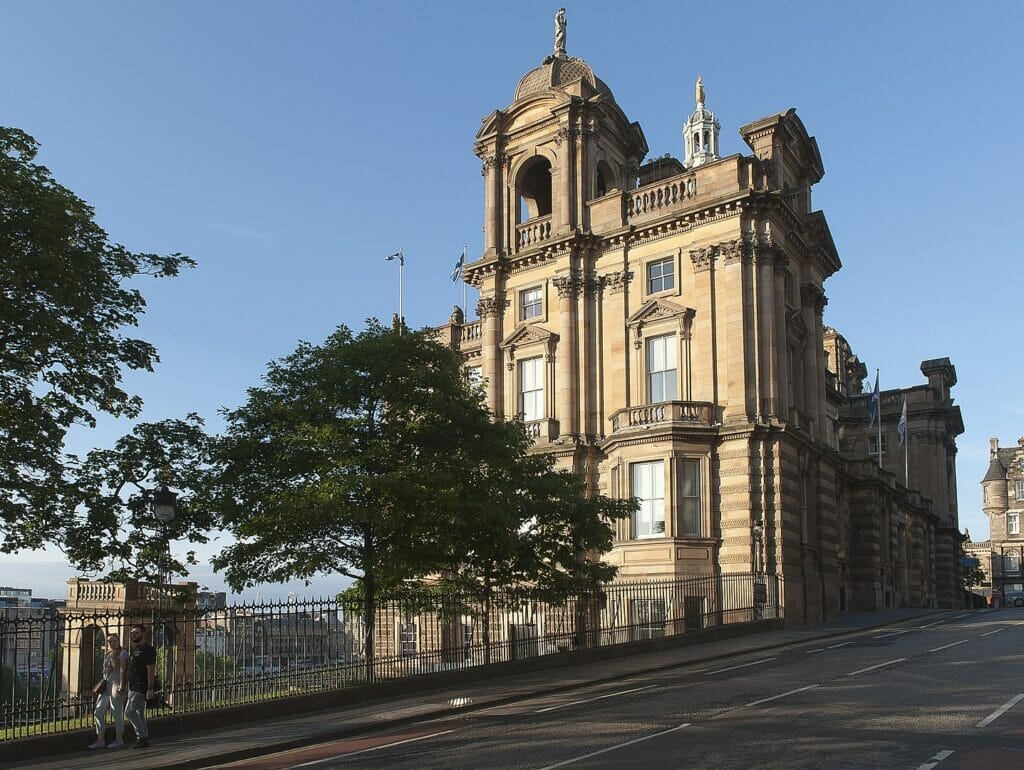 After all, there's enough money floating around in that building already.
Step inside this purpose-built building for the Bank of Scotland and you'll soon discover why money matters – if you didn't catch on already.
In addition to sharing the history of money and helping visitors to reimagine money as things like tea and jewels used back in bartering times, the Museum on the Mounds has exhibits explaining how Edinburgh has changed over time along with the development of new monetary systems.
You can also see a million pounds in person and try to see if you can crack a safe open, which I feel is worth the (nonexistent) price of admission alone.
Address: The Mound, Edinburgh EH1 1YZ
As you might be able to guess based on the name of this unique museum, the People's Story is the story of some of Edinburgh's own people.
Specifically working class people in the city from the 18th century to the late 20th century.
The museum was put together using only stories and words from these people, detailing their experiences, the social movements at the time and the crafts and trades that were a big part of their lives.
You'll see street protest banners supporting the right for women to vote, as well as guild documents and jail cell recreations.
Imagine a museum in Edinburgh tucked in a cute little square where most of the hallways are 1 person wide.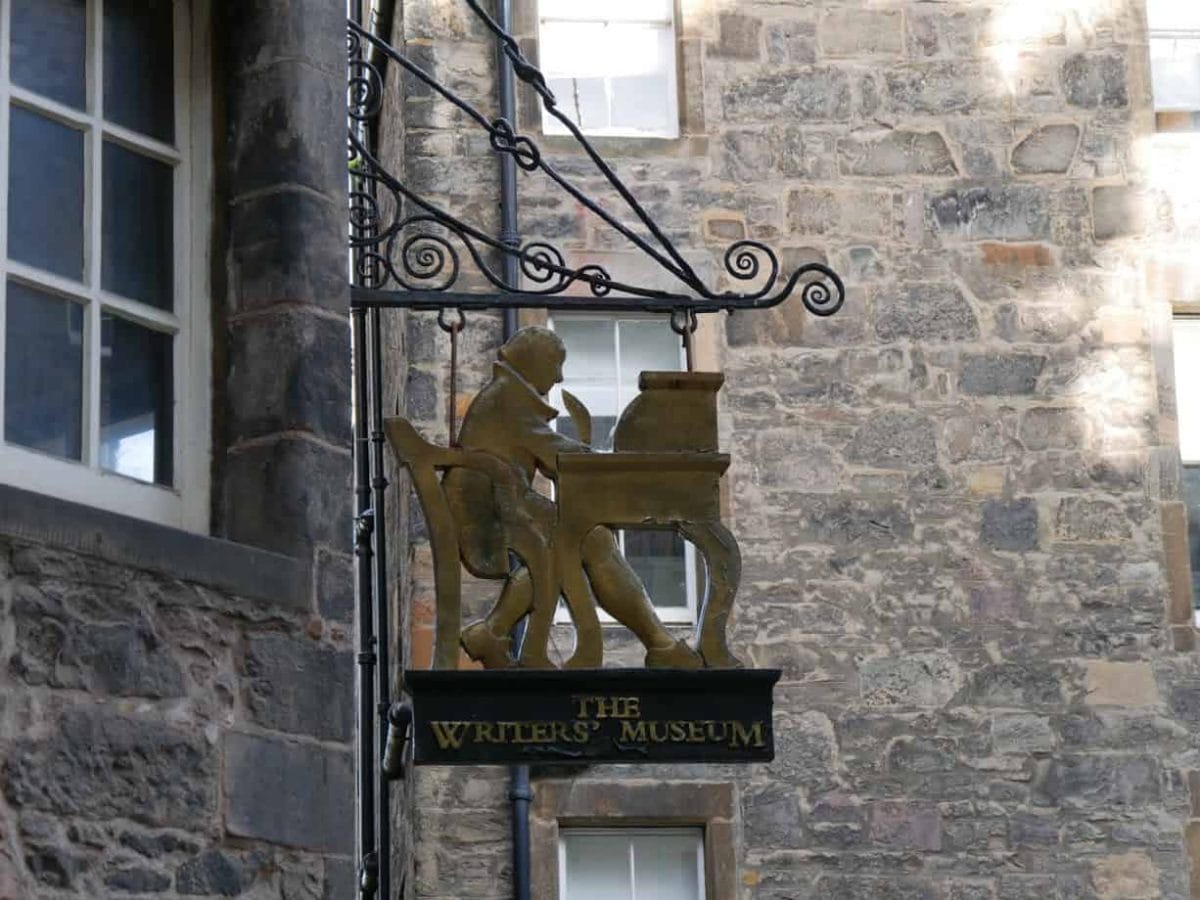 That is essentially the Writer's Museum, a tiny museum celebrating the lives and work of three of Scotland's most prominent writers.
If you're familiar with Scottish writers, you might know be able to guess which ones, but if you have no idea, I'll spoil it for you: Sir Walter Scott, Robert Louis Stevenson, and Robert Burns are Scottish legends.
The Writer's Museum focuses on both their writing and their personal life, with displays ranging from the writing desk of Robert Burns to the riding boots of Robert Louis Stevenson.
There are also first editions of some of their books, and the museum does an excellent job at explaining their lives and works even if you haven't read them before.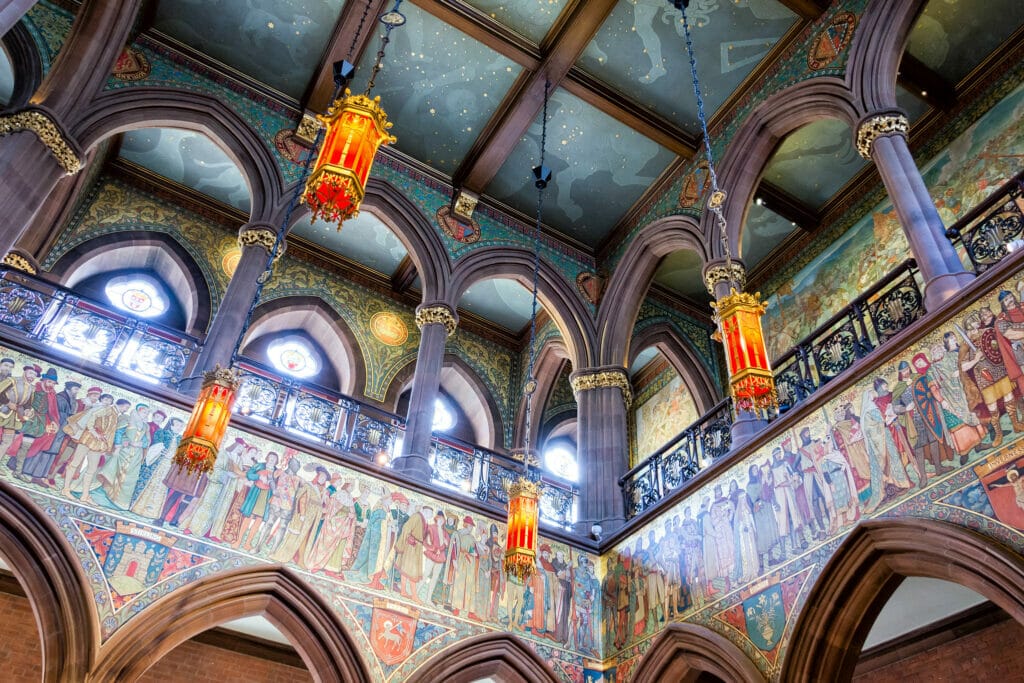 It's likely that you've seen one the best free things to do in Scotland already just by looking at the Edinburgh skyline.
The Scottish National Portrait Gallery is a beautiful red building designed by Sir Robert Rowand Anderson, and it was the world's first purpose built portrait gallery.
As with many portrait galleries, the paintings that you'll find here are of people.
And not just any people, but some of Scotland's most important people from all walks of life.
There are also photography exhibits with their own stories to tell, as well as regular events for history and art gurus who want to dig even deeper.
Free Stuff in Edinburgh for Couples
Finding things to do in Edinburgh for couples on a budget is near and dear to my heart, as Guy and I prefer to explore a city authentically and embrace the options both off the beaten path and a bit more touristy.
The following free things in Edinburgh for couples won't break the bank, and they'll guarantee you have something to talk about on the plane/train/drive home.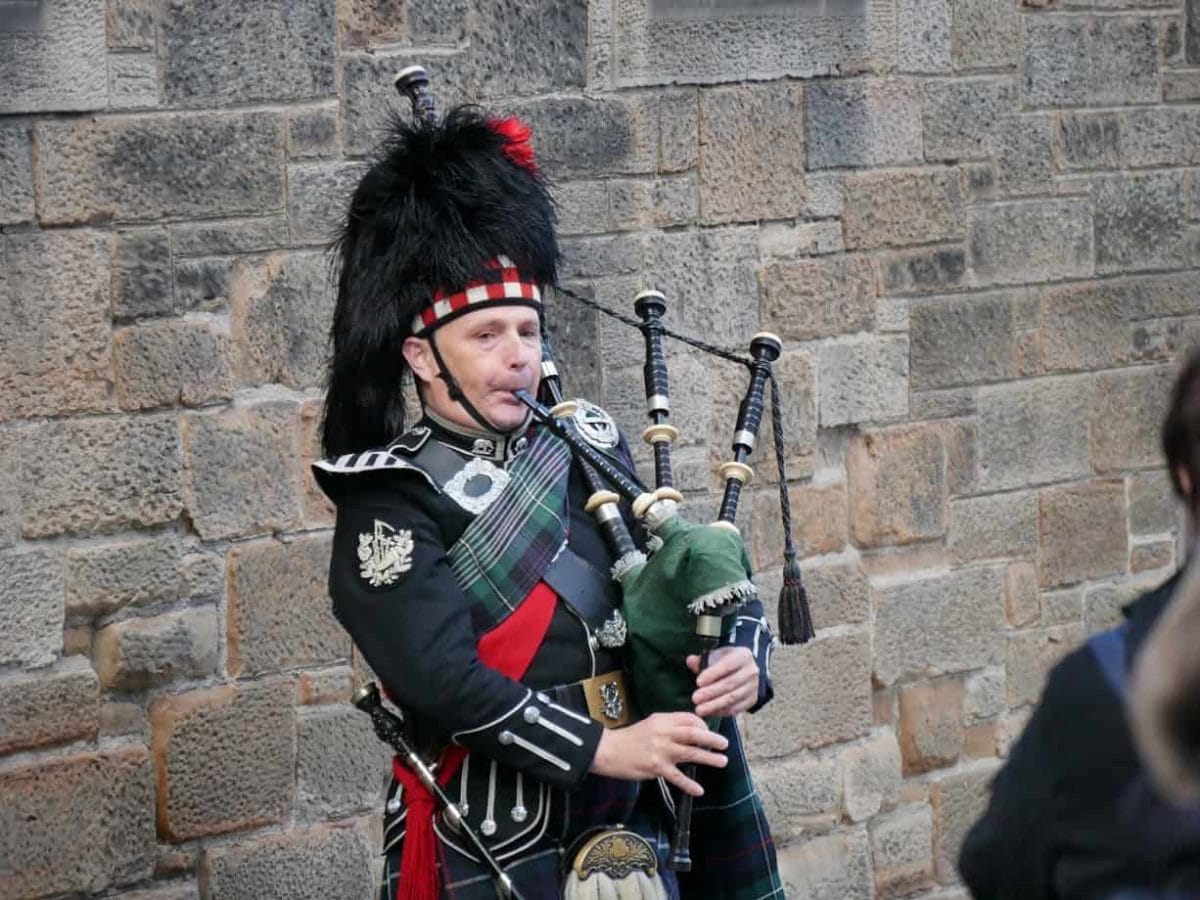 I've included the Scottish National Gallery of Modern Art on the list of things for couples to do in Scotland, because I truly think that there is no better place for a couple to find out if there's compatible than a modern art museum.
At least, there's no better place to figure out if you both interpret a blank piece of canvas the same way.
All joking aside, the National Gallery of Modern Art is the third branch of the National Gallery, and it's located in some beautiful grounds surrounded by water features so it's getting romantic up in here already.
The museum has been on its current site since 1984 and houses a wide collection of contemporary art pieces in both temporary and permanent displays.
Fun fact: the conservation warehouse for the National Galleries of Scotland is also housed here.
Address: Belford Road, Edinburgh, EH4 3DR, Scotland
21. City Chambers to see JK Rowling's Handprints
Carry on your Harry Potter tour of Edinburgh with your loved one with a stop outside City Chambers off the Royal Mile.
Here, you can step on JK Rowling.
Kind of.
Her handprints are here, built into the floor for her Edinburgh Award that she won in 2008 to celebrate the success of Harry Potter and the honor she brought to Edinburgh.
This is just a quick stop, as it is nothing more than her handprints on the ground, but if you worship at the alter of JK Rowling, it's a must-see (for free!).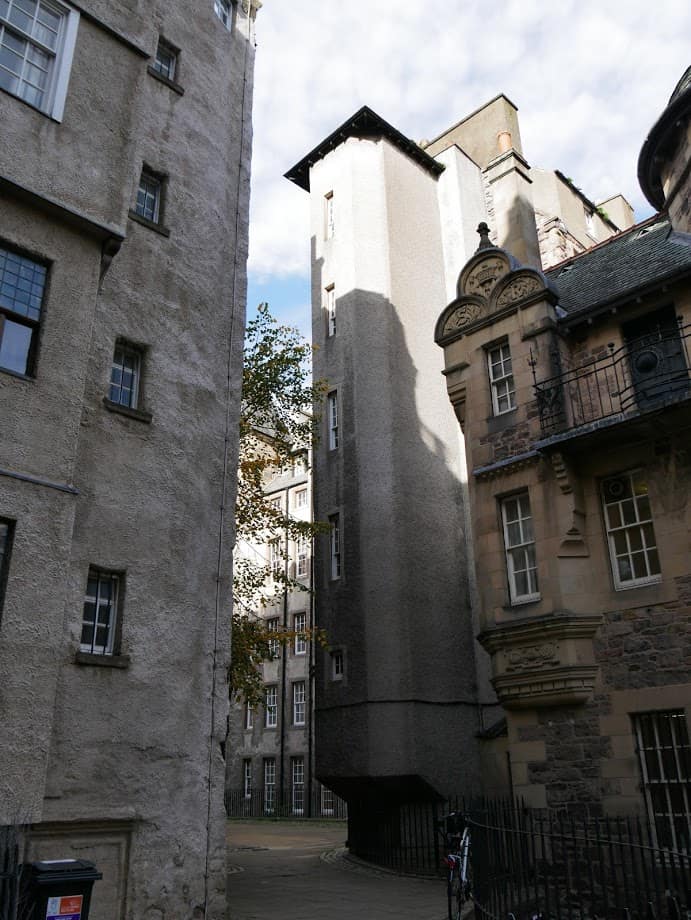 22. Scottish Parliament
Scottish Parliament seems like an odd idea for a couples trip to Edinburgh, and it's not exactly a great place for a first date, but it is something free to do in Edinburgh that will give you a fascinating glimpse into Scottish and British politics.
Scottish Parliament opens up for public viewing during their debates, including during First Minister's Question Time.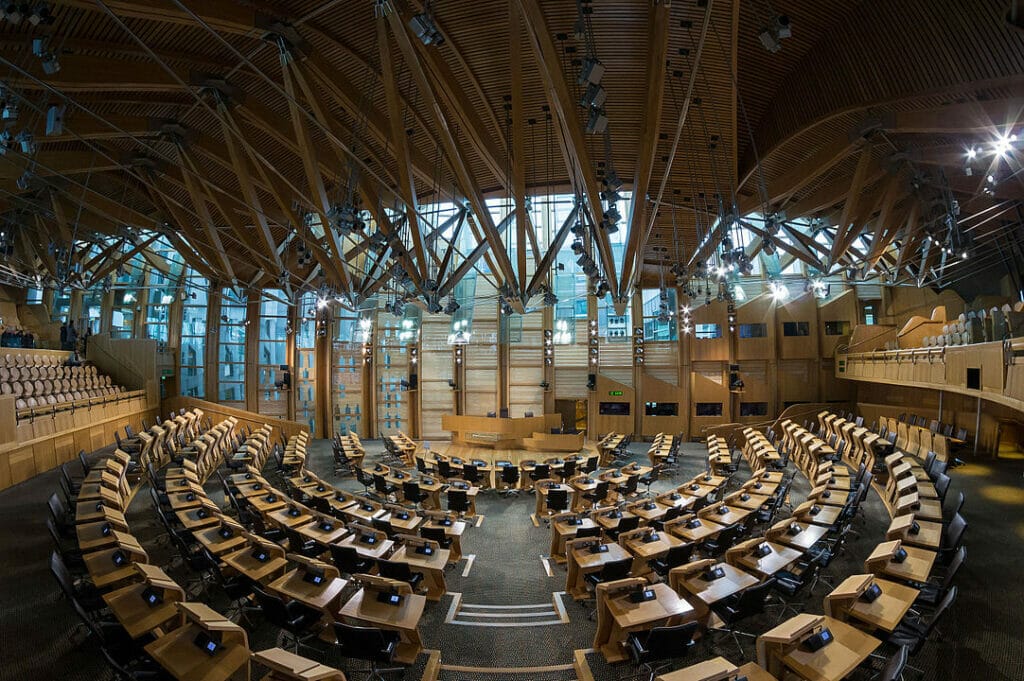 If you're not familiar with how politics work in the UK, you essentially have multiple different parties who all have representatives that sit in the chamber and either ask pointed questions of the ruling party's leader or try to get things done and discussed on other matters.
Especially during First Minister's Question Time, the tone in the air is pretty exciting for a viewer, with lots of cheering, booing, banging on tables and generally throwing insults at people's opinions and policies.
You do have to request tickets to see these debates, but the spaces are free and just going into the beautiful Parliament building is an adventure in and of itself.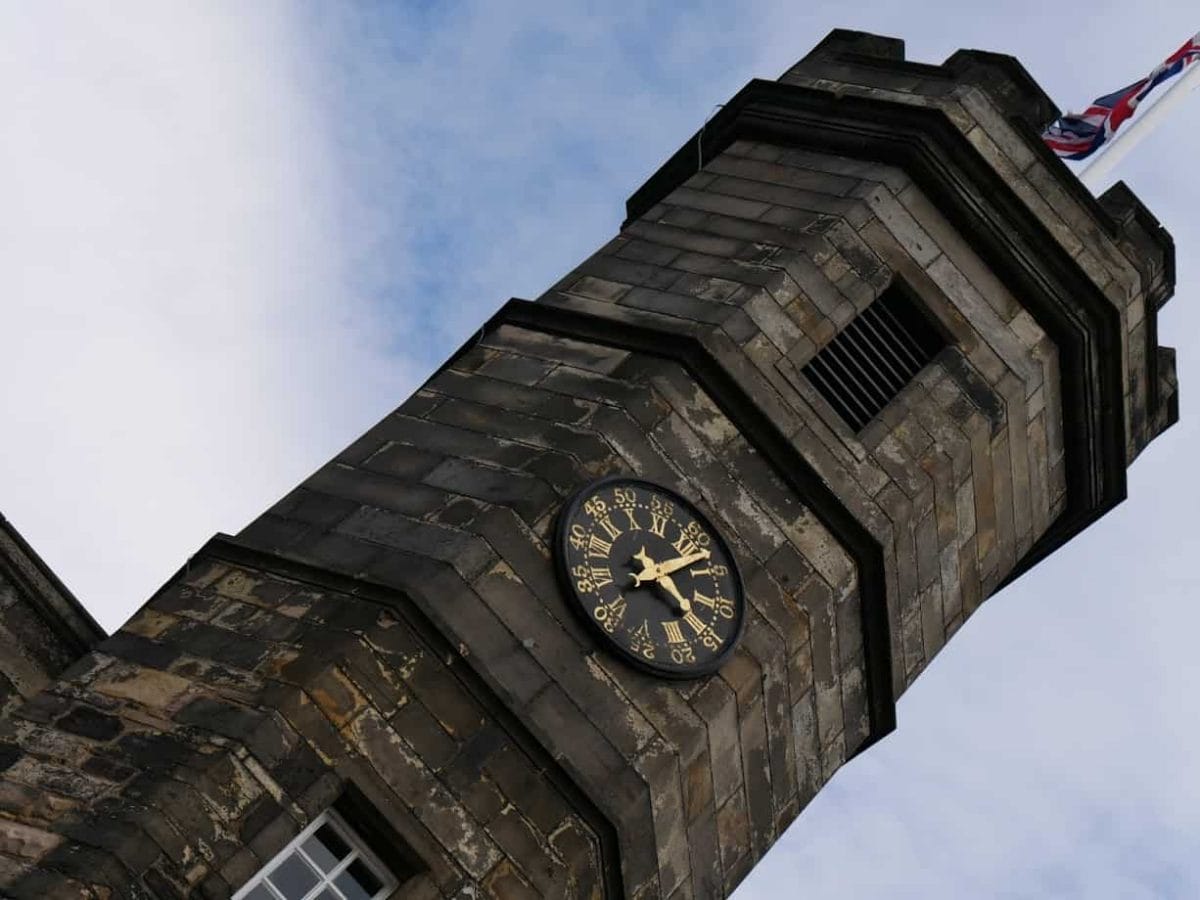 What's more romantic than strolling around a burial ground in Edinburgh?
This graveyard contains the final resting places of some important Scottish figures such as Greyfriars Bobby, a dog that guarded his owners grave for over 10 years out of loyalty.
You'll also find an interesting name in the graveyard if you're a Harry Potter fan: Tom Riddle.
JK Rowling admits to being inspired by the names in Greyfriar's Kirkyard, and you'll also find that the atmosphere is similar to what she imagined to be the graveyard in Godric's Hollow where Harry's parents are buried.
Tucked away in the Cowgate area of Edinburgh, Magdalen Chapel is a small chapel built by 1544 that has the only pre-Reformation stained glass piece in Scotland that is still in tact.
It won't take up hours of your day, but for something to see as a couple in Scotland that's not at the top of all of the Edinburgh tourist lists, take a little side trip here and learn about the history of this sacred place.
Nature Things to Do in Edinburgh for Free
There's nothing like being outdoors in Edinburgh when the weather is good.
You'll notice that Scottish people also stream outdoors in the sunshine, trying to soak up every last ray before it disappears again.
Whether you want to take some time off of go-go-go sightseeing or just want to find something natural to do for free in Edinburgh, this list has you more than covered.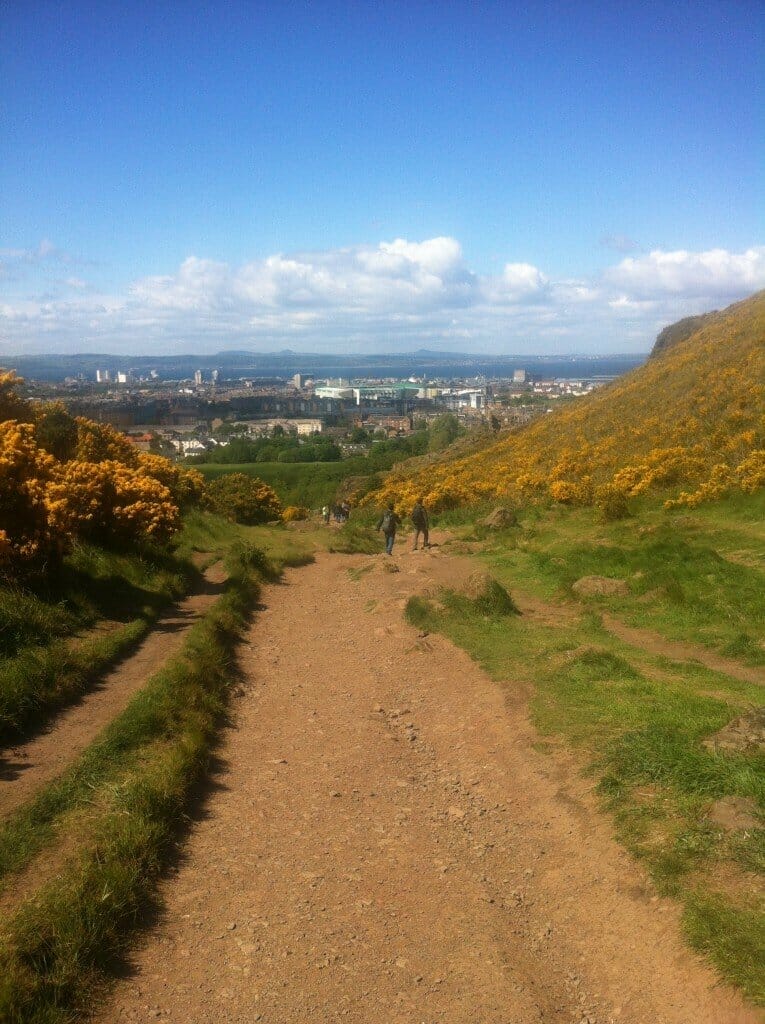 Edinburgh's surrounding hills and water are postcard-pretty: the type of place that you imagine is still fit for royalty.
Hopefully said royalty had someone else to pull them around on horse-drawn carriages, of course, because the hills are taxing on the calf muscles!
The ultimate test of a getaway in Edinburgh is your ability to climb Arthur's seat, the main peak.
The views are stunning, although the higher you get into the clouds, the more the phrase "Don't look down" starts echoing from all sides.
In reality, once you have your footing, you really should look down and appreciate the unforgettable view.
This picture is from a bit up, but not from the top.
Did you think I was going to ruin that for you?
I worked off like 6 donuts for that view–you can too!
Just kidding, here's a view of Arthur's Seat for your viewing pleasure.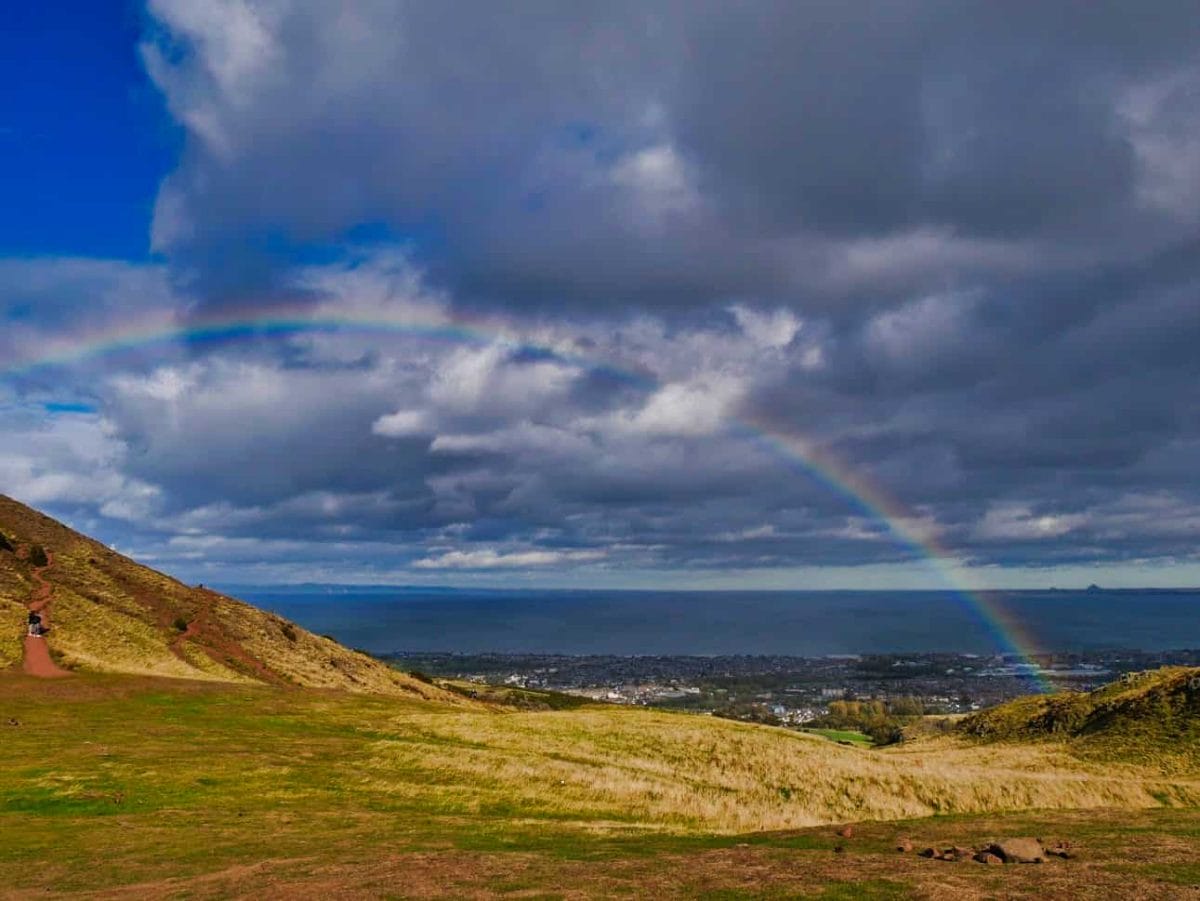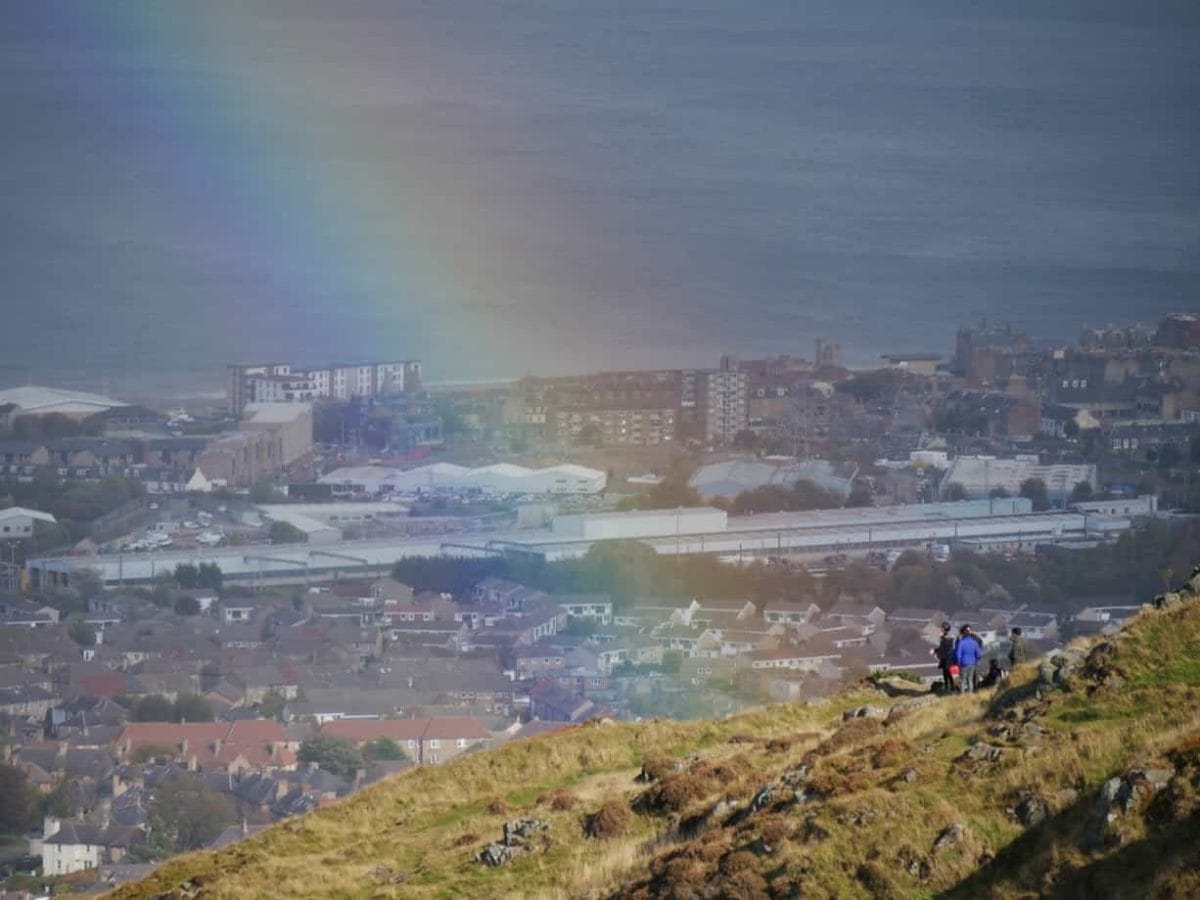 You definitely want sturdy tennis shoes or straight up hiking boots to head up Arthur's Seat.
This is not a leisurely stroll through some meadows, but a legit hike that will make you feel accomplished when you finish.
Hiking up Arthur's Seat is one of the most calorie – burning free things to do in Edinburgh, and it is also adaptable based on your fitness level.
There are two ways up and down – the steep way, and the more winding pathway.
The more winding pathway is hard to miss – if you're following a winding path, you're on the right track.
The steep way essentially begins with a giant pile of stairs that take you from sea level to up in the clouds in like 30 seconds if you're fit and about 30 minutes if you're me.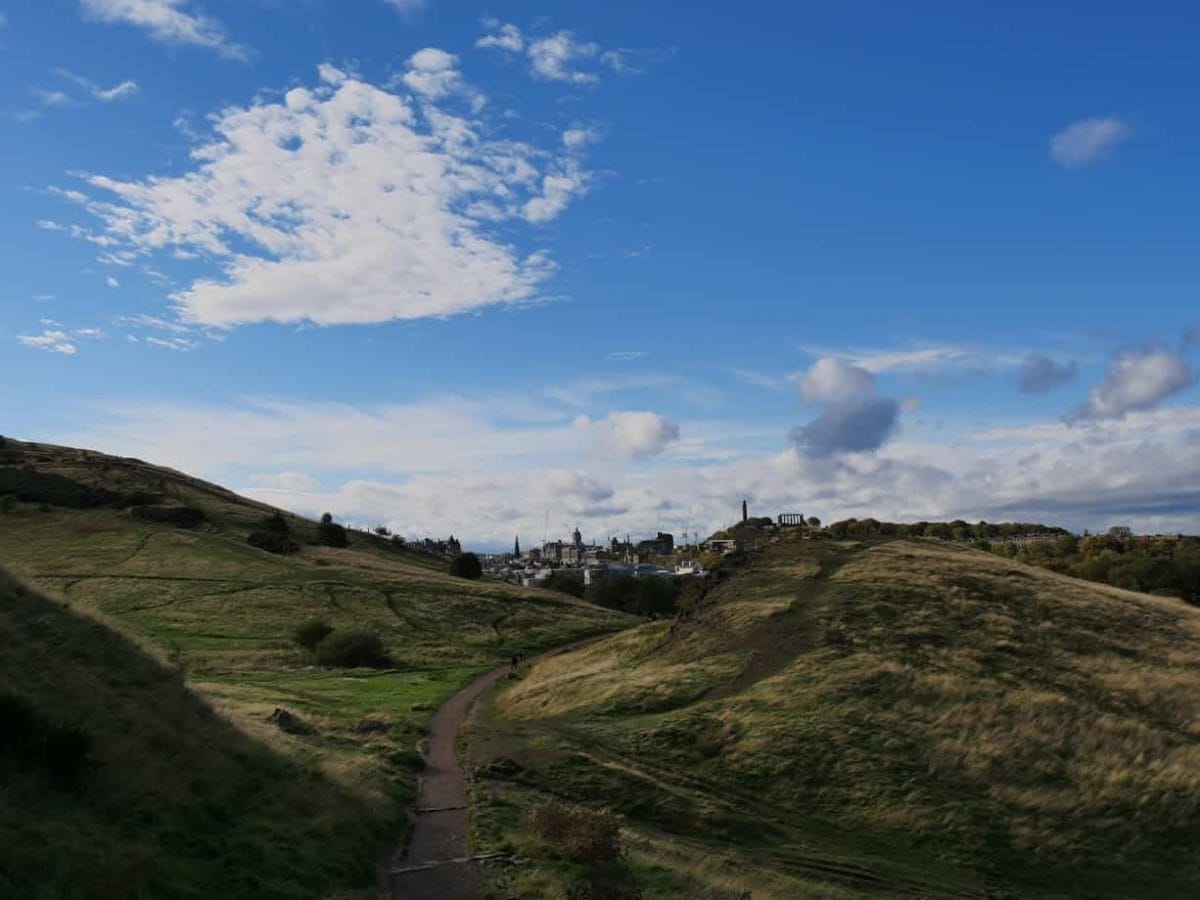 26. The Meadows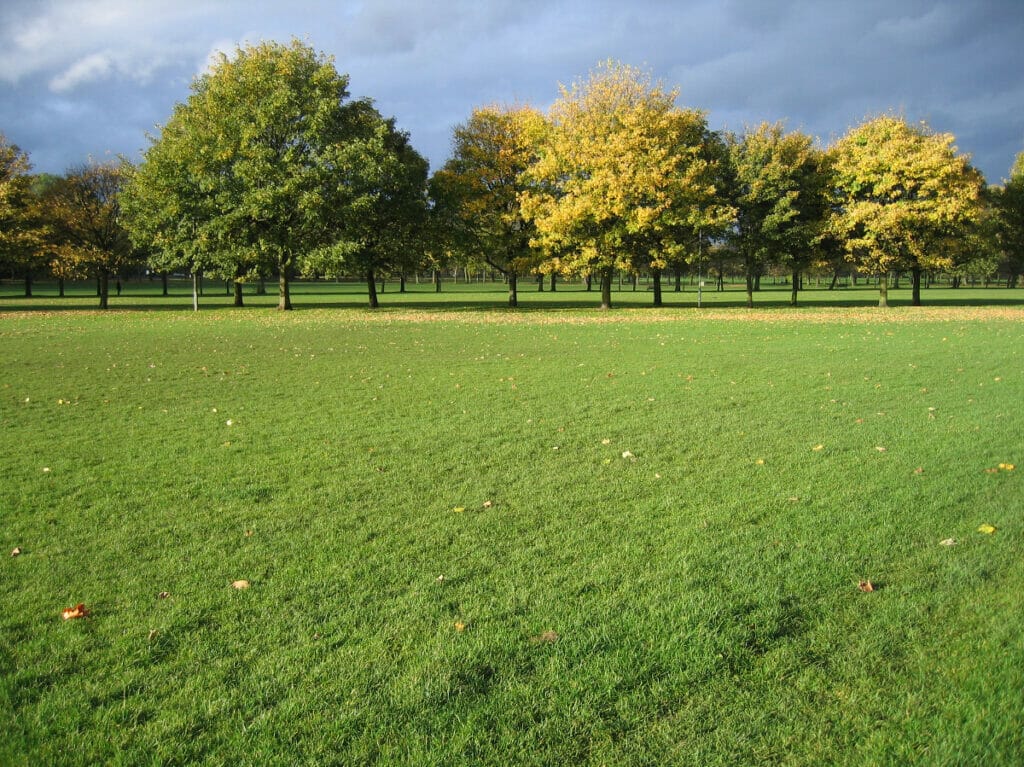 South of the city center lies a truly spacious place for everyone to run, place, sleep in the sun or just escape the city for a while.
The Meadows includes plenty of open grassland, charming tree-lined walkways and also recreational sports opportunities including tennis courts.
You can get some fantastic views of Arthur's Seat from the Meadows, especially at sunrise, and the park acts as a venue every year in the Edinburgh Fringe festival.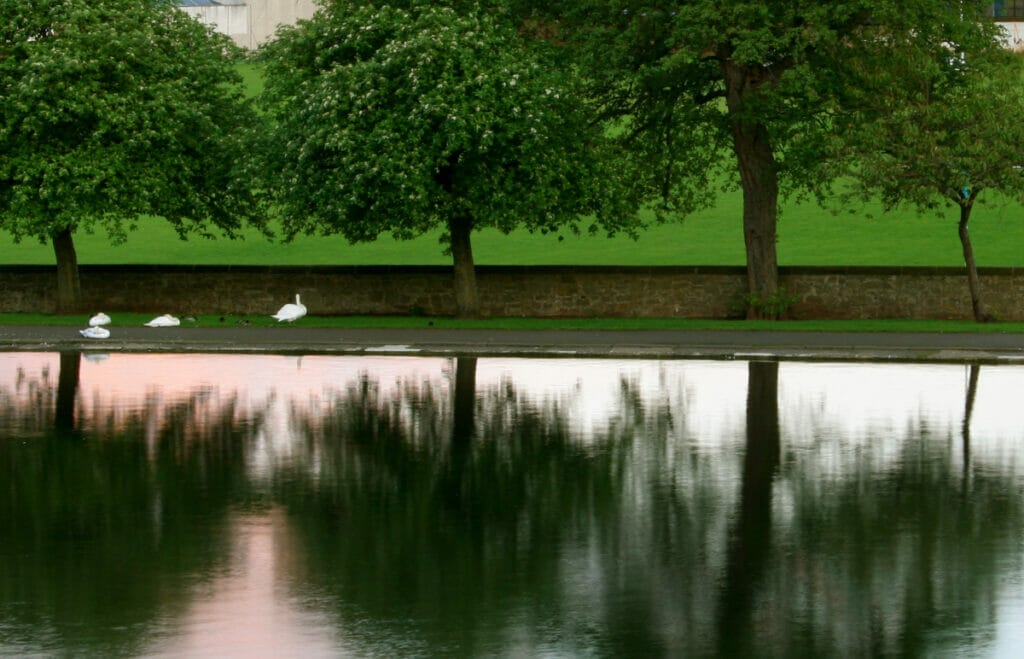 To escape into an oasis of dog walkers and marshland, check out Inverleith Park.
Not only does it have the typical park resources like open spaces, sports fields and a kid's playground, but it also has a fantastic pond surrounded by bridges and landscaped marsh, as well as a sundial garden and plenty of viewing spaces to see the fireworks over Edinburgh Castle during certain special events in the year.
While the park used to include a farm, today it just has some gardens for vegetables and quiet spaces to reflect and relax with your own furry friends.
Inverleith Park is right next to the Royal Botanic Garden Edinburgh and is more of a local park that is perfect to see some free things in Edinburgh that the locals would do.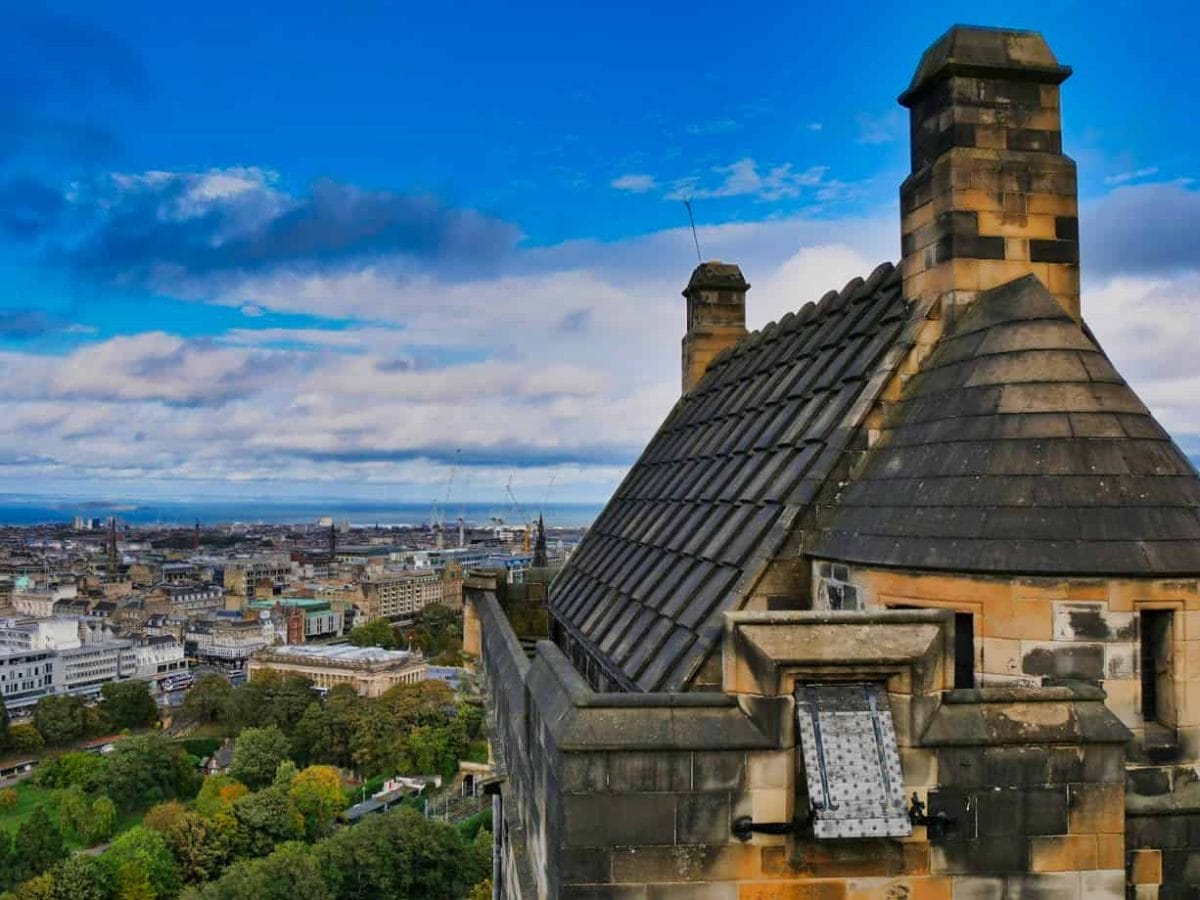 28. Water of Leith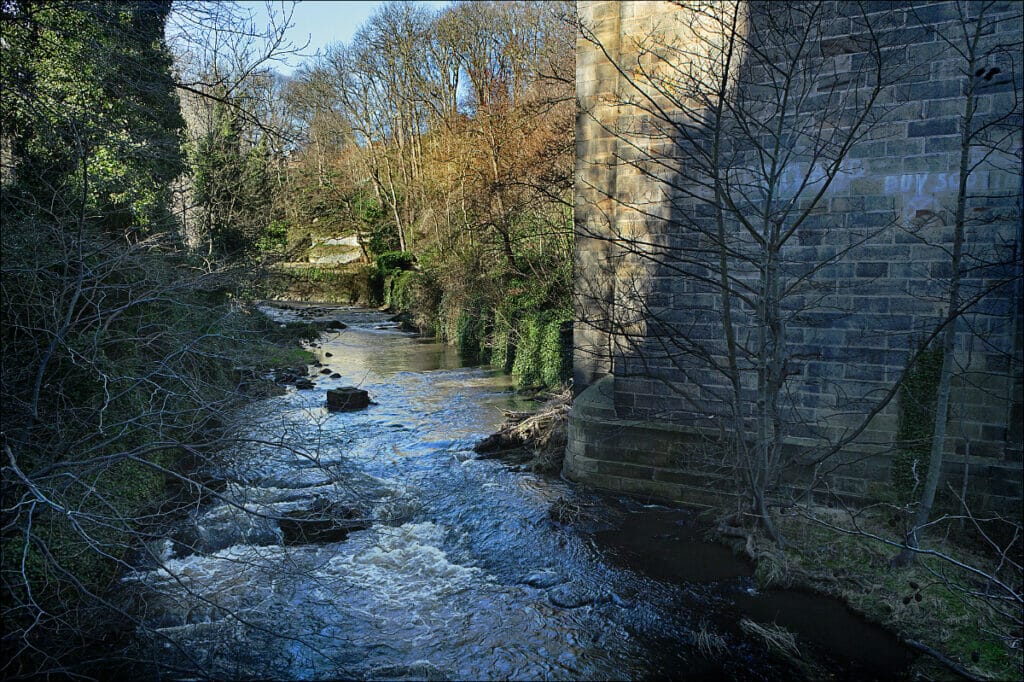 The Water of Leith is the main river that runs through Edinburgh and, while not a destination in and of itself, the city has set up walking paths alongside it at various points to give walkers, tourists, and locals a way to appreciate the river.
In fact, the walkway is set up for both cyclists and horseback riders, so you don't even have to be on foot to experience this beautiful part of the world.
As you walk along, you'll encounter attractions such as the Scottish Gallery of Modern Art, Dean Village, and the Royal Botanic Garden.
You'll also want to be on the lookout for birds and other wildlife, as the green corridor surrounding the river is a wildlife area in an effort to conserve and protect animals in the city.
29. Calton Hill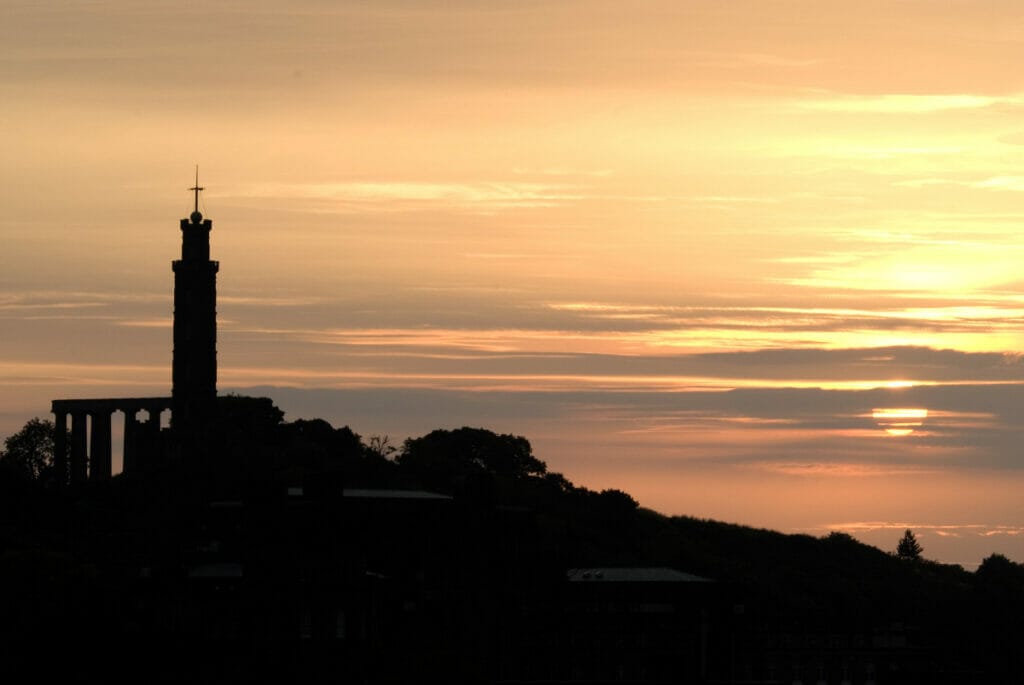 Want some of the best views in Edinburgh?
Head to Calton Hill, where you can stand seemingly on top of the world and look out to other famous Scottish landmarks like Arthur's Seat and the Royal Mile.
In addition to being a trek up the actual hill itself, walking up Calton Hill is a great way to see some free monuments in Edinburgh, including the National Monument and the Nelson Monument.
The National Monument, styled like the Parthenon in Athens, was built to commemorate soldiers who had died in the Napoleonic Wars, but was never completed and is left unfinished.
The other monument is the Nelson Monument, built for Lord Nelson to honor his death at the Battle of Trafalgar.
30. Cramond Island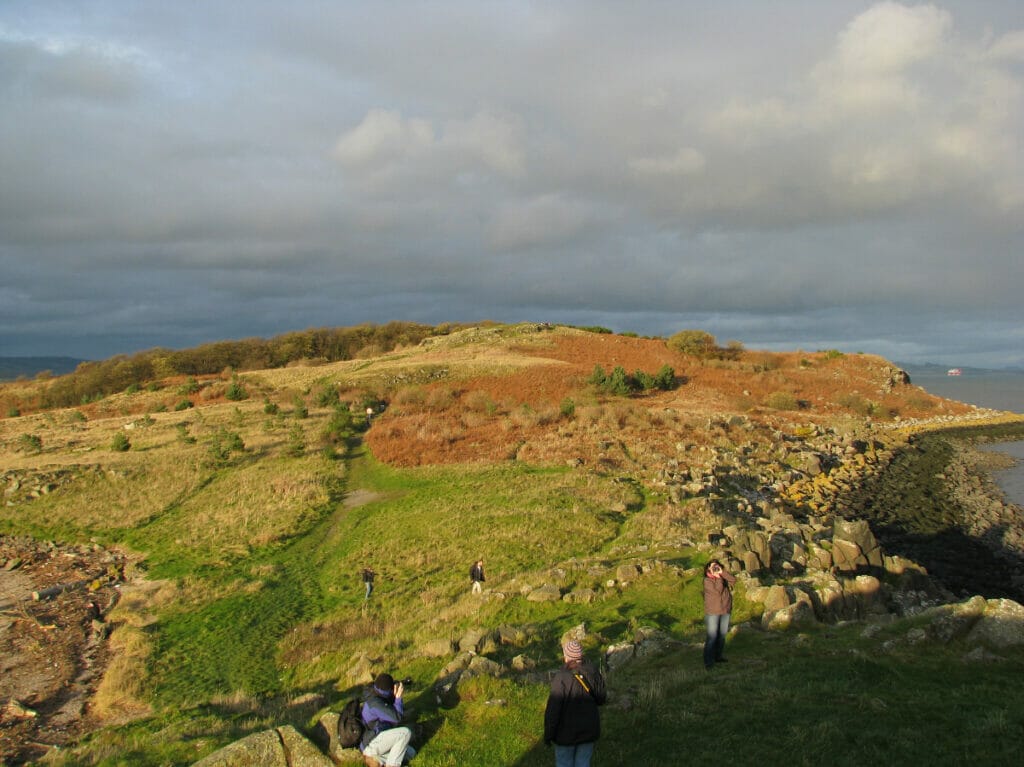 Make sure to wear your best walking shoes when you go to Cramond Island, as this island near Edinburgh doesn't have paved paths everywhere and is instead natural with pretty beaches.
You can take a bus from Edinburgh city center to get here, and from there you can reach the island during low tides.
The island still has some war time relics from World War I to see, and many families enjoy taking a stroll out on the island with a picnic lunch to enjoy the day.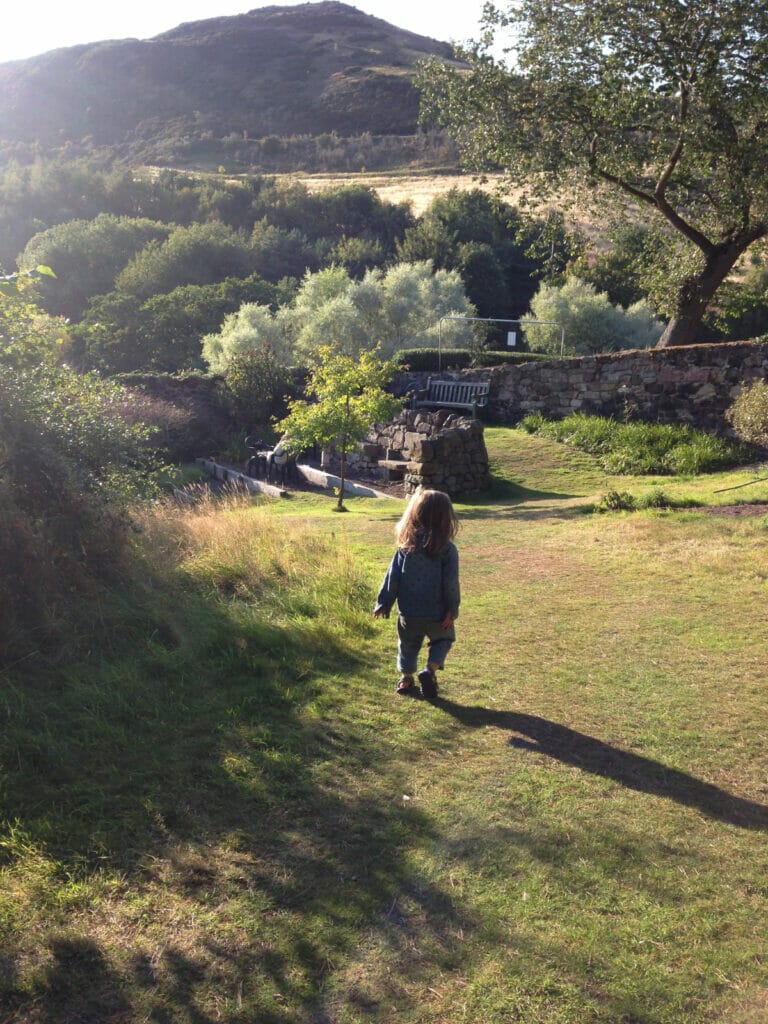 Often referred to as Edinburgh's Secret Garden, Dr. Neil's Garden is a tucked away garden filled with lots of areas to contemplate, meditate, and rejuvenate.
You can find Dr. Neil's Garden at the spot where Duddingston Loch meets the lower bits of Arthur's Seat, and the garden itself is filled with beautiful flowers that are changed according to the season.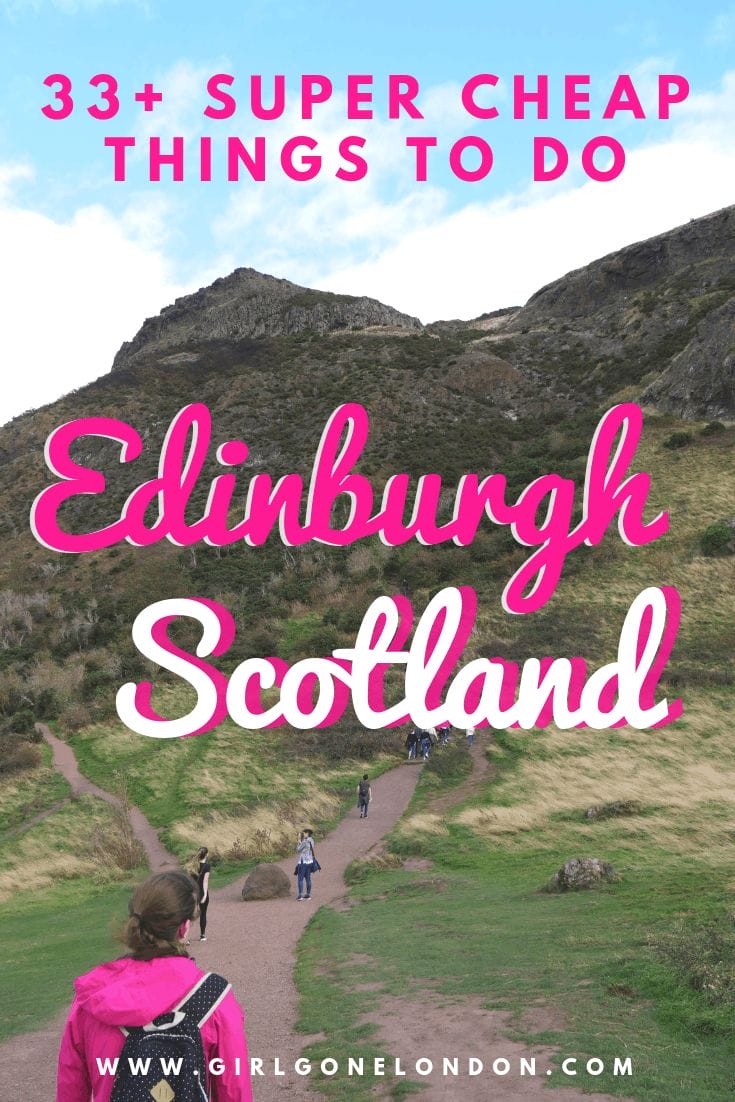 UK Travel Planning Guide: the FAQs
🏥 Should I buy UK travel insurance?
Absolutely yes. Basic coverage is not expensive, and as a visitor you are NOT covered under the NHS. Compare policies and prices with Travel Insurance Master here, a big name in the travel insurance business, and cross that off your list.
🔌 Do I need travel adapters for the UK?
Yes, you do, otherwise you won't be able to plug in your electronics/phone/lifelines. I recommend this one, which is all-in-one so you can use it in other countries.
🚗 What do I need to drive in the UK?
The first thing you need to check out if you're planning on renting a car in the UK is this guide to driving in the UK for visitors – the roads, signs, and driving experience will likely not be what you're used to and it's essential to prepare yourself to stay safe and aware.
🛌 What's the best way to book hotels in the UK?
For UK hotels, Booking is the best site as it offers free cancellation on many properties. If you want an apartment, I always recommend VRBO over AirBnb.
📳 Will my phone work in the UK?
Yes – if you set it up right. Check out my guide on making your foreign phone work in the UK to ensure that you get the type of service you need.
🚿 Can I drink the water in the UK?
Yes, UK water is great and perfectly safe. But drink out of taps in any kitchen or use water fountains. Double check before drinking out of the taps in hotel bathrooms, though, as they may be on a different system.