This post contains affiliate links for which I may make a small commission to help keep the site running. You will not be charged extra for these items had you not clicked the links. Thank you for your help to keep the site running!
Rain isn't an unknown weather feature in the charming city of Edinburgh, Scotland.
In fact, it is cold and rainy so much that there are plenty of things to do in Edinburgh when it rains.
From indoor attractions to keep the kids dry to cultural museums that keep you dry AND educated, spend just one rainy day in Edinburgh and you'll soon learn that your fun doesn't have to stop.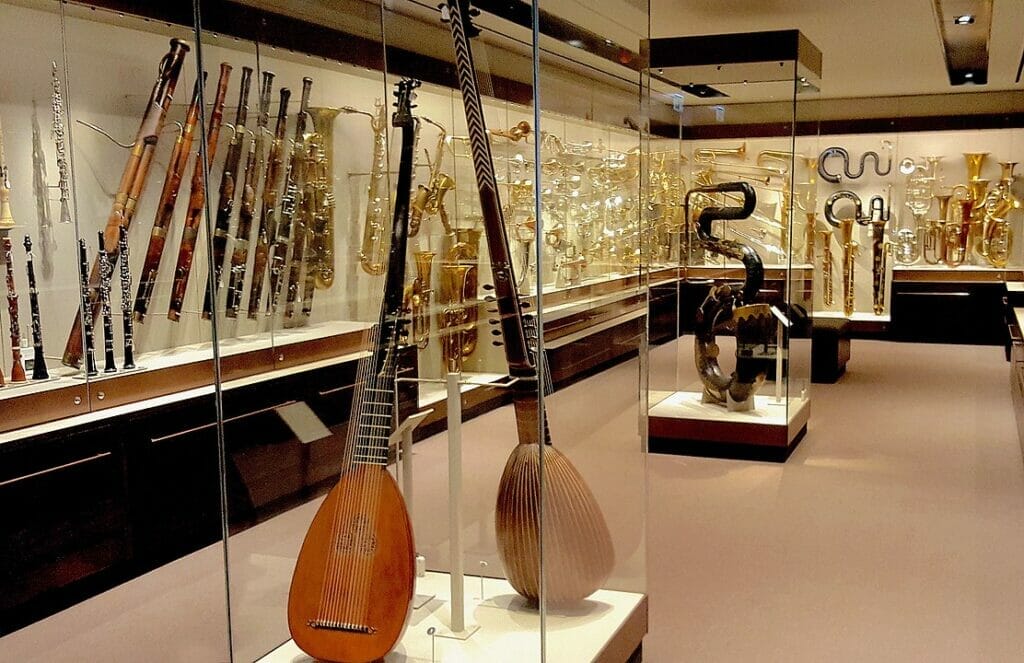 Are you in Edinburgh now?
If so, here's a quick snapshot of my favorite tours and things to do in the rain:
Edinburgh Ghostly Underground Vaults Tour – considering this tour is underground, the rain won't affect you at all!

Underneath Edinburgh are some seriously cool and spooky vaults that you can explore with the help of a tour guide. It's one of the top-rated things to do in Edinburgh.

Click here to find out more.

Real Mary King's Close Guided Tour – another completely underground tour, but this time having to do with a preserved street under the Royal Mile.

Over the years, the city got built up over this "close," or "street", and you can head back down to see how it was left and experience what life would have been like in Old Town Edinburgh.

An Edinburgh must-do. Click here to check it out.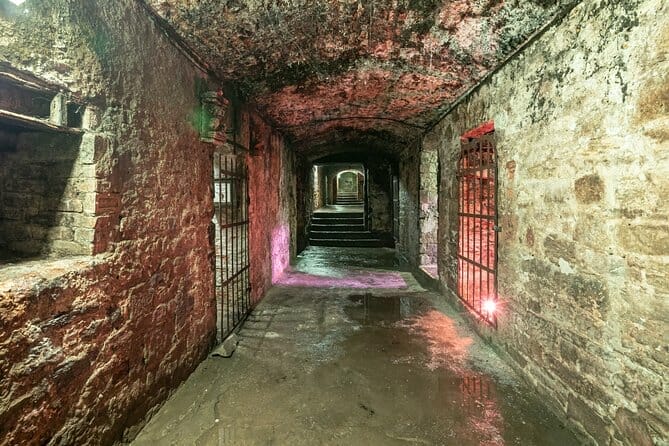 Cultural Things to Do in Edinburgh in the Rain
Even when it's raining, Edinburgh is a treasure trove of culture and history.
And the great thing about the city is that you can still explore cultural attractions no matter the weather.
While you might not be strolling merrily down the Royal Mile, you can still choose from one of these cultural activities to do in Edinburgh in the rain so you feel more immersed and knowledgeable about this fascinating city.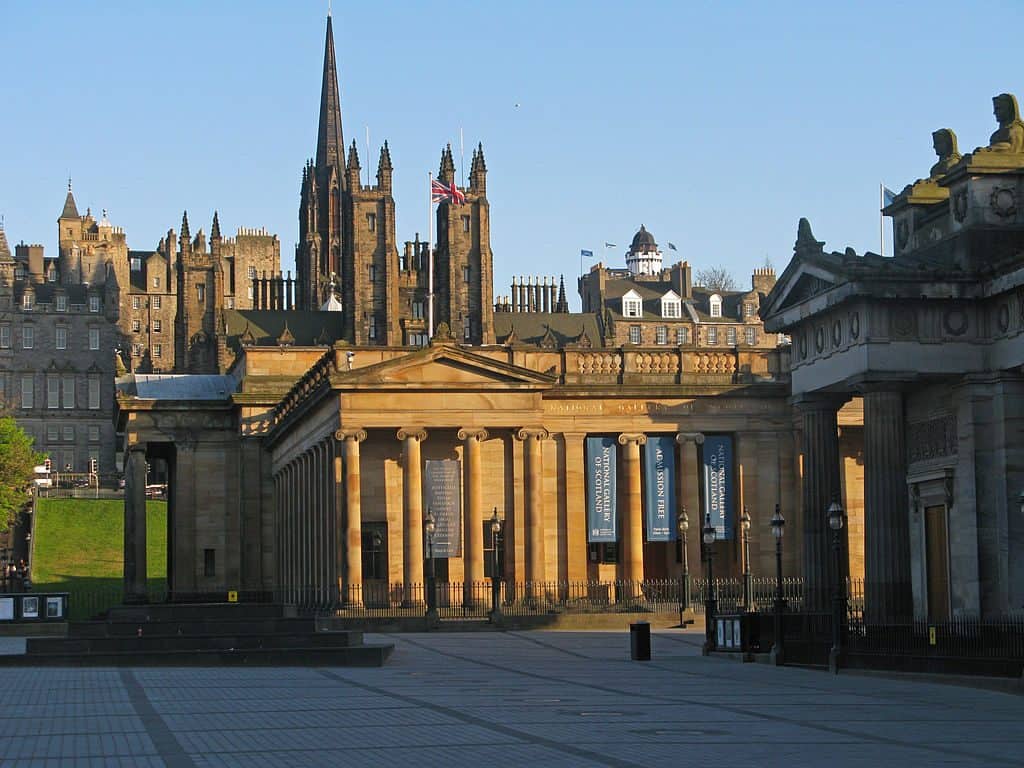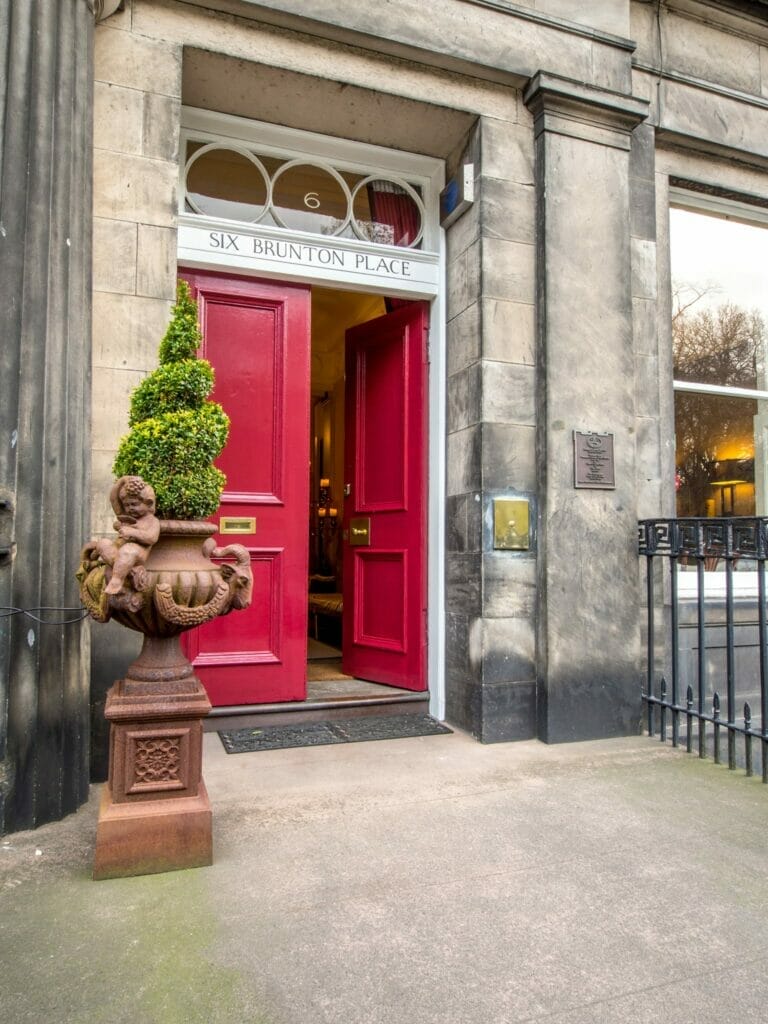 1. Edinburgh Castle
As one of the most popular landmarks in Edinburgh, Edinburgh Castle is found in the scenes of many postcards and advertisements.
It's located at the end of the Royal Mile, which is a connection of streets that are open to the rain (as many streets are…), but you can still explore the castle in the rain!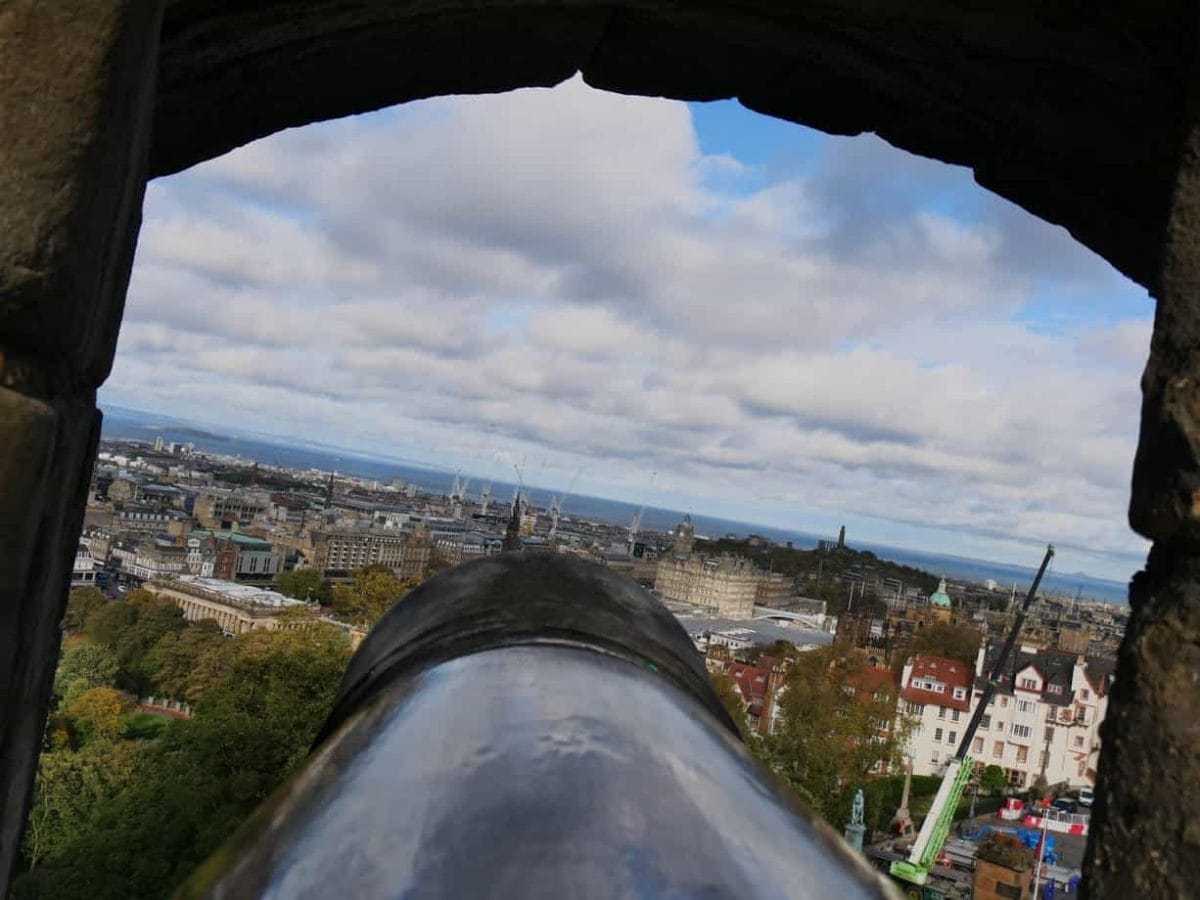 Opening hours vary, but start mid-morning to about 5pm or 6pm in the summer time.
It's a great way to spend a rainy day in Edinburgh because there are a lot of things to do inside – you can see the Scottish crown jewels, take in a military museum, and generally explore rooms featuring furniture and dressed up mannequins that take you back to how the castle would have operated back in the day.
In fact, Edinburgh Castle dates back to the 12th century, and while it has been used for various things including defense of the city, today it is one of the city's most popular attractions.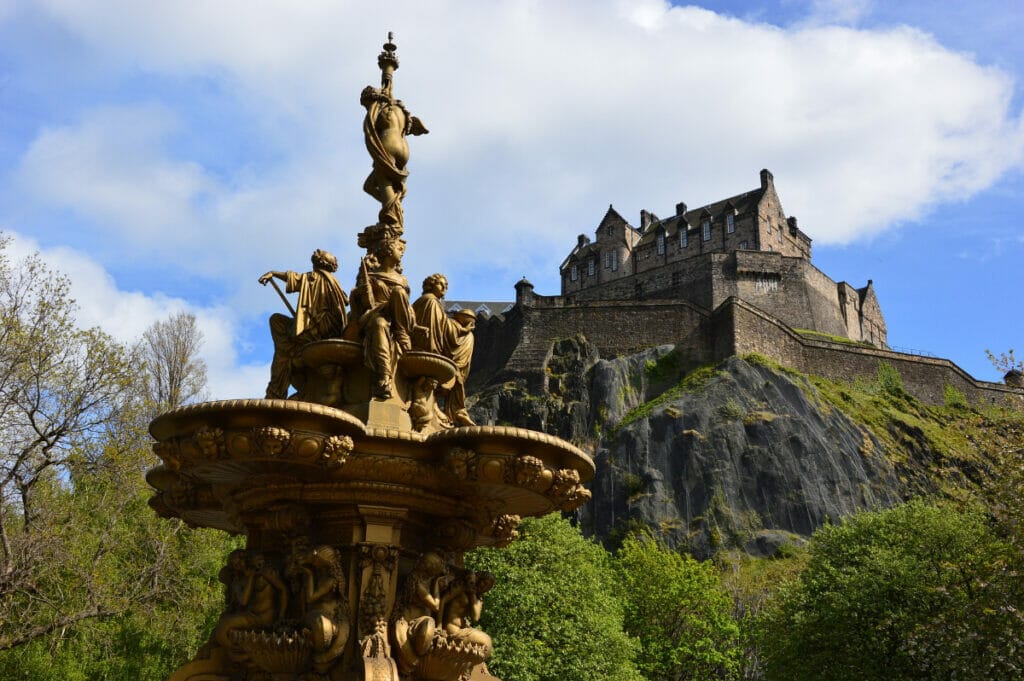 So don't worry about the rain – you won't be able to take full advantage of some of the views if it's really raining heavily, but most of the castle will be ready for you to explore.
GET A

FREE

UK GUIDE and ACCESS TO MY PLANNING FB GROUP
With 50+ pages of helpful travel tips and the "best of" UK lists, this is your ad-free key to your UK trip.
2. Real Mary King's Close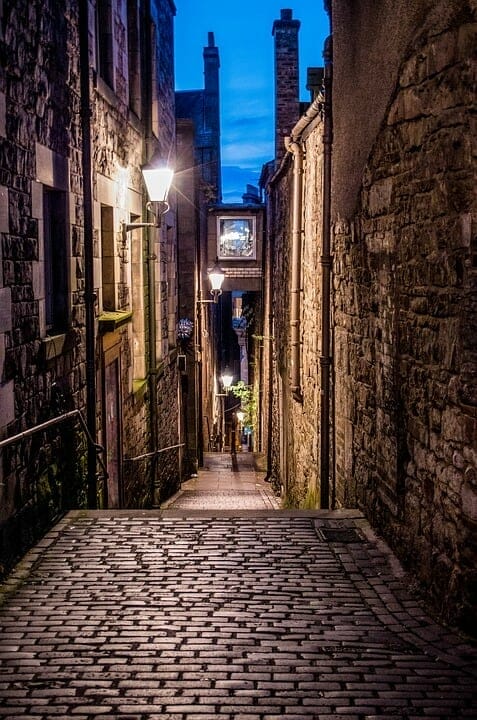 Despite feeling like you're outside at bits, the Real Mary King's Close experience is completely covered, essentially making it an indoor attraction.
Of course, it used to be outdoors!
Confused?
Mary King's Close is basically a street that has been preserved from Edinburgh's olden days.
It used to be occupied by local residents, and as you take a guided tour through the street and rooms and homes, you'll start to piece together the people that made the street what it was.
Of course, there are lots of ghost stories to be had based on hauntings from spirits and residents who aren't quite ready to give up, let's say, but it's a nice family-friendly attraction if you don't mind holding your loved ones tight in some of the rooms!
This is also one of the best things to do in Edinburgh at night!
3. Queen's Gallery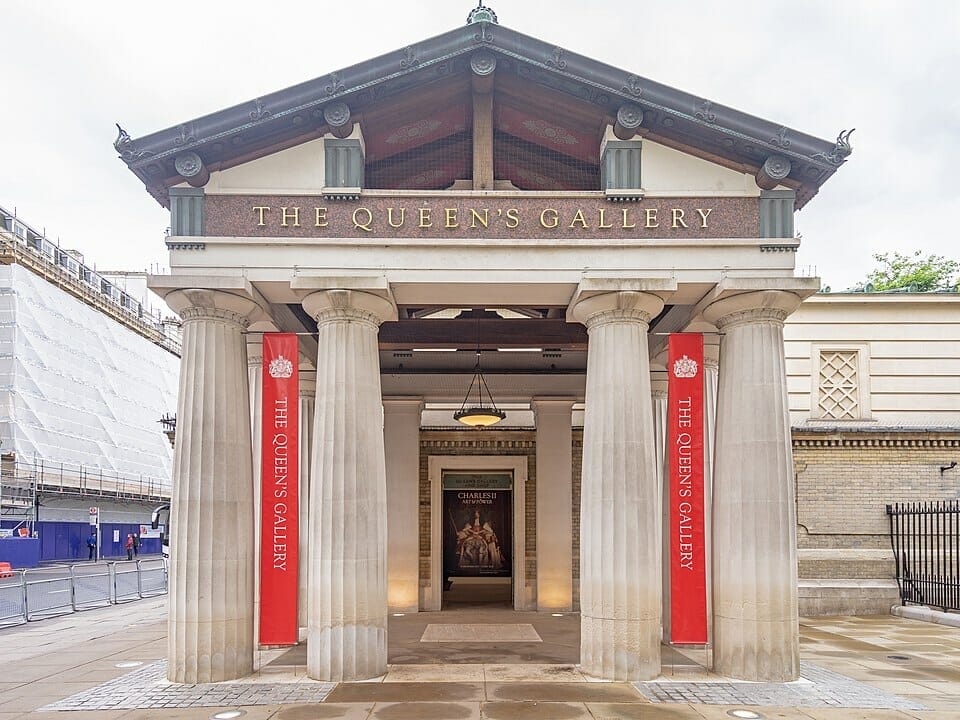 Part of the Palace of Holyroodhouse, the Queen's Gallery is a fascinating place to see the latest showcase of the Royal Collection.
These works of art have been collected by the royal family and are sometimes shown in Scotland for the first time.
You can visit the Queen's Gallery as a separate entrance ticket or you can have it included in your visit to the Palace at Holyrood House.
Example exhibitions include things like "Charles II: Art and Power" – history buffs are going to be in heaven.
IMPORTANT: are you coming to the UK from abroad?
In case you're reading this from outside the UK and will be a foreign visitor here, you need to know these 2 things to stay safe and save money.
Travel insurance – you need it when going overseas! I use

this site

to get the best quotes and purchase my packages from. Do not skip this – having medical coverage abroad as well as other coverage in case of missed flights, lost luggage, etc is essential. As I said, I have never gone wrong using

this site

.
4. The Georgian House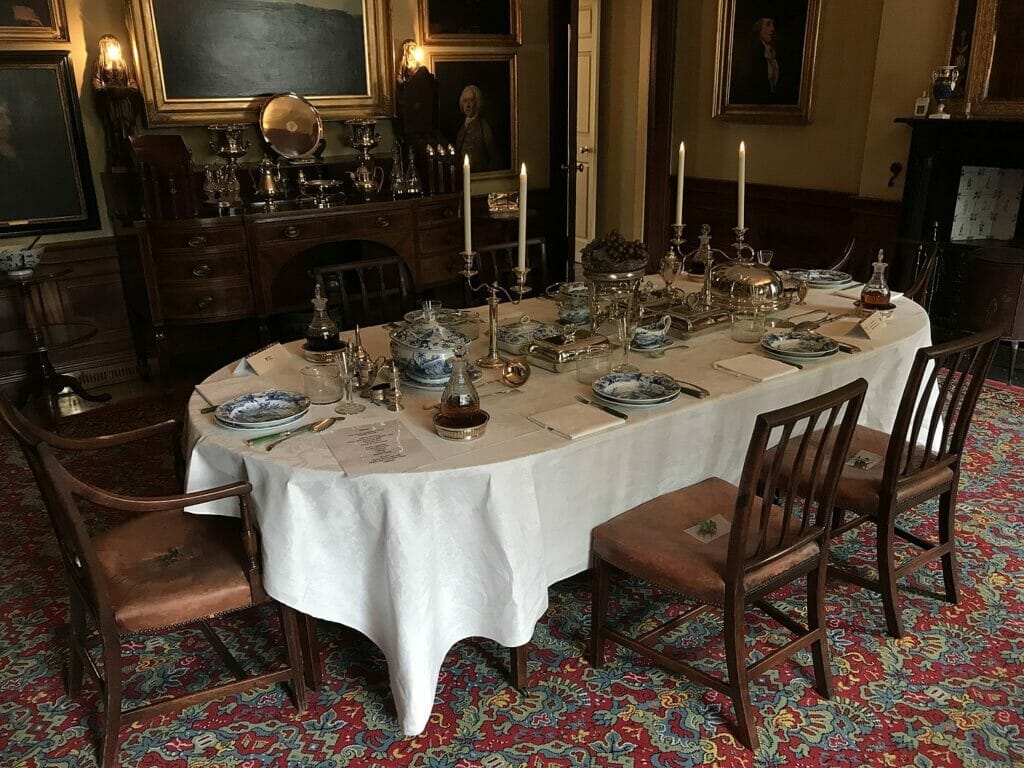 In this Edinburgh New Town attraction, The Georgian House, you can step inside a beautiful building and see paintings by famous Scottish artists such as Sir Henry Raeburn.
This house was designed by Robert Adam and was a statement of luxury by its owners.
There's also a movie all about living in the house back in the day, as well as a drawing room and dining room that are fitted out how they would have been when guests were entertained here.
Oh, and there is a dress up area so you can dress up like the residents of this townhouse back in the 1700s.
I mean, what more could you want?
5. St. Cecilia's Hall Museum of Musical Instruments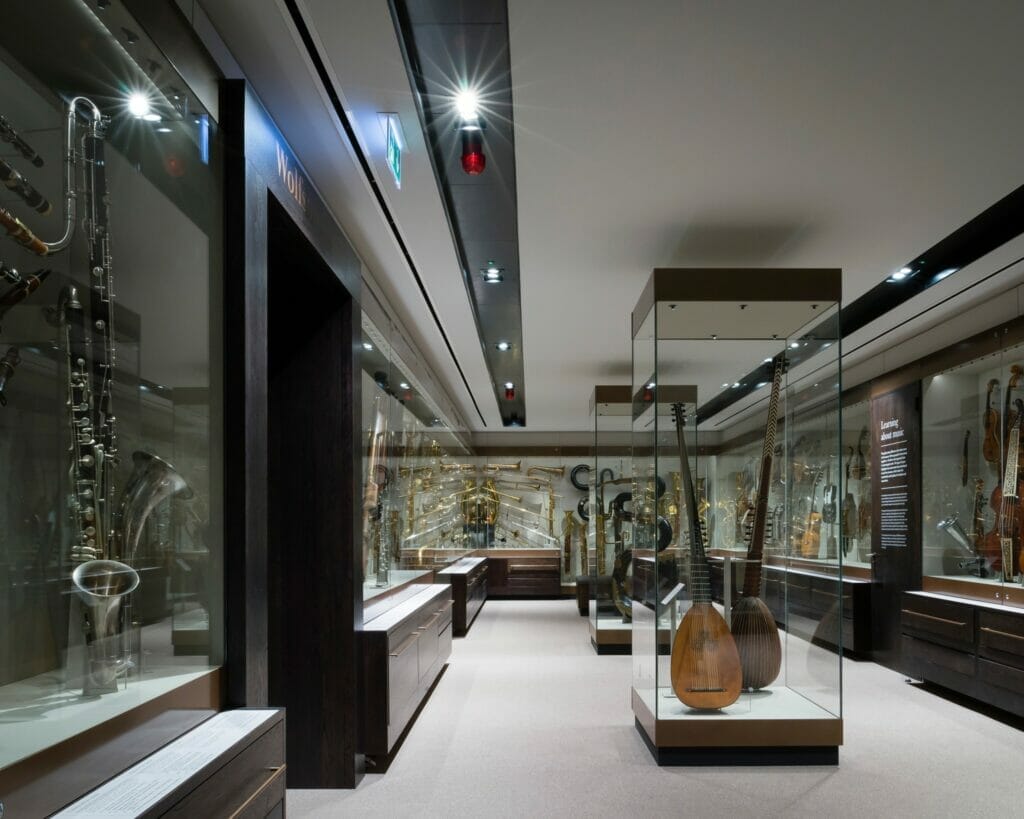 Make sure to check out St. Ceilia's Hall Museum of Musical Instruments to figure out all the weird and wonderful instruments you never even knew were a thing – harpsichord, anyone?
In addition to having a music museum, this is also a concert venue and a place of conservation where experts work hard to preserve some of Scotland's most important instruments and contributions to the music world.
This is another free option for an indoor activity in Edinburgh.
6. The Royal Yacht Britannia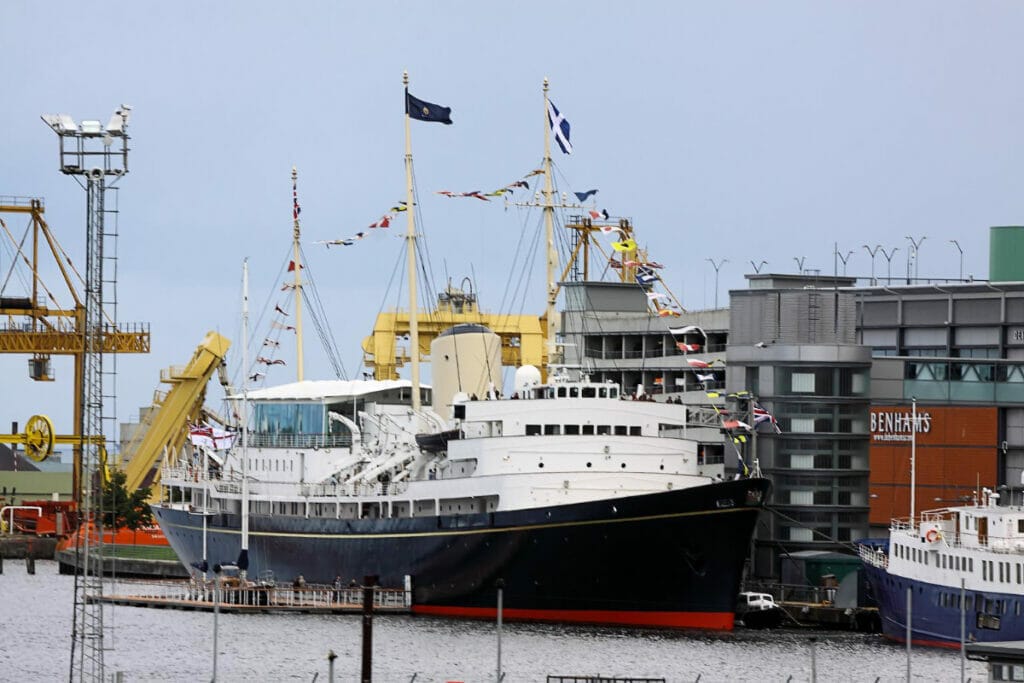 This floating attraction may be on water, but you can be safe from the water falling from the sky by going inside.
The Royal Yacht Britannia was the Queen's floating royal palace and has hosted some pretty classy functions in its day.
Today, you can wander the ship with an audio guide on hand which covers the history of the ship and why it's such an important memento for the British Royal Family.
7. City Art Center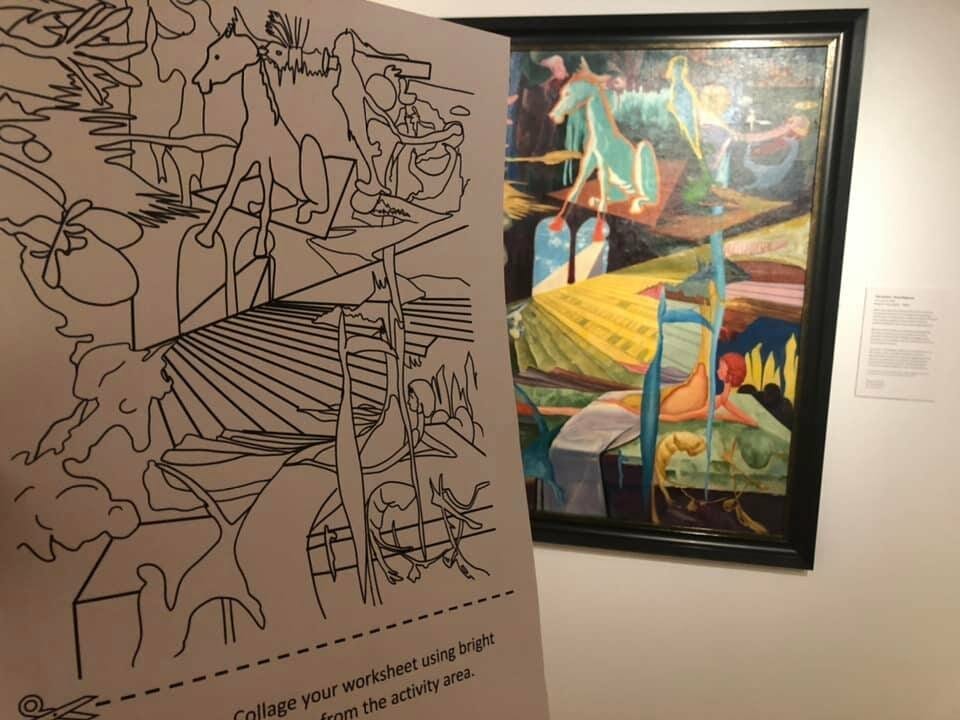 Stop by this awesome gallery near the main train station, Waverley Station, to see Scottish art from a collection that is regularly rotated.
You'll see both historic and modern paintings, as well as photography exhibits and some arts and crafts.
Entry to the City Art Center is absolutely free, and it's a great place to go if you have time to kill before or after your train ride into Edinburgh.
(Or maybe you're taking a weekend trip from Edinburgh)
8. St. Giles Cathedral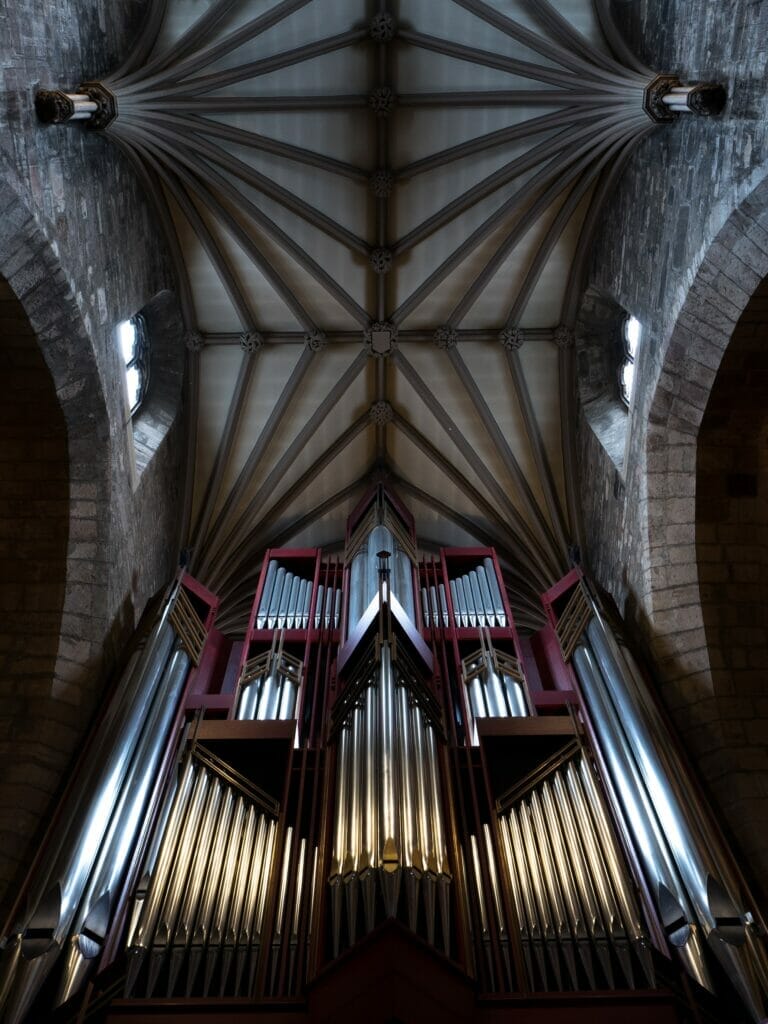 St. Giles Cathedral is one of the best places to visit in the rain or snow in Edinburgh, as its location on the Royal Mile makes it easy to dip into and wait for the rain to pass.
It will be appreciated by the whole family, though particularly by those with interests in history and culture.
The church has been on the same site since 1124 and you can almost smell the history seeping off the walls (okay, not really, but it has a delightfully musty old cathedral smell).
The cathedral is known for being a site of the Scottish Reformation, and it still is a working cathedral with services and a local community.
Visitors are allowed for no entrance fee, but there are certain times of the day when you can't visit as a tourist during worship sessions, so just check the schedule out front before heading inside.
9. Palace of Holyrood House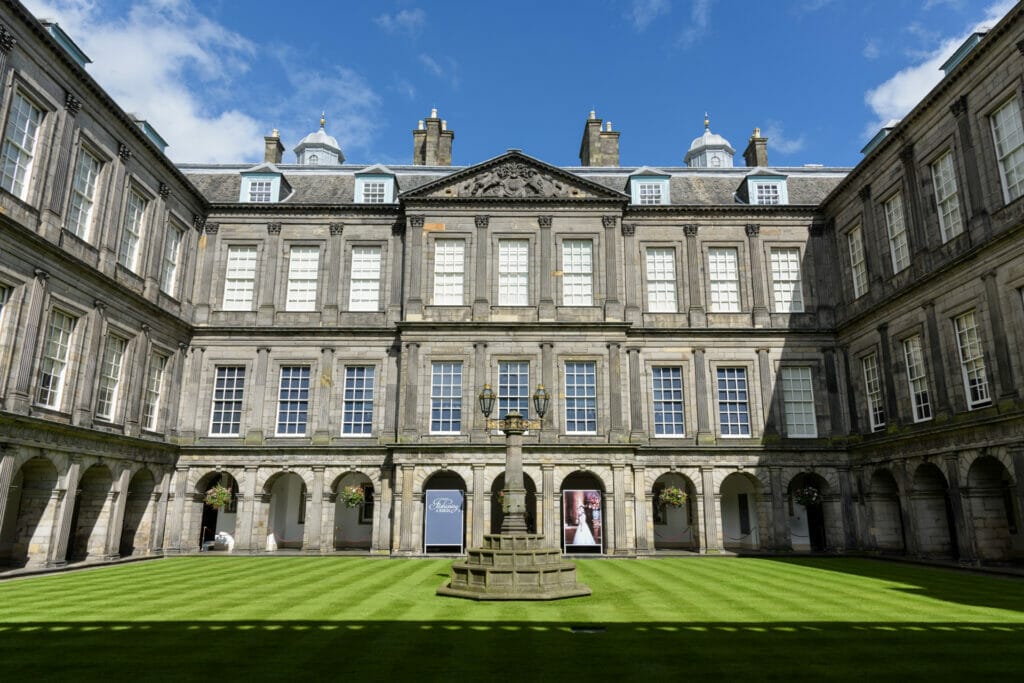 As the official residence of the Queen of England when she's in Scotland, Palace of Holyrood House is a fascinating place to explore when it rains in Edinburgh.
You can wander through the state apartments to see how royal engagements are carried out, as well as check out the history of the building which includes information about Mary Queen of Scots and Bonnie Prince Charlie.
Everything is as lavish as you would expect for it to be fit for royalty, and special exhibitions such as one on the Wedding of Harry and Meghan (okay, they call it the Wedding of the Duke and Duchess of Sussex but we're on a first name basis).
10. Scotland's People Family History Centre
Do you have a family history that you think dates back to Scotland?
Visit the Scotland's People Family History Centre for the opportunity to search for your ancestors and ask questions of research guides.
You can also visit for a more open family history talk or evening lecture to help you start thinking about your family's genealogy before you start the hardcore search.
I don't have Scottish ancestry, so sadly can't make much use of this rainy day activity in Edinburgh, but if you think you do, you could spend hours in here learning more about your family!
11. Gladstone's Land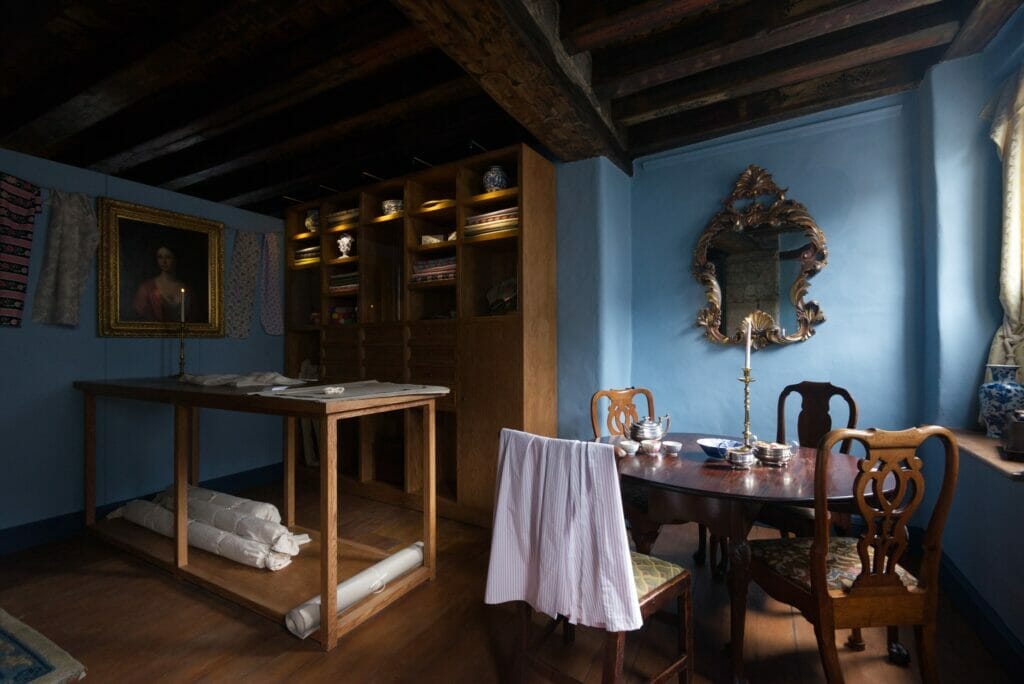 If you're walking down the Royal Mile and find yourself dodging rain drops, check out Gladstone's Land.
This is one of the oldest buildings on the Royal Mile and was once home to very wealthy residents.
These residents had interesting and, let's face it, scandalous lives that have been documented and displays in the exhibits today.
You can check out the interiors that date back to the Renaissance and were hand-painted, as well as a 17th century shop front which was designed that way to protect shoppers from the weather (visiting an attraction in Edinburgh for a rainy day only to discover a history of protecting people from the rain – how very Scottish!)
12. National Library of Scotland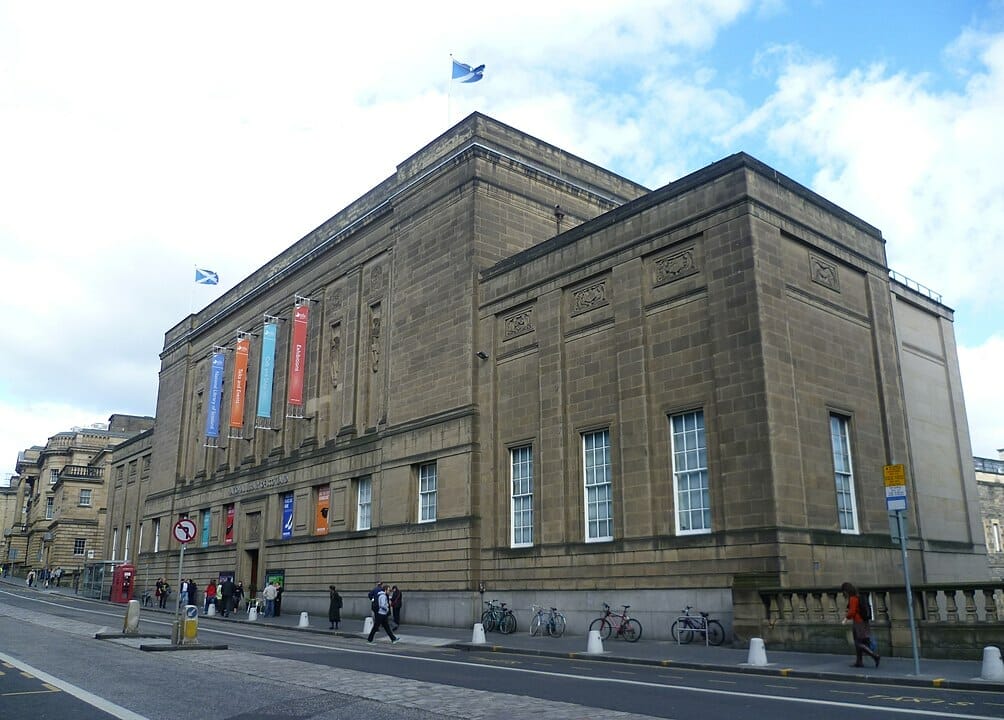 I love a library as a place to escape the rain.
There's something about the calming atmosphere and book smell to make you feel cozy and dry.
The National Library of Scotland is one of the main buildings in Edinburgh and is located on George IV Bridge.
In it are over 7 million books (I can't even fathom this number, to be honest), which includes the largest collection of Scottish Gaelic material of any library in the world.
There's also a location on the south side of the town center, which holds some special map and science collections.
Regular exhibitions give visitors even more to uncover.
13. Gilmerton Cove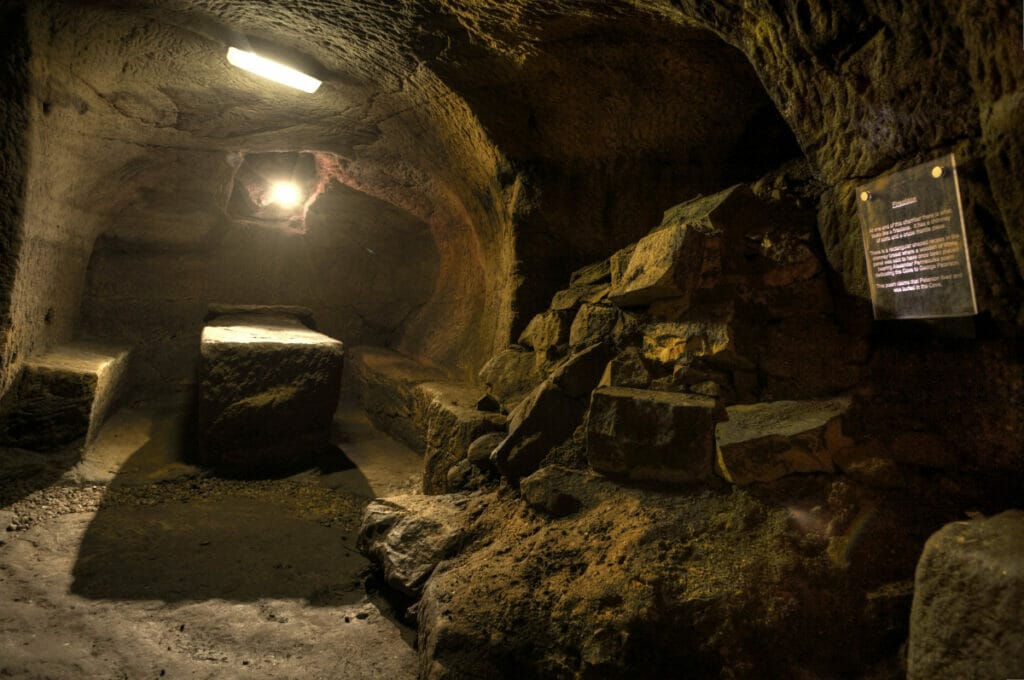 In the suburbs of Edinburgh exists a place perfectly placed for a rainy day in Scotland – because it's underground.
Gilmerton Cove is beneath Gilmerton (imagine that) and contains lots of underground passageways and chambers that is open for visitors thanks to work bythe City of Edinburgh Council and Gilmerton Heritage.
On a tour, you'll learn about the various uses for the cove, including being the home of a blacksmith, being used as a drinking den, and also being a lair for smugglers.
It all sounds straight out of an adventure novel, but that's Edinburgh and its fascinating history for you!
Things to Do in Edinburgh on a Rainy Day for Kids
Got the kids in tow?
Sometimes one of the hardest things to do in a city when it's raining is to figure out where to take them that is not incredibly expensive, incredibly loud, or incredibly boring for them.
No worries, because Edinburgh's got amazing family-friendly indoor attractions to keep everyone smiling and keep your migraine as controlled as possible.
14. Camera Obscura and World of Illusions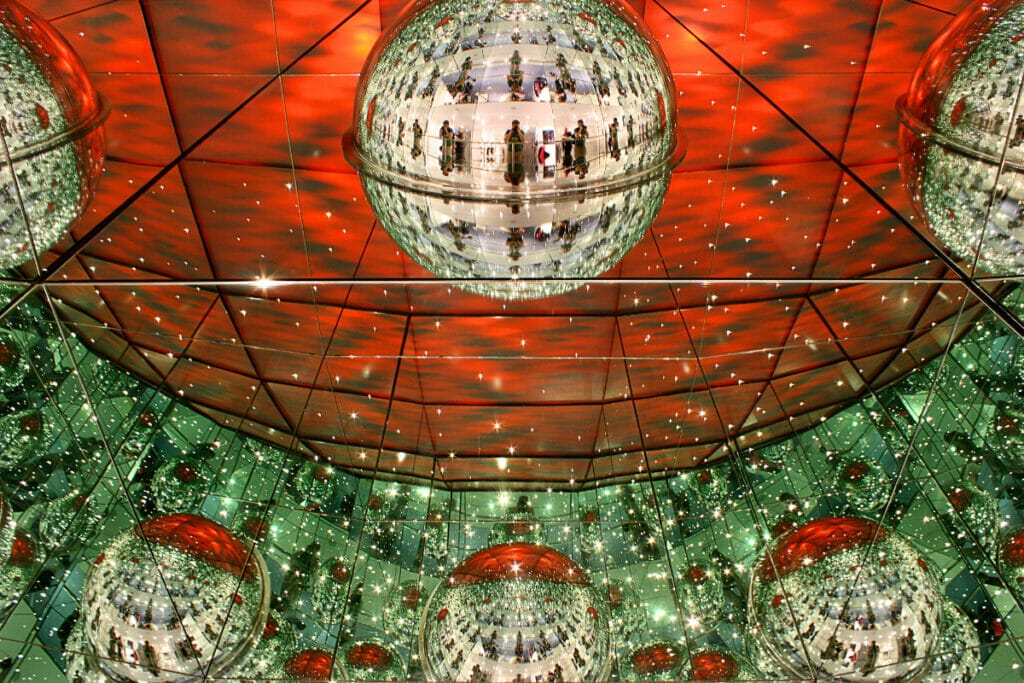 Spend a rainy night on the Royal Mile at this wonderful family-friendly attraction that will have you seeing things before the time you leave!
Once you step inside, explore the galleries filled with illusions and other tricks of the eye to keep you guessing and, well, mesmerized.
Overall, there are five floors that contain great rainy day activities in Edinburgh like light tricks, galleries filled with magic and some interesting camera angles.
It's recommended that you spend about two hours here, so you can really kill some time if the rain won't let up.
The attraction is perfect for the entire family so no one has to be left behind.
15. Tenpin Edinburgh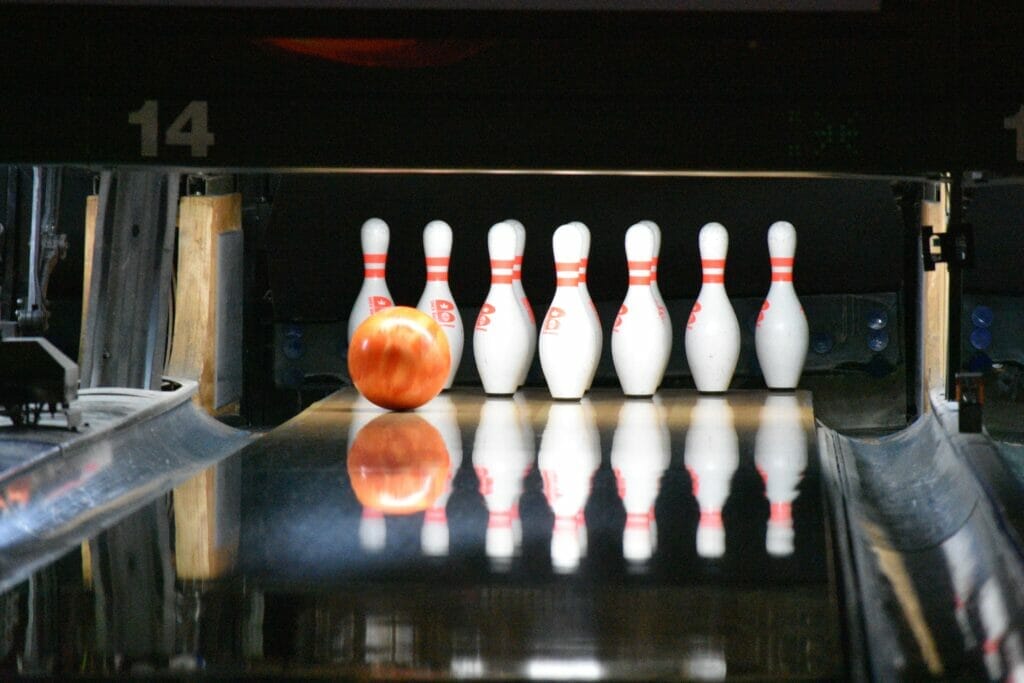 Strike!
Tenpin Edinburgh has you covered when all you want to do is throw a heavy ball at some pins…bowling is a popular activity to escape the rain in Edinburgh, particularly if you can get the whole family involved.
Boys against girls?
Parents against kids?
Grandparents against everyone else because Grandma is an expert bowler and will beat you every time?
However you divide it up, book a bowling lane here and bowl all of your weather worries away.
16. Escape Games in the Rain in Edinburgh
There is nothing better for a family-friendly activity in the rain in Edinburgh than an Escape Game.
If you haven't done one before, here's the scoop – you're basically locked (not really locked but pretend locked in most cases) in a room with a theme, and your job is to follow the clues and find your way out or find the puzzle to get yourself unlocked.
It allows for a lot of laughs, a little bit of brain power, and some friend or family bonding time, and best of all is that the rooms have ceilings so you'll be out of the rain!
Here are some of my favorite Escape rooms, listed below.
Escape Edinburgh
With wonderfully themed rooms for all kinds of interests, you'll find yourself racing through a wizarding world, embracing your inner Sherlock Holmes at Baker Street or figuring out how to save the world from a deadly disease.
The games at Escape Edinburgh last 60 minutes, and the challenges are good for 2 to 5 people.
The games may be too intense or difficult for children under the age of 10, but if you do have a younger child, they encourage you to get in touch with them should you think your kid would be able to cope with the Escape Room environment.
Escape Edinburgh has three locations across the city: New Town, Morrison Street and Haymarket.
Exit Plan Edinburgh
The stories are rich and intriguing at the escape games held by Exit Plan Edinburgh.
From taking the role of fugitives on the run from the police (I mean, who wouldn't want to do that?) to immersing yourself in a Sci Fi type game revolving around a mysterious item called the "Tesla Cube," you and your family will be wrapped up in the game from beginning to end.
Exit Plan Edinburgh is one of the cheapest Escape Rooms in Edinburgh and located right in the heart of the city center, so you can easily get there no matter where you're staying.
If you have a giant family reunion planned, they can accommodate up to 22 people across their three games, so why miss the chance to do some family bonding while also frantically running around and yelling at Grandpa to solve the puzzle faster?!
Locked in Edinburgh
Most Edinburgh escape rooms take place in purpose built sets, but not Locked in Edinburgh!
Here, you'll be running around actual Edinburgh buildings – the Summerhall building, to be exact.
Explore the old vet school rooms as you solve murder mysteries or work your way through strained international relations, or keep it a bit simpler in the gin distillery where you're working non-stop to try to save the gin (so very Edinburgh).
You usually need to book in advance to make sure you secure your spots, and games are live which means latecomers can't be admitted.
Locked In Edinburgh is recommended for slightly older children – over 12 years, and if they're under 16, there must be an adult in the room as well.
17. Edinburgh International Climbing Arena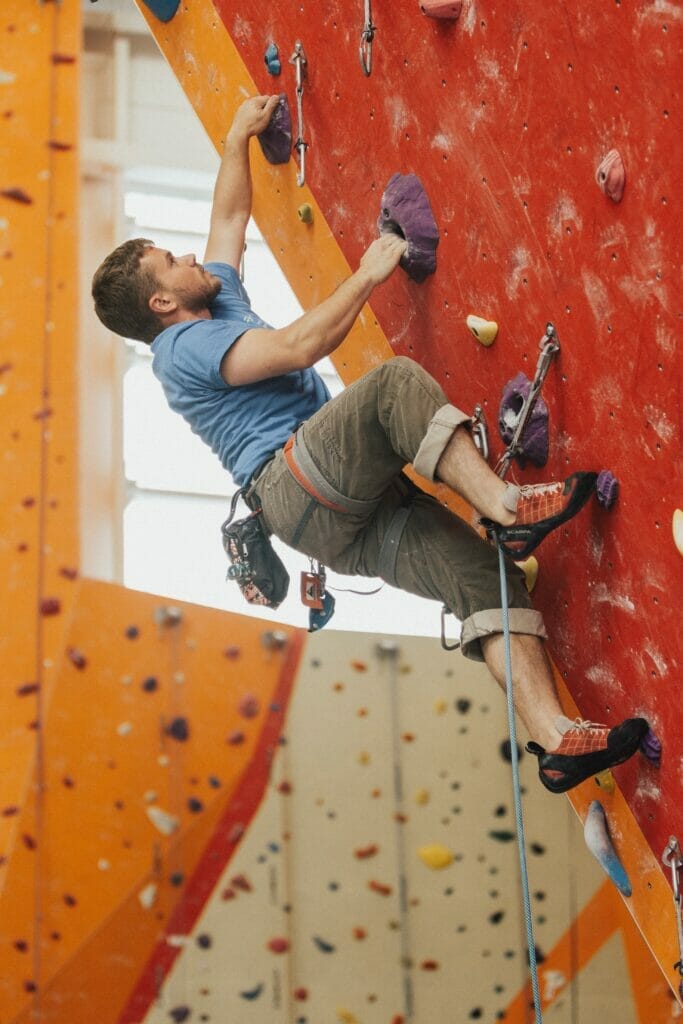 Get your climb on at the Edinburgh International Climbing Arena, where people of all ages and abilities can work on their rock climbing skills.
The whole thing is indoors so you don't have to worry about getting wet, and there are hundreds of climbing routes to choose from.
In addition to climbing walls, there are also rocks for bouldering if that's more your thing.
There's even an indoor playground with climbing elements for kids and adults that will help you hone your skills and have fun at the same time.
And if you're a little one who just wants some areas to bounce in, the Scrambles softplay area gives you lots of space to run, play, and be a kid.
18. Scottish Storytelling Centre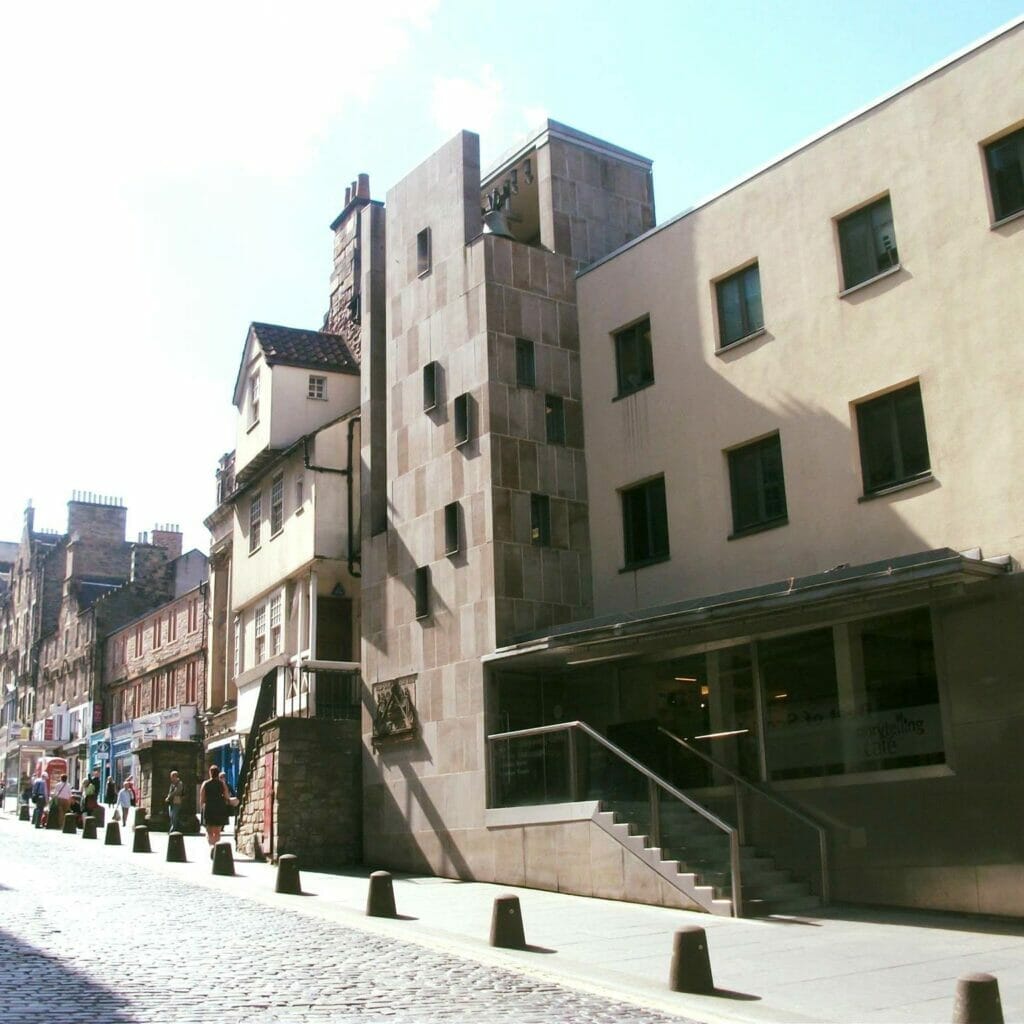 While the Scottish Storytelling Centre doesn't have a permanent gallery, it is used for seasonal events such as theatre, live storytelling, workshops, festivals, and more.
Before you get to Edinburgh, it's worth checking out the events calendar to see what's on.
Of course you can come into the building if it rains, but you should also make a point to check out this venue no matter the weather in Edinburgh.
In addition to its seasonal events, there's a regularly opened Storytelling Café that has amazing food and a cozy atmosphere with a view of the Royal Mile.
Children have activities including an activity box so they can stay busy while you chat.
19. Ocean Terminal
Sometimes when it rains in Edinburgh, you just want to drop everything and…shop.
Or window shop, whichever floats your boat and your wallet.
Ocean Terminal Shopping Center has tons of popular stores including a Build-a-Bear, French Connection, and H & M.
You could also check out the on-site restaurants and grab a bite to eat in between showing off your purchasing power.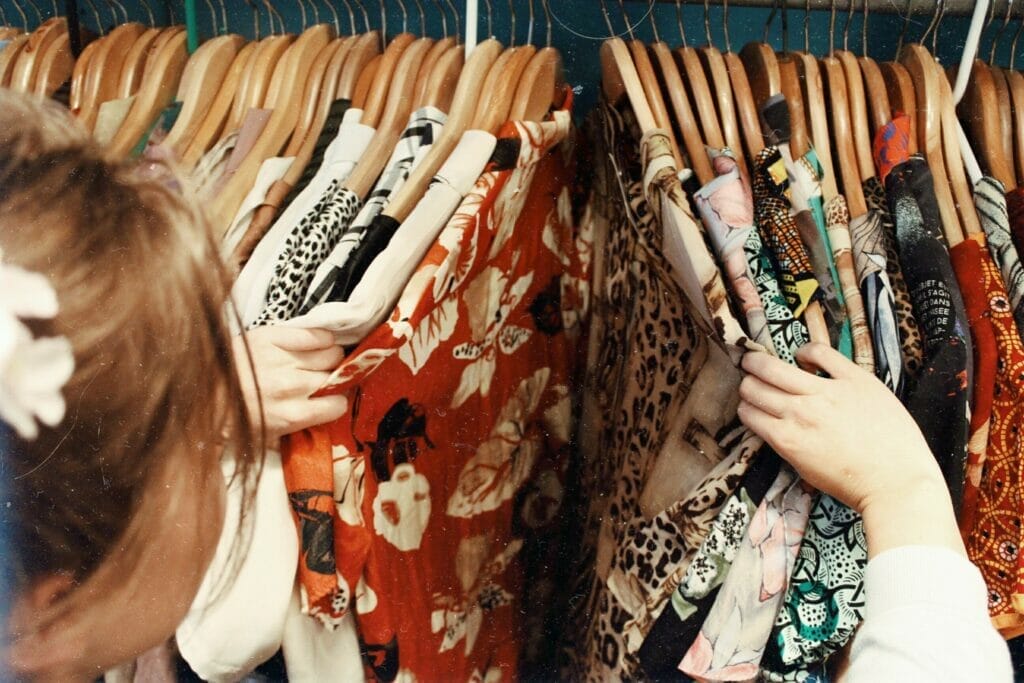 You can't get too lost when looking for Ocean Terminal either, as it's right by the sea and the road is called "Ocean Drive."
Follow the water!
20. Paintball Edinburgh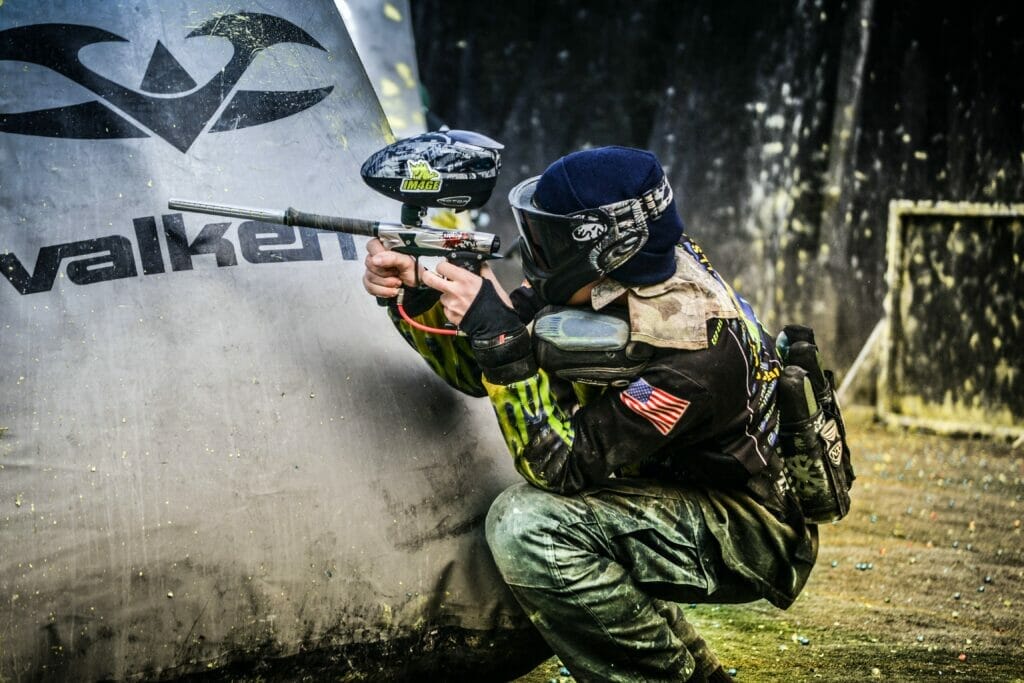 You can never go wrong with a family game of indoor paintballing when the weather in Edinburgh doesn't cooperate.
Paintball Edinburgh has a location on the western outskirts of the city, but once you get inside and flinging shots across the themed experiences, you'll feel as if you're completely transported to another world.
Paintball Edinburgh provides all gear and safety equipment, as well as safety instructions so you can be sure that you're paintballing safely and in style.
There are both kid and adult options so everyone can have a try in an experience that's built for their age group (and no one completely smashes your little one up against the wall in their overzealous paintballing mode).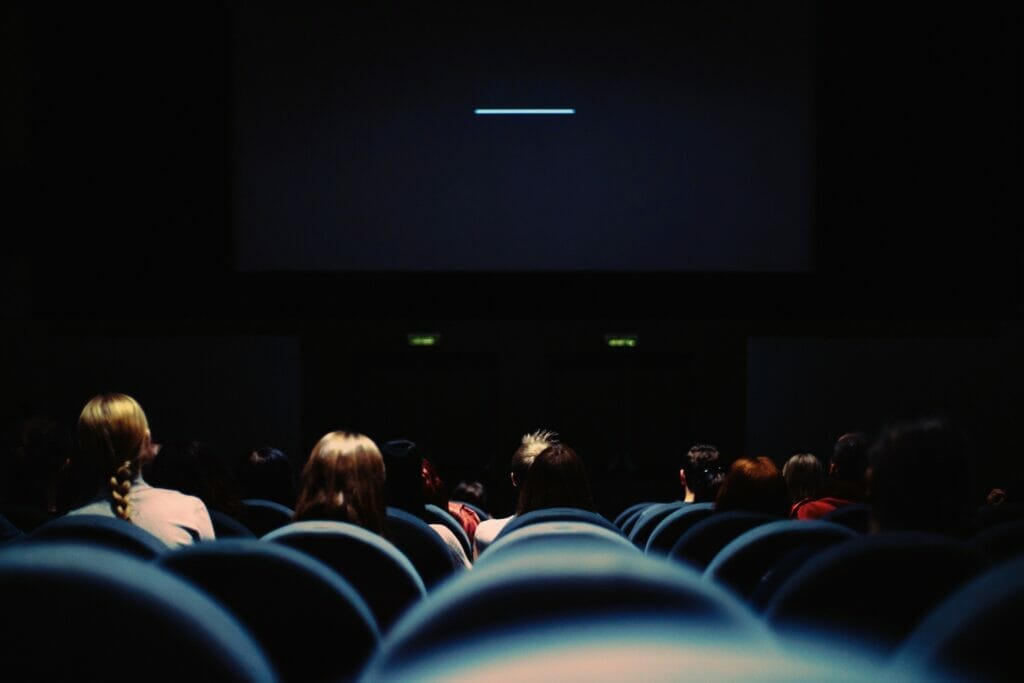 When all else fails and you just want to see the newest release, check out the ODEON Edinburgh Lothian Road, a movie theater/cinema showing the latest movies.
This is especially a good option if you're in Edinburgh for a while and feel you have more time to just relax instead of running from attraction to attraction.
It's not the most cultured thing out there, but if it keeps the kids entertained and gives you a break from trying to keep everyone dry and telling them not to jump in puddles, then I'm all for it.
Museums to Visit when it Rains it in Edinburgh
It's almost impossible to go wrong with a museum in the rain.
They're almost always indoors, many of them are free, and the vast amount of artifacts or art on display mean that you could either take up an entire afternoon or just stroll your way through to escape a quick passing storm.
Whatever your intentions, check out these museums in Edinburgh that are perfect for a rainy day.
22. Dynamic Earth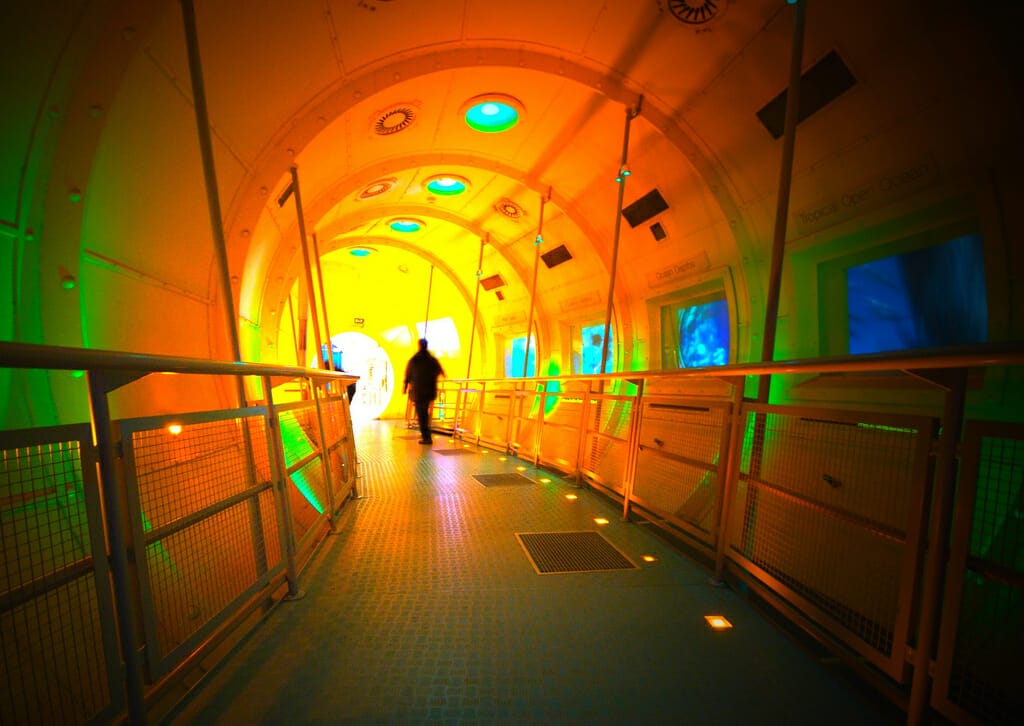 In this indoor attraction, you'll feel at one with Planet Earth through various interactive exhibits and shows.
Dynamic Earth is a museum and experience that tells the story of Earth through all of the powers of nature.
Learn about glaciers and the polar ice caps, feel what it's like to withstand strong winds that shape the Earth and its atmosphere, and check out the depths of the ocean on an submarine.
Kids and adults alike will fall in love with this unique attraction, rated 5 stars by visitors.
And hey, if it's pouring rain outside, you might as well go learn about the rain and its contribution to Planet Earth instead of cursing the skies!
23. National War Museum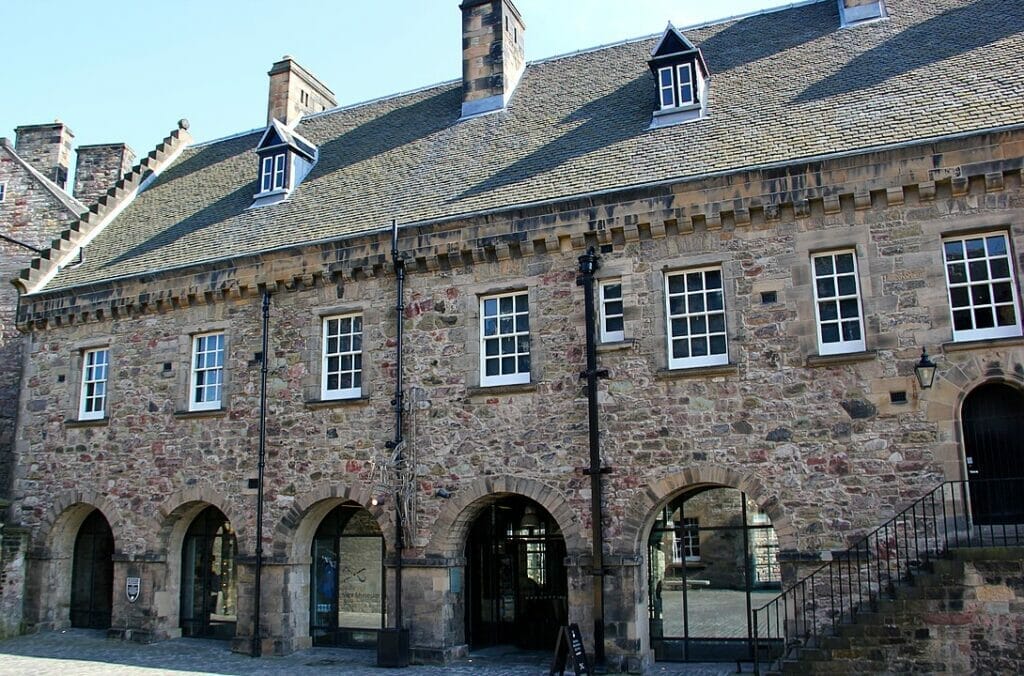 As an attraction inside Edinburgh Castle, the National War Museum is included in the entry fee for Edinburgh Castle.
It's also a fully indoor museum, which means you can peruse it while it's raining in Edinburgh.
Inside, you'll find 400 years of military history in Edinburgh, which is great for anyone interested in how the city has defended itself and its citizens throughout the ages.
Get modern and dry from the rain at the Scottish National Gallery of Modern Art.
This is different to the Scottish National Gallery and the Scottish National Portrait Gallery because, as you may have guessed, its all about modern art!
The benefit of this museum is that it has some beautiful grounds surrounding it as well, should the rain let up during your visit.
The museum has been on its current site since 1984 and houses a wide collection of contemporary art pieces in both temporary and permanent displays.
Fun fact: the conservation warehouse for the National Galleries of Scotland is also housed here.
25. Writer's Museum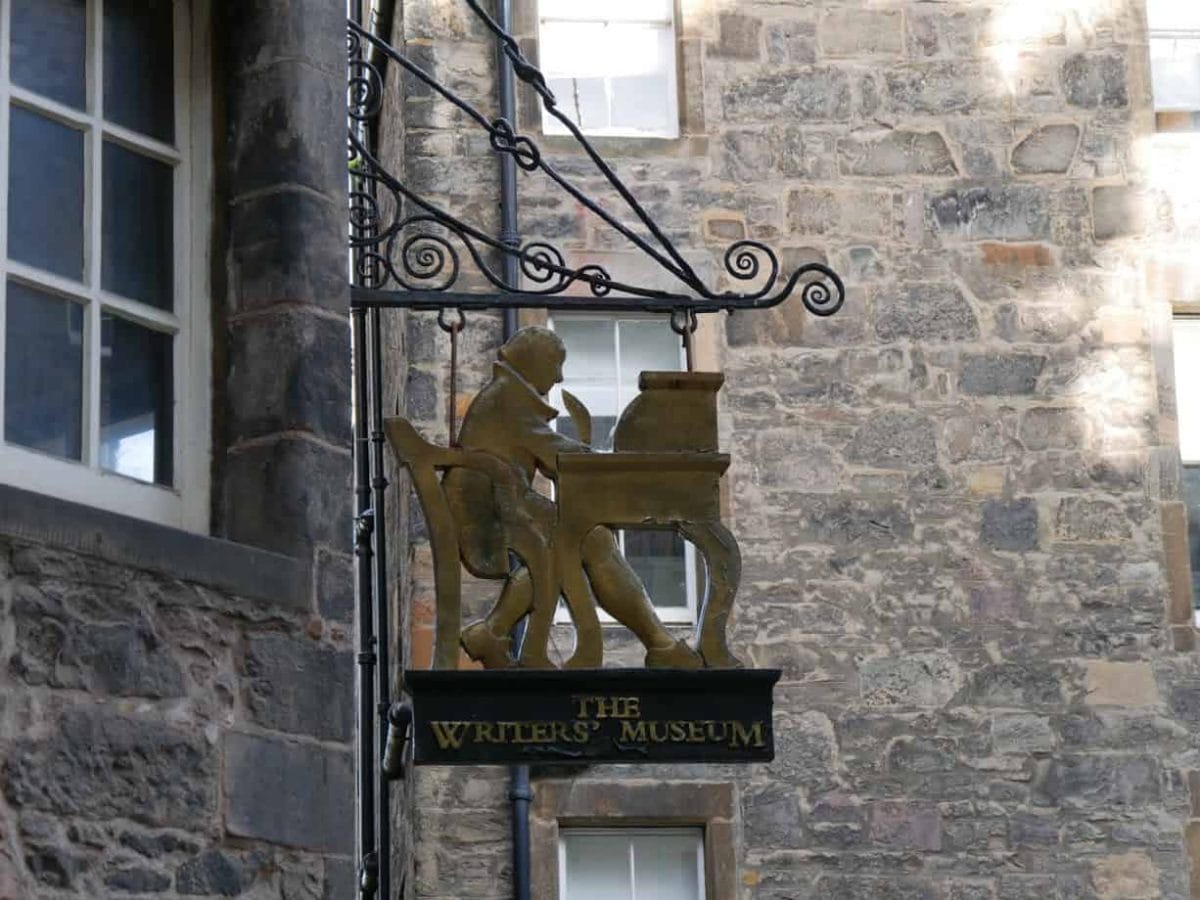 Through a series of alleyways is a cute museum in Edinburgh that features the life and work of some of Scotland's most famous writers.
This museum?
The Writer's Museum, aptly named!
The writers focused on in these exhibits are: Sir Walter Scott, Robert Louis Stevenson, and Robert Burns.
Not only are they legends of Scottish writing, but they also have fascinating lives on display here.
You'll get to see the writing desk of Robert Burns and see some original books written by Robert Louis Stevenson (Treasure Island, anyone?)
Even if you're not super familiar with these figures, it's still a great museum to pop into with some really friendly staff.
26. Museum on the Mound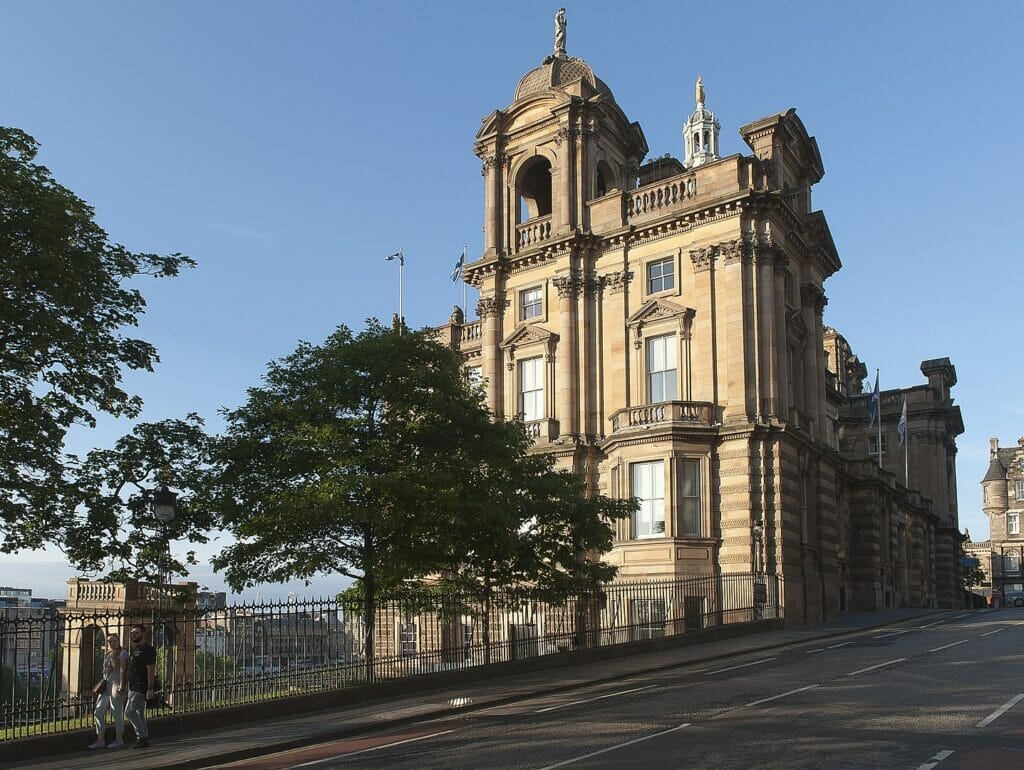 Ready to make some money?
Visit the Museum on the Mound, an Edinburgh museum specifically devoted to money, its history, and its power.
And the best news yet?
It's free. Rejoice, cheapskates everywhere (this includes me).
Within the building, you'll find lots of exhibits on why money matters, including examples of things that used to be used as money like tea and jewellery and the story of how money has changed in Edinburgh over time.
Other examples of exhibits include the opportunity to try to open a safe, as well as the chance to see a million pounds in person.
Yes, please.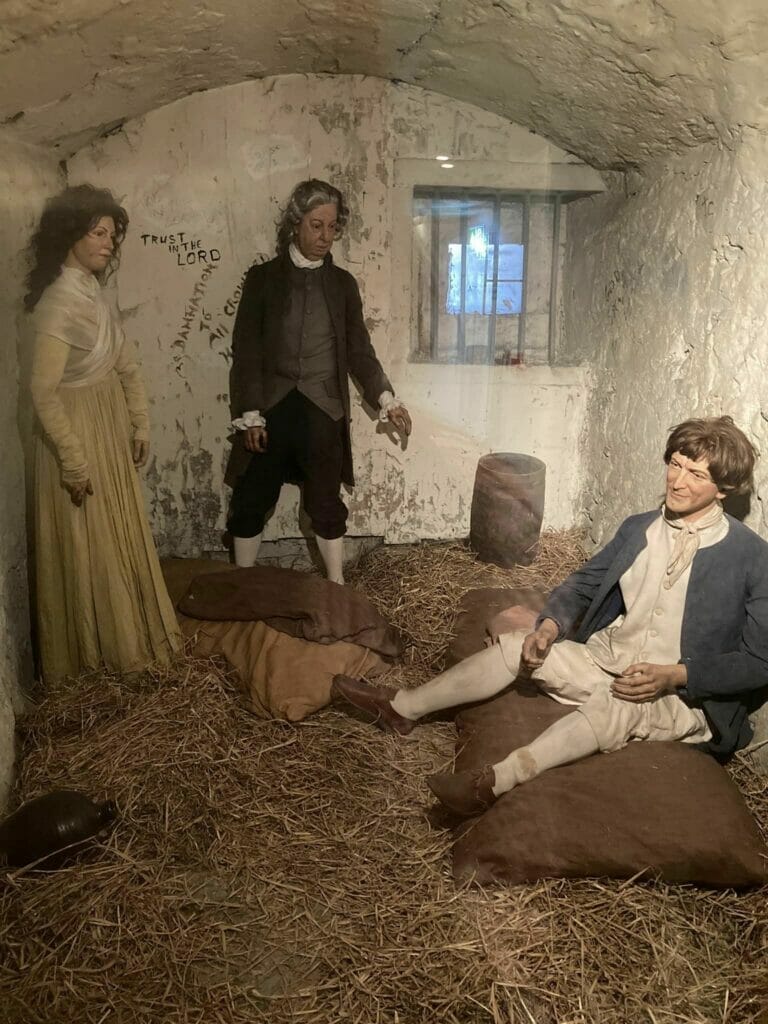 Edinburgh's residents are on full display in this museum (not in a creepy way).
Particularly the working class people of the city from the 18th century to the late 20th century.
The museum details social movements at the time, as well as examples of the stories and lives of these people, including street protest banners and guild documents.
28. Museum of Childhood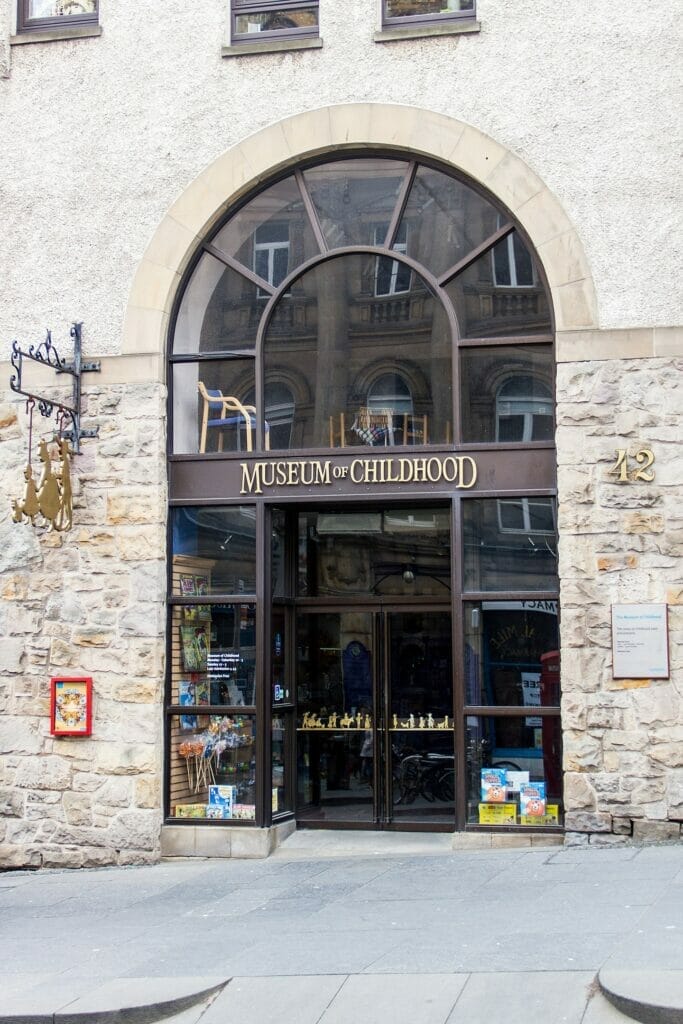 Bring the kids and the adults to one of the best things to do in Edinburgh on a rainy day for all members of the family.
The Museum of Childhood is not necessarily a children's museum, but instead a museum that is devoted to the culture of childhood and sharing the history of growing up.
In the museum, you can look at some prized collections from people across Scotland.
For example, check out the Peter Rabbit toy and the Queen Anne Doll that dates back to 1740.
Knowing that kids will come who aren't necessarily interested in the history of growing up while they're busy doing it now, the museum is arranged in such a way that kids can enjoy the interactive exhibits and play areas while adults can read the information in a more adult-friendly way.
The Museum of Childhood is one of the first museums in the whole world to be dedicated to childhood, and it's really worth checking out whether it's raining or not.
You can find it on the Royal Mile.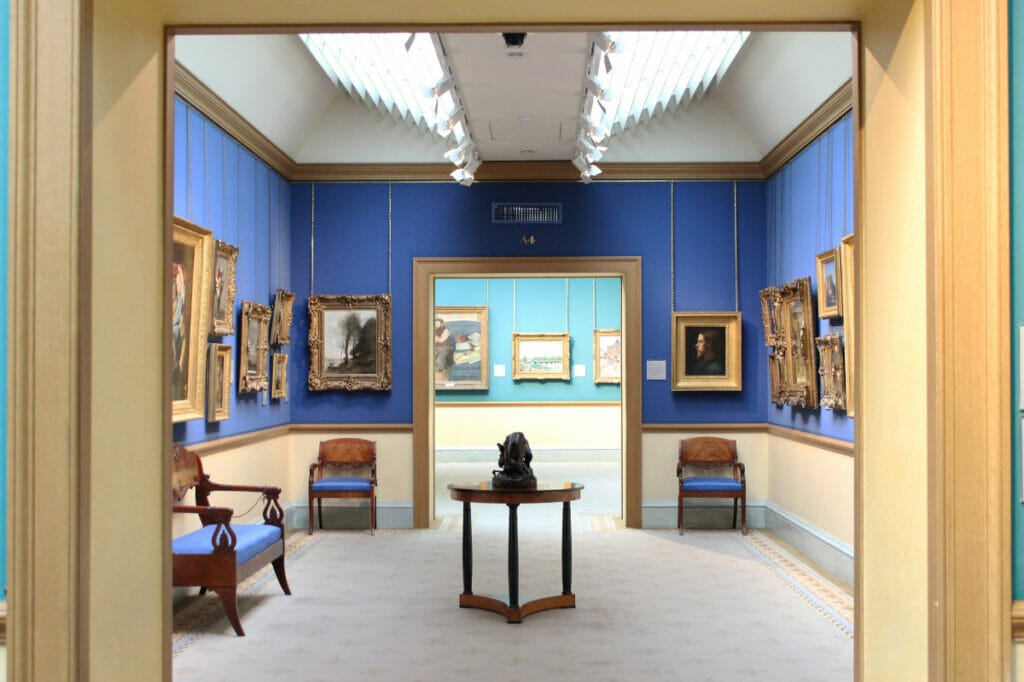 Your inner art critic should get ready to feel super fancy as you walk around this fine art museum and marvel at original Van Goughs, Rembrandts, and Monets.
It's just a quick walk from Edinburgh Castle and one of the best art museums in all of Scotland.
The art comes from around the world, including local Scottish area to show off Edinburgh talent.
In the international section you'll find names like Botticelli and Raphael, whereas the Scottish sections focus on the history of Scottish art and pays tribute to some of the Scottish greats like Wilkie and Ramsay.
There's also a cafe and restaurant perfect for sipping a latte while you reflect on your trip, and a gift shop for buying all of the art merchandise you could ever dream of.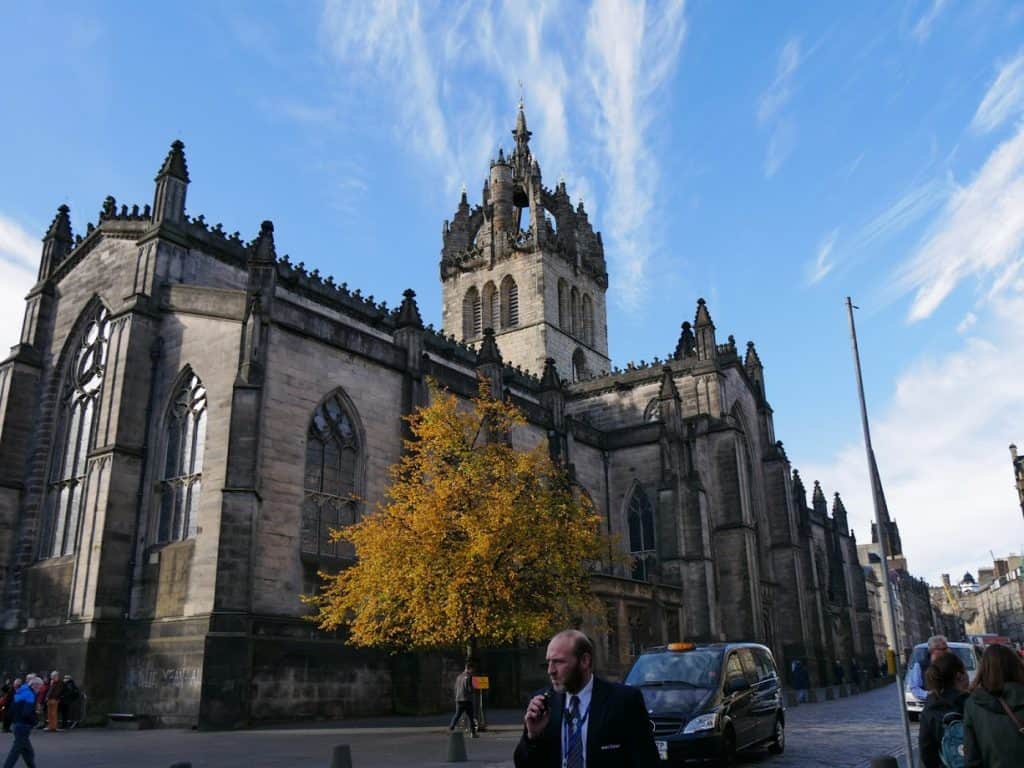 Edinburgh is on full display at the Museum of Edinburgh, dedicated to the culture and history of this lovely city.
Escape the rain in Edinburgh by dipping into this museum on the Royal Mile.
It's not too big, which makes it a nice easy stroll through the exhibitions and leaves you plenty of time to check out other indoor attractions in Edinburgh.
It's also one of the best free things to do in Edinburgh.
Many of the displays focus on Edinburghs Old Town, including artifacts and history lessons that have been discovered in this area revealing the way residents lived, worked, and played.
There are also displays featuring the civil war, as well as World War 1 efforts and interesting depictions of how people in Edinburgh's medieval times lived.
Visit the neighbourhood of Queensferry for an awesome museum tribute to the historic area and the rail bridge that is famous all around Edinburgh.
In addition to exhibitions on the construction of the bridge and the artifacts found during the building era, you'll also enjoy amazing views onto the Firth of Forth (particularly good if it's only raining lightly).
There are rotating exhibitions as well to take in, and this is a real source of local price, so be sure to check it out.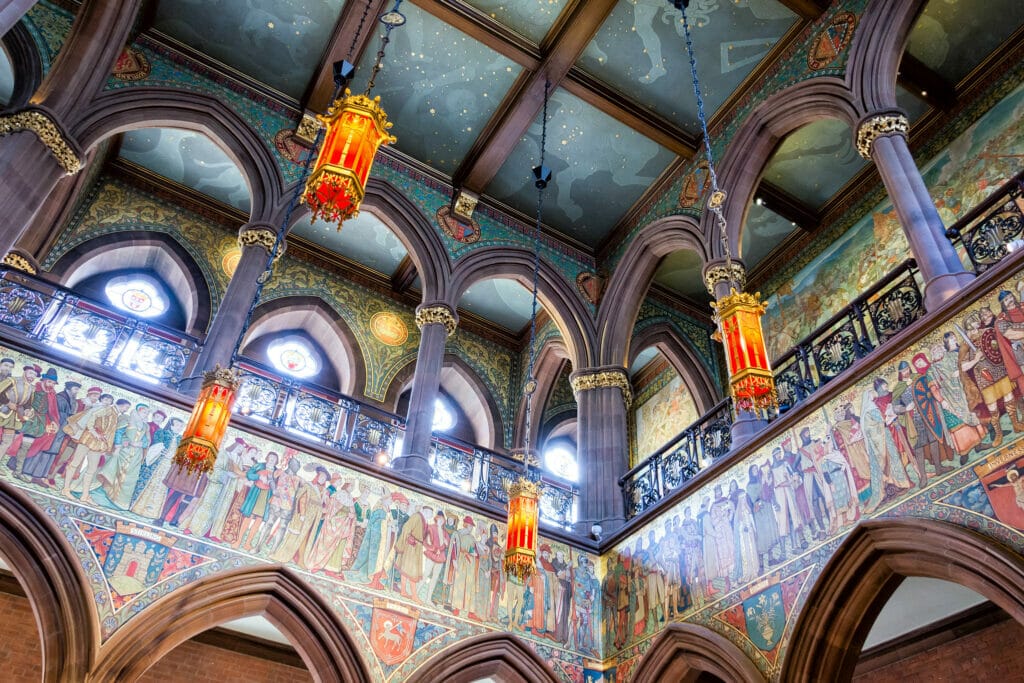 One of my favorite places to escape the rain in Edinburgh is the Scottish National Portrait Gallery.
Designed by Sir Robert Rowand Anderson, this was the world's first purpose built portrait gallery (there are a lot of world firsts in Edinburgh – get used to it!).
It is located in a gorgeous red building that will inspire you to take pictures and Instagram the heck out of it before you even get inside.
Because it's a portrait gallery, the paintings inside are of people – all kinds of people, including some of Scotland's most important people and royalty.
Regular photography exhibits also give another layer of fascination to this lovely gallery.
33. National Museum of Scotland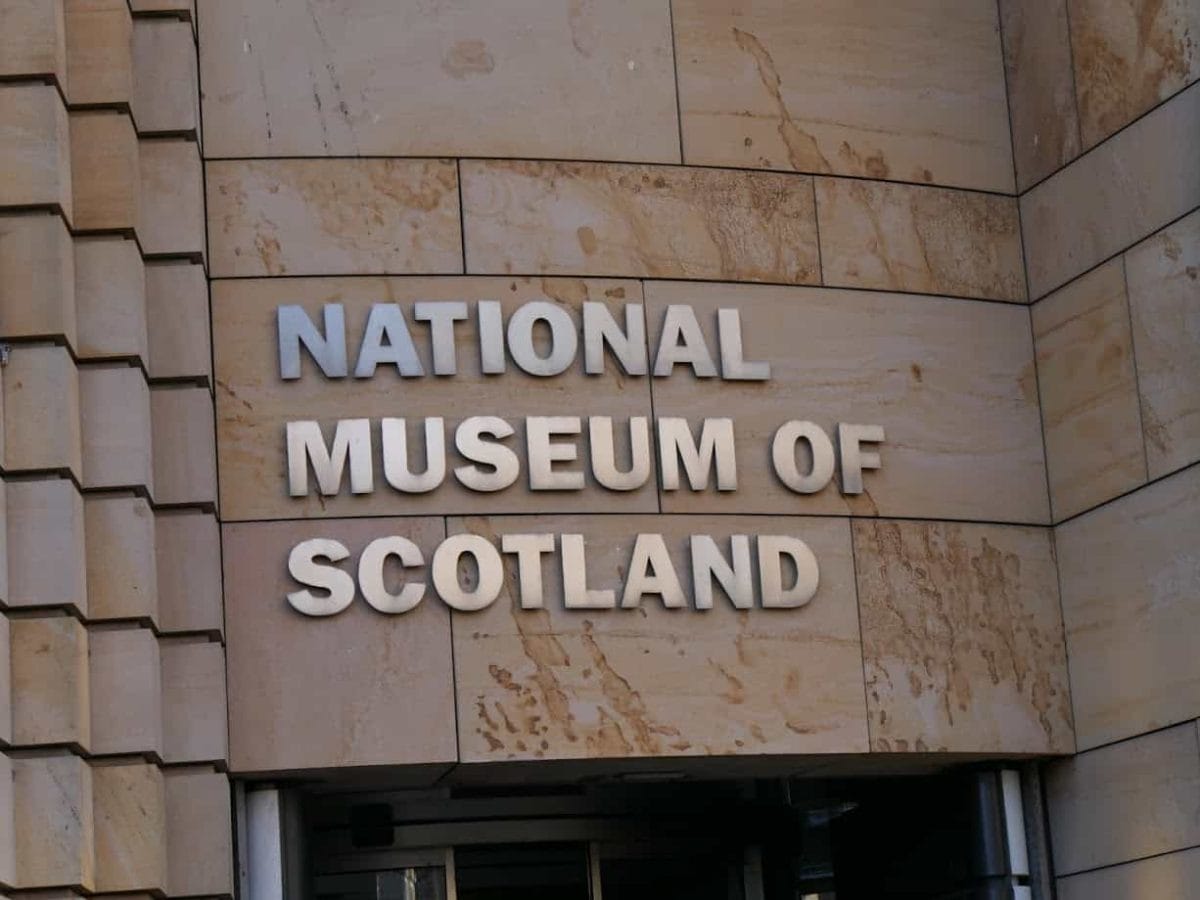 My absolute favorite museum in Scotland for a rainy day is the National Museum of Scotland.
It's located in an easy-to-get-to area of Edinburgh and has literally everything you could want.
Oh, it's also one of the best free things to do in Edinburgh should you be worrying about your budget after spending too much money at the Scotch Whiskey Experience.
The exhibits range from interactive flight simulators for kids, to relics from ancient civilizations that have come under the care of Scotland.
The café is amazing, and the open spaces are perfect for not feeling like your fellow museum goers are on top of you.
The National Museum of Scotland was formed in 2006 as merger between the Museum of Scotland and the Royal Museum, with the Museum of Scotland having housed antiques related to Scotland's history and the Royal Museum housing exhibits having to do with science, technology, natural history, and more.
34. Surgeons' Hall Museums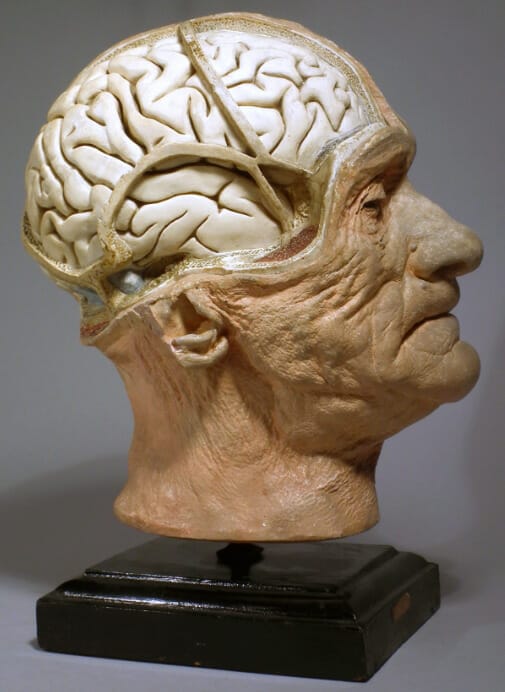 Open to the public seven days a week, the Surgeons' Hall Museums provide a fascinating glimpse into the history of…surgery!
If your stomach is queasy, perhaps skip this one, but you'll be missing out on some awesome exhibits like olden dentistry instruments (open wide!) and great collections of information that documented the various discoveries made about the human body.
This is very much an "off the beaten path museum in Edinburgh" – you're not going to find it at the top of all the brochures, but that doesn't mean it's worth visiting.
In fact, it's one of the oldest museums in Scotland and worth a visit for that fact alone.
Rainy Day Attractions in Edinburgh for Couples
On a trip to Edinburgh with your significant other?
Don't let the rain get you down!
We've had about a 50% success rate of visiting Edinburgh in the sun, which means that 50% of the time it's either been drizzling or absolutely pouring with rain!
Check out some of my favorite suggestions for things to do in Edinburgh for couples when it rains so you can still enjoy yourselves and appreciate the beauty of Scotland (just from an interior perspective).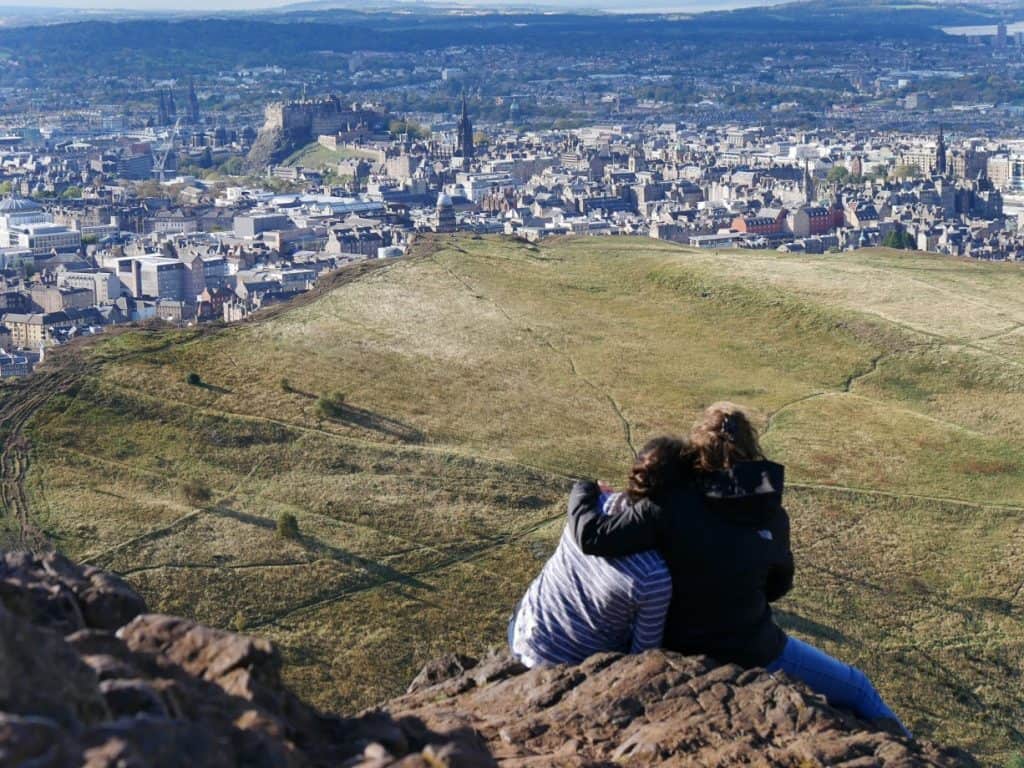 35. Scottish Parliament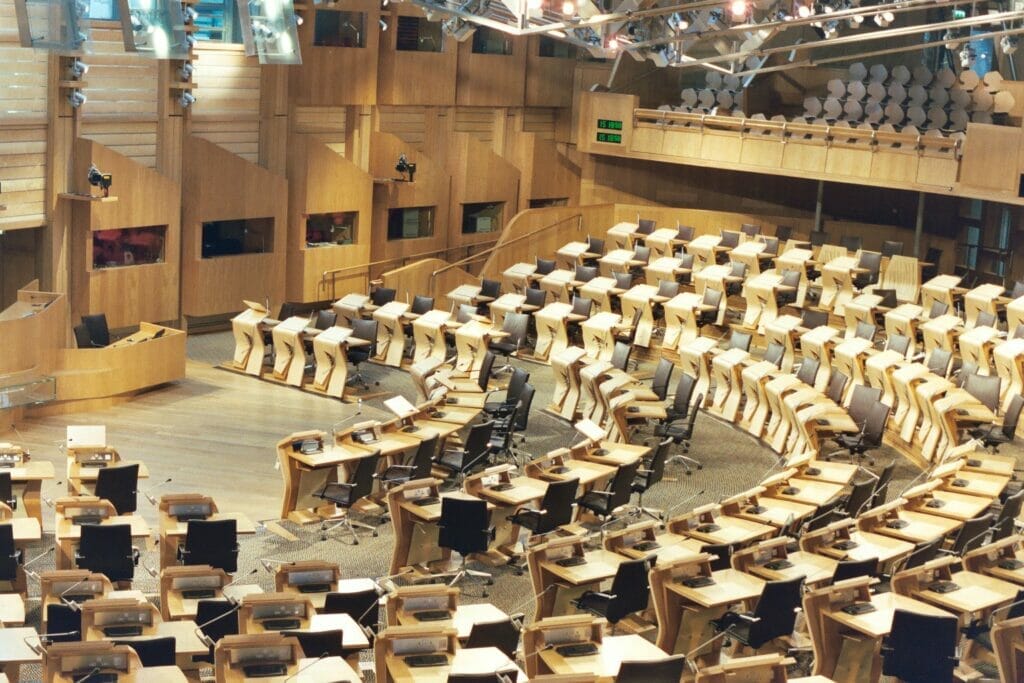 When you need to find something to do in Edinburgh in the rain that's both cultural and educational, head straight to the Scottish Parliament Building.
If you're visiting during a public viewing time, such as First Minister's Question Time or other debates, you can take a seat and watch Scottish politics unravel in front of your face.
The tone inside the chambers can get pretty interesting during Question Time, with cheering, banging on tables and lots of heckling commonplace.
It's different from American politics if that's what you're used to, but it's delightfully Scottish and intriguing to watch.
Spaces are free, though they are limited in number so try to turn up early or book ahead if you feel the rain is about to start.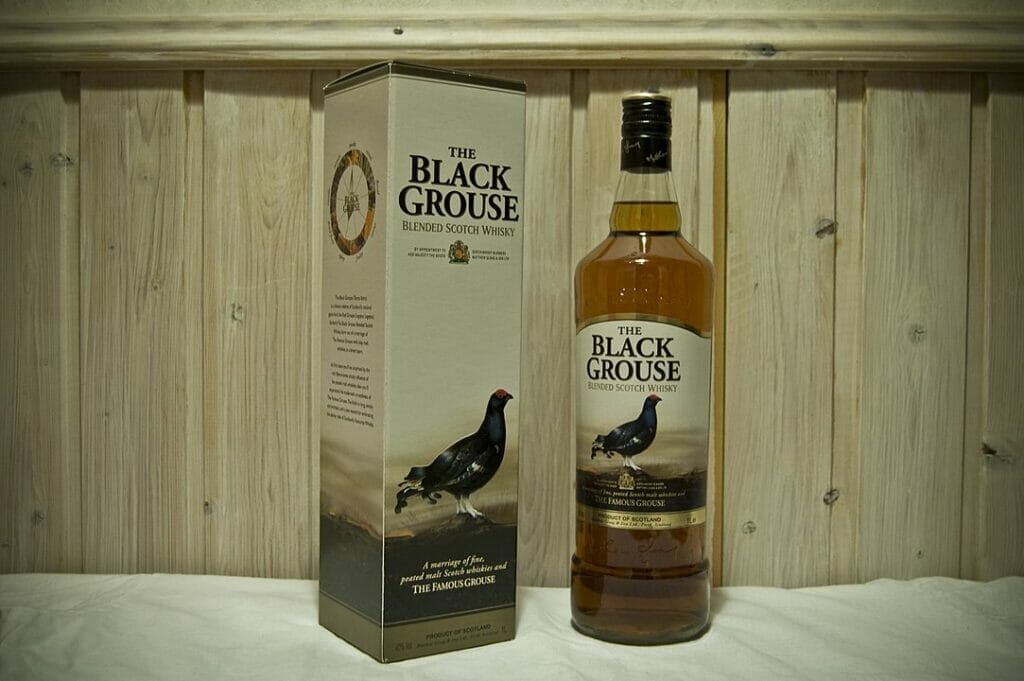 Scotland is famous for its whisky production, and there's no better place to spend a rainy day in Edinburgh than in this absolute haven for whisky lovers.
The Scotch Whiskey experiences provides both tastings and more in-depth education into how this drink has become popular in Scotland.
If you need some reassurance on how much they care about whiskey, you should know that they remained open during the giant snow storms in 2018 when the vast majority of other attractions closed!
A little (or a lot) of rain, no matter the form, can't make them close!
If you're up against some particularly bad weather, book a whole day at whiskey school, or if you just want a brief place to escape, do a whiskey tasting and check out the gift shop for some Edinburgh memorabilia.
37. Dominion Cinema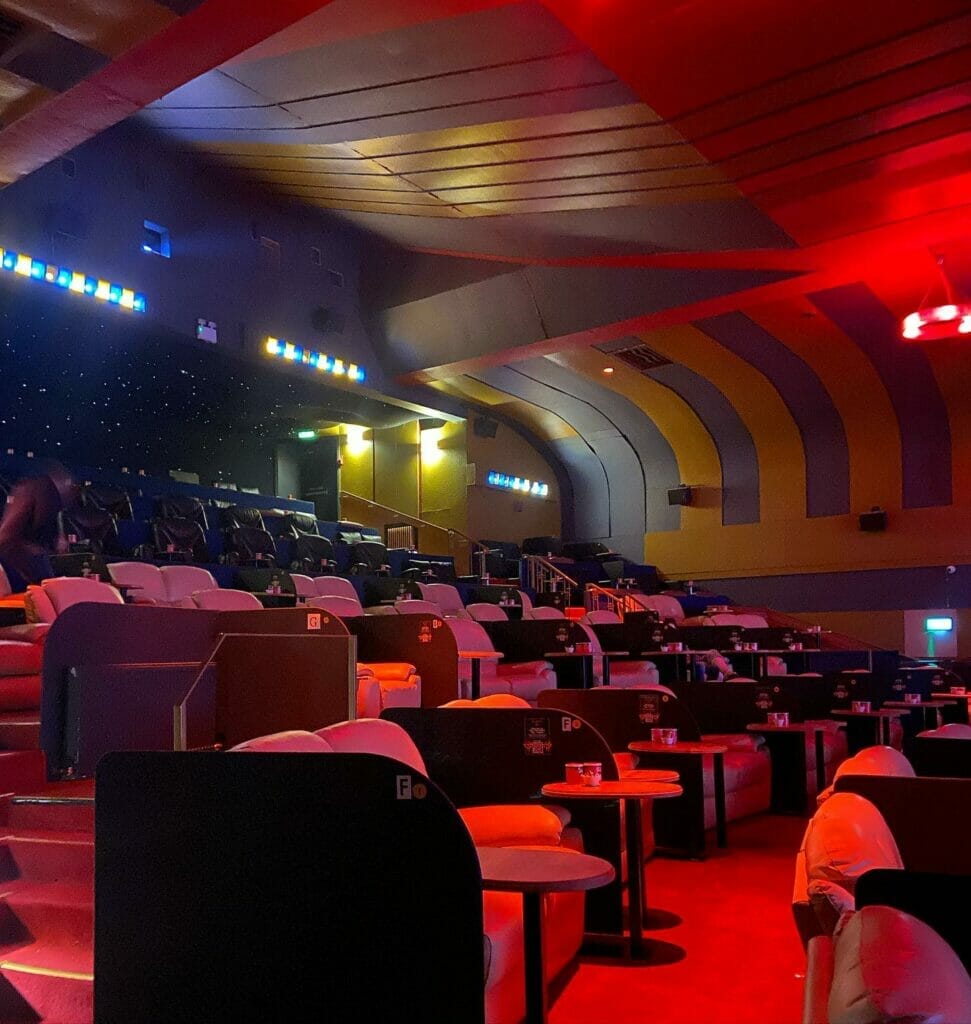 Independent cinemas are some of my favorite places to support in cities, and the Dominion Cinema in Edinburgh is no different.
If you're looking for what to do in Edinburgh in the rain, look no further!
This cinema is located in Morningside, a suburb of Edinburgh, and it was opened in 1938 (evident by its Art Deco style).
The seats are more like cozy couches and super comfortable, and there are four screens the cinema uses to show both new releases and independent films or throwback movies.
Get deep into Edinburgh's dungeons at this interactive experience that takes you through different rooms including caves, old dwellings, and dungeons to get up close to some of Edinburgh's most terrifying history and characters.
With special effects and costumed character, this is more of a Disney style entertainment option (read: fake), but I love Disney so I'm not going to put it down.
39. Botanic Gardens Glasshouses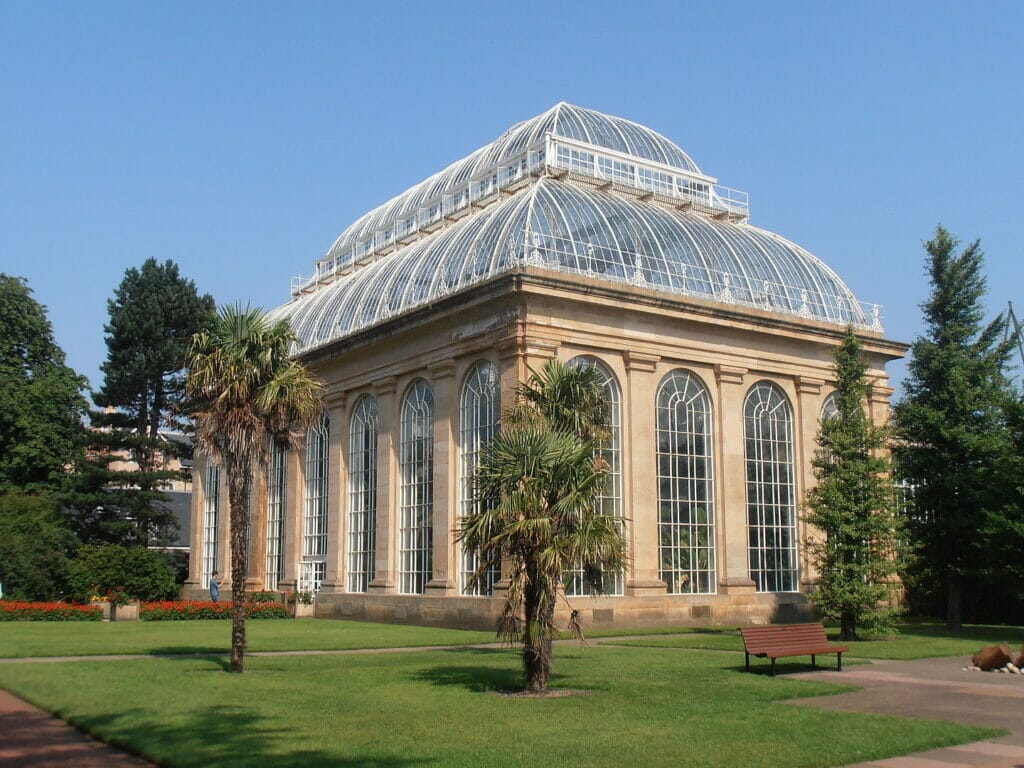 The Royal Botanic Gardens are really beautiful to visit, but they're not exactly suitable for a rainy day in Edinburgh…unless you go to the glasshouses!
There are 27 heated glasshouses across the site, filled with exotic plants being grown in tropical temperatures.
In fact, these glasshouses take up almost 2 acres alone and are vital to the research efforts of the Botanic Gardens.
Have a wander through the glasshouses on a rainy day to pretend you're somewhere warm, like the Caribbean.
Or your warm climate of choice.
40. Warm Up in a Local Bar or Pub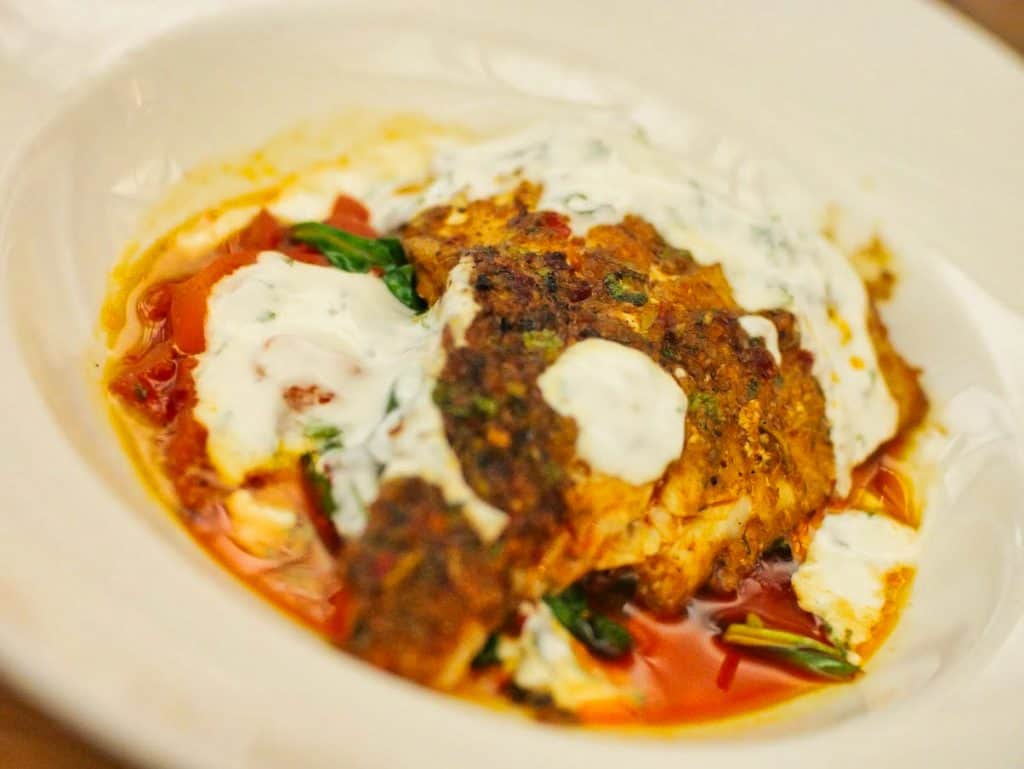 Spending your rainy day in Edinburgh in a bar or pub is one of the most quintessential ways to spend time in this city.
There is no lack of places to try, so you can put together your own pub crawl or choose a different one each day.
If you're having trouble figuring out where to start, here are some of the top bars and pubs in Edinburgh.
Cloisters Bar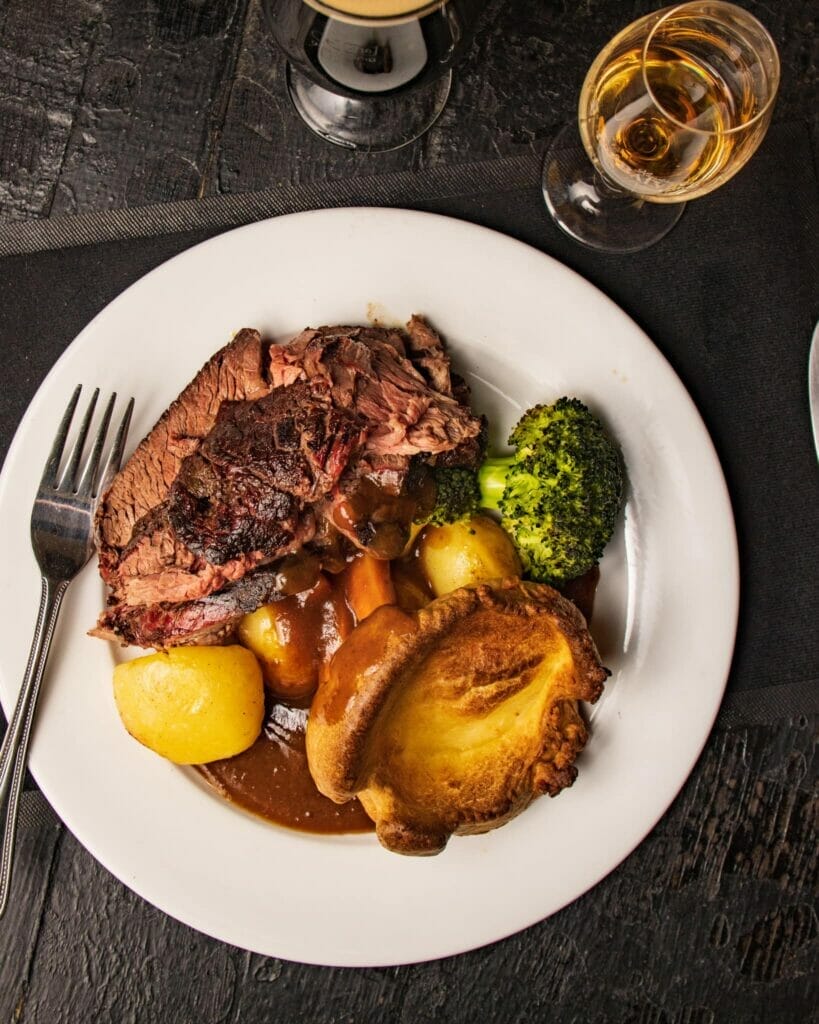 As a bar that has been part of Edinburgh's landscape for over 20 years, Cloisters serves up excellent pub food and lots of quality beers.
You'll find it right in between the Meadows and Tollcross, and you should expect to find a new drink to try each time you visit due to the rotating choices on display.
The Café Royal Circle Bar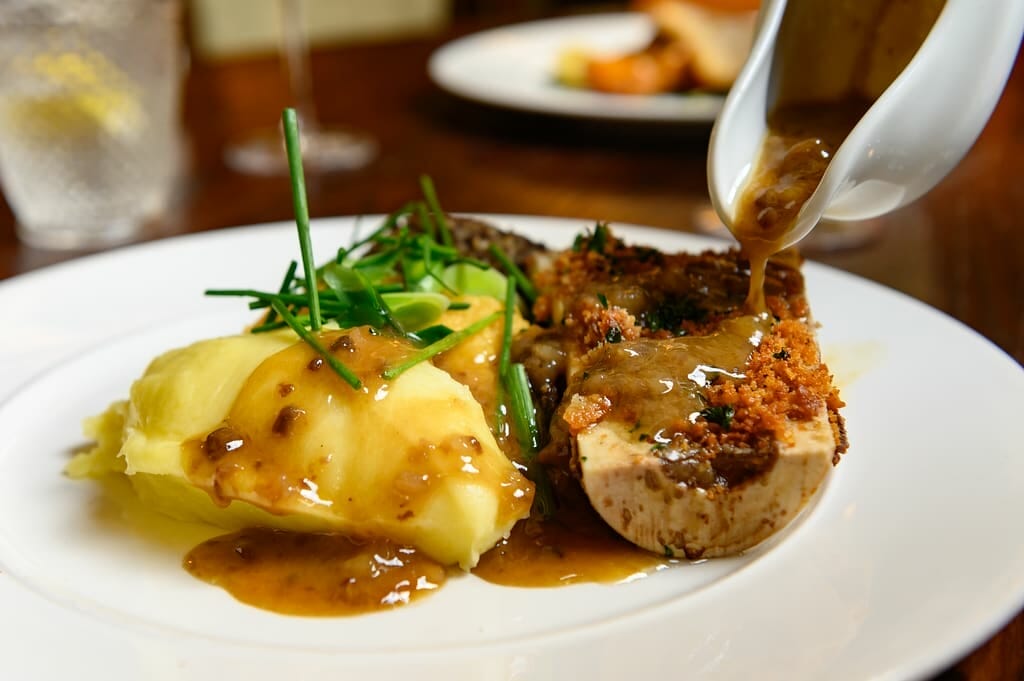 Want to embrace your inner sophisticated drinker?
Stop by the Café Royal Circle Bar which dates back all the way to 1863.
It's been called one of the most "beautiful places to stop for a beer" in Edinburgh thanks to its stained glass and intricately decorating surroundings.
Here, you can try out their whisky selection, cask ales, or get a bite to eat from their excellent bar menu.
The Bow Bar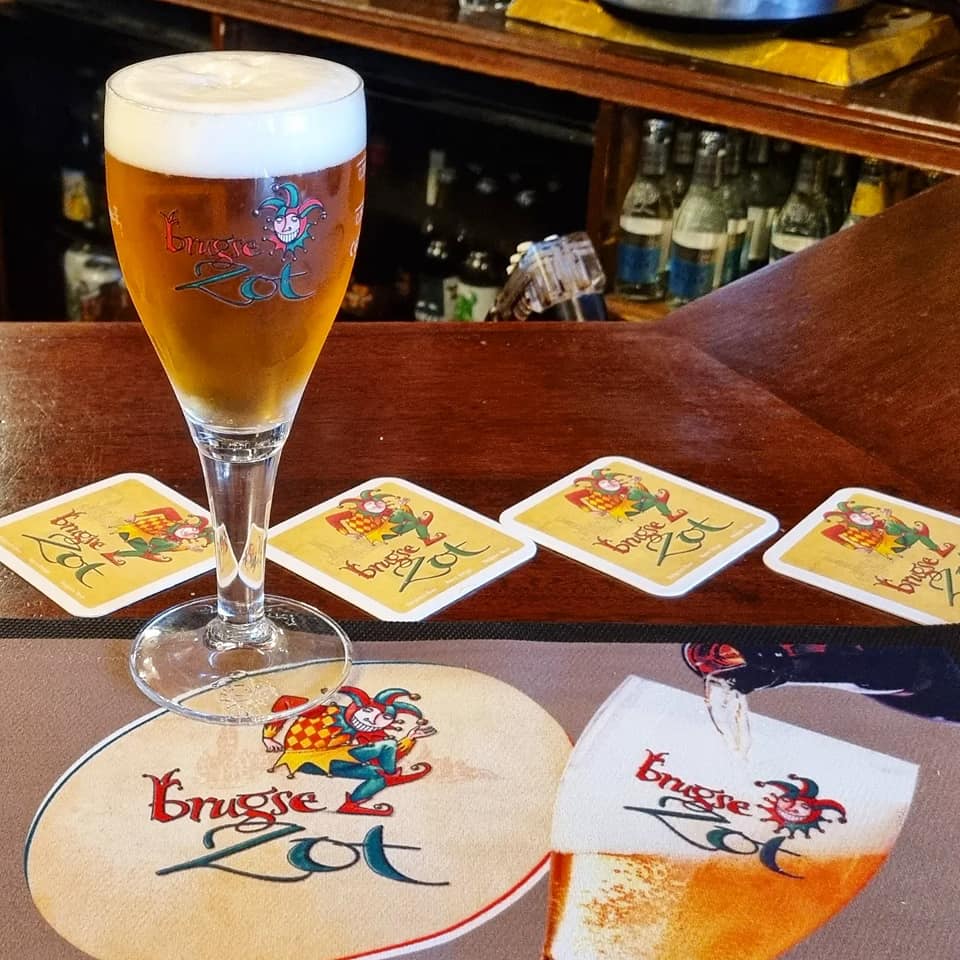 Traditional is the name of the game at the Bow Bar in the Old Town.
It has over 300 whiskies you can try and also a craft keg.
The insides look typically Scottish pub with its bar memorabilia and wooden furniture, so locals and out-of-towners alike will enjoy the cozy atmosphere here.
41. Get Coffee at a Café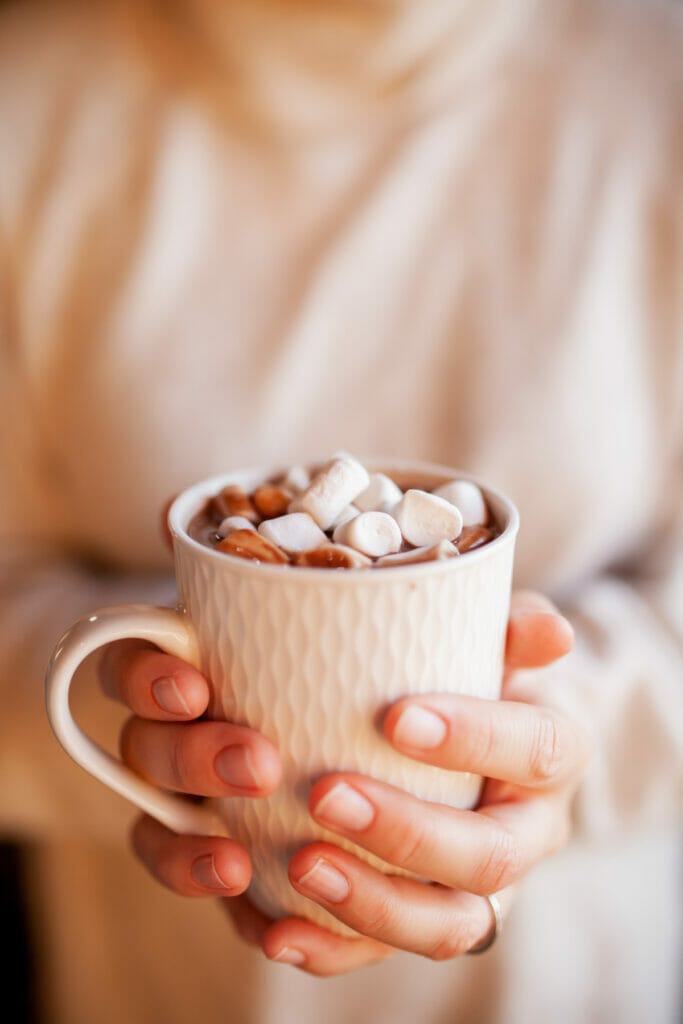 If you want to check out some Harry Potter history in Edinburgh while escaping the rain, try out some coffee shops used by JK Rowling (allegedly) to write her famous series.
Both the Spoon and Elephant House claim to be part of Harry Potter history, and while you won't be able to necessarily sit in the same spot she did (as she sat in many different cafes around Edinburgh and many different seats – as people do!), you can still soak in the same views out the window.
42. Gin Distillery Tours
Gin is on the menu across Edinburgh, and what better time to try it out than when it's raining outside?
Check out some of the most popular gin experiences in Edinburgh before making your booking.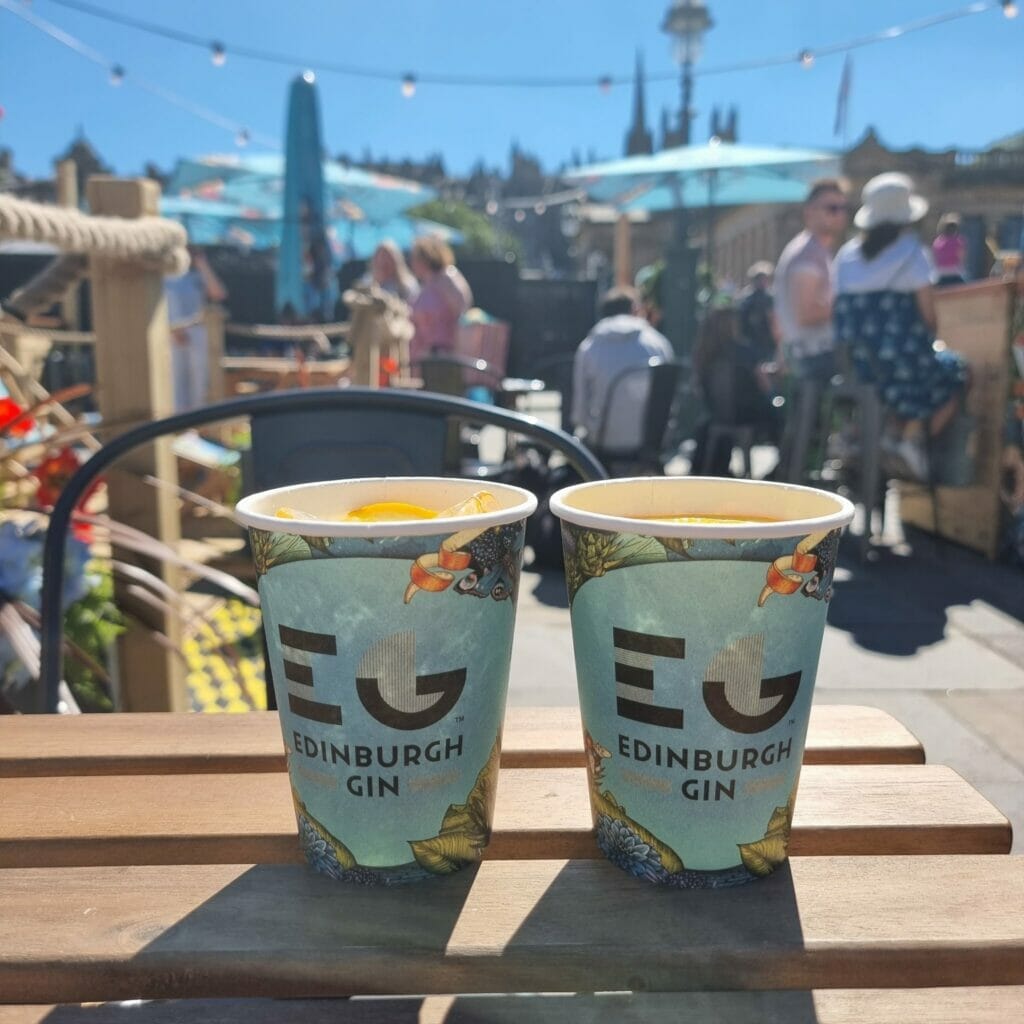 Explore the historic heritage of gin in Edinburgh at this fantastic working distillery.
Not only can you take a guided tour around the distillery and learn about the process that takes gin from the beginning to the end and in your drink, but you can also get a taste for gin produced at this distillery.
Make sure to book ahead as this is a very popular visitor attraction and there are only a certain amount of spaces on each tour.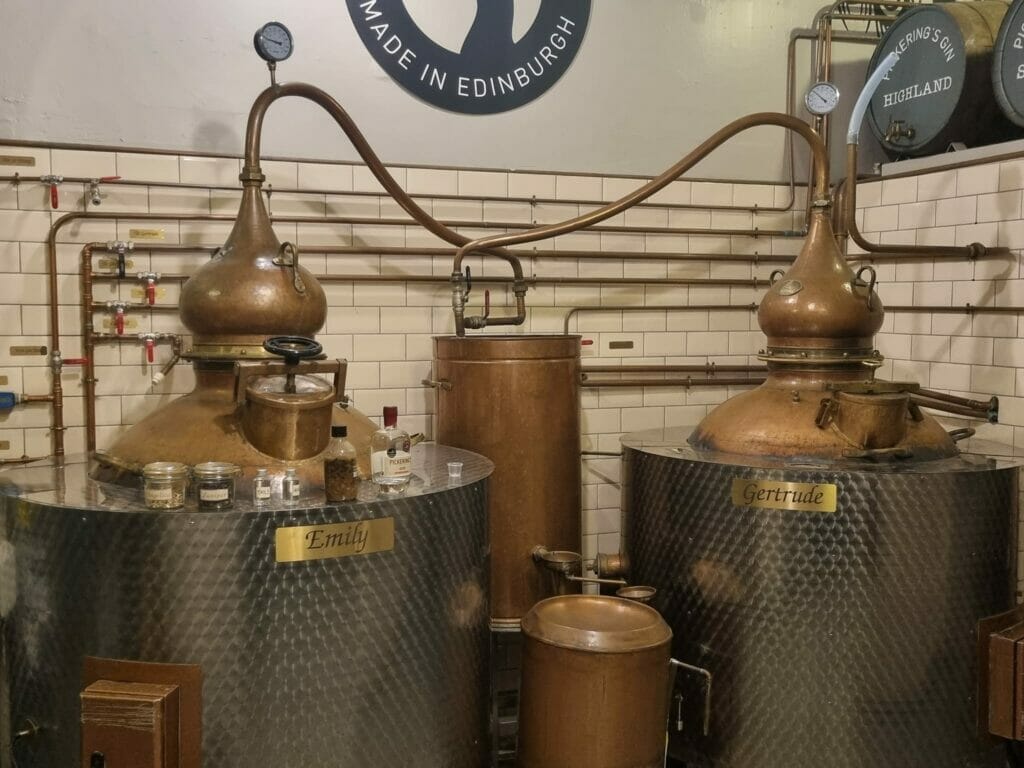 Stop by Pickering's to take a gin experience and tour of the distilling process that takes place at Summerhall Distillery.
You'll have a tasting involved so you can see if you can spot the difference in taste from other gins, as well as get the chance to ask questions of the experts on how the award winning gin is made.
Tours are a bit under an hour long, so get on their last tour of the day to start your evening off right.
Dunstane House Gin Drinking
Head to The Dunstane Houses where you can take part in a gin tasting session.
You'll get information on each type of gin that you try, along with multiple samples showing off the best of Scottish gins.
This is a great information if you're not so much into the gin distilling experience as you are the gin drinking experience – no judgement here!
UK Travel Planning Guide: the FAQs
🏥 Should I buy UK travel insurance?
Absolutely yes. Basic coverage is not expensive, and as a visitor you are NOT covered under the NHS. Compare policies and prices with Travel Insurance Master here, a big name in the travel insurance business, and cross that off your list.
🔌 Do I need travel adapters for the UK?
Yes, you do, otherwise you won't be able to plug in your electronics/phone/lifelines. I recommend this one, which is all-in-one so you can use it in other countries.
🚗 What do I need to drive in the UK?
The first thing you need to check out if you're planning on renting a car in the UK is this guide to driving in the UK for visitors – the roads, signs, and driving experience will likely not be what you're used to and it's essential to prepare yourself to stay safe and aware.
🛌 What's the best way to book hotels in the UK?
For UK hotels, Booking is the best site as it offers free cancellation on many properties. If you want an apartment, I always recommend VRBO over AirBnb.
📳 Will my phone work in the UK?
Yes – if you set it up right. Check out my guide on making your foreign phone work in the UK to ensure that you get the type of service you need.
🚿 Can I drink the water in the UK?
Yes, UK water is great and perfectly safe. But drink out of taps in any kitchen or use water fountains. Double check before drinking out of the taps in hotel bathrooms, though, as they may be on a different system.