This post contains affiliate links for which I may make a small commission to help keep the site running. You will not be charged extra for these items had you not clicked the links. Thank you for your help to keep the site running!
As a coastal city in England and one of the most beautiful places in England, Brighton is obviously the place to see in the summer with long days of sunshine rather than the cold, dark winter, but I contend that a weekend in Brighton can be an amazing experience any time of the year if you really put your heart into it.
Spending two days in Brighton isn't going to give you enough time to see everything, but it is a really doable weekend trip to Brighton as there are trains running directly from London that pop you right out into the heart of the action.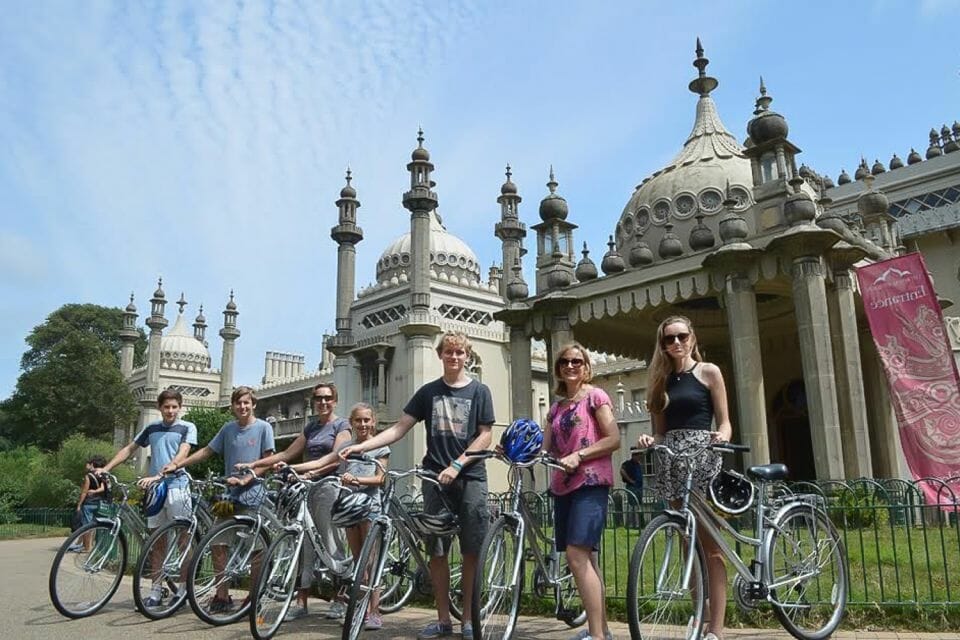 I was first drawn to Brighton because the Florida girl in me is always looking for a beach, and while I am not necessarily used to the pebble and stone beaches in England, it was enough make me happy.
GET A

FREE

UK GUIDE and ACCESS TO MY PLANNING FB GROUP
With 50+ pages of helpful travel tips and the "best of" UK lists, this is your ad-free key to your UK trip.
Whether you're hoping to spend a weekend in Brighton or are just on a day trip to Brighton, you'll want to check out this itinerary for 2 days in Brighton to get your imagination soaring.
A weekend Brighton is a weekend of guilty pleasure.
You don't come to Brighton to be the best version of yourself, you come to stuff your face with fish and chips and eat cotton candy as you gamble at the arcade and spend too much money in the shops.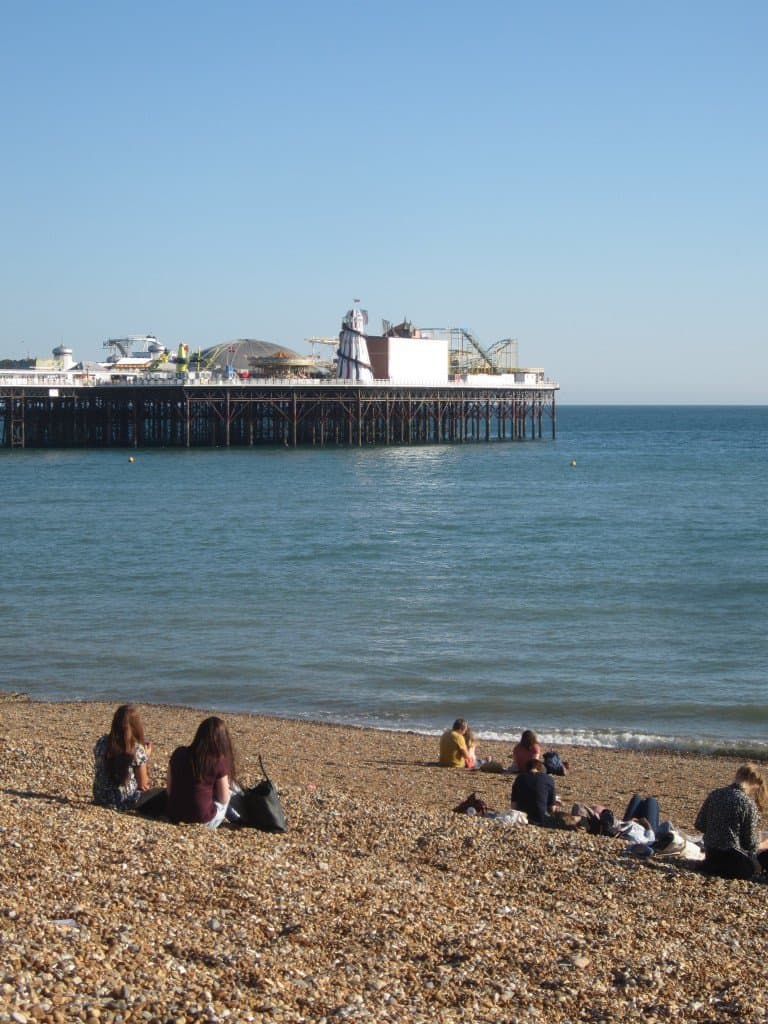 With that being said, I've put together a sample itinerary that starts Friday night and ends Sunday night so you can plan your things to do along the way.
Brighton Weekend At-a-Glance
How to Get to Brighton from London for the Weekend
It's so easy to get to Brighton from London. There are regular trains running from major London train stations, and the cost is reasonable (sometimes at less than £20 round trip).
Check out my full guide on getting to Brighton from London here.
IMPORTANT: are you coming to the UK from abroad?
In case you're reading this from outside the UK and will be a foreign visitor here, you need to know these 2 things to stay safe and save money.
Travel insurance – you need it when going overseas! I use

this site

to get the best quotes and purchase my packages from. Do not skip this – having medical coverage abroad as well as other coverage in case of missed flights, lost luggage, etc is essential. As I said, I have never gone wrong using

this site

.
Where to Stay in Brighton for 2 Days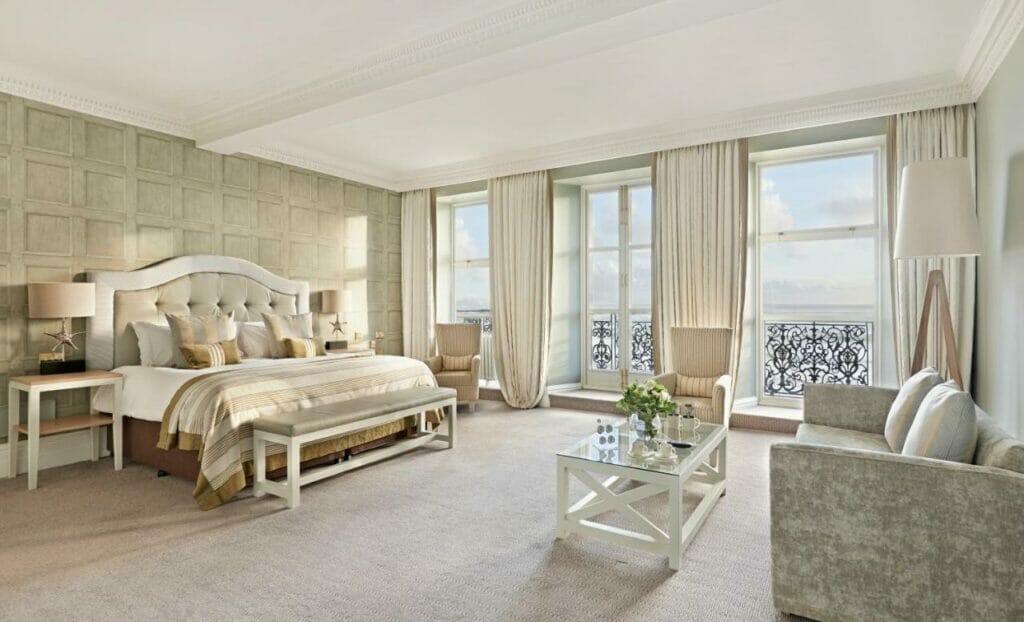 The best hotel in Brighton, hands-down, is the Grand Brighton.
This gorgeous hotel features large rooms, sea views, and a Renaissance style that shows off its history.
There's an on-site restaurant with incredible Sunday roasts, a cocktail bar for late nights, and free WiFi throughout the hotel.
It's just a 5-10 minute walk from the major Brighton attractions and is the perfect place to stay over the weekend in Brighton.
Friday night in Brighton
Arrive to Brighton from London via train after work or drive down and park.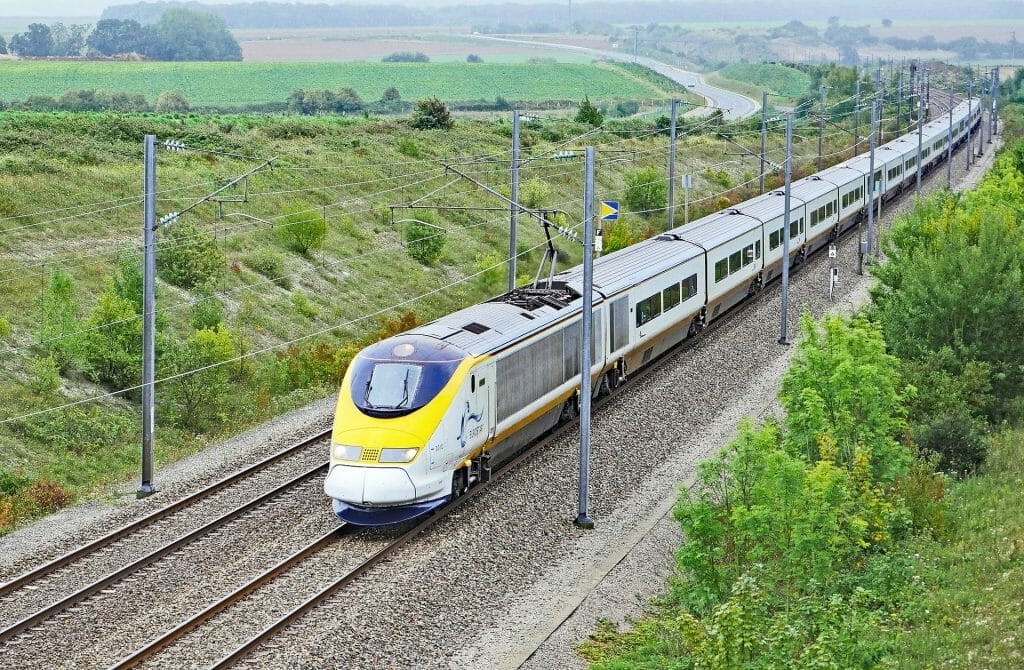 As you might be getting in late, grab something quick like pizza or Chinese food to get fueled up and ready for the weekend.
What to Do in Brighton on a Saturday
Saturday is the day to really tourist it up in Brighton and see some of the main sights, including Brighton Pier.
Not far from the pier is the Royal Pavilion, a former royal residence built in 1787 in an Indo-Islamic style.
At this point, it is REALLY hard to believe you're still in England.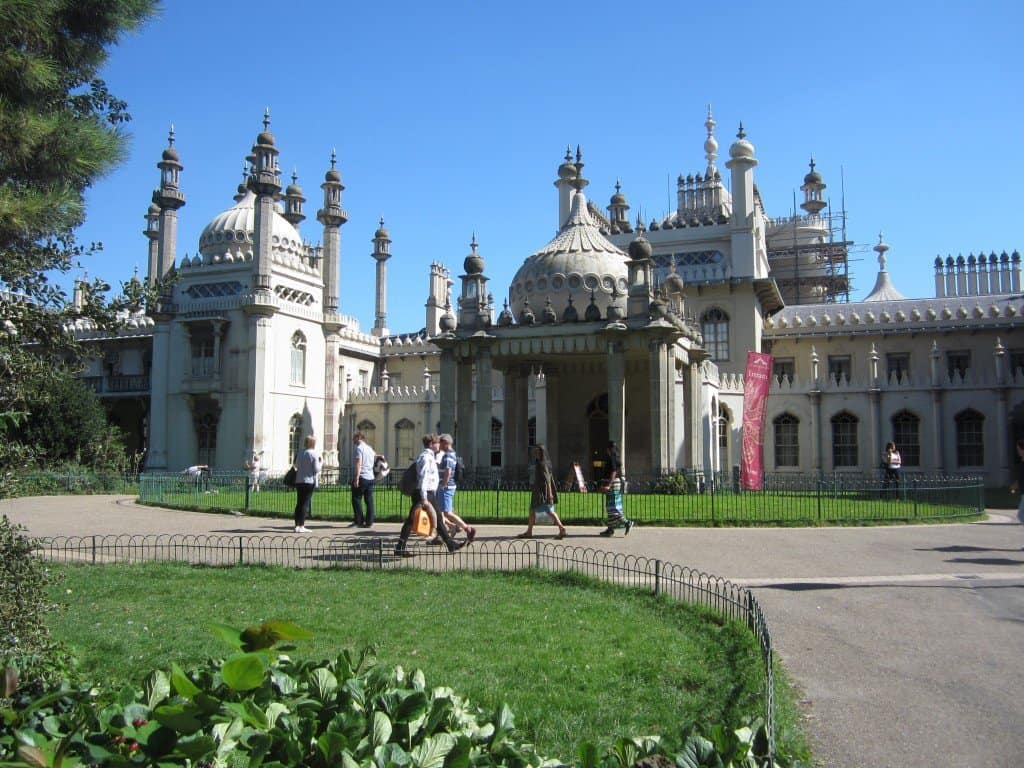 The exterior is particularly striking and unusual for its Indian-inspired architecture, but once you step inside you'll encounter a whole new world of riches and decorations that truly define luxury by the sea.
Book a self-guided ticket to see the house here.
You should leave a couple of hours to really take your time and appreciate Brighton Pavilion, so once you've finished it'll be around lunch time!
From Brighton Pavilion, walk to Brighton Pier where you'll spend the afternoon.
The pier is an iconic Brighton feature that stands out proudly in the lapping waves.
The latest pop hits and traditional arcade music fill the air, along with the sounds of screaming children being dragged away from their games.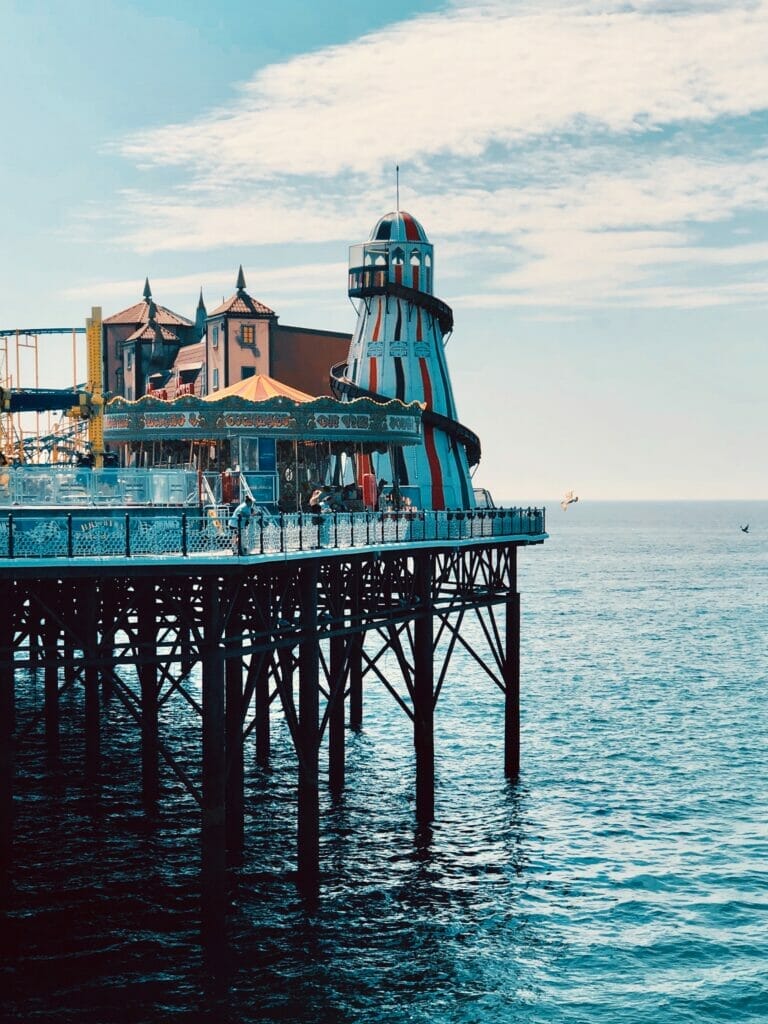 Get fish and chips for lunch on the pier while overlooking the water.
Brighton Pier is such a famous Brighton landmark that you'll want to at least snap a few pictures, walk the whole length of the pier, and then go for a walk on the rocks underneath.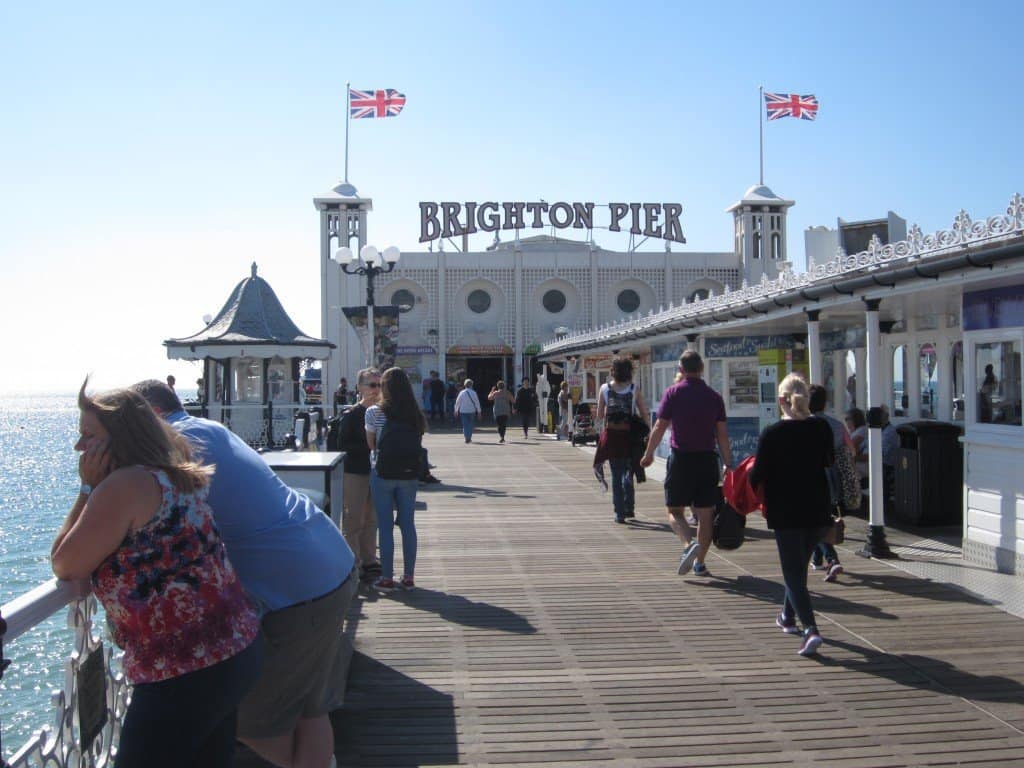 In the summer, spend the afternoon going for a swim in the sea or a long walk on the beach.
Brighton's beach is made of rocks, which feel cold and smooth underneath your feet and are free from the hassles of bringing sand back with you in the car.
The birds wander around the shore, picking up bugs from the water and eyeing up dropped ice cream cones.
When the sun is shining just right and the weather is warm enough, Brighton feels like miles away from the dark shades and dampness that seem to be the foundation of most English cities (sorry England, I love you, but…)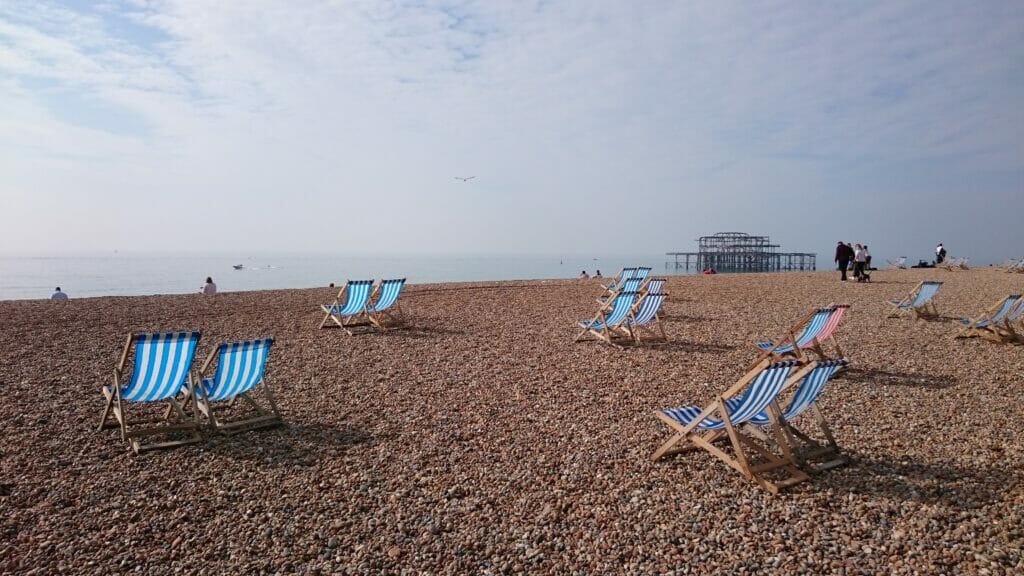 In the evening, book a lunch at a seaside pub where you can get all of the British classics while smelling the fresh saltwater in the air.
Saturday night should be spent exploring Brighton's nightlife, unless you're old like me and just prefer to go to bed.
Don't miss one of Brighton's most popular nightclubs for a night of dancing, or have a more laidback evening of stand-up comedy.
What to Do on a Sunday in Brighton
On a Sunday, Brighton can be a lazy town if you want to, filled with wandering past shops and slowly enjoying the sights and smells around you.
Sleep in after your late night out, and then have a full English breakfast at a local cafe.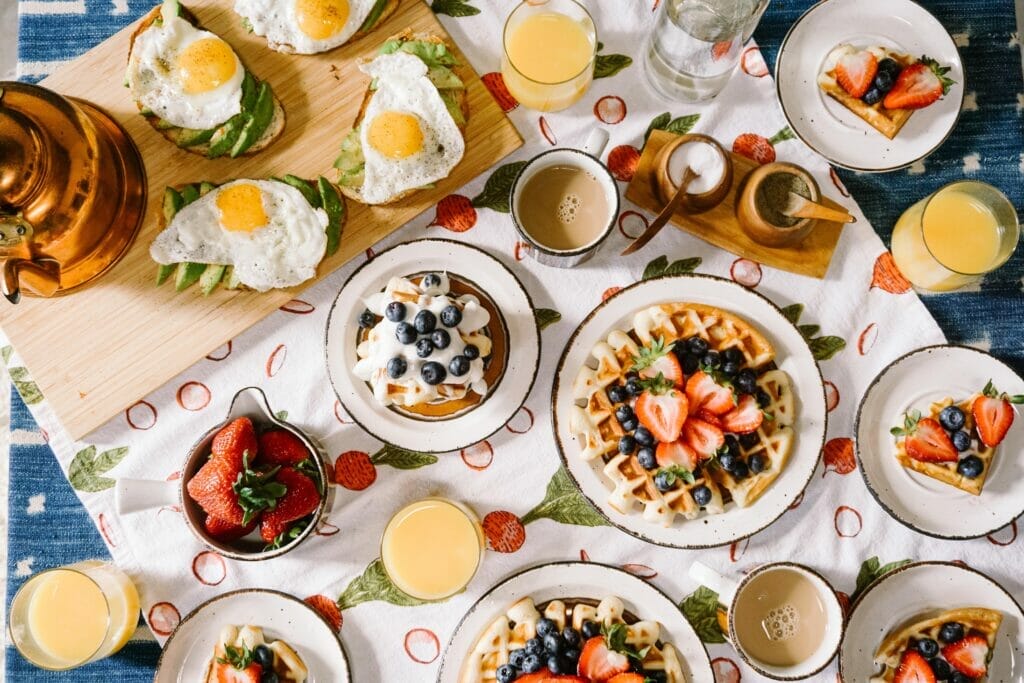 This acts as both your breakfast and lunch, which gives you plenty of time to then hit the Lanes in the afternoon.
This area of Brighton is super cute and known for its fantastic window shopping and adorably winding streets.
Wander up and down them while peering into the windows and making your Christmas list.
Eavesdrop on dining conversations and spend last month's rent on a pair of shoes you desperately need and will never wear again.
Stop for a coffee or tea in the late afternoon and sit outside to soak in the sun if it's shining.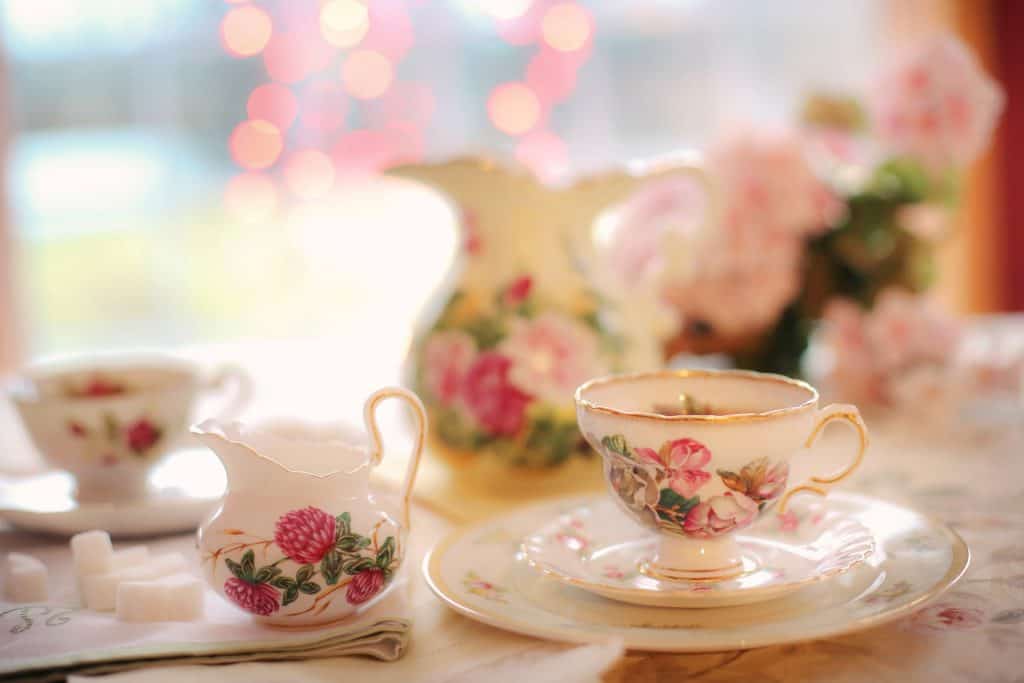 Finish your weekend in Brighton by grabbing a sandwich and some chips from a local grocery store and heading to the beach with a blanket.
Watch the sunset over the West pier (now beyond repair and left to spend its days free from people and sinking into the ocean) and thank Brighton for the culture and joy-filled weekend it gave you!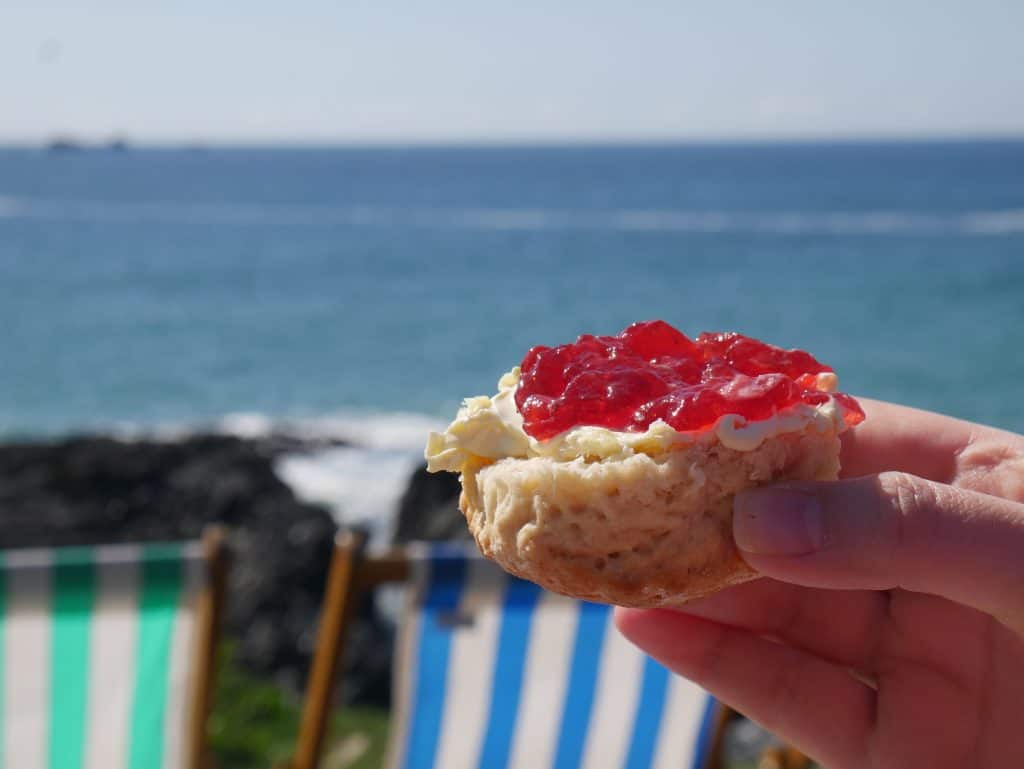 If you're looking for a particular type of activities to enjoy in Brighton on a weekend rather than just the main tourist ones, I've put together a few ideas to help you plan.
Romantic Things to Do in Brighton
Breakfast at The Lanes
Whether you've arrived in Brighton late at night on a Friday or just want to enjoy some breakfast before going back home, enjoy a leisurely breakfast in the Lanes – a shopping and coffee shop area of town that's filled with winding roads and lots of places to take your new profile picture.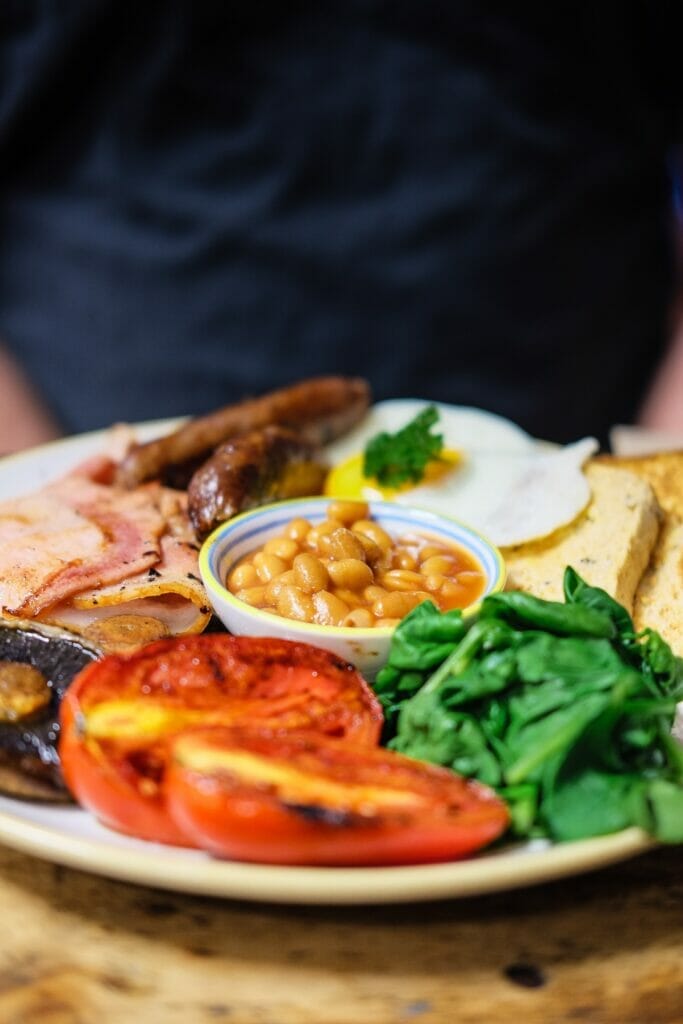 You can talk about your hopes and dreams while sitting in the sun sipping orange juice and appreciating your time together.
Watching the Sunset over Brighton Pier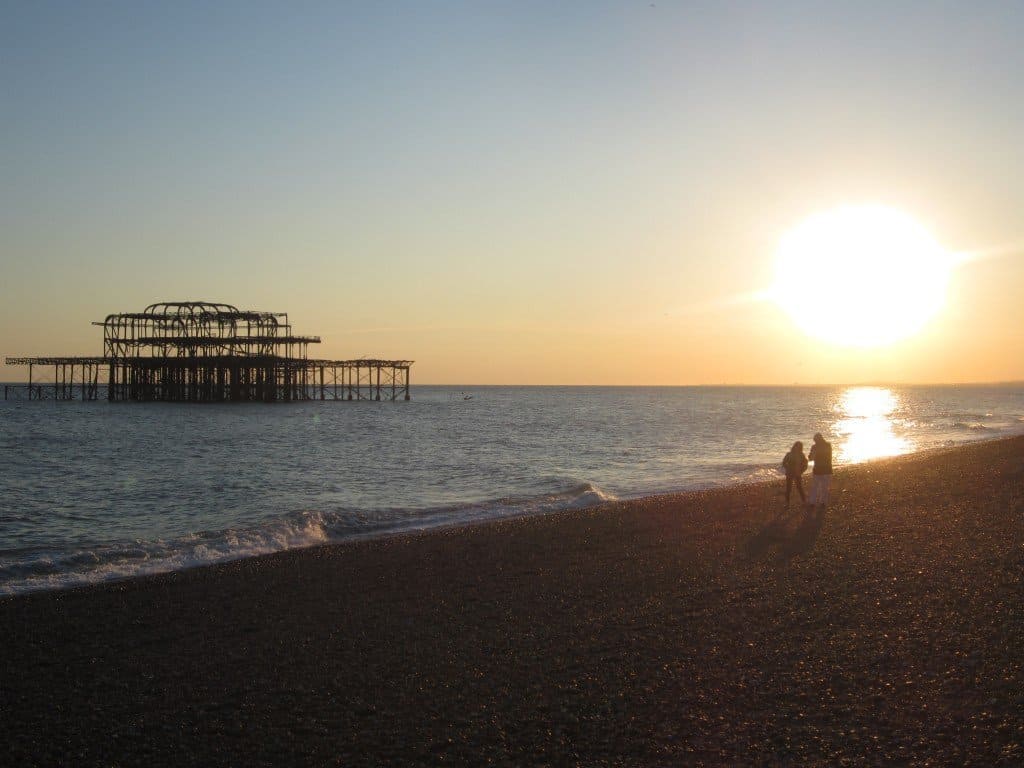 Sunsets over Brighton Pier are absolutely stunning, especially in the summer.
Grab a blanket so you're not sitting on the rocks and pick a spot before dusk.
As the sun sinks below the horizon, you can enjoy a special moment with your significant other and snap some beautiful pictures.
Free Things to Do in Brighton
In Brighton while on a budget, or just don't want to splash the cash to enjoy yourself by the seaside?
No problem!
Brighton has tons of things to do for free while you're there.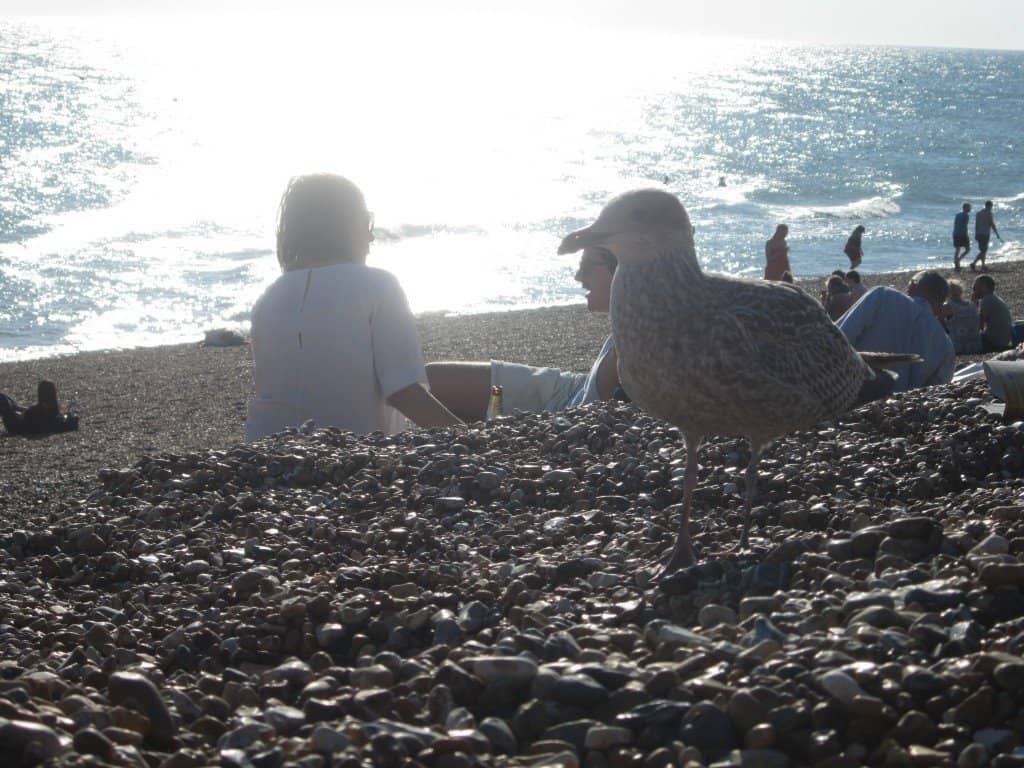 Swim at the Beach
It doesn't cost a thing to get on Brighton's beach.
It's open and free to the public, which means you just need to show up in your swimsuit and wearing your best flippers to take advantage of the cool water and beautiful views.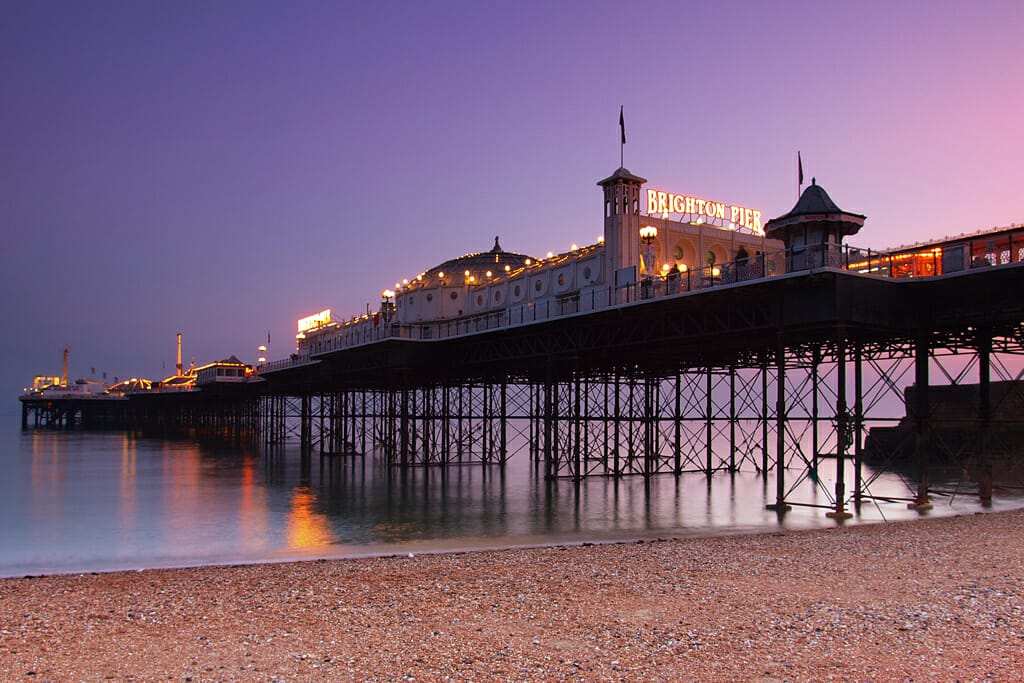 In fact, many locals who live nearby use the beach as their home away from home, whether for swimming, walking the dog, or just chilling out.
You can spend a whole day here at the beach and not spend a pence – or at least until you spot the ice cream on the pier and decide to indulge yourself.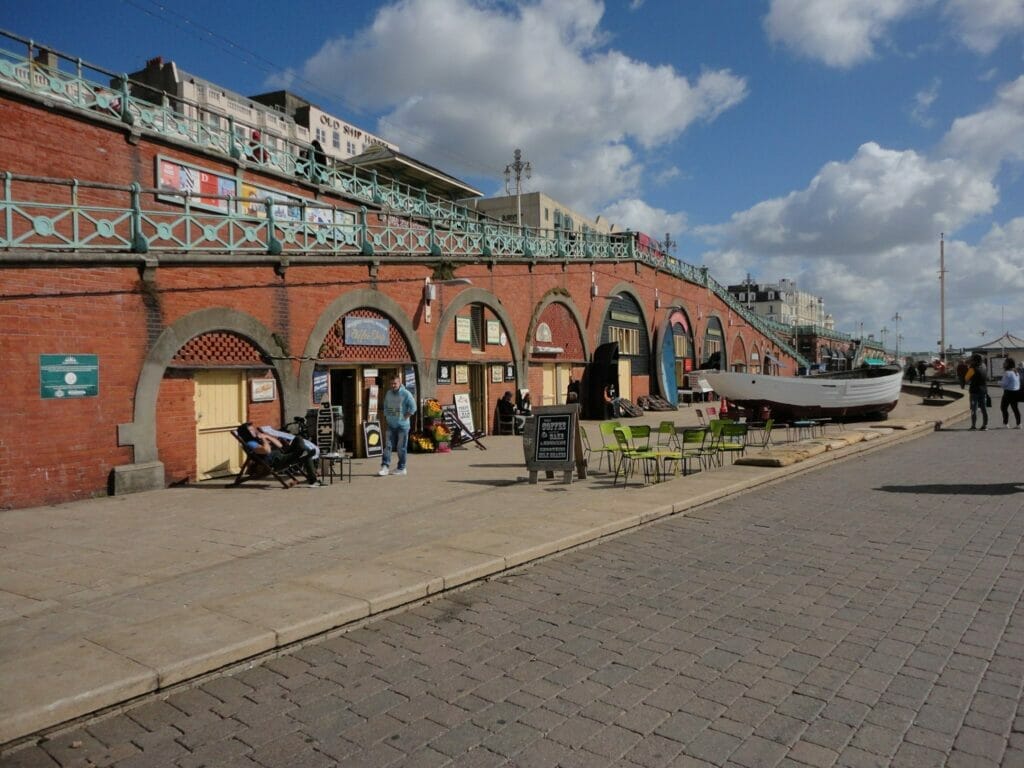 I love a free museum, especially ones that are dedicated to the local area.
Pop into this quaint museum that tells the story of Brighton's fishing past so that you can get a better feel for the way the area has developed and how you can help it hold on to its past traditions.
Oh, and did I mention it was one of the things to do in Brighton FOR FREE? Oh, yeah!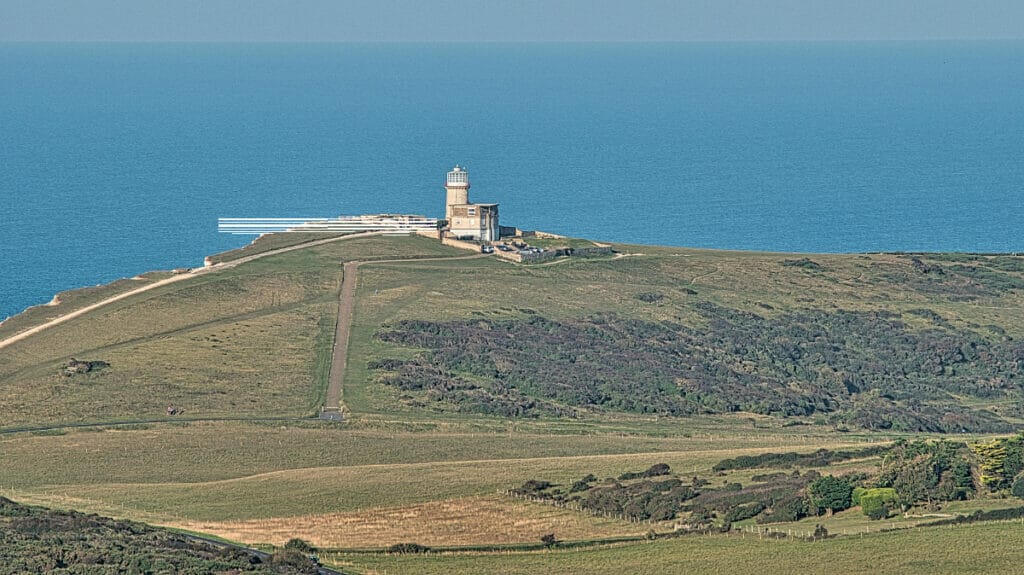 If you're not quite feeling a beach day but want to go out and play in the English countryside, head to nearby South Downs National Park where you can go walking with the family.
This is a popular area for locals and visitors alike to stretch out, feel the fresh air on their face and make memories near Brighton that will last a lifetime.
There's no charge for entering the National Park, so bring as many friends as you want.
Indoor Activities in Brighton
Sadly, sometimes it rains in Brighton.
I know, I KNOW!
Rain in Brighton is unfathomable!
But it's England, and so – well, it happens.
But not to fear – when you're in Brighton for a weekend and the rain is coming out of the sky with no end in sight, there are plenty of indoor activities in Brighton to keep you occupied.
Sea Life Brighton
Ready to dive into the deep while staying dry?
Sea Life Brighton is a lovely aquarium with plenty of activities to keep the whole family busy.
It's also the oldest operating aquarium in Britain, which gives it a unique history all unto itself.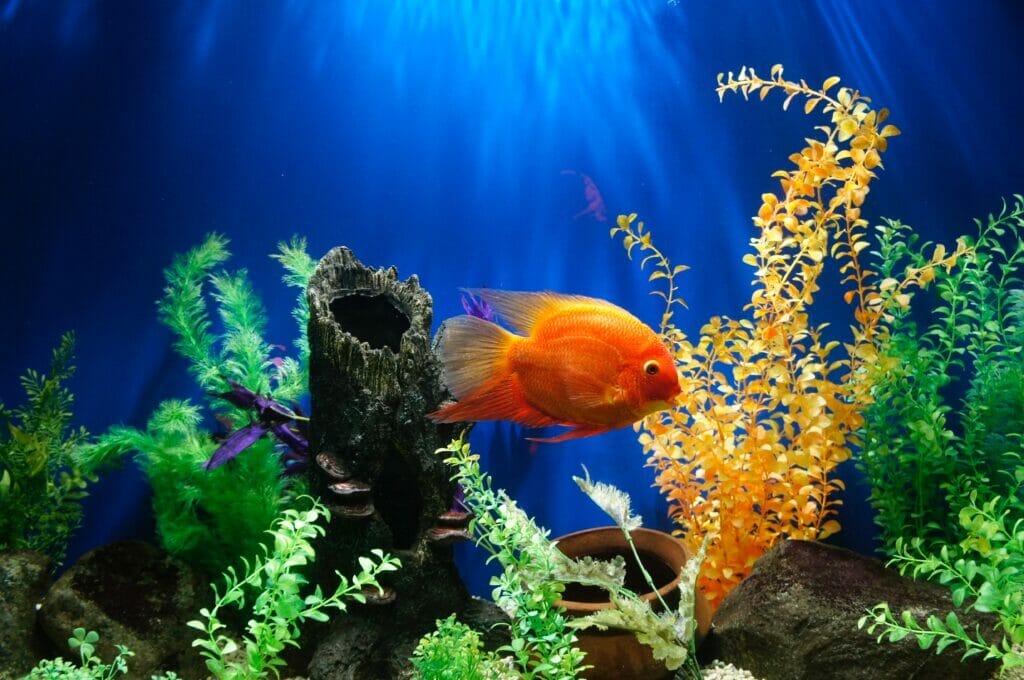 Stop by to see the colorful fish floating along, or go to a talk on conversation of wildlife.
Brighton Pavilion
The Brighton Pavilion is one of the main draws for visitors to Brighton for the weekend, and you can enjoy it yourself even in the rain!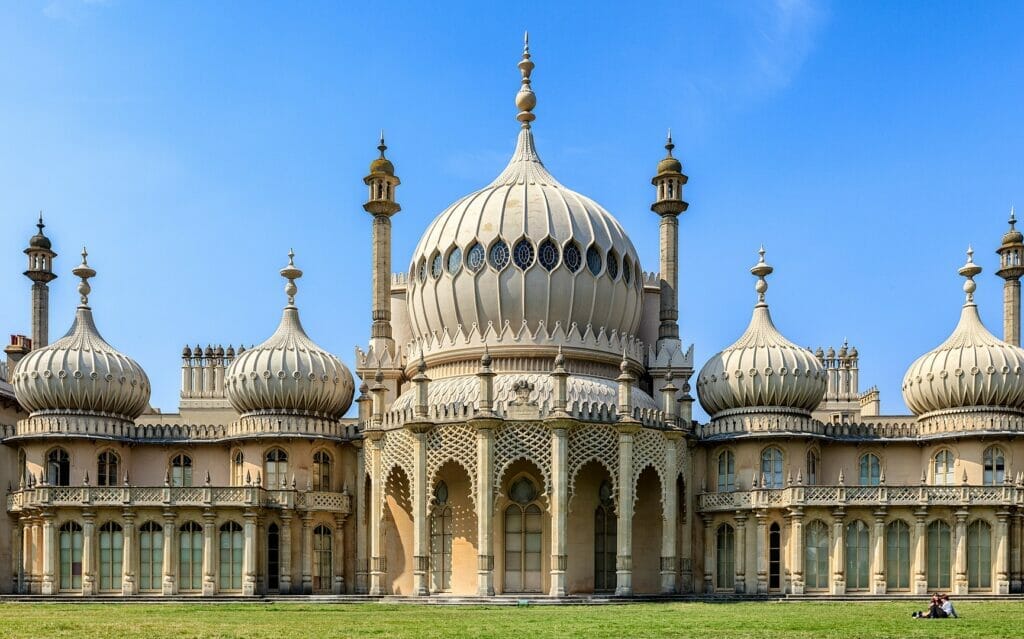 The beautiful rooms and lavish décor inside aren't affected by the storms outside, so come on in, dry off, and appreciate the Indian-inspired beauty by the British seaside.
This museum was once a private collection, but now it's open to everyone to come and enjoy the fossils and natural history artifacts that help show off our natural world.
In addition to photo displays and permanent exhibitions, there are also hands-on activities to help you and the kids learn more about the world around you.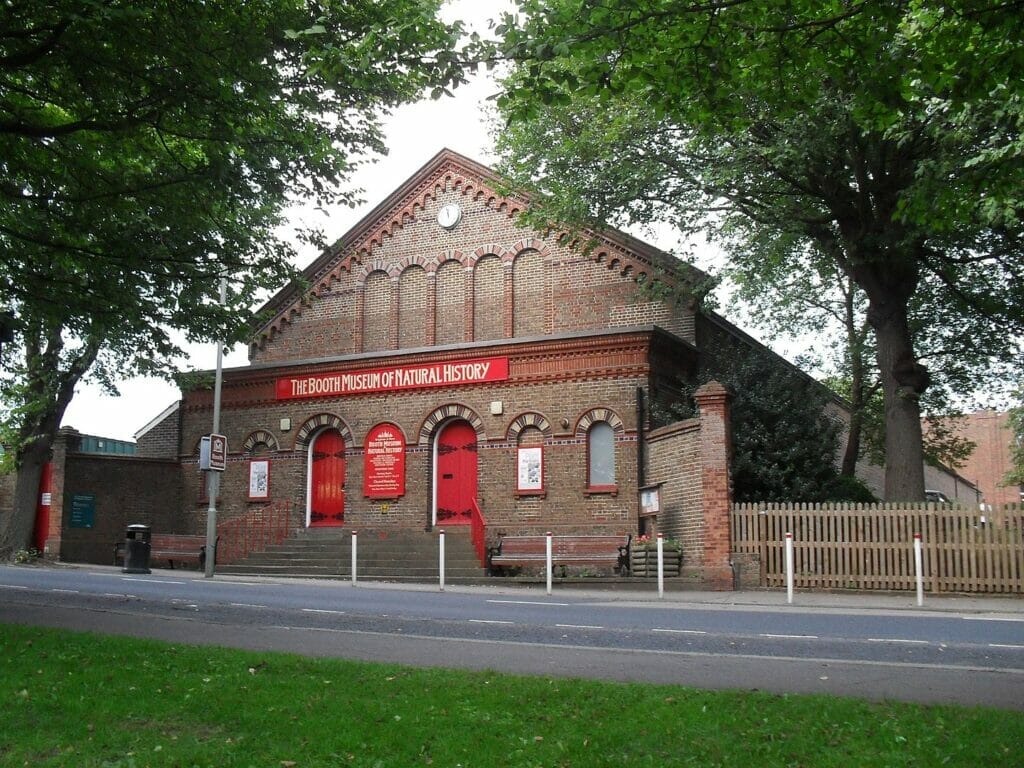 And better yet – there's a roof!
Goodbye, rain!
Odeon
Okay, it's not the most original idea, but you should know that Brighton has movie theaters like Odeon as well as bowling alleys, shops and other places to escape the rain if you just want to have a relaxing afternoon .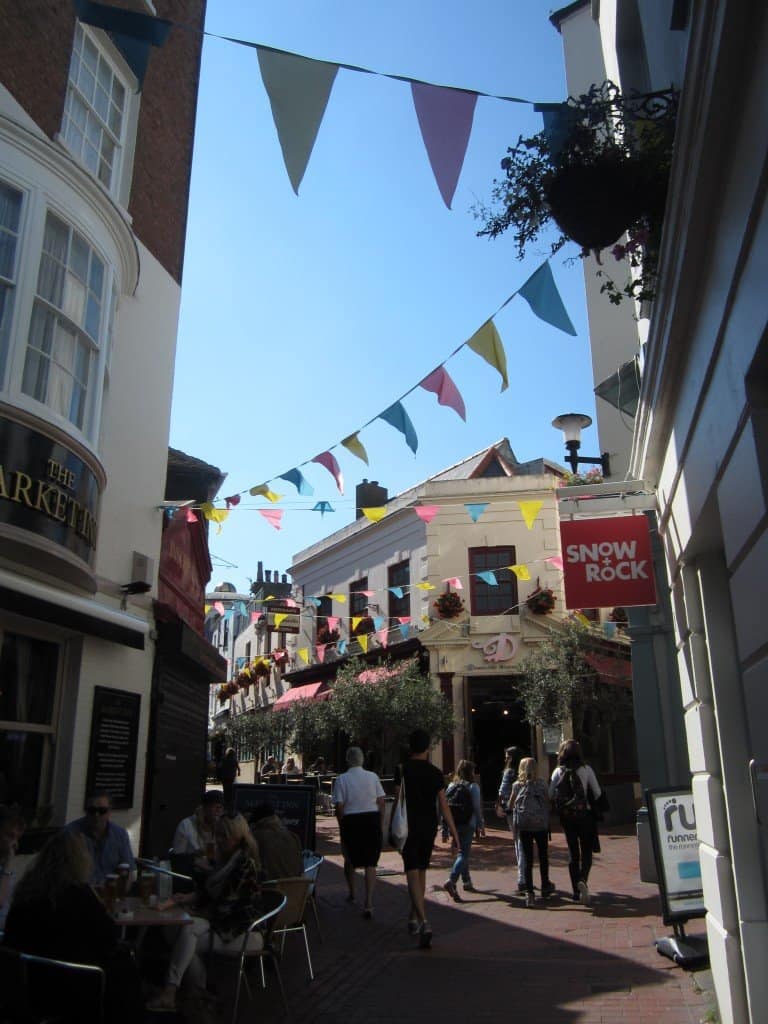 UK Travel Planning Guide: the FAQs
🏥 Should I buy UK travel insurance?
Absolutely yes. Basic coverage is not expensive, and as a visitor you are NOT covered under the NHS. Compare policies and prices with Travel Insurance Master here, a big name in the travel insurance business, and cross that off your list.
🔌 Do I need travel adapters for the UK?
Yes, you do, otherwise you won't be able to plug in your electronics/phone/lifelines. I recommend this one, which is all-in-one so you can use it in other countries.
🚗 What do I need to drive in the UK?
The first thing you need to check out if you're planning on renting a car in the UK is this guide to driving in the UK for visitors – the roads, signs, and driving experience will likely not be what you're used to and it's essential to prepare yourself to stay safe and aware.
🛌 What's the best way to book hotels in the UK?
For UK hotels, Booking is the best site as it offers free cancellation on many properties. If you want an apartment, I always recommend VRBO over AirBnb.
📳 Will my phone work in the UK?
Yes – if you set it up right. Check out my guide on making your foreign phone work in the UK to ensure that you get the type of service you need.
🚿 Can I drink the water in the UK?
Yes, UK water is great and perfectly safe. But drink out of taps in any kitchen or use water fountains. Double check before drinking out of the taps in hotel bathrooms, though, as they may be on a different system.