This post contains affiliate links for which I may make a small commission to help keep the site running. You will not be charged extra for these items had you not clicked the links. Thank you for your help to keep the site running!
When the sun goes down in Edinburgh, the city turns into how we really picture this dreamy Scottish destination.
History lurking around every corner, possibly a misty alleyway filled with secrets that only JK Rowling can tell, and long nights in a pub drinking in the same spot a famous Scot has probably sat in.
There is also another side to Edinburgh at night, including late night shopping on Princes Street and less historic (but still fun) evenings spent chatting with friends in chain restaurants as you huddle up away from the cold.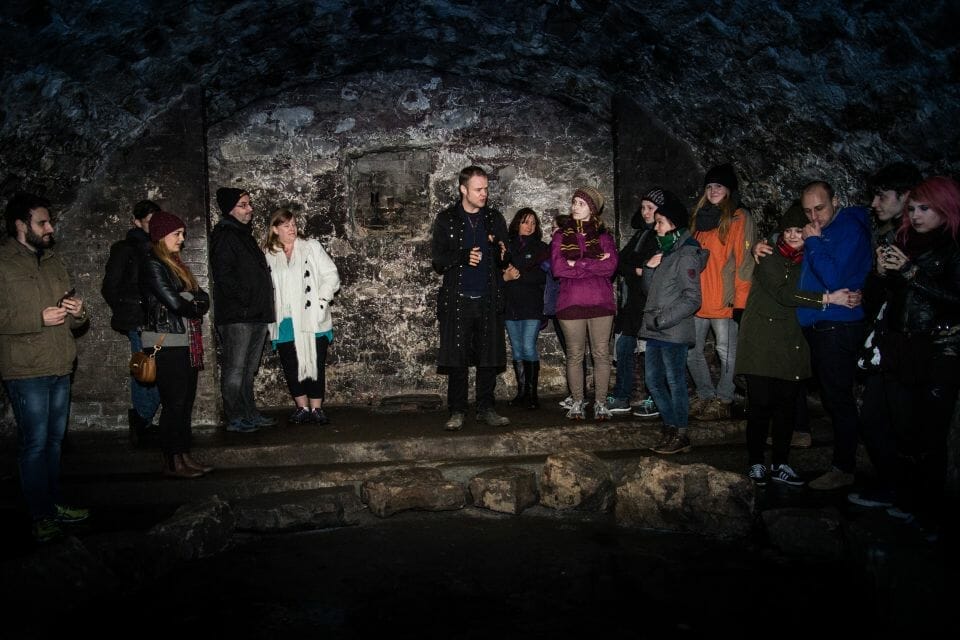 If you're heading to Edinburgh and don't want to break the bank, check out my list of free things to do in Edinburgh, and read on for my thoughts on the best things to do in Edinburgh at night no matter who you are (unless you're me, in which case my night ends at about 8:00pm when I like to go to bed but just pretend for the sake of this post that I'm a party animal).
Edinburgh in the Evening At-a-Glance
Things to Do in Edinburgh at Night for Couples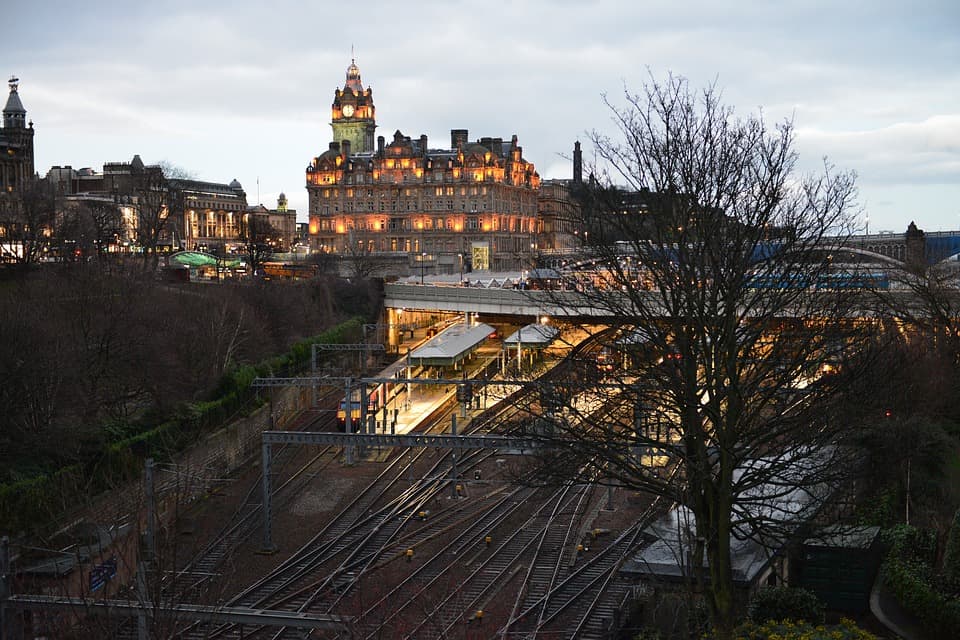 On a couple's trip to Edinburgh, embracing Edinburgh's nightlife in all of its fun is part of the experience.
There's no point in coming to the city only to stow yourselves away in your hotel room from 7pm because you want to eat pizza and go to bed (again, me).
Instead, try out these cool date ideas and get to know each other and Edinburgh in the evening even better.
GET A

FREE

UK GUIDE and ACCESS TO MY PLANNING FB GROUP
With 50+ pages of helpful travel tips and the "best of" UK lists, this is your ad-free key to your UK trip.
Comedy Club
If you like to laugh (or potentially cringe at awkward jokes depending on the comedian), Edinburgh is filled with comedy clubs that start getting active at nighttime.
Attending a comedy club as a couple is definitely the best way to go, as you can start to learn each other's senses of humor and decide for yourself if their humor is up to your standards.
Some of Edinburgh's most popular comedy clubs are…
1. The Stand Comedy Club: what to do in Edinburgh at night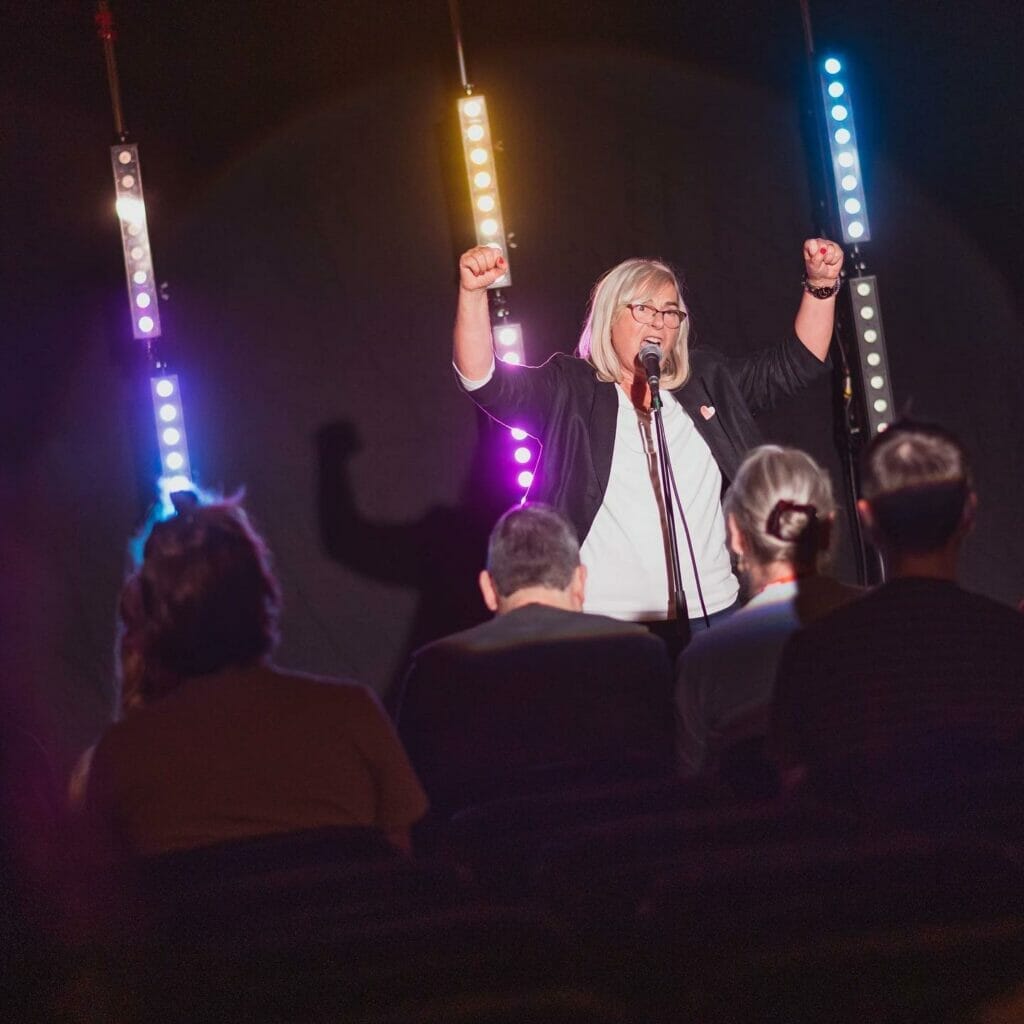 This venue has locations in Edinburgh, Glasgow, and Newcastle, and it features local comedians and up and coming comedy acts looking for their break.
You can enjoy everything from stand up to improv, as well as comedy classes and a weekly beginner's showcase.
Food is on offer as well, should you want to stuff your face with nachos and chicken wings while simultaneously spitting it all out while laughing.
I highly recommend.
2. Monkey Barrel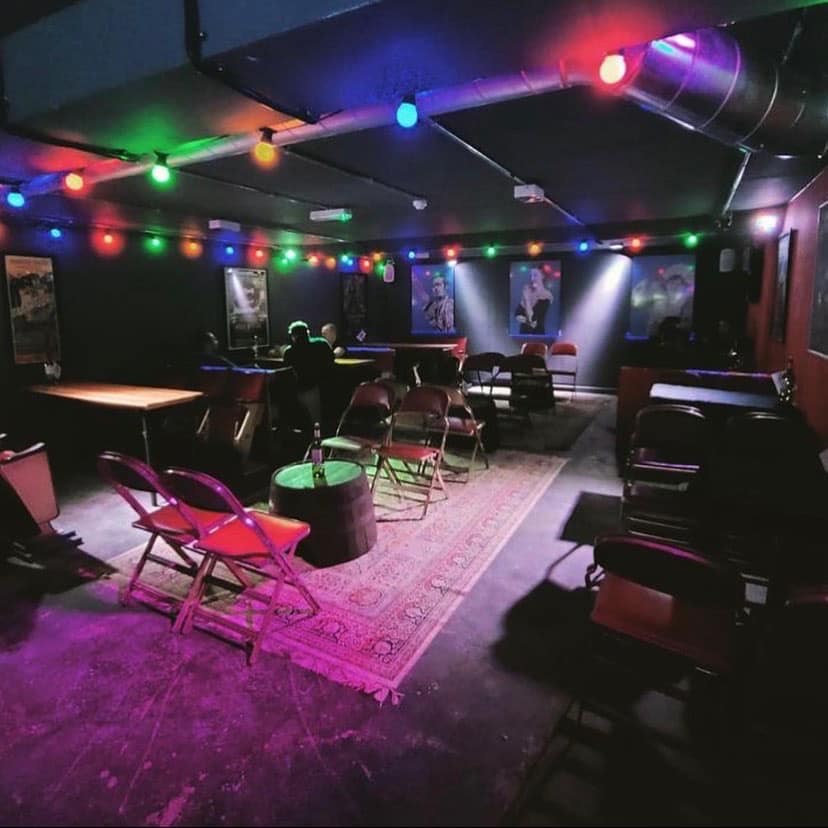 Attending a comedy act at Monkey Barrel is a bit like being thrown into one yourself.
The seating is arranged so that no one is really safe from the action, and you may find yourself in close range of a comedian about to make a joke out of you – but it's all part of the fun.
The venue sits around 100 people and is open almost every night of the year, so no matter when you're looking for something to do in Edinburgh at night, you can count on it being open.
You're welcome to book a group into a show ahead of time, or choose from one of the food and drinks packages that will keep the alcohol flowing while you sit back and enjoy.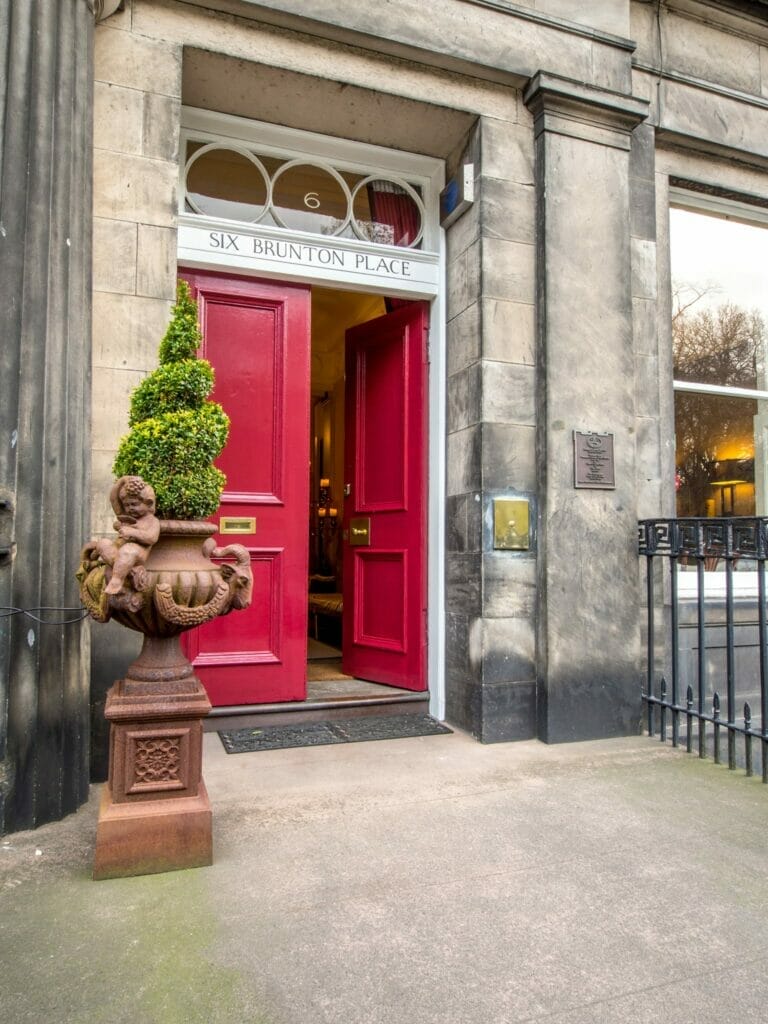 3. Edinburgh Dungeon
If you need an excuse to hold someone's hand or you just like being scared out of your mind, head to the Edinburgh Dungeon which often runs its last tour around 4:00pm to 6:00pm depending on the time of year.
Start your evening off with this interactive entertainment experience that take you into different rooms including caves, old dwellings and, well, dungeons, to experience some of Edinburgh's most terrifying history and characters.
Special effects make this an intense experience, and costumed characters help to bring this world to life.
There are also thrilling rides, so it's basically like Disney World for people who take delight in being scared (or not telling your significant other where you're taking them and enjoying their screams throughout).
IMPORTANT: are you coming to the UK from abroad?
In case you're reading this from outside the UK and will be a foreign visitor here, you need to know these 2 things to stay safe and save money.
Travel insurance – you need it when going overseas! I use

this site

to get the best quotes and purchase my packages from. Do not skip this – having medical coverage abroad as well as other coverage in case of missed flights, lost luggage, etc is essential. As I said, I have never gone wrong using

this site

.
4. Royal Observatory: charming Edinburgh at night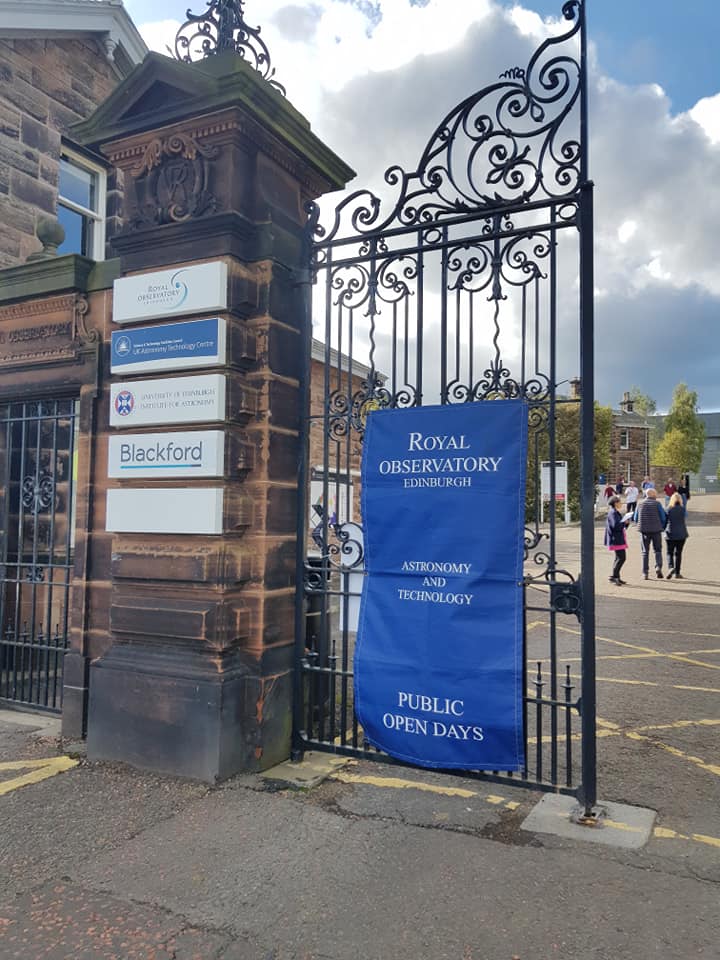 What could be more romantic than spending an evening in Edinburgh gazing at the stars?
Book onto a late night event at the Royal Observatory for a tour of the telescope dome, a talk including Q & As, and a chance to do some observing from the roof top (weather permitting).
The cost is really small, just only £5 per person and less for children, with two time slots including an earlier one for those with kids who need to get them in bed ASAP before everyone passes out in a heap of exhaustion.
5. Old Town and Royal Mile Walk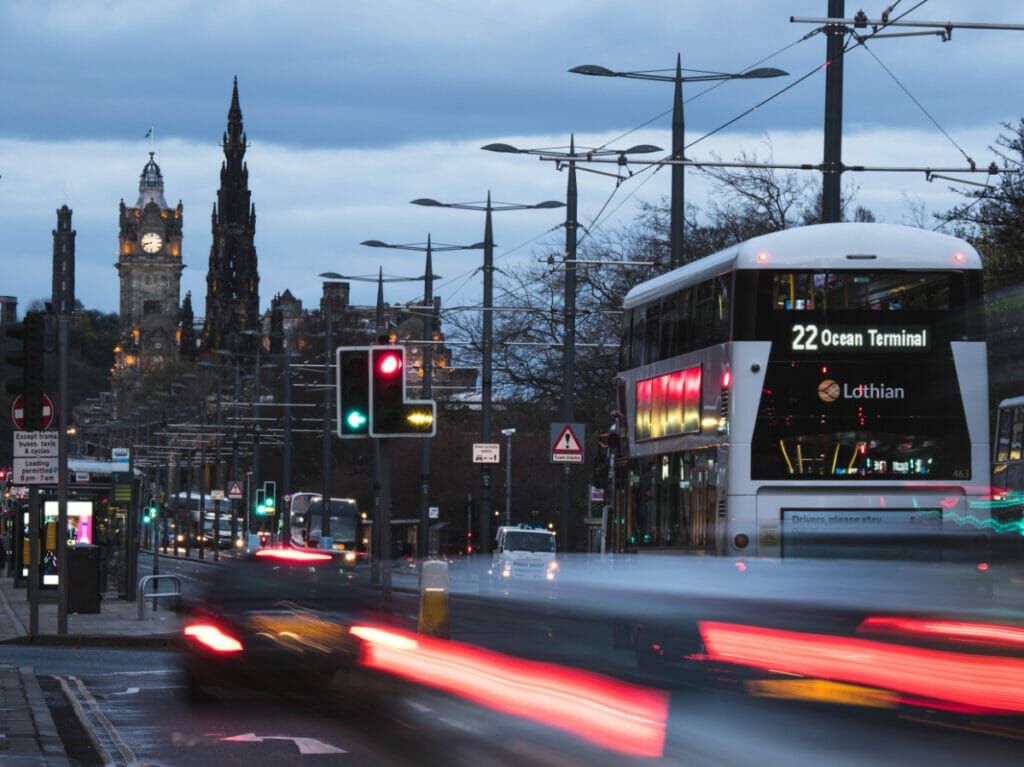 Don't get me wrong, walking the Royal Mile during the day is a great experience and perhaps the best chance to actually get your bearings straight and figure out where you are.
But the Royal Mile also comes alive at night in Edinburgh and deserves at least a stroll through when the sun goes down.
It's a super safe place to explore in the evening, and you'll find lots of places to stop for a drink or something to eat along the way.
There's just something about the impressive buildings and the way they tower over you in the darkness that makes for a lovely way to spend the evening in Edinburgh.
6. Princes Street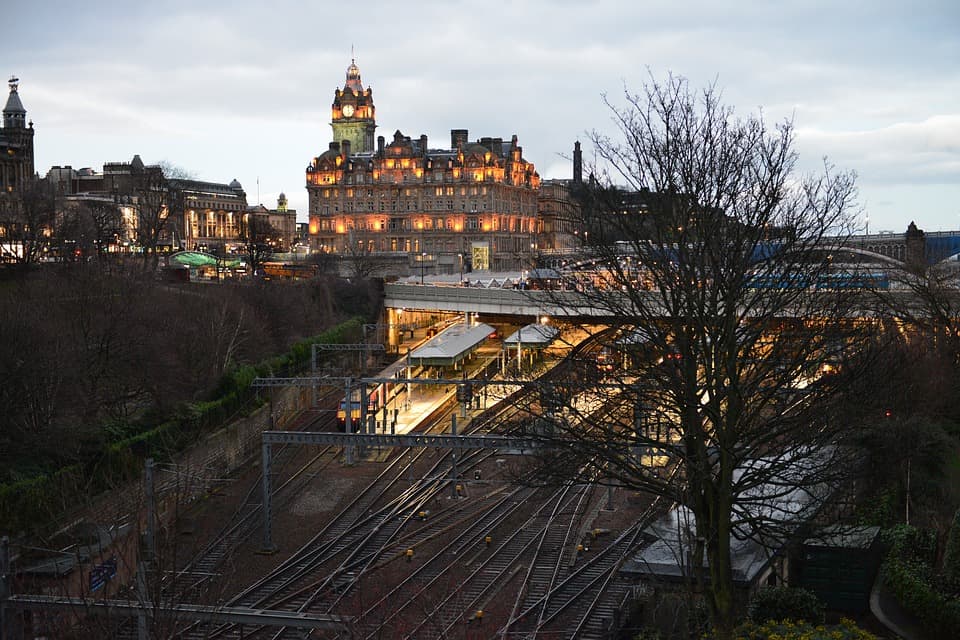 Shopaholics, here you go.
I'm giving you full permission to drag your partner to Princes Street at night, which is one of the main roads running through Edinburgh and full of places to buy stuff.
What kind of stuff?
Basically anything you can think.
Clothing, electronics, homegoods, food.
The list is endless, and shops like House of Fraser, Topshop and H & M will have evening shopping hours for you to cap off your day by spending money to your heart's content.
This is the modern, "happening" part of Edinburgh that more closely resembles streets like Oxford Street in London.
There are a few cultural things to see as well, though, including the Statue of Wellington.
Things to Do in Edinburgh at Night for Families
Families will find Edinburgh wonderfully kid-friendly all year-round due to the variety of museums, activities and cultural attractions on offer.
This list isn't exclusively things to do in Edinburgh for families at night, but rather some of the most family-friendly activities in Edinburgh.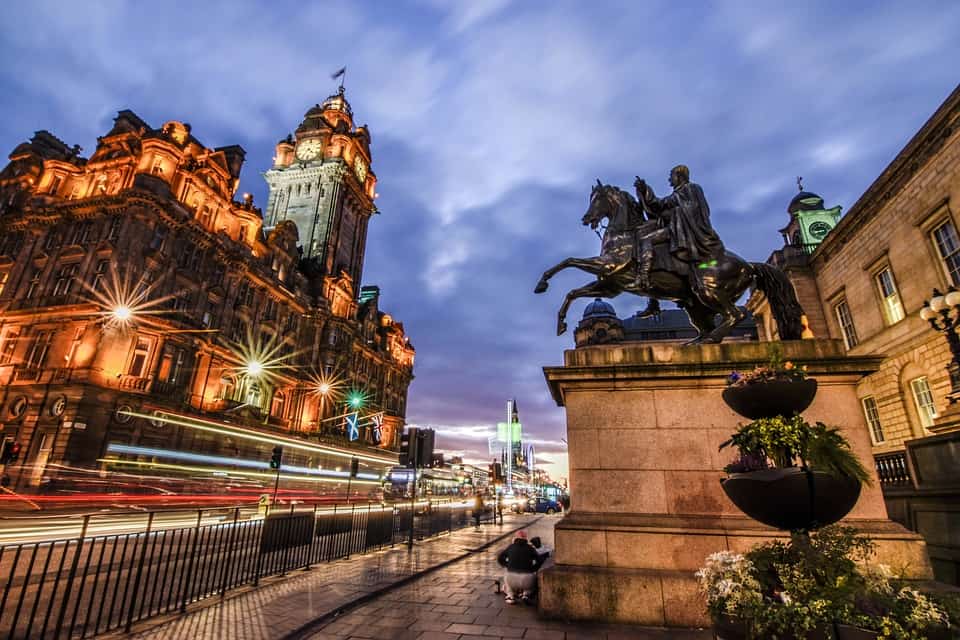 Escape Game
I LOVE an Escape Game.
There's nothing quite like being trapped in a room with your friends while solving various puzzles and searching for clues to escape.
I tend to be the least helpful person in an escape room situation because I instantly panic and can't think straight, but that doesn't stop me from trying.
These are great activities for a rainy day in Edinburgh, as well as for an evening slot to help you fill a dark or rainy night.
Check out some of Edinburgh's most popular escape games that are open to families of all kinds.
7. Escape Edinburgh
With wonderfully themed rooms for all kinds of interests, you'll find yourself racing through a wizarding world, embracing your inner Sherlock Holmes at Baker Street or figuring out how to save the world from a deadly disease.
The games at Escape Edinburgh last 60 minutes, and the challenges are good for 2 to 5 people.
The games may be too intense or difficult for children under the age of 10, but if you do have a younger child, they encourage you to get in touch with them should you think your kid would be able to cope with the Escape Room environment.
Escape Edinburgh has three locations across the city: New Town, Morrison Street and Haymarket. It's one of the best things to do in Edinburgh when it's raining!
8. Exit Plan Edinburgh: one of the best evening activities in Edinburgh
The stories are rich and intriguing at the escape games held by Exit Plan Edinburgh.
From taking the role of fugitives on the run from the police (I mean, who wouldn't want to do that?) to immersing yourself in a Sci Fi type game revolving around a mysterious item called the "Tesla Cube," you and your family will be wrapped up in the game from beginning to end.
Exit Plan Edinburgh is one of the cheapest Escape Rooms in Edinburgh and located right in the heart of the city center, so you can easily get there no matter where you're staying.
If you have a giant family reunion planned, they can accommodate up to 22 people across their three games, so why miss the chance to do some family bonding while also frantically running around and yelling at Grandpa to solve the puzzle faster?!
Most Edinburgh escape rooms take place in purpose built sets, but not Locked in Edinburgh!
Here, you'll be running around actual Edinburgh buildings – the Summerhall building, to be exact.
Explore the old vet school rooms as you solve murder mysteries or work your way through strained international relations, or keep it a bit simpler in the gin distillery where you're working non-stop to try to save the gin (so very Edinburgh).
You usually need to book in advance to make sure you secure your spots, and games are live which means latecomers can't be admitted.
Locked In Edinburgh is recommended for slightly older children – over 12 years, and if they're under 16, there must be an adult in the room as well.
Ghost tour
For older kids and families, taking one of Edinburgh's famous evening ghost tours is a fantastic way to get to know Edinburgh at night while hearing legends of years past from an experienced guide (who is likely dressed up in character to really keep the spirit of the tour alive – or dead, as the case may be).
Edinburgh has quite a few Ghost Tour operators, so I've compiled some of the best ones below.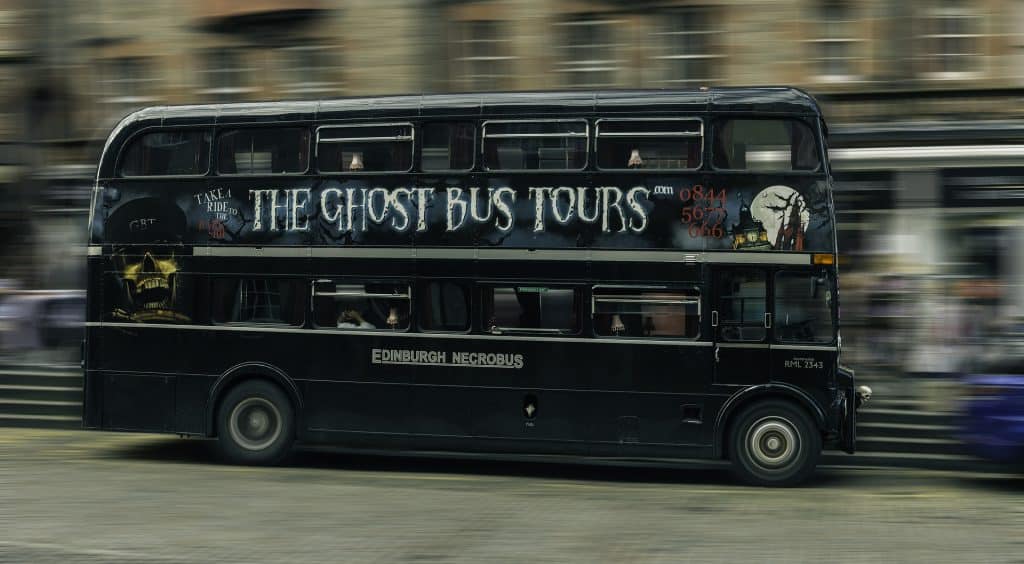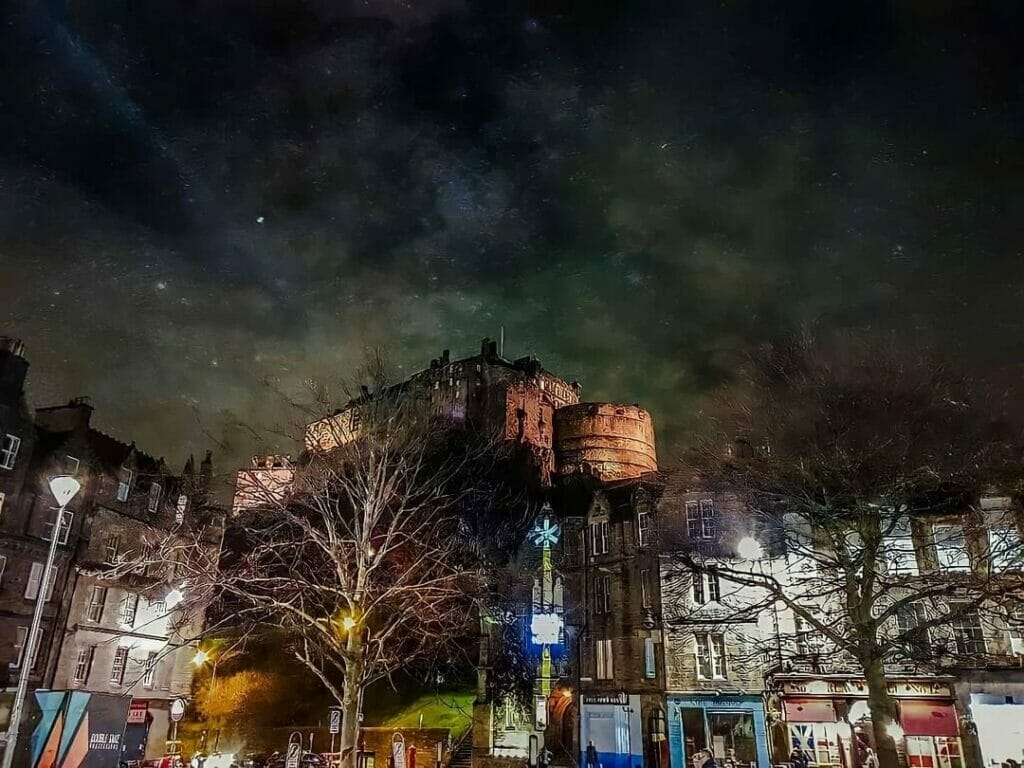 With a name like "City of the Dead," you can be sure that this company are providing some of the best nighttime Edinburgh entertainment around – especially if you like to walk through creepy graveyards and be scared out of your mind so you can't sleep at night.
There are two main tours – the Underground City of the Dead tour and the Haunted Graveyard Tour.
The Underground tour does as promised and takes you underground to the South Bridge Vaults.
In addition to holding secrets of populations that used to live in horrible misery, this is said to be the most haunted part of Edinburgh's vaults and possessed by the South Bridge Entity.
If you're not already spooked just by reading that, you can also double up on your tours and also go to the Haunted Graveyard Tour while in Edinburgh.
This is both a terrifying and humorous trip through some of Edinburgh's most haunted areas.
This tour also gets you into the lair of the Mackenzie Poltergeist, one of the most well-documented cases of supernatural beings around.
Let's just say that I won't be able to sleep tonight after just reading about it.
For a comprehensive haunted walk of Edinburgh, check out the Free Ghost Tour (payment is through tips at the end) that takes you past some of the city's spookiest areas.
You'll learn about Edinburgh's murders, body snatching and scary residents, as well as take a wander through a graveyard, old crime scenes, and dark alleyways that you're not going to want to wander down without gripping the person next to you for dear life.
These tours happen nightly in Old Edinburgh with two timed option so you can catch one either before or after dinner.
Make sure your kids are old enough to actually enjoy the tour and not just cry the whole time like I would have done before the age of, say, 26…
Mercat Tours has the most diverse offerings of Edinburgh ghost tours for your ultimate evening in Edinburgh.
Opt for haunted walks like the Ghostly Underground tour that takes you into Edinburgh's secret underground vaults, or stay above ground with the still delightfully terrifying Doomed, Dead and Buried walk that has you go past some of the creepiest tombs in all of the city.
If you have small children who wouldn't be suitable for an evening ghost tour, you can take the kid's version of a walk which happens during the daytime (yes, please) and tones it down just enough for your kids to be intrigued without giving them all of the gory details.
13. Harry Potter Spots: family things to do in Edinburgh at night
If you're a Harry Potter fan, you'll already know that Edinburgh is a very important spot in Harry Potter history.
JK Rowling completed much of the writing of the books while in Edinburgh, both at various cafes across the city and then at the famous Balmoral Hotel.
You'll also find plenty of spots that inspired the stories in the books, and going on your own Harry Potter walking tour is one of my favorite things to do in Edinburgh at night.
You won't be able to step inside all of the locations, but it's still worth a visit and wander outside.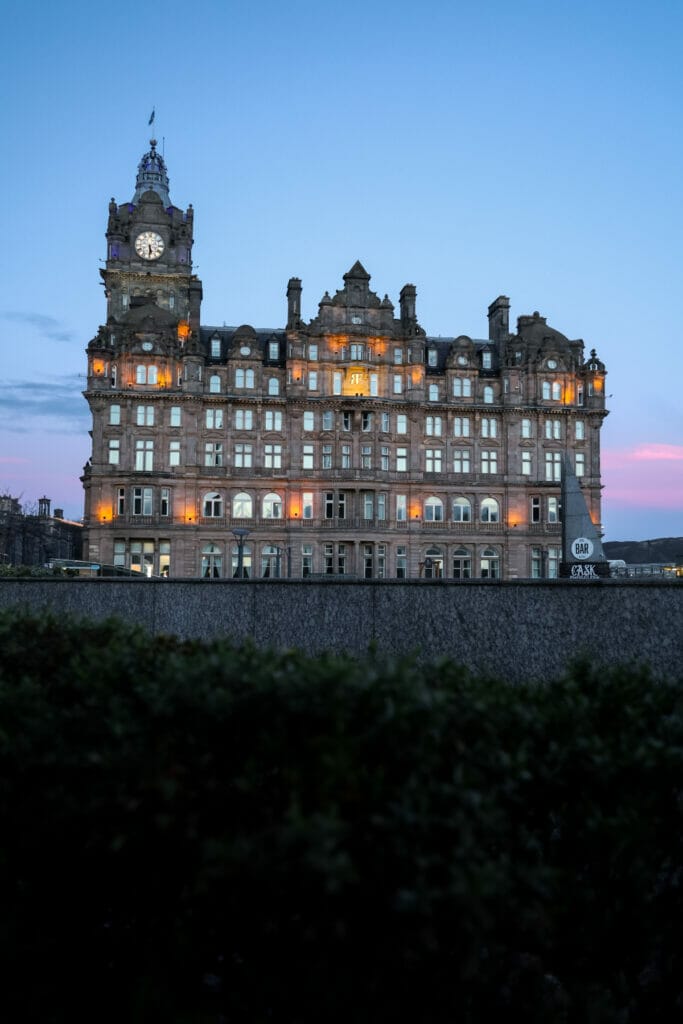 Some of the best Harry Potter spots in Edinburgh include:
– Greyfriars Kirkyard, which holds the gravestones for certain people that inspired Harry Potter characters, including Tom Riddle!
– Victoria Street, a narrow street in Edinburgh that is said to have inspired Diagon Alley
– Balmoral Hotel, where JK Rowling finished writing the last bit of the last book, the Deathly Hallows, in room 552
– Edinburgh city chambers, where you can see JK Rowling's handprints in the sidewalk
– Spoon, now a bistro but once a café where JK Rowling wrote much of the first draft of the first book
Located on the Royal Mile, this family-friendly attraction is open until about 8pm most nights and is a fantastic way to spend a rainy or cold night in Edinburgh.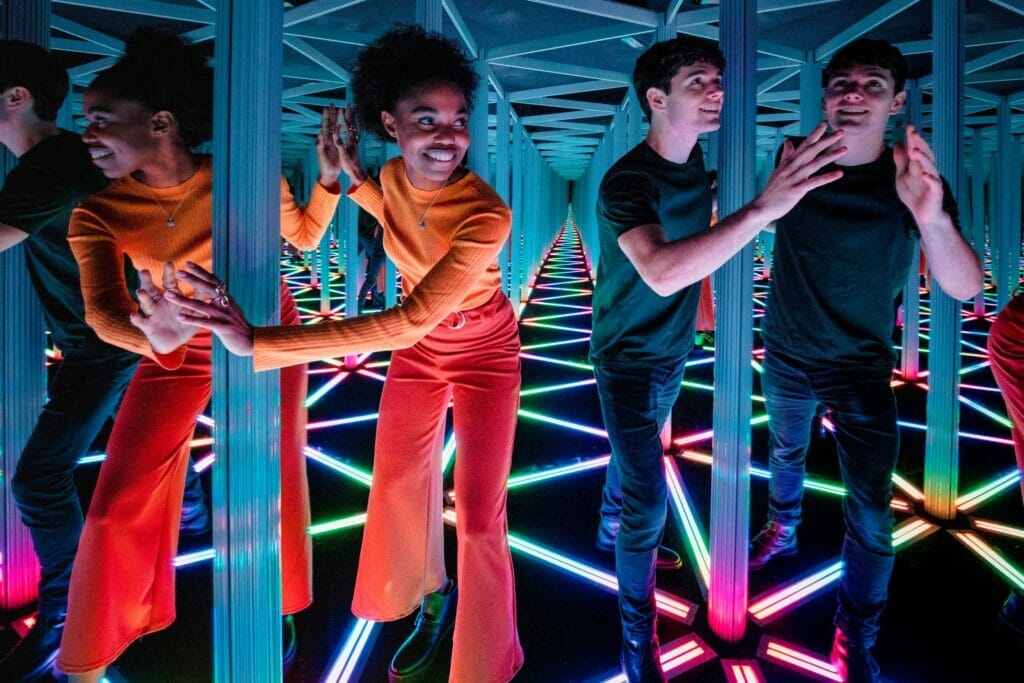 Inside, you'll find a whole bunch of illusions and crazy tricks of the eye that will keep you mesmerized.
There are five floors filled with magic galleries, a room of light tricks and a camera and mirror set up that will help you see Edinburgh in a new way.
Camera Obscura recommends about two hours to see everything, and the attraction is suitable for all ages (including the grandparents, so bring the whole clan!)
Cultural Things to Do in Edinburgh at Night
In addition to the haunted ghost tours, the family-friendly attractions and the places to eat and drink, there are also plenty of things to do in Edinburgh in the evening that revolve around the city's culture and history.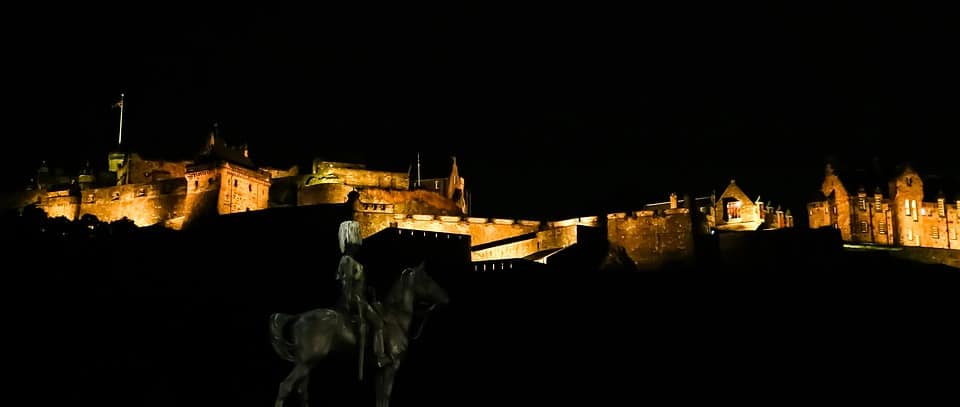 You'll leave these attraction feeling slightly more knowledgeable and/or refined, and I personally can't say no to that!
15. After Hours Museum
Many of Edinburgh's museums close around 5pm, which is early evening but not quite worthy of inclusion on a list of things to do in Edinburgh at night.
However, the National Museum of Scotland in particular (one of my favorite museums in all of Edinburgh due to its sheer size and amount of exhibits it offers), does do After Hours events regularly.
These range from film screenings with special exhibits open to Autism friendly nights where those with special needs can come and enjoy the museum without the hustle and bustle of a regular day entrance.
There are also a range of talks and lectures on everything from medieval times to robots.
Make sure to check the "What's On" section of the museum's website ahead of time to see if they are planning any nighttime activities during your visit.
16. Edinburgh Castle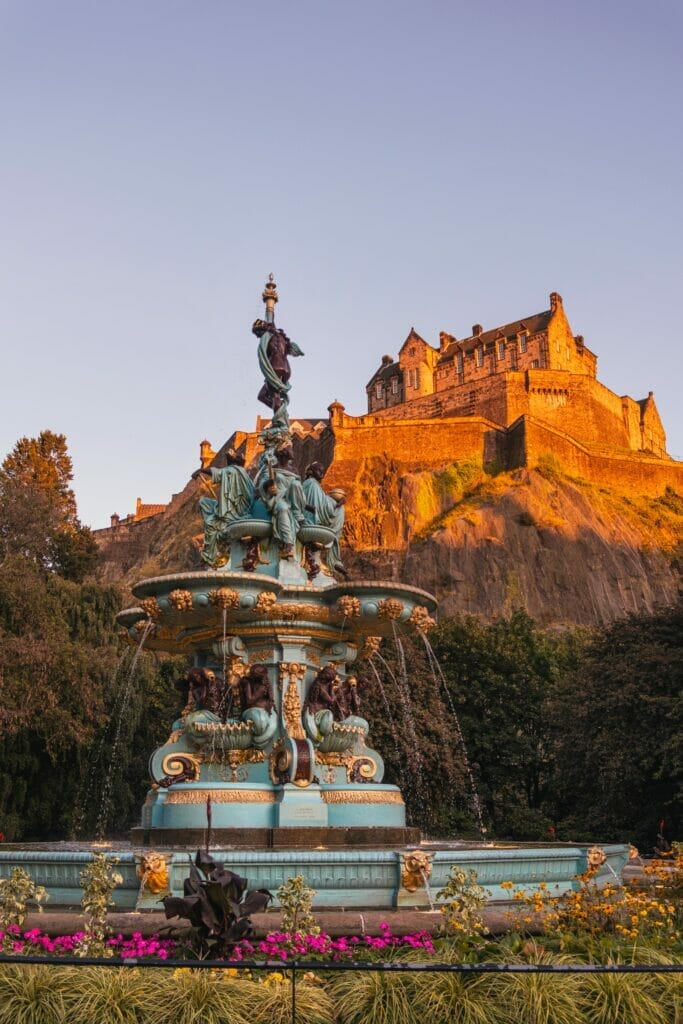 Edinburgh Castle is one of the city's most famous landmarks situated at the end of the Royal Mile, and in addition to having great views of Edinburgh from the top and being a gorgeous photo at night as you look at it from below, you can incorporate a visit to Edinburgh castle into your early evening.
In the summer months, the last admission to the castle is at 5pm with closing at 6pm – while it won't be dark at this time, it is a great start to your evening in Edinburgh and then allows you to go on to do other things with the rest of your night.
The oldest part of Edinburgh Castle dates back to the 12th century, but it has been used throughout the centuries and various World Wars for any number of purposes including defense and of course, royal storage.
The castle is home to the Scottish crown jewels, and is well worth a visit for this reason alone.
17. Mary King's Close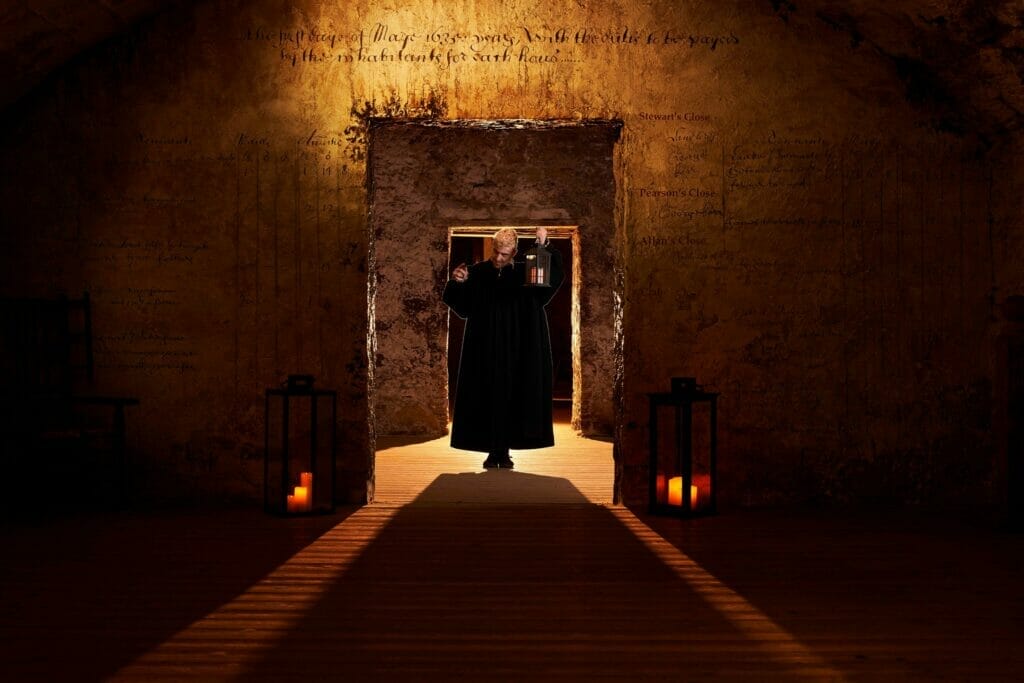 Imagine wandering down a creepy street in Edinburgh that has been essentially paved over and preserved throughout the centuries.
This is Mary King's Close, a real street once occupied by Edinburgh residents that still holds the mysteries, architecture and secrets of years gone by.
Mary King's Close is a guided experience, complete with some audio visual entertainment in the form of a ghost story.
I walked through it clutching my husband's hand in fear, but if you're braver than I am you may be able to explore without standing at-the-ready to push someone else (ie your loved ones) in front of you to hide from a ghost.
For the record, we didn't actually see any ghosts and we learned a lot about the history of the area, but still – it's a spooky experience for sure!
18. Seasonal Markets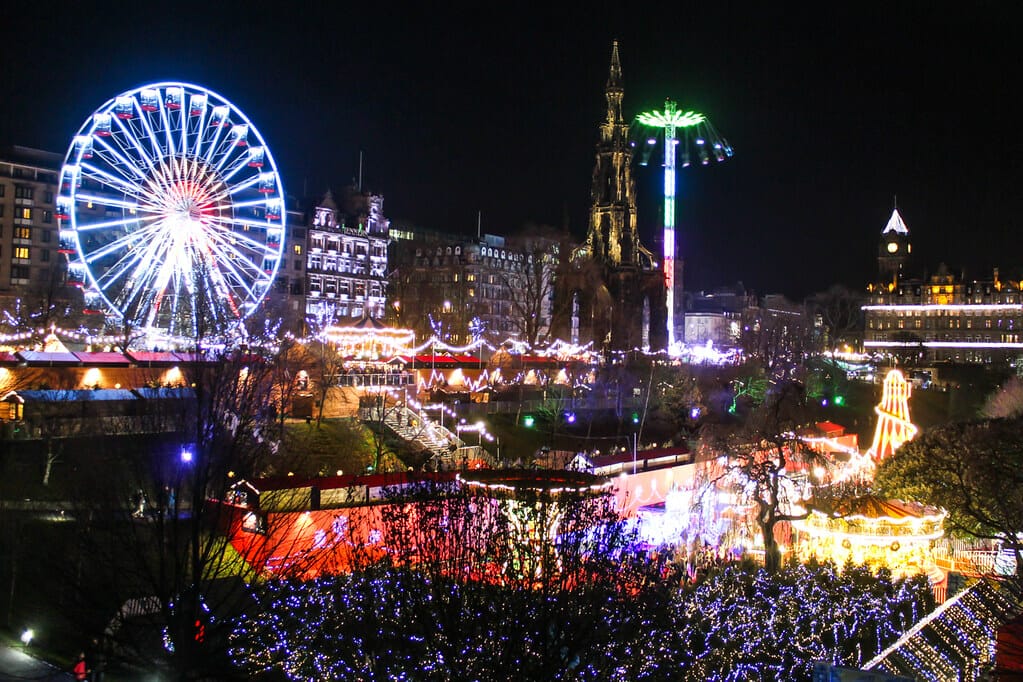 Whether you're traveling right before Christmas for Edinburgh's Christmas markets or during the summer for the famous Edinburgh fringe festival, you'll find lots of seasonal things to do in Edinburgh in the evenings.
For instance, during Christmas you can stroll through the decorated streets and stop by the Christmas market filled with holiday goodies and mulled wine to enjoy.
During the festival, After Hours events are rampant at almost every possible gathering venue in the city.
From theatre to comedy shows to organized pub crawls to dinner meetings, the city stays alive well after dark thanks to the amount of people who descend on Edinburgh to enjoy this cultural event.
Edinburgh also holds an international book festival, so if you're a book lover, plan to come in August so you can appreciate all of the evening talks and get togethers that make the festival a must-do event.
Food and Drinks to Enjoy in Edinburgh at Night
Eat, drink, and mix your way through an evening in Edinburgh when you take advantage of this culinary capital and all of the opportunities to fill your stomach and your hearts.
From sophisticated tastings where you can learn more about the gin making process to old fashioned pubs that serve the best fish and chips, you've got all of the food and drink you want at your fingertips.
Cocktail classes
Get ready for an evening to remember (or not) with a cocktail class at one of Edinburgh's best cocktail mixing venues.
You can do it as a couple, an adult family, or better yet, a group of friends on a weekend getaway to Edinburgh (make sure to book well ahead if you have a large group).
19. Tigerlily Cocktail Classes: fun things to do in Edinburgh at night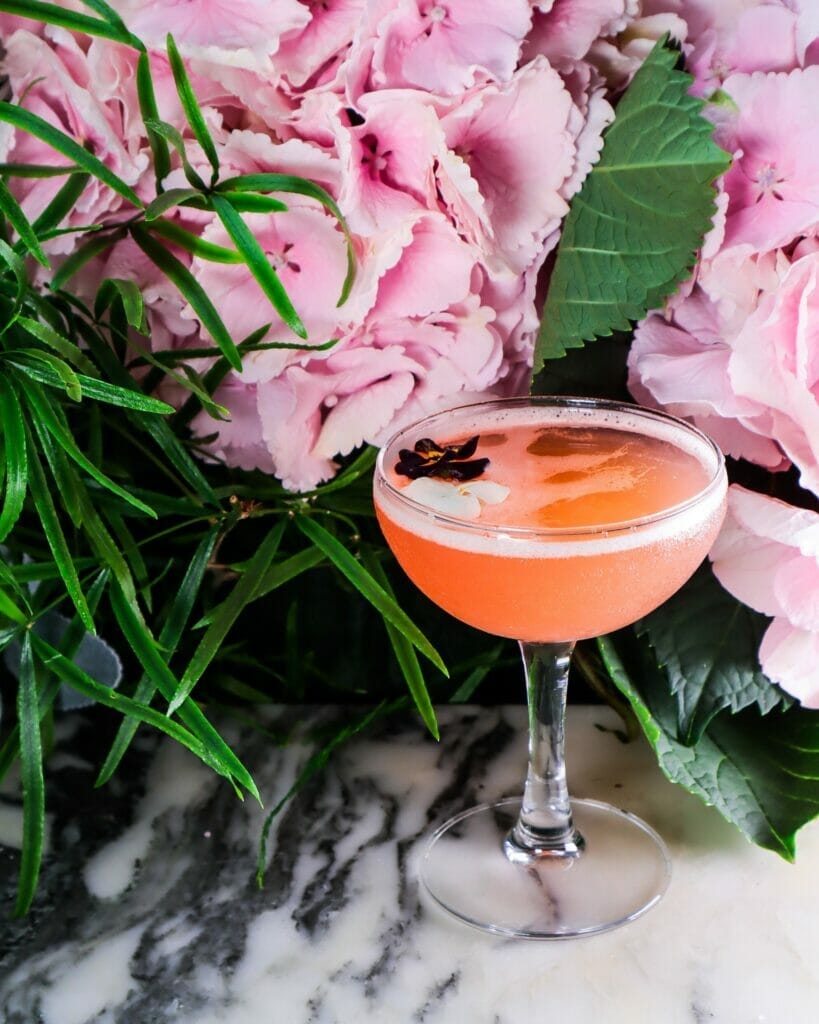 Head to Lulu, a space below Tigerlily in Edinburgh where you can take part in an interactive cocktail class lead by an experienced mixologist (love that word).
In addition to watching the expert demonstrate how to make the perfect cocktail, you'll learn how to do it yourself and then get a chance to try them (of course).
The beauty of these cocktail classes is that there are tons of different packages, ranging from the simple classic class that includes a cocktail on arrival and a cocktail class to a full VIP experience which includes a three course evening meal and more.
You can also set up a bespoke experience if you have a special group that you want specific requirements for.
20. The Voodoo Rooms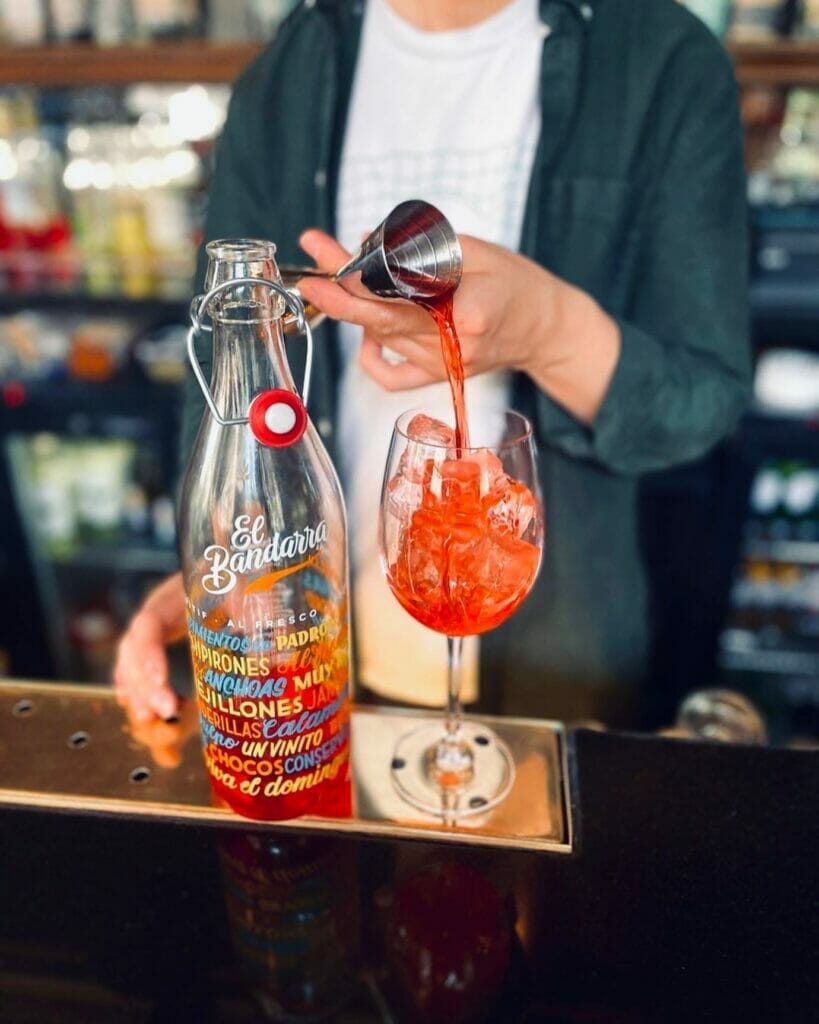 Check out the cocktail masterclasses in The American Bar at the Voodoo Rooms, where expert mixologists will show you the history, traditions, and methods to making some of your favorite cocktails.
Each class involves a wide range of cocktails, with two group members making a cocktail at any time so that everyone can make a cocktail while also seeing other ones get made.
And, don't fret – you can sample all cocktails, even if it's not the one you personally made.
A sure sign of a successful night in Edinburgh!
21. Cocktail Classes at The Printing Press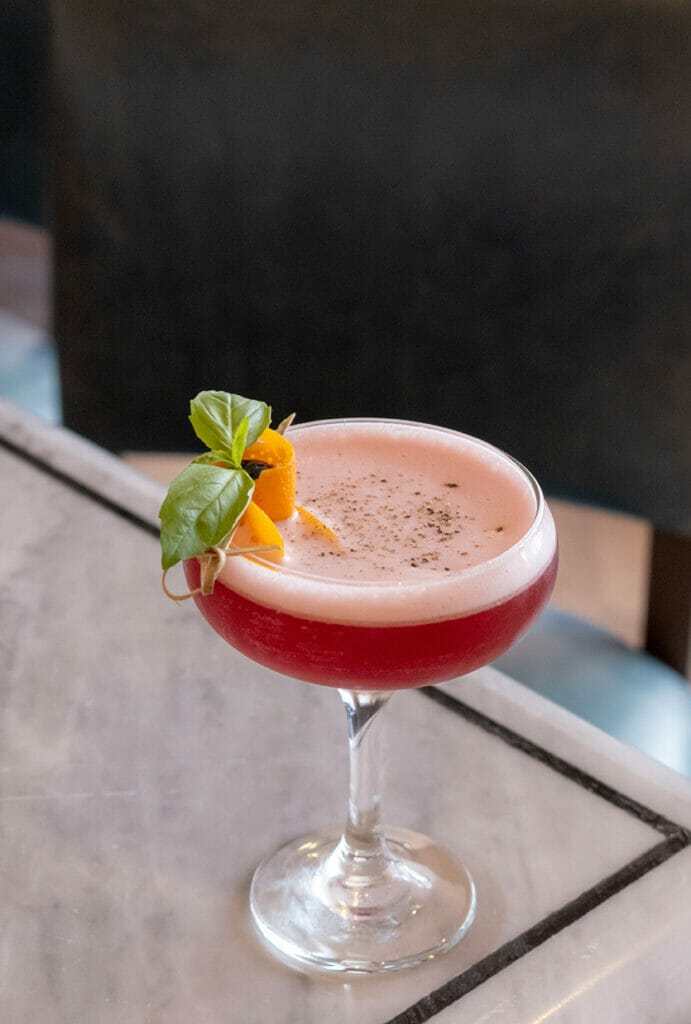 For a sophisticated evening, sign up for a cocktail class at the Printing Press that focuses both on classic cocktails and ones from their menu.
They're able to gear the teaching towards any type of person, whether you want to brush up on your skills or you just want to have a fun night out with no experience in cocktail making.
If you want to get in the competitive spirit, you can sign up for their competition masterclass where you'll engage with your fellow class members in a friendly cocktail making competition, or stick to the classic experience with less pressure, but just as much fun.
Bars and pubs
Spending your evening in Edinburgh in a bar or pub is one of the most quintessential ways to spend time in this city.
There is no lack of places to try, so you can put together your own pub crawl or choose a different one each night.
If you're having trouble figuring out where to start, here are some of the top bars and pubs in Edinburgh.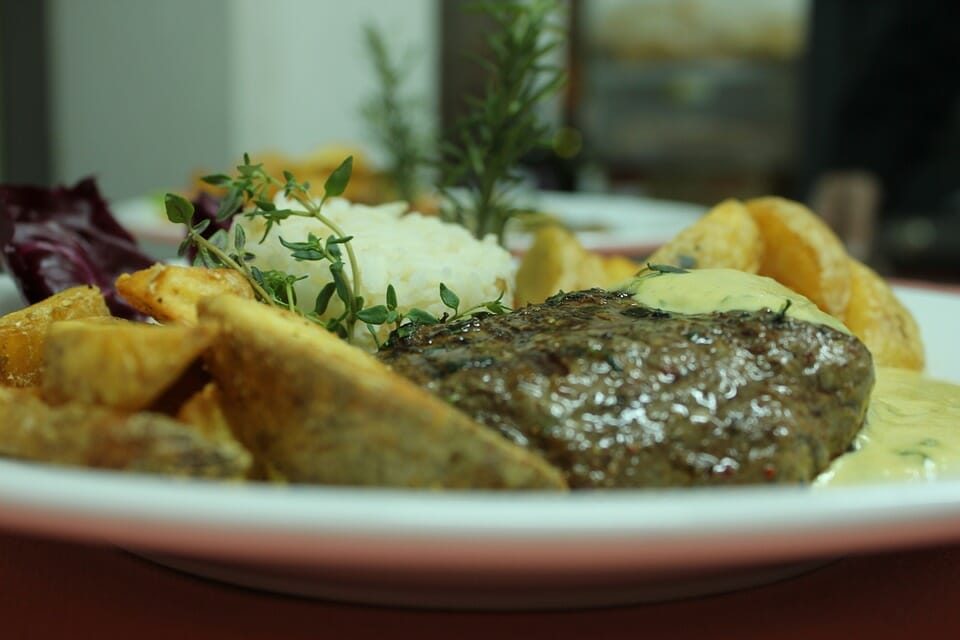 22. Cloisters Bar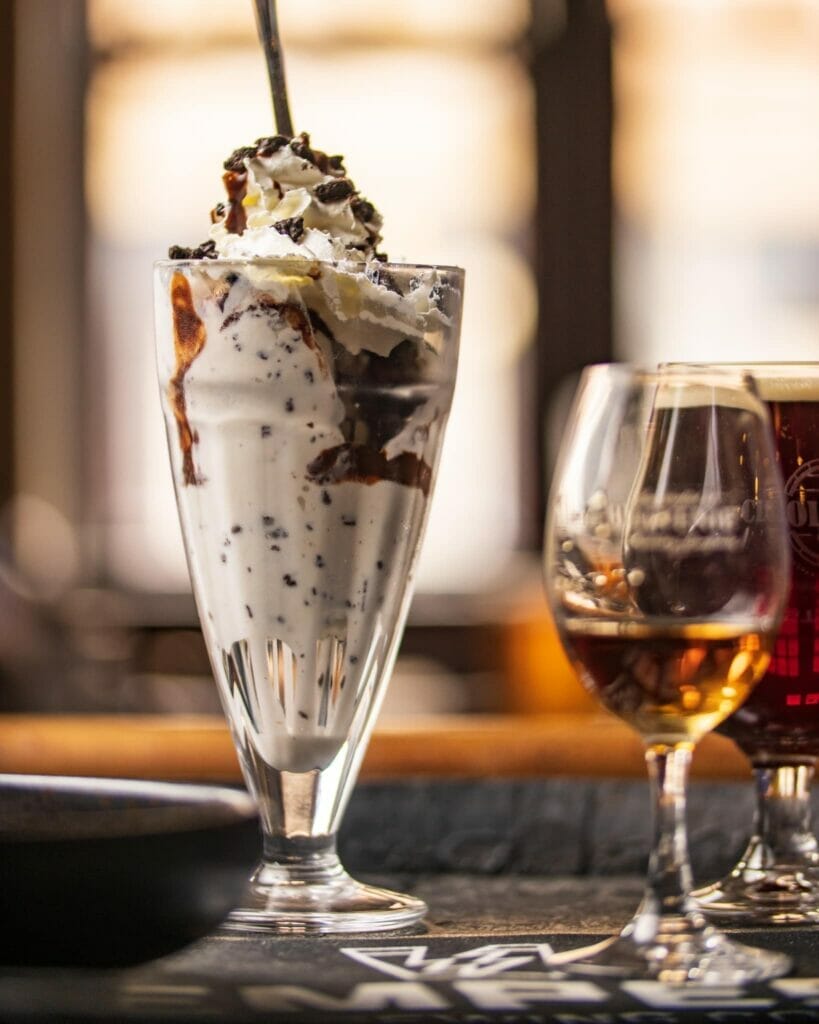 As a bar that has been part of Edinburgh's landscape for over 20 years, Cloisters serves up excellent pub food and lots of quality beers.
You'll find it right in between the Meadows and Tollcross, and you should expect to find a new drink to try each time you visit due to the rotating choices on display.
23. The Café Royal Circle Bar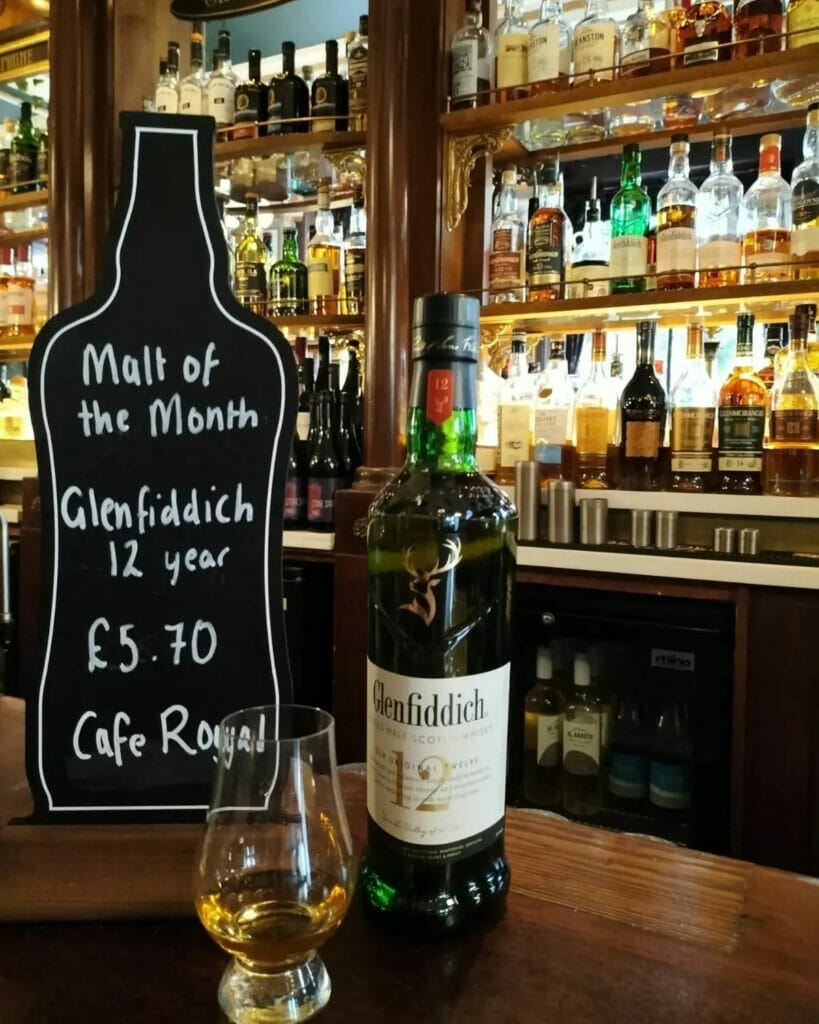 Want to embrace your inner sophisticated drinker?
Stop by the Café Royal Circle Bar which dates back all the way to 1863.
It's been called one of the most "beautiful places to stop for a beer" in Edinburgh thanks to its stained glass and intricately decorating surroundings.
Here, you can try out their whisky selection, cask ales, or get a bite to eat from their excellent bar menu.
24. The Bow Bar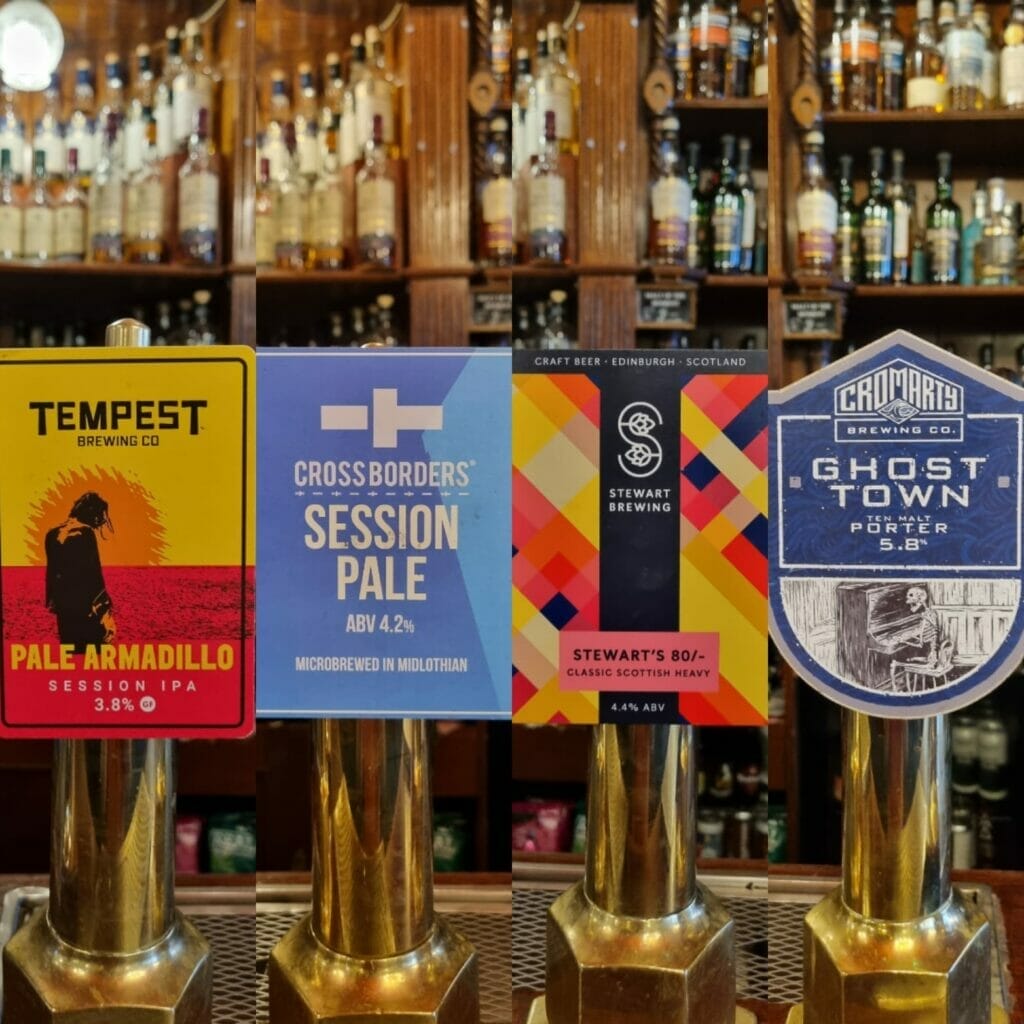 Traditional is the name of the game at the Bow Bar in the Old Town.
It has over 300 whiskies you can try and also a craft keg.
The insides look typically Scottish pub with its bar memorabilia and wooden furniture, so locals and out-of-towners alike will enjoy the cozy atmosphere here.
Restaurants: things to do in Edinburgh in the evening for foodies
Celebrating a birthday?
On a date?
Just want to have a nice evening out in Edinburgh eating some delicious food?
Here are some of my top picks for Edinburgh's best restaurants with great service, atmosphere and most important, food!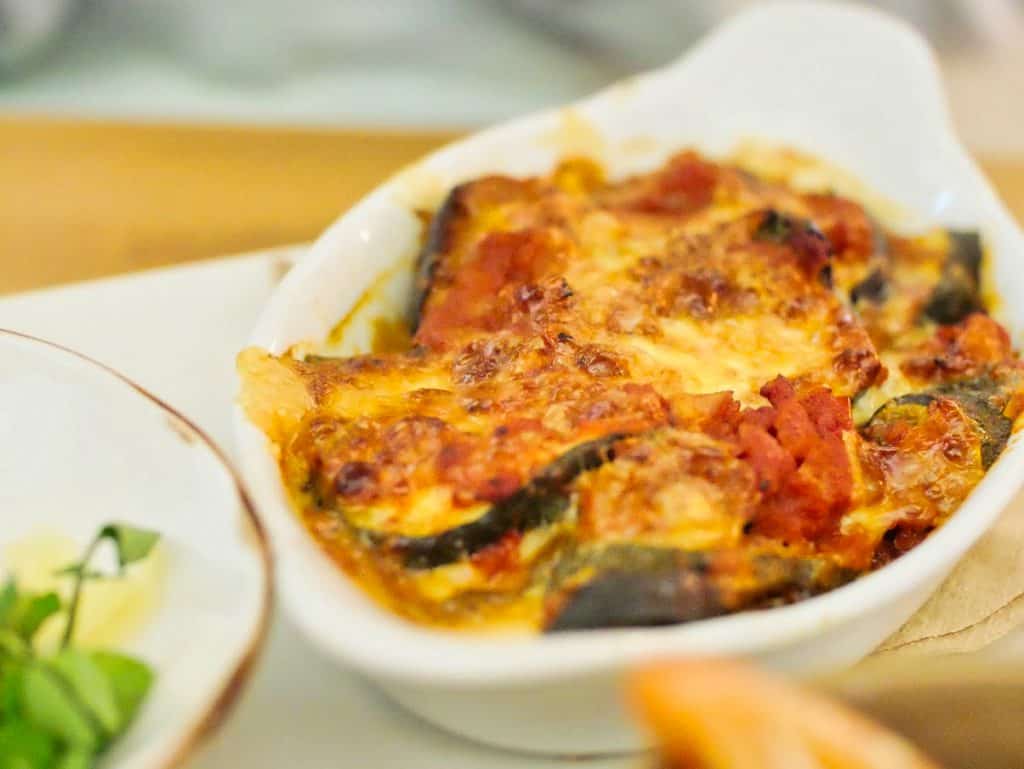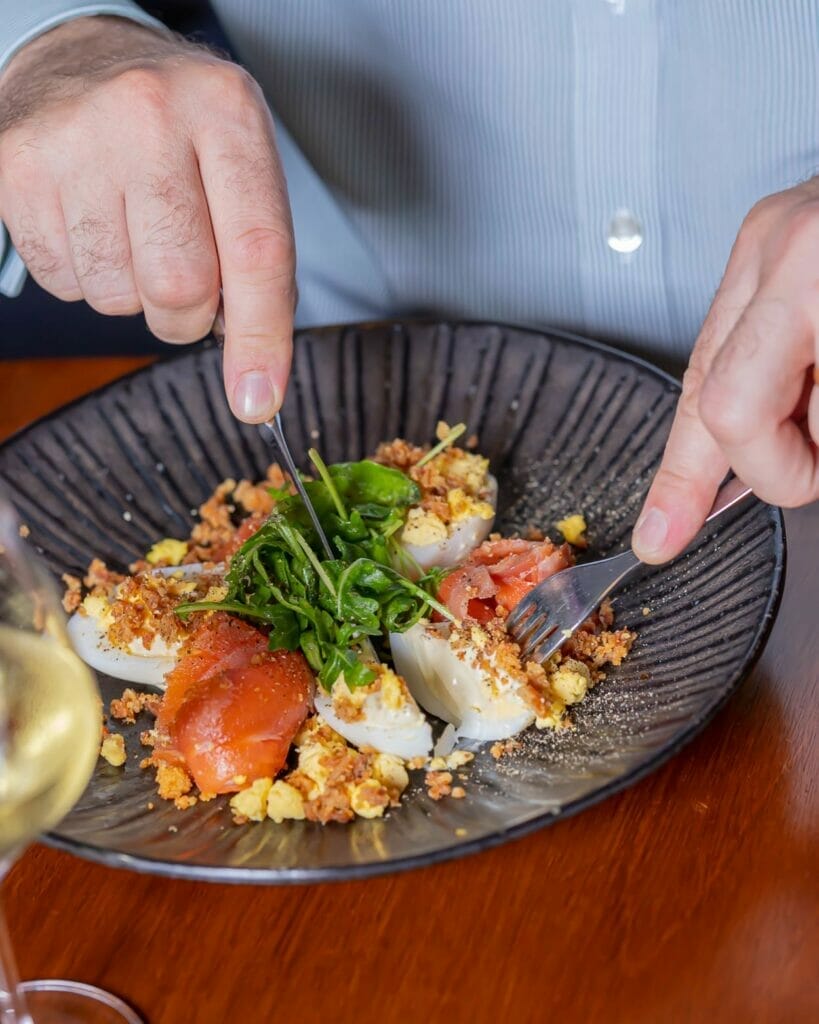 This French inspired bistro has been serving up comfort French cuisine in Edinburgh for over 15 years and is a dependable option when you want fresh ingredients are decent prices.
It's great for a special occasion, though it's also family-friendly so don't feel you need to leave the kids at home.
Stars in the menu include rabbit and caviar.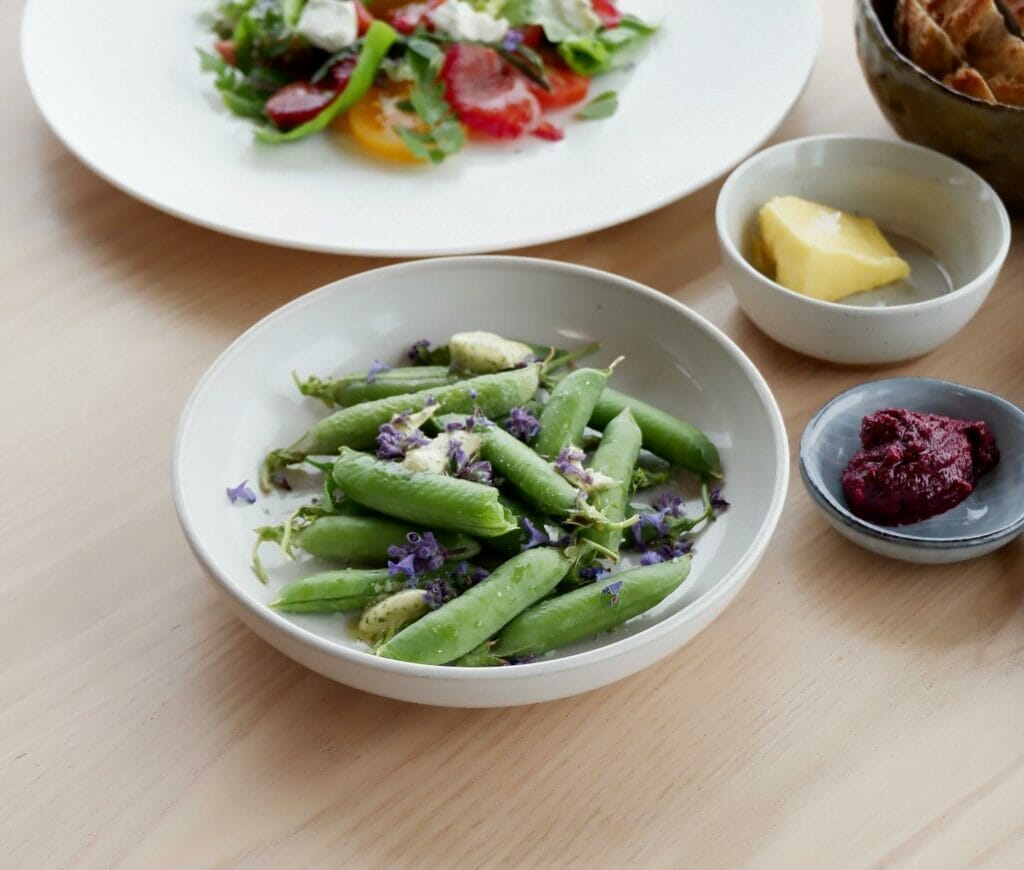 The restaurant as cute as it sounds – this adorable rural restaurant just off one of Edinburgh's busy roads has a seasonal menu with ingredients sourced from the outside garden and local farms.
Seating here is at shared tables, so be prepared for a social experience (if you want it), and make sure to book ahead as it fills up fast.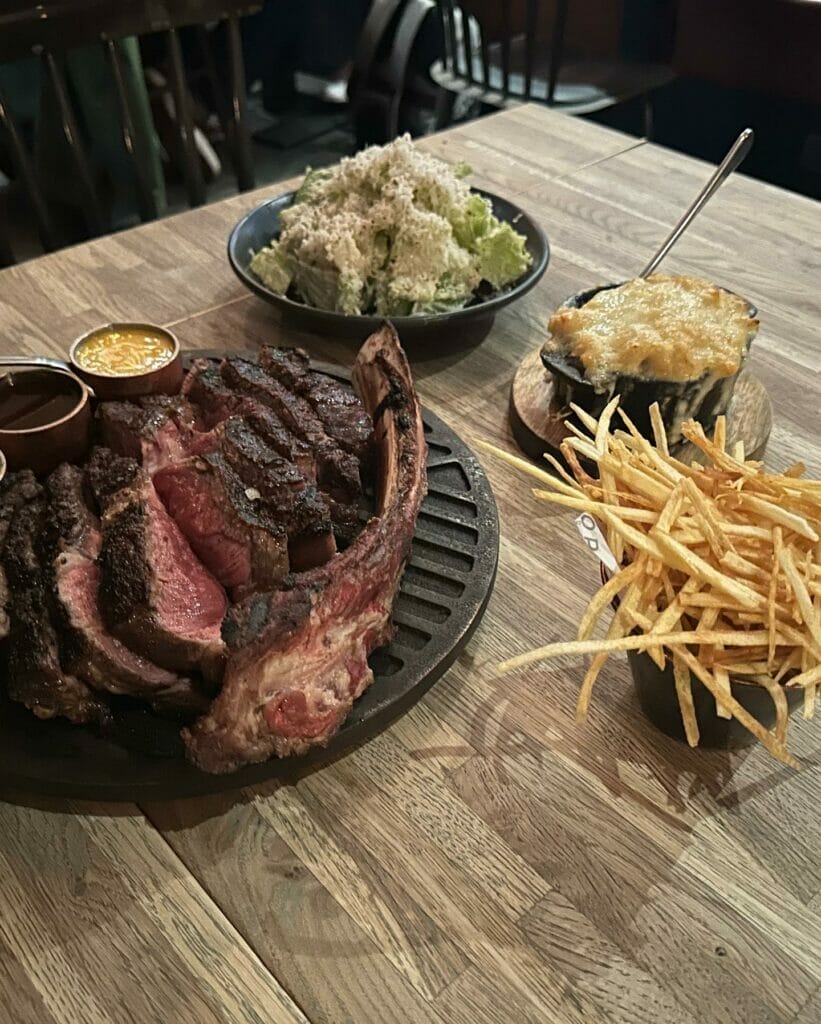 Ready to indulge in all of the meat you can think of?
This industrial looking restaurant is known for its amazing steaks and other awesome meat main dishes.
Don't forget the sides, either.
The fries (or chips, as they would be called in Edinburgh) are something to speak of, and the bread will practically melt in your mouth.
The prices are very reasonable, as well, so you can make it an inexpensive night out in Edinburgh without breaking the bank.
Gin Tasting
One of the most loved alcohols in all of Edinburgh is its amazing gin.
You'll see gin on offer at pubs, bars and restaurants across the city, but for more of an up close look, try one of these gin tasting experiences.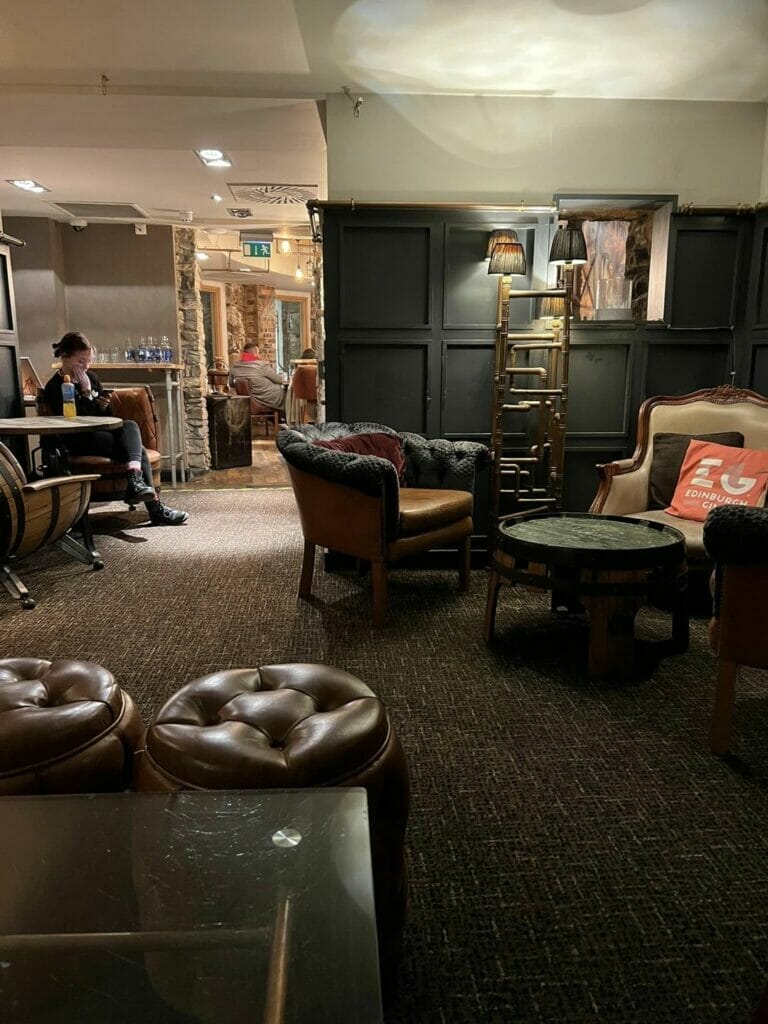 Explore the historic heritage of gin in Edinburgh at this fantastic working distillery.
Not only can you take a guided tour around the distillery and learn about the process that takes gin from the beginning to the end and in your drink, but you can also get a taste for gin produced at this distillery.
Make sure to book ahead as this is a very popular visitor attraction and there are only a certain amount of spaces on each tour.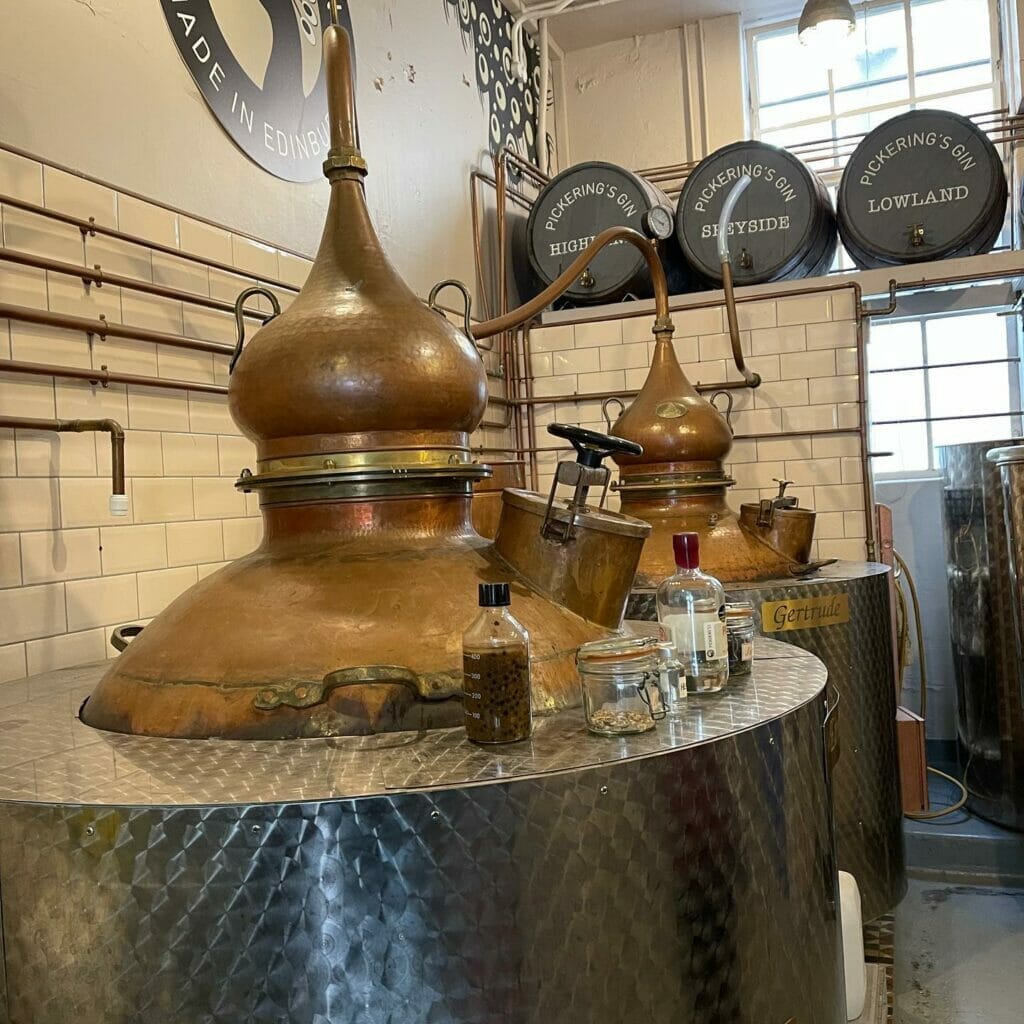 Stop by Pickering's to take a gin experience and tour of the distilling process that takes place at Summerhall Distillery.
You'll have a tasting involved so you can see if you can spot the difference in taste from other gins, as well as get the chance to ask questions of the experts on how the award winning gin is made.
Tours are a bit under an hour long, so get on their last tour of the day to start your evening off right.
30. Dunstane House Gin Drinking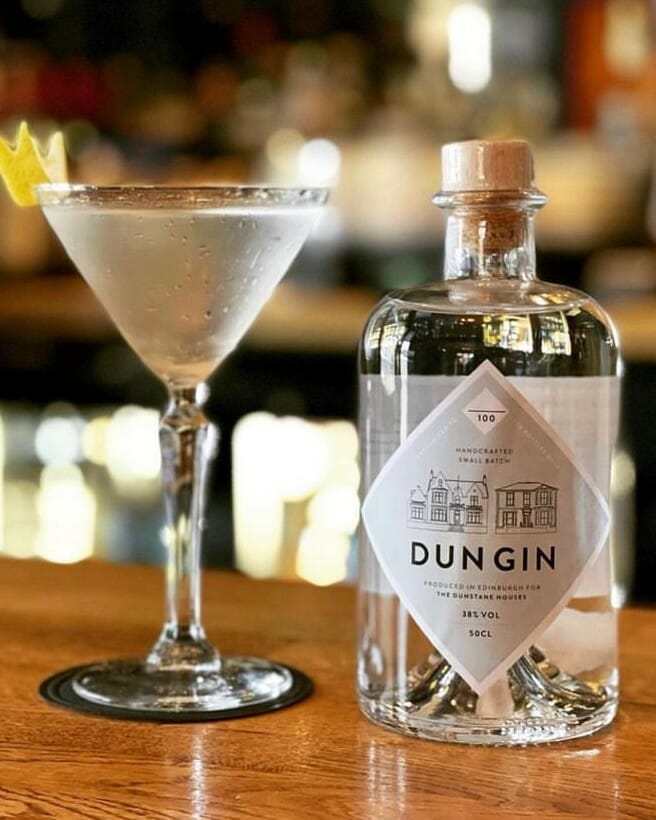 Head to The Dunstane Houses where you can take part in a gin tasting session.
You'll get information on each type of gin that you try, along with multiple samples showing off the best of Scottish gins.
This is a great information if you're not so much into the gin distilling experience as you are the gin drinking experience – no judgement here!
Whisky Tasting: what to do at night in Edinburgh
In addition to gin, Edinburgh is a haven for whisky lovers who want to attend a tasting and learn more about how this particular drink has flourished in Edinburgh.
The best place to do this is at the Scotch Whisky experience, which even held tastings during the "Beast of the East" snowstorm in 2018, so that's how you know they're serious about their whisky.
Choose from a whisky tasting, a full day at whisky school, or just stop in to see the whisky gift shop or enjoy a meal in the on-site restaurant (complete with a shot of whisky, obviously).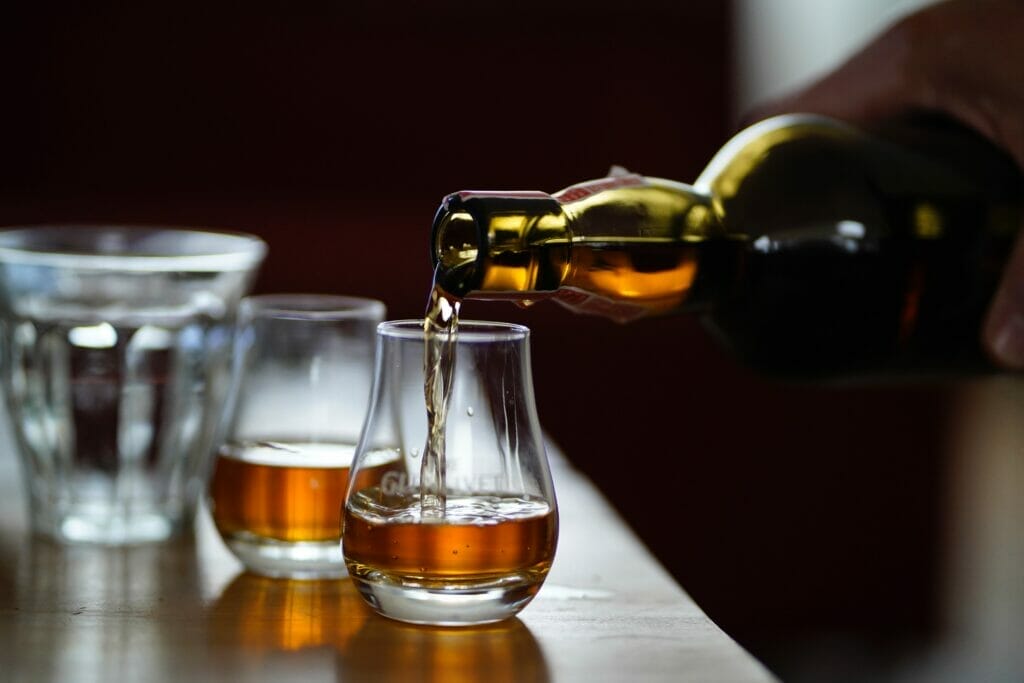 Edinburgh Nighttime Entertainment
When you just want to sit back and relax and have someone else do the entertaining for the evening, Edinburgh has you covered.
There are plenty of options where all you need to do is buy a ticket and enjoy the show.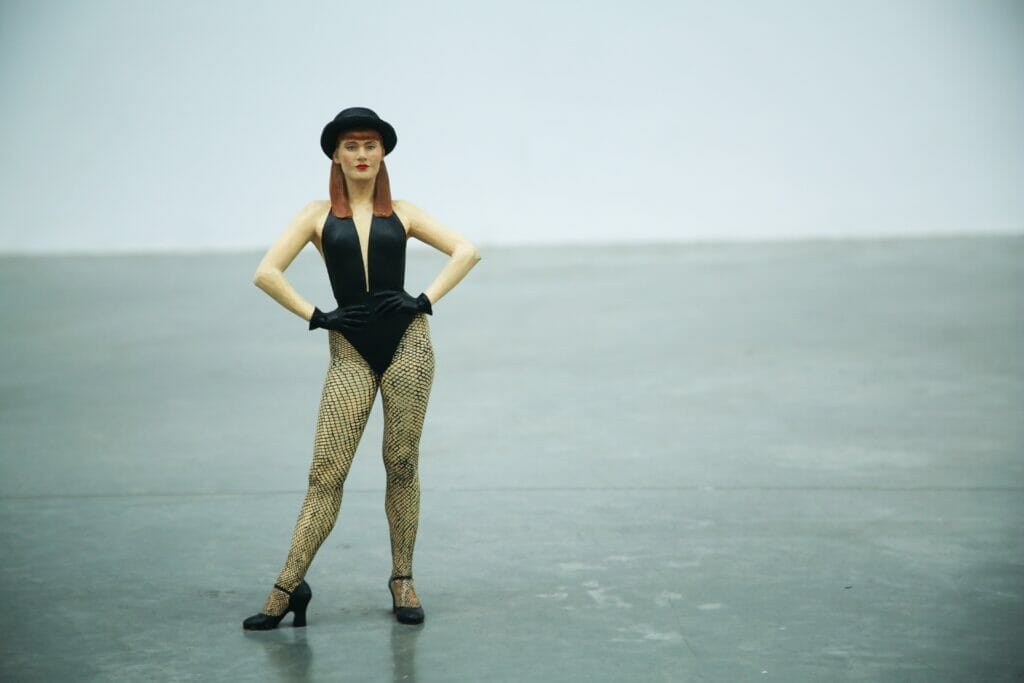 Check out one of Edinburgh's most popular local arts venues right in the Old Town.
From dance music to visiting musicians, they specialize in loud music that will keep thumping through your ears for the rest of the night.
You can prebook yourself a booth at the venue to make for easy ordering from the bar all night long.
With opening hours until 3am every night of the week, you can party well into the next day.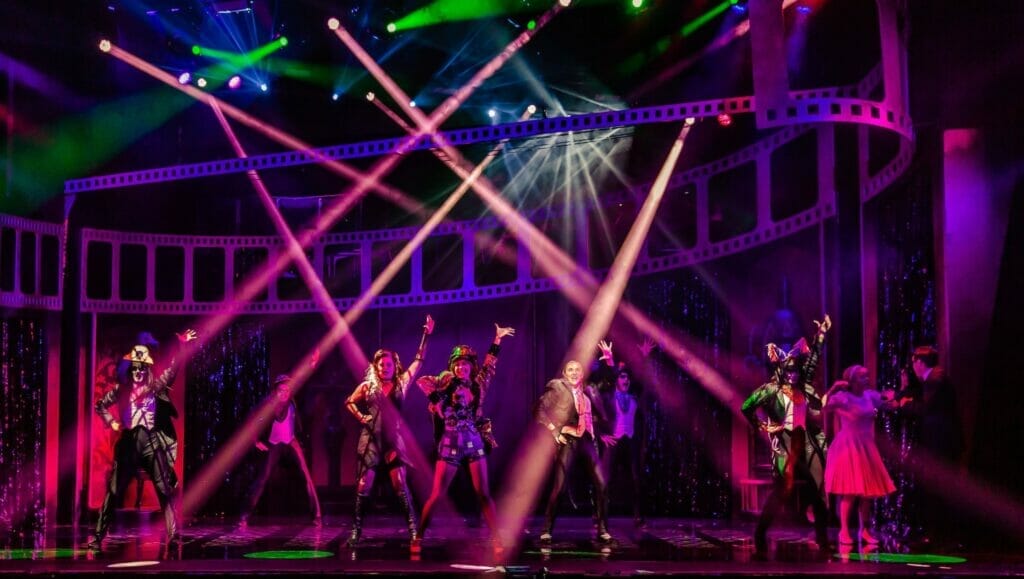 As the largest working theatre in the UK, the Edinburgh Playhouse Theatre seats over 3,000 people and is my top choice for a night of theatre in Edinburgh.
It mostly caters to large scale groups, including touring West End shows like Matilda, Jersey Boys and Mamma Mia!
Book your seats in advance online, or go to the Box Office during your stay to see what's available.
And if you're into haunted history, you should know that the Playhouse Theatre is said to be one of Edinburgh's haunted theatres with spottings of a "man in grey" named Albert.
The more you know!
33. Cinema
If you want to catch the latest action film, rom com or animated movie, Edinburgh has its choice of cinemas/movie theaters showing all of the most recent hits.
Vue, Cineworld and ODEON all have locations across Edinburgh so you should never be too far away from immersing yourself in a Hollywood film.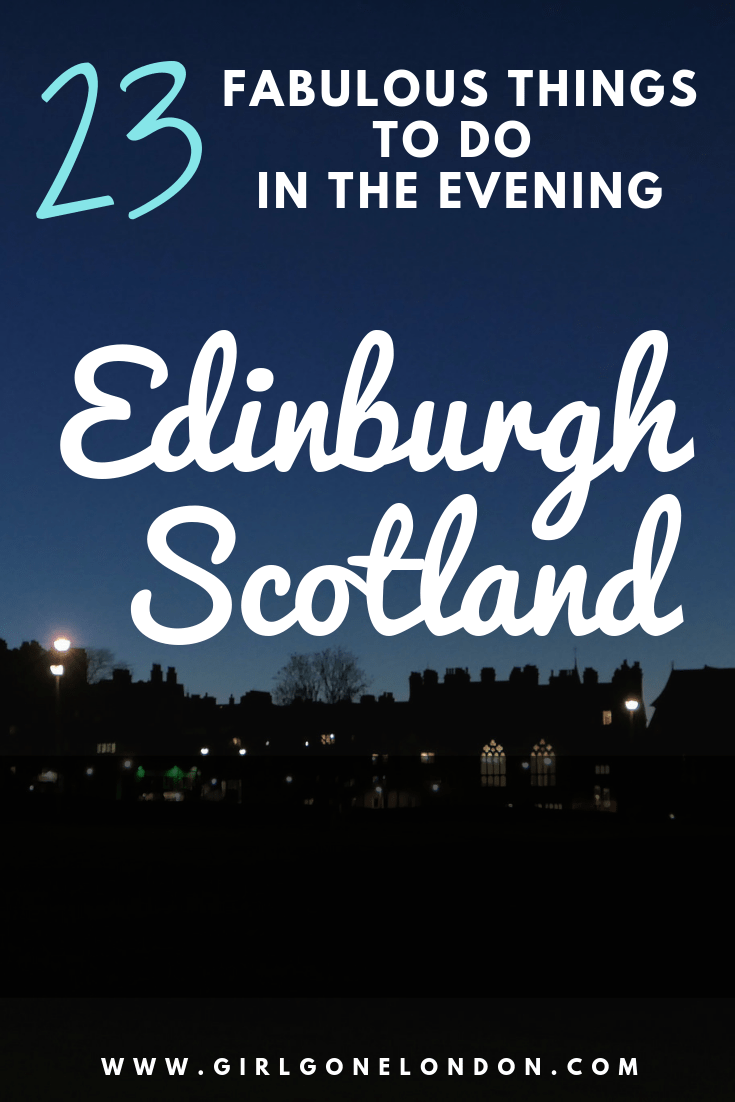 UK Travel Planning Guide: the FAQs
🏥 Should I buy UK travel insurance?
Absolutely yes. Basic coverage is not expensive, and as a visitor you are NOT covered under the NHS. Compare policies and prices with Travel Insurance Master here, a big name in the travel insurance business, and cross that off your list.
🔌 Do I need travel adapters for the UK?
Yes, you do, otherwise you won't be able to plug in your electronics/phone/lifelines. I recommend this one, which is all-in-one so you can use it in other countries.
🚗 What do I need to drive in the UK?
The first thing you need to check out if you're planning on renting a car in the UK is this guide to driving in the UK for visitors – the roads, signs, and driving experience will likely not be what you're used to and it's essential to prepare yourself to stay safe and aware.
🛌 What's the best way to book hotels in the UK?
For UK hotels, Booking is the best site as it offers free cancellation on many properties. If you want an apartment, I always recommend VRBO over AirBnb.
📳 Will my phone work in the UK?
Yes – if you set it up right. Check out my guide on making your foreign phone work in the UK to ensure that you get the type of service you need.
🚿 Can I drink the water in the UK?
Yes, UK water is great and perfectly safe. But drink out of taps in any kitchen or use water fountains. Double check before drinking out of the taps in hotel bathrooms, though, as they may be on a different system.