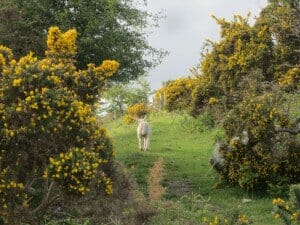 I'm not 100% sure where I first heard about the Lake District, but I have a feeling it was from a news article about a vacation Taylor Swift took back in the day somewhere very cultured and sophisticated. I'm still not great with a UK map so this fabled land of mountains and hills and lakes was fascinating to me. It's about a 5 hour drive from London or a 3 hour train ride, and this summer presented the perfect opportunity to go.
Drafting up the activity list was pretty simple, as there's not much to do in the Lake District besides walking up various hills and mountains and wishing you were more fit. The only problem was where to stay. AirBnbs were mostly booked up and far away from the main cities, and I wasn't particularly willing to commit to full-on camping.
Enter: Glamping.
It's camping, but glamorous. Or as glamorous you can get while still sleeping on the floor.
There are many types of glamping, but for budget's sake, we chose the glamping hut. Or as we like to call it, the glamper.
It's basically a wooden structure in the middle of a field or campsite with a porch and a carpeted interior. Depending on where you go, they'll provide a light (there are electrical outlets) and a heater. You bring everything else, including air beds, cooking materials, chairs, showering things, etc. Ours was on a campsite on a farm and we woke up every morning to see sheep and chickens walking past.
It may sound dumb. "Why would you care if you have a wooden hut versus a tent when you still have to bring everything anyway?" you might ask. "If you're going to be outdoors, shouldn't you just experience the outdoors?"
OH, YE OF LITTLE FAITH. 
Let me paint a scene for you. You're in the Lake District, where it seems to rain more than the Amazon. You're tired from a long drive and hiking up a mountain after eating 16 Oreos for breakfast. You just want to go back to the campsite and relax and enjoy the cute sheep that are running around.
But then it starts pouring down rain, and I mean pouring. I mean, you can barely see your hand in front of your face pouring. And it's windy. And all of the people who have so bravely decided to 'rough' it in their tents are huddled up as far away from the walls as possible and getting damper by the second. You watch them go out into the torrential downpour every 10 minutes to secure their tent because it is honestly about to fly away.
But not you. Because you, you are a glamper. You open your door with your special key and walk inside to a warm, dry hut. You're a little bummed about the rain, but you're tired anyway and decide to plug in your laptop and curl up on your airbed to watch a movie. You then cook dinner on your electric stove.


Finally, you fall asleep to the sound of rain against the glass and wake up both refreshed and dry the next morning for a beautiful day in the Lake District.
Long live glamping. 
(For anyone wondering, we stayed at Lanefoot Farm and had a great experience).