This post contains affiliate links for which I may make a small commission to help keep the site running. You will not be charged extra for these items had you not clicked the links. Thank you for your help to keep the site running!
Whether you're a first-time skier considering skiing in Les Arcs in the French Alps or you're a seasoned professional who just wants more information on the Les Arcs ski resort, this guide and review of Les Arcs is going to cover a ton of topics related to taking a trip to Les Arcs, including what type of skiers it's good for, where to stay in Les Arcs, what you can do in Les Arcs, and how to get to Les Arcs.
Les Arcs is, above all, my top choice in ski resort in the French Alps due to the varied terrain and inclusiveness that helps anyone have a ski holiday to remember (and not because you've broken your face sliding down a black run that you weren't ready for).
My husband and his family had been going to Les Arcs for 20+ years, and I was introduced to it as a beginning skier in Les Arcs in 2014.
At that point, I had never strapped on a pair of skis, had never seen so much snow in my life, and wasn't entirely sure whether this "ski vacation" thing was going to be for me (after all, I'm a Florida girl).
While I did find some success in the end (and by success I mean I could stand up and do a green run without crying), I enjoyed it more so because of the vast amount of things to do in Les Arcs – it's not all snow if you don't want it to be!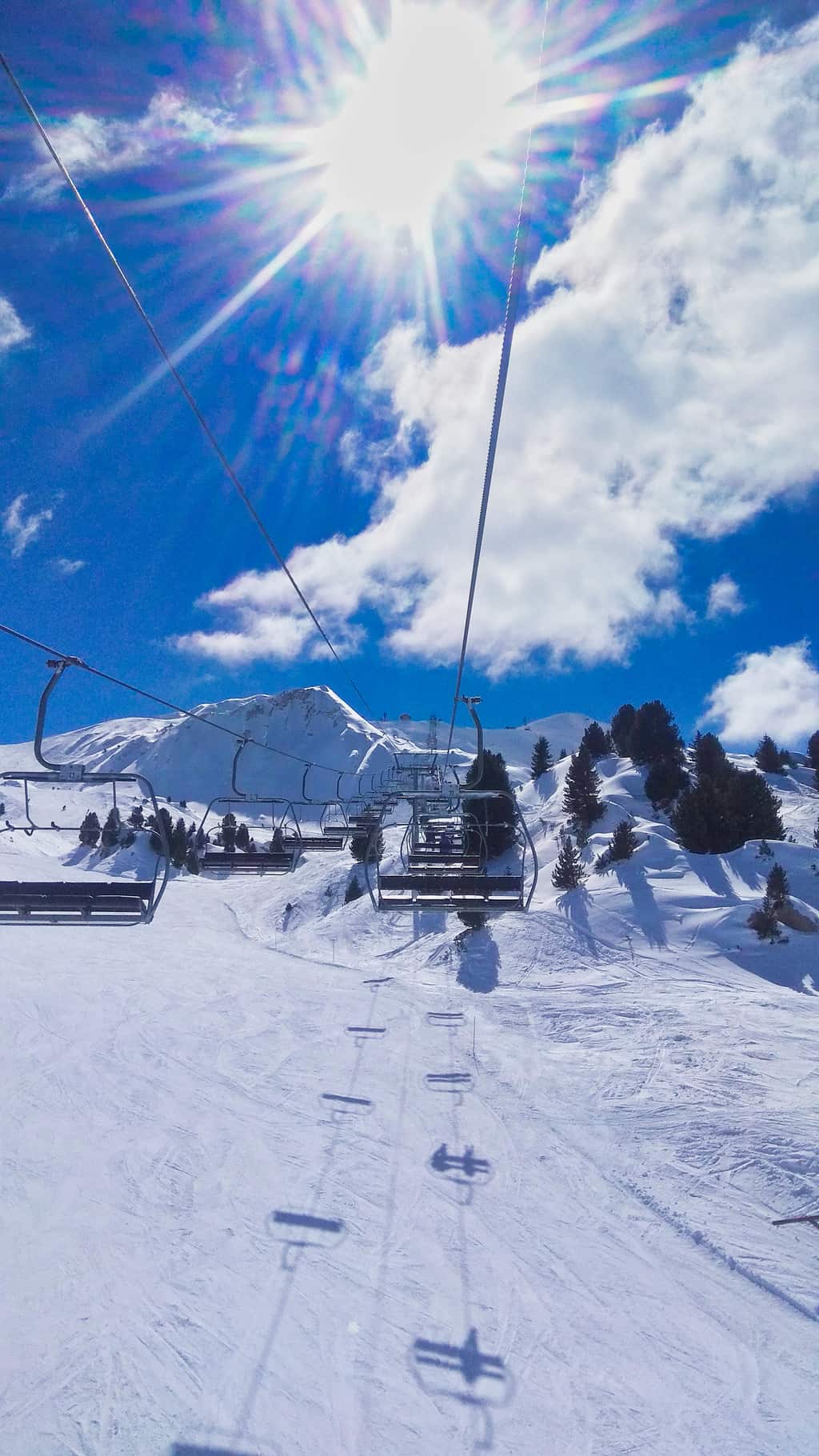 History of Les Arcs
The first village in Les Arcs opened in 1968, and Les Arcs is considered to be one of France's original "mega" purpose-built ski resorts.
The resort was first created with the help of Robert Blanc, a ski instructor in the area, and Roger Godino, a developer in mountain tourism.
The idea was to bring together a team of people to build a resort that both functioned with the natural surroundings, conserved old chalets and sourced local materials.
When you visit Les Arcs, you'll notice a pervasive style that keeps the resort set within the mountain settings and ensures that buildings do not commonly overlook one another – this creates great views for the guest and a less jarring architectural style.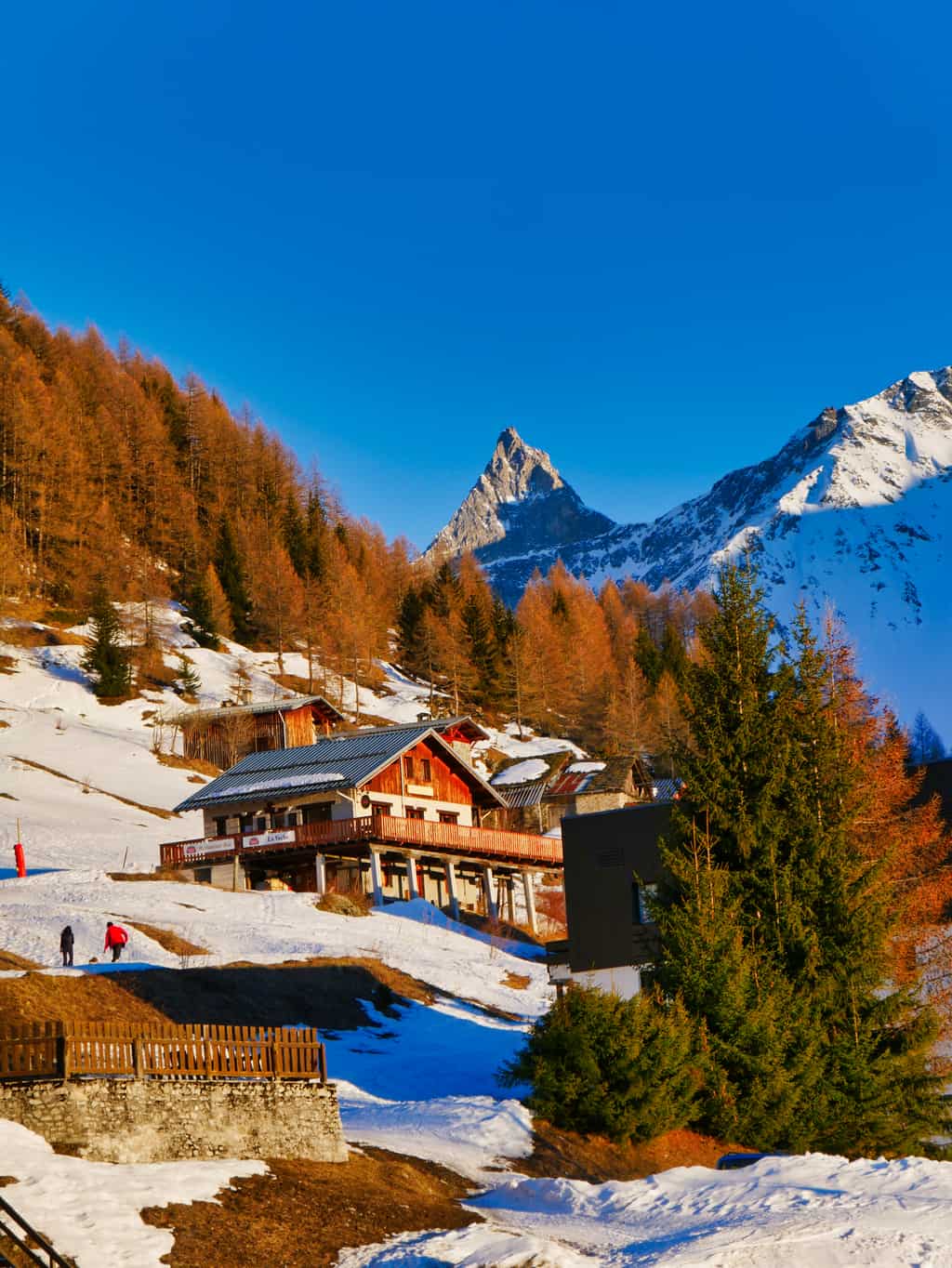 The villages of Arc 1600, Arc 1800 and Arc 2000 were designed by Charlotte Perriand, who led the overall design and building team and wanted to ensure that there were plenty of open places to sit out and enjoy nature.
Les Arcs continues adding to its resort, with the most recent village being Arc 1950 in the early 2000s.
From updating chairlifts to carving new runs, there's always something fresh and interesting happening in Les Arcs.
Les Arcs is also part of a larger ski area known as Paradiski, which includes Les Arcs, Peisey-Vallandry, and La Plagne.
Peisey-Vallandry is on the same mountain as Les Arc, while La Plagne must be accessed via the Vanoise Express, a cable car that takes you over the valley and to another mountain.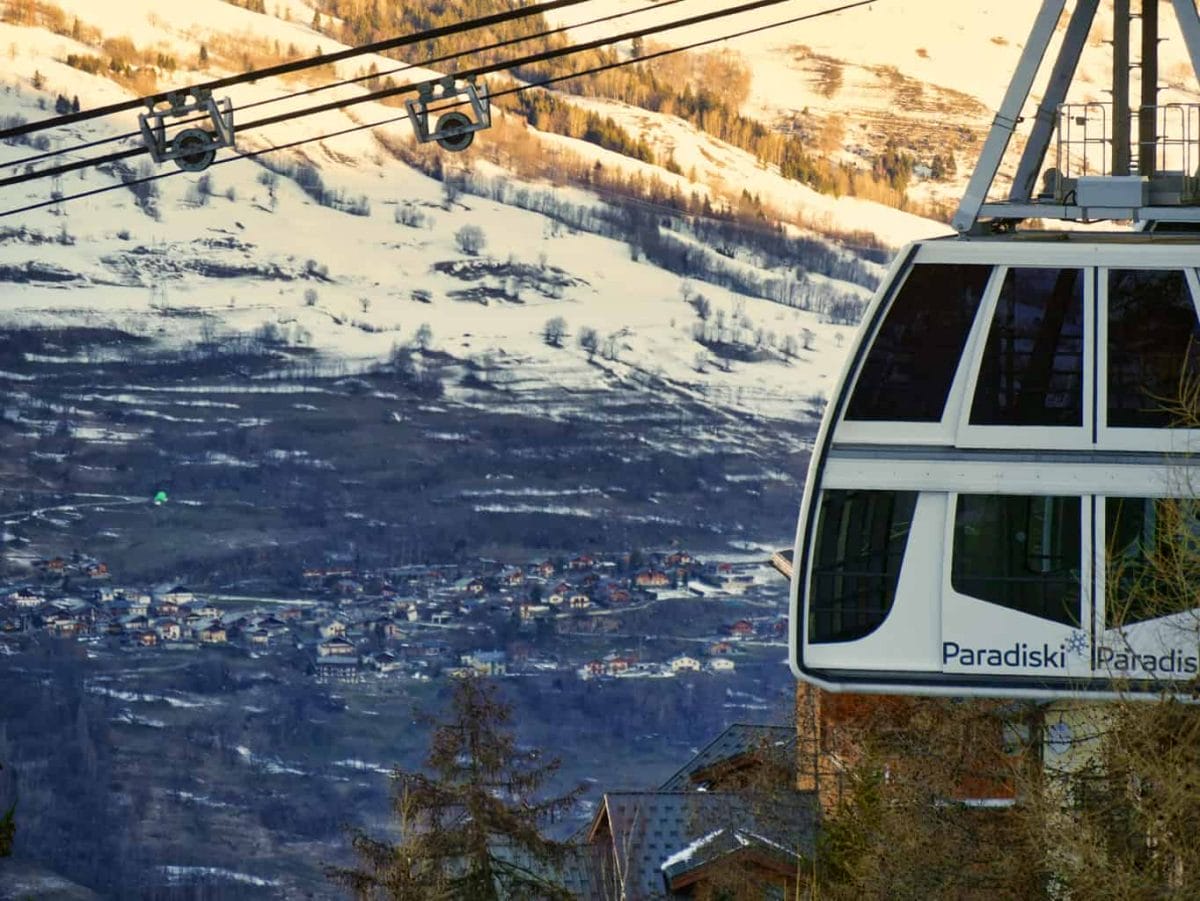 Is Les Arcs Good for Beginner Skiers?
As a beginning skier, I was desperately asking my husband if Les Arcs was good for beginning skiers.
I needed flat paths with the slightest incline, wide open pistes, and to not have to spend the entire time feeling like I was clinging on the side of a mountain.
I can confidently confirm, after spending my first two ski vacations in Les Arcs, that Les Arcs is excellent for beginning skiers.
Despite the lack of green runs, which typically signals the easiest "baby" runs, Les Arcs has tons of blues, the next level up, and many of these are just basic paths or really wide open runs that you can learn on – so, yes, take all the beginning skiers you want!
The best single area in Les Arcs for beginners is the Piesey-Vallandry area.
Although Arcs 1600, Arcs 1800, and Arcs 2000 have beginner areas, the Piesey-Vallandry area of the mountain has large beginner-friendly areas, with wide pistes, pistes with less steep slopes, and generally less people, as most people tend to head to Arcs 2000 for the (generally) better snow and harder runs.
It also has very accessible lifts than can take you back up the same run to keep practicing.
Les Arcs has numerous ski schools in each of the ski areas.
The oldest are ESF and Arcs Aventures (my husband had lessons with both of these when he was younger), but there a number of others that can suit your style and budget, whether you are booking for children or adults.
You can see further below for more information on ski schools.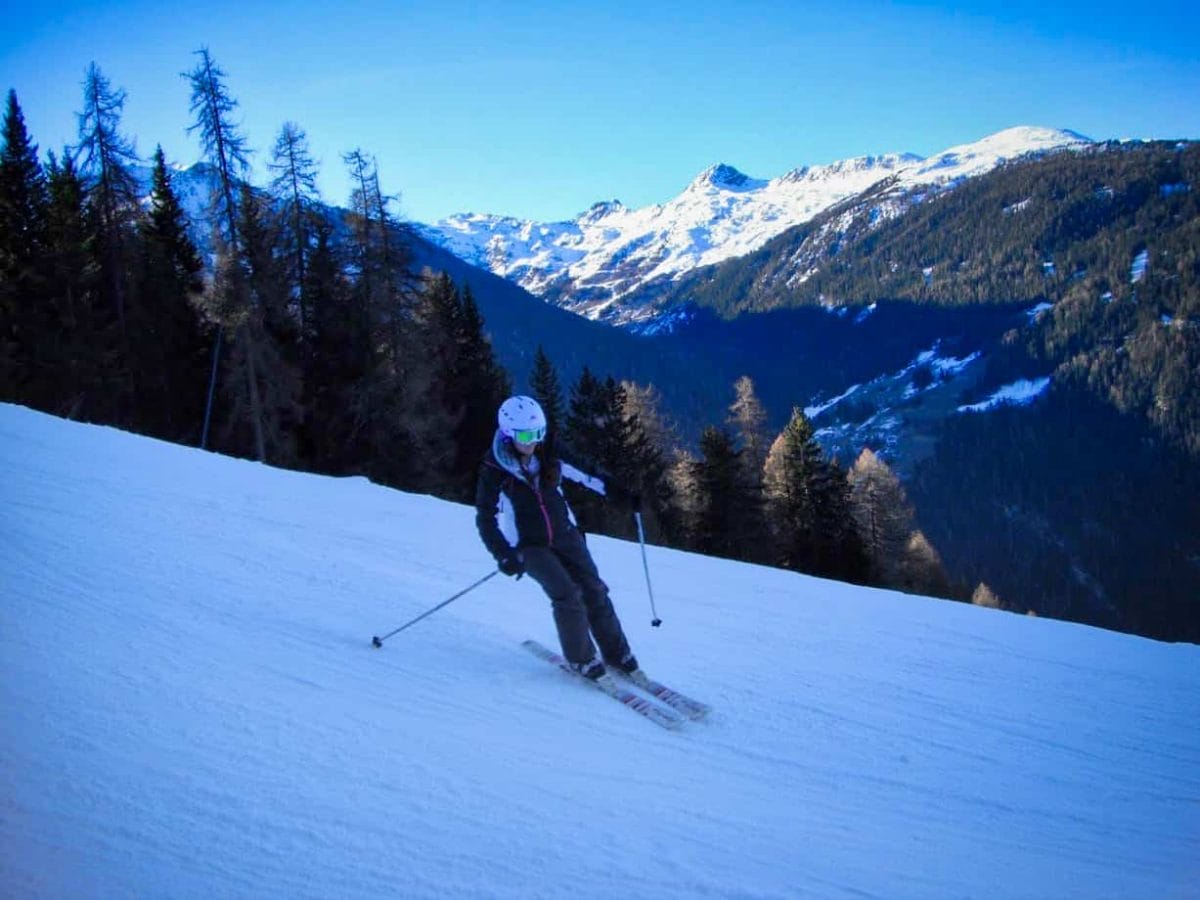 Is Les Arcs Good for Advanced Skiers?
Sometimes, a ski resort is ONLY good for beginner or intermediate skiers.
Smaller resorts, for instance, might not have as many miles of runs to use up or might have flatter runs without the steepness that expert skiers crave.
Luckily, Les Arcs has got PLENTY of black runs and off piste to keep the expert skier happy.
This is easily a resort where you can both enjoy ambling runs with your beginning skiers in the group and then head off for an afternoon of completely flying down the mountain on a black mogul run if you want.
No one has to be left out, no matter how hard or easy you like your ski vacation.
Arcs 2000 features some very interesting black runs (these are the hardest runs in the French ski run rating system), including one which runs down the side of the old Flying Kilometer (used in the Winter Olympics).
Les Arcs also has one of the most spectacular and longest runs in Europe.
You can take the Aguille Rouge lift to the 3226m highest point and take a run all the way down to one of the lowest parts of the mountain in Villaroger at 1200m.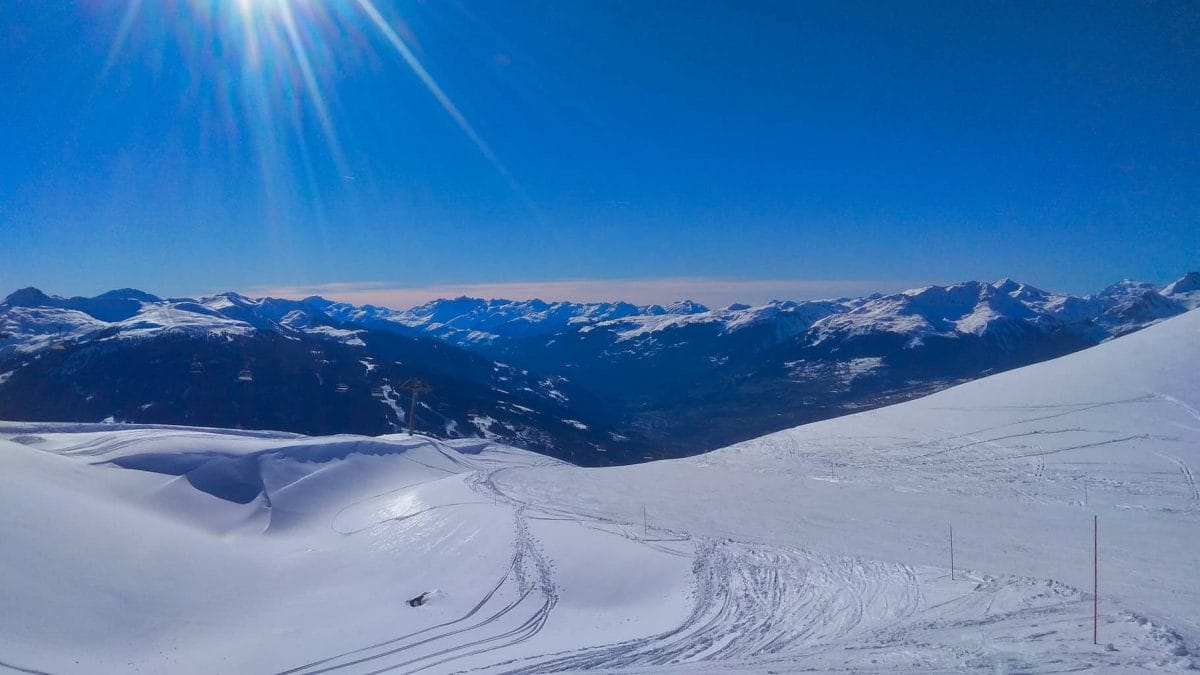 Things to Do in Les Arcs in the Winter
Les Arcs in the winter is like a snowy world of family fun with an unbelievable choice of activities and gorgeous views of the French Alps.
You do not have to be a skier to enjoy it, so fear not if you're heading to Les Arcs as a "tag along" on a family ski vacation.
Whether you have dreams of whooshing down a piste or relaxing in a hot tub, all of your dreams are about to come true.
1. Skiing
Of course, Les Arcs in the winter is a sking destination first and foremost.
You'll find that the majority of people here are here to ski, and that the majority of people on the slopes are also skiers.
This gives the place a nice sense of community atmosphere, as we're all in this weird sport together.
There are ski shops in every village, plenty of places to rent your ski equipment, knowledgeable ski instructors, and really a winter culture that is based off of how much people in Les Arcs love to ski!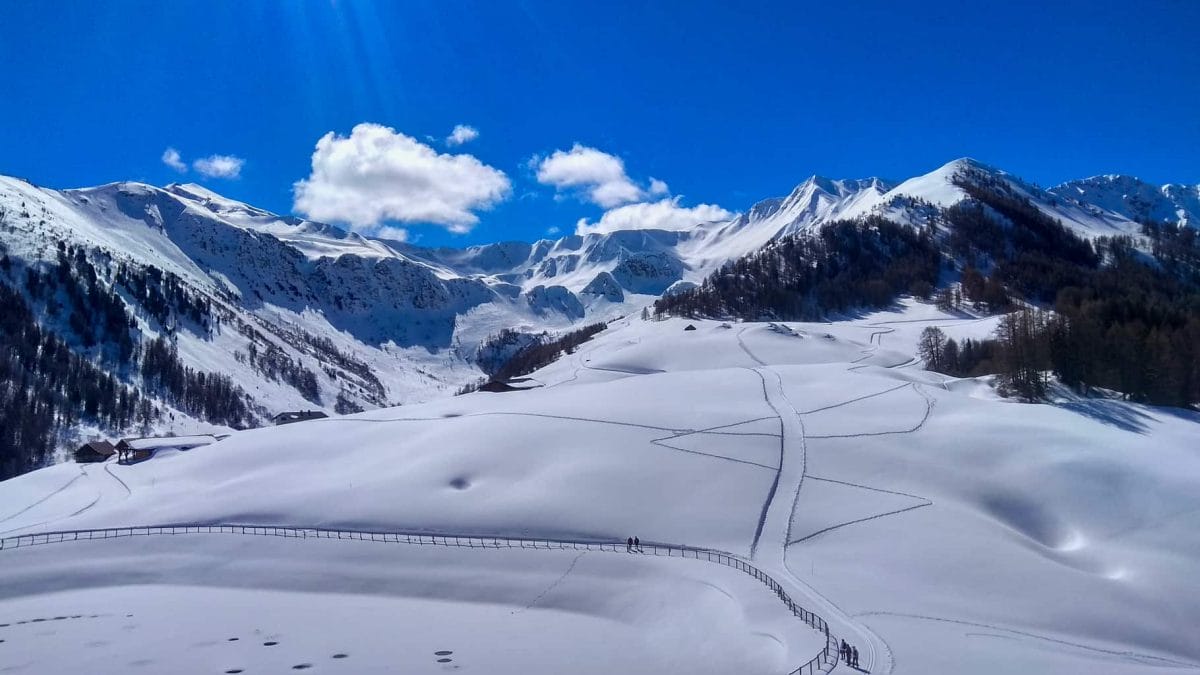 2. Snowboarding
The other way you can make it down one of the alpine slopes is on a snowboard.
There are fewer snowboarders here than skiers, but there are plenty and if you do snowboard, you definitely won't feel alone.
Similarly, there are also snowboard instructors in Les Arcs as well as the ability to rent snowboarding equipment and buy snowboarding gear in the shops.
As someone who learned to ski late in life, I don't quite appreciate the skier vs. snowboarder divide that seems to plague some people (ie – one group not liking the other), because as far as I can tell, if you manage to make it down a mountain in the French Alps without absolutely tumbling in a giant snowball the whole way and not putting anyone else in danger, then you are good in my book.
3. Cross Country Skiing
Did you know that you can try your hand at Nordic skiing in Les Arcs?
We thought it was going to be easy, but you can read my recap here on why it absolutely wasn't!
To take part in some relaxing (again, DEBATABLE) cross country skiing, simply head to Site Nordique in Peisey Nancroix to take in miles of cross country runs and some absolutely stunning scenery.
We have also encountered people cross country skiing on some of the paths and designated cross country ski area near the alpine slopes in Les Arcs.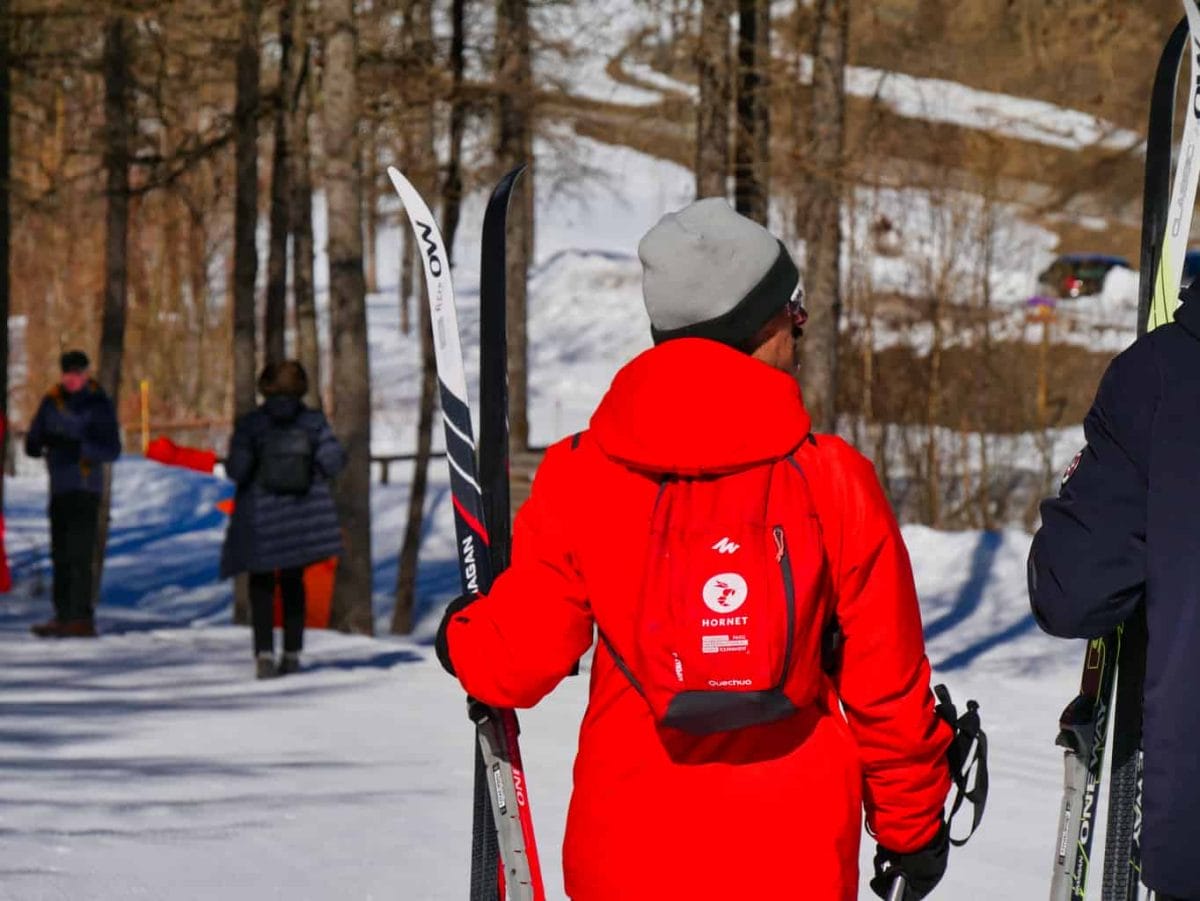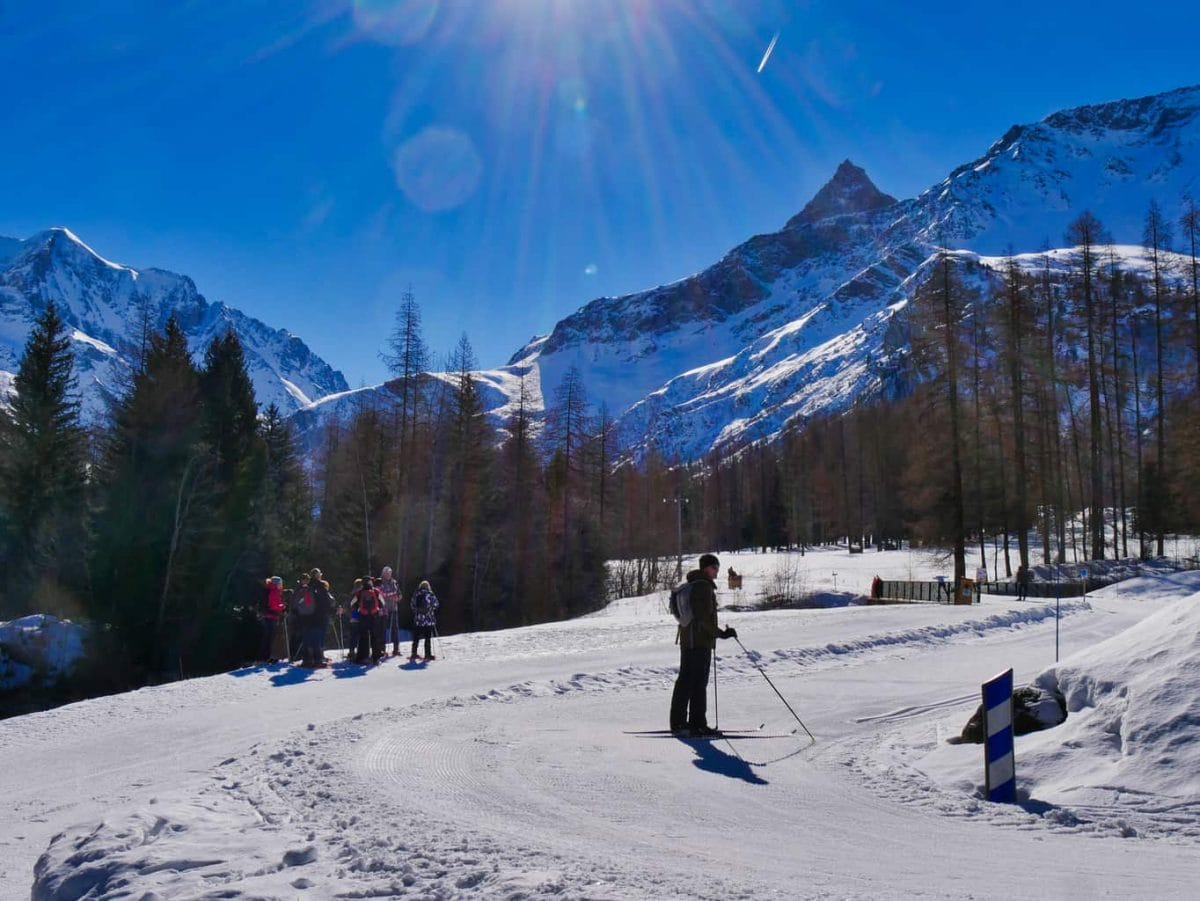 4. Hiking
Even if you don't want to strap on anything to your feet besides your regular boots, you can still enjoy the beauty of the French Alps in Les Arcs by heading out on a winter hike.
We go for a hike every time we're in Les Arcs, sometimes using the pedestrian lifts and walking alongside the pedestrian pistes, and others to walk down the mountain towards a village below.
You can also go for lovely hikes in Site Nordique.
The point is, winter hiking in Les Arc is not only available, but encouraged.
You can get a pedestrian only pass that gives you a day or week of simply taking yourself wherever your two feet can take you.
This is how we get some amazing photos and really soak in the atmosphere of where we are.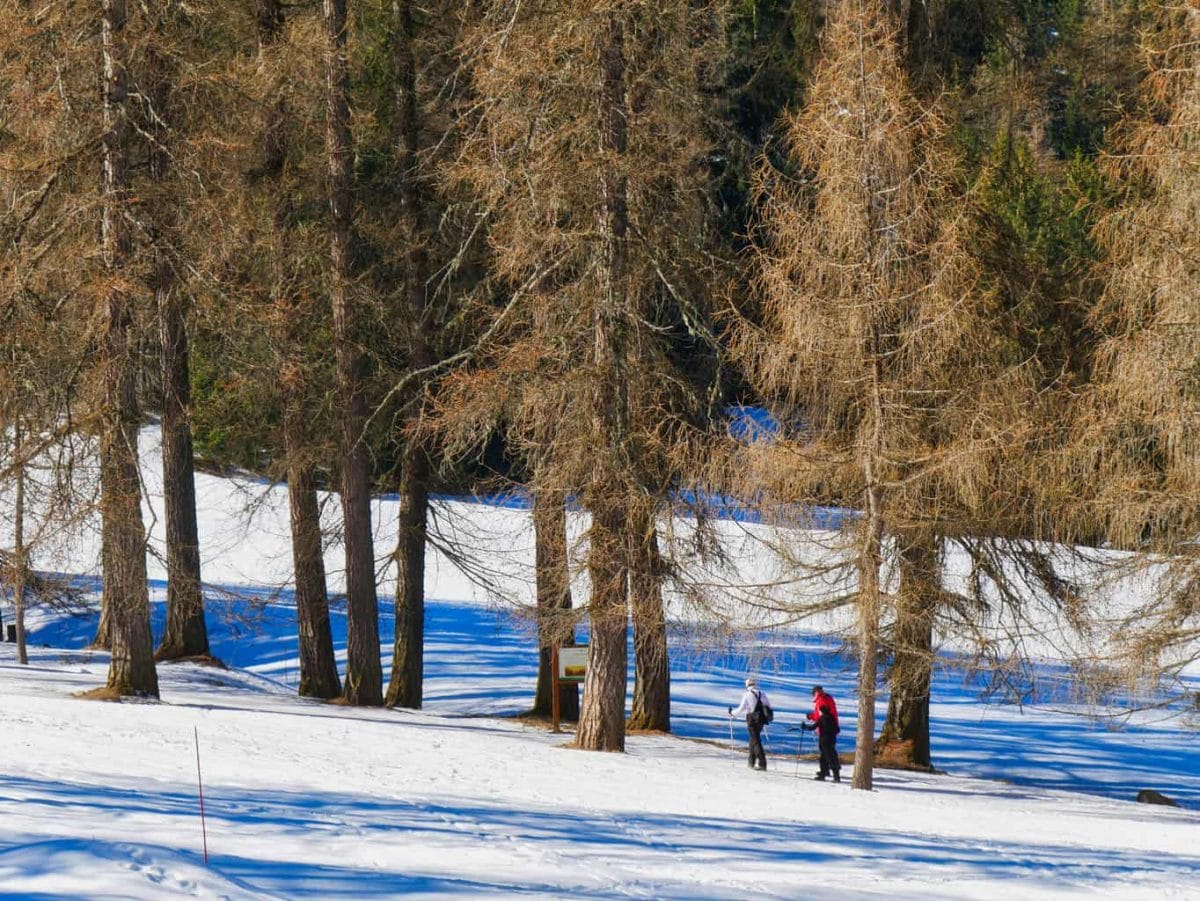 5. Apres Ski
When it comes to after ski-events, Les Arcs has plenty of options.
From fancy restaurants to pub-style bars to pizza shops to family-friendly places to eat, Les Arcs has plenty of places to eat and drink after your day of skiing is done.
There is also a good selection of mountain eateries that you can access for lunch, and while the prices are higher due to the location, sometimes the views just can't be beat.
6. Shopping
In all of Les Arc's villages as well as Peisey, there are shopping options for things like groceries, toiletries, ski gear, local food and gifts.
As you're on the side of a mountain and this is a purpose built ski-resort, you won't find miles and miles of shops, but you will find enough to get you food if you're self-catering or to buy a gift or a postcard for someone from home.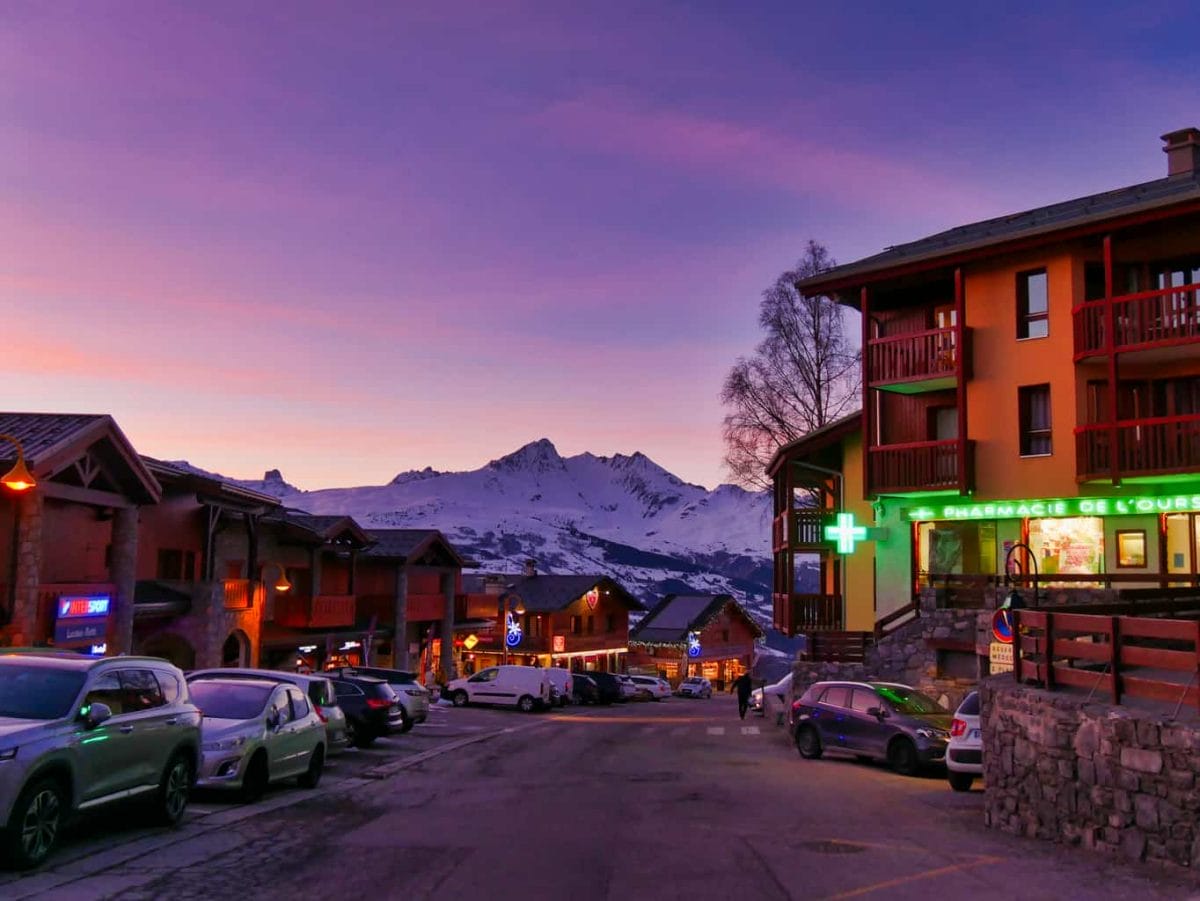 7. Parascending
Ever considered paragliding over the mountains while on a pair of skis?
At Les Arcs, it's possible!
Take part in a parascending experience as you take off by skiing (attached to your guide) down a slope and then lift off for an unforgettable journey.
While I would never personally do it because I am a wimp, we love watching the parascenders glide through the air on a clear day.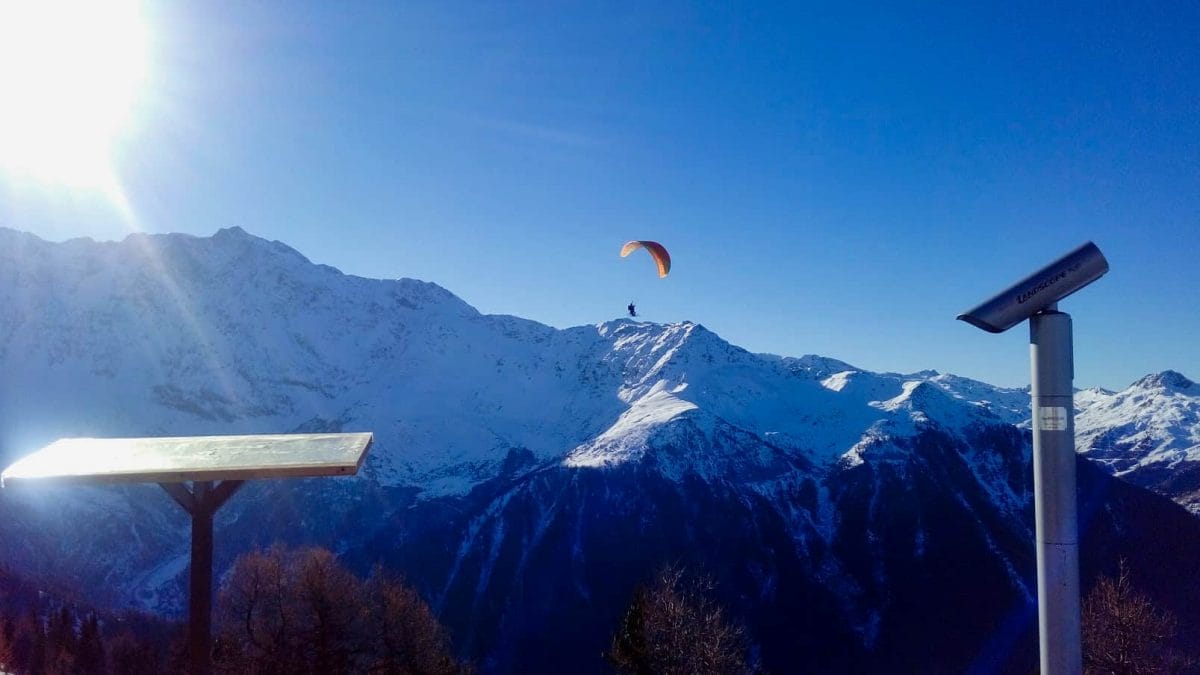 8. Swimming
That's right!
Don't forget your swimsuit!
Les Arcs has a swimming pool in the Mille 8 Complex in Arc 1800 that you can pay to go in, and I would highly recommend it for the views of the mountains alone.
There are also pools in many of the hotels around the resort, so if this is important to you, make sure to book somewhere with a pool.
9. Spa
After a long day of skiing (or sitting on your balcony, whatever floats your boat), nothing sounds better than some spa services.
You can enjoy the spa facilities in the Mille 8 Complex in Arc 1800, or use one of the paid spas at a nearby hotel.
From massages to beauty treatments to just the opportunity to soak in some water and let the stress melt away, add it to your list for the middle of your week when you're needing a boost.
10. Snowpark, Tobogganing and Other Events
If you're daring and like to have some fun on the mountain, you can use Les Arcs snowparks which involves jumps, giant air bags to land on, pond skiing in the Spring and lots of other events during the day.
Les Arcs also has a long (and quite hilarious) Toboggan (or Luge, depending on the country you are from) run in Arcs 2000 that runs across and alongside the piste.
My husband and I have done this a number of times and it is always hilarious.
You will be hard-pressed to find something like it – equal parts terrifying and funny.
Tears are shed for multiple reasons on the, so-called, "Rodeo" Toboggan run!
Note: There is a Toboggan run in Arc 1800 in Mille 8, but it is MUCH shorter and nowhere near as fun.
But it would be a good location for small children that you don't want to run the risk of losing!
Also new this year (2020) is a (confusing titled) inner tube "Toboggan" in Arcs 1800 next to Mille 8, where you ride down the mountain on an inner tube and jump on to a big air bag!
If you are heading to Les Arcs over Christmas or New Year, Les Arcs also holds firework displays and other special events during these periods, which are well worth going to.
We have been to both events and walked away with free mulled wine, free hot chocolate, and light-up Christmas hats, too!
Who doesn't love free stuff?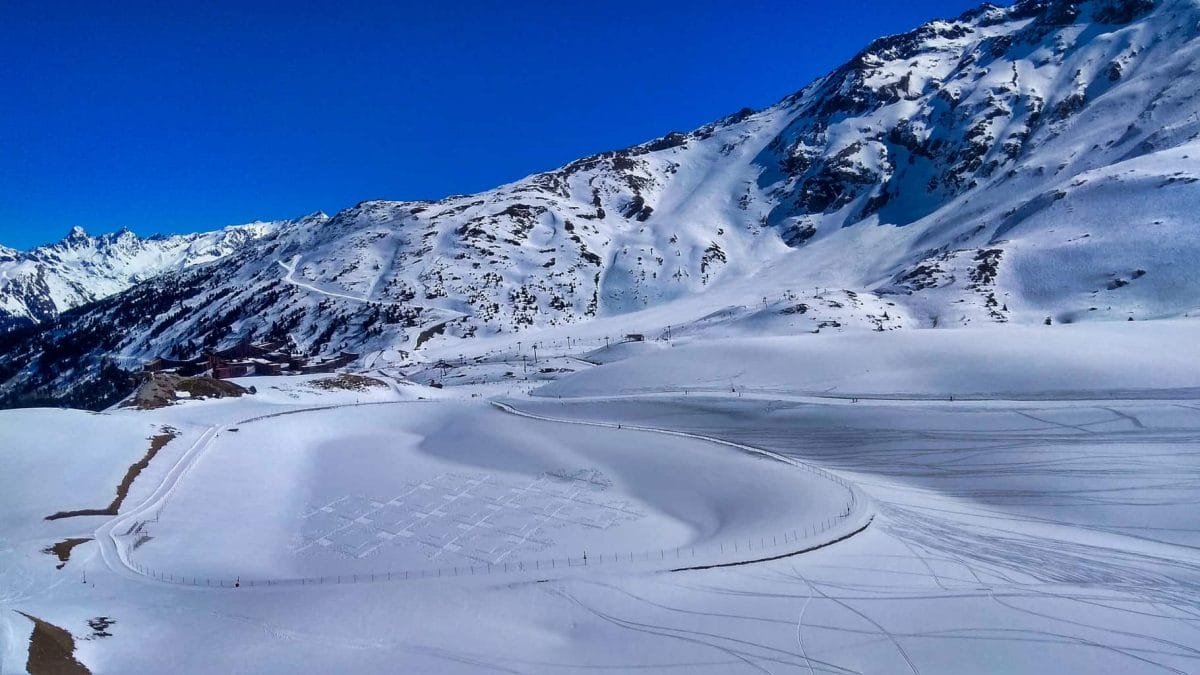 How to Get to Les Arcs/ Getting to Les Arcs
For this guide, I'm going to assume that you aren't going with a vacation company like Crystal Ski that are taking care of all of your transfers for you.

Instead, let's assume you're getting yourself to Les Arcs and you need some suggestions.
There are a few different ways to get to Les Arcs from London, as well as some option that allow you to come from multiple airports and destination around the world.
1. Drive
The first option is to simply drive from the UK to Les Arcs if you live in the South of England (or perhaps if you live in the North and just love to drive).
Driving takes about 14 hours from London, but the benefit is that you can quite literally just drive yourself to the ski resort and up to your accommodation.
Driving also has the benefit of not worrying about luggage restrictions and allowing you to take in beautiful views along the way.
Driving allows you to take in beautiful views like this along the way, but it also takes about 14 hours from London and that can be a real trek.
The downside to driving is that you still need to pay for your crossing on the Eurotunnel (the train that will take your car – yes, your car! – across the English channel), gas, and you need to make sure you have your snow gear ready and the correct paperwork to drive in France.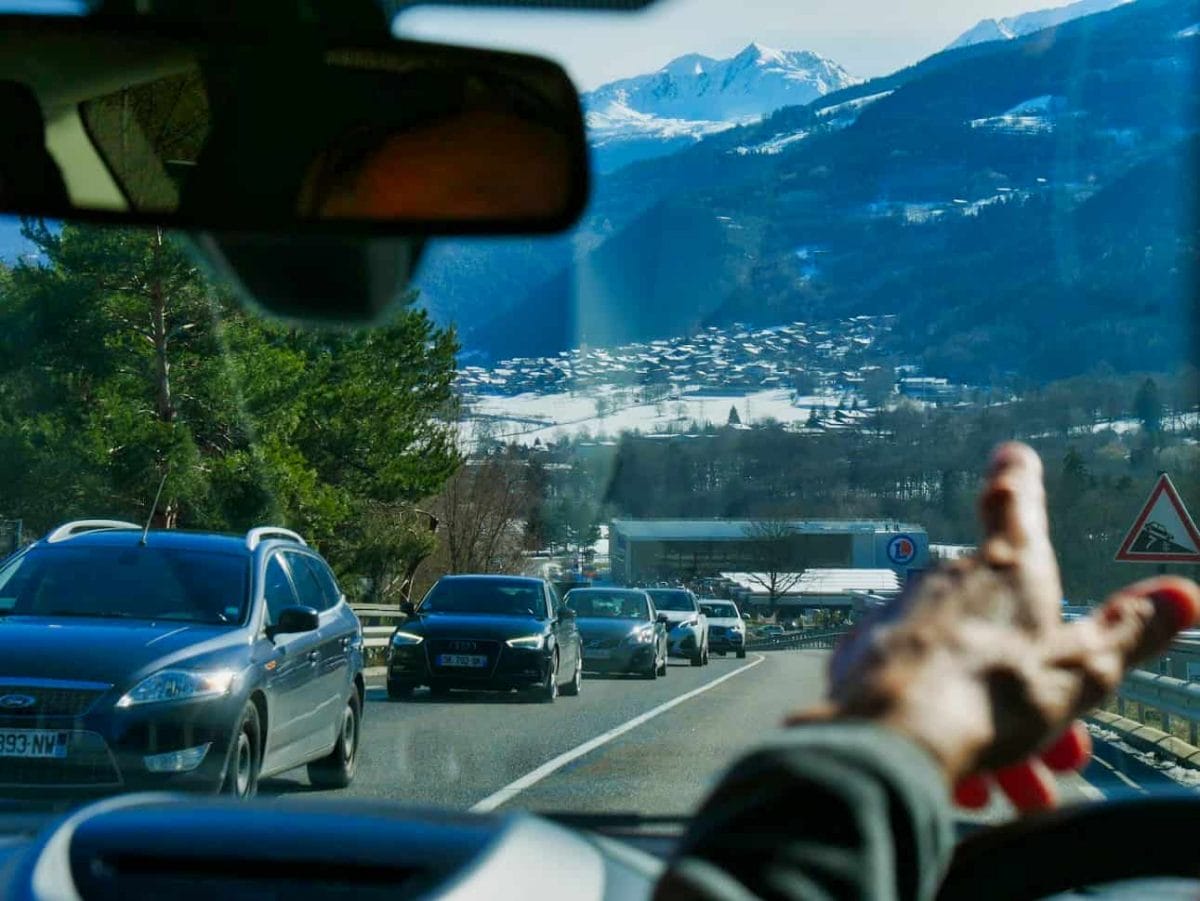 2. Take the Train
You can take the train from London to Paris, and then a train from Paris to Bourg-St. Maurice.
This means that you can simply hop on one train and in about 10 hours, be in Les Arcs from the UK.
The benefits of the ski train are that you can take more luggage than flying, and your skis go free unlike on a plane.
When you get to Bourg, simply walk across the footbridge and over to the funicular – it's not a far walk at all, and you won't be traipsing across town or anything.
If you're not staying in Arc 1600, there is a free bus service in Les Arcs that will take you to the other Les Arc village.
If you are staying in Peisey, you're better getting off at a different train station closer to Peisey, Aime, and then getting a bus transfer or taxi to Peisey.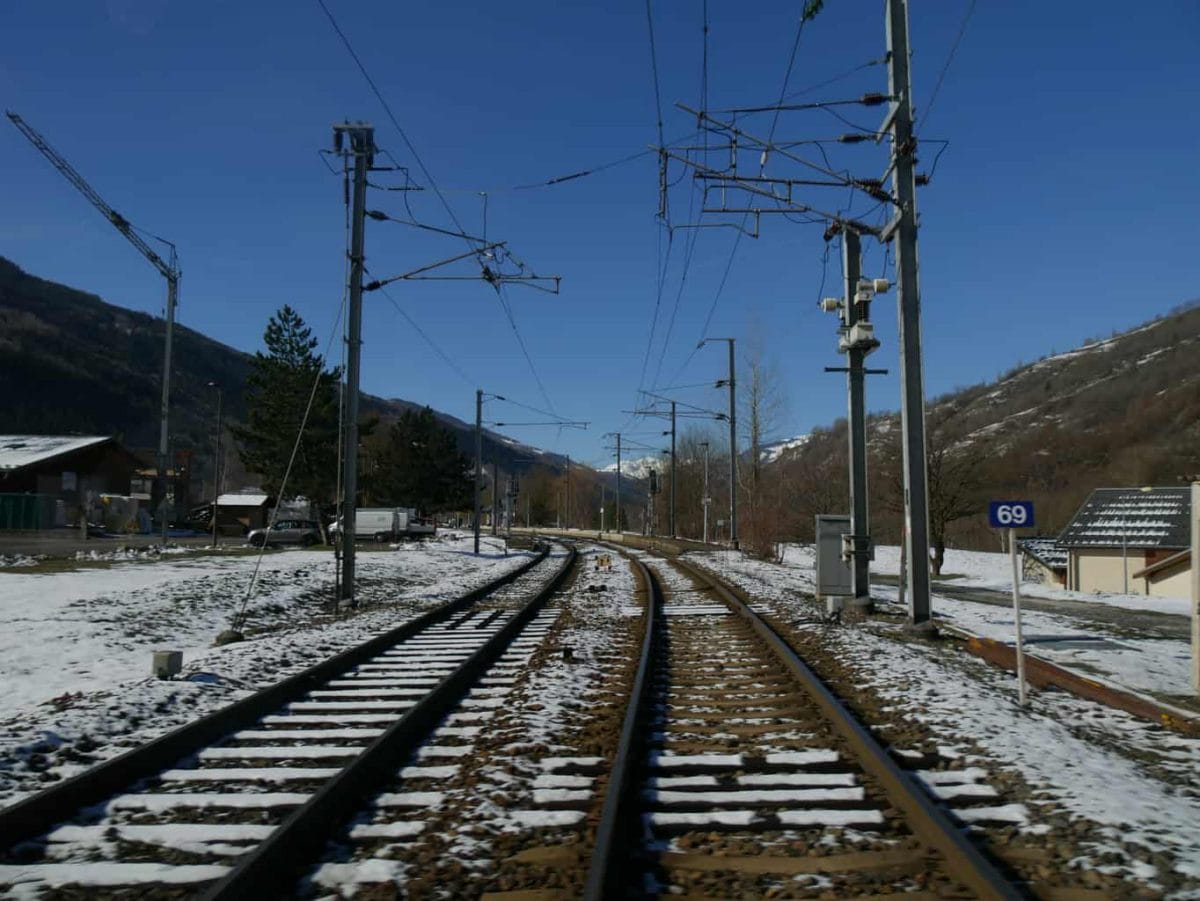 3. Fly into a Local Airport and then use a Bus Transfer
The third way, and most popular way to get to Les Arcs is to fly into an airport like Geneva, Lyon, or Grenoble and take a prebooked bus transfer.
The benefit of this is that you have many more options of where to fly from – it doesn't have to be London, and arguably it takes the least time to get to the French Alps using this method.
You do need to watch out for which bus company you use as a transfer, though, as if you go for the absolute cheapest option like we did, you are going to get basic service.
Meaning that if everything goes to plan, you'll be absolutely fine, but if there's a giant snowstorm or a bus breaks down or what have you, there are horror stories of buses leaving people stranded or not turning up.
Some options for how to get from Geneva to Les Arcs include Ben's Bus, Alpy Bus, Snow Bus, and Cool Bus.
Les Arc's Villages Explained
Les Arc has four main villages, roughly created based on their altitude though it's not an exact science.
Where you stay in Les Arcs is dependent on what kind of "scene" you're after and what village feels most comfortable for you, so here's a quick rundown of what to expect.
Arc 1600
Arc 1600 was the first village to be built in Les Arcs in 1968 and is referred to as "Arc Pierre Blanche."
It has the same modernist architectural style as Arc 1800 and Arc 2000.
Pros:
Arc 1600 is conveniently linked to Bourg St. Maurice by the funicular, so if you're getting to Les Arcs via Bourg, you won't have to take a shuttle bus anywhere else.
It has a smaller, more intimate vibe than some of the other villages.
The lesser altitude means it is a tad warmer here than further up the mountain.
Cons:
Because of its lower altitude, Arc 1600 may have slushier snow in the afternoons in the Spring and lose its snow faster than higher up the mountain at the end of the season.
It also struggles the most at the beginning of the season to get full coverage in a bad season.
Personally, I enjoy the village of 1600 but find the runs in 1600 not some of Les Arcs' better options, especially for beginners.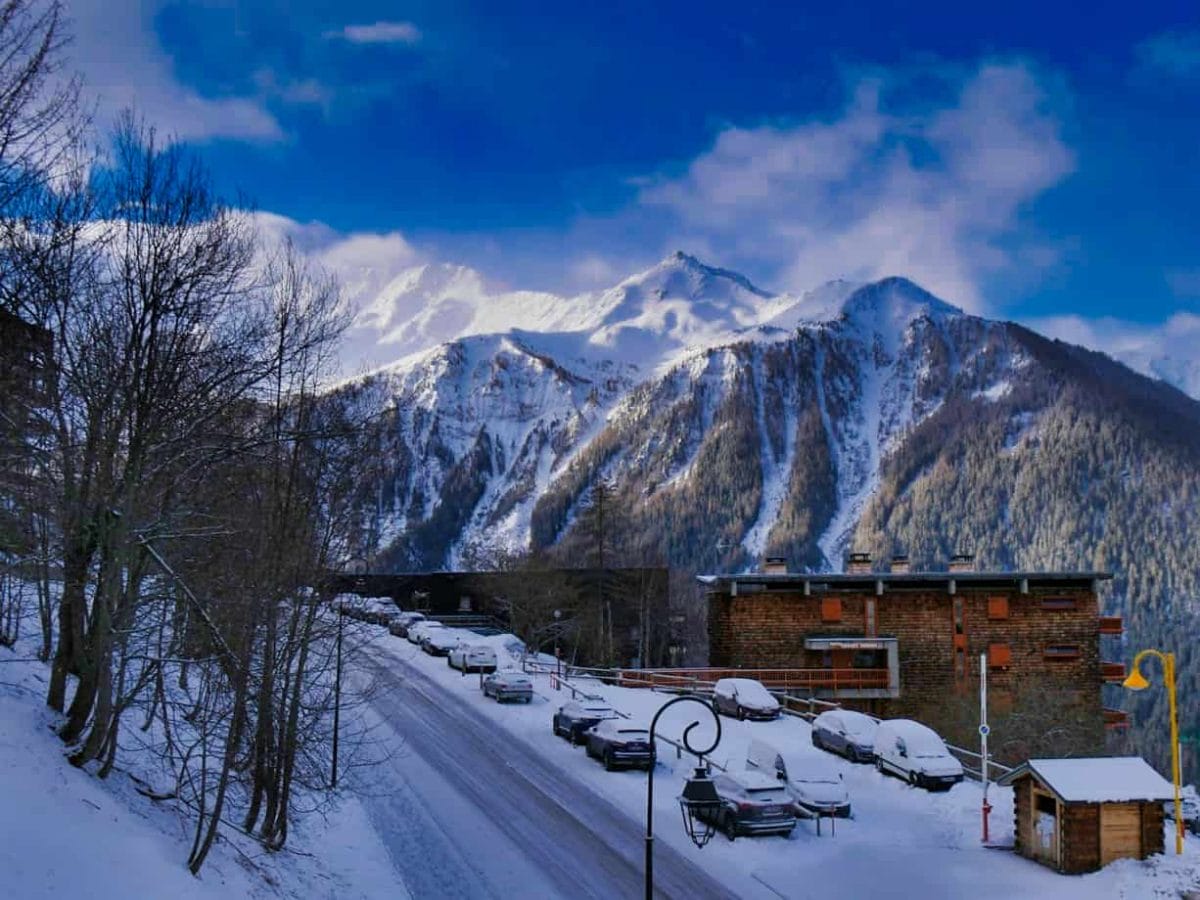 Arc 1800
Arc 1800 is the largest of the villages in Les Arc and has four different mini villages to choose from.
With over 100 shops, restaurants and hotels, this is a "happening" village where the major Les Arc events tend to take place.
Pros:
For a ski day, Arc 1800 is conveniently located so that you can easily reach any of the other areas with just a lift and a run or two.
You are central and it makes a big difference in how accessible the mountain feels to you.
With a larger population staying in the village, there's a more lively atmosphere and more opportunities to find shops and restaurants that suit you the most.
Arc 1800 has the Mille 8 complex, which includes a swimming pool, spa, and on-piste restaurant that are really fun to spend time in.
Arc 1800 is west facing, getting the sun in the afternoon, which means it can have better weather than the rest of the mountain.
Cons:
The larger size means it's also a bit more loud and rambunctious and not exactly the spot for a tranquil ski vacation if your idea of luxury is looking out over your balcony and not hearing a sound.
To get here from the ski train, you need to take a free shuttle bus from 1600 once you arrive off the funicular and can't just walk to your accommodation.
Arc 2000
Arc 2000 is the highest of the Les Arc villages, built in 1979 in a modernist architecture style. It is larger than 1600, but not as large as 1800.
Pros:
The higher altitude makes it the most snow-sure area of the resort, and when you've just had a big dump of snow, the powder can be amazing.
Plenty of options for shops and restaurants mean you have some choice when it comes to what you do after skiing.
Some of Les Arc's most popular runs like the Aigulle Rouge are most easily accessible from 2000.
It's easy to reach other areas of the resort from 2000.
Cons:
In bad weather, Arc 2000 can get cut off really easily due to high winds and you will either be limited to where you can ski or you just won't be able to ski at all.
Higher altitude means no tree-lined runs and the landscape can be a bit bleak of you are looking forward to a more tree-filled landscape.
Arc 1950
Completed in 2008, Arc 1950 is a clear architectural departure from the other three villages as it was done in a more traditional alpine style that more closely reflects ski resorts in Canada and North America.
The modernist architecture is gone, and in its place is a warm, cozy feeling.
Pros:
Arc 1950 is situated around the same altitude as Arc 2000 and also enjoys a snow-sure area for most of the season.
The entire village is "ski in and ski out" so you never have to walk too far before you can put on your skis and simply ski off for the day.
There are plenty of food choices in a variety of cuisines, including Italian, French and American.
Cons:
Arc 1950 is prone to being cut off in bad weather due to the altitude.
You have more limited options of where to rent your ski equipment from due to the "captive audience" type of environment.
The village is managed by IntraWest, a large company, so it lacks some of the authentic feel.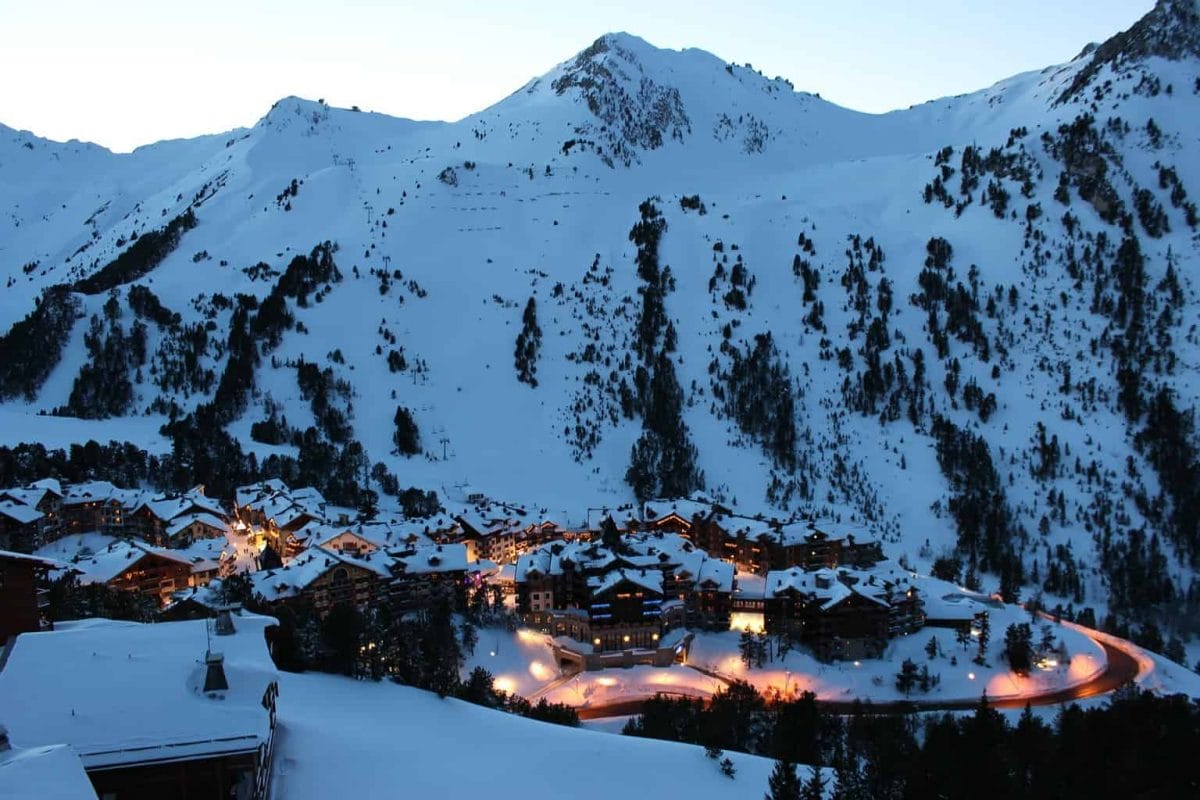 Peisey-Vallandry
While Peisey-Vallandry is not technically a part of Les Arcs, it might as well be from my perspective as you can access Peisey with a basic Les Arcs ski pass, it's on the Les Arcs piste map, and it's easily accessible from Arc 1800.
There are actually smaller villages that make up this area, the purpose built ones being Plan-Peisey and Vallandry and the older settlements being the actual village of Peisey further down the mountain.
This is a fantastic place to stay if you want a quieter feel, or you want easy access to La Plagne as the Vanoise Express goes from this area.
The skiable area in this part of the Paradiski resort is also some of the most varied, and has a great variety of runs that challenge you without making more nervous skiers feel they're going to fall off the side of a mountain.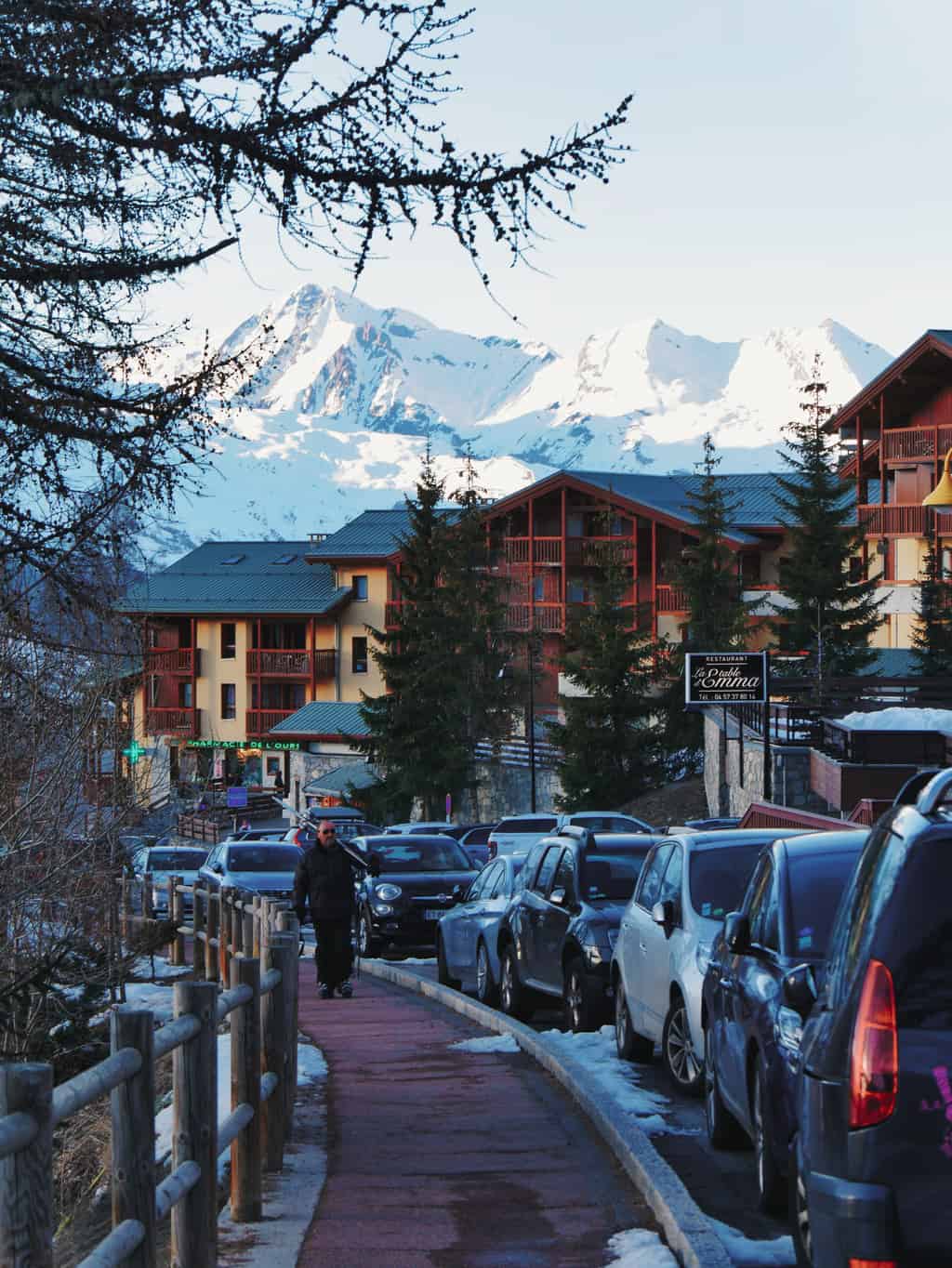 Ski Schools in Les Arcs
The ski schools in Les Arcs vary by village.
Typically, you will take a lesson in whatever village you are staying in so you can easily get to the meet-up point in the morning and can get home easy enough if you are having an afternoon lesson.
Because Les Arcs is such a big resort, there are lessons on offer for both adults and children at all levels of skiing.
You can take a group lesson, or you can pay more for a private instructor.
You can also choose which language you want the lesson taught in by booking through either a French or English Ski School.
Some of the most popular options include:
ESF – the most popular French ski schools with their own practice areas and the widest variety of lessons and groups (given in French)
New Generation – an English speaking ski school that comes highly recommended and has options in Arc 2000 and Peisey Vallandry.
They offer both group, individual, and adult and child lessons.
Aim Ski School – again, another highly recommend English-speaking option that also do snowboard lessons and off-piste guiding.
They are available in every village.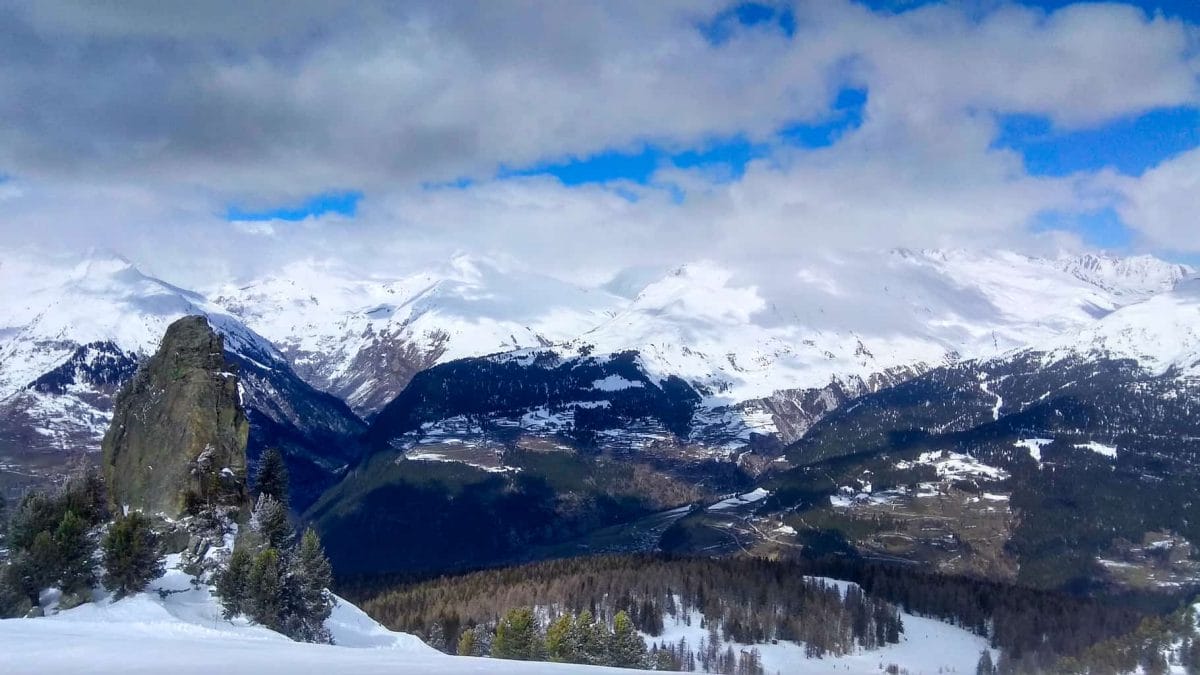 How to Get from Les Arcs to La Plagne
One of the best parts of going to Les Arcs is that it is part of the larger Paradiski Resort Area, which also comprises the neighboring mountain resort, La Plagne.
To get from Les Arcs to La Plagne, you need to make your way over to the Peisey 61 chairlift.
At the bottom of this lift you'll find the Vanoise Express, which is your direct route to take over to the La Plagne ski area.
You will need to ensure your ski pass includes access to La Plagne in advance, as a Les Arcs-only ski pass does not include access to the Vanoise Express and La Plagne, whereas a Paradiski pass does.
If your pass does include access to La Plagne, make sure to use it and check out what's on the "other side," as it were!