This post contains affiliate links for which I may make a small commission to help keep the site running. You will not be charged extra for these items had you not clicked the links. Thank you for your help to keep the site running!
Nestled in the beautiful countryside of Scotland, just about an hour and a half away as a road trip from Edinburgh, is one of the most relaxing places in the entire world.
The world, you're asking.
Really?
THE WORLD?
Yes, the world!
Crieff Hydro is a leisure resort in the picturesque town of Crieff (check out some of the best things to do in Crieff ).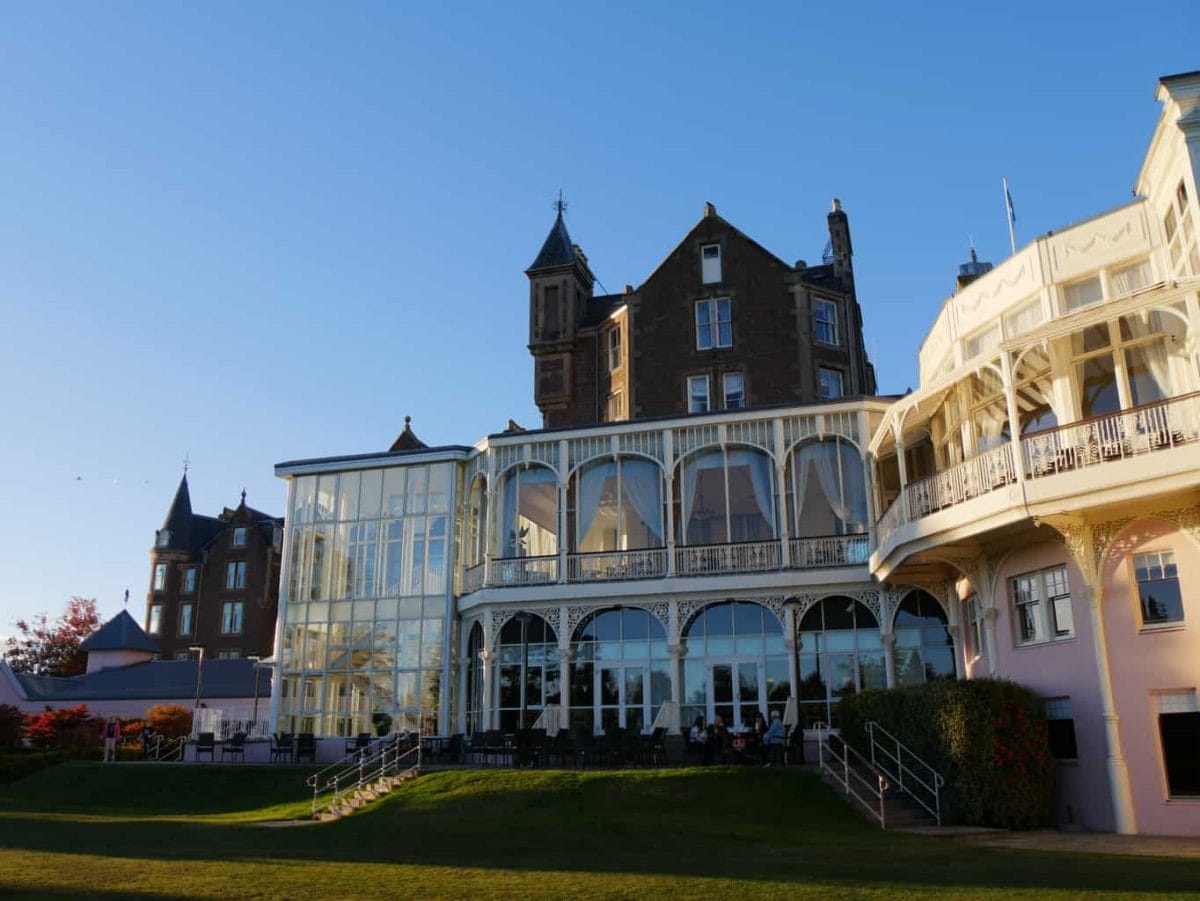 In this Crieff Hydro review, you'll find out why I've been 5 times in 5 years, why my husband's family has been going for over 20 years, and the best place on property to snag yourself the best fish and chips (priorities, obviously).
GET A

FREE

UK GUIDE and ACCESS TO MY PLANNING FB GROUP
With 50+ pages of helpful travel tips and the "best of" UK lists, this is your ad-free key to your UK trip.
Crieff Hydro opened its doors in 1868 as The Strathearn Hydropathic Establishment Company, making it one of the oldest hotels in Scotland.
In fact, it was Scotland's oldest hydropathic hotel and its founder, Thomas Meikle, had big plans for the place.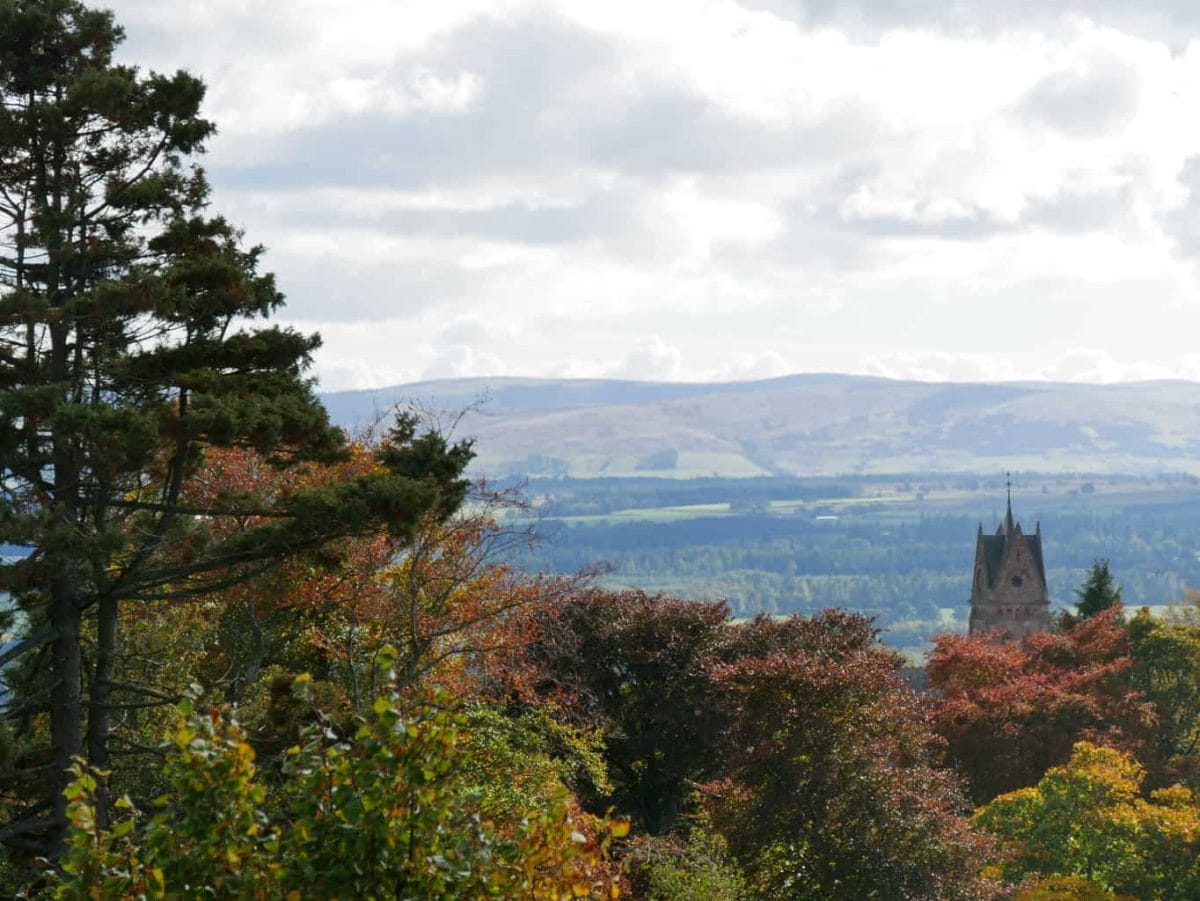 Originally it was used as a place of healing, as doctors in those times believed that you could heal yourself of various ailments by bathing in cold spring water.
And while that sounds like a far cry from the current kid-friendly water slide session at the swimming pool, it has retained its values in more ways than one.
Today, it's a leisure resort for people of all ages to come and enjoy quality time together, as well as taking those quiet moments for themselves reflecting on life, vacation, and the beauty of the surrounding area.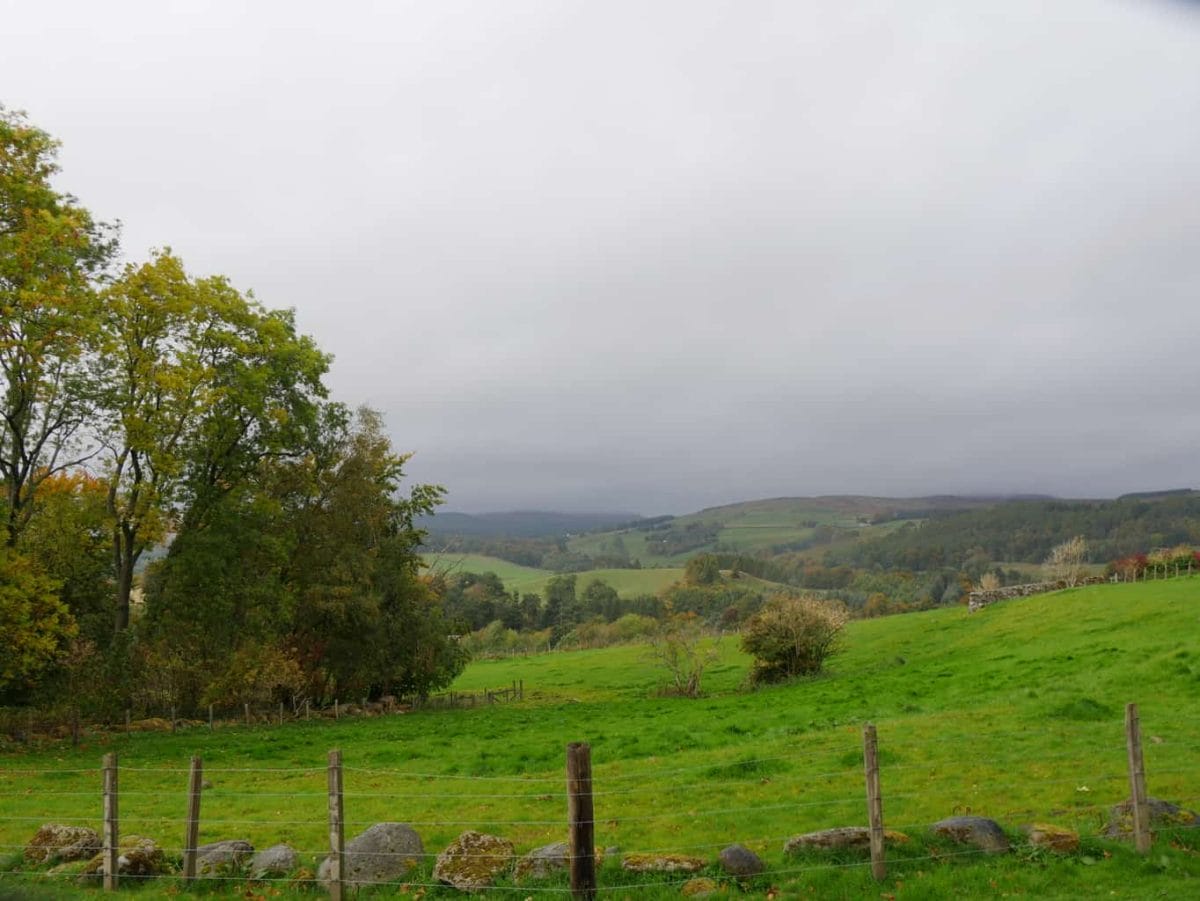 The healing that takes place today is more of "laughter with friends over an endless dinner" or "conquering your fears of horseback riding" kind of healing, but it is healing nonetheless.
Our Crieff Hydro History
We first went to Crieff as a couple in 2014, when we stayed in a lodge in Culcrieff (more on that later) with my then-boyfriends parents.
His family had been going for many years, and they still liked to take a yearly trip.
I was a little nervous, having never been on vacation with them before and wondering if I was in over my head with the amount of activities they seemed to have planned.
See, I'm a "relax by reading a book on the couch" kind of person, and the sheer number of things to do at Crieff left me wondering if I would get any of that time in at all.
A silly problem to have, in hindsight.
That week, we went horseback riding, ropes course climbing, swimming, walking and quad biking.
It was July and the sun was up in the sky for what seemed like the whole day, pausing only briefly in the middle of the night to get slightly dimmer.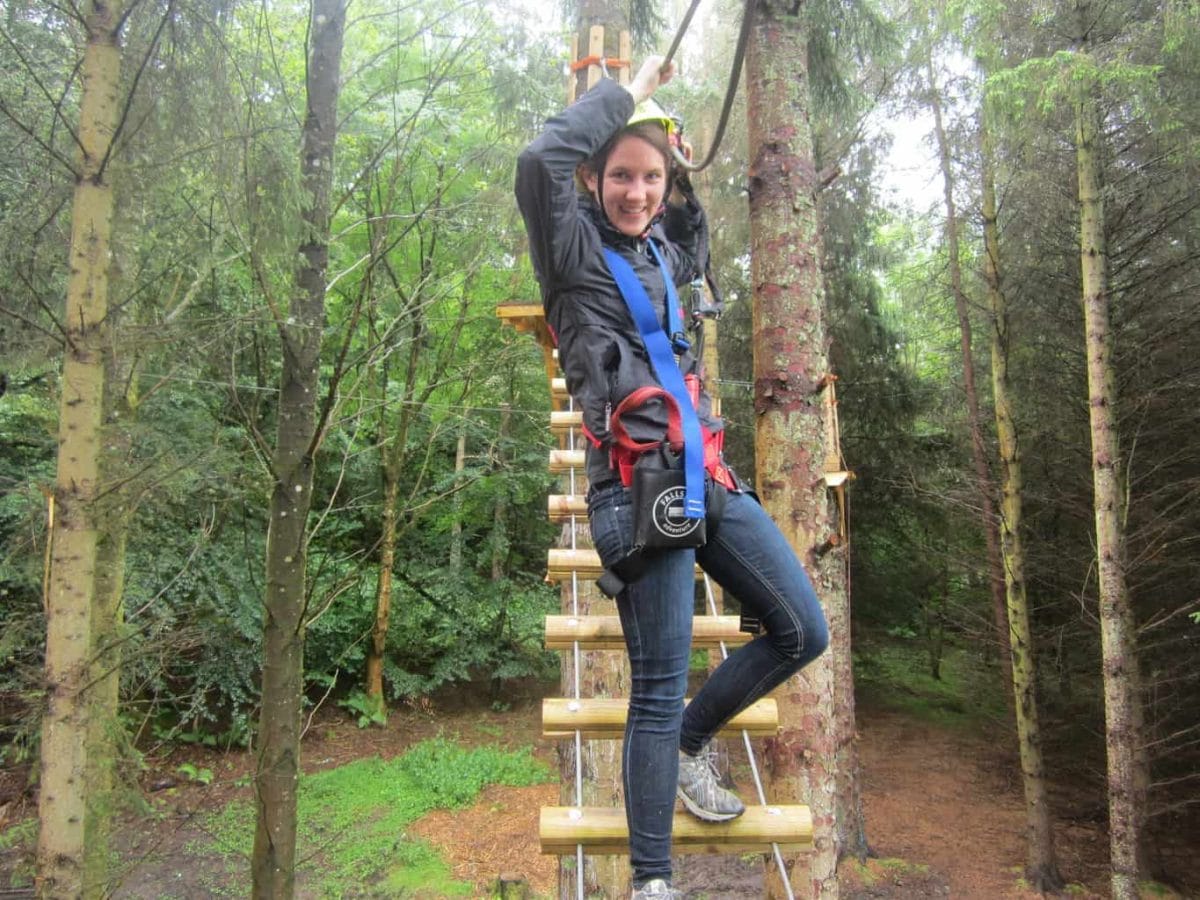 It was my first Scottish summer, and I was hooked.
The next year, we went as a couple and stayed in the hotel for just a couple of nights.
My lack of time off at my job then meant I needed to fit in a lot of traveling at once, so we added just a bit of extra time onto an Edinburgh trip and tried to hit all of our favorite Crieff Hydro highlights.
By the next year, we were still boyfriend and girlfriend but close to becoming engaged in just a couple of months after our Crieff trip.
That time, we stayed in the Cozy Cabins, which I can confirm in this Crieff Hydro Cozy Cabins review – are very cozy.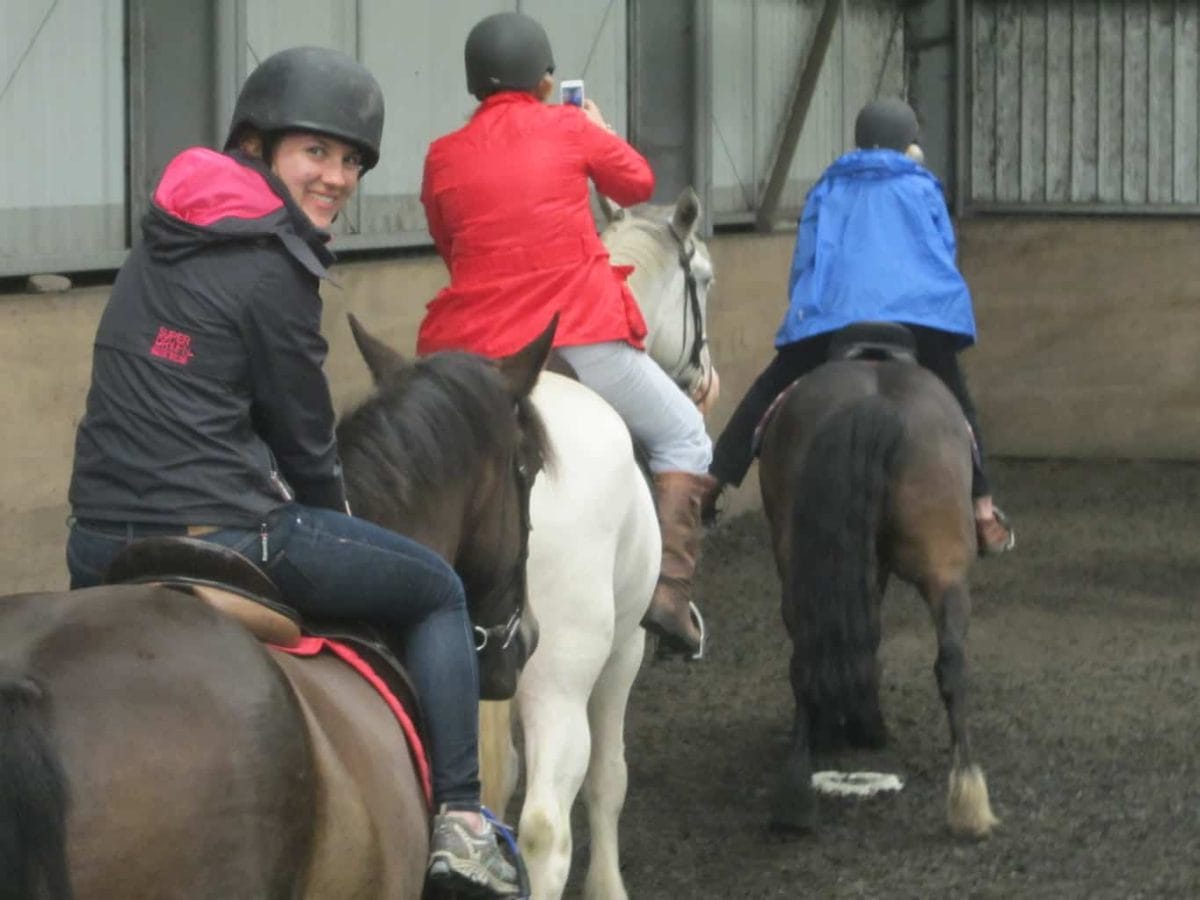 It was October, and my first Scottish autumn.
The leaves changing on the trees creating a magical atmosphere to the Hydro, and we were already planning our next trip.
In May of 2017, we were in Crieff once again – this time at what we dubbed "Minimoon Lodge," though officially it's called a one bedroom self-catering apartment or something sensible like that.
This time, we were freshly married and up in Crieff for four days in between our English wedding and our American reception.
We took all of our cards and gifts and opened them that week while eating leftover slices of our wedding cake.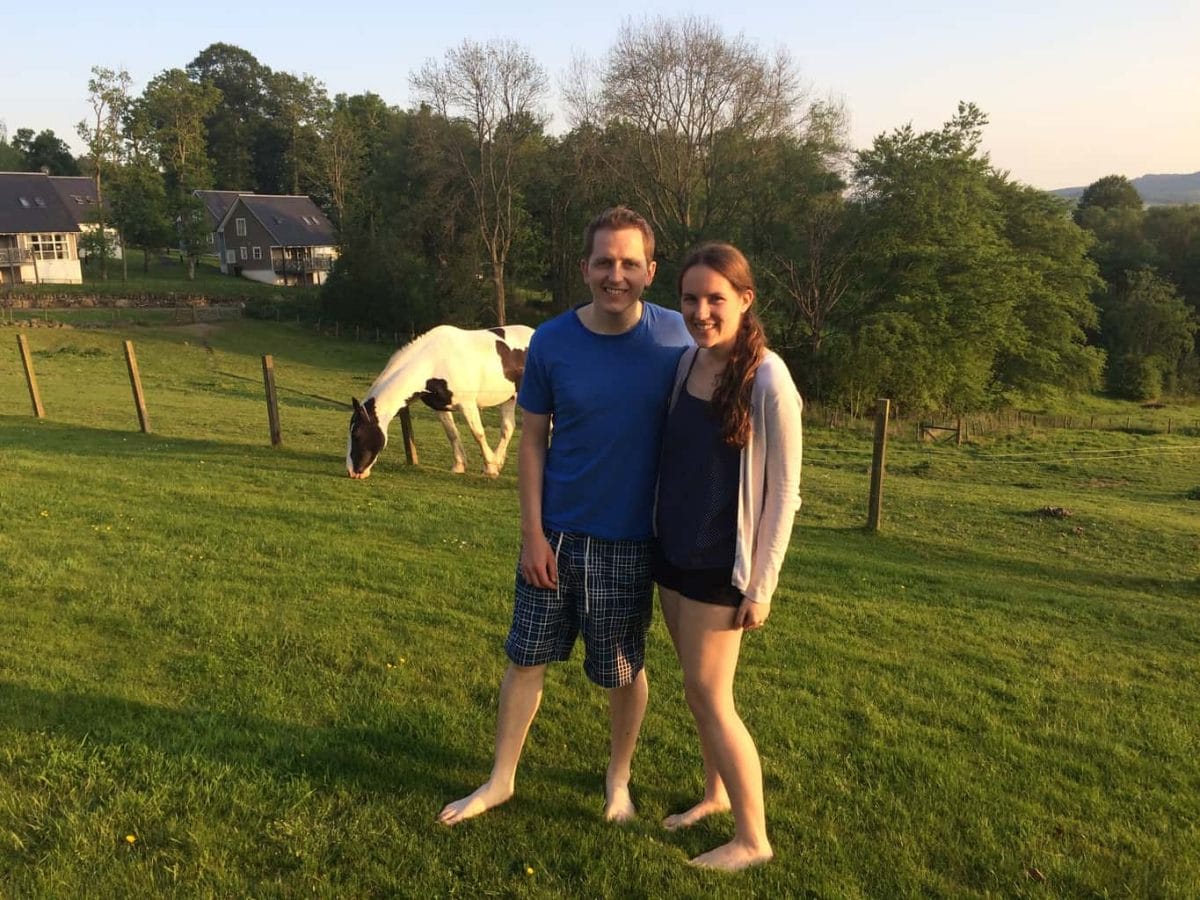 This past time, we were at Crieff for our fifth time as a couple, ticking off a Crieff Hydro bucketlist wish of staying in a Signature Room (more on that in a bit).
It has been almost a year and a half of being husband and wife, and we were more grateful than ever for the "his and hers" sinks so we could each have our own without fighting, as well as the luxuriously large room which meant we didn't have to see each other 24/7.
I'm joking, but not really.
For us, Crieff Hydro has been there for every part of our journey together, just like it was there for his family for many years before that and thousands of other families years before that.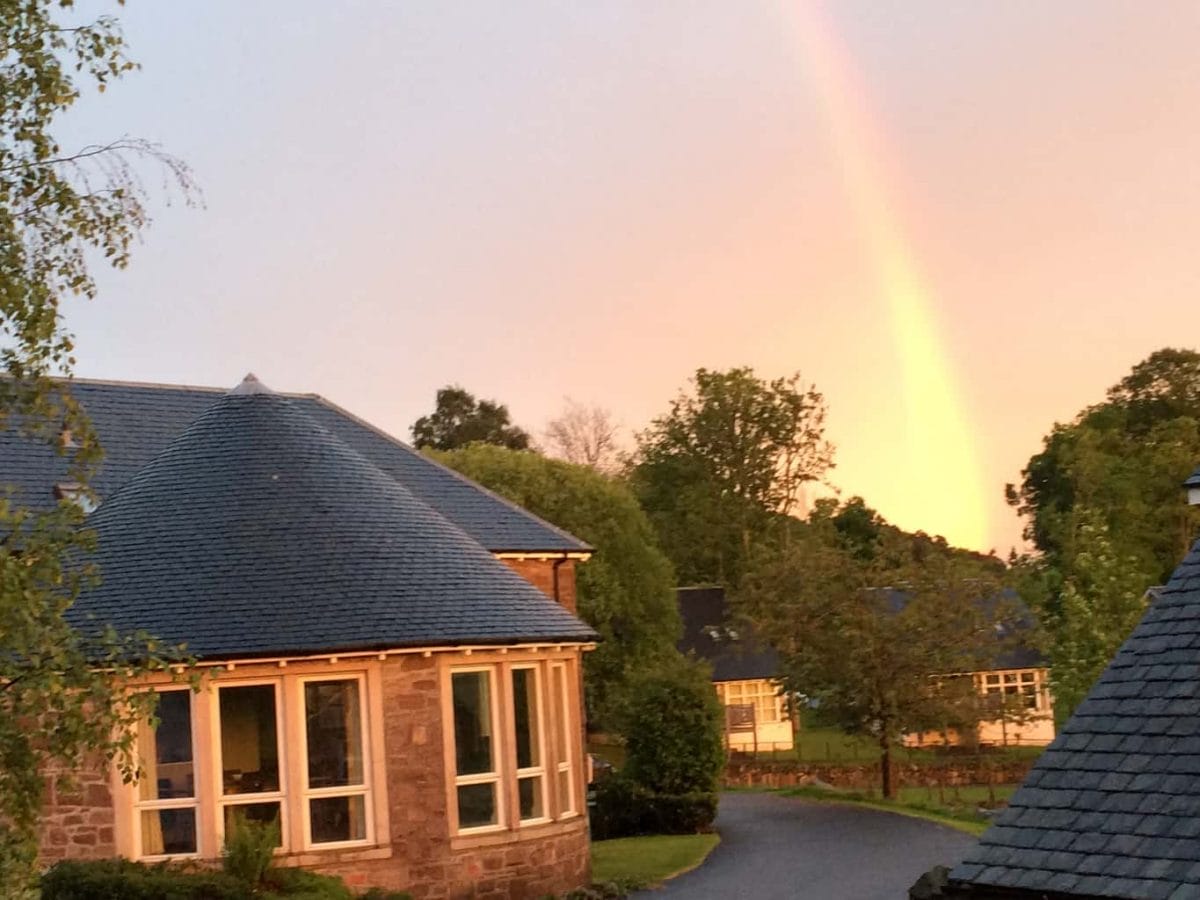 It has become a special place to us, and I hope it will become a special place for you too – it's hard for it to not be after you visit just once!
Staying at Crieff Hydro is a highly cutomizable experience with all of the different accommodation options available.
The hotel has a range of rooms starting with its standard rooms and going up to executive rooms.
There are also family specific hotel rooms with extra beds and extra space.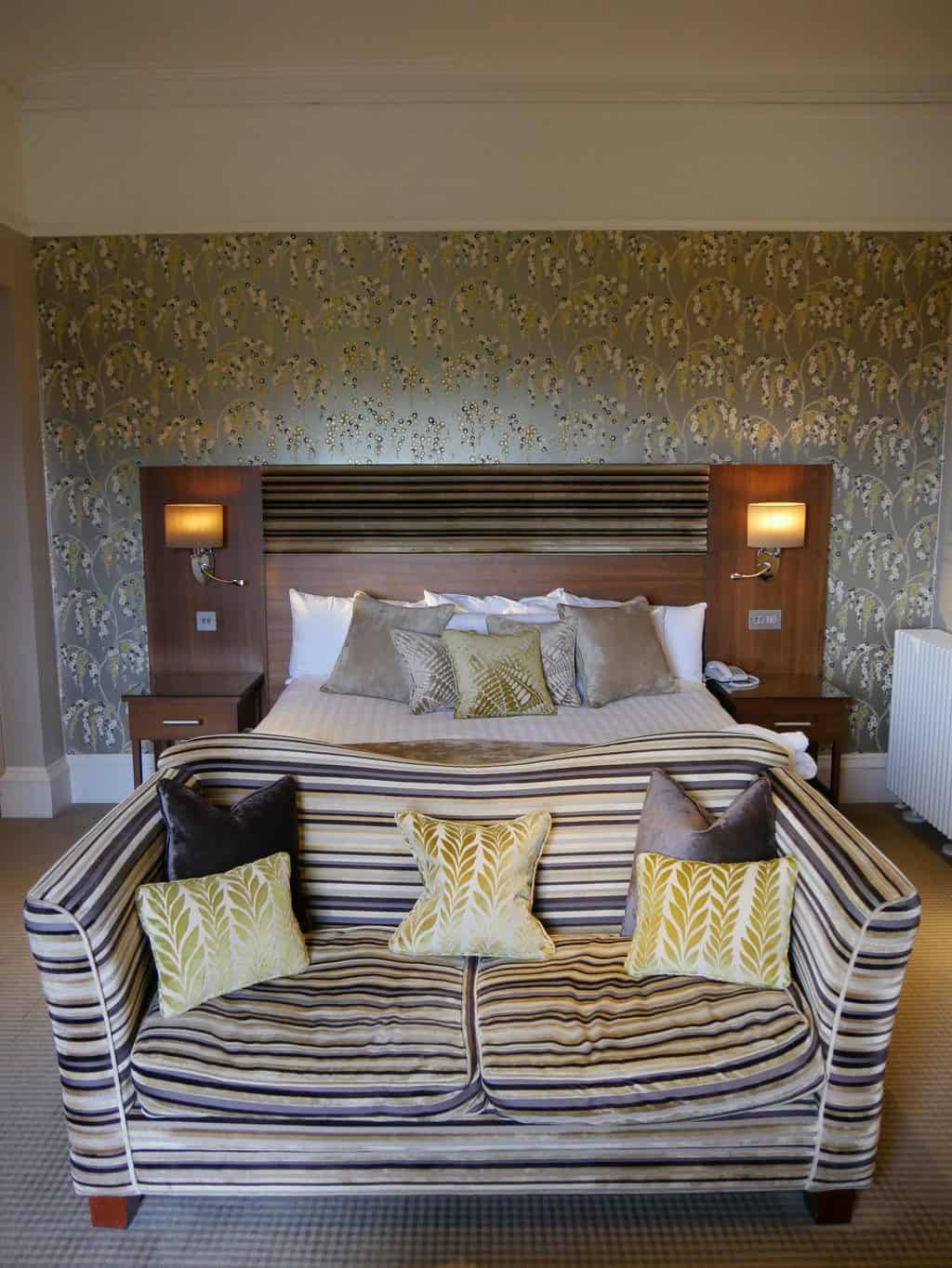 The benefit of staying in the hotel is that breakfast is always included and you are literally right on top of the most popular dining options, the swimming pool and spa, and the ballroom with its regularly scheduled activities.
Leigh Building
The Leigh building is right next to the hotel, separated by the road leading to the hotel, and we had always dreamed of staying here until we had the good fortune of being able to stay there on our last visit.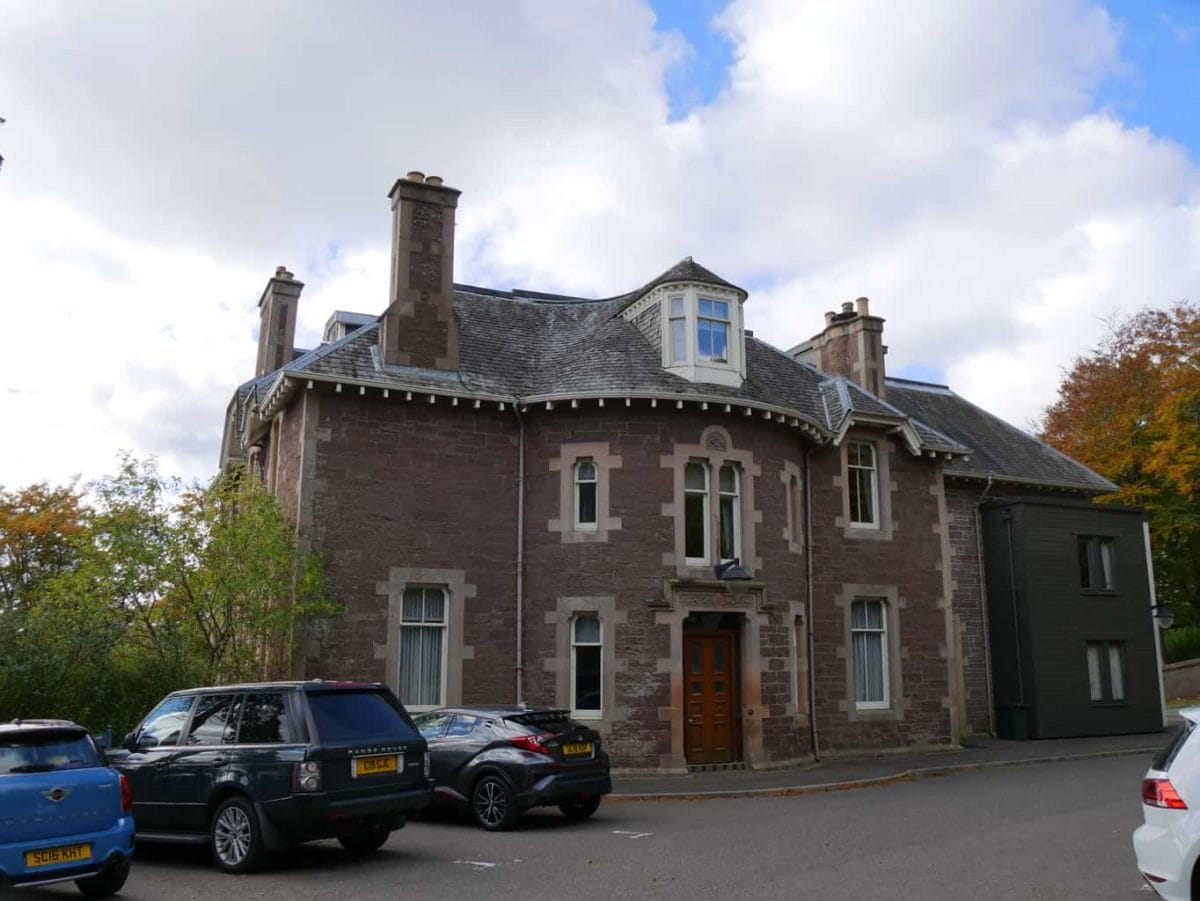 The Leigh building contains the Signature rooms and some executive rooms.
Not only do you have your own parking space, but the views are incredible and you get your own entryway separate from the hotel.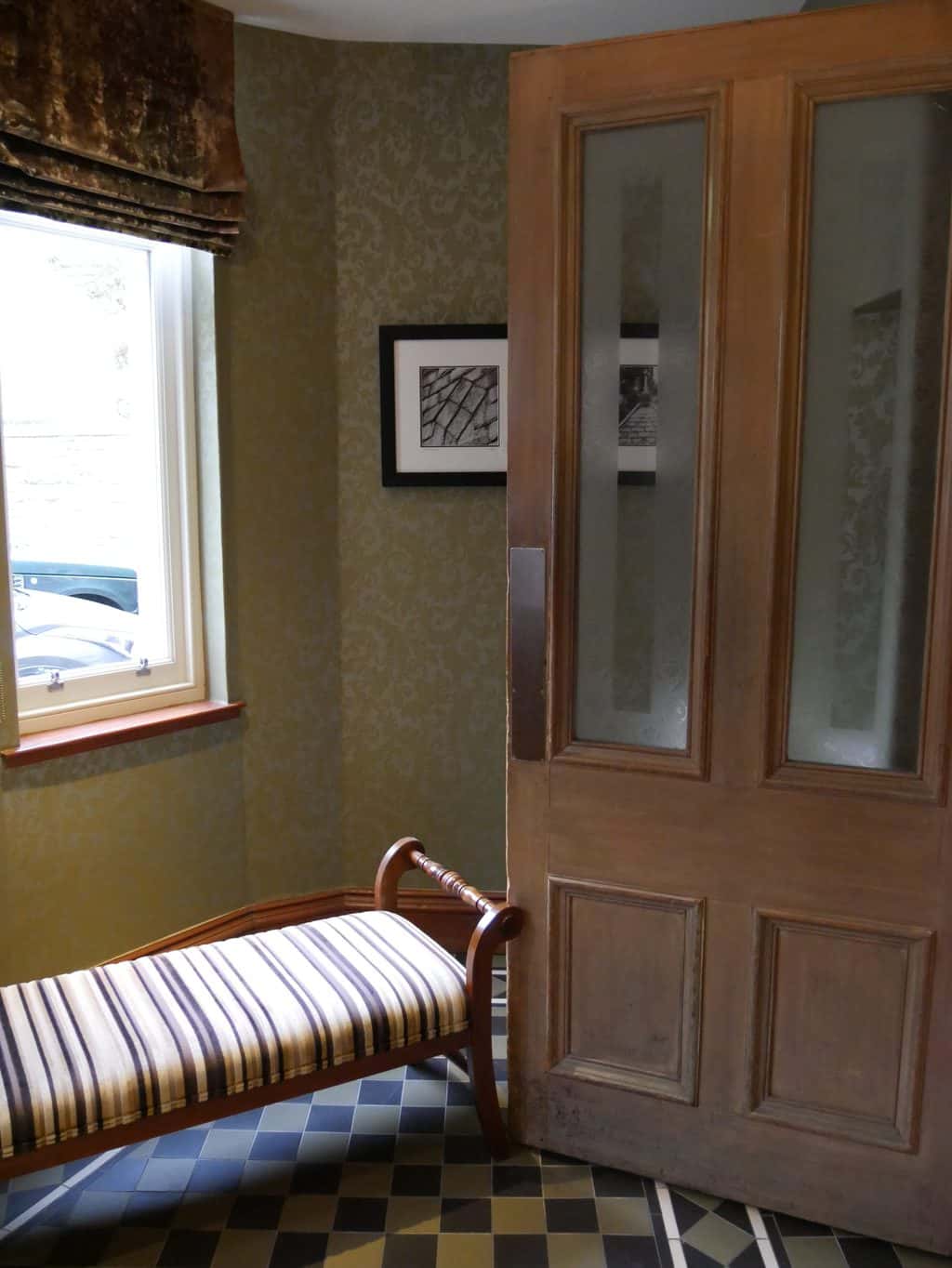 This does mean you have to go outside and cross the road to get to the hotel for all of the amenities there, but it takes about 20 seconds and is well worth the extra privacy and upgraded rooms.
The Leigh building rooms also gets breakfast included.
Cozy Cabins
The cozy cabins are the second self catering accommodation we stayed in and they were seriously cozy and seriously fun.
They're closer to the hotel than Culcrieff so you didn't need to plan your day out so extensively and could just go with the flow.
The only downside to the cabins are that you have to walk up a seriously steep slope to get there, and for lazy people like me who were there on a relaxing vacation, I didn't want to be reminded of how out of shape I was every time I went to dinner.
Self-Catering Lodges
In addition to the cozy cabins and Culcrieff, there are some additional self catering lodges that all have their own atmosphere to them.
Again, that's the beauty of Crieff Hydro in that there is always something to suit everyone no matter what type of accomodation you need.
Culcrieff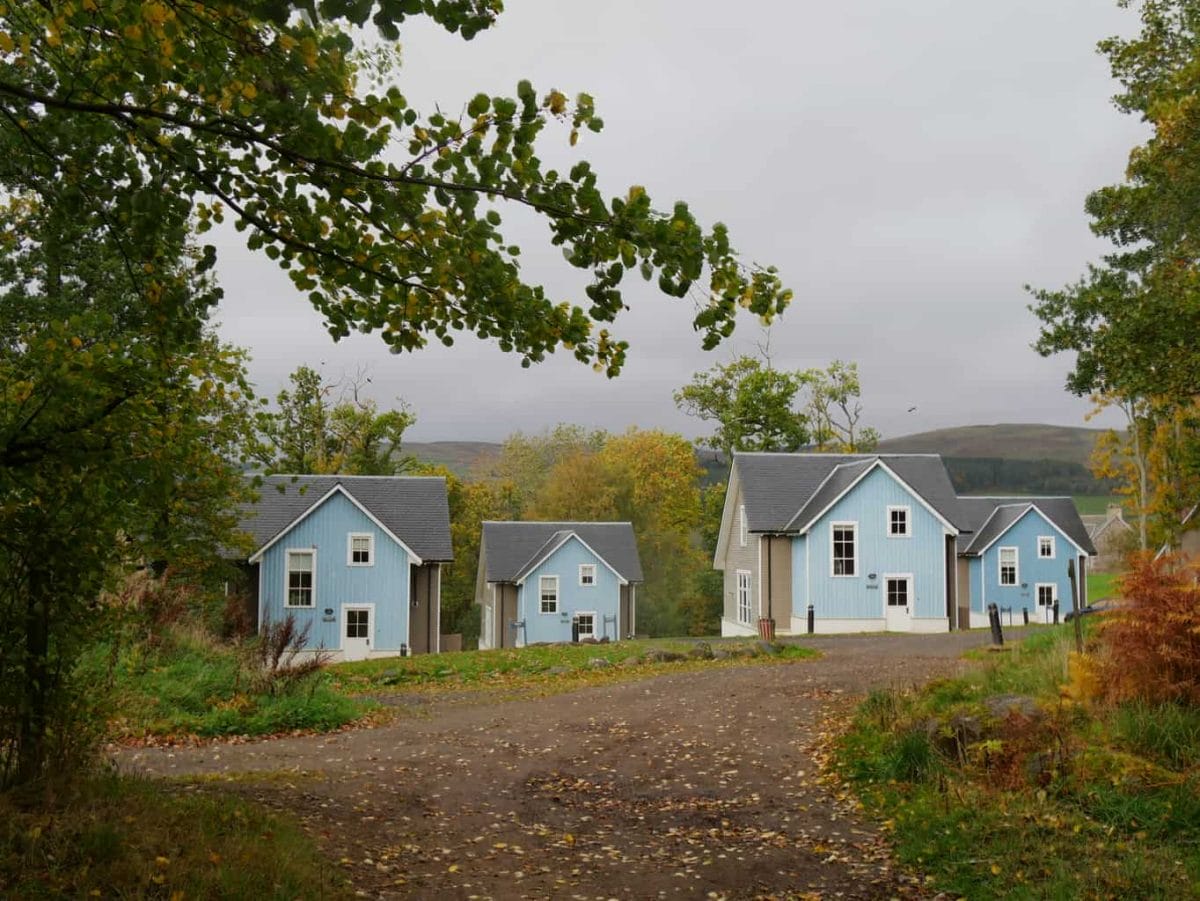 Built in 2008, Culcrieff is a set of self catering lodges that are set apart from the hotel.
You still have full use of hotel facilities (though breakfast is not included).
We've stayed here twice together and love the views you get from this area and the flexibility that having a kitchen provides.
Crieff Hydro for Couples
Crieff Hydro is an amazing choice for a couple's getaway (either just you and your partner or a group of couple friends traveling together).
While you'll first notice the extensive range of activities for families when you read the brochure and the activity list, if you look a bit closer you'll find adult only spaces like the Victorian Spa where you can laze the day away in a poolside chair.
There are also options for massages in the spa, as well as salon treatments.
We've come as a couple every time except one and always found plenty of things we were interested in.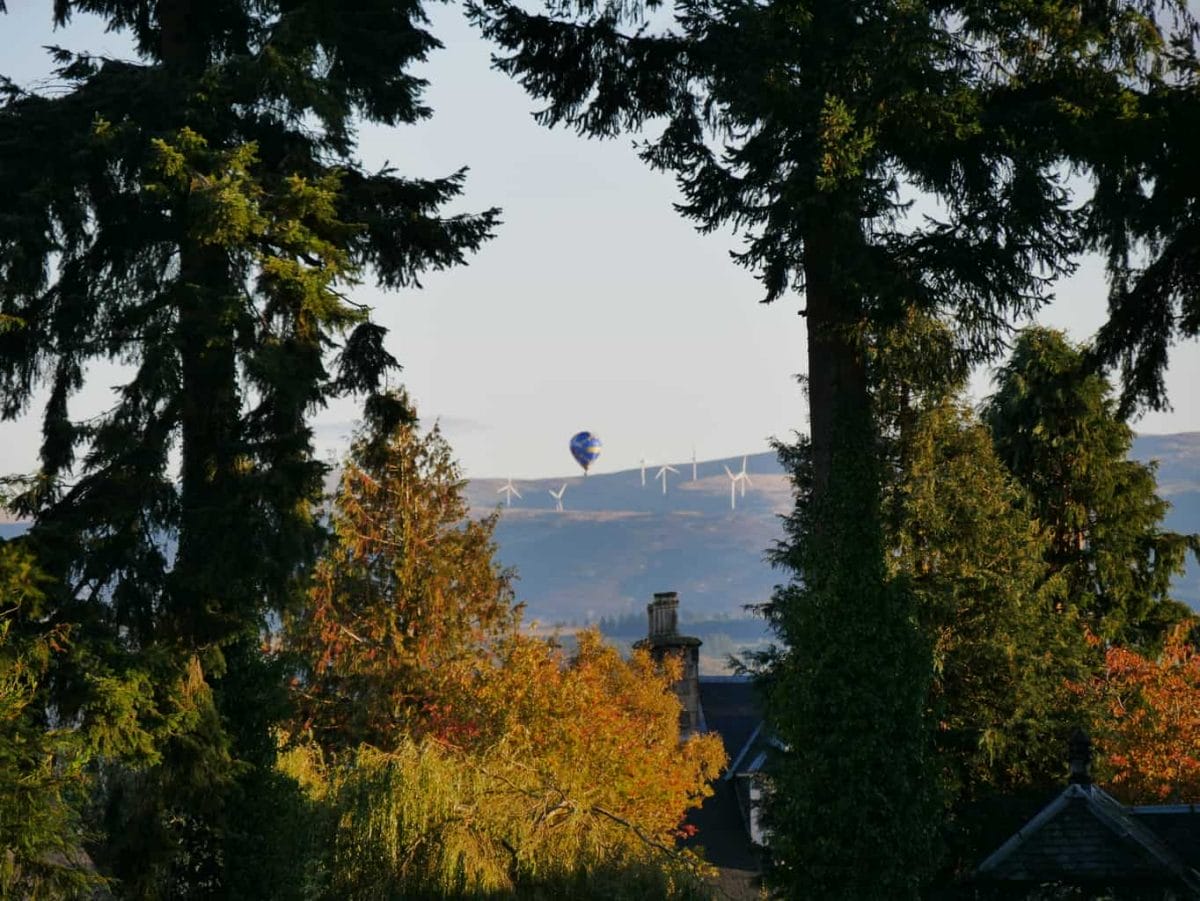 Of course, you don't have to have kids to enjoy lots of the activities – we've done a group dancing lesson, a lesson on how to use a Segway, band nights and trivia quizzes.
The best place for a couple to stay is the hotel, as you're close to almost everything including the pool, spa, and restaurants.
However, if you want to stay in a self catering apartment, there are a couple of options for…couples.
The best options we've found are the cozy cabins (which actually sleep four so you have an extra room to pile up your luggage.
We also stay in the one bedroom property that sleeps 2.
There are gorgeous views of the surrounding area and your own little patio to eat meals on.
Crieff Hydro for Families
The family friendliness of Crieff Hydro is one of the main reasons it has been able to sustain such a long and successful history.
Just like in my husband's case, families go together, and then the kids take their kids and those kids take their kids and their kids take their kids.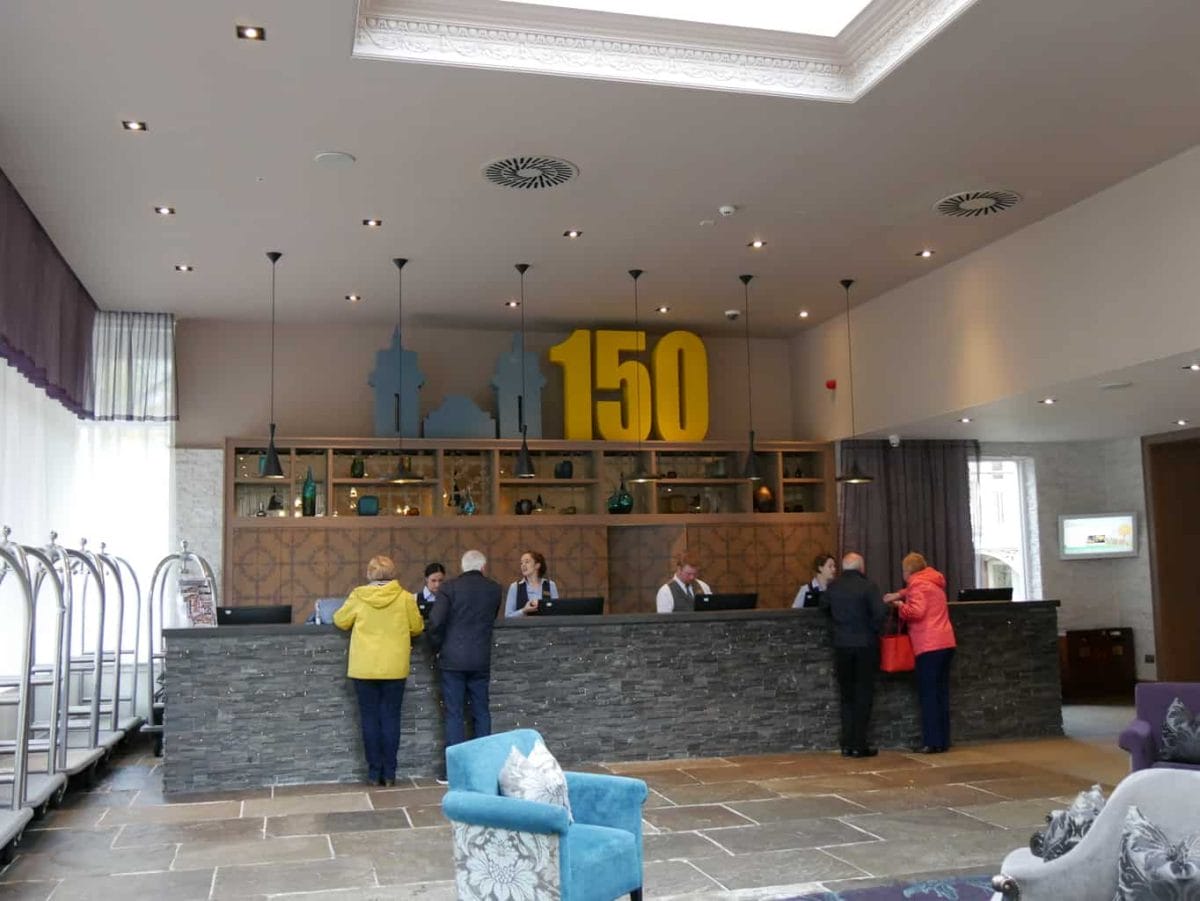 My husband talks fondly of his childhood days at the Hydro competing in swimming competitions and making new friends.
Today, Crieff offers ways for families to enjoy time together including activities like horseback riding and a ropes course, as well as childcare so that the kids can play while older generations enjoy some quiet time together or a more strenuous hike.
All of the restaurants have kid-friendly options and the Brasserie and Piccolo in particular are great places for families with young kids.
Crieff Hydro Dining
Finding great food at Crieff Hydro is never hard.
With three full service restaurants in the main building and a cafe in the Winter Garden and bar food in the Hub, there is always something to keep the family full.
The Winter Garden is a gorgeous spot for some afternoon tea, and we always end up here on the last day of our trip having scones (my husband) or chips (me) and watching the world go by.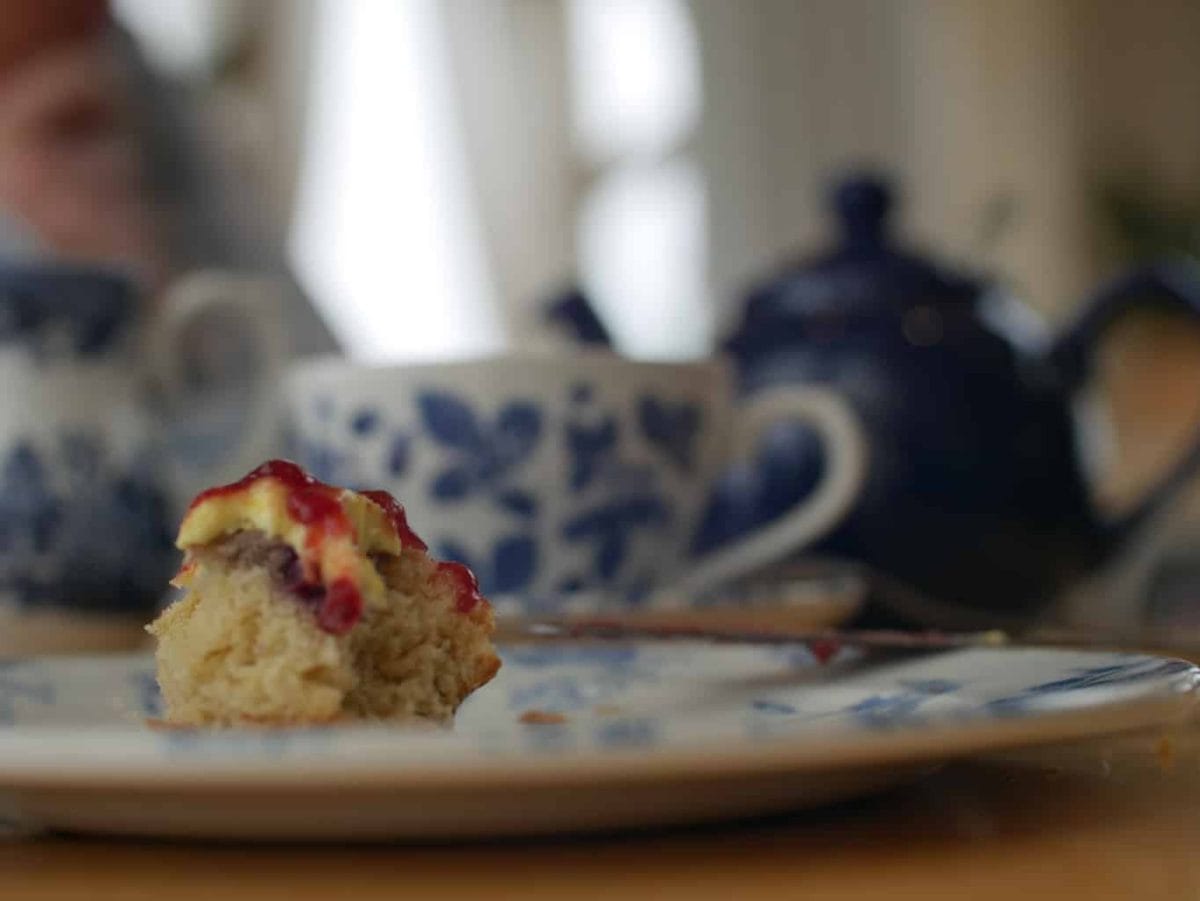 Crieff Hydro Nature Walks
Nature and beautiful views are the main reason I enjoy staying at Crieff Hydro. There's something about being surrounding by trees changing colours and birds chirping and horses munching on grass.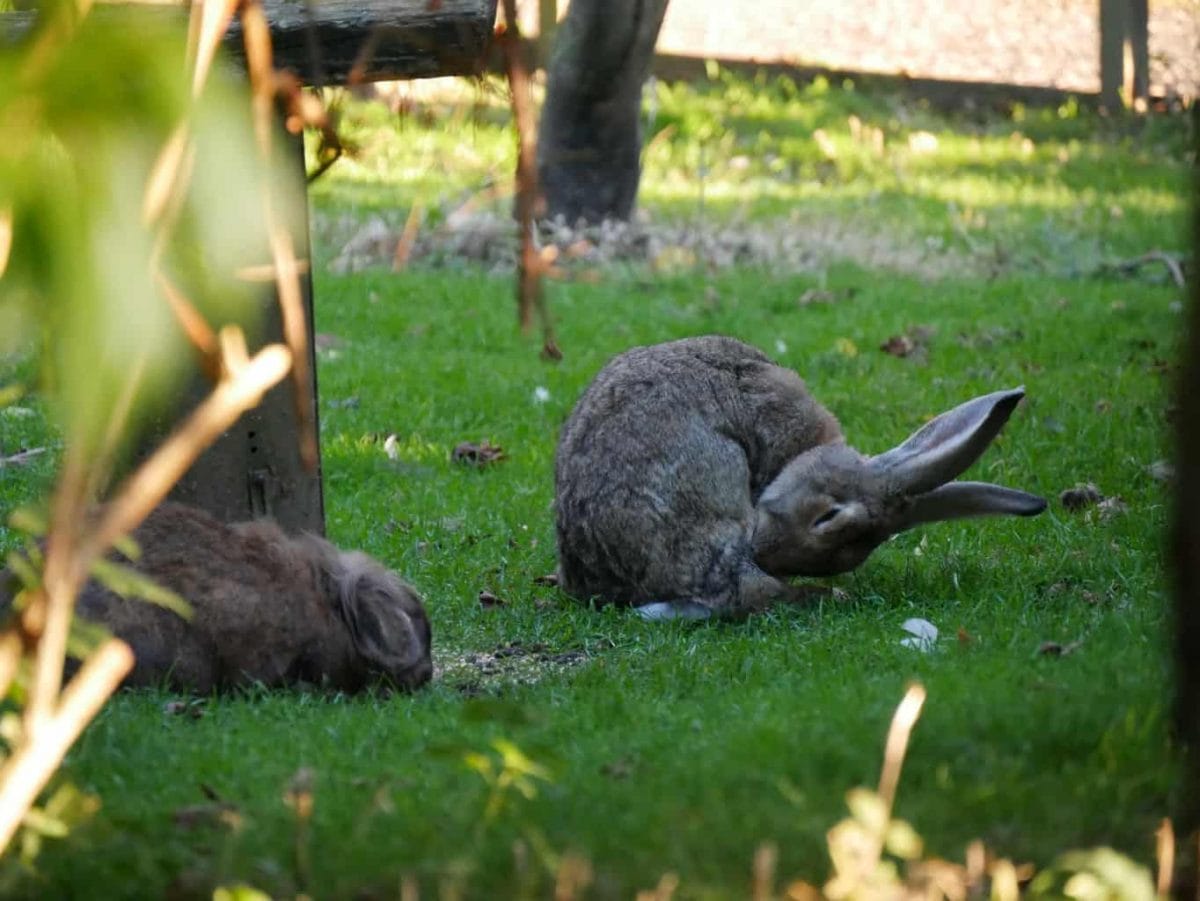 You can leave Crieff Hydro and go experience other walks in Crieff including Lady Mary's walk down by the River Earn, but if you want to stay close to property, Crieff has its own nature walks that start up near the Culcrieff area.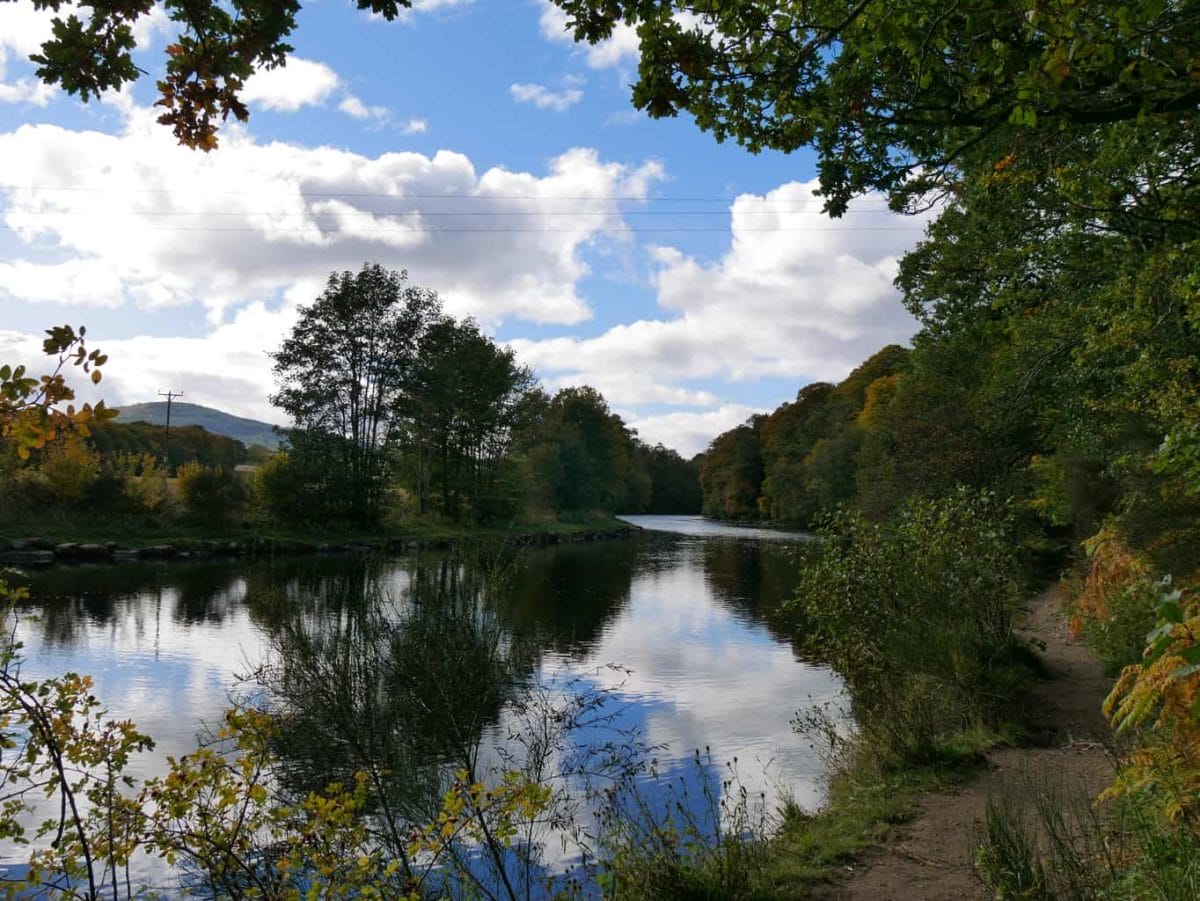 From these, you can do loops around the property or you can head down to the Famous Grouse Whiskey Experience.
If you want just a short walk and no risk of getting lost, the walk from the hotel to Culcrieff and back again has incredible views.
Crieff Hydro Pool
I'm just going to be honest and say that the first time I went to Crieff, I was very skeptical of the public pool.
See, coming from Florida where I was used to having my own pool at my house, I have never been a fan of public pools.
But after a little convincing I experienced the Crieff Hydro Pool and am pleased to report it is clean and well looked after.
It gets busy during the dedicated kid's sessions, but if you go first thing in the morning, during dinner time or last thing at night, you can almost have it to yourself.
There is also a sauna and a steam room if you're looking to relax but not necessarily in the pool or hot tub.
How to Book at Crieff Hydro
We always book at Crieff Hydro directly online.
Thank you very much to Crieff Hydro for working in partnership during this past stay.
All opinions are my own – we just really love Crieff!