This post contains affiliate links for which I may make a small commission to help keep the site running. You will not be charged extra for these items had you not clicked the links. Thank you for your help to keep the site running!
Guys, sometimes there are just some places in the world so gorgeous that they deserve an entire post of pictures.
Like, sure, I can blather on about this or that and I will tell you loads of interesting stuff about things to do in the French Alps in this post, but sometimes a picture says 1,000 words and it's okay if we let it.
My first trip to the French Alps was in 2015, on my first ski vacation.
I had never strapped a pair of wooden planks to my feet before and hurtled myself down a mountain, but my husband's family are big into skiing and if I was going to be a part of it, I had to make sure that I, too, could find some enjoyment in this particularly upmarket sport.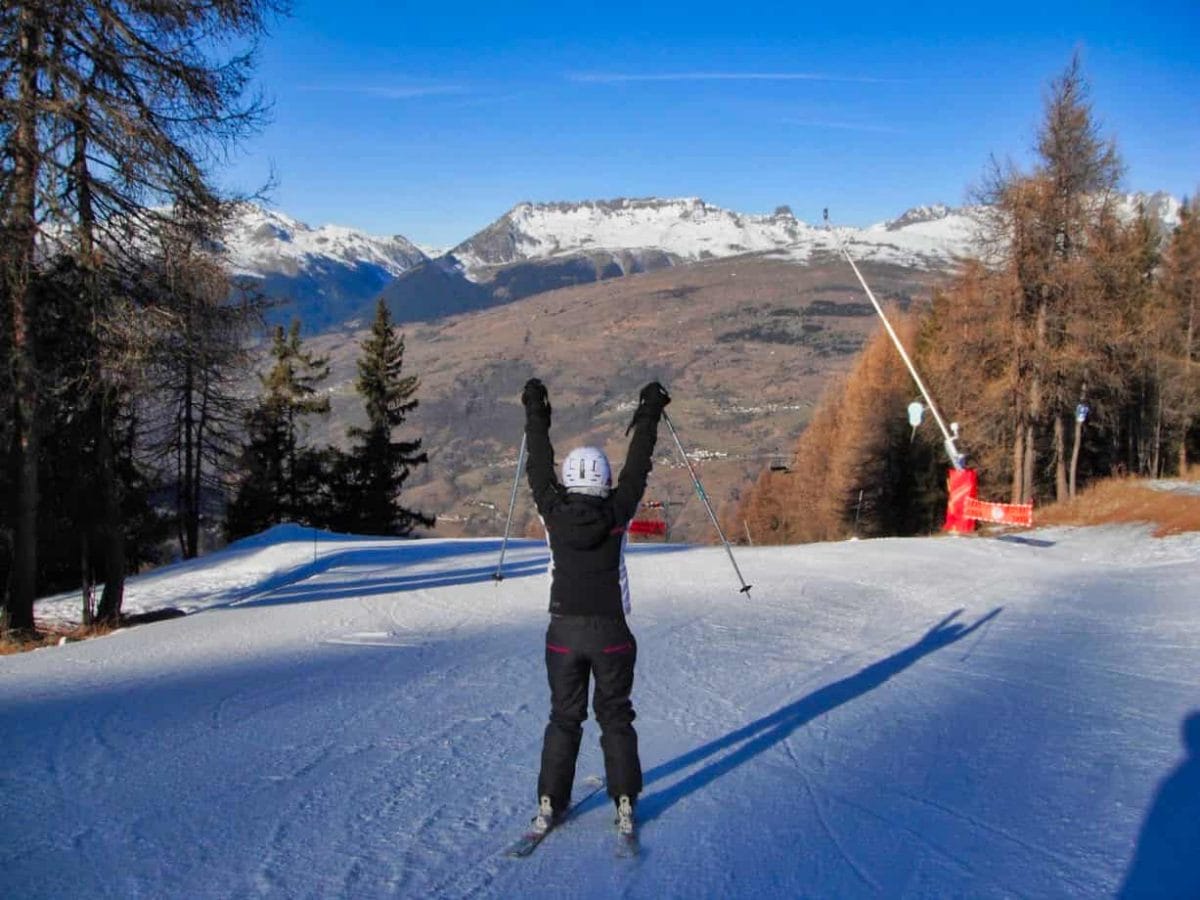 I've now been four times to the French Alps in winter, and every time has been a real education in appreciating the beauty of Mother Nature.
There's just something about looking around you and seeing mountains like these that help you feel really really small in the best way possible.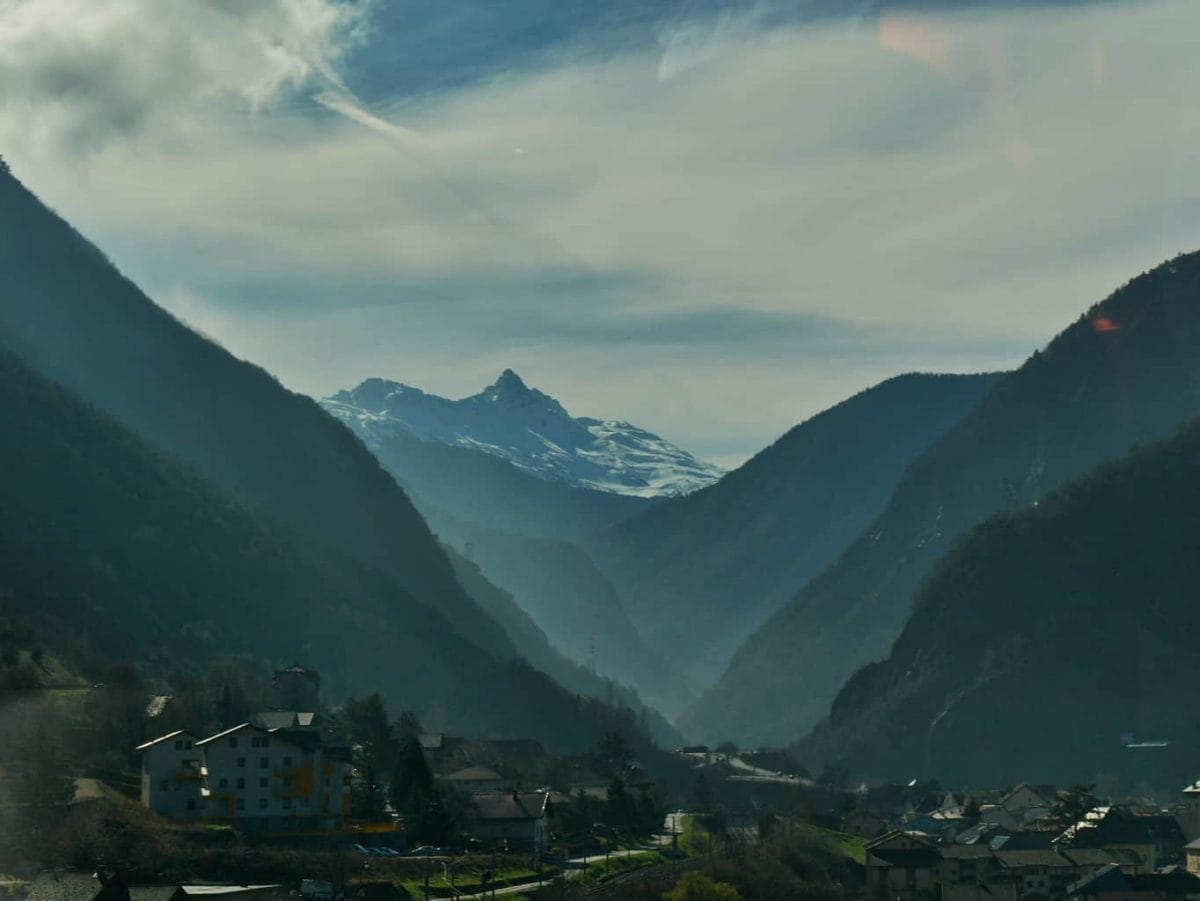 To start off this photo tour of the French Alps, particularly the resort of Les Arcs, we began our journey near the French Alps in Albertville, a town that acts as a sort of gateway to the mountains.
Albertville was actually the location of the 1992 Winter Olympics that took place all across the French Alps, which is coincidentally the Winter Olympics I was born during!
So I was coming back to my roots, or something like that.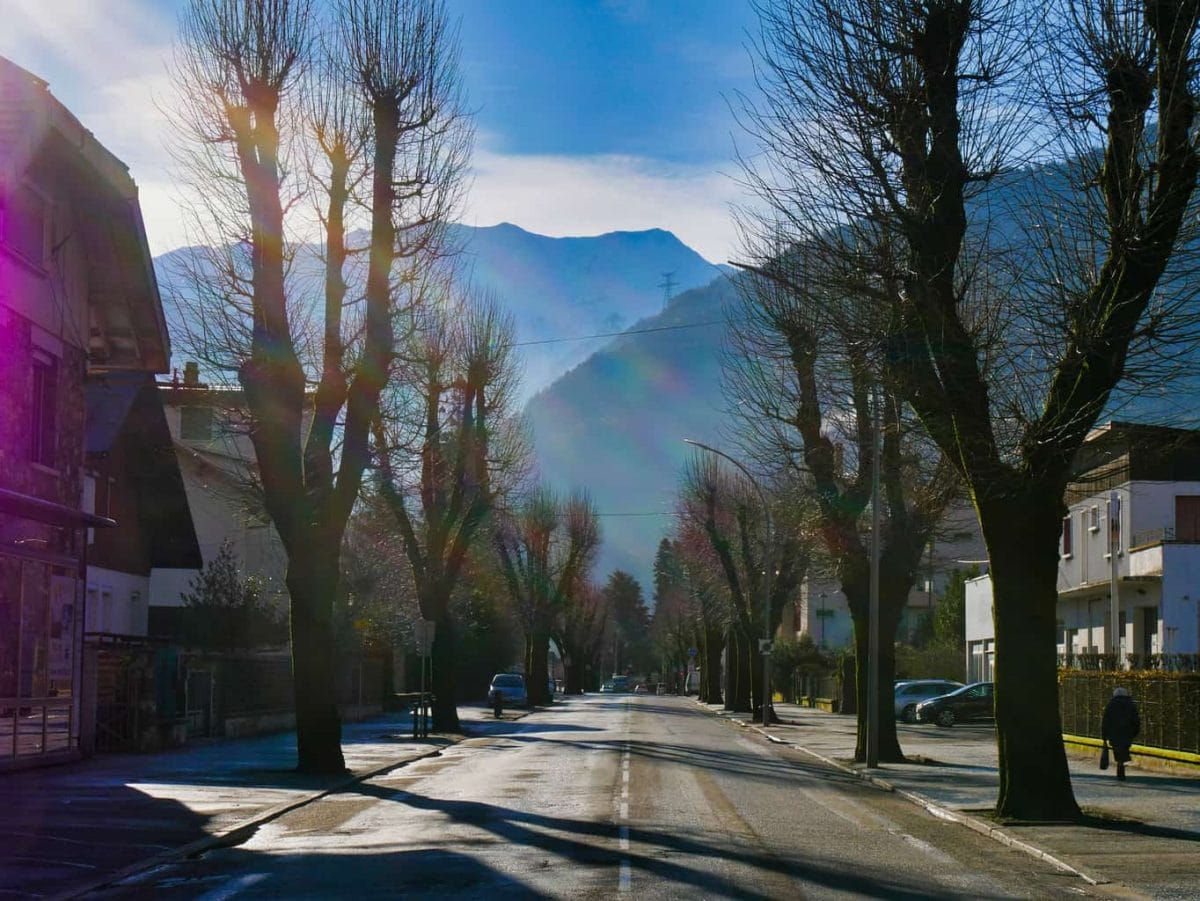 We stayed over for one night after driving for most of the day from London, and appreciated the views of the mountains that were waiting for us.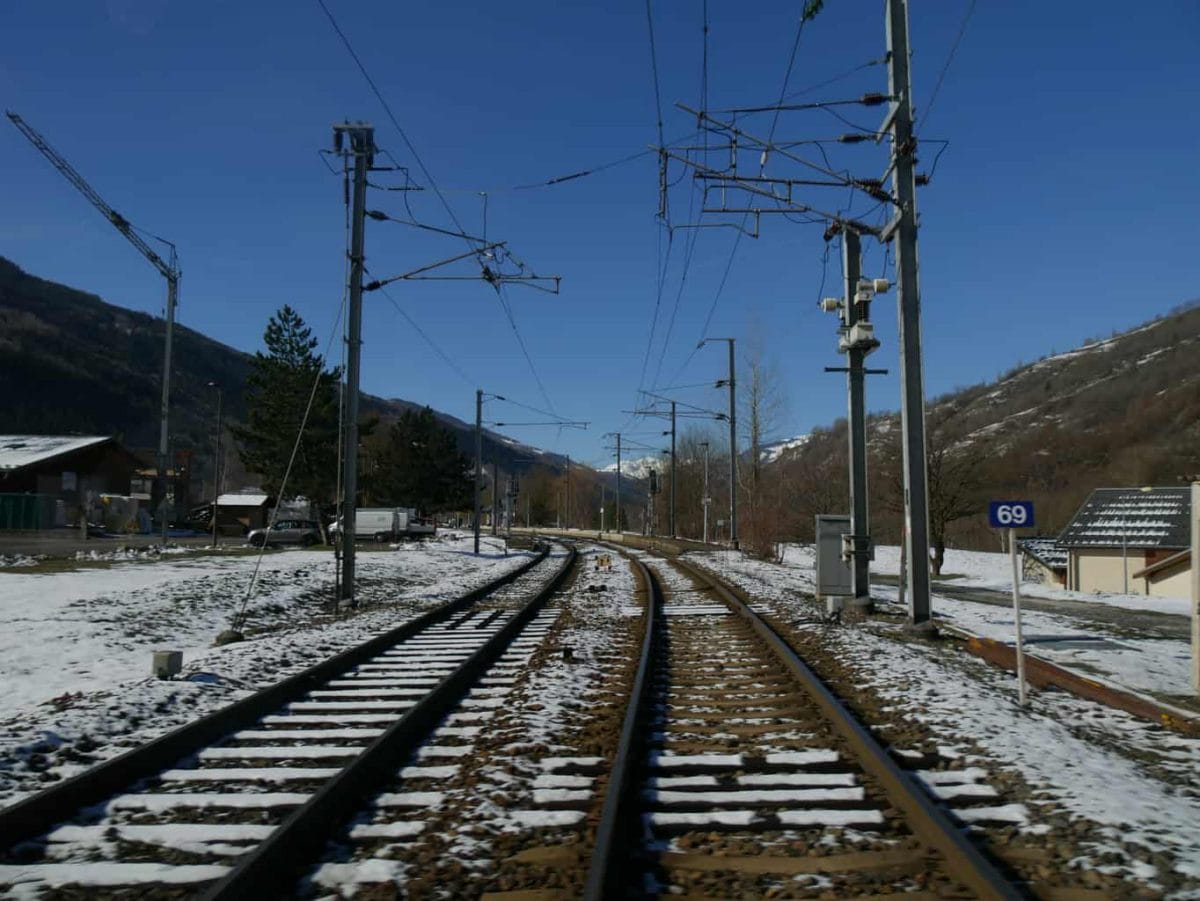 Getting to the French Alps
We've undertaken many different ways of getting to the French Alps from London, all of which are long (some longer than others) and tedious – but the views are worth it, I promise!
The main three options are:
1) Drive
Driving allows you to take in beautiful views like this along the way, but it also takes about 14 hours from London and that can be a real trek.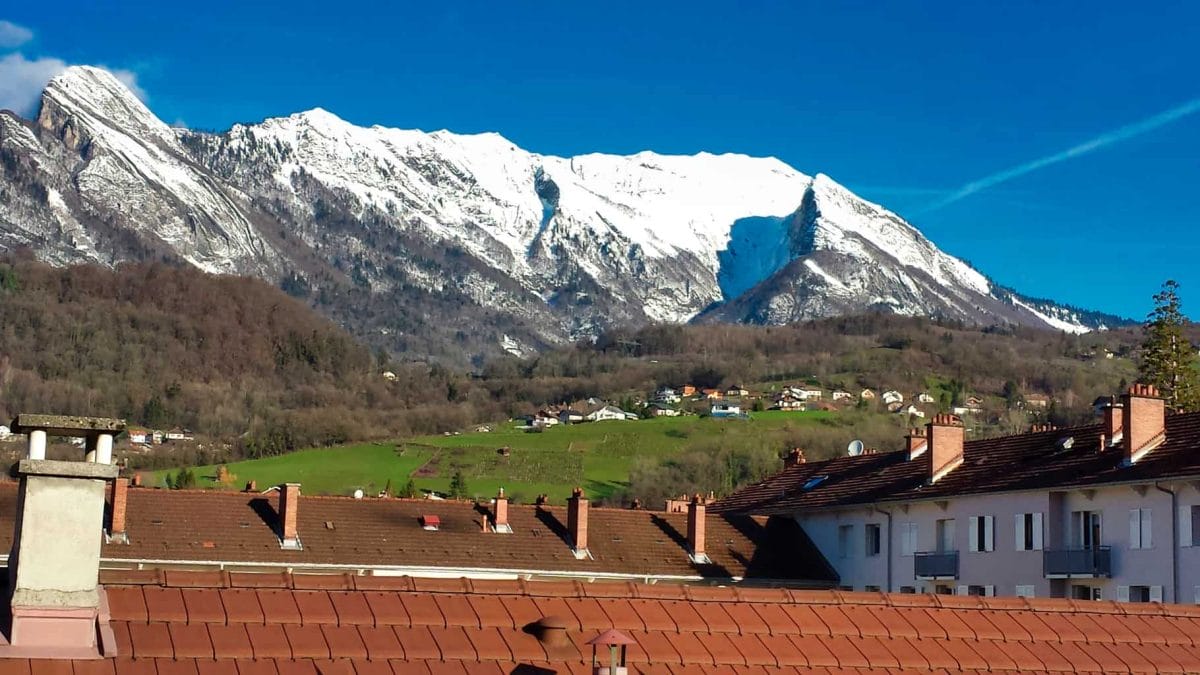 You also need to make sure that, if driving from the UK, you have booked your Eurotunnel passes (a train that takes cars and buses UNDER the English Channel – how terrifying/cool is that?)
2)Take the Train
While the Ski Train from London to the French Alps is no longer operated by Eurostar (but you can take it as a private charter), you can still take the Eurostar Train from London to Paris, and then switch onto a train from Paris to Aime-la-Plagne, Bourg-Saint-Mauirce or Moutiers (each their own little gateway to different mountains).
From these, you can get to top ski resorts including La Plagne, Meribel, Les Arcs and Courchevel.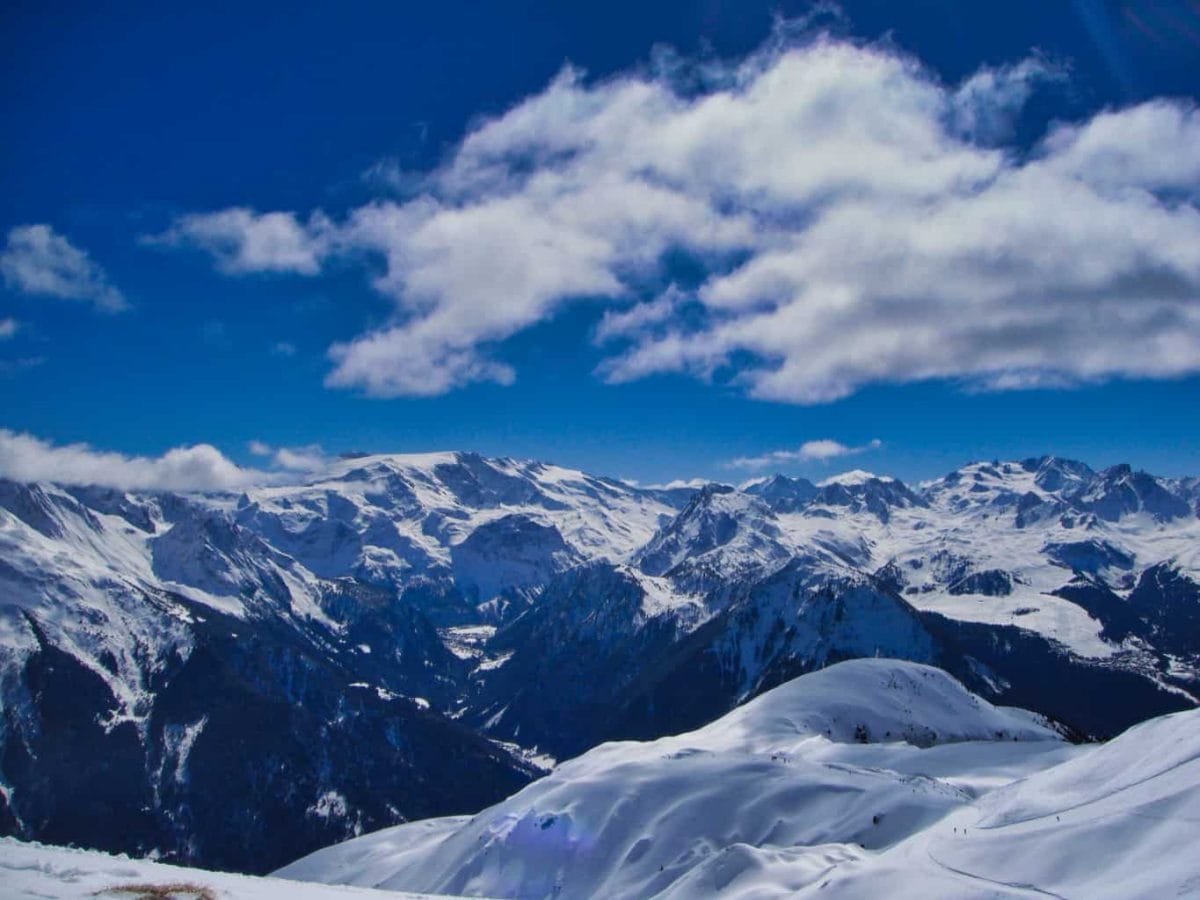 The best part of taking the train is that your skis can sometimes go free and you can take more luggage than you usually can on a plane.
We've taken the ski train once and found that we had absolutely no one in our carriage on the way home, which was basically the best way to travel.
3)Fly into a Local Airport and then use a Bus Transfer
The third way, and most popular way to get to the French Alps is to fly into an airport like Geneva, Lyon, or Grenoble and take a bus transfer from there to your resort of choice.
The benefit of this is that you have many more options of where to fly from – it doesn't have to be London, and arguably it takes the least time to get to the French Alps using this method.
You do need to watch out for which bus company you use as a transfer, though, as if you go for the absolute cheapest option like we did, you are going to get basic service.
Meaning that if everything goes to plan, you'll be absolutely fine, but if there's a giant snowstorm or a bus breaks down or what have you, there are horror stories of buses leaving people stranded or not turning up.
What to Pack for a Trip to the French Alps in Winter
Packing for the French Alps is definitely a specific packing list that requires some forethought.
You shouldn't just show up having brought your regular clothes and be ready to frolic through the snow.
No, no!
You need to make sure you bring essentials like these (PS – this list isn't a packing list for skiing, but rather an overall guide to packing for winter in the French Alps, so if you're going skiing or snowboarding, make sure you also bring the actual equipment or find a place to rent it).
Believe it or not, being up in the mountains is prime conditions for a sunburn.
Not only are you, well, physically closer to the sun, but especially if you're doing some Spring skiing, you might be out in the sunshine all day every day as you zoom down the slopes.
Use a sports sunscreen like this that won't wear off if you're sweating up a storm (ie me while even putting on my ski boots).
You can also get just a face stick, since you don't need the lather the rest of you up due to it being hidden under piles of ski clothes.
Another thing about the French Alps is that you're going to find the conditions much drier than you will at sea level.
Even if you're not prone to dry skin, you'll start to feel it a couple days into your French Alps trip and it's not pleasant.
Make sure to pack some heavy duty moisturizer with you so you can be prepared for any skin conditions that flare up – I recommend this brand and this brand.
Also, make sure to pack a Chapstick like this one to keep your lips moisturized.
Even if you're not physically skiing, wearing a waterproof ski jacket is the best way to endure the winter in the French Alps.
I find it much easier than worrying about putting a lot of layers on under a coat that isn't meant for such cold conditions, as ski coats can be so insulated that you just need a few under layers and then you're all set.
I have a ski jacket like this one, but you can also get ones like these which are more appropriate for everyday wear.
Again, even if you're not skiing, the best way to get around without freezing your legs off is by wearing some sort of ski or snow pants.
You can get brightly colored ones like these, or opt for something in just black so you literally can wear it wherever and whenever in the French Alps.
I really embrace the fact that, in the winter, basically everyone is going to be wearing these everywhere – there's no need to wear your nicest pants out because you're just going to be cold and look out of place.
You can bring jeans if you're absolutely desperate to, but I personally think that, especially in December and January, jeans and the French Alps don't mix!
It's too cold and bitter – the cold will go right through you!
Whether it's for sleeping, wearing on their own, or wearing underneath another pair of pants because you just can't bear to wear ski pants, get some wool lined leggings like these ones to wear out and about in the French Alps.
Did you know that cotton isn't necessarily the best fabric for staying warm, despite it being one of the most popular fabrics?
If you're undertaking some kind of physical activity, even if it's just walking through a beautiful snowy landscape, you're going to sweat and you want some long-sleeve moisture wicking shirts like these underneath your coat to act as another layer and help keep the sweat away.
Can you really do winter in the French alps without an adorable hat like this?
No, no you cannot.
Choose one that's a bit tighter to your head like this beanie, or opt for something a bit more slouchy like these ones.
I just really love the feeling of my ears being warm, and you lose a lot of body heat through your head, so make sure your head is covered with something!
Get the chunkiest, warmest socks you can find – I love these ones or get these ones in a super cool pattern.
The French Alps in the winter are, duh, really cold, so when you're walking around your hotel room or apartment or going out to eat, you're going to want to have something warm on your feet.
If you're going skiing, there are specific ski socks recommended to wear that actually aren't thick or chunky.
We have these pairs and like them a lot – they are both sleek and stylish while keeping our feet warm and toasty in our boots.
My husband swears by a neck warmer and always brings it out with him in the Alps.
He uses it to fill the gap between the top of his coat and, well, his face, that tends to get wet and snowy if it's snowing outside or just cold if the temperatures are frigid.
You can get a semi-tight one like this one that is definitely not going anywhere, or if you're like me and don't like thing so tight to your neck, you can get one like this that's a bit looser.
When you're out and about all day, whether that's skiing or going for walks, you're going to want to have some sort of backpack to hold some food and your water bottles in, especially if you're not eating on the mountain (which is TRES expensive).
Each person in your party doesn't need one, but you should have one between you to carry some stuff in – this also means you can store things like your neck warmer and hats in there for if you need them.
I recommend a dedicated ski backpack like this one.
You don't just want to bring any backpack with you, as it won't fit to your back correctly and will weigh you down in the wrong places as you're skiing.
Staying hydrated is essential in the French Alps!
You're going to feel dehydrated way faster, especially while doing physical activity, so having a water bottle like this one that you can refill will be a life saver.
You can also choose a water system like this that actually allows you to drink from it while it's still in your backpack, or you can go for one with a filtration system – fancy!
Warm and waterproof gloves
Did you notice that I recommend warm AND waterproof gloves?
That's right – you're in a snowy winter wonderland – don't bring your regular fabric gloves and expect to fare well when you're having snowball fights or trying to pick yourself back up from the bundle you're in after crashing off your snowboard.
We ordered these ones and they do the trick just fine – no need to get crazy and spend loads.
You're not going to be wearing a full scarf while skiing, but if you're walking or just going around the town to enjoy the atmosphere, you should bring a chunky, warm scarf like this one to keep your neck warm.
It also helps to distract everyone from the sunburn you got on your chest because you didn't wear sunscreen like I told you too.
On a clear day in the French Alps, there's nothing you're going to want more than some sunglasses if you're walking or ski goggles if you're skiing or boarding.
See all that white stuff everywhere?
It reflects the sun straight into your eyes, and it is genuinely almost impossible to keep your eyes open without something covering them.
Also, they're for your eye protection as you don't want those UV rays pouring straight into them.
Make sure to get a UV pair like these sunglasses or a cool pair of ski goggles like these.
You can leave your flip flops and tennis shoes at home.
Life in the French Alps requires a sturdy hiking-esque boots that has good grip on the bottom.
You don't want to be slip and sliding all the way down to the bakery, nor do you want your feet to be cold.
We have pairs like these ones that are all-purpose, so you can use them all year long, not just in the snow.
Anyway, once you actually get to the French Alps for your vacation, you have plenty of choices of ski resorts to stay in.
On our French Alps winter vacation, we stayed in Peisey-Vallandry, which is connected to Les Arcs and part of the Paradiski ski area.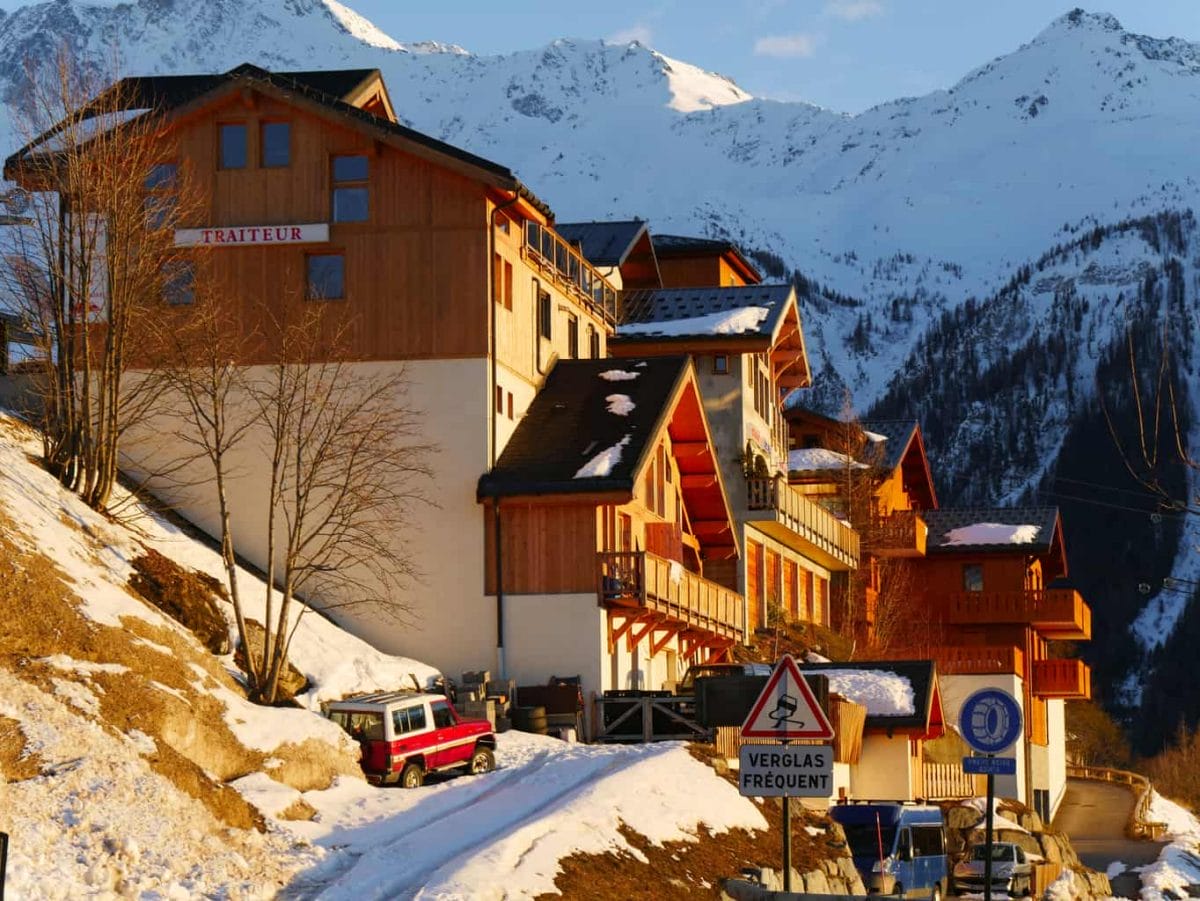 As we got closer to Peisey, we could see the Vanoise Express, which is a cable car that takes skiiers and pedestrians from the Les Arcs ski area to the La Plagne ski area.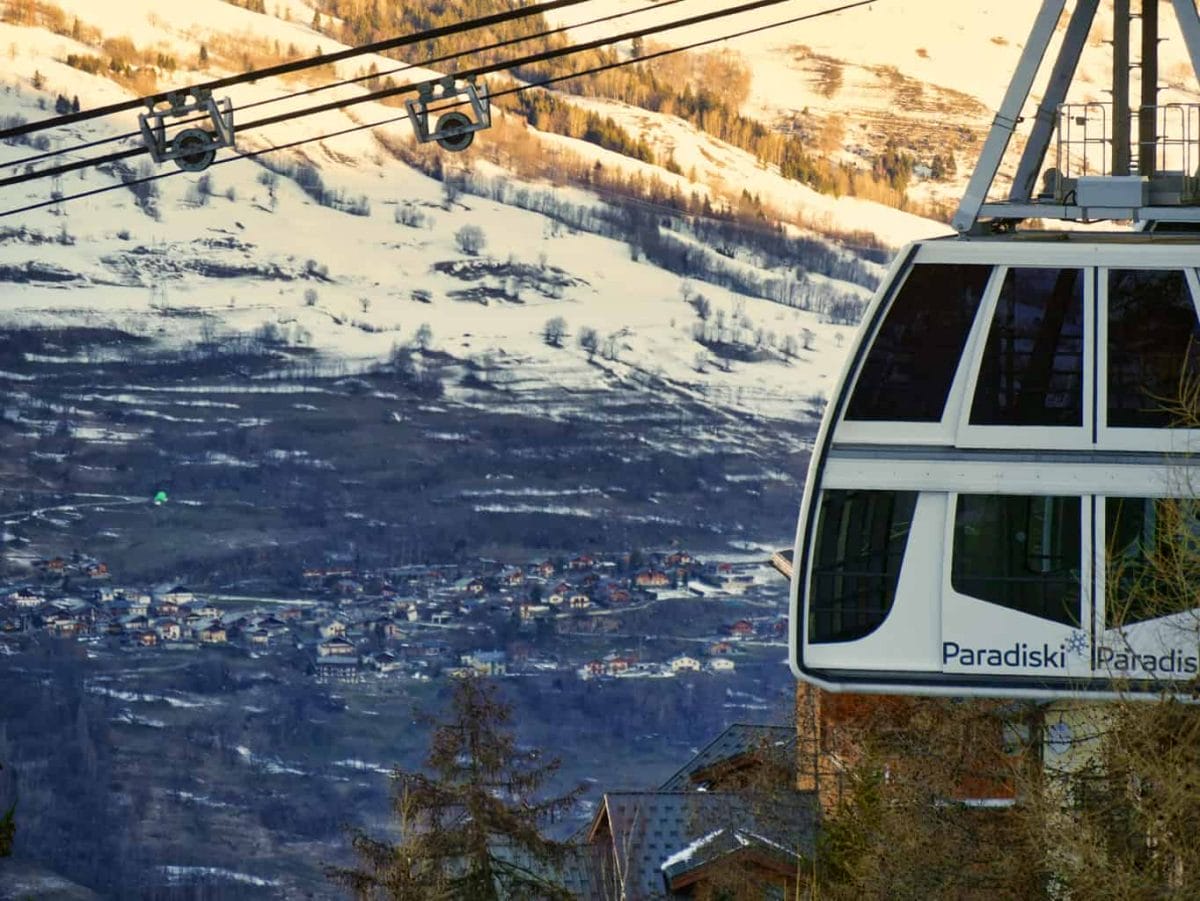 If you're afraid of heights, this is a particularly harrowing journey and there were lots of bargains made with various deities as we made it across later in the week.
But watching the Vanoise from below – now that's what I call peaceful!
Standing in awe of feats of engineering without actually having to trust them with your life!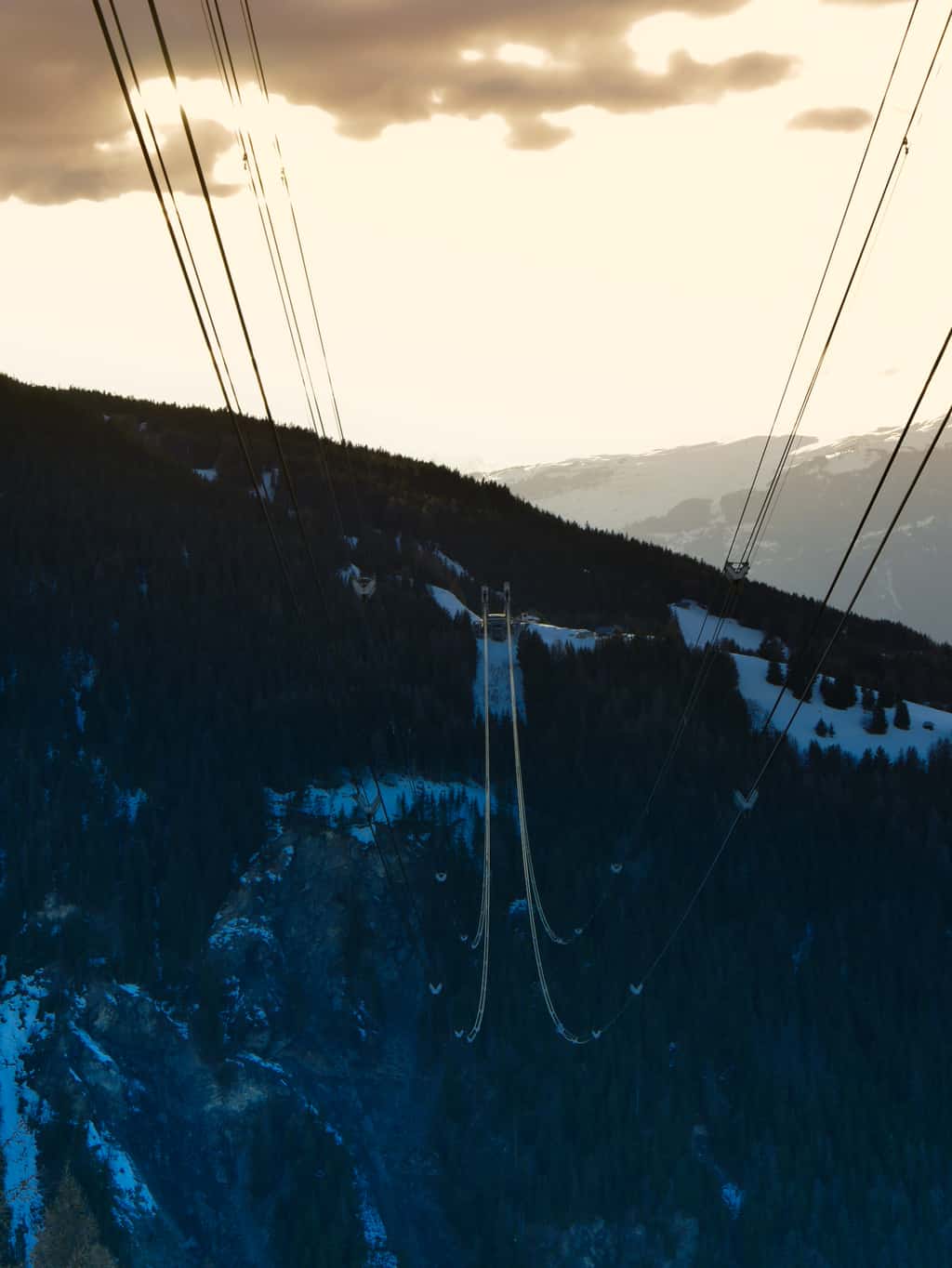 We stayed in a lovely apartment that overlooked the street below filled with ski season excitement, as well as the mountains in the distance.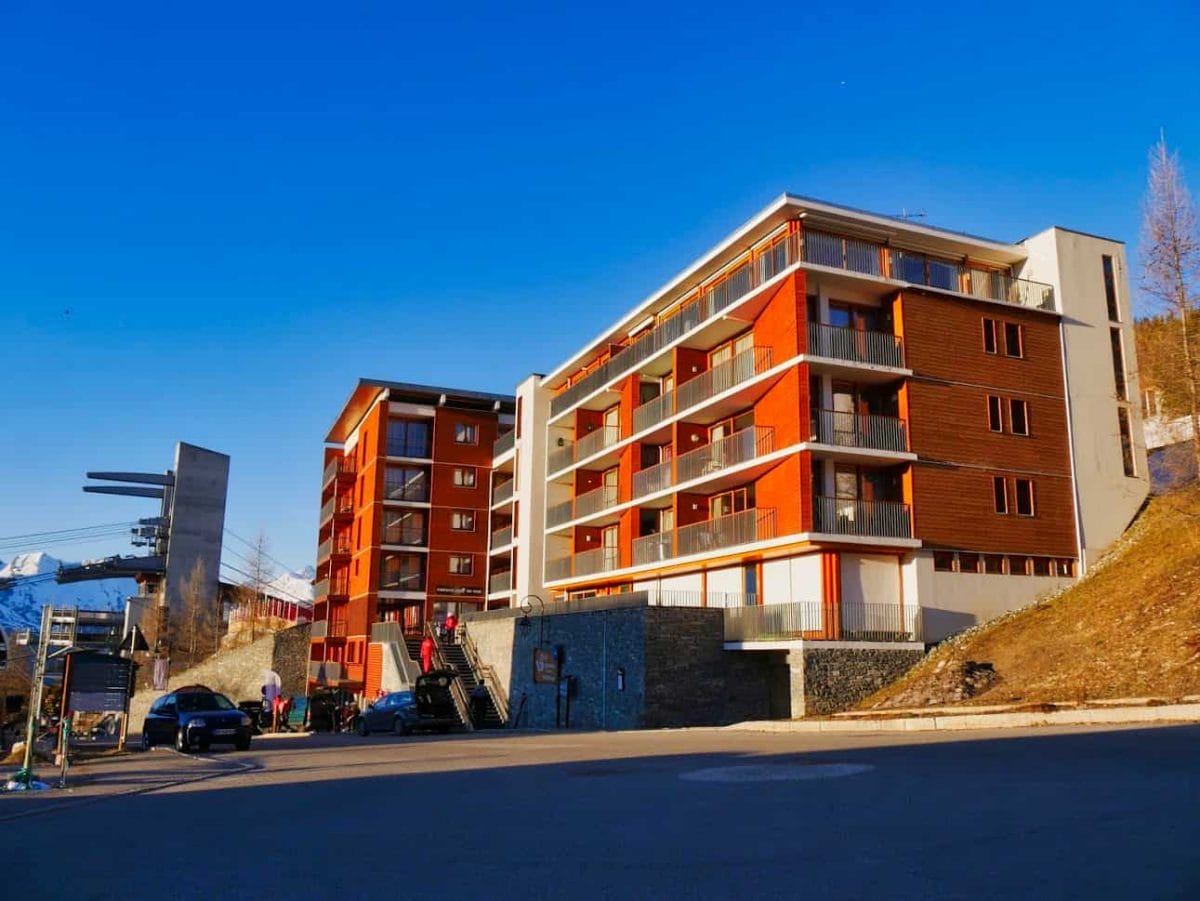 There's just something about the French Alps that make you feel like you're standing in a postcard that's ready to be sent out to your best friend saying, "Wish You Were Here!"
But it's not a postcard, it's real life and right in front of you.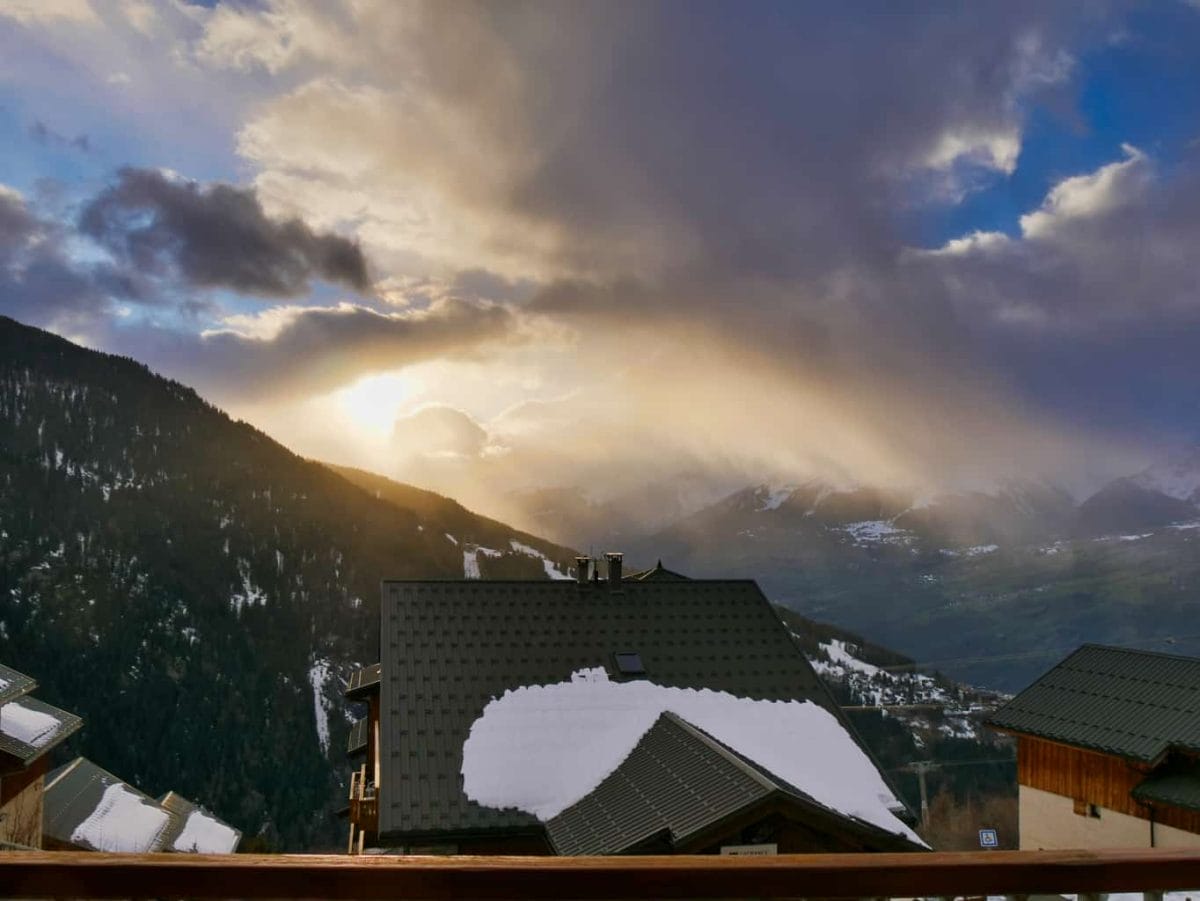 Mountain air is also much crisper and feels a lot cleaner than the unbelievable pollution I deal with every day in London.
What to Do on Your French Alps Vacation
1. Alpine Skiing
You don't have to go skiing on your winter vacation to the French Alps if you don't want to, though skiing is most people's reasons for coming.
I learned to ski (and I say "learned" very loosely as mostly I just flailed!) a few years ago and while I can appreciate the sensation of flying down a mountain, there are definitely moments where I stand on the side of a mountain crying because I am sure I'm about to fall down to my doom.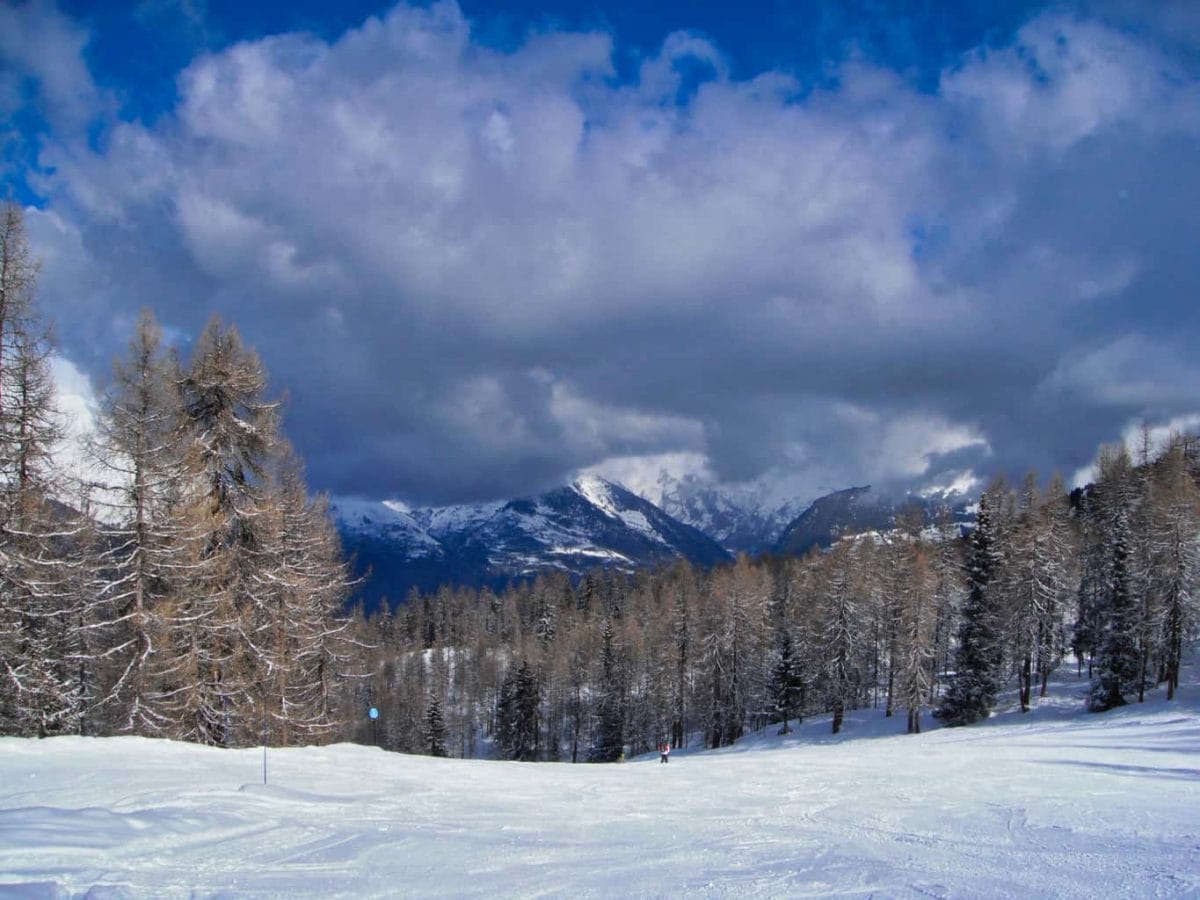 If you want to learn to ski, one of the most popular things to do in the French Alps is to take ski lessons from local schools – you can choose from lessons in different languages (primarily being English and French, for obvious reasons) and also opt for group or individual lessons.
Taking group lessons is good if you want a sense of camaraderie of learning as an adult or if you have other people you want to take them with.
Otherwise, go with an individual instructor who can actually help you progress faster and go down the mountain more efficiently then if you have a trailing snake of like 15 adults who are falling all over themselves.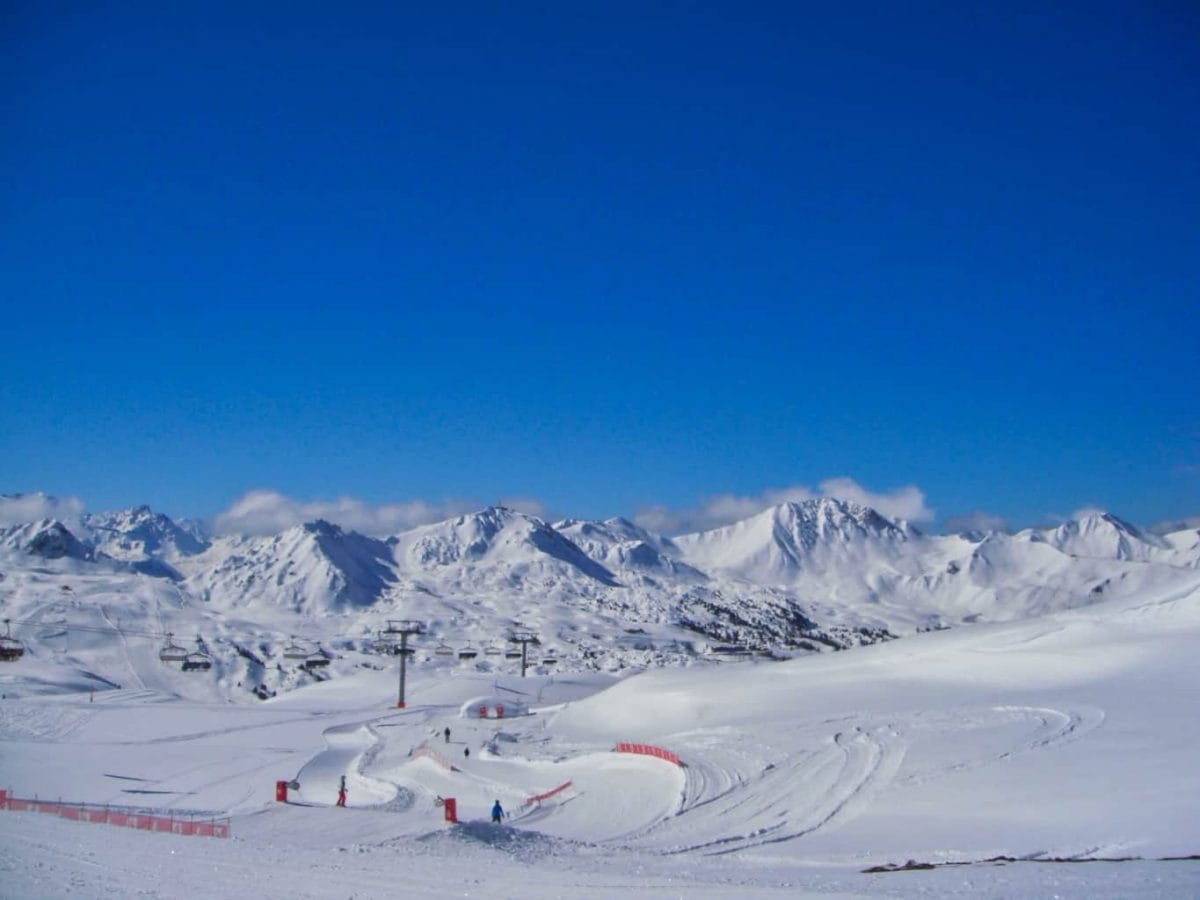 Another sport that people enjoy in the French Alps include snowboarding, which I've never tried but inevitably makes you look a lot cooler than while you're on skis.
2. Nordic Skiing
Now, in between our days of skiing and eating baguettes, we decided to embark on a flatter type of sport that involves less height and more traipsing around a beautiful landscape.
The first of these sports is Nordic skiing or cross country skiing – you know the one where you're on skis but you're actually using them to walk up a mountain, like this?
We decided to try nodic skiing because we thought that something "cross country" was going to be way slower and easier to pick up than alpine skiing, which involves standing on top of like a 2,000 meter mountain and sliding down.
Keyword: we THOUGHT it was going to be easier.
To get to our Nordic skiing destination, we had to get to Peisey's Nordic Ski site, which was one "bucket lift" and then a bus ride.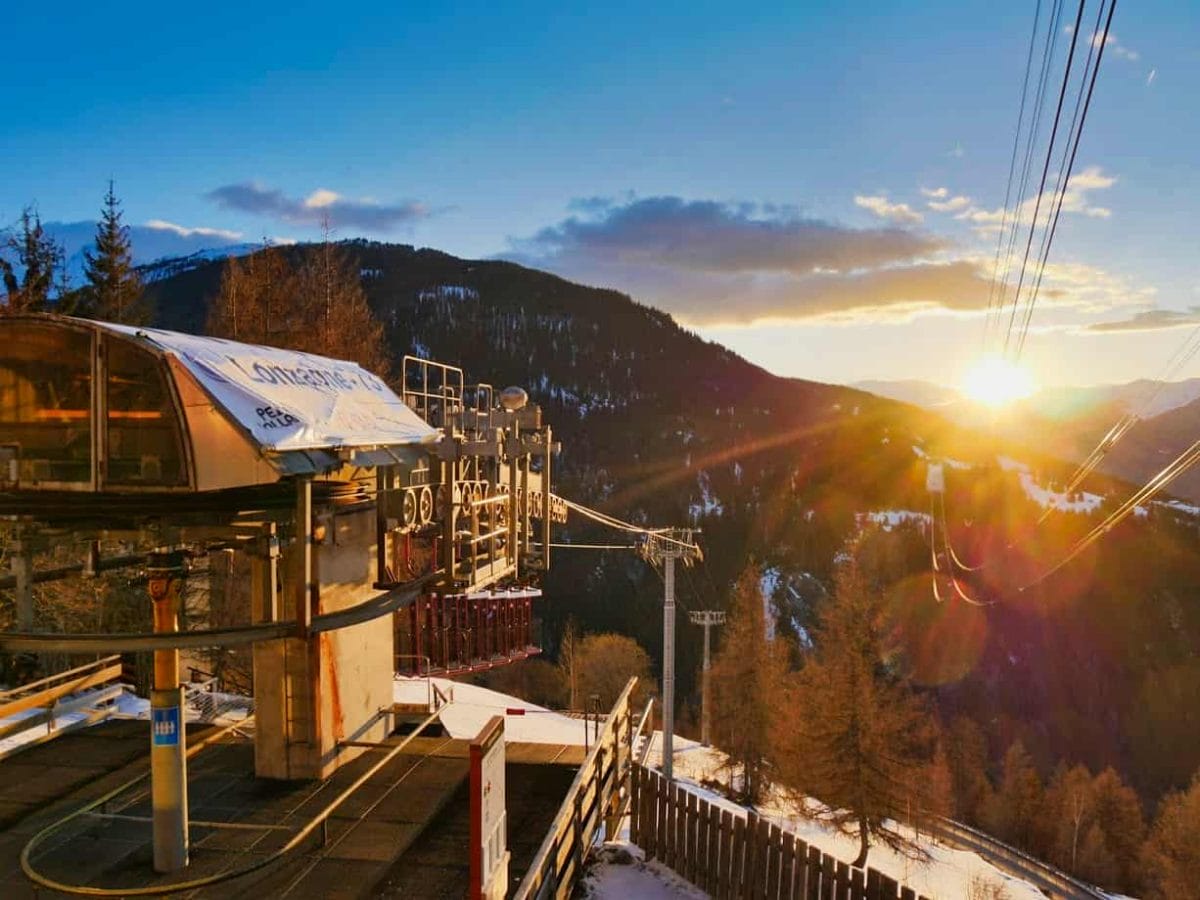 So feeling free from the confine of alpine ski boots for a day (which make your feet feel like they're in a prison they'll never be released from), we went to the Lozagne lift for a beautiful morning ride.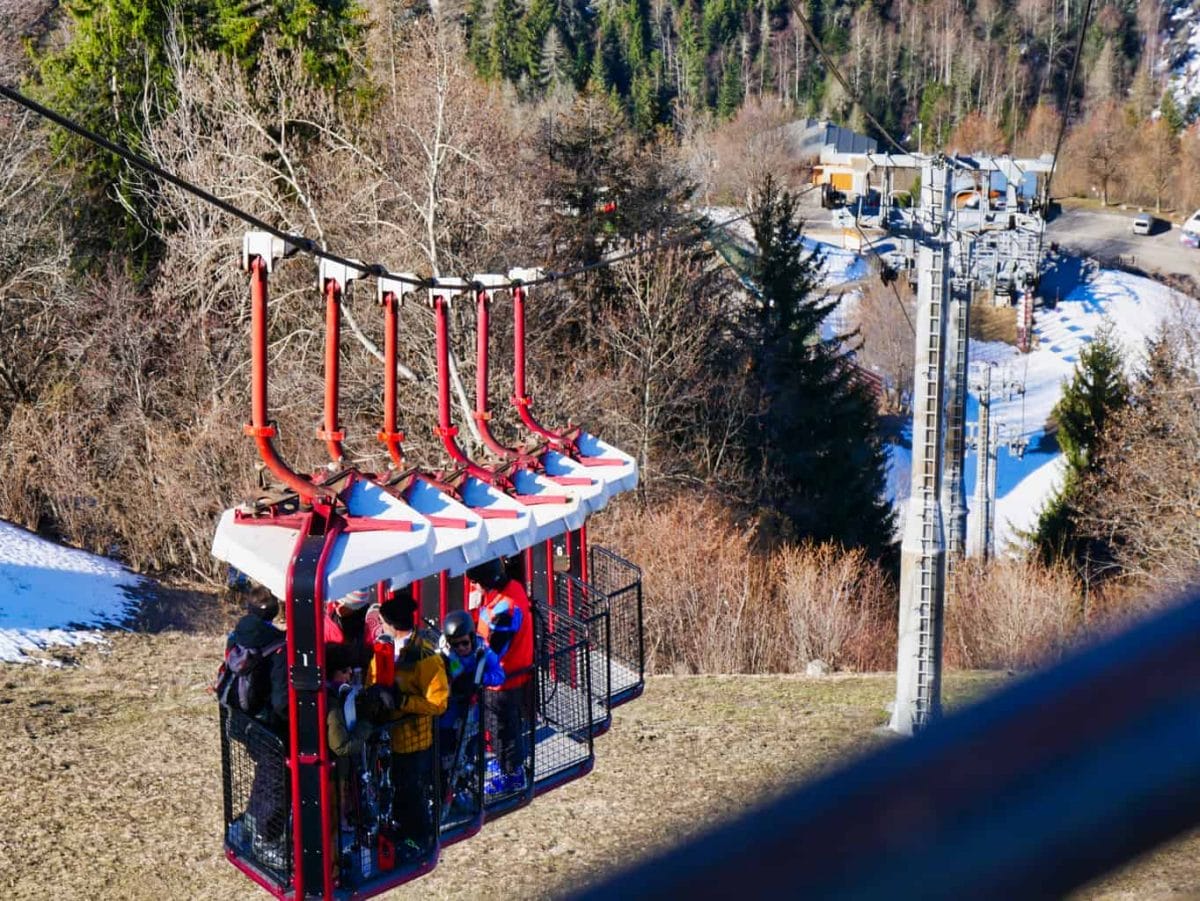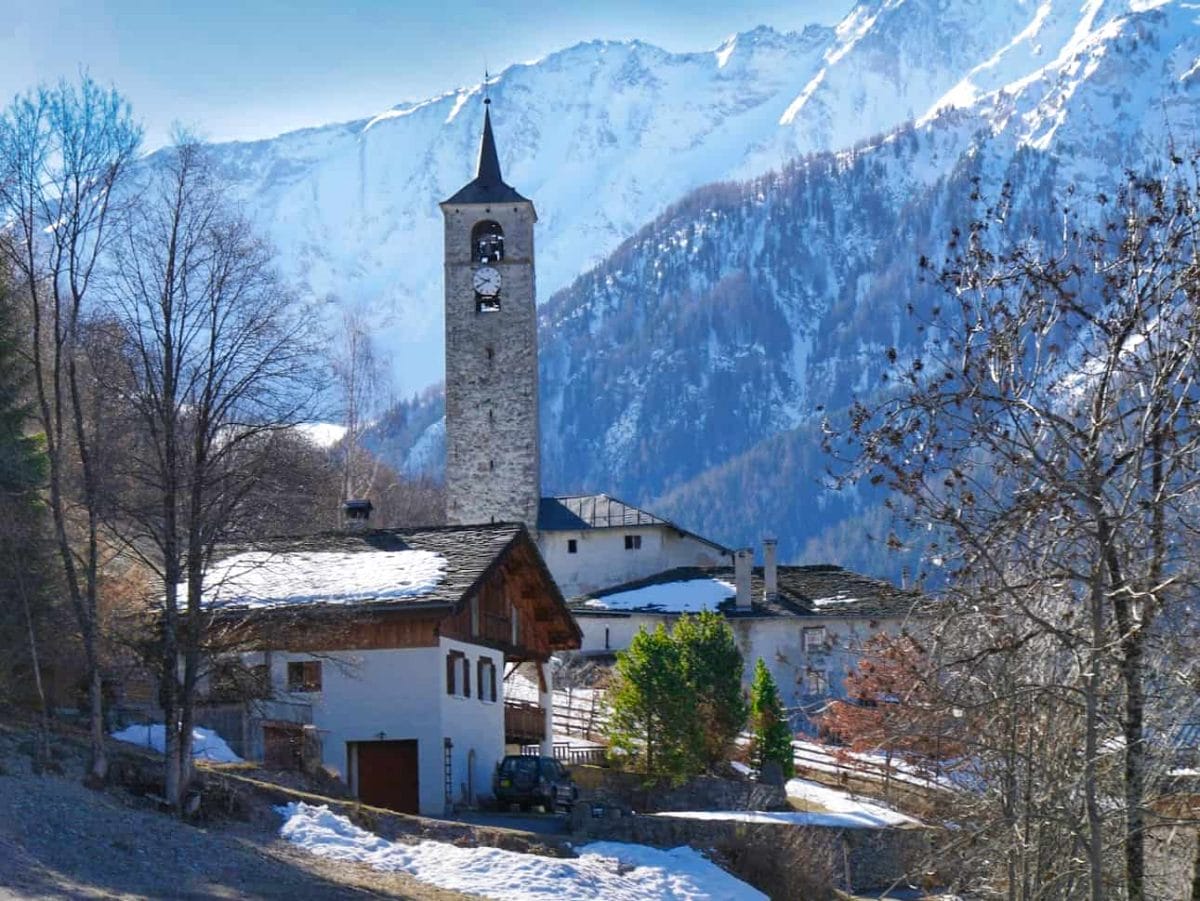 After we had gotten to the bottom without falling to our deaths and tumbling down the mountain ( a real fear of ours – we don't like heights), it was onto the bus that would drop us off at the Nordic ski site for a day of relaxing adventure (stay tuned for me to explain why there's no such thing).
Finally, we were there, staring at this adorable building like we were in the scene in Frozen where Anna discovers Kristoff's hut and they all live happily ever after.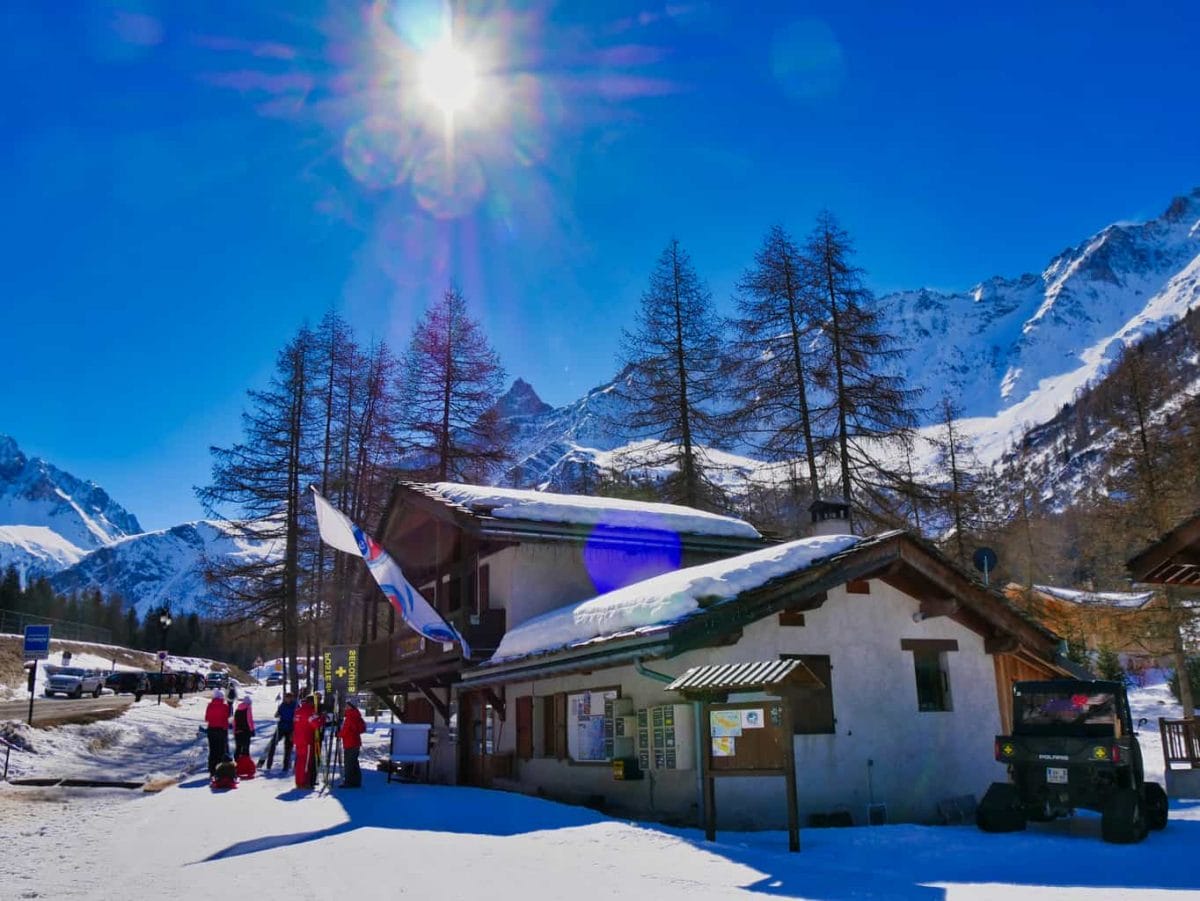 In addition to the main building where you could rent equipment, there was also a departure area for horse-drawn sleigh rides, as well as walking paths and a restaurant.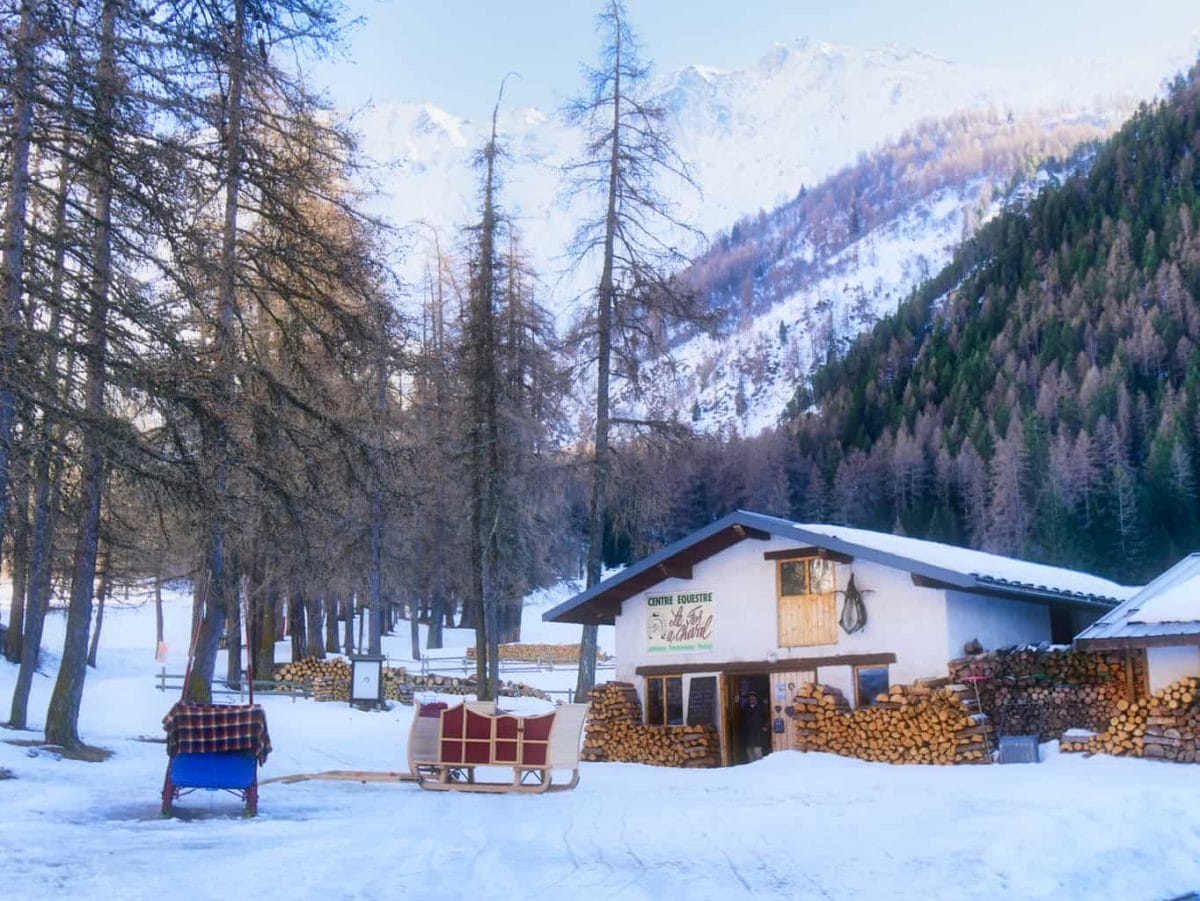 This was my idea of heaven – no crazy crowds, no terrifying chairlifts taking you up over jagged rocks.
Just some hot chocolate, lots of snow, and open space.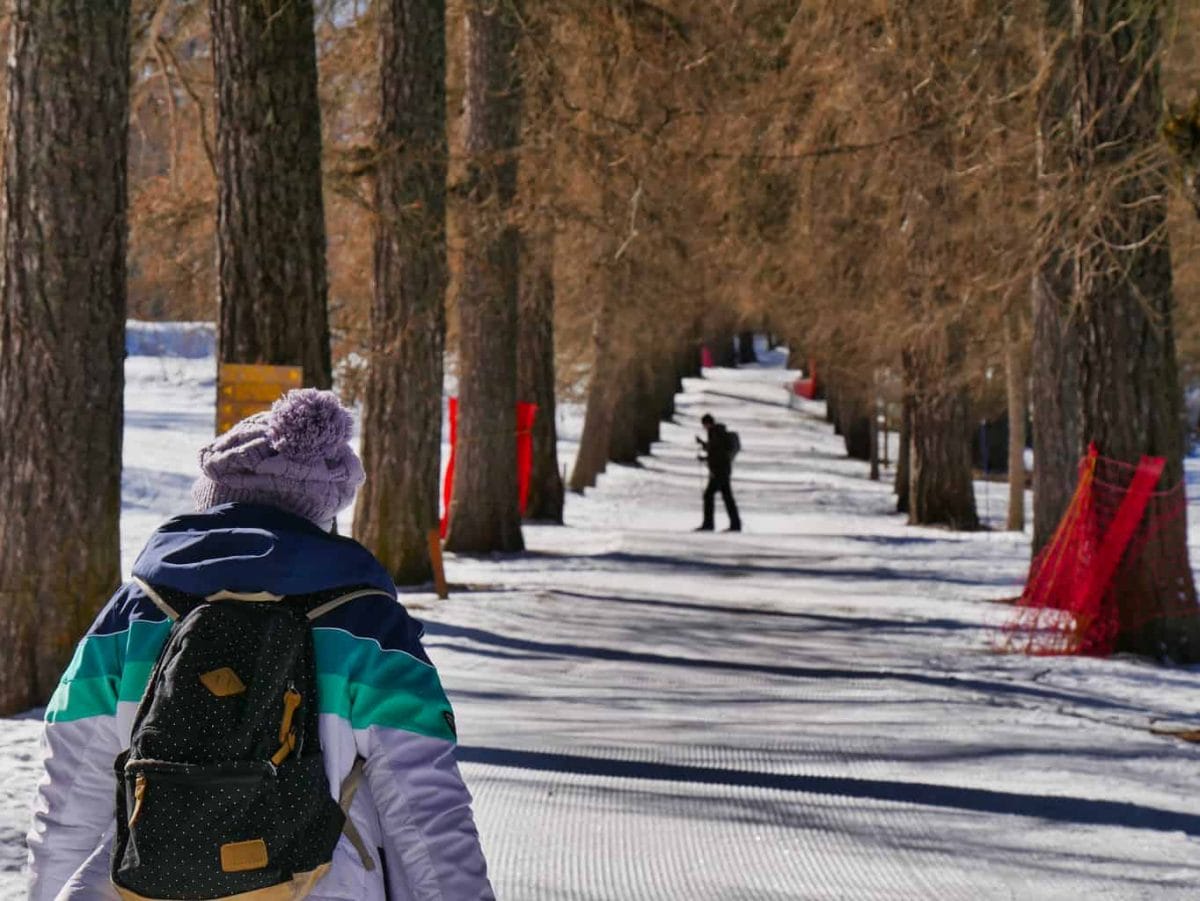 To rent our Nordic ski equipment, we headed inside the main building and Guy attempted in his best French to speak to the lady at the desk.
She spoke no English, and I spoke 0 French, so Guy, having taken it at school and spending vacations in French frequently, was left to fend for us and try to do the awkward "language barrier" dance involving lots of pointing, nodding, and interpreting facial expressions.
After a valient effort on both the part of the staff member and him, we were suited up and ready to take on our first Nordic skiing adventure.
Of course, because we are apparently the most arrogant people in the world, we thought – hey, no need for a lesson – we've got this!
Let's just go!
So we walked with our equipment to a bench outside to get to one of the main starting points for the baby beginner's ski run, and that's what it all promptly fell apart.
Or more accurately, when I couldn't even figure out how to stand up in my skis without smashing my face into the ground.
I know I promised you photos of the French Alps in winter and not 49 photos of me living my saddest life, but if you focus on the background you can almost pretend I'm not even in this one.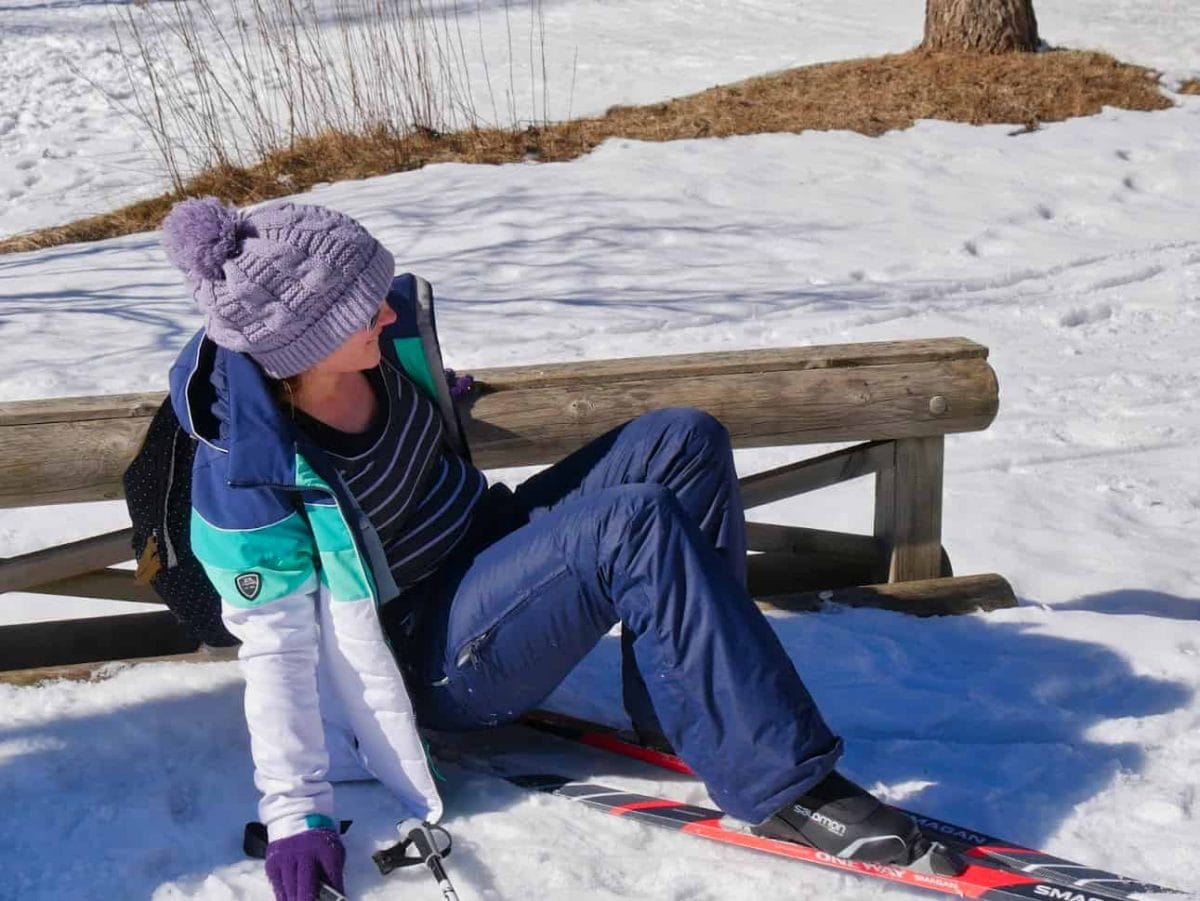 Eventually, we got the hang of it to the point that we could very slowly glide our way along while screaming because we couldn't figure out how to stop, so that meant it was time to head out on our adventure and hope no one came back with a broken bone or dislocated knee.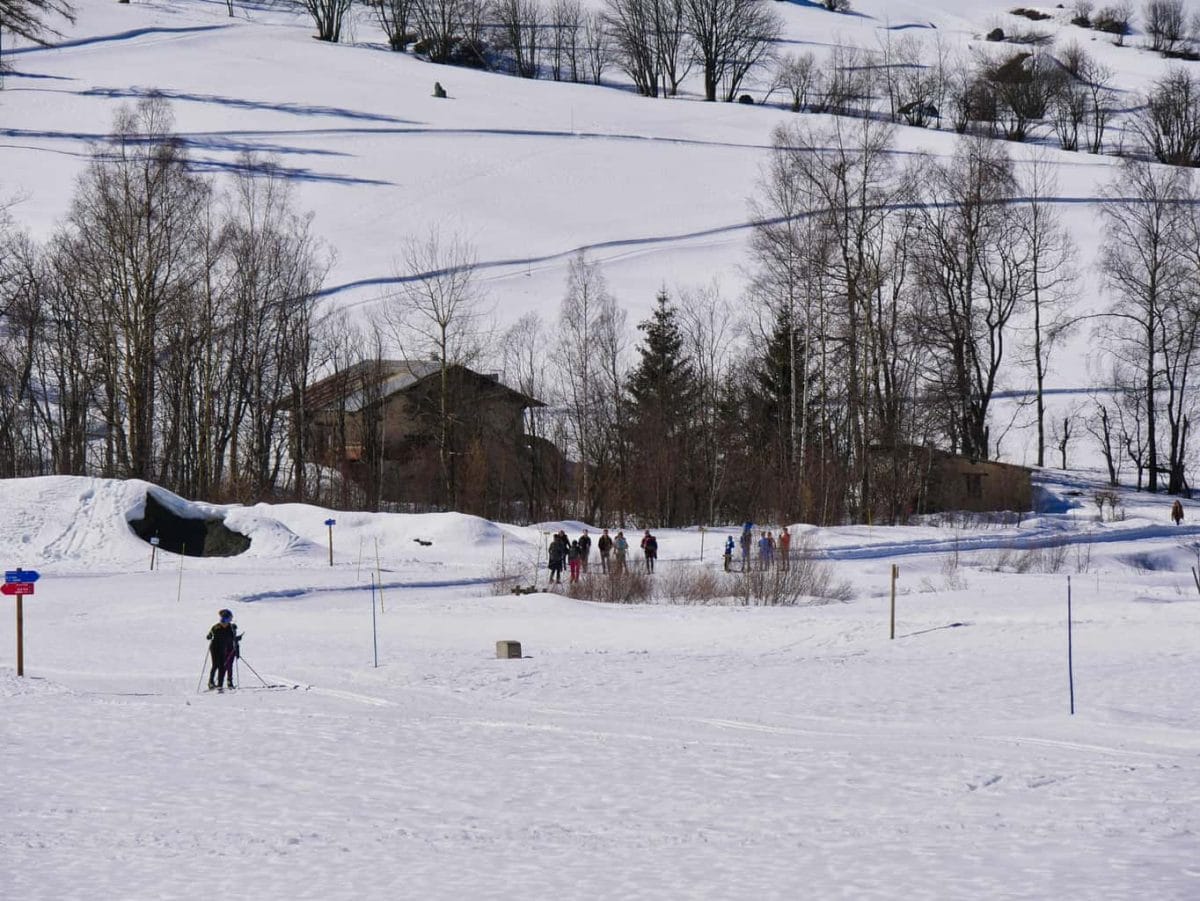 For the better part of the morning, we slid around in as forward a direction as possible.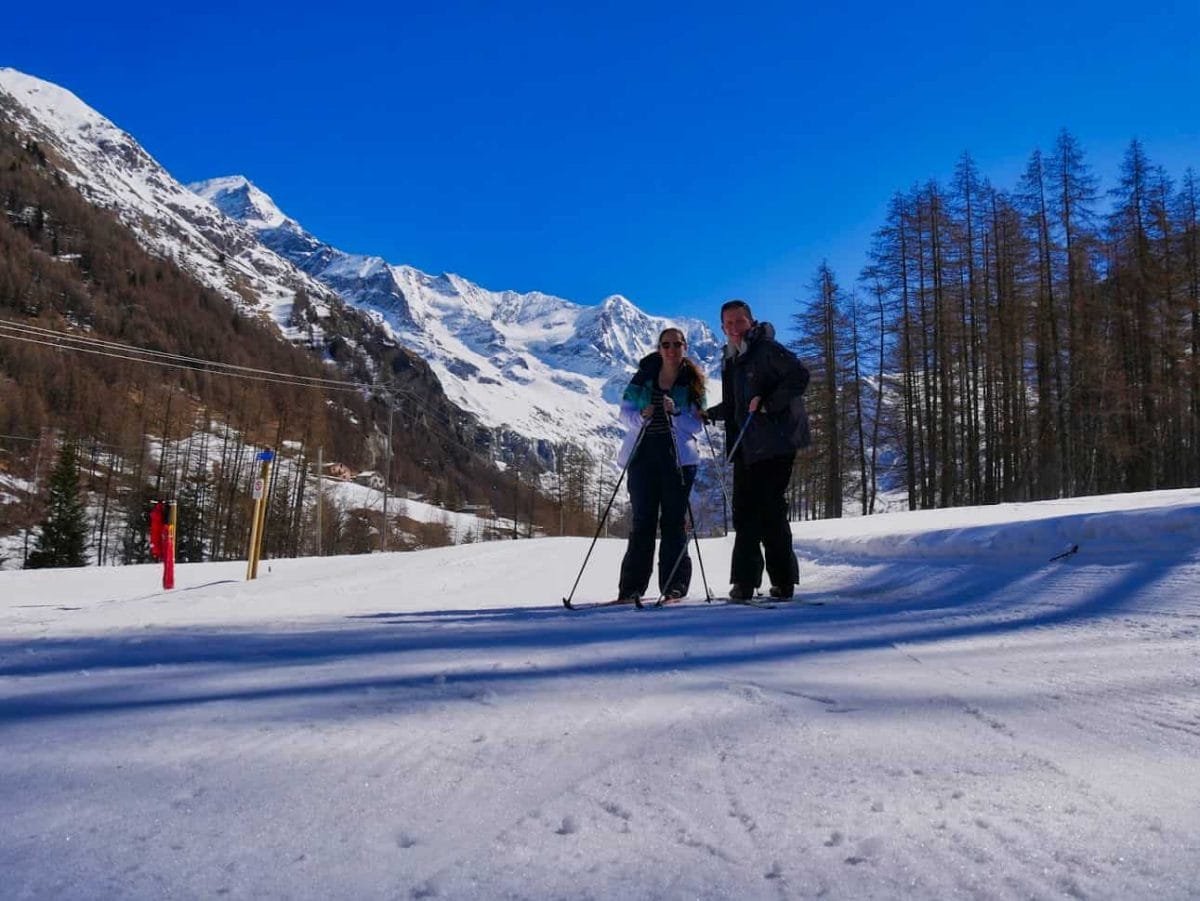 We found a sparkling lake where we camped out next to for a minute while I ate a cheese sandwich and tried to convince myself that I was a warrior and to get back on my skis.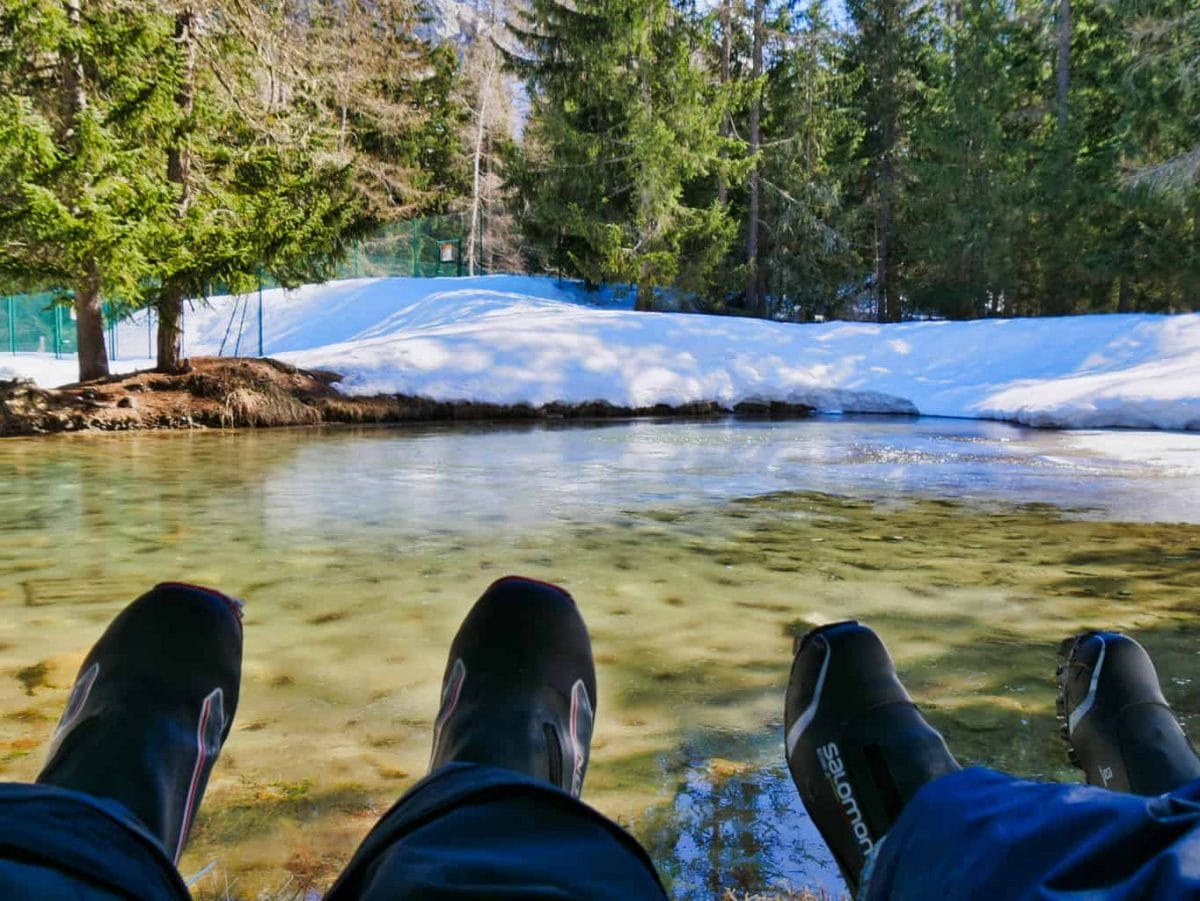 We found a training area with bumps and whistles that Guy tackled head-on.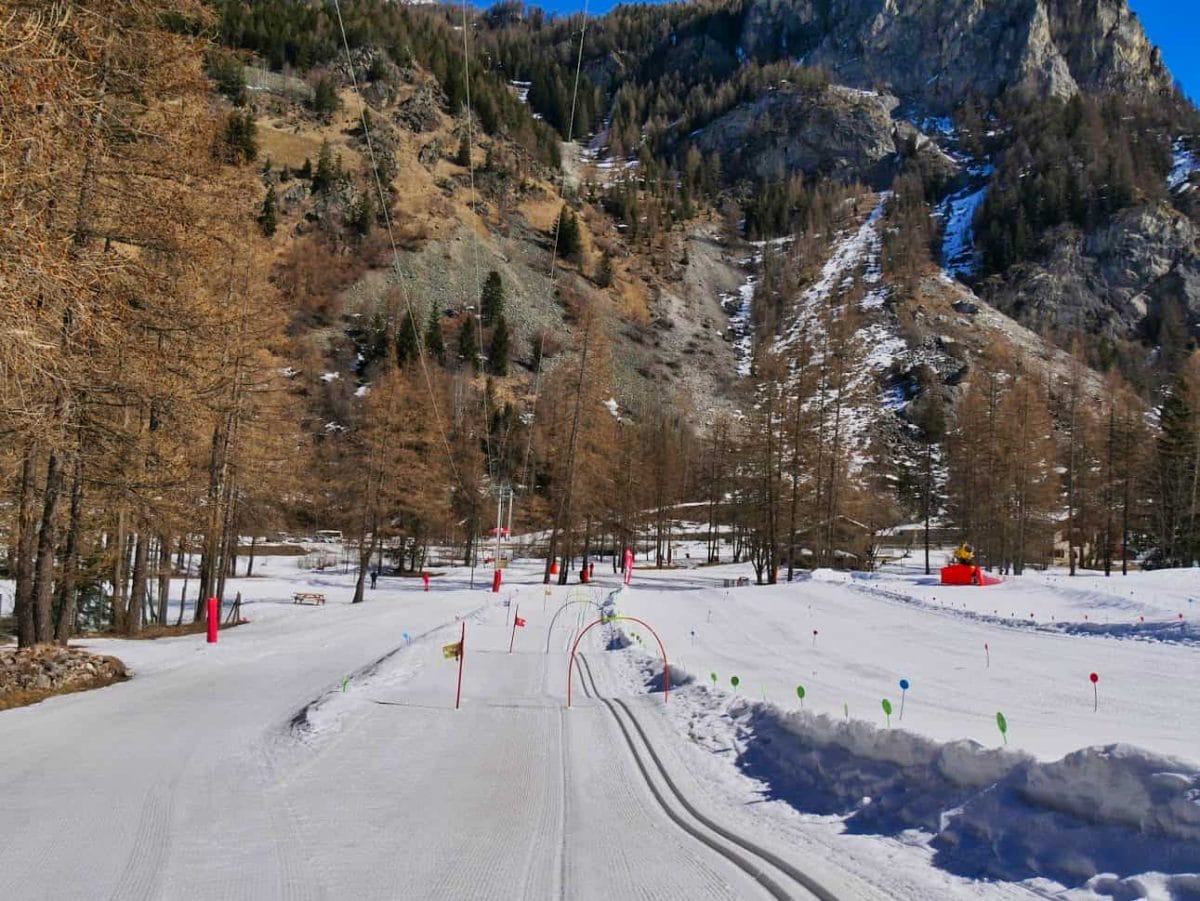 We passed beautiful landscapes.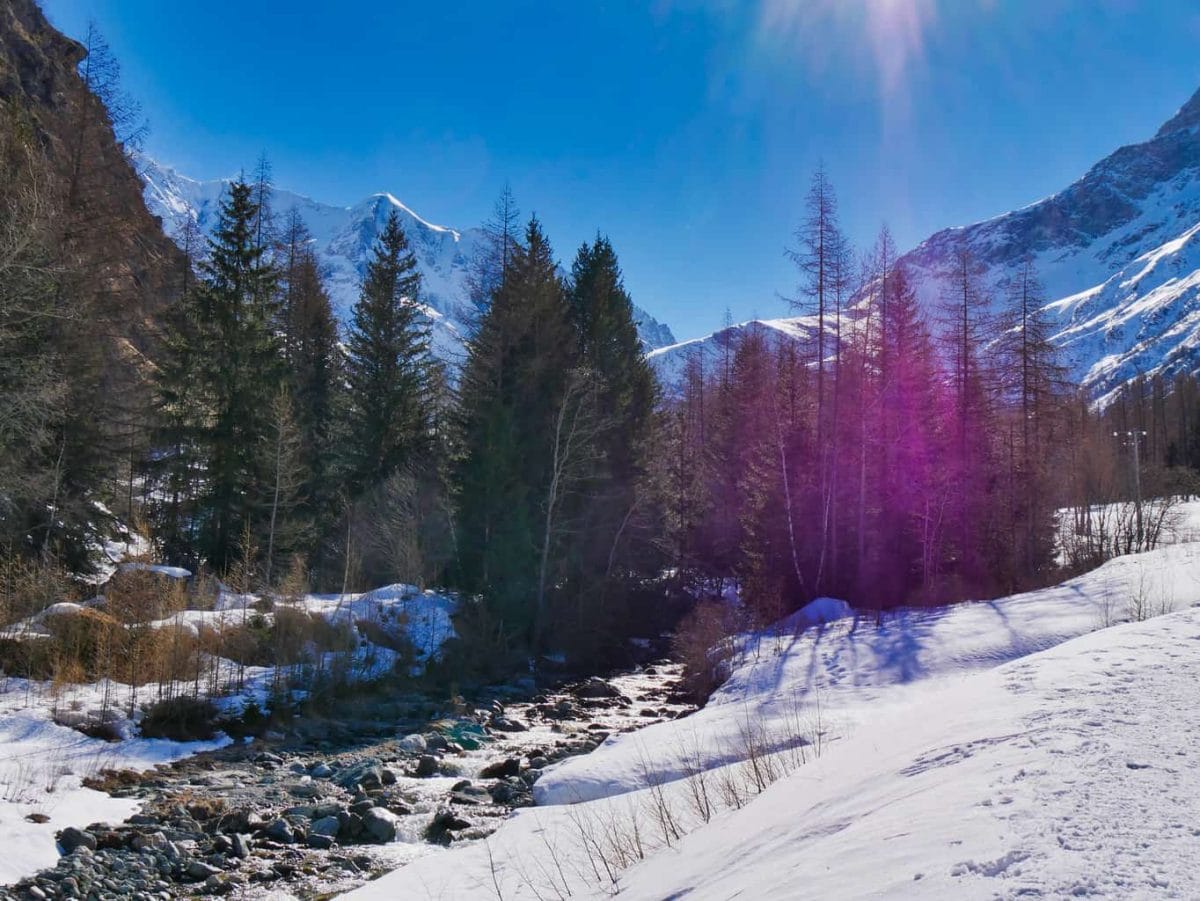 We walked up hill.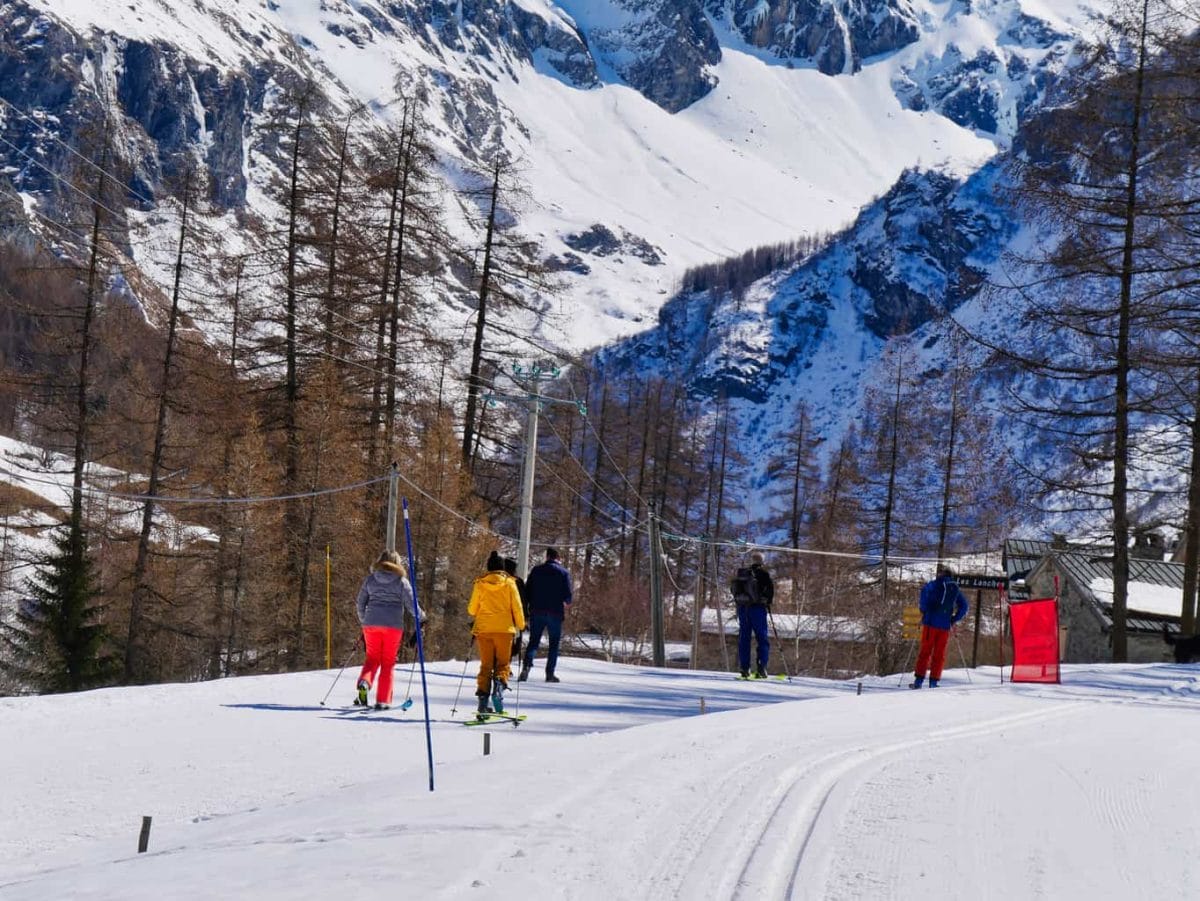 And at the end of the morning, I decided to throw a tantrum and walk because Nordic skiing is way harder than it looks and major props to anyone who does it.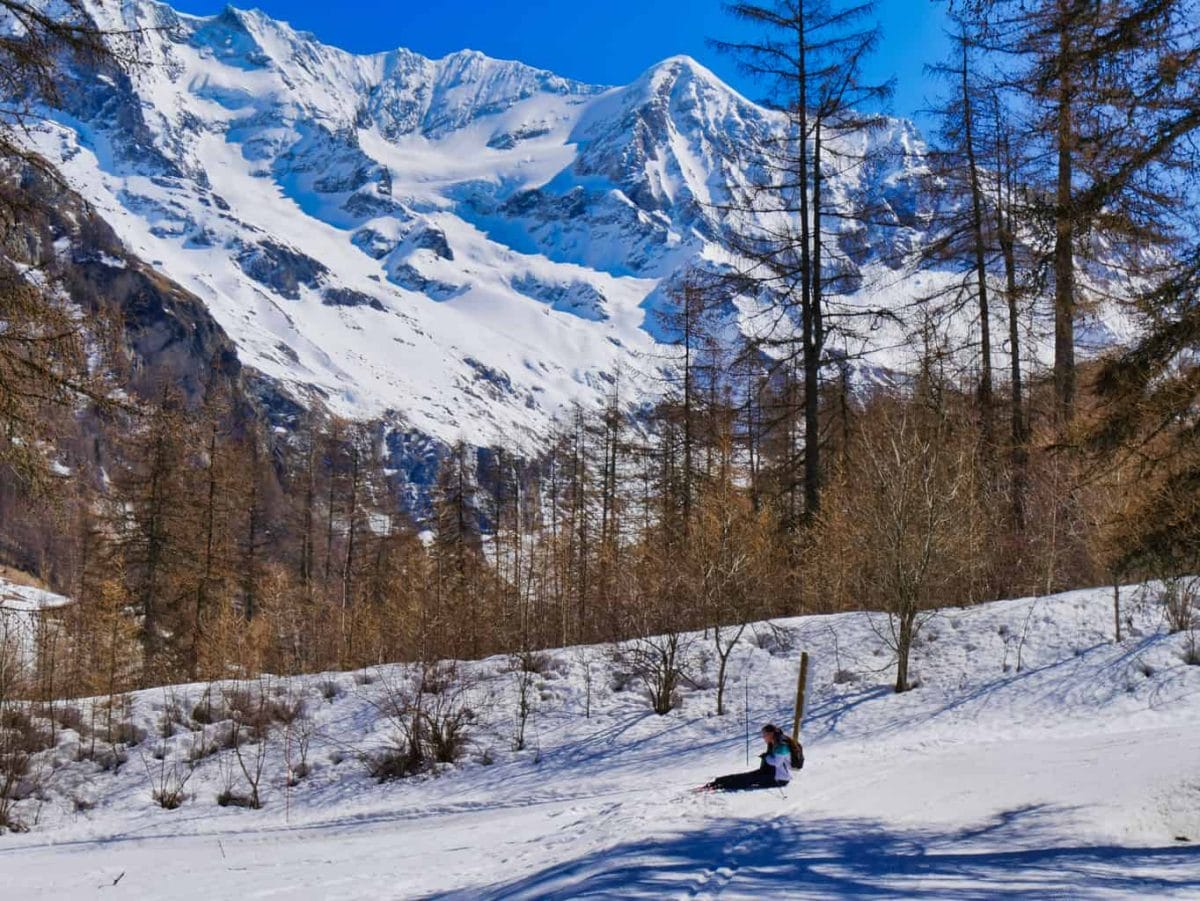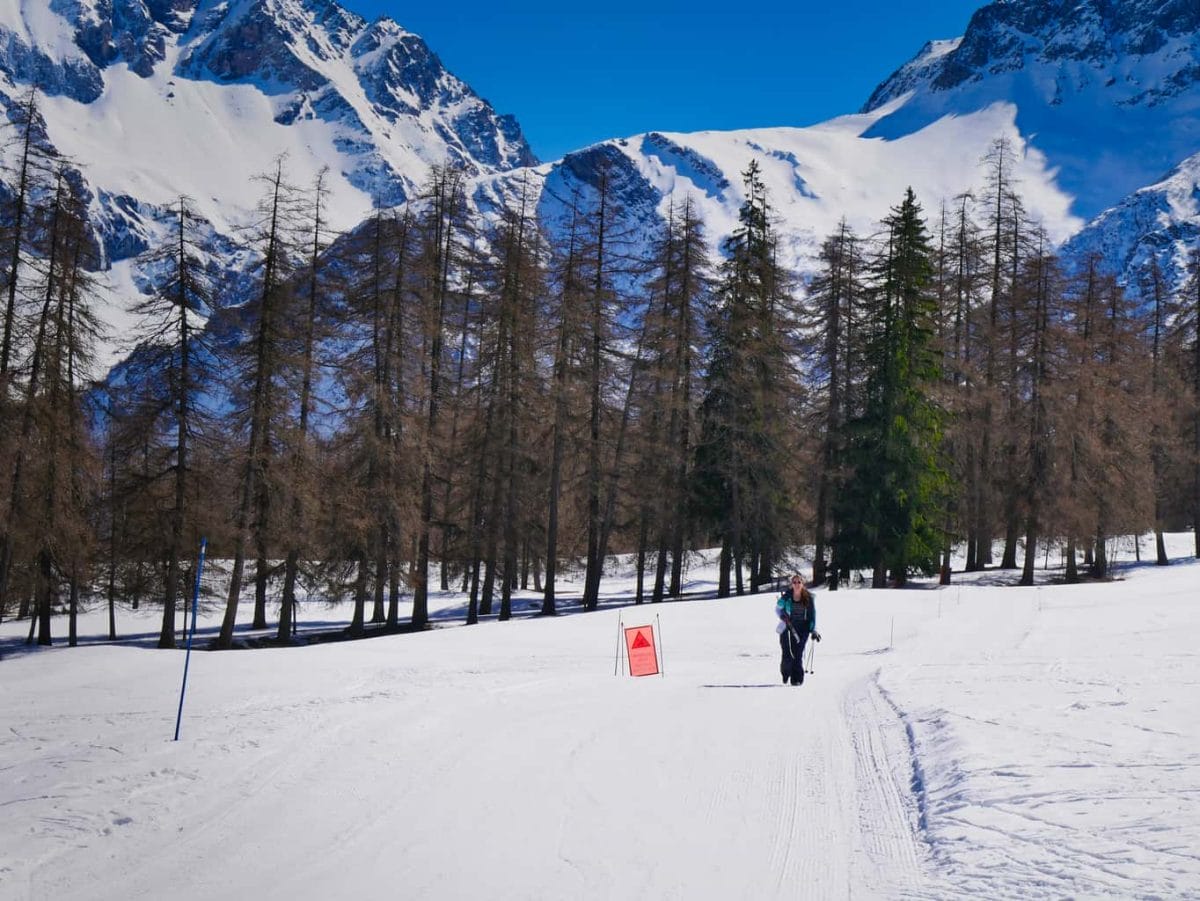 3. Snowshoeing (or just walking)
After we turned our skis in, we thought it was time to explore the area on foot.
So we rented some snowshoes, because, duh, there was snow everywhere, and set off for a couple mile walk.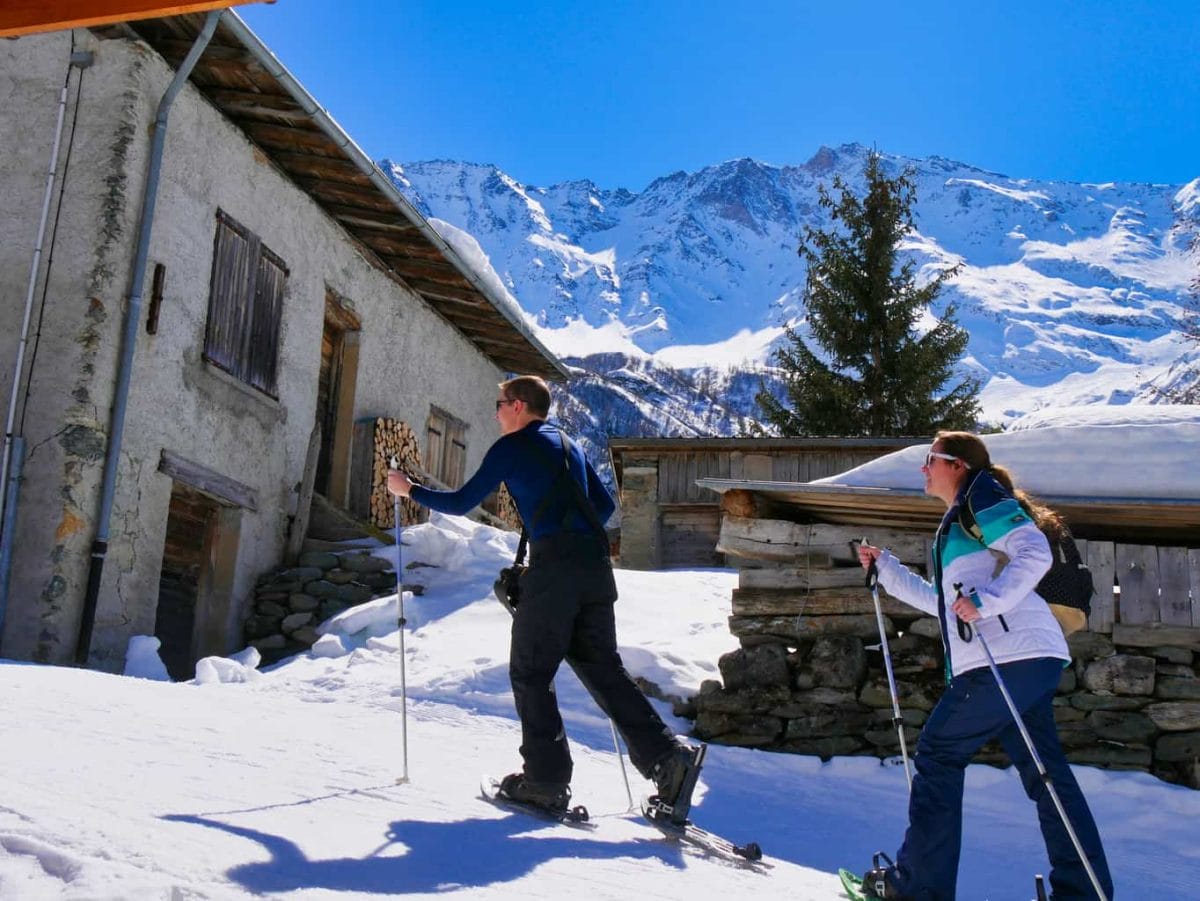 When we started out, we were having the time of our lives, appreciating the scenery.
Snapping photos like this one.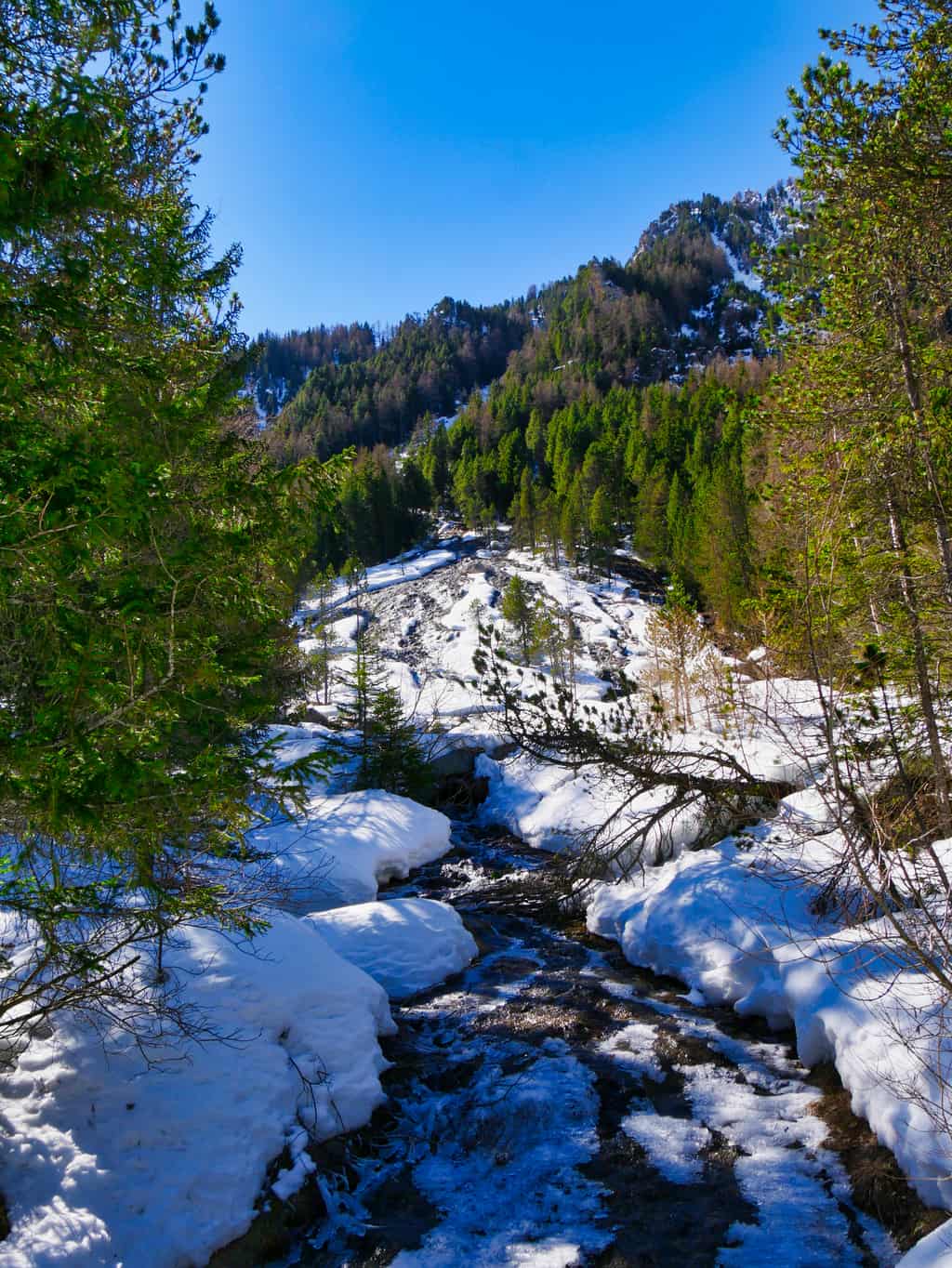 And generally embracing the French Alps in winter.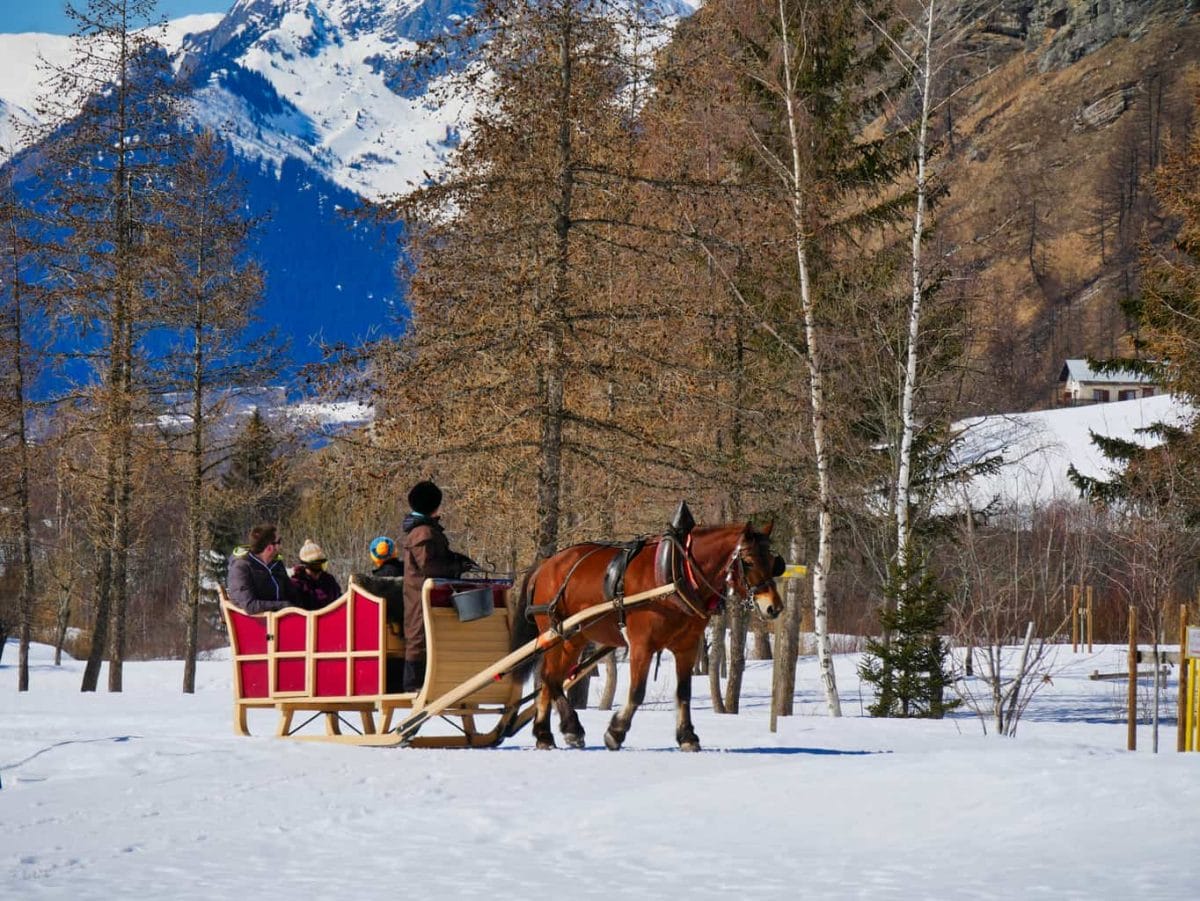 We came across multiple villages.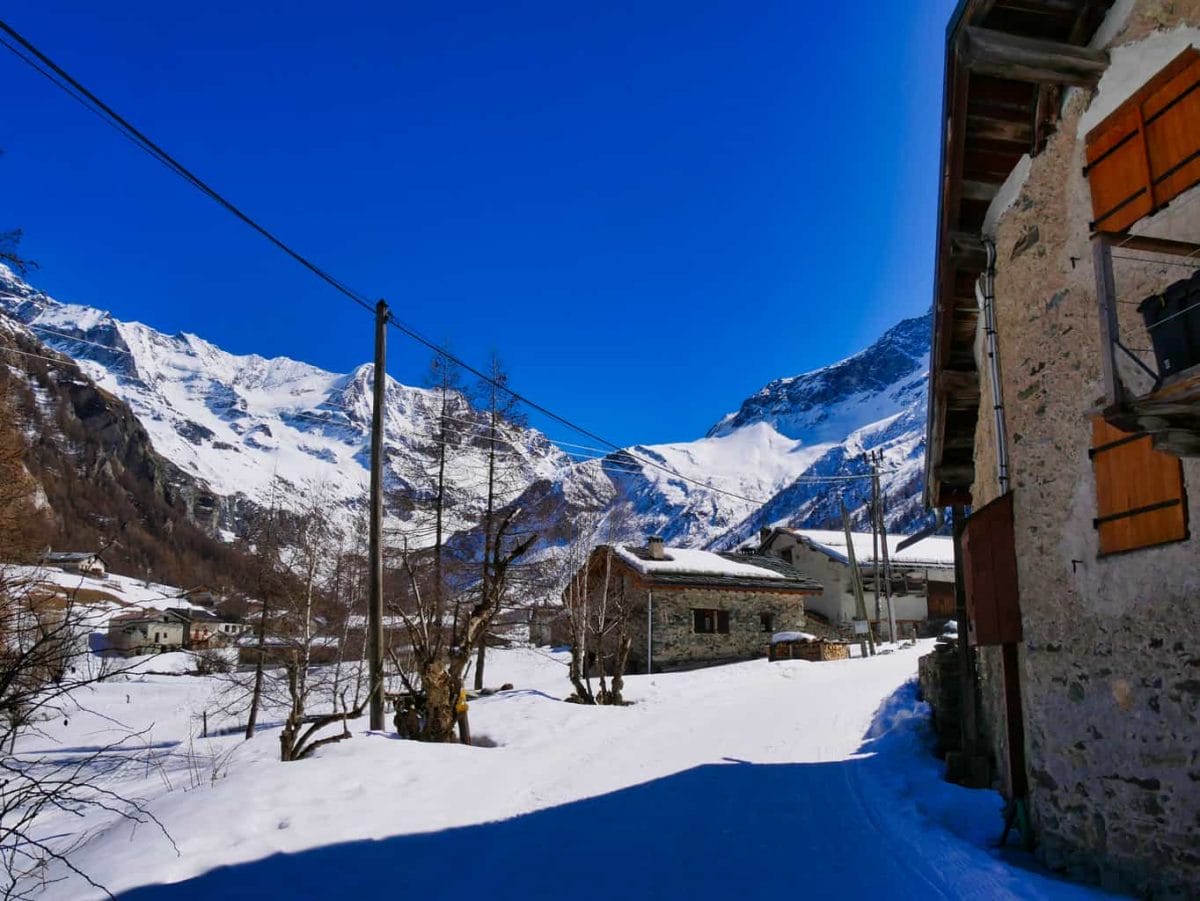 Got some action shots.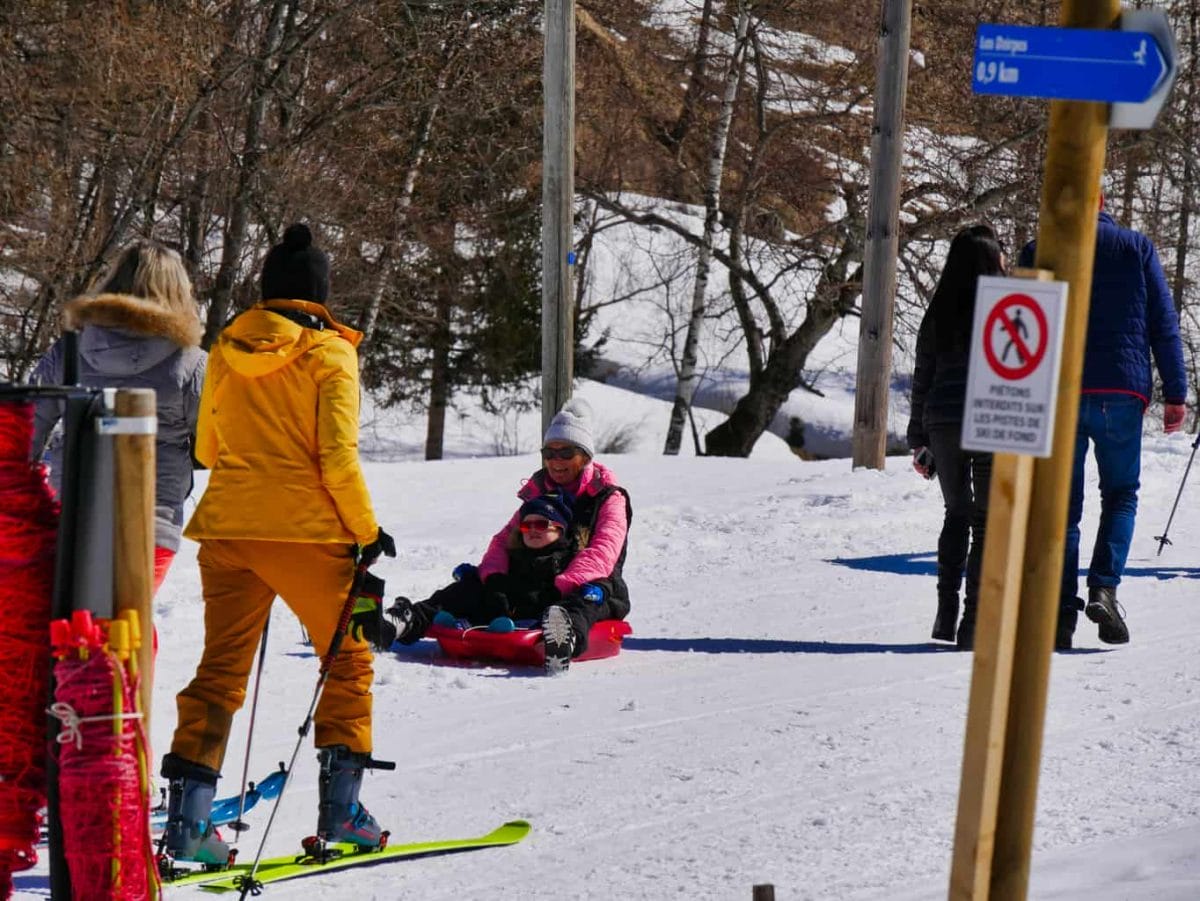 And took some time to soak in the sun.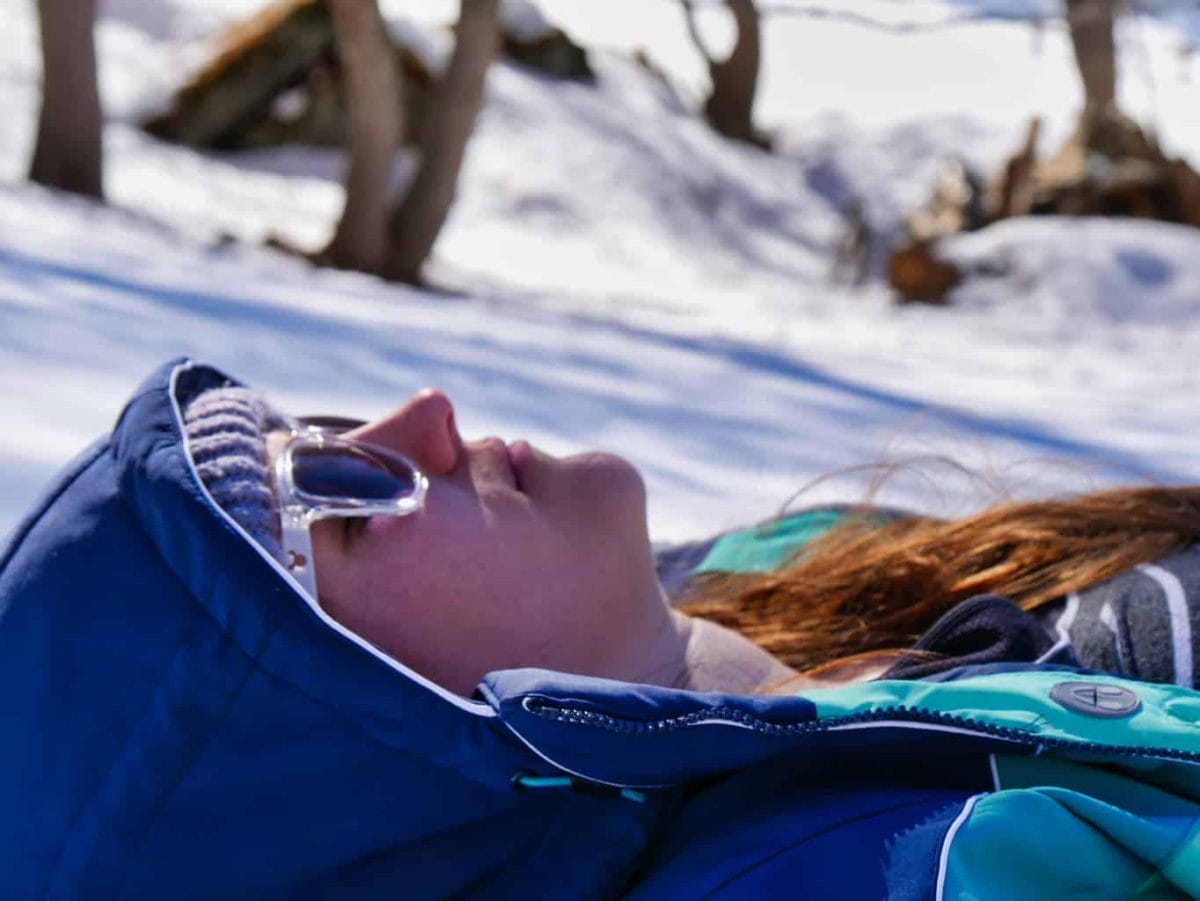 After a while, we discovered that perhaps snowshoeing is best when you're trying to walk on deep powder or ice, as they are very heavy on your feet and it was starting to make our walk harder than it needed to be.
Eventually, we ditched the snowshoes and carried them in our hands and just walked in our hiking boots.
And let me tell you, WHAT A RELIEF.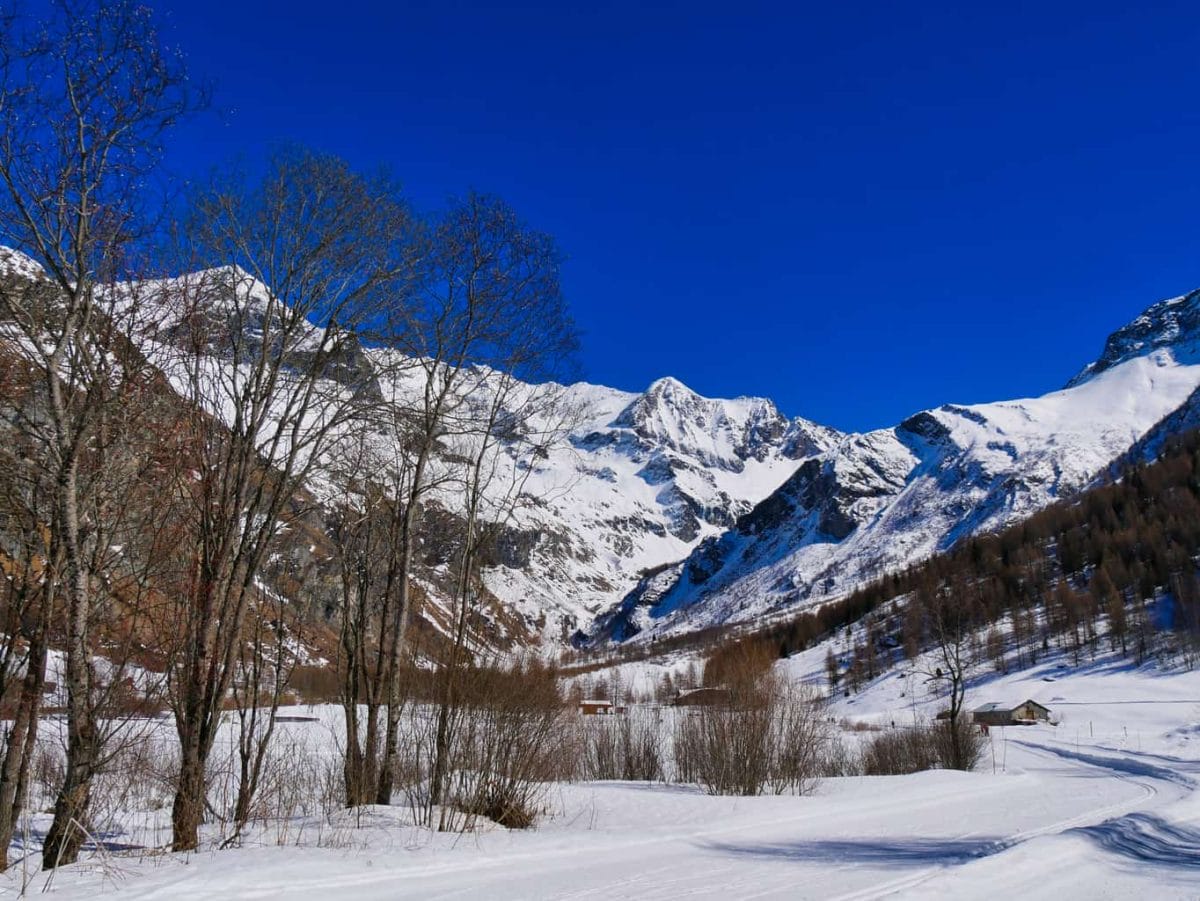 Along the way, we also stopped in a valley to eat our packed lunch (cheese sandwich again for me because there's nothing more French than literally just eating cheese and a baguette every day).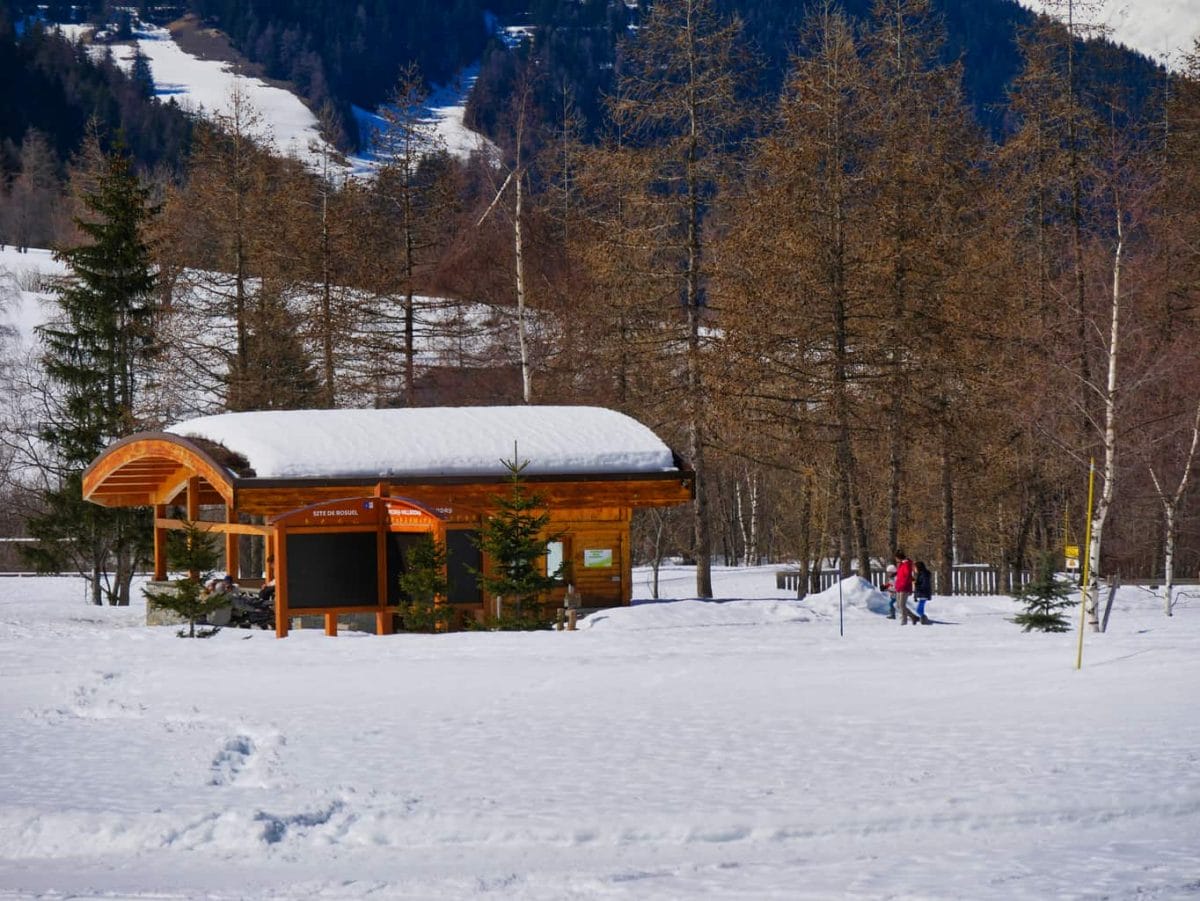 We also did some people watching and enjoyed seeing other people making the most of winter in the French Alps.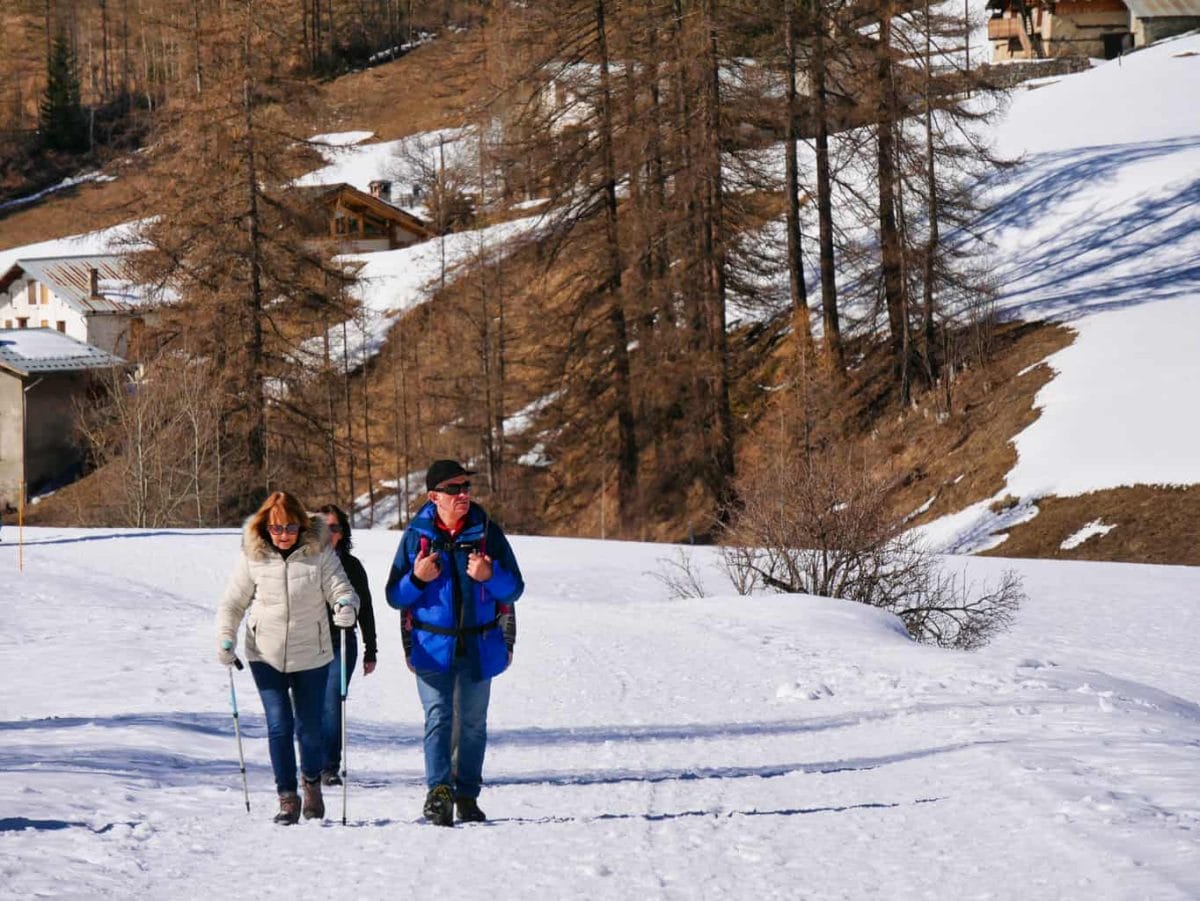 4. Doing Nothing in the French Alps
There is a final option of what you could possibly do in the French Alps, which is a whole lot of "nothing."
And I don't mean "nothing" like actually nothing, but "nothing" as in, reading a book while watching the sunset.
Sitting on your porch admiring the view. Spending hours at the spa because why the heck not?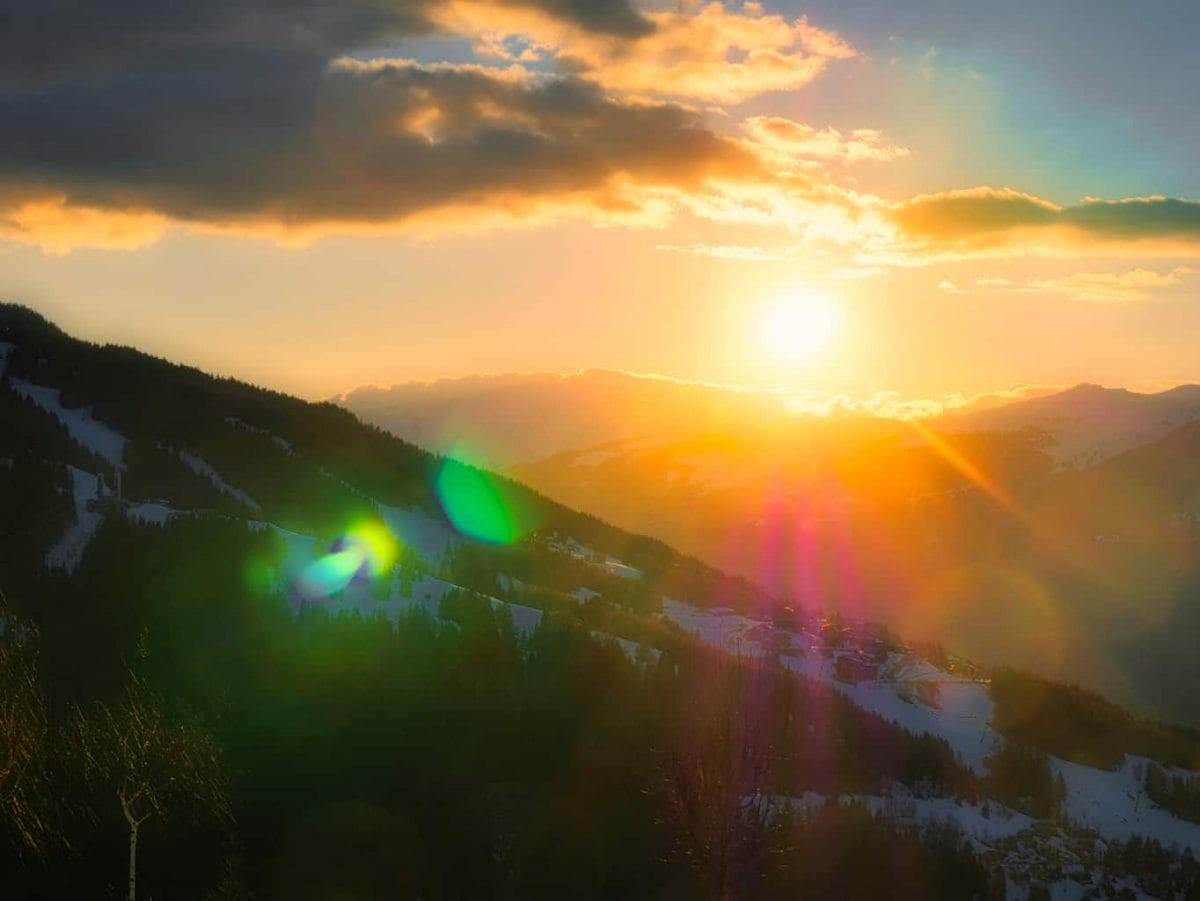 Even if you don't ski, don't snowboard, don't cross-country ski and don't snowshoe, there is something so tranquil and peaceful about simply being in the mountains that – take it from me – you aren't required to actually DO anything super productive or sporty or adventurous.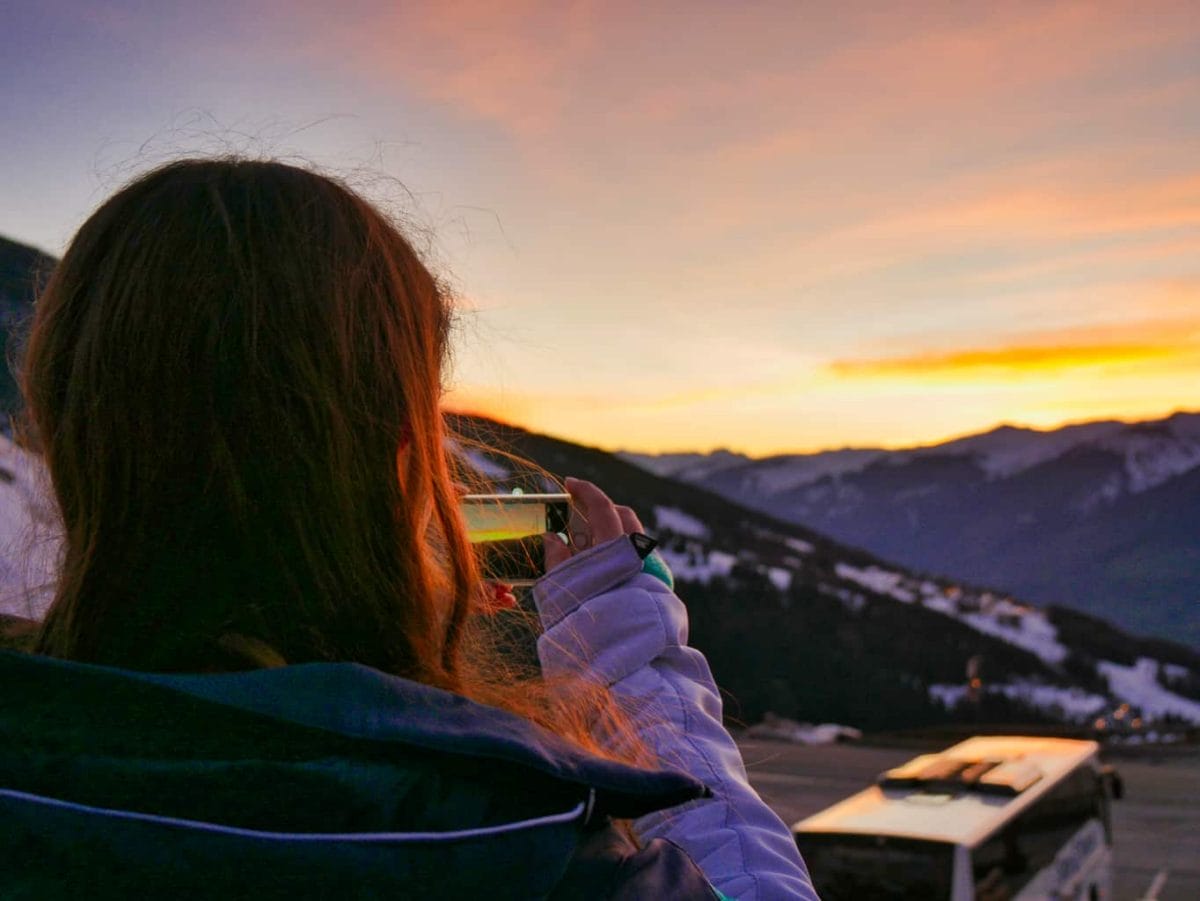 You could even just enjoy yourself eating a brownie and hot chocolate and do nothing else for the day.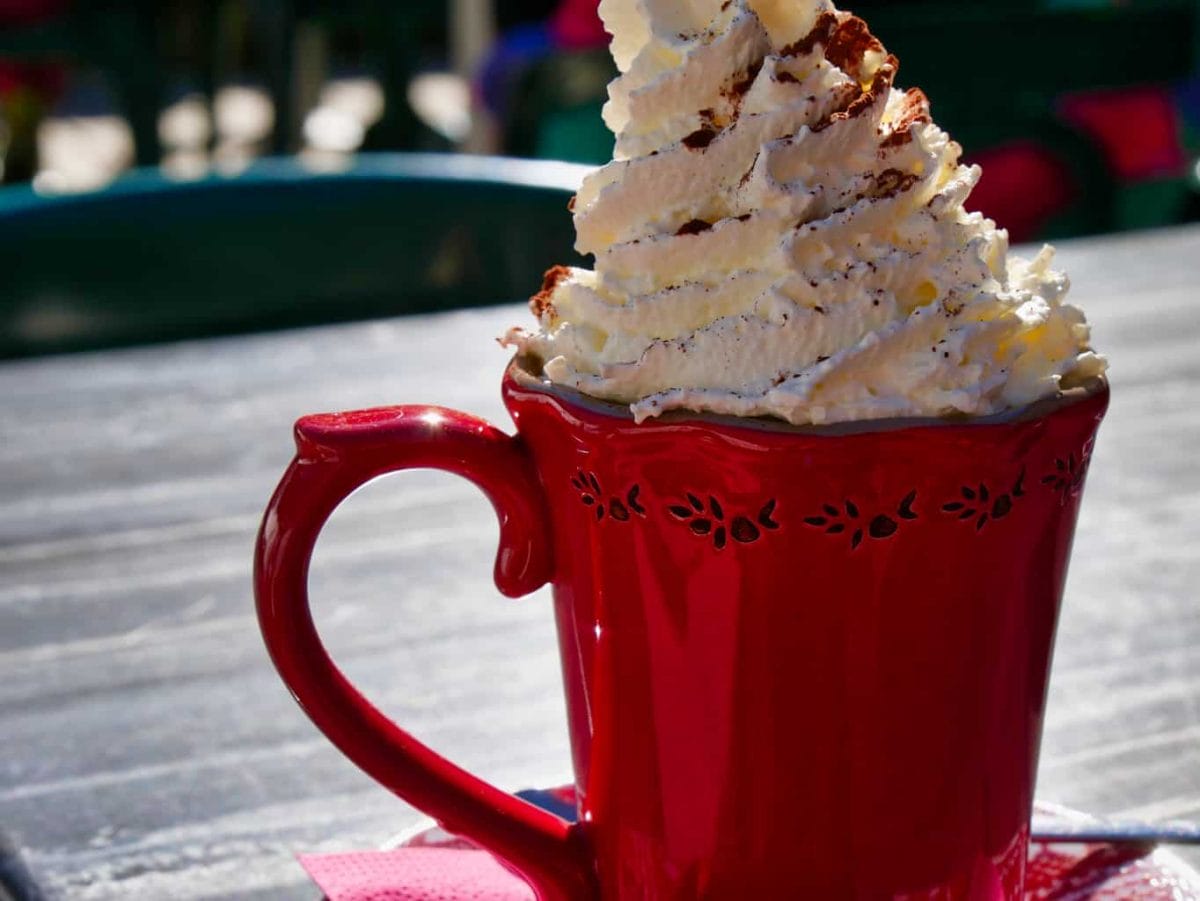 I know some people are going to recoil in horror at this, but I get it.
Life is busy, life is fast-paced, and sometimes you don't necessarily want to spend it trying to stay upright while sliding down some frozen water on the side of a mountain.
And it's okay.
Because the French Alps are beautiful no matter how you spend the day.