So, to start this review off with a confession, I'm just going to say that I cannot stand cooking.
I can see why other people like cooking.
I get that it can be creative and fun and a self-esteem boost when you come up with an amazing new recipe.
But I hate it. I hate the mess, I hate the time it takes, I hate the fact that we have to eat 3 times a day so you ALWAYS have to be thinking about the next thing to cook.
I wasn't the best science student, so I can't even get into the "chemical processes of cooking" angle.
It is a true testament to Jamie Oliver's Cookery School, then, that I spent almost 2 hours cooking and enjoyed it.
If you're in London and looking for something different to try, here's my Jamie Oliver's Cookery School review.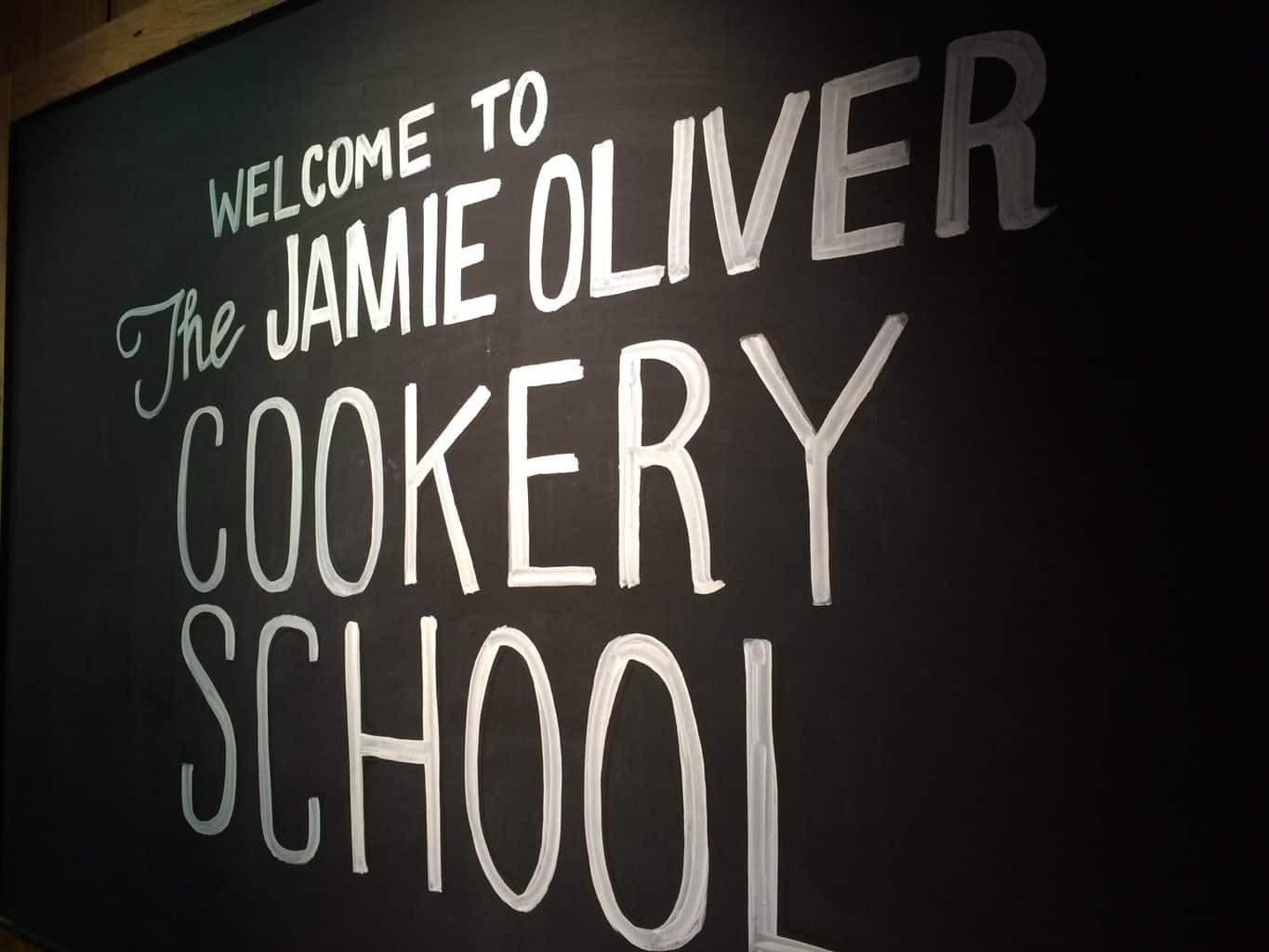 Jamie Oliver's Cookery School is within Jamie's Italian restaurant in Westfield London, situated at the far back of the restaurant in its own little world.
When we were asked to go try it out, there was an argument heated discussion over whether we should try the Thai Green Curry class or the Mexican Street Food class.
I won in the end, which is either because Guy was willing to do anything to get me to like cooking or because I threatened him that I'd take someone else if he didn't come to the one I wanted.
When we first arrived, we were offered a complimentary glass of prosecco or elderflower fizz and pointed to the branded aprons that we would be wearing during the course.
We relaxed for a couple of minutes while waiting for others to arrive and staking out our cooking station.
The cooking room is built in a square shape with the chef in the middle.
This allows you to watch other participants to see if you're doing it right and makes for a much more social atmosphere.
We've been to cooking classes before where you are spread out and staring at the wall, so this was a nice change. Everything is very new and colorful looking.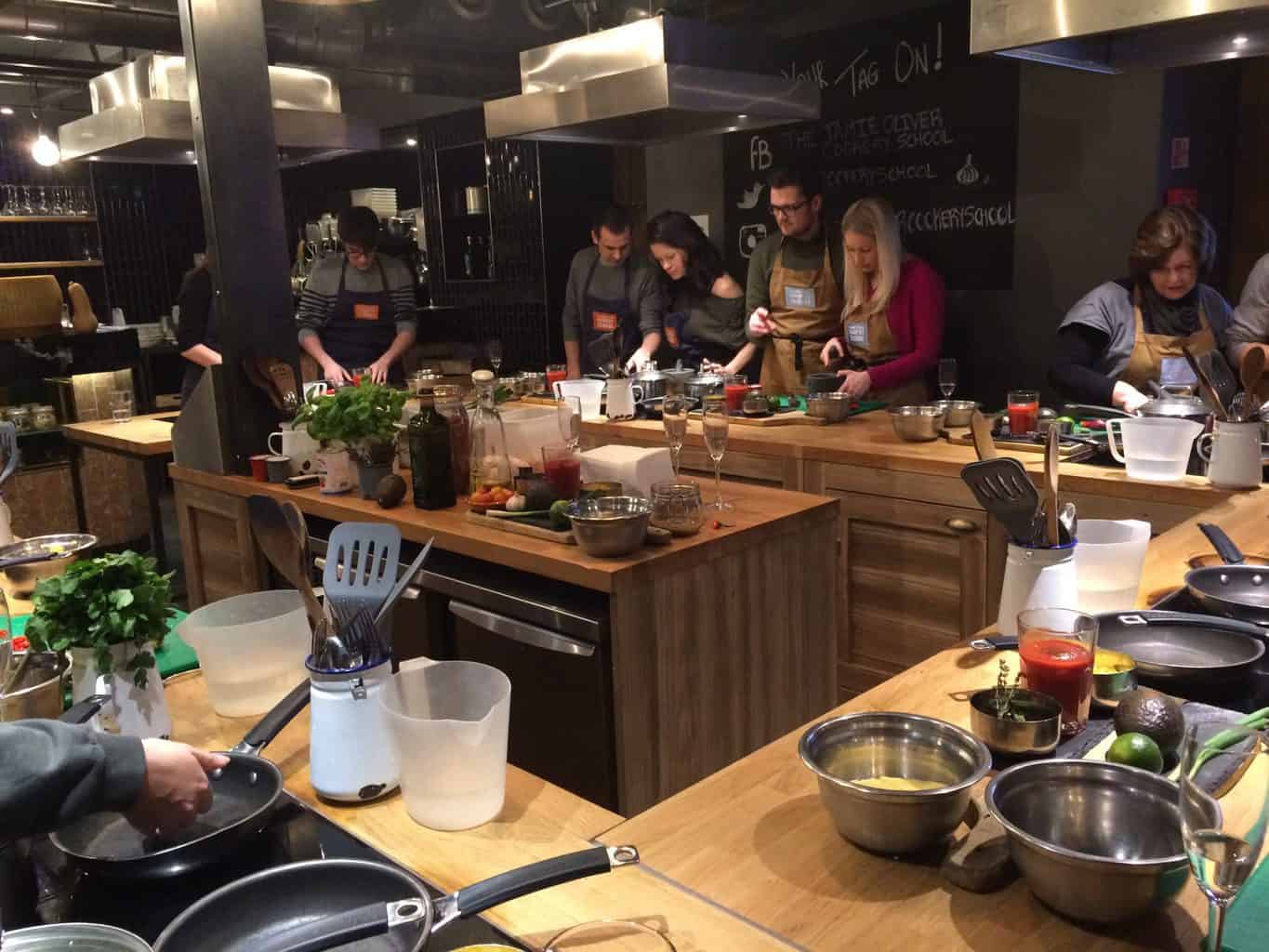 We met our super-friendly chef, Gabby (who I am like 99% sure was Canadian based on her accent but I was too afraid to ask).
She took us through some basic housekeeping rules like how not to slice your hand off with a knife and that if you do slice your hand off with a knife, she's first-aid trained.
PHEW.
Then she started on the lesson, taking us through the first half of the steps and demonstrating how to make it.
We were making corn tortillas with guacamole, a few red salsas and chipotle chicken.
At the end of her demonstration, she did a quick recap of what we needed to do and let us go back to our stations.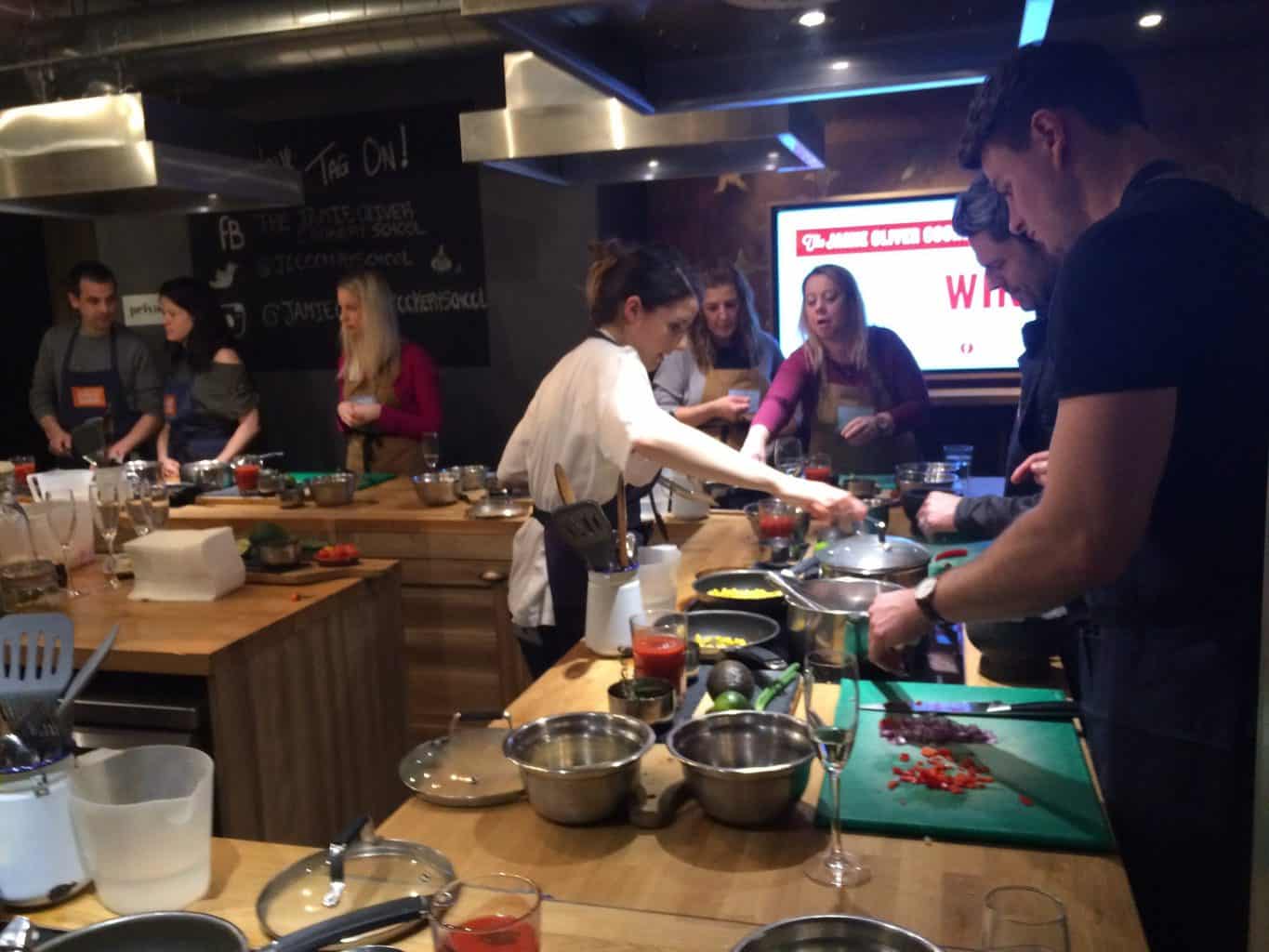 We got to work and she would give us reminders throughout or answer our questions in case her instructions had already escaped us.
I was put in charge of putting the herbs on the chicken and putting the chicken in the pan.
So naturally I put it in the wrong side up, but it was fine, we recovered.
After we had all finished the first steps, we reconvened at her demonstration station where she talked us through the second and final half.
We split up again to finish our dishes.
Guy was tasked with removing the chicken meat from the bone because I tried it and complained about how gross it was and told him that I was never eating meat again.
I was on the avocado station, chopping up our guacamole, which suited me as I could eat avocados all day every day.
Once we had fried our tortillas and finished our sauces, we tried to plate our food as delicately as possible on the fancy wooden boards we were given.
I think we were relatively successful given how much we had to fit. Except for where I spilled chicken everywhere, my bad.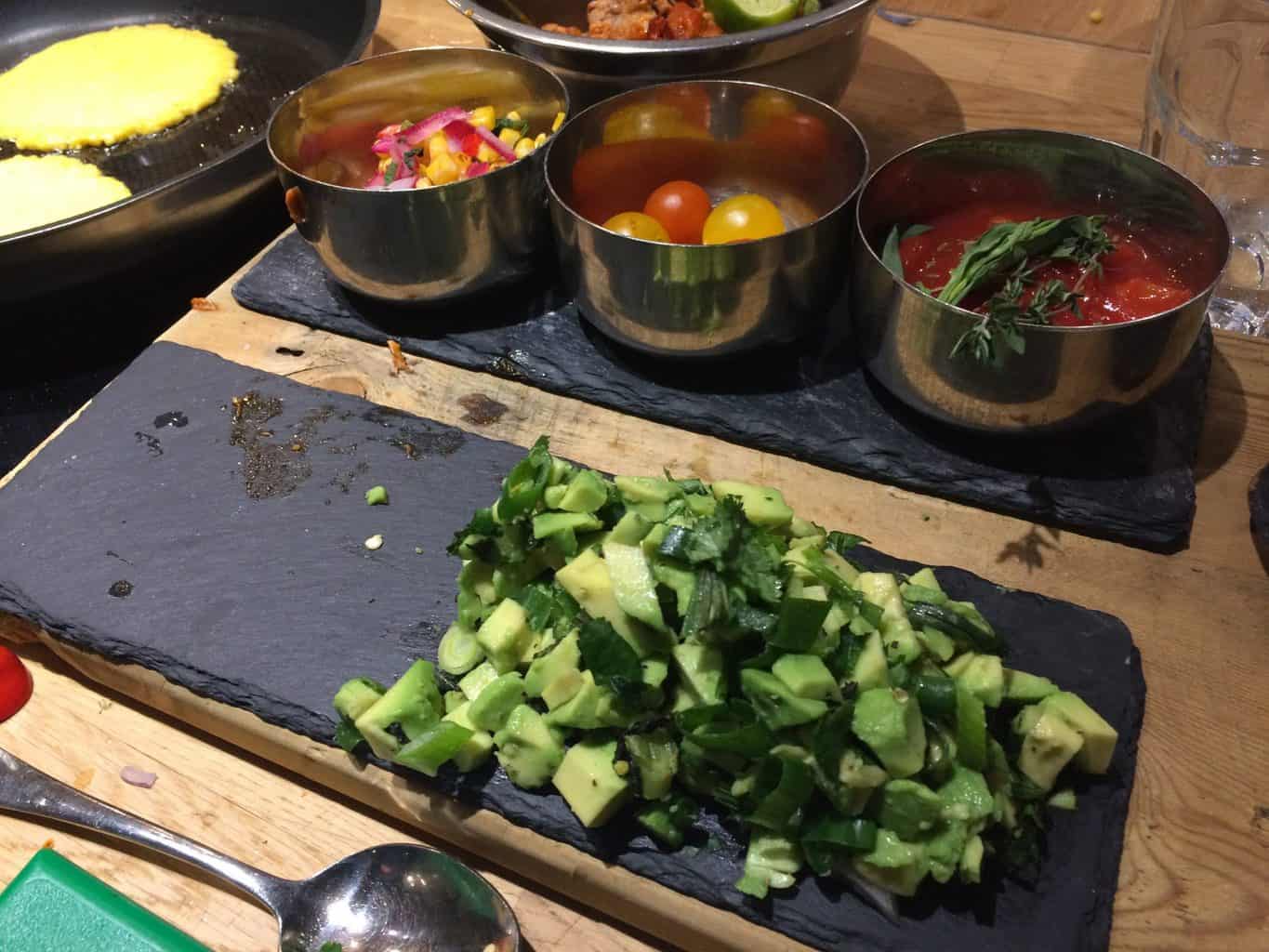 After you finish, you are welcomed back to the eating/relaxing room where they had set the tables for us.
We set up in the corner facing the window so no one could see salsa dripping down our faces and got started.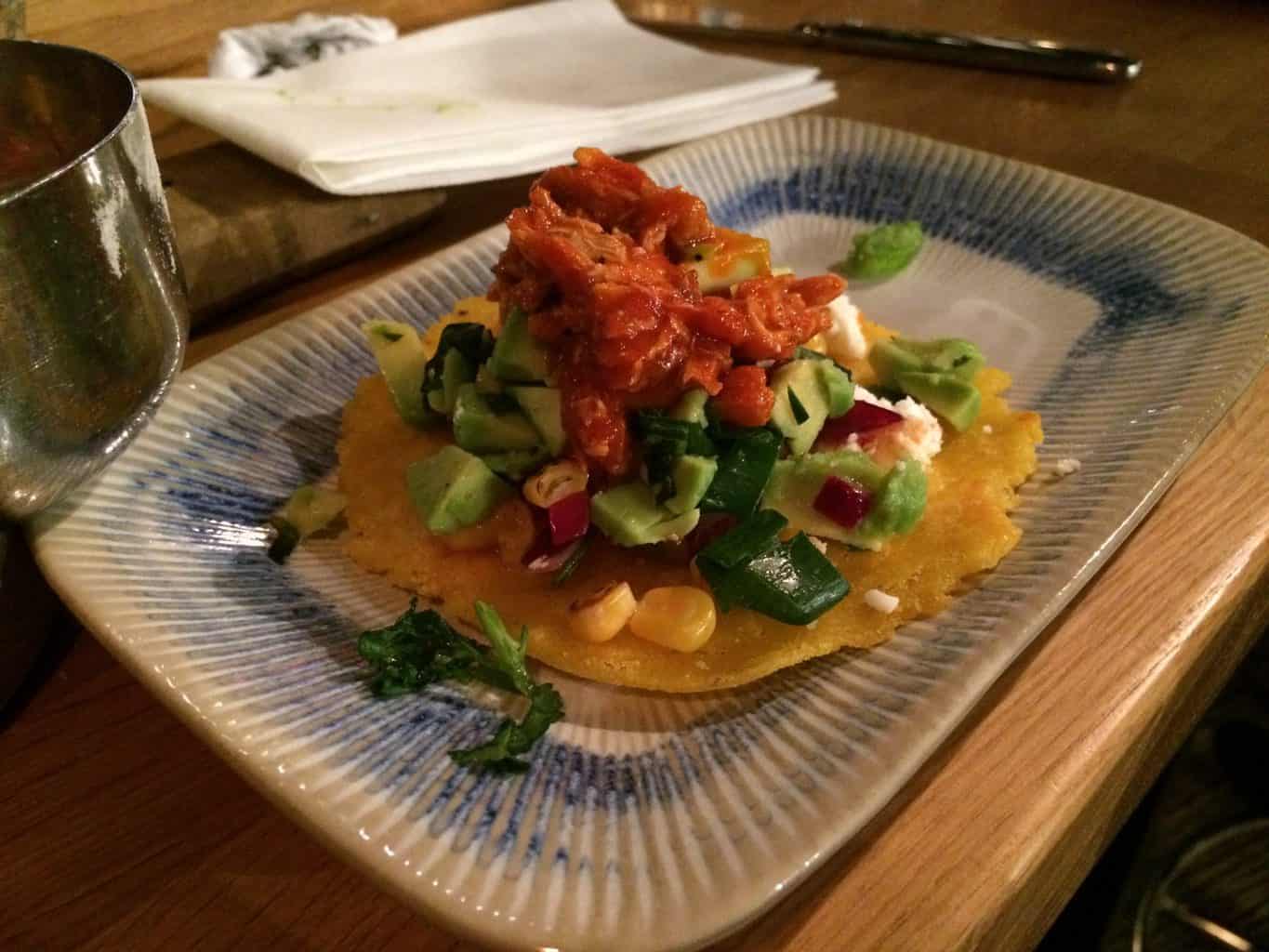 Let me just say, good Mexican food in London is HARD to find, so I was super happy when it tasted as good as it looked.
We piled our tortillas up with toppings and stuffed our faces in the most delicate way possible.
Once the tortillas were gone, we just grabbed a fork and finished off the sauces and chicken.
There was a slight incident as we accused each other of eating more than their fair share of the guacamole, but we pulled through.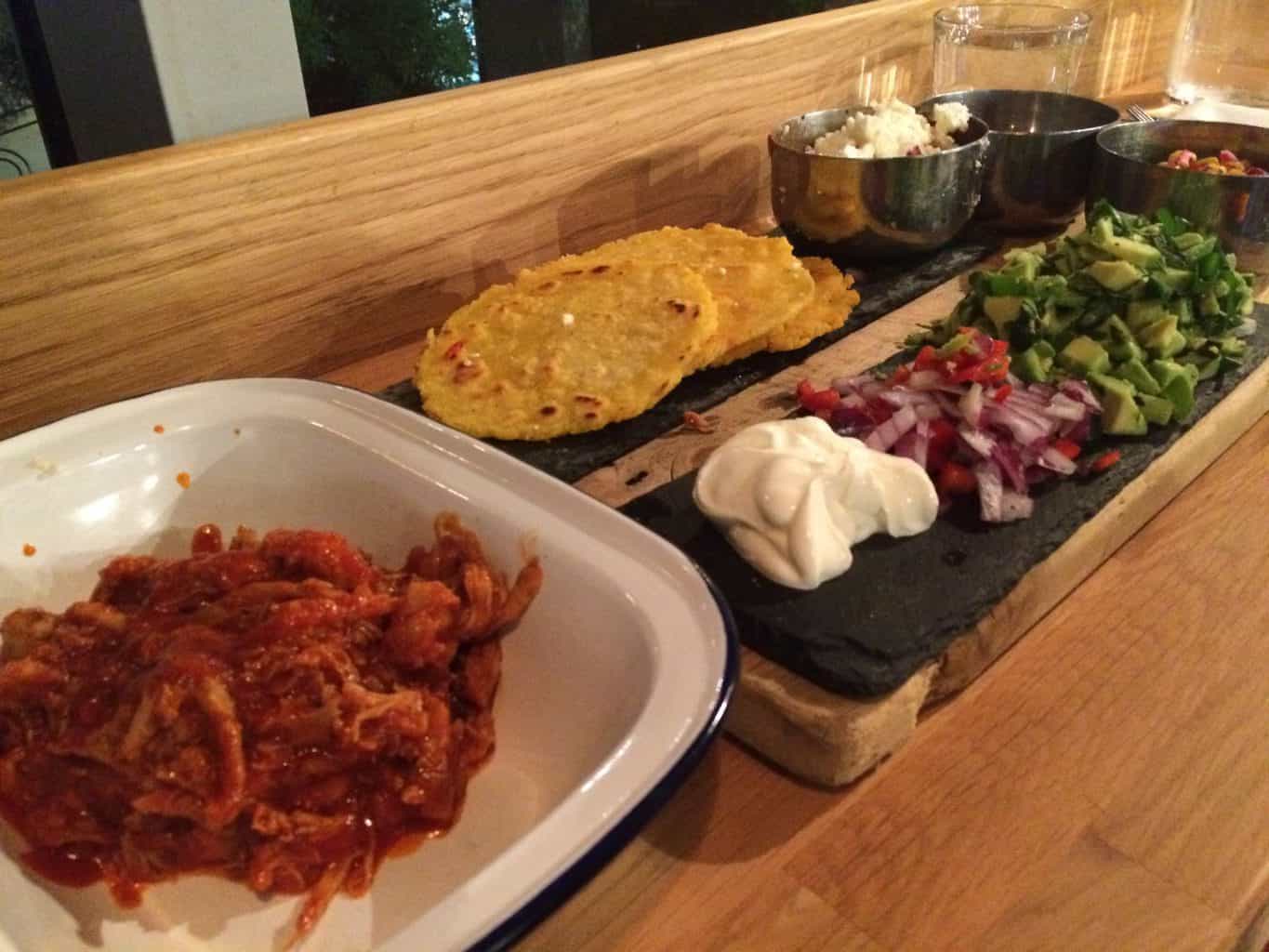 The rest of the class was mostly couples and one or two families, which seem to be the target audience of these classes.
If you don't come with someone, you will be paired with a stranger to cook your dish, which is good if you're looking to meet new people and maybe not so good if you're looking for an individual experience.
Our class was 45 pounds per person, which seems slightly on the expensive side but you do get to enjoy the meal and get a free drink which is going to be 20+ pounds in London anyway, so then you're really only paying 20-25 pounds for the cooking class portion which suddenly is very reasonable.
The day after the class, we received the recipe in an e-mail so we can make it at home again.
Classes book up quickly due to the popularity, so if you're interested in trying, I'd search well in advance of your special occasion!