This post contains affiliate links for which I may make a small commission to help keep the site running. You will not be charged extra for these items had you not clicked the links. Thank you for your help to keep the site running!
Bekonscot Model Village, the oldest original model village in the world, is just a train ride away from central London in a town called Beaconsfield.
Basically, an entire village (and more) has been recreated with small figurines and miniature buildings to scale.
While there are model villages in other countries (including a few in the US), the UK hosts the vast majority of these little towns.
I mean, you don't build an empire without first being able to build a functioning 1/100th size church, duh.
I visited Bekonscot Model Village and Railway to bring you this Bekonscot Model Village review, so join me!
GET A

FREE

UK GUIDE and ACCESS TO MY PLANNING FB GROUP
With 50+ pages of helpful travel tips and the "best of" UK lists, this is your ad-free key to your UK trip.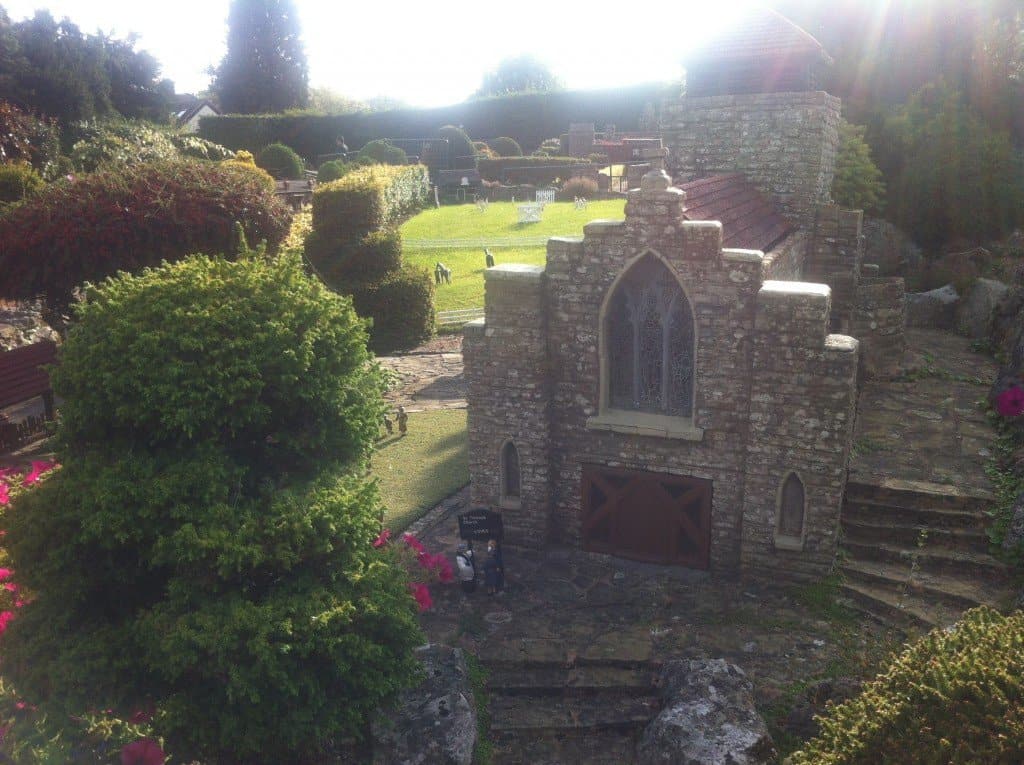 Bekonscot Model Village Address
Bekonscot Model Village is located at Warwick Road, Beaconsfield, Buckinghamshire.
The Bekonscot Model Village postcode is: HP9 2PL.
It's located in the town of Beaconsfield, a Buckinghamshire town on Chiltern's trainline, and is one of my favorite things to do in Buckinghamshire.
Bekonscot Model Village History
The history of Bekonscot Model Village stretches back to 1927 when Mr. Roland Cunningham, a London accountant, had a model railway built indoors.
Eventually, his wife demanded that the railway be moved outside, and thus, Bekonscot Model Village was born.
Bekonscot was meant to be a fun and eccentric challenge, inspired by the local buildings of the time.
It was never meant to be exactly perfect.
The village has been through a few changes over the years.
At first, it kept up with modern day architecture and style, but in 1992, the decision was made to return the village back to its place in the 1930s.
The interiors and exteriors were stripped and remade to restore Bekonscot to its former 'glory.'
There is also a display with pictures from the village's past and newspaper articles showing a very young Queen at Bekonscot!
A Queen at a model village?
Does it get more British than that?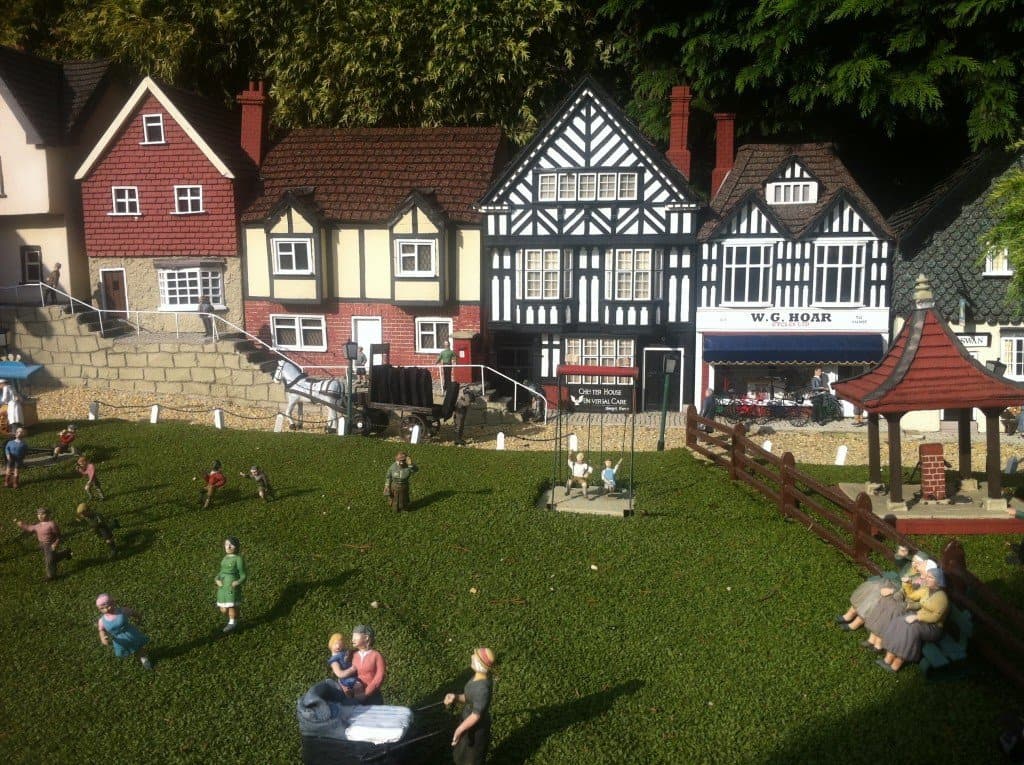 Bekonscot Model Village and Railway Experience
The village is massive, and often has expansion plans.
You walk along the winding pathways which take you through every scene, and you can also stop at an overview to get a view from above.
You can spend as much or as little time as you'd like and take any route you choose.
There aren't too many rules in Bekonscot, other than to keep yourself off the grass and refrain from stepping on any of the villagers, obviously.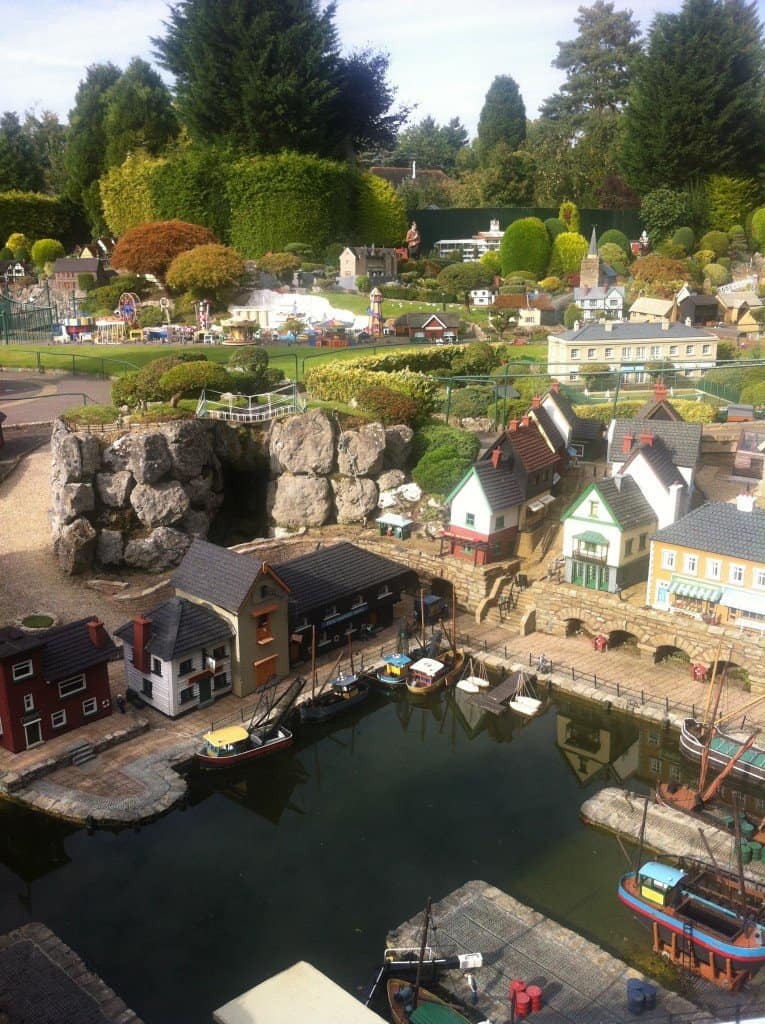 There are six little towns in Bekonscot Model Village.
Greenhaily
This area is filled with Chessnade Zoo, essentially models of animals including penguins, tigers, lions, and even chimpanzees having a tea party.
The originals are over 75 years old and were created by children who lived in the New Forest.
Also in this section is a windmill, Bekonbury Castle, and a game of cricket on the green.
Bekonscot Town
This is the oldest part of the Model Village and also the largest.
You can walk down the High Street and peek into the shops and see the cinema, fire station, pubs, and marina.
There's also the world's smallest Marks and Spencer.
There's also a church with a choir inside, a working watermill, and Clark College, which is based off of Eton College.
Southpool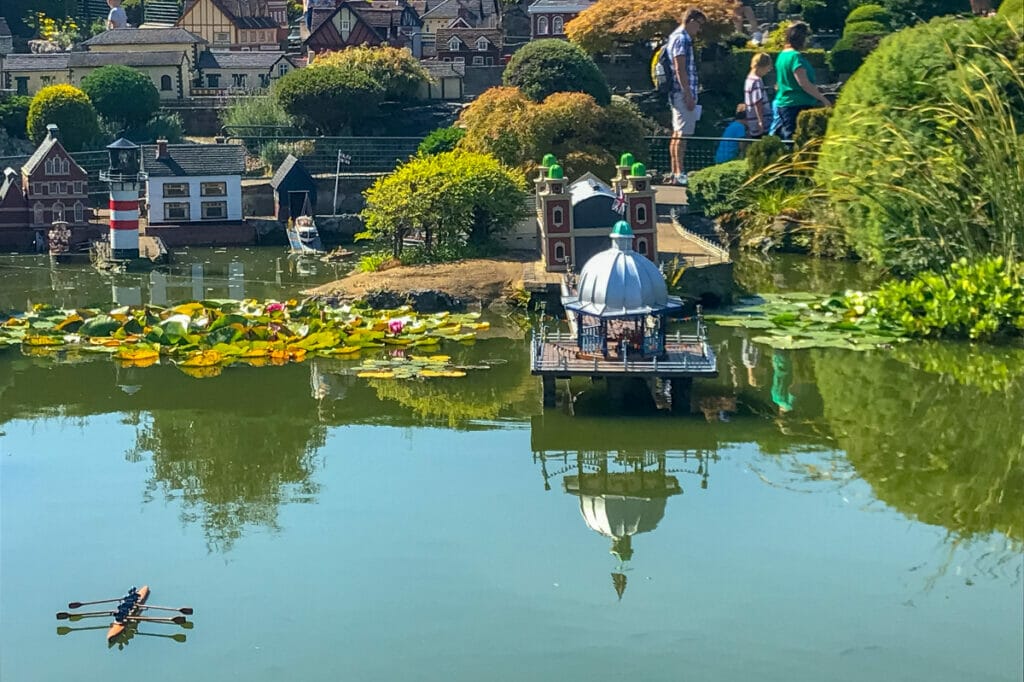 Check out this fishing village with its port, oil refinery, repair yards, and rockclimbers.
Hanton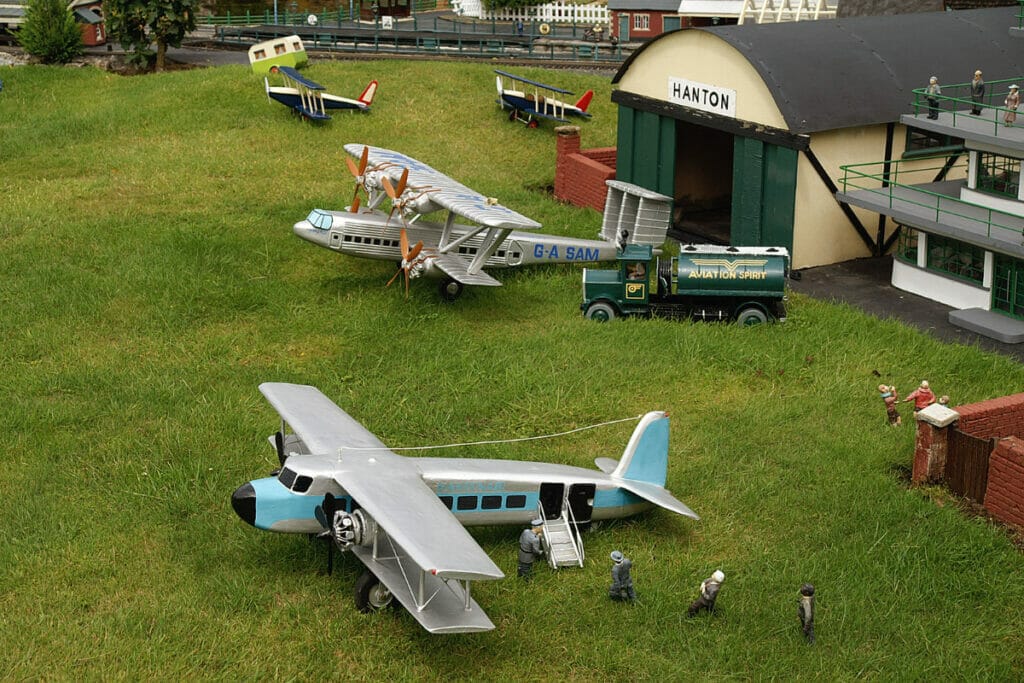 This is a lovely and beautiful part of the model village, complete with the marriage of George and Ann who are in the middle of taking wedding photos (miniature ones, of course!)
There's also a bit of a problem in the town with a fire going on in one of the houses.
But all is well, because there's also a working fairground, a country club, a maze, and a farmyard.
Splashnyg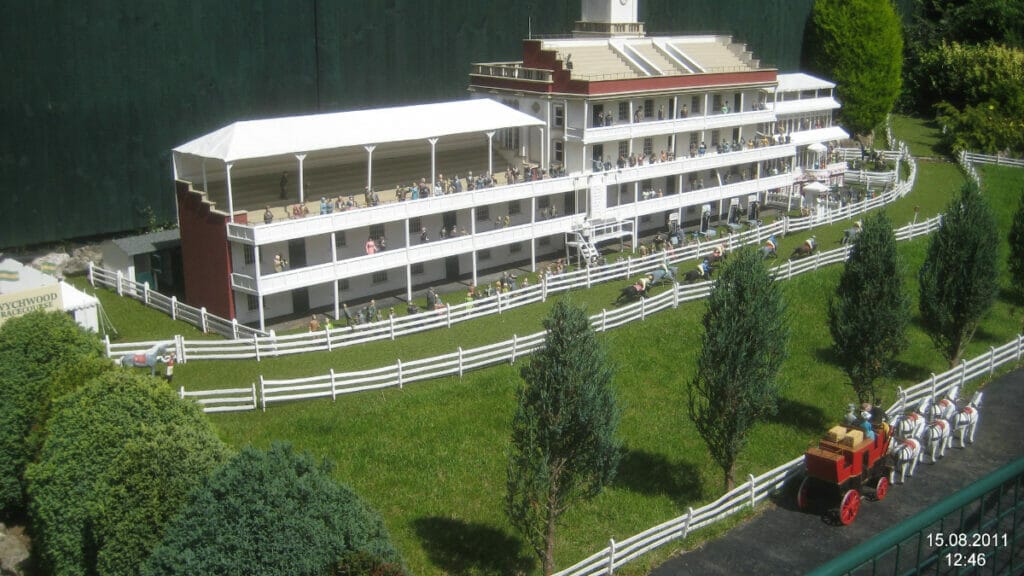 It's Race Day at Splashnyg, where the town is enjoying Ascot Racecourse.
There's also a school and a hotel that has beautiful lawns, waterfalls, and a garden center.
You can also see a lady cleaning her windows, a hospital based off of Amersham hospital, cablecars running up the Gorge, and a village green.
Evenlode & Epwood
Lots of little mining cottages make up this dark corner of the Model Village – literally.
Check out the coal as it comes out of the ground and look out for the retirement home, the petrol station and workshops, and the Polo match going on.
Bekonscot is not flashy or "slick," and some of the houses and people have had their details (and faces!) worn off over the years since it is an outdoor attraction.
But what it lacks in 'shine' it makes up for in charm.
You can't help but be taken back to a time before iPads, before game consoles, before 3D television, when a model village wasn't just 'an' attraction- it was the main one.
Bekonscot Model Village Food Options
Bekonscot Model Village has its own family tea room that has both indoor and outdoor seating.
You can stop by for just a drink or a snack, or you can enjoy cold sandwiches and hot foods like jacket potatoes and burgers.
For kids, there are also hot and cold options including spaghetti, chicken bites, egg and chips, and mini sandwiches.
During the hottest months, get an ice cream for everyone to enjoy as you wander around.
Bekonscot Model Village Children's Play Area
Once you're finished touring the model village, let the children burn off steam in the children's playground.
Not only is there a traditional playground, but there's also a pirate-themed play area and remote controlled boats.
The children's play area is in a secluded section of the model village so it's easy to keep track of the kids.
Bekonscot Model Village Ride-on Train
After watching the Model Village miniature train go around and around (complete with working signals!), the whole family can jump on the Ride-on train that, while still miniature, is definitely big enough to fit human people rather than miniature people!
It's called the Bekonscot Light Railway and it goes behind the Model Village, through some gardens and around a pond before coming back to its starting point.
It's just £1.50 per person, and kids will love it as something different to do.
If you're interested in the history of the area, you'll be interested in knowing that the miniature ride-on train was an important part of the early years of the model village.
It was used to move soil around during construction, as well as to move ice creams around to feed to guests!
It was also thought to be made from parts sold by the contractors who built the original Great Central Railway through Beaconsfield.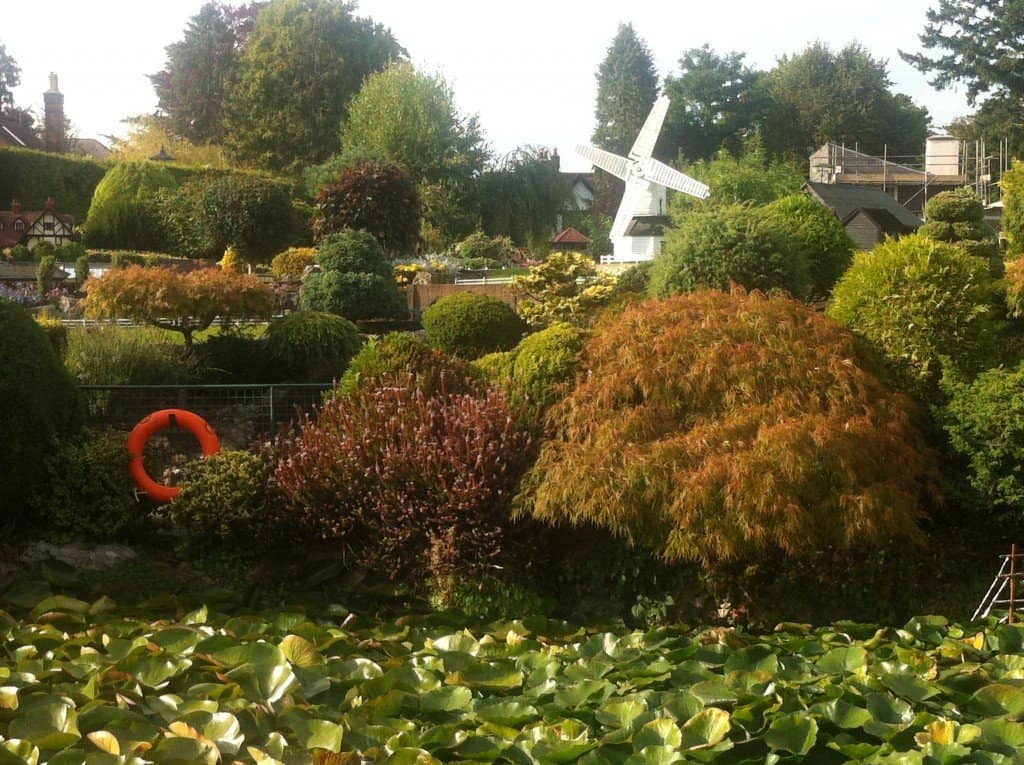 Bekonscot Model Village for Adults
One thing I want to address is that, despite all of the children's activities, Bekonscot Model Village is very open to adults visiting on their own as well.
We don't have any children, and I've been at least 3 times.
Part of the enjoyment of the village is actually only appreciated by adults who have the patience to take in the small details and understand the context of the pieces on display.
Adults will especially find the exhibit on the history of Bekonscot Model Village interesting, as well as the overlook that allows you to stand on the far side of the village and look out onto the whole property and see how it all weaves and intertwines together.
There are also some fantastic books in the gift shop about the history of the local area, as well as suggestions for local hikes, walks, and other attractions.
And whether you have kids in tow or not, the cafe is open to everyone and who doesn't love an ice cream cone while walking around the oldest model village in the UK?
Bekonscot Model Village Prices
There are a variety of costs for Bekonscot Model Village depending on your age and situations.
Regular adults are £13.00, with children being £8.30 and concessions being £12.00.
If you come as a family, you can get a family deal (2 adults and 2 children) for £37.20 or 1 adult and 2 children for £26.50.
And if you live nearby and want to go to the Model Village over and over again, you can even get a season's pass.
Bekonscot Model Village Opening Times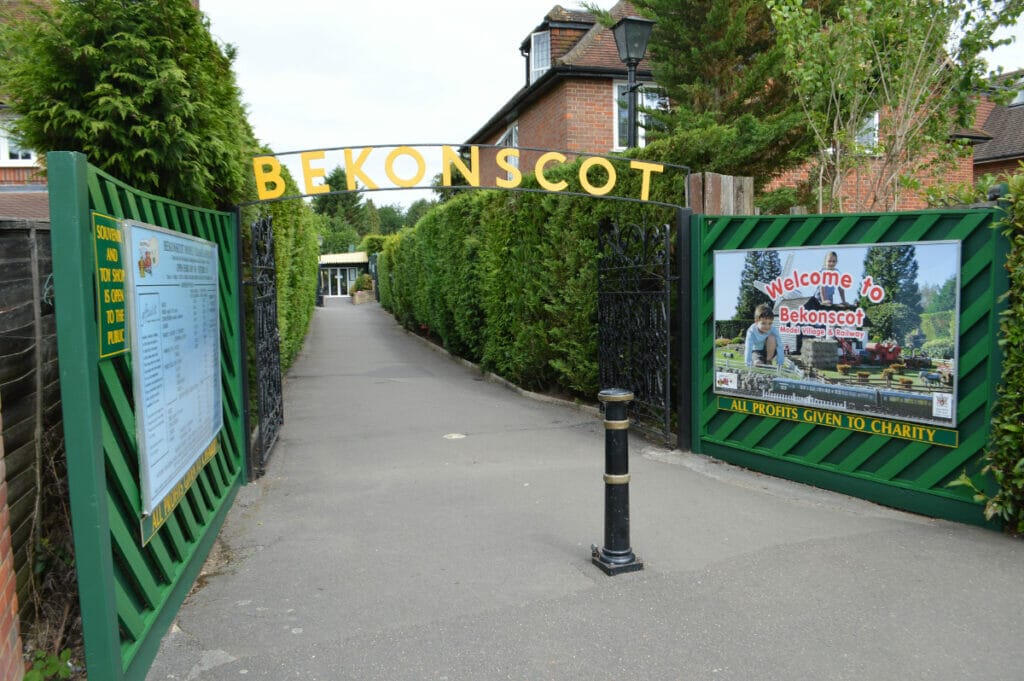 You can visit Bekonscot Model Village any day of the week between the middle of February and end of October.
Opening hours are 10:00am to 5:30pm every day.
Bekonscot Model Village closes for the winter months and uses that time to undertake refurbishment projects and add new things to the village.
They do occasionally have limited opening hours on a few winter days, but you shouldn't plan on these.
In many ways, Bekonscot Model Village is best enjoyed in the (slightly) warmer months because you'll get more sunlight hours and slightly less chance of rain as the village isn't covered.
Bekonscot Model Village Parking
Bekonscot Model Village has just a few free spaces available at St. Teresa's Church Car Park, but there are other places to park in Beaconsfield.
We parked at a pay and display car park near the Waitrose just a couple minutes walk away, and you can also park at St. Michael's church.
How to Get to Bekonscot Model Village
If you're driving to Bekonscot Model Village, simply plug in the post code given above.
If you're coming on the train from London, you're going to want to get a Chiltern Railways train from London to Beaconsfield.
Once you get to Beaconsfield Station, it's just a 7 minute walk to Bekonscot Model Village, so there's no need to jump in a taxi or worry about taking any other public transportation there.
Just use your feet and follow signs and you'll be there in no time.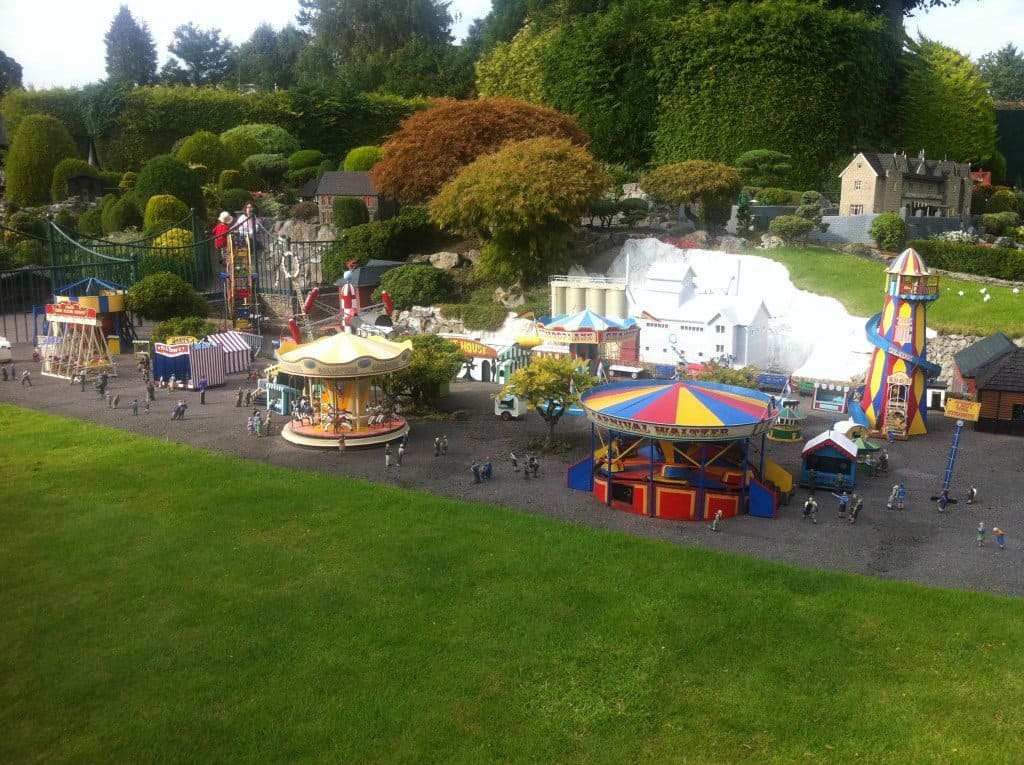 Where to Stay near Bekonscot Model Village
If you're coming to Bekonscot from further away and want to make an overnight trip of it, there are a few hotels within walking or short taxi distance to consider.
The interior decor of this hotel is almost an attraction in and of itself, but in addition to the crazy decor, there's also an outdoor swimming pool for when the weather is warm, as well as 2 on-site restaurants so you can enjoy a nice dinner when you get done exploring Bekonscot Model Village.
Each room is individually designed so you'll encounter a new layout each time you stay, and history geeks will love that it's the oldest recorded building in Beaconsfield.
Click here to read reviews of Crazy Bear Beaconsfield and click here to book a room.
Just over 2 miles away from Bekonscot, the Potters Arms is within a short taxi distance from the village and is a pub hotel.
It's highly recommended by couple's travelers who love the cozy atmosphere, the breakfast in the pub in the morning, and the ability to enjoy the garden and outdoor eating area.
There's also a flat screen television in every room for you to watch a movie or catch up on the news.
Most rooms only have beds for 2, but you can have child-size beds added for a small fee each night.
And if you have any really little ones with you under the age of 2 – they stay completely free!
Click here to read reviews of The Potters Arms and click here to book a room.
This 4-star hotel in Beaconsfield is the perfect place if you're looking for an upscale place to visit on a mini break or short visit.
There's a fully equipped fitness center and a spa on-site, which is how you know a hotel is serious about being a retreat from the hustle and bustle of daily life.
An on-site restaurant and lounge means you don't really need to even leave the hotel in order to enjoy your weekend, and the swimming pool means you can take a relaxing dip any time of the day.
Splurge for the King Suite if you want to truly indulge in what this hotel has to offer, or opt for the Deluxe King Room if you want to save a bit of cash.
Click here to read reviews of Crowne Plaza Gerrards Cross and click here to book a room.