This post contains affiliate links for which I may make a small commission to help keep the site running. You will not be charged extra for these items had you not clicked the links. Thank you for your help to keep the site running!
Virgin Atlantic.
The brand has done a great job of positioning itself as one of the coolest and most service-oriented airlines in the sky, but is it true?
In this long-haul Virgin Atlantic review, I'll walk you through a Virgin Atlantic flight and talk about all the pros and cons that come with booking this well-known UK based airline.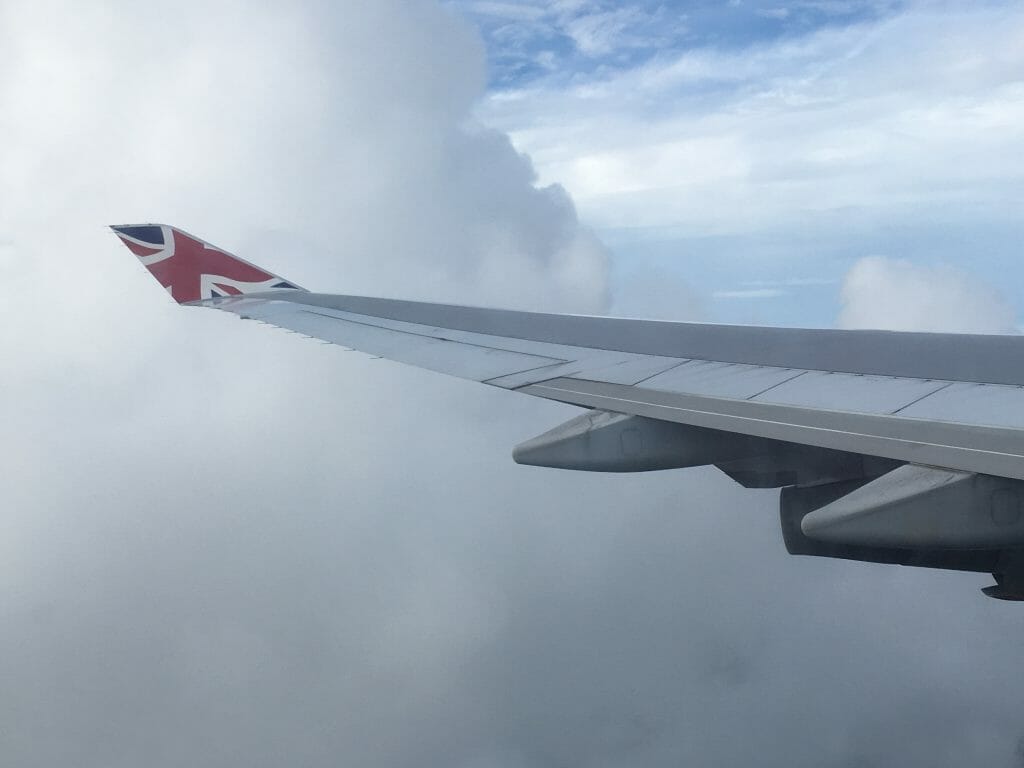 Virgin Atlantic History
Virgin Atlantic flew its first flight in 1984 from London to Newark, and since then has expanded to both of London's major airports as well as other airports in the UK.
The company has been through many changes over the years, including name changes and policy changes (today, Virgin Atlantic has relaxed its demands for its female flight attendants regarding whether they wear pants or a skirt and they can now fly makeup-free).
In 2015, Virgin Atlantic partnered with Delta Airlines to bring more routes to the table, and in 2017 they partnered with Air France-KLM, though Virgin Atlantic still operates independently in the UK as a UK airline.
Virgin Atlantic Airline Long Haul Booking Options
Virgin Atlantic is based out of the UK and is headquartered in London with hubs at London Heathrow and London Gatwick airports.
This British airline flies to destinations all around the world from the UK, including the US, Caribbean, Africa, and Asia.
The main airports are London's Heathrow and Gatwick, but they also offer flights from UK airports like Glasgow and Manchester.
Nowadays, when you book with Virgin Atlantic, you have multiple options when it comes to which class you fly.
This review will be about Virgin Atlantic's economy class experience, but you can also fly Premium or Upper Class.
The Premium cabin comes with a dedicated check-in and bag drop, a glass of bubbly as you board, a separate class with larger seats than any in Economy, and your meal service served on actual plates instead of in the standard airline packaging.
You can select your seat free of charge and will enjoy upgraded, well, everything.
Upgraded food selections, upgraded amenities kits on overnight flights, and an upgraded experience overall.
If you want the best of the best including lie-down seats, lounge access and the top quality everything, you can spring for Upper Class.
But, as I said, this review is about Economy!
If you're upgrading from that, then just know that your flight will be just that much better than the already great experience Virgin long haul flights gives in Economy class.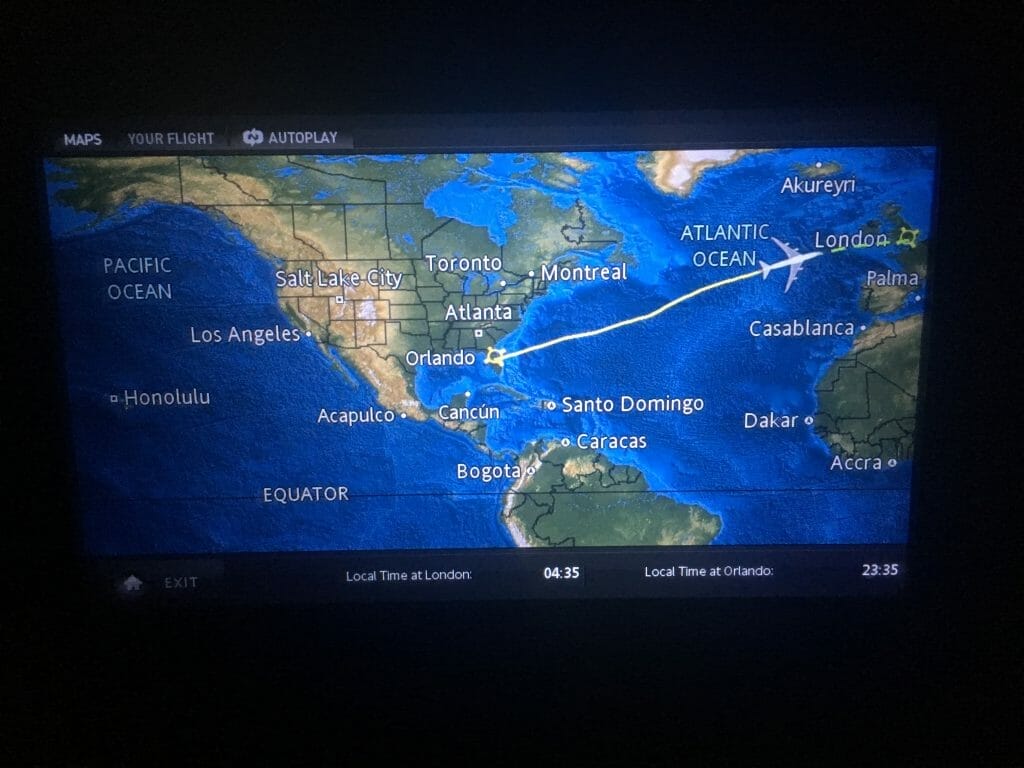 What to Bring for a Virgin Atlantic Flight
For your flight, make sure to read up on my tips for flying long-haul here, as well as my advice for nervous flyers here.
Ensure that you have a carry-on that fits Virgin Atlantic's requirements, like this one, and don't forget your neck pillow, an eye mask, and ear plugs.
Even if they do get given out on your flight, they're not going to be as quality as the ones you bring yourself.
We recommend this brand for ear plugs and this brand for eye masks.
Virgin Atlantic Economy Light Long Haul Review
I always fly Economy with Virgin, but nowadays they split Economy into three types of bookings: Economy Light, Economy Classic, and Economy Delight.
Economy Light still includes food and the ability to pick your seat if there are any available once you check-in, but you cannot bring a checked bag and you can't choose your seat any further in advance.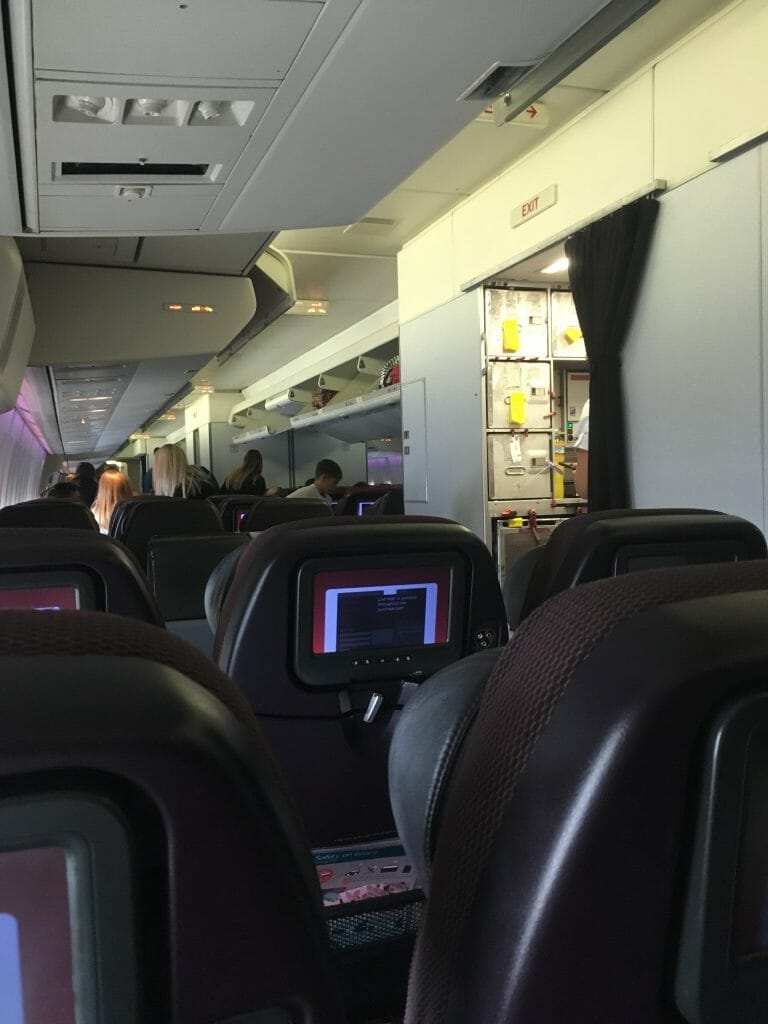 I flew Economy Light because I was traveling alone and didn't mind where I sat (though I'll talk more about this in a minute) and also I could pack everything I needed into my carry-on, as you do still get a carry-on bag and personal item with Economy Light.
If you choose Economy Classic, you'll get to pick your seat in advance for free and you will also get your checked bag included.
If you choose Economy Delight, you'll get an extra legroom seat, be able to use the priority boarding lanes and be able to check-in at specific desks.
Virgin Atlantic Long-Haul Check-In
The one thing that most people fret about re: check-in on long-haul flights is choosing your seat if you haven't been able to already.
If you are super picky about where you sit or are traveling in a group, I would advise paying for Economy Classic to book your seats ahead of time.
However, if you, like me, have a preference on the plane but aren't 100% stuck to it and you're not traveling during peak peak season (and the cost of your flight will go a ways towards helping you figure out if you are!), I would say risk it and don't pay the extra to book your seat ahead of time.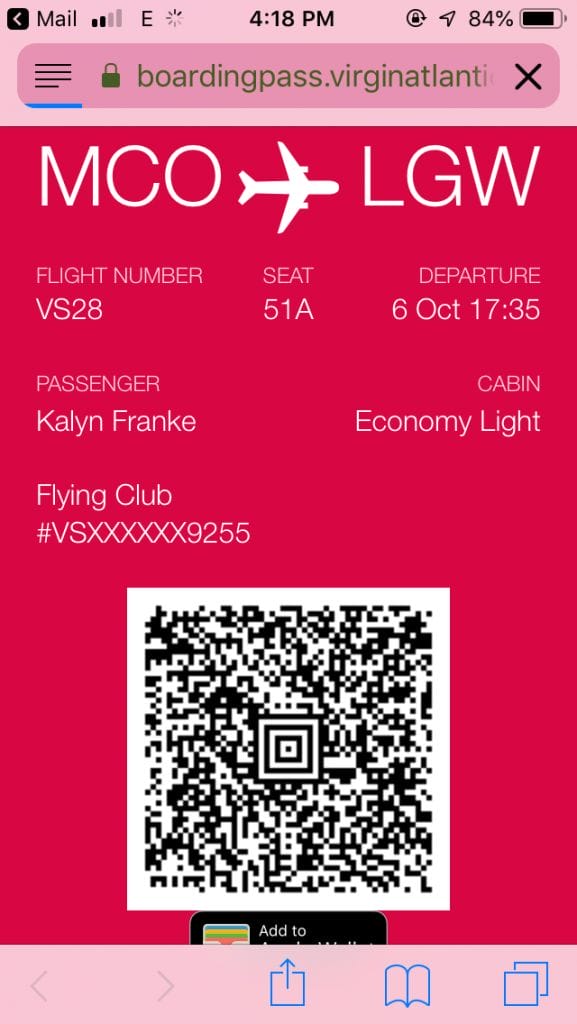 From London to Orlando in October, I got an aisle seat in the area I wanted, and on the way back?
An empty row, just for me!
Glad I didn't splash the cash to reserve those when I got them anyway just by choosing my seat at check-in.
When you get to the airport, Virgin Atlantic has their own big desks at most international airports they fly to, particularly for the London and Orlando route I fly.
If you don't need to check-in a bag, make sure you print your boarding pass ahead of time (or have it sent to your phone) and then head straight through security.
If you do need help, to check in luggage, or to have a boarding pass printed, head to the Virgin Atlantic check-in desks and look for signs relating to your "class" or flight – if you are flying Premium or Upper Class, lucky you, you get your own special desks!
For everyone else, get in the much longer line!
I have always found Virgin Atlantic staff very helpful, even airport side, so don't fret, just get to your flight at least 2 hours early, 3 if you are a particularly nervous flyer or you have reason to believe the lines will be long (ie you're traveling around the holidays).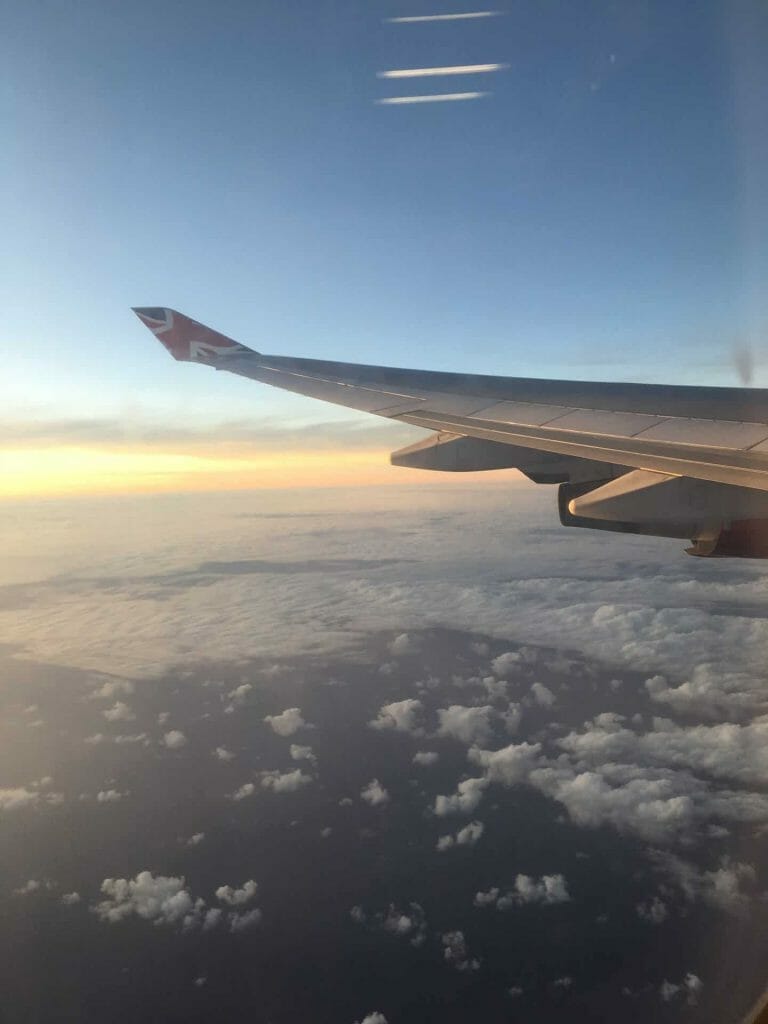 Virgin Atlantic Economy Long-Haul Flight Experience
Right, here we go, the actual in-flight experience flying with Virgin Atlantic – the part of this Virgin Atlantic long-haul review that you came for!
On the popular London to Orlando route, Virgin Atlantic flies Boeing 747s with a lower deck and an upper deck – massive planes that truly make you question how flight is even possible!
I was seated on the lower deck, and I was greeted warmly when I got on by the flight attendants who pointed me in the direction of my seat.
I like the colors on Virgin planes – neutral tones and warm reds that got you a bit excited for the flight while still being calm.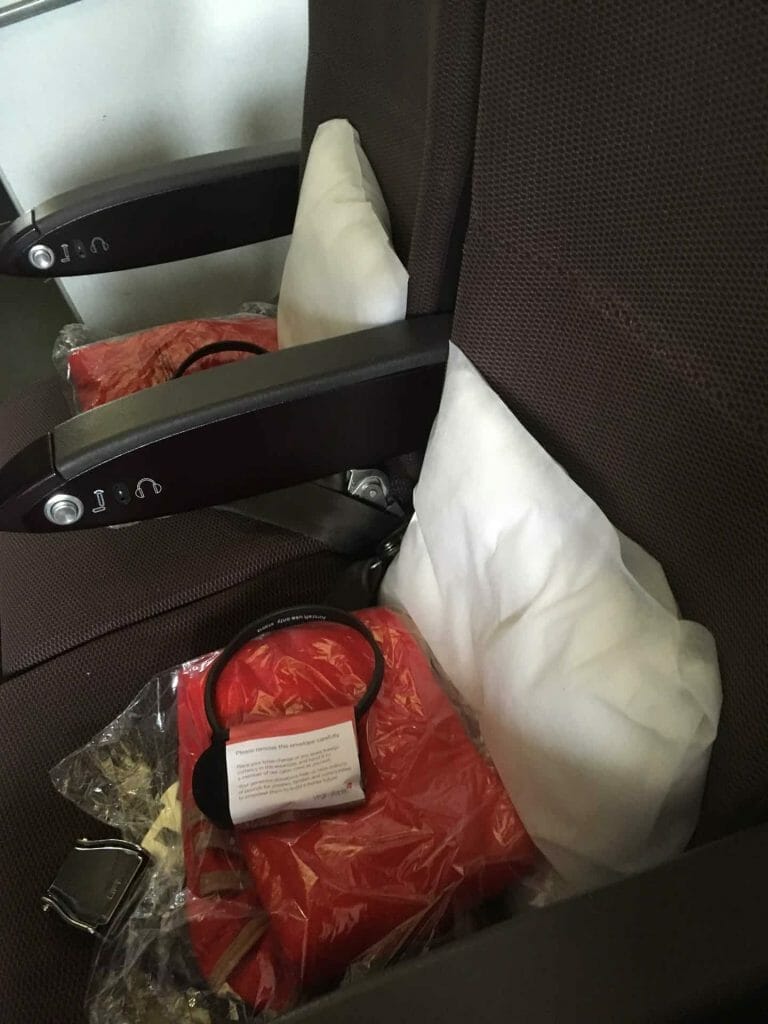 Even in Economy, you are provided with a pillow, blanket, and headphones (though I suggest you bring your own – I love these ones – as airplane headphones are never going to be great no matter who you fly with).
The in-flight safety demonstration and video is also super cool, emphasizing the sleekness and effortlessly cool nature of Virgin Atlantic with a calming voice and some animated people showing you what to do in case of an emergency.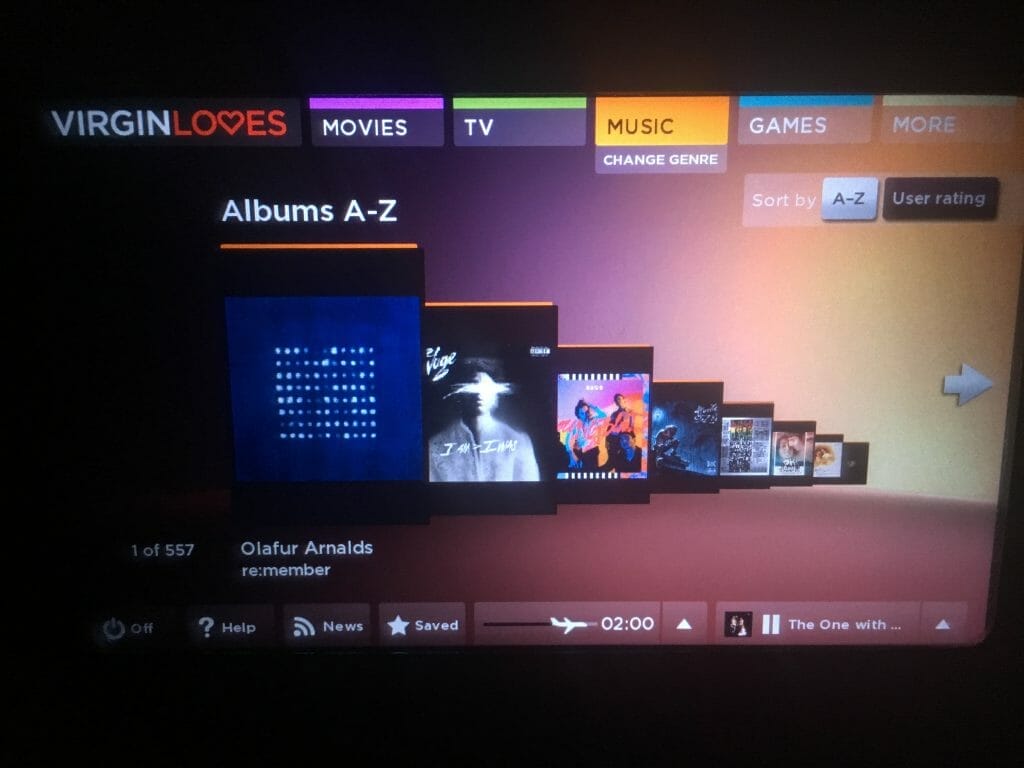 The pilot kept us updated with the conditions in our destination, the flight time, and all of the standard bits of communication, and then the flight began!
I'll talk about the Virgin Atlantic food below, but first the flight attendants came around ensuring that we had snacks and drinks, and then the first meal was served.
Throughout the flight, they came around with water, juice and other drinks and you got to relax with the in-flight entertainment system.
Overall, the selection on the in-flight entertainment system was great and current, but I'll include my issues with it below.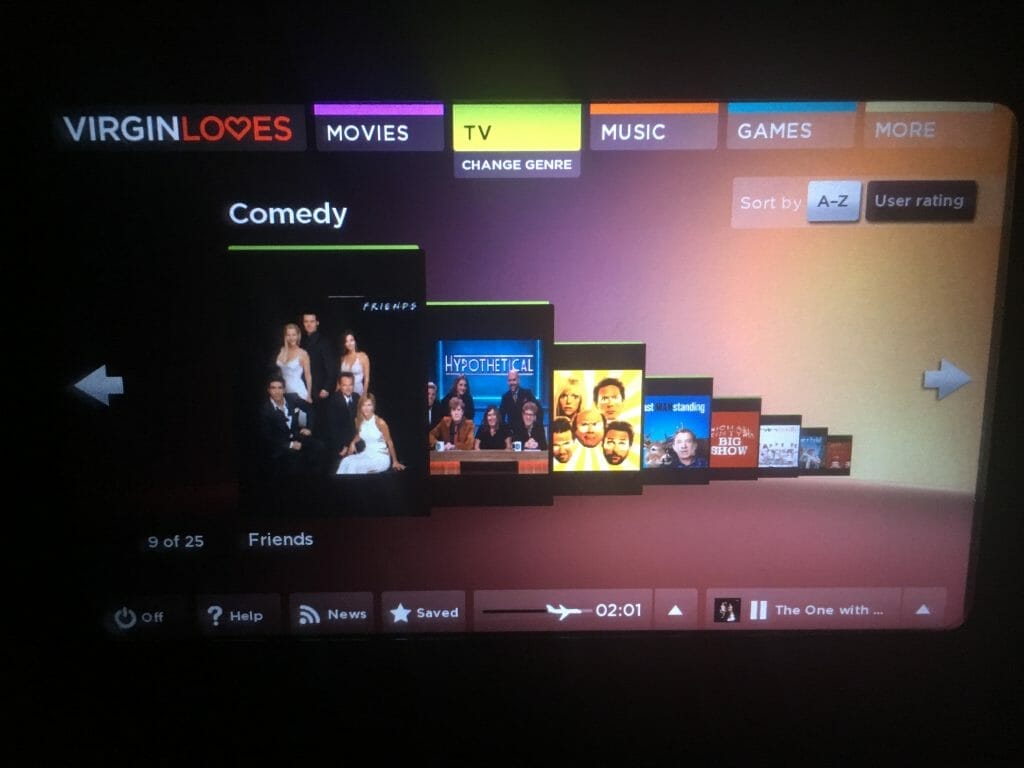 The time passed and the cabin lights were dimmed in the appropriate places to keep us as comfortable as possible.
I used the bathrooms a few times and they were always clean for Economy – obviously the amount of traffic they get in one long haul flight is a lot, but they were checked regularly by the cabin crew and stocked up, which was nice.
When it was time to get situated to think about landing, the cabin crew again came around with the second meal and drinks and we had time to eat and enjoy before needing to pack everything up.
We had plenty of time, even taking into account the earlier pack up that the pilot ordered so we could be in our seats for some turbulence on the last bit of the journey.
The pilots came on before landing to update us on our arrival time and the weather, and gave us a very friendly and heartfelt thank you for flying Virgin and sent us on our way.
Virgin Atlantic Long Haul Service and Cabin Crew
So far, the upsides of Virgin Atlantic that I've mentioned aren't too terribly different from other airlines – you get on the plane, which is a plane and has seats and lighting and baggage space, and then you get to your destination.
You can't make an Economy seat on any airline into a luxury experience, because that's not the point and I'm not claiming that Virgin does that.
What Virgin Atlantic does succeed at, however, is having the absolute best cabin crew and pilots of anyone who make your experience a million times better.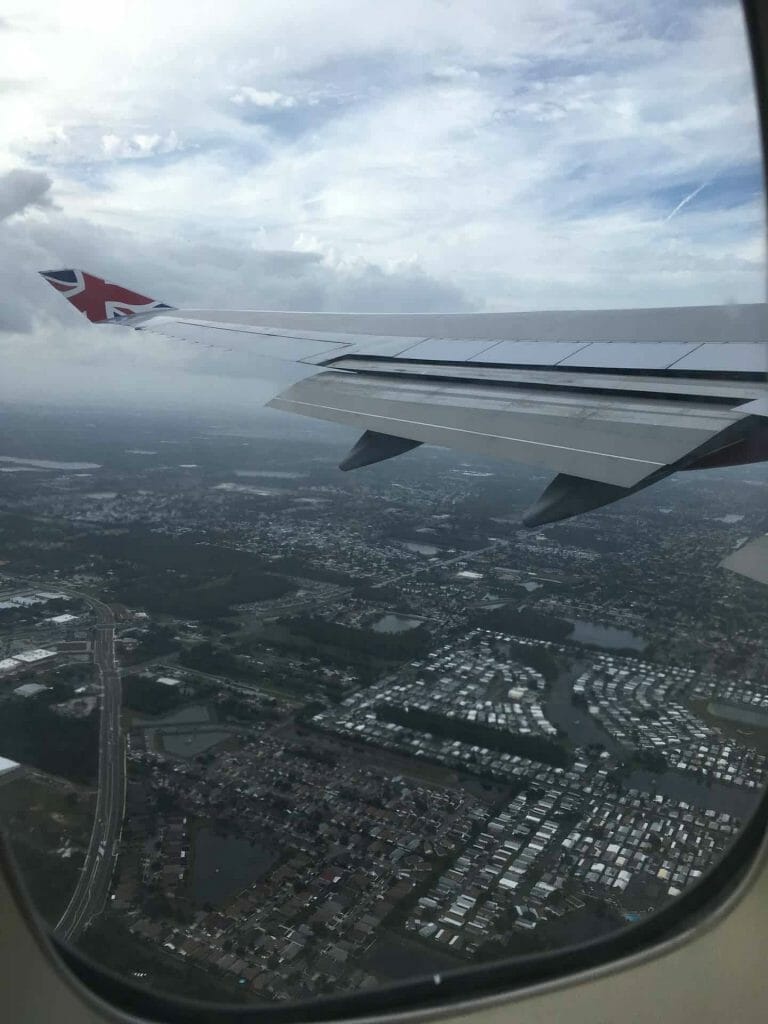 Now, in this Virgin Atlantic long haul review, I can tell you about my past two flights with Virgin Atlantic, which were filled with amazing cabin crew who really helped calm my flying fears and were very attentive and supportive the entire journey.
I can also tell you about the time I was on a Virgin Atlantic flight that, for various reasons unrelated to the crew or plane, had to stop twice in one direct flight – as in, we made TWO extra stops, and then spent the night in Bermuda (not the planned destination!)
Even then, when everything seemed to be going wrong, the airline consistently put our safety first and the safety of the passengers who needed medical attention, and they put us up in swanky Bermuda hotels, and despite all of this messing with the cabin crew and pilot's hours and plans for the next few days (and us waiting on the plane in Bermuda for about 4 hours trying to figure out what was happening), the crew who were with us were amazing and accommodating and friendly and easygoing.
I have friends who only like flying with Virgin because of their cabin crew and the care and concern they show for their passengers and everything they do to help you enjoy your flight, and while I have flown multiple other airlines including Delta, Norwegian, United, TUI and others, I will always choose Virgin Atlantic for this reason, given the chance.
Virgin Atlantic Food Review
All Virgin Atlantic passengers get food, unlike on some airlines where certain Economy passengers don't – no matter what Economy class you're booked into, you get the Economy food, and of course the Premium and Upper Class passengers get even better food.
As far as the Economy food goes, I've found that Virgin Atlantic is very good in terms of quality, though they don't always anticipate the most popular dishes correctly and they had run out of the dish I wanted on the way there and reports from other travelers suggest the same about running out of certain options.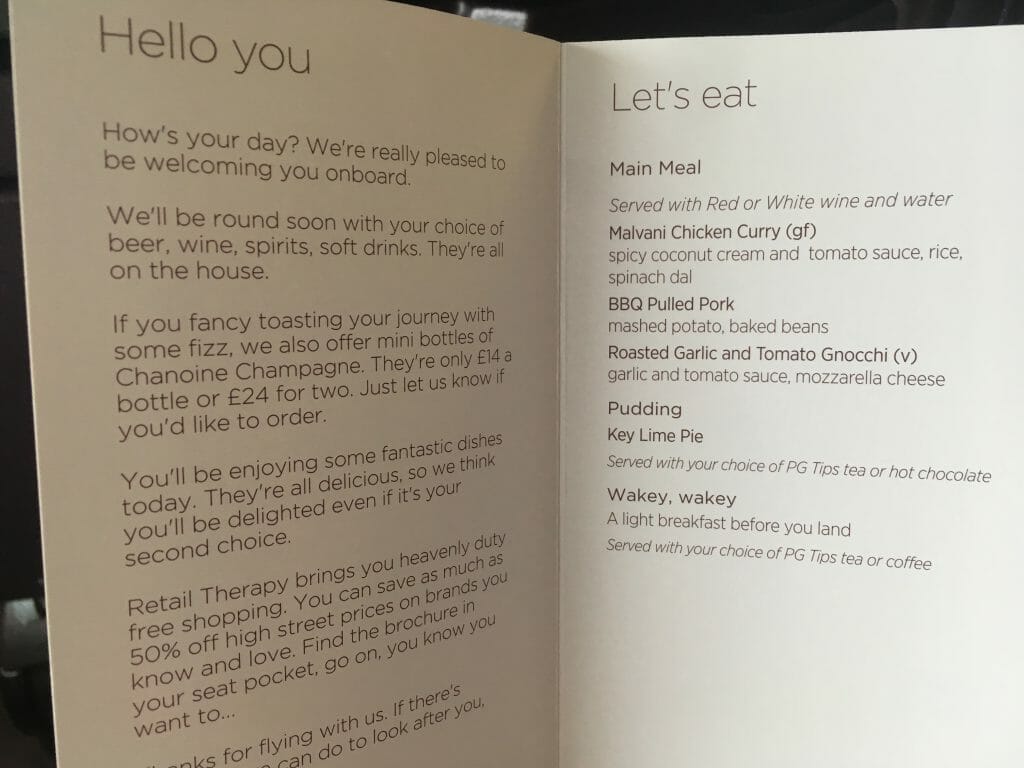 For the main meal, you get the actual main course, usually some salad, crackers, cheese, bread, butter, and a little dessert.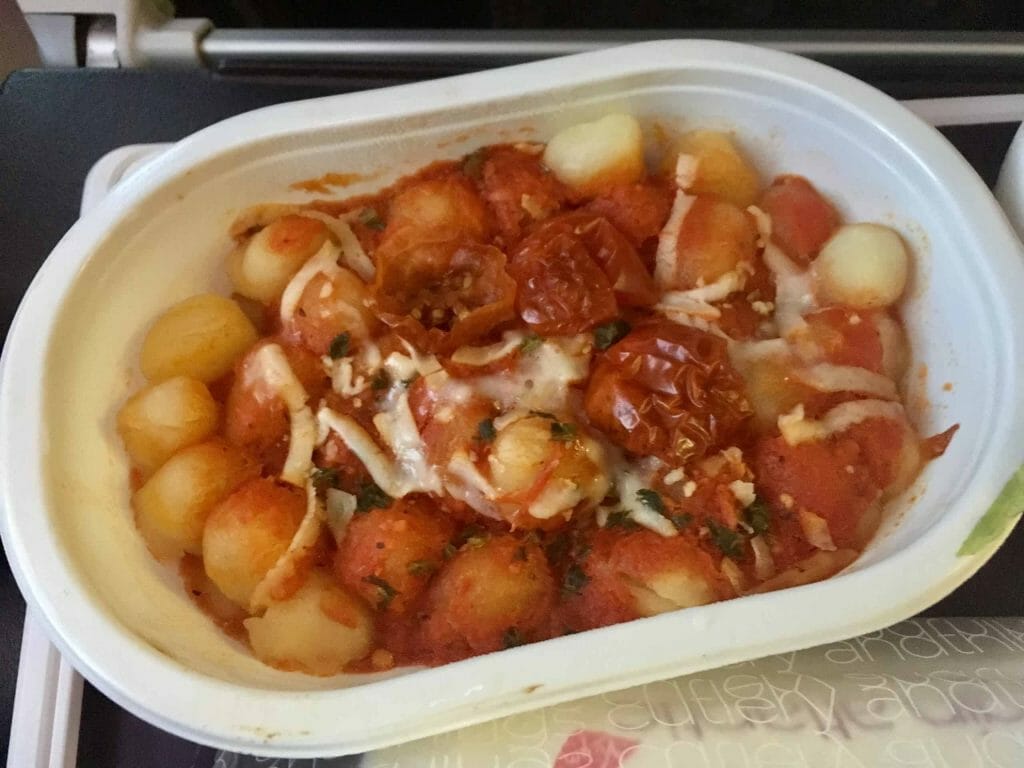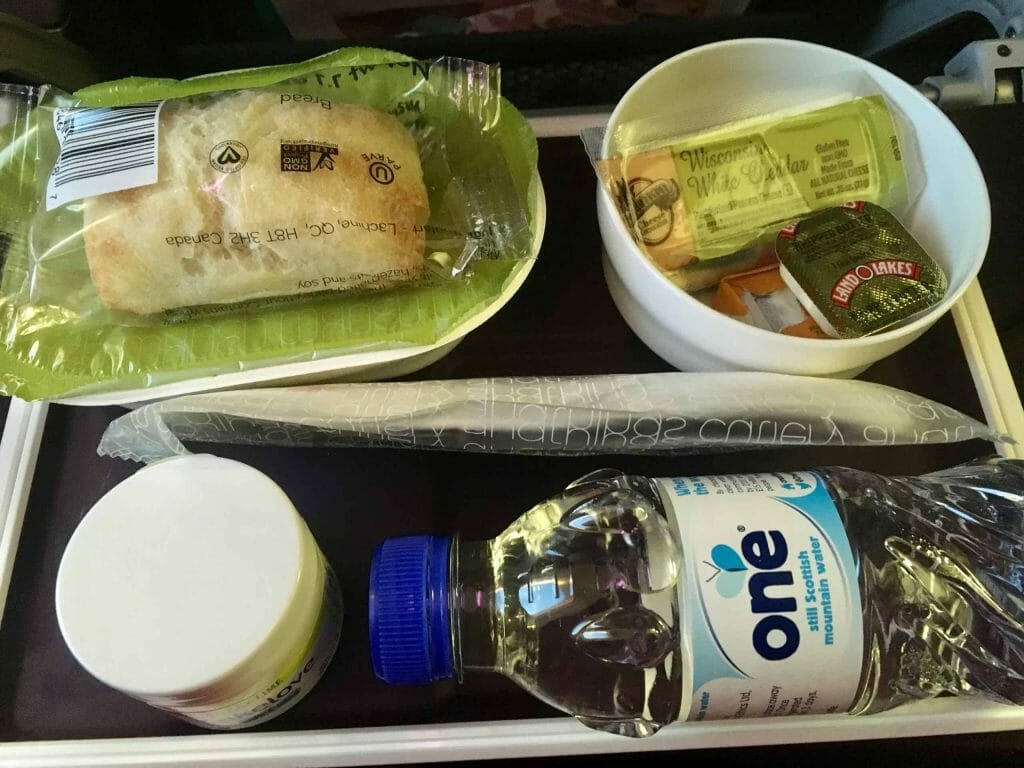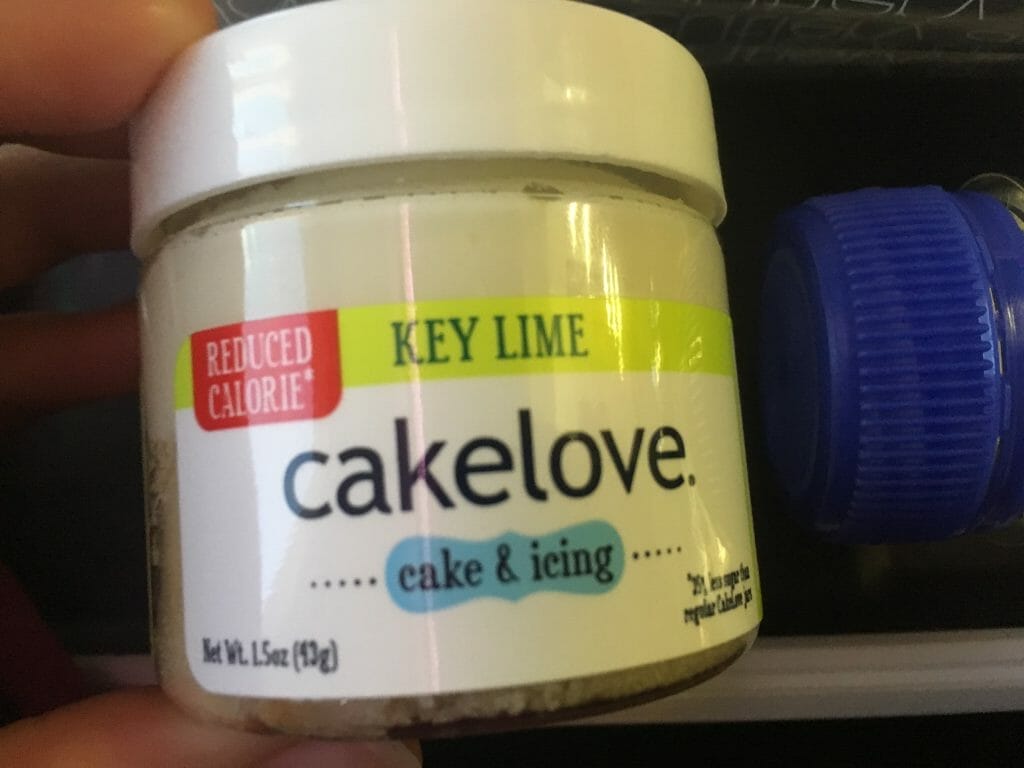 For snacks, you often get pretzels and at times I've gotten candy or a popsicle in the summer.
For the second, smaller meal, Virgin Atlantic often serves an afternoon tea with a scone and sandwich, and for a breakfast meal, they often serve a yogurt, pastry and possibly some fruit.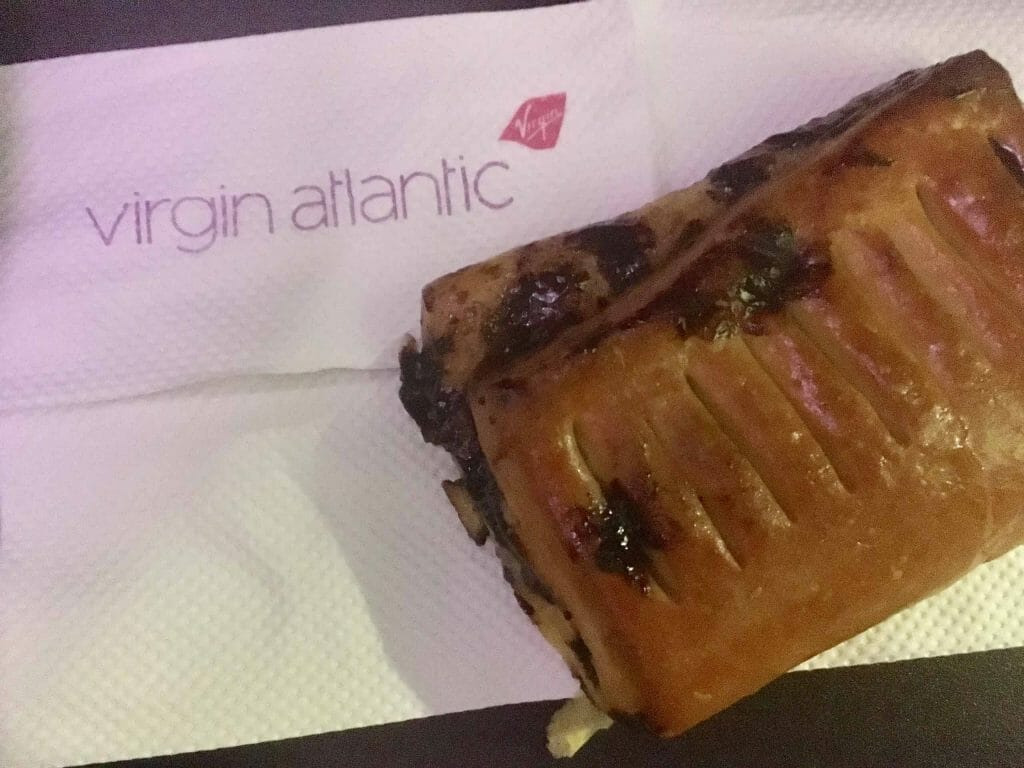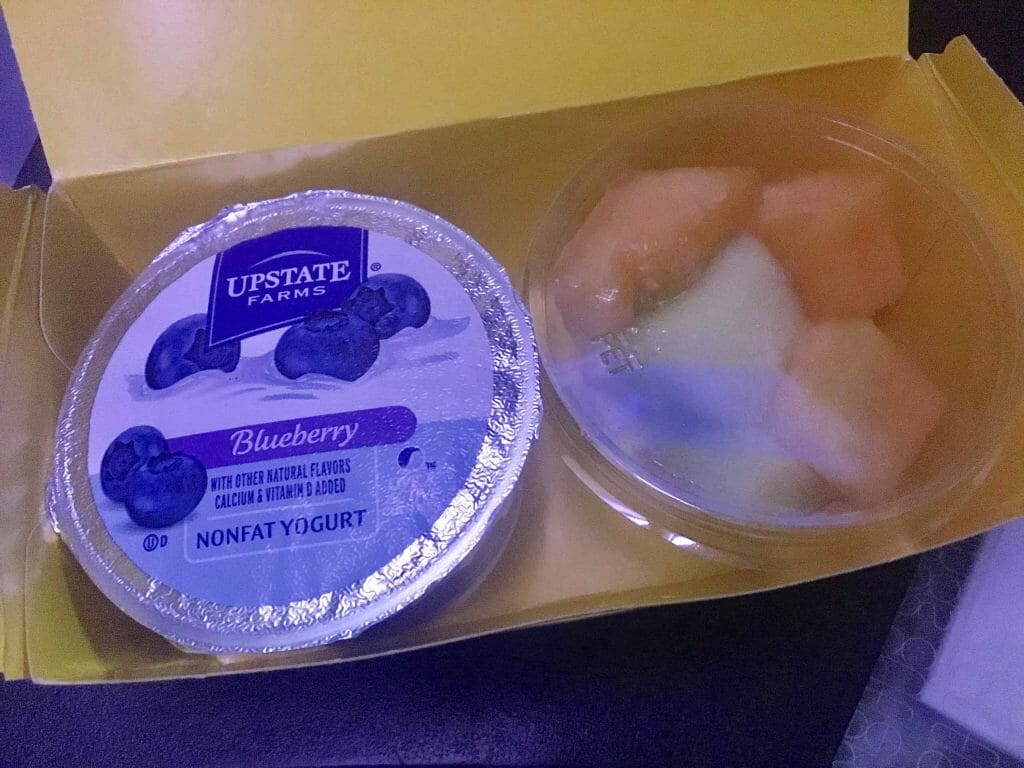 Issues with Virgin Airline
On the whole, I have no issues with Virgin Airline.
They've got relationships with enough airlines to mean you won't be stuck in a situation like is possible with Norwegian where your flight is cancelled and they can't rebook you anywhere else.
Their crew is amazing, their routes are extensive, and their branding is just plain cool.
The one thing I will say, though, after having flown the Dreamliner with Norwegian, but Virgin's planes are starting to show their age slightly.
It's not that the plane looks dirty or gross or broken, but there was a slight issue before take-off on one of my flights with a cosmetic panel above someone's head being loose and shaking around so the engineers had to look at it (this was completely an "inside the aircraft" problem and not a structural problem with the plane).
Also, the in-flight entertainment systems have great movies and shows and music, but trying to choose them and click "forward" and "backward" and navigate the touch screen is sometimes impossible as they're not responsive enough and sometimes responsive in all the wrong ways so your screen is flying through options without you knowing what's happening.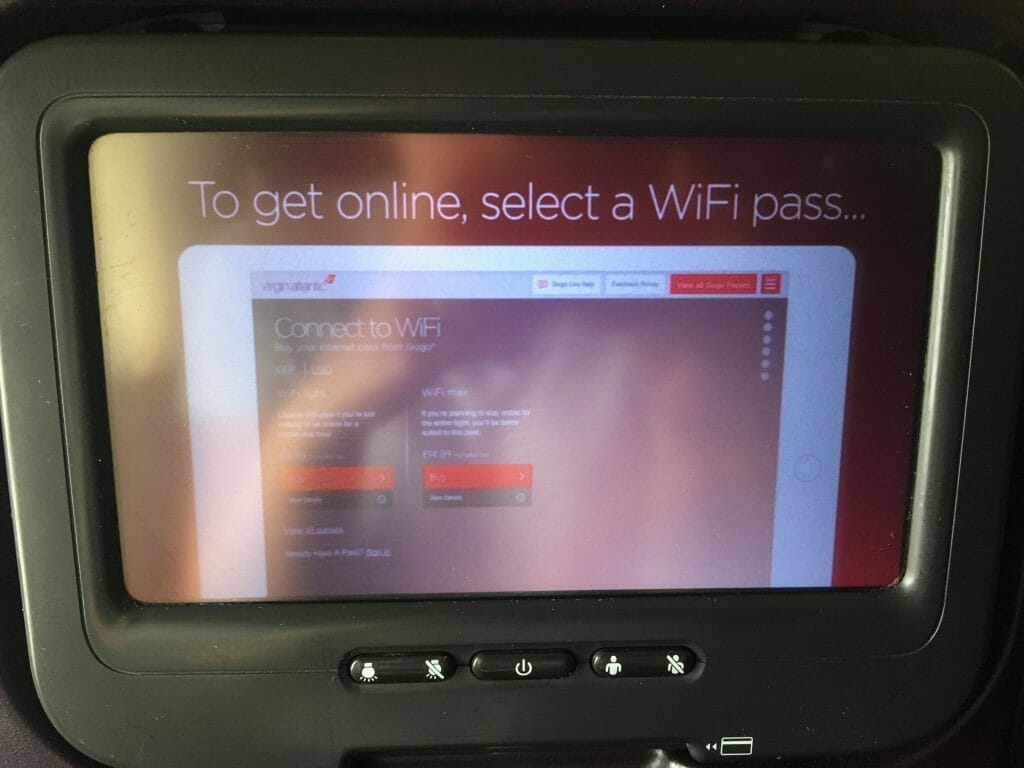 Other than that, I love flying Virgin Atlantic long haul and would highly recommend it to anyone.