This post contains affiliate links for which I may make a small commission to help keep the site running. You will not be charged extra for these items had you not clicked the links. Thank you for your help to keep the site running!
So you're thinking about whether you should do a food tour in Berlin.
You're wondering if doing a food tour is a good way to see Berlin, how much food you get on a food tour, and if a food tour of Berlin is worth doing.
You guys.
Let me tell you.
This may well be one of the best things to do in Berlin, and part of me is annoyed that I never did one before.
A food tour has now become something I actively look for when I go traveling.
In addition to checking out the best restaurants in Berlin with the help of a guide, you get to learn about the history and culture of the city at the same time.
Let me tell you why it was a good experience for me and maybe you will be convinced of the same.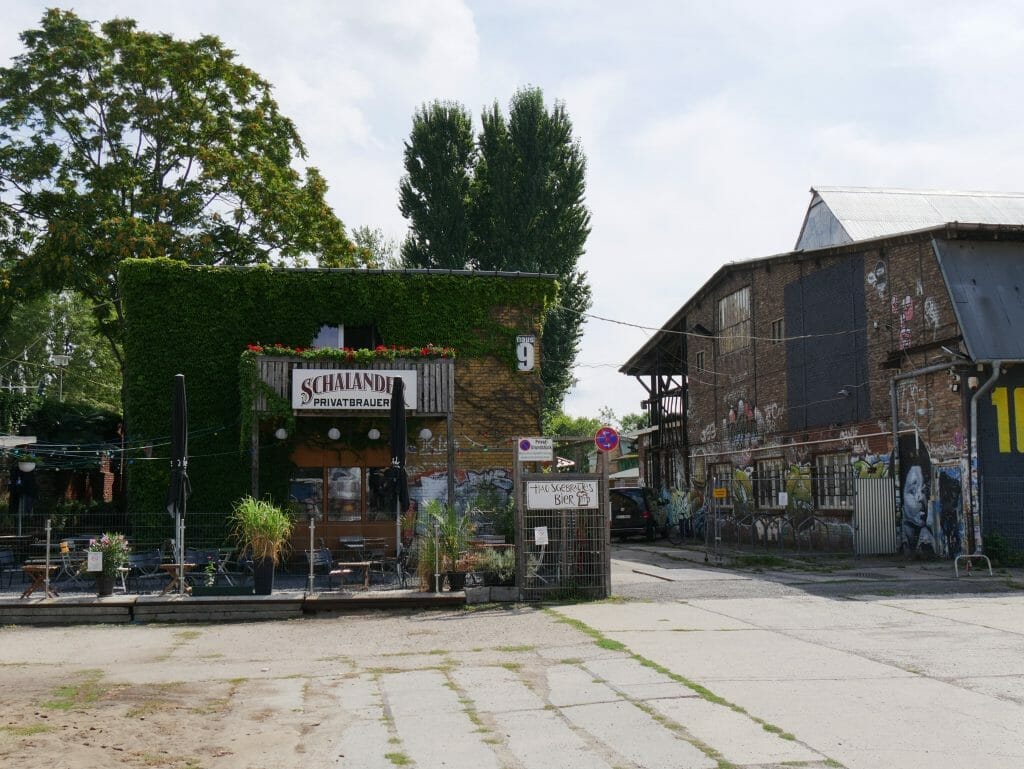 Interested in other Berlin tours? Check out more of our favorite options here: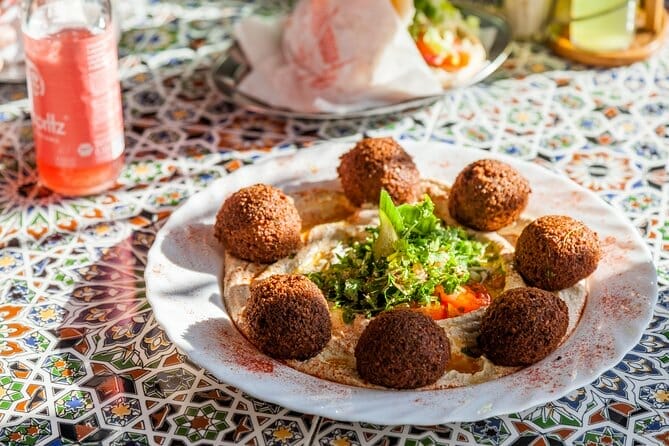 What is a Food Tour?
So, fundamentally, a food tour is a tour of a city (or part of a city) where you are guided around to various food establishments to try the food, whilst also being told about the parts of the city you are walking through.
Unlike a city sightseeing tour of Berlin where you stay on the bus, you're really engaging with the local food scene.
So you may go from restaurant A to restaurant B, and learn about the history of the streets you take in between the two locations.
The great thing about this style of tour is that you often see places in the city you would not usually see.
Sure, you may go past some of the famous landmarks of the city, but you will likely go through streets and sideroads you would never have gone down otherwise, in order to visit restaurants you probably would never have visited otherwise, and learn about certain aspects of the culture and history of the area of the city from someone local… which you might not have learnt otherwise!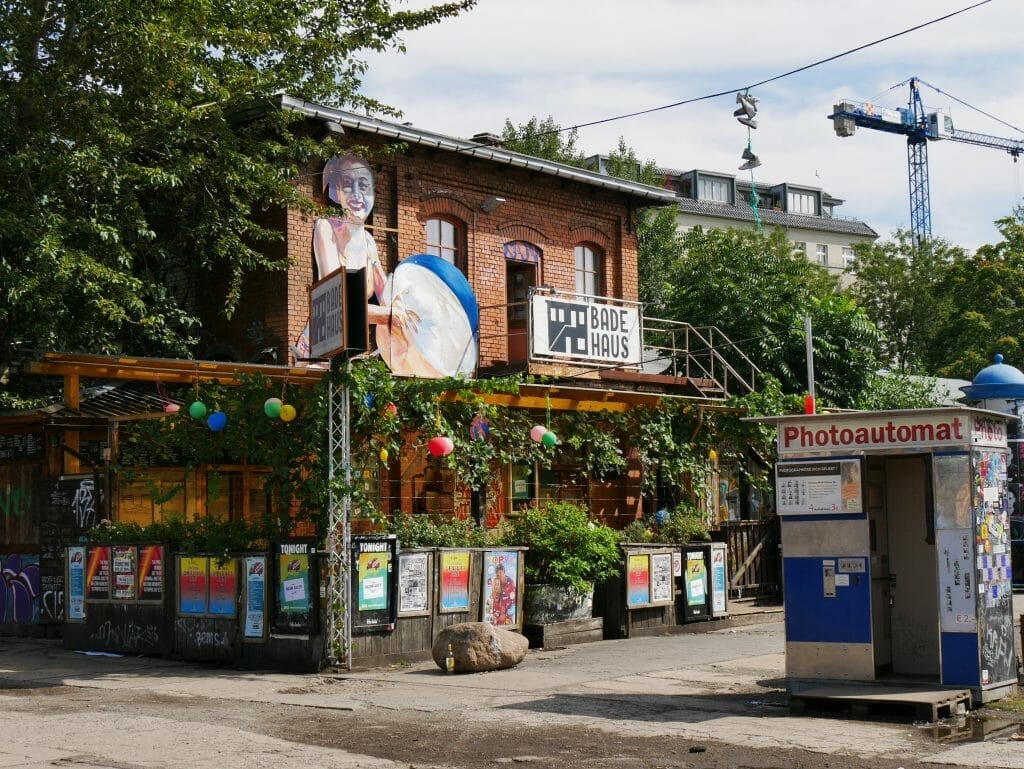 Fundamentally, a food tour gives you a good insight in to a city from a local.
It helps you to understand the city on a different level from guidebooks, all whilst trying some of the local cuisine that may usually be out of your comfort zone.
In this instance, we went on a tour with Secret Food Tours Berlin.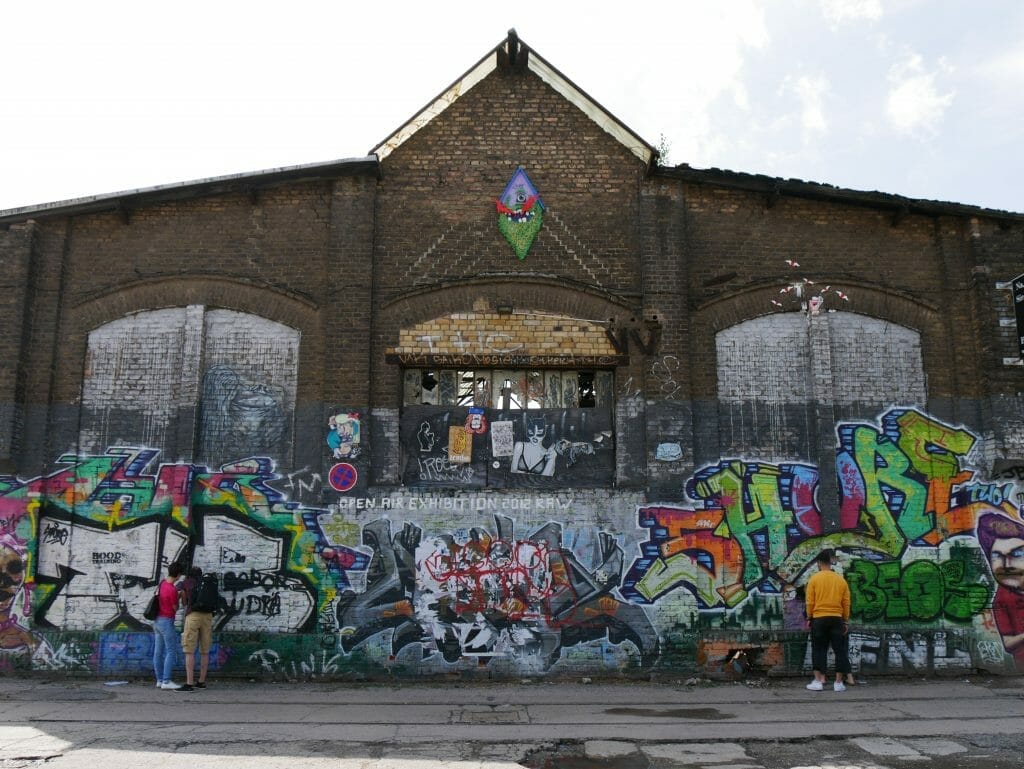 What Foods Do You Try on the Food Tour of Berlin?
Lebanese
With around 135,000 people of Middle Eastern origin residing in Berlin, Middle Eastern food has become part of the culture of the city, and our first stop on the tour was to a Lebanese restaurant.
We were given a Shawarma and a drink of our choice (alcoholic or soft drink).
The Shawarma was made from sliced meat cut in to strips put in to pita bread with lettuce and tomatoes, along with a special Lebanese sauce.
This was very similar to a Kebab that you get in the UK… only far, far better!
I have to tell you, I would never usually decide to eat Lebanese food – it's far out of my comfort zone – but this Shawarma was absolutely incredible.
My mouth is salivating thinking about it! I would certainly get one in the future.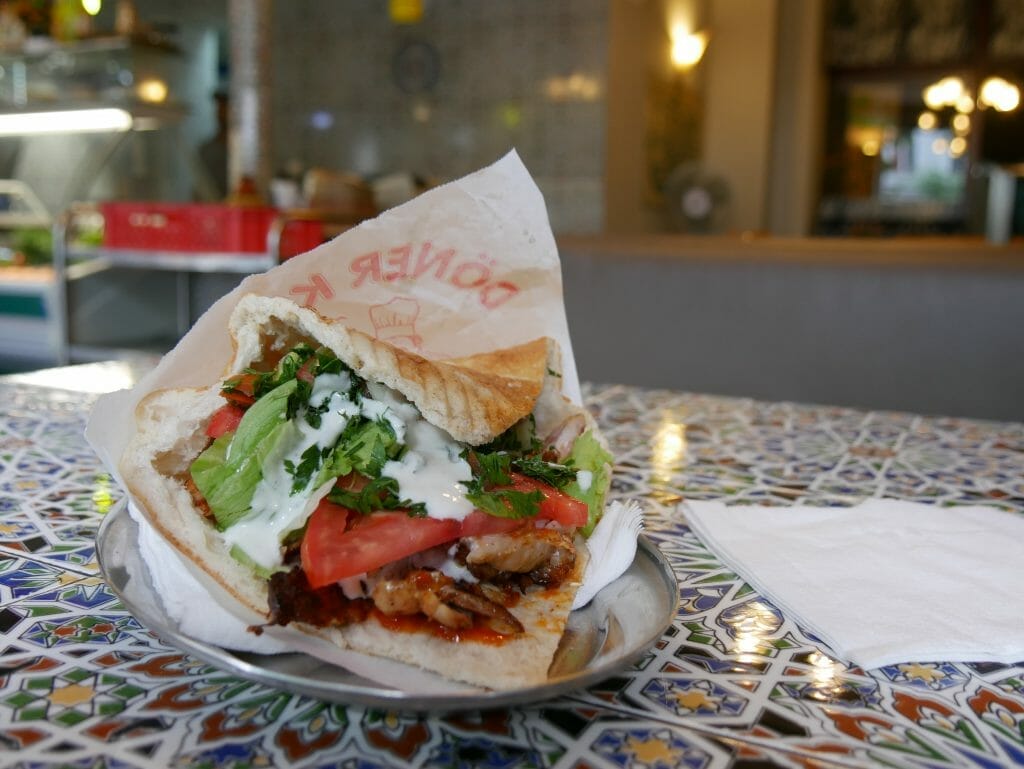 German
Our second stop on our food tour of Berlin was to a German-style pub.
This was a nice location between tall apartment buildings in a residential area.
Our guide told us that it was a secret great place that the locals love, so was a perfect stop for our tour.
On this stop, we were given a "Flamebread" and a drink of our choice (alcoholic or soft drink).
The Flamebread was basically a super thin flatbread with goats cheese, bacon and red onion on top.
More suited to an appetizer to share between friends than a meal to yourself, the Flamebread was excellent and something I would get in the future.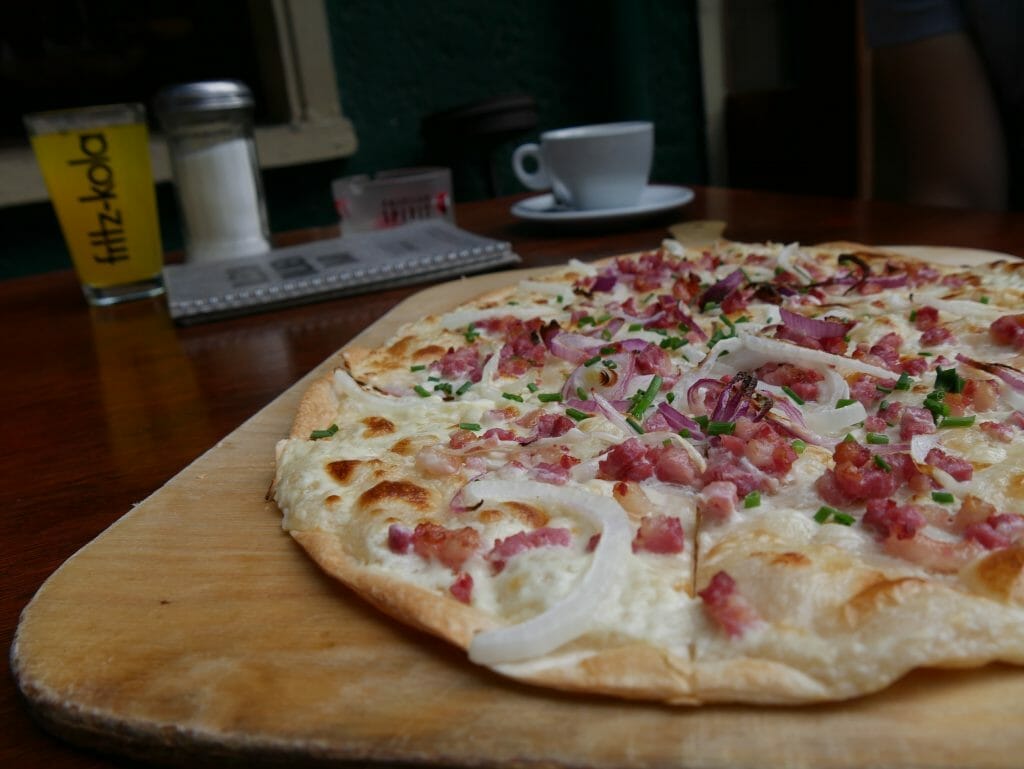 Turkish
Next on our tour, we stopped in to a small Turkish sweet and nut shop, where we had a tub of mixed nuts of various flavors.
Let me tell you, these things were addictive!
To be honest, I have no idea what half of the nuts were or what they had on them (sorry! I'm American!), but what I can tell you is they were really good!
And also that they gave you quite the sugar rush.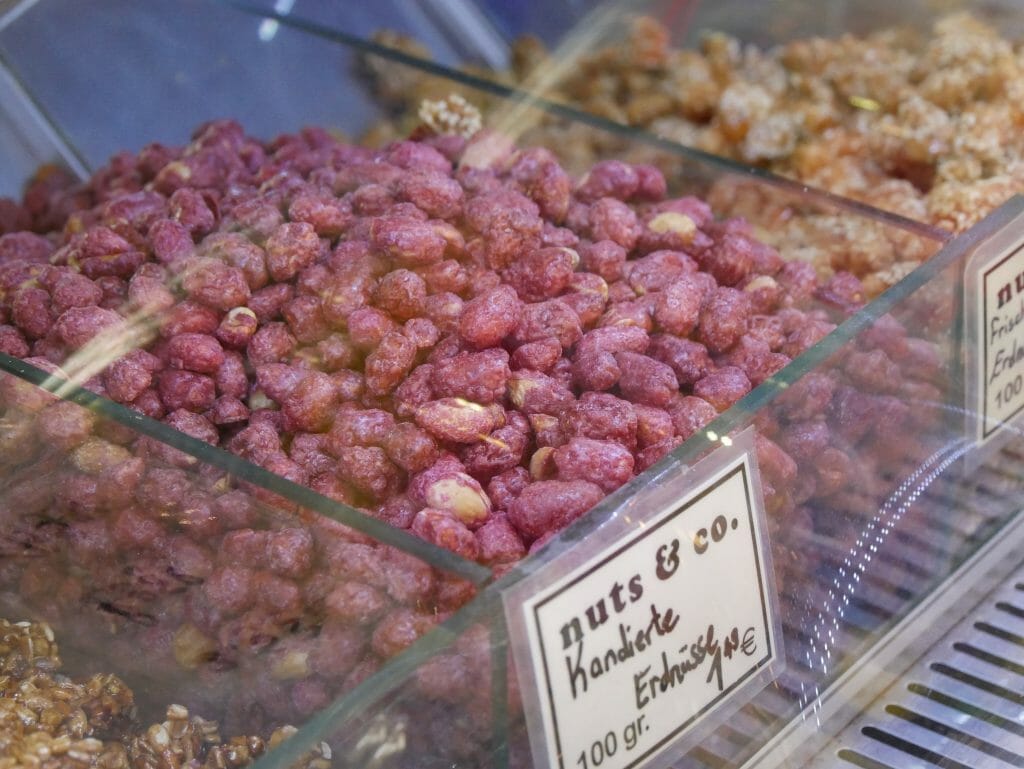 We also learned an interesting fact outside this shop, about a social art project by Gunter Demnig, called "Stolperstein" ("Stumbling Stones").
This takes the form of small memorials laid in to the sidewalks around Berlin to commemorate people who were taken from their homes and murdered as part of the Nazi exterminations in WW2.
They are placed along the sidewalks around the city so that they are never forgotten.
With a difficult past to deal with, this is just one of the many ways Berlin finds to honor and respect the people who suffered the consequences of Nazi rule in Germany during that period of history.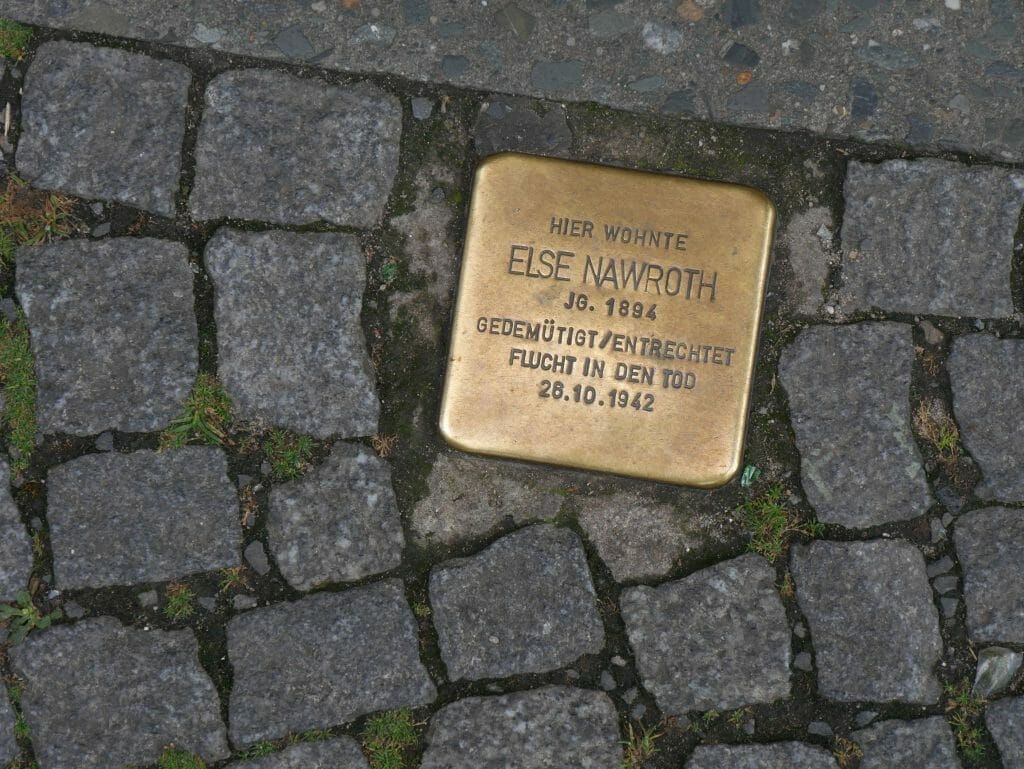 German
Our fourth stop on the tour was for a German fast food that is loved by locals (and now me) – Currywurst.
This is a steamed and fried sausage covered with curry ketchup, then covered in curry powder.
This thing was both messy and amazing!
The sweetness from the ketchup mixed with the spice from the curry powder created an interesting blend of flavors and I can see why it is addictive.
Perhaps a little too much ketchup for my tastes, but still really enjoyable! Any ketchup lovers will definitely want to try this out.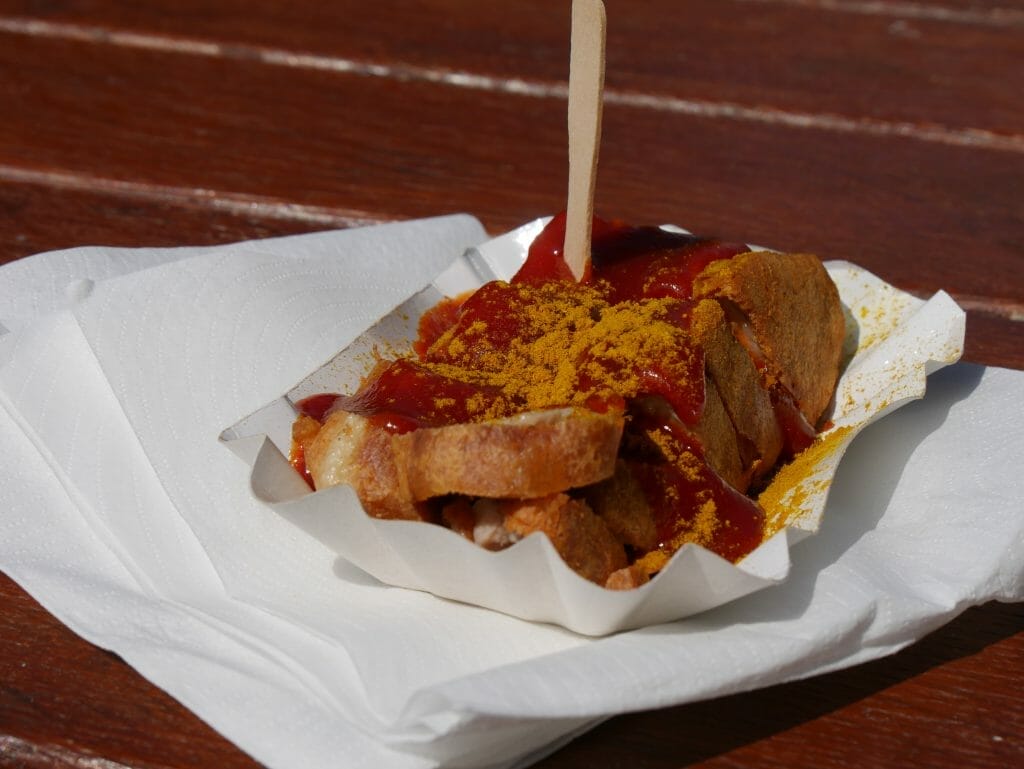 German
For our final stop on the tour, we grabbed a German cheesecake from a local cake shop and took it to a food stand that specialized in Schnitzels.
We were also given a drink (alcoholic or soft drink) with our food.
For those that don't know, a Schnitzel is thin meat covered in breadcrumbs and then fried.
By this point, I was totally full from the rest of the tour, so had to force down the Schnitzel, but it was certainly tasty!
Of course, I used my dessert stomach for the cheesecake – so eating that was no problem – and it was wonderfully creamy, yet with just the right amount of firmness to it… a great cheesecake!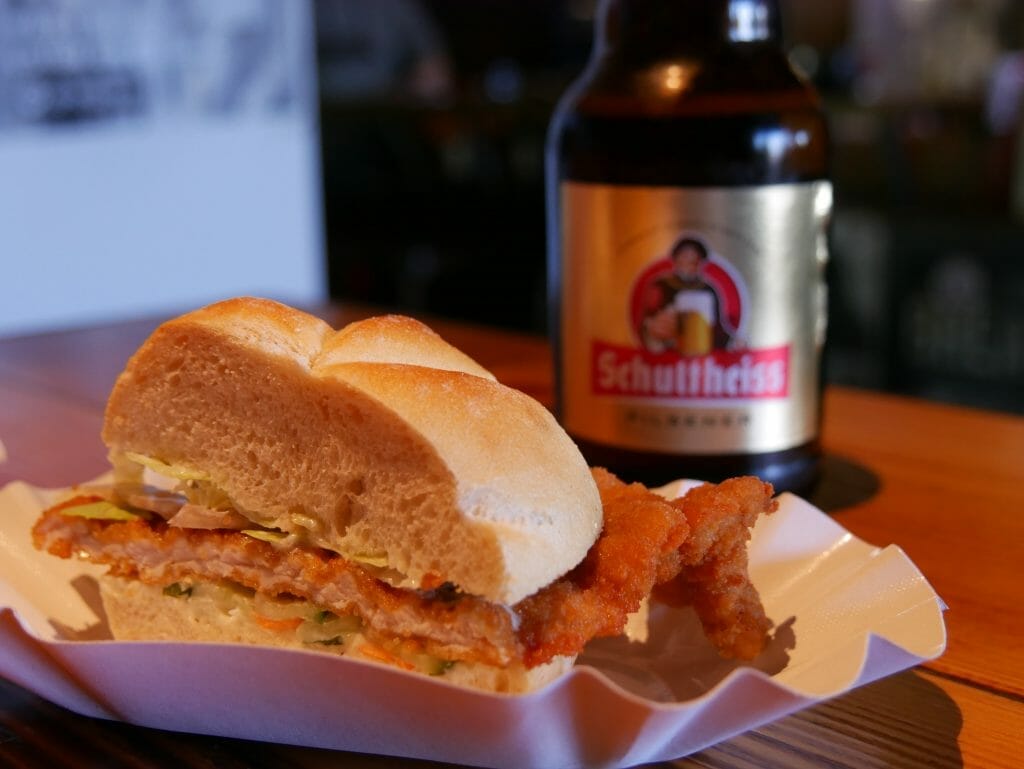 The location of this restaurant was unassuming yet fun, as a lot of locals and tourists passed nearby in the area of The Wall Museum, many of them to see the graffiti art on the Berlin Wall, particularly the famous image of the "Fraternal Kiss".
This area actually gave a good sense of the city and how it feels on a day-to-day basis.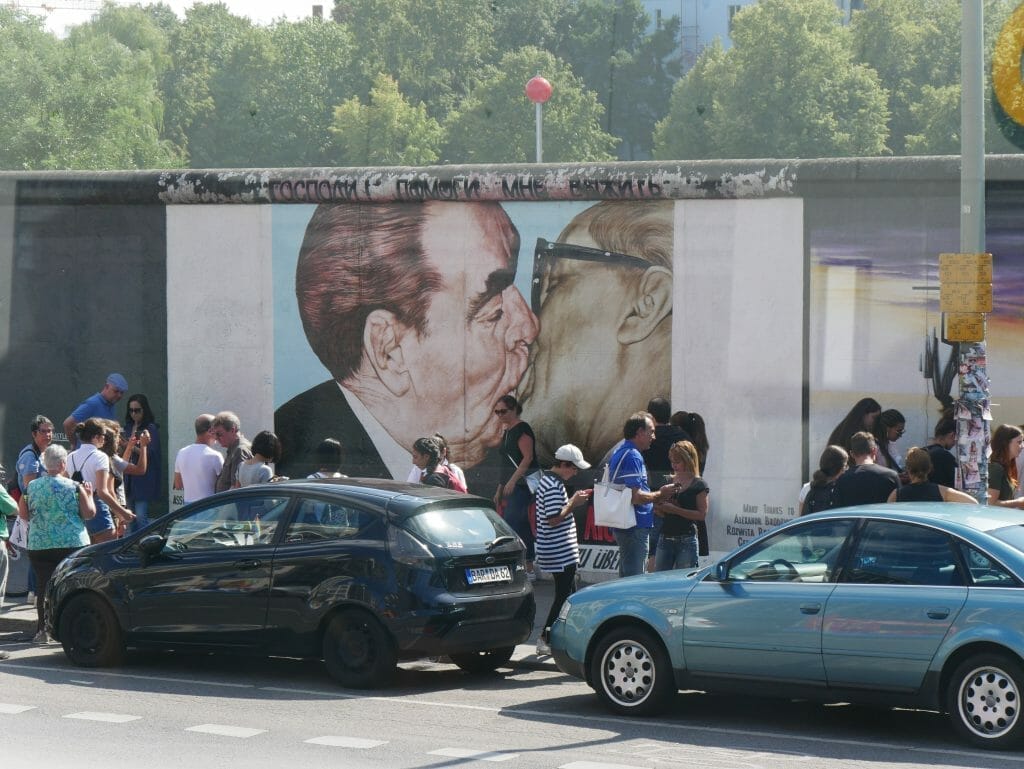 Vegetarian options
Some of you may be wondering about vegetarian options on the tour, as we had mostly meat.
As we were the only people on our tour, I cannot speak of the vegetarian options, although the guide did inform me that they do get vegetarians, and they get food choices on the tour that work for them
How Much of Berlin Do You See on a Food Tour?
Going on this particular food tour of Berlin was not like going on a standard tour of Berlin.
We did not see the most famous sites, such as the Reichstag building, Brandenburg Gate, Checkpoint Charlie, or even much of the Berlin Wall.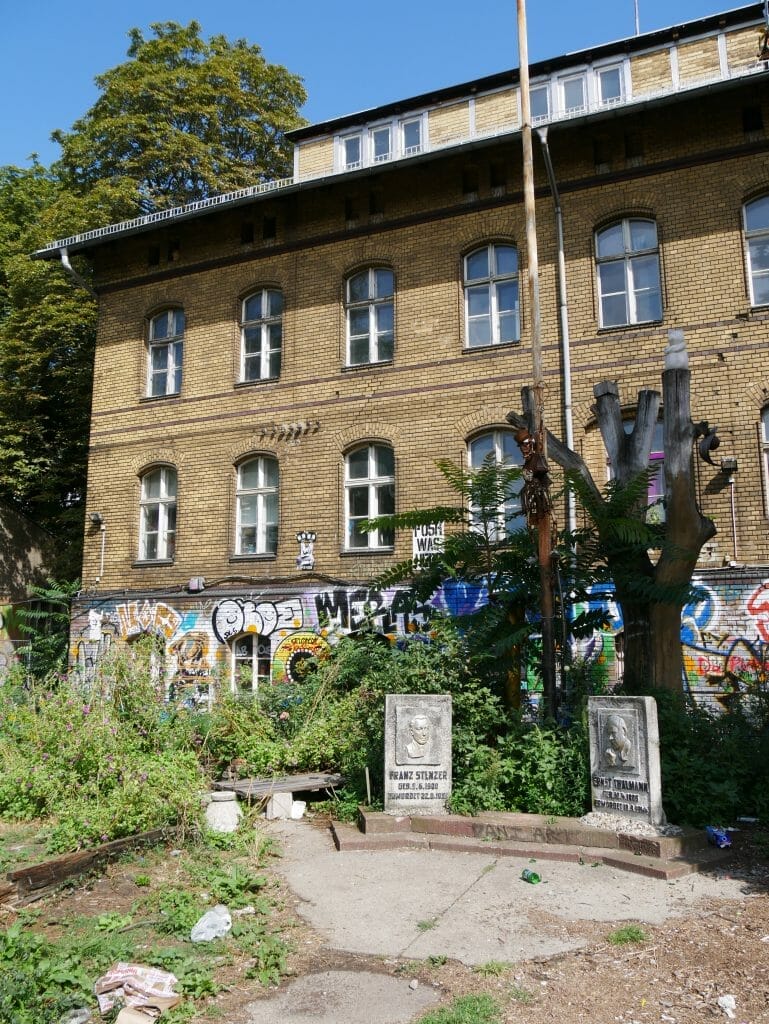 This tour was more about seeing the hidden parts of Berlin that you wouldn't usually see (I guess that's the "Secret" part of the "Secret Food Tours" name!).
And I think that was a good thing.
We got to see some unique places that I know I would not have seen without going on this food tour, but that I am glad I did.
We saw tons of graffiti art that was really quite impressive, we saw a McDonald's sign that had been stolen by the locals in protest of McDonald's setting up shop nearby, we saw a full-grown man driving a motorized boxcar, and even a nightclub built in to a phonebooth, which I saw a group of people merrily go in to and party away at about 12 noon!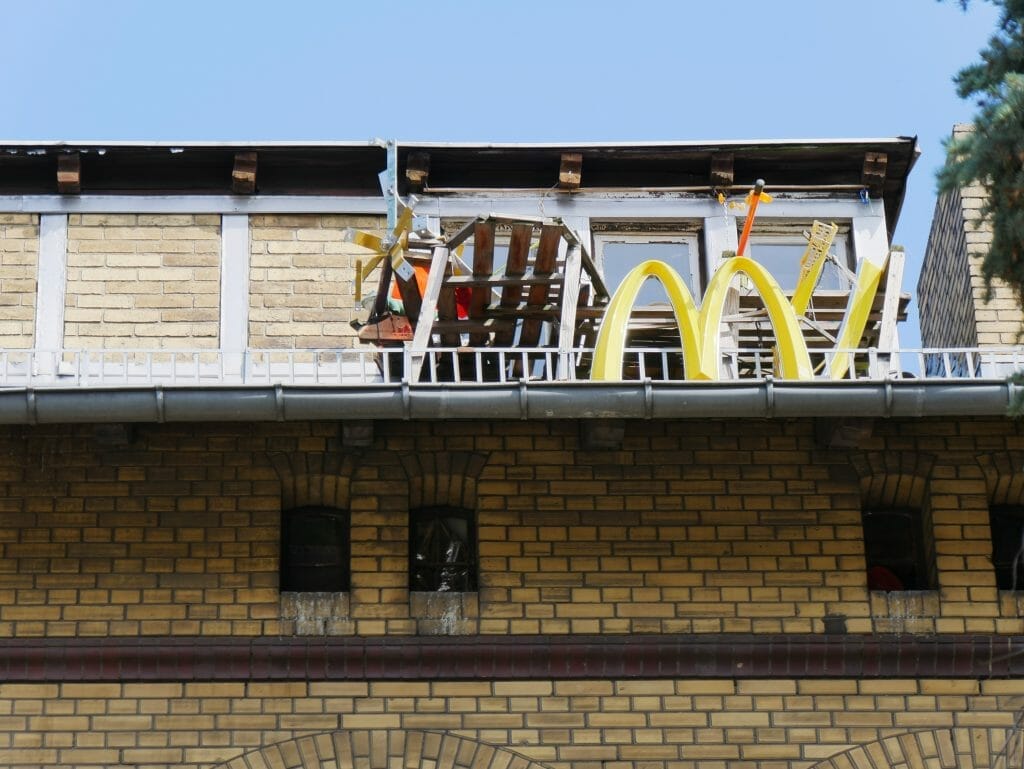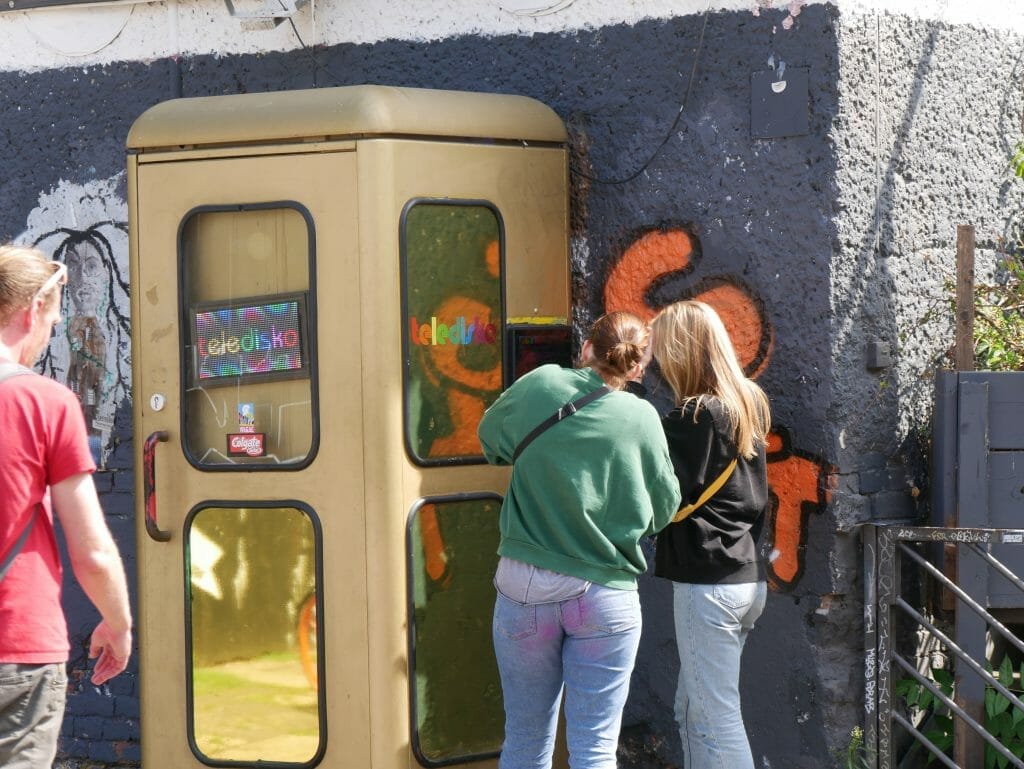 It will, of course, depend on what food tour you go on.
But, after having done the Secret Food Tour of Berlin, I can certainly say that my eyes will be open looking for similar "off the beaten track" tours in the future.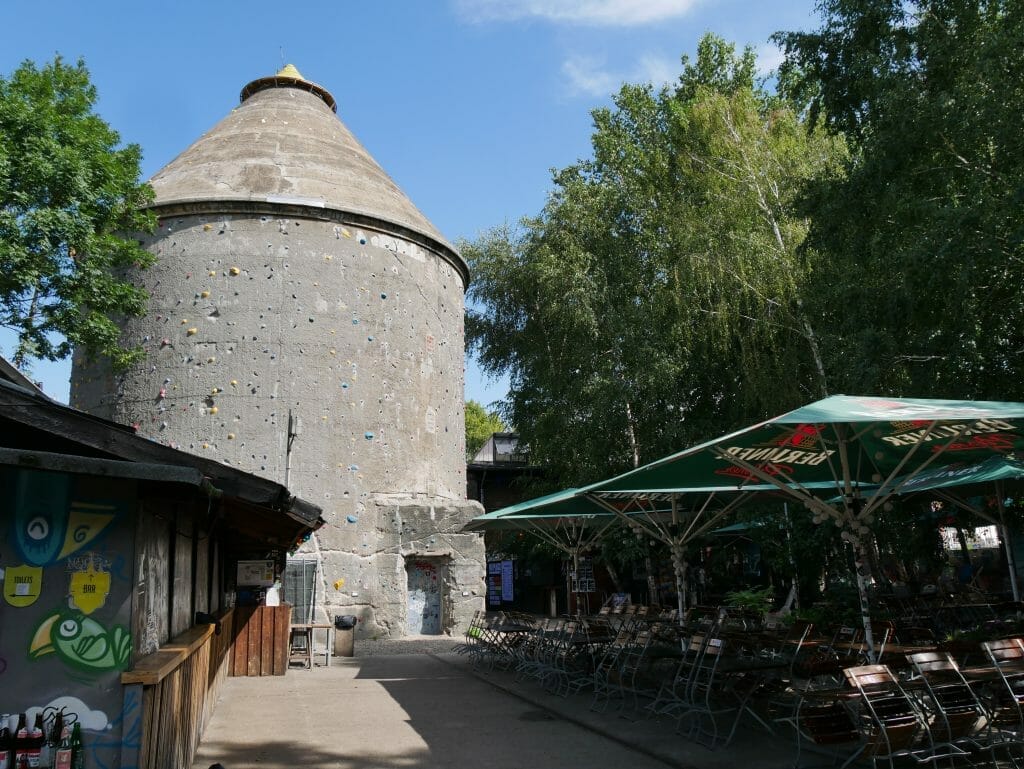 Is a Food Tour of Berlin Worth It?
In all, I do feel like doing a food tour of Berlin is worth it.
You get to see parts of the city you probably wouldn't visit otherwise and are given information that you probably would never hear otherwise.
On top of that, you get to try food along the way that you might not have tried before!
A food tour can be a great way to see the city from a different viewpoint – i.e., not from the perspective of the usual tourist spots.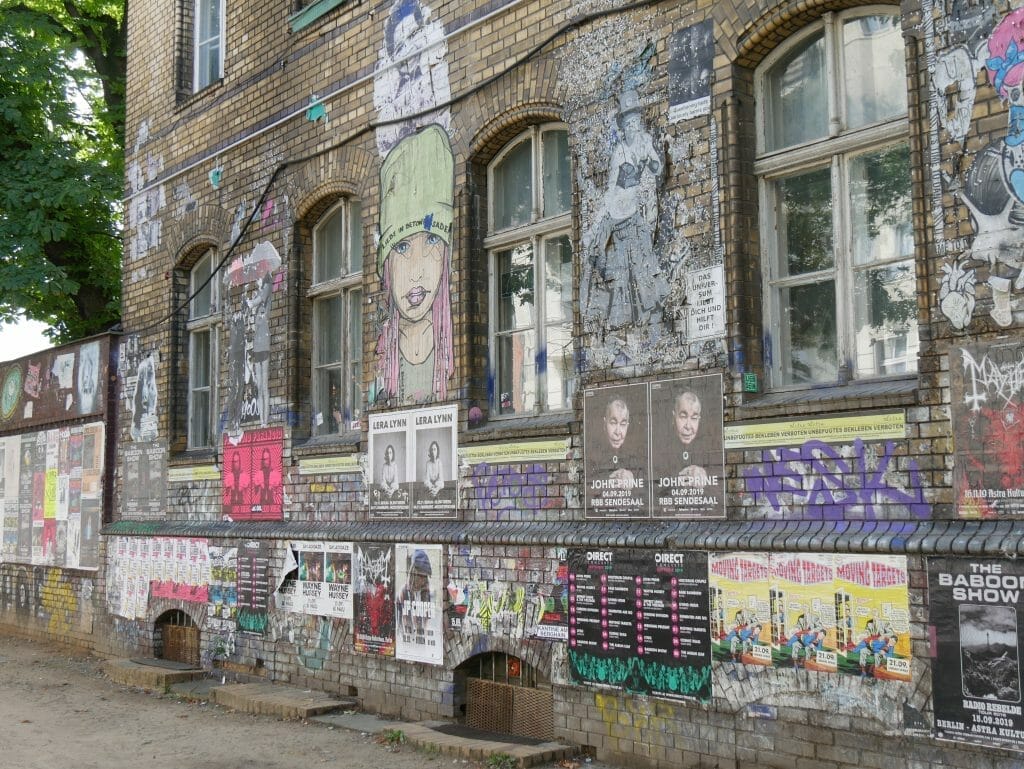 I would, however, give one word of caution.
Although it didn't happen to us, as we were the only people on our tour, I can see a world where you have a large group of people… which means less food per person.
We were given very generous portions, as there were only two of us to share between.
But our guide did inform us that the portions would usually be smaller with a bigger group.
Of course, once they get in to bigger group numbers, they buy more portions, but the amount you would receive per person would not be as much as if there were less people.
Basically, I would not go on a food tour expecting to be filled to the brim like we were, unless you book a private tour.
But you may get lucky with a small group and be bursting at the seams!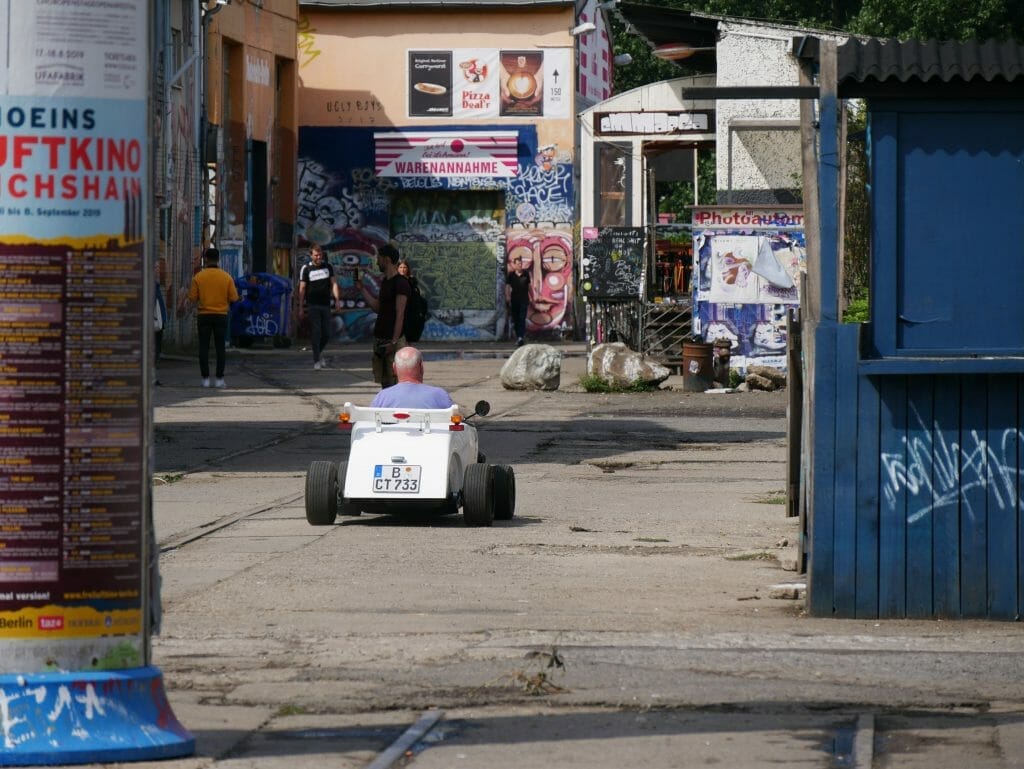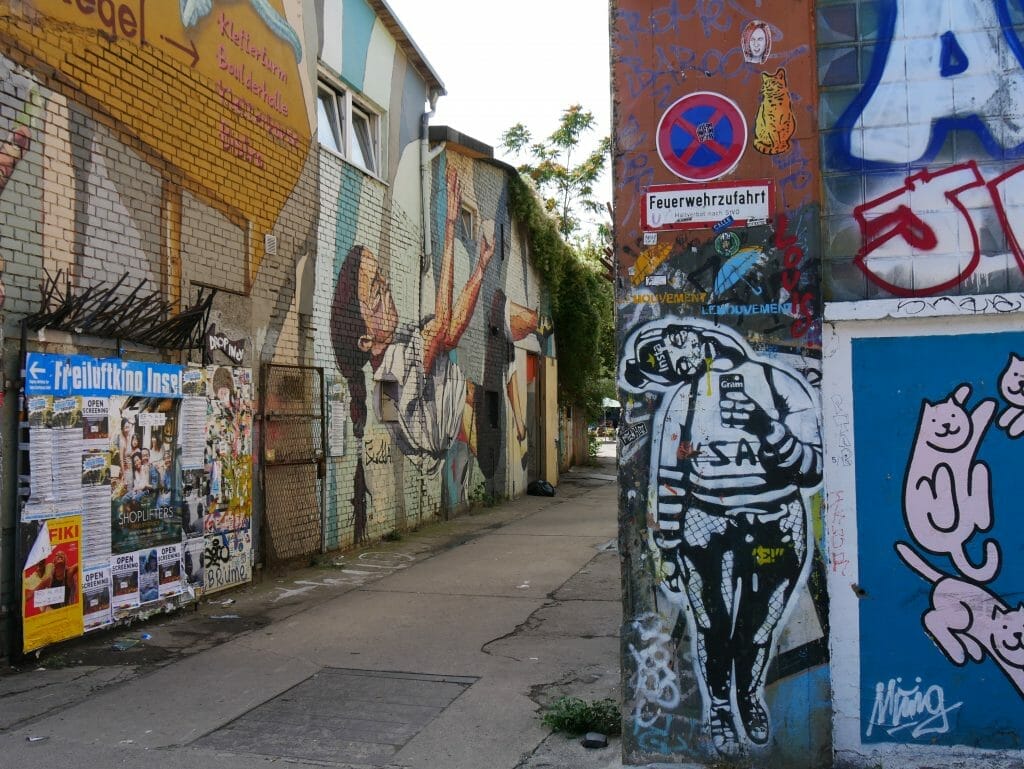 I will also say that our guide was excellent.
He was very knowledgeable, very nice, and his English was excellent.
He gave us information about the area that only a local would know, showed us interesting places, and was fun to spend the afternoon with.
The tour was provided by Secret Food Tours Berlin, but the views expressed are my own.