This post contains affiliate links for which I may make a small commission to help keep the site running. You will not be charged extra for these items had you not clicked the links. Thank you for your help to keep the site running!
Whether you're looking for craggy coastline, gorgeous sweeping landscapes, historic monuments or sparkling bays, the most beautiful places in Ireland are serving up some enchanted realness since…well, since the creation of this gorgeous country!
Ireland is a place that sweeps you off your feet, entices you to stay longer, and truly shows off the power and beauty of Mother Nature.
I've chosen some of the most beautiful places in Ireland to encourage visitors to add them as a stop on their Ireland itinerary, but don't think that just because somewhere isn't on the list doesn't mean it's not gorgeous!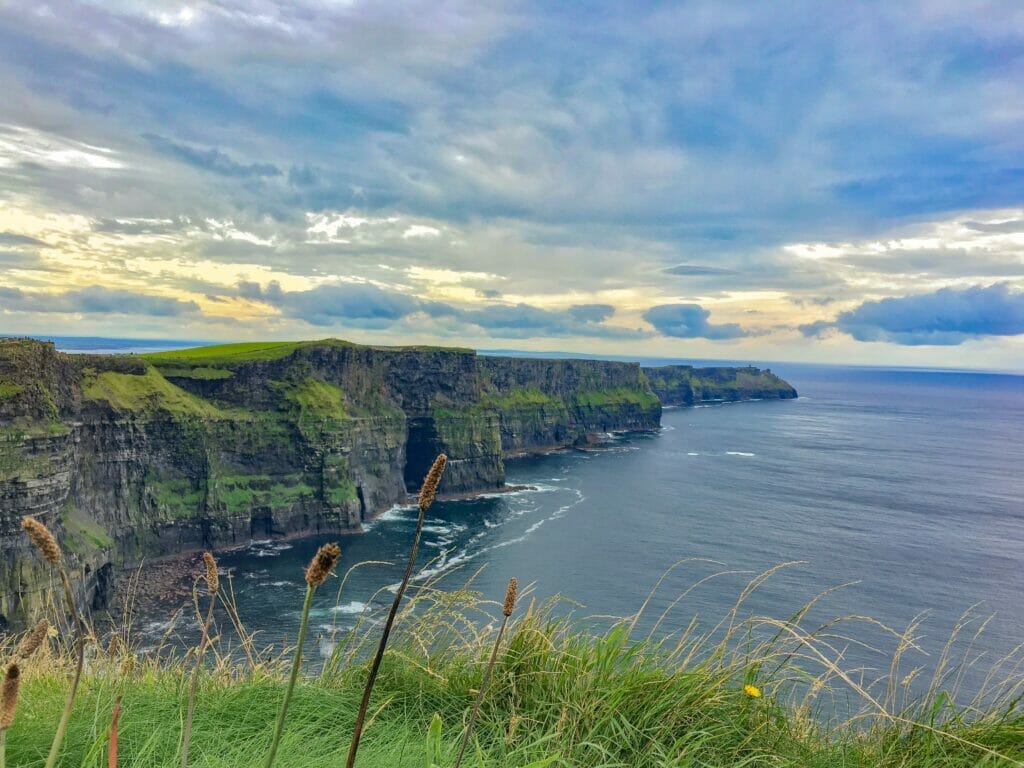 That's the real secret of Ireland, you see – everywhere you go, you're sure to be impressed with the beautiful places to see in Ireland.
From driving along the Wild Atlantic Way to diving in the Aran Islands, there's so much to explore.
But if you're unsure where to start on your trip planning, take advantage of this list of some of Ireland's most beautiful areas.
1. Glenvolumbkille: beautiful places in Ireland
Established by farmers between 4000 and 3000 BC, this gorgeous village in County Donegal is absolutely breathtaking.
It's part of the Wild Atlantic Way coastal drive, and surrounded by mountains and the ocean – what a combination!
From sea cliffs to beaches to stone walls, there are endless beautiful things to see in this part of the world and a wonderfully relaxing environment.
There are also festivals, arts and crafts, special cultural activities and wonderful things to see.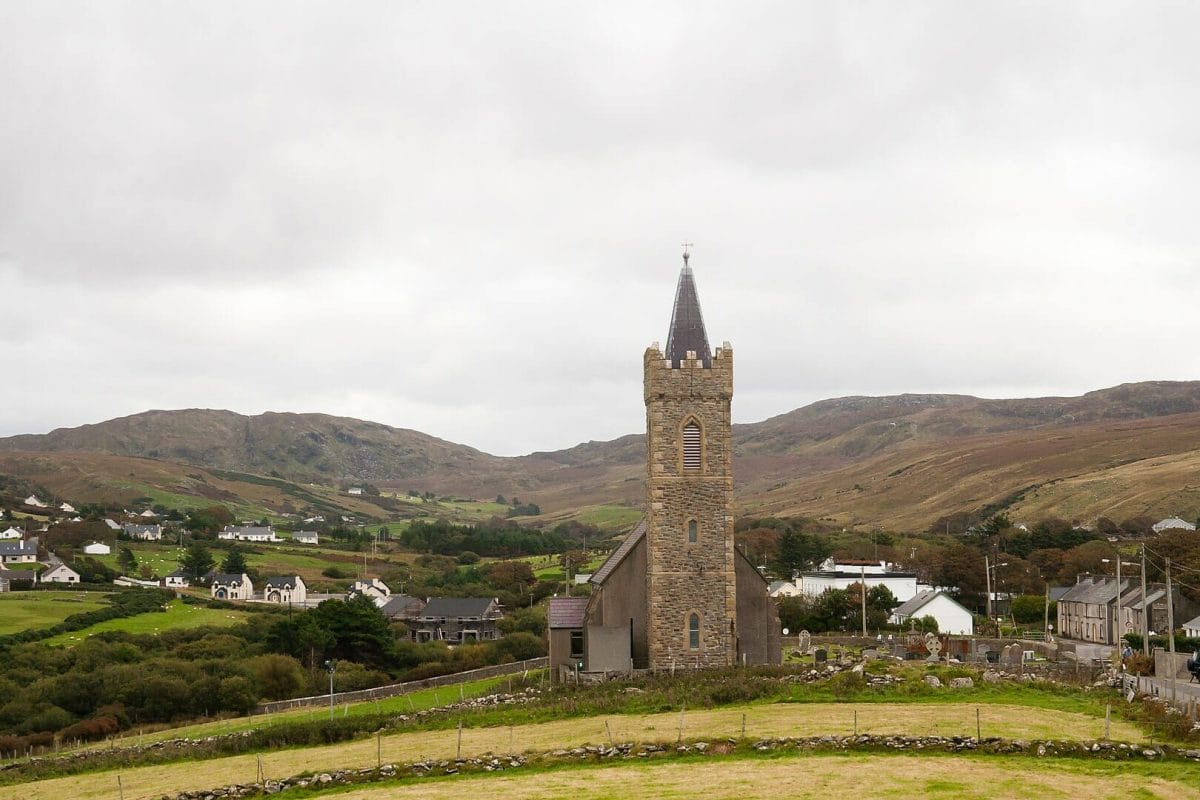 How to Get to Glenvolumbkille
The best way to get from to Glenvolumbkille from Dublin by public transportation is to book yourself onto a bus using the Bus Éireann bus link.
You can also drive, which takes about 4 hours.
If you can arrange to fly into a closer airport, chose Belfast International or Donegal Airport.
You can drive from both of these in just about 2 to 3 hours.
2. Croagh Patrick: one of the most beautiful areas in Ireland
Known as the Holy Mountain, the history of Croagh Patrick goes back to 5,000 years ago when people would have gathered here to celebrate the beginning of harvest season.
Today's pilgrims to this mountain come because it was where Saint Patrick, Ireland's patron saint, took to the summit and fasted for forty days in 441 AD.
About a million people visit the mountain each year, and there is a chapel at the top.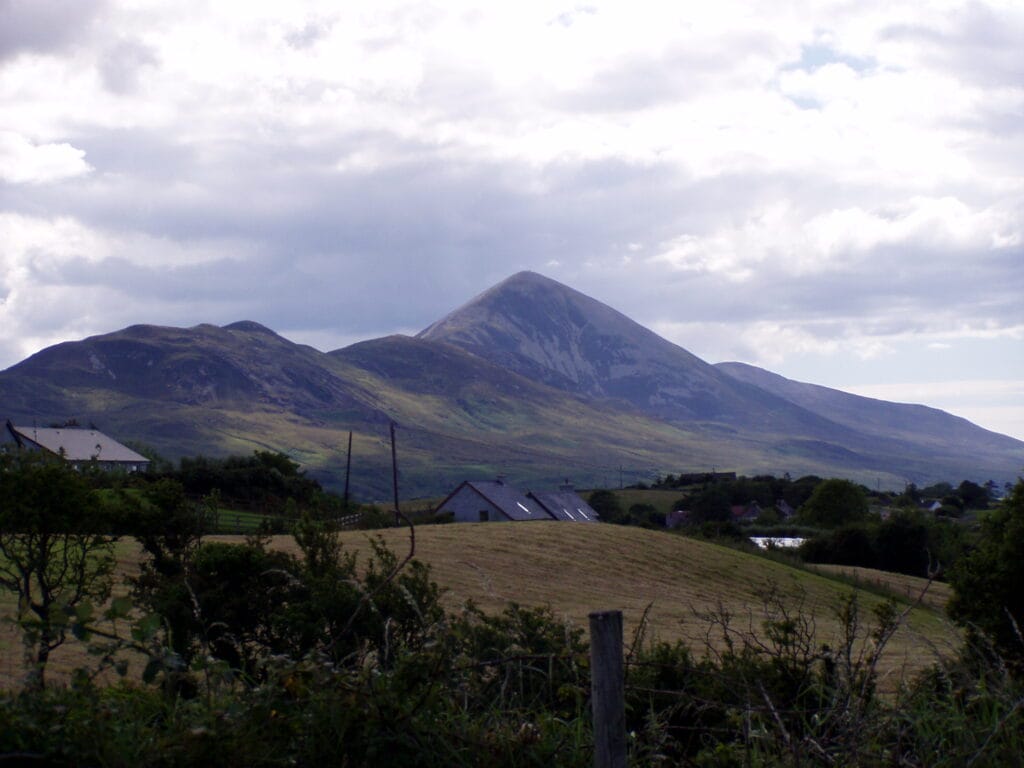 Croagh Patrick also just happens to be one of the most beautiful places in Ireland and has stunning views of Clew Bay and the surrounding countryside.
It's one of the highest peaks in the West of Ireland and is just a couple of miles away from the town of Westport.
In addition to the mountain and the views you can get from it, you can also go horse riding on the beaches nearby, as well as cycling the Great Western Greenway and hill walking in the local area.
How to Get to Croagh Patrick
To get to the area, you can take a bus or train from both Dublin and Galway to Westport.
Then, at Westport, you can take a bus or taxi to the Patrick Croagh visitor center.
To land at a nearby airport, you can fly into Ireland West Airport Knock or Shannon Airport and make your way from there as well.
3. Murder Hole Beach
Okay, so the name alone doesn't lend itself to being one of the most beautiful places in Ireland, but take one look at it and you'll see why it's on the list.
The area is known for incredible tides and rough seas, which is perhaps where the name comes from, though there are also legends that it has to do with a woman who fell from the cliffs (or was pushed…hence the "murder.")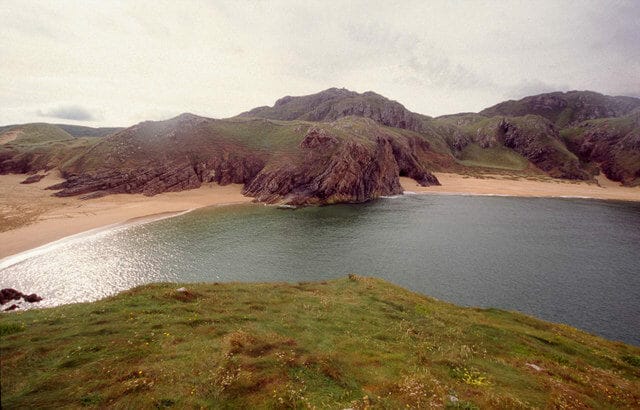 But if we forget that sinister sounding background for a minute and just admire the views, it's easy to fall in love.
Murder Hole Beach is located in Dooey, Ireland, and a trip here will promise incredible landscapes and even the chance to walk out to a sand bar when the tide is low.
How to Get to Murder Hole Beach
Easiest access to Murder Hole Beach is with a car.
The drive is about 3 hours and 45 minutes from Dublin Airport and 2 hours and 30 minutes from Belfast.
4. Grianan of Aileach
This stone fort in Inishowen County Donegal sits on a hilltop and has some of the most awesome panoramic views of some of the glistening water down below and the surrounding area.
The fort dates back to 1700 BC
There are also some gorgeous views to be had from here when the sun is rising or setting.
Honestly, why am I not there right now and always?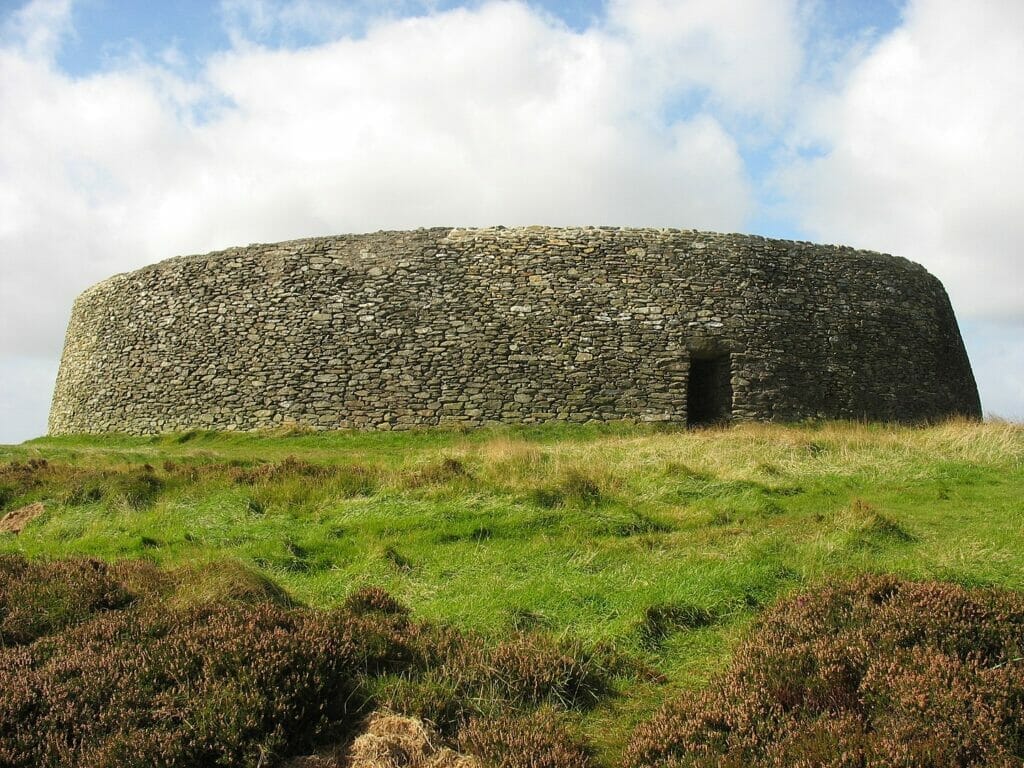 The drive from Dublin is about 3 hours and 30 minutes, but there are also bus routes that go from Dublin Airport.
5. Cliffs of Moher: Ireland's prettiest places
I couldn't talk about the most beautiful places in Ireland without mentioning the Cliffs of Moher, that would be unjust.
This popular tourist destination is popular for a reason – because your jaw will drop to the floor once you're standing near them, appreciating the insane views.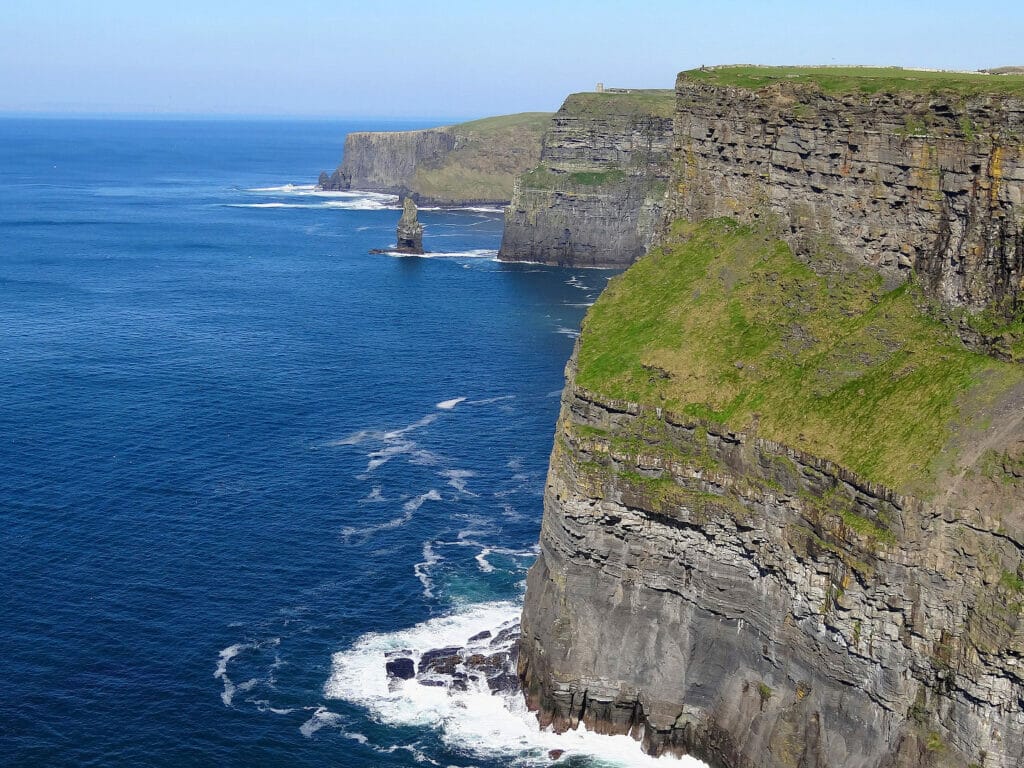 These sea cliffs are in County Clare, Ireland and are a signature point on the Wild Atlantic Way trail and also a UNESCO site.
There are about 10 miles of cliffs, and from them you can see the water lapping beneath you, as well as mountain ranges and islands.
It's suggested to leave a minimum of two hours to visit the Cliffs of Moher and it's easy to stay nearby overnight to really take in Irish culture.
How to Get to the Cliffs of Moher
The easiest way to get to the Cliffs of Moher is to fly into Shannon International Airport and drive the 50 minutes.
You can fly directly into Shannon Airport from the USA as well as Europe.
6. Galway Bay
This absolutely incredible bay on the west coast of Ireland is located between County Galway and County Clare.
One of the most unique things about Galway Bay is the traditional sailing boat, the Galway Hooker, that is historically associated with the area.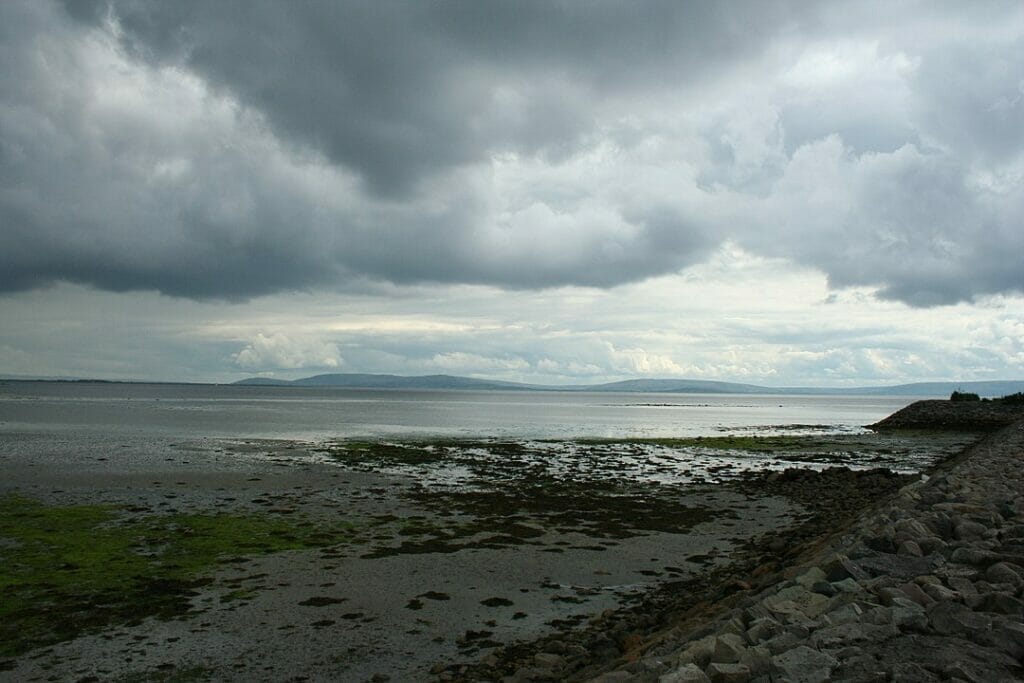 In Galway Bay, you can go sailing yourself, cruising the bay on a boat, go deep sea fishing, or even swimming in many of the beaches along the coast.
There are also daily boat trips to the nearby Aran islands, which just makes the experience all the better.
It's one of the most beautiful places in Ireland for those who love being near the coast, and I would highly recommend it for a visit.
How to Get to Galway Bay
The most recommended way to get to Galway by public transportation is on a bus from Dublin, Shannon, Knock, or Cork to Galway.
You can also take a train, or drive yourself from Dublin Airport, which takes about 2 hours and 15 minutes.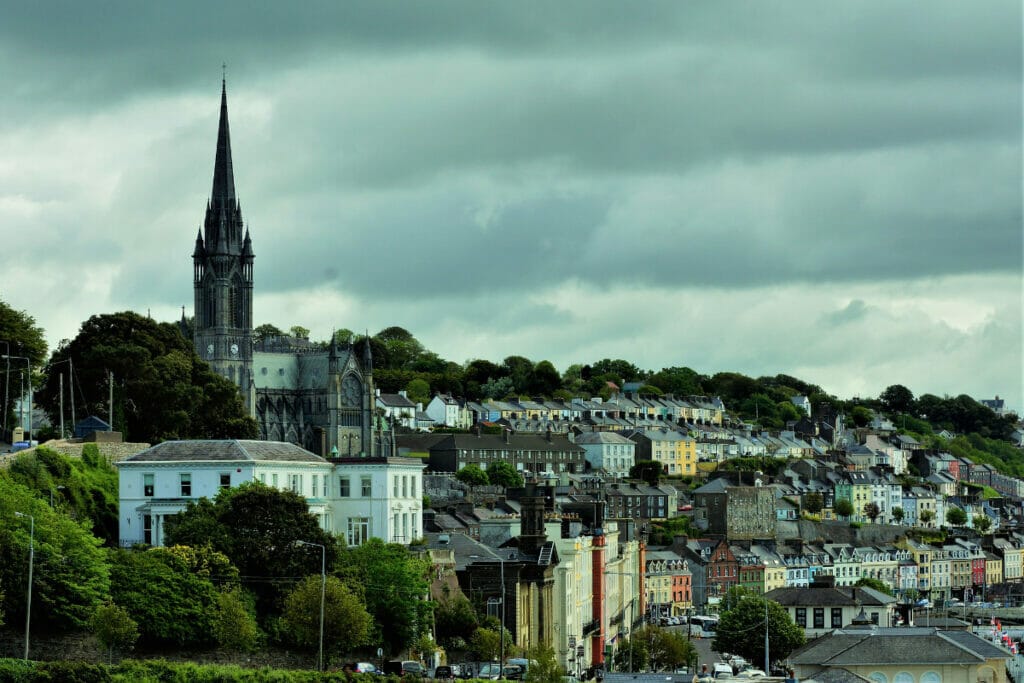 The second largest city in Ireland, Cork has a lot to offer.
Because of its long history, you will see years of culture laced throughout the city.
You can also find a lot of architectural styles, such as medieval, Georgian, and modern.
One of the most popular buildings in Cork is Blarney Castle.
The Cork City Gaol is another popular historic building.
Be sure to visit one of the cathedrals and forts when you visit!
How to get to Cork
Since Cork has an airport, you could fly right into the city.
Otherwise, buses go to Cork from all over Ireland.
It's a 3.5-hour bus trip from Dublin.
Kilkenny is a bustling little city.
To this day, you still see a strong medieval influence throughout the town.
The biggest attraction is actually Ireland's Medieval Mile.
Explore this area to learn about the Middle Ages of Ireland.
If medieval architecture takes your breath away, you'll love soaking in the sights of Kilkenny.
The Kilkenny Castle is one of the more notable buildings in this town.
How to get to Kilkenny
The easiest way to get to Kilkenny is by car.
It's about a 90-minute drive from Dublin.
9. Kerry: stunning Irish natural beauty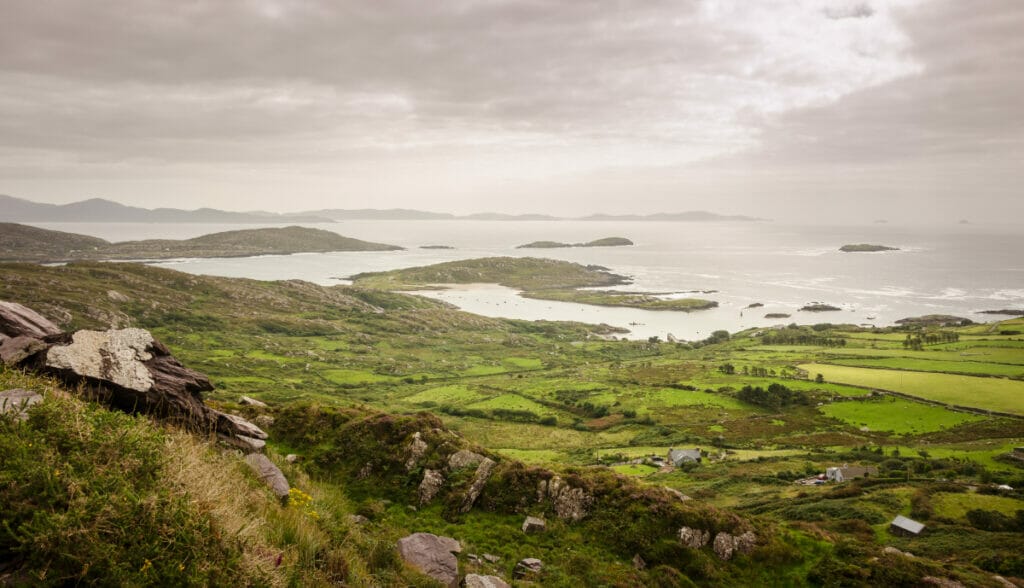 Located in Southwest Ireland, Kerry is known for the Ring of Kerry.
This is a popular driving route that passes by several beautiful types of scenery.
You'll see the Atlantic Ocean, drive through Killarney National Park, and appreciate the rocky landforms.
Be sure to park the car a few times and explore on foot. You can hike, climb, or swim at many of the beautiful attractions.
How to get to Kerry
Since Kerry is in such a rural part of Ireland, it can be hard to get there.
Since the local airport is quite small, we recommend flying into Cork International Airport and driving 90 minutes to Kerry.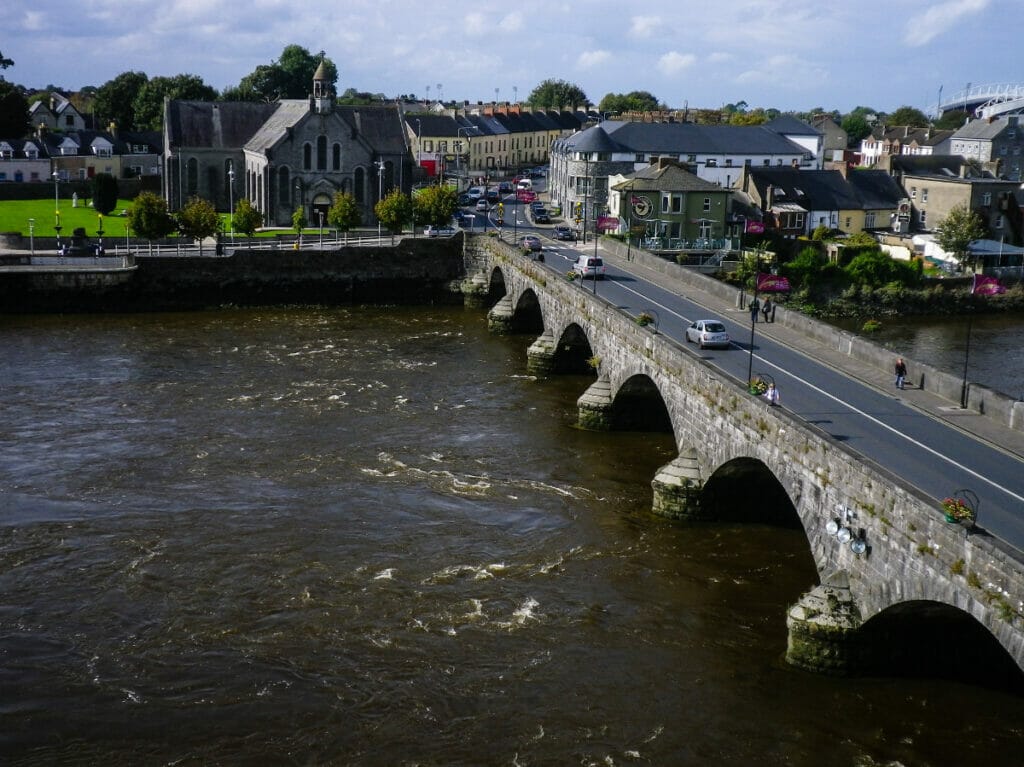 Located on the River Shannon, Limerick is a breathtaking river city.
With a rich culture of many art forms, you will see creative touches throughout the city.
In addition to the historic buildings and neighborhoods, the waterfront is also beautiful. Check out the Sylvester O'Halloran bridge for the most beautiful sunset on the river! If you love a good bridge, you'll see many in Limerick.
How to get to Limerick
If you fly into Shannon Airport, you will be just 30 minutes from Limerick.
11. Waterford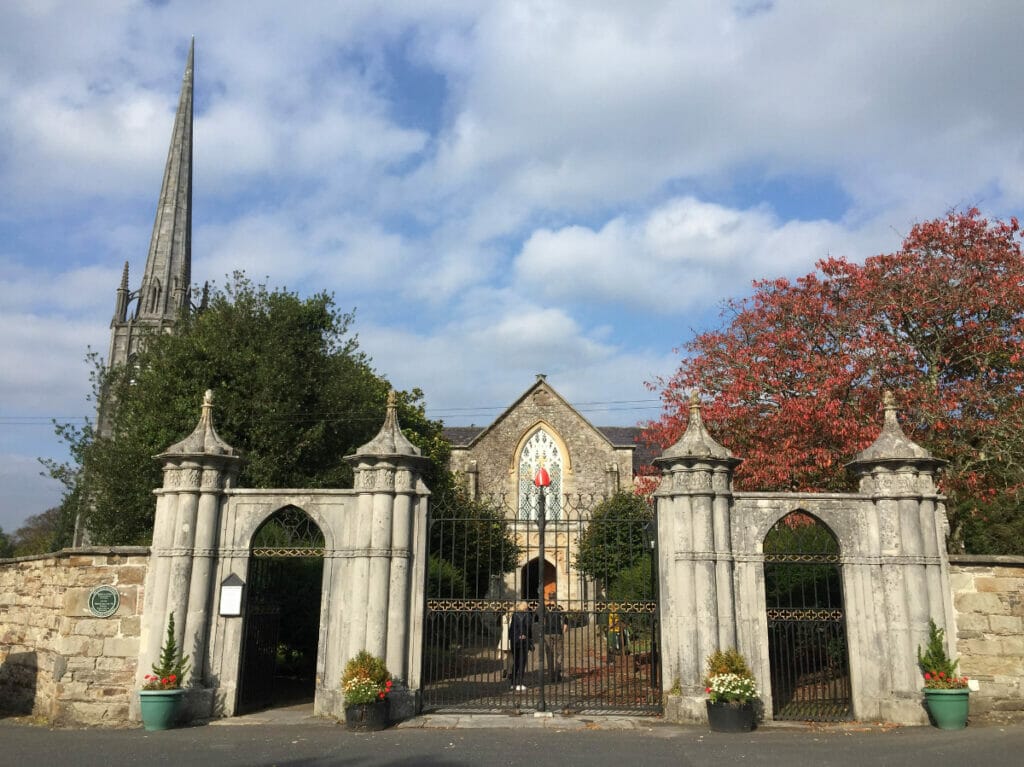 Waterford is best known for its contribution to the glass-making industry.
You could go on a factory tour to learn about how such gorgeous art pieces are made.
If you'd rather look for outdoor beauty, you'll find that in Waterford, as well.
Hike or bike along the Waterford Greenway to see all the beauty this town has to offer.
This is also a great way to see some of the local attractions, shops, and restaurants.
How to get to Waterford
Fly into Cork Airport and drive about 2 hours to Waterford.
12. Donegal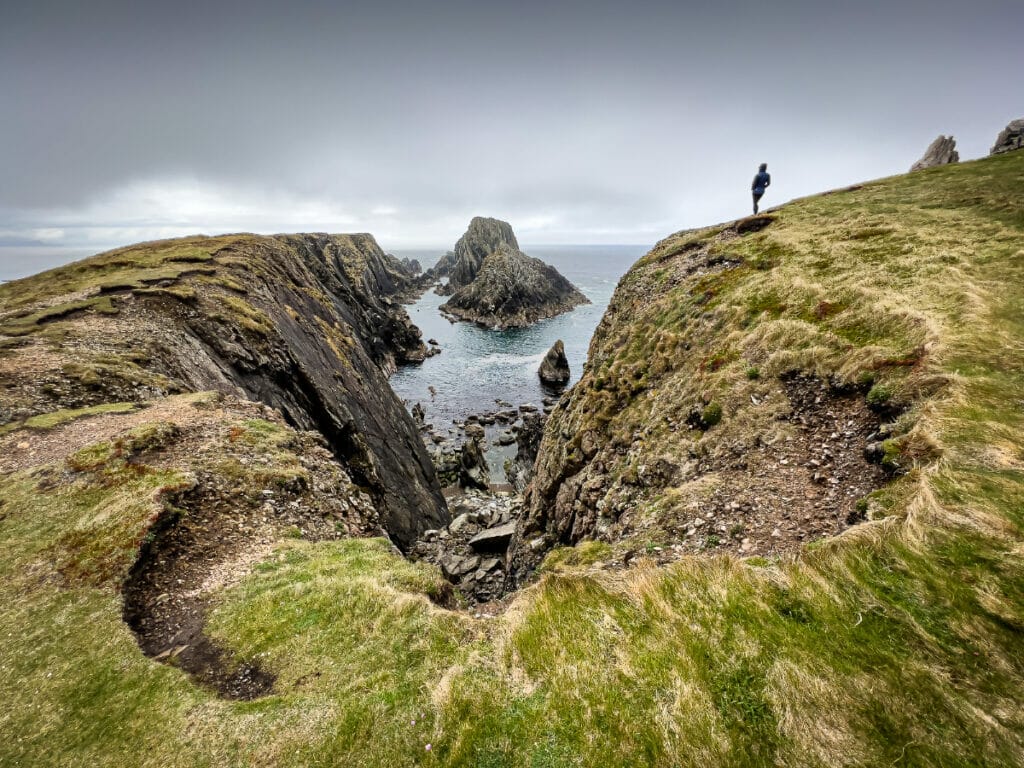 Donegal is located way up north in Ireland.
With rolling hills and beaches, the landscape is beautiful.
You could go for a relaxing hike or spend a day on the beach.
The water at Murvagh Beach is great for surfing.
Drive around to find your favorite scenic spots.
Get out of the car to take a hike or explore the castles and other historic buildings.
How to get to Donegal
Flying from Dublin to Donegal is the quickest way to get to Donegal.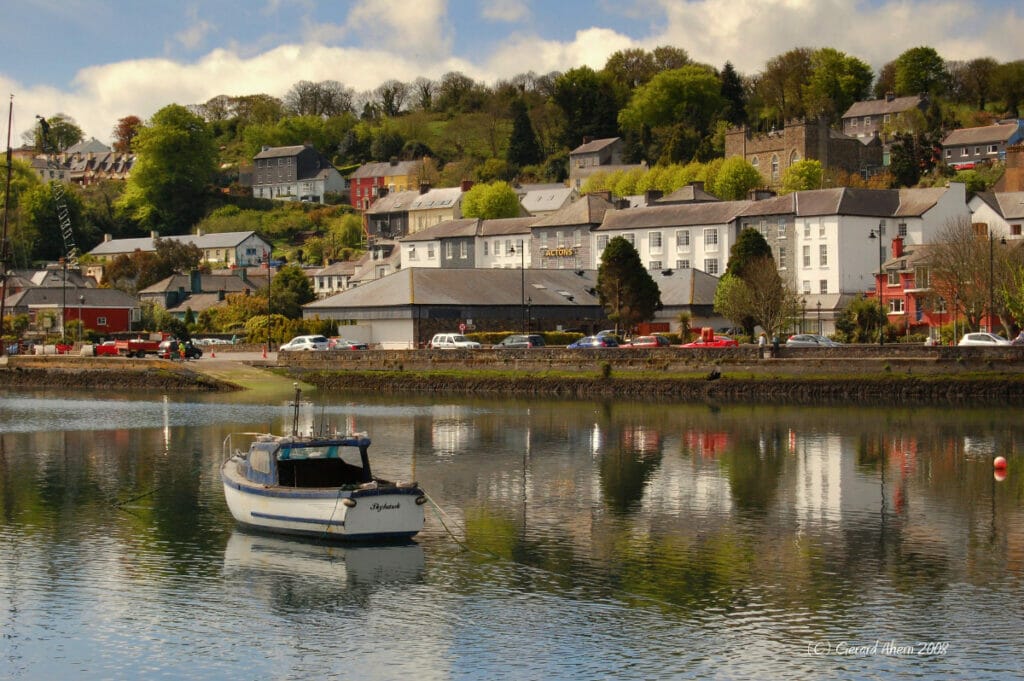 Located on the southeast coast, Kinsale is situated on the River Brandon.
All this water access makes it a great fishing town.
The historic port town of Kinsale has always boasted breathtaking waterscapes!
If water isn't your thing, you will still find Kinsale to be beautiful.
The historic city is full of brightly colored shops.
You'll feel as though you're walking through a children's storybook when you visit.
How to get to Kinsale
Kinsale is a 3.5-hour bus ride from Dublin.
If you'd rather fly into Cork, you would be able to drive there in 30 minutes.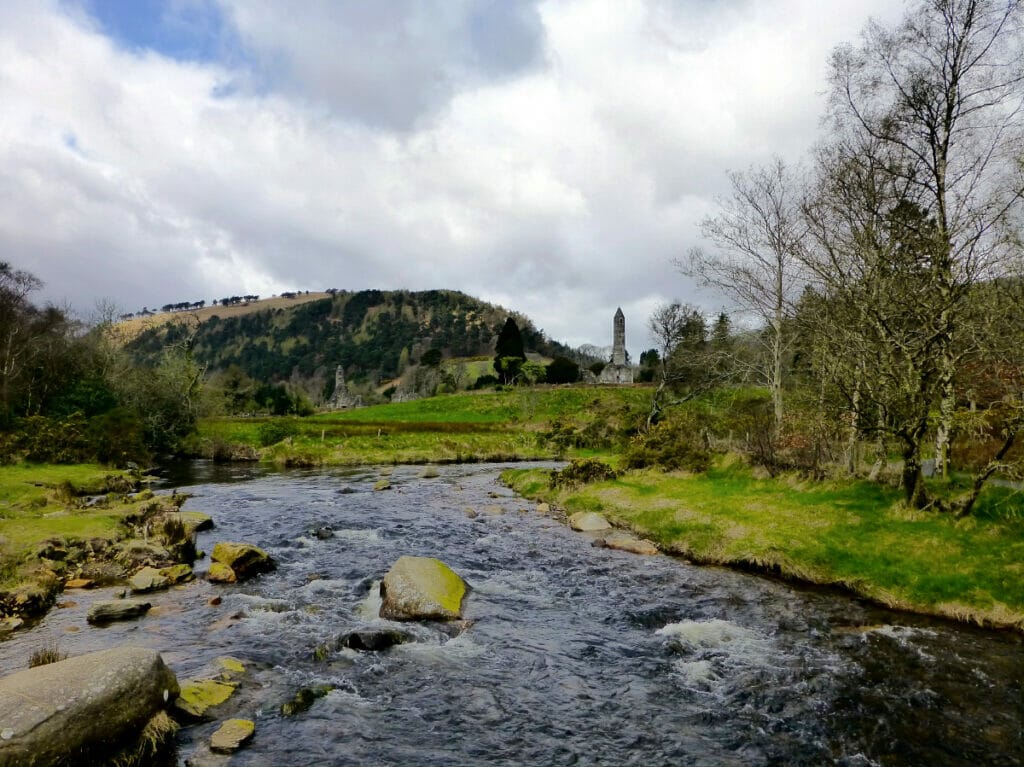 Glendalough is a gorgeous valley in County Wicklow.
Also known as the "monastic city" for its notable monastery, Glendalough is beautiful year-round.
Whether you're more interested in religious sites or natural beauty, you'll want to take lots of pictures.
It's actually a part of Wicklow National Park and a great place to see wildlife!
Wicklow is actually called the "Garden of Ireland" so you know it will be a gorgeous place to visit.
How to get to Glendalough
Driving a car to Glendalough from Dublin will take about 90 minutes.
15. Wexford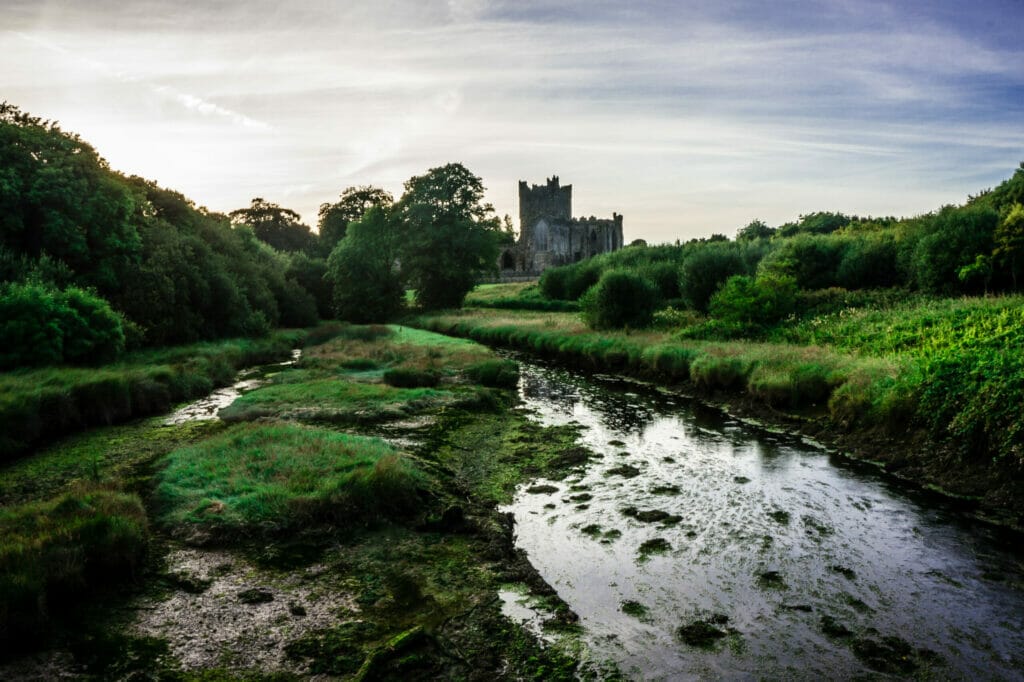 Located on the southeastern coast, Wexford has a lot of water access.
You could spend a day on the beach or visit the Wexford Wildfowl Reserve for some birdwatching.
The Irish National Heritage Park is an open-air museum that allows you to learn about Ireland while relaxing in nature.
Tintern Abbey is one of the more popular attractions in Ireland.
This charming building is located right in the midst of Wexford's natural beauty.
How to get to Wexford
Whether you fly into Dublin or Cork, you will be a 2.5-hour drive away from Wexford.
Traveling by car is the easiest way to get here.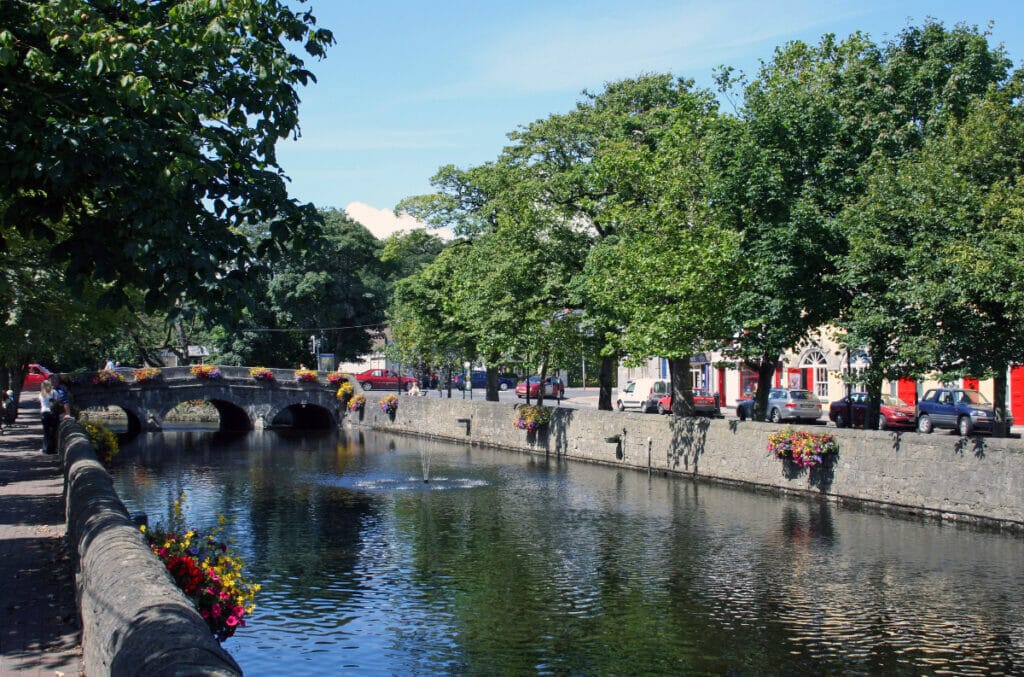 Located in western Ireland, Westport is situated by an Atlantic inlet.
Locals enjoy a high quality of life and tourists enjoy their visits to this town.
Westport is in a beautiful part of the country.
It's not too far from Achill Island, Connemara, and other popular destinations.
Westport's scenery rivals the rest of the region's landscape.
What sets it apart is its beautiful coast.
Instead of seeing water as far as the eye can see, you'll see bits of land and small islands as you look toward the ocean.
How to get to Westport
Fly into Ireland West Airport and drive 30 minutes to Westport.
Cobh is situated on an island in Cork's harbor.
It is actually a cruise port so tourism is a huge industry here.
The town is full of Insta-worthy photo ops to make sure visitors leave with exciting pictures.
Cobh has a rich history and many places to learn about it.
Bird watchers will probably see a variety of beautiful birds.
If you're the artsy type, you'll want to keep an eye out for amazing artwork throughout Cobh.
How to get to Cobh
Cobh is located about 30 minutes from Cork. You could fly into Cork and drive the rest of the way.
18. Connemara National Park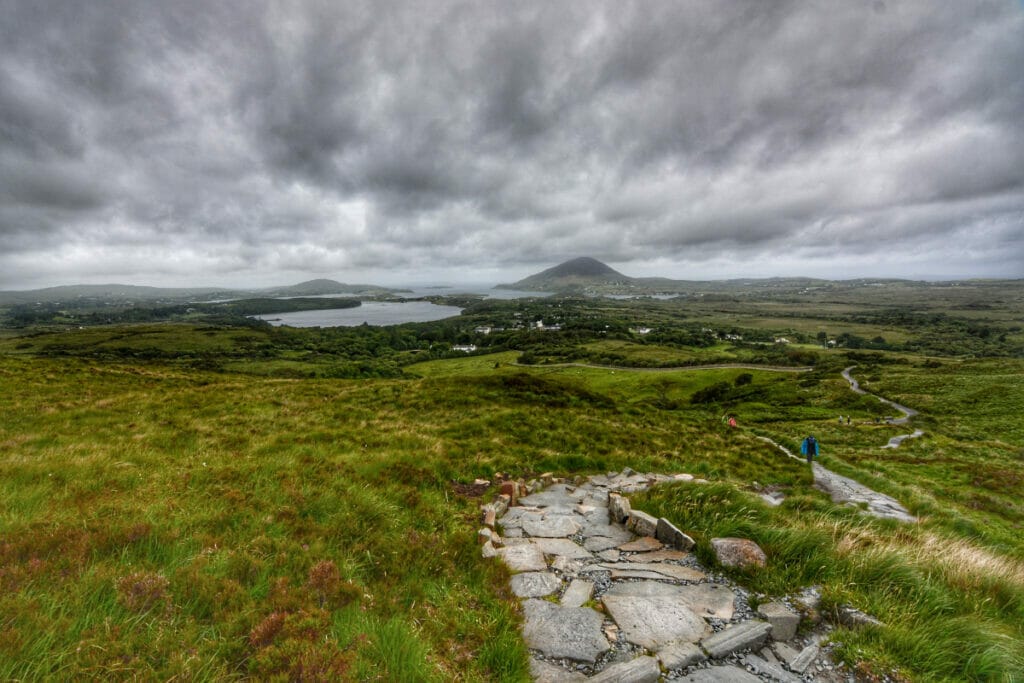 Established in 1980, Connemara National Park has a lot to offer.
You can explore mountains, bogs, forests, and grasslands.
You can see a 19th-century graveyard and 16th-century megalithic court tombs.
In addition to remnants of historic human life, you can also see a lot of wildlife.
While you might find some land animals (including the Connemara pony), you'll definitely see many types of birds.
Everywhere you look, you'll be reminded why nature is astonishing.
How to get to Connemara National Park
If you fly into Ireland West Knock Airport, you can rent a car and drive about 90 minutes to the park.
19. Wicklow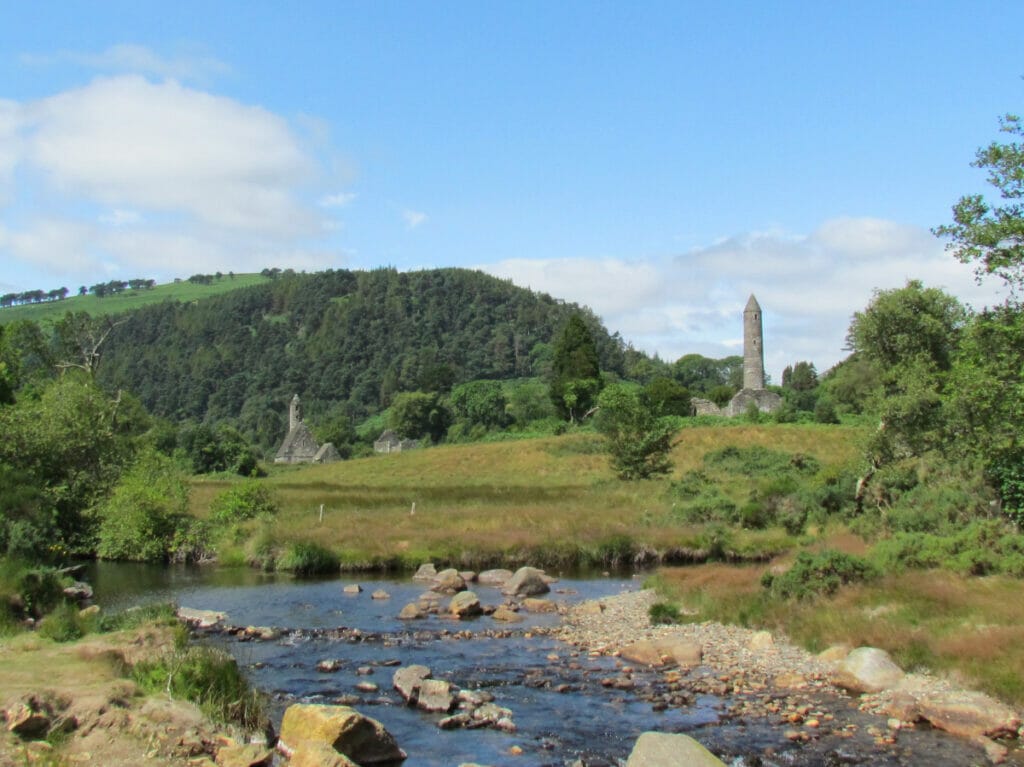 Known as the "Garden of Ireland," Wicklow is full of lovely views.
In addition to its natural beauty, Wicklow is home to Powerscourt Estate.
Some would even consider this estate to be a manmade wonder.
Whether you prefer driving, strolling, cycling, or hiking, there will be a path for you.
As you journey throughout Wicklow, be sure to take your time and soak in the scenery.
The Powerscourt Waterfall is Ireland's tallest waterfall.
The Greenan Maze is Ireland's version of a corn maze.
And the whole region is a picture-perfect place for beautiful pictures with your travel mates.
How to get to Wicklow
The easiest way to get to Wicklow is to drive there from Dublin. It should take just over an hour.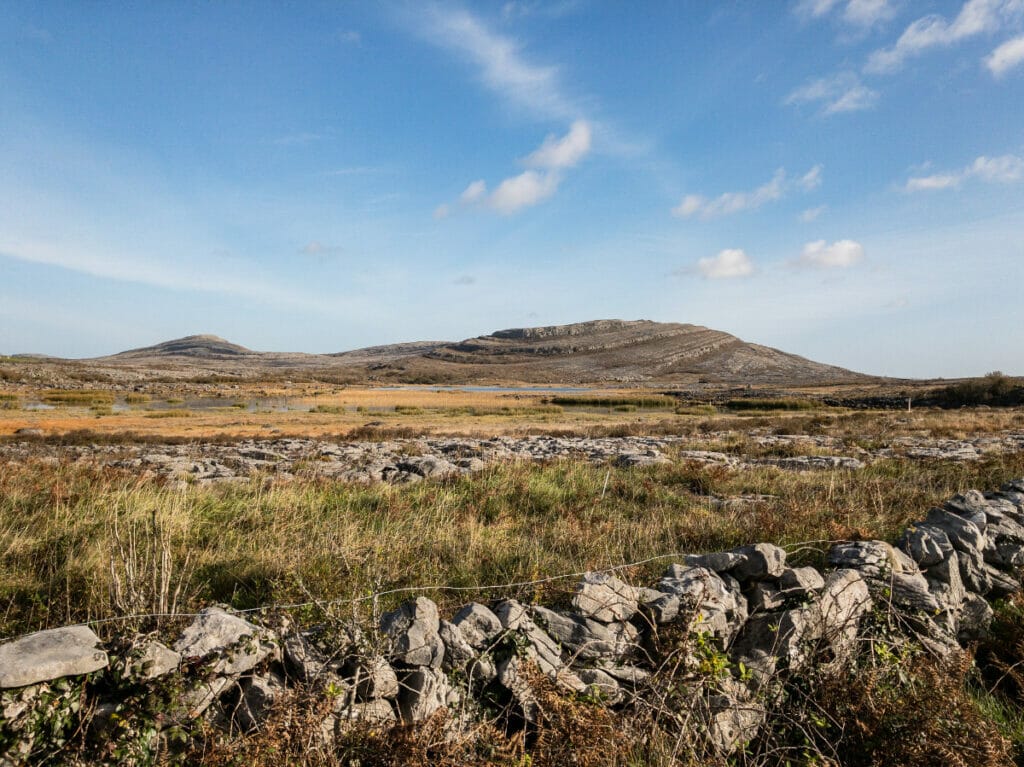 If you like a rocky landscape, you'll love Burren National Park.
Limestone pavement covers most of the park and is a part of Europe's largest karst landscape.
You will also see calcareous grasslands with many types of flora.
You can walk through the woodlands or look for animals in the hazel scrub.
While there are some permanent bodies of water, you may also see some lakes that rise during the rainy season and disappear when it dries up.
Stop by the visitors center to learn about the types of flora and fauna you should be able to find while exploring this gorgeous national park.
How to get to Burren National Park
Fly into Shannon Airport and drive less than an hour north to Burren National Park.
Located in Wild Nephin National Park, Ballycroy Visitor Centre is well worth the trip!
Best known for the Blanket Bog, a large expanse of peatland, this park is full of beautiful sights.
Find many protected habitats and wildlife species when you visit.
The Ballycroy Visitor Centre is a great place to learn about everything the park has to offer.
It's also a very clean facility to enrich your travel experience.
How to get to Ballycroy Visitor Centre
Fly into IW Knock Airport and drive an hour west to Ballycroy Visitor Centre.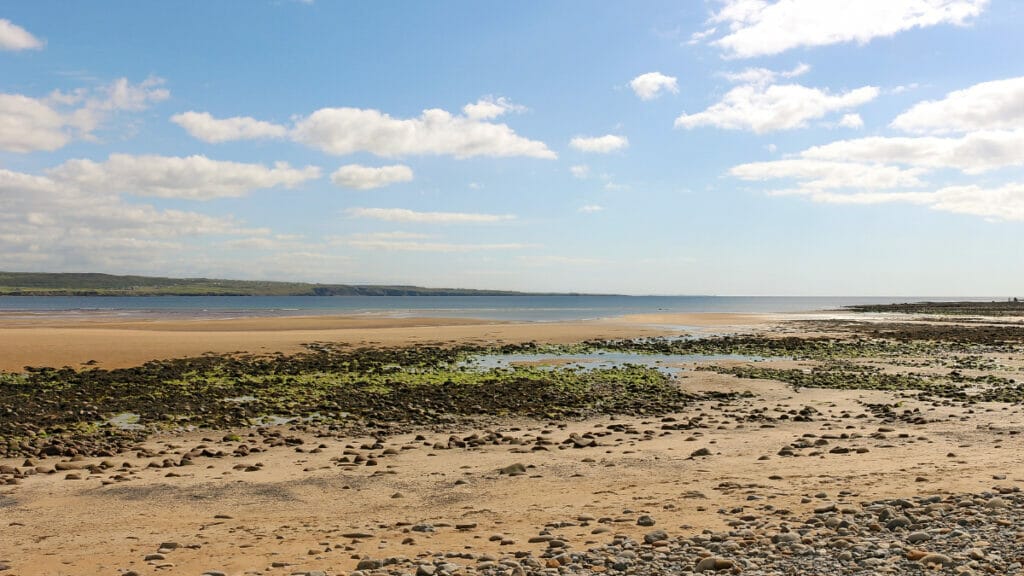 Lahinch is located on the western coast of Ireland.
There are signs of early human civilization, such as earth forts that you can still see today!
There are also remnants and ruins of castles along the coastline.
Lahinch is especially known for the Lahinch Golf Club, which was established in 1892.
It is definitely a beautiful place to play golf!
Surfers also travel here because the waves are perfect.
Even if you don't want to get on a surfboard, you'll love the coastal views!
How to get to Lahinch
Fly into Shannon Airport and drive about an hour northwest.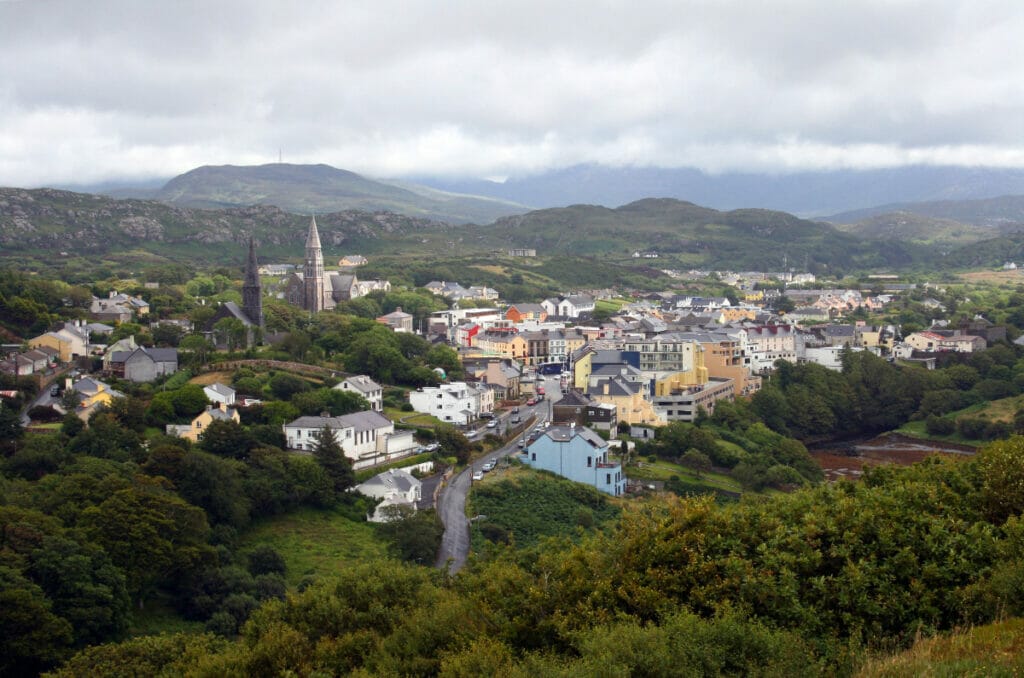 Clifden is a coastal town in the Connemara region of Ireland.
It is fairly rural and extremely beautiful.
Clifden is a popular tourist destination for good reason.
The Twelve Bens is a mountain range of quartzite summits.
Sky Road is a scenic drive along the local bays that rises up to 150 meters above sea level.
It's close to Connemara National Park and Inishbofin.
And you can see the Slyne Head Lighthouse, the Station House, and St. Joseph's Roman Catholic Church.
Everybody who visits falls in love with the gorgeous region.
How to get to Clifden
Clifden is almost a 2-hour drive from IW Knock Airport.
Driving a car is probably the easiest way to get here.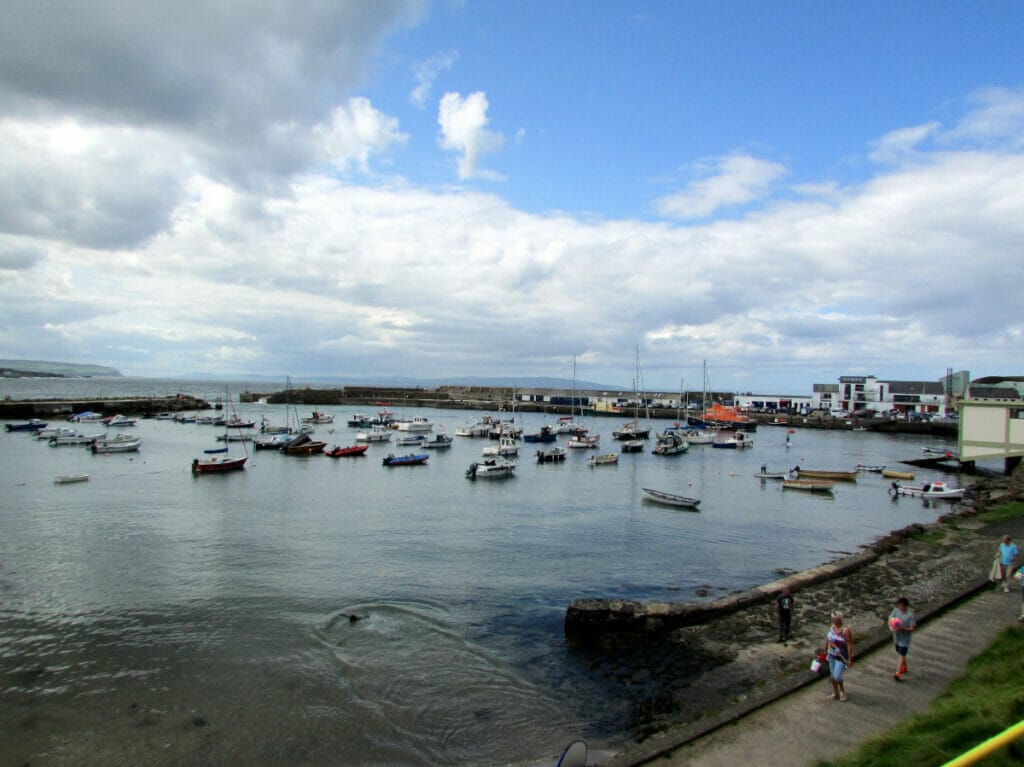 Portrush is a gorgeous resort town in Northern Ireland.
The sandy beaches of Portrush make for a gorgeous coastline.
Most of the people who visit this town spend most of their time on the beach.
Portrush is also known for the Skerries.
These are a small group of rocky islets just off the coast.
This beautiful sight isn't commonly found anywhere else in the world.
If you visit Portrush, be sure to visit some of the surrounding beauty.
You can explore Castlerock, the Dark Hedges, or the Carrick-A-Rede RopeBridge.
How to get to Portrush
Fly into Belfast and then drive about an hour north to Portrush.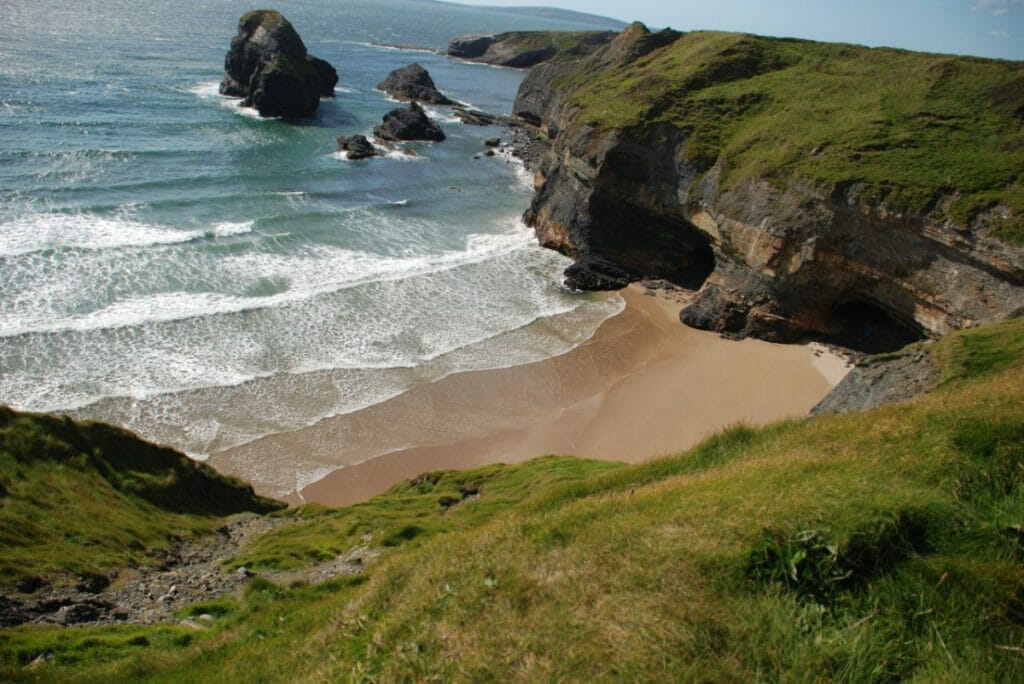 Located on the western coast, Ballybunion has some of the best beaches in the area!
You might even catch a glimpse of some dolphins or beautiful birds.
Located along the Wild Atlantic Way, you can also expect to see majestic cliffs covered in sea pink and thistle.
The Bromore Cliffs are also nearby.
This is where you can see the Devil's Castle Sea Stack.
Catch a gorgeous sunset no matter the time of year.
Keep an eye out for birds, especially starlings. Be prepared to be amazed when you visit!
How to get to Ballybunion
Fly into Shannon Airport and you'll be about 90 minutes away by car.
26. Greystones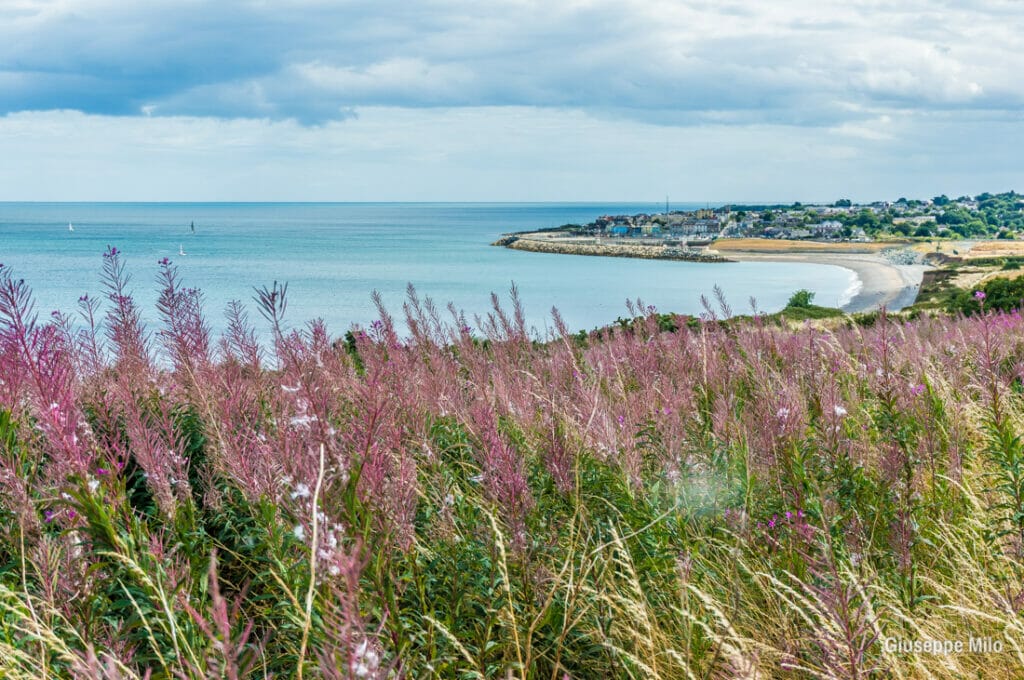 Greystones is a popular town for vacation.
You can go shopping, try new foods, and explore some indoor attractions.
Don't forget about admiring the local architecture!
If you're here to appreciate the surrounding scenery, you won't be disappointed.
With hiking opportunities and gorgeous golf fields, you'll be able to find something active outside.
The most notable attraction is Blue Flag Beach.
This means it meets the standards of the Foundation for Environmental Education.
How to get to Greystones
Take a 90-minute bus ride from Dublin to Greystones.
27. Doolin: beautiful Ireland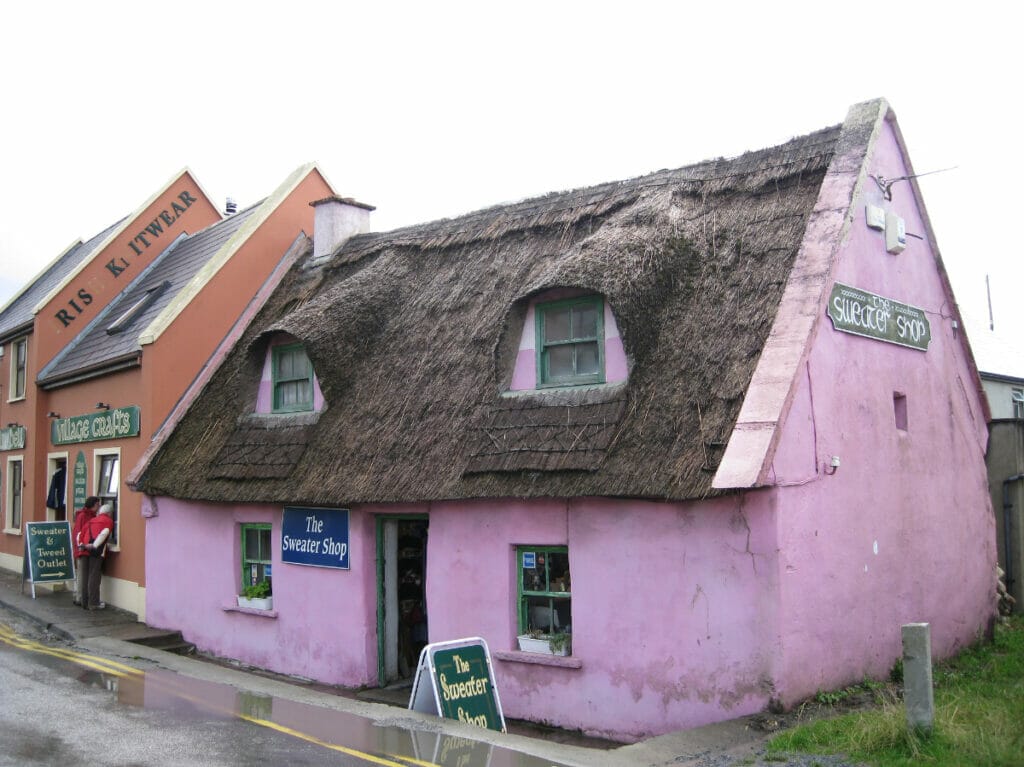 Doolin is especially known for its music scene.
If you love folk music or traditional Irish music, you'll enjoy a visit here.
Located in the Burren region, Doolin also has unrivaled landscapes.
Be sure to visit the Cliffs of Moher when you come here!
There are many companies that offer adventure tours so you can have an exciting adventure without having to venture out on your own.
How to get to Doolin
Doolin is about an hour's drive from Shannon Airport.
Located in County Dublin, Malahide has a lot to offer.
It is especially known for its coastline and old castle.
You can find evidence of prehistoric habitation and visit Ireland's only butterfly house.
Go for a scenic stroll, drive, or bike ride. Ride on the railway and learn about it at the Casino Model Railway Museum
How to get to Malahide
Malahide is quite easy to get to as it is located just outside Dublin.
It's a 42-minute drive from the heart of the city.
You could hop on a train to get there.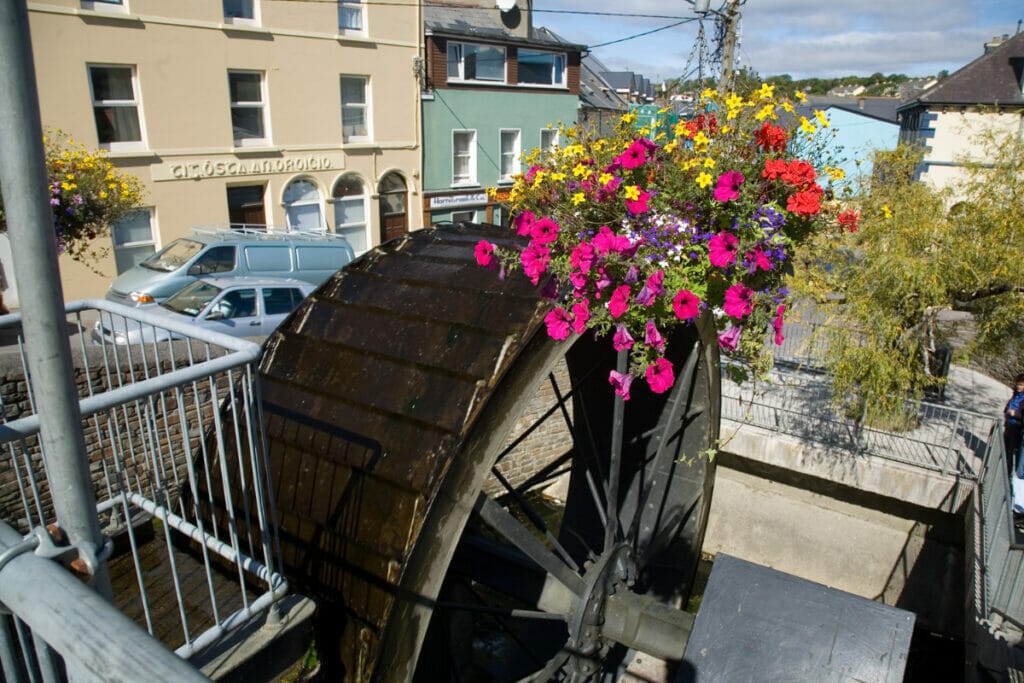 Located on Bantry Bay, Bantry is located between two peninsulas.
It is a gorgeous part of the country!
Bantry is especially known for its mussels.
Enjoy a day on the bay and then grab some mussels to eat.
This is a great area to go island hopping, try some water activities, or relax on the beach.
Ride horses or bikes, hike, or drive to see the beautiful views local to Bantry!
Be sure to visit some of the local gardens or heritage sites to see as many sights as possible.
How to get to Bantry
Fly into Cork Airport and drive west for a little more than an hour.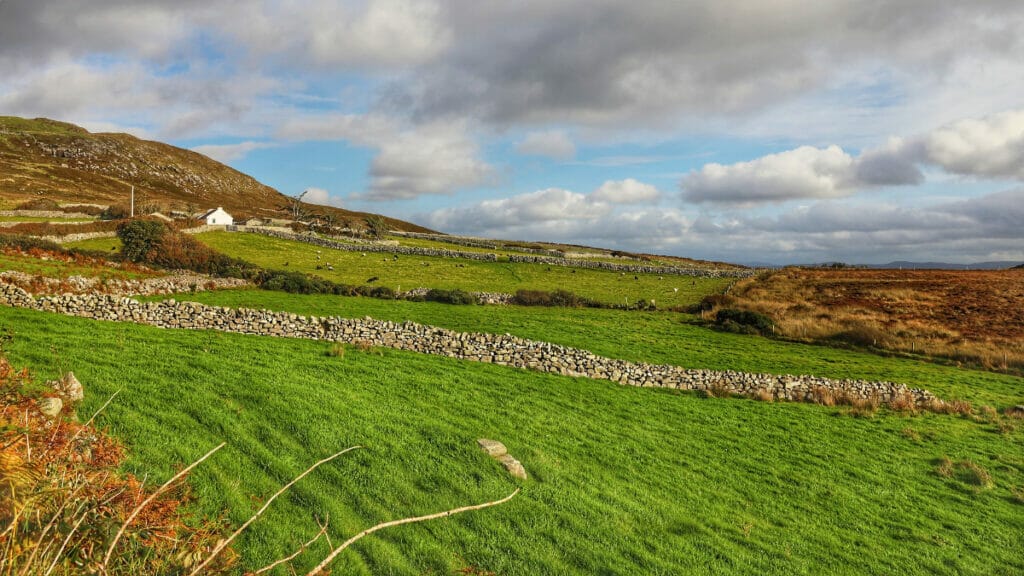 It would take about 1 or 2 weeks to explore the entire Wild Atlantic Way.
Many of the towns on this list are actually a part of this region!
This route goes up and down the west coast of Ireland.
You can cycle, drive, or hike to see all the beauty this route has to offer.
There are 15 discovery points to stop at.
This will help you make sure you don't miss anything amazing!
Some must-see attractions are the Cliffs of Moher, Fanad Head, Slieve League, and Baltimore Beacon.
How to get to Wild Atlantic Way
The Discovery Point at Old Head of Kinsale is an hour's drive south of Cork Airport.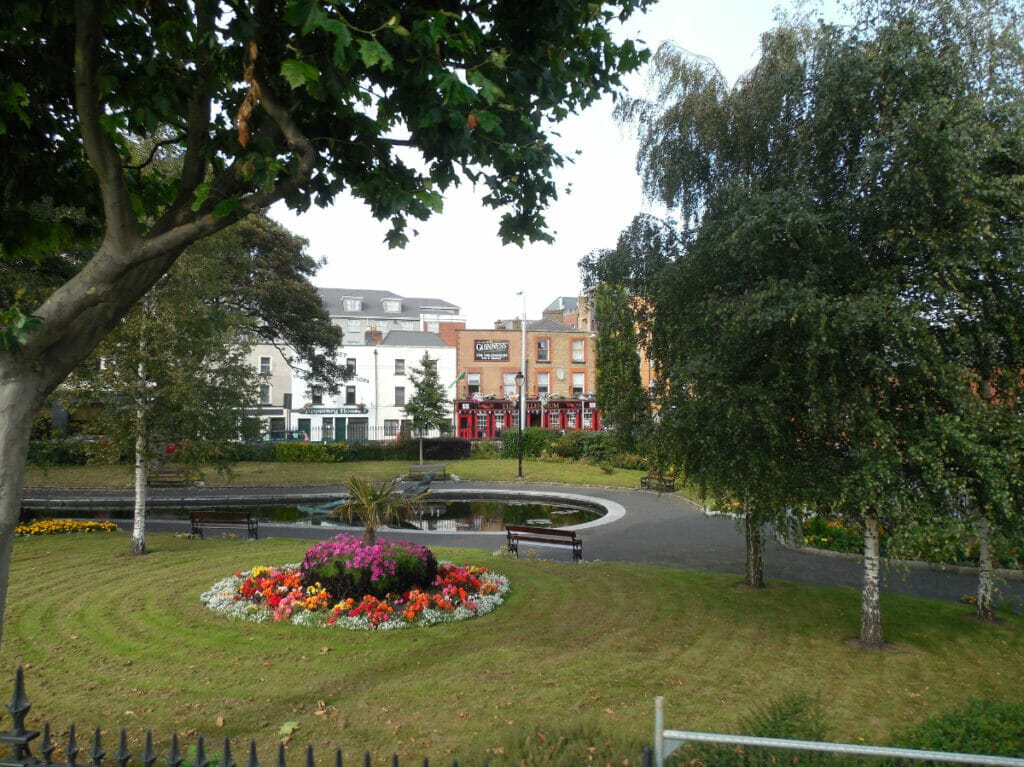 Dublin is one of the most popular places to visit in Ireland.
The capital of Ireland, it's also the largest city in the country.
While it's most famous for Guinness, there are a lot of other things to do here, as well.
You can find beauty here no matter what your preferences are.
Do you enjoy manmade art?
Do you love exploring historic architecture?
Are you a fan of cityscapes?
Would you rather explore the great outdoors?
You can do all of that in Dublin!
How to get to Dublin
Dublin is home to an international airport.
Fly in here and then use public transportation to get around!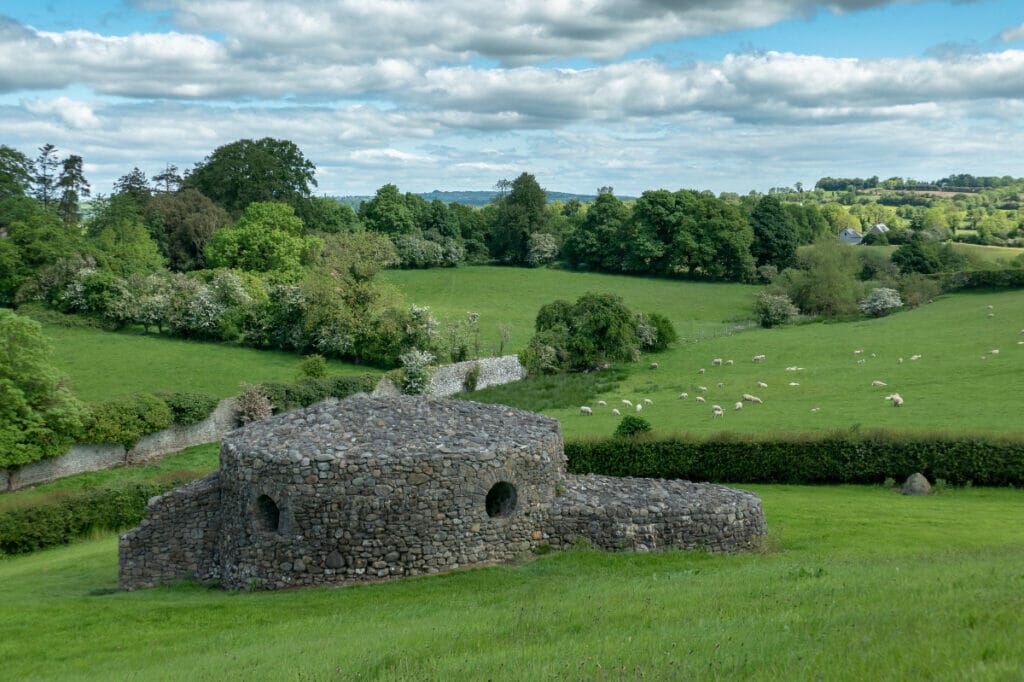 Newgrange is a prehistoric monument that attracts people from all over the world.
It is a grand passage tomb that dates back to 3200 BC.
While it is beautiful on its own, it also overlooks the River Boyne.
That means its location is also breathtaking.
Enjoy the view from afar, but also get up close and personal.
This will allow you to see some of the details that went into creating Newgrange.
How to get to Newgrange
Located an hour north of Dublin, it is easiest to drive there.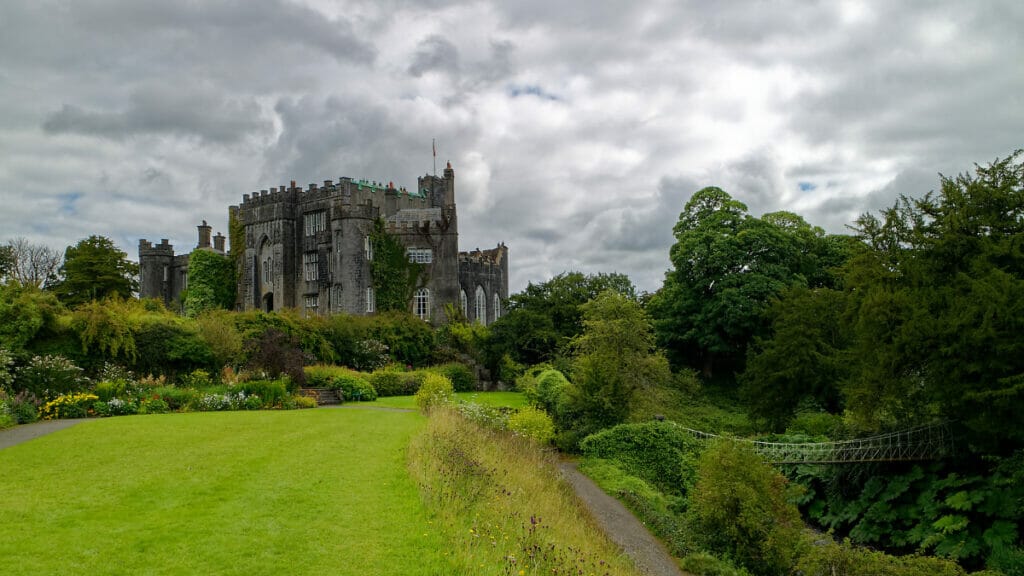 Birr Castle is a gorgeous piece of architecture.
However, the true beauty lies in its gardens.
The gardens at Birr Castle have won many awards.
If you want to take some Insta-worthy photos, be sure to bring your camera to Birr Castle!
You can find rare plants from around the world.
Take advantage of the photo ops.
Walk along the various bodies of water. Keep an eye out for several types of wildlife that hang out around the castle.
How to get to Birr Castle
Fly into Dublin and drive about an hour west.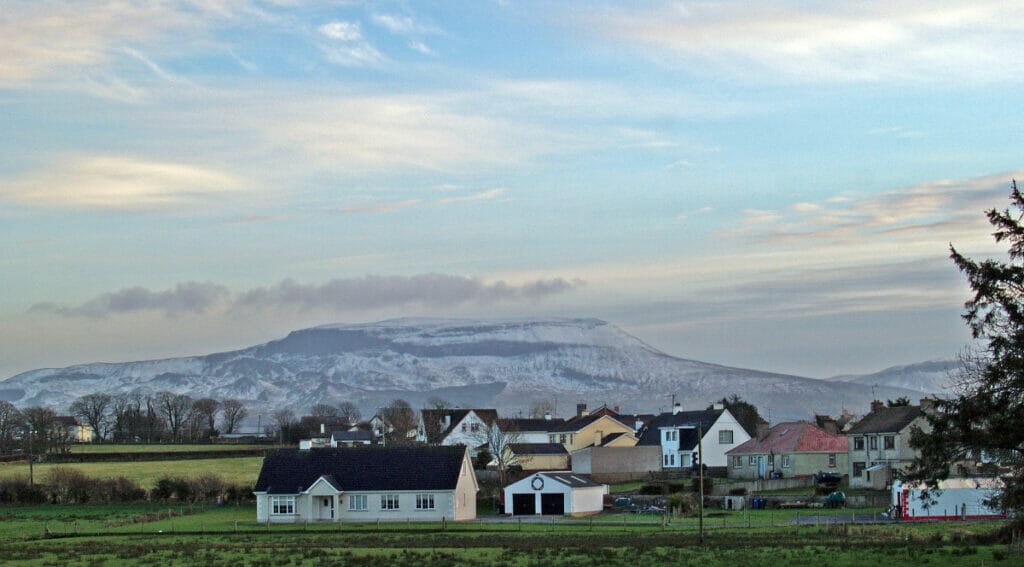 This seaside resort town is especially known for its beach and coastline.
Whether you want to relax on the beach, go for a swim, or walk along the coast, you'll enjoy a trip to Bundoran.
Bundoran has something to offer everyone! Stroll along the West End Cliff Walk or Rougey Walk.
Visit the Fairy Bridges which totally looks like they came out of a storybook.
Try your hand at some sports, including surfing or horseback riding.
How to get to Bundoran
Fly into Ireland West Airport and you'll have a 2-hour drive to Bundoran.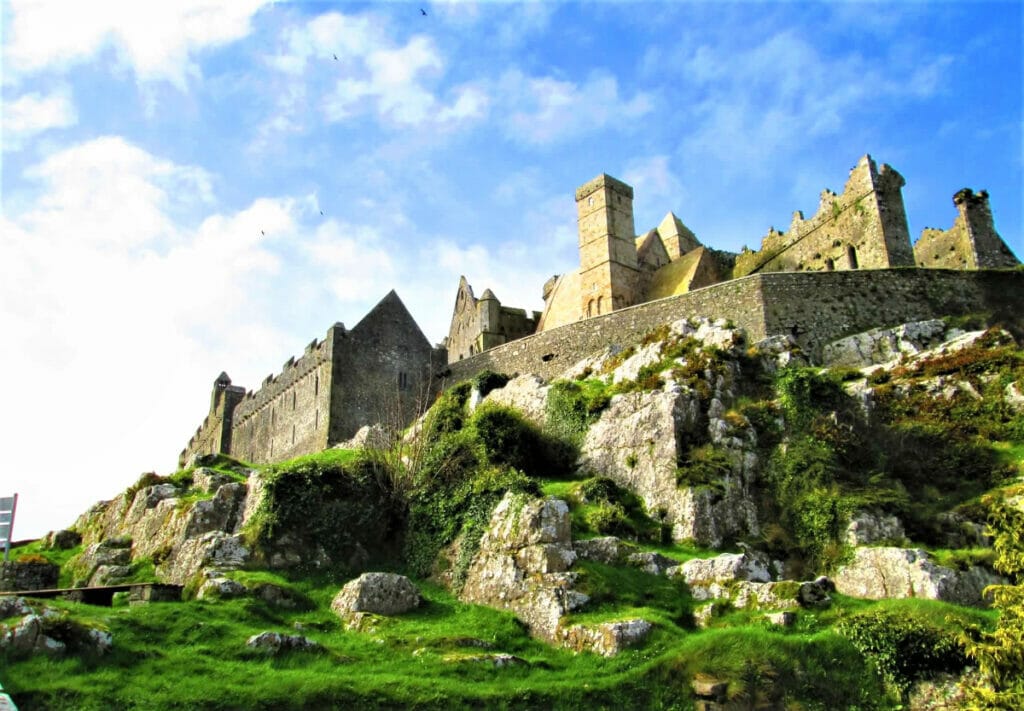 The Rock of Cashel is a historic site that boasts gorgeous limestone cliffs.
It rises about 200 feet into the air and supposedly was moved here from Devil's Bit when St. Patrick banished Satan.
While the legends are interesting, the sight of the Rock of Cashel is breathtaking.
The rock has quite the history but is best known for the buildings that reside here.
While all the buildings here are beautiful, St. Patrick's Cathedral is the oldest and biggest.
Many people will visit so they can explore the cathedral.
How to get to Rock of Cashel
The quickest way to get to the Rock of Cashel is to fly into Shannon Airport and drive about 90 minutes.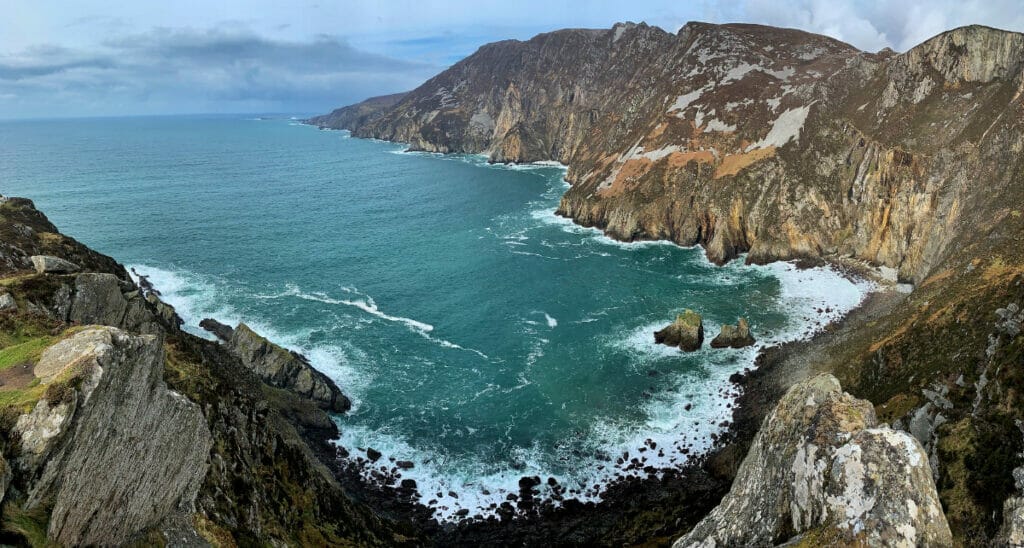 Also known as the Slieve League, Sliabh Liag is a beautiful mountain in County Donegal.
Its name means "mountain of the stone pillars."
The mountain is just over 600 meters high and you can hike to the top in about 3.5 hours.
You'll want to visit if you love admiring majestic sea cliffs.
Even if you don't plan to go for a hike, you should add this landform to your bucket list.
How to get to Sliabh LIag
Sliabh Liag is a 2.5-hour drive from Ireland West Airport.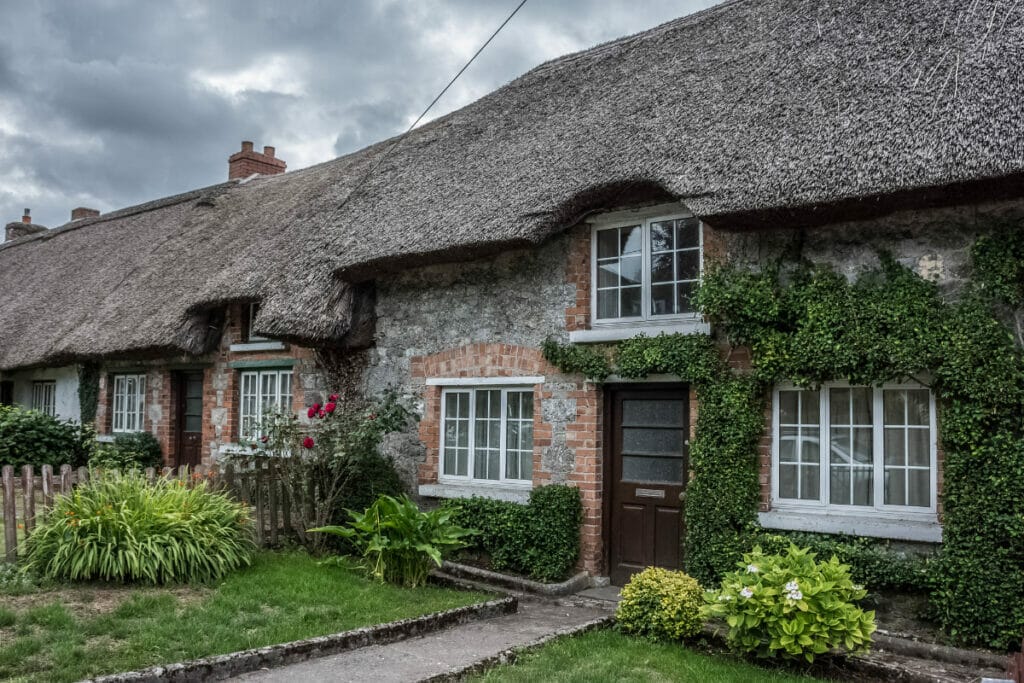 If you love medieval architecture, you'll love Adare!
As you visit this town, you'll see tons of thatched cottages and other medieval buildings.
Known as Ireland's pretty village, Adare is truly picturesque.
Visit the many castles, gardens, and natural areas to really soak in the charming beauty of Adare.
You'll be able to spend a truly relaxing weekend when you visit.
How to get to Adare
Fly into Shannon Airport and drive the remaining 30 minutes.