This post contains affiliate links for which I may make a small commission to help keep the site running. You will not be charged extra for these items had you not clicked the links. Thank you for your help to keep the site running!
Don't get me wrong, Malaga is a stunning place all on its own and one of the best vacation destinations in Spain.
You could have an amazing time in this Spanish city without ever taking day trips from Malaga.
That being said, with easy transport links to surrounding areas and plenty of sunshine, it would be a shame not to venture a bit further into Andalusia (and further) to visit fascinating sites like Mijas Pueblo, Cadiz, and Alhambra.
If you're studying abroad in Europe, take note!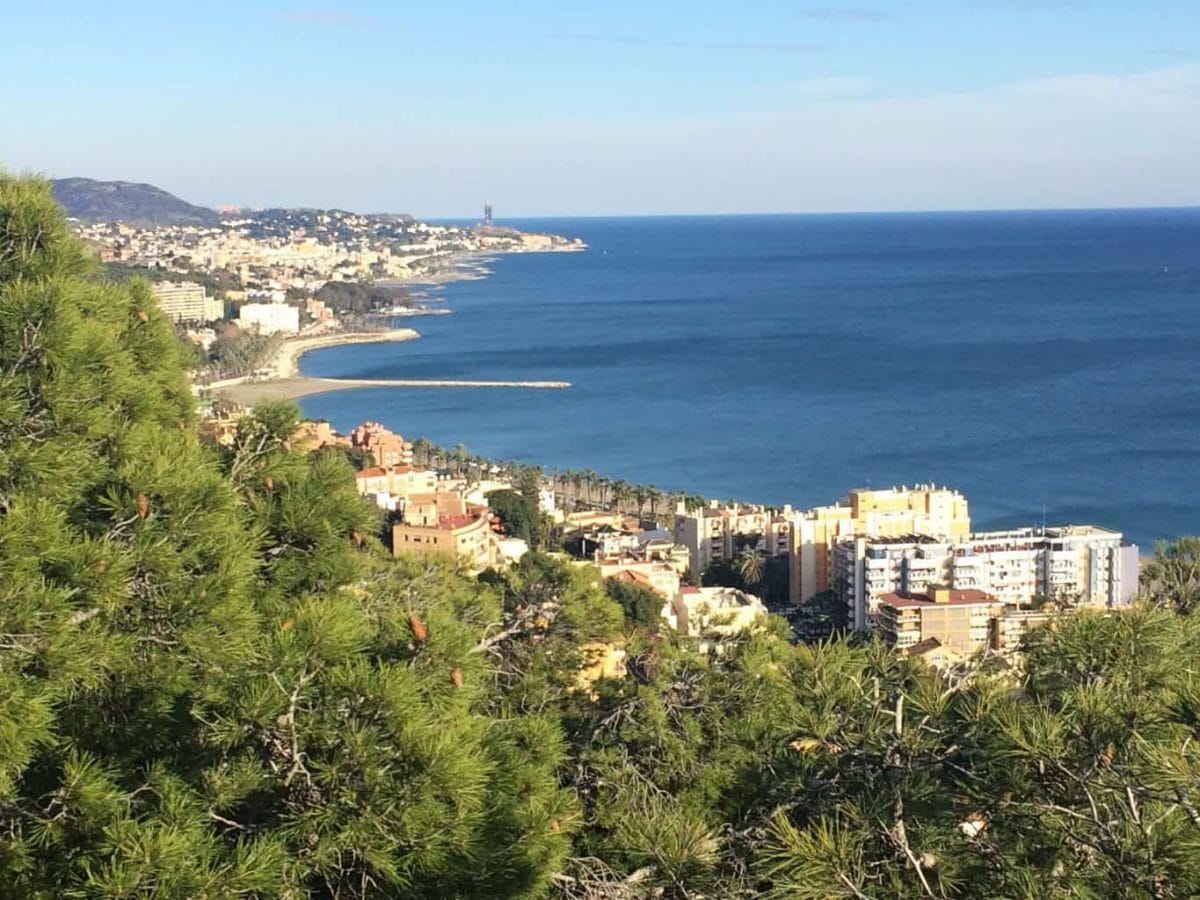 Here are the top day trips from Malaga, complete with information on what to do there and why you should go.
1. Granada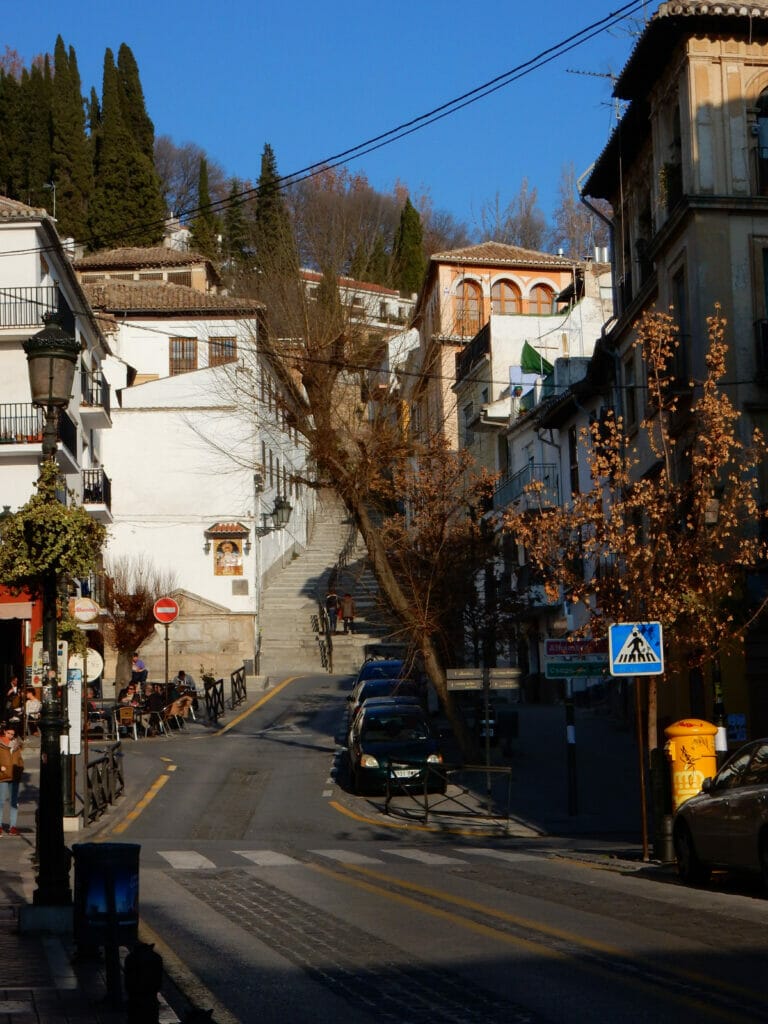 For a day packed with culture and sightseeing, Granada is a fantastic choice for a day trip from Malaga.
Situated at the bottom of the Sierra Nevada mountains, Grenada has some of the most beautiful landscapes and buildings in the Andalusia region.
Granada is home to plenty of Spanish-Islamic art which reflects the rich history of the region.
One of the top places to see is the Alhambra, a UNESCO site and "palace city" which used to be the stronghold of the city.
Today, you can see the Museum of the Alhambra which holds artifacts from the site and tells more of the history within the walls.
For the area's Christian past, check out the Cathedral of Granada in the center of the city.
It was built during the Renaissance and has a main chapel with praying statues.
You can also visit the Royal Chapel, which marks the burial site of the Catholic monarchs.
Part of exploring Granada is appreciating its food scene.
Eating out can be cheap, as many bars will serve free tapas with the order of drinks.
Locals eat dinner late, from around 8pm to the late hours of the night, so keep this in mind if you want to join in with the culture and live as they do!
2. Ronda: Malaga day trips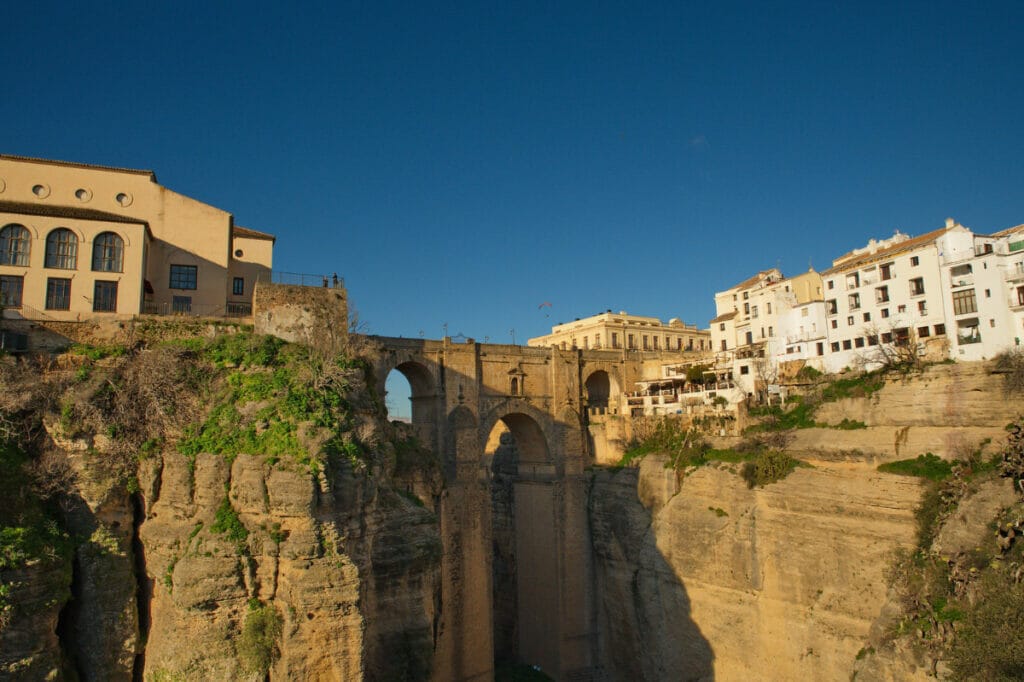 Situated in a mountainous area just west of Malaga, Ronda is the perfect day trip from Malaga if you're looking to have a proper day trip without going too far.
See the famous three bridges, Puente Romano, Puente Viejo, and Puento Nuevo that take visitors above the canyon floor.
You can also see a great view of the canyon from the former tall hall next to Puente Nuevo.
Wander the streets to discover gems like the Plaza del Socorro, the political center of the city with its glittering white and gold front.
You can also plan a stop in the Palacio of the Marques de Salvatierra, a museum with Renaissance art that opens occasionally.
It was also home to Madonna's music video for Take a Bow, so culture all around!
Literature lovers will also be enchanted with Ronda, as Ernest Hemingway spent some summers here and weaved in descriptions of the Spanish lifestyle and history into his writing.
3. Cordoba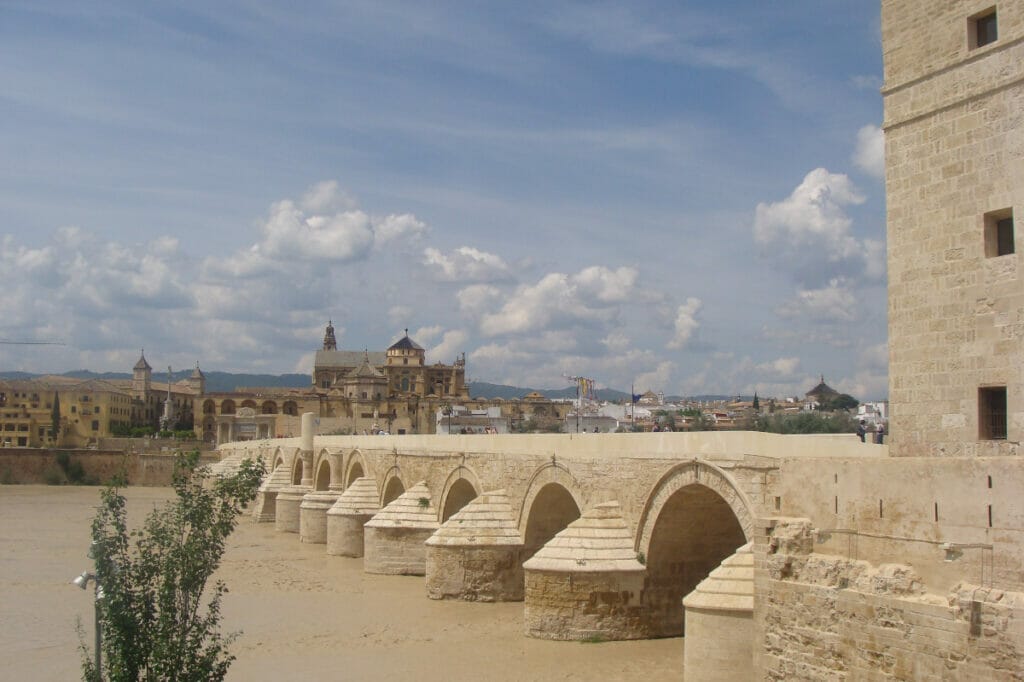 What once started as a Roman settlement is now a thriving city filled with gardens, museums, and annual festivals.
It also has the highest summer temperatures in Spain, so be prepared with your shorts and tank tops and flowy skirts.
You don't need to go far in Cordoba to find fascinating history, as the center is a UNESCO site and the second largest Old Town in all of Europe.
Other sights to see include the Roman Bridge which spans the Guadalquivir River, which acted as the only bridge in the city for twenty centuries.
Take the time to appreciate both the Christian and Islamic influences in the city.
Discover the 12 Christian churches, see the interior of the Great Mosque of Cordoba, and keep an eye out for sculptures across the city of various religious and political leaders who have been a mainstay of the area throughout its history.
4. Nerja
Ah, Nerja.
If you're interested in beautiful beaches, a "small town" feel, and a cave network that's something unlike you've probably ever seen, Nerja is the place for you.
Nerja is the eastern limit of the Costa del Sol region, and it has a rich history as a quiet fishing village.
Today, it's grown into a town with over 25,000 people and plenty of things to do.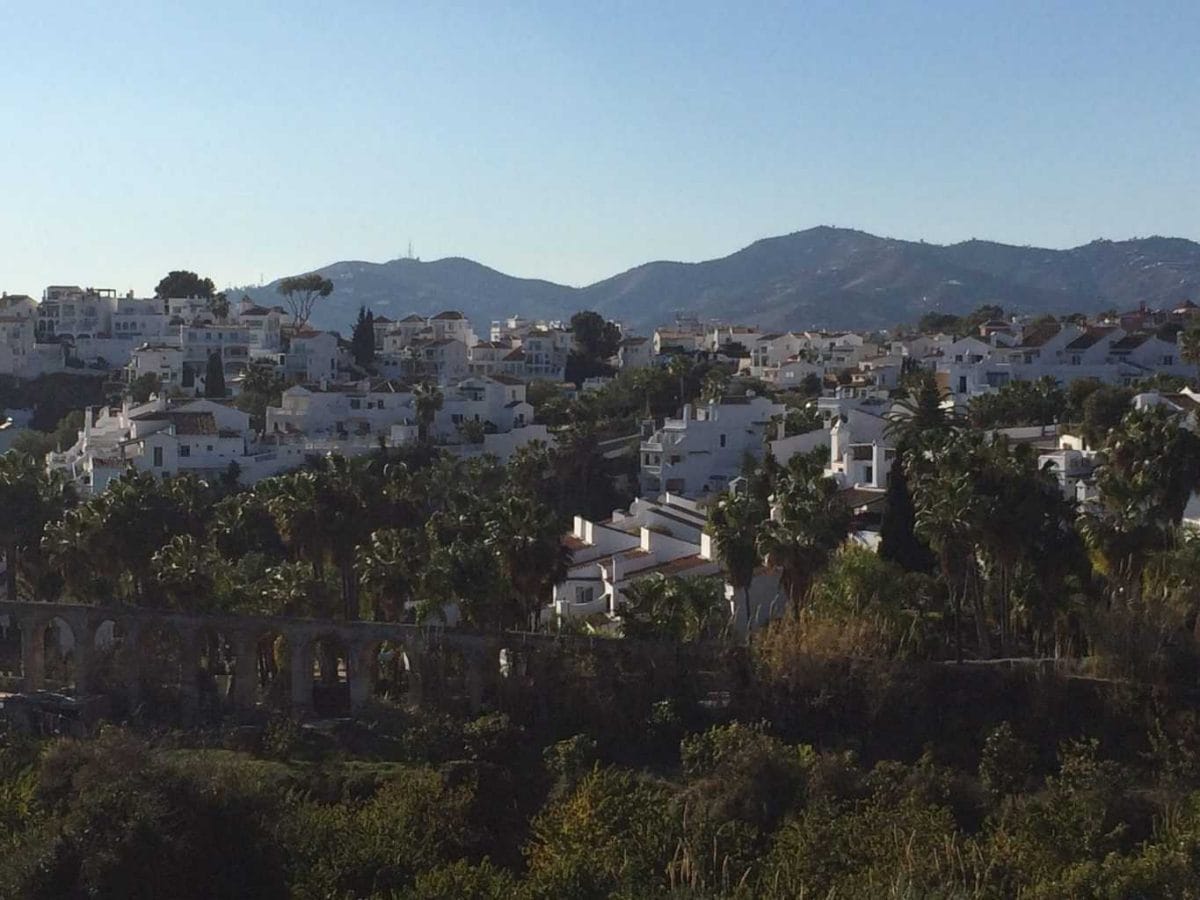 If it's sun you're after, go for a stroll along one of the sandy beaches.
We took our shoes off and sat in the sand and marveled at the beauty of the clear blue water.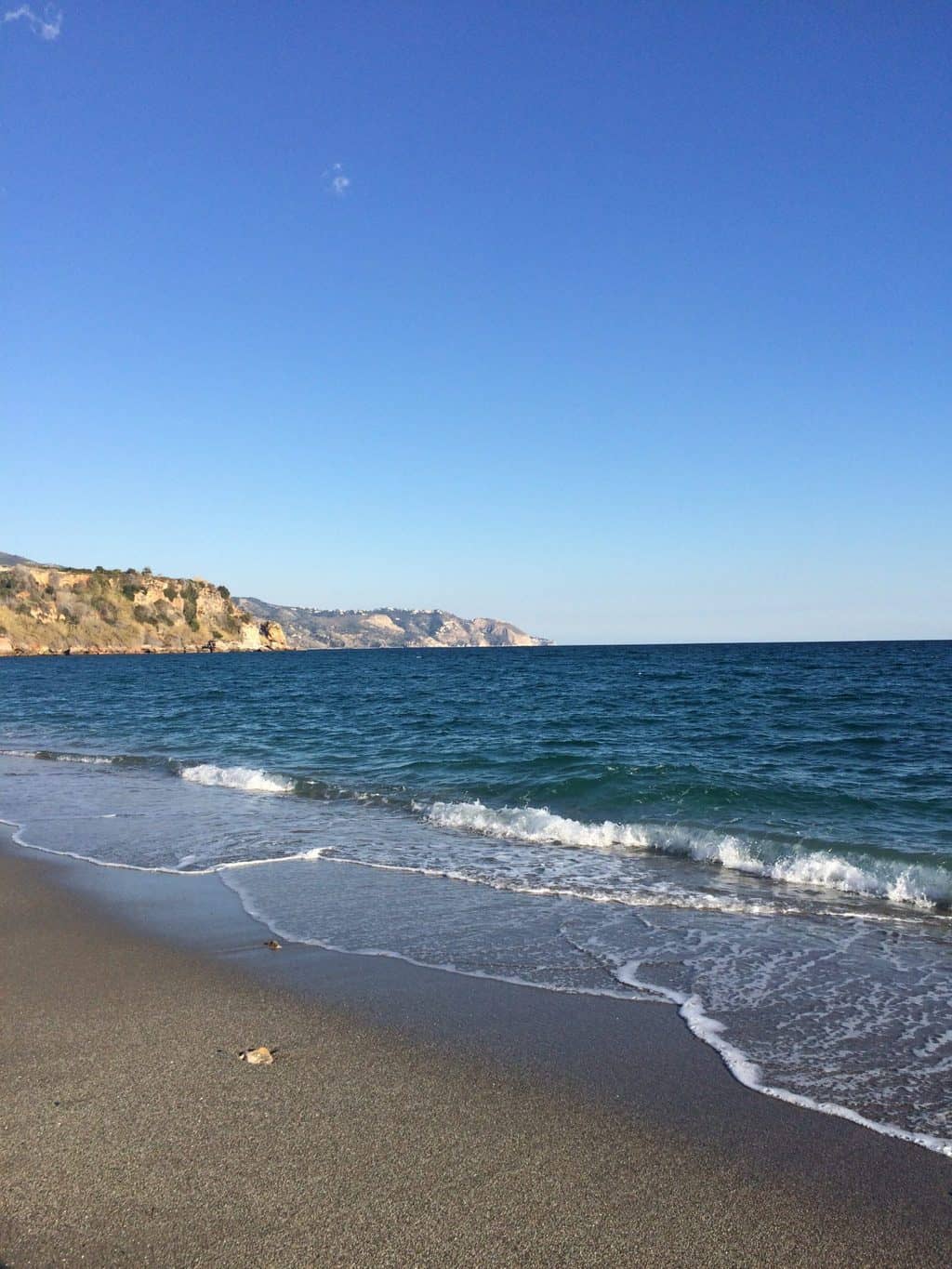 For gorgeous views of the coastline and of the sunset, take a walk to the "Balcony of Europe," a dedicated pedestrian area that sits on the edge of a cliff and has benches and lookout points for you to enjoy.
And of course, you can't miss a stop at Nerja's natural treasure, the Caves of Nerja, or Cueva de Nerja.
These caves were discovered in 1959 by 5 friends completely on accident, and today there are guided tours of the cave system.
Not only is it an incredible natural formation, but you can also see cave paintings that were left during the Paleolithic period.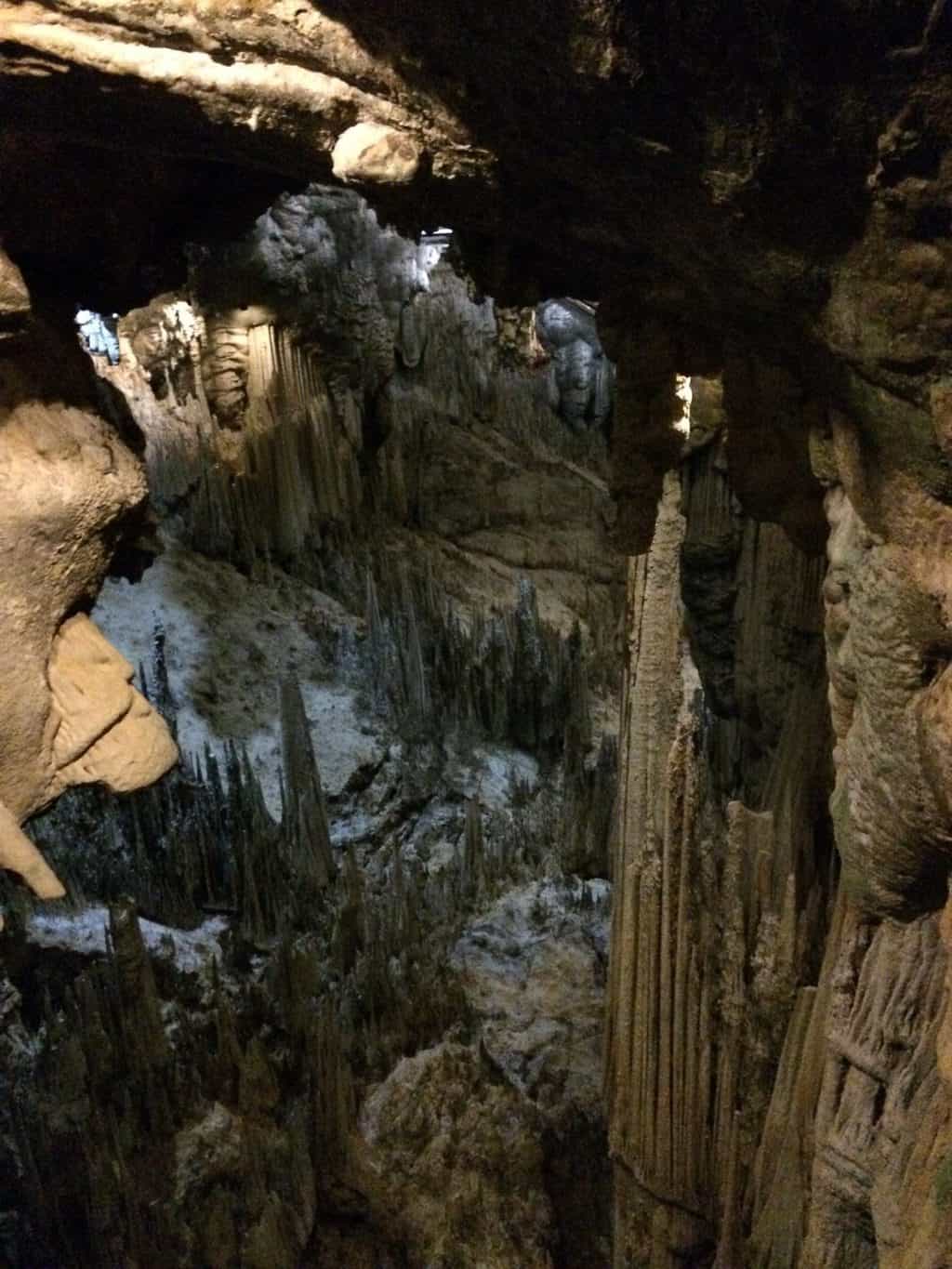 5. Gibraltar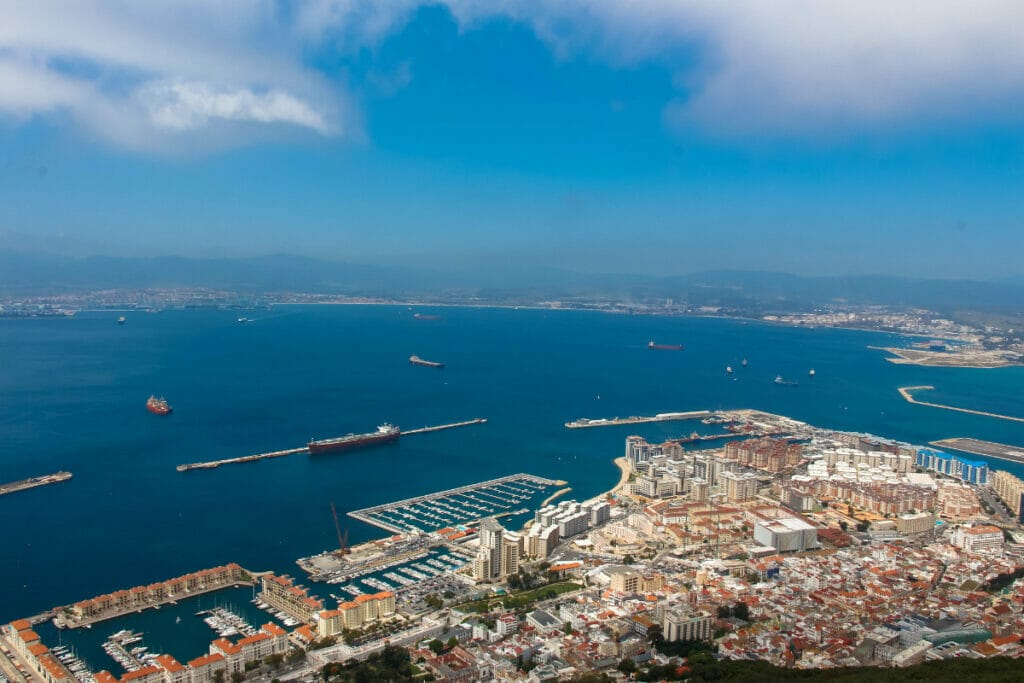 Known for its shopping and monkey population (and what else do you need, really?!) Gibraltar is an overseas British territory at the southern tip of the Iberian peninsula.
Guided tours are the best way to get to Gibraltar from Malaga, as it will help speed up your border crossing (don't forget your passport) and the guides can share the best places to go.
Some tours are shopping-only, while others are more sightseeing based.
The Rock of Gibraltar is probably the most famous sight to see here, and tourism to this area is mainly driven by this towering limestone structure, as well as the beautiful landscape.
You can also take a bus on your own to Gibraltar, but this is often going to take longer than the guided tour bus options, so I'd advise to stick to the tours!
6. Frigiliana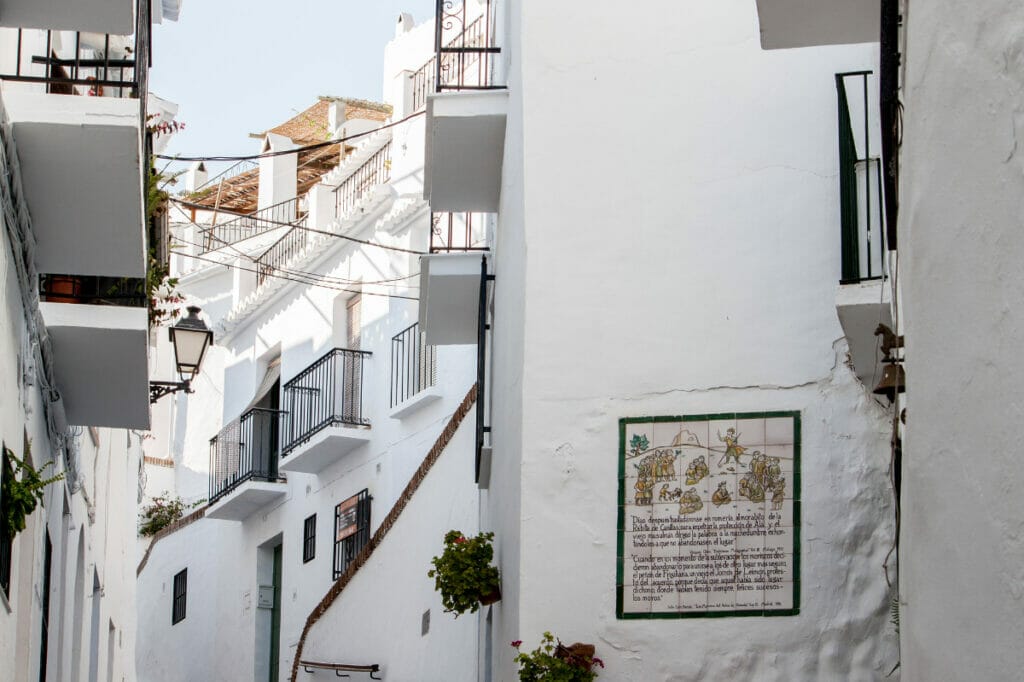 If you want a "picturesque" day trip form Malaga, look no further than Frigiliana.
The white buildings of the village stick out from the bright blue sky and the nearby ocean, while the cobblestone streets create a maze of sorts that provide an air of mystery at every turn.
Stumble upon colorful blooms of lavender and jasmine, or marvel at the Moorish architecture that makes the area so unique.
Some of the sightseeing highlights in Frigiliana include the Fuente Vieja (a beautiful fountain), multiple churches, and the Casa del Apero which houses the tourist office.
Frigiliana is best for a relaxing day trip where you sort of let yourself melt into the landscape and laze around eating tapas and taking in the breathtaking views.
Horseback riding is also a popular pastime in the village, and you can ride past the rivers and natural landscapes for a memorable day out.
7. Marbella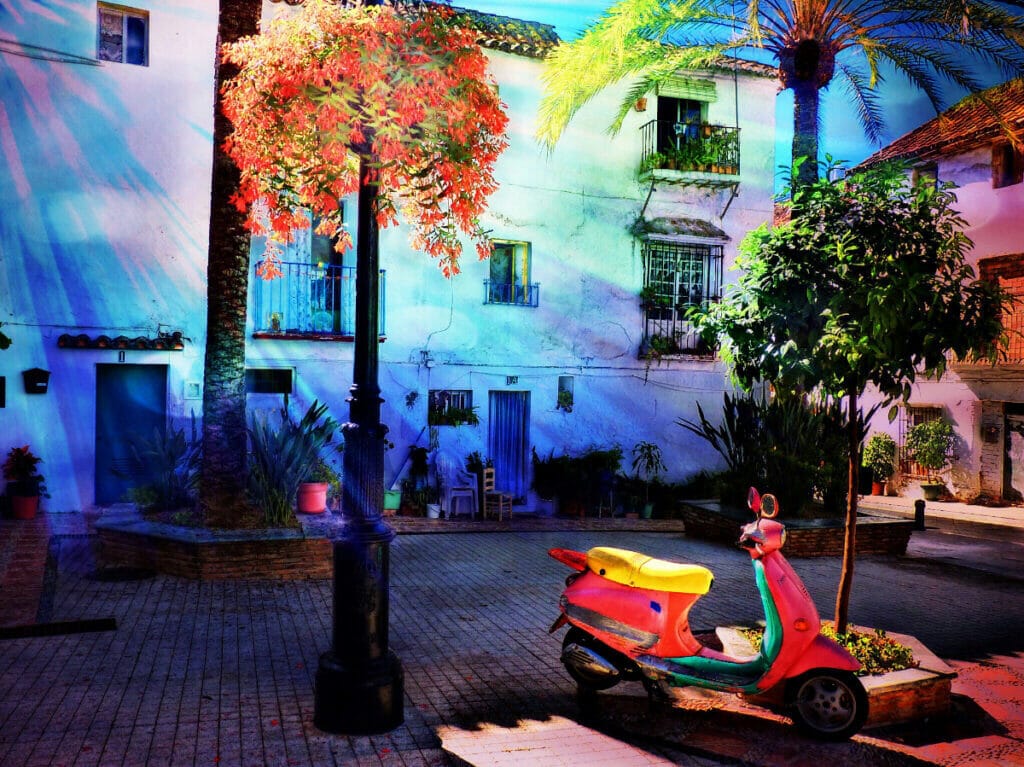 When some people think of Malaga and the "bachelor party" type getaway, they're actually thinking of Marbella.
Situated on the Mediterranean sea, Marbella is known for two things: luxury and party.
Take, for instance, Marbella's Golden Mile, which is a stretch of four miles that hold the fanciest villas in the surrounding area.
This was the center of Marbella's booming tourism in the 1960s and hosts hotels like the Hotel Marbella Club with gorgeous views of the mountain and the sea.
The beaches are also plentiful, with 24 to choose from.
Run your hands through the golden sands and make sure to stake your place early, as they can fill up fast in the summer.
One of the most popular beaches is Artola beach, situated in the Dunas de Artola, as well as Cabpino – though clothes aren't required here so if that isn't your style, beware!
If you've come for a bit of culture in addition to the sun and nightlife, you can visit the Contemporary Spanish Engraving Museum, Bonsai Museum, or Mechanical Art Museum.
Stop for dinner to enjoy some authentic Marbella cuisine which is often fried fish, gazpacho, or garlic soup.
Finish with a churro and an oil cake to top it all off.
Make sure to visit Marbella in June for the Fair and Fiesta of San Bernabe where you can take part in activities and enjoy colorful performances.
8. Antequera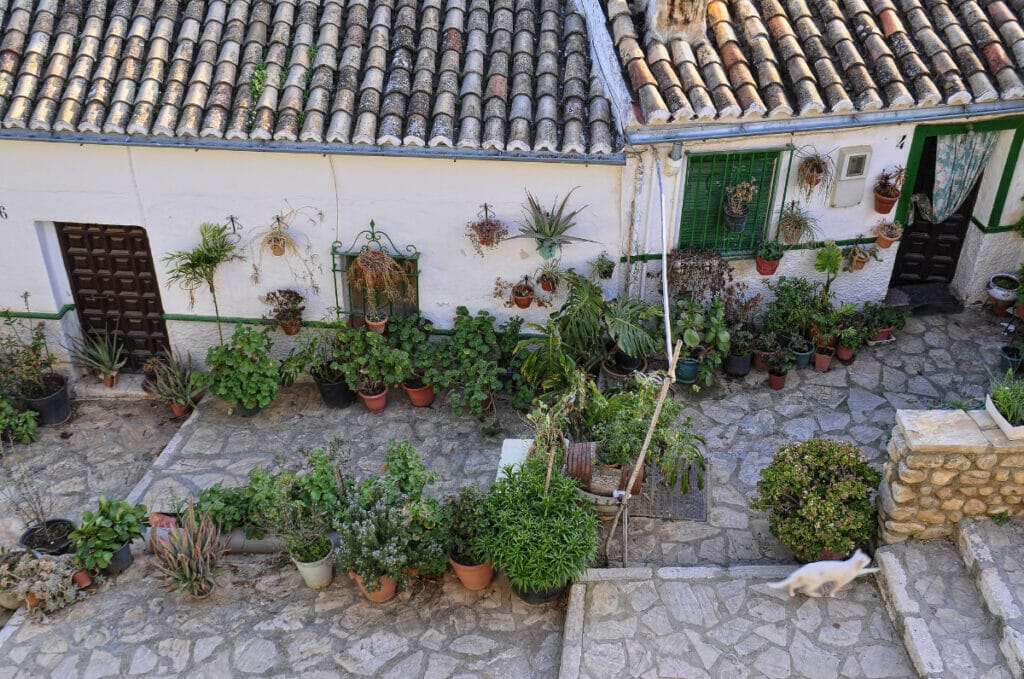 While Antequera isn't necessarily known as a popular day trip from Malaga, that makes it all the more adventurous!
Antequera is called the "heart of Anadlusia" because of its central location in the region.
One of the best reasons to go is the Antequera Dolmens Site, a UNESCO site that spans 3 cultural monuments and 2 mountains.
It is one of the most important representations of megalithic architecture and has been preserved to keep in tact this fascinating structure and how it interacts with the landscape around it.
Other things to do in Antequera include seeing the Palace of Najera, visiting the Roman baths that have been excavated, and dropping by the museum which holds about 80% of all of the artistic treasures from the region.
Antequera benefited from the Costa del Sol tourist boom of the 1960s, though it underwent a downturn at the beginning of the eighteenth century once Spain lost its colonies in the states.
Today, I think it's a great mix of old and new and well worth a visit if you're spending a couple of weeks in Malaga.
9. Torremolinos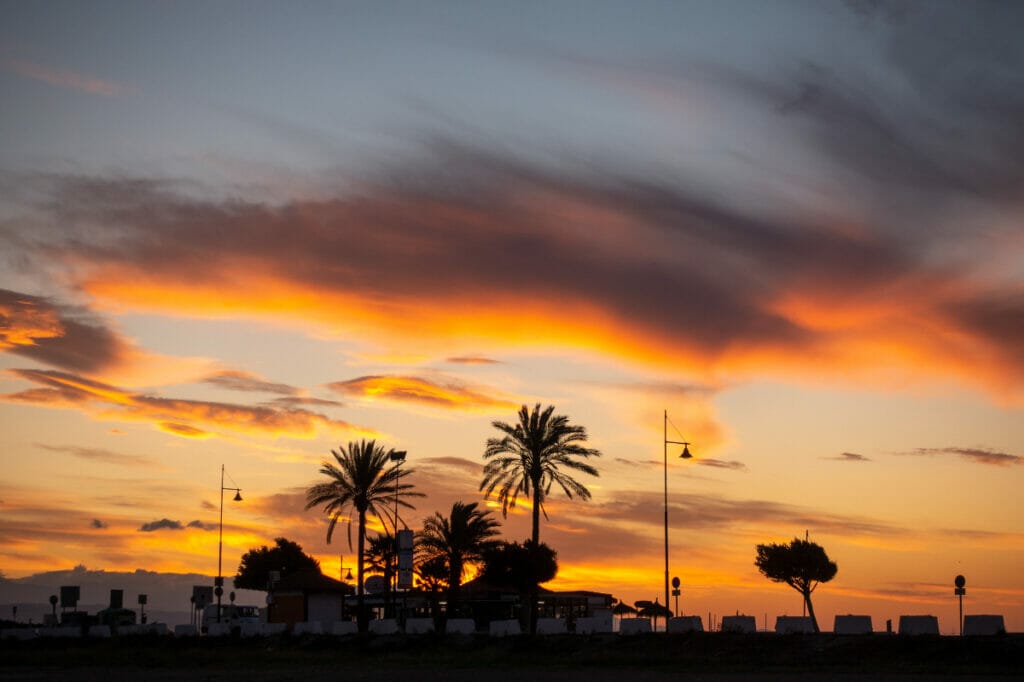 As one of the first villages around Malaga to be developed for tourism, Torremolinos is ready for you and your family to come enjoy its sandy beaches, amazing nightlife, and awesome choice of restaurants.
It's so close to Malaga that it's sometimes called a "suburb" of the city, though it is a destination in its own right.
The main street in town is the Calle San Miguel, which is lined with shops and filled with knick knacks for you to take home with you.
Wander through the old fishing village of El Bajondillo, where you can snap some beautiful photos of the markets and the beach.
If you want a bit more activity going on, you can go paragliding or windsurfing, or just sit in a sunlounger and watch the sunset.
Torremolinos was once known for its highrises, but today it has plenty of public gardens with thousands of species of trees and plans.
Colorful blooms sprout up from the ground, and there are even forests with barbecue options on the edges of the town.
10. Fuengirola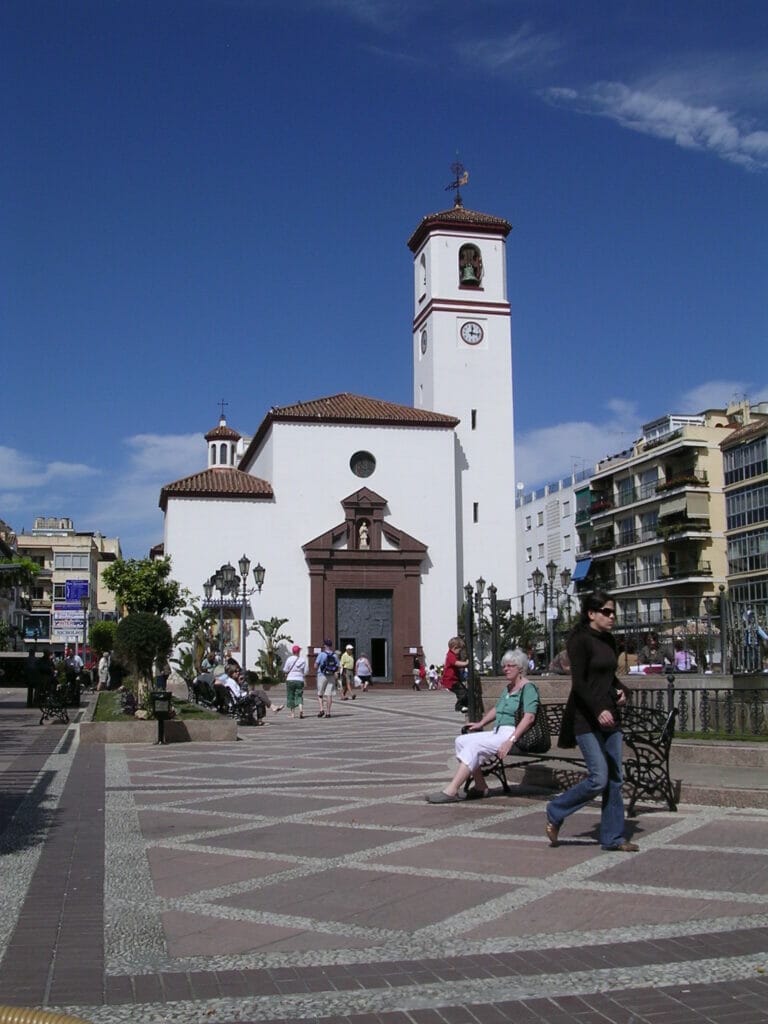 From more than 6 miles of sandy beaches to a castle on a hill, there is plenty to do in Fuengirola to keep the whole family busy for a day.
Fuengirola is perfectly used to visiting tourists, as this village grew due to the amount of tourism visiting the Costa del Sol.
You'll find the people friendly and willing to help you, even with the silliest questions.
If you want a more active day, rent a pedal boat or go jet skiing across the waves, or visit the Mijas Aquapark which is just about a five minute walk from the Fuengirola center.
For a cultural day out, consider the Roman ruines located at the end of Los Boliches or visit the Castillo Sohail.
This castle from the Moorish period has plenty of different concerts in the summer and has stunning views of the surrounding area.
Of course, the Costa del Sol is fantastic for relaxing and Fuengirola is no different.
Sit on a ferry cruise, take a blanket and lay out on the beach, or play a round of golf at one of the local courses.
If nightlife is your thing, you'll find clubs and bars both at the beachfront and in the center of the town.
The party doesn't really get started until midnight, so plan your day accordingly and live it up in the evenings.
11. Tarifa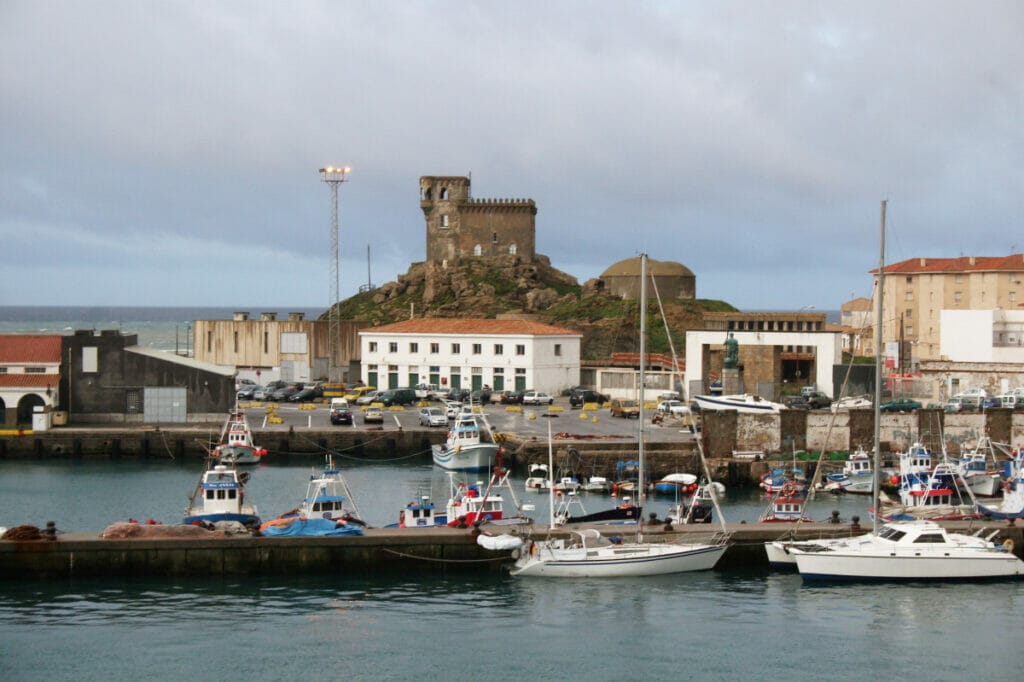 Tarifa is located in the southernmost part of the Iberian Peninsula.
This makes it a great place for relaxing on a beach or trying your hand at surfing.
The main reason people visit Tarifa is for the wind sports!
Whether you've never been kitesurfing or have years of experience, you'll enjoy kitesurfing in this windy part of the world.
Other fun adventures include hiking, horseback riding, and whale watching.
If you'd rather learn about local history, visit the Guzman Castle, Roman ruins, or the old town.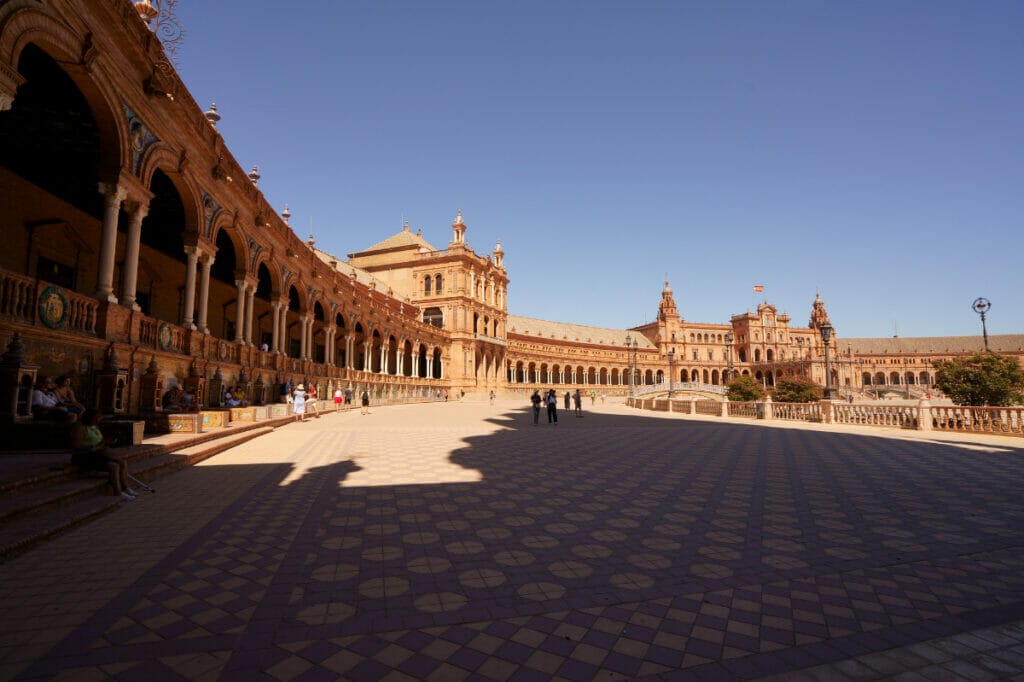 Located on the Guadalquivir River, Seville has a lot to offer.
It is especially known as the birthplace of flamenco dancing.
As you explore Seville, you may notice hints of Arabic influence.
Seville is actually the 4th largest city in Spain and home to the largest historic center in Europe.
This means you can find many activities that honor Spanish heritage and culture.
While there are many attractions, some of the most notable are the Real Alcázar de Sevilla, the Seville Cathedral, and the Torre del Oro.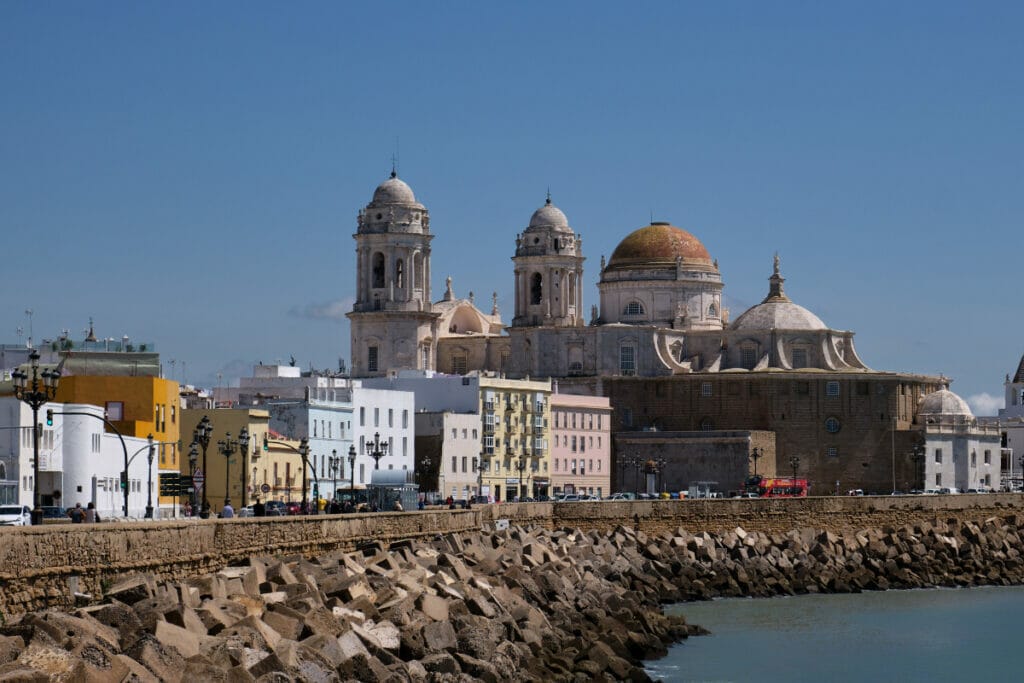 Cadiz is a gorgeous city full of Old World Charm.
This old city has a rich heritage that you will see glimpses of while you explore.
Built in the 1st century BC, the Roman Theater in Cadiz is one of the oldest in Spain.
The Cadiz Cathedral took 112 years to build.
You will notice the evolution of architecture throughout this beautiful building.
The city is home to 126 watchtowers that are now open to let people get great views of Cadiz.
The most notable is Tavira Tower which allows you to see the entire bay of Cádiz.
Whether you'd prefer relaxing on the beach, visiting a castle, or exploring the local markets, you could easily spend a day in this Spanish city.
With over 30 beaches and coves, the Costa Tropical is a gorgeous place for beach lovers to enjoy!
This part of Spain is still fairly quiet, which means you'll be able to interact with the locals.
You can visit castles or Roman aqueducts.
Or you could just enjoy the beautiful scenery of the rugged cliffs and mountains along the pristine coastline.
There are several places along the Costa Tropical that you could visit. You may wish to explore a different portion of the coast each weekend!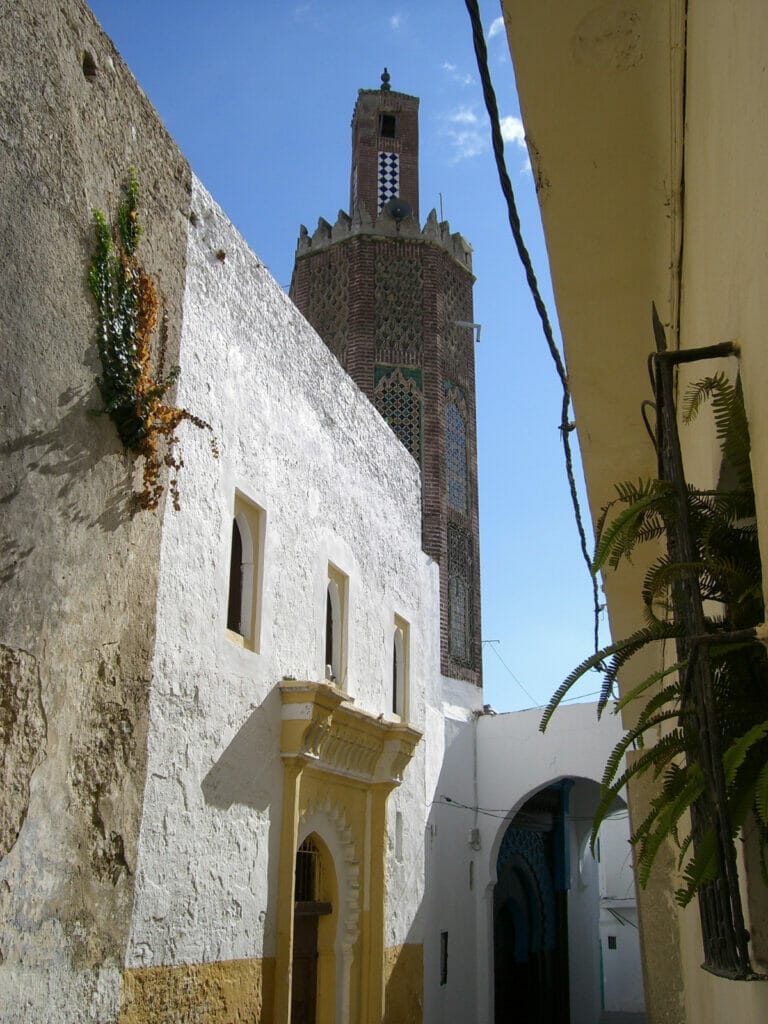 Malaga is not very far from Morocco.
So you could easily visit Africa even if you only have a day or two to travel!
Tangier is a city in Morocco known for its fresh and delicious mint tea.
The food scene is also delicious!
The Café Hafa is always crowded but has a beautiful view of the water.
The Gran Café de Paris is one of the oldest cafes in Tangier and has a rich history.
Explore Old Kasbah or any of the local markets.
This is the best way to get an idea of Moroccan culture.
While Tangier has many attractions, the Phoenicians Tombs are probably the most popular.
Not only does this location have a gorgeous view, but it also plays a part in mythology.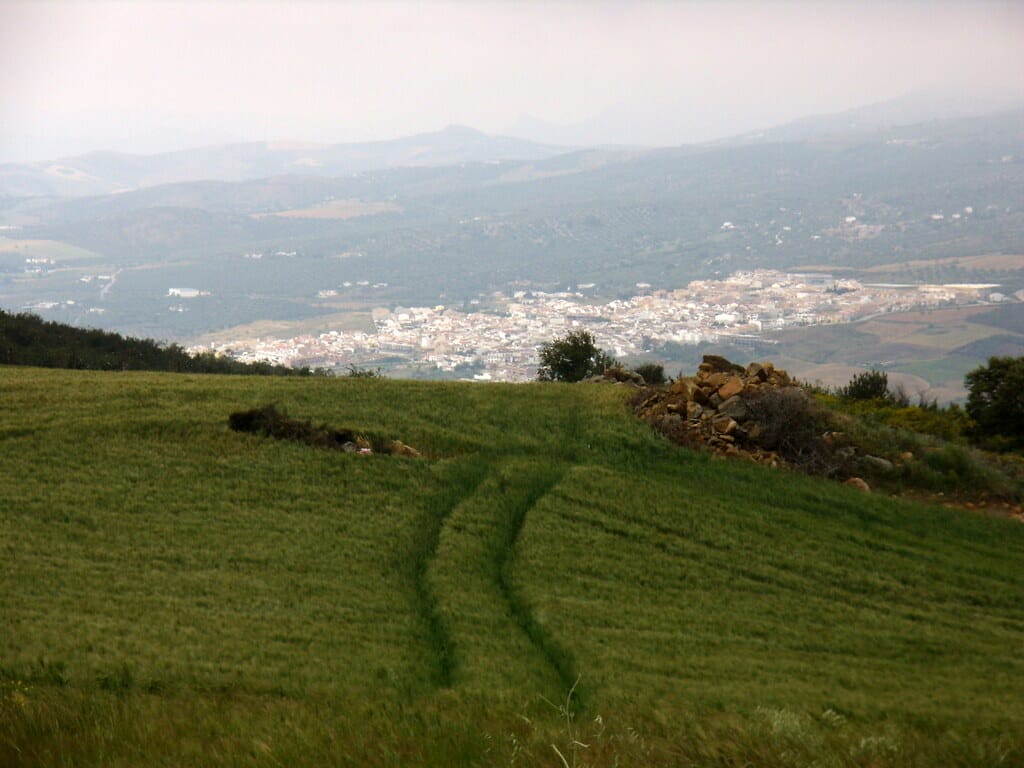 Villanueva de la Concepción is just half an hour from Malaga.
This makes it a great place to visit when you need a change of scenery!
The coolest thing about this area is El Torcal de Antequera Natural Area.
With 17 kilometers of limestone formations, it is a unique geographical landmark.
After exploring the natural area, you will probably be hungry.
That's not a problem because there are many delicious restaurants locally. Grab a bite to eat and explore the town before heading back home.
17. Alhambra: best trips from Malaga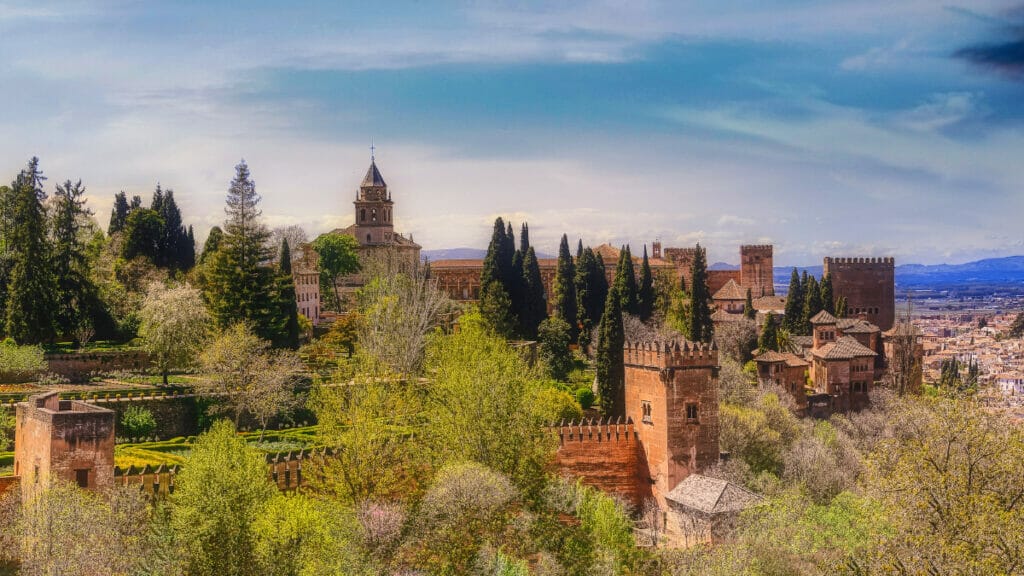 The Alhambra is known for its grand architecture.
The palace and fortress complex boasts its Islamic heritage.
It is one of the best-preserved places in Islamic history.
This complex was built so that it could overlook the entire area and serve as a watchtower of sorts.
Archaeologists have found artifacts from the 9th century and reason to believe the complex has been worked on throughout the centuries.
As you explore the Alhambra, you will notice both hints of Moorish and Andalusian culture.
To learn about its interesting history, visit the local museums.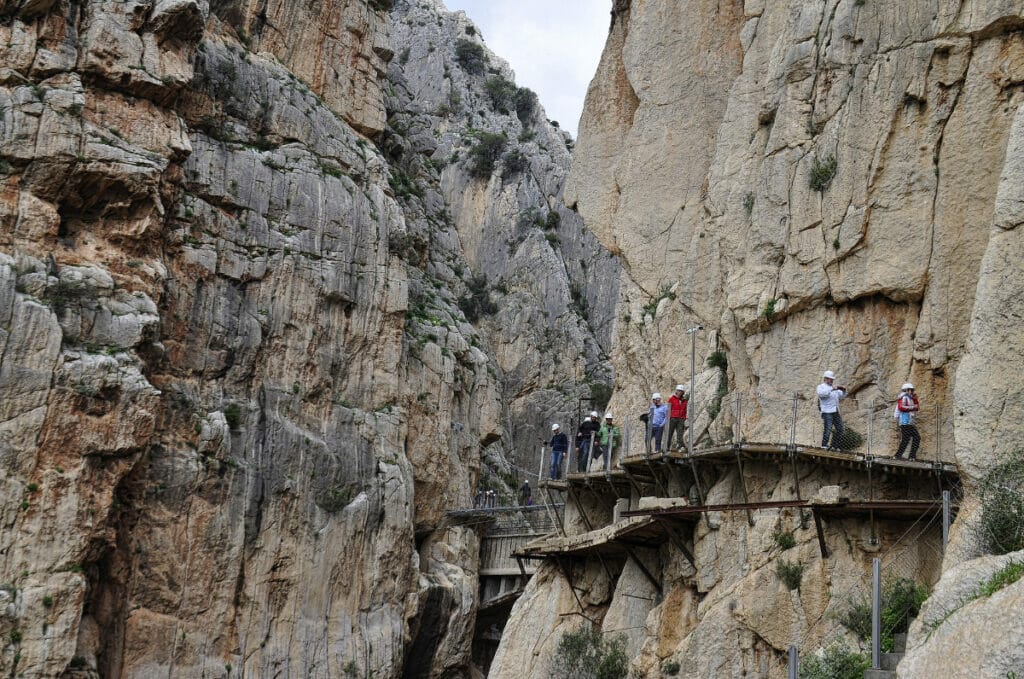 The Caminito del Rey can be translated as "the king's little pathway."
The hiking trail is known for its gorgeous scenery and views.
This hike is actually a walk along walkways that are suspended 100 meters in the air.
The walkways are along the sides of the narrow gorge in El Chorro. Although it is safe, it may be quite scary for many people.
Purchase your ticket online if you want to experience this special attraction.
You can step out on a glass balcony, catch a glimpse of Jurassic fossils, and see one-of-a-kind spectacles.
The path is less than 8 kilometers and could be completed in an hour and a half.
However, you could easily spend more than 3 hours on this path if you stop to soak in the views.
Mijas has several beaches and an old village.
Both of which are full of exciting things to do!
This white village has quite a bit of history.
You can learn about it at the History and Ethnology Museum.
If you'd rather learn some quirky history, visit the Museum of Miniatures.
If you walk around the town, you will find many characteristics that are found in most Andalusian white villages.
Outdoor enthusiasts may want to hang out on the beach, visit the water park, or go for a hike.
Animal lovers should check out the Bioparc Fuengirola.
This ethical zoo houses over 200 species in habitats that mimic their natural homes.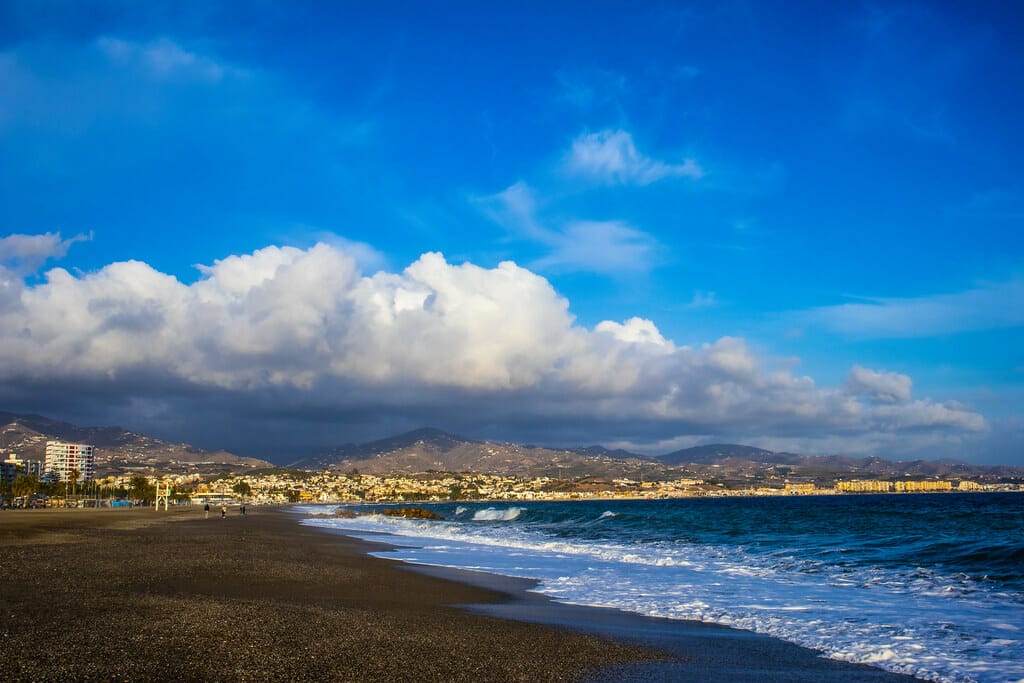 Torre del Mar is a popular summer resort for Spanish tourists.
While you will see quite a few tourists here, the bulk of them will be from Spain.
That makes this a bit quieter than places that attract people from around the world.
Torre del Mar is home to several attractions, such as the historic train station, the house of the vineyard, and the boat club.
You could also visit one of the lighthouses or religious sites.
Most notable is the sugar factory.
It's no longer in operation, but you can visit it. Be sure to also visit the House of Larios, which is also a part of the sugar refinery's campus.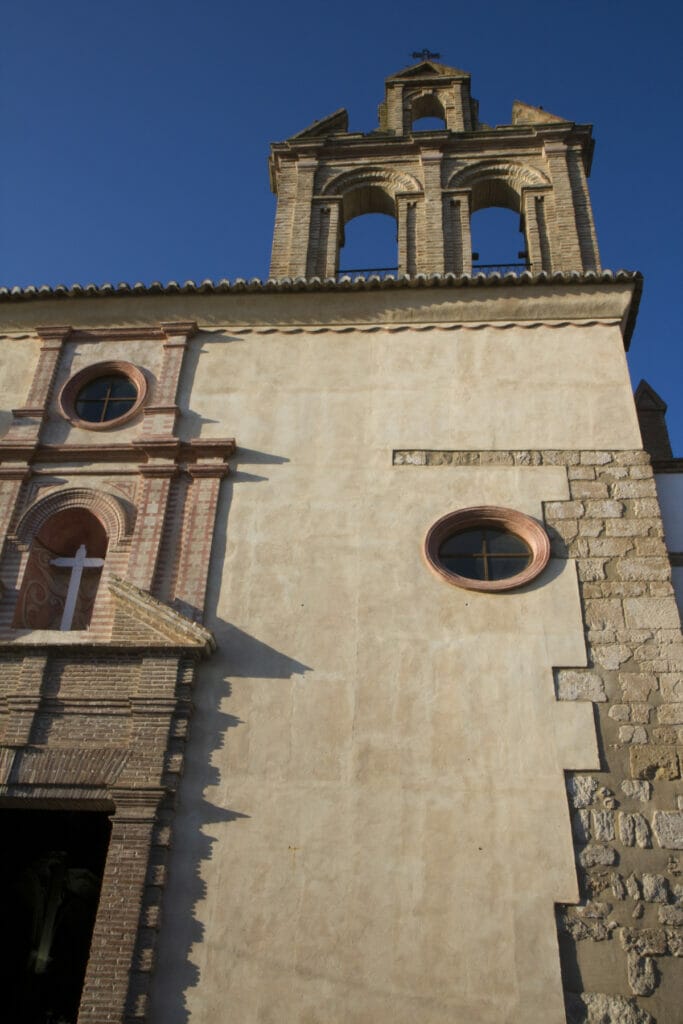 Archidona is another one of Andalucia's white villages.
Archidona has been a Historic-Artistic Site since 1980.
As you walk around, you'll notice Baroque urban influence in the architecture!
You can also find several archaeological sites.
They range over different periods of time.
If you're interested in ecology, you may want to check out the Natural Lagoons Reserve of Archidona and Hoz de Marin.
If you've never been to one of the whitewashed villages in Southern Spain, you should definitely visit this one!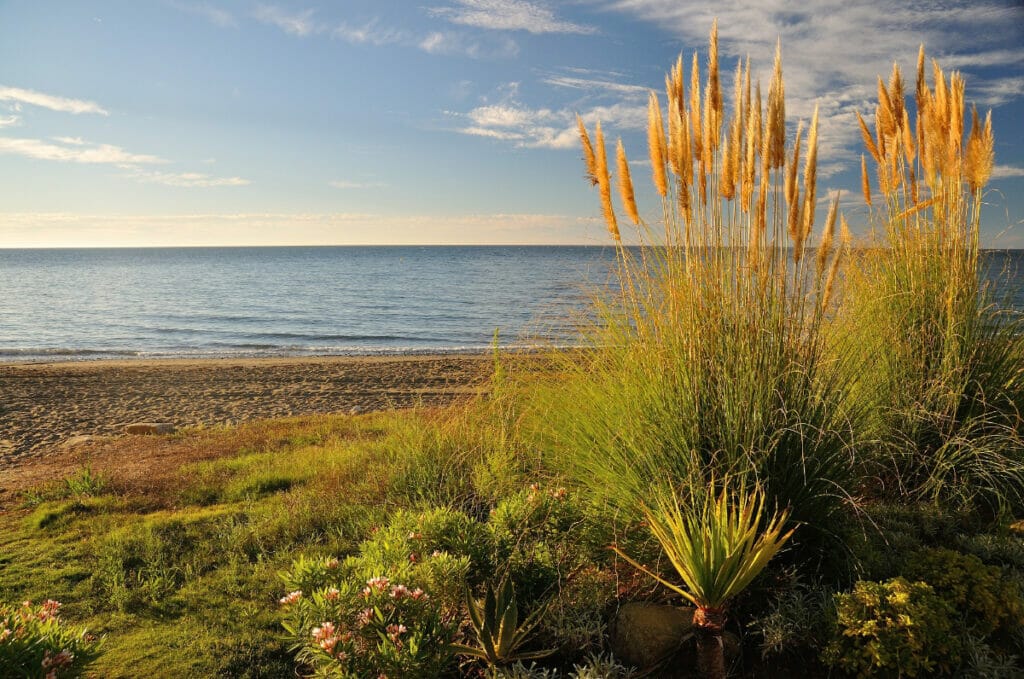 With 21 kilometers of coastline, Estepona is a popular resort town.
Beach lovers will love spending a day on the Costa del Sol.
You can enjoy the sea and mountains in the sunshine as Estepona has over 300 sunny days a year!
With a working fishing port and several places for tourists to stay, there's always something to do.
You can grab some tapas at a local eatery or get a drink at one of the bars.
You may want to schedule time to visit some of the main attractions.
People rave about the Town Clock Tower, San Luis Castle, Church of Los Remedios, and Original Bullring.
Benalmadena is another coastal town.
This town has a rich Buddhist heritage. You can visit the largest Buddhist stupa in the Western world or spend a day on the beach.
The Colomares Castle commemorates Christopher Columbus from a Spanish perspective. This may be interesting for US travelers to learn about.
Visit the Torre Quebrada Watchtower, the gardens of Paloma, or Bil-bil Castle.
If you want to enjoy time in the water, you can kick it up a notch with watersports. Or you could swim with dolphins!
El Chorro is known for El Caminito del Rey, but it has way more to offer.
Rock climbers flock here to experience the Gorge of the Gaitanes.
It is a popular spot for outdoor enthusiasts of all types, including mountain bikers, hikers, and campers.
In addition to gorgeous scenery, you can also see so many animals.
Keep an eye out for vulture eagles or mountain goats.
If you want to explore the great outdoors in a unique way, you can rent motorbikes.
A lot of people will go off-roading when they visit El Chorro.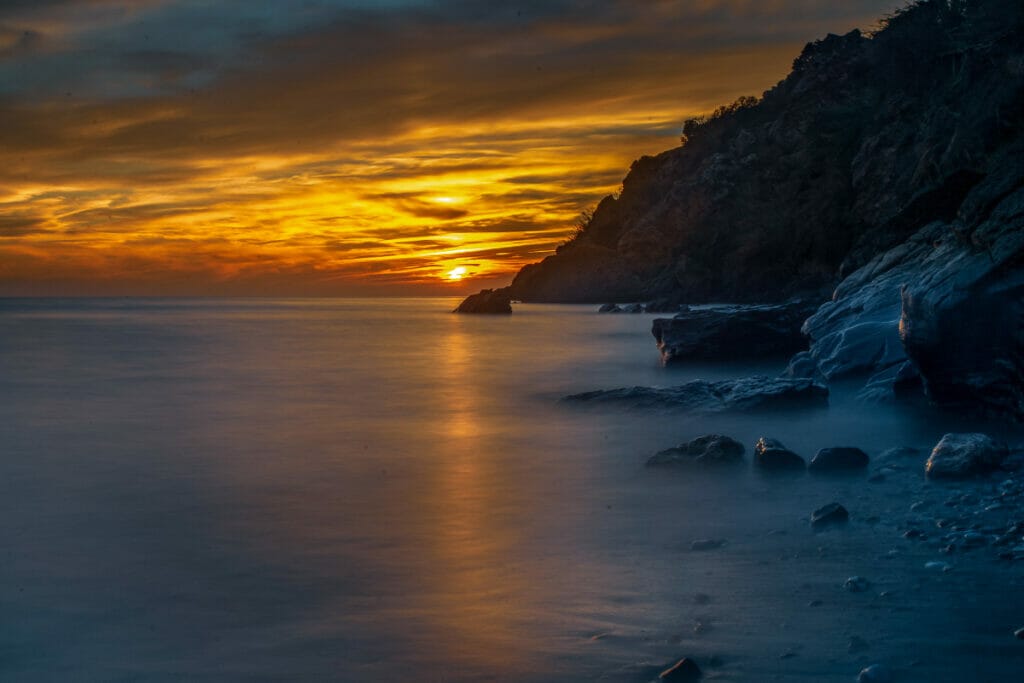 Maro Beach is a fairly quiet beach compared to the others in Nerja.
This beach is located beneath the cliffs found in the Tejeda mountain range.
This makes it breathtakingly gorgeous!
You'll also notice that the water here is crystal clear.
This makes for great snorkeling!
And you're surrounded by several types of vegetation on land.
This truly unique beach is a must-see for anyone in the area!
Sunbathers and kayakers alike will enjoy a day spent here.
There are other beaches in the area.
There are a couple of semi-nudist beaches as well as virgin beaches that are a bit harder to access.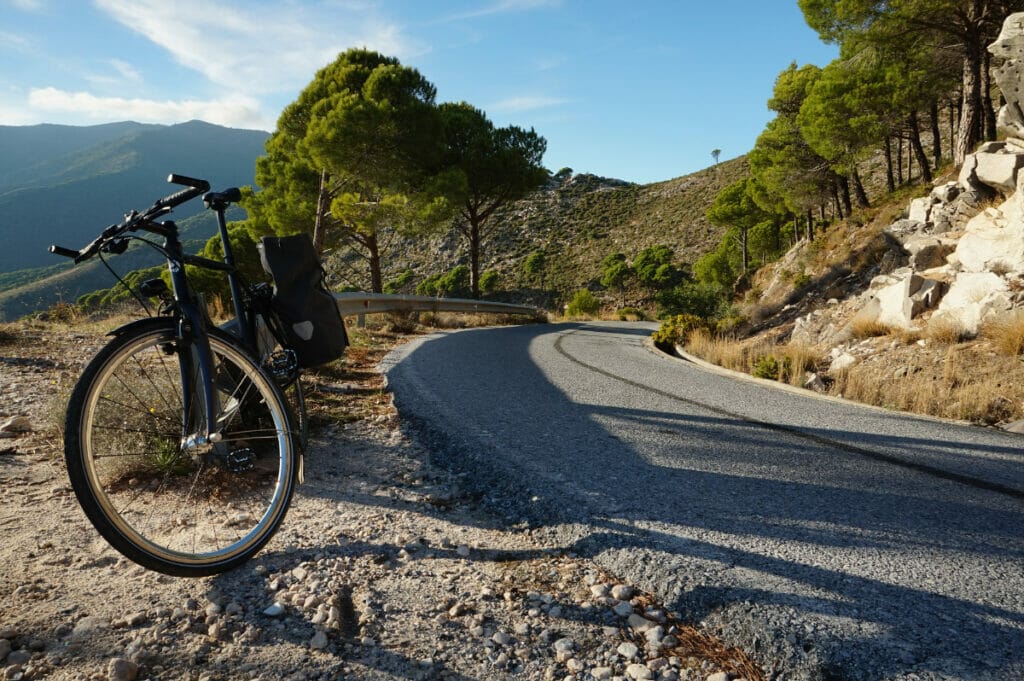 Sierra de Mijas is a coastal mountain range in southern Spain.
Pico Mijas is the highest point at 1,150 meters.
Since it gets so hot in the summer, you may want to plan a hike in the cooler months.
There are a few shorter hikes that may be doable in the summer.
However, most of the hikes are quite lengthy.
There are several hikes to choose from so you may want to do your research before heading out.
Would you like to discover a quarry, esparto grass, a shrine, or a lime kiln?
Would you rather just find a place that guarantees you see some adorable mountain goats?
There's a hike for everything in the Sierra de Mijas!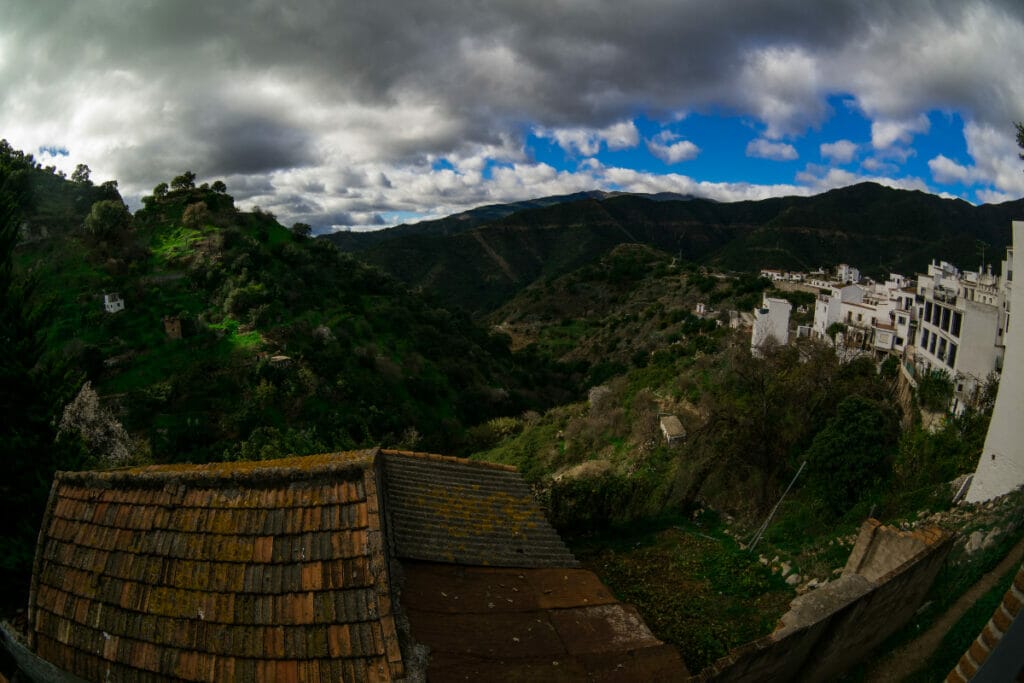 Originally a Moorish settlement, Istan is surrounded by natural beauty.
When you visit this white village, you'll see a variety of landforms.
It's about 15 kilometers away from the Mediterranean coast.
It is near two mountain ranges: the Sierra Blanca and the Sierra de las Nieves.
It is also near a manmade reservoir designed to bring drinking water to local communities.
You'll also be able to watch a peaceful water channel as the water flows.
In addition to the great outdoors, you could visit some religious sites.
You could also visit the Water Museum or Old Wash House.
There are plenty of things to do in Istan!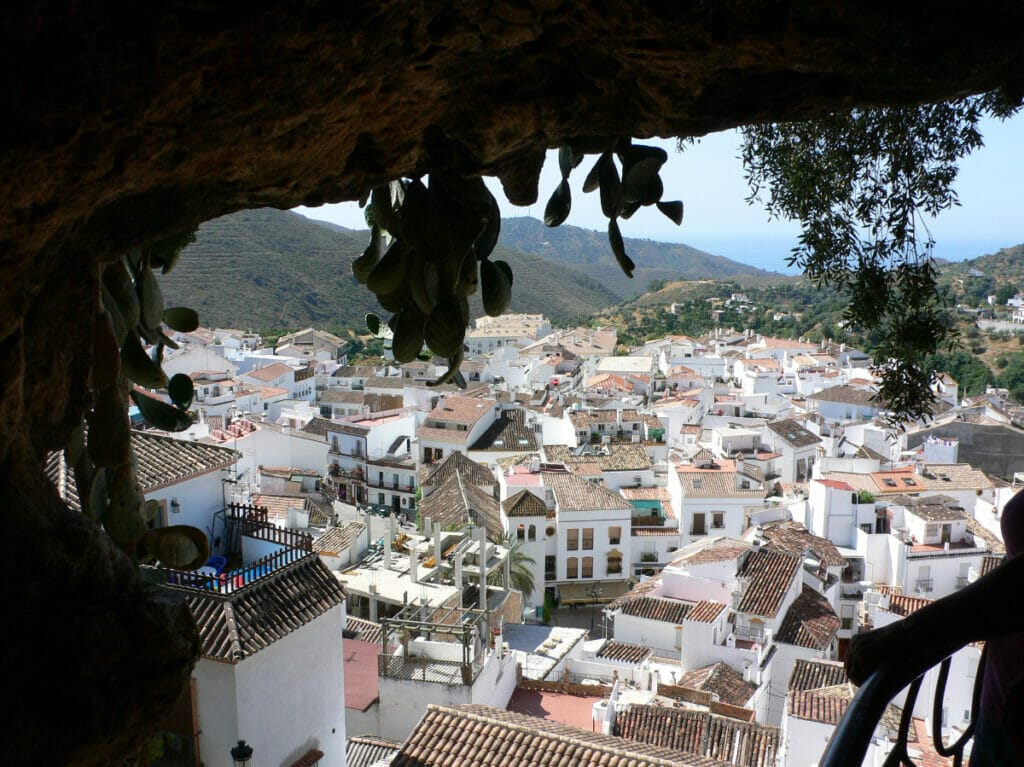 Ojen is one of many white villages in Southern Spain.
Unlike the other whitewashed towns in the region, Ojen is famous for its liqueur.
Ojen is home to the liqueur of the same name.
Ojen, the drink, is an anise liqueur that helped the town to grow. It is popular all over the world, especially during the Mardi Gras season in New Orleans.
Walk around this town to explore the heritage and culture of Ojen.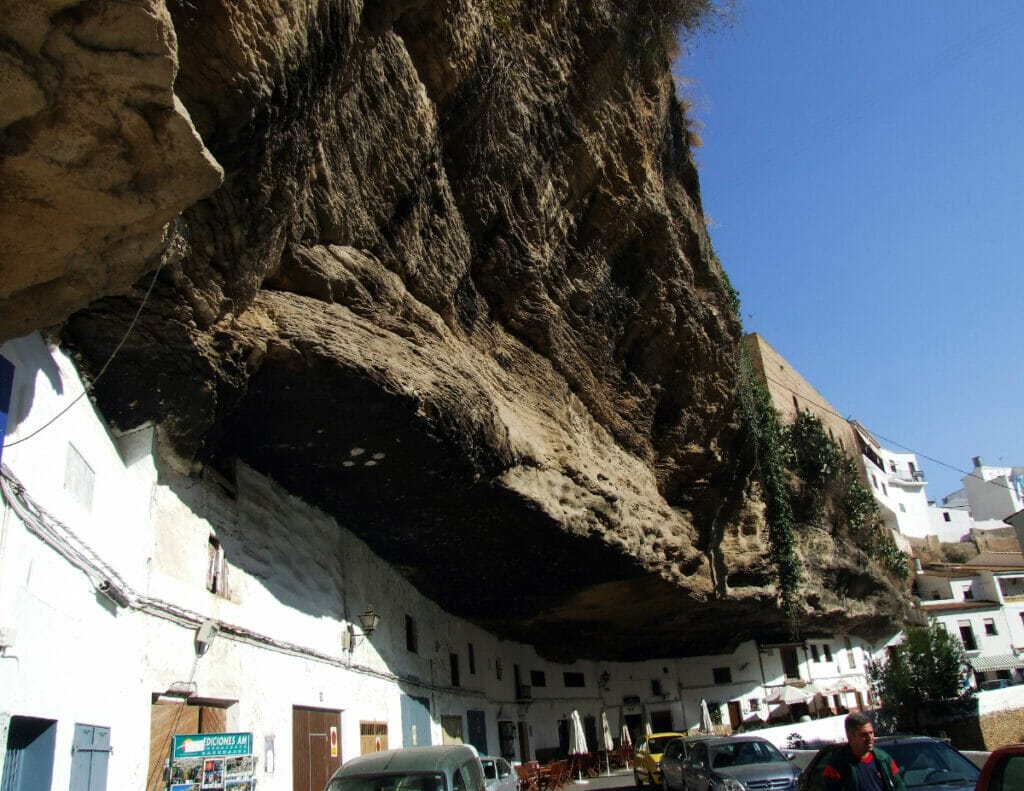 Setenil de las Bodegas is also known as Spain's Cave Village.
And that should be all the information you need before planning your trip!
The homes in this town were built into the rocky terrain of the gorge here.
Some dwellings were built under rock overhangs while some were built into the actual rocky walls.
Surrounded by farms, Setenil de las Bodegas has a lot of fresh food.
Whether you enjoy fresh produce or high-quality meat, you'll love the food scene here!
The town is especially known for its chorizo and pastries.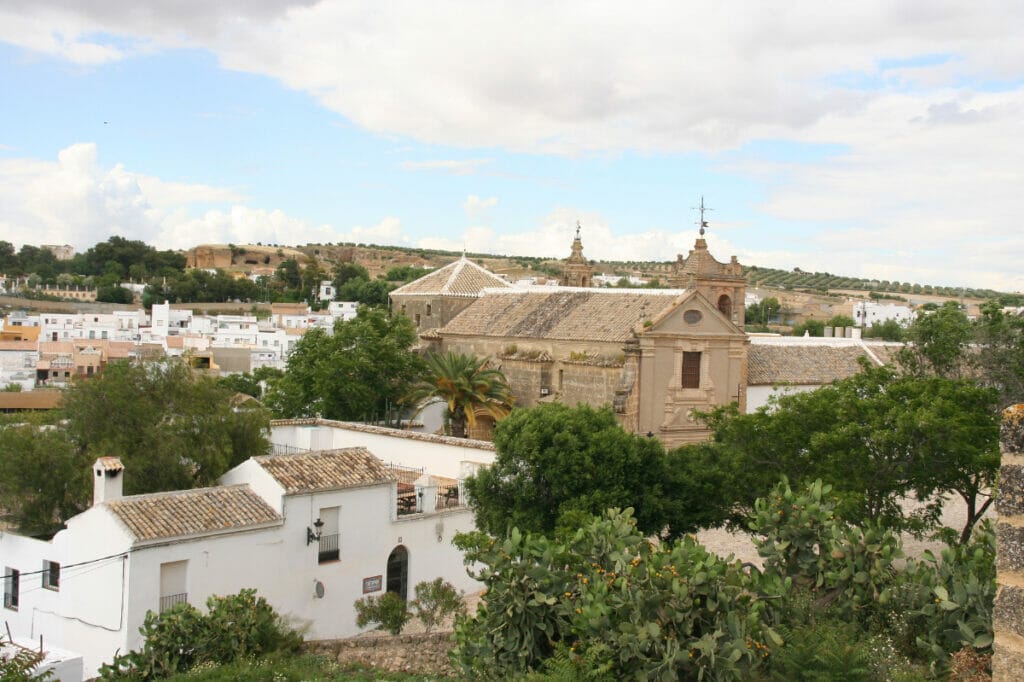 Osuna has received a lot of recognition over the years.
In 1967, it was declared a Historic-Artistic Site.
The Calle San Pedro, Osuna's main street, is considered the second prettiest in Europe.
Its bullring, the Plaza del Toros, is over 100 years old and is one of the most famous bullrings in Spain. It was also featured in the Game of Thrones!
Explore the town, visit the museums, and engage with the locals.
You'll thoroughly enjoy a day spent in Osuna.
If you want to wander a bit outside village limits, you could even discover el Coto Las Canteras.
This is an old limestone quarry and archaeological site.
It is open to the public for many uses today.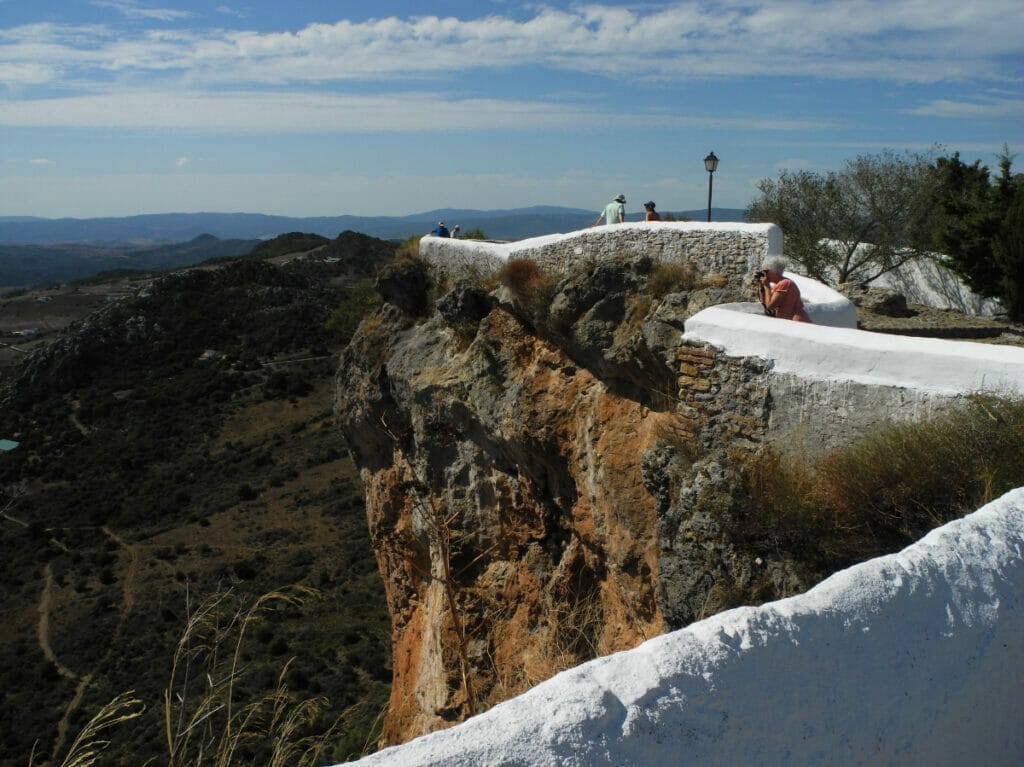 This white village is also a sweet little mountain town.
Casares looks like a scene out of a storybook!
If you love a good festival, Casares hosts fairs throughout the year.
The main fair is the first weekend of August.
There are also celebrations held at the beginning and in the middle of September.
The last Saturday in May is another important date for celebrating.
If you visit when there are no festivities, you can stroll around the town and soak in the culture.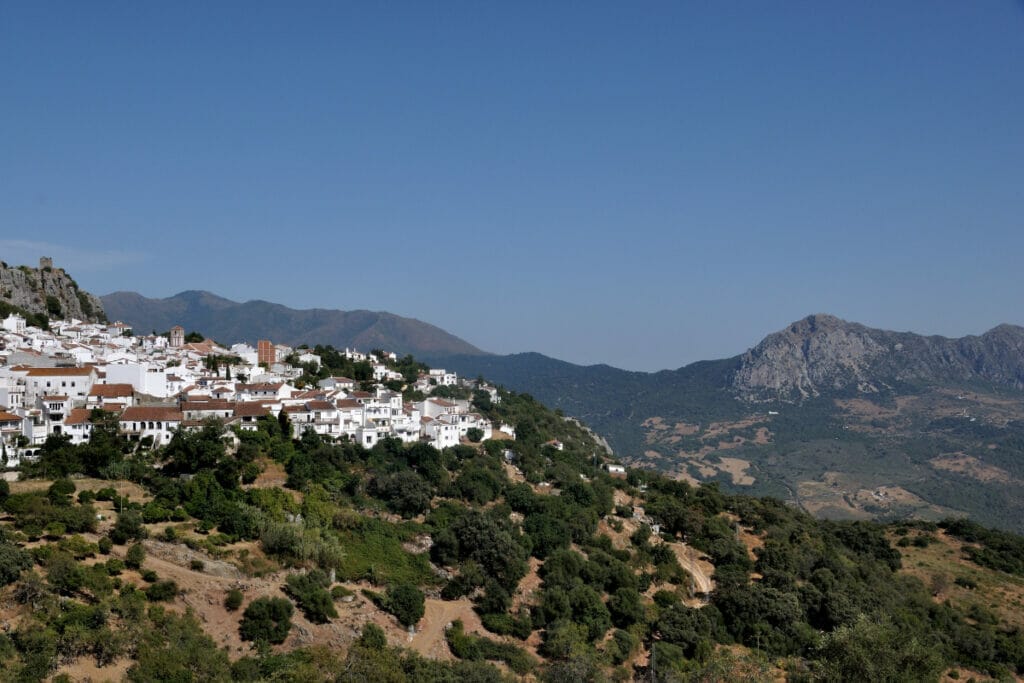 Gaucin is known for its views of the Strait of Gibraltar, Gibraltar, and Morocco.
It is actually known as the "balcony of the Ronda Mountains" because of its stunning location.
Creative types come to Gaucin to get inspiration for their art and writings.
The natural beauty is great for hikers, bird walkers, and all other outdoor adventurers.
Like many small Spanish cities, you can expect to find festivals throughout the year.
Look at the community calendar to see when you should schedule your day trip!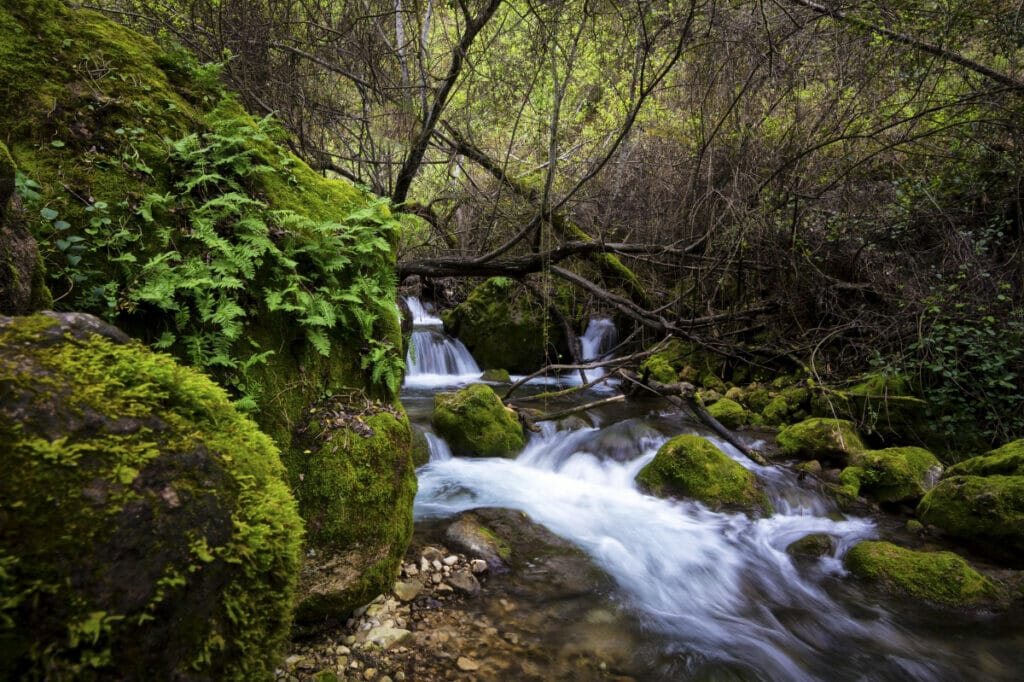 Located by Sierra de Grazalema Natural Park, this white village has a gorgeous location.
Outdoor enthusiasts will be able to spend hours exploring the natural park.
Grazalema has a rich history with influences from many different cultures.
Notice how the diverse heritage manifests itself in the town as you stroll through the village.
Known for woolen blankets and fresh produce, Grazalema has a lot more to offer.
You can visit a variety of local landmarks.
Grab food at one of many local eateries.
Or just soak in the small-town vibes!
Jimena de la Frontera has a variety of attractions you won't want to miss.
Visit the astonishing castle and the nearby remains.
Go spelunking and look at cave paintings.
Learn something new at the Royal Artillery Factory, House of Memory, or Necropolis of Buceite.
There are four week-long festivals and one month-long fair.
These are lively times to visit because you can experience the local culture.
See how their traditions manifest in modern life!
Adventures may be interested to know that Jimena de la Frontera is surrounded by Los Alcornocales Natural Park.
Lace up your hiking boots and enjoy the day!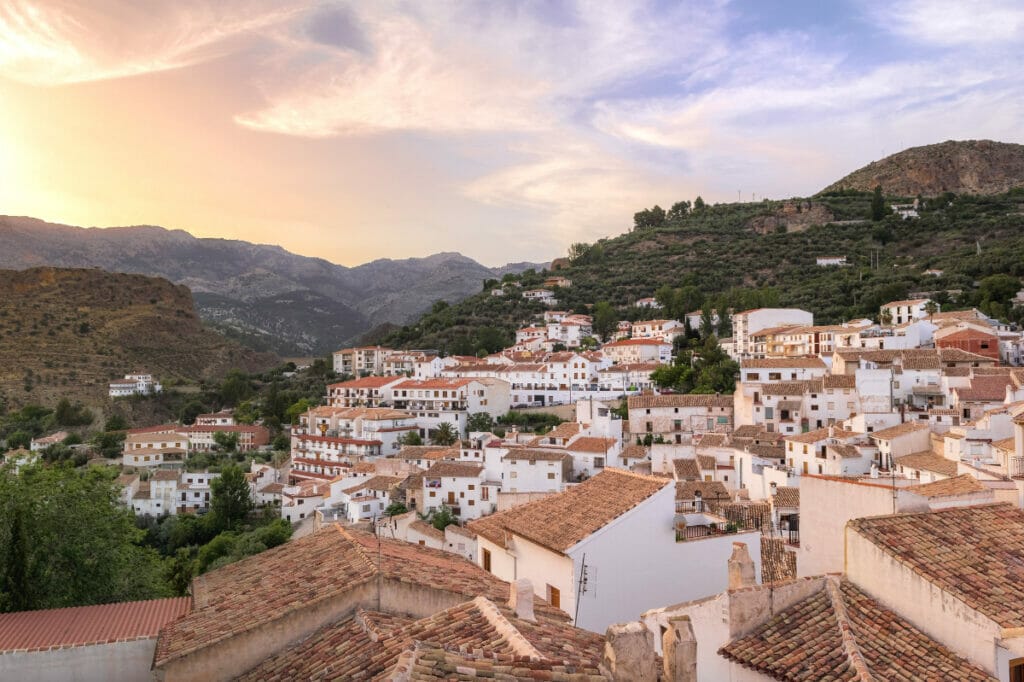 Castril is a great place to visit to experience the winding cobblestone streets and whitewashed buildings typical of white villages.
Hikers and cyclists will be able to spend an afternoon exploring the countryside.
They may also come across some goats and donkeys!
The Peña del Sagrado Corazón is a wonderful viewpoint.
Looking at the world from this perspective will take your breath away.
Visit the tourist center to learn more about the best ways to spend your day.
They will send you in the right direction to create a day you'll never forget.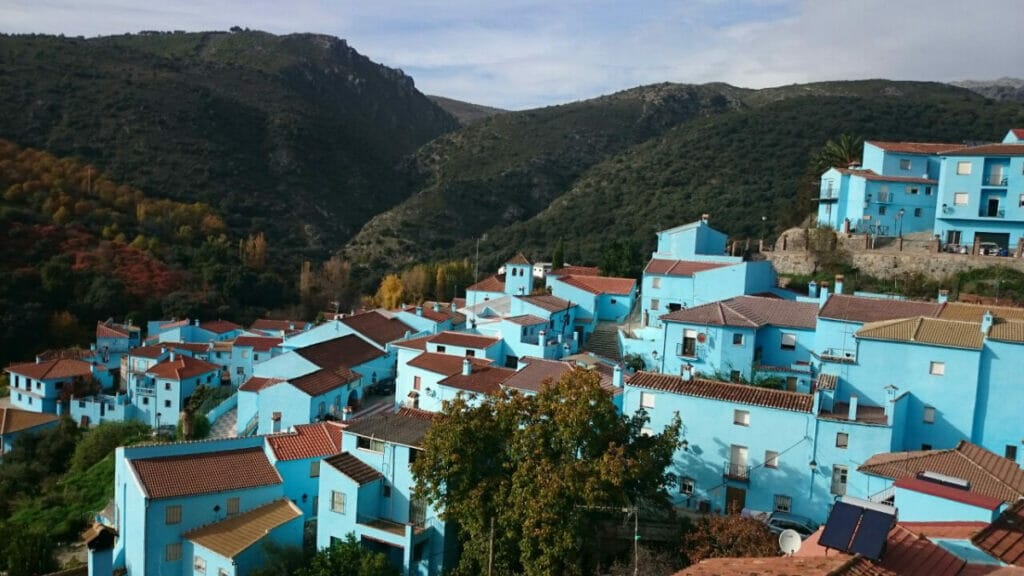 You've heard of the white villages, but have you heard of the Blue Village of Spain?
That would be Juzcar.
When you visit this town, you'll think you stumbled upon Smurf territory.
This is partially because they painted every white building blue to celebrate the Smurfs movie.
In addition to blue buildings, you will also see a lot of Smurf-themed artwork if you keep your eyes open.
Even if you're not a Smurfs fan, these masterpieces are great photo ops!
After Juzcar became a blue village, the tourism industry increased.
This means that there are even more restaurants and shops to visit than there were 20 years ago.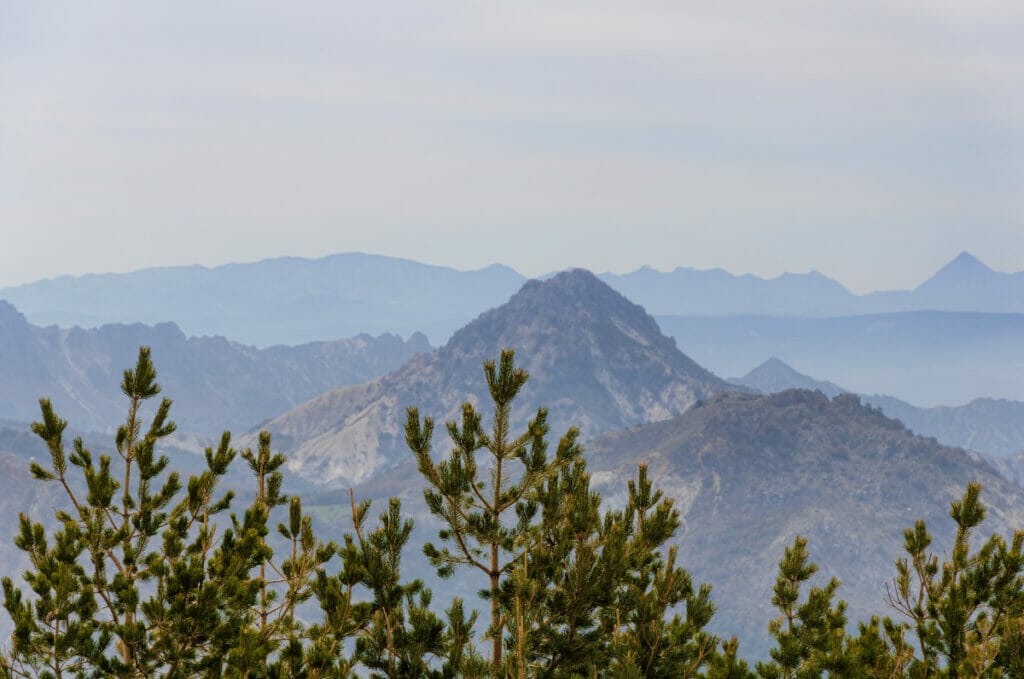 Sierra Nevada is a mountain range in Spain that most people have heard of.
However, not everyone realizes that it's a mountain range in Spain.
These mountains are a popular destination for nature lovers.
Because of its high altitude, it is a popular place for skiing.
This is because there aren't many places to ski in the region.
Mulhacén is the highest peak in the Sierra Nevada mountain range.
It measures at 3,479 meters above sea level.
Find a great nature trail to hike.
Visit one of the small villages located along the range. Whatever your preference, you'll enjoy a day visiting these mountains!