This post contains affiliate links for which I may make a small commission to help keep the site running. You will not be charged extra for these items had you not clicked the links. Thank you for your help to keep the site running!
When it comes to getting into the Christmas spirit, I always prefer to have some sort of event to kick it off.
Whether it's attending a Christmas tree lighting, shopping at a local Christmas fair or just going out for a festive walk and then putting up the tree, marking the "before Christmas" and "NOW it's Christmas" season is important to me.
And after years of searching for something that had just the atmosphere I'm looking for, I finally found it.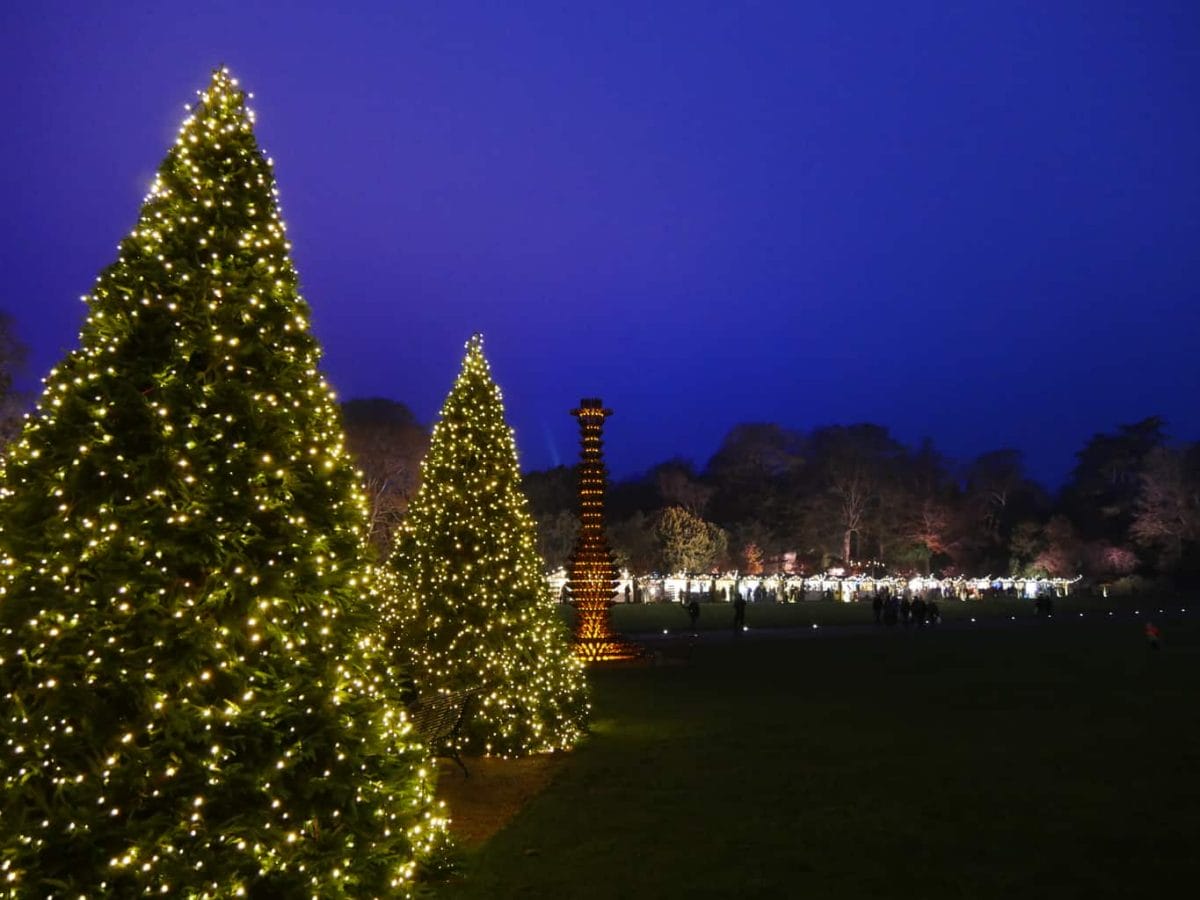 From a Christmas fair to light trails to cafes selling festive food to a project show timed with music, all of my Christmas dreams finally came true.
The whole time we were walking around, I kept exclaiming, "THIS IS LIKE CHRISTMAS DISNEY WORLD…IN ENGLAND!" and apart from Mickey and Minnie, that's exactly what it was.
From beautiful projections to really intricately designed decorations to a light trail that rivals any fireworks show I've ever seen, a Waddesdon Manor Christmas is just what the whole family needs to get into the holiday spirit together.
Waddesdon Manor History and Christmas Overview
If you're not from the area or haven't heard of Waddesdon Manor, this absolutely stunning country house was built between 1874 and 1889 and continues to be one of the most visited National Trust properties.
Over the years, it has starred in many movies and television shows, including Downton Abbey.
Waddesdon Manor sees almost half a million visitors per year, and judging by the sheer amount of people descending on the house daily during November and December, many of them come for the Christmas displays!
There isn't an inch of the property that isn't transformed in some way for the holidays.
Trees are lit up with all different colors, the house decoration are beautifully presented and so detailed I can't even start to think how many hours are spent preparing, and the staff are in festive mode ready to do their best to distract you from cold and rainy English days and remind you the true meaning of the season (gorging yourself on brownies from the Christmas fair, obviously).
You can buy tickets to either the House and Grounds or just the Grounds, which I'll talk more about later.
We purchased House and Grounds tickets for the ultimate Waddesdon Christmas day out.
Getting to Waddesdon Manor during Christmas
The easiest way to get to Waddesdon Manor is to drive, though if you do want to take the train from London you can go to Aylesbury Vale Parkway and then catch a taxi.
There are also group drop off points if you hire a bus for a large outing or event.
For us, the best way was to drive as we're just about half an hour away.
Having never been to Waddesdon Manor before, I was shocked at just how vast everything is.
We pulled into the parking lot and drove for what seemed like miles (okay it was a few minutes) before finding an open lot.
The parking lot is in the same location as the ticket entrance, where you purchase your tickets or swipe your National Trust card and gain entrance to the property.
From there, you can choose to take a shuttle bus that runs regularly or you can walk to the Manor.
It's about a 20 minute walk, and I would recommend taking the shuttle on the way there and the walk on the way back if you want to try the walk.
The reason?
The walk back to the parking lot is mostly downhill, which means that the walk TO the manor is mostly uphill.
Enough said.
When it gets dark, lights help you find your way along the walking path.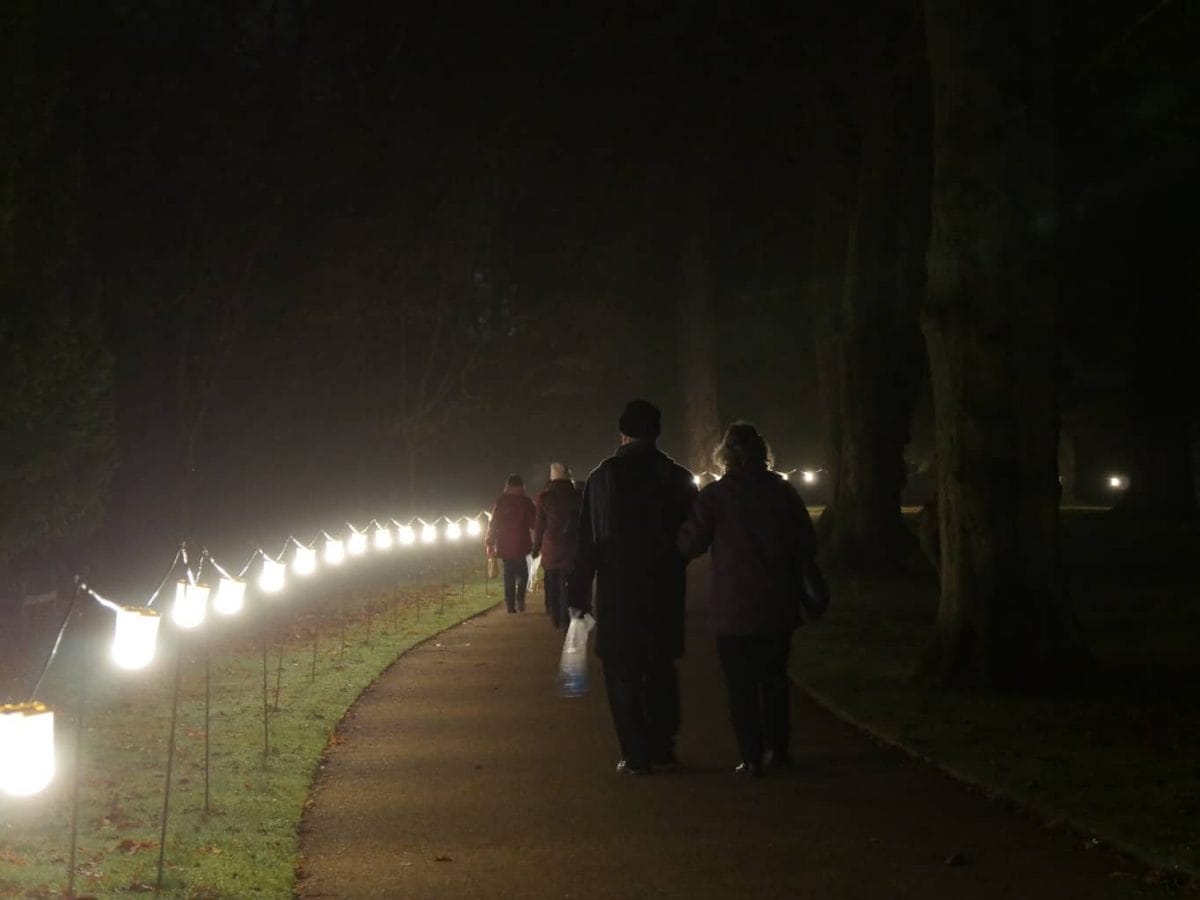 Waddesdon Manor Christmas House Review
To get tickets to the house decorated for Christmas, you need to prebook a time slot.
House tickets are not available to book on the day.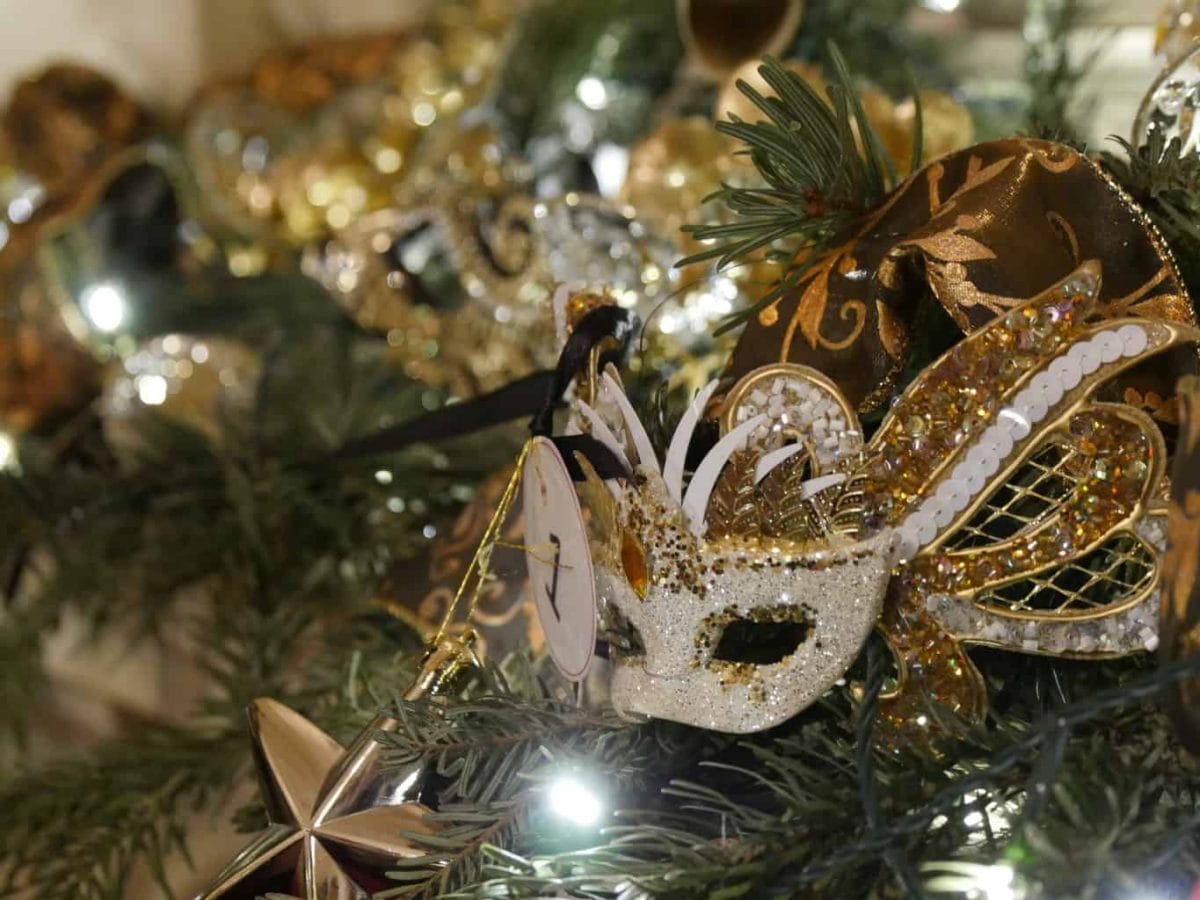 For example, the 2018 Christmas theme was Christmas Carnival, and as you tour the house you see trees decorated reflecting this idea – from masks to floats to beautiful pops of color, this is about a Christmas filled with joy, friendship and drama in all the best ways.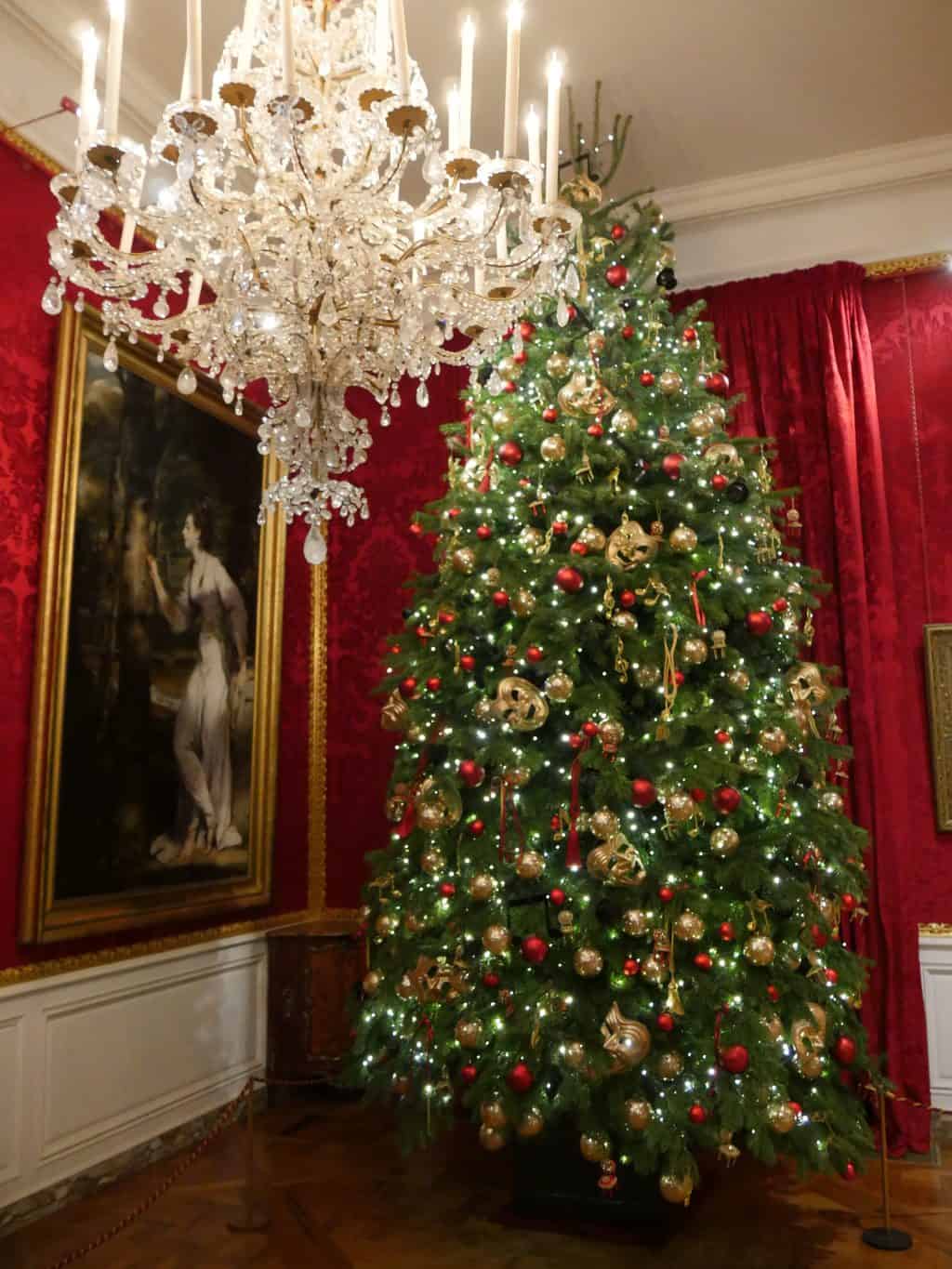 Each room still has its regular cards explaining the history and use for the room, but in addition you get a display of Christmas decorations.
It took us about 45 minutes to completely walk around the house, look in the gift shop, and take it all in.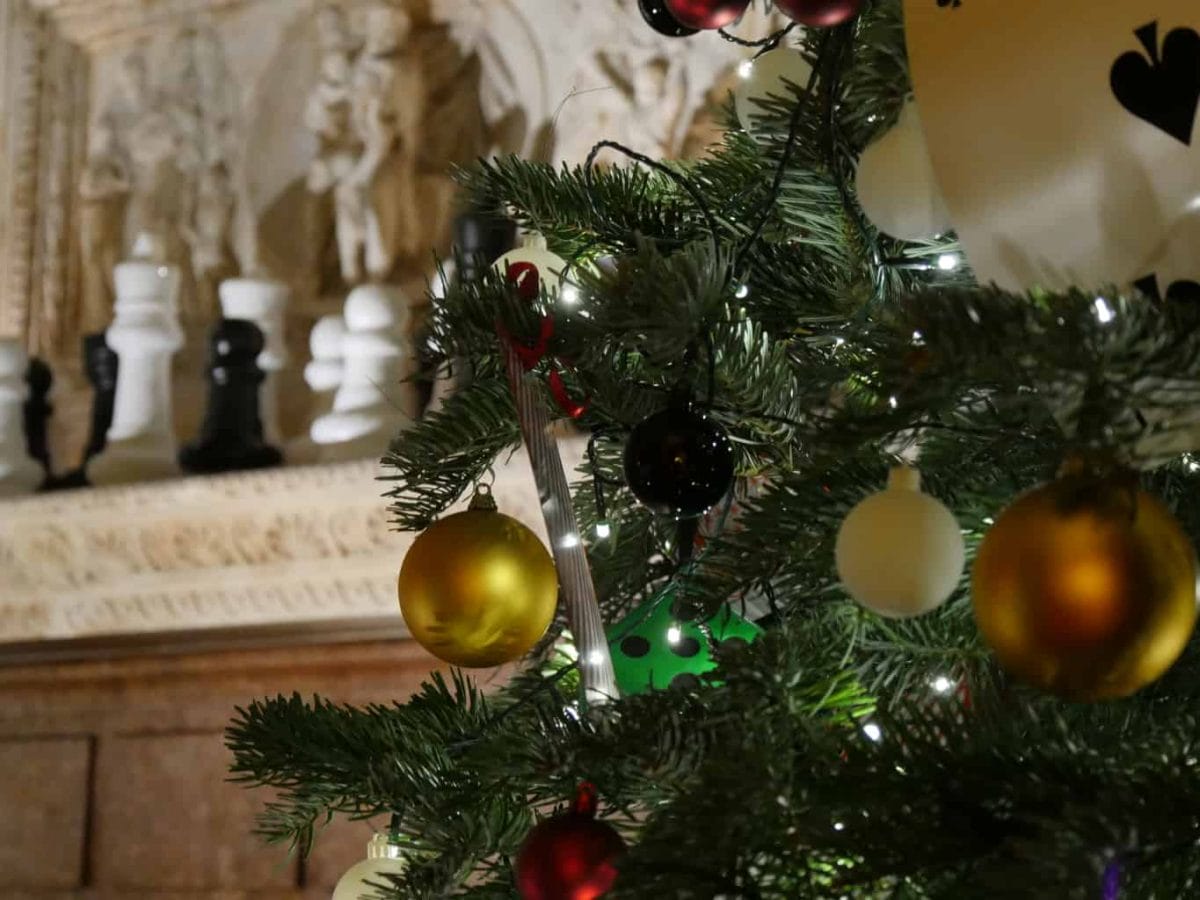 We started our day with the visit to the House, which was the perfect way to get into the swing of things and focus your attention for a while on a prim and proper take on the way Christmas is meant to be celebrated.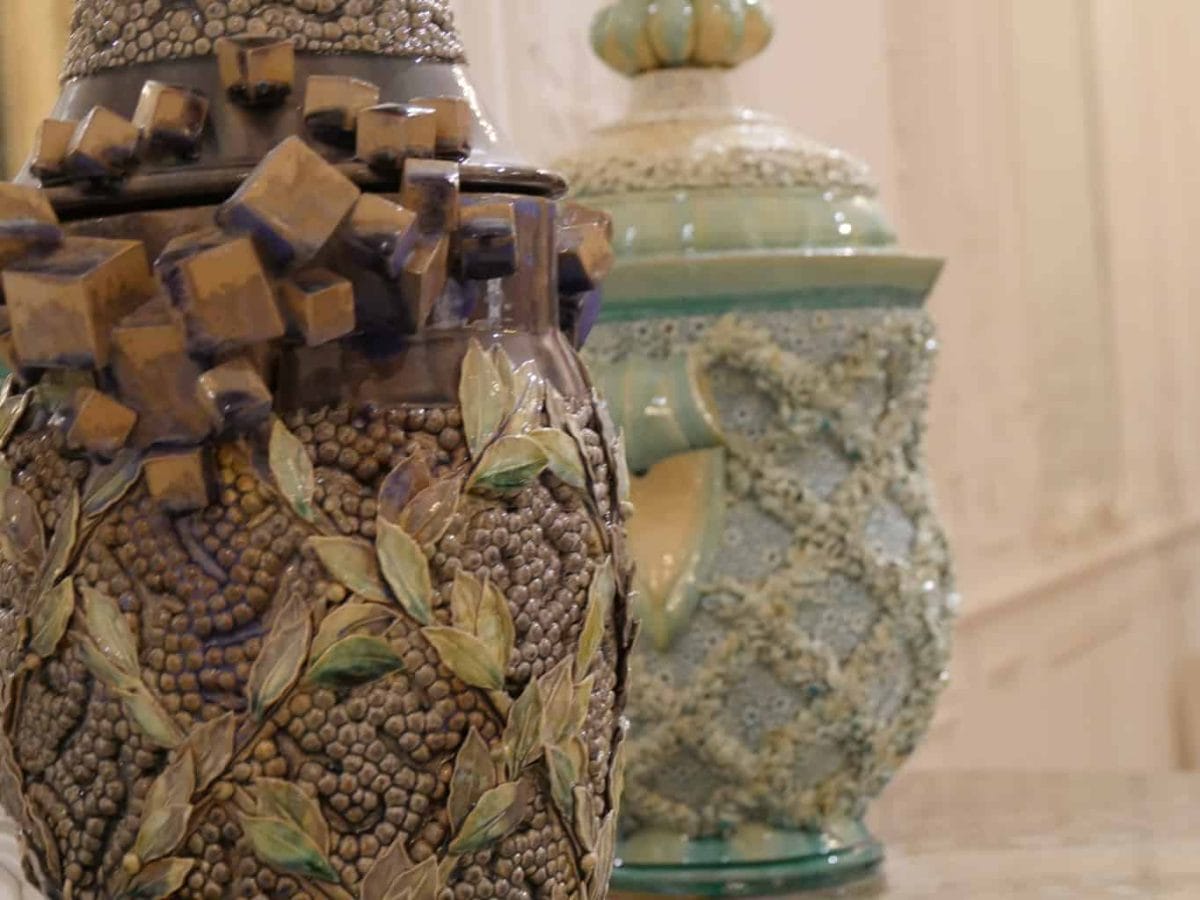 One of my favorite parts of inside the house were the paper sculptures in one of the dining rooms.
I didn't realize I needed a paper lobster in my life until that very moment.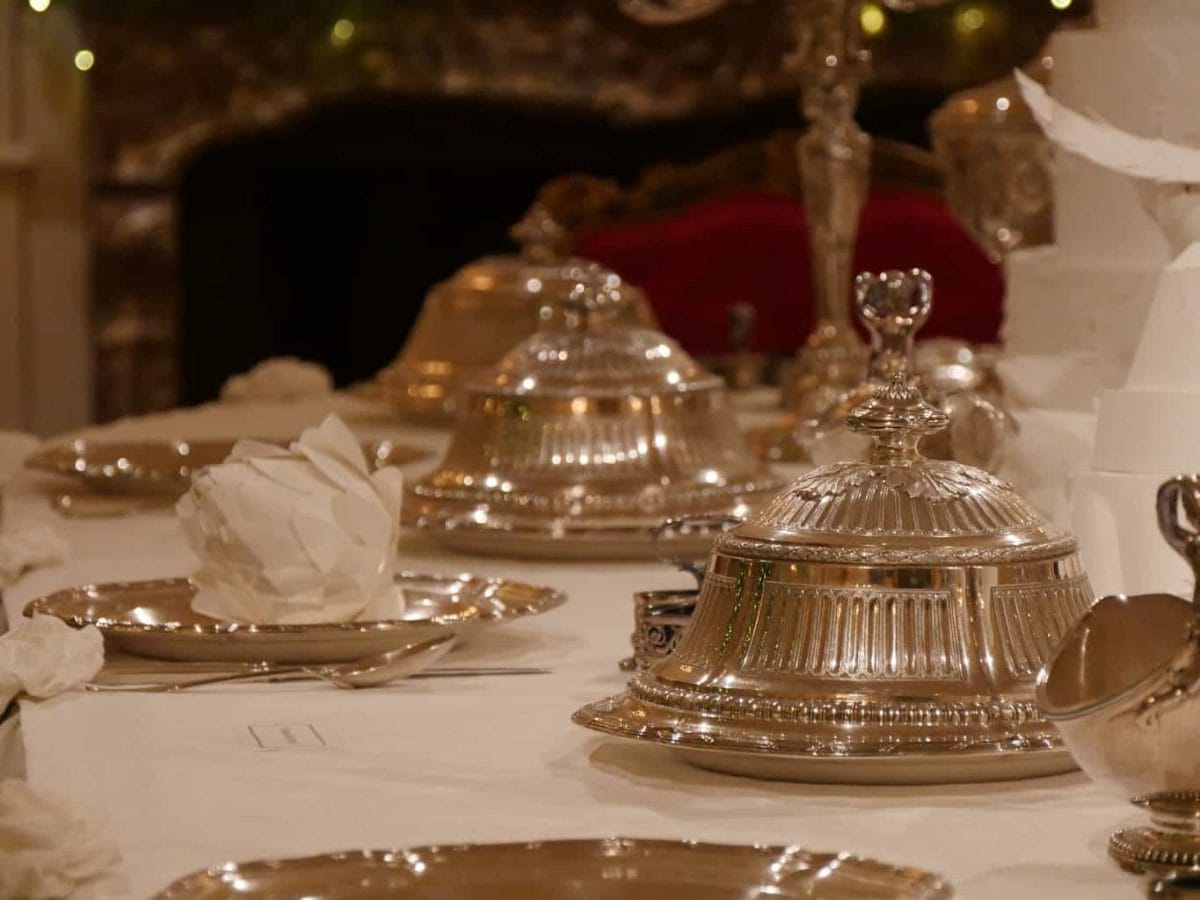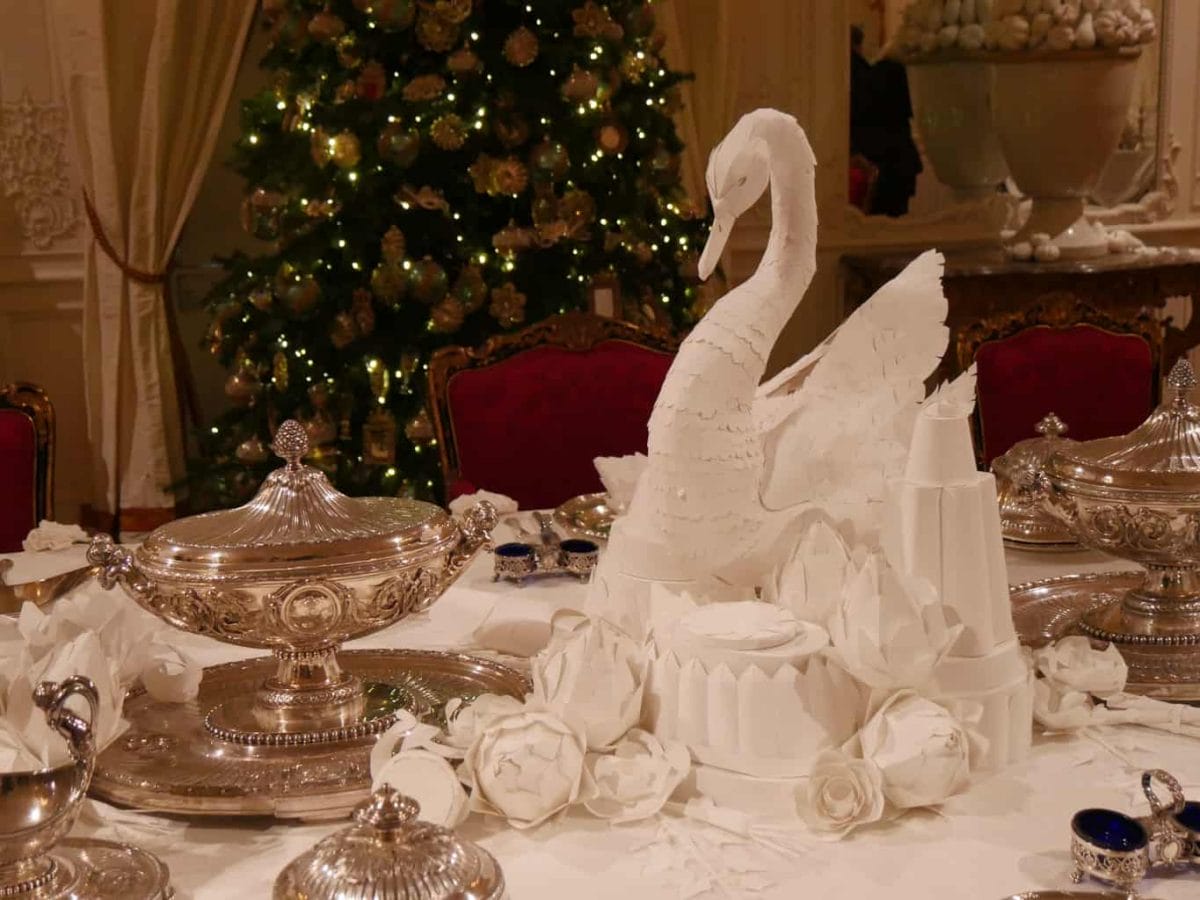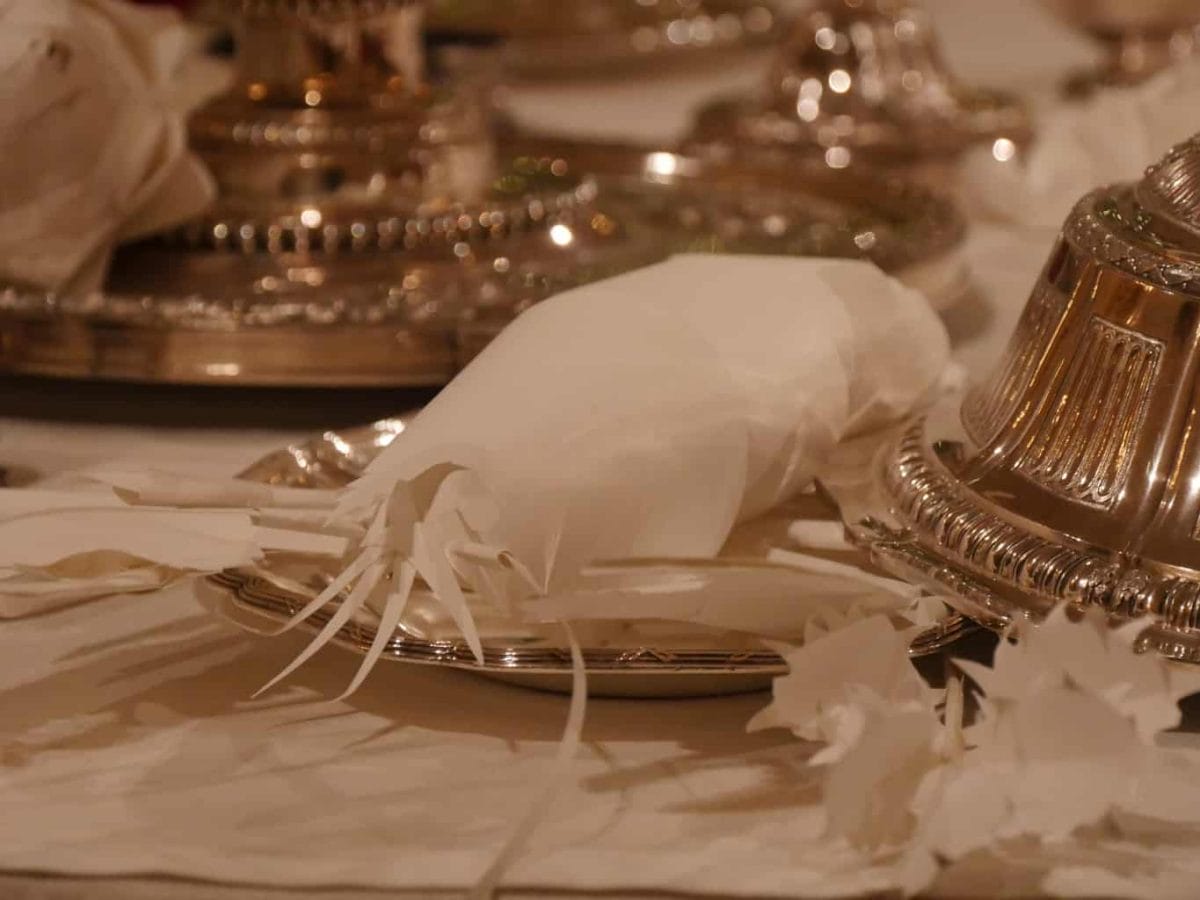 While I thought the house was beautiful and the decorations spot on, it actually ended up that the outdoor displays at Waddesdon were my favorite part of the day.
Waddesdon Manor Christmas Fair Review
When you first arrive at the Manor and look up the walkways, the first thing you'll notice (aside from the magnanimity of it all) is the Christmas fair.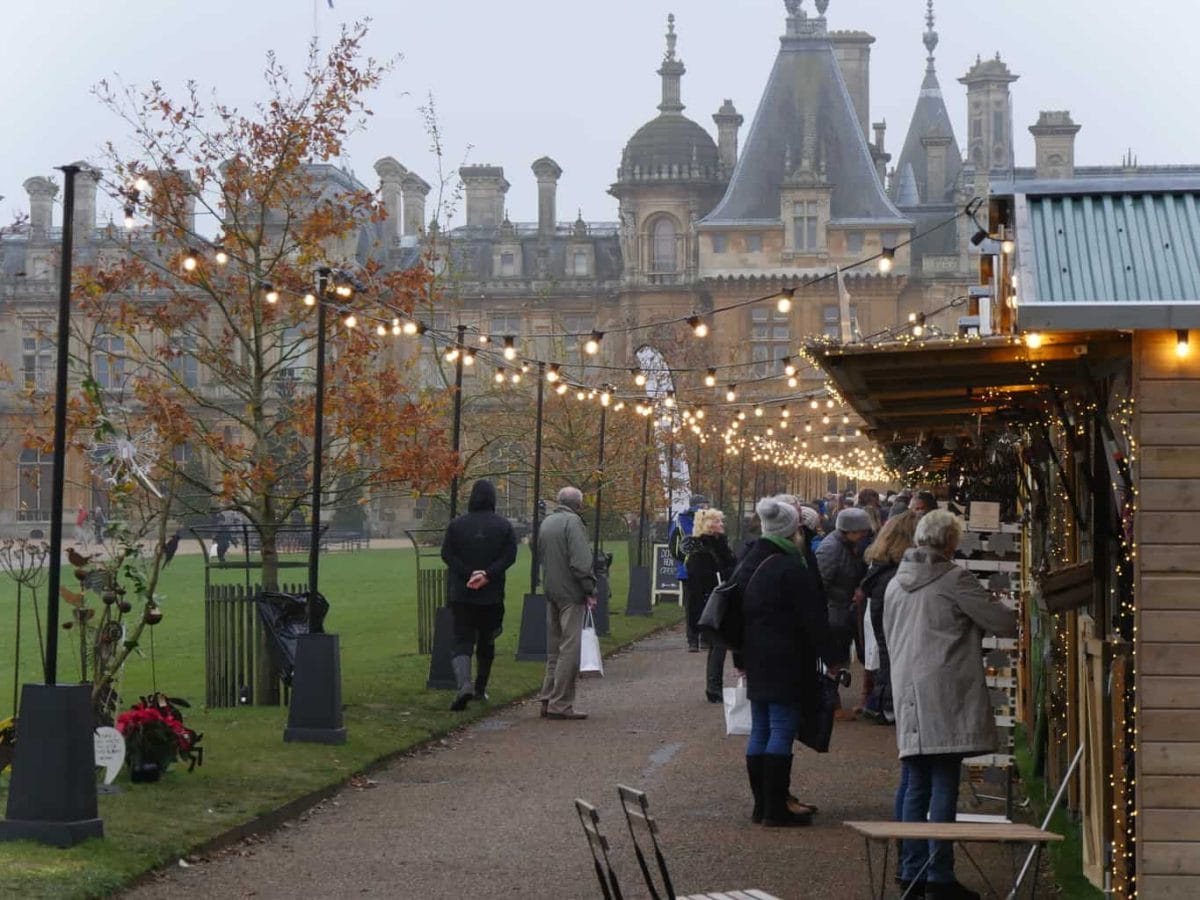 The fair runs along both sides of the main entrance gardens and contains dozens of stalls selling everything from churros to crafts to brownies to burgers to wine to household decorations.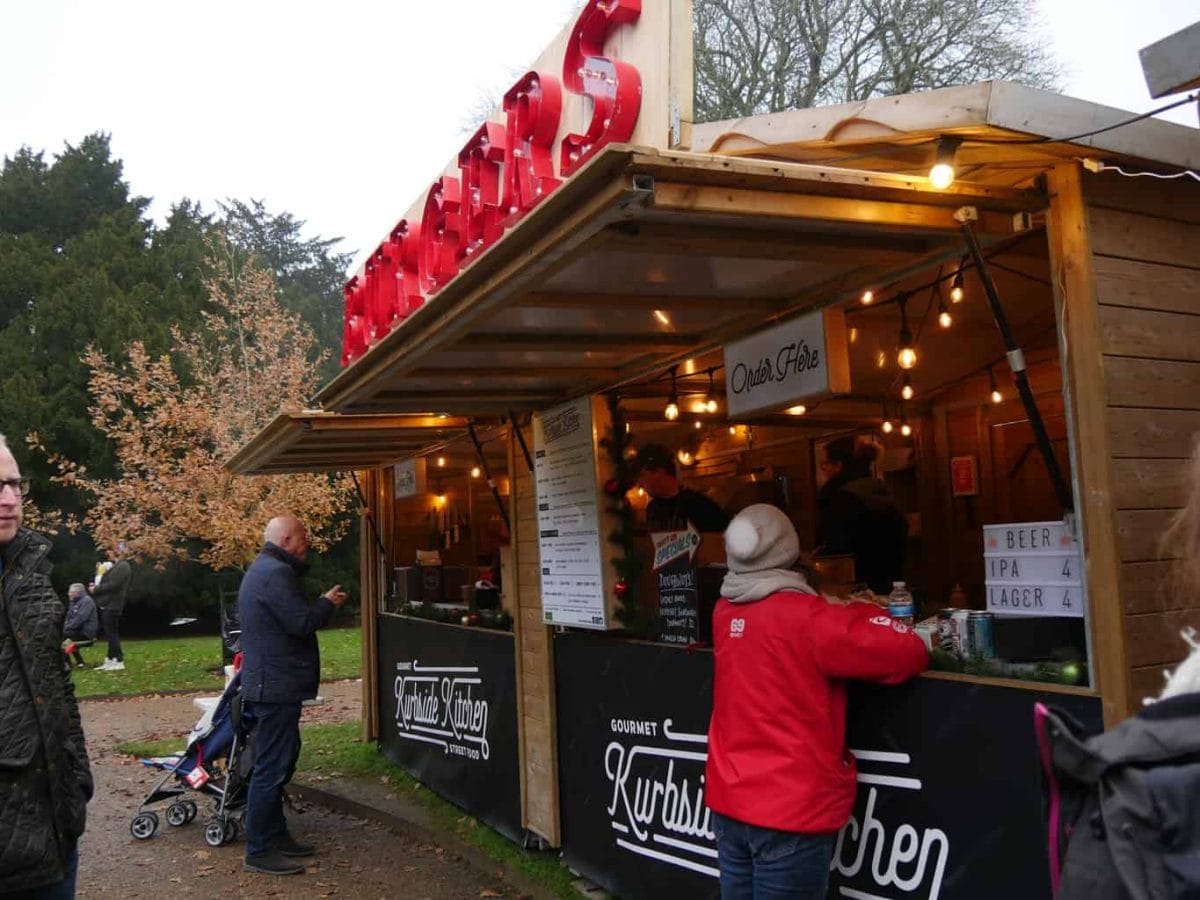 We did a bit of Christmas shopping and indulged in some caramel shortbread and churros after we had conquered the House tour.
All of the vendors we met were friendly and engaging, ready to tell us more about their companies and the products they had for sale.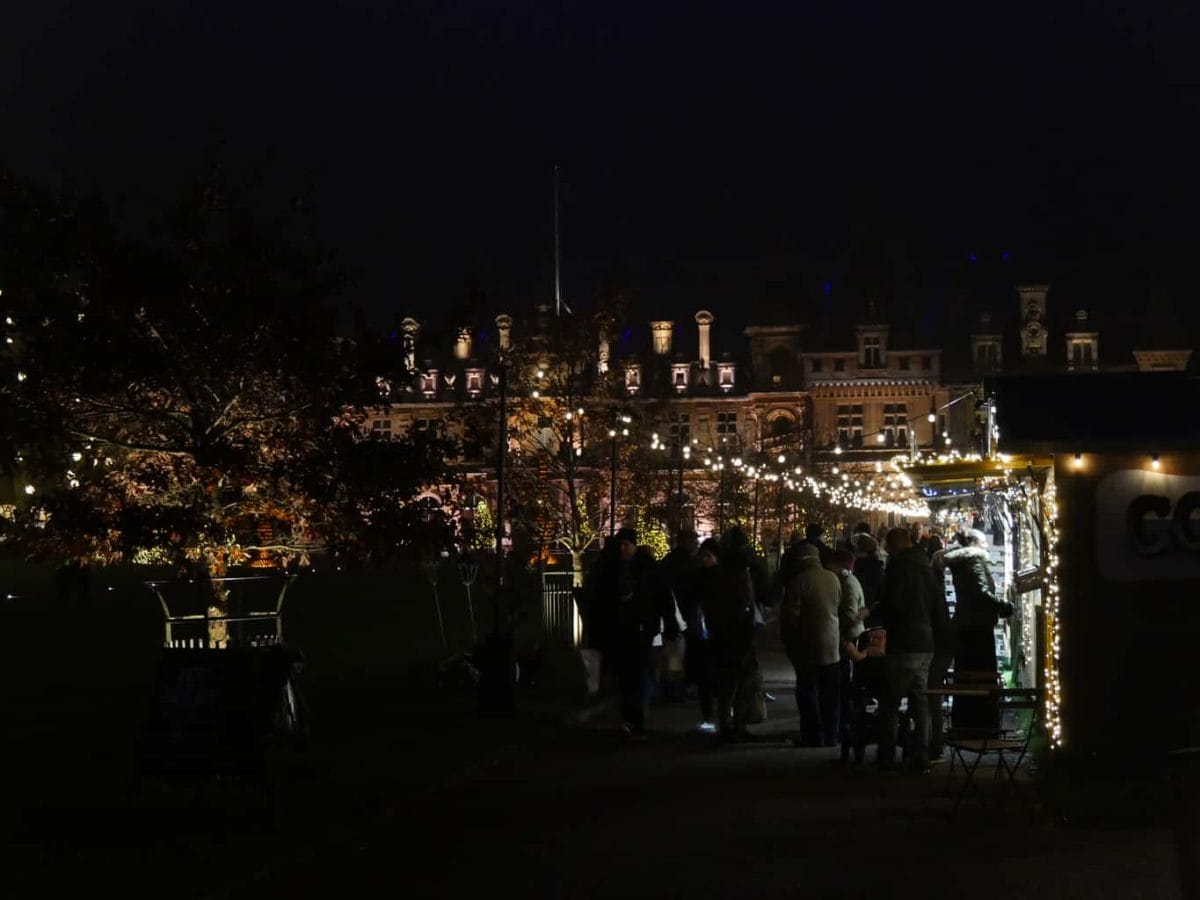 I had never been to a Christmas fair until moving to England – there's something about it being cold outside that really adds to the typical style of Christmas fair that happens in England and across Europe.
But this was a great one, with plenty of options and beautiful views.
Waddesdon Manor Christmas Light Trail
One of my absolute favorite parts of Christmas at Waddesdon Manor was the light trail.
This walking path took place just off the main entrance and House, and the mesmerizing things that Waddesdon Manor were able to do with light was incredible.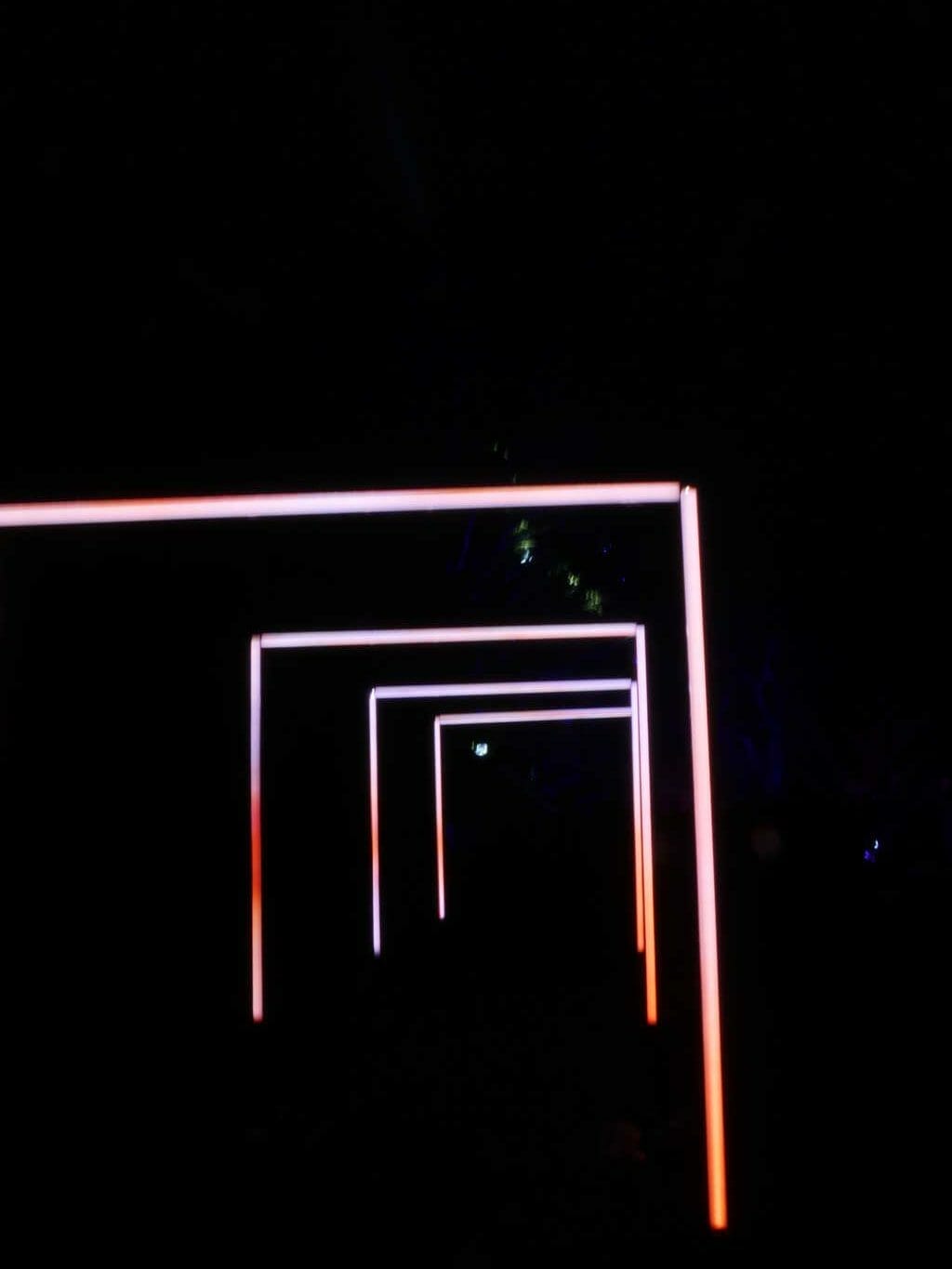 From a snow effect with disco balls to a tunnel built with light changing color, it was a beautiful way to get in the Christmas spirit and appreciate the simple beauty of woodlands.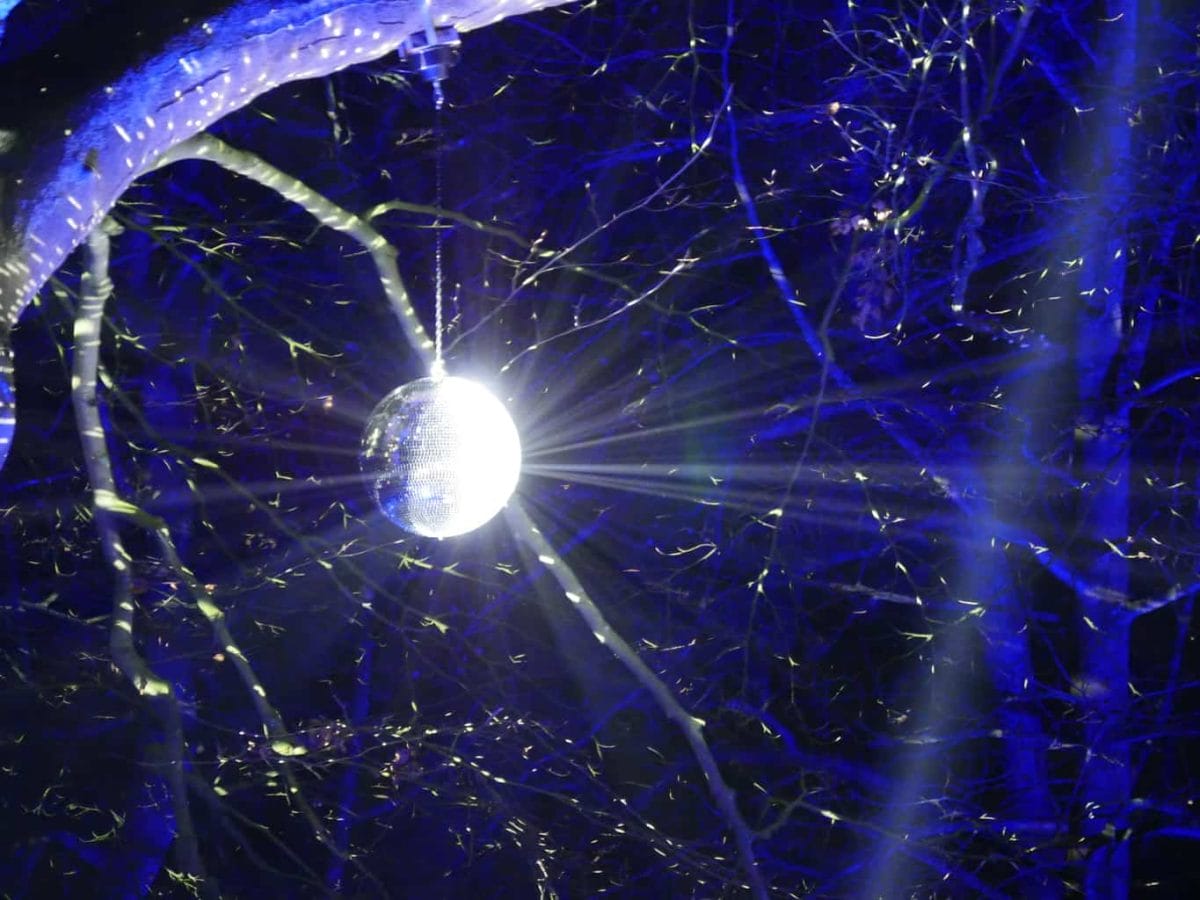 Entrance to the light trail is included with entrance to the Grounds, and you can take the trail at your own pace.
There are a few benches here and there to sit and watch if you prefer, but most people were enjoying the path at a steady pace.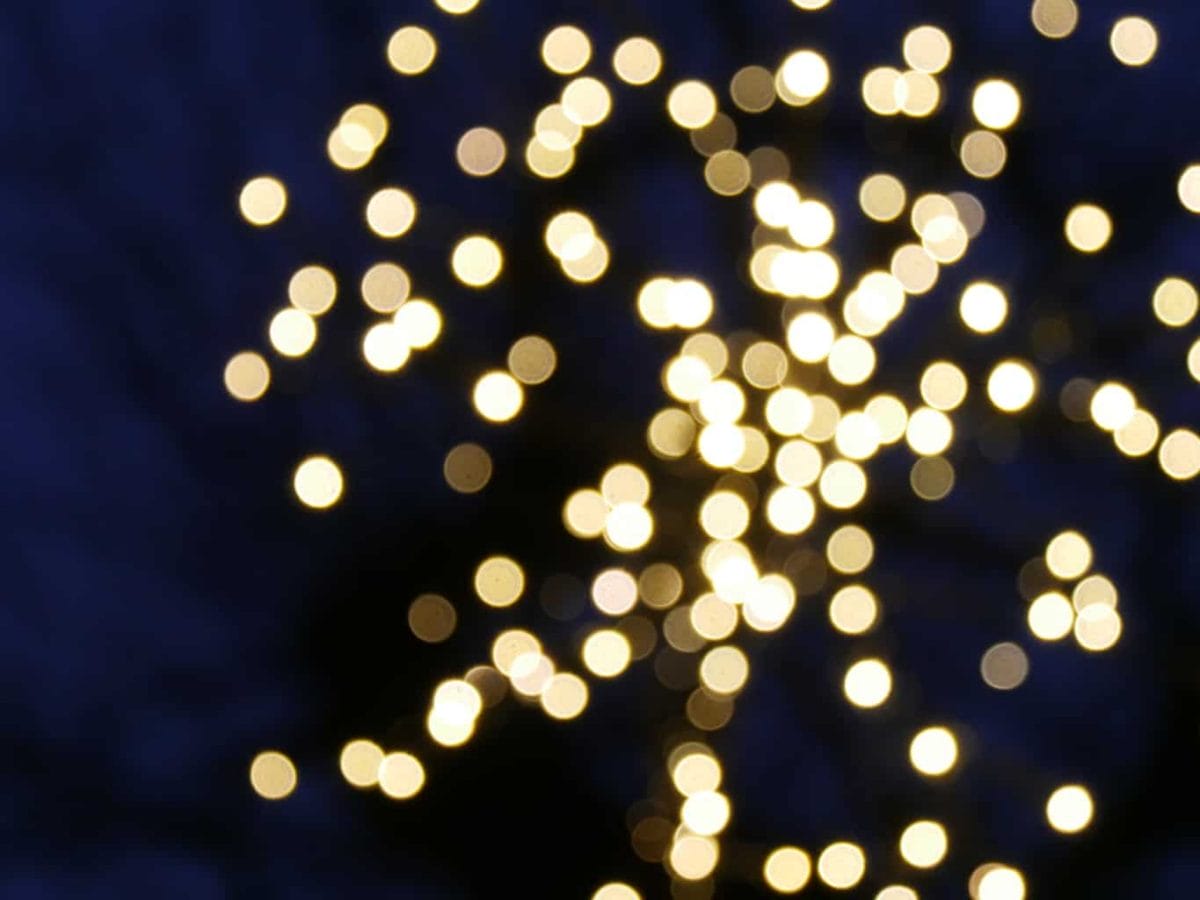 Waddesdon Manor Christmas at the Stables
Apart from the main house, there is another component of Waddeson Manor that includes the Stables and surrounding grounds.
During the Christmas season, the Stables are the location of a few super cool opportunities, including a projection show set to music, an auditory trail and a sound and light tunnel.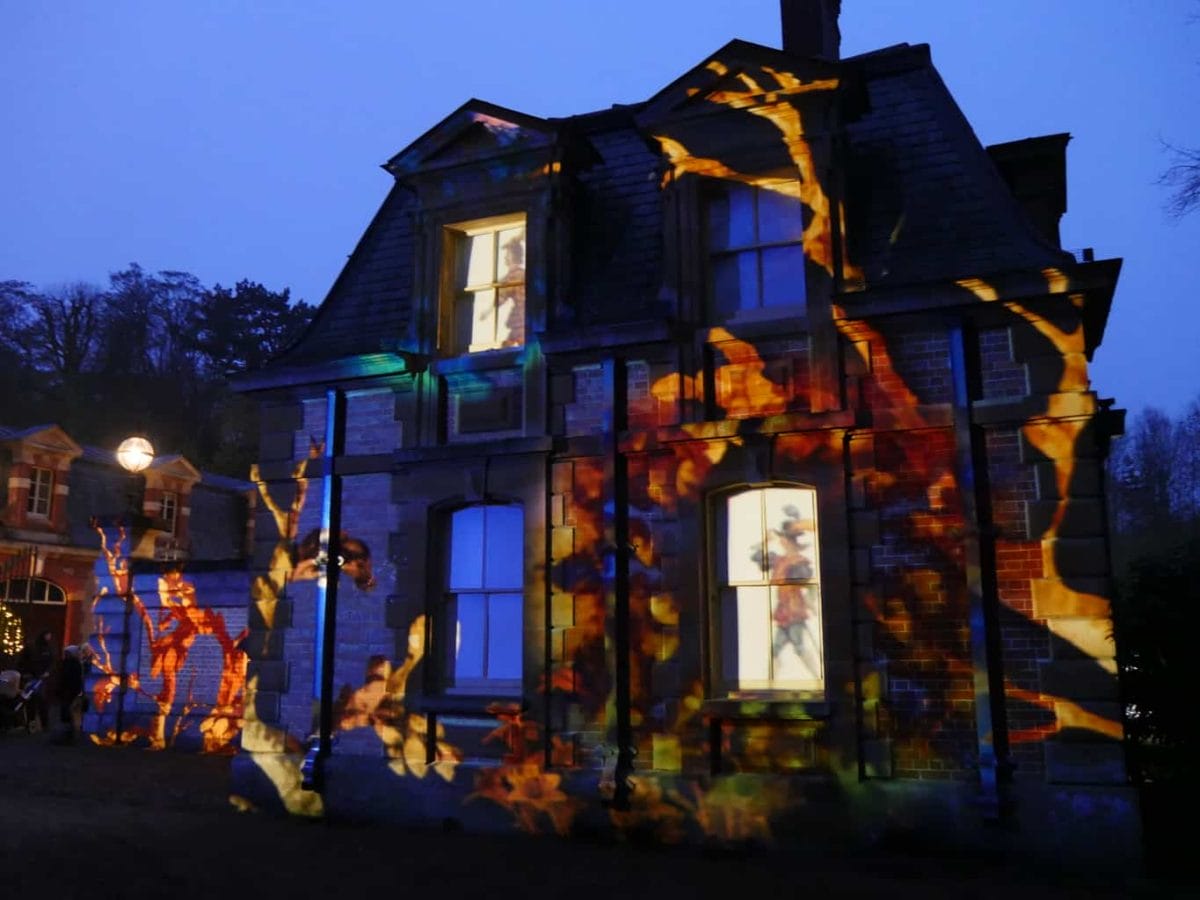 There is also a pop-up Christmas shop where you can buy everything Christmassy and perfect for stocking stuffers, as well as a cafe and indoor seating areas.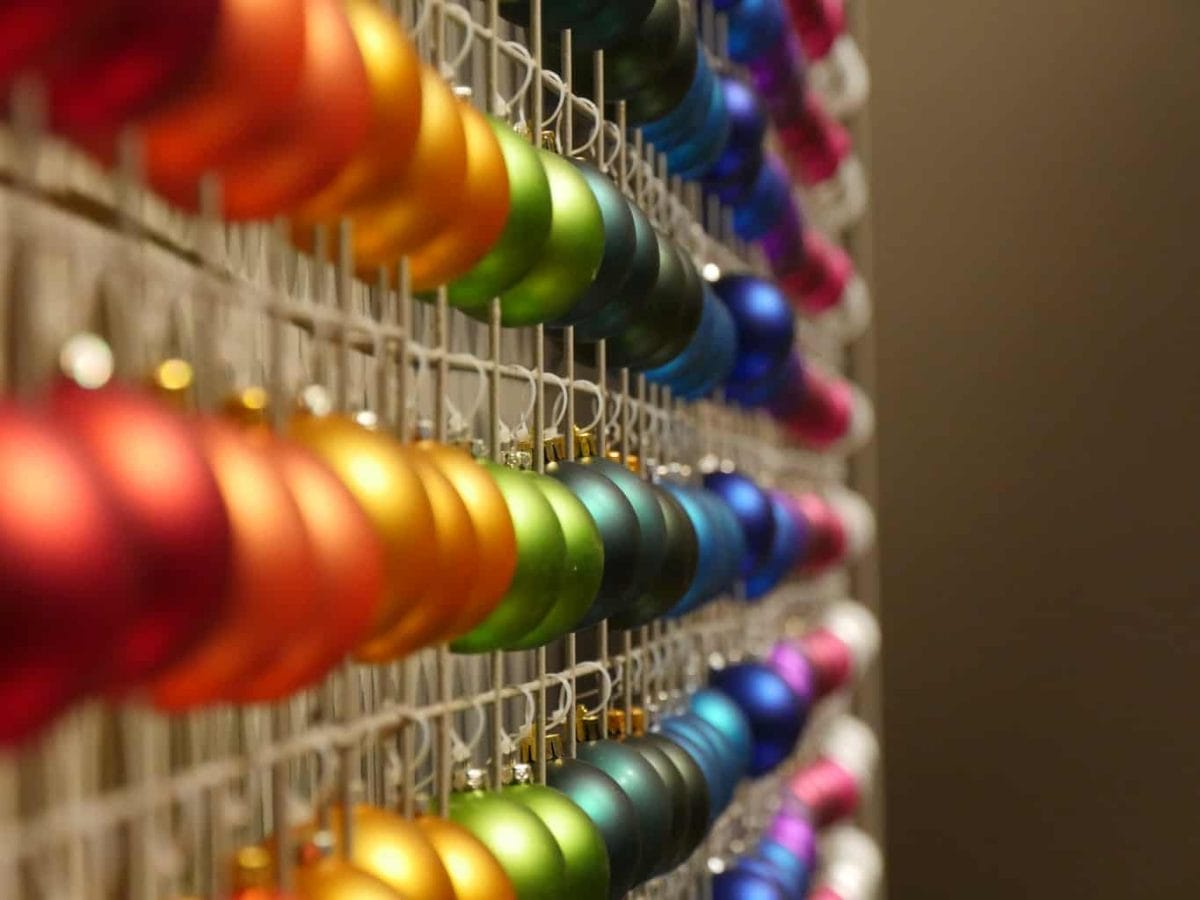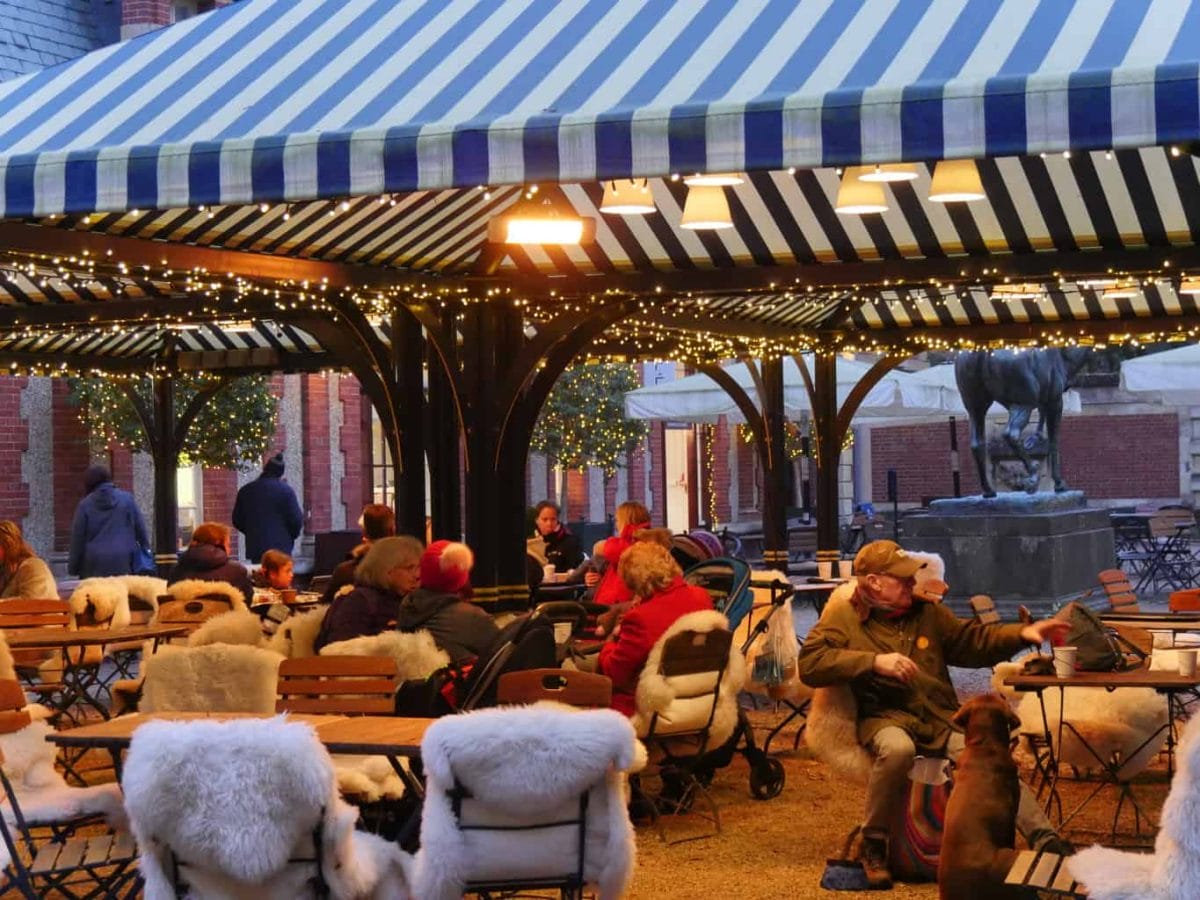 The auditory trail was a simple, paved trail that let you experience Christmas through sound with various "scenes" happening along your way.
The projections took place on a pretty continuous loop after dusk at the front of the stables, and had some really neat features including helping the windows on the stables to come to life.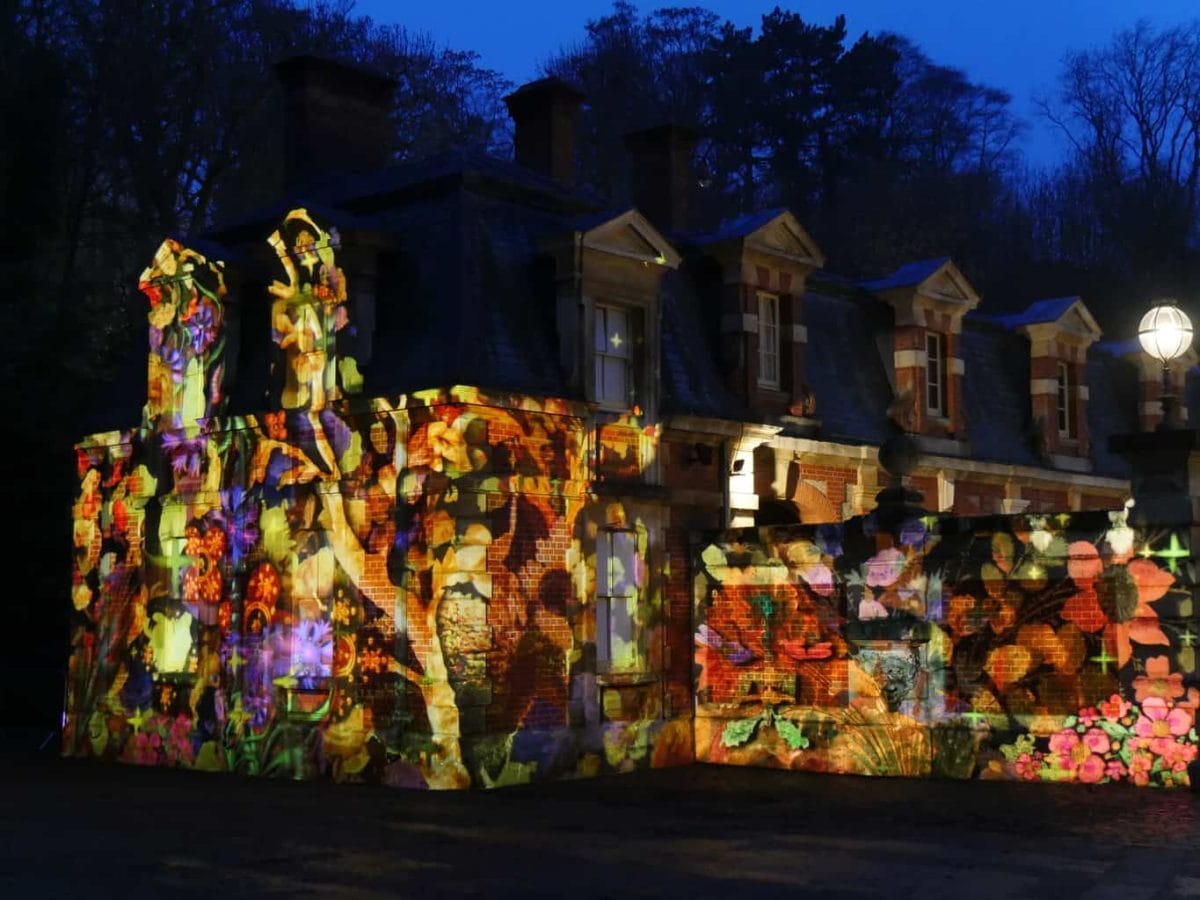 Finally, the sound and light tunnel was a fun way to run back and forth under the lights to see how the lights and sounds changed as you moved through it.
It also made for some awesome pictures!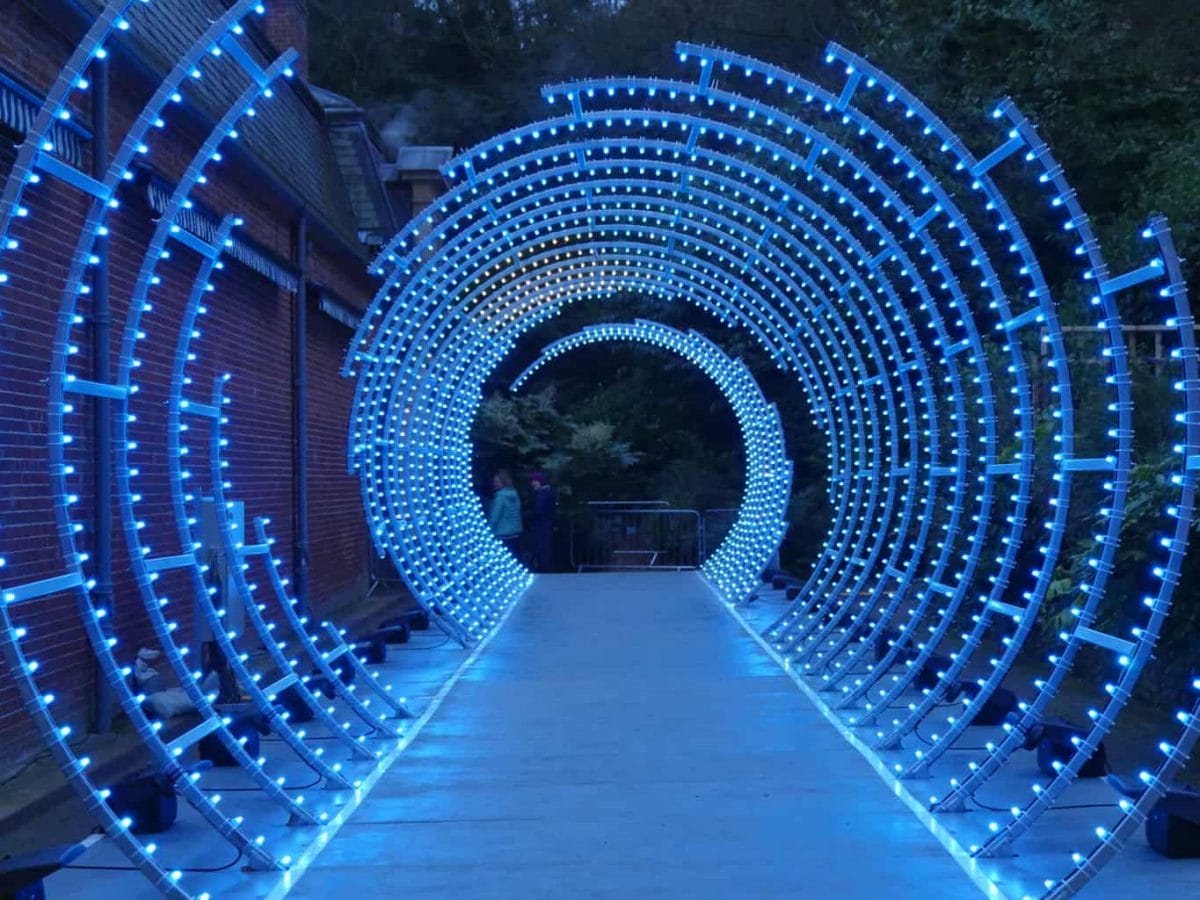 Waddesdon Manor Christmas Grounds Price
To visit the grounds during the Christmas season, the cost is £18.20 for an adult and £9.10 for a child.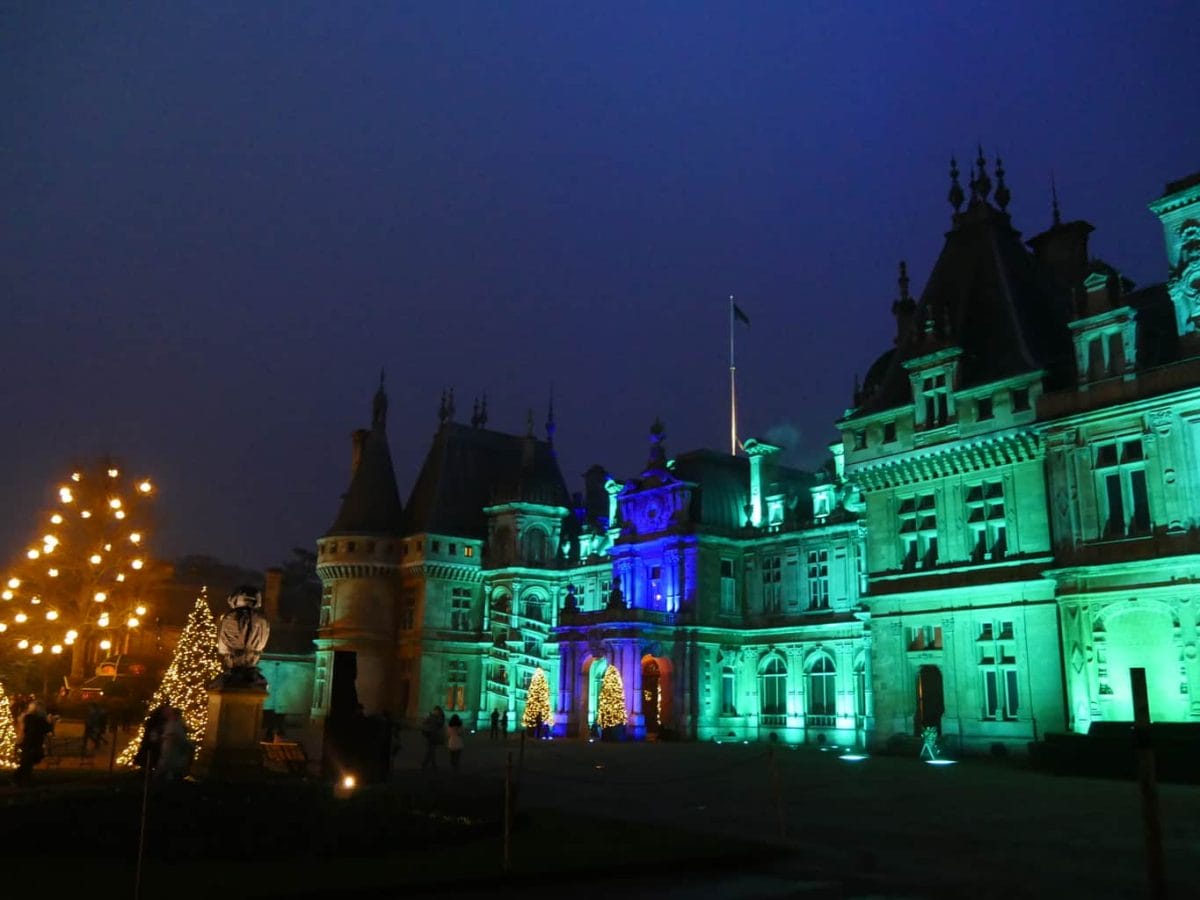 If you're a National Trust member, visiting the grounds is free.
Waddesdon Manor Christmas House Price
To visit Waddesdon Manor Christmas House, you need to make sure you book ahead of time.
The price for an adult is £32.70, for a child it's £16.35.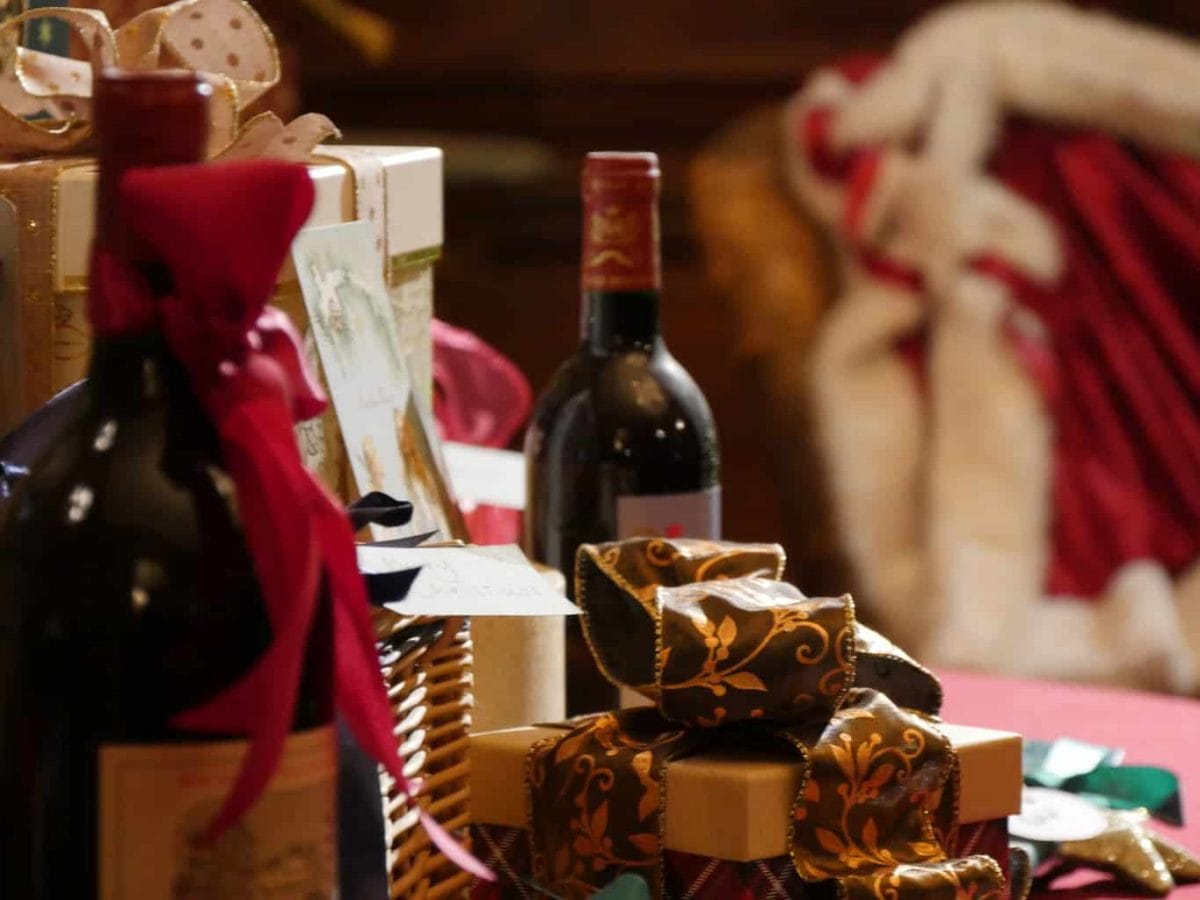 Tickets to the house INCLUDE entrance to the grounds, so there's no need to buy entrance to the House + Grounds separately.
Waddesdon Manor Christmas Dates
Waddesdon Manor Christmas runs from Sat 12 Nov – Mon 2 Jan 2023, Wed-Sun plus Mon/Tue 19/20 and 27 Dec.