Van Gogh. Rembrandt. Leonardo da Vinci.
If any of those names sound familiar, you're going to want to run, not walk, to the National Gallery in London, the UK's premier art museum with an iconic location in Trafalgar Square.
In this National Gallery review, we'll go over some of the most important things-to-know to enjoy the gallery (as well as who should skip it), and give you a glimpse of what's inside.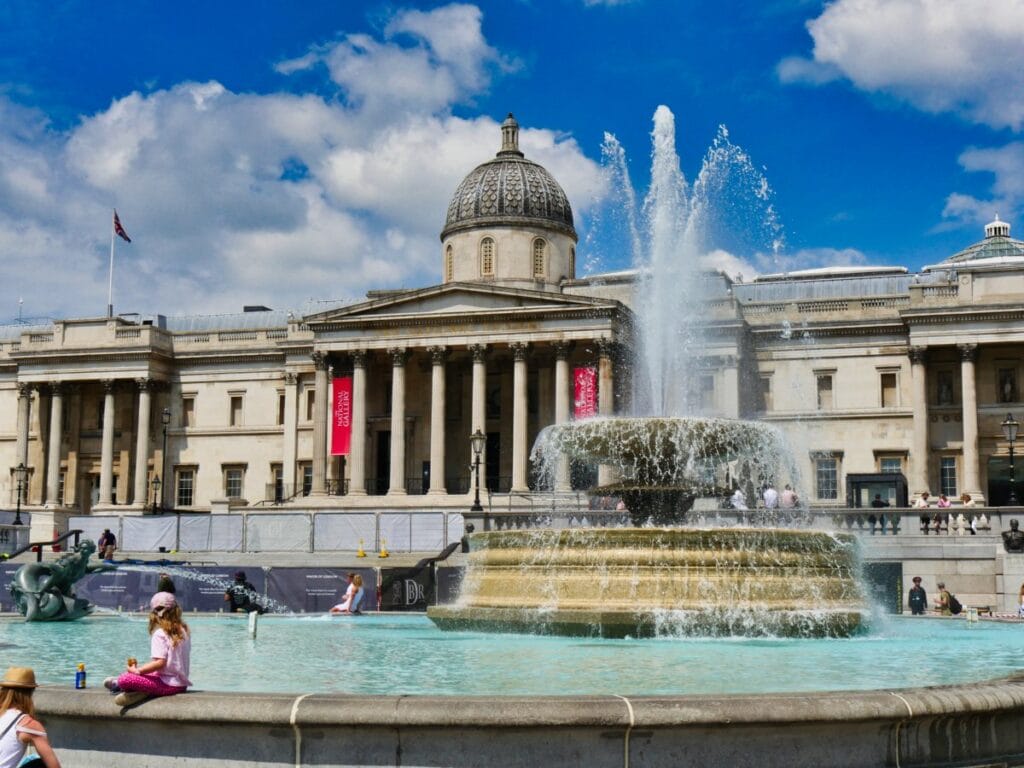 For many, particularly those who don't live in big cities where you can see original art on display often, this is a truly magical and once-in-a-lifetime experience to stand up close to some of the most famous pieces of art in the entire world, not just in the UK.
GET A

FREE

LONDON INTRO GUIDE and ACCESS TO MY FB GROUP
Start your planning with this "Intro to London" guide and access to my London planning Facebook group!
National Gallery: the Practical Bits
Before we take a glimpse into the inside of the National Gallery, let's talk about the whos, whats, and wheres so you have an idea where you're going and how you'll get there.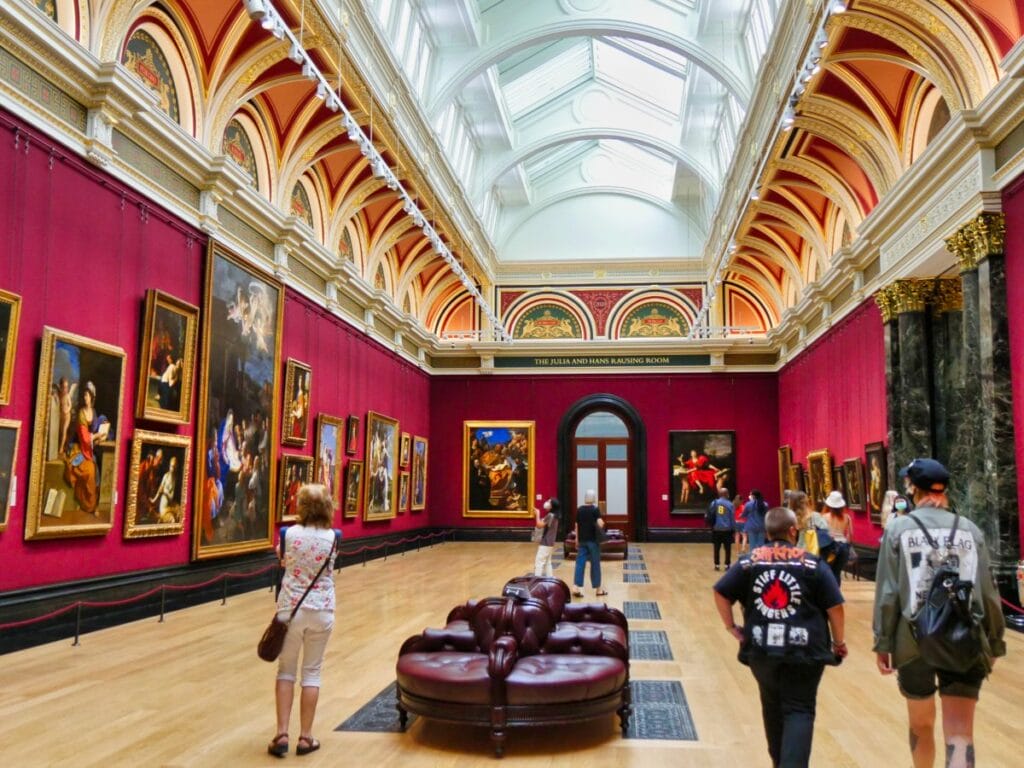 How to Get to the National Gallery
The address of the National Gallery is perhaps one of the best in London: Trafalgar Square, London WC2N 5DN.
Yes, simply National Gallery, Trafalgar Square!
That's because the gallery overlooks Trafalgar Square and, well, if you've found Trafalgar Square, you've found the gallery.
The easiest way to get there is by tube, with Charing Cross Station being the closest and Leicester Square being easily walkable as well in case this works best for you.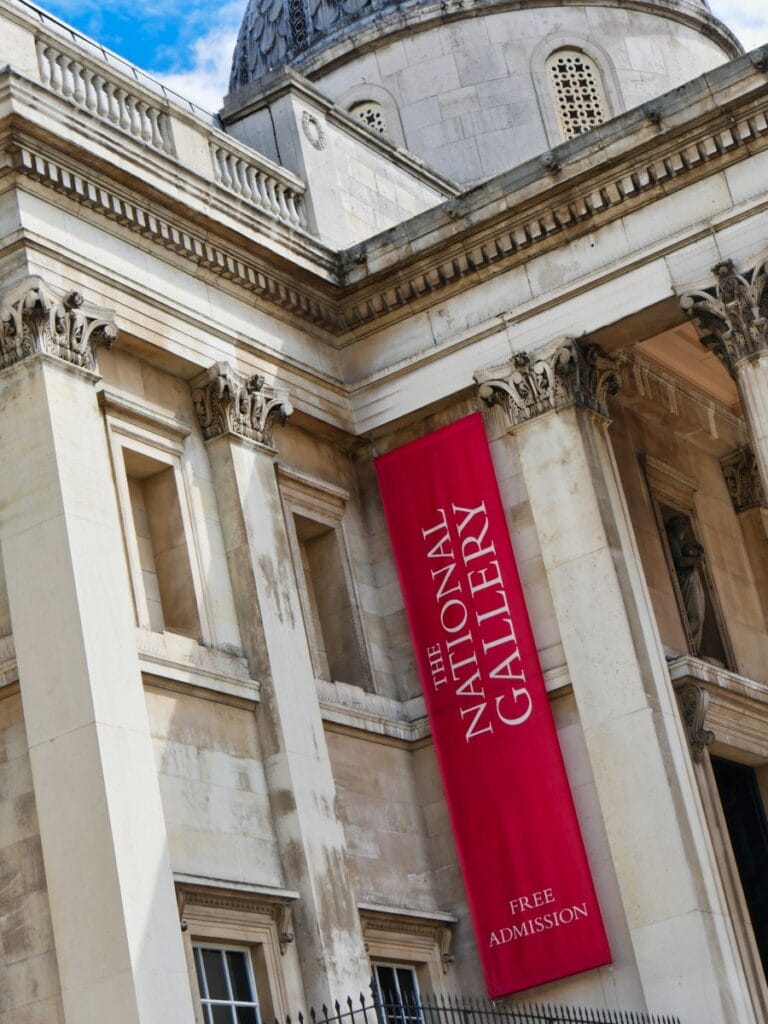 National Gallery Hours and Opening Days
There are just a few days in the year that the National Gallery isn't open: Christmas Eve, Christmas Day, Boxing Day (December 26th) and New Year's Day.
Every other day, it is open typically from 10am to 6pm, but has longer hours on Friday when it's open until 9pm (so you can get some historic art in as a Friday evening London date!)
National Gallery Cost
Wouldn't you know it, the National Gallery is free! Yes, that's right. Waltz on in, walk on in, stroll on in, skip on in, however you enter, you can do it for nothing.
It makes it one of the best free things to do in London, and considering it is such a famous gallery with wonderful works of art, that's a real bargain.
Who Should Visit the National Gallery?
Unlike some other London attractions that are "good for all ages," this is an art gallery.
There are a few activities they have for the kids to go around the galleries with, but nothing that is going to turn an art gallery into paradise for, say, a toddler.
For this one, I'd say anyone with late elementary school aged and up would be a perfect fit for the gallery.
Since it's free, it's easy to pop in briefly if you do have younger kids and you're not sure their attention span will hold.
And, hey, plenty of toddlers may be fascinated by the big paintings and big rooms, but if your kids wouldn't be happy in an art gallery at home, they probably won't see the appeal of the National Gallery despite how awesome it is for the rest of us.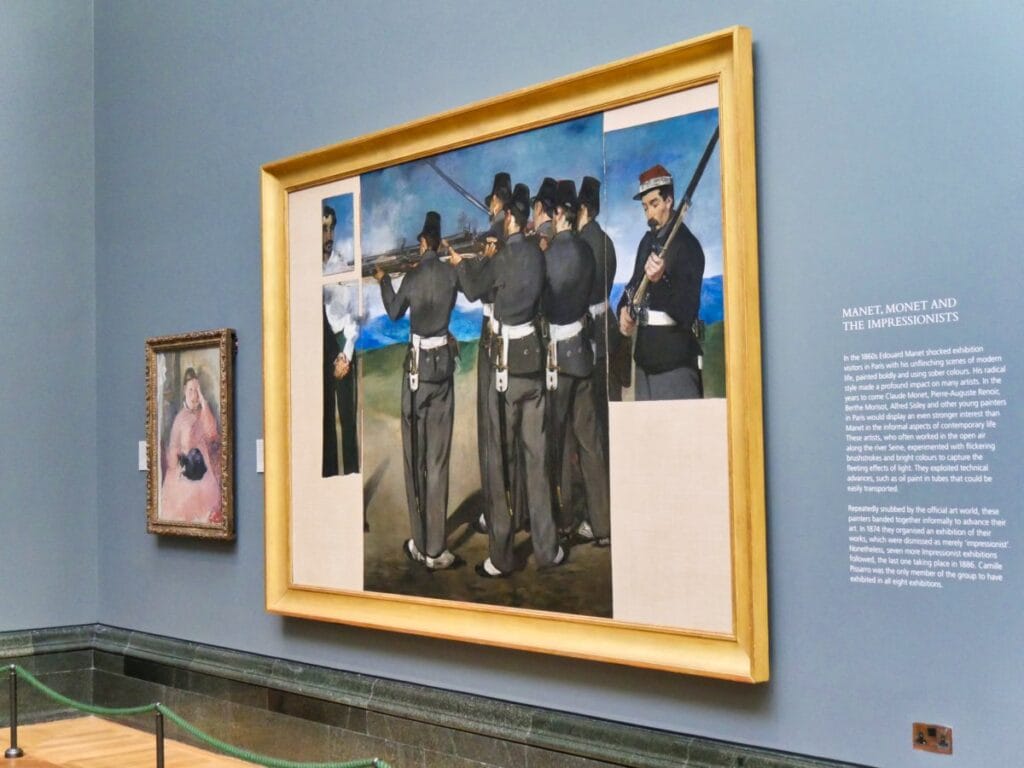 Overview of the National Gallery
The National Gallery opened to the public in 1824 in a different location than the one we know today and has a fascinating history.
For instance, during World War II, the artwork was actually evacuated to various sites in Wales to protect it from attacks on London.
Today, the gallery is located in the Wilkins Building, the main façade that now towers over Trafalgar Square.
Inside, you'll find the art separated by both artist and the year they were painted, with the art spanning from the 1200s to the 1900s.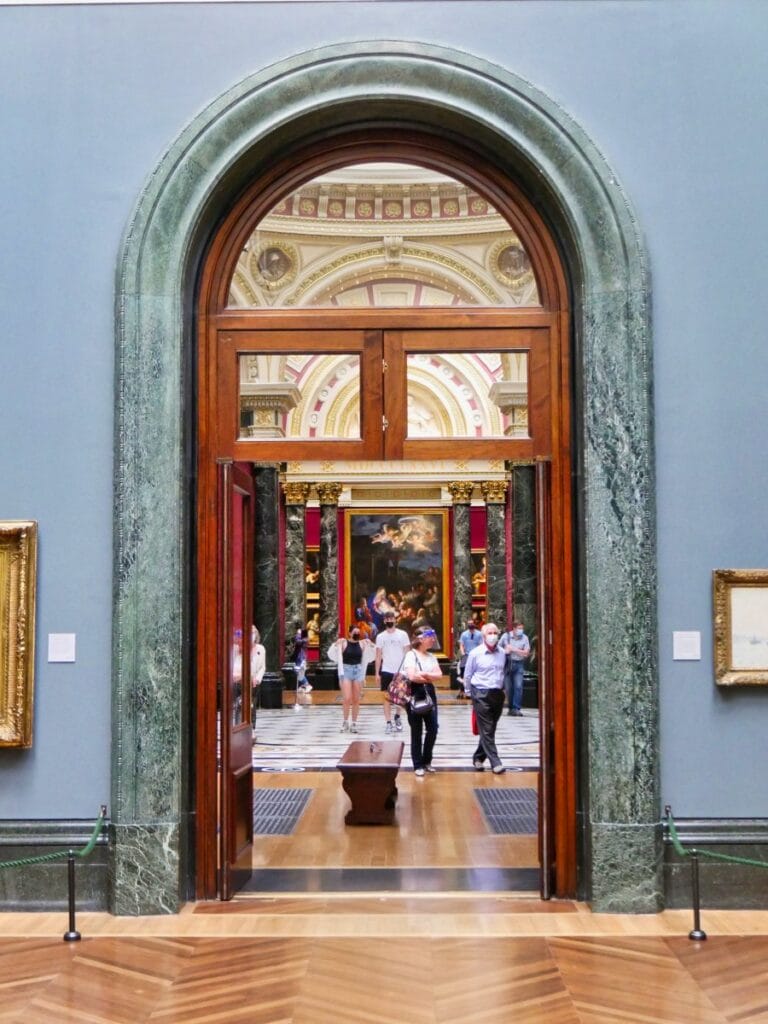 The collection has over 2,000 pieces, and despite being smaller than some rival European collections, most major movements in Western art are represented.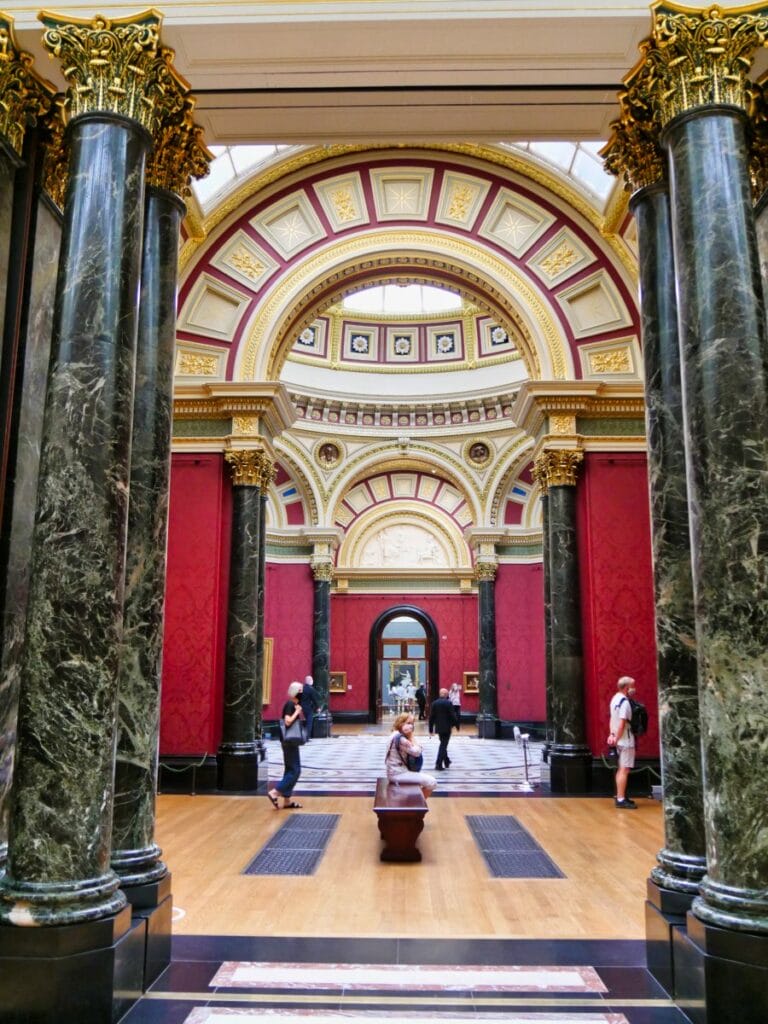 Unlike the name might suggest, being the "National Gallery," this is not a collection of art solely produced by British artists (that would be Tate Britain).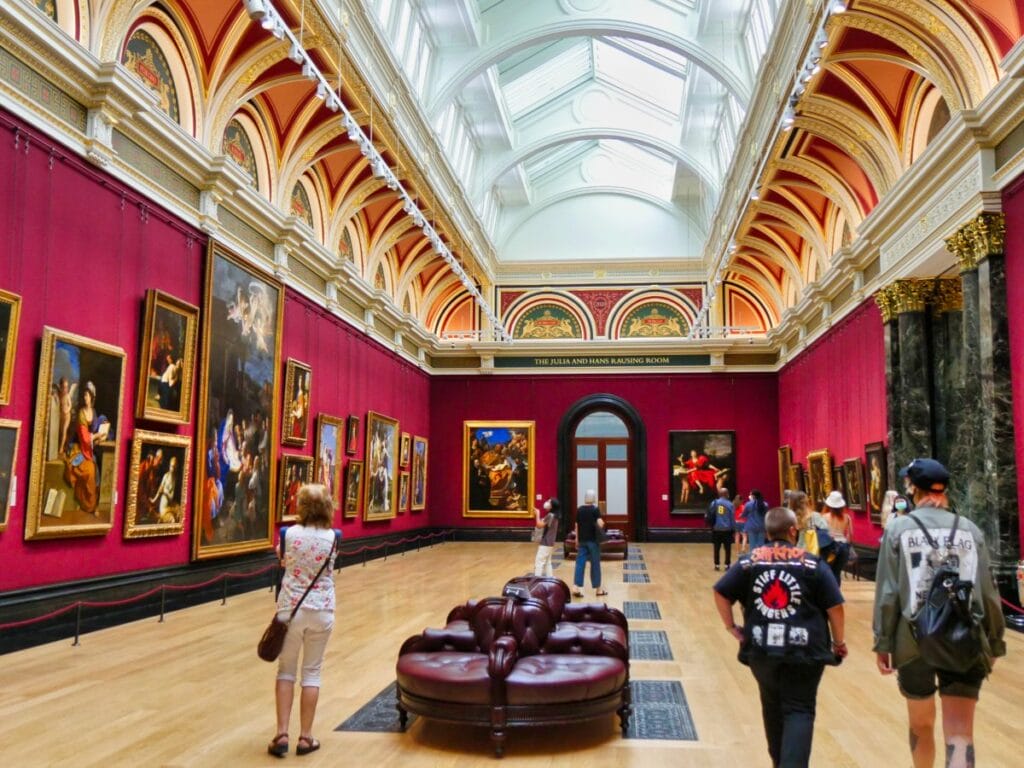 The scope of the individual rooms are often grand, with high ceilings, richly colorful hues, and often a level of restoration to historic architecture that helps the gallery feel suitably historic without feeling run down.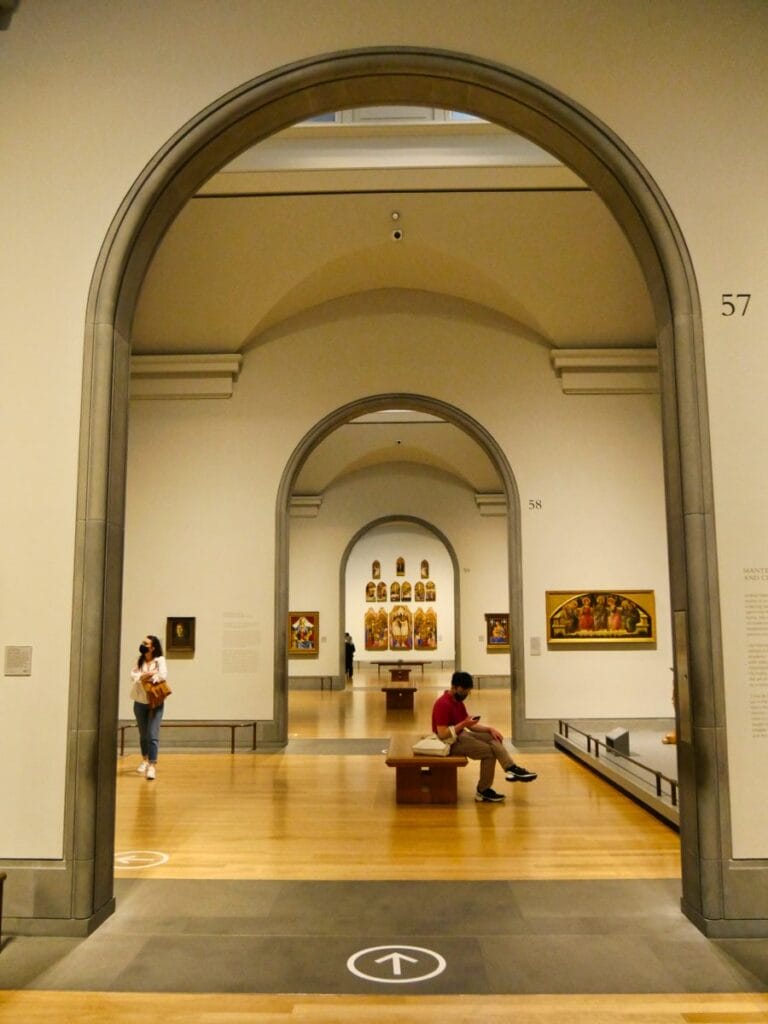 Each painting has a plaque next to it with more information on the artist and a little bit about the painting, and there are some incredibly famous pieces of art on display.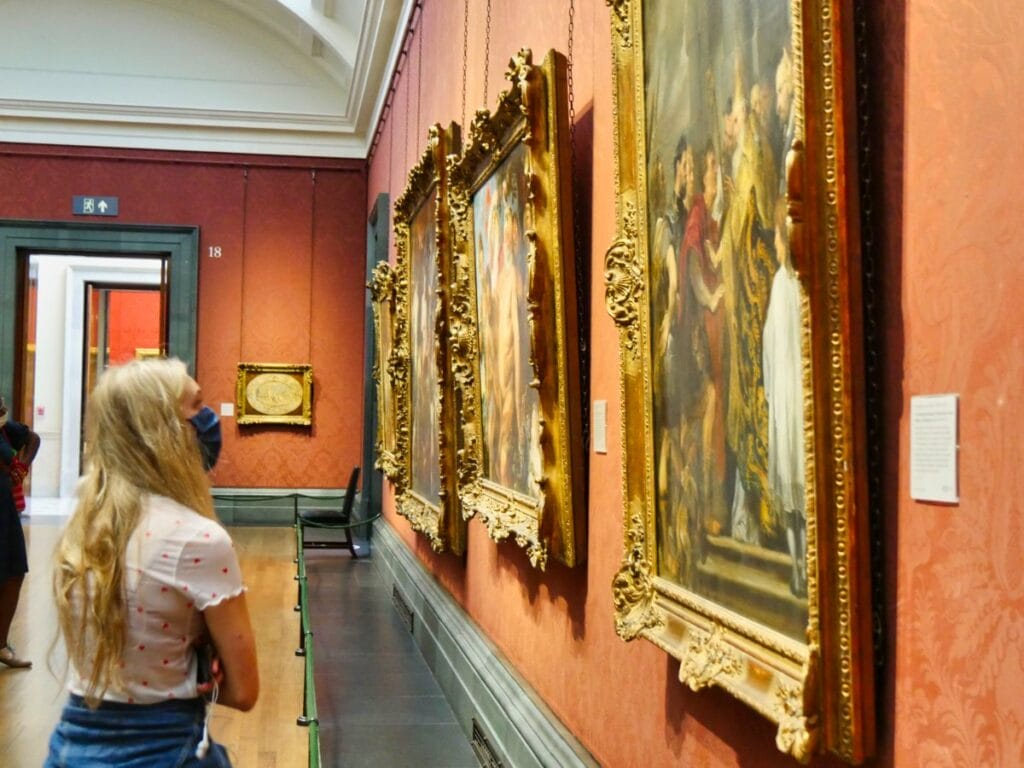 Among these are Sunflowers by Van Gogh, Portrait of a Man by Jan van Ecyk, and art by Rembrandt, Turner, Monet, Leonardo da Vinci and Raphael.
How long you spend there depends on how long you have "art gallery viewing" in you.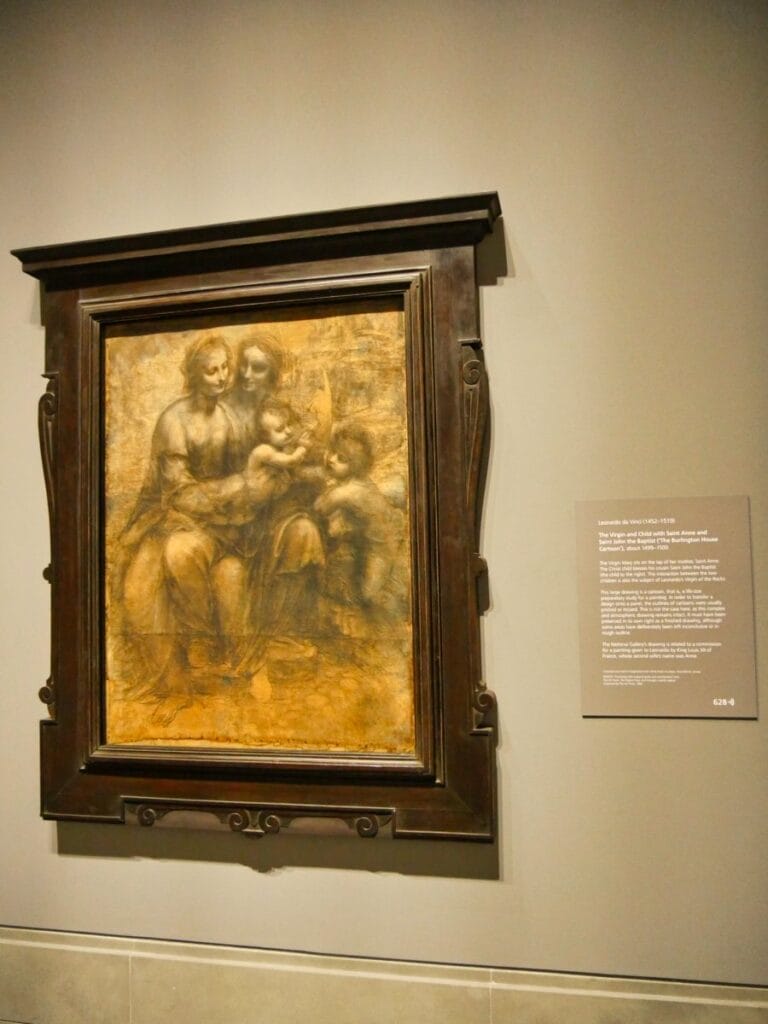 You can easily spend a whole day here, but most visitors will opt for about 2 hours before they get a little fatigued despite their best cultural intentions.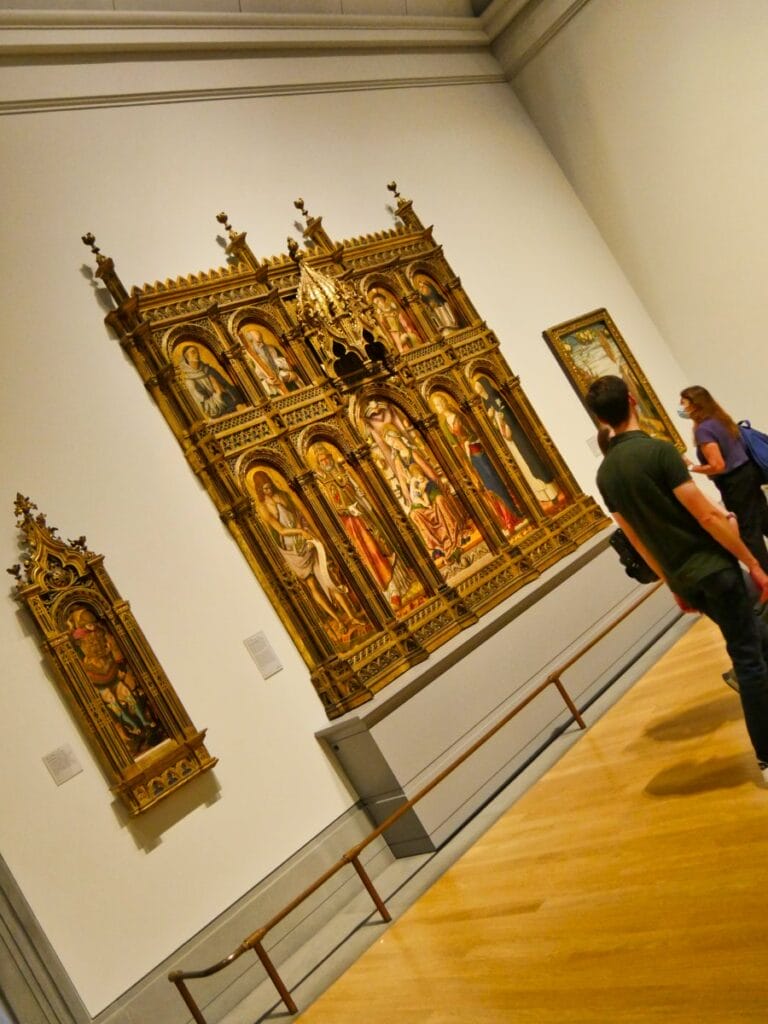 If it's a must-do on your list and you have a knowledge of and understanding of the art on display, about half a day should be a good compromise between fully exploring the National Gallery and visiting other important places in London.
There are also special exhibitions that happen on a rotating base, like this Copernicus gallery that was available in summer 2021.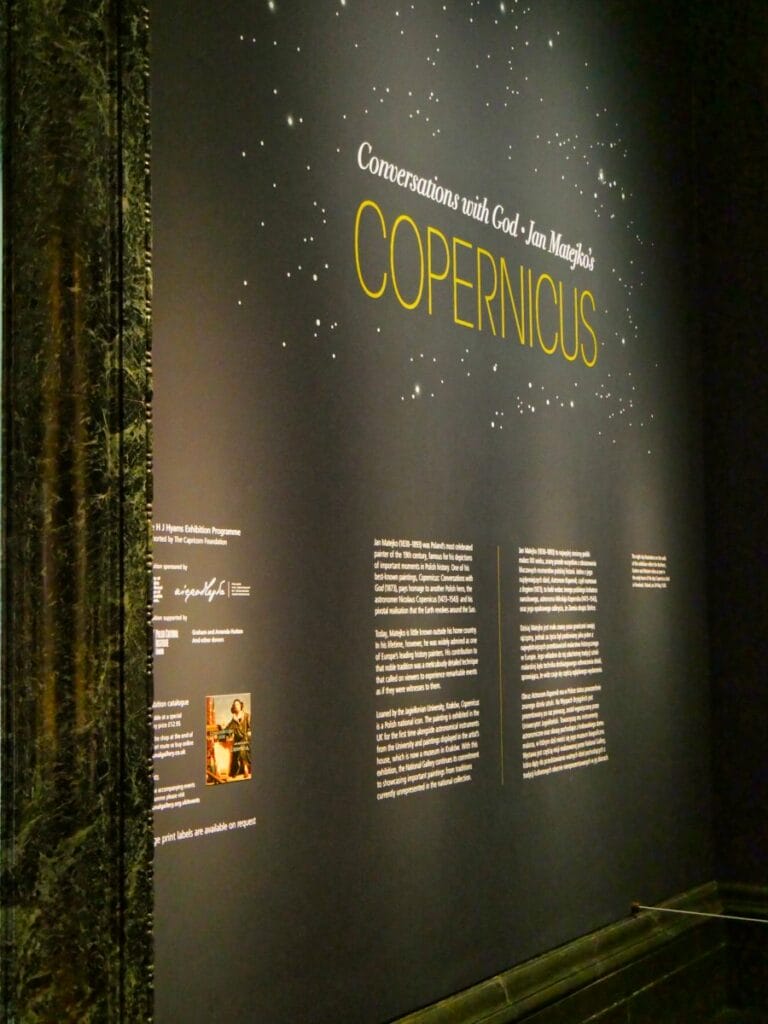 National Gallery Store
The store at the National Gallery is excellent, with everything from books on creativity to merchandise depicting the art and actually faces of your favorite artists.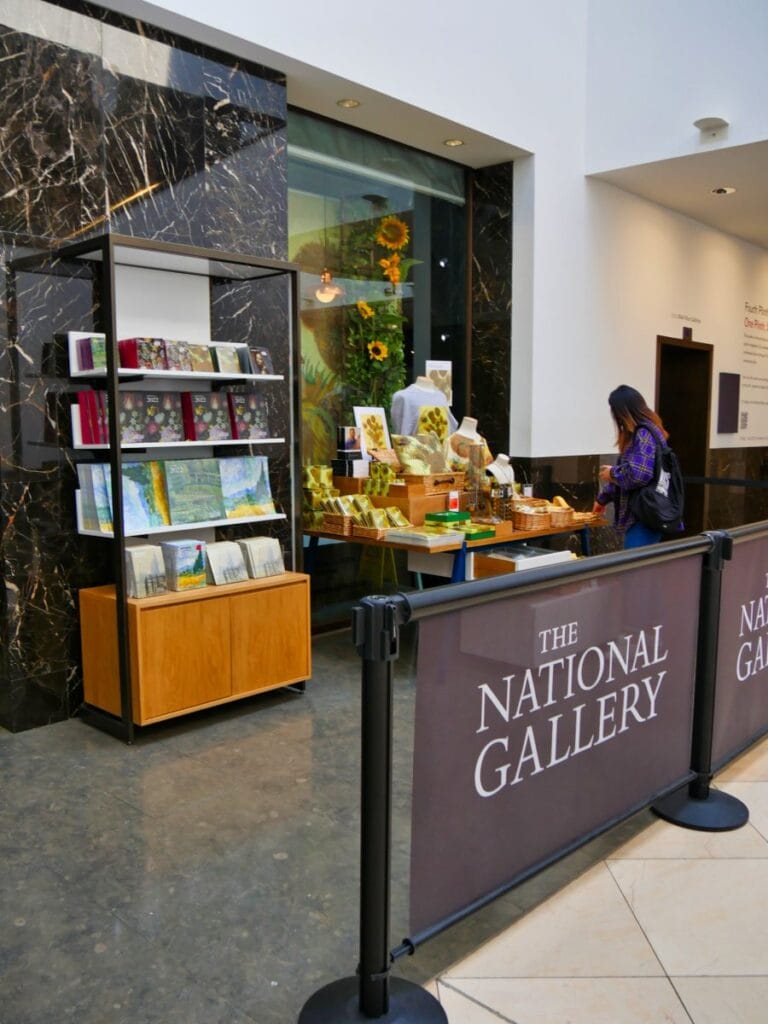 As far as art galleries go in London, it probably has the best store, and is a great place to shop for souvenirs for art lovers back home.
National Gallery Cafe
The National Gallery has two eateries: the National Cafe and The Espresso Bar.
The National Cafe is one of the best cafes in all of London's museums and attractions because it's not so much a cafe as it is a casual restaurant, with a deli-style buffet.
You can easily get a really nice lunch here and sit in the beautiful surroundings and enjoy. Quiches, sandwiches, salads, pastries and more sit alongside the hot main meals with both veggie and non-veggie options.
The Espresso bar is more of a place for drinks and quick snacks and pre-packaged foods that you can take on the go.
Is the National Gallery the same as the National Portrait Gallery?
The National Gallery and National Portrait Gallery are not the same.
The National Portrait Gallery does adjoin the National Gallery, but it is a separate art gallery and is only focused on, well, portraits!
The National Portrait Gallery is closed until Spring of 2023, so for now the National Gallery is the only option of the two anyway, but even when it reopens, if you can only pick one, the National Gallery still wins.