This post contains affiliate links for which I may make a small commission to help keep the site running. You will not be charged extra for these items had you not clicked the links. Thank you for your help to keep the site running!
Situated in the town of Kenilworth in Warwickshire, Kenilworth Castle was built in the 1120s and has played an important part in English history.
In this Kenilworth Castle review, we'll talk all about why you should visit yourself!
Multiple kings and queens passed through its beautiful archways, and it was an important base during the War of the Roses.
I love visiting castles across the UK, and you can see my posts on other castles such as my Hever Castle Review .
There's something about visiting a castle that takes you back so immediately to the past, and it gets me excited how many of them are easy to visit from London.
Coming from the US, there's not a castle to be found!
Unless you count Disney World, in which case I'm so there.
GET A

FREE

UK GUIDE and ACCESS TO MY PLANNING FB GROUP
With 50+ pages of helpful travel tips and the "best of" UK lists, this is your ad-free key to your UK trip.
But I digress.
Kenilworth Castle History
Unfortunately for today's visitors, Kenilworth Castle was purposefully destroyed in 1649 by Parliament to avoid having it used as a military fortress.
Since then, it has been a tourist attraction open to the public.
English Heritage took over management in 1984 and worked hard to restore the castle to its former look and feel.
English Heritage is one of the main two preservation societies protecting England's history (the other being National Trust), and you can always count on the people at an English Heritage site being genuinely interested in the place they're working at.
I visited Kenilworth Castle in late September, and it turned out to be a fun few hours exploring the nooks and crannies.
I would highly recommend it if you are out near Stratford-upon-Avon or looking for other things to do in Warwickshire.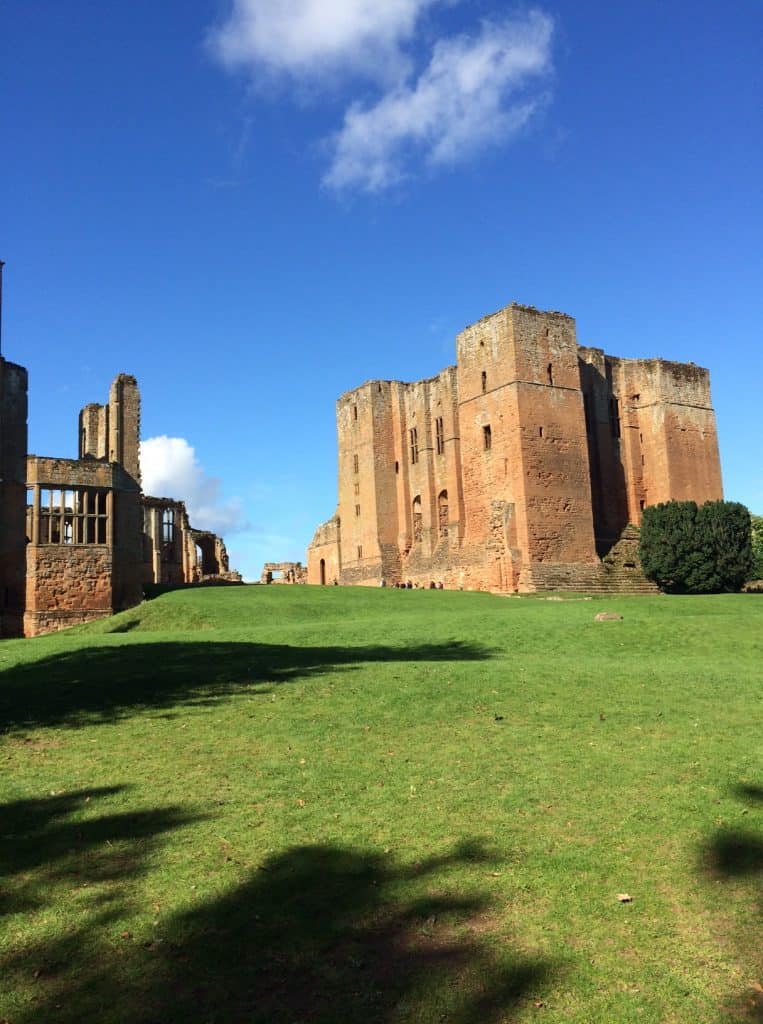 Things to do at Kenilworth Castle
Kenilworth Castle is the perfect 'nice weather' day out, as you can sit and picnic on the grassy hillside or wander through the ruins while basking in the sunshine.
There are a few benches set up to enjoy the scenery, along with plaques explaining the history of the grounds.
You don't feel rushed or like you need to zip around and see everything like you do in a larger, more comprehensive castle.
You don't even need to look at the history plaques if you don't want to, or if you are coming with small children who won't understand.
Darting your way under columns, through passageways, and around sections of Kenilworth Castle that have been there for hundreds of years is an experience not to be missed.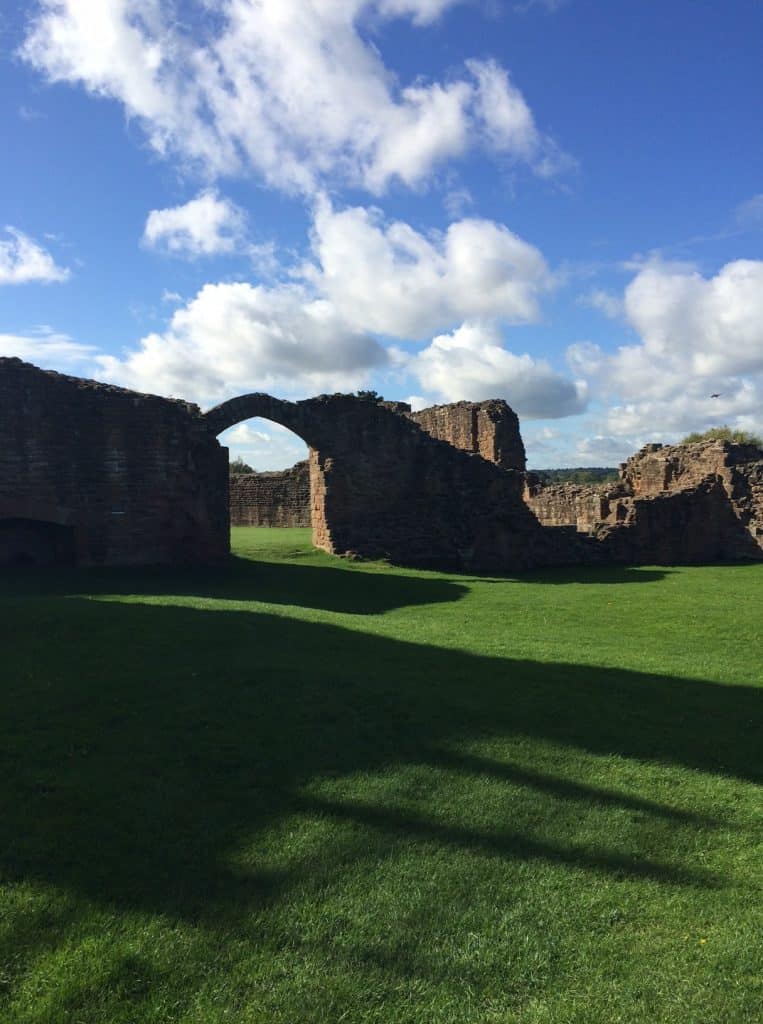 If the weather turns bad, there is an indoor cafe with an attached exhibit that you can use to get out of the rain.
The cafe sells basic sandwiches, soups and teas, just enough for a filling lunch.
There's plenty of space to sit, and there are a few outlets if you are bringing your work or need to charge a phone.
The attached exhibit tells the history of the castle and the people who lived there, and while it doesn't take long to walk through, it does have some interesting information.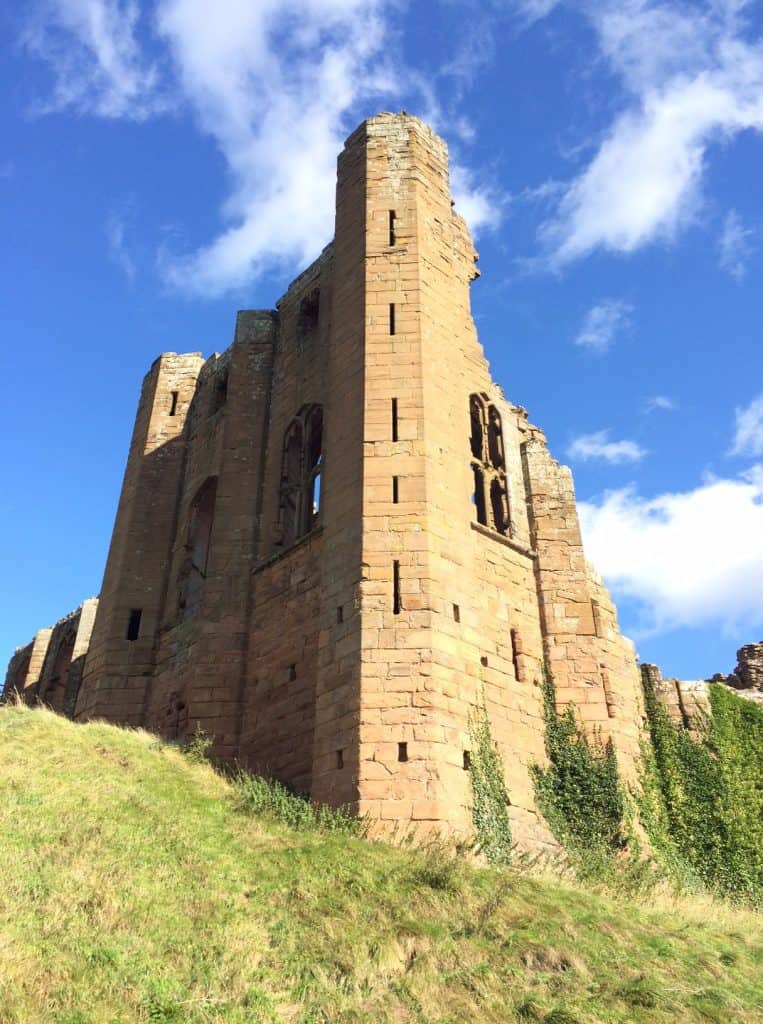 Kenilworth Castle also has beautifully landscaped gardens towards the back of the ruins.
Look for blooming flowers and local plants and insects that have made the gardens their home.
This is where I found a peaceful spot to read my book when I was waiting for my students to finish roaming around.
Basking in the English sunshine is one of my favorite things to do, and I really appreciate how much effort went into making these particular gardens look stunning.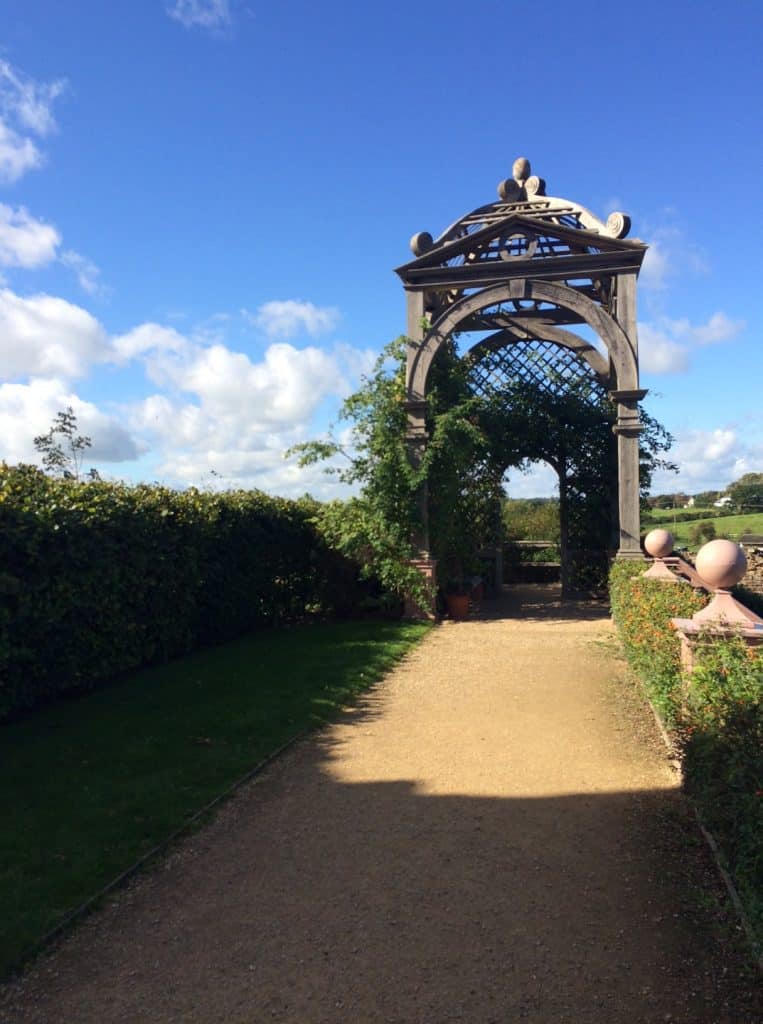 Entrance to Kenilworth Castle is through English Heritage's website, so you also get in free if you are a member.
There are also discounts for students and children, as well as a family rate.
You can purchase a booklet from the entrance shop that is helpful to carry around with you.
Also in this gift shop is English Heritage memorabilia, so you'll find things like children's knight costume, English Heritage biscuits, books on this period in history, and more.
The castle is open every day in the summer and on most weekends in the winter, and is an excellent castle to visit on a day trip from London.