This post contains affiliate links for which I may make a small commission to help keep the site running. You will not be charged extra for these items had you not clicked the links. Thank you for your help to keep the site running!
If you're interested in staying at the Disneyland Paris Hotel Cheyenne, then this Disneyland Paris Hotel Cheyenne review is just for you.
And if you haven't considered it yet, then I would say – why not?!
It's Toy Story themed, wonderfully friendly, and less than a 15 minute walk to the parks and Disney Village.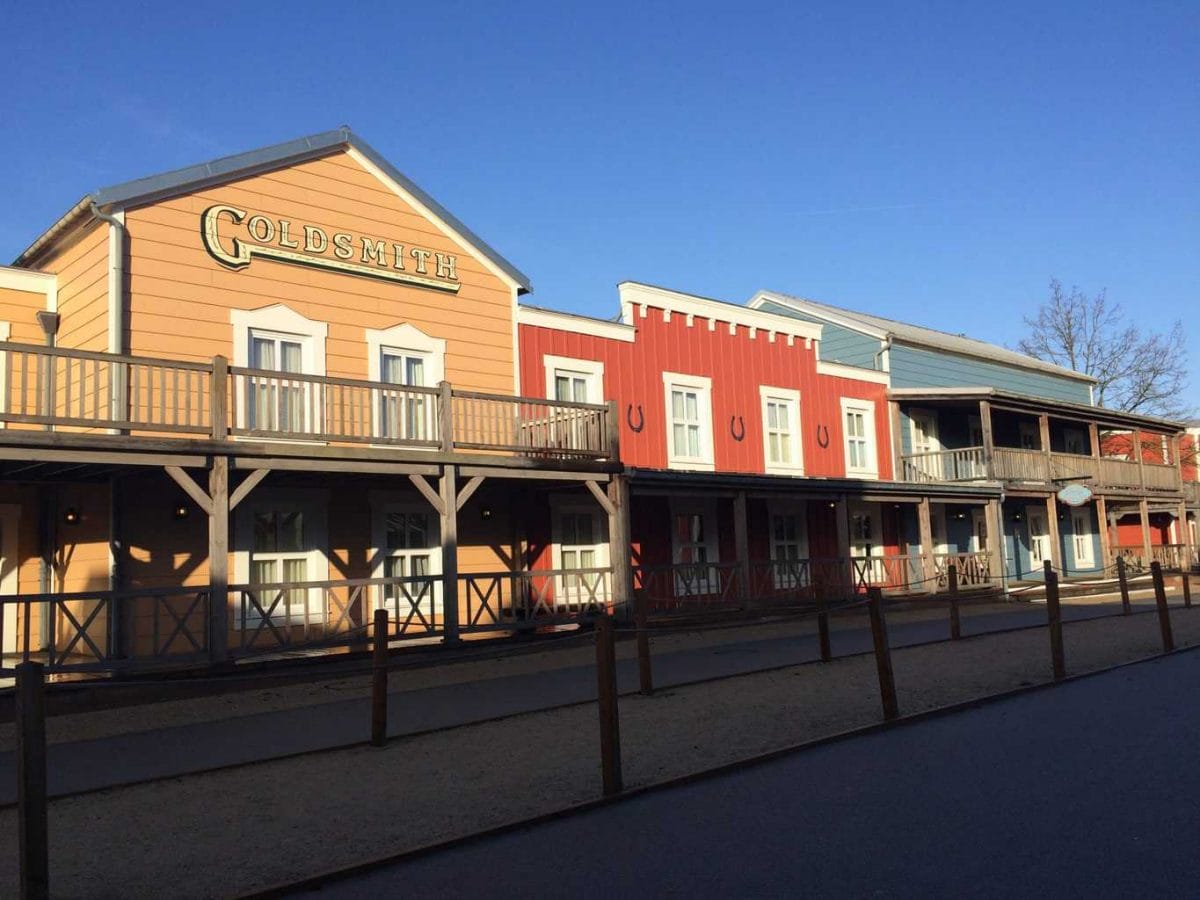 Disneyland Paris Hotel Cheyenne Theming
One of the biggest draws about staying at the Disneyland Paris Hotel Cheyenne is its amazing theming.
All of the hotels on property are themed like a different section of the US, but this one in particular is aimed at those wanting to feel like they're in the Wild West finding new frontiers.
Each section looks similar to this, with bright colors popping out of signs that say things like "saloon," "bank," and "general store."
Part of what makes Disney, well, Disney, is how well the property is themed and Hotel Cheyenne is one of the best on property.
It really feels as if you could be strolling through the Old West, ready to encounter a cowboy on his trusty steed any minute.
During Christmas at Disneyland Paris, Hotel Cheyenne is also dressed up for the holidays.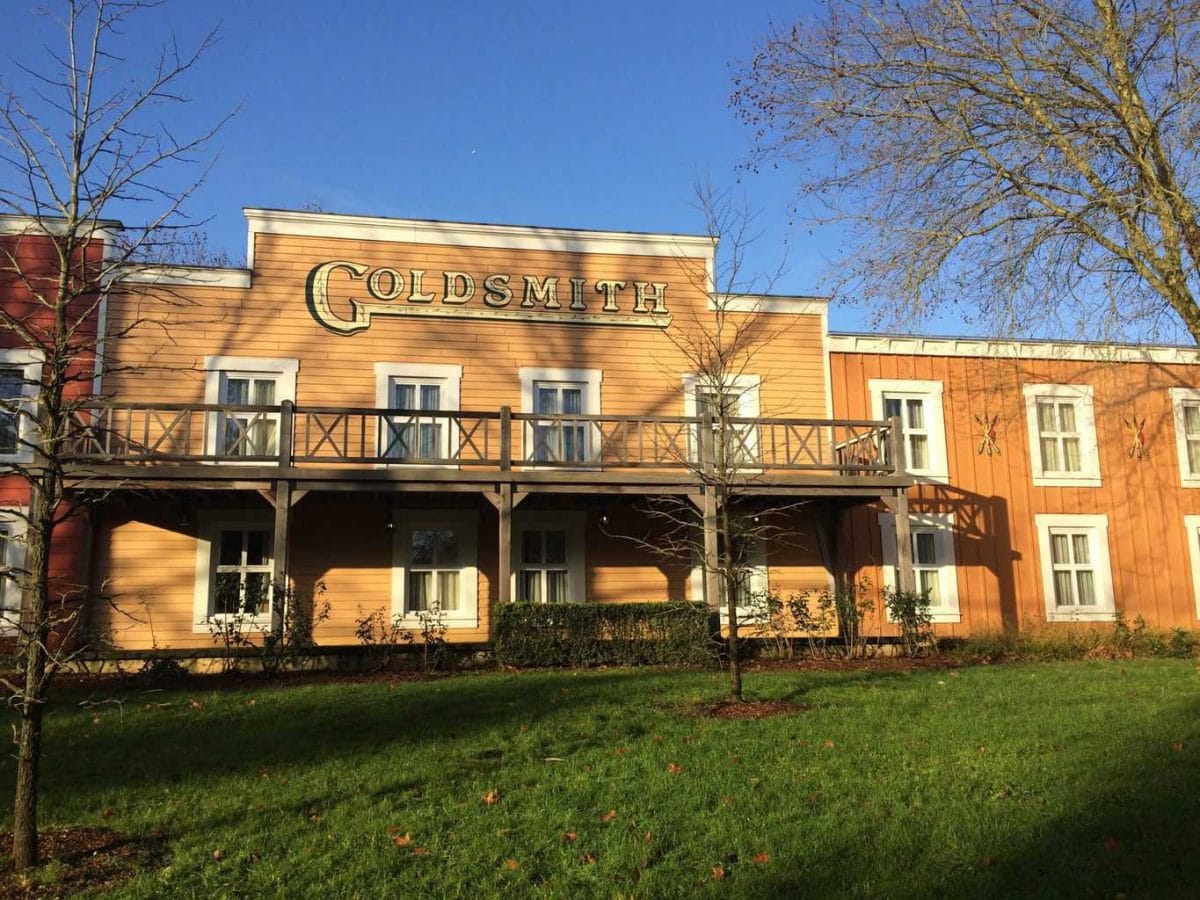 Disneyland Paris Hotel Cheyenne Amenities
Many people also wonder about the Disneyland Paris Hotel Cheyenne amenities, as I see loads of questions on Facebook groups and forums about this all of the time.
So, to start, you will get Disneyland Paris shampoo and conditioner, though they are basic and aren't suitable if you have long or thick hair (though very few hotel shampoo or conditioners ever seem to be).
You can also ask for a kettle from the front desk for a small deposit if you've brought your own tea and coffee.
Within the Disneyland Paris Hotel Cheyenne (main building), you'll find a large check-in area with plenty of staff, a customer service section, and a great gift shop.
One of the best amenities is actually the luggage storage, which is completely free and can be used by guests on their first or last days if you're also headed to the parks those days.
There is special storage for valuable items like laptops, though they do recommend you take all essential items like passports with you as they won't claim responsibility for them if something does happen.
Otherwise, the luggage is watched all day and they give you a tag with a number to then turn in when you're ready for it.
This was a huge bonus for us on our last day when we wanted to go back into the parks and didn't need to leave until 5:00pm as the way to get from Disneyland Paris to London by train was one that left later in the day.
Disneyland Paris Hotel Cheyenne Rooms
As one of Disneyland Paris' value hotels (the other being Hotel Santa Fe), you shouldn't go into the Disneyland Paris Hotel Cheyenne expecting luxury.
But you should expect a basic, clean room and safe place to sleep.
Disneyland Paris Hotel Cheyenne Room Theming
When we first walked into the room, we loved the Toy Story theming, from the Woody's boot lamp to the bright yellow curtains to the cow print on the pull out sofa.
The horseshoe mirror was also a nice touch.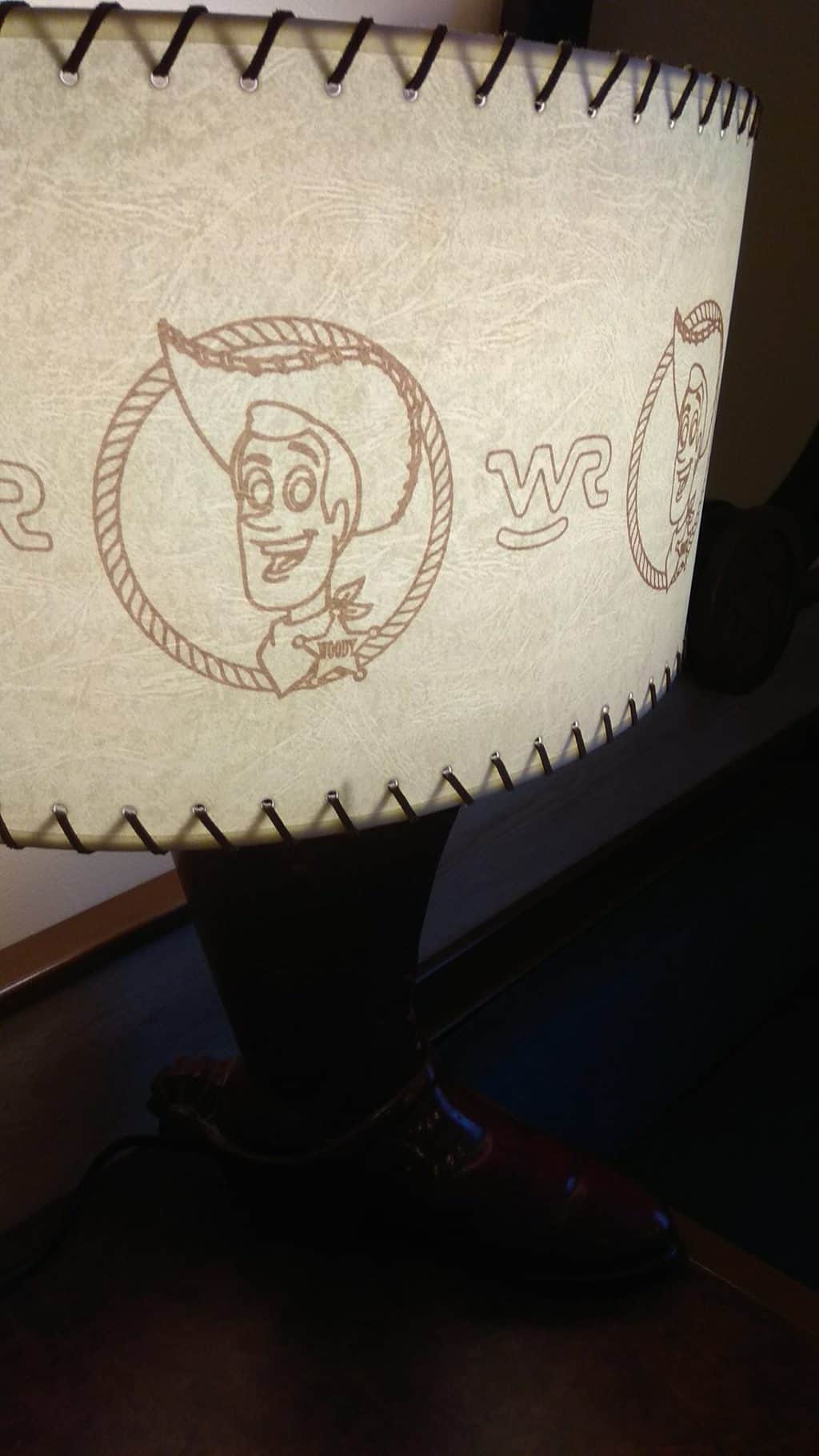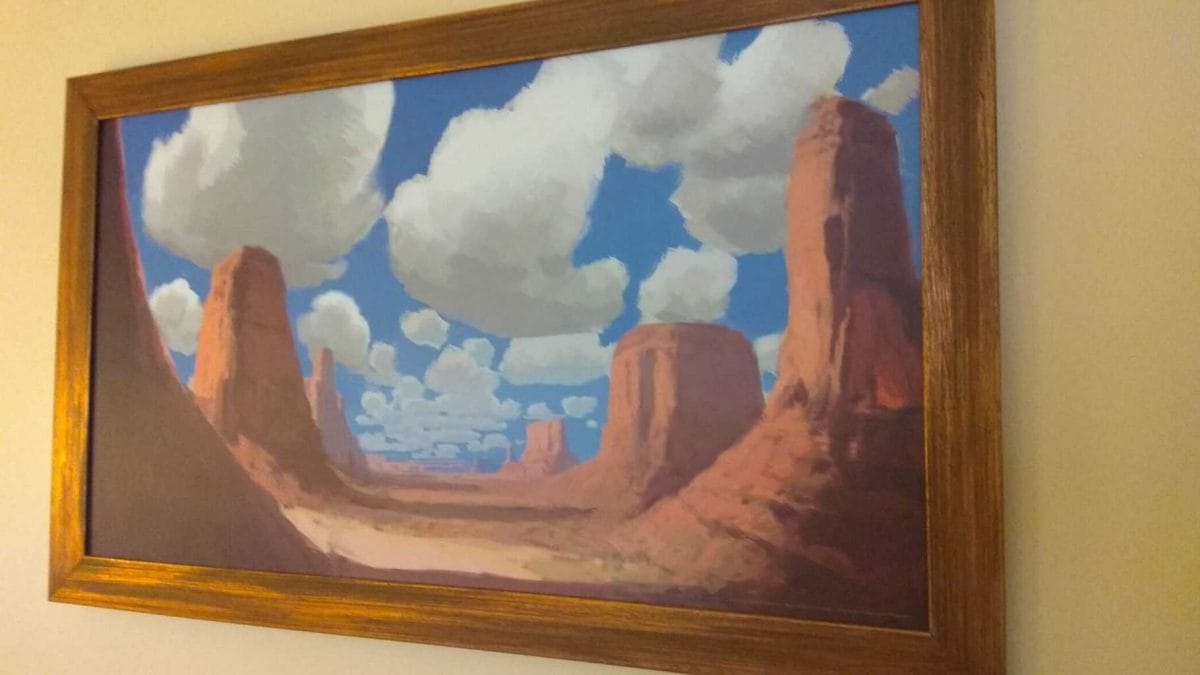 Disneyland Paris Hotel Cheyenne Room Bathroom
The bathroom is plain, but perfectly usable.
We had no complaints with the size, and it was all in perfect working order.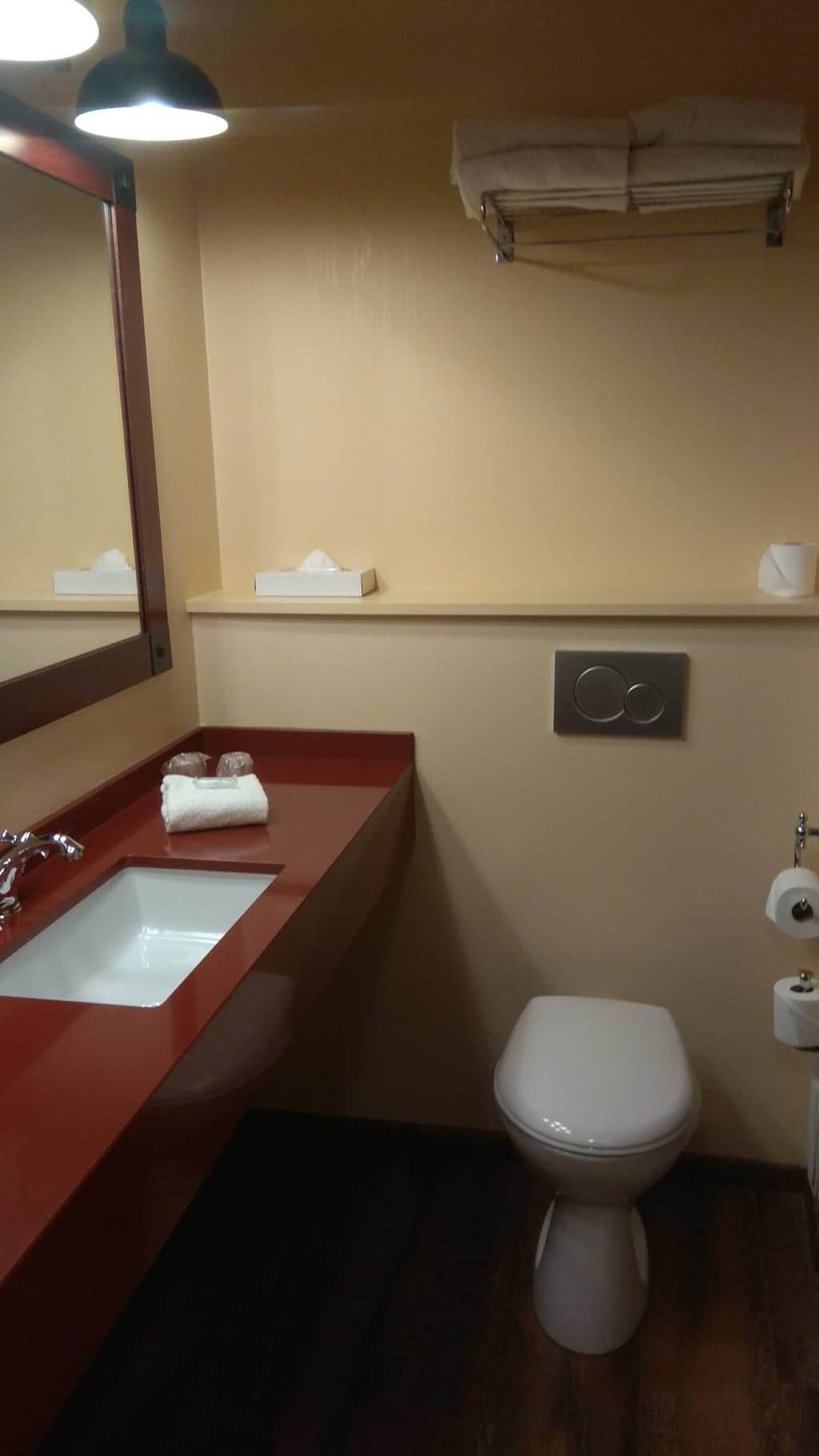 Disneyland Paris Hotel Cheyenne Room View
We were in the Doc Holiday section, and our room had a view over to Hotel Santa Fe.
Though the weather in December wasn't fantastic and it made for some blurry grey skies, it was still nice to be able to see out the window over to the other hotel and watch people as they were walking to and from the parks.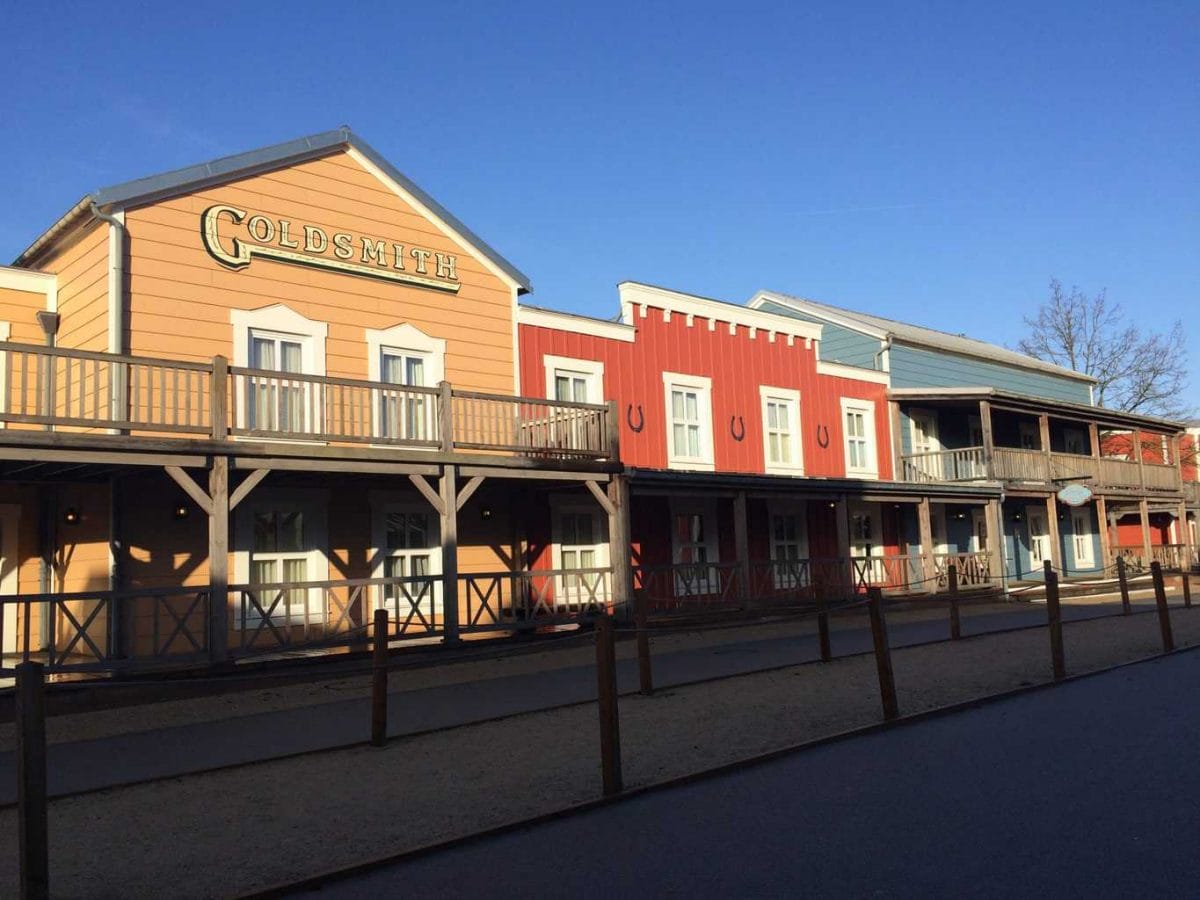 Disneyland Paris Hotel Cheyenne Room Storage
As far as storage goes, there was plenty of space in the drawers beneath the television to hold our stuff and properly unpack.
The room wouldn't hold more than four people (and isn't ideal for more than 2 or 2 parents and a small child), so you shouldn't have a problem finding space in the drawers no matter how many people up to the limit you bring with you.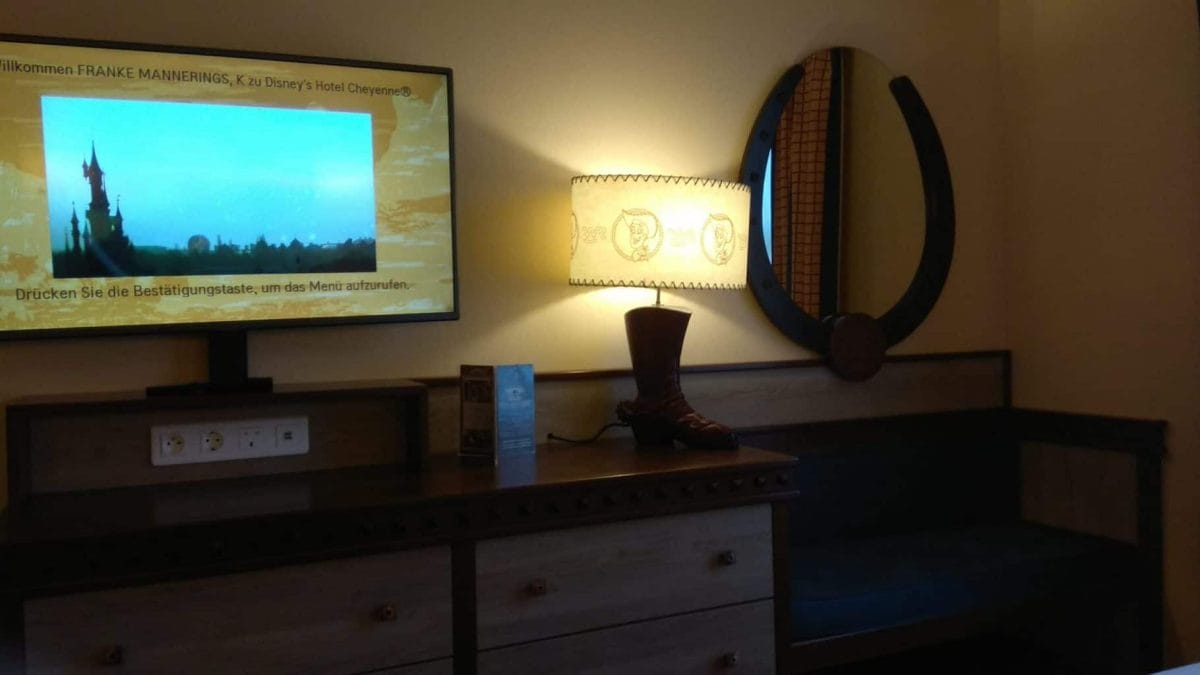 Disneyland Paris Hotel Cheyenne Room Beds
I always worry about the beds when I stay somewhere because it can be horrible not to get a good night's sleep on a mattress that's too firm or too soft.
Unfortunately, we found the main bed in our room to be very very solid, and while you tend to get so tired at the parks anyway that you can still fall asleep, we found that the pull out sofa bed was at least slightly more comfortable.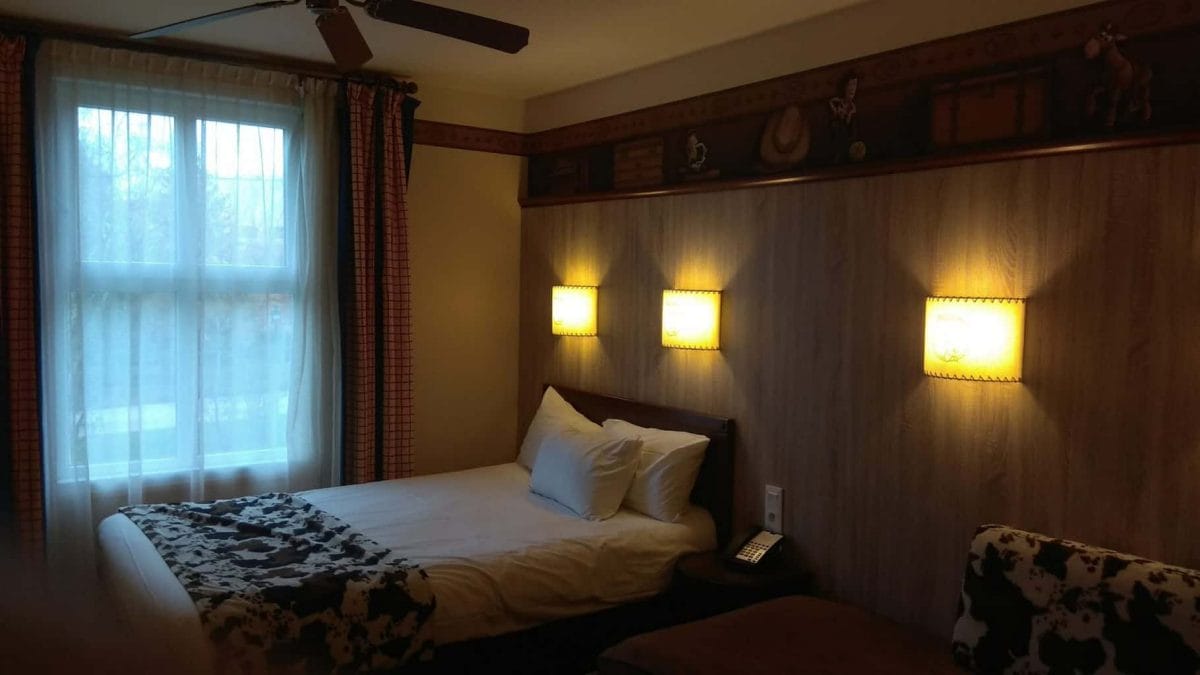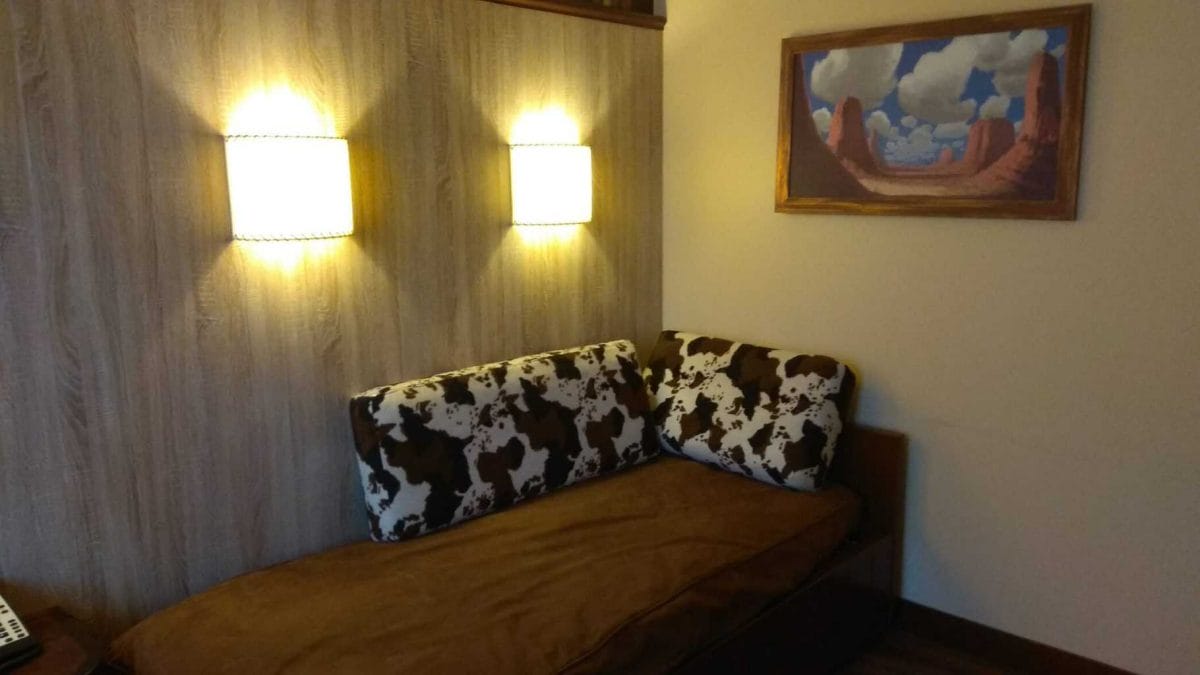 If you like a firm mattress, you may be completely fine, but it definitely wasn't the shining point for this particular hotel.
We knew in advance that we were paying budget prices (well, for Disney anyway), so we weren't expecting the most comfortable bed in the world, but it was definitely hard!
Disneyland Paris Hotel Cheyenne Transportation
Disneyland Paris Hotel Cheyenne offers two ways to get to the parks: buses or walking.
I was nervous before going about having to use the bus all of the time as I figured it would take away park time, but we actually never ended up needing to use it.
The hotel is only about a 10 minute walk away to either park entrance (maybe 15 at a push if you are walking very slowly and come from the furthest building), and we found that this was far more enjoyable than trying to get ourselves onto a bus with loads of other people.
I wouldn't recommend anyone take the buses unless you you're desperate, as it's not worth it for your normal family.
The bus is free, however, so if this is a selling point for you, at least you don't have to pay extra!
Disneyland Paris Hotel Cheyenne Staff
From the man at check-in on the first day to the woman at the customer service desk who helped me change my dinner reservations, everyone at Hotel Cheyenne were super friendly.
We never met our mousekeeper, but the room was cleaned every day and left tidy.
Disneyland Paris Hotel Cheyenne Food
We visited Hotel Cheyenne in the middle of their renovations, so the on-site food experience was slightly more crowded than normal.
On the one day that we did have breakfast in the hotel, there were plenty of continental options including breads, sliced meats and yogurts and cereals, but nothing so special that we felt we needed to hang around for hours and soak in the atmosphere.
On the other days, we had to go into the park for breakfast with our tokens as there was no room in the dining hall (again, under renovation so this was not usual).
We did not end up eating at Hotel Cheyenne's restaurant for dinner, the Chuck Wagon, as we wanted to try elsewhere on property and there were very limited number of tables and seats due to the construction.
We're excited to come back and see what it's all about though!
Who is Hotel Cheyenne Good for?
Hotel Cheyenne isn't going to appeal to every single visitor to Disneyland Paris.
In our opinion, it will work well for couples on a budget who aren't going to spend tons of time in the hotel (especially if you're on a short break), as well as for most families and specifically families with children interested in the Toy Story theme and atmosphere.
It wouldn't be a great option if you have any mobility issues as its the second furthest hotel from the park, nor would it be a suitable option if you were looking for any sort of luxury.
There is no swimming pool like most of the other resorts have, and you're just not going to get a relaxing experience while staying here.
It's not about relaxing, anyway, it's about using it as a base to explore the parks.