This post contains affiliate links for which I may make a small commission to help keep the site running. You will not be charged extra for these items had you not clicked the links. Thank you for your help to keep the site running!
Throughout my journey in the UK as an American, things have changed: a lot.
Whereas I was once tied to an office in central London, permanently placed in the UK, nowadays I work entirely from home and spend more time traveling than I ever did.
Whether it's back to the US for a couple of months or to far flung destinations, I am what you might call a "digital nomad," or someone who works online from the locations they choose, rather than being tied to any one place.
If you're thinking of becoming a digital nomad or are already one, you might be familiar with the hardest part of navigating nomad life (and it's not constantly getting adjusted to new beds).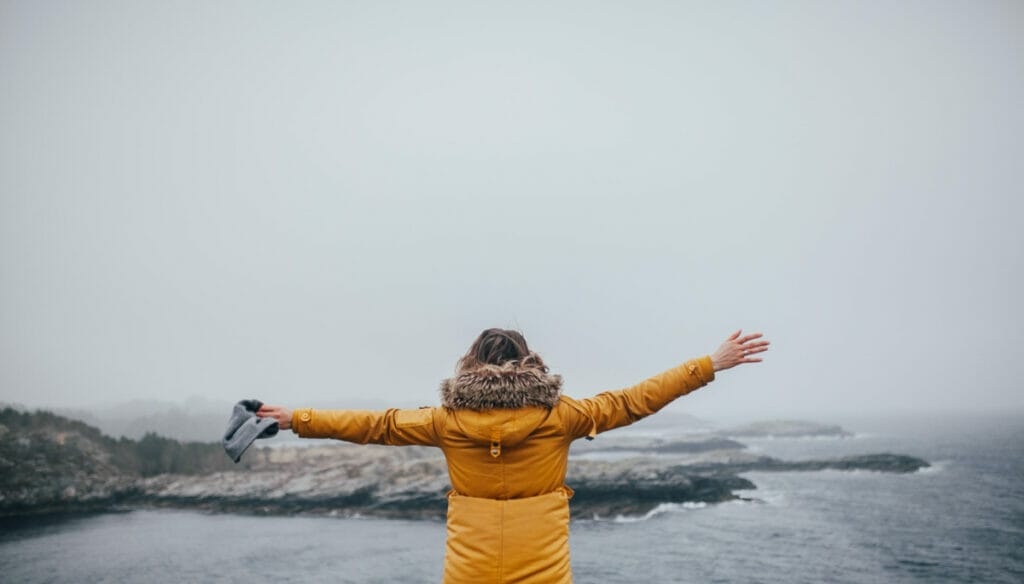 Enter: health and travel insurance.
Most insurance companies are set up for people who live in one place and are short-term traveling somewhere else.
But what happens if you find yourself all around the globe, or splitting time between places?
First, let's talk about what types of insurances you actually need and things to consider when you're trying to find a policy.
What type of insurance do digital nomads need?
There are two main types of insurances you should consider as a digital nomad.
Health Insurance for Digital Nomads
Health insurance is by far the most important type of insurance to have, no matter where in the world you're going.
While some countries have relatively inexpensive healthcare, there are plenty of others (including the US) that have absolutely insane prices.
You could find yourself with a bill for $17,000 for one hospital visit where they determine absolutely nothing is wrong with you (yes, that is a personal anecdote).
Whether you've broken an arm cycling in Amsterdam, come down with dengue fever after going on a jungle adventure, or your appendix just decided to give out while you were in Australia, you never know when you're going to be in need of medical services.
Having health insurance is going to give you peace of mind in getting the treatment you need without a hefty fee attached, and you'll feel more confident knowing that you're covered.
Travel Insurance
The second type of insurance I recommend for digital nomads is travel insurance.
Travel insurance has long been a "must-have" in cultures in other parts of the world, like the UK, but hadn't really caught on in the US until you-know-what happened in 2020 and people suddenly found themselves with travel-related cancellations and non-refundable expenses that really hit the bank account hard.
Travel insurance can cover a variety of things, with the most popular options being the cost of travel delays and lost checked baggage.
For nomads who travel a lot, this is a no brainer and while you hopefully don't have to use it often, when you do, it usually pays for itself in the money you saved.
What's the best digital nomad insurance?
While digital nomad insurance is a relatively new offering to the market due to the quickly changing ways in which people work and live, there's one insurance company that has it all figured out: SafetyWing.
SafetyWing was specifically designed with digital nomads in mind and offers digital nomad insurance that covers both medical costs as well as many travel-related insurance coverings.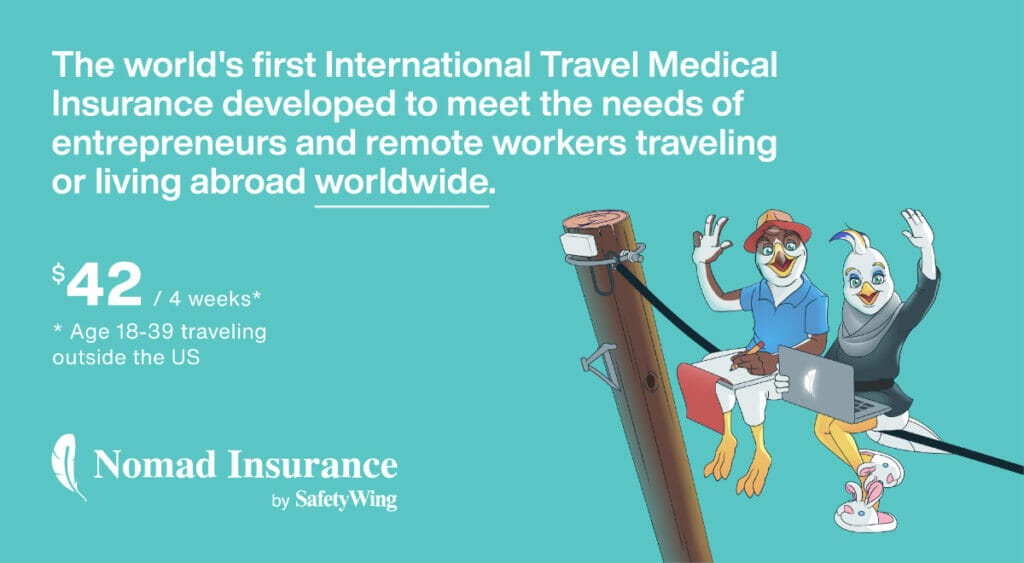 SafetyWing has a few key perks that make life so much easier so you can focus more on how to get your digital nomad visa in Bermuda (yes, please) instead of pulling your hair out about how you're going to get insurance when you're already traveling around the world.
Purchase coverage while abroad
One of the best parts about SafetyWing is that you can start your coverage while out of your home country.
This is revolutionary, as most travel insurance and health insurance for travelers make you get the insurance before you leave your home country, otherwise it's invalid.
SafetyWing was like, that's dumb, if you forgot to get insurance before you left or changed your mind and you decide you need it, we're here for you.
There are so many digital nomads who haven't even been in their home country for years, and yet now need coverage.
You can sign up with SafetyWing from most parts of the world, and for those few places where you can't be located to get coverage, you can purchase your coverage as soon as you cross the border into another country (and they explain all of this).
Medical and travel in one package
Digital nomad insurance through SafetyWing actually involves medical and travel insurance in one package, which means you don't need to get them separately.
This is a relief because you only need to decide on one policy and deal with one company throughout the process rather than needing to keep track of multiple insurance companies.
Subscription-style rolling policy
Sometimes, as a digital nomad or long-term traveler, you have no idea when you're headed, for how long, or where.
SafetyWing doesn't confine you to more traditional insurance policies where you have to state the exact dates of coverage you need.
Instead, it's on a rolling subscription policy, so you can rest assured that you're still covered even if your travel plans change.
Easy to understand
Most insurance companies make things incredibly hard to understand.
Are you covered?
Are you not covered?
Where are you covered?
These questions are all clearly answered on SafetyWing's website, and their team will make sure you know exactly what you need to do to stay within the limits of your policy and make suggestions in case you need to use another address or apply from within another country to make sure you're getting the policy you need.
Everything is laid out to make sure that you're confident in knowing you're going to be covered and are working within their rules and the local rules and regulations, so you can spend more time enjoying your travels and less time fearing that your insurance company won't cover you because of some hidden clause.
How to Sign Up for SafetyWing Digital Nomad Insurance
You can take out a digital nomad insurance policy directly through their website, and they are available by e-mail or livechat 24/7 to help answer any of your questions.