This post contains affiliate links for which I may make a small commission to help keep the site running. You will not be charged extra for these items had you not clicked the links. Thank you for your help to keep the site running!
Belfast, Northern Ireland's capital and home to culture, history, attractions, and a growing nightlife scene (check out the best Belfast pub crawls!), was our first stop on our trip to Northern Ireland this past summer.
In this post, I'll talk all about the Clayton Hotel Belfast and give you a review of it to see if it's somewhere you and your family would like to stay.
As the years have gone by and I've gotten further and further away from student life and find myself firmly planted in adulthood, my standards for where I stay when I'm traveling have increased.
Dramatically.
I like to be comfortable, I like things to feel fresh and updated, I'm big into the convenience factor of wherever we're staying, and I like as spacious a room as possible.
Student-me would judge me so hard, but I don't care because student-me had a lot less money to spend and no back problems.
Anyway, when considering where to stay in Belfast, the Clayton Hotel Belfast kept coming up as one of the city's top rated options.
This four star hotel in Belfast's Linen Quarter is in a perfect location for exploring, as Belfast is very walkable.
GET A

FREE

UK GUIDE and ACCESS TO MY PLANNING FB GROUP
With 50+ pages of helpful travel tips and the "best of" UK lists, this is your ad-free key to your UK trip.
Hey! Want more honest UK tips and planning advice? Click here to join my London and UK Travel Tips Facebook group, where I can answer more of your questions!
We stayed in an Executive Junior Suite on the top floor, which had a separate sitting area in addition to the bedroom.
You first entered into a mini-hallway, complete with a safe, ironing board, trouser press, coffee maker, small fridge, and a small closet.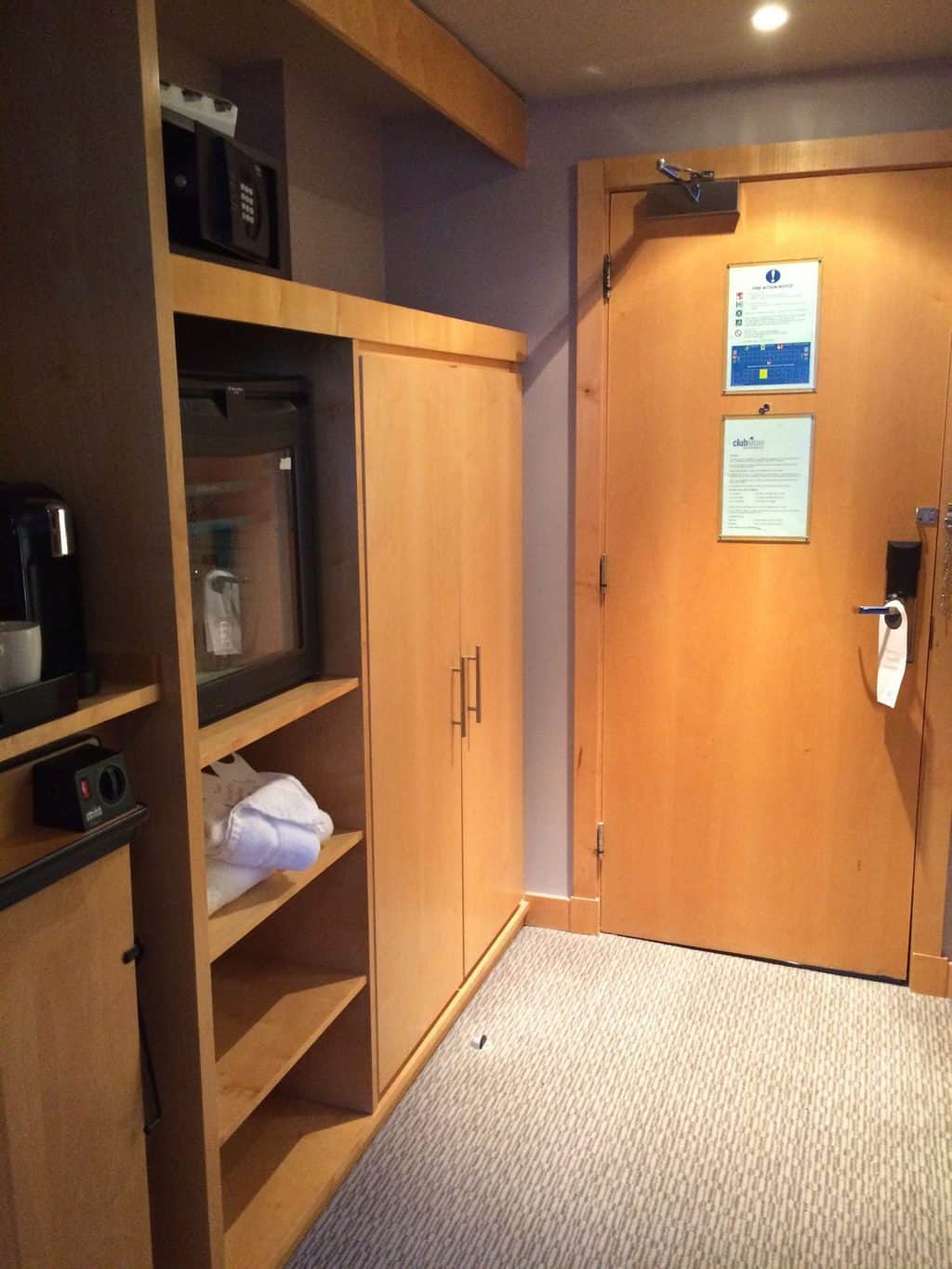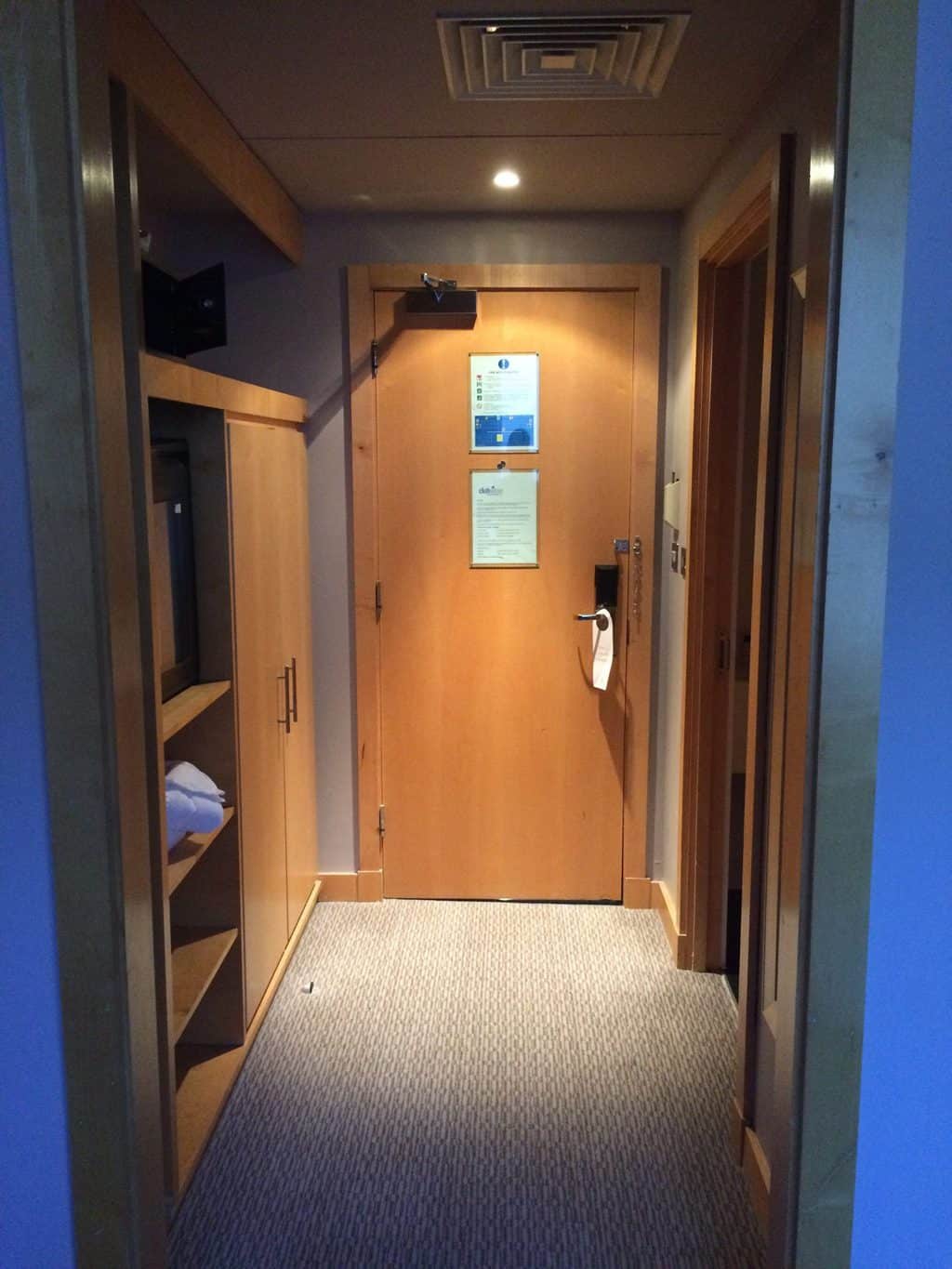 To your left after entering was the bathroom.
The shower was nice, particular the tiling and the water pressure, and the Clayton Hotel shampoo and conditioner was a good quality.
Overall, it wasn't the fanciest bathroom I had ever been in, but it was clean and everything worked liked it was supposed to, which is the main thing.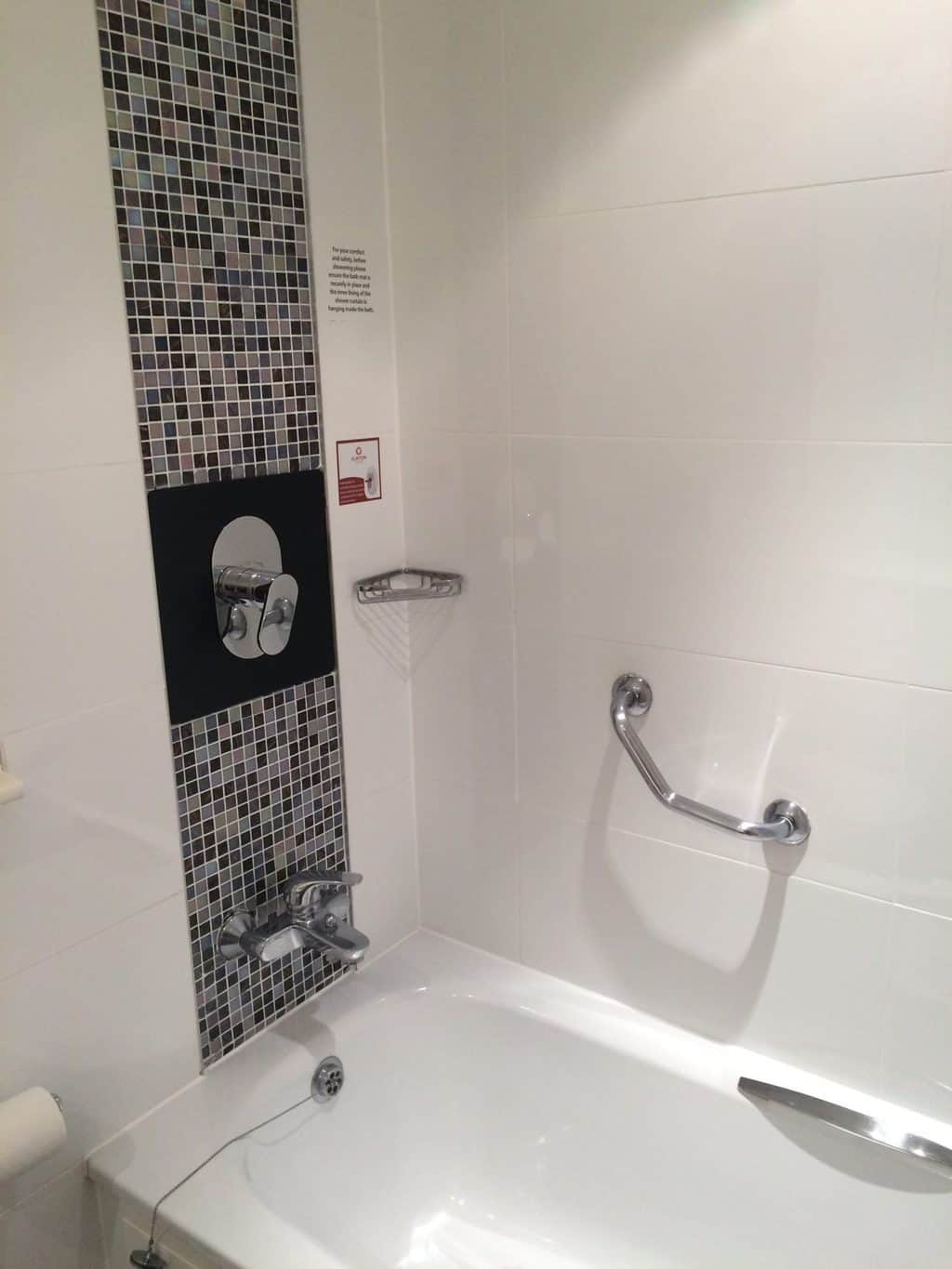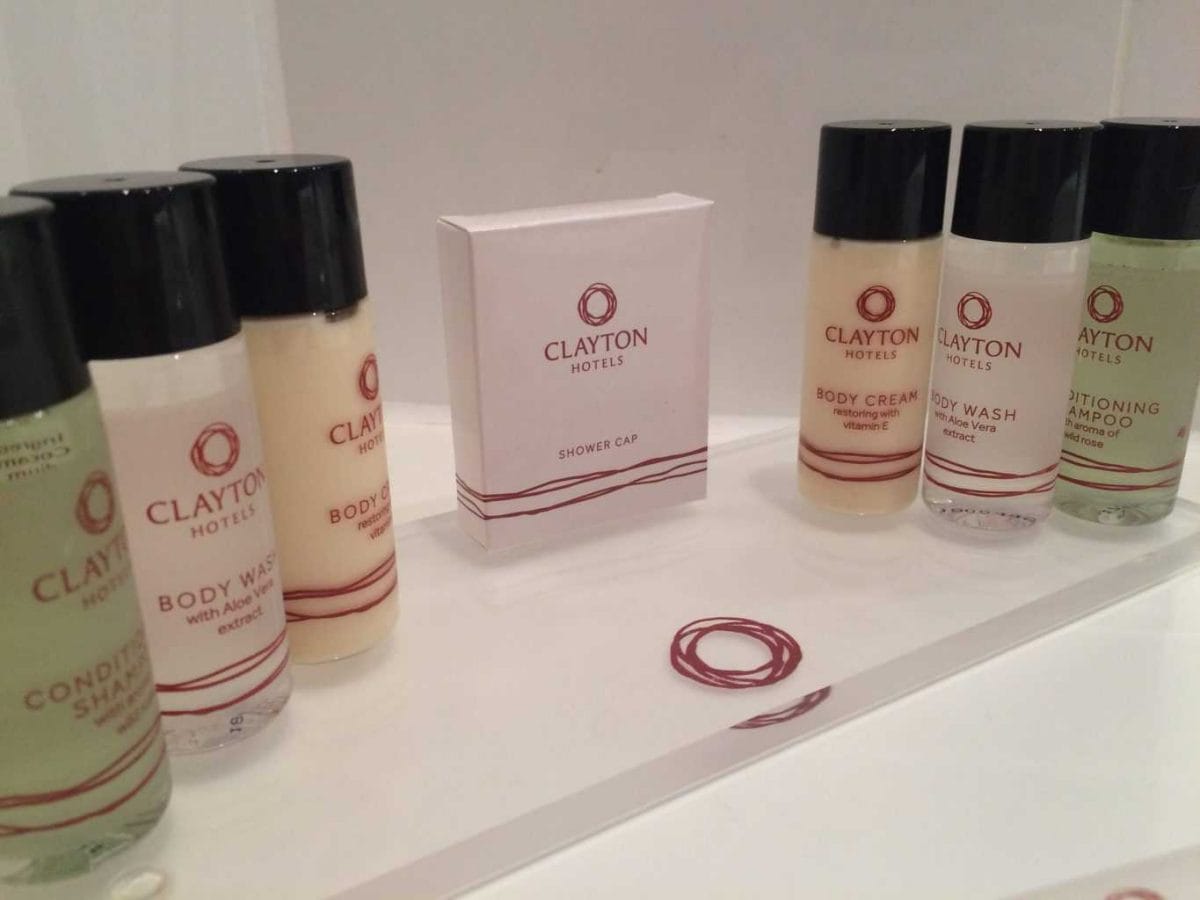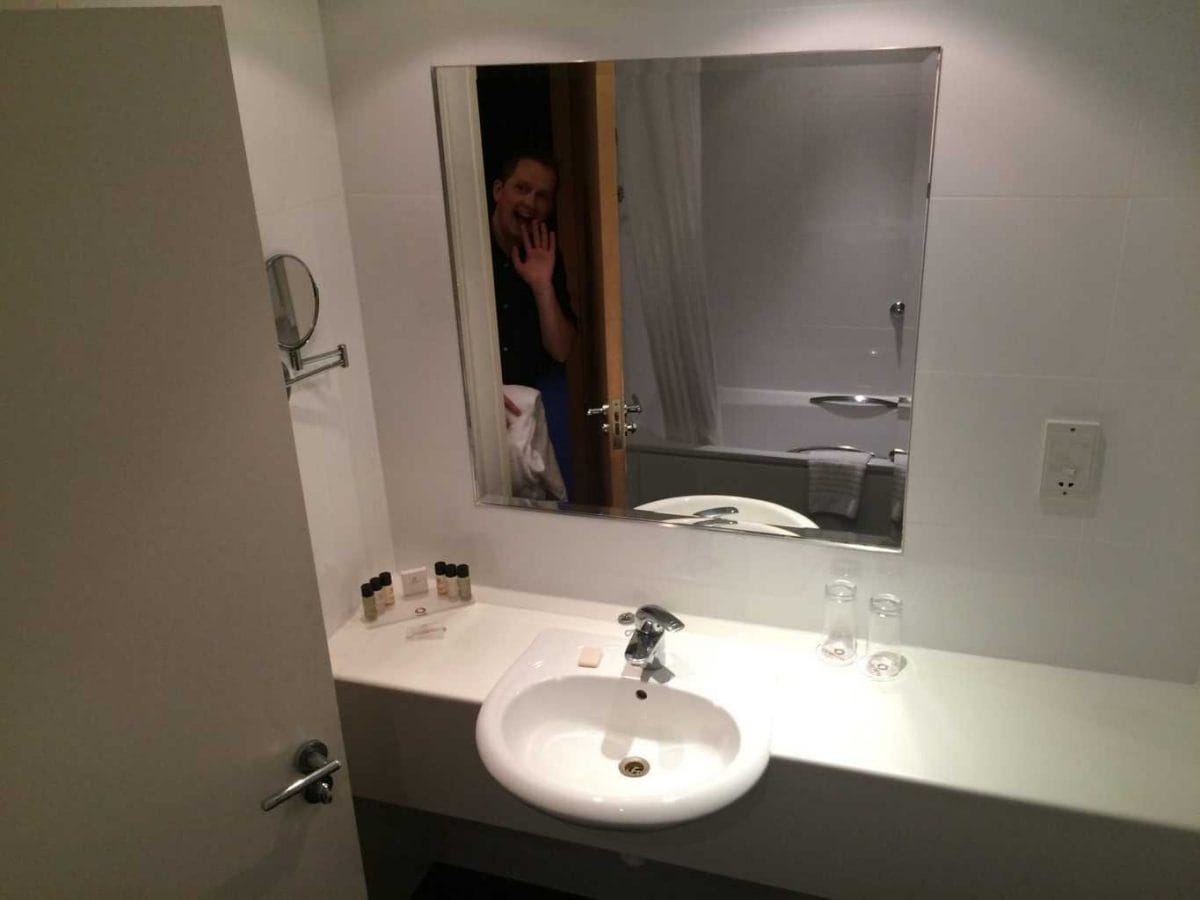 Once you passed the door to the bathroom, you were in the separate sitting area with two chairs and a table.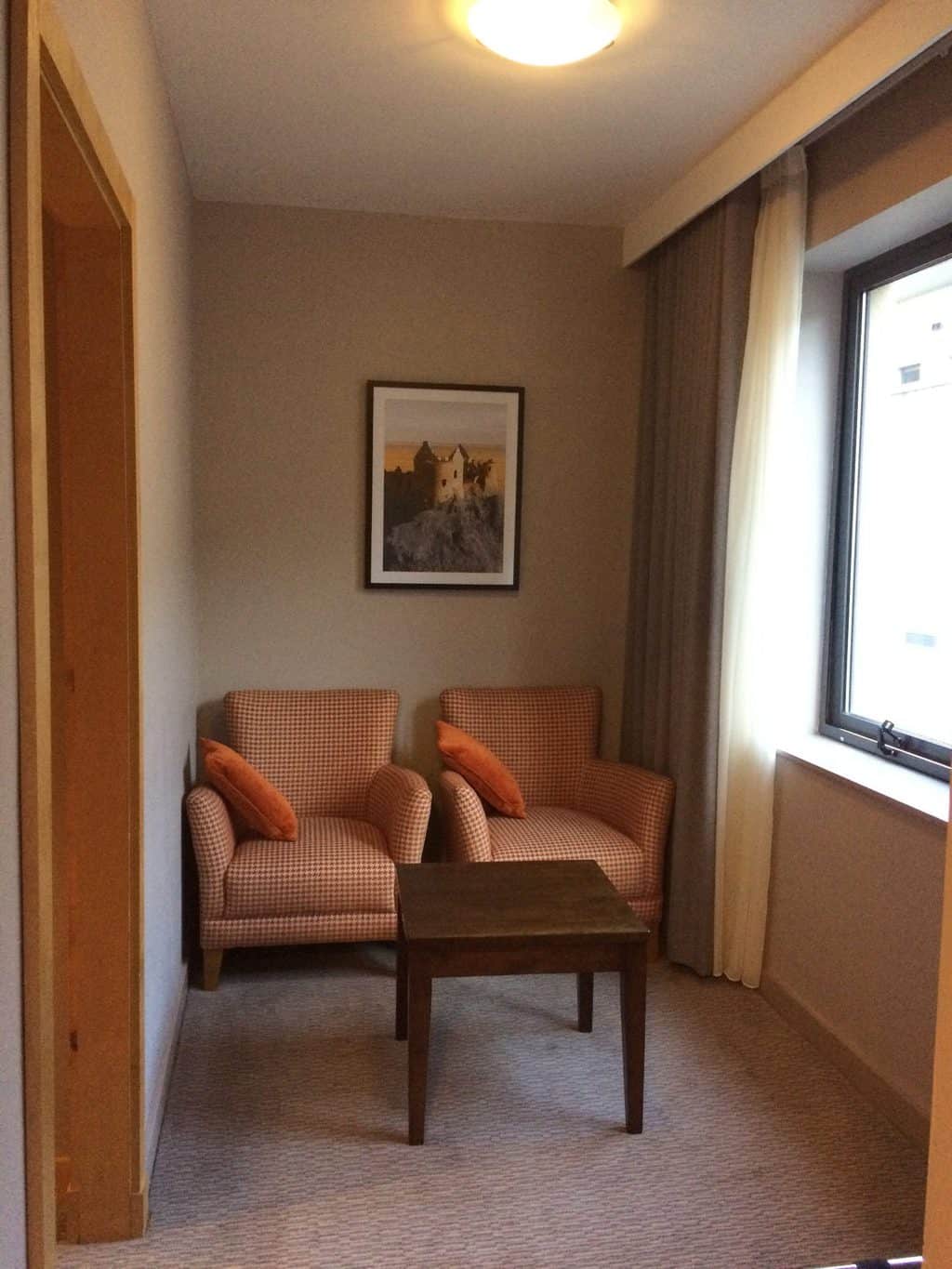 For us, this acted as a luggage storage room, but if you were traveling with more people who wanted to come chat in your room, it would be a huge bonus.
The chairs were a bit hard, but you're meant to be out exploring Belfast, not sitting in a chair in your hotel room all day.
Continuing on into the suite from the sitting room was the bedroom with its own sitting area and table.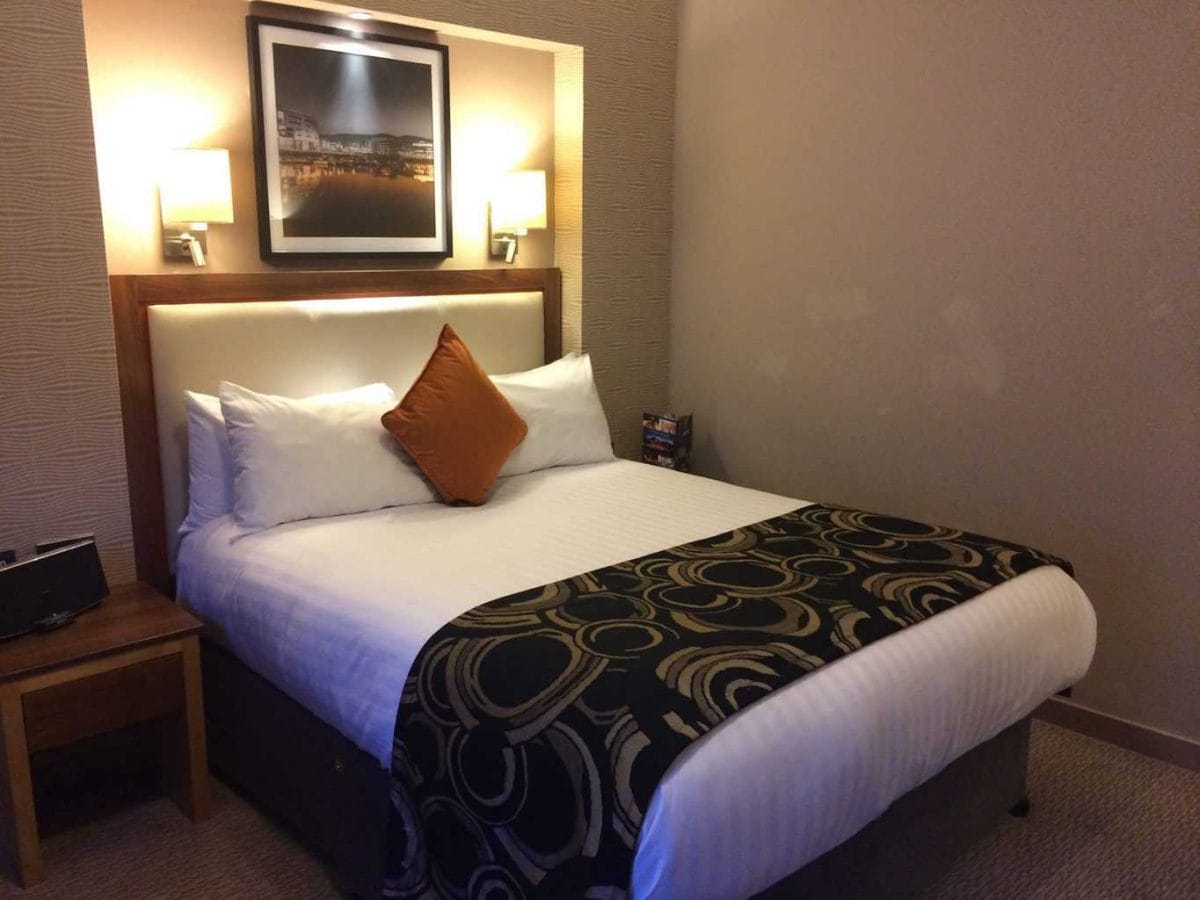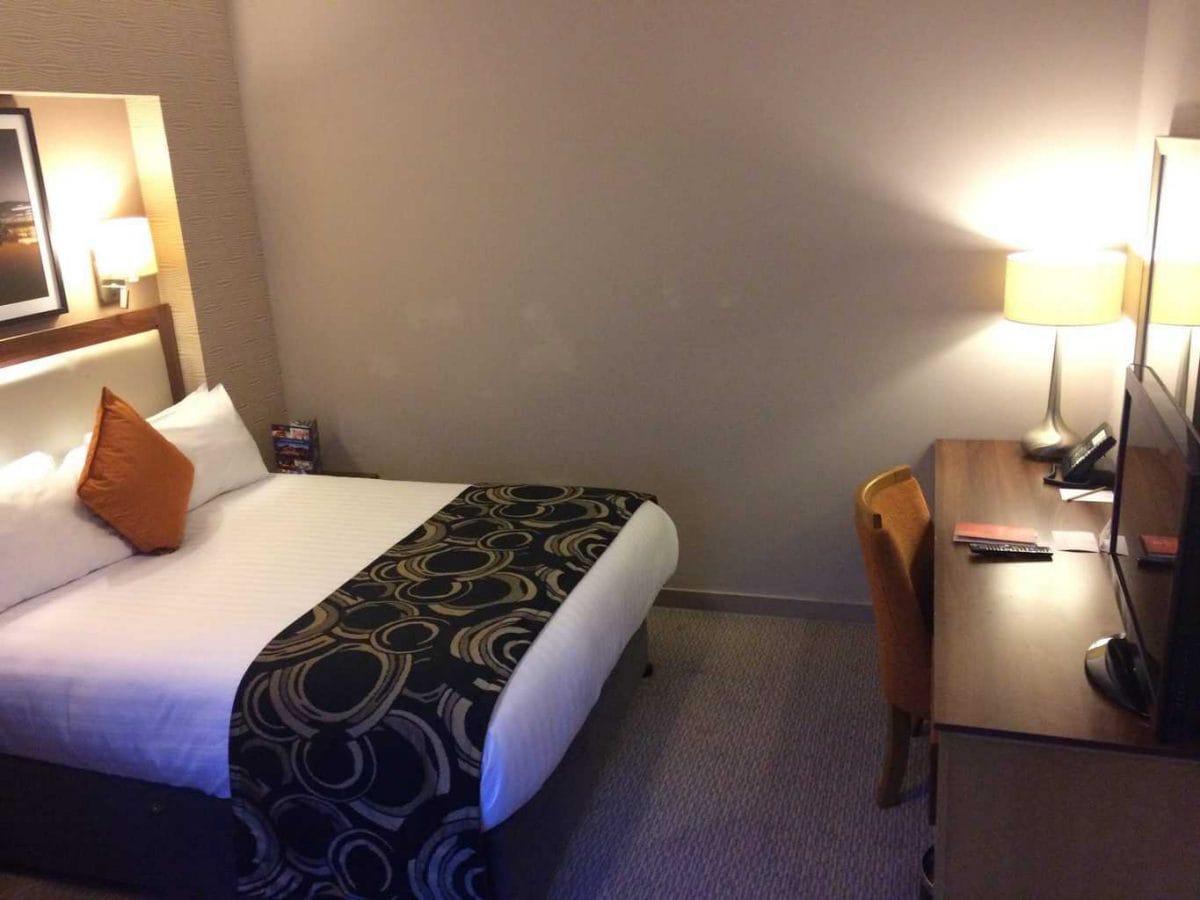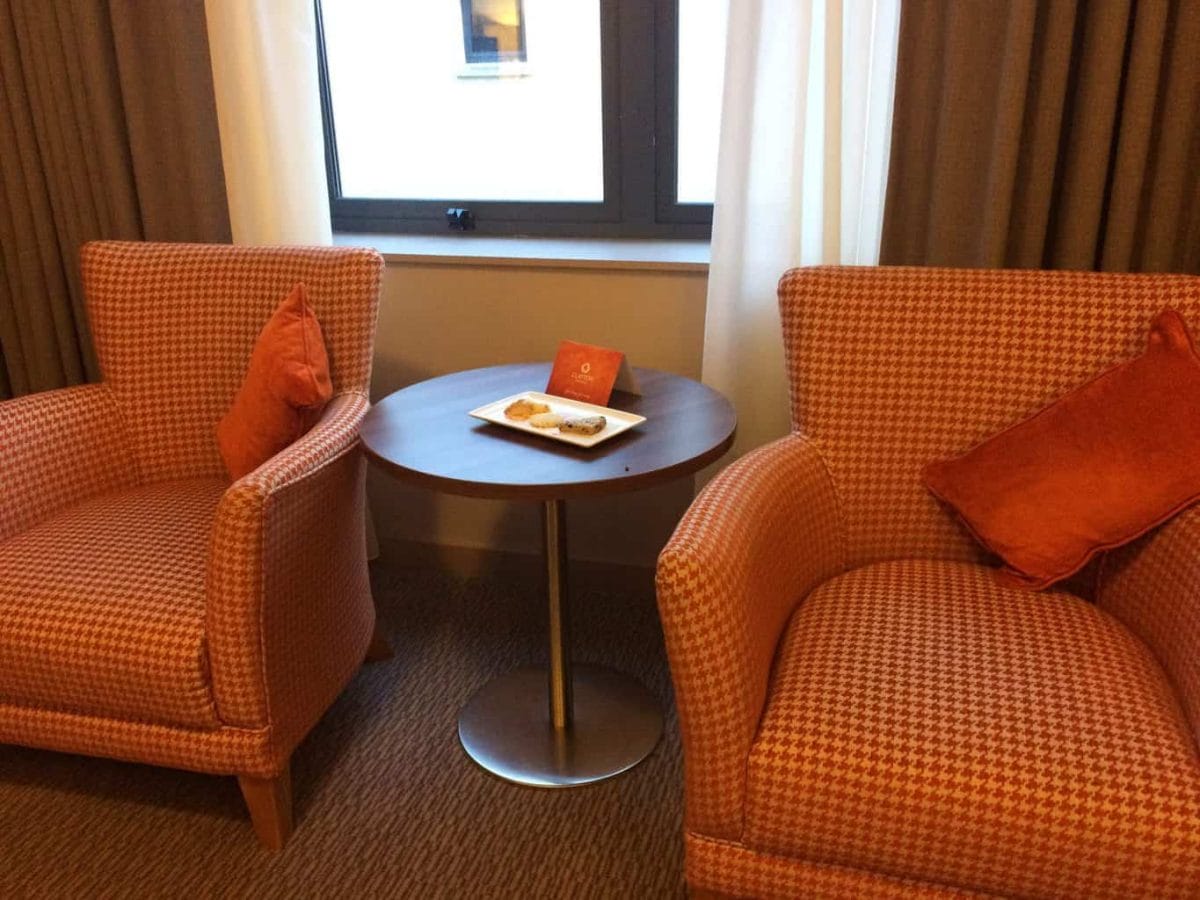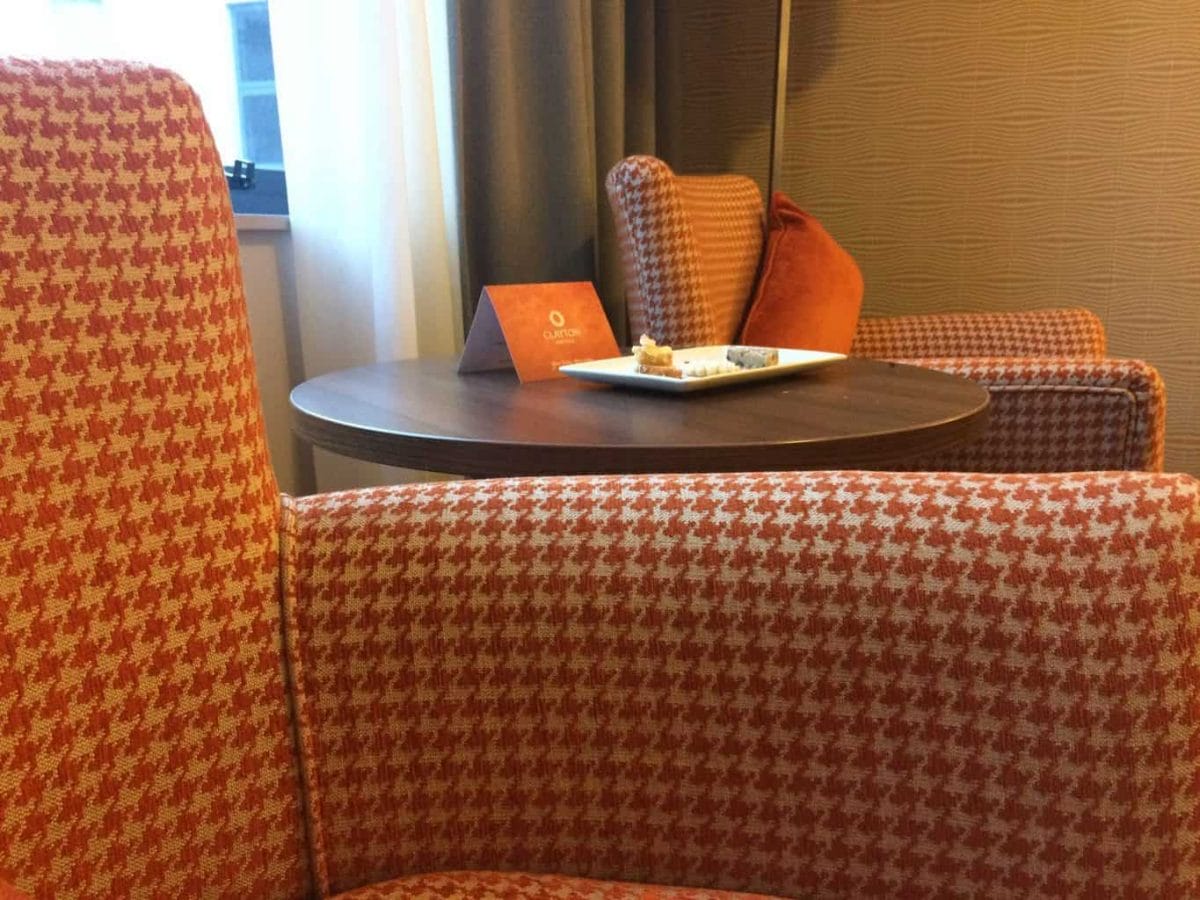 When we arrived, there was a nice plate of treats for us, which was welcome after having traveled for multiple hours.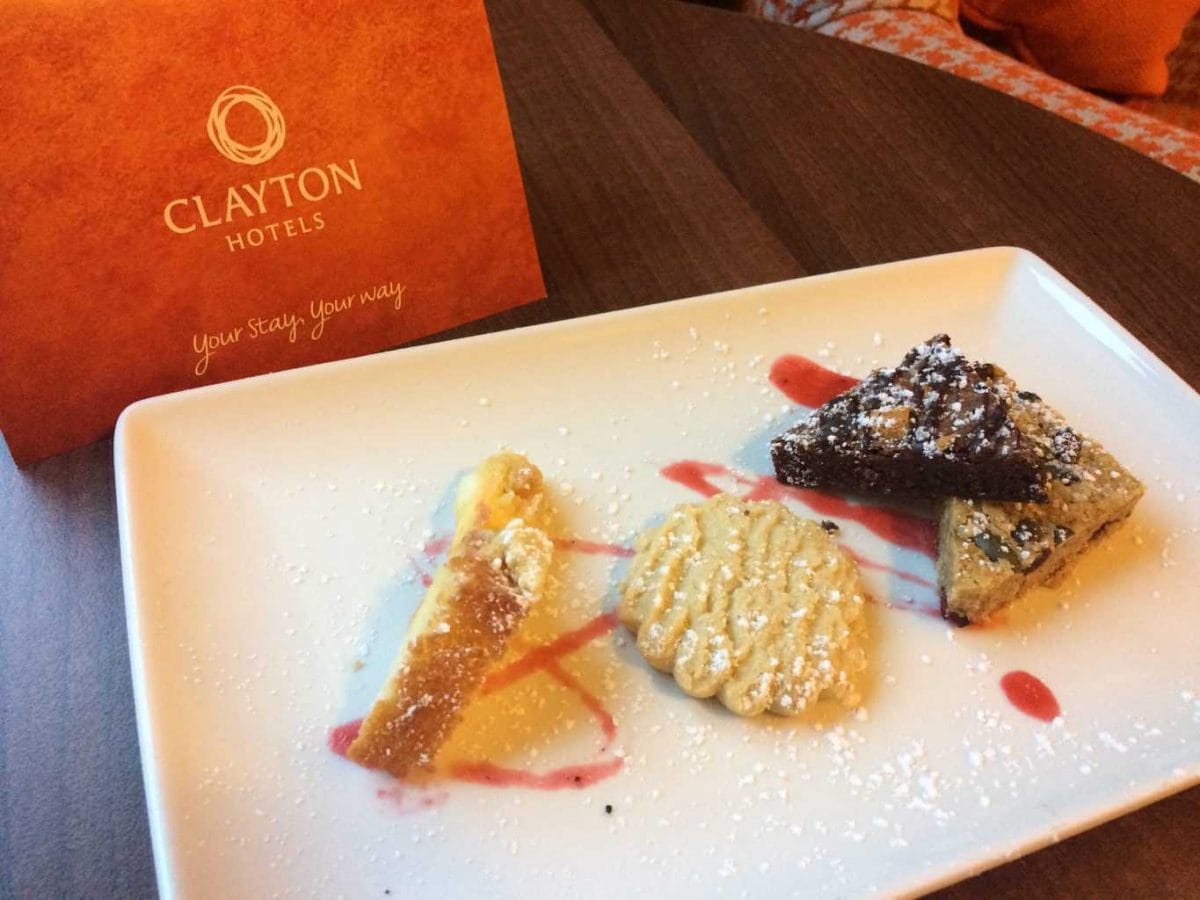 Clayton Hotel Belfast Pool and Spa
One of the biggest draws of Clayton Hotel Belfast is the pool and spa, which is accessible by hotel guests.
There's a Jacuzzi, as well as a steam room and sauna, in addition to the main pool.
The water was a nice temperature, and when we went swimming around 8:30-9:00pm, it was mostly empty on a Friday except except for one or two people.
There's also a gym, but I have a firm "no gym on vacation" rule, so I didn't check out that particular feature of the hotel.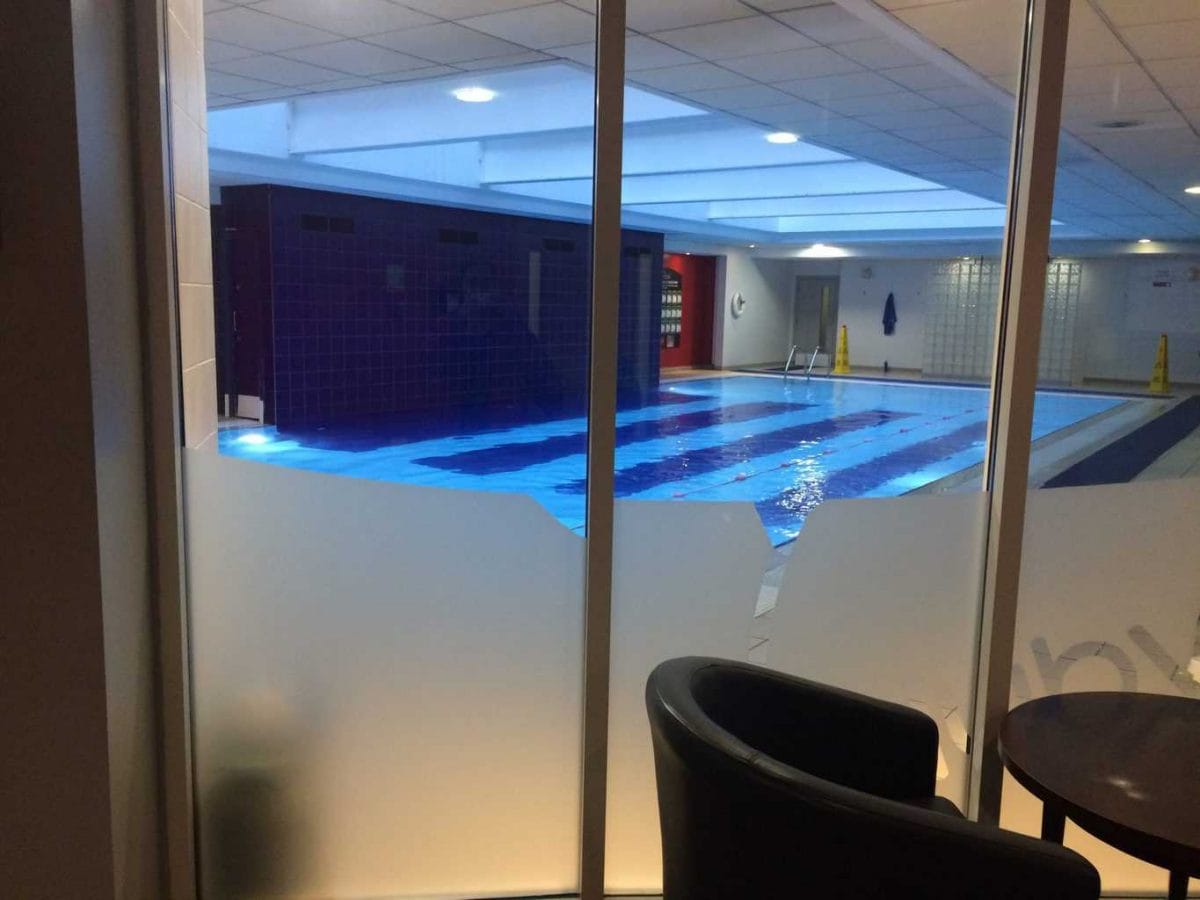 Clayton Hotel Belfast Lobby and Shared Areas
One of my favorite parts of Clayton Hotel Belfast was the design of the lobby and shared areas.
It was sleek without being overbearingly modern, with lots of spaces to sit (and in our case, decide what we were going to do for the day).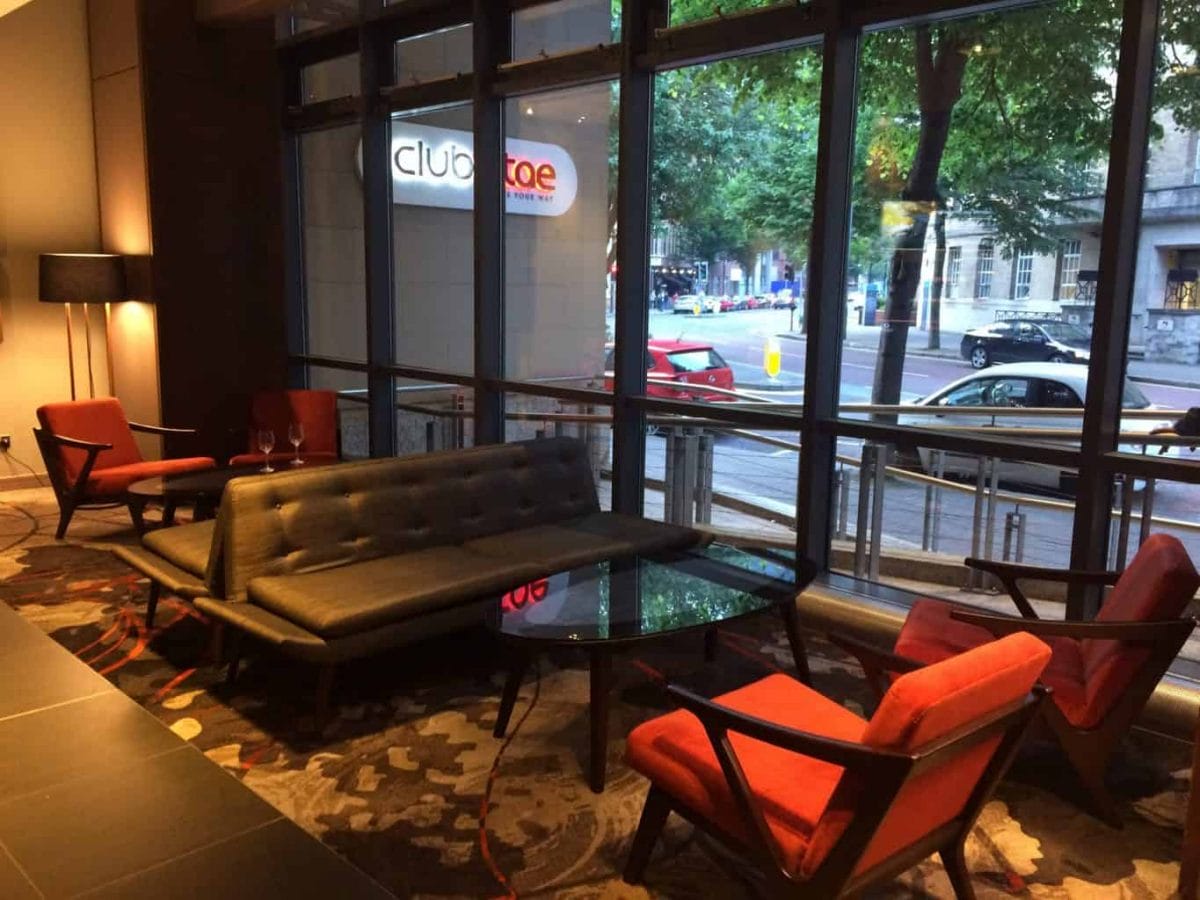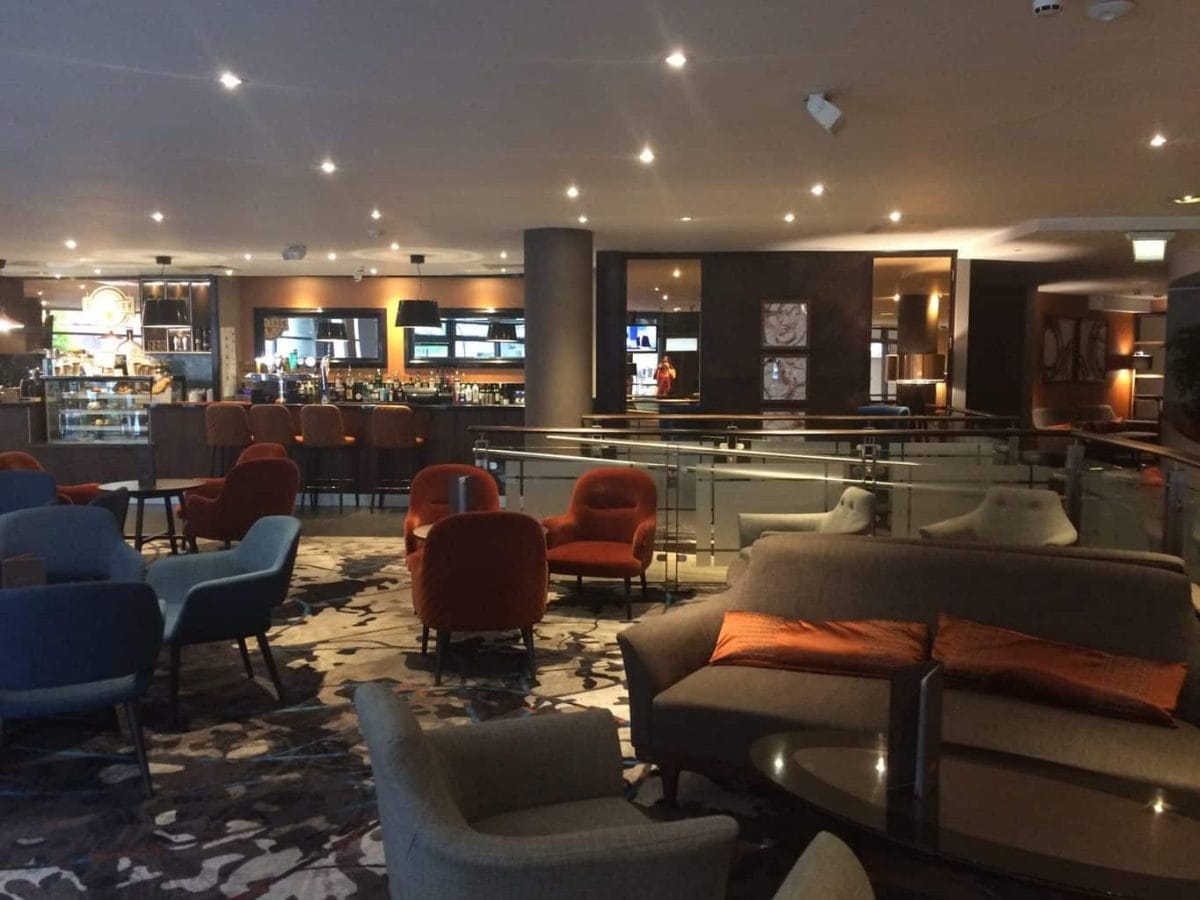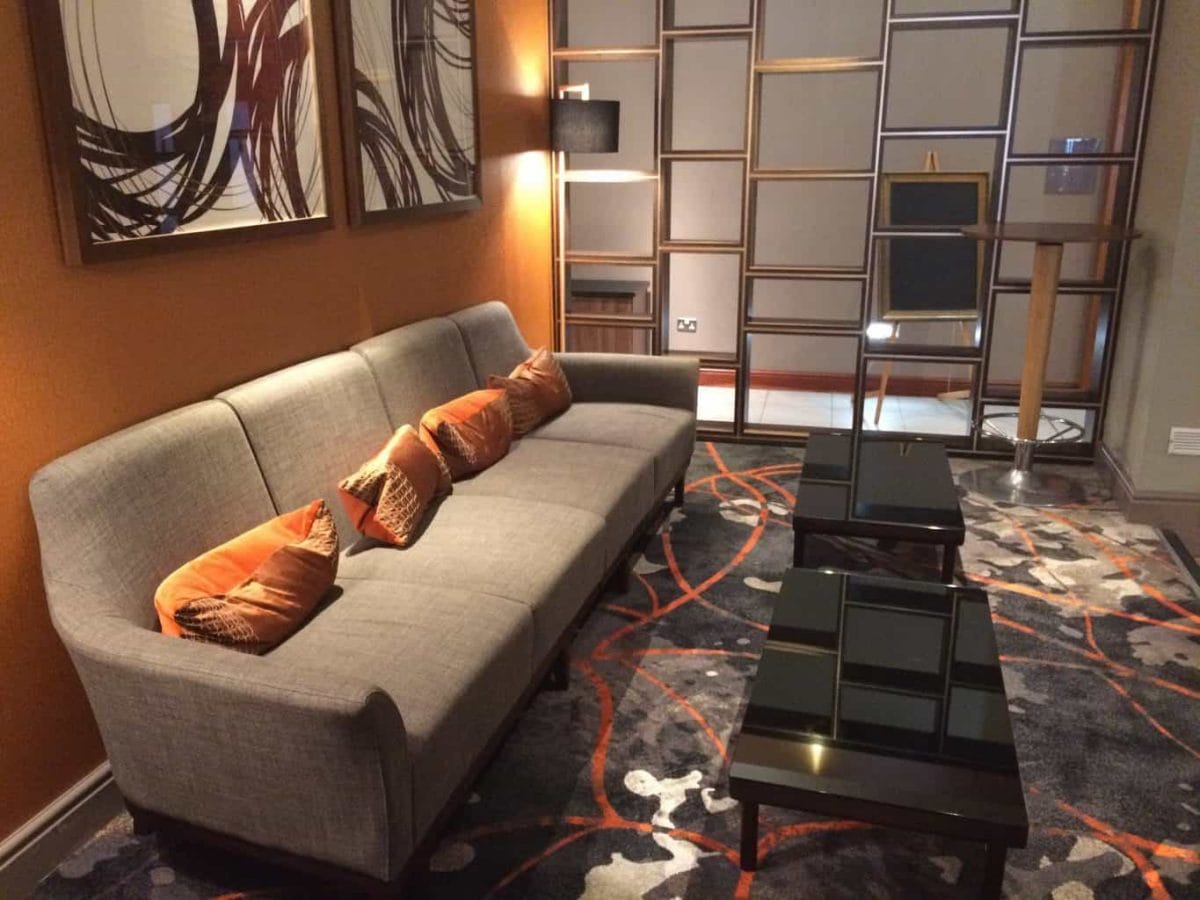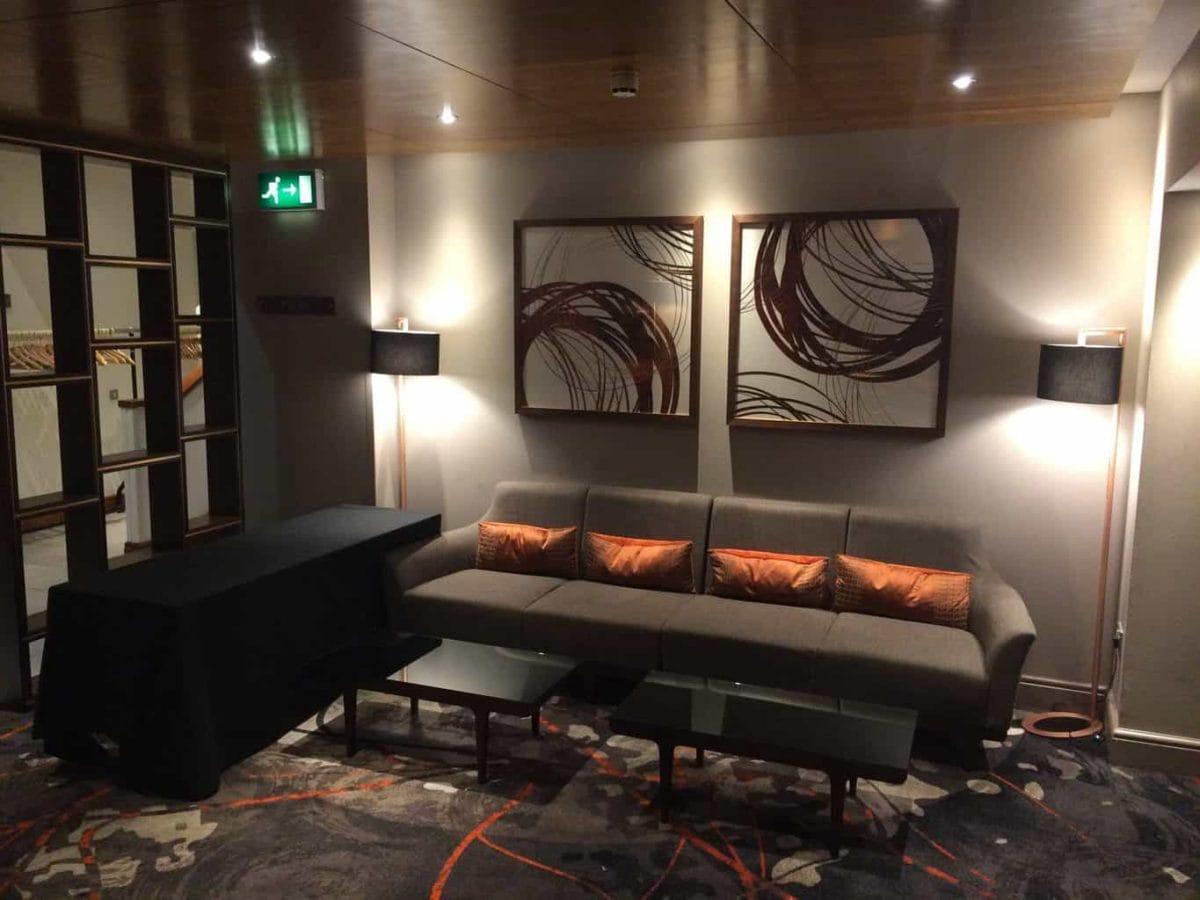 Clayton Hotel Belfast Restaurant and Breakfast
It's no surprise to anyone that I love a hotel breakfast.
This can make or break my entire time at a hotel.
What can I say, I love to eat and I like cereal.
Before you get to the breakfast room, there is a little counter selling muffins and other pastries if you just want to grab something and go.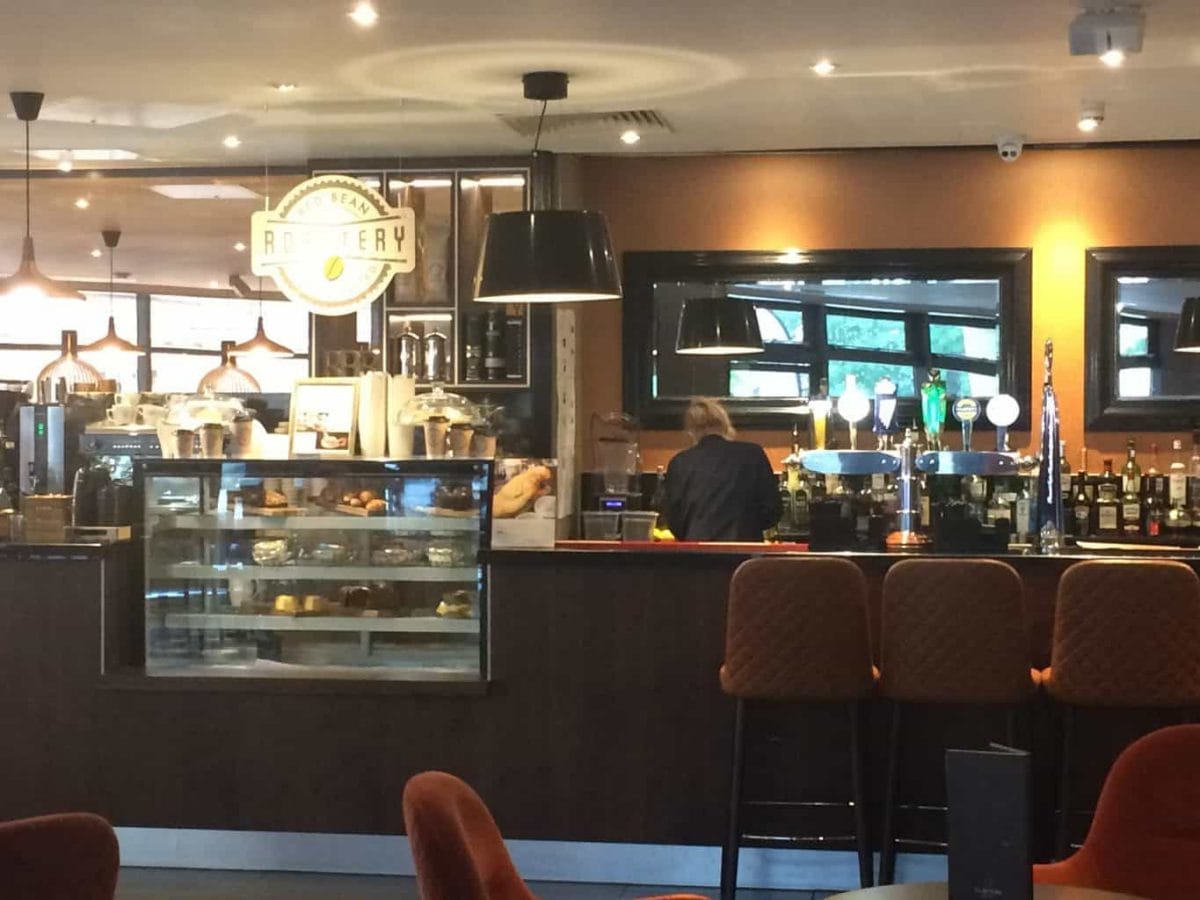 If you want to eat the buffet breakfast, you wait until you are seated and then shown to a table.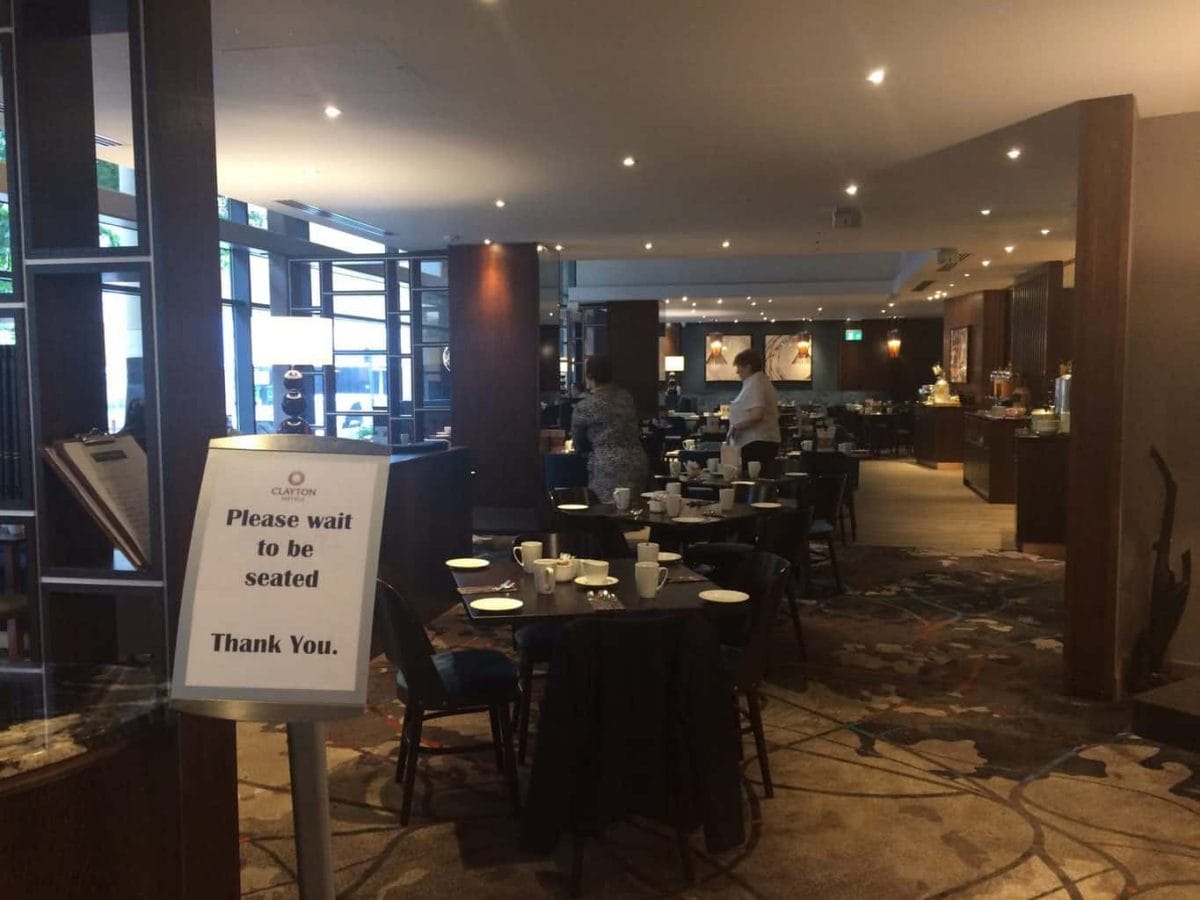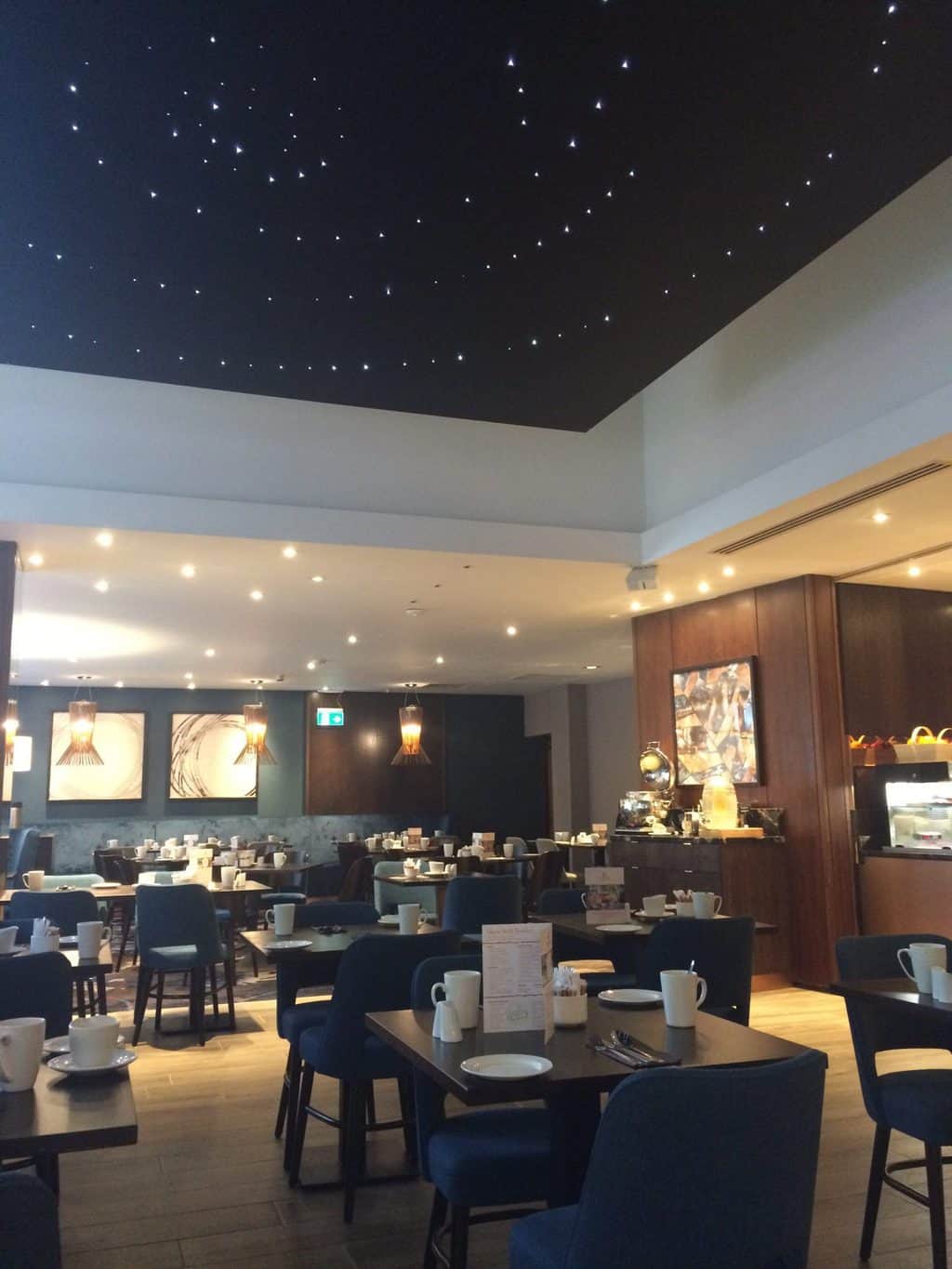 The buffet is spread out through the room and includes both hot and cold options.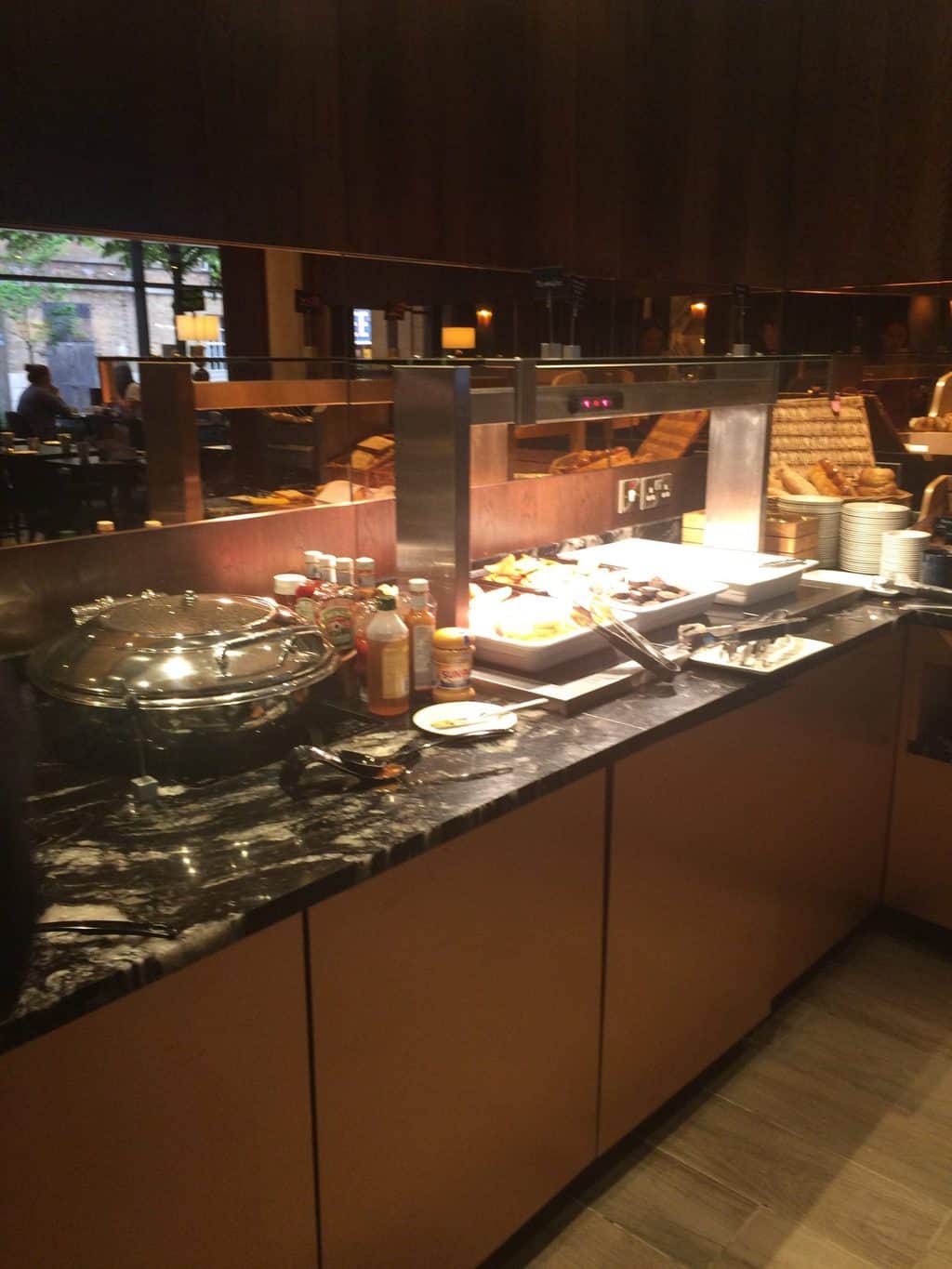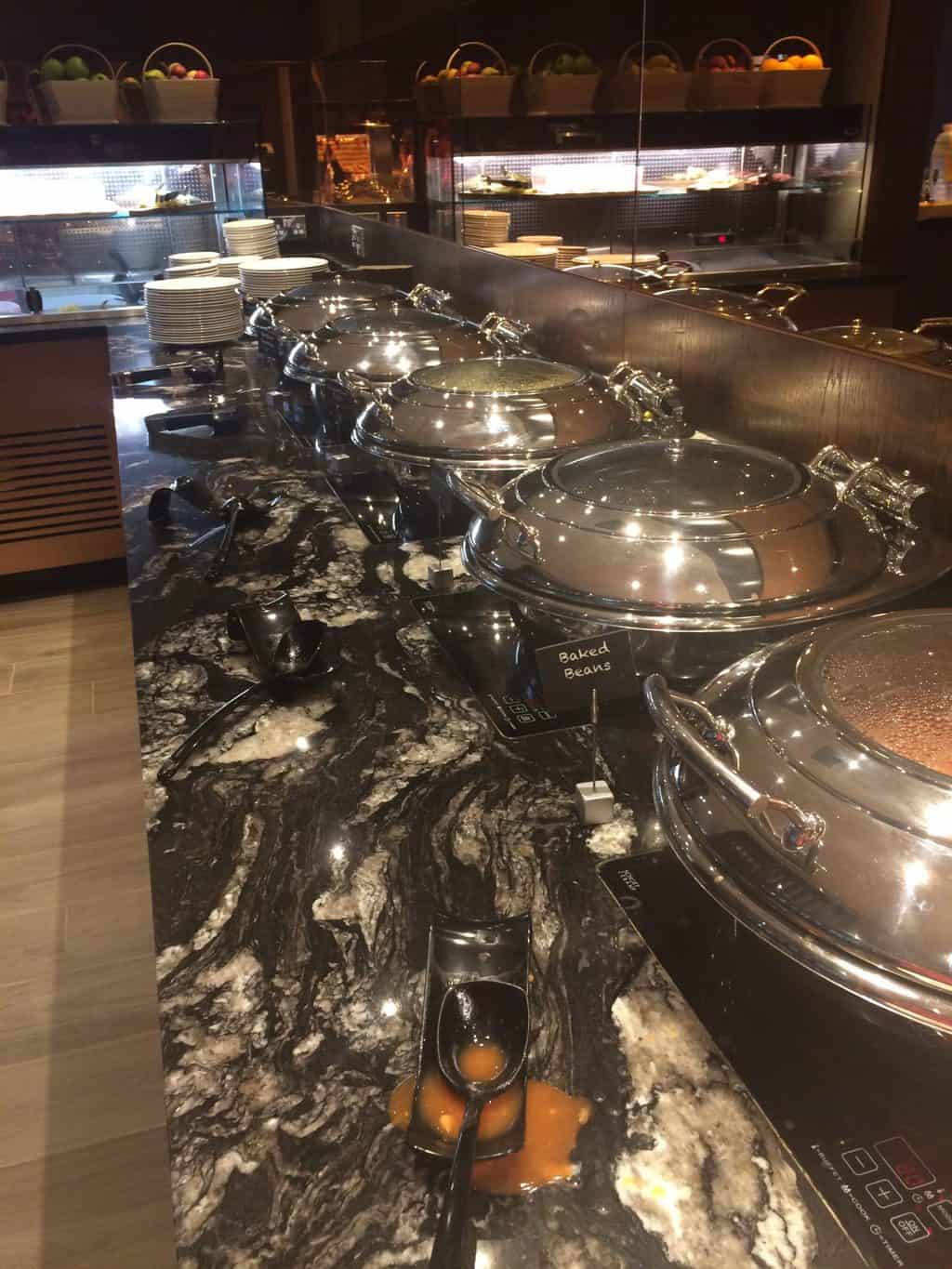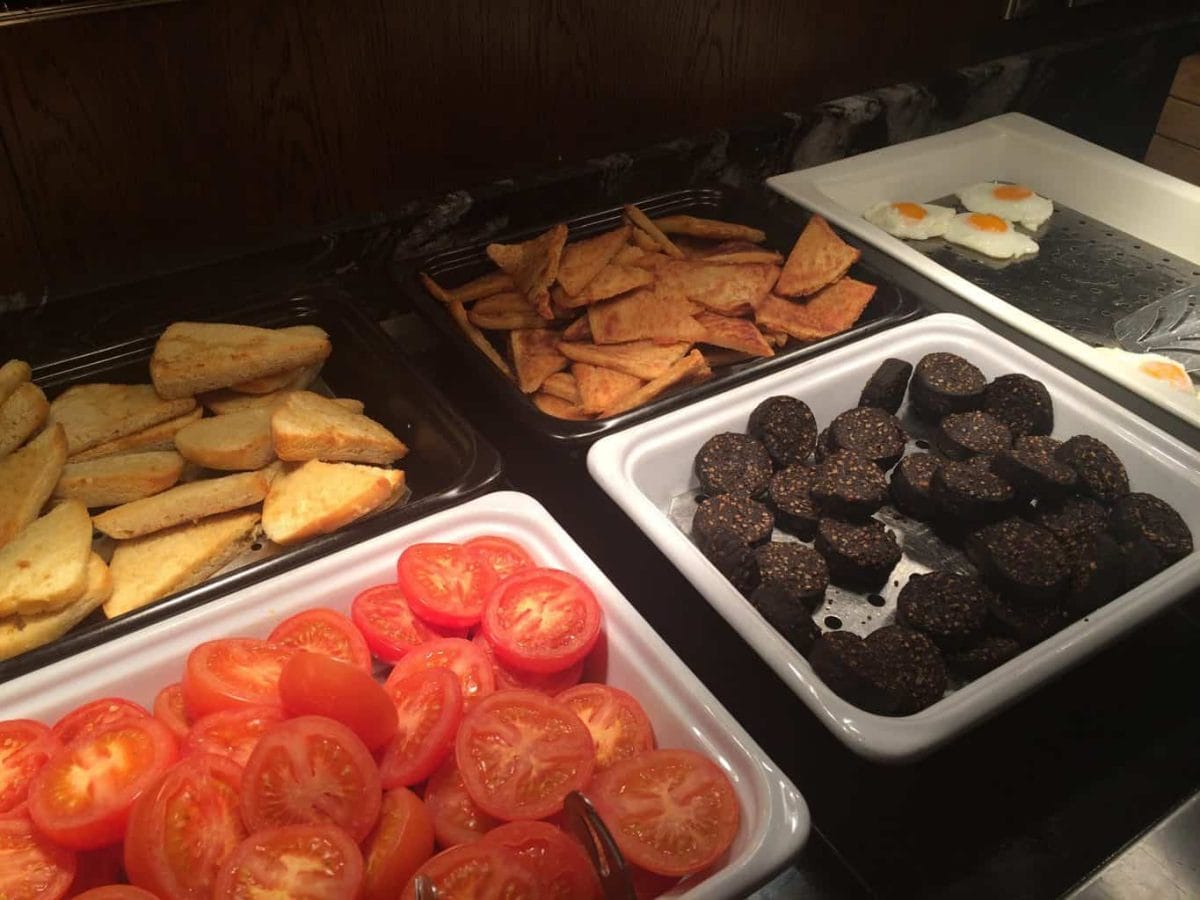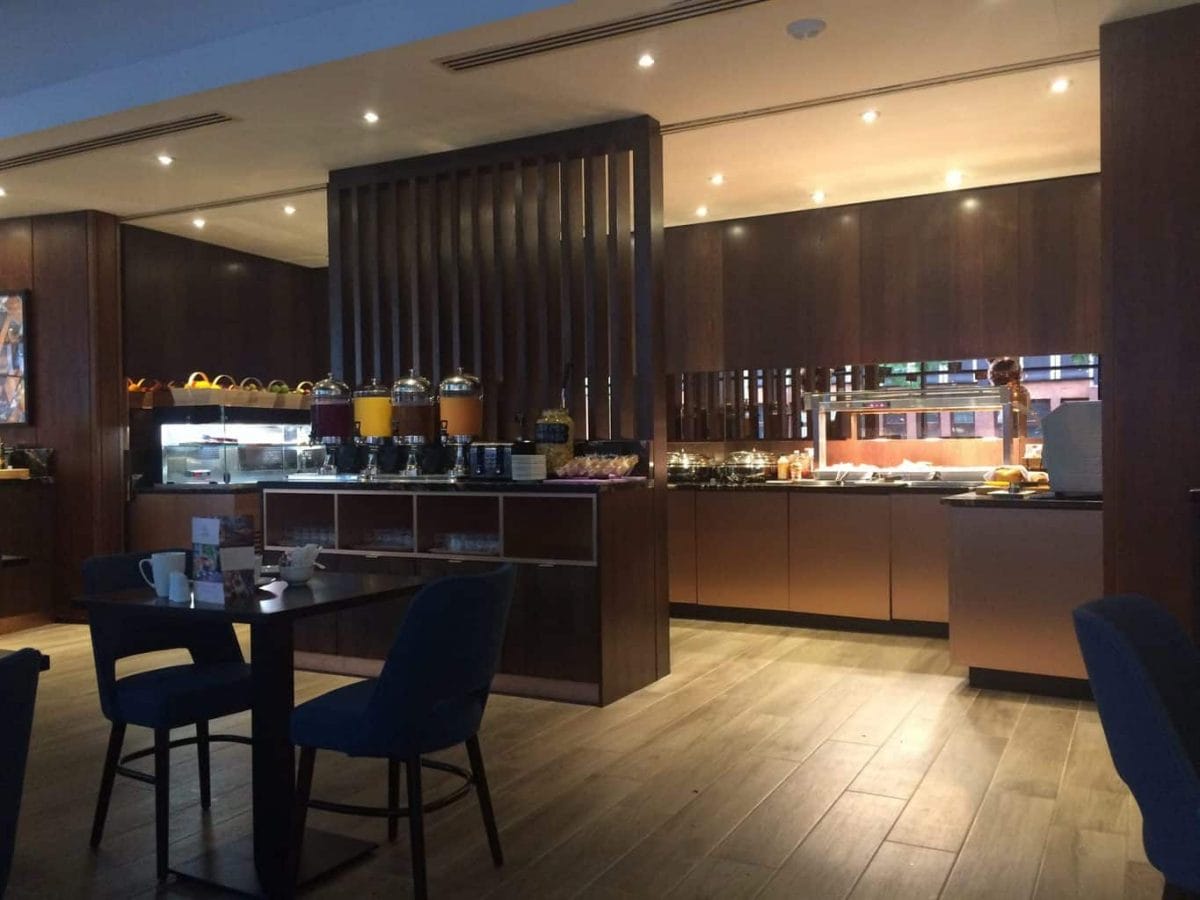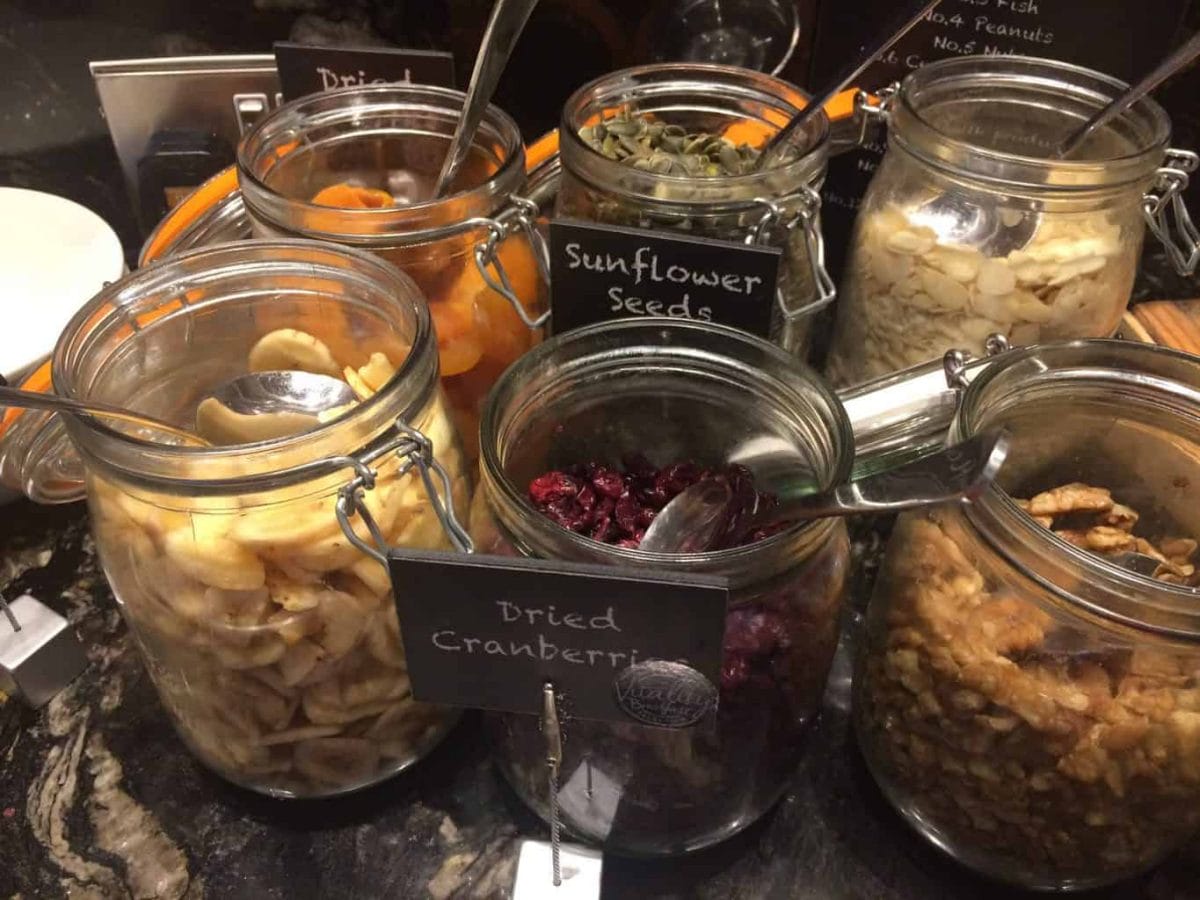 We had multiple plates, but started out with these.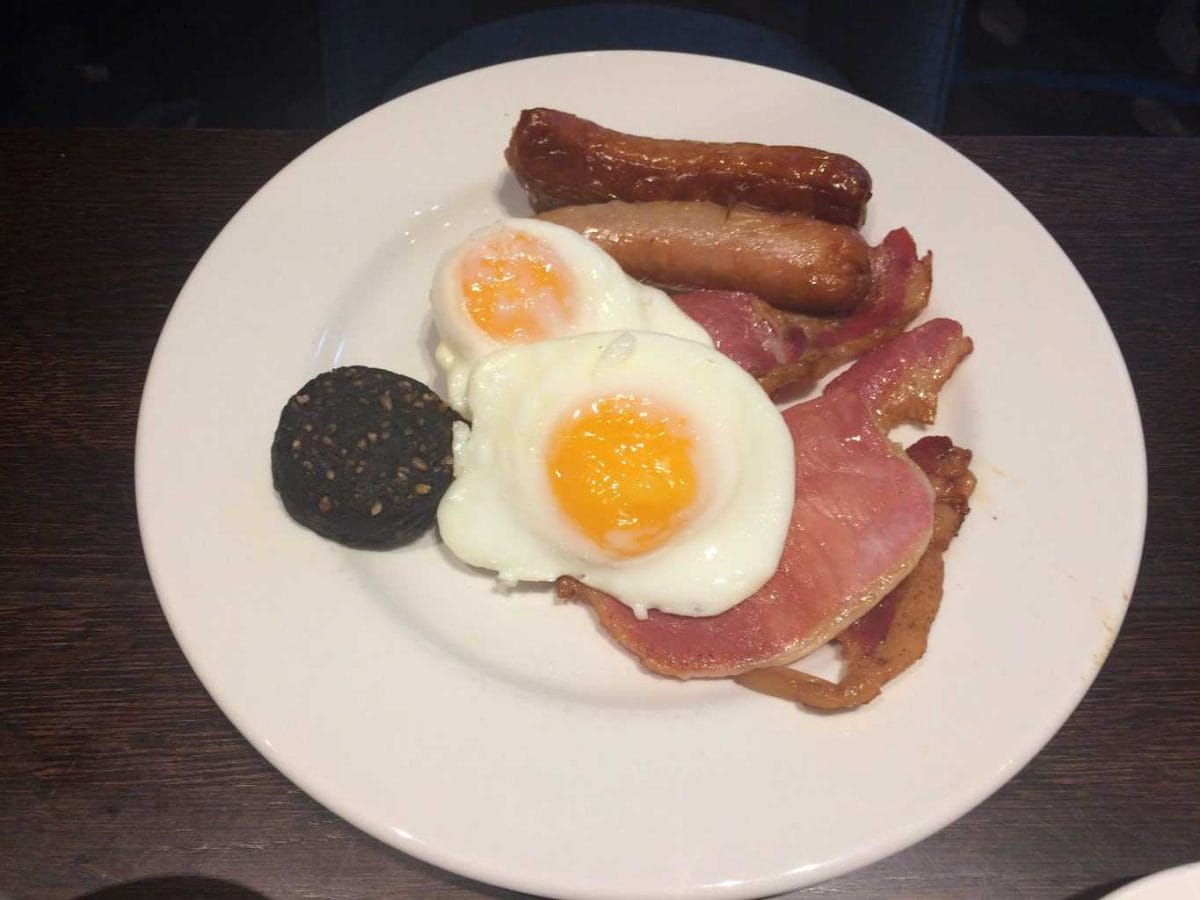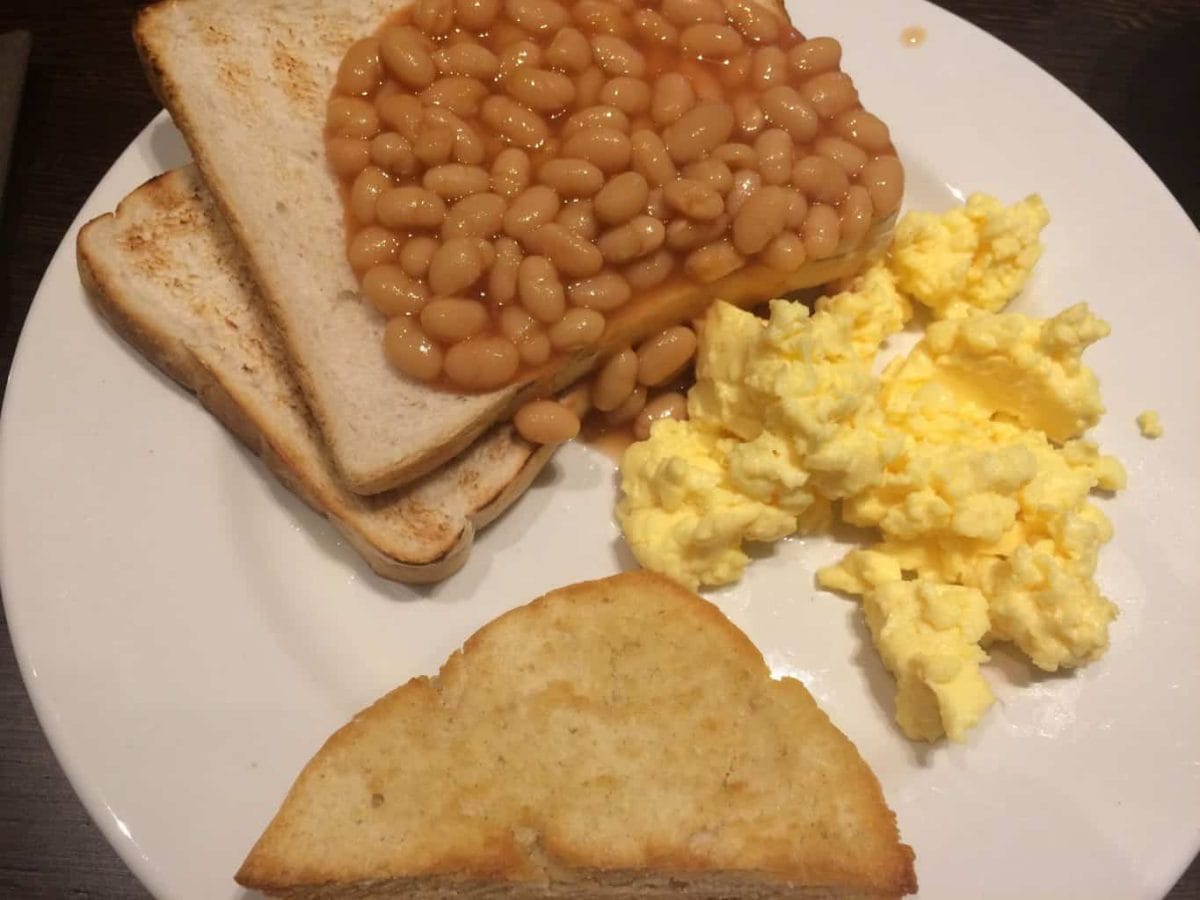 You could also ask to have a couple of other options made for you, including a poached egg which my husband took advantage of as he loves poached eggs probably more than he loves me.
Clayton Hotel Belfast Staff
All of the staff we encountered throughout our stay were very nice, especially the breakfast staff who were all smiles and went above and beyond to make sure we had what we needed.
We did find that the front desk staff were pretty overworked, as there was often just one of them at a time who had to handle people checking-in, out, asking questions, and also answering the phone at the same time.
This created longer wait times at the front desk than you would normally expect, but the front desk staff were doing everything they could to help everyone, so this is not a criticism of them!
How to Book the Clayton Hotel Belfast
Booking the Clayton Hotel Belfast is very easy online.
Click here to go to the homepage, where you can select your check-in and check-out dates.
You'll then see what rooms are available, and can book yourself in.
Who Should Stay at Clayton Hotel Belfast?
Clayton Hotel Belfast is perfect for business travelers, as well as anyone wanting to be conveniently located to Belfast's attractions.
It strikes the perfect balance between location and amenities, so while it's not a "5 star spa honeymoon hotel," it's also not a run-down or "budget" hotel in terms of style or what's on offer.
For us, who only had one day to explore in Belfast, it worked perfectly as a relaxing and comfortable place to sleep, a great unlimited breakfast to fill us up in the morning, and a location that couldn't be beat for what we had on our to-do list.