This post contains affiliate links for which I may make a small commission to help keep the site running. You will not be charged extra for these items had you not clicked the links. Thank you for your help to keep the site running!
Looking for the best United Kingdom travel insurance as a visitor?
If you're visiting the UK, you'll definitely want to purchase travel insurance for yourself and your travel companions to cover things like emergency medical cover, trip cancellation or interruption, and even things like lost luggage (it happens!).
If you're unsure about whether you should take out travel insurance for the United Kingdom, check out my guide to "Do I need travel insurance for the UK?" to make your final decision, as this guide is for the savvy travelers who have already made the (correct, in my humble opinion) decision that they should get some insurance before traveling abroad.
As someone who now lives in the UK since 2012 and helps her family and friends come visit, I've kept up to date on the insurance options and always advise them to take out a policy.
Remember – no one plans for things to go wrong on vacation, but you are not covered under the NHS for medical care in the UK as a short-term visitor and there is always a very real chance that you could have some major issues or problems with your trip that you didn't expect.
Why spend time worrying about the extra out-of-pocket money you'll have to pay, when you could just enjoy your time looking at Big Ben, knowing that you have a travel insurance plan for the UK that costs you basically nothing in comparison to the cost of the trip?
Best Travel Insurance for UK general visitors: Travel Insurance Master
Whether you're looking for the best travel insurance for UK from USA or from other countries, most people are going to need to stop reading the article after this entry, as Travel Insurance Master is the best travel insurance policy comparison tool that allows you to get a very quick quote for what you're looking for.
This is the one that I use myself when going abroad, as they make it so easy to plug in your details and calculate the cost of the insurance package, as well as giving you your options on which ones would suit you best.
To start, you head to the Travel Insurance Master homepage here, and then plugin your destination (United Kingdom), and a few other trip details.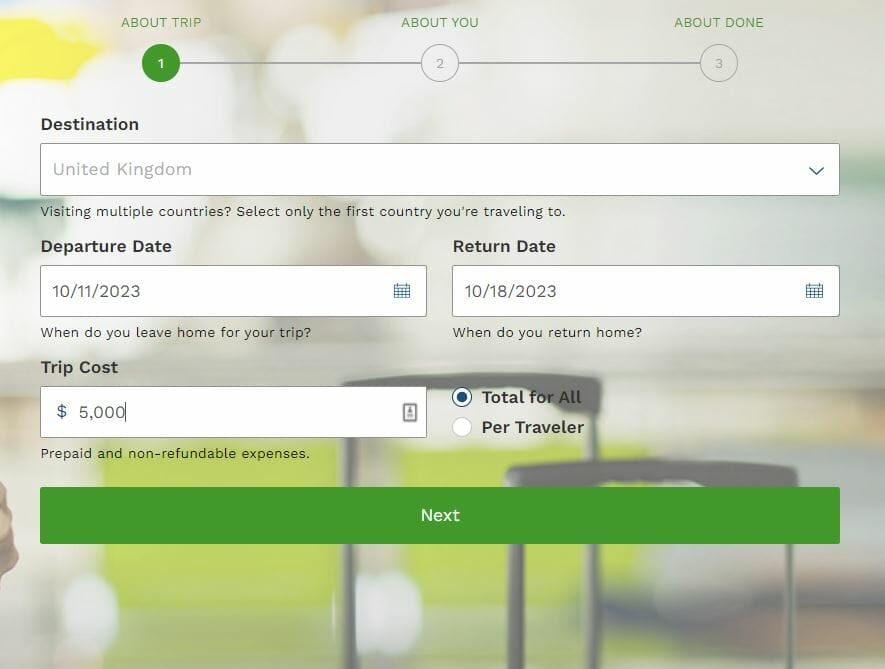 Hit "next" and you have one more screen to give some information about your citizenship and ages.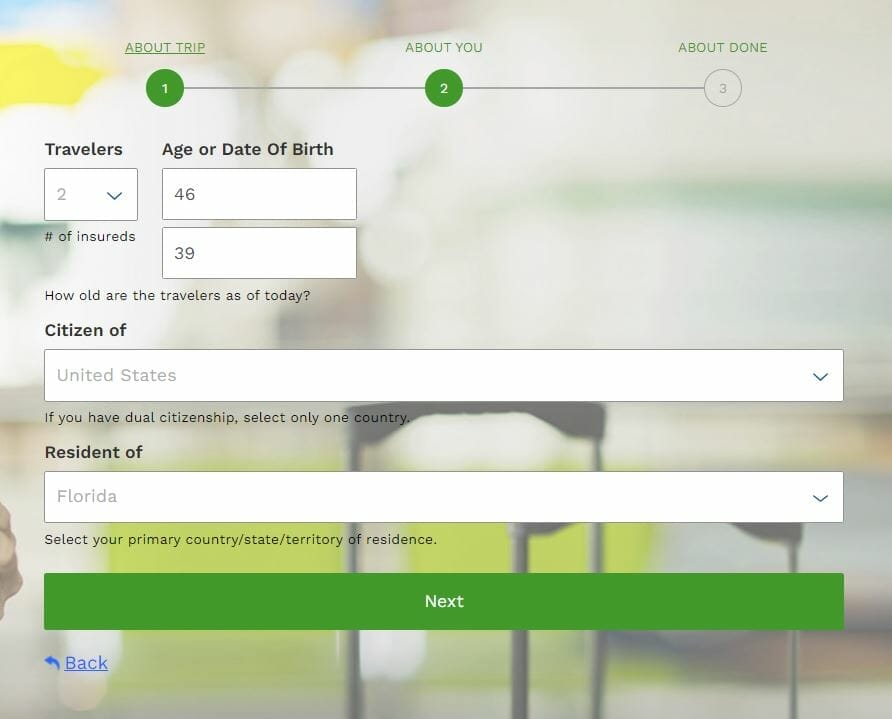 Then, boom, you're onto the final page where it suggests plans for you and gives you options to toggle certain packages off and on depending on what they cover.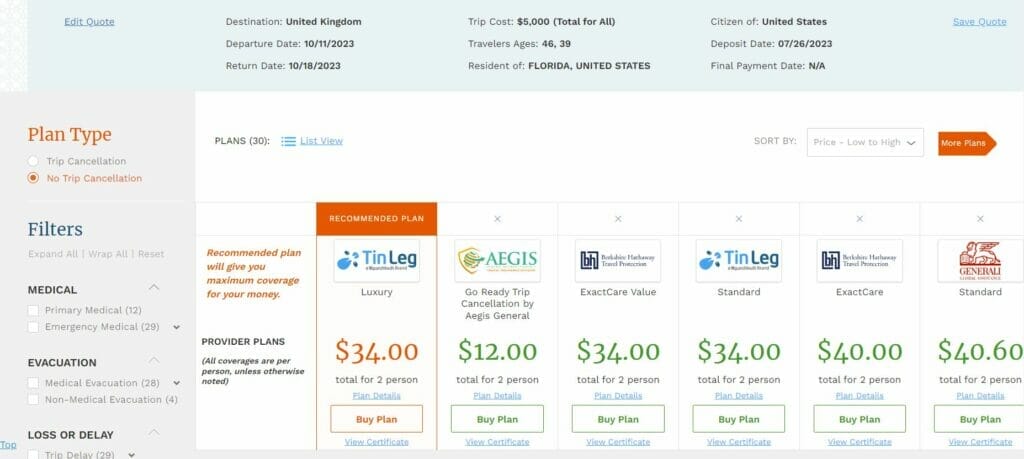 They've done the work for you to find the most recommended plan, but you can play around with it as much or as little as you like.
You can see on the sidebar that you can filter by what's included in the plan to make sure you have one that includes (or doesn't include) things like trip cancellation, emergency medical cover, trip delay, etc.
What you should have covered in your travel insurance plan is down to personal preference and your circumstances – no one can tell you exactly what you should or shouldn't have included, but as a basic guide if you haven't taken out travel insurance before, the medical coverage is going to usually be the most important, followed by trip cancellation.
>> Click here to get a quote on Travel Insurance Master (no e-mail required)
Best Travel Insurance for UK Digital Nomads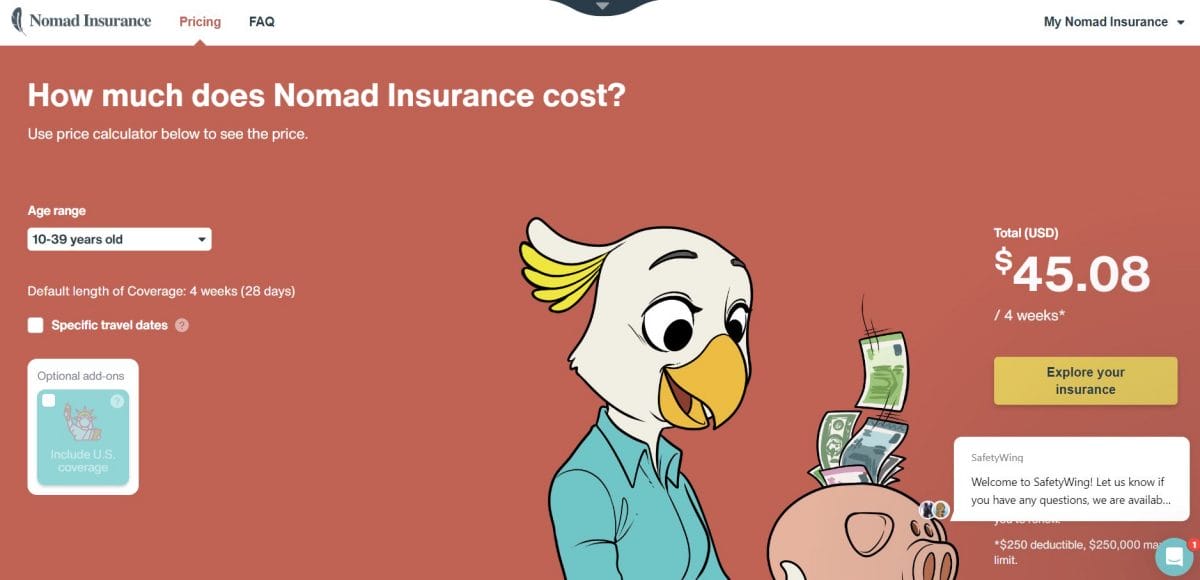 Traveling to the UK for a longer period of time as a student or digital nomad?
If you're going to be in the UK for longer than a regular tourist visit, but not long enough to be on a visa that qualifies for health insurance in the UK, then SafetyWing is for you.
They cater primarily to digital nomads and longer term travelers with a monthly plan, rather than a one-off price for your travels, and is the best option in this space for this kind of insurance.
They also have a quoting tool that allows you to put in your details so they can tell you your suggested price per month and what kind of plans they can offer you based on your age and home location.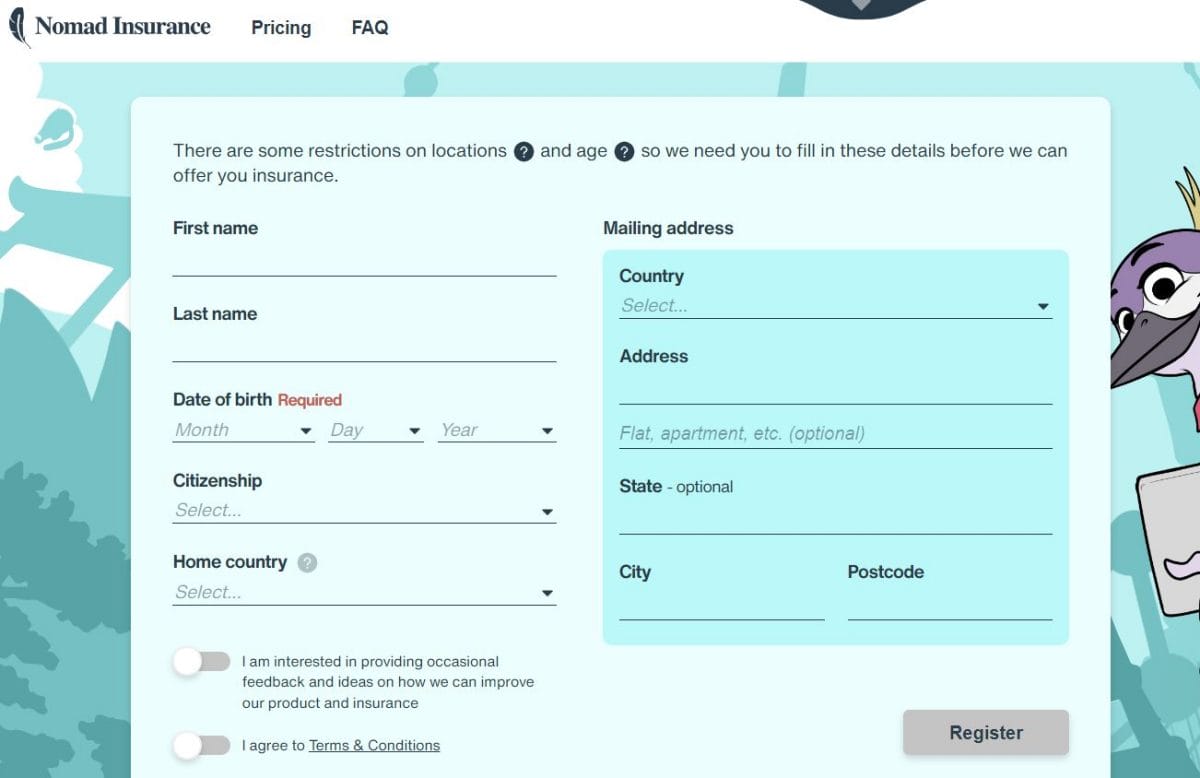 >> Click here to check out the SafetyWing plan options
Best Travel Health Insurance for United Kingdom
Travel health insurance is basically the same thing as travel insurance for most people, as you'll end up taking out a policy that covers health as well as trip delays/cancellation and lost luggage.
However, you can get policies that just specifically focus on getting the travel health insurance part of the equation, and I still would recommend you use Travel Insurance Master and its quoting tool to find the best travel health insurance for the UK for you.
How Much is Travel Insurance for Visitors to the UK?
Ah, the age old question – how cheap or expensive is travel insurance for the UK?
The prices do vary based on what bells and whistles you want included in the package, but you can see from my quotes from Travel Insurance Master above that a travel party of 2 is only looking at around $20-$40 total for one week in the UK, not including trip cancellation protection.
Add trip cancellation protection and your prices will go up to the $60-80 range, but for the peace of mind of not having to pay out a ton of money if your trip needs to be cancelled last minute is well worth that price.
Nomad insurance through Safetywing usually starts at around $42 per month, which, again, is a complete bargain.