Want to explore parts of the UK that you might not on your own?
From the rugged Scottish Highlands to the gorgeous coast of Cornwall, there are so many places that are best seen with a tour so you don't have to worry about driving and will be confident that you're seeing all of the local sights.
I adore traveling with my readers and creating a wonderful atmosphere of like-minded travelers of all ages who want to get to know others and be a part of a special week in the UK.
Read on for future and past group trips, as well as the group trip FAQs!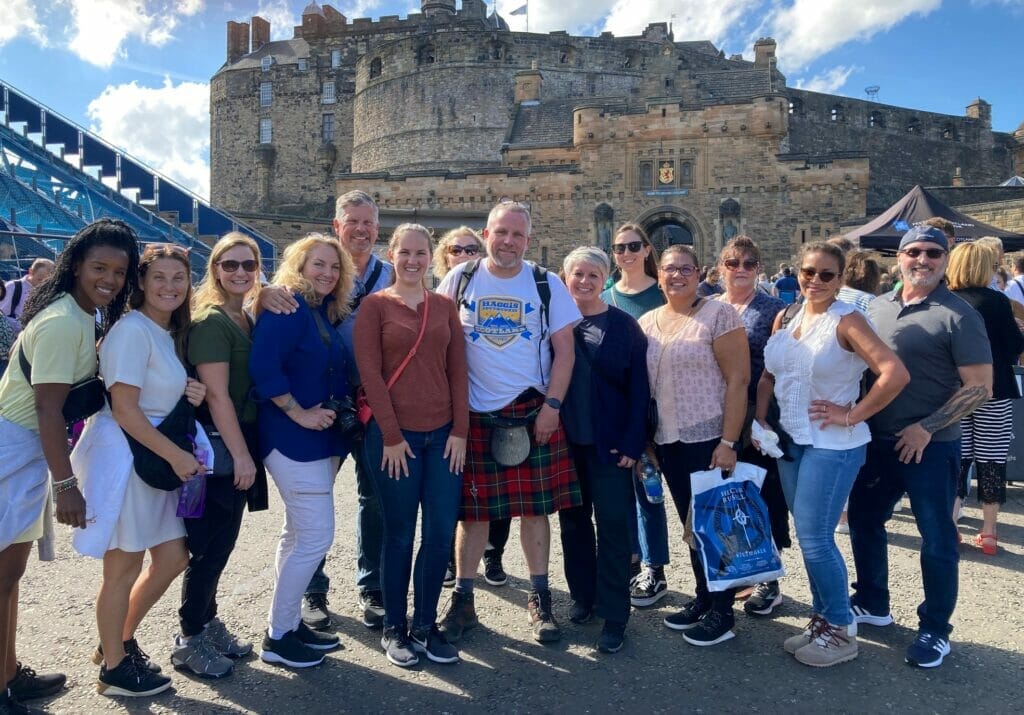 Psst – want to be informed of future group trips? Sign up here!
Upcoming Trip: Cotswolds Adventure 2023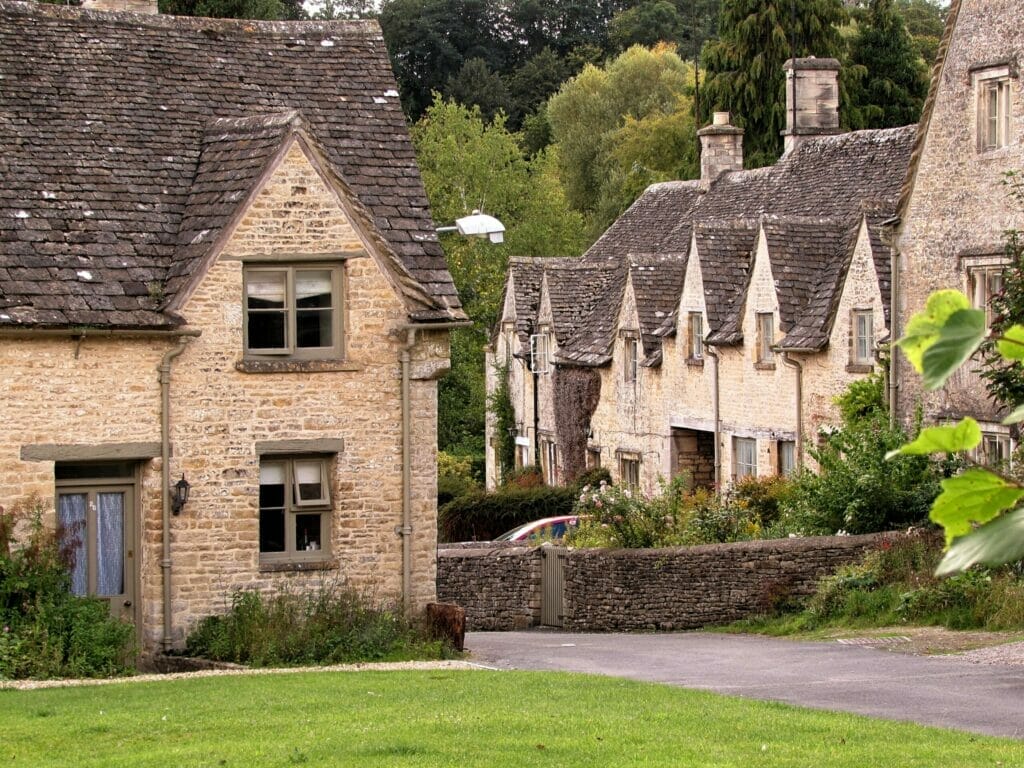 The Cotswolds are a picturesque part of England filled with thatched rooves, cobblestone streets, quaint High Streets and postcard-worthy villages.
It's my favorite English destination, and one that so many miss out on.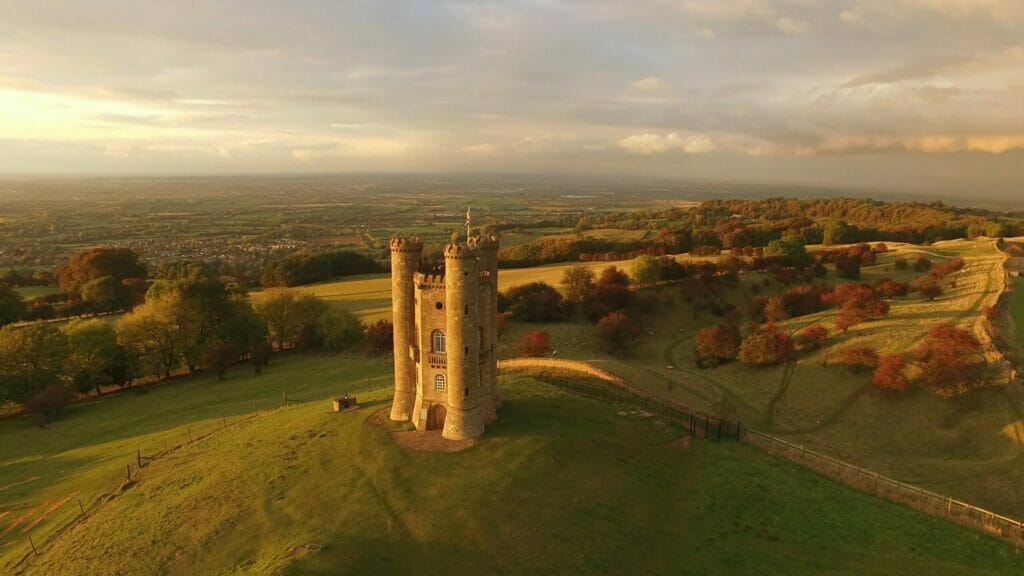 With the help of our local guide, we'll be wandering our way through the Cotswolds, stopping off at gorgeous viewpoints, royal destinations like Blenheim Palace, and eating our way through boutique fudge shops, adorable afternoon tea cafes and classic British pubs.
When: July 9th to July 14th, 2023
Where: The Cotswolds (starting and ending in Oxford, an easy train ride from London)
How Much: £1370 per person if sharing a room (or open to it), and +£280 extra if you want your own room
How Many People: 16 total on tour (the perfect number to meet people without it being a herd)
Fee includes:
5 night of accommodation in B&B style housing
breakfast each morning
group dinner on last night
all transfers within the trip (if we take trains, buses, etc while traveling together) – does not include international flight
private and expert guide throughout the tour every single day, including on all of our walks
entrance to Blenheim Palace & Gardens
entrance to Oxford University Colleges and tour
punting in Oxford (if you're not familiar, definitely look it up – it's on the river!)
How to Book or for more info: e-mail me at girlgonelondon@gmail.com! We have some spaces left!
Full Cotswolds Itinerary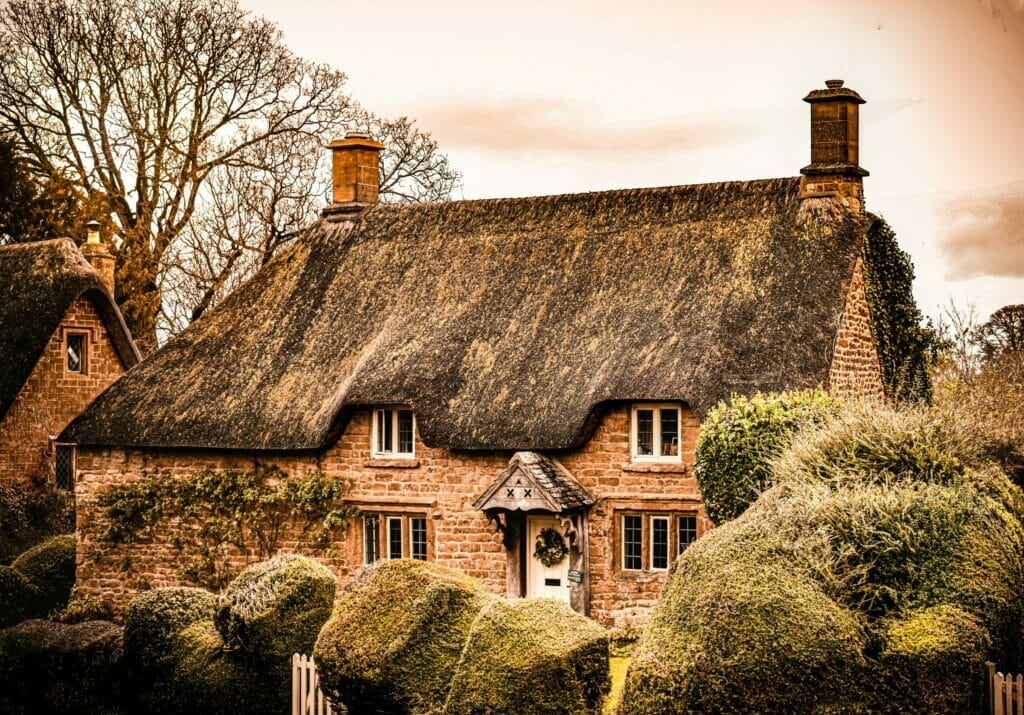 Day 1: 9 July 2023: Oxford to Moreton-in-Marsh
Meet me at Oxford Railway Station and start your morning with a walking tour of the Oxford University Colleges where 28 UK Prime Ministers and 69 Nobel laureates were educated.
Following lunch in Oxford, we will loop around Port Meadow following the River Thames, before getting out on the water with an afternoon of punting from the Cherwell boathouse to the Victoria Arms pub for Pimm's or a pint.
Tonight we'll stay in the thriving market town of Moreton-in-Marsh.
Included Activities
• Moreton-in-Marsh – Oxford University Colleges
• Moreton-in-Marsh – Oxford Punting
Accommodation: B&B Style accommodation
Day 2: 10 July 2023: Chipping Campden to Broadway
After breakfast, we will transfer to the charming town of Chipping Campden for an amble up the high street to admire the fabulous architecture and picturesque shops before learning about the famous history of this medieval wool trading centre from the Market Hall in the centre of town.
Joining the Cotswolds Way, we will hike up to Dover's Hill, a natural amphitheatre 229 metres (754 feet) high, with beautiful views of the surrounding countryside where you might spot a couple of Cotswold Lions (native sheep).
We will then travel on to Broadway Tower for lunch, before walking into town for afternoon tea at a Broadway deli.
Included Activities
• Moreton-in-Marsh – Cotswolds Way walk: Chipping Camden to Broadway
Accommodation: B&B Style accommodation
Day 3: 11 July 2023: Moreton-in-March to Blenheim
After breakfast, catch the train from Moreton-in-Marsh to Long Hanborough for a walk to the famous site of Blenheim Palace. Blenheim is home to the Duke of Marlborough and his family and also where Sir Winston Churchill was born (somewhat unexpectedly thanks to a last-minute visit by his father and heavily pregnant
mother).
After exploring the magnificent gardens set within this 2000 acre estate, we will head indoors to see the palace's architectural splendor and take a virtual trip back in time as your guide brings 300 years of history to life.
Included Activities
• Moreton-in-Marsh – Long Hanborough to Blenheim Walk
• Moreton-in-Marsh – Blenheim Palace & Gardens Visit
Accommodation: B&B Style accommodation
Day 4: 12 July 2023 Stow-on-the-Wold – Burton-on-the-water
Today we will visit some of the world's prettiest and most charming villages. After breakfast, we will take a transfer to Stow-on-the-Wold to explore stunning townhouses, quaint shops, and art galleries before walking on to Bourton-on-the-Water, nicknamed The Little Venice of the Cotswolds due to its rich culture and graceful bridges.
From here, we will track towards Upper and Lower Slaughter, traditional twin towns just off the Fosse Way.
The Slaughters get their name from the olde English word for wetland, however today these villages are far from the 'muddy place' you'd expect if you took their name literally.
Included Activities
• Moreton-in-Marsh – Stow-on-the-Wold Village Walk
• Moreton-in-Marsh – The Little Venice of The Cotswolds Walk
Accommodation: B&B Style accommodation
Day 5: 13 July 2023: Charlbury, Chadlington, Kingham
After breakfast, we will catch the train to Charlbury and make our way towards Chadlington, chatting to locals and learning about what it's like to live and work in this region as we travel.
Along the way, we will stop at Jeremy Clarkson's Diddly Squat Farm shop for lunch – a place serving local, seasonal, no-nonsense food – before continuing our countryside adventure to The Chequers for an afternoon pint, tea, and cake.
Then we will jump on the train at Kingham and travel back to Moreton-in-Marsh where we will spend the night.
In the evening, enjoy a farewell dinner where you can discuss your highlights of your Cotswolds adventure!
Included Activities
• Moreton-in-Marsh – Diddly Squat Farm Shop Visit
• Moreton-in-Marsh – Chadlington to Kingham Walk
Day 6: 14 July 2023: Moreton-in-Marsh
Your Cotswolds adventure comes to an end after breakfast.
Previous Trip: Scotland Adventure 2022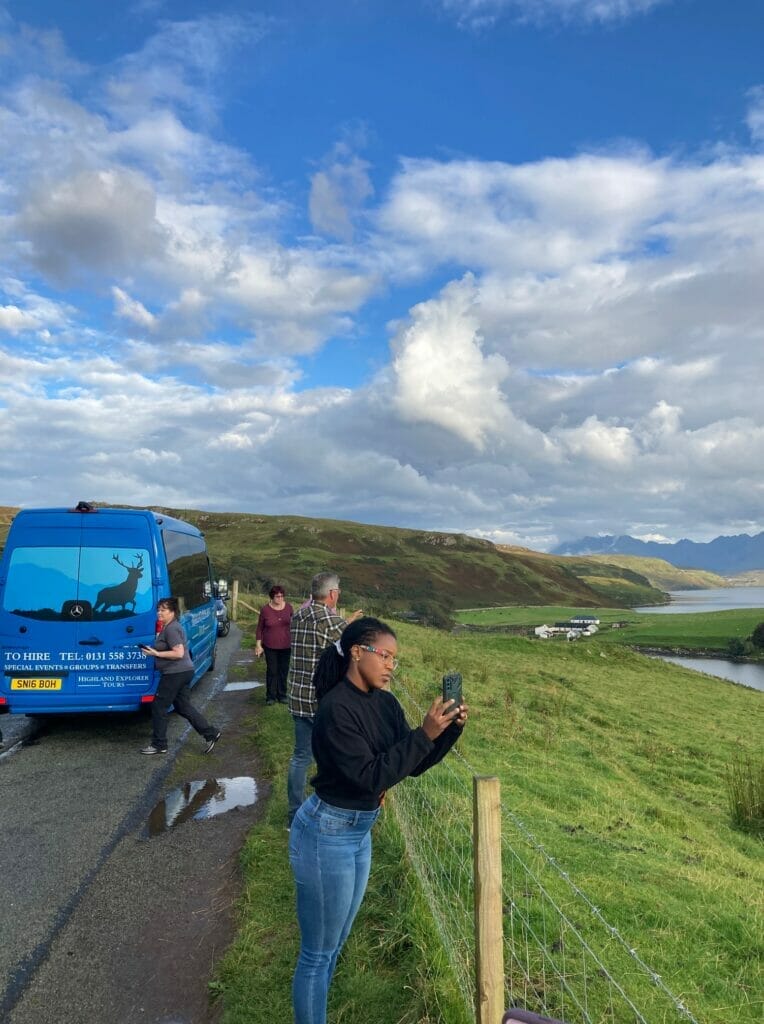 In September of 2022, a group of 16 traveled on the Girl Gone London Scottish Highlands Adventure, where we learned of local Scottish folklore, saw Loch Ness (Nessie wasn't in that day), experienced the coastal town of Oban, and so much more.
Enjoy the photos and testimonials below to see what a Girl Gone London group adventure looks like (and the scenery – just check out that scenery!)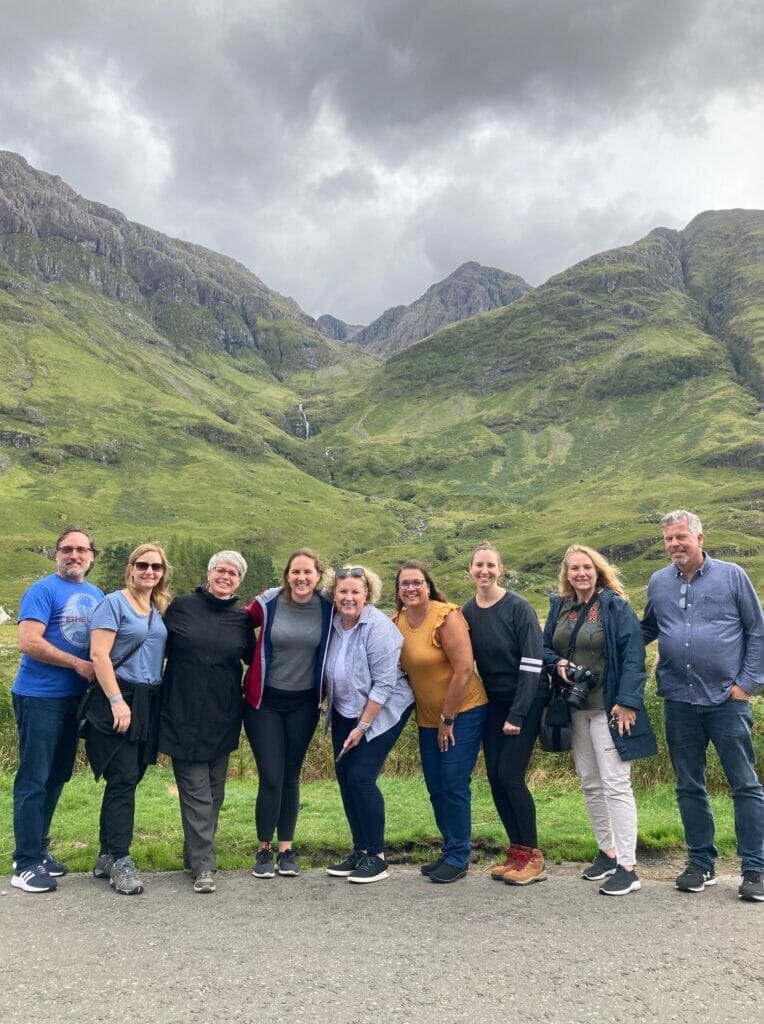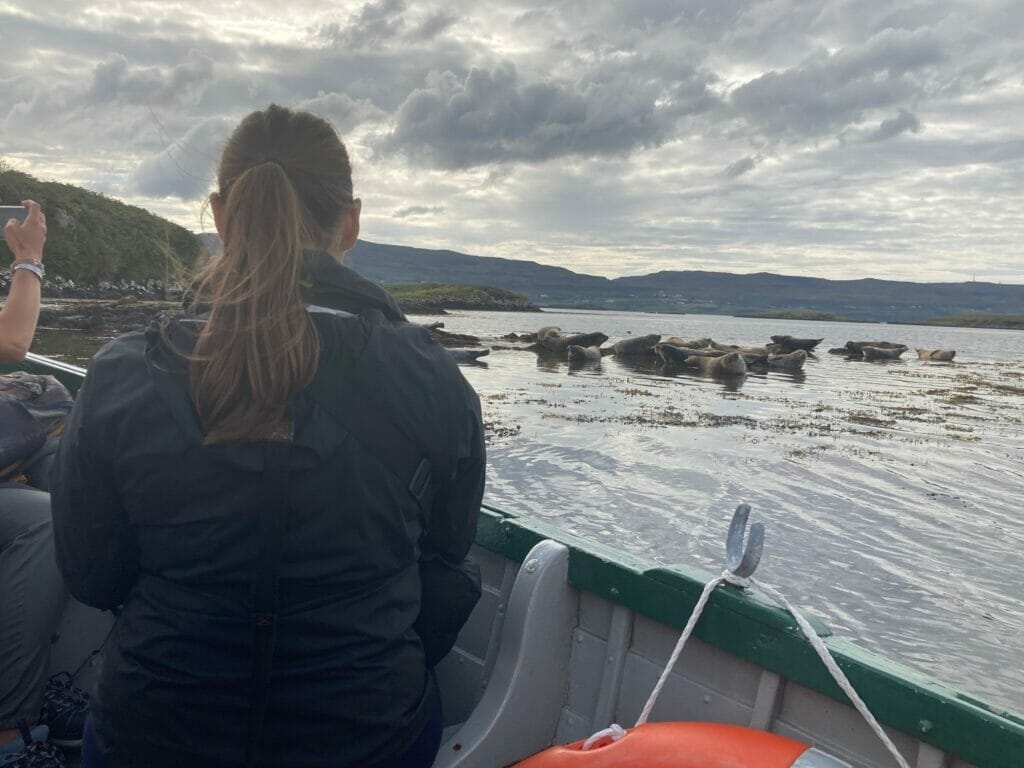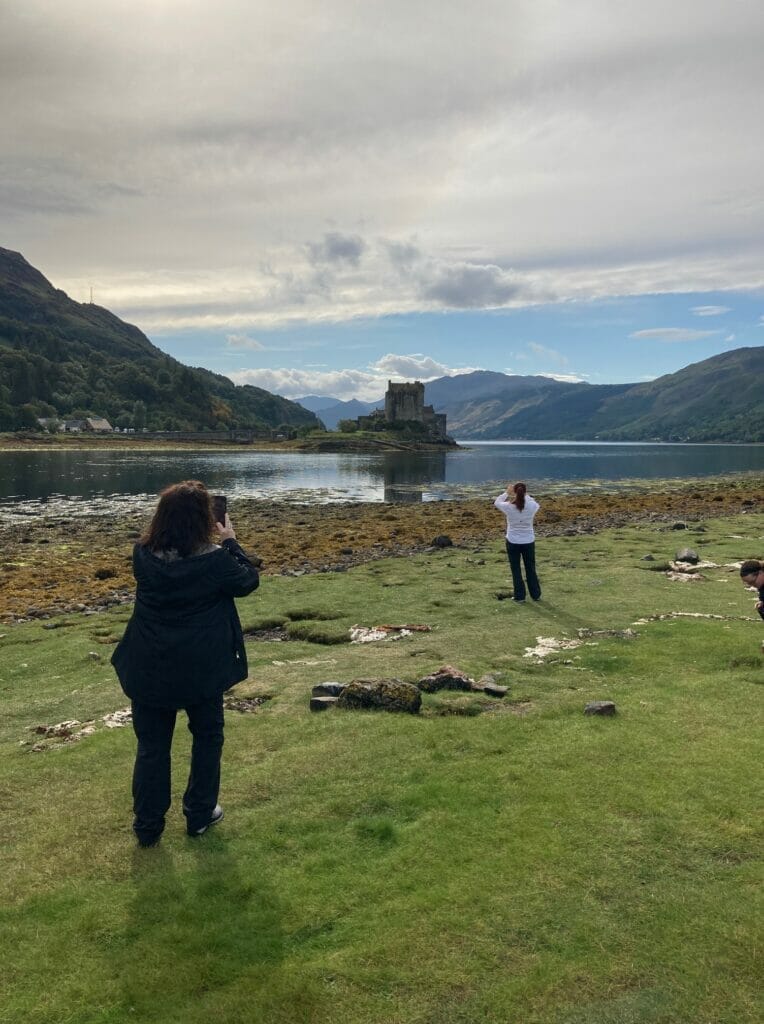 Group Trip FAQs
Q: What age group are these trips for?
Girl Gone London tours are for all travelers 18+, and we truly have a wide range from mid 20s to 60s and 70s!
Q: What if I have a disability?
No problem! Get in touch so we can help you figure out if the trip would be suitable to your needs.
Q: What is the pace of the tour?
Our tours are fast paced, taking in as much as possible in a short amount of time. This is not for you if you want slow travel!
Q: What is covered on the tour?
Each tour has its own full itinerary before you book, so be sure to check out the itinerary for the tour you're interested in to see what we cover on the trip.
Typically, your fee will cover your accommodation, transportation while on the trip, all sightseeing activities done as a group, breakfasts, some other meals, and a private tour guide for the group.
Q: Are solo travelers welcome?
Absolutely! This is the perfect chance for solo travelers to come along and know that you won't be the only one who doesn't know people!
We do not know each other ahead of our group traveling together, aside from couples or pairs of friends who may sign up.
Q: How do I pay?
Each tour will be slightly different, but the best thing to do will be to contact me at girlgonelondon@gmail.com so I can give you payment instructions and timings for the tour you're interested in.