Anyone who knows me will tell you that cooking is not one of my strengths. In fact, it's not really one of my skills in general. Guy panics every time he leaves me alone as he's not sure what I'll eat or if I'll be able to sustain myself while he's gone. Apparently cornflakes and toast don't have enough nutrients — who knew?!
Last week, we got to arrange a delivery of an Everdine box which included 8 meals and basically solved my cooking problem forever.
Everdine is dedicated to clean eating, but unlike other food subscription boxes, the meals are pre-cooked and then immediately frozen. You simply heat it up in the microwave or oven (depending on the meal) and then, WALLAH, a meal that looks good and tastes good and is good for you with no cooking required. My prayers have been answered.
I was on board from the beginning, but Guy was slightly skeptical as someone who likes to cook and see what goes into his meals. "Frozen meals" usually screams "lots of salt, bad for you, tastes like mush" and that's what he had in his head before we went into it.
Delivery
Our box arrived within its delivery time slot, which was texted to us that morning. That is the first big pro that Everdine has going for it, as they use a reliable delivery service that actually gets your food to your door, unlike some of the other ones that trust Yodel who are notoriously bad at getting things delivered on time. We're busy people, or at least we pretend to be, so on-time delivery is a win!
The box itself was sturdy and the unboxing experience was pretty fun! Everdine uses wool-cool and ice packs to keep the meals frozen, even in the hot English summer we had for about four days.
We read the information on Everdine and took a look at which meals we ordered. The packaging was colorful and simple, with easy to read cards explaining the service. It all felt very upscale and nothing like what you would typically associate with "frozen food" at all.
The meals we ordered were:
BBQ Pulled Pork with Boston Beans (x 2)
Sea Bream Thai Green Curry
Mediterranean Stuffed Peppers
Slow Cooked Beef & Beetroot Bourguignon
Roast Duck Breast and Blueberries
Beef Spaghetti
Lemon and Black Pepper Chicken
Preparation
"Cooking" the meals was super simple, as it was basically heating it up. Most can be heated in the microwave in just about 10 minutes, but there is also the option to throw it in the oven for 40 +. We tried both ways and were just as happy either way, so it may not be worth using the oven unless you really have the time.
Before the meal is cooked, you can get somewhat of an idea of what's in store for you based on its frozen state, but this is definitely not the meal looking its best!
Once finished heating up and ready to plate, you can either just dump the contents out or arrange it more artfully/separately like I tried to do. Whether or not I succeeded is another question entirely.
The one downside to going from frozen to hot is that there are a few meals where you will just naturally get quite a watery mixture, especially if it includes a frozen sauce. Everdine reassures its customers that this will not affect the taste, which we found to be generally true. I didn't like the texture of the extra water though, so I made sure that I left some of the liquid in the container and was careful about how I scooped it onto my plate.
Taste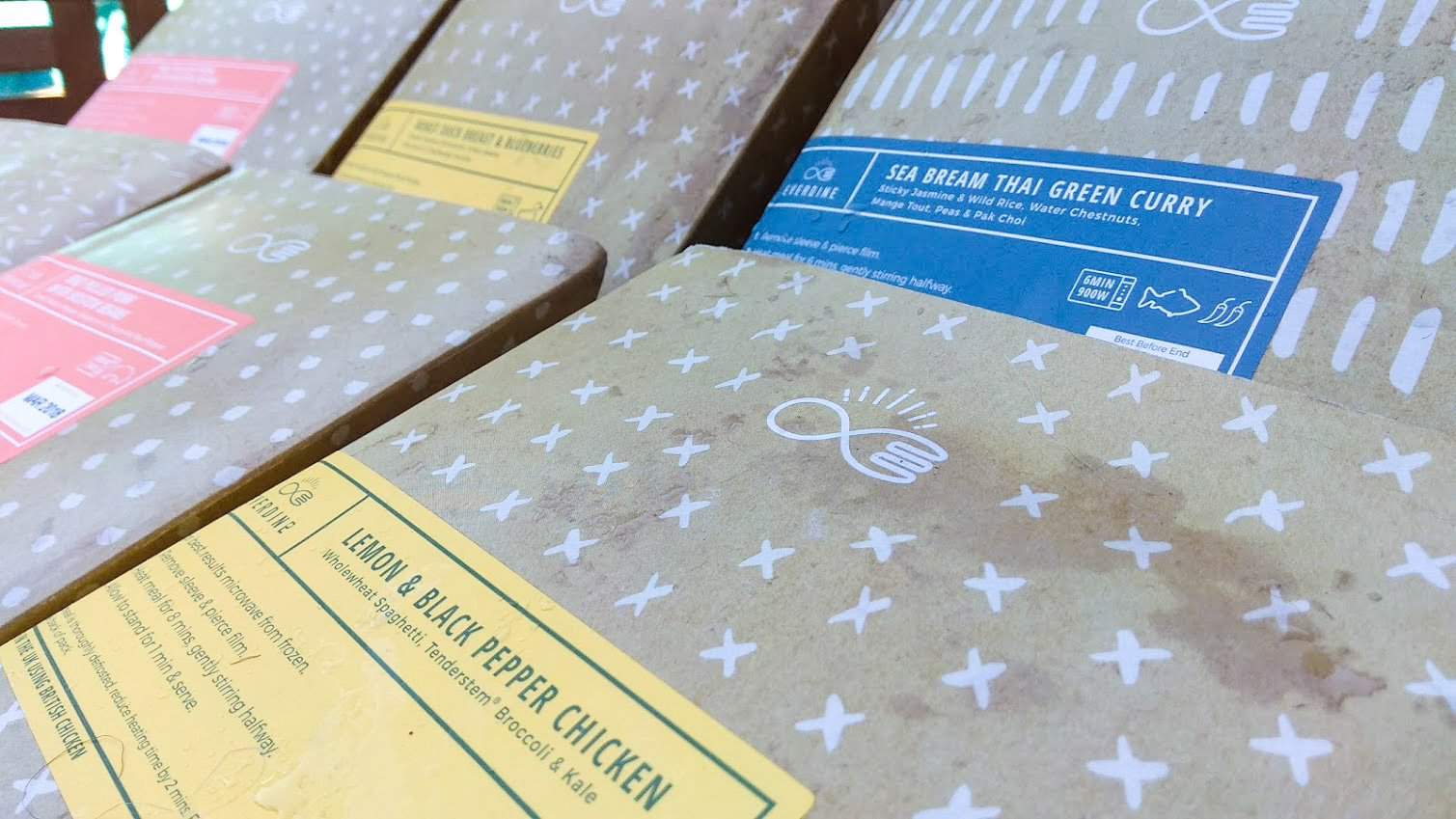 This is where Everdine really pulls through and distinguishes itself from ready meals bought in the grocery store. The taste of almost all of our meals was great and you couldn't tell that someone hadn't just cooked it in the kitchen fresh. The only meal that slightly let us down was the Pulled Pork with Boston Beans, as we felt it was relatively bland in terms of flavor. The Lemon and Black Pepper Chicken was awesome with a delicious sauce, and Guy enjoyed the Thai Green Curry.
We didn't feel heavy or bloated after eating them, which is a testament to their dedication to 'clean' meals and quality ingredients. This was also amazing, considering the portions were large and I couldn't finish most of my meals in one sitting. Often you'll hear about subscription food companies sending smaller portions, but we had no problems with the portion size on any of our meals.
How to Order
Everdine delivers to 93% of mainland UK, according to their website, so most of my UK readers should be able to give them a try!
Typically the price for 8 frozen meals is 55.20. This works out to 6.90 per meal, which seems relatively steep. However, I would be willing to bet that people who buy their lunches at work spend around this or just under for food that is worse for you, so if you're someone who eats lunch at their desk a lot but doesn't have time to put your own lunch together, these are good options.
It is a subscriptions service, but you can arrange your account however you like and don't have to keep getting recurring boxes. You can also skip deliveries and see many of the recipes ahead of time so you know if you are interested in the next week's order or not.
If you want to try it out to see if it's for you, you can use my exclusive 25 pounds off link  to bring the cost down. Let me know what you think!