This is a sponsored post. 
There was once a time when visiting every destination on your travel bucket list was a distant dream, something that you might do should you ever have the chance. Today, we are lucky enough to live in a time where the world is getting smaller and achieving your travel fantasies is a realistic goal.
The rise of budget airlines in Europe has made the continent a city-hopper's dream, where you can flit between locations on a shoestring budget. The even better news is that you aren't even restricted to air travel, as many other forms of travel are becoming more affordable if you want to take the more romantic route, like the train or by river.
Here are today's top three European destinations that you need to add to your travel bucket list. Trust me when we say they really are worth it.
Istanbul, Turkey
Located right on the edge of Europe, Istanbul is the place where east meets west in a spectacular blend of cultures. Nowhere is this convergence more visible than when you stand in Sultanahmet Square, which is located between Hagia Sophia, an ancient Byzantine church-turned-mosque-turned-museum that is almost 1500 years old, and the Sultan Ahmed Mosque, with its amazing blue-tiled dome and minarets. These two huge buildings are a fantastic example of the east and west existing in such close proximity, and being able to stand between them really gives you unique insight into the rich and sometimes bloody history of this remarkable city.
The city also has a lot more to offer tourists. You can visit the sprawling Topkapi Palace, home of the Ottoman sultans for 400 years, to find a labyrinth of hidden treasures just waiting to be discovered. Indulge yourself in one of the city's many fine restaurants for a tantalising taste of real Turkish cuisine, or lie back and relax with a fragrant pipe and a game of chess at a shisha café. Turkey is also famous for its bathhouses, and the finest in the country are to be found in Istanbul, where you can relax after a tough day of sightseeing.
The best way to get to Istanbul is by air, and a number of airlines fly from all over Europe for relatively low prices. If you live in the UK, Skyscanner have a list of airlines that visit the city, and you can also use their search tool to find flights from other parts of the world.
Venice, Italy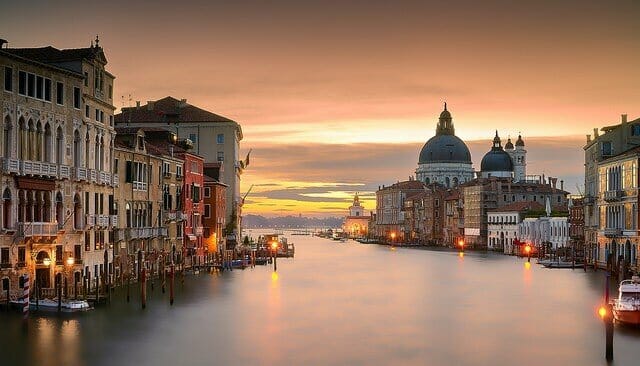 © Pedro Szekely – licence
Famed for its spectacular canals and inspired architecture, Venice should definitely be on your bucket list for the simple fact that it is slowly sinking. Although the city will probably not be disappearing any time soon, you should probably head over for a visit just in case, and you will not regret it.
Venice is one of the world's true romantic cities, and it is easy to see why. The true beauty of the city can be found simply by taking an evening stroll along the Grand Canal, and it is there you will understand why the city has captivated the world for so many years. However, Venice is not just a pretty face, with great food, music, and sights abound to back up the beauty.
There are a few ways to get to Venice, including flying, but one of the most picturesque and convenient is to arrive by train. The city's Venezia Santa Lucia station is located right on the Grand Canal, which makes it extremely easy for you to get to your hotel in the city centre after a long day's travel. The station is served by both international and domestic train services and is ideal if you are arriving from another Italian city. Have a look at Seat 61's guide to train travel in Italy for a useful insight into booking your train to Venice.
Cologne, Germany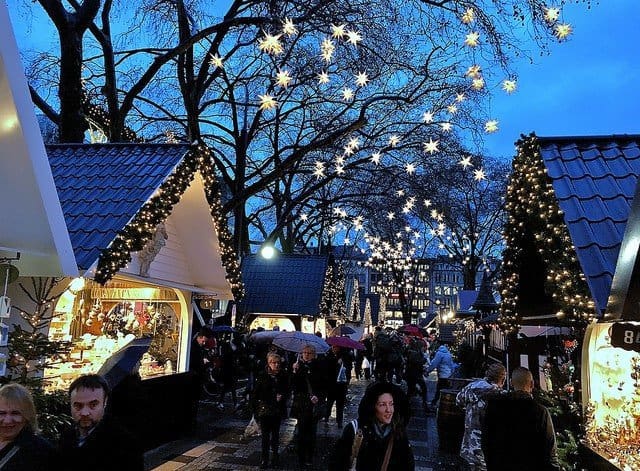 © Jason Raia – licence
Cologne is an incredible medieval city in its own right, but during the months of November and December it really comes alive for its annual Christmas market. It is definitely true that the Germans know how to put on the very best festive markets, and Cologne may well play host to the finest of them all.
The Cologne spectacular attracts millions of visitors every year, who turn out to enjoy the magical atmosphere and the unique shopping experience. The streets near the city's Gothic cathedral play host to a multitude of unique stores that offer visitors the very best in arts and crafts, toys, and seasonal treats. Strolling around the market, you can witness the intricate arts of the pewter pourers, wreath binders, and glassblowers as they create their handcrafted pieces, and you can take in the tastes and aroma of mulled wine, hot chestnuts, and gingerbread.
One of the most enchanting ways to arrive in Cologne at Christmas is by river, and you can experience this by booking onto a festive river cruise. The beauty of a cruise can be found in the simplicity that if offers, with no extra travelling or checking into hotels required once you're on board. The River Cruise Line offer a 4-day German Christmas Markets trip that takes in Cologne as well as Koblenz. You can enjoy the delights of city and the market during the day, and then relax afterwards in the warm hospitality of their excellent ship.
Each of these destinations is well worth the visit and deserves to be on your bucket list. The affordability and convenience of travel to each of them will help to make your travel dreams a reality.