If you're into fish and chips, American-style diners, or bright roadside signs, you're going to want to read this Thorpey's Fish and Chips review where I tell the story of how one freezing cold November night in the middle of nowhere guided us to this awesome English experience.
So a couple of weeks ago, Guy and I stopped over at a glamping hut near Preston on our way back to London from the Lake District (if you're from the US and that means nothing to you, basically we had a five hour drive home and so we stayed overnight about one hour into the drive).
After checking in to said glamping hut, it was pitch black outside even though it was about 5:00pm (thanks, English winter) and we were starving from a day of wandering around the lakes.
We decided on fish and chips, but didn't particular want to get them and bring them back to the tiny glamping hut, as we would probably smell like fish and chips all night and also kill each other in the process of eating them as there wasn't a ton of space and I would have gotten ketchup on Guy's shoes or something.
On our way into the site, we had come across this cute little diner that had a seating area as well as a takeaway section. It struck me as looking incredibly American, so I was sold and Guy didn't want to drive too far for dinner or have me spill ketchup on his shoes, so he was also up for it.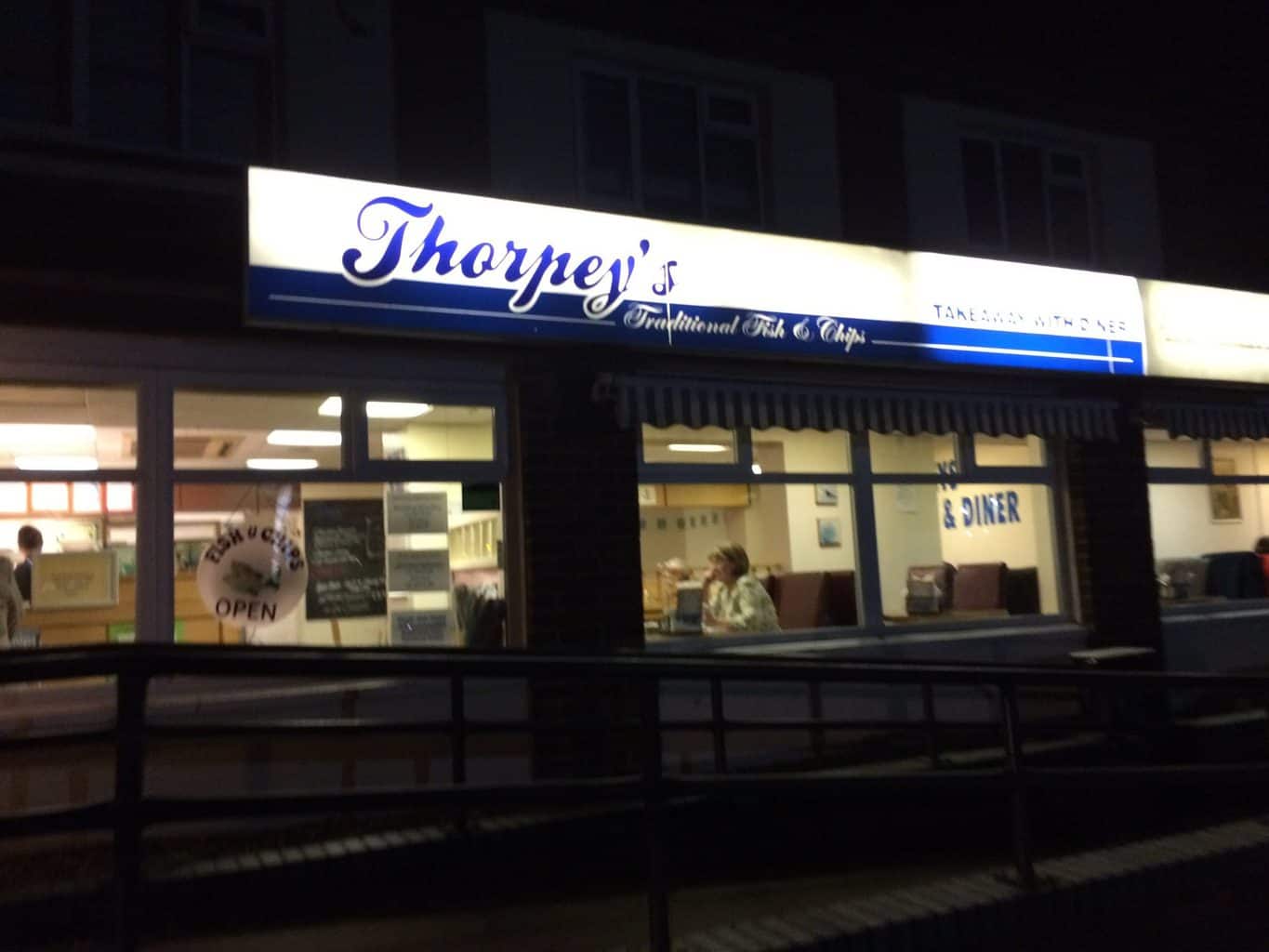 We walked in to have a look at the menu, which was wonderfully filled with stock images and had bright blue font enticing me to open it. I know it sounds like I'm making fun, but I'm really not – I LOVE diners and miss American style ones so much, so I was loving this whole night.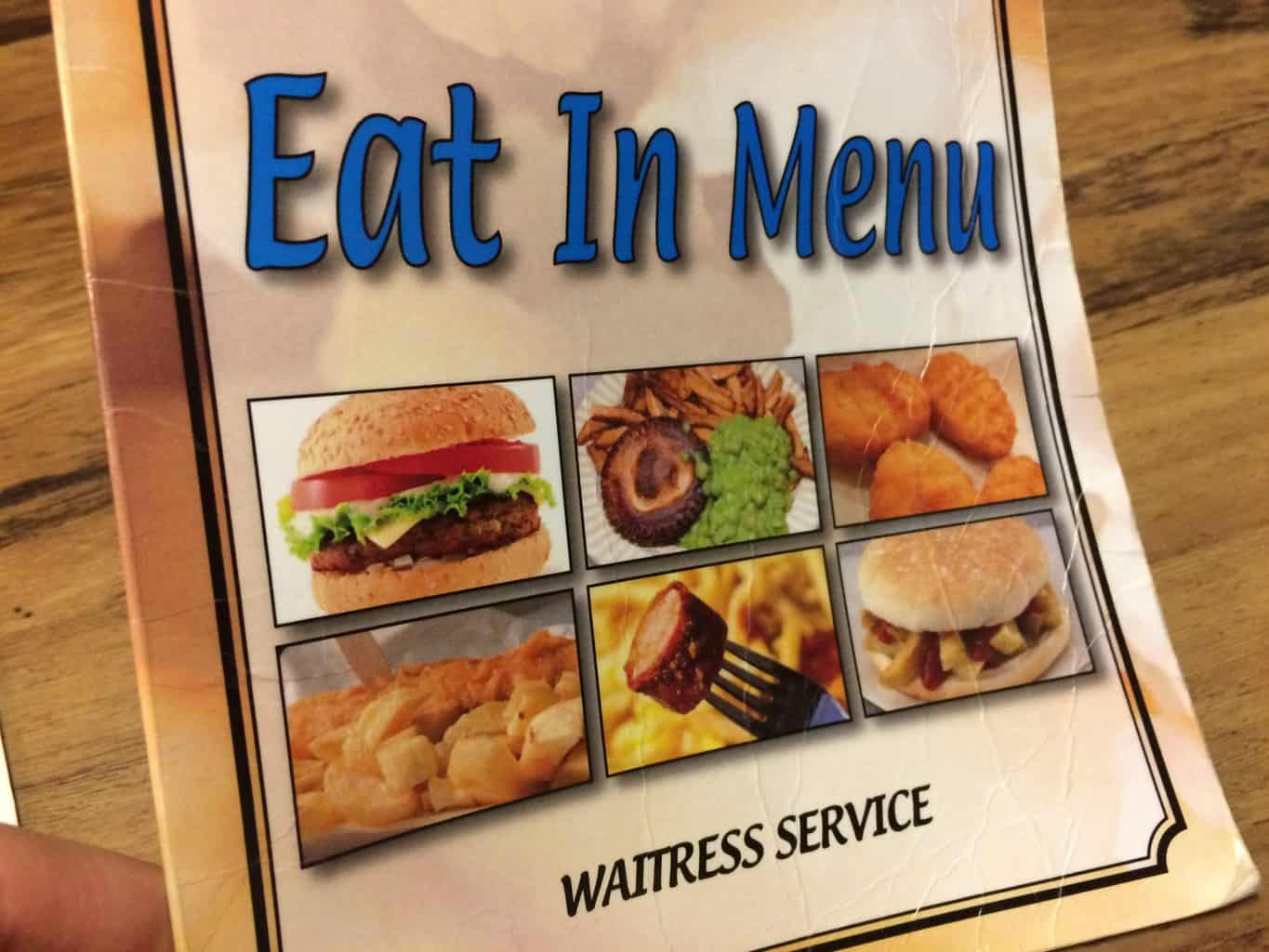 We decided on fish and chips, duh, but there were lots of other things on the menu including sausage, chicken nuggets, fish cakes, steak pie, and burgers. I took this picture of the awesome napkins imprinted with their logo while the locals looked on in amusement.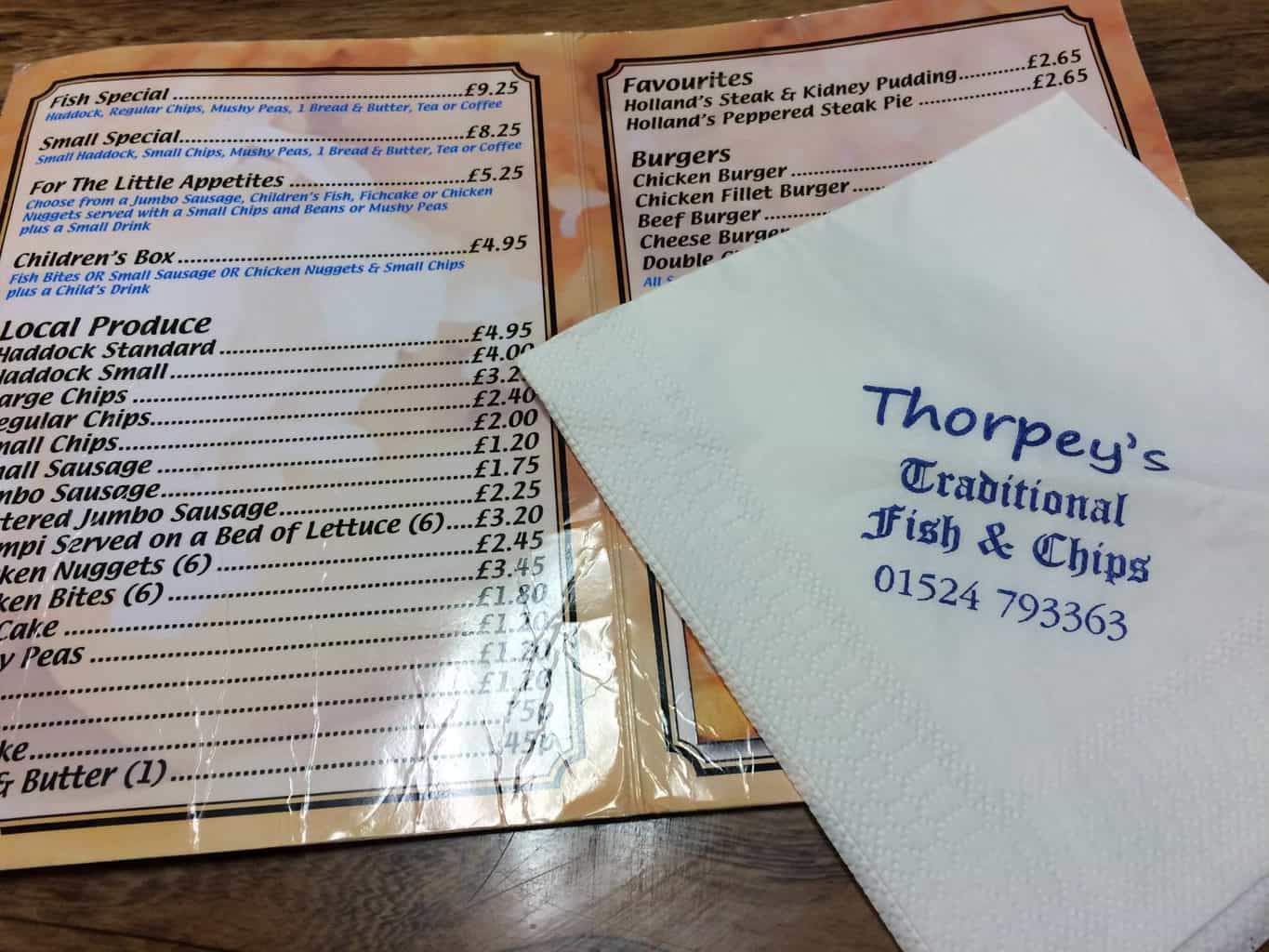 When we were ready to order, our grumpy waitress (totally part of the diner experience) came over and wrote down our requests in her notepad. She gave us a few packets of ketchup and tartar sauce, but she obviously didn't know how much ketchup I use (basically I use the fries as a vehicle for my ketchup), so I asked her to bring  more before our food even came.
It took maybe 10 minutes before our steaming fish and chips were brought to our table. I actually much prefer fish and chips in a sit-down area, as I find that the batter gets soggy by the time it gets home usually and that's my favorite part of the fish.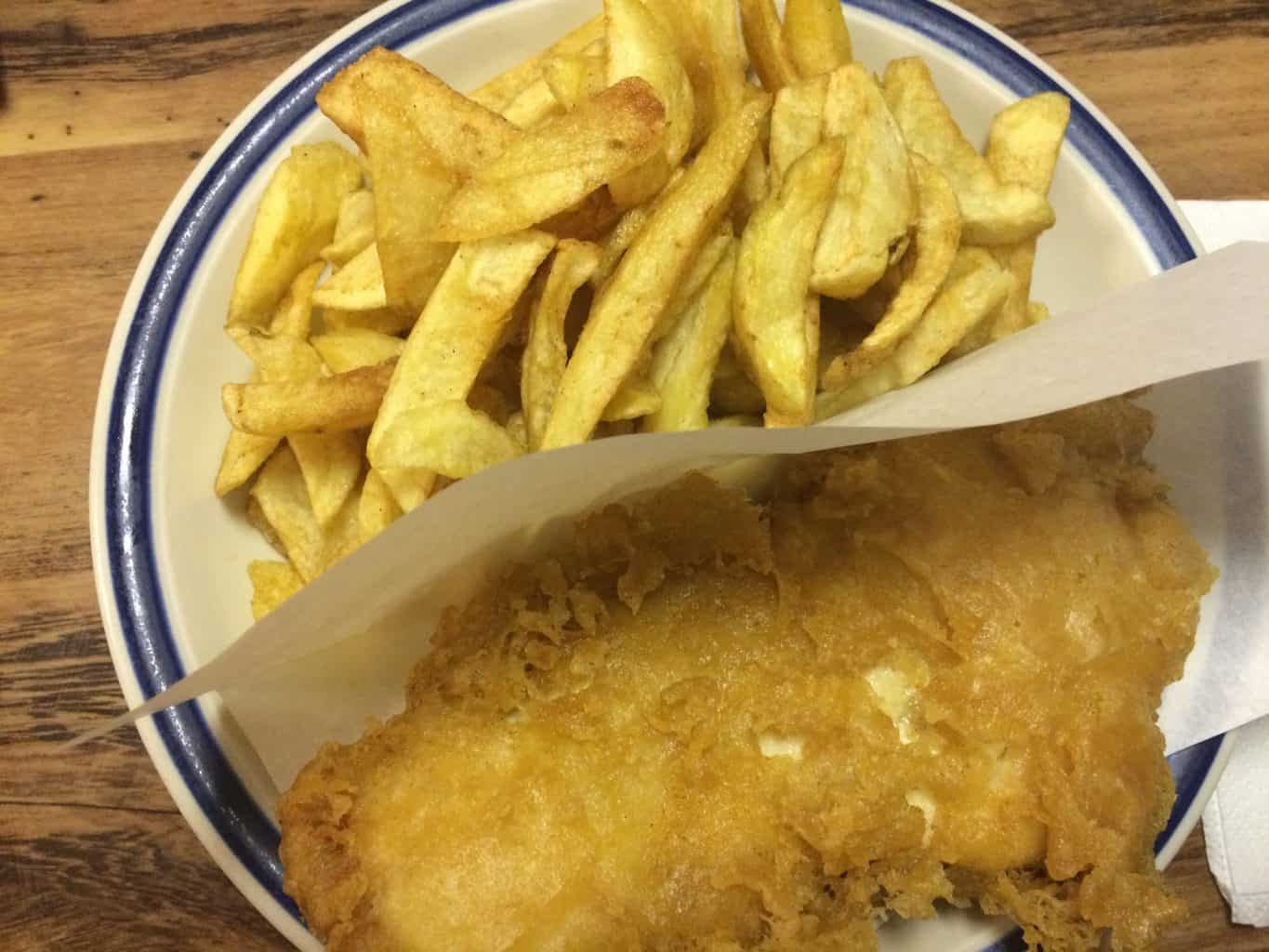 We really enjoyed ours and the meal lived up to Thorpey's good ratings.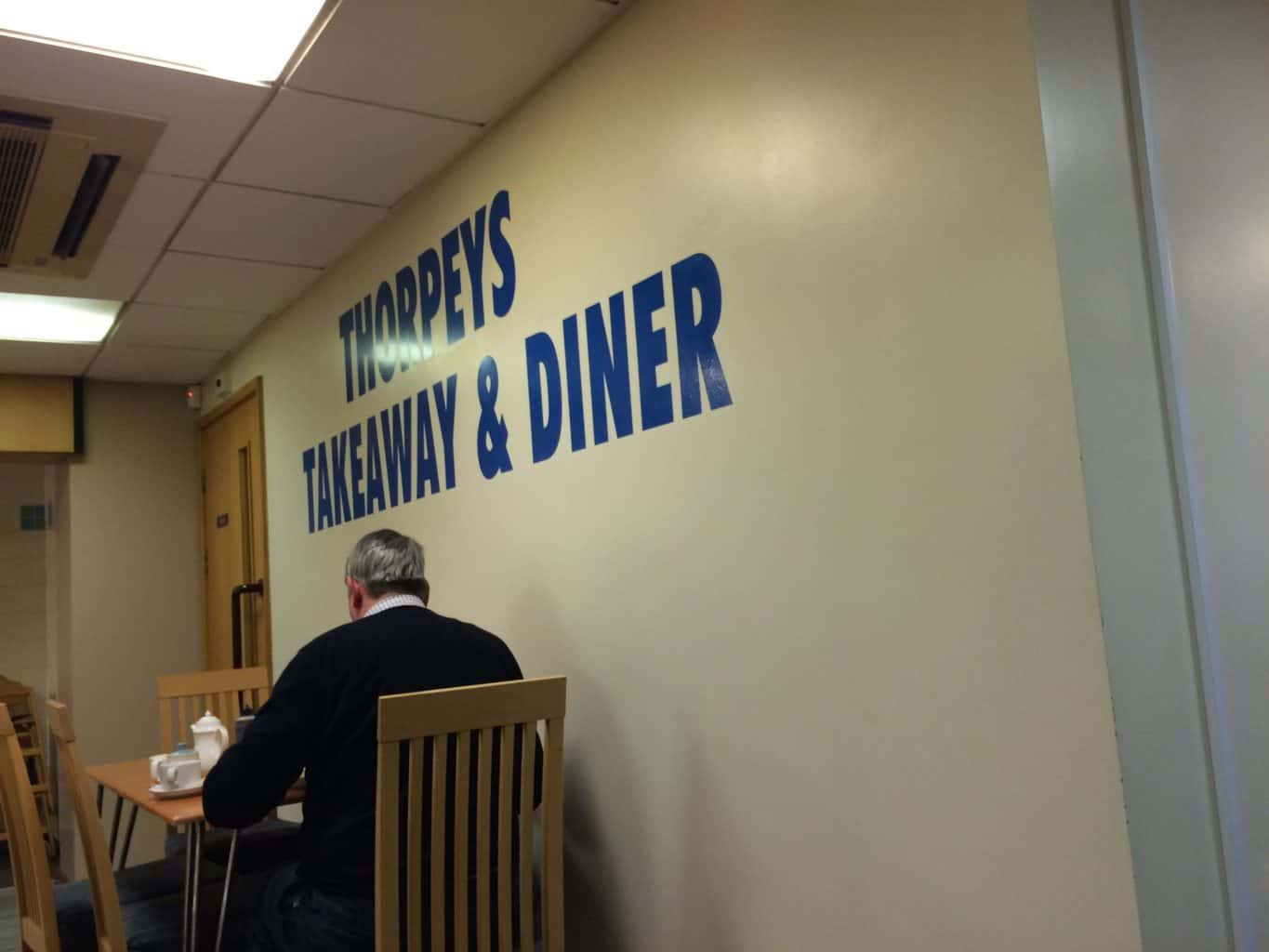 Before we left, I made sure to snap a picture of the flashing sign out front which reminded me so much of home (though of course it would never be fish and chips in the US. )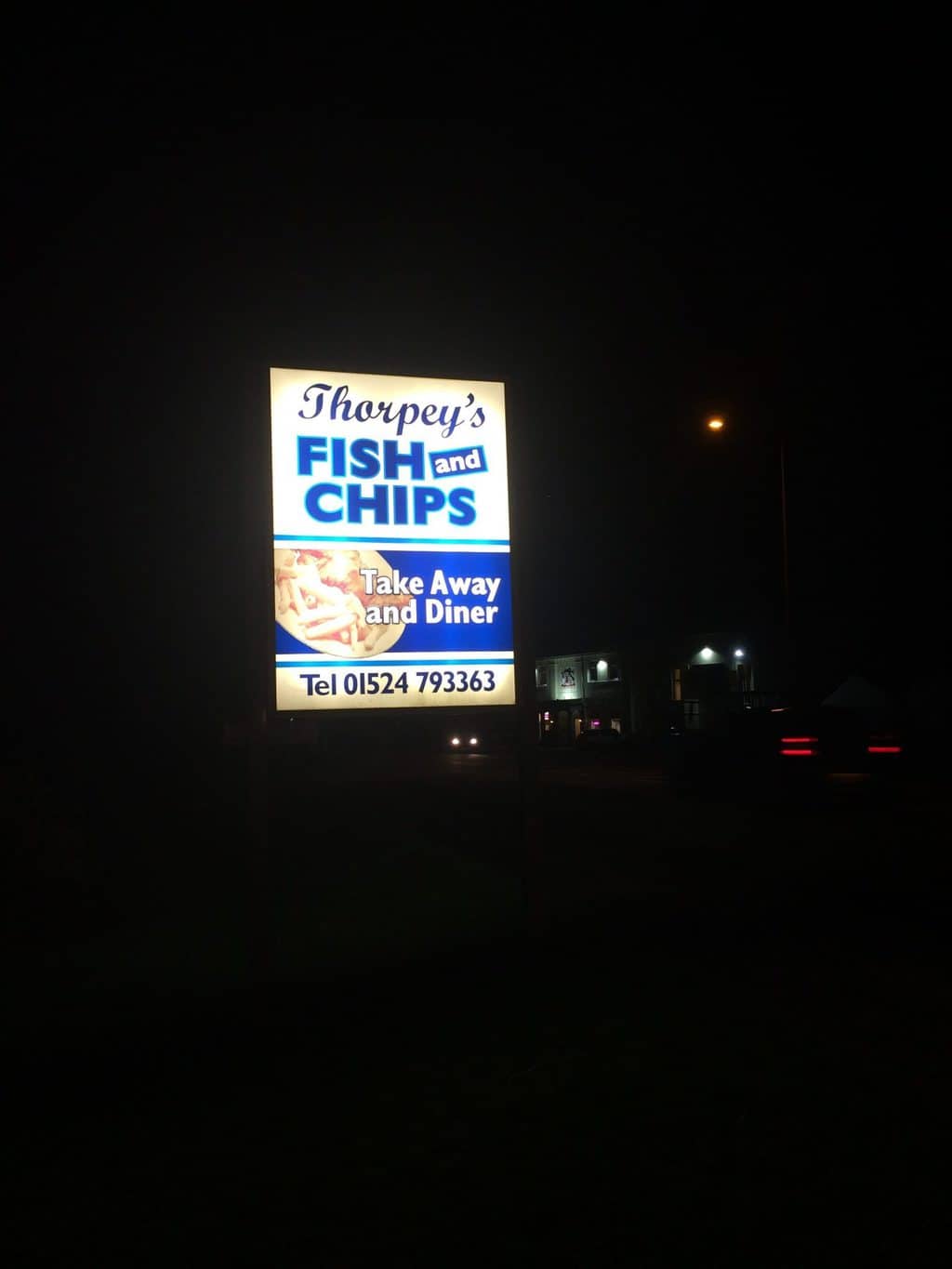 Thorpey's is right off of the highway on the way back from the Lake District to London, so if you're ever heading down (or up) that route, I would highly recommend a visit! Tell them that the strange American girls taking pictures of their signs sent you!