I've reviewed my past study abroad programs here and here.
But I've yet to review the University of Westminster, the university I attended for my Master's degree in Public Relations.
A few study abroad programs offer semester partnerships with the University of Westminster, so you can still come even if you're not coming for a full degree.
Here's my take on study abroad at the University of Westminster.
Hey, sidenote! If you're traveling to the UK or live in the UK, whether for a short period of time or as an expat, why don't you join my Facebook group where you can ask questions, get advice or just look at pretty pictures of this part of the world! Just click here to request to join and I'll add you!
The University of Westminster has four main campuses, Regents, Harrow, Marylebone, and Cavendish.
The Harrow campus houses the media and creative programs, which is where my PR classes were based, but I also had classes and worked at the Marylebone campus. Regents, Marylebone, and Cavendish are all within a 30 minute walk of each other in central London, while the Harrow campus is out a few zones about a 12 minute train ride from London or a 20+ minute tube ride.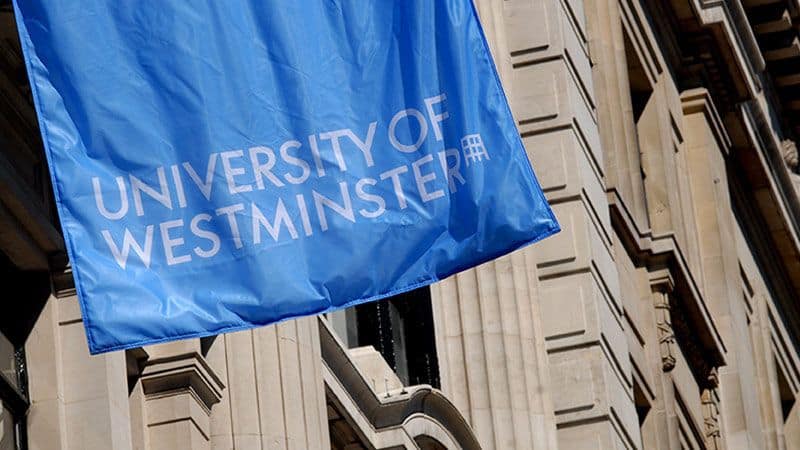 Getting Accepted to the University of Westminster
If you're doing a semester course, you'll need to apply through a third party program that offers a direct enroll experience like API.
If you're wanting to do a full degree, you can apply directly to the University of Westminster using an online application form.
The University of Westminster has one of the most international student bodies among UK universities, so they are well versed in the translation between American grades/tests and their own.
You'll need recommendations and transcripts, so start gathering those ASAP. The deadline for graduate programs is often rolling, meaning there is no hard cut-off, but the earlier the better!

Finding a Scholarship to the University of Westminster

The University of Westminster also hands out tons of scholarship money every year (and this isn't an ad, it's true!)
I knew a few people in my 25 person classes alone who had scholarships, and I was lucky enough to be given a Public Relations scholarship to continue my PR studies there.
The scholarship application is separate from the general application, but it's definitely worth it to put the extra work in if you're needing financial aid.
You can also use American student loans abroad after going through some paperwork.
Academics at the University of Westminster
The University of Westminster, like all other universities, has its strengths and weaknesses.
One of its strengths, and the reason I went there, is its creative disciplines and media studies.
Classes are taught by professors who have long histories of work in their fields, as well as professors who spend the rest of their time still working and making connections.
There is an on-campus radio station and frequent galleries and exhibitions.
The Masters in Public Relations was one of the best things I've ever done, and my professors were incredibly helpful.
Most of my classmates were also international students, as doing an upper level degree in PR isn't as popular in the UK.
Another strength at the University of Westminster is its architecture program, based at the Marylebone campus.
I can't personally comment on many of the other fields, but I did my original research on Westminster by checking its rankings in UK subject-specific charts.
Student Life at the University of Westminster
The University of Westminster does offer residence halls, though many students choose to rent in London privately.
I wasn't living on campus when I went for my degree as I was already living with Guy, but the Harrow campus has substantial dorms and the Marylebone campus also has an adjoined living space.
There is nothing particularly special about the housing, like most other London universities, it comes at a premium.
If you are a first year student or study abroad student, you'll likely be in the dorms.
If you can find some people to share a nearby flat with, though, I'd consider going that route as my classmates found cheaper rent living just a few tube stops from campus.
Due to the relative lack of housing, the university is very much based on the campus buildings and gets incredibly busy during the lunch hour and during the day as people will commute in and stay all day.
Each campus has their own version of a student union and separate events, so your friends will likely be in your classes or similar fields.
Each campus has a cafeteria, even if they are a bit small, so you can find snacks and basic lunch options. There are also libraries around the campuses and administrative offices (immigration, financial aid).
To be quite honest, the University of Westminster is not a top, or even mid-level choice for many British students in many fields.
It's great as an international university, and the scholarship aid is what persuaded me to go there, but you're not necessarily going to find that people walk around sporting University of Westminster apparel and bragging about it like they may do at a higher ranked university.
That being said, the facilities are usually well-kept, especially at the Marylebone campus and the newly redone Harrow campus main building.
And while the university might not be at the top of the charts, a few of its programs definitely are.
I didn't make lasting friends at Westminster as I wasn't too involved in the social scene because I had to work and was living far off campus, but I know that plenty of people on my program did.
The University of Westminster has amazing support for international students, and is a great way to get your 'foot in the door' in the UK university scene if you want to experience all that London has to offer.
If you have any questions at Westminster, feel free to e-mail me on girlgonelondon@gmail.com!