This past week, I've been looking for the most authentic Ore-Ida tater tots copycat recipe to toy around with, because let me tell you – when you move to a country where there's no Target, no Walmart, no Publix and no Little Debbie, it can be a real struggle to survive.
I'm joking, of course (mostly), but I am very serious about my love for tater tots, Ore Ida brand in particular.
They were our family go-to for many years when we needed quick food on the table, and I just haven't gotten around the idea that I can't buy them in the UK!
So I went off on a search for a copycat recipe for Ore Ida tater tots, and I did find one that I liked (linked below).
Similar to the Smartfood White Cheddar Popcorn copycat recipe I found, it's obviously never going to be exactly like the original, but sometimes you just have to put up with what you can get.
With that in mind, let's continue our "How to Solve American Food Cravings with Copycat Recipes" series with another installment!
Here are some other foods that I've found copycat recipes before, either because they don't sell them in the UK or because the prices in the UK are extortionate and I'm not paying £5 for a box of Lucky Charms.
1. Twinkies Copycat Recipe

I've never had a twinkie, actually, but the culture around Twinkies is undeniable. It's definitely associated as "American food" and referenced in many movies and articles about American obesity.
I would argue that the actual American love for Twinkies is a bit more reigned in than that, but there is a World Twinkie Eating Championship, so maybe I'm wrong.
Anyway, if you want to see what the fuss is all about or if you are a self-identified expat Twinkie-lover, this recipe's for you.
You can get Twinkies in some of the American food stores in London, as well as across the UK, but they're just so expensive and homemade twinkies have got to be better for you so stick with that.
2. Ore-Ida Tater Tots Copycat Recipe

The UK has some amazing potato products. Potato waffles. Potato smiles. French fries. Baked potatoes. Hashbrowns.
But apparently no one was willing to just smush a bunch of potato into a ball and fry it, because I can't find proper Ore Ida tater tots anywhere.
This is a problem for my stomach, as I was basically raised on a diet of tater tots and grilled cheese sandwiches. I've found a solution in the form of an Ore Ida tater tots copycat recipe with this recipe.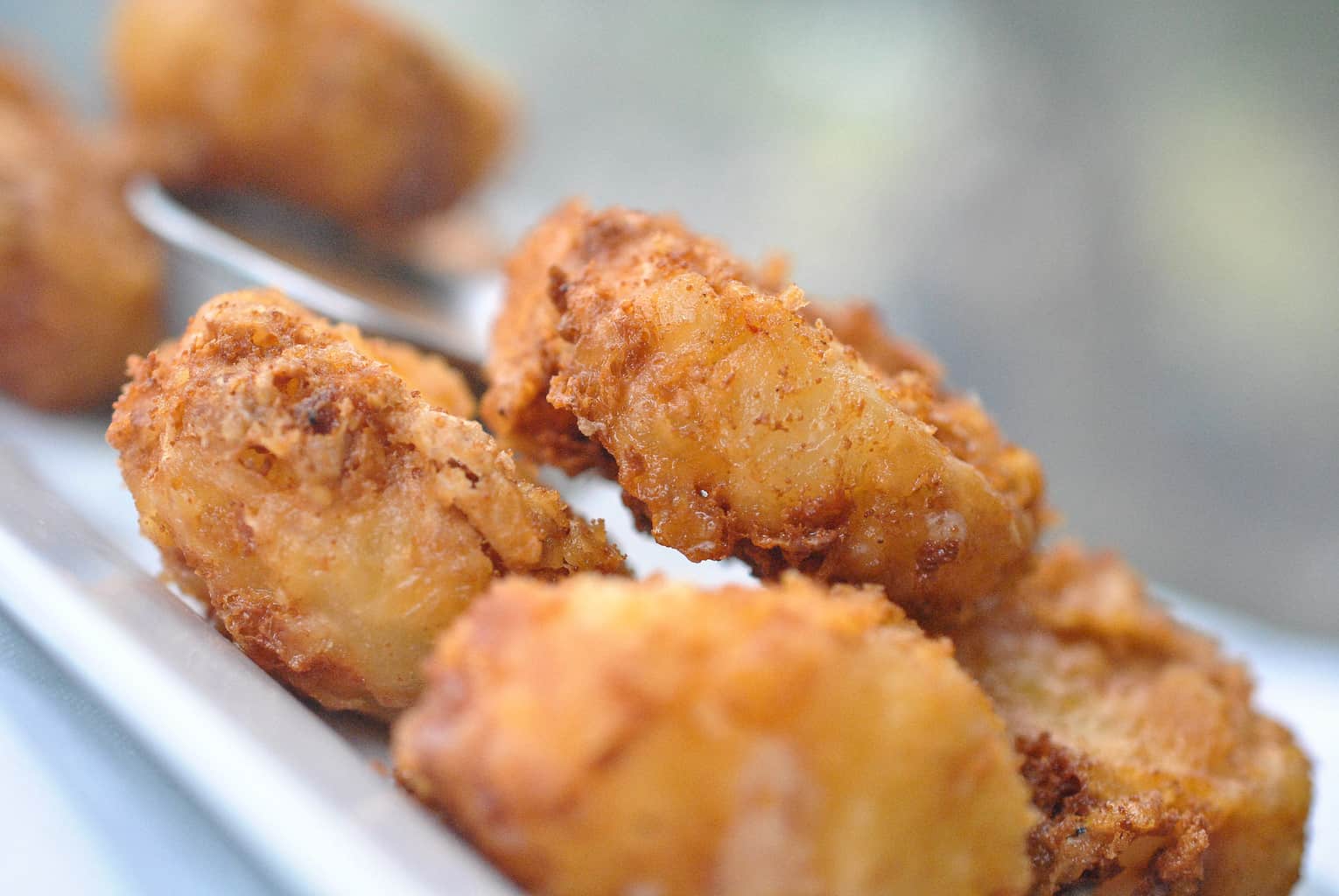 I truly don't know what it is that sets Ore Ida apart. If you know, clue me in because I need to know why I crave these ALL OF THE TIME.
I'm drooling just thinking about my next trip home when I'll get to stuff my face with their deliciousness.
One time we went to Buffalo Wild Wings and I just ordered a basket of tater tots. Someone at the table said to me, "You know they just use Ore-Ida tater tots, right?" and I just glared at them and was like, "THAT'S THE POINT, THANK YOU!"
If you share my love for Ore Ida tater tots (okay, or generic brands) let me know in the comments below.
3. Ding Dongs
Made by the same company as Twinkies, Hostess, Ding Dongs are ridiculously named snack cakes.
But they're our ridiculously named snack cakes, and if you want to make them outside the US, you can do so and then send some to me.
I have fond memories of there being Ding Dongs in my grandparents house every time I went over, and to this day I associate them with childhood and the thrill of having one right before dinner even though you weren't supposed to.
4. 3 Musketeer Bars

A common American candy bar with a chocolate outside and fluffy chocolate filling, 3 Musketeer Bars were common in every teacher's "prize grab bag" and have been handed on out Halloween for decades.
You can buy these in imported sections in UK shops, but if you're not into spending 5 pounds on a candy bar, you can make them your own as well.
I find that 3 Musketeers are even known across the pond as being a classic American candy, as my husband who has never lived in America knew all about them, much to my surprise.
5. Bloomin Onion
I've clearly saved the best for last, because it is in the Constitution that all Americans must love Bloomin Onions from Outback Steakhouse.
Outback is fun in and of itself (because there is nothing more exciting than pretending you're in the Australian wilderness while in a dimly lit restaurant in the Florida suburbs) but the Bloomin Onion is legendary.
I'm not saying that my best friend and I have gone to Outback just for a bloomin Onion and then left, but…maybe.
All you have to do to have your own bloomin onion at home is to save up two days of calories, attach a plastic kangaroo holding a boomrang to the wall (atmosphere), and dive in.
And of course, seeing as how there is no Outback Steakhouse in the UK, this copycat Bloomin Onion recipe is the closest you're going to get!